! >
Broadway To Vegas
  
 SHOW REVIEWS CELEBRITY INTERVIEWS GOSSIP NEWS

| | |
| --- | --- |
| | |
BOB HARDWICK AND THE SOCIETY ORCHESTRA - - POP ART PORTRAITS - - LEONARD SLATKIN TO DETROIT SYMPHONY - - IRVING BERLIN NECKLACE - - SWAROVSKI FASHION ROCKS FOR THE PRINCE'S TRUST - - THE WOMEN OF BREWSTER PLACE - - LYRIC AND LEATHERS: RIDE FOR THE LYRIC OPERA - - ARMANI DRESSES UP SYDNEY THEATRE SEASON - - DONATE . . . Scroll Down


Copyright: October 14, 2007
By: Laura Deni

CLICK HERE FOR COMMENT SECTION
AND THE BAND PLAYED ON - BOB HARDWICK PLAYING FOR THE RICH AND FAMOUS
The Bob Hardwick Sound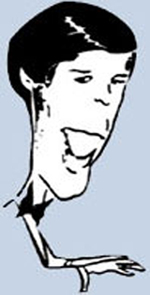 There is something different about the rich. Then can afford good music.

They also know that a great band can equate big bucks at charity benefits.

Catering to that crowd has been a niche market, around since the early 30s, envied by many but whose inner sanctum has been entered by only a select few.

To succeed, the person has to know both the rules of musicianship as well as the rules of etiquette. It's not required to be born with a silver spoon - but it helps to feel natural about being polite and using good manners.

A plus is possessing innate knowledge about what music to play when the wedding cake suddenly crashes to the floor. Slip, Slidin' Away probably isn't a good choice.

Those that have made it work include Lester Lannon, who didn't retire from the black tie circuit until he was 93, the late Eddie Duchin whose career was immortalized in the lovely movie The Eddie Duchin Story, which starred Tyrone Power and Kim Novak. Peter Duchin, who carried on his father's legacy and created his own following, and the sought after Bob Hardwick.

Having just returned to his Manhattan apartment from providing the music for last week's opening of the Harman Performing Arts Center in Washington, D.C., ( See Broadway To Vegas column of October 7, 2007 ) Hardwick spoke with Broadway To Vegas about the musical art form of playing for the rich and famous.

Years ago when every Las Vegas hotel had a live orchestra, some musicians complained that the 99-cent shrimp cocktail had bigger letters on the marquee than the name of the orchestra playing in the main show room. Do society band leaders ever feel they are second place to the entree?

"First of all, I don't ever consider that I am taking second place to anything," responded Hardwick, who has a keen insight into what makes an event succeed.

"There are too many elements that go into making a great party. First of all, the people who are there. It involves certainly the music, the background music, the food - everything. I'm not trying to come in and shine above everybody else. I just want to contribute as much as anybody else to make the party great."

Raised in a Louisville, KY banking family it was just assumed that he would go into the banking business. "Yes, but I had this musical talent which came from my mother's side of the family. Her sister, Marjorie Warden, was a soloist with a symphony in New York and co-starred in plays with Helen Hayes. She died very, very early of pneumonia when they weren't able to treat it."

Born with perfect pitch Hardwick's prodigious ability as a pianist was recognized early, including being accepted for private study by the University of Louisville School of Music at age twelve. Upbringing steered him towards the more reliable world of finance. He earned a earning a BA in business from Centre College, completed graduate music studies in classical and jazz at the University of North Texas and then studied composition with Hall Overton at the Julliard School of Music. He also received a Downbeat Magazine award scholarship to Berklee School of Music in Boston.

For 12 years he led two lives - by day the button down banker for originally Citibank and then U.S. Trust. At night he was the black-tied musician playing for the social elite.

During any spare time he composed with Bob Crewe, the man who would go on to write Can't Take My Eyes Off You and Rag Doll. Jointly they created several numbers which were recorded on the Electra Label. Hardwick scored two television series The Home Front on PBS and Hunters in the Sky, a 13 part series which originally aired in 1991 on the Discovery Channel.



Gregory Peck told banker Hardwick: "A career in the arts is always preferable."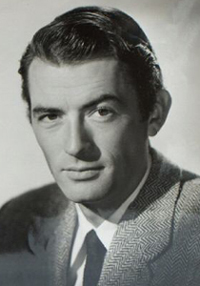 In 1989 while playing a Kentucky Derby party in Louisville, Hardwick met film star Gregory Peck. "A career in the arts," intoned Peck, "is always preferable."

"I'll never forget that comment. And, coming from him, said in that deep voice and commanding way, it really did have an effect of me."

Hardwick closed his employment account at the bank and concentrated on playing.

Society orchestra aren't usually a fixed frame group. Nor is the work steady. Depending upon the season the offers can pour in. Other times, the social season is on vacation. Size also matters. Sometimes a gig might only need a trio. Other times a full orchestra. There is also something to be said for location, location, location. You'd get the job if only you were there.

Orchestra leaders figured that out decades ago and learned to serve the duo role of also being a band agency. In doing so, they landed the job, but that also put their names and reputation on the shoulders of the musicians who played under their name. Thus it is possible to have an infinite number of different orchestras playing in various places in one night, under the same band name. For example, on Millennium Eve there were seven Bob Hardwick Sound groups performing at seven different social parties, all billed as The Bob Hardwick Sound.

That's stress of the prestissimo fortississimo kind.

"We spend a lot of time trying to make sure that those groups are as good as possible and are representative of what we do," Hardwick stressed.

"Absolutely, I audition them myself. I listen to everybody. We have a pool of about 35 to 40 musicians. Before any get into that pool I have personally heard them and approved of them."

"We're not trying to be something we're not. I will tell you, for instance, we just got a wedding situation where they want a chamber orchestra playing a Bach violin concerto. I happen to have studied classical music and I'm probably going to join part of that. We basically can contract out to other musicians anything that we don't specifically do. We do two huge balls based on a European tradition with 30 piece orchestras, so we can add musicians for whatever purpose."

Being a society musician means you're not going to be playing in some ratty old hole of a space that claims to be a cabaret. On the other hand, there are people to please and the musical selections are not necessarily band picks.

The musicians need to be tipped off not to play a popular song, if that ditty was called our song by the bride when she was dating a different guy than the one she just married.

"Absolutely, people tell us songs not to play," said Hardwick. "We get song lists in a lot of situations and we are happy to play whatever people want. We also get some songs that they do not want to hear. I try to point out to people that we are there to please, If they don't want to hear a song, they don't have to. Occasionally, when we are asked not to do a song - if I know that song is a huge button pusher - I will let them know. I'll say - this is still your decision. But, I will guarantee that your guests, based upon every job that I have very done, love that song. So, if they still don't want it, we are happy not to play it. Ninty percent of the time they say - Okay, if people really love it that much, go ahead and play it."



Princess Michael of Kent, Bob Hardwick and Ivana Trump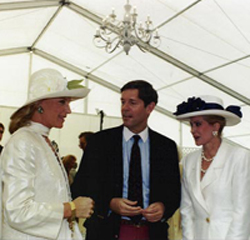 You need to know how to have fun without being offensive.

Queen Elizabeth's second son, Prince Andrew attended the Royal Academy of Arts gala dinner dance at the Rainbow Room. When he mentioned that his apartment at Buckingham Palace was being redecorated, Hardwick brought down the house with a rendition of Give Me The Simple Life.

For musicians living in mayor cities where society orchestras are in demand, the work is home based, lucrative and respected. The more versatile the musician, the more gigs.

"Probably there aren't as many musicians that fake as well as they used to," admitted Hardwick. "In terms of the art form, when you are faking, what you are doing is playing by ear," he explained. "It means you have an excellent ear and you can create harmonies on the spur of the moment and remember most of the melodies. Probably to that extent, a lot of the musicians are not as adept as they used to be."

"On the other hand, I've noticed recently that a lot of the younger guys really are taking it up again," he quickly added. "They are trying to be rock musicians and if they don't make the grade as a rock musician, signed by Sony or Arista or one of the big labels, they revert back to this music. Lately, we've got some really good, younger people. The tone of our band is very young looking."

It used to be that guys grabbed a guitar and formed a garage band operating under the delusion that all it took was the cultivation of three chords and an attitude. Today, Hardwick reports a return to the days when musicians actually knew music.

"They are playing different instruments, not just guitar. There are plenty of pianists, trumpet players - we can get what we need."

Performing in a society orchestra is a happy date. The functions are what they have always been - joyous family celebrations, significant charity events and laudatory business occasions. The participants are dressed nicely and smell good. The checks clear the bank the first time. The only thing that has changed is the music.

Back in the 1930s -1940s, dancing involved everybody - the twinkletoed and those with two left feet.

Society bands played sweet or they played swing. Many of these bands developed some sort of quickly recognizable sound; a gimmick.

According to historian Murray L. Pfeffer, "Gray Gordon developed a sound using temple blocks as his trademark, and was widely known as Gray Gordon and his Tick Tock Rhythm. Shep Fields had one of the sidemen blowing bubbles through a straw in a glass of water, and his band came to be called Shep Fields and His Rippling Rhythm."

Hardwick's gimmick is to be able to play a variety of music.

"I'm musically all over the place because I really love it all. I feel that one of the reasons we do pop-rock for instance is - I don't just try to do it well, I absolutely love it. Frankly, it was my favorite music growing up, along with jazz."

"Even though our category is Society Orchestra, rock and roll and pop probably end up being 45-50 percent of what we might do in an evening. So, it's not quite the same music that it used to be in terms of what people used to call a Society Orchestra."

That versatility was a boon for last week's opening of the Harman Center for the Arts in Washington, D.C.



Ann Nitze knows how to chair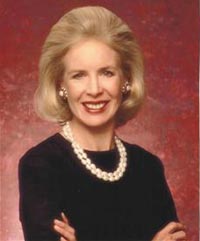 Gala chair was Ann Kendall Richards Nitze of Washington, DC. Nitze is a private art dealer in New York, Washington and Aspen. She specializes in 19th and 20th century paintings and sculptures.

Educated at Miss Porter's School in Farmington, CT and then Academic Julian in Paris and Sophia University in Tokyo, this lady - who serves on the board of the Santa Fe Institute, The Sotheby's Institute, London, the Thai Support Foundation, and the National Advisory Board of the Georgia O'Keefe Museum - has a number of black tie chair notches on her couture belt.

"We were hired by Ann Nitze. She pointed out to me at the very beginning that one of the committee members thought they should also hire a rock band," divulged Hardwick. "She had told them that wasn't necessary. She had used us before in New York and knew we could play big band music, society music, Sinatra or pop rock and that's why she hired us."

Being knowledgeable is a plus for either a party planning agency or the individual chairman.

"I find that a lot of party planners are really good, but sometimes they don't know that much about what we do," he said referring to the music. "There are many party planners who can create beautiful results with certain ideas and I'm happy to work with any party planner."

Then there is the tense, nouveau socialite who is a committee chair virgin.

Hardwick is diplomatic.

"There are times when somebody might have the wrong idea and in a very nice way, I just try to point that out. That isn't the way it should be done - perhaps it should be done another way. But, if they want it done that way, we're hear to please."

That doesn't mean there aren't disasters.

"Several years ago we were playing one wedding and a four or five tier cake literally did fall down. The orchestra was up on the stage and the cake was on the floor. Somebody had bumped into it. I frankly wonder why it doesn't happen more often. I see these incredibly beautiful cakes and they are in an area where people are coming close to where they could knock the table over."

"We often might have to play to cover up mistakes," he laughed. "It's part of the motto of the show must go on. People don't know what goes on behind the stage. I often marvel where five minutes before the doors open you say - there is no way this place can be in order. And, all of a sudden five minutes later, it magically is in order."

Hardwick's musical happening started out word of mouth. People who had a good time gossiped about the event the next day. If you're good, they'll ask you to play and Hardwick's ability put him in demand.



Barbara and President George Bush in front of Hardwick's bandstand at one of the inaugural balls.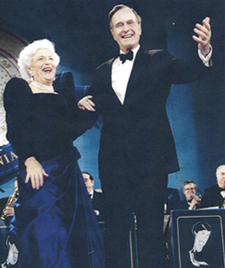 He's performed at five presidential inaugural balls - President George W. Bush, George Bush, Sr., Ronald Reagan, Jimmy Carter and Gerald Ford.

Blue bloods cutting a rug under his baton have included; Prince Charles, Prince Phillip, Prince Andrew, Princess Margret, Duke & Duchess of Kent, Princess Margriet of the Netherlands, Queen Nor, Princess of Sweden, The Honorable Pieter Vollenhoven, Baron Von Thyssen, Prince Albert and Princess Stephanie of Monaco.

Just another bandstand gig has meant; Party of the Century - Versailles Palace, 100th Anniversary of the Newport Breakers, Kluge Birthday Party, Washington Corcoran Ball, Spanish Institute Ball, Amfar at Lincoln Center with Leonard Bernstein, Mike Nichols and Diane Sawyer, Marvin Davis 50th Wedding Anniversary, Turkey at the Ritz Cabaret in London, The Swan Ball in Nashville, Buffalo Bill Cody Museum Gala in Wyoming, Ross Perot's Birthday in Bermuda, Mary Lou Whitney's Anniversary Party in Lexington, Opening of Mrs. Lyndon Baines Johnson's Wildflower Center in Austin, Biltmore Centennial in Ashville, Mardi Gras Queen's Supper in New Orleans, Kentucky Derby Madden Party in Lexington, Historic Charleston 50th Anniversary, Dupont Family Reunion in Wilmington, Edgar Bronfman Parties in New York & Charlottesville, Washington Opera Fundraiser in Washington, DC, and the Palm Beach Preservation Society Ball.



Rudy Giuliani and Bob Hardwick. Giuliani decided on Sarah Brightman's Deliver Me for wedding reception first dance with Judith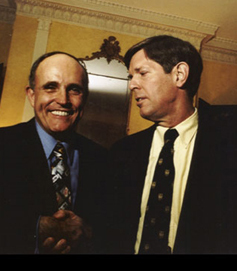 Wedding have included the knot tying of Lisa McFadden and George Melas in New York. His band accompanied Aretha Franklin at the wedding of Al Gore's daughter, Karenna. Hardwick played at what the New York Times called "the wedding of the year " - that of Judith Nathan to Rudolph W. Giuliani, who exchanged vows on the lawn of Gracie Mansion with Mayor Bloomberg presiding.

When Hardwick played for the Martha's Vineyard's wedding of Jay Eastman, son of New York lawyer John Eastman to Katama Guernsey, one of the guests was former Beatle Paul McCartney, who has always remained closed to his late wife Linda's family and Jay was Linda's nephew. Paul joined Hardwick to entertain the 300 guests with a rousing rendition of When The Saints Go Marching In. Then McCartney joined the Hardwick musicians by playing trumpet and capped off the evening by singing a special song for the bride and groom - his own composition of I Saw Her Standing There.

Requests for The Hardwick Sound are now coming in five years ahead of the date.

Keeping the calendar correct is Courtney Cramer. "She is enrolled in the Master Program for the NYU Music Business School. She is the coordinator who sets most of these things up with the party planners and hosts or hostesses," he said.

"For the next two months we are heavily booked for weddings and we also have several charity events and openings of buildings in New York. We're planning weddings next year in France, and Antigua is April. There is a lot going on."

"We just got a called for a booking in 2012," he said with a surprised tone. "It has to do with a 100th anniversary of a club. We get booked for things two and three years in advance, but five is getting out there. It's not a record. I was once booked six years in advance. But the majority of things gets booked between six and nine months, to a year in advance."

Hardwick feels his own business background is a boon.

"I am a little different in that respect. I did grow up in a banking background and I was very interested in business. I enjoy the business aspect of it, but a lot of musicians don't. Looking at an event from the business side is just as important and fun for me as looking from it from the music side, so I get something out of both."


ART AND ABOUT


IMPRESSIONISTS BY THE SEA

Claude Monet, La Plage de Trouville, 1870. Oil on canvas 38x46 cm. © National Gallery, London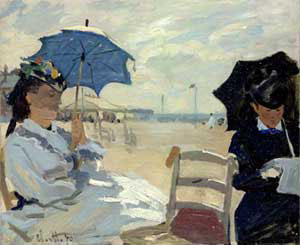 with approximately 60 works by major figures of 19th-century French painting, the exhibition will focus particularly on the work of Claude Monet, and will also feature major works by Édouard Manet, Pierre-Auguste Renoir, Berthe Morisot, and Gustave Courbet, along with James Abbott McNeill Whistler and John Singer Sargent.

The quality of light and movement are among the hallmarks of impressionism, and during the last half of the 19th century the seacoasts of northern France offered artists ample opportunity to utilize their novel techniques, as they attempted to capture the effects of weather and light on the coastline. They also explored their interest in contemporary life; the seaside had become a major holiday destination, and the beaches were transformed as vacationers flocked to areas that previously were of interest only to local fishermen.

This exhibition was organized by The Phillips Collection, Washington, D.C., the Royal Academy of Arts, London, and the Wadsworth Atheneum Museum of Art, Hartford, Connecticut.

October 20, 2007–January 13, 2008 at The Phillips Collection in Washington, D.C.

POP ART PORTRAITS

From the Marilyn screen-prints by Andy Warhol, 1967 © Licensed by the Andy Warhol Foundation for the Visual Arts, Inc/ARS, New York and DACS, London 2007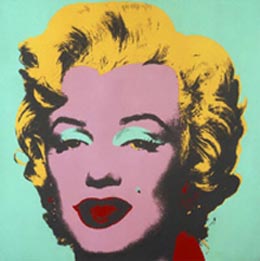 This major international exhibition is the first to explore the role and significance of portraiture within Pop Art, one of the most important and popular artistic movements of the twentieth century.

It brings together in a visual dialogue 52 key works by 28 Pop artists working on both sides of the Atlantic in the 1950s and 1960s, including major portraits by Andy Warhol, Robert Rauschenberg, Jasper Johns and Roy Lichtenstein alongside those of Peter Blake, Richard Hamilton, David Hockney and Patrick Caulfield. Pop Art flourished in Britain and the USA during the 1950s and 1960s and was closely connected with the rise of consumer culture. For that reason Pop is usually seen as being concerned with the depiction of objects. Pop Art Portraits takes a different view. It shows how Pop artists reinvigorated and redefined portraiture, creating new kinds of portraits: from those depicting recognizable sitters, to portraits with a hidden or imaginary subject.

The exhibition is divided into six sections, including screenings of Warhol's influential Screen Tests and a secular 'chapel' devoted to portraits of film star Marilyn Monroe Opened on October 11 and runs through January 20 at The National Portrait Gallery in London.


SPREADING THE WORD


STEPHEN COLBERT: I AM AMERICAN AND SO CAN YOU Stephen Colbert is a comedian, satirist, actor, and writer, known for his portrayal of uninformed opinion leaders. He is the host of the smash-hit television show The Colbert Report on Comedy Central.

Since its debut, the series has established itself as one of Comedy Central's highest rated, earning him three Emmy nominations and an invitation to perform as featured entertainer at the White House Correspondents' Association Dinner.

In this interview, he discusses his new book, I Am America And So Can You, considered a 'simple book from a simple mind' about issues of the day. Following the program, there will be a book signing and opportunity to meet someone Time magazine has named one of the 100 most influential people of 2006.

Part of the 92nd Street Y lecture and conversation series. Tuesday, October 23, Kaufmann Concert Hall in NYC.



Broadway To Vegas is supported through advertising and donations. Priority consideration is given to interview suggestions, news, press releases, etc from paid supporters. However, no paid supporters control, alter, edit, or in any way manipulate the content of this site. Your donation is appreciated. We accept PAYPAL. Thank you for your interest.


FASHION (DOLLARS AND) SENSE


THE SYDNEY THEATRE COMPANY

Giorgio Armani recruited by Kate Blanchett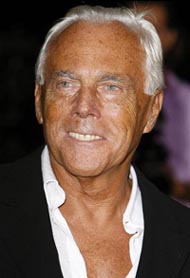 announced last November that the Oscar-winning actress Kate Blanchett, who currently stars in the movie Elizabeth The Golden Age, and her playwright husband, Andrew Upton, had agreed to become co-artistic directors of the Sydney Theater Company for a three year period, starting in January 2008, after a year of shadowing the current artistic director, Robyn Nevin. Considered Australia's most prestigious theatre, Sydney Theatre Company operates three stages.

Expected to bring in their friends, the influential couple hasn't disappointed. Upton secured the directing skills of Oscar-winning actor Philip Seymour Hoffman for his new play Riflemind which is currently being staged. (see below) Now it has been announced that Blanchett has secured the services of the fashion designer Giorgio Armani as the official patron. He will make a large, one-time cash donation to the theatre company and will collaborate on costumes for future productions.

Armani has agreed to serve for at least a year and plans to visit in November. Armani will also dress Blanchett for her public appearances.

The funding from the Italian fashion designer, described as one of the largest ever individual financial gifts in Australia's performing arts, will help the STC to tour overseas and to foster new talent.

In a statement, Blanchett described the septuagenarian designer as one of the most "meticulous, exacting and creative" people she had met and predicted that his relationship with the theatre would be "inspiring and expansive".

ARENA STAGE COSTUME SALE is an opportunity to buy the costumes which were made or purchased for Arena Stage productions from the past 20 years. Those production include: South Pacific, Señor Discretion Himself, Cuttin' Up, Play On!, Camelot, Blues in the Night, Noises Off, Heidi Chronicles ... and more!

Saturday, October 20 at Arena Stage in Washington, D.C.


SWEET CHARITY


SWAROVSKI FASHION ROCKS FOR THE PRINCE'S TRUST 2007 Hollywood's most fashionable pairtng leading man, Samuel L. Jackson and the gorgeous Uma Thurman are set to host Swarovski Fashion Rocks for The Prince's Trust 2007. The live spectacular unites the world's leading fashion and music talent on one stage.

Elizabeth Saltzman, Chairperson of Swarovski Fashion Rocks for The Prince's Trust says "After 20 years friendship and watching her immaculate style and fashion in both her private and public lives - from the first purple Prada dress she wore to the Oscars - Uma really wears the clothing, the clothes don't wear her. Uma has charisma and knowledge, it's what makes her so real - she is it - and who better to front such an event."

The line up will feature shows by international designers accompanied by performances from the world's top music artists including multi Grammy award winning R&B singer Alicia Keys for Armani, NME's 'coolest person in rock' Beth Ditto and The Gossip for Christopher Kane, multi platinum sultry soul singer Joss Stone for Calvin Kline Collection, London's favorite Lily Allen for Channel, 80's new romantic legend Marc Almond, twice BRIT nominated Razorlight fronted by fashion trend setter Johnny Borrell for Burberry and award winning super-producer and artist Timbaland for Dolce & Gabanna, the Diva of all Divas Dame Shirley Bassey for Marchesa, New York duo Shy Child for Stella McCartney, Pussycat Dolls Nicole Scherzinger for Valentino, Roisin Murphy for Gucci, and many more.

Esteé Lauder will head up the largest ever team of make-up artists at one event, to transform the models for each designer segment.

Thursday October 18 at the Royal Albert Hall, London.

GREAT SONGS, GREAT MELODIES Brenda Frye stars in the second annual Cumberland County Playhouse benefit gala, featuring great songs by the great composers, on October 24 in Crossville, TN. This event will benefit the Playhouse audience and development programs. Brenda Frye and her friends from the national opera network - Mark Walters and Mark Ensley - bring us an evening of opera and musical theater melodies. Playhouse soloists join in as well. Dinner, program and a champagne and chocolate reception during intermission.

SAM DONALDSON is a 40-year ABC News veteran who has served two appointments as chief White House correspondent for ABC News. He also co-anchored, with Diane Sawyer, PrimeTime Live until it merged with 20/20 in 1999. Donaldson is the recipient of four Emmy Awards and three George Foster Peabody Awards.

He appears in a benefit for the Alliance for the Arts on Thursday, October 18, in the Barbara B. Mann Performing Arts Hall at Edison College in Fort Myers, Florida.

LYRIC AND LEATHERS: RIDE FOR THE LYRIC OPERA is hip, young and not as stuffy as its reputation would lead you to believe. After all, Mozart may not have thrown on his leathers and gone for a ride, but the Artistic Director of the Lyric Opera of Kansas City does.

On October 21, 2007 the Lyric Opera of Kansas City invites you to do opera without the tux. Just put on jeans and join the inaugural one-hour motorcycle ride. They'll scoot off at the Lyric Theatre downtown and enjoy the wind through their hair, returning for food and raffle prizes at the Lyric.

Be a part of this unusual combination of lyrical notes and worn leathers and you'll see that opera isn't always black-tie.

The funds raised from the ride will help underwrite the Lyric Opera's 50th anniversary season and the innovative and successful continuing education and outreach programs.


OTHER PEOPLE'S MONEY


IRVING BERLIN didn't write Diamonds Are A Girl's Best Friend - that was penned by Leo Robin and Jule Styne - but he seemed to enjoy buying his wife both diamonds and emeralds.

There was a bold art deco emerald and diamond clip brooch commissioned by Irving Berlin from Cartier. And then, that necklace - so grand that the jewelry industry terms it important and named it The Irving Berlin Emerald. Last Monday, October 8, Sotheby's Hong Kong held their Magnificent Jewels and Jadeite Autumn Sale at the Hong Kong Convention and Exhibition Centre. There they gaveled down the 47.60 carat diamond and emerald sautoir - that's a long necklace-longer than opera-length-often with an ornament-a tassel or pendant-at the end. Expected to fetch only $1.54 million to $1.9 million, the necklace went for $2.64 million.

In addition to buying his wife jewelry, his first big hit Always, (I'll be loving you, Always), was written for her - and that's another kind of a gem.



LEONARD SLATKIN has been named the new Detroit Symphony Director. Slatkin, 63, is concluding 12 years at the National Symphony Orchestra this season. He'll assume his new post in the fall of 2008. The internationally renowned conductor immediately announced his intention to personally get to know all members of the orchestra as well as familiarize himself with the hall. He also announced he was constructing a five year plan, promising to bridge a gap between the orchestra and the community. His concert runs for three years with a two-year extension.

Slatkin is scheduled to lead the 98-musician orchestra in concerts later this season and lead five subscription weeks next season followed by 13 or 14 weeks for each of the ensuing two seasons.

The Los Angeles native is also music adviser to the Nashville Symphony and principal guest conductor of the Royal Philharmonic Orchestra in London. In addition, he takes on the duties of principal guest at the Pittsburgh Symphony Orchestra starting in the 2008-9 season. The Detroit Symphony has been without a music director since Neeme Jarvi stepped down at the end of the 2004-5 season. Peter Oundjian will continue as principal guest conductor and artistic adviser this season in Detroit. He will return next season as principal guest conductor.



THE WOMEN OF BREWSTER PLACE Music, lyrics and book by Tim Acito, based on the novel by Gloria Naylor. Molly Smith directs a cast that includes Harriett D. Foy and Marva Hicks.

Based on Gloria Naylor's best selling novel, this soaring musical adaptation of The Women of Brewster Place chronicles the dreams and realities of ten diverse African American women who live in a decaying housing project on a dead-end street.

Haunted by pasts full of mistakes and tragedies, and threatened by an environment full of poverty and prejudice, will the women overcome their differences and come together as a community before it's too late? This powerful, humorous, and uplifting musical from three-time Drama Desk Award-nominee Tim Acito features a dynamic new musical score, ranging from Rhythm and Blues to Funk to Gospel. This world premiere is one of the most anticipated events of the D.C. theater season.

Co-production with Alliance Theater. October 19 through December 9 in the Kreeger Theatre of Arena Stages, Washington, D.C.

TOM, DICK AND HARRY The West Coast premiere of British farce-master Ray Cooney's latest comedy hit, co-written with his son, Hollywood screenwriter Michael Cooney.

Directed by Todd Nielsen. Featuring Jaime Andrews, Lou Briggs, Matt Foyer, David Fruechting, Christy Hall, Nicolas Levene, Kerry Michaels, Brian Stanton and Jaime Tintor.

Tom and Linda are adopting a baby. It's the happiest day of their lives - or it would have been if Tom's brothers, Dick and Harry, hadn't decided to help. The result of Dick and Harry's "assistance" produces two illegal immigrants, a dead body, a van load of contraband cigarettes and a Russian mobster. When the social worker from the adoption agency and the police constable arrive, Tom's ingenuity is stretched to the limit, and the lies (and laughs) pile up. But things couldn't get worse. Or could they?

Previews begins October 16 towards a Friday, October 19 opening and continues through November 18 at International City Theatre, Long Beach Performing Arts Center in Long Beach CA.

SPAMALOT celebrates a year's run at the Palace Theatre in London on October 17

RIFLEMIND by Andrew Upton. Directed by Oscar-winning actor Philip Seymour Hoffman.

John (Hugo Weaving) was once the frontman in one of the world's biggest bands, Riflemind. Now John and his wife Lynn (Susan Prior) are safe from the world in their walled country house. Money and anonymity, however, won't protect them from themselves or their past.

As a comeback tour nears, a weekend of music-making is planned. As soon as the band and associated spouses, lovers and hangers-on arrive, it's a rock'n'roll circus.

With their apparent affluence, preposterous egos and rock-god lifestyle, each of them struggles to find redemption. Over this weekend they will open old wounds, lose their way, play great music and, perhaps, stumble into a more certain future.

With: Marton Csokas, Ewen Leslie, Susie Porter, Susan Prior, Steve Rodgers, Jeremy Sims, Hugo Weaving.

Performances through December 8 at the Sydney Theatre Company in Sydney, Australia.

A BRONX TALE written by and starring Academy Award nominee Chazz Palminteri and directed by four-time Tony Award winner Jerry Zaks.

In A Bronx Tale, Palminteri brings 18 characters to vivid life, depicting a rough childhood on Bronx streets populated by a cast of friends and enemies.

It tells the story of a boy who must choose between his hardworking father and the local neighborhood mobster who takes him under his wing.

Palminteri originally wrote the script for the stage and performed it as a one-man show in Los Angeles. He then moved the production to New York, where it played for four sold-out months and earned him nominations for the New York Outer Critics Circle for both acting and writing. While in New York he completed the screenplay of A Bronx Tale, which became one of the hottest properties in Hollywood. He held out for an offer that would let him star in the film, and soon found himself starring opposite Robert DeNiro, who chose the script for his directorial debut.

Lighting design is by Paul Gallo, set design by James Noone, and original music and sound design by John Gromada.

Performances October 20 -February 10 on Broadway at the Walter Kerr Theatre, NYC.

THE LIFE OF GALILEO

Stacy Keach. Photo by Thomas Duffe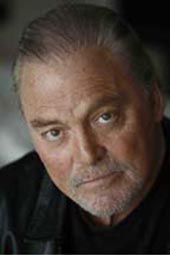 straight from London's National Theatre to L.A. Theatre Works, Stacy Keach and Julian Sand star in the American Premiere of David Hare's streamlined version of Bertolt Brecht's The Life of Galileo. LATW opens its 2007-08 season with five performances at the Skirball Cultural Center, October 17-21, each recorded to air on LATW's nationally-syndicated weekly radio theater series, The Play's The Thing.

The Life of Galileo, Brecht's masterpiece about the conflict between reason and faith, will be recorded to air as part of the Relativity science series, created by a major grant from the Alfred P. Sloan Foundation. On the first Saturday of each month, The Play's the Thing broadcasts a science-themed play as part of this new series.

Also included in the cast, directed by Martin Jarvis, are stage and screen veterans Kenneth Danziger, Jeannie Elias, Jill Gascoine, Christopher Neame, Moira Quirk, Darren Richardson, Alan Shearman, W. Morgan Sheppard, Simon Templeman, Douglas Weston and Matthew Wolf.

Unrelenting in his search for "simple truth," Galileo's astonishing proof that the earth moves around the sun shatters a belief held sacred for two thousand years. But, under threat of torture by the Holy Inquisition, his scientific and personal integrity are put to the test, as he argues for his very life in a passionate debate over science, politics, religion and ethics that resonates to this day.

Brecht's play about the founder of modern science, written on the brink of World War II, questions whether the scientist should be subservient to the State, allowing it to use scientific knowledge for its own questionable purposes.

When introducing his adaptation of the play in London, David Hare wrote, "Brecht's principal aim is to tell the story of a man who comes to realize he has been ethically unequipped to deal with the consequences of his own genius. But Brecht's own genius is to turn the tragedy outwards and ask how things might have been otherwise."

Produced by Susan Loewenberg the production runs October 17-21 at the Skirball Cultural Center in Los Angeles.


| | | |
| --- | --- | --- |
| | | |
WHO'S WHERE


TONY MARTIN is a rare and remarkable entertainer who has successfully transcend the entertainment gamut from the concert stage, recordings, motion pictures, television, radio, Las Vegas and Broadway. In a career that has spanned over 60 years, the legendary Tony Martin, 95, has done just that. He'll be reminiscing about Hollywood stars like Fred Astaire, Giner Rogers and his wife, Cyd Charisse. Plus, he'll be crooning songs like Begin the Beguine and A Foggy Day during a two night stand, October 21-22, at Feinstein's at the Regency in New York City.

JOE PISCOPS'S Frank Sinatra character from Saturday Night Live has turned in to a full tribute to Ol' Blue Eyes complete with a 16 piece orchestra that is directed by Vinnie Falcone who was Frank Sinatra's music director for years. Vinnie brings the original chart toppers and Joe brings the personality. October 19-20 at John Ascuaga's Nugget in Sparks, NV.

EARTHA KITT in a two night stand at Symphony Hall the Woodruff Arts Center in Atlanta on Friday October 19 and Saturday, October 20.

MARY CLEERE HARAN Sings Doris Day October 16 - 27 at Feinstein's Lowes Regency in NYC.

MAROON 5 performs Monday, October 15 at the TD Banknorth Garden in Boston. On Tuesday the show is at the Verizon Center in Washington, D.C. They'll be on stage Thursday at the Colonial Center in Columbia, SC. Saturday finds them at Bank Atlantic Center in Sunrise, FL.

THE POLICE opens a two night gig on Monday, October 15, at the Manchester Evening News Arena in Manchester, England. On Friday they take to the Millennium Stadium in Cardiff, UK.

BRUCE SPRINGSTEEN brings the band to the Air Canada Centre in Toronto, Ontario on Monday, October 15. On Wednesday they open a two nighter at Madison Square Garden in New York City. Next Sunday they can be enjoyed at the United Center in Chicago.

MARC ANTHONY AND JENNIFER LOPEZ take their tour to the HP Pavilion in San Jose, CA on Wednesday, October 17. On Friday they're on stage at the Staples Center in Los Angeles. On Saturday they perform at the Honda Center in Anaheim, CA.

BOB DYLAN in the spotlight Tuesday, October 16 at the Ervin J. Nutter Center in Dayton, Ohio. Wednesday finds him at Freedom Hall in Louisville, KY. On Friday the show is at Assembly Hall in Bloomington, IN. Saturday he's in a different Bloomington, this one in Illinois at the U.S. Cellular Coliseum.

ROY ROGERS AND THE DELTA RHYTHM KINGS playing at the Arena Theatre in Point Arena, CA on Friday, October 19. ON Saturday the performance is at Todos Santos Park in Concord, CA.

ARLO GUTHRIE brings his act to the Calumet Theatre in Calumet, MI on Tuesday, October 16. On Thursday he's on stage at the Barrymore Theatre in Madison, WI. Friday finds him at the Hemmens Cultural Center in Elgin, IL. On Saturday the show is at the Coronado Performing Arts Center in Rockford, IL.

DIANE SCHUUR entertains Friday, October 19, at Arturo Sandoval's Jazz Club in Miami Beach, FL.

PRESERVATION JAZZ HALL BAND plays Tuesday, October 16, at the Ritz Theatre in Greenville, AL. On Saturday they're in the spotlight at The Triple Door in Seattle, WA.

PAT METHENY TRIO who has won 16 Grammy awards and countless polls for Best Jazz Guitarist is a truly innovative musician and versatile composer. He's redefined the sound of the jazz guitar for a new generation of players in trio, quartet, and large-band settings. Joining Metheny in this intimate trio lineup are Christian McBride, among the jazz world's most celebrated acoustic and electric bassists, and Antonio Sanchez, one of the most in-demand drummers in the business. October 19 at the Flynn Center for the Performing Arts in Burlington, VT.




FINAL OVATION


TOM MURPHY who won a Tony Award for his featured role in Martin McDonagh's The Beauty Queen of Leenane in 1998, died October 6 of lymphatic cancer. Born in Dublin, Ireland, he was 39.

Artistic Director of the Druid, Ms. Garry Hynes said he was a wonderful colleague and friend and will be much missed in the film and theatre business. According to FTE News, Marie Mullen, his co-star in Leenane, led a round of applause in his honor at the Oct. 6 curtain of Long Day's Journey Into Night at the Gaiety Theatre. So did many other theatres in Dublin.

In 2004 he received a Best Actor nomination in the Irish Film and Television Awards for his role as Paul in the film Adam and Paul. In 2005 he won the Irish Film and Television Awards Best Actor category for his portrayal of Shamie Donoghue in the television series Pure Mule.

Next Column: October 21, 2007
Copyright: October 14, 2007. All Rights Reserved. Reviews, Interviews, Commentary, Photographs or Graphics from any Broadway To Vegas (TM) columns may not be published, broadcast, rewritten, utilized as leads, or used in any manner without permission, compensation and/or credit.
Link to Main Page
---
Laura Deni


CLICK HERE FOR COMMENT SECTION