! >
Broadway To Vegas
  
 SHOW REVIEWS CELEBRITY INTERVIEWS GOSSIP NEWS

| | |
| --- | --- |
| | |
SIDNEY HARMAN HALL GALA OPENING - - CELEBRATING THELONIOUS MONK - - PAULA PRENTISS STAR TURN SETS RECORD - - RITA HAYWORTH GALA - - ACTORS FUND MEDAL OF HONOR - - NEW GREASE CD - - ART AND SEX FROM ANTIQUITY TO NOW - - A TOAST TO MAD MEN - - DONATE . . . Scroll Down


Copyright: October 7, 2007
By: Laura Deni

CLICK HERE FOR COMMENT SECTION
A-LIST OPENING FOR SHAKESPEARE'S NEW HARMAN CENTER FOR THE ARTS
Harman Center for the Arts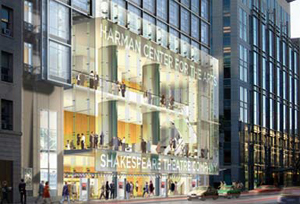 The place to have been last Monday night was at the gala opening of the Harman Center for the Arts in Washington. D.C. The new home for the Shakespeare Theatre Company is an $89 million auditorium which features a dramatic façade with a three-story glass bay that projects eight feet over the sidewalk below.

A sell-out a month in advance, European blue blood and American high society eagerly ponied up $5,000 per ticket with tables going for as much as $100,000.

Making her way through a bevy of flashbulbs was HRH The Duchess of Gloucester who winged over from London.

Other VIPs sashaying down the block long red carpet included a pony-tailed Chelsea Clinton and her Secret Service agents, Supreme Court Justices Stephen Breyer and Anthony Kennedy, former Justice Sandra Day O'Connor, Mayor Adrian and Mrs. Fenty,

Sam Waterson served as Master of Ceremonies. Photo by Virgilio Santos Photo Courtesy Harman Center for the Performing Arts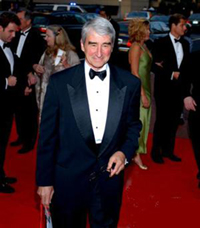 British Ambassador David Manning (who looks a little bit like Nevada Senator Harry Reid), Colombian Ambassador to the U.S. Caroline Barco, the Italian Ambassador to Germany Antonio Puri Purini, former United States Ambassador to Brazil John Danilovich, who now serves as head of the Millennium Challenge Corp.

Also enjoying the hour long cocktail reception held in the three-floor lobby and terrace space were Homeland Security chief Michael Chertoff, Senators Susan Collins of Maine, Ted Stevens of Alaska, Representatives Eleanor Holmes Norton (D-DC), John Dingell (D-MI), Norman Dicks, (D-DC), US Commerce Secretary Carlos M. Gutierrez, National Gallery of Art director Earl "Rusty" Powell III and his wife, Nancy, Polly and David Ober, designer Mary McFadden, and former White House chief of staff Mack McLarty.

Liza Lorenz of the Shakespeare Theatre communications office spoke with Broadway To Vegas about the event.

"It was great. I think it exceeded everyone's expectations," she said of the gala in which actor Sam Waterston served as master of ceremonies for the 90 minute production.

He introduced Broadway star Patti LuPone and jazz virtuoso Wynton Marsalis. Also on the bill were violinist Ann-Sophie Mutter accompanied by Ayami Ikeba.

Edward Gero, Kelly McGillis, Patrick Page and Jeffrey Carlson performing at the Harman Center for the Arts Opening Gala. Photo by Carol Rosegg. Photo Courtesy Harman Center for the Performing Arts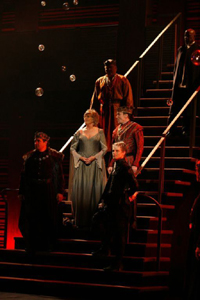 Nina Ananiashvili and Julio Bocca performing at the Harman Center for the Arts Opening Gala. Photo by Carol Rosegg. Photo Courtesy Harman Center for the Performing Arts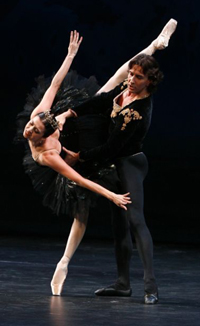 They played selections from George Gershwin's Porgy and Bess.

The Jazz at Lincoln Center Orchestra performed two Marsalis compositions including a dynamite version of Billy Strayhorn's Take the 'A' Train backed by the Gospel Mass Choir.

Ballet dancers Julio Bocca and Nina Ananiashvili danced a pas de deux from Swan Lake, and the Washington Ballet got on their toes to Lennon and McCartney's A Day In the Life choreographed by Trey McIntyre.

Also on stage were Washington Performing Arts Society's (WPAS) and actors from the Shakespeare Theatre Company including Stacy Keach, Kelly McGillis, Harry Hamlin, Avery Brooks and Patrick Page who opened with the prologue from Henry V.

The production was directed by Ethan McSweeny and designed by Helen Hayes Award-winner Robert Perdziola.



Street performers on the parade to dinner at the National Building Museum, part of the Harman Center for the Arts Opening Gala. Photo by Kevin Allen. Photo Courtesy Harman Center for the Performing Arts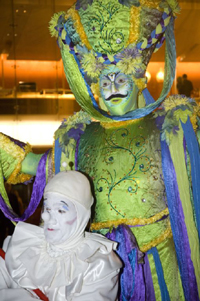 Heading to dinner held in the National Building Museum a couple of blocks away from Harman Hall, the attendees were greeted by a parade of stilt walkers, Harlequins, a ribbon dancer, jugglers and sequined performers who twirled flames provided by Cast of Thousands Entertainment Company, a five-minute fireworks show by Zambelli Fireworks and toe tapping tunes from a Dixieland jazz sextet.

Upon entering the National Building Museum the air was filled with notes from Bob Hardwick's Orchestra.

"We played all different kinds of music," Hardwick told Broadway To Vegas. "We were playing when people came in after the concert. Some of the Washington Ballet people were dancing in front of the band stand. We started with rock. After everyone arrived I decided to play more of the older tunes, because people pretty much want that earlier in the evening. That's what we played for the first hour. When people were eating we played background music. In between courses we played. After the main course we let it fly from there."

Hardwick's musicians continued to provide excellent music throughout the evening which didn't end until after midnight - an unusual testament to a grand evening in a town which goes to bed early - especially on a Monday night.

"We had 200 plus kids dancing at one a.m," he exclaimed. "As far as I know, they would have gladly gone on for another hour," related Hardwick about the swell affair in which the usually ho-hum Washington set preferred to party on.

"Design Cuisine made the meal," Lorenz said of the Arlington, VA based firm which is a fixture in Washington's political, corporate, and social circles. Noted for obsession over details, the firm has provided the eats for state luncheons and dinners, presidential inaugurals and social galas.

Seated at 96 tables draped in deep red and gold Indian-imported linens, designed especially for the event, the settings featured crimson bengaline underclothes with golden butterfly stripe overlays. Suzanne Codi Floral Design made sure every single pedal on those red celosia - commonly known as the plumed cockscomb - smokebush, and roses of every crimson hue were perky and perfect.

The glitzy crowd feasted on, among other goodies, short ribs of beef and black-truffle foie gras. The desserts included miniature chocolate ganache cakes and baked Alaska brownie pops.

"We did hire a party planner - Campbell, Peachey and Associates," continued Lorenz who has been with The Shakespeare Theatre Company for six seasons. The staff of the Shakespeare Theatre Company worked closely with Campbell, Peachey and Associates in producing the evening, which started being planned last April.



Robert Desiderio and Judith Light. Photo by Virgilio Santos. Photo Courtesy Harman Center for the Performing Arts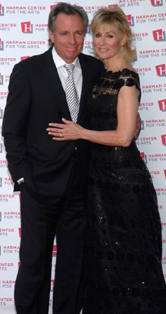 Hard working socialite/activist Ann Nitze was Gala Chair. "She divides her time between New York, Washington and Aspen," explained Lorenz.

Those assisting Nitze included; Vice Chairs Calvin and Jane Cafritz, William Couper, Samia and Huda Farouki, Kristin and Kingdon Gould, Michael R. Klein and Joan I. Fabry, Arlene and Robert Kogod, The Honorable Selwa Roosevelt and William Talbert. Serving as Honorary Patrons were President George W. Bush and Mrs. Laura Bush. The gala's Honorary Chairs were Jane and Sidney Harman, Honorable Adrian M. Fenty and Michelle Cross Fenty, Anthony Williams and Diane Simmons Williams, Debra and John Boehner, Susie and Norm Dicks, Steny H. Hoyer, and Victoria and Ted Kennedy.

Traveling the farthest was HRH The Duchess of Gloucester who was stunning in a blue evening gown.

"We have a very good relationship with the British Embassy. They were the ones who helped invite her and made sure she attended the event," related Lorenz.

The versatile Harman Hall should not be seen as competition to the Kennedy Center.

"I think what we do is completely different," emphasized Lorenz. "They are presenting arts in much larger size venues. The Terrance Theatre is 500 seats but the Eisenhower and the Opera House and the concert Hall are each over 1500," she said of The Kennedy Center.



Harman stage configured for a musical ensemble. Photo Courtesy Harman Center for the Performing Arts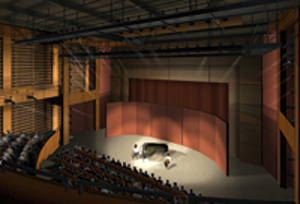 Harman thrust stage. Photo courtesy Harman Center for the Performing Arts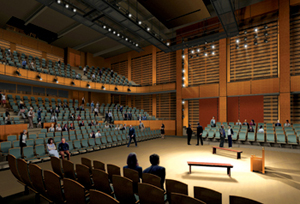 "Harman Hall fills a niche that was previously unfulfilled in Washington," Lorenz elaborated. "A mid-sized performance venue in downtown. We haven't had that before. There are artists who don't necessarily fit into a 1500 seat hall. What they really need is a hall that is somewhere between 600 and 900 and that is what Sidney Harman Hall can provide. "

"We are using both facilities. We are continuing to perform in the Lansburg Theatre, which is our existing theatre. The Harman Center for the Arts refers to our new theatre – the 775-seat Sidney Harman Hall – and our old theatre – the 450-seat Lansburgh Theatre. So far Harman Hall has exceeded our expectations. I think the Gala Performance was an incredibly good showcase of the hall's capabilities."

"The space is a transformable space both acoustically and in terms of staging configurations," she said of the hall designed by Toronto architect Jack Diamond whose commissions have included Toronto's new Opera House.



Patrick Page and Paige Davis enjoying the dinner at the Harman Center for the Arts Opening Gala. Photo by Kevin Allen. Photo Courtesy Harman Center for the Performing Arts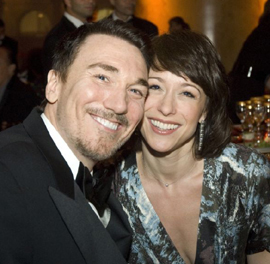 "The space can be tuned for what ever is on stage, whether that be spoken work or unamplified music or amplified music, so we are really taking advantage of that," Lorenz reported.

The first rows of seating are on wagons which can be lowered into the floor or swung around at right angles to the auditorium, creating a thrust stage. An arcade around the stage can be used as performance space or for additional seating. The proscenium arch is assembled in parts capable of retreating into the ceiling, allowing for a completely open performance space.

"Not only are we going to be having performances by the Shakespeare Theatre Company in Sidney Harman Hall, we are also going to be renting space out to local arts organizations and national and international artists and companies to use for their own performances."

So far over 200 non-Shakespeare Theatre events have been booked into the spaces by K Williams, the troupe's first booking manager. Those include The Washington Ballet, City Dance Ensemble, Ford's Theatre and the touring Reduced Shakespeare Company. Others expected to take advantage of the venue include the Washington Bach Consort and the Summer Opera Theater Company.



Dr. Sidney Harman and Shakespeare Theatre Company Artistic Director Michael Kahn at the Harman Center for the Arts Opening Gala. Photo by Kevin Allen. Photo courtesy Harman Center for the Performing Arts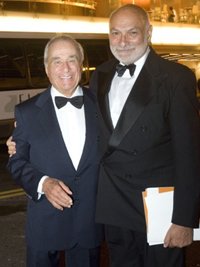 "When we were at the Lansburg we were rehearsing or performing in the space pretty much 365 days a year," continued Lorenz. "We weren't able to offer the space to other organizations. With two spaces that is a luxury that we now have."

"I think this is the dream of four key people, Michael Kahn out artistic director, Landon Butler who is the Chairman of our Board, and really the driver of the campaign - actually our whole board of trustees; Nicholas T. Goldsborough our managing director and Sidney Harman, who is the lead donor on the project."

Following a ballet presentation Waterston introduced Michael Kahn who has led the theatre for 21 years. He then introduced Sidney Harman to the black-tie gala audience which responded with a standing ovation.

"Here, in this wonderful space, we will reach a new, younger, multinational, multilingual, multicultural audience that will embrace what we do, I have no doubt," Harman told the 900 plus bold faced supporters whose attendance was expected to raise $2.8 million.



Dr. Sidney Harman and Representative Jane Harman at the Harman Center for the Arts Opening Gala. Photo Kevin Allen. Photo Courtesy Harman Center for the Performing Arts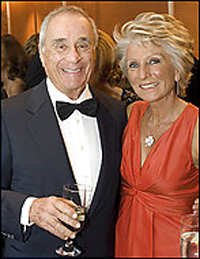 The 88-year-old founder and executive chairman of stereo speaker-maker Harman International Industries, Harman earned name above the title by donating $19.5 million on behalf of his family toward the project's $89.3 million cost. So far the company has raised more than $69 million from 2,400 donors, including $20 million from the District of Columbia.

Harman and his wife, Jane, a Democratic congresswoman - (D-36th District-Venice, CA), the ranking Democrat on the House Permanent Select Committee on Intelligence and a member of the Homeland Security Committee - run a family foundation that gave away $4.2 million in 2005.

Few professionals in the music and sound industry have a career that equals that of Dr. Sidney Harman. The chairman and CEO of Harman International began his distinguished career in 1953 when he and partner Bernard Kardon helped define the home hi-fi industry with the development of the first receiver.



Washington, D.C. Mayor Adrian Fenty and Shakespeare Theatre Company Artistic Director Michael Kahn at the Harman Center for the Arts Opening Gala. ``I think we're now becoming a place that's known nationally, and maybe internationally, for the arts,'' said Mayor Fenty. Photo Kevin Allen. Photo Courtesy Harman Center for the Performing Arts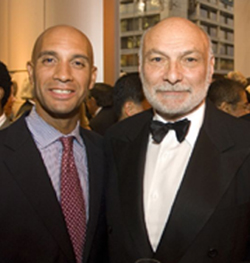 Harman bought out his partner in 1956 and then expanded Harman Kardon into an audio powerhouse. A social activist and promoter of the arts, Harman served for three years as president of Friends World College, a worldwide, experimental Quaker College, and is the founder and an active member of the Program on Technology, Public Policy, and Human Development at the John F. Kennedy School of Government at Harvard University. He served as Deputy Secretary of Commerce during the Carter Administration.

Equally immersed in the competitive world of business and the cultural world of the arts, Harman's keen interest in and appreciation for the arts led him to support an artist-in-residence program at a business school in New York City.

Monday's gala opening of Sidney Harman Hall was a four year dream brought to fruition.

"When we only had the Lansburgh we presented five shows a year," continued Lorenz. "With the addition of Harman Hall we are expanding our season to eight shows per year."

Currently 65 actors are employed and the company's budget of $19 million is almost double what it was five years ago.

"Now that we are able to present eight productions, we are able to expand and present playwrights that we have never presented before," Lorenz related. "We are doing our first production of Christopher Marlowe this season. We do the work of Shakespeare and his contemporaries - playwrights that he influenced."

Harman Hall will open to the public at the end of the month with a rotating repertory of Edward II directed by Gale Edwards from October 27-January 6, 2008 and Tamburlaine, by Shakespeare's rival Christopher Marlowe, adapted and directed by Michael Kahn with performances October 28 - January 6, 2008.


THE MUSIC GOES ROUND AND ROUND


GREASE: YOU'RE THE ONE THAT I WANT was a 12 week nationally televised audition for casting of the new Broadway production of Grease. For the 90 million viewers who tuned in - Grease is still the word. Millions of voters determined that Laura Osnes and Max Crumm were the ones that America wanted to play the iconic roles of Sandy and Danny.

Naturally what follows is an original cast recording of the production.

The cast recording of the current Broadway revival of Grease hit the stores on October 2 on the Masterworks Broadway label distributed by Sony Music.

Grease started out as a stage musical, was turned into a film version and then returned to the stage. Along the way songs were removed and then added.

The movie's soundtrack was a number one album. The song You're The One That I Want was released as a single prior to the film's release and became an immediate chart-topper, despite not being in the stage show or having been seen in the film at that time.

Current events also altered version of Grease. The song Look at Me, I'm Sandra Dee references Sal Mineo in the original stage version. Mineo was stabbed to death a year before filming, so the line was changed to refer to Elvis instead. The Troy Donahue reference is in the original stage version. The song Hopelessly Devoted to You was nominated for an Academy Award (1979) for Best Music - Original Song. The movie's title song was also a number one smash hit single for Frankie Valli.

This CD is exactaly what one would expect - a faithful reproduction of the Broadway show. Musically there is a difference between the stage versions and the movie because the movie utilized more musicians and thus more complicated arrangements.

Fans of Grease - and there are a swarm of them - won't care. The Jacobs-Casey cynical and/or syrup sweet lyrics and disco beats are all there.

Produced by David Lai and David Leonard, the effort was recorded and mixed by David Leonard and Isaiah Abolin at Legacy Studios in Manhattan. The show's score was recorded August 16 and mixed the following day. Mastered by Andrew Mendelson at Georgetown Masters.

In addition to Laura Osnes and Max Crumm, the company also features Ryan Patrick Binder as Doody, Susan Blommaert as Miss Lynch, Jeb Brown as Vince, Stephen R. Buntrock as Teen Angel, Daniel Everidge as Roger, Allison Fischer as Patty, Robyn Hurder as Marty, Lindsay Mendez as Jan, Jenny Powers as Rizzo, Jose Restrepo as Sonny, Matthew Saldivar as Kenickie, Jamison Scott as Eugene and Kirsten Wyatt as Frenchy.

The ensemble comprises Josh Franklin, Cody Green, Natalie Hill (Cha-Cha), Matthew Hydzik, Emily Padgett, Keven Quillon, Brian Sears, Christina Sivrich, Amber Stone and Anna Aimee White.

Grease is now playing on Broadway at the Brooks Atkinson Theatre.

Musicians on the CD are;

Michael Aarons (acoustic guitar, electric guitar); John Scarpulla (woodwinds, tenor saxophone); Jack Bashkow (woodwinds, baritone saxophone); Chris Fenwick (associate conductor, piano, synthesizer); Randy Cohen (synthesizer, programming); Kimberly Grigsby ( conductor, synthesizer); Michael Blanco (acoustic bass, electric bass); John Clancy (drums, congas); Jim Hershman (acoustic and election guitars) Orchestrations by Christopher Jahnke. David Chase provided additional musical arrangements. Howard Joines served as music coordinator.

The tracts:

Prologue
Grease
Summer Nights
Those Magic Changes
Freddy, My Love
Greased Lightnin`
Rydell Fight Song
Mooning
Look At Me, I`m Sandra Dee
We Go Together
Shakin` At The High School Hop
It`s Raining On Prom Night
Born To Hand Jive
Hopelessly Devoted To You
Beauty School Dropout
Sandy
Rock `N` Roll Party Queen
There Are Worse Things I Could Do
Look At Me, I`m Sandra Dee -Reprise-
You`re The One That I Want
We Go Together -Reprise-


CELEBRATING THELONIOUS MONK
Thelonious Monk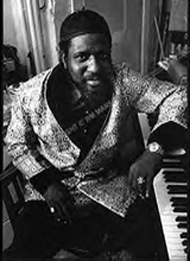 The most original musician in jazz history - Thelonious Monk - was born in a dirt-road town in the plains of eastern North Carolina, all cotton fields, railroad tracks, and tobacco warehouses.

On October 10 he would have been 90 years old. Celebrations are taking place to acknowledge the Monk influence.

Following Monk retraces a jazz prophet's links to his native state, returning home to pay respect to a talent that transcends place. Based at Duke University, just 60 miles from Thelonious Monk's hometown of Rocky Mount, a six-week celebration honors both the roots of the man and his music.

Artists from all over America have descended on Durham, recalling the visionary composer's influence and unveiling music and performances that Monk's innovations have inspired.

Presented by Duke Performances, the Center for Documentary Studies at Duke University, and the Thelonious Monk Institute of Jazz and the Center for Documentary Studies at Duke University, this week-end investigated and celebrated the North Carolina roots of Thelonious Monk's family and music. Highlights included guided tours of Monk's birthplace in Rocky Mount, North Carolina, and the Newton Grove plantation where his ancestors were slaves and where relatives still live today.



Paul Jeffrey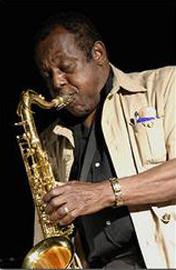 Led by Sam Stephenson, director of the Jazz Loft Project at the Center for Documentary Studies, participants heard from some of Monk's family members - Duke neurobiologist Erich Jarvis and educators Pam Monk Kelley and Gaston Monk - about their extensive research on the family tree, and from Monk's son, T.S. Monk, about the relationship between the family and Monk's music.

Participants also heard from historians and musicians discussed the cultural and musical significance of Monk's North Carolina heritage. Speakers included Monk's last saxophonist and family friend, Paul Jeffrey, and Georgetown University's Maurice Jackson, who explored the links between Monk's music and spirituals and rural church music.

Thirty-seven years ago, Monk appeared with his quartet at the Raleigh, North Carolina, nightclub called the Frog & Nightgown. His performances there were the only times that Monk played in his home state. Though born in Rocky Mount, NC, in 1917 he moved with his parents to New York City the next year.

In a concert billed as Thelonious Monk's Homecoming: Raleigh's Frog & Nightgown, 1970, tenor saxophonist Paul Jeffrey and drummer Leroy Williams were joined by another Monk veteran, bassist John Ore. From the new generation affected by Monk, Jason Moran was at the piano. They recreated the Frog & Nightgown dates. Concertgoers also heard a recording of the 1970 Monk engagement. Renowned pianist Henry Butler presented an exclusive concert based on the same topic. Guggenheim Award-winning poet Betty Adcock read a poem, commissioned for this event as a tribute to the role of Monk's mother, his wife Nellie, and other women in his life.

On October 10, the Winter Garden at the World Financial Center at New York City's Ground Zero will house the Thelonious Monk 90th Birthday Piano Marathon.

The event, co-produced by Klavierhaus and in association with the Thelonious Monk Institute of Jazz, will bring together several pianists to pay tribute to Monk. Artists in attendance will include Geri Allen, Cedar Walton, Randy Weston, Frank Kimbrough, Luis Perdomo, Fred Hersch, Helio Alves, Aaron Goldberg, Dan Tepfer, Juan Jose Chuquisengo, Aaron Diehl, Ran Ja, Joel Fan, Martha Marchena, Diedre Rodman and Erno Feher.

A production of Laurence Holder's one-man play Monk, with music soundtrack by Bill Lee, starring Rome Neal, takes place at two historically famous spots. This past Friday the performance was at Saint Peter's Church, the jazz church where Monk's and Nellie's funeral's were held. On October 10 the show is staged at Minton's Playhouse, the jazz club where Monk was the house pianist in the early forties. There will be a third performance on October 13th, of excerpts, in Brooklyn at the Jazz club, Sister's Place.

The New School for Jazz and Contemporary Music celebrates Monk with two concerts. On the evening of Monk's birthday, accomplished New School Jazz musicians and guests artists interpret Monk's compositions in the mainstream tradition. Faculty member Jimmy Owens, who played with Monk, leads the ensemble on trumpet and flugelhorn, with Slide Hampton on trombone, faculty member Junior Mance on piano, Kenny Davis on bass and Eric McPherson on drums. An October 30th concert, The Monk Confluence, re-imagines them in a contemporary way, speaking to both the continued relevance of his work and the changing culture of Jazz.

Steve Cardenas will lead an innovative piano-less quartet on guitar, performing familiar and less known Monk compositions, with Ben Allison on bass, Matt Wilson on drums, and New School Jazz student Yonatan Voltzok on trombone.



Jason Moran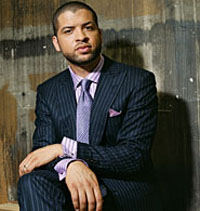 In My Mind: Monk at Town Hall 1959 will have its Washington, D.C. premiere on Sunday, October 28 at The George Washington University Lisner Auditorium. In a performance funded by The Doris Duke Fund for Artists' Development, Jason Moran creates a multimedia performance integrating Thelonious Monk's music, conversations, and photos. The Bad Plus, a musically adventurous jazz trio, shares the double-bill.

On Friday November 16 the Art Institute of Chicago will present Thelonious Monk's Town Hall as seen by photographer W. Eugene Smith.

W. Eugene Smith, one of Time-Life's greatest photo journalists, withdrew from the national scene in the late 1950's to a Manhattan loft where he and his roommates hosted jazz musicians "every night until about eleven." Combining his talent as photographer with his new interest in audio recording, he captured amazing moments as pianist Thelonious Monk put together rehearsed what would become the famous Town Hall concert.

In celebration of the anniversary of Monk's 90th birthday, Jazz at Symphony Center will present a newly commissioned work by jazz pianist Jason Moran which infuses Smith's work with materials from Monk's Town Hall concert. This Jazz Connection event will be hosted by Jason Moran and media historian Sam Stephenson, from Duke University's Center for Documentary Studies.

Moran and an expanded version of his acclaimed group, The Bandwagon, will perform some of the original Town Hall compositions while reinterpreting others in a unique multi-sensory perspective on the legacy of Monk and the historic 1959 concert.

This work was commissioned by Duke University and the Center for Documentary Studies, Jazz at Symphony Center, SFJAZZ, and Washington Performing Arts Society.


ART AND ABOUT


SEDUCED

Jupiter and Antiope, 1659 Dry point etching Fitzwilliam Museum, Cambridge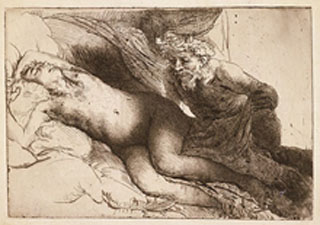 Art & Sex from Antiquity to Now is on exhibit October 12 - January 27, 2008 at the Barbican Art Gallery in London.

Seduced explores the representation of sex in art through the ages. Featuring over 300 works spanning 2000 years, it brings together Roman sculptures, Indian manuscripts, Japanese prints, Chinese watercolors, Renaissance and Baroque paintings and 19th century photography with modern and contemporary art. Broadway To Vegas has decided to show two of the more family friendly art works. Many of the masterpieces are extraordinarily explicit and erotic.

The exhibition presents the work of around 70 artists including Nobuyoshi Araki, Francis Bacon, Jeff Koons, Robert Mapplethorpe, Pablo Picasso, Rembrandt van Rijn and Andy Warhol among others. Stimulating the mind and the senses, provocative and compelling, Seduced provides the historical and cultural framework to explore the boundaries of acceptability in art.



Kitagawa Utamaro (c. 1753-1806) Book of the laughing drinker (Ehon warai jogo), Volume 2, c. 1803 Series of 3 books with double-sided color woodblock illustrations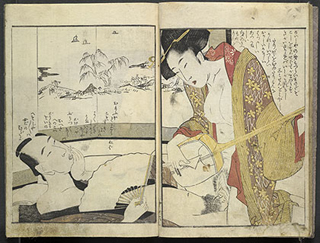 Seduced is curated by Marina Wallace, Martin Kemp and Joanne Bernstein.

Every Thursday for the duration of the exhibition there will be late night opening with a difference. Experience artist commissions, live music, erotic readings, talks and events. Enjoy a Seduced cocktail and aphrodisiac snacks from the bar.

Seduced - Sex and Censorship in the Cinema includes uncut versions of films previously banned by the British Board of Film Censors (BBFC), as well as an exciting selection of classics, special screen talks and panel discussions.

Quickies are for those with busy schedules. Join a host of artists, commentators and curators for a Quickie talk in the gallery lasting a maximum of 30 minutes.

Only those over the age of 18 are admitted to this exhibition.

In a related story, on Friday, October 5, it was reported that a rare original painting by the Japanese woodblock print artist Utamaro Kitagawa has been found at the house of an elderly woman, whose husband bought it from a local junk dealer for 2,000 to 3,000 yen - 17 to 26 dollars - decades ago.

The work by Utamaro (1753-1806), one of the greatest artists of traditional woodblock prints Ukiyo-e, was discovered while national network Japan Broadcasting Corporation (NHK) was working on a documentary on the artist, said Shugo Asano, who checked the painting's authenticity. Asano is head of the cultural section of the Chiba City Museum of Art.

According to France 24 only 30 of Utamaro's paintings are known to still be in existence, along with 2,000 woodblock prints Asano said "The discovery makes an extremely important addition to the hand painting collection by Utamaro and is a valuable material to study his work."

Kitagawa Utamaro was known for his portraits of female beauties often with erotic themes. He focused on the woman's face and upper half of the body creating a radically distorted female, using exaggerated proportions, large heads set upon long slim necks and a coiffure bulging out to the edge of the print. These "large-head" views were called "okubi-e". Utamaro's work was known to influence later artists such as Picasso and Modigliani, who were known for their distortions and elongations of the female head and body, according to Lorena Overstreet Allen, M.Ed., ISA who expounded on the subject in Japanese Woodblocks.

Utamaro's work is displayed at top art venues including the British Museum, the Philadelphia Museum of Art, and the Museum of Fine Arts in Boston.

The discovered work, entitled Onna Daruma Zu or Picture of female Dharma, portrayed a fair-faced courtesan wearing a red garment, making her look like Buddhist Dharma.

Experts knew the work existed, but they had not been able to locate it.

The discovery of the work at a private residence suggests that the painting never left the Tochigi region, where Utamaro once lived and enjoyed ties with wealthy merchants, Asano said. "I was initially surprised by how badly damaged it was," said Asano. "The old lady kept the painting in a wood box. So the work's physical condition is extremely bad."

"But after having closer look, I saw the brush strokes, the shape of the face, the line of her cheek, ear, eye brows...they are carefully executed and just right," he said. The painting is now stored at a local museum to prevent further damage.



Broadway To Vegas is supported through advertising and donations. Priority consideration is given to interview suggestions, news, press releases, etc from paid supporters. However, no paid supporters control, alter, edit, or in any way manipulate the content of this site. Your donation is appreciated. We accept PAYPAL. Thank you for your interest.


SPREADING THE WORD


SMOKE AND SYMPATHY: A TOAST TO MAD MEN

Ensemble cast of Mad Men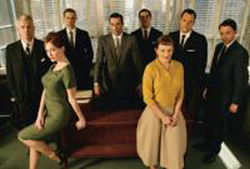 in the opinion of Broadway To Vegas it's one of the best series ever aired on television. The smart, sharp one-hour AMC series deserves to be an accreted college course. Study Mad Men and you'll get a more accurate picture of that era than any textbook could possibly offer.

The spot on series is based on a pilot Matthew Weiner wrote years ago while he was a staff writer on the CBS comedy Becker. The sudden flame up of positive attention may signal that enough time has passed, enabling people to take a step back and more objectively view the emotional, social and economic torture chambers that kept America purring along. Vietnam may have gotten the headlines, but the norm of American's desperate psychic bubble society served as the real cataylst for the social upheavel of the late 60s-70s.

The ensemble drama, which will be establishing relative unknowns as household names, also stars two time Tony winner Robert Morse.

On Wednesday, October 10, The Paley Center for Media will stage Smoke and Sympathy: A Toast to Mad Men the riviting socio-drama set in the urban jungle of New York advertising in the 1960s, as drawn by former Sopranos scribe Matthew Weiner. Join the cast and creative team for a screening and discussion.

In Person:
Matthew Weiner - A Jeopardy winner who graduated from Wesleyan University where he studied philosophy, literature and history. He's the the genius who created the series.

Also in attendance will be the fabulous stars; Jon Hamm, "Don Draper"- Elisabeth Moss, "Peggy" - Vincent Kartheiser, "Pete" - January Jones, "Betty" - John Slattery, "Roger" and Christina Hendricks, "Joan".

Wedneday, October 10 The Paley Center in Los Angeles.

A CONVERSATION WITH BRANFORD MARSALIS takes place on Thursday, October 11, at Fullerton Hall, Art Institute of Chicago when the American jazz and classical saxophonist discusses his innovative international musical career as well as his passion for collecting art, particularly the work of collagist Romare Bearden. He is joined by Art Institute President and Director James Cuno.

Marsalis is the eldest of the six talented Marsalis sons and will be performing with the Chicago Symphony Orchestra on Friday, October 12 and Tuesday, October 16. The Chicago Symphony Orchestra will be conducted by David Robertson with Marsalis on saxophone. The program includes; Fauré Sicilienne from Pelleas and Melisande, Debussy's Rhapsody for Alto Saxophone and Orchestra, Copland 's Clarinet Concerto (for soprano saxophone) and Adams Harmonielehre.


SWEET CHARITY


RITA HAYWORTH GALA - BEWITCHED, BOTHERED & BEWILDERED This gala takes it's inspiration from the classic song Bewitched, Bothered and Bewildered, a signature tune in the legendary Rita Hayworth movie Pal Joey. The gala promises to be an extraordinary and glamorous night honoring Nurit Kahane Haase and John K. Castle, with entertainment by recording artist, composer and performer Patty Smyth. The evening will also include a phenomenal silent auction.

October 10 at the Waldorf-Astoria, New York, N.Y.

The Rita Hayworth Galas, held annually in New York City and Chicago, are major fund-raising events for the Alzheimer's Association. They honor legendary film star Rita Hayworth, who had Alzheimer's disease. The galas are hosted by Ms. Hayworth's daughter, Princess Yasmin Aga Khan.

Since 1985, the Rita Hayworth Galas have raised more than $48 million. One hundred percent of those funds go toward research and support programs.

Ricki Lake, Lea Thompson, Peter Gallagher, Victor Garber, David Hyde Pierce, Kate Burton, Tracie Thoms, Dick Van Dyke and others are the faces of a new campaign that aims to dispel the misperception that Alzheimer's disease is just about old people losing their memory. The photo collection was photographed by well-known celebrity and fashion photographer, Robert Trachtenberg. It includes both print stills of personalities committed to making a difference and personal quotes from the stars about the disease.

"If Alzheimer's ever was cause for public concern, it's now," said Tony Award winner David Hyde Pierce, who is currently starring on Broadway in Curtains. He serves as Alzheimer's Association board member and spokesperson for the campaign. "Our aging population compels the need for effective disease-modifying drugs. As individuals, as families, as a country, we can't afford this disease, physically, emotionally, or financially."

ACTORS FUND MEDAL OF HONOR will be presented to Broadway entertainment attorney and A Chorus Line producer John Breglio at the organization's 125th anniversary celebration at Carnegie Hall October 15.

Patti LuPone will presents the award to Breglio in recognition of the important role he plays in the entertainment and performing arts community. Since 1990, John has aided The Actors Fund in numerous ways including helping to develop supportive housing in Manhattan, Brooklyn and West Hollywood for entertainment and performing arts professionals in need, transition or crisis and helping to enhance and expand The Actors Fund's nursing home in Englewood, NJ. After September 11th, John made the one night benefit of Dreamgirls possible, enabling us to raise $1 million so that The Fund could continue programs and services in a most uncertain time, states the organization.

"Breglio has been a vital member of the theater community for over 35 years both in his professional and philanthropic contributions," according to a press release. "He has contributed to over 500 Broadway plays and musicals, most recently producing the Broadway revival of A Chorus Line, as well as producing the show's national tour which will begin in May 2008. Breglio has served as Chair of the Theater Development Fund and currently serves on the boards of several not-for-profit corporations including the American Foundation for Aids Research, the Alliance for the Arts, Young Playwrights and The John Golden Fund."

"Breglio has represented literally hundreds of the industry's most revered and respected artists including Stephen Sondheim, Lord Andrew Lloyd Webber, the late August Wilson, Alfred Uhry, Marvin Hamlisch, Cirque du Soleil, Julie Andrews, Joseph Papp, Martha Clarke, the late Michael Bennett Patti LuPone, Bernadette Peters and Marisa Tomei, to name just a few."

Following the presentation Broadway's beloved leading man - the Tony winning star of Kiss me Kate, Ragtime, Man of La Mancha, King Hedley II and Kiss of the Spiderwoman - Brian Stokes Mitchell will bring his extraordinary voice to legendary Carnegie Hall in this evening which benefits the programs and services of The Actors Fund. The event also marks his Carnegie Hall solo debut.

Directed by Richard Jay-Alexander. Musical direction by Paul Gemignani.

"Stokes" will welcome several of his past co-stars including Reba McEntire and Phylicia Rashad.

The Actors Fund provides support programs for entertainment industry professionals. Recent recipients of the Medal of Honor include producers Rocco Landesman and Roger Berlind.

Monday, October 15, Carnegie Hall, NYC.


OTHER PEOPLE'S MONEY


SOME 3,228 PEOPLE attended the BoarsHead Theater production of George Bernard Shaw's Mrs. Warren's Profession last month, making the play the theater's biggest draw in three years.

Helping to pull in the crowd was the appeal of veteran actress Paula Prentiss, who played Mrs. Warren. ( See Broadway To Vegas column of September 2, 2007 ) BoarsHead Managing Director Marlene Shelton also gave BoarsHead thearergoers a pat on the back. "BoarsHead theatergoers are the sturdiest, most strong-minded audience members around," Shelton said, noting that a late August tornado, the arrest of a suspected serial killer in early September and the appearance of a sinkhole at the intersection in front of the theater on September 6, the day before the show opened, would have deterred a less determined crowd.

BoarsHead's next production – John Patrick Shanley's award-winning play Doubt – previews at the theater October 24 and 25 and opens October 26. BoarsHead Theater is located in Lansing, Michigan.



A NIGHT IN THE OLD MARKETPLACE opens The Prince Music Theater's 24th season. A World Premiere musical adaptation of influential Yiddish playwright I.L. Peretz's klezmer musical which spins a magical tale of men who wrestle with ghosts in order to right a past wrong, in a fantastic journey to rediscover the meaning of faith.

Through music, imagery, and movement, the intense power and vibrancy of Peretz's neglected masterpiece will come to the stage as a thrilling modern musical.

Ray Wills heads the cast as "the Badkhn", the charismatic entertainer who has become a bitter and cynical man with an insane plan to remake the world. Two-time Barrymore nominee, Guil Fisher, takes on the role of "the Recluse", a Jewish mystic who lives in the mountains with his trained bear. The international cast also includes Danish-born and Israeli-raised Charlotte Cohn as the seductive Gargoyle that comes to life and revels in chaos. Deborah Grausman plays the angelic drowned bride Sheyndele and Steven Rattazzi plays her grieving lover, Nosn. Making up the ensemble are Melinda Blake, Mathew F. Burrow, Elisa Matthews, and Nicholas F. Saverine.

The production was conceived and is directed by Alexandra Aron. The composer is Grammy Award-winning Frank London. Book writer and lyricist, Glen Berger, won a 1998 Ovation Award for Best Play for his work Great Men of Science, Nos. 21 & 22. He has also been nominated for three Emmy Awards for his work on the PBS children's series Arthur and Postcards from Buster.

The artistic team includes; Music Director Eric Barnes, Scenic Designer Lauren Helpern, Lighting Designer Tyler Micoleau and Sound Designer Nick Kourtides. New York fashion designer Levi Okunov adds his unique style to the costume design.

The performance officially opened on October 6 runs through October 21st. Prince Music Theater in Philadelphia, PA.

FRANKENSTEIN the Off- Broadway version, inspired by Mary Shelley's 1818 novel, not the Mel Brooks musical Young Frankenstein. Book and Lyrics by Jeffrey Jackson. Music by: Mark Baron. Original story adaptation by Gary P. Cohen. Directed by Bill Fennelly. The production stars Hunter Foster as Dr. Victor Frankenstein, Steve Blanchard as the monster and Christiane Noll as Frankenstein's wife, Elizabeth. Others in the cast include; Jim Stanek, Mandy Bruno, Nick Cartell, Struan Erlenborn, Eric Michael Gillette and Aaron Seretosky.

Previews begin October 10 at 37 Arts in NYC.

THE GLORIOUS ONES

Artwork by Jim McMullan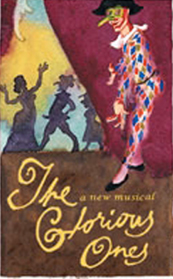 a new musical, based on a novel by Francine Prose with book and lyrics by Lynn Ahrens. Music by Stephen Flaherty. Directed and Choreographed by Graciela Daniele.

Starring Natalie Venetia Belcon, Erin Davie, John Kassir, David Patrick Kelly, Marc Kudisch, Julyana Soelistyo and Jeremy Webb.

The Glorious Ones is a backstage musical about the lives, loves, ambitions, and art of the performers in a 16th-century commedia dell'arte troupe in Italy of the late Renaissance. Based on the novel by Francine Prose, the musical tells how the troupe came to be and how it captured the public's adoration with its bawdy comedy and raunchiness, before changing artistic fashion altered its way of life.

Its seven archetypal characters are – the charismatic leading man (Marc Kudisch), the sly harlequin (Jeremy Webb), the quack "dottore" (John Kassir), the old miser (David Patrick Kelly), the earthy maidservant (Natalie Venetia Belcon), the devoted dwarf (Julyana Soelistyo), and the beautiful maiden (Erin Davie). Sets by Dan Ostling. Costumes by Mara Blumenfeld. Lighting by Stephen Strawbridge and sound by Scott Stauffer.

Performances begin on October 11 with the official opening on Nov. 5 at the Mitzi E. Newhouse Theatre in NYC.

AGRIPPINA 1710 Music by George Frideric Handel. Libretto by Vincenzo Grimani.

The celebrated soprano Ruth Ann Swenson stars as manipulative mother Agrippina in this bold production that also features the esteemed countertenor David Walker, reprising the role of Ottone.

In politics, it's all about putting on heirs. Agrippina will stop at nothing to secure her son Nero's claim to the throne. Her plan: eliminating the competition through trial by temptation, pitting passion against power.

Starring Ruth Ann Swenson, Heidi Stober, Jennifer Rivera, David Walker, David Korn, Marco Nistico and João Fernandez.

Conducted by Ransom Wilson. Directed by Lillian Groag. Set Design by John Conklin. Costume Design by Jess Goldstein. Lighting Designer is Mark McCullough. Supertitles by Kelley Rourke.

Sung in Italian with English supertitles. A co-production with Glimmerglass Opera. October 14-November 2 New York City Opera, NYC.

COMPLETELY HOLLYWOOD(ABRIDGED) and THE BIBLE: THE COMPLETE WORD OF GOD (ABRIDGED) will stage their Chicago debut when the two comedies are mounted by the Reduced Shakespeare Company. They'll run in rotating repertory, Oct. 7-Dec. 2, at the Royal George Theatre, Chicago.

CYRANO DE BERGERAC Edward Rostand's classic romance, translated and adapted by Anthony Burgess will feature the nose belonging to two-time Tony winner Kevin Kline who returns to Broadway as the title character in this revival which begins previews October 12.

Jennifer Garner will make her Broadway debut as Cyrano's beloved Roxanne while Daniel Sunjata will play Christian, the handsome soldier also in love with Roxanne.

The production will be directed by David Leveaux.

Officially opening November 1 at the Richard Rodgers Theatre running through December 23.

THE ELEPHANT MAN

Brent Carver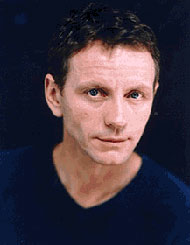 Bernard Pomerance's masterful, biographical drama, launches the 20th anniversary of The Canadian Stage Company's main stage season.

Joining internationally acclaimed director Robin Phillips is a multi-award-winning cast including Brent Carver as John Merrick, Geraint Wyn-Davies as Dr. Frederick Treves and Kate Trotter as Mrs. Kendal.

Joining Carver, Wyn-Davies and Trotter in The Canadian Stage Company production are veteran actors Barry MacGregor, Michael Spencer-Davis, Michelle Fisk, David Kirby, Aaron Forward and Jack Wetherall who starred in the title role in the original Broadway production.

The Elephant Man chronicles the real-life story of John Merrick who lived during the Victorian era. Abandoned as a child and shunned by society, the grotesquely deformed Merrick survives as a side show attraction until a gifted young doctor rescues him from life on the streets. Under the care of Dr. Frederick Treves, who educates Merrick and introduces him to London high society, the so-called "Elephant Man" transforms from a sensational object of pity to the celebrity darling of the rich and famous.

The creative team includes costume designer Sue LePage, lighting designer Louise Guinand, with original music by Laura Burton and sound design by John Lott. Sherri Catt is assistant set designer and Mary Spyrakis is assistant props designer. Emily Cooper is stage manager and Isaac Thomas is assistant stage manager.

The Elephant Man runs October 8 to November 3 in the newly refurbished, 876 seat Bluma Appel Theatre in Toronto.

Talk Backs and Tea Talks are informal question-and-answer periods which provide a chance to meet the artists. They take place after every Tuesday evening and Wednesday matinee show.


| | | |
| --- | --- | --- |
| | | |
WHO'S WHERE


YO-YO MA AND THE SILK ROAD ENSEMBLE on tour in China perform October 8 at Concert Hall, Hong Kong Cultural Centre, Hong Kong. On October 12 the performance is at Forbidden City Concert Hall in Beijing. Educational activities taking place include October 8 are Student Workshops, Hong Kong Hong Kong Student Aid Society Primary School and on October 11 Workshops at the Beijing Conservatory.

Inspired by the interchange of culture, ideas and innovations along the historic trade route, the Silk Road Project is a not-for-profit arts and educational organization that connects musicians, composers, artists and audiences from Asia to Europe to the Americas. Founded in 1998 by cellist Yo-Yo Ma, who serves as its artistic director, and led by Laura Freid, executive director and CEO, the Silk Road Project is a catalyst for promoting innovation and learning through cross-cultural and interdisciplinary partnerships. The Silk Road Project presents performances by the Silk Road Ensemble; commissions interdisciplinary works of music, visual art, and storytelling; and develops educational materials and programming.

NOEL PAUL STOOKEY a founding member of Peter, Paul & Mary, this singer/songwriter presents an intimate night full of his inspired and creative folk music. Saturday, October 13, at The Barns at Wolf Trap in Vienna,VA.

JETHRO TULL on stage Tuesday, October 9 at Abravanel Hall in Salt Lake City, UT. On Wednesday the show is at Temple Hoyne Buell Theatre in Denver. On Friday he performs at the Uptown Theatre in Kansas City. Saturday he's in the spotlight at the Rialto Square Theatre in Joliet, IL. Next Sunday the show is at the Genesee Theatre in Waukegan, IL.

JUDY COLLINS stars at the State Theatre in Stage College, PA on Thursday, October 11. Friday she'll be singing her hits at the North Shore Music Theatre in Beverly, MA.

MAROON 5 bring their act to the John Paul Jones Arena in Charlottesville, VA on Monday, October 8. On Wednesday they are on stage at Madison Square Garden in New York City. On Friday the show moves to the Mohegan Sun in Uncasville, CT. Saturday the performance is at The Wachovia Spectrum in Philadelphia.

THE POLICE continue on their European tour. On Monday, October 8, they open a two night stand at the Sportpaleis Antwerpen in Antwerp, Belgium. On Wednesday the performance is at the SAP Arena in Mannheim, Germany. On Saturday they are on stage at the LTU Arena in Dusseldorf, Germany.

BRUCE SPRINGSTEEN in a two nighter Tuesday and Wednesday at the Continental Airlines Arena in East Rutherford, NJ.

MARC ANTHONY AND JENNIFER LOPEZ close out the second of a two night stand Monday, October 8, at Madison Square Garden in NYC. On Wednesday the family act appears at the Air Canada Centre in Toronto, ON. Friday finds the clan at the Bell Centre in Montreal, QC and next Sunday they are on stage at the United Center in Chicago.

BOB DYLAN has a busy week. Monday, October 7, finds him at OnCenter in Syracuse, NY. Tuesday he's singing at the Gordon Field House in Rochester, NY. On Thursday the show is at the University of Pittsburgh at Pittsburgh, PA. Friday he entertains at the EMU Convocation Center in Ypsilanti, MI. Saturday the performance is at the Schottenstein Center in Columbus, OH.

HOOTIE AND THE BLOWFISH on stage Friday, October 12 at the Jobing.com Arena in Glendale, AZ.

ROY ROGERS AND THE DELTA RHYTHM KINGS have a two night gig Friday and Saturday at Sengthong's Blue Sky Room in Dunsmuir, CA.

STEVE TYRELL entertains Thursday, October 11, at Campbell Hall in Santa Barbara, CA. On Friday he opens an engagement at the Catalina Bar & Grill in Los Angeles which runs through October 21.




FINAL OVATION


GEORGE GRIZZARD a Tony and Emmy award winning actor died October 2 at New York-Presbyterian Hospital/Weill Cornell Medical Center of complications from lung cancer. He was 79.

Grizzard starred in the original 1962 Broadway production of Albee's Who's Afraid of Virginia Woolf? He won a Tony Award for his performance in a revival of another Albee drama, A Delicate Balance.

Grizzard made his Broadway debut in 1955 as Paul Newman's kid brother and fellow convict in The Desperate Hours. He received his first Tony nomination, in 1959 as best featured actor, for his work in The Disenchanted, an adaptation of Budd Schulberg's novel about F. Scott Fitzgerald. It starred Rosemary Harris and Jason Robards Jr.

Three years later, he received his second Tony nomination as best featured actor for his role in Big Fish, Little Fish in which he again co-starred with Robards.

Whose Afraid of Virginia Wolff followed. However, Grizzard flabbergasted both his associates and the public when - after only a few months in the production - he left to go to play Hamlet at the Guthrie Theatre in Minneapolis where he stayed for two years playing the title role in Shakespeare's Henry V, the Dauphin in Shaw's St. Joan and Mosca in Ben Jonson's Volpone.

George Cooper Grizzard Jr., was born on April 1, 1928, in Roanoke Rapids, N.C his other Broadway credits include The Country Girl, a revival of the play by Clifford Odets which moved from the Kenney Center in Washington to in 1972. Grizzard went on to play the Duke of Windsor in Royce Ryton's drama Crown Matrimonial (1973); a sometime husband in Neil Simon's California Suite (1976); and a mental patient who thinks he's Einstein in a Kennedy Center revival of Dürrenmatt's Physicists (1982). He was nominated for an Emmy Award for his performance as John Adams in The Adams Chronicles, a 13-part historical saga on PBS in 1976, and won an Emmy starring with Henry Fonda in the 1980 NBC presentation of The Oldest Living Graduate. His final Broadway appearances were in the 2005 revival of Seascape and in 2006, when Grizzard co-starred with Christine Baranski in Paul Rudnick's Regrets Only.

He is survived by his partner William Tynan.

Next Column: October 14, 2007
Copyright: October 7, 2007. All Rights Reserved. Reviews, Interviews, Commentary, Photographs or Graphics from any Broadway To Vegas (TM) columns may not be published, broadcast, rewritten, utilized as leads, or used in any manner without permission, compensation and/or credit.
Link to Main Page
---
Laura Deni


CLICK HERE FOR COMMENT SECTION