Broadway To Vegas
  
 SHOW REVIEWS CELEBRITY INTERVIEWS GOSSIP NEWS

| | |
| --- | --- |
| | |
LONG LOST ALFRED NOBEL PLAY STAGED - - GABRIEL BRYNE IN A TOUCH OF THE POET - - FROST FAIR AT THE GLOBE THEATER - - EDWARD ALBEE SPEAKS UP - - FORMER NEW JERSEY GOVERNOR MAKES STAGE DEBUT - - ORCHESTRA SEATS GO TO THE LION KING - - RON HOWARD HONORED - - WORLD PREMIERE OF AN AMERICAN TRAGEDY - - DONATE . . . Scroll Down


Copyright: November 27, 2005
By: Laura Deni
CLICK HERE FOR COMMENT SECTION
DECK THE HALLS


THE BILTMORE ESTATE

Candlelight Christmas Evenings at the Biltmore Estate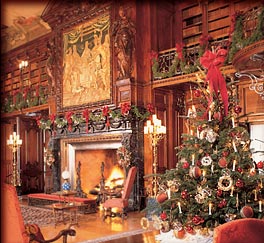 Celebrate the holidays at America's largest home - The Biltmore Estate. Each season at Biltmore offers events that fill the estate with music, live performances, and family fun. This year during Christmas, American and Vanderbilt Christmas traditions come to life with Biltmore House's extravagant holiday décor.

Music in the Third Floor Living Hall fills America's largest home with Yuletide cheer, while dozens of Christmas trees, miles of garland, and thousands of twinkling lights transform every room into a vision of splendor.

Candlelight evenings are a spectacle to behold. As the sun sets over the Blue Ridge Mountains, Biltmore House transforms into an architectural model of stunning beauty. This year's celebration is spectacular with hundreds of luminaries and the golden radiance of candlelight and firelight illuminating our elegant holiday décor. Tinsel, beads, and German-blown glass ornaments twinkle in the glow of thousands of white lights. Music from choirs and musicians adds holiday spirit to the evening's enchantment.

The Biltmore Estate in Asheville, North Carolina is open Christmas and New Year's Days. Christmas at Biltmore Estate lasts through January 1.

FESTIVAL OF LIGHTS Experience the charm of the original French colony in Louisiana (1714) during the Festival of Lights and Christmas Festival in Natchitoches, LA , one of the nation's oldest community-based holiday celebrations.

The Natchitoches (Nack-a-tish) Christmas Festival has been held on the first weekend in December since 1927. This annual event draws in excess of 100,000 visitors each year for the parade, live entertainment, food fair, arts and crafts show and a spectacular fireworks show over the scenic Cane River Lake.

Mini-festivals are held every weekend in December with a Holiday Tour of Homes, entertainment and fireworks every Saturday and at midnight on New Year's Eve. More than 500,000 visitors annually trek to Natchitoches during the holiday season to enjoy the light displays, riverbank vendors, shops, restaurants, and nightly tours by streetcar or carriages.

The annual Christmas by Candlelight, a holiday tour of uniquely decorated homes in the Natchitoches, Louisiana, area will be held this year on Dec. 7-17. Proceeds from the Tour benefit restoration of properties in the Natchitoches Parish area.

The event, consisting of three separate tours will feature beautifully decorated homes. What makes Christmas by Candlelight so special and unique is that it consists of homes built last year as well as nearly 300 years ago.

The Holiday Trail of Lights offers millions of lights, fireworks, live entertainment, Christmas musicals and parades. Two states and six cities, Marshall, Texas, Kilgore, Texas, Jefferson, Texas, Shreveport-Bossier City, Louisiana, and Natchitoches, Louisiana, all within a one hour drive of each other, are connected by a short drive on Interstate highways. Southern hospitality sparkles in the six cities as you follow the Holiday Trail.

SMOKEY MOUNTAIN CHRISTMAS

3 million outdoor Christmas lights and decorations at Dollywood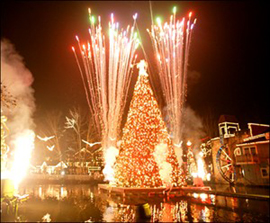 Wrapped in a dazzling display of over 3 million outdoor Christmas lights and decorations, Dollywood's Smoky Mountain Christmas festival warms the heart with traditional holiday entertainment featuring the new International Sounds of Christmas concert series. Numerous events take place through December 30 including;

The Moscow Boys Choir brings a distinct Russian flavor with performances Dec. 3-4. Founded in 1957, this choral ensemble features a careful blend of heavenly soprano voices with the rich resonance of bass, tenor and baritone sounds.

A Celtic Yuletide starring Michael Londra, brings an evening of traditional carols, ancient airs and old Christmas stories from Ireland to Dollywood. Londra, the former lead singer of Riverdance on Broadway, presents a heartwarming evening of Christmas in Ireland with the Celtic music of Irish band. December 8, 9, 10 & 11.

Carol of the Trees is a nightly 15-minute show in which thousands of lights and pyrotechnics synchronize with holiday music to transform our Rivertown Lake into a "seasonal symphony for the senses."

Twice a night there is the Parade of Lights featuring Christmas floats adorned with brightly colored lights. Holiday characters add to the excitement.

Twas the Night Before Christmas is a 45-minute production in which a family finds its own Christmas miracle with the help of a mysterious, white-bearded stranger in this delightful musical featuring a 12-member cast and a five-piece band.

The park spent four weeks building Santa's Workshop, which is located in the park's Country Fair section. More than 100 gallons of paint, 25 pounds of glitter and thousands of lights went into creating the Workshop, which features a 30-foot Christmas tree as its centerpiece.

Christmas Pyramid is the country's tallest German Christmas pyramid which towers 45 feet above Dollywood revealing intricate carvings depicting the Nativity.


BROADWAY HOLIDAY TREE LIGHTS UP
Chita Rivera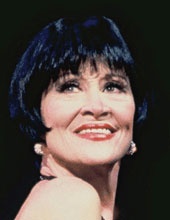 David Hyde Pierce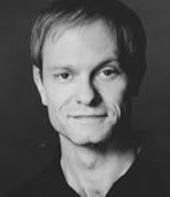 Two of Broadway's most illustrious stars, the legendary Chita Rivera, who stars at the Schoenfeld Theatre in Chita Rivera: The Dancer's Life and the debonair David Hyde Pierce, currently starring in the smash musical, Monty Python's Spamalot, will be joined by cast and company members from virtually every Broadway and Off Broadway show to celebrate and share in the joy of the holiday season when they flip the switch to light the 2005 Broadway Holiday Tree. The ceremony will take place between shows on Wednesday, December 7, at 5:00 pm in Father Duffy Square. The event is free and open to the public.

This year, the 25-foot Douglas Fir will be decorated with white lights, accented with multi-colored holiday lights in green, red and gold, and ornaments representing every show currently playing on and Off Broadway.

Cast members from the hit musical, Altar Boyz, currently at Dodger Stages will kick off the festivities by performing What Christmas Is... by Altar Boyz composer Gary Adler. The ceremony will close with a performance by sixth grade students from The Professional Performing Arts School.

During the ceremony, Theatre Development Fund and The League of American Theatres and Producers will continue their tradition of presenting a $5,000 gift to a not-for-profit organization in the theatre district.

The Broadway Holiday Ceremony, presented by Theatre Development Fund, The League of American Theatres and Producers and the Times Square Alliance, has become a theatre district tradition, celebrates the joy of the season and honors those we have lost in the past year. The Broadway stars who have flipped the switch to light the Broadway Holiday Tree in the past several years have included (in alphabetical order): Carol Channing, Stockard Channing, Roger Daltrey, Patty Duke, Sandy Duncan, Dame Edna Everage, George Hamilton, Valerie Harper, David Hasselhoff, Eartha Kitt, Nathan Lane, John Lithgow, Rue McLanahan, Brian Stokes Mitchell, Bebe Neuwirth, Tony Randall, Brooke Shields and Tommy Tune.



Broadway To Vegas is supported through advertising and donations. Priority consideration is given to interview suggestions, news, press releases, etc from paid supporters. However, no paid supporters control, alter, edit, or in any way manipulate the content of this site. Your donation is appreciated. We accept PAYPAL. Thank you for your interest.


FINAL YEAR FOR LIVING CHRISTMAS TREE
2004 Living Christmas Tree. Photo by Doug Ball. Photo from Severns Valley Baptist Church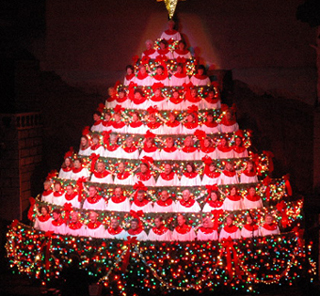 The Living Christmas Tree has been presented by Severns Valley Baptist Church of Elizabethtown, KY, for 23 years as a Christmas gift to the community. Christmas 2005 will be the final performances.

When the unique presentation began, it was anticipated that it would be done for about ten years. Public response held the annual production over to this year's SRO staging.

Officials of the Severns Valley Baptist Church state the church has outgrown its present location after 50 years on this site, and they are building a new facility. It's expected that they "will be too busy getting ready for the move in 2006, and the Tree and drama set will not fit in the new building. Thus, 'It came to pass' that even SVBC's Living Christmas Tree has to end."

This is a busy week for the crew. The framework for the tree, weighing nearly 10,000 pounds, is erected on the last Sunday evening in November. It takes a crew of about 20 men only two hours to carry in the individual pieces and bolt together the basic frame. Another 2 or 3 hours are required to install the risers, steps, railings, etc.

Monday and Tuesday will be spent hanging the tree's cloth background, chicken wire, greenery, many strings of lights, colored balls, and other decorations. The tree stands 35 feet high, and the many levels of the drama sets also reach nearly to the 40-foot ceiling. Almost four thousand individual light bulbs, controlled by 38 separate computerized circuits, decorate the Tree itself. If all of these were turned on full brilliance at the same time, the current flowing into the circuits on the tree would be about 165 amps by actual measurement.

Meanwhile, the carpentry crew has already erected the drama's 5-or 6-level stage platforms and backdrops, while the electricians string electrical cables and make the many hundreds of connections needed to provide the light shows. Most of the work with the microphones, extra amplifiers and speakers for the sound effects, cannot be done until Wednesday. Work on the electrical systems, PA systems, fog machines, ascension hoist, Tyrolean traverse, and other parts continues through the week. By next Sunday, the tree, stage, set, lighting, and electronics are ready!

Over 300 people, including the choir, drama cast, technicians, carpenters, and many others, donate their time each year to the production. The choir begins rehearsing the first week of September, and the Drama cast about the first of November.

Thanks to the assistance of the military chaplains, Army Recruits from Fort Knox attend a special performance. Wednesday, December 7, the production for the troops from Ft. Knox takes place. On Thursday, December 8, the first performance for the general public will be held. The final performance is December 11.


SPREADING THE WORD


DRAMA LEAGUE HOLIDAY LUNCHEON The stars of Andrew Lloyd Webber's newest London hit The Woman in White - three-time Olivier Award winner Maria Friedman and worldwide sensation Michael Ball - will be the guests of honor for the 2005 Holiday Luncheon.

The afternoon includes a sumptuous lunch at noon followed by a lively discussion with the Ms. Friedman and Mr. Ball about their Broadway adventure.

An exclusive members event.

Friday, December 2 at The Players Club in NYC.

DIANE ARBUS SYMPOSIUM This symposium brings together a prestigious panel of speakers and some exclusive films. The speakers include individuals who knew and worked closely with Diane Arbus, curators and scholars who have researched the Arbus archive, experts from other disciplines and contemporary photographers. A highlight is a special film using an original 1970 audio recording that reconstructs a slide presentation given by Diane Arbus. The day will cast new light on an artist whose imagery continues to challenge and enrich us today. Saturday, December 3 at the Victoria and Albert Museum in London. A major Diane Arbus exhibition is at the V&A through January 15.

HEAR WHAT'S ON EDWARD ALBEE'S MIND Three-time Pulitzer Prize-winning playwright Edward Albee makes a rare appearance at Manhattan's Lesbian, Gay, Bisexual & Transgender Community Center on Monday, Dec. 5. Hear him discuss the cultural and political battlegrounds that have defined his career with New York Times contributor Jesse Green. Book sale and signing of Albee's new volume, Stretching My Mind: The Collected Essays, 1960 to 2005, to follow.

DAVID KENNEY'S EVERYTHING OLD IS NEW AGAIN on December 4th, will feature the music of Bing Crosby plus an In-Studio Visit from his widow, Kathryn Crosby and Crosby Archivist and Historian Martin McQuade. Everything Old Is New Again is heard every Sunday on the internet and from 9-11 PM(ET) over WBAI 99.5 FM.

FROST FAIR @ THE GLOBE has its routes in Shakespearean England. The idea comes from the fairs which were held in Shakespearean London atop the frozen waters of the Thames. In the 16th century thanks to a harsher climate and the narrow arches of London Bridge at the time which slowed the waters, the river was covered with a solid sheet of ice each winter. Traders from around the country would open stalls on the ice. The fair would be open for the whole of advent, ending as the days got longer and the river began to thaw. But by the Victorian era the river rarely froze and so The Frost Fair was abandoned in 1814. However, in 2003 The Globe Theatre offered to host the event in place of the river, and the tradition began once more.

The clusters of street traders will vend a wide range of crafts. If you need to refuel they'll be plenty of traditional fare like roast chestnuts and mulled wine to comfort empty bellies. The Globe is laying on some imaginary, historical performances including swashbuckling sword-fighting demonstrations and displays of Elizabethan dress.

The Globe was founded by the pioneering American actor/director Sam Wanamaker, Shakespeare's Globe is a unique international resource dedicated to the exploration of Shakespeare's work, and the playhouse for which he wrote, through the connected means of education and performance.

The Frost Fair takes place Saturday, December 3 until Sunday, December 18.


RINGING OFF AND MOVING OUT


THE LION NEEDS SPACE the lion rules the jungle and the hefty one also is shoving his weight around at the San Diego Civic Theatre. All those costumes need runways.

On Monday, November 28 orchestral level seating will be removed to create aisles for the upcoming production of Disney's The Lion King. Constructed in 1965, the venue has standard continental seating, with no center aisles. In order to accommodate this theatrical stage production two aisles will be created down the center of the orchestra level by removing over 100 seats.

On Tuesday the first of The Lion King's 20 semi-trailer trucks arrive at the Civic Theatre. Under the direction of Mike Nye, Head Carpenter for The Lion King National Tour on Wednesday the production will continues to load into the Civic Theatre with its scenic elements, including its own proscenium arch and stage deck - which includes the colossal Pride Rock.

The production begins performances on Friday, December 9th. The orchestra seats will be returned to their original locations after the production closes in January 15.

RING OFF a woman attending a West End performance of Heroes starring John Hurt and Richard Griffiths was asked to leave the theater by Griffiths when her cell phone rang for the third time while he was speaking. Griffiths, known for his roles as Uncle Vernon in the Harry Potter films and Uncle Monty in the cult hit Withnail and I, stopped mid-scene and asked: "Could the person whose mobile phone it is please leave?"

When other audience members pointed to the female offender, Griffiths addressed her directly, saying: "Is that it, or will it be ringing some more? The 750 people here would be fully justified in suing you for ruining their afternoon." As the woman left the Wyndham's Theatre, the audience gave Griffiths a standing ovation before the play continued.


SWEET CHARITY


THE LION,THE WITCH AND THE WARDROBE

Charles and Camilla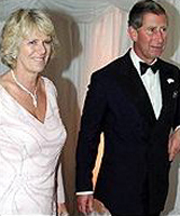 a world premiere will be attended by Prince Charles and his wife The Duchess of Cornwall. The performance benefits the Cinema and Television Benevolent Fund. December 7 at Royal Albert Hall, London.

The magic of Disney will transform the evening into a glittering Winter Wonderland reflective of C. S. Lewis' vision of Narnia's 100 Year Winter. Royal Albert Hall will be turned in to a spectacular film palace with a glamorous white carpet replacing the traditional premiere red carpet.

The 100 Year Winter theme will continue at the exclusive party in Kensington Garden following the screening where guests from around the world will be transported into a magnificent land with giant trees, frosted and sparkling, and adorned with ice carvings.

Towering over the guests will be a giant iced chandelier as the centerpiece to the party. And, no matter what the weather may be outside, it is a guarantee that snow will be falling inside as guests enjoy a feast including Turkish delights and skating on an ice rink created exclusively for their enjoyment.

Based on C.S. Lewis' timeless adventure The Chronicles of Narnia: The Lion, The Witch, and The Wardrobe, the movie follows the exploits of the four Pevensie siblings - Lucy (Georgie Henley), Edmund (Skandar Keynes), Susan (Anna Popplewell) and Peter (William Moseley) - in World War II England who enter the world of Narnia through a magical wardrobe while playing a game of 'hide-and-seek' in the rural country home of an elderly professor (Jim Broadbent). Once there, the children discover an incredible new world inhabited by talking beasts, dwarves, fauns, centaurs and giants that has become cursed to eternal winter by the evil White Witch (Tilda Swinton). Under the guidance of a noble and mystical ruler, the lion Aslan (voiced by Liam Neeson), the children fight to overcome the White Witch's powerful hold over Narnia in a spectacular, climactic battle that will free Narnia from her icy spell forever.

THE GREAT CHRISTMAS PUDDING RACE Every year teams of celebrities, companies and random individuals take part in a race around Covent Garden, in London. Contestants must negotiate hurdles such as flour-filled balloons and water jets, while carrying a Christmas pudding on a flimsy plate and wearing fancy dress - many don Santa Claus suits.

The event started in 1980 and is used to raise money for Cancer Research.The race has been going on every year since 1980 and it raises money for Cancer Research.

Covent Garden will be full of street entertainers providing entertainment before and after the main event.

The winner receives the Pudding Trophy.

RON HOWARD 21ST HONOREE for the Museum of the Moving Image Salute Gala Black-Tie Event which takes place Sunday, December 4, at the Waldorf-Astoria Hotel in New York City.

Bravo will tape the event for broadcast to air Saturday, January 7.

Herbert S. Schlosser, the Chairman of the Museum's Board of Trustees, says "Ron Howard is one of the best-liked and most admired people in show business. Audiences have grown up with him - and watched him grow up - from a child star on The Andy Griffith Show and a teenager on Happy Days to his current status as one of Hollywood's most accomplished filmmakers."

Howard is one of the most sought-after and highly regarded directors in the business. His films, including Splash, Cocoon and Apollo 13, have been some of the most memorable entertainment experiences of our era. He won the 2002 Best Director Oscar for A Beautiful Mind, which also won the 2002 Oscar as Best Picture.



Ron Howard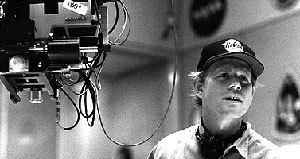 "Ron Howard has played an essential role in the world of the moving image since he was a child," states Museum Director Rochelle Slovin. "He has delighted us as an actor, and has awed and enthralled us as a director and producer. We are enormously pleased to be honoring this talented, prolific, creative artist."

The highlight of the evening, as always, is the screening of moments from the honoree's vast and diverse career, presented by a stellar group of friends and colleagues. Among the confirmed presenters are Paul Bettany, Paul Giamatti, Brian Grazer, Bryce Dallas Howard, Michael Keaton, Kurt Russell, Jeffrey Tambor and Renee Zellweger.

Co-Chairmen for the dinner are Brian Grazer, Richard Lovett, and Ron Meyer with Museum Director Rochelle Slovin and Museum Board Chairman Herbert S. Schlosser presiding over the evening's festivities.

As the Museum's 21st Salute honoree, Ron Howard joins an exceptional group: Sidney Lumet, Elia Kazan, James Stewart, Sidney Poitier, Mike Nichols, Robert DeNiro, Barbara Walters, Al Pacino, Steven Spielberg, Robin Williams, Martin Scorsese, Goldie Hawn, Dustin Hoffman, Tom Hanks, Steve Martin, Julia Roberts, Mel Gibson, Billy Crystal, Richard Gere and John Travolta.

Tickets for the Museum of the Moving Image Salute to John Travolta are: tables at $25,000 and $15,000 and individual tickets at $2,500 and $1,500.

The Museum of the Moving Image is the only institution of its kind in the United States. It houses the world's most important film, television, and digital media collection - more than one hundred thousand objects. Four hundred films are screened each year, many accompanied by conversation with directors, actors, scholars, and other moving image professionals. Education programs offer intermediate and high school student's fresh perspectives on their study of history, social studies, literature, and science. World-renowned exhibitions engage visitors in the Museum's distinctive approach to screen culture. The annual Salute raises vital funds for the Museum's programs.



NEMESIS by Alfred Nobel - the man who endowed the prize that bears his name. (On November 27, 1895, Nobel signed his last will providing for the establishment of the Nobel Prize.) His only play, Nemesis, is a prose tragedy in four acts about Beatrice Cenci. The play is about "violence, sex, torture, deceit, forbidden lusts, revenge and religious fanaticism," according to the August Strindberg Intima Theater where the production will be mounted.

Alfred Nobel passed away on December 10 1896 from a cerebral hemorrhage in his home in San Remo, Italy and is interred in the Norra begravningsplatsen in Stockholm.

This long-lost play will have its premiere on Dec. 10, the 109th anniversary of his death.

According to the play's translator, Gunnar Gällmo, the play was written at the end of Nobel's life and were printed shortly after his death, "whereupon all copies except three were promptly destroyed; the play was too controversial. The second printing, and the first not destroyed, came a couple of years ago." This is a bilingual edition with the Swedish original and Gällmo's translation.

The production stars Richard Turpin, Sören Brunes, Ulf Drakenberg, Gunnel Fred, Ulf Friberg, Christian Hollbrink, Sara Isaksson, and Jan Ärfström.

Music by Dror Feiler. Costumes by Ulrika van Gelder. Lighting design by Holger Tistad and scenic design by Eva Fenge. The production opens December 10 at the Strindberg Intima Theater. Stockholm, Sweden.

IT'S A WONDERFUL LIFE from the 1947 Lux Radio Theatre Holiday Classic. Based on the story The Greatest Gift by Phillip Van Doren Stern.

"Lux presents…Hollywood!" It's 1947, the golden age of radio, and that now celebrated line introduces a nation to a groundbreaking radio program, Lux Radio Theatre. Hosted by Cecile B. DeMille, Lux Radio brought Hollywood classics and their stars to the airwaves and into living rooms. And, no radio program was more popular than the legendary 1947 presentation of Frank Capra's classic It's A Wonderful Life starring Jimmy Stewart.

Now, Pasadena Playhouse invites you back in time to experience Lux Radio Theatre live as actors, musicians and the famed "sound man" re-create this holiday favorite!

December 2, 2005 - January 1, 2006 at the Pasadena Playhouse in Pasadena, CA.

A CHRISTMAS CAROL A MUSICAL GHOST STORY New England's brightest holiday tradition continues in its 17th year. Victorian England is brought to life in an original musical adaptation of Charles Dickens' classic tale of Ebenezer Scrooge's Christmas journey to redemption. December 2 - 24 at North Shore Music Theatre in Beverly, MA. Related free events include Christmas with the Cratchits, a free pre-show discussion focusing on historical issues related to the performance on December 4, 11 and 18.

INSPECTING CAROL By Daniel Sullivan & The Seattle Repertory Theatre Resident Company. Directed by David Saint.

Charles Dickens meets Waiting for Guffman when a struggling non-profit theatre sets out to impress a representative from the National Endowment for the Arts with their troubled version of the perennial Christmas classic.

Peter Scolari and Dan Lauria head up a madcap cast of comic actors. The cast includes an appearance by a special guest at each performance including former New Jersey Governor Christine Todd Whitman, Senator Barbara Buono and the Chair of the New Jersey State Council on the Arts, Carol Herberta.

Whitman's appearance during the December 3 show will mark her stage debut. She is one of a number of guest stars who will play an inspector sent by the National Endowment for the Arts to check on a troubled local theater as it puts on its annual staging of A Christmas Carol.

The production officially opens on November 29 running through December 31 at the George Street Playhouse in New Brunswick, N.J.

A TOUCH OF THE POET by Eugene O'Neill. Directed by Doug Hughes. Starring Gabriel Byrne.

Perhaps the greatest American playwright of all, Eugene O'Neill won the Pulitzer Prize a record four times and is the only American dramatist ever awarded the Nobel Prize in Literature. His dramatic masterpiece A Touch of the Poet makes one of Broadway's most anticipated returns. Gabriel Byrne as Cornelius Melody heads a stellar cast in this emotionally gripping, passionately romantic, and surprisingly funny portrait of a unique immigrant family.

The cast also includes Dearbhla Molloy (Nora Melody), Emily Bergl (Sara Melody), John Horton (Nicholas Gadsby), Byron Jennings (Jamie Cregan), Kathryn Meisle (Deborah), Randall Newsome (Paddy O'Dowd), Ciaran O'Reilly (Dan Roche) and Daniel Stewart Sherman (Mickey Maloy).

In previews, officially opening December 8 with performances through January 29, 2006. Presented by the Roundabout Theater Company at Studio 54 in NYC.

LEWIS AND CLARK REACH THE EUPHRATES a World Premiere by Robert Schenkkan.

Manifest Destiny takes imaginative and comic turns when Lewis and Clark's expedition to find a water route to the Pacific Ocean erupts into a fantastical journey with time-and space-bending twists and turns.

Somewhere between charting the land west of the Mississippi, trying to broker peace between warring tribes and spreading the promise of America, Meriwether Lewis and William Clark find themselves hurtling down river rapids into the fray of several other American crusades, including the charge up San Juan Hill to liberate Cuba and the Vietnam War.

Robert Schenkkan won the Pulitzer Prize in drama for The Kentucky Cycle which was staged at the Mark Taper Forum in 1992. This production runs Nov 30, 2005 – Jan 22, 2006 at the Marl Taper Forum in Los Angeles.

DREAMGIRLS Book and Lyrics by Tom Eyen; Music by Henry Krieger.

A timeless musical that has thrilled theater-goers around the world since it opened on Broadway in 1981, earning 6 Tony awards and spawning a chart-topping soundtrack such unforgettable songs as One Night Only, I'm Telling You I'm Not Going. I Am Changing, and Fake Your Way to the Top.

Dreamgirls tells the story of The Dreamettes, a promising young singing trio, who go to New York to compete in a talent show at the Apollo Theater. Although the girls lose this first bid for fame, their talent attracts an ambitious and unscrupulous manager, who reshapes their look to appeal to the lucrative pop music audience. Lead singer Effie does not fit the new image, and is soon replaced by the slimmer and more conventionally attractive Deena. The Dreamettes become The Dreams, with a lighter sound and a chic look, able to attract a "whiter" audience and become international stars.

All the money, fame, and adulation do not bring happiness, however. Deena decides to leave the group, and soon their manager's drug problems and payola schemes lead the others to let it all go. In one last appearance, they reunite with Effie to perform one heart-stopping final number.

December 3 – 31 at The Prince Music Theatre in Philadelphia.

700 SUNDAYS the Tony award winning one man show by Billy Crystal moves to San Francisco for a three week engagement at the Golden Gate Theatre Nov. 29-Dec. 17.

WELL-ROASTED CHESTNUTS! Martin McEvoy, Patrick Healy, Janine Roebuck and guests present a melange, a pot pouri – a complete concoction of superfluous music, wit, drama, humor, opera, music hall, operetta.... and all number of very silly things to celebrate Christmas.

Mince Pies, Sherry and food parcels will be administered to the audience throughout the night!

They have also been requested to sing hits from Wagner's Ring Cycle but Miss Roebuck forgot her bike so this will have to wait for another year.

Sunday, December 4 at The Georgian Theatre Royal in London.

TWELVE ANGRY MEN Written by Reginald Rose. Directed by John DeLancie. L.A. Theater Works The Play's The Thing production will star Hector Elizondo, Dan Castellaneta, Richard Kind, Robert Foxworth, Kevin Kilner, Alan Mandell and Armin Shimerman among its stellar cast of jurors who must decide the fate of a teenaged boy accused of killing his father.

Stage and screen veteran Elizondo, known for his turns in Pretty Woman, The Princess Diaries and as a regular on the TV series Chicago Hope, says the play is a relevant today as when it debuted a half century ago.

"The morally ambiguous position of taking a life for a life is the great relevance of this work, in view of the fact that we profess to be the most religious country on earth," Elizondo says. "Not to mention the examination of the democratic process, the jury system, and the concept of 'reasonable doubt.' From its inception, Twelve Angry Men has multiplied in its relevance today."

The LA Theatre Works' production of the compelling drama Twelve Angry Men opens November 30th and runs til December 4th. All performances are recorded to air on LATW's nationally-syndicated radio theater series, The Play's The Thing, which broadcasts weekly on public and satellite radio. An audience Q&A with Lee Bycel, noted scholar on leadership issues, ethics and strategy, will follow the performance on Saturday, December 3. Skirball Cultural Center in Los Angeles, CA.

AN AMERICAN TRAGEDY a new opera by Tobias Picker, based on the novel by Theodore Dreiser with a libretto by Gene Scheer.

Directed by Francesca Zambello.

Conductor James Conlon. Starring Nathan Gunn, Patricia Racette, Susan Graham, Dolora Zajick, Kim Begley, William Burden, Jennifer Larmore, Richard Bernstein, Anna Christy, Clare Gormley, Jennifer Aylmer, Delora Zajick, Mark Schowalter.

The real life story of Chester Gillette and the murder of Grace Brown in 1906.

The American author Theodore Dreiser published An American Tragedy in 1925 and it quickly became a classic. . Based on a true story of a man who was found guilty of murdering the woman who was carrying his baby, while he was simultaneously pursuing another woman of a higher social class, Dreiser's novel tells the story of a mid-western preacher's son who tasted a little sophistication on his way to death in the electric chair.

The book also inspired the film A Place in the Sun with Montgomery Clift, Shelley Winters and Elizabeth Taylor.

Tobias Picker (whose previous operas include Emmeline, seen in New York in 1998, and Therese Raquin) and his librettist Gene Scheer have distilled the long novel into a fast-moving drama, with lyrical arias and sharply-etched portraits of the Griffeths family - especially of Clyde and the two women he falls for.

Set designer Adrianne Lobel constructed a complicated, three-tiered structure. Costumes by Dunya Ramicova. Lighting by James F. Ingalls. Choreography by Doug Varone.

Sung in English with Met Titles in English. World premiere takes place December 2 at the Metropolitan Opera in New York City.

ELECTRIC HAIKU: CALM AS CUSTARD Choreographer Cathy Weis and her company present, a concoction of dance, video, and sound that asks: "When technology and the human body become partners, who leads?"

Calm as Custard blends live movement with in-the-moment video chicanery.

Live sound collages by Steve Hamilton and brilliant effects by famed lighting designer Jennifer Tipton add to the mix.

Free Meet-the-Artist Pre-Performance Lecture: Cathy Weis: Friday, December 2; Cathy Weis talks about her dance-theater works that meld dance, video, and the fact that Weis has multiple sclerosis.

Performances Thursday-Friday, December 1-2 at the Flynn Center in Burlington, Vermont.

JUDY'S SCARY LITTLE CHRISTMAS features Jennifer Connelly as the one and only Judy Garland. Tim Howard directs this twisted, but loving look at the holiday television specials of yesteryear. Jeff Citation and Brigitte Ditmars choreographs, with musical direction by Peter Storms.

The year is 1959, and Judy Garland has gathered a bevy of her celebrity friends to join her in celebrating the holiday season on her comeback television variety special. Things take a twisted turn when a mysterious guest crashes the party . taking one and all on a mystical journey beyond legends and legacies. Featuring original music and lyrics by Joe Patrick Ward and a book by James Webber and David Church.

Judy's Scary Little Christmas also features Hell In A Handbag Ensemble Members Derek Czaplewski as Bing Crosby, Brannen Daugherty as Liberace, David Cerda as Joan Crawford, Brigitte Ditmars, Ed Jones and Michael Miller. Rounding out the cast are Trista Smith as Ethel Merman, Richard Banden, Loren Connell, Adam Keune and Ben Osbun.

Presented by Hell In A Handbang. Previews begin December 2 at Strawdog Theatre in Chicago.

THE EMPEROR JONES by Eugene O'Neill.

Race, Power, Revolution - in less than 70 minutes

Starring Paterson Joseph. Directed by Thea Sharrock. Designed by Richard Hudson. Lighting Adam Silverman. Sound Gregory Clarke. Through December 17 at The Gate Theatre, Notting Hill, London.

KING ISLAND CHRISTMAS

Illustration: Rie Muñoz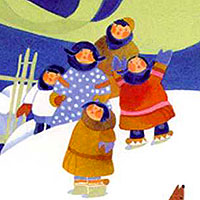 features a cast of fifty and one of the most award-winning creative teams ever assembled.

Libretto by Deborah Brevoort. Music by David Friedman the Broadway conductor who is a platinum songwriter and composer and conductor on Disney feature films.

Based on the book by Jean Rogers. with Illustrations by Rie Muñoz. Directed by Patricia Birch who has been nominated for Four Tony Awards and is the winner of Two Emmy Awards, Billboard, and MTV Award. Set Design by Eugene Lee who is the winner of Three Tony Awards, and Designer for Saturday Night Live. Costume Design by Robert Antona two-time Emmy Award-winner. Lighting Design by Kirk Bookman. Sound Design by Matt Elie.

The largest cast NYSTI has ever assembled on stage at the Schacht Fine Arts Center will perform the holiday musical celebration for the entire family,

King Island Christmas, is based on a true story. Located off the coast of Alaska in the Bering Sea, King Island was home to a tiny village of 150 Inupiag Eskimos. In the early 50s, Rie Muñoz worked as a teacher on the island and told the remarkable true story to her friend Jean Rogers, and together the two women created the children's book.


With strength, unity, and determination, the villagers worked together to drag an oomiak over a mountain to the lee side of the island where the sea was calmer.

Beautiful music brings the spirit of Christmas alive in this simple, joyful tale based on an inspiring true story of what people can achieve when they strive together. Dec 2 - 17 at the New York State Theatre in Troy, New York.


| | | |
| --- | --- | --- |
| | | |
WHO'S WHERE


THE WOLF TRAP HOLIDAY SING-A-LONG The Wolf Trap Holiday Sing-A-Long is an annual musical celebration of the season with Christmas carols and Hanukkah songs performed by the United States Marine Band, led by First Lieutenant Michelle Rakers, USMC, and vocal groups from the metropolitan Washington area.

The audience is invited to bring candles which they may light during the last verse of Silent Night, the final song of the program, and exit the Filene Center in a candlelight procession. There is also a 'Jing-A-Long' during the singing of Jingle Bells, so bring a bell along with your candle and remember to dress warmly.

Admission is free and no tickets are required. Sunday, December 4 at the Filene Center at Wolf Trap in Vienna, Virginia.

PAUL McCARTNEY in a two night stand at the Staples Center in Los Angeles November 29-30.

LYNYRD SKYNYRD performs December 2-4 at the Las Vegas Hilton.

BETTY BUCKLEY the Tony award winner will take the audience on a musical journey November 30 at the Flynn Center in Burlington, Vermont.

MICHAEL FEINSTEIN shows up at his own place performing November 29th – December 30th (no show Christmas) at where else - Feinstein's at the Regency in NYC.

BIG BAD VOODOO DADDY swinging Thursday, December 1 at the Peace Center in Greenville, SC. On Friday they can be enjoyed at Georgia Tech in Atlanta, GA. On Saturday the music and fun is at the Carolina Theatre in Greensboro, NC.

COLDPLAY star at the Halle Tony Garnier in Loyn, France on Monday, November 28. The following night they perform at Palais Omnisports in Paris.

THE ROLLING STONES all over the stage Tuesday, November 29 at the American Airlines Center in Dallas. Thursday finds them at the Toyota Center in Houston.

DIANNE REEVES performs Thursday, December 1, at Laxson Auditorium in Chico, CA. On Friday the show is at the Mondavi Performing Arts Center in Davis, CA. Next Sunday she's on stage at the Walt Disney Concert Hall in Los Angeles.

JOHNNY MATHIS in a two night stand December 2-3 at the Luther Burbank Center in Santa Rosa,CA.

BONNIE RAITT performs Monday. November 28, at the State Theatre in New Brunswick, NJ. On Wednesday she is at the Beacon Theatre in New York City. Saturday finds her at the Tower Theatre in Upper Darby, PA.

BRIAN SETZER ORCHESTRA perform Saturday, December 3, at the North Fork Theatre in Westbury, N.Y. Next Sunday they are at the Count Basie Theatre in Red Bank, NJ.

BLIND BOYS OF ALABAMA takes to the stage Monday, November 28, at the Perth Theatre in Perth, UK.

GWEN STEFANI performs Monday, November 28 in Anaheim, CA at Arrowhead Pond. On Tuesday she can be enjoyed at the Rabobank Arena in Bakersfield, CA. Thursday finds her on stage at the Oakland Arena in Oakland. On Saturday she is in the spotlight at the Aladdin Hotel in Las Vegas. Next Sunday she's center stage at the Cox Arena in San Diego.

HILARY DUFF down under performing Friday, December 2 in Adelaide, AUS at the Entertainment Centre. On Saturday she's in the spotlight at the Rod Laver Arena in Melbourne, AUS.

BON JOVI returns in their first world tour since 2003. Led by singer Jon Bon Jovi, the band's catalog of hit songs and world renowned live shows have earned them legions of fans and critical praise. They are at the Nassau Coliseum in Uniondale, NY on December 7.


FINAL OVATION


PAT MORITA the Oscar nominated actor and comedian died Thursday in Las Vegas. He was 73.

Last year the beloved Las Vegas resident, who began his career as a stand up comedian, was honored at the Fourth Annual Concert of Excellence at Lincoln Center. in NYC. ( See Broadway To Vegas column of November 21, 2004 )

The California born performer first rose to fame with a role on Happy Days. His star rose even brighter when he was cast as the wise Mr. Miyagi - teaching a boy martial-arts mastery through household chores - in The Karate Kid. That career defining role earned Morita an Academy Award nomination for best supporting actor, but he lost to Haing S. Ngor, who appeared in The Killing Fields.

He is survived by his wife, Evelyn, and three daughters from a previous marriage.

The entertainer was buried in Las Vegas. Memorial services are planned in Las Vegas, Los Angeles and Honolulu. In lieu of flowers, the family requests that donations be made to the Zelzah Shrine Temple in Las Vegas.
















Next Column: December 4, 2005
Copyright: November 27, 2005. All Rights Reserved. Reviews, Interviews, Commentary, Photographs or Graphics from any Broadway To Vegas (TM) columns may not be published, broadcast, rewritten, utilized as leads, or used in any manner without permission, compensation and/or credit.
Link to Main Page
---
Laura Deni


CLICK HERE FOR COMMENT SECTION