! >
Broadway To Vegas
  
 SHOW REVIEWS CELEBRITY INTERVIEWS GOSSIP NEWS

| | |
| --- | --- |
| | |
LAS VEGAN PAT MORITA HONORED AT LINCOLN CENTER - - HOORAY FOR WHAT! - - THE RIVALS - - CY COLEMAN DIES - - DAPHNE RUBIN-VEGA HOSTS Q&A ON PLAY NOT PREGNANCY - - BILL CLINTON'S SAX APPEAL - - CELTIC CIRCLE 2 CD - - HIS DARK MEMORIES IS AMBITIOUS 2 PART 6 HOUR PRODUCTION - - DONATE . . . Scroll Down


ACTORS CREATE NEW POLITICAL PARTY
Vanessa Redgrave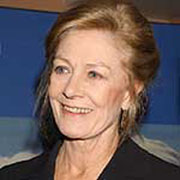 Are the acting Redgraves about to become the English version of Ralph Nader? He's the consumer advocate/environmentalist who had virtually no chance of winning the White House, but was taken quite seriously on the campaign trail. Nader and his followers, called Nader Raiders, pressed for protections for workers, taxpayers, and the environment and fought to stem the power of large corporations.

The Redgraves are launching Peace and Progress, which has existed as an association since the Iraq war. That will change into a new political party during an official launch November 27 in London. At the head of the agenda - human rights. Items on the short list include; social, economic, political and civil rights for all people, pensions and children's benefits, housing, and better treatment for the elderly.

Founders are the brother-sister duo of Corin and Vanessa Redgrave. Their father, Sir Michael, was blacklisted by the BBC for communist affiliations.

The acting political left wing activists concede their new political party will be recognized in no more than three constituencies - and will not win a single seat in Parliament. They promise to be a political party that supports work human rights groups are doing.

The press conference announcing the formation of the Peace and Progress party will feature speakers ranging from Anna Politkovskaya, the award-winning Russian journalist, to American human rights lawyers, to Azmat Begg, whose son Moazzam is held at Guantanamo Bay.

Vanessa and Corin will have to work their acting assignments around the launch of their political agenda.

Colin, 65, has been treading the boards in Newcastle starring as a critically lauded King Lear in a Royal Shakespeare Company production. Oscar and Emmy winner Vanessa, 67, is in Shanghai filming a James Ivory directed, Merchant Ivory costume drama set in the 1930s.

Vanessa will return to The Royal Shakespeare Company playing Euripides' Hecuba in a new production of this Greek tragedy directed by Laurence Boswell. The show will open in February at the Swan theatre in Stratford before beginning previews April l at the Albery Theatre in London. Closing there May 7 they'll cross the pond for a May 21-June 12 staging at the Kennedy Center in Washington, D.C.

Redgrave will be making her Washington debut as the Queen of Troy.

Redgrave's return to the RSC has been called particularly fitting as it was her appearance 43 years ago as Rosalind in As You Like It which established her as one of the leading Shakespearean actresses of her generation.

Fitting, the Hecuba plot is political. The first great war between the east and the west is over. Troy has fallen and the victorious Greek coalition forces are on their way home. Hecuba, once queen of Troy, now a prisoner of war, is being transported back to Athens with other war booty, the women of Troy. Having lost her home, her husband and most of her children, what will this proud and brave woman do when she is asked by her captors to give up her daughter's life having discovered on the same day that her surviving son has been murdered?


IF I SCREW UP, PLAY LOUDER
President Bill Clinton plays the sax for President Yeltsin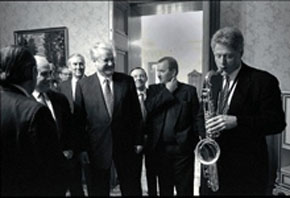 It's not too often when an amateur tooting on a sax can score a television ratings coup and alter the way politicians campaign.

That is exactly what happened on June 3, 1992 when then presidential candidate Bill Clinton made a surprise visit to the Arsenio Hall Show.

Wearing borrowed aviator sunglasses, Clinton sat in with the band and played two songs on his sax. At the time it was a bold move on both the parts of the campaigner and the television host. It would serve to rewrite the rules of campaigning and well as spiking up interest in the sax and the shades.

Playing the sax was nothing new to Clinton. As a student he had excelled as a saxophone player and once considered becoming a professional musician.

The Clinton Presidential Library and Museum which was dedicated last Thursday is preserving Clinton's musical interest by including a Clinton music display in general and that infamous appearance on Arsenio's show in particular.

By appearing on The Arsenio Hall Show Clinton revived what some thought was a stalled campaign - he exploited his sax appeal.

Historical records of the appearance indicate that during the brief rehearsal, Clinton joked nervously with the band, "If I screw up, play louder."

Clinton had been slated to enter into a serious discussion with Arsenio about the L.A. riots and other issues. He arrived in a business suit. To add a cool factor the phosphorescent blue-and-yellow tie was obtained from the show's wardrobe department. Then there were those shades.

Ray Ban wayfarers, like the Blues Brothers used to wear. An impulse move from the guy who ordinarily wore them on the campaign trail, Paul Begala of the consulting firm, Carville & Begala, which helped elect Clinton in 1992. Begala and James Carville, who are now both CNN political pundits, were with Clinton in the Green Room. As Clinton was about to walk on stage Begala grabbed his own sunglasses and placed them on the wanna be president. Begala recalled for CNN that Clinton "sort of shrugged, kind of looked at Carville, looked at me, what do you think. I said, oh, go for it governor. And he did."

The image that came across on TV was that of a relaxed, self-deprecating candidate. The ratings for Arsenio spiked that night to 5.4 million viewers. Sales of both sunglasses and saxophones shot up.



Red, White and Blue. No. 1 of a limited edition of 150 Presidential model tenor saxophones built by the L. A. Sax Company, Barrington, Illinois, 1993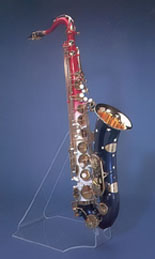 After leaving the stage Clinton returned the sunglasses to Begala who continued to wear them for most of the campaign. Suddenly pictures of Clinton playing the sax while wearing those sunglasses starred appearing on T-shirts and pins. Begala's forward thinking wife suggested that get a different pair of sunglasses to wear and save the ones that had been on Clinton's face - which he did, in a shoe box. It was also the missus who remembered those famous wraparounds and reminded her husband to dig them out and ship them to the museum - which he did. Clinton included them in the display.

After Clinton played saxophone on the Arsenio Hall Show, he received several saxophones from Americans, and one from Poland. "We will preserve them all," said. David Alsobrook, a career archivist who is director of the William J. Clinton Presidential Library.

The sax and other musical memorabilia is in a display at the new Library, which is located within the Clinton Presidential Center and Park in Little Rock. The Center includes the Clinton Foundation (Little Rock office) and the University of Arkansas Clinton School of Public Service.

The archival and museum holdings at the Clinton Presidential Library and Museum are the largest within the Presidential Library system.

Included in these collections are approximately 76.8 million pages of paper documents, 1.85 million photographs and over 75,000 museum artifacts.

Now open to the public the Museum is offering free admission over Thanksgiving week-end November 26-28.


THE MUSIC GOES ROUND AND ROUND


CELTIC CIRCLE 2 A follow-up double disc collection featuring 30 beautiful Celtic-inspired tracks performed by artist with Irish heritage. The Chieftans with Sinead O'Connor and Sting, Sarah McKeown with Natalie Merchant, Sarah McLachlan and others.

For countless years Celtic music has been enchanting listeners with its mystical sounds and melodies. The compilation is soothing yet invigorating with the voices conveying all the nuances and emotional shades.

This Windham Hill release offers a mix of traditional songs and evocative contemporary compositions. Compilation Producer is Nathan Sedlander.

Disc 1:
The Foggy Dew - the Chieftans featuring Sinéad O'Connor
Secret Garden, Nocturne
Almost Seems Too Late To Turn with Clannad
River featuring Susan McKeown with Natalie Merchant
Carrick Fergus - Brian Kennedy
Love Theme from Barry Lyndon by The Chieftans
Una Bhan by Mary McLaughlinona
An Fharraige performed by Maire Brennan
Cailin Na Gruaige Baine performed by James Galway
A Place Among the Stones by Davy Spillane
O'Farrell's Welcome To Limerick by Paul Winter and Friends
Newgrange by Clannad
She Moved Thro' The Fair/Ann Cran Ull - Rory Gallagher with Bert Jansch
Behind Walls of Stone - David Arkenstone
Erin Gra Ma Chrox (Ireland Of My Heart) - Cherish The Ladies
Now We Are Free a composition from the movie Gladiator performed by Lisa Cannon.

Disc 2
1. Tranquility - Phil Coulter
2. Drawn To The Rhythm - Sarah McLachlan
3. In London So Fair - Susan McKeown
4. Time Has Come, The - Christy Moore
5. Evenstar - composition from the movie The Lord of the Rings: The Two Towers featuring Shane McDonnell
6. Rosemary Faire (Song Of Lughnasadh) - Aine Minogue
7. Ay Fond Kiss - Fairground Attraction
8. Against The Wind - Maire Brennan
9. Pilgrim's Way - Phil Coulter
10. My Heart Will Go On song from the film Titanic featuring Ryan and Rachel O'Donnell
11. Way Of The Warrior - Jeff Johnson and Brian Dunning
12. Fields Of Gold - Lisa Lynne
13. Sauvie Island - Nightnoise
14. Caislean Oir - Clannad
15. Mo Ghile Mear-Our Hero - The Chieftains/Sting


SPREADING THE WORD


THE PENETRATION PLAY

(Left to right): Kathryn Grody, Mia Barron and Mandy Siegfried. Photo By: Carol Rosegg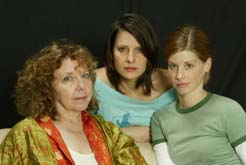 by Winter Miller, who graduated from Smith College and earned an MFA from Columbia University in 2003, is currently in collaboration with Daphne Rubin-Vega on a new rock musical. Rubin-Vega, who is due to give birth to a boy on November 30, will host a Q&A following the November 23 performance of The Penetration Play. The Q&A is about the play, not the pregnancy. No word on any planned baby shower or whether there will be a doctor in the house, in case the baby decides to enter the stage ahead of cue.

On December 6th Gloria Steinem will also host a Q&A.

The Penetration Play is a dark comedy about things that aren't funny and the one person who should've been off-limits. Set on the New Jersey shore during the last weekend of summer, the play tells the story of Rain, who wants nothing more than her best friend Ashley to want her. Ashley's mother, meanwhile, wants Ashley to marry a brilliant lawyer named Rich.

Starring Mandy Siegfried, Mia Barron, Kathryn Grody. Josh Hecht directs. Sets by Robin Vest. Lighting by Paul Whitaker. Sound by Eric Shim. Officially opens November 22 for an engagement through December 11 at the Mint Theater in NYC.



Broadway To Vegas is supported through advertising and donations. Priority consideration is given to interview suggestions, news, press releases, etc from paid supporters. However, no paid supporters control, alter, edit, or in any way manipulate the content of this site. Your donation is appreciated. We accept PAYPAL. Thank you for your interest.


SWEET CHARITY


FOURTH ANNUAL CONCERT OF EXCELLENCE at Jazz at Lincoln Center.

The evening will celebrate Asian Americans in the performing arts.

The Rémy Martin X.O. Excellence Award will be given to Pat Morita, the Academy Award-nominated actor who broke new ground for Asian Americans; Hollywood leading lady Kelly Hu and Martial arts film star Donnie Yen.

This one-night-only benefit performance will feature special guests, including Ralph Macchio, host Beau Sia, Broadway stars, and performances from Mamma Mia!, Jekyll & Hyde, Making Tracks and The Wedding Banquet: The Musical. The evening will also have the debut of the 2G Kids ensemble. Sponsored by Chase Home Finance, they will sing a special tribute to food, glorious Asian food.

Pre-concert and Post-concert receptions. November 22 at the TimeWarner Center, Frederick P. Rose Theater, NYC.

ITZHAK PERLMAN stars in the Jewish Community Centers of Chicago 2004 benefit concert. November 29 at Orchestra Hall in Chicago.



THE NUTCRACKER PERFORMED BY THE JOFFREY BALLET continues to delight and astonish world audiences. For a week over the Thanksgiving holidays, the company returns to the Kennedy Center to present this family production, featuring charming Victorian scenery and costumes, Gerald Arpino's thrilling waltzes for the Snowflakes and Flowers, dozens of dancing and singing children, and the incomparable Joffrey dancers. Accompanied by the Kennedy Center Opera House Orchestra. Whether you're six or sixty, you're sure to cherish this version of Tchaikovsky's enchanting masterpiece - a Kennedy Center tradition. November 24-28 at the Kennedy Center in Washington, D.C.

A two-hour open rehearsal takes place Nov 24, beginning at 1:30 PM. Ballet scholars will guide participants through a behind-the-scenes view of The Joffrey Ballet as its dancers prepare onstage for the opening night performance. This sold out event is part of the Kennedy Center Performance Plus Events Series.

THE RIVALS by Richard Brinsely Sheridan. Directed by Mark Lamos.

Sheridan's rarely-performed restoration comedy comes to Lincoln Center Theater for its first New York production since a Broadway revival in 1942. Considered one of the funniest plays ever written, outrageous characters, including the infamously misspoken Mrs. Malaprop, reveal the lengths to which a group of society well-to-dos will go in order to capture the elusive magic of love.

Starring Richard Easton, Dana Ivey, and Brian Murray. Sets by John Lee Beatty. Costumes by Jess Goldstein. Lighting by Peter Koczorowski. Sound by Scott Stauffer. Original Music by Robert Waldman.

Previews begin November 26. Officially opens December 16 with performances to January 23, 2005.

At the Vivian Beaumont Theater in New York, NY

THE TALK OF THE TOWN world premiere of an original musical with book, lyrics and music by Ginny Redington and Tom Dawes. Directed by Dan Wackerman.

The Talk Of The Town tells the story of the ten-year friendship of the wittiest literary lights of the 1920's, including Dorothy Parker, Robert Benchley, George S. Kaufman and Alexander Woollcott. Loaded with their legendary quips, critiques and put-downs, this delightful period musical traces the legendary skirmishes - both romantic and otherwise - around the famed Algonquin Round Table.

The choreographer is Mercedes Ellington. Music director by Jeffrey Biering. The Talk Of The Town continues performances at the Bank Street Theatre in NYC through Sunday, December 5.

HOORAY FOR WHAT! 42nd Street Moon, San Francisco's only theatre company dedicated to "lost musicals," presents Harold Arlen and Yip Harburg's wildly comic Hooray For What!, a hilarious send-up of fascism, jingoism, and war profiteering.

A mild-mannered scientist accidentally invents a terrible weapon capable of conquering the world and is immediately plagued by spies eager to obtain his formula. When a glitch reverses the effect, promoting peace and brotherhood among soldiers, the super-powers declare it worthless.

Long missing-in-action from musical stages, the script and score have lovingly being dusted off by 42nd Street Moon in this NEA-sponsored restoration featuring a sumptuous Arlen and Harburg score, including the bluesy Moanin' in the Mornin', the scathingly mocking Down With Love, romantic ballads In the Shade of the New Apple Tree and I've Gone Romantic on You, and God's Country, a witty skewering of American pop culture.

Greg MacKellan director. Brandon Adams music director. Alexandra Kaprielian choreographer, Barbara Rosen costumer, Ellen Brooks lighting director.

Through November 28 at the 42nd Street Moon in San Francisco.

ON THE RECORD The setting is a Hollywood recording studio where a young unknown is about to get her big break, a pop diva is about to meet her match, and a matinee idol is about to meet the "new kid" who could take his place. This is the story of the session that changed their lives - the night they laid down 64 classic hits you'll never forget. From the Disney movies and musicals that have become landmarks in our lives comes a score 70 years in the making, illuminating a story set in the high-tech audio wonderland of today.

The Benedum Theatre in Pittsburgh November 23-28.

GRAND HOTEL a new production bringing to life this glorious, Tony Award-winning musical by Robert Wright and George Forrest with book by Luther Davis, based on the Vicki Baum novel. Additional music and lyrics by Maury Yeston. Directed by Michael Grandage with designs by Christopher Oram and lighting by Hugh Vanstone.

Come, spend a night or two in the world's most opulent, extravagant hotel. Perhaps you will find your fortune there, perhaps you will find true love, perhaps all of your dreams will come true... perhaps...

1928. Berlin. At Grand Hotel the guests and staff are suffering from an excess of hope and optimism as the stock market booms. The city's decadent high life is in full swing.

Luther Davis chanced upon a copy of Vicki Baum's novel in a second hand bookshop and was inspired to write the musical. Following the success of their collaboration on Kismet, which opened in 1953, Davis asked Robert Wright and George Forrest to create the score for his book. The musical premiered at The Grand for Los Angeles and San Francisco Light Opera Associations.

Previews began November 19 with the official opening set for November 29 running through February 12, 2005.

HIS DARK MATERIALS based on the novels by Philip Pullman and adapted by Nicholas Wright is one of the National Theater's most ambitious projects, a six-hour adaptation of the Philip Pullman fantasy trilogy. A production sold out last year. This revival is a reworked version and with a mostly new cast.. Wright, who wrote the stage adaptation, has revised the six-hour play, which is performed in two parts.

His Dark Materials takes patrons on a journey through worlds familiar and unknown. For Lyra and Will, its two central characters, it's a coming of age and a transforming spiritual experience. Their great quest demands a savage struggle against the most dangerous of enemies. They encounter fantastical creatures in parallel worlds - rebellious angels, soul-eating species, child-catching Gobblers and the armored bears and witch-clans of the Arctic. Finally, before reaching, perhaps, the republic of heaven, they must visit the land of the dead.

His Dark Materials is an epic production both in its narrative scope and its staging, involving artists from new technologies as well as old. It is one of the National's most ambitious projects, and aims to create an experience as meaningful for 12 year olds as for adults. This riveting story unfolds over the course of two plays.

The theatre stresses; "a number of customers who booked to see Part I in the original run were unable to book for Part II at a later date as all performances had sold out. At current levels of demand, we expect that this will happen again and recommend that you book for both Parts at the same time."

Director: Nicholas Hytner with Matt Wilde. Associate Director/Choreographer: Aletta Collins. Set Designer: Giles Cadle. Costume Designer: Jon Morrell. Puppet Designer: Michael Curry. Lighting Designer: Paule Constable. Associate Lighting Designer: Vic Smerdon. Music: Jonathan Dove. Music Director: Mark Bousie. Fight Director: Terry King. Sound Designer: Paul Groothuis. Video Projection Designer is Thomas Gray for The Gray Circle. Computer Graphics Designer is Yuri Tanaka for The Gray Circle.

Cast: Adjoa Andoh, Mark Buchner, John Carlisle, Michelle Dockery, Vanessa Earl, Jamie Harding, Darren Hart, Don Gallagher, Ian Gelder, David Harewod, Leo Kay, David Killick, Pascal Langdale, Samantha Lawson, Michael Legge, Elliot Levey, Emma Manton, Lesley Manville, Iain Mitchell, Victoria Moseley, Helen Murton, Chike Okonkwo, Harry Peacock, Alan Perrin, Alistair Petrie, Dodger Phillips, Samuel Roukin, Nick Sampson, Rachel Sandars, and Elaine Symons.

Previews began Saturday, and the show runs through April 2 at the National Theatre in London.

MADAGASCAR by J.T. Rogers. Commissioned by the Salt Lake Acting Company, this world premiere is playing through December 12.

Madagascar is the haunting story of a mysterious and unsolved disappearance that changes three lives forever. At three different periods in time, three Americans find themselves, alone, in the same hotel room overlooking the Spanish Steps in Rome. June, a young woman who works as a tour guide of the city's ancient ruins; Lilian, her wealthy and elegant jet-setting mother; and Nathan, a rumpled university economist and the best friend of Lilian's famous deceased husband. They each tell us their individual story of how and why they are here. Their relationships to each other, what this room means to them, and why they have been called to it slowly reveal themselves. Their stories spill out, weave back and forth–each contradicting, clarifying, deepening what the others say–becoming strands of one gripping and disquieting tale.

Madagascar is about how the consequences of the actions we take — and don't take — ripple out and affect others in ways unforeseen.

Rogers, who lives in Brooklyn, was selected as one of ten playwrights in the nation to receive a NEA/TCG Theatre Residency for 2004-2005, through which he is currently playwright-in-residence at the Salt Lake Acting Company. For Madagascar he was awarded a 2004 playwriting fellowship from the New York Foundation for the Arts.

The work was featured at New York City's Epic Repertory Theatre Company in the summer of 2004. Rogers has been an artist-in-residence at the Eugene O'Neill Center in Waterford, CT. On September 17 Madagascar was presented there. The play was directed by Gus Reyes who continued on with the play to the Salt Lake City Acting Company where it premiered on November 16.

Madagascar became the third project of the O'Neill's Artist-in-Residence program, which was recently created to foster and develop new works, new voices and new theatrical avenues.

Rogers has been a guest artist at Truman State University (MO), and has lectured at the North Carolina School of the Arts' and University of Utah's schools of drama and at the Claremont-McKenna School of Economics. For three seasons he was on faculty at New York University as part of the Creative Arts Team, where he taught conflict resolution through drama in at-risk junior high schools in Brooklyn and the Bronx.


| | | |
| --- | --- | --- |
| | | |
WHO'S WHERE


TONY BENNETT opens Tuesday, November 23 at Lincoln Center in New York City for a five night gig.

SAVION GLOVER will put on a toe tapping performance November 28 at the Grand Opera House in Wilmington, Delaware.

JOSH GROBAN on stage Saturday, November 27, at Sun City Super Bowl in Sun City, South Africa.

SARAH BRIGHTMAN stars at the American West Arena in Phoenix tonight, November 21. On Monday she is on stage at the Staples Center in Los Angeles. Wednesday the show is at the Oakland Arena in Oakland, CA.

MICHAEL BUBLE performs tonight, November 21, at the Plymouth Pavilions in Plymouth, United Kingdom. On Tuesday he is in the spotlight at Usher Hall in Edinburgh. Wednesday the performance takes place at the Opera House in Blackpool and Thursday the singer stars at Hallam FM Arena in Sheffield.

B.B. KING performing November 26-28 at the Stardust Hotel in Las Vegas.

BEN VEREEN the Tony Award winner, brings his one man show to the stage of the Suncoast in Las Vegas November 26-28.

BRUCE HORNSBY performing November 28 at House of Blues at Mandalay Bay in Las Vegas.

JOHN FOGERTY in the spotlight November 28 at the Hard Rock Hotel in Las Vegas.

BILL ENGVALL with his quick wit, devilish smile and soft giggle, Engvall has endeared himself to comedy audiences all over the world. On Nov. 26-27 Engvall will perform in the Celebrity Showroom of John Ascuaga's Nugget in Sparks, Nevada.

LAST TRAIN HOME perform at The Barns at Wolf Trap in Vienna, Virginia on Friday, November 26.

CLAY AIKEN performs Monday, Nov. 22 at the Dodge Theatre in Phoenix, AZ. On Tuesday he is in the spotlight at the E County Performing Arts Center in El Cajon, CA. Friday finds him at the Orange County Performing Arts Center in Costa Mesa, CA and he closes out the week, Saturday, at the Center for the Performing Arts in San Jose, CA.


FINAL OVATION


CY COLEMAN

Cy Coleman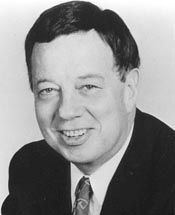 the three time Tony-winning composer, who started out as a Las Vegas lounge performer at the Sahara Hotel, going on to become an award winning producer, arranger and musician, died of heart failure on November 18. He had attended the opening night of Michael Frayn's new play, Democracy, at the Brooks Atkinson Theater followed by the traditional opening night party. Feeling ill at the party, his wife took him to New York Hospital where he collapsed and died.

He was 75.

Coleman was born Seymour Kaufman in the Bronx on June 14, 1929. See two part Broadway To Vegas interview with Coleman of December 12, 1999 and December 19, 1999.

He is survived by his wife, Shelby, and their four-year-old daughter, Lily.

Lights were dimmed at all Broadway theatres last Friday in honor of Coleman.
















Next Column: November 28, 2004
Copyright: November 21, 2004. All Rights Reserved. Reviews, Interviews, Commentary, Photographs or Graphics from any Broadway To Vegas (TM) columns may not be published, broadcast, rewritten, utilized as leads, or used in any manner without permission, compensation and/or credit.
Link to Main Page
---
Laura Deni


CLICK HERE FOR COMMENT SECTION