! >
Broadway To Vegas
  
  REVIEWS INTERVIEWS COMMENTARY NEWS

| | |
| --- | --- |
| | |
AN EVENING OF WHO MUSIC - - JERSEY BOYS STAR IN ABU DHABI - - RECORDING ACADEMY ENGINEERS WING HONORS NILE RODGERS - - PHIL COLLINS OFFICIALLY DONATES ALAMO COLLECTION - - PETER HOLLENS CD REVIEW - - VEHICLE PLATES DRIVE ART REVENUE - - KEITH HARING: THE POLITICAL LINE - - KISS BEGINS LAS VEGAS RESIDENCY - - DONATE . . . Scroll Down



Copyright: November 2, 2014
By: Laura Deni
CLICK HERE FOR COMMENT SECTION


VEHICLE PLATES DRIVE ART REVENUE


Kansas has become the latest state to ride the lucrative license plate for the arts program; while California has expanded their program, becoming the first in the nation to offer gift vouchers.

If you're pondering what to give as a holiday present to a person with a car registered in California, the DMV is making shopping easier. For the first time, it is possible to purchase a $50 voucher which the recipient can use to purchase a specialty plate which benefits the California Arts Council.

Their personal moving billboard.

Until now, only individual vehicle owners could purchase a specialty plate, requiring the providing of their car's individual identification number. With the new voucher system, anyone can purchase a $50Arts Plate voucher to give away as gifts to friends, family or clients. No specific vehicle information is needed. The donor even receives a tax deduction.

While numerous states, such as Tennessee, Georgia, North and South Carolina, Florida, Kansas, Alabama and Texas, have specialty license plates benefitting the arts, the California gift voucher is the first in the nation.

In 2011 Tennesseans for the Arts staged a competition for a new license plate, with the winning plate available for sale to the public with 100 percent of the proceeds directly benefiting the arts in Tennessee. That was a substantial increase over the 40 percent of sales that specialty license plates provided for the Tennessee Arts Commission, which then disseminates those funds to arts groups across the state.

In June 2010 the Georgia General Assembly passed House Bill 1055 which authorized the state to issue a Specialty Arts License Plate in support of the arts in Georgia with $10 from every tag sold benefiting the state arts agency, the Georgia Council for the Arts. Artwork for Georgia's plate was created by local artist Steve Penley. It features General James Oglethorpe, an explorer and abolitionist who helped settle and establish Georgia in its early days as a colony. Thus the plate's featured slogan: Explore the Arts.

North Carolina specialty ARTS plate brands North Carolina as "the creative state" with a percentage of the revenue going to promote the arts in North Carolina.

in Alabama the license plate design changes every five years.

The annual Alabama registration fees associated with the purchase of this license plate range from $23.00- $890.00 depending on the type of vehicle being registered.

The California arts license plates, which are made by inmates of the Folsom State Prison, featuring palm trees and an ocean sunset, were designed by famed Sacramento artist Wayne Thiebaud. First issued in 1994, the Arts Plate is the primary source of California state arts funding - roughly 60 percent or roughly $3 million, of its annual budget. . For each $50 license plate, the council said it collects about $35, while $15 goes to DMV for processing costs.

Arts officials predict that the gift vouchers will double the revenue and expect to sell 10,000 vouchers by the end of next year.

The vouchers can be purchased like a gift card or sent via email. Unlike a gift card, the vouchers do have an expiration date; for Art Plates vouchers sold this year, the expiration date is June 2016. If the recipient fails to redeem the voucher before the expiration date, the allotted amount still reverts to the arts council.

In August 2013 Kansas inaugurated its cleverly named Driving the Arts program with a specially designed license plate to support the creative arts in the state. The Kansas Creative Arts Industries Commission (CAIC) unveiled the Driving the Arts campaign with the intent of raising at least $100,000 per year to support arts programming by the commission.

The campaign goal was to sign up at least 2,000 people for the plates by April 1, 2014. That goal was more than reached with the plates being available as of last Monday, October 27, 2014.

"The license plate is a great way for Kansans to proudly display their support for the arts every time they get in their vehicles," said Lana Gordon, CAIC chairwoman and Kansas labor secretary. "I'm excited to see these license plates around the state. It will be a great sign of the support and positive impact that the arts have on our economy and our state." The annual fee for each plate is $50, and 100 percent of the revenue generated from sales of the plate will be used by the CAIC to fund arts programs in Kansas. In addition, arts license plate fees are eligible for matching funds from the National Endowment for the Arts. The CAIC has awarded more than $1 million in state and matching federal funds since FY 2014.

"Kansas is fortunate to have many individuals who support the arts in Kansas," Kansas Commerce Secretary Pat George said. "By purchasing this plate, they can help grow the arts, expand economic development and create new jobs."

Commission member Dave Lindstrom of Overland Park was instrumental in creating the license plate program.

"The 'Driving the Arts' license plate campaign will be an important funding source for the Kansas Creative Arts Industries Commission and, ultimately, the arts programs that we support," Lindstrom said. "This campaign will build awareness for the arts; unify arts communities behind a resurgent Kansas Arts program; develop into a reliable and attractive funding source for the Kansas Arts; and promote economic development in the state."






Broadway To Vegas is supported through advertising and donations. Priority consideration is given to interview suggestions, news, press releases, etc from paid supporters. However, no paid supporters control, alter, edit, or in any way manipulate the content of this site. Your donation is appreciated. We accept PAYPAL. Thank you for your interest.




ART AND ABOUT


KEITH HARING: THE POLITICAL LINE

Untitled (Apartheid), 1984. Acrylic on canvas.Private collection. Keith Haring artwork © Keith Haring Foundation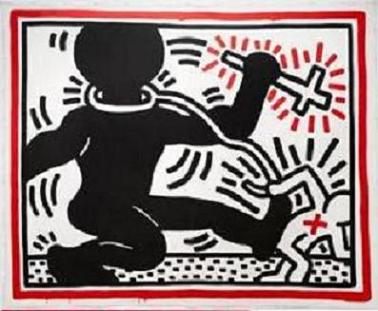 has its US premiere at the de Young and is the first major Haring show on the West Coast in nearly two decades. Many of the works are on loan from the Keith Haring Foundation, New York, with supplemental loans from public and private collections. Several pieces have not been published or on public view since the artist's death, in 1990.

Working across a variety of media, including Subway Drawings, paintings and sculptures, Haring (1958–1990) devoted himself to messages of social justice and change.

The Political Line will feature more than 130 works of art, including large-scale paintings on tarpaulins and canvases, sculptures, and a number of the artist's subway drawings. The exhibition creates a narrative that explores Haring's responses to nuclear proliferation, racial inequality, the excesses of capitalism, environmental degradation, and other issues of deep personal concern.

Keith Haring (1958–1990) was preeminent among the downtown New York City community of young artists, performers, and musicians whose work responded to urban street culture. During a brief but intense career that spanned the 1980s, Haring's work was featured in more than 100 solo and group exhibitions. Haring also devoted much of his time between 1982 and 1989 to producing more than 50 public artworks in dozens of cities around the world, many of which were created for charities, hospitals, children's day care centers, and orphanages. Haring died in New York in February 1990 of AIDS-related illnesses.

The Political Line is based on guest curator Dieter Buchhart's exhibition of the same title, which was presented at the Musée d'art moderne de la Ville de Paris in the summer of 2013. The de Young exhibition is curated by Dieter Buchhart in collaboration with Julian Cox, founding curator of photography and chief administrative curator at the Fine Arts Museums of San Francisco. Join patrons at the de Young on the opening day of the exhibition, Saturday, November 8, a daylong symposium highlighting Keith Haring's art and life kicks off with a day long events including a symposium and an introduction by Museum Director Colin Bailey. Cap off the day with free festivities, including a dance party in Wilsey Court, featuring music by Fab Five Freddy, and art making for all.

Symposium speakers include: Colin B. Bailey, director, Fine Arts Museums of San Francisco - Dieter Buchhart, exhibition guest curator - Julian Cox, founding curator of photography and chief administrative curator, Fine Arts Museums of San Francisco - Jane Dickson, artist, teacher, and friend of Keith Haring - Julia Gruen, executive director of the Keith Haring Foundation- Gil Vazquez, artist and friend of Keith Haring - Fab Five Freddy, artist and friend of Keith Haring.

The exhibition runs November 8, 2014 through February 16, 2015 at the de Young Museum in San Francisco.

SINGER PHIL COLLINS officially turned over his large collection of Alamo memorabilia to a Texas museum on Tuesday, October 28, 2014, calling the donation the end of a six-decade "journey".
See Broadway To Vegas column of June29,2014

"I'm 64," he said of his fascination with the 1836 battle. "When I was five or six years old, this thing began."

Collins' collection includes a fringed leather pouch used by Davy Crockett and Jim Bowie's legendary knife. "There's things in there that will make your mouth drop," the Genesis star said in San Antonio. The donation was accepted on Tuesday by Texas Land Commissioner Jerry Patterson, who is campaigning for a new historical center to house Collins' collection.

"Texans are deeply indebted to Phil Collins," Patterson said. "He is giving us back our heritage. "Now these Texas treasures need a home where all can see them and study from them and learn about how Texans won our liberty.''

Collins was there to welcome a truck containing five large wooden crates which arrived outside the Gallagher House adjacent the Alamo. Inside those crates were more than 200 items, thought to be the largest Alamo collection privately owned.

Collins said he first became interested in the Alamo after watching a 1950s TV series about Crockett, the famed frontiersman who died in the conflict.

Not everyone was thrilled about Collins donating the collection.

"My nine-year-old son was saying, 'Why are you going to give it all away, Dad? I thought I was going to have it,''' he told reporters with a laugh.



SWEET CHARITY


AN EVENING OF WHO MUSIC in Aid Of Teenage Cancer Trust takes place November 11th at the O2 Shepherds Bush Empire in London.

The house band for the evening, The Who's band featuring Simon Townshend, Zak Starkey, Pino Palladino, Billy Nicholls, Frank Simes, Loren Gold and John Coury will be joined onstage by some of the best artists in the world all performing Who classics.

Pearl Jam's Eddie Vedder, Liam Gallagher, Wilko Johnson Ricky Wilson from the Kaiser Chiefs, Manic Street Preachers' James Dean Bradfield, Geddy Lee from Rush, The Strypes, Brody Dalle, Tom Odell, Amy Macdonald, Andy Burrows and Rizzle Kicks and more have chosen their favorite Who songs to perform.

Roger Daltrey is a long-standing patron of Teenage Cancer Trust and has been curating the charity's annual flagship event, Teenage Cancer Trust at the Royal Albert Hall, for 15 years. In that time the shows have raised over $30 million to help young people with cancer and the charity has grown to include 28 specialist units and 48 expert teenage cancer nurses and youth-support coordinators.

EAST LYNNE THEATRE COMPANY an award-winning Equity professional company presents its annual fundraiser on Monday, November 10.

Guests will enjoy a Music Trivia Contest, with the focus on mysteries and crime, since the theme for the 2014 East Lynne season is What is legal?

Helmed by Dawn Brautigam and Mark Lang, trivia questions could be about music for popular detective shows or crime movies from the past eighty years. To add to the fun, music is performed live, by Chris Sooy, Lew London, and Jennifer Bissell - and winners receive prizes.

The evening begins with hors d'oeuvres and a cash bar followed by special tastings of Aleathea's specialties, and then the competition begins. The MCs for the evening are Mark Lang and James Rana.

There is also a silent auction, the raffle for the Dream Vacation, and the recipient of the Historic Jackson Street Neighborhood Association Scholarship Fund in the Name of Bob and Toni Green will be announced. The annual gala will take place at Aleathea's Restaurant at the Inn of Cape May.


THE MUSIC GOES ROUND AND ROUND


PETER HOLLENS a self-titled debut album on Portrait/Sony Music Masterworks.

The one man a cappella vocalist and video producer has recorded and produced this 13-track album featuring seven songs from his catalog, in addition to six new songs.

A cappella - a word many might group into an antediluvian category. Or, ponder what he has against musicians. Perhaps, as a child, Hollens was bitten by a clarinet.

Listen to this CD and you'll conclude that Peter Hollens puts relevant buoyancy into the musical art form.

With no intention of putting musicians out of work, (Lindsey Sterling does play the violin on Skyrim), Hollens could single handily make a cappella singing popular. The reason a cappella takes a back seat to every other form of music is that whoever is singing really does need to have a beautiful voice and know how to sing. There are no musicians to disguise mediocre chirping.

Fortunately, Peter Hollens has a glorious voice, which is displayed to perfection on his CD, in which he is also joined by a few friends who also have some spectacular singing voices - Jackie Evanchio, Brian Wilson, Avi Kaplan, Lindsey Stirling, Sabrina Carpenter and Evynne Hollens, who happens to be his wife and founder of her own a cappella group Divisi.

If his Les Miserables medley doesn't have you wondering why he's not in the Broadway production, then you have a deaf ear. Stunning, pure, powerful, mesmerizing, heart tugging.

He proves that a voice can be as satisfying and electrifying as an entire orchestra.

Included in this CD are songs from fan-favorite videos like Misty Mountains and I See Fine, plus an original composition Ashland's Song written about Hollens' newborn son, and even has the baby's cooing in the background. The album also features collaborations with artists like Brian Wilson of The Beach Boys on Our Special Love, Jackie Evancho on Hallelujah, Lindsey Stirling on Skyrim (Main Theme), and Avi Kaplan of Pentatonix on Black Is The Color of My True Love's Hair.

Hollens began his a cappella career in 1999 co-founding the University of Oregon's award-winning a cappella group, On The Rocks. In 2010, the group was featured on NVC's The Sing Off Season 2.

Since then, Hollens has released over 70 digital singles. He has performed in Carnegie Hall, Lincoln Center and the Beascon Theatre in New York City. Hollens is also heavily involved in promoting the collegiate a cappella arts through recording, producing, and judging competitions. In addition, he advises many companies including Patreon, Loudr, Tubular, as well as sitting on the YouTube creator advisory board.

Vocal arrangements by Tom Anderson.
Mastered by Dave Sperandio for Vocal Mastering.
Mixers: Ed Boyer, Bill Hare and Bob Clearmountain.
Edited by Ben Lieberman, Danny Ozment and Russell Kamp.
Engineers: Pater Hollers, Ben Bran, Bill Hare, Frank Pappalardo and Wesley M. Seidman.
Recorded in Eugene, OR, Los Angeles and Pittsburgh.

Track Listing
1. I See Fire
2. Skyrim (Main Theme) [feat. Lindsey Stirling]
3. I Won't Give Up
4. Les Miserables Medley (feat. Evynne Hollens)
5. I Still Haven't Found What I'm Looking For (feat. Sabrina Carpenter)
6. Shenandoah
7. She Moved Through The Fair
8. Hallelujah (feat. Jackie Evancho)
9. Our Special Love (feat. Brian Wilson)
10. The Parting Glass
11. Black is the Color of My True Love's Hair (feat. Avi Kaplan)
12. Ashland's Song
13. Misty Mountains


SPREADING THE WORD


THE RECORDING ACADEMY ENGINEERS WING

Rodgers won three Grammy Awards for his work with Daft Punk and Random Access Memories including Best Pop Duo/Group Performance, Record of the Year and Album of the Year.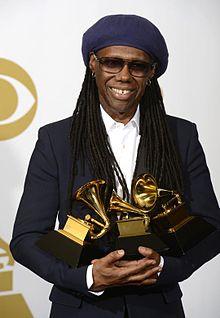 will celebrate its eighth annual Grammy Week event honoring three-time Grammy winner Nile Rodgers for his commitment to excellence and ongoing support for the art and craft of recorded music.

Nichael Ostin and Cameron Strang will serve as honorary event co-chairs at the event to be held on Tuesday Feb. 3 at The Village studios in West Los Angeles.

"Our Producers & Engineers Wing members are passionate about sound quality, the importance of music creators, and most of all, the integrity of recorded music," said Neil Portnow, President/CEO of The Recording Academy. "This year, it is with great pride that we honor a musical icon who is the epitome of everything the P&E Wing represents. Nile Rodgers is not only a revered member of the music community but also a founding member of the Wing and we look forward to celebrating his astonishing career, which continues to reach new musical heights and inspire generations."

A musician, composer, arranger and guitarist, Rodgers is one of the most influential music producers in the history of popular music. He began his career as a session guitarist in New York, first toured as a teenager with the "Sesame Street" band, and played with the house band at Harlem's world famous Apollo Theater. In 1970 Rodgers and bassist Bernard Edwards met and formed the Big Apple Band. In 1977 the band changed their name to Chic and subsequently generated chart-topping hits such as Le Freak, I Want Your Love, Everybody Dance, and Good Times. Chic's success soon led to producing opportunities for Rodgers and Edwards, among them albums such as Sister Sledge's We Are Family and Diana Ross' Diana.

Following Chic's dissolution in 1983, Rodgers embarked on a solo production career that launched hits for artists such as David Bowie, INXS, Duran Duran, Madonna, Sheena Easton, Jeff Beck, the Thompson Twins, Mick Jagger, Grace Jones, Cyndi Lauper, Howard Jones, the B-52's, and Al Jarreau, among others.

In 1998 Rodgers founded the Sumthing Else Music Works record label and Sumthing Distribution, an independent music label distributor. The label focused on a fast-growing new genre: video game soundtracks. Prompted by the Sept. 11 tragedies, Rodgers created the We Are Family Foundation to help promote the healing process and organized a rerecording of We Are Family, the Grammy Hall of Fame-inducted song he and Edwards wrote for Sister Sledge.

As the Producers & Engineers Wing 2015 honoree, Rodgers joins an impressive list of past honorees: Chris Blackwell; T Bone Burnett; Tom Dowd; Ahmet and Nesuhi Ertegun; Jimmy Iovine; Quincy Jones; Arif Mardin; Al Schmitt; Jerry Wexler; and Neil Young.

RONAN FARROW DAILY his MSNBC show, has rumors circling that cancellation is around the corner. I had the opportunity to watch the program last Friday, October 31, in which the Rhodes Scholar discussed Ebola: Fast or Fiction, the mid-term elections and their various issues, Iran, etc. I thought he was excellent - both as a journalist and in his ability to relate to a television audience.

If MSNBC does drop him, I hope somebody else picks him up.

HOLMES AND CARTER MYSTERIES two crime stories with two different detectives, performed by the same cast-of-six, back-to-back in Sherlock Holmes Adventure of the Copper Beeches and Nick Carter and the Strange Dr. Devolo. Presented in the style of a radio broadcast, complete with live sound effects and commercials.

The cast members taking on roles of those in Victorian England and in New York during World War II in the same night are Lee O'Connor, Fred Velde, Mark Edward Lang, Alison J. Murphy, Gayle Stahlhuth, and Robert LeMaire.

Presented November 7-8 by the Equity professional East Lynne Theater Company in West Cape May, New Jersey as part of Cape May's Sherlock Holmes' Weekend.

THE NATIONAL ARTS CENTRE ORCHESTRA (NACO) OF OTTAWA AND LONDON'S ROYAL PHILHARMONIC ORCHESTRA united in London last Monday, October 27, to perform a tribute concert.

Prince Charles attended the special concert at the Royal Festival Hall, was dedicated to the two Canadian soldiers who were killed in separate attacks last week. Cpl. Nathan Cirillo, 24, was shot and killed while standing guard at the Ottawa war memorial on October 22, 2014 and Warrant Officer Patrice Vincent, 53, was killed when a car ran over him while he was walking through a parking lot in St-Jean-sur-Richelieu, Quebec. The man responsible, Martin Couture-Rouleau, was shot dead by police following a brief car chase.

Christopher Deacon, managing director of the National Arts Centre, paid tribute to Warrant Officer Patrice Vincent and Corporal Nathan Cirillo, and said: "Our response to this tragedy is the healing beauty of music."

The Prince of Wales is Patron of Canada's National Arts Centre Orchestra (NAC) Tour to the United Kingdom. The orchestras were conducted by Musical Director of the National Arts Centre Orchestra, and Principal Guest Conductor of the Royal Philharmonic Orchestra, Pinchas Zukerman; who is also one of the great violinists of our time.

The orchestras were joined by mezzo-soprano Patricia Bardon, the London Philharmonic Choir, and other soloists creating an outstanding ensemble of over 200 musicians for a breathtaking performance of Beethoven's magnificent Ninth Symphony, which culminates in the triumphant choral finale, Ode to Joy.

Afterwards Prince Charles greeted the young musicians from the Institute of Orchestral Studies and the Royal College of Music Rising Stars, accompanied by Canada's High Commissioner to the United Kingdom Gordon Campbell.

The NAC Orchestra has also announced its dedicating all five shows of its U.K. tour to the fallen men. Prince Charles also made a "substantial" donation to the families of the two slain Canadian soldiers. The Prince of Wales' Charitable Foundation made the contribution to the True Patriot Love Foundation which is managing donations coming through the Stand on Guard Fund for the families of Cpl. Nathan Cirillo and Warrant Officer Patrice Vincent.

The NAC Orchestra's tour was part of commemorations to honor the sacrifice of the 600,000 Canadians who enrolled during the First World War.

MEMBERS OF THE BROADWAY CAST OF JERSEY BOYS will headline Taste of Abu Dhabi, the capital's first foodie festival. The Broadway stars will perform on November 6 at du Arena, Yas Island.

Cast members from the show will perform from a catalog that includes Sherry, Big Girls Don't Cry, Walk Like a Man, Candy Girl and Ain't That a Shame.

Tickets to the Four Seasons tribute band show also include entry into the Taste of Abu Dhabi that night.

Dishing up the gastronomical goodies will be 20 Abu Dhabi restaurants, 50 exhibitors and visiting celebrity chefs: Jun Tanaka, Jonathan Phang, Eric Lanlard, Jenny Morris and Reza Mohammad. Steven Edwards, the winner of BBC cooking competition Master Chef The Professionals in 2013, and Josh Stanzl, who run pop-up fine dining Etch, will also be on hand.

IT TOOK ME LONGER to get into my Halloween costume than it did to run out of candy, passing out little bars to total strangers transported into the neighborhood in expensive vans, with the little treat seekers garbed in expensive costumes. All were polite and said thank you, and none of them belonged in the area. They all jumped back into the van which whisked them to the next house with a porch light on. That meant that the young neighborhood ghouls and goblins, who were walking door to door, didn't get as many treats.

The little bars which used to cost 99 cents for a package of 12, which got reduced to 10 in a pack, then shrunk to 8 and now are 6 in a package - amounts to 17 cents per child. Whatever happened to penny candy?

My candy dolling out experience was nothing in comparison to what United States Ambassador to Denmark Rufus Gifford and his husband, veterinarian Dr. Stephen DeVincent, encountered. Ambassador Gifford first tweeted "500 trick or treaters at our residence so far. Apparently Halloween has come to Denmark. Amazing." He later updated: "866 people was our final count of trick or treaters tonight. Amazing. And next year is a Saturday."

Prior to serving as the Finance Director for Barack Obama's presidential re-election campaign in 2012, from 1998 to 2004 Gifford was a creative executive in Los Angeles for Davis Entertainment, an independent film production company.


OTHER PEOPLE'S MONEY


LAS VEGAS STRIPPERS are entitled to be paid minimum wage according to a unanimous decision written and handed down by the Nevada Supreme Court on Thursday, October 30, 2014.

Six dancers from the Sapphire Gentlemen's Club in Las Vegas had filed a 2009 class-action wage dispute lawsuit dating to around 2006.

The court's decision, written by Justice Kristina Pickering, determined that the dancers are not independent contractors, rather employees of the club based on an "economic realities" test for employment established in the Fair Labor Standards Act, which the court uses for such disputes.

The high court has now sent the case back to Clark County District Court for hearings to determine how much the plaintiffs are owed. The Nevada state minimum wage is $8.25 per hour, although some service employees are paid less if they also receive tips.

The club has not paid any wages to the dancers. Their income is dependent upon tips and dancing fees paid by patrons. It has been estimated that the dancers could be entitled to a combined $40 million in back wages, plus the return of house fees.

Attorneys involved in the case said the ruling will apply to dancers at other strip clubs around the state and possibly other businesses as well. The court opinion noted that the Sapphire club contracts for semi-nude entertainment with approximately 6,600 performers. The agreement requires them to work a minimum six-hour shift on any day they work.



WHAT TAMMY NEEDS TO KNOW ABOUT GETTING OLD AND HAVING SEX

Lois Weaver as Tammy Why Not. Photo: Christa Holka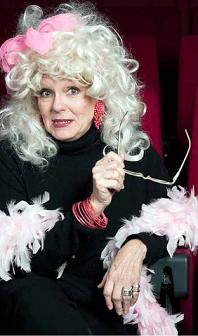 by Lois Weaver, in collaboration with Peggy Shaw.

Created with elderly women in Zagreb, Croatia and NYC that "illuminates the taboo subject of desire, pleasure and intimacy in old people." This show is the project for which Weaver was awarded a 2014 Guggenheim Fellowship in the amount of $52,000 to continue her research on sex and aging for this specific production. Weaver also directs.

Tammy WhyNot is the alter ego Lois Weaver. Tammy WhyNot, an aging trailer trash blonde who threw away Nashville stardom for a career as a contemporary performance artist. Tammy WhyNot is the alter ego Weaver employs in performance works to facilitate easy public discussions on difficult subjects. In this piece, Weaver will examine geriatric desire through songs by Tammy, interviews with sexually active seniors, displays of local elder talent and slide shows of sexy senior divas. The conceit of the play is that Tammy is launching a comeback album with songs related to sex and age. Guest artists from NYC senior centers will dance, perform as backup singers, engage in storytelling and appear in music videos accompanying the songs.

What Tammy Needs to Know about Getting Old and Having Sex dates back to 2008, when it was commissioned for London's Chelsea Theatre. Weaver conducted preliminary research and performance-based workshops in the UK with the Association of Greater London Older Women (AGLOW) and a UK-based sexual health consultant, Dr. Ali Mears, culminating in a performance lecture that was a first step toward evolving the dramatic form of this show. Weaver returned to the subject last year when, in the character of Tammy, she lived in a retirement home in Zagreb, Croatia. She was awarded a Guggenheim Fellowship to build on that research and more recently, she has conducted workshops in four NYC senior centers - Sirovich Center, Stein Senior Center, The Caring Community and SAGE - to generate local stories and recruit participants for this show.

Lois Weaver is an independent performance artist and activist and Professor of Contemporary Performance Practice, Department of Drama, Queen Mary, University of London. She was co founder of WOW Theatre in New York and has been a collaborator with the Split Britches Company since 1980. She was Director of PSi12: Performing Rights, an international conference and festival on performance and human rights in 2006 and is currently Artistic Director for Air Project, an initiative that nurtures and sustains Live Art practitioners in the UK. Her practice based research uses performance to initiate conversations on human rights in women's prisons with the project Staging Human Rights; technology design with Democratising Technology; and the role of democracy in public engagement with The Long Table.

Choreography is by Stormy Brandenberger. Sound Design is by Vivian Stoll. Music Composition is by Vivan Stoll, Amy Surrant, Louise Mothersole, Paul Clark and Sharon Jane Smith. Set design is by Jo Palmer. Lighting design is by Lori E. Seid. Costume design is by Susan Young.

November 6 to 23, 2014 La MaMa E.T.C. in New York City.

HAMLET by William Shakespeare.

Directed by Morgan Vaughan.

Hamlet is perhaps the most revered and famous English-language play in history. This ensemble staged production features Jeff Keogh as King Claudius; Tristan Vaughan as Hamlet; Josh Gladstone as Lord Polonius/Gravedigger; John Tramontana as Horatio; Dianne B as Gertrude; and introducing to the company Peter Connolly as Bernardo/Rosencrantz; Sawyer Avery as Francisco/Guildenstern; Evan Daves as Leartes/Player Queen; Michael Bartoli as Marcellus/Osric/Player King; and Fabrienne Bottero as Ophelia.

Set Design by Brian Leaver. Costume Design by Yuka Silvera. Lighting Design by Sebastian Paczynski.

Presented by the Round Table Theatre Company and Guild Hall Friday, November 7 - Sunday, November 23 at Guilt Hall in The Hampton, NY.

THE OLDEST BOY a new play by Sarah Ruhl.

Directed by Rebecca Taichman.

The Oldest Boy tells the story of Tenzin, the toddler son of an American woman and a Tibetan man who is recognized as the reincarnation of a high Buddhist teacher. Differing cultures contend with competing ideas of faith and love when two monks seek permission to take Tenzin to a monastery in India to begin his training as a spiritual master. His parents must decide whether to send their young son away or keep him home.

Featuring Ernest Abuba, Tsering Dorjee, Celia Keenan-Bolger, Takemi Kitamura, James Saito, Jon Norman Schneider, James Yaegashi and Nami Yamamoto.

Sets by Mimi Lien, costumes by Anita Yavich, lighting by Japhy Weideman, sound by Darron L West, choreography by Barney O'Hanlon, and puppetry design/direction by Matt Acheson.

Opens on Monday, November 3 at the Mitzi E. Newhouse Theater in New York City.

THE BAND WAGON based on the 1953 MGM film, The Band Wagon written by Broadway's ultimate insiders, Betty Comden and Adolph Green. Five-time Tony nominee Douglas Carter Beane has used the original Comden and Green screenplay, including scenes never filmed, as a basis for this Encores! Special Event.

Directed and choreographed by three-time Tony Award winner Kathleen Marshall.

The 1953 film told its story through Arthur Schwartz and Howard Dietz's wonderful songs, including Dancing in the Dark, By Myself, I Guess I'll Have to Change My Plan, and that great anthem for all of show business, That's Entertainment.

Starring Brian Stokes Mitchell, Tracey Ullman, Michael McKean, Tony Sheldon, and Laura Osnes.

With Michael Berresse, Don Stephenson, Lawrence Alexander, John Carroll, Joyce Chittick, Jason DePinto, Ericka Hunter, Dionna Thomas Littleton, Gavin Lodge, Erica Mansfield, Brittany Marcin, Paul McGill, Kaitlin Mesh, Jermaine R. Rembert, Brandon Rubendall, Jennifer Savelli, Eric Sciotto, Samantha Zack.

The classic showbiz tale of a washed-up Hollywood star (Tony Award winner Brian Stokes Mitchell) who attempts to make a comeback by doing a Broadway show, and encounters an assortment of colorful characters: a British director who is a genius but has no business directing a musical (Tony Award nominee Tony Sheldon), a leading lady who's never done a show before (Tony Award nominee Laura Osnes), and a composer and a lyricist who are at each other's throats (Academy Award nominee Michael McKean and seven-time Emmy Award winner Tracey Ullman). All things that could never happen in the New York theater today.

Featuring The Encores! Orchestra with Guest Music Director Todd Ellison. November 6-16, 2014 at New York City Center, NYC.


WHO'S WHERE


DEBBIE REYNOLDS will return to the Las Vegas spotlight performing November 7-9 at the South Point Hotel. While the hotel's ads only list Reynolds, it's been reported that Reynolds will also share the spotlight with her daughter, Carrie Fisher. The last time Carrie performed with her mother in Las Vegas, she was 15-years-old and sang Bridge Over Troubled Waters, written by Paul Simon, a man she would one day be wed to for a short period of time. Also reported to be on the upcoming bill are Debbie's granddaughter, Carrie's daughter Billie Lourd, "who is fast picking up Debbie's talent for dialects and impressions, and loves to sing," according to the hotel press, as well as Debbie's son Todd Fisher.

KISS open their first residency in their 40-year career November 5-23 at The Joint at the Hard Rock Hotel in Las Vegas. The gig will encompass nine shows.

SEASONS OF BROADWAY Featuring four of Broadway's brightest stars, Tony nominee Adam Pascal, two-time Tony nominee Robin de Jesus, Drama Desk Award winner Mandy Gonzales and Marcus Paul James, currently in the Broadway cast of Motown. They perform an evening of songs and stories celebrating some of the greatest shows to ever hit the streets of New York City. With hits from Broadway shows like Rent, Wicked, Memphis, In the Heights, and La Cage aux Folles, accompanied by behind-the-scenes stories and anecdotes. Saturday, November 8, at the Sunset Center in Carmel-by-the Sea, CA.

STRAIGHT NO CHASER bring their show to Northrop Auditorium in Minneapolis on Monday, November 3. On Tuesday the show is at Fox Cities PAC in Appleton, WI. On Thursday they are on stage at the Gallagher Bluedorn PAC in Cedar Falls, IA. Friday's gig is at the Schuster PAC in Dayton, OH. Saturday they be enjoyed at the Stranahan Theater in Toledo, OH. Next Sunday, November 9, they perform at the Coronado PAC in Rockford, IL.

ELTON JOHN on tour with a stop Wednesday, November 5, at the Arena in Krakow, Poland. On Thursday he stars at the Arena in Minsk, Belarus.

SLIM MAN with Roger Tamez on sax, Bill "The Thrill" Parsons on keys, Eric Casillas on percussion, and Nate the Great on drums. Wednesday Ball on vocals, perform Saturday, November 8th, Village at Stone Oak, San Antonio, TX

JAMES TAYLOR will be performing his hits Tuesday, November 4, at the EMO Harris Bradley Center in Milwaukee, WI. On Thursday the show is at the I Wireless Center in Moline, IL. Thursday finds him on stage at the LFC Yum! Center in Louisville, KY. Next Sunday, November 9, his tour stops at the Bridgestone Arena in Nashville.


FINAL OVATION


MARCIA STRASSMAN stage, screen television actress, best known for her roles in 1970s sitcom Welcome Back Kotter and 1989 film Honey I Shrunk the Kids, died October 24, 2014 at her home in Sherman Oaks, CA. she had battled breast cancer for the last seven years. She was 66. Strassman began acting as a teen in New York and in 1966 replaced Liza Minnelli in the off-Broadway musical Best Foot Forward. She moved to Hollywood at 18 and her five-decade career encompassed numerous film and TV roles including nurse Margie Cutler on the first series of M*A*S*H..

Strassmano played Julie, the wife of Gabe Kaplan's character in Welcome Back Kotter which ran from 1975 to 1979.

She also starred alongside Rick Moranis in Honey I Shrunk The Kids and the sequel Honey I Blew Up The Kid.

Strassman served on the national board of the Screen Actors Guild, having been elected to a three year position in 2010.

She was married to Robert Collector from 1984-89. They had one daughter, costume designer Elizabeth "Lizzie" Collector, who survives her. She is also survived by her sister Julie Strassman and a brother Steven Strassman.

ELIZABETH NORMENT who played Nancy Kaufberger, the secretary to Kevin Spacey's character in TV drama House of Cards, died at Memorial Sloan Kettering Cancer Center in New York on October 13, 2014. She was 61.

Spacey paid tribute on Twitter, writing: "RIP Elizabeth Norment. We all loved her and she leaves a void in all of us here at HoC's."

The show's writer Beau Willimon said: "Everyone at House of Cards is deeply saddened by Elizabeth's passing. "She was a talented actress, a warm soul and a good friend to us all."

Norment graduated from Yale University in 1979 with a master's in fine arts, and performed several stage roles in Southern California in the 1980s and early 1990s. She portrayed three of Shakespeare's most famous female characters in As You Like It, Much Ado About Nothing and The Merchant of Venice at the Grove Shakespeare Festival in Garden Grove in 1990 and 1991.

She had also previously had roles in the TV shows Law & Order, St Elsewhere, Party of Five, ER and Mad About You. On the big screen, she starred in The Woman in Red, Runaway and Romy and Michele's High School Reunion.















Next Column: November 9, 2014
Copyright: November 2, 2014 All Rights Reserved. Reviews, Interviews, Commentary, Photographs or Graphics from any Broadway To Vegas (TM) columns may not be published, broadcast, rewritten, utilized as leads, or used in any manner without permission, compensation and/or credit.
Link to Main Page
---
Laura Deni



For the snail mail address, please E-mail your request.
CLICK HERE FOR COMMENT SECTION