! >
Broadway To Vegas
  
  REVIEWS INTERVIEWS COMMENTARY NEWS

| | |
| --- | --- |
| | |
LINDSAY LOHAN TO THE STAGE - -DIGITAL REVOLUTION - - LUCAS MUSEUM OF NARRATIVE ART PICKS CHICAGO - - WEST SIDE STORY - FILM WITH LIVE ORCHESTRA - - QUEEN ELIZABETH VISITS GAME OF THRONES - - THE AMBASSADOR FROM CD TO STAGE - - ED AMES ON BROADWAY CD REVIEW - - PHIL COLLINS TURNS ALAMO COLLECTION INTO A MUSEUM - - DONATE . . . Scroll Down




Copyright: June 29, 2014
By: Laura Deni
CLICK HERE FOR COMMENT SECTION


THE PRICE OF MEN'S TOYS CAN MEAN MUSEUM QUALITY COLLECTIONS


PHIL COLLINS

The Davy Crockett television series inspired Phil Collins to collect Alamo memorabilia.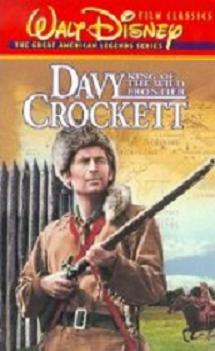 has donated his collection of Alamo memorabilia to the Texas Land Office, which will build a museum in San Antonio, Texas to house the collection.

The 63-year-old Genesis star said he had amassed more than 200 artifacts after becoming fascinated with the 1836 Battle of the Alamo as a child. The collection is believed to be the largest in private hands.

Yeah, but does the collection include a Davy Crockett coon skin cap?

At an appearance held at the Texas Revolution shrine in San Antonio, Collins kidded he had spent "all the money I made from music" on his Alamo collection.

"Some people would buy Ferraris, some people would buy houses, I bought old bits of metal and old bits of paper," he said.

He explained he first became interested in the Alamo after watching the 1950s TV series Davy Crockett, King of the Wild Frontier, which starred Fess Parker.

"I've had a love affair with this place since I was about 5 years old. It's [all] at my home, in my basement in Switzerland. I look at it every day, but no one else was enjoying it," he told the crowd.

Collins didn't arrive at the press conference empty handed. He brought with him the first of the donations: a dagger and a sword which were both used in the Battle of the Alamo (1836) - Texans fighting for Texas independence.

As taught in American schools: Attempting to defend the famous mission from the 1,500 strong attacking Mexican Army, almost 200 men gave up their lives. The dead included 160 of Crockett's men, as well as Crockett himself.

The collection also includes Crockett's leather shot pouch, a pair of powder horns which the soldier is believed to have given to a Mexican officer before his death, muskets belonging to Mexican soldiers and one of the original Bowie knives, made famous by Alamo defender Jim Bowie.

Texas land commissioner Jerry Patterson said Collins agreed to pay to ship the collection to Texas with the understanding the state would use public funding and private donations to redevelop the Alamo site - including a new building to house the collection.

The collection will begin arriving in Texas in the next few months and will be displayed on a rotating basis at the museum. Collins, a native of England, said he was donating the collection to ensure it was better cared for in the future. Collins, 63, said he would continue buying Alamo memorabilia and "once I've lived with whatever I buy for a month, I'll ship it over here".

LUCAS MUSEUM OF NARRATIVE ART

Shadow Artist by Norman Rockwell, 1920. This painting usually hands in Lucas' office, but will transfer to the Chicago museum. Photo: George Lucas Museum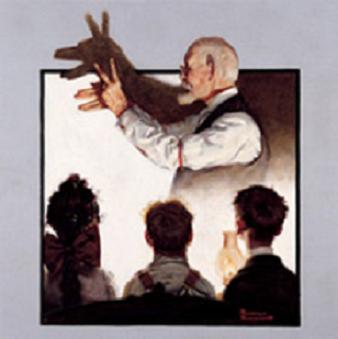 the vision of Star Wars creator George Lucas will open in Chicago in 2018. The four-time Academy Award-nominated film and television writer, director, and producer announced this past week that his much-anticipated museum of art and movie memorabilia will be headquartered in the Windy City, rather than San Francisco or Los Angeles who had campaigned for the museum.

The collection has a minimum value of $600 million.

"I am humbled to be joining such an extraordinary museum community and to be creating the museum in a city that has a long tradition of embracing the arts," said Lucas in a statement.

The Lucas Museum will include Lucas' vast collection of Normal Rockwell paintings as well as Star Wars memorabilia.

Art works will include a neo-classical painting from Maxfield Parrish, a 1963 cover of MAD magazine, a drawing of actress Kim Novak in a wide brimmed hat by Alberto Vargas and a still from the movie Rango.

To attract the Lucas museum, Chicago was willing to provide him access to real estate along the lakefront that is near other attractions, including the Shedd Aquarium and the Field Museum of Natural History.

"Chicago's a great city. We have a tradition that resonates closely with the way George Lucas has described his museum, as a museum of visual storytelling," said Gillian Darlow, CEO of Polk Bros. Foundation and a co-chair of Chicago's site selection task force. "He wants to help inspire other people, especially kids, to have bold visions the way he did."





Broadway To Vegas is supported through advertising and donations. Priority consideration is given to interview suggestions, news, press releases, etc from paid supporters. However, no paid supporters control, alter, edit, or in any way manipulate the content of this site. Your donation is appreciated. We accept PAYPAL. Thank you for your interest.





ART AND ABOUT


DIGITAL REVOLUTION

Digital Revolution at the Barbican. Photo: Barbican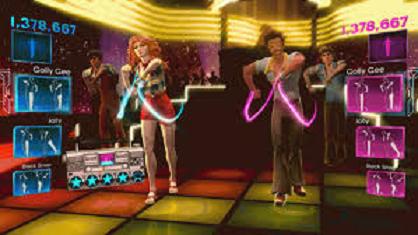 This immersive and interactive exhibition brings together for the first time a range of artists, filmmakers, architects, designers, musicians and game developers, all pushing the boundaries of their fields using digital media. It also looks at the dynamic developments in the areas of creative coding and DIY culture and the exciting creative possibilities offered by augmented reality, artificial intelligence, wearable technologies and 3-D printing.

Contribute to new commissions including Google's DevArt, an installation by global music artist and entrepreneur will.i.am and artist Yuri Suzuki and works by artists Umbrellium, Universal Everything, Seeper and Susan Kare (Mac Paint designer). Experience Oscar-winning visual effects behind Christopher Nolan's Inception and Alfonso Cuarón's Gravity, or go back in time to play classic videogames like Pacman and Space Invaders.

Conceived and curated by Barbican International Enterprises, artists include:

Rafael Lozano-Hemmer - Lynn Hershman - Chris Milk - Marshmallow Laser Feast - Aaron Koblin - Lillian Schwartz - Olia Lialina - Björk - Pauline van Dongen - Studio XO - CuteCircuit - Amon Tobin - Harmonix Music Systems (Dance Central)

Step into the Gravity and Inception installations, featuring pioneering visual effects by Oscar Award winners Tim Webber (Framestore) and Paul Franklin (Double Negative). Take a look behind the scenes at special effects, explore the world of Minecraft and the coolest indie games you've yet to hear about or find out more about the evolution of digital art, from its early days to cutting edge code from Google.

Digital Revolution is the most comprehensive presentation of digital creativity ever to be staged in the UK. A festival-style exhibition, Digital Revolution takes place across the Barbican with ticketed and non-ticketed elements. It is accompanied by a talks and events program and a dedicated publication.

July 3 - September 14, 2014 at the Barbican in London.

MASTER PAINTING WEEK Now established as one of the key art events in the London summer calendar, Master Paintings Week is a collaboration between leading galleries and auction houses.

Each of the participating galleries, all of which are in the heart of London's Mayfair and St James', will stage a special exhibition or event or unveil new discoveries, emphasizing the unrivalled expertise to be found in London.

Participating Auction Houses: Bonhams, Christie's, and Sotheby's.

Participating Galleries: Charles Beddington Ltd, John Mitchell Fine Paintings, BNB Art Consulting, Moretti Fine Art Ltd, Colnaghi, Philip Mould Ltd, Ben Elwes Fine Art, Noortman, Master Paintings, Deborah Gage (Works of Art) Ltd.

Also participating are; Piacenti Art Gallery, Richard Green, Robilant + Voena, Johnny Van Haeften Ltd, Sphinx Fine Art, Haldane Fine Art, Stair Sainty, Fergus Hall, Rafael Valls Ltd and Derek Johns Ltd.

The event also includes The Weiss Gallery, Theo Johns Fine Art Ltd. Whitfield Fine Art and, William Thuillier.

Master Painting Week July 4-11, 2014 in London.


SWEET CHARITY


HEDWIG AND THE ANGRY ITCH the quadruple Tony Award-winning rock musical has entered into a special partnership with the Hetrick-Martin Institute, an organization devoted to providing social support and educational programming for at-risk LGBTQ (the Q stands for "questioning") young people. A portion of every ticket sold for Hedwig - amounting to about $2 per ticket - will go to HMI.

Started in 1979, HMI is the nation's oldest and largest organization serving LGBTQ youth today. In 1985, in partnership with the New York City Department of Education, HMI also helped set up the transfer public school now known as the Harvey Milk High School.

"Our position is that education is a right and not a privilege," stated Thomas Krever, CEO of the Hetrick-Martin Institute. "All the students at Harvey Milk have experienced bullying and harassment to the point of detriment, so this is a safe haven for them. We provide the space as well as the emotional and supportive environment; we provide counseling and crisis management, and also arts and cultural programs to ensure that these young people get a well-rounded education."

JUST CALL ME NIKOS a special tribute to Williamstown's late intrepid and colorful artistic director Nikos Psacharopoulos, who spent three decades guiding it from a local summer playhouse to an internationally respected festival.

Featuring Dylan Baker, Kate Burton, Olympia Dukaksi, Tom Fontana, Laurie Kennedy, Steve Lawson, James Naughton and moderator Joe Donahue.

There is a post show reception with the artists. All proceeds from this event directly support the Festival's signature professional developmental programs.

July 7, 2104 at the Williamstown Theatre Festival in Williamstown, MA.

THE ELTON JOHN AIDS FOUNDATION (EJAF) sponsored the attendance of 250 young people affiliated with 15 LGBTQ organizations from New York, Long Island, Connecticut, and Washington, DC, at a June 17, 2014 performance of the Tony-nominated Broadway play Mothers and Sons.

After the performance, the guests participated in a conversation and Q&A with playwright Terrence McNally and cast member Bobby Steggert.


THE MUSIC GOES ROUND AND ROUND


ED AMES ON BROADWAY a collection of previously recorded material released by Masterworks Broadway.

All musical collections should include Ed Ames. Ed Ames On Broadway is your chance to own the best of what used be called pop, adult contemporary songs, sung by a man possessing a powerful, beautiful, distinctive baritone and a sensitivity to lyrics.

Born in Massachusettes, Ames was the youngest child born to Jewish parents Sarah (Zaslavskaya) and David Urick (Eurich), who had immigrated from the Ukraine.

Ed Ames rose from and accomplished what has been unequalled by any other artist: Unspeakable poverty; fame as a member of chart topping quartet - The Ames Brothers - to become a chart making solo singer; A Caucasian, he was turned into a household name by being made-up to portray a Cherokee Indian named Mingo opposite Fess Parker on the hit television series Daniel Boone; He starred in both Broadway musicals and dramas, regularly headlined in Las Vegas and on April 29, 1965 stopped The Tonight Show cold with a tomahawk throwing demonstration, doubling up Johnny Carson, in what has been documented as "the longest sustained laugh by a live audience in television history." Ames was going to demonstrate the tomahawk throwing skills he learned playing Mingo. Ames threw the tomahawk, which hit the groin area, the handle pointed upwards, on a chalk drawing of a man, leading pundits to dub it the first circumcision ever performed on television.

Another website, in reviewing this CD, implied that the reason Ames didn't become a major Broadway star was because of race. An unfortunate, ignorant conjecture.

Ames could make more money and perform before more people starring in Las Vegas and other performance venues than on Broadway. That Broadway either would hire him only as an Indian or not cast him because he had portrayed an Indian (both on television and on Broadway) is broad brush insulting - to Native Americans, Broadway, Mr. Ames and the plethora of actors who have been cast as Native Americans: Burt Lancaster, Rock Hudson, Chuck Connors, Johnny Depp, to name only four.

While Native Americans have a right to be royally insulted that they were ignored by casting agents, don't plant the rumor seed that actors who portrayed Native Americans might be shunned.

Ed Ames enjoyed decades of success as a major star, both on record, in nightclubs and on television.

During the days when Ames' star power cast a long light, there was no instant anything, except bad coffee and acceptable pudding. During that era, reporters regularly became part of the star's entourage - be it for a week-end or a week. The tag along became coverage of the performer. I had a distinct pleasure of following Ed Ames during one of his Silver State gigs. That was when a singer would perform in Las Vegas, Reno and Lake Tahoe.

Ed Ames is a classy, classy gentleman, exhibiting total professionalism both on and off the stage. His live stage act filled the showrooms and he never disappointed. Many of the songs on this CD I heard him perform in person. His live show was a treat and so is this CD.

Important to remember is that Ed Ames On Broadway is a collection from two other albums. Ed Ames Try To Remember recorded in 1963 at Webster Hall in New York City. Recording Engineers: Mickey Crawford and Ernie Oelrich. Orchestra conducted by Claus Ogerman and Hal Mooney and Ed Ames More I Cannot Wish You, recorded in 1966 at RCA Victor's Studio A, New York City. Recording engineer Ed Begley. Arranged and conducted by Frank Hunter, Marty Manning and Sid Bass.

Ed Ames On Broadway has not been remastered. No pro tools on this CD, not to imply that they were needed. The sound is excellent, just slightly different from what is done today. That is very important to remember. The songs were laid down to provided maximum listening pleasure during the days when the upwardly mobile family owned a hi-fi or a stereo.

The variety, pacing and placement of the songs equal the way it was done in a live performance. The Trolly Song followed by the heart tugging The Ballad of the Sad Young Men, followed by the upbeat Cast Your Fate to the Wind, leading into the wistful Deserted Carousel, with the tempo picking up for the vibrant closing Without a Song.

The powerful The Impossible Dream, Climb Ev'ry Mountain, As Long As She Needs Me, Try To Remember, are included, as are the perky It's Today, and Rose of Washington Square.

All together there are 24 wonderful songs brought to life by a man who really does know how to sing.


GAME OF THRONES RECEIVES ROYALITY
The Queen and The Duke of Edinburgh meet cast and crew of TV series Game of Thrones in Belfast. Photo: Press Association/The British Monarchy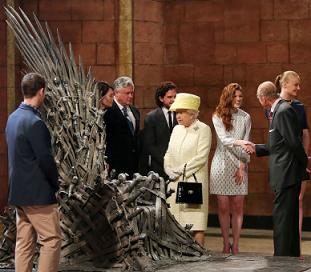 The Game of Thrones received a visit June 24, 2014 from Queen Elizabeth and Prince Philip. The royal couple was on a tour of the Paint Hall Studios in Belfast, Ireland.

The hit US television series is partly filmed in the city's Titanic Quarter, and is a focal point for Northern Ireland's burgeoning film industry.

The royal pair spoke to six cast members from both the current and past episodes of the series, which is based on the books of George R R Martin. Receiving royal attention were HBO show creators David Benioff and Dan Weiss and actors Lena Headey (Queen Cersei Lannister), 17-year-old Maisie Williams (Arya Stark), 18-year-old Sophie Turner (Sansa Stark), Kit Harington (Jon Snow), Conleth Hill (Lord Varys), and Rose Leslie (Ygritte).

They also viewed - and appeared quite interested in - some of the props that have been featured in the hit fantasy show.

The Royal couple was also given a short overview of the series and the impact it has had on Northern Ireland, not only in terms of employment, but also in the creative arts field.

According to the Northern Ireland assembly, it has created the equivalent of more than 900 full-time and 5,700 part-time jobs in a region of fewer than 2 million people.

Before leaving, they were presented with a miniature version of the infamous Iron Throne, which appears in the series.








SPREADING THE WORD


LIFE WASN'T MUCH OF A CABARET for actor Shia LaBeouf when he attended a performance of Cabaret at Studio 54 in New York City on June 26, 2014. The hit revival stars Alan Cummings and Michelle Williams, although LaBeouf stole the show when he got arrested during the performance.

The Transformers began his personal performance as a drunk smoking cigarettes and grabbing at the backsides of several actors. When the police arrived, they put him into handcuffs and took him into custody during intermission.

According to reports he began crying. While at the Midtown North Precinct, he cursed and jabbered as he did pushups while cops tried to calm him down.

He was charged with disorderly conduct and criminal trespass and was held overnight.

FROM CD TO STAGE it's common practice for a Broadway musical to record a cast CD. Taking the opposite approach is Gabriel Kahane whose CD The Ambassador was reviewed by Broadway To Vegas. ( See Broadway To Vegas column of June 8, 2014 )

Kahane has announced he's teamed up with Tony Award winner John Tiffany to create an evening length staged version of The Ambassador, which has performances slated for BAM, UCLA, and Carolina Performing Arts.

Die Hard and Blade Runner, race riots and natural disasters, urban blight and austere modernist architecture are all fodder for Gabriel Kahane's The Ambassador, a musical investigation of Los Angeles. Using street addresses as entry ways into characters as varied as James M. Cain's Mildred Pierce and the doorman at the long-defunct Ambassador Hotel, Kahane offers a dozen exquisite songs that seek to rewire our relationship to Southern California.

With direction by Tiffany and set design by Tony-award winner Christine Jones, The Ambassador is called "a love letter, by turns droll and melancholic, to a city long misunderstood."

The world premiere will be at Carolina Performing Arts in October 2014, followed by December shows at BAM; the final staging will be in Los Angeles itself, at UCLA in February 2015."

LINDSAY LOHAN will make her professional stage debut in David Mamet's satirical drama Speed-the-Plow. The production is set to open in London in September.

Lohan has been cast in the part of an ambitious secretary in Mamet's drama about two Hollywood producers trying to close a major deal. Madonna played the role in the original 1988 New York production.

RANDY NEWMAN'S FAUST his 1993 cult musical which never made it to Broadway, come to New York City Center on July l as part of City Center's Encores! series.

Grammy, Oscar and Emmy award winning singer-songwriter Randy Newman has penned scores for films ranging from The Natural to Monsters Inc. This is a rare opportunity to catch the man himself playing the devil in his darkly hilarious modern-day take on the Faust story.

15th ANNUAL LATIN GRAMMY AWARDS will be broadcast from Las Vegas on Thursday, November 20. This year marks the seventh time Latin music's most prestigious awards telecast will take place in Las Vegas and the first time from the MGM Grand.

THORTON WILDER'S OUR TOWN the classic story about a bunch of dead people is being staged by Endstation Theatre Company. While the production company is located in Sweet Briar, VA the actual production, co-directed by Artistic Director Geoffrey Kershner, is being staged in a cemetery - Old City Cemetery, to be precise.

According to Endstation they are "bringing Thornton Wilder's classic Our Town to vivid life as only Endstation can, through an exciting site-specific outdoor production. Our Town is performed exclusively in Old City Cemetery. Once you enter the cemetery grounds there will be Endstation volunteers guiding you towards parking. The box office will be located outside of the Chapel and Endstation signs will help point you in the right direction!"

The Old City Cemetery is situated in the historic Tinbridge Hill, a historically black neighborhood with deep community roots. The Old City Cemetery was founded in 1806, and is the resting place for an estimated 20,000 people.

The Old City Cemetery itself is more than a simple graveyard. It also contains many artifacts from the City of Lynchburg. The cemetery contains a large amount of beautiful artwork and statuary, and the grounds are home to four different museums, as well. There is also a beautiful chapel and columbarium, built only a few years ago to honor the numerous religious leaders buried in the cemetery since the early nineteenth century. The OCC also has a Confederate section, a walled-in area of the cemetery that contains the graves of over 2,000 soldiers from the nation's devastating Civil War. This part of the cemetery contains memorials and a good deal of information about the war, as well as the graves of many men who lost their lives.

Our Town's final act takes place in a cemetery on a hilltop - "a windy hilltop - lots of sky, lots of clouds, - often lots of sun and moon and stars." At one point in act three of Our Town, a character is actually supposed to point to a place in the theatre and say "Over there are some Civil War veterans". In Endstation's production, this will literally be true!"

Performances through July 12.


HANG IN THERE . . .


PERRY DAMONE son of the famed crooner Vic Damone and the late actress Pier Angeli, has been battling acute t-cell lymphoblastic lymphoma for the past few years, spending almost the last two years hospitalized. He felt well enough to visit his family in Italy and attended an awards ceremony on September 11, 2011 in Villa Borghese, Rome, in honor of his mom, Pier Angeli. In addition to Perry, the event was attended by his two aunts: Marisa Pavan who is his mother's twin sister, and Patrizia Pierangeli. Last September he also was able to make a visit to Europe before returning to the hospital. A few months ago he made the decision to leave the hospital and is at home with a care giver and a physical therapist.

Despite numerous serious set-backs, he remains determined and optimistic. Tests were taken a few days ago in hopes the results will show that the cancer has "'evolved' into a more manageable condition."

He has an excellent support system around him who ask for your prayers.

Perry Damone grew up to become a caring and thoughtful man who founded the Kidstar Program, a federally certified nonprofit organization that developed KidStar Radio Network, an educational charity that is a network of web radio stations within participating schools/youth organizations. ( See Broadway To Vegas column of October 20, 2002 )



JUMPY by April De Angelis.

A New Zealand premiere directed by Shane Bosher.

A mother, a wife, and fifty, Hilary once protested at Greenham. Now her protests tend to focus on struggling to control her increasingly promiscuous teenage daughter and keeping the passion in her marriage alive.

"You're having some kind of crisis."

"It's called being 50. You must be having it too."

To make matters worse, this fifty-year-old finds herself coming into conflict with the hostile mother of her daughter's boyfriend and she must also fend off the unwelcome advances of her new adversary's husband. A frank and funny family drama questioning parental anxieties and life after fifty.

First presented at the Royal Court Theatre, London on October, 13, 2011 in a production which subsequently transferred to the Duke of York's Theatre on October, 16, 2012.

July 5-August 2, 2014 at the Fortune Theatre in Dunedin, New Zealand.

JUNE MOON by Ring Lardner and George S. Kaufman.

Directed by Jessica Stone.

Starring Opel, Nate Corddry, Holley Fain, Christopher Fitzgerald, Kate MacCluggage and David Turner.

"Earnest and gullible young lyricist Fred Stevens boards a train in Schenectady bound for the Big Apple, determined to make a name for himself in the thriving Tin Pan Alley scene. However, the life he's imagined is rife with seductive distractions - namely dames - that threaten to derail his dream of penning the next big ditty."

July 2-13 as part of the Williamstown Festival in Williamstown, MA.

THE DEVIL'S DISCIPLE George Bernard Shaw's Revolutionary War drama.

Directed by Paul Mullins.

Just in time for the Fourth of July and the 350th anniversary of New Jersey's charter, The Devil's Disciple celebrates the spirit and honor of the everyday people who fought for our nation's independence.

The Devil's Disciple was Shaw's first commercial success and established the signature Shavian balance of comedy, drama, and his astute exploration of human nature. As Shaw's only play set in America, The Devil's Disciple stands out both as a testament to Shaw's mastery of impactional melodrama and, more importantly, as a skillful and moving examination of what is truly means to be an American. The play is set in 1777, amid the tumult of the American Revolution. Nearby insurgencies send shock waves through the small town of Westerbridge, New Hampshire, particularly into the lives of the Dudgeon family.

The "devil's disciple" is Richard "Dick" Dudgeon, a foil of "flaunting Vice" to the rest of his family's puritanical "Virtue," to quote Shaw's stage directions. When Richard returns home for the reading of his father's will, his life becomes entangled with the trusted local minister Anthony Anderson, causing both men to question the true meaning of honor.

Starring James Knight as Richard "Dick" Dudgeon, the black sheep "devil's disciple," Tony Award-nominated actress Elizabeth A. Davis plays the minister's wife Judith Anderson, Cynthia Mace portrays the Dudgeon matriarch Anne. Connor Carew is "Christy" Dudgeon, the obedient son, while Michael Daly is cast as Uncle William Dudgeon.

Edmond Genest plays British General Burgoyne. John Little as Lawyer Hawkins, Matt Sullivan is cast as Uncle Titus and Sheffield Chastain plays a British Sergeant.

Katie Willmorth, Nancy Rich, Rosemary Wall, Samuel Cheeseman, Samuel Hardy, Stark Kirby, Chris Rothbauer, Jeffrey Allen Sneed round out the cast.

Creating the world of The Devil's Disciple is set designer Brittany Vasta, costume designer Candida Nichols, sound designer Karin Graybash, and lighting designer Andrew Hungerford. Alison Cote serves as production stage manager.

Presented by The Shakespeare Theatre of New Jersey, performances begin July 2nd at the F.M. Kirby Shakespeare Theatre in Madison, NJ.

AGING MAGICIAN Composed by Paola Prestini, created in collaboration with stage director and designer Julian Crouch with text by and featuring Rinde Eckert.

Designs by Amy Rubin, Mark Stewart, Josh Higgason and S. Katy Tucker for string quartet and The Brooklyn Youth Chorus with Dianne Berkun-Menaker, conductor.

"People always say of Harold March is that when it comes to repairing clocks and watches, he is a magician or a surgeon. Tonight he stayed late, cleaning his father's watch. On his way to the subway home to Coney Island where he has lived for years in a small apartment with his mother, Harold catches sight of himself reflected in the window of a travel agency. Then, on the F train home, the illusions that bind him begin to unravel, time warps, and Harold vanishes into the heart of his life, at play in its works, its wheels and springs an instrument, the music of his particular being.

"Aging Magician is an allegory on time, youth, and the peculiar magic of ordinary life, and, perhaps, the ordinary magic of peculiar life. Accompanied by a string quartet and a choir of young people, Aging Magician moves us along with Harold from the surgical repair of a timepiece to the magic show of time itself, lives and deaths, appearances and disappearances."

"The great trick to Houdini's escapes is that he was never actually bound in the first place, he only appeared to be. Remember that, son." - Augustus March (Harold's father)

The Beth Morrison Projects has a yearlong residency at Manhattan's The Park Avenue Armory to workshop Aging Magician. On July 2nd there will be a work-in-progress performance.


WHO'S WHERE


WEST SIDE STORY - FILM WITH LIVE ORCHESTRA following on from the sold-out anniversary performances at the Hall in 2012, the Royal Philharmonic Concert Orchestra returns to perform Leonard Bernstein's electrifying score live, whilst the re-mastered classic is shown in high-definition on the big screen. Friday July 4 - Sunday, July 6 at Royal Albert Hall in London.

LADY ANTEBELLUM will be appearing at the Cavandish Beach Music Festival in Cavendish, PE on July 4th.

CHER AND CYNDI LAUPER provide a double dose of talent Monday, June 30, at the Moda Center in Portland, Oregon. On Wednesday they are on stage at the SAP Center in San Jose, CA. Saturday the show is at the Citizens Business Bank Arena in Ontario, CA.

DOLLY PARTON entertaining Wednesday, July 2, at the Capital FM Arena in Nottingham, UK. On Saturday she's in the spotlight at the Lanxess Arena in Cologne, Germany. Next Sunday, July 8, she stars at the 02 World in Berlin.

BRUNO MARS has a gig Monday, June 30 at the First Niagara Center in Buffalo. On Wednesday he's on stage at the TD Garden in Boston.

KATY PERRY performs this week in Florida. She entertains Monday, June 30 at the Times Forum in Tampa Bay. On Wednesday she's on stage at the BB&T Center in Sunrise while Thursday finds her at the American Airlines Arena in Miami.

LADY GAGA brings her tour to the TD Garden in Boston on Monday, June 30. On July 2 she's at the Bell Centre in Montreal, Quebec.

LIZA MINNELLI returns to the Royal Albert Hall in London for a performance Wednesday, July 2.

ROD STEWART continues his European tour with a stop Tuesday, July 1, at the Wiener Stadthalle in Vienna, Austria. On Thursday he's in the spotlight a the Lanxess Arena in Cologne, Germany. Saturday's show is at the Musikhuset Aarhus in Aarhus, Denmark.


FINAL OVATION


ELI WALLACH famed stage, screen and television actor died June 24, 2014. He was 98.

Wallach won a Tony Award in 1951 for his performance in Tennessee Williams' The Rose Tattoo.

In November 2010, less than a month before his 95th birthday, the Academy of Motion Picture Arts and Sciences awarded him an honorary Oscar, saluting him as "the quintessential chameleon, effortlessly inhabiting a wide range of characters, while putting his inimitable stamp on every role."

When I was scheduled to interview his wife, Anne Jackson, I was told to call their home at a certain time. Wallach answered the phone and we chatted for a few moments before he put his wife on the phone. He was a charming, articulate and fascinating conversationalist. ( See Broadway To Vegas column of September 9, 2001 )

Wallach was one of his generations' most prominent character actors. He performed in more than two dozen Broadway shows, as well as countless films and television shows over more than 60 years. The versatile actor appeared in a myriad of roles, often with his wife, Anne Jackson.

He made his Broadway debut in 1945 in the play Skydrift. It ran for one week.

He met his future wife, Anne Jackson, in 1946 in an Equity Library Theater production of Tennessee Williams's This Property Is Condemned and were married two years later.

After The Rose Tattoo Wallach appeared in another Williams play, Camino Real (1953). He also played opposite Julie Harris in Anouilh's Mademoiselle Colombe (1954), and in 1958 he appeared with Joan Plowright in The Chairs.

Among his other Broadway credits include Mister Roberts, The Teahouse of the August Moon, Major Barbara, Luv, Rhinoceros, and Staricase.. He and Ms. Jackson appeared together in 15 Broadway plays, becoming one of the best known acting couples in the American theatre.

He appeared in many television dramas during the "Golden Age" of the 1950s, including Studio One, The Philco Television Playhouse, The Armstrong Circle Theatre, Playhouse 90, and The Hallmark Hall of Fame, among others.. Wallach played Mr. Freeze in the 1960s Batman television series. He won the 1966-1967 Emmy Award for his role in the telefilm The Poppy is Also a Flower. In 2006 Wallach appeared on NBC's Studio 60 on the Sunset Strip, earning a 2007 Emmy nomination.

He was a founding member of the Actors Studio and studied method acting with Lee Strasberg.

The Broadway community mourns the loss of renowned stage and screen actor Eli Wallach, who passed away on Tuesday at age 98. The marquees of Broadway theatres in New York were dimmed in his memory Friday, June 27th, at exactly 7:45pm for one minute.

"Eli Wallach was one of the great talents of our time whose prolific acting career spanned more than six decades. His notable presence on the stage and on screen was both memorable and moving, always," said Charlotte St. Martin, Executive Director of the Broadway League. "Through the expertise of his craft, he was a storyteller in the most specific yet subtle ways. Our thoughts are with his family, friends, and numerous fans, and he will be missed."

He is survived by his wife, Anne Jackson, and their three children, five grandchildren, and several great-grandchildren.

MARY RODGERS the daughter of Broadway legend Richard Rodgers who became a successful playwright, author and columnist, died Thursday, June 26, 2014, at her home in Manhattan. She was 83.

The Tony nominated Rodgers composed the 1959 musical Once Upon a Mattress, which became a star vehicle for Carol Burnett. She also wrote the music for From A to Z (1960), Hot Spot (1963), The Mad Show (1966), Working (1978), and Phyllis Newman's one-woman show The Madwoman of Central Park West (1979). A revue of Rodgers' music titled Hey, Love, conceived and directed by Richard Maltby, Jr. ran in June 1993 at Eighty-Eight's in New York City.

She eventually transitioned into writing children's books, most notably, Freaky Friday (1972), which was made into a feature film (released 1976) for which Rodgers wrote the screenplay.

Mary collaborated with her mother Dorothy Rodgers on several projects, including the book A Word to the Wives which offered advice on mother-daughter relations which led to a nationally syndicated radio program and Of Two Minds, a monthly column for McCall's Magazine (1971-79) in which a topical/family/social problem would be discussed from the distinctively different point of view of mother and daughter.

The Broadway community mourns the loss. The marquees of Broadway theatres in New York will be dimmed in her memory Saturday, June 28th, at exactly 7:45pm for one minute.

"Mary Rodgers Guettel was a gifted author and composer; adding to her family's achievements of musical theatre greatness," said Charlotte St. Martin, Executive Director of the Broadway League. "The lights of Broadway are being dimmed in honor of someone who was a muse and inspiration to so many, and she will be missed. Our thoughts are with her friends and family."

A lovely and gracious woman, she was director of the Rodgers and Hammerstein Organization and chair emeritus of the Juilliard School board. She was also a board member of ASCAP, and served on the boards of Lincoln Center for the Performing Arts, Inc., the Bridgehampton Chamber Music Festival, and the Dramatists Guild Council.

Her first husband, whom she married in December 1951, was Julian B. "Jerry" Beaty, Jr. They had three children, Tod, Kim, and Nina Beaty. Her second husband was Henry Guettel, former Executive Director of the Theatre Development Fund (TDF), who died in October 2013 at the age of 85. She bore him two sons, Alec and Adam Guettel, who is a Tony Award-winning musical theatre composer.

She is also survived by her sister, Linda Rodgers Emory, and seven grandchildren and step-grandchildren.

STEVE ROSSI one half of the comedy duo Allen & Rossi died in a Las Vegas hospice on Sunday, June 22, 2014. He was 82 and had been suffering from esophageal cancer.

Born in New York City in 1932, Rossi earned a Bachelor of Arts degree in communication, arts and theater, Greek and Latin from Loyola Marymount University in Los Angeles and served as an officer in the United States Air Force. The comedian was discovered by Mae West who with her manager Jerry Franks saw him in 1953 as the lead of The Student Prince at the Civic Light Orchestra in Los Angeles.

West and Rossi toured in 1953 and 1954. Rossi wrote the musical numbers he performed in the show with West. Following the tour's end, Rossi concentrated on his musical career, recording music with his group, Steve Rossi and The Robinaires for Red Robin Records.

In 1957, he formed the Allen & Rossi comedy duo with Marty Allen. Handsome Rossi played straight man to Allen, and the pair was in demand during the 1950s and 1960s. They made 44 appearances on The Ed Sullivan Show - three of which were with The Beatles. They released multiple comedy albums, co-starred in a feature film, The Last of the Secret Agents, and headlined Las Vegas at the Sands, Desert Inn, Riviera and Caesars Palace, until they split in 1968.

In 1963 Allen & Rossi were the first comedians to go to Washington DC to lobby congress on the house floor. They registered as lobbyists and spoke in behalf of the Epilepsy Foundation. They also conferred with Sen. Eugene McCarthy (D-Minn) about a bill he introduced which would provide federal assistance for improving methods of educating students with epilepsy.

Rossi is survived by his wife, Karma, two children and two grandchildren.

JOHNNY MANN winner of two Grammy Awards as leader of the clean-cut easy-listening vocal group the Johnny Mann Singers, died of heart failure on June 18 at his home in Anderson, S.C. He was 85.

With their gently driven rhythms and tightly controlled harmonies, Eisenhower-era hairdos and neatly natty attire, the Johnny Mann Singers were well scrubbed and tone perfect, recording more than 30 albums of college songs, Christmas songs, patriotic songs, Beatles songs and familiar tunes spanning several musical eras.

Their first Grammy Award was for the 1961 album Great Band With Great Voices, recorded with the Si Zentner Orchestra. Their second Grammy, in 1968, was for Up, Up and Away.

From 1971 to 1974,. Mann was the host of Stand Up and Cheer, a syndicated television variety show with a patriotic slant that also featured the Johnny Mann Singers, dressed in color-coordinated outfits, and guests like the Lennon Sisters, Andy Griffith, Trini Lopez and Bobbie Gentry.

From 1967 to 1969 he had been music director for The Joey Bishop Show, on ABC.

Mann's first two marriages ended in divorce. In addition to his wife, the former Betty Weinmann, whom he married in 1983, he is survived by two daughters, Lori Susan Mann and Jennifer Lee Mann; a sister, Josephine Steciuk; and a grandson.















Next Column: July 6, 2014
Copyright: June 29, 2014 All Rights Reserved. Reviews, Interviews, Commentary, Photographs or Graphics from any Broadway To Vegas (TM) columns may not be published, broadcast, rewritten, utilized as leads, or used in any manner without permission, compensation and/or credit.
Link to Main Page
---
Laura Deni



For the snail mail address, please E-mail your request.
CLICK HERE FOR COMMENT SECTION