! >
Broadway To Vegas
  
  REVIEWS  INTERVIEWS COMMENTARY NEWS

| | |
| --- | --- |
| | |
CRAZY WATER - - HARRY POTTER CASTS A SPELL IN AUSTRALIA - - THE FIRST LADIES EXHIBIT - - ANXIOUS TO WED IN LAS VEGAS - - 12th ANNUAL LATIN GRAMMY AWARDS HELD IN LAS VEGAS - - SEE HUGH JACKMAN ON BROADWAY - - TURNER CONTEMPORARY ART GALLERY SAVES COMMUNITY - - JULIE TAYMOR SUES SPIDER-MAN - - DONATE . . . Scroll Down



CRAZY WATER SPOUTS UP POWERFUL BANKERS, POLITICIANS, AN ACTOR, A LAS VEGAS REPORTER - AND MARY MARTIN
Leonardo DiCaprio stars as J. Edgar Hoover in the Clint Eastwood directed film J Edgar. Photo: Kevin Winter, Getty Images for AFI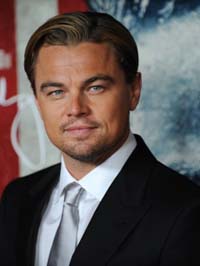 Musician/Actor Miles Fisher appears as an FBI agent in J Edgar. His first cousin is Las Vegas television reporter Calvert Collins. Photo: Kevin Winter, Getty Images for AFI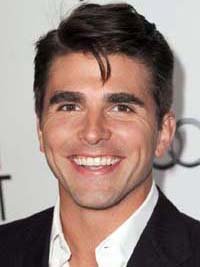 Maybe it's something in the water is an all too often used expression

In the case of the founder of the Fidelity Union Life Insurance Company, bank presidents, elected officials, political powerhouses, society leaders, a Las Vegas television reporter and an actor in the new Clint Eastwood directed J. Edgar flick starring Leonardo DiCaprio - blame it on the water.

Yummy looking actor Miles Fisher - frequently referred to as a Tom Cruise look-alike - plays FBI agent Garrison who interviews DiCaprio's Hoover throughout the film. The movie, about the life of the first F.B.I. director J. Edgar Hoover, was penned by Oscar-winning screenwriter Dustin Lance Black. The movie also features The Social Network's Winklevi, Armie Hammer, as Hoover's colleague/rumored love Clyde Toulson, Judi Dench as his mother, Naomi Watts as his long-time secretary and a who's who of character actors in support, including Ken Howard, Stephen Root, Josh Lucas and Justified co-star Damon Herriman.

That's a not so shabby list of film associates. Fisher's own background is even more interesting.

Blame it on the water.

Fisher is the son of Richard W. Fisher, who was assistant to former Undersecretary of the Treasury Robert V. Roosa specializing in fixed income and foreign exchange markets. From 1978 to 1979, he served as Special Assistant to Secretary W. Michael Blumenthal at the United States Department of the Treasury, where he worked issues relating to the dollar crisis. In 1987, Fisher created Fisher Capital Management, and a separate funds-management firm, Fisher Ewing Partners, managing both firms until 1997. Since 2005 he has served as the President of the Federal Reserve Bank of Dallas.

Actor Miles Fisher's mother, Nancy Miles Collins Fisher, serves on the national board of the American Film Institute. (AFI). Fisher's maternal grandfather was Representative James Collins. His first cousin is Las Vegas television reporter Calvert Collins who was named after her grandmother, Calvert Keoun Collins, the first woman elected to the Dallas City Council in 1957. She was married to Carr P. Collins, Jr, a vice president of Fidelity Union Life and served as president of the Southwest Bank and Trust Company, Investment Trust Company, and Brinson-Collins Oil Company.

We're getting to the water part.



Television reporter Calvert Collins. Photo: Official Channel 8 Photo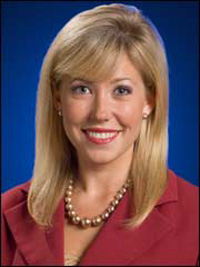 Father of the beautiful blonde Las Vegas Channel 8 reporter - who is neither vapid not trades on her pedigree - is Richard H. Collins who is the family historian and head of one of the family's three foundations. According his website about the family's background, it's a "family renowned for its many contributions to the state's economic, political and civic growth throughout the decades."

Serious money, with powerful connections. Family branches which don't exhibit a shove it in-your-face ostentatious wealthy lifestyle, rather they revel in philanthropy - millions of dollars regularly donated in a carefully thought out manner.

Their website cites ancestors who were signers of the Magna Carta. Of course, they also list as relatives Woden and Frea - the mythological gods of the Northland and Solomon, King of Judah. Then there was that radio program of carnie barking to sell healing waters, backed by hillbilly music.

Crazy Water.

In explaining each family member, Richard Collins is listed as having "founded his own investment firm in 1985, Richard H. Collins Enterprises and manages investments in a portfolio of companies."

"At age 25, Collins was chairman of two Texas banks. In his career, he has successfully participated in energy, media and commercial real estate investments.

"Collins spends about one half of each day on business interests and the rest on charitable activities and on political activities. He serves as chairman of The Today Foundation and president of the Calvert K. Collins Family Foundation."

In writing about his own lineage he explained that his "grandfather, Carr Pritchett Collins, organized the Fidelity Union Life Insurance Company in 1927 and served as its chairman of the board and president. The Company was sold in 1979 for $340 million. A leader in the insurance industry and winner of the Horatio Alger Award, Carr P. Collins was a highly successful investor. In 1925, he bought the burned out Crazy Hotel in Mineral Wells, Texas and rebuilt it."

Carr Collins knew that one man's disaster was another person's opportunity.

"As the great depression began and hotel vacancies soared he started a radio show in February, 1930 in Dallas to preach about the benefits of Crazy Water Crystals, a dehydrated mineral from area waters with medicinal benefits. With hillbilly music and his brother Hal preaching more than selling, sales took off and Collins made his fortune during the economic collapse," posted Collins.

The Collins family didn't invent Crazy Water. They just knew how to profitably promote a health craze.

In 1873 James A. Lynch moved his family into a valley in the hills of Palo Pinto County about 45 miles west of Fort Worth, Texas.

Lynch dug a water well on his property but discovered the water to be too foul smelling to drink. However, his more adventurous wife began to taste the smelly water and claimed that it cured her arthritis.

Lynch discovered the water to be enriched with minerals. Folks started to believe that the mineral heavy water was curing what ailed them. The wet stuff had "healing" powers.

By 1888, a third well was dug. It was from this well that a demented woman would sit by the well asking passers-by to dip her up a cup of water. As the story goes, her mental stability greatly improved after drinking the natural liquid, which some reports indicate contained a significant amount of naturally occurring lithium. It was at this time that a few of the local children began to call well No. 3 "the Crazy Woman Water Well". As time went by the name was shortened to "Crazy Water" and the official town of Ednaville was established but later changed its name to Mineral Wells, according to Taking Waters in Texas, citing The Mineral Wells Daily Index, May 6, 1907 and Time Was in Mineral Wells, by A.F. Weaver, Houghton Printing Company, 1988.

By the early 1900's Mineral Wells was on its way to becoming a national health resort as bath houses and spas popped up all over the valley. People were coming by the hundreds every week to bath in or drink the healing waters.



Postcard of the Crazy Water Hotel after Carr and Hal Collins re-built it. Photo from: Mineral Wells website who credit Art Weaver with providing the postcard to them.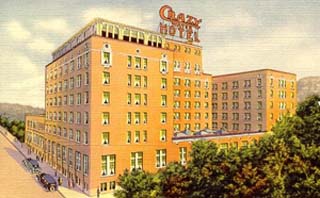 In 1912 the city saw the need for a luxury hotel and decided to build one on the sight of old well No. 3, hence; the Crazy Water Hotel was born. The four-story structure was completed in 1914 and operated until March 1925 when a tragic fire completely destroyed the hotel.

Enter Carr and Hal Collins.

Carr P. Collins was a firm believer in the mineral water and the two Dallas businessmen brothers rebuilt a new structure on the sight of the old one, retaining the same name.

When it opened in 1927, the 200 room hotel occupied seven stories, with a roof garden for dancing, medical suites including two complete bathhouses located in the basement, electric elevators, and expansive drinking pavilion and water bar of semi - Moorish design, and a vast lobby where Crazy Water Hotel orchestras played for nationally broadcast radio programs.

Competition was in the form of The Baker Hotel which opened two years later. It's 14 stories soared twice as high as the Crazy. Famed Texas hotelier T. B. Baker modeled the Spanish Renaissance - style structure after the Arlington Resort Hotel & Spa of Hot Springs, Arkansas. Collins and Baker were the 1920's Texas version of Nevada's Steve Wynn and Merv Adelson.

The two resorts drew in anybody and everybody who was worthy of the title celebrity.

The two luxury hotels hosted such luminaries as Will Rogers, D. W. Griffith, Marlene Dietrich, Tom Mix, General John J. "Blackjack" Pershing, Elliot Roosevelt, Lyndon Johnson, Jean Harlow, Sam Goldwyn, Dr. Charles Mayo, Jack Dempsey, Sam Raybuarn, Clark Gable, Helen Keller, Roy Rogers, Ronald Reagan, the Three Stooges, Minnie Pearl, Judy Garland, and many more.

Then the stock market crashed. The rich and famous who were now just famous couldn't afford the spa scene.

Carr Collins looked upon that as an opportunity.



Hal Collins, Manager of the Crazy Hotel, was convinced that he could sell a boxcar-load of Crazy Water Crystals per week if he advertised on the new medium, radio. The Crazy Radio Gang began broadcasting from the lobby of the Crazy hotel on national radio over the Texas Quality Network. They played in the lobby of the Crazy Hotel at 12:45p.m., 5 days a week. They broadcast over the Texas Quality Network (WBAP, KGKO, Houston, San Antonio). They played dance music broadcast over NBC on Monday evenings. Illustrated, top row from left: Hal Collins (Manager), Frank Dinkins, Francis Quinn, Frank Mc Mordie, Johnny Jordan, Conrad Brady. Bottom row from left: Jack Amlung (Orchestra Leader), Guy Woodward, Maurice Pendery, Dale Woodward, "Sugar Cane and February" (black face comedians Conrad Brady and Francis Quinn). Later, Mary Martin of Weatherford (Crazy Mary), began her professional singing career with this group. Photo: A. F. Weaver Collection.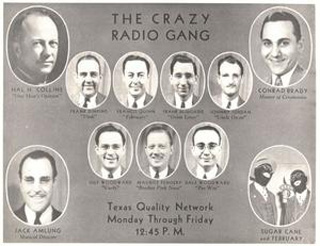 During the Great Depression he concentrated his energy into promoting Crazy Water Crystals. His billboard of choice was the radio and the messenger was brother Hal Collins who, as Richard Collins had written, used a sales approach more attuned to fervent evangelistic preaching. Listeners became converted believers and sales of Crazy Water Crystals made those Collins Brothers a fortune when others were in breadlines.

The Crazy Water Crystals were found in drug stores all over the country. With a teaspoon of the Crazy Water Crystals, sold in three strengths, and a glass of tap water, people could enjoy the healthful benefits of the Crazy Water at their own home, according to Mineral Wells—the Town That Crazy Built, by Gene Fowler, Texas Highways, June, 1993.

Everyone had a radio and Collins knew how to spread the word - in a 15-minute radio program.

"If you are easily exhausted, or too nervous, you have headaches or backaches or can't sleep as you should, if your complexion is sallow or your tongue coated; maybe you're just being warned by Nature that the troubles with far more serious names may be on the way. Faulty elimination, the sluggish and delayed massage of waste through the system, causes many serious disorders, disorders with all kinds of names ... Don't give up to pain and illness ... Why all you need is determination, ordinary drinking water, and Crazy Water Crystals. Won't you try it?" Crazy Water Crystals radio advertisement.

In exchange for listening to the elixir commercial listeners were treated to a variety of early Country Western and Bluegrass Music.

Weatherford's Mary Martin got her start in show business on the program where she became known as Crazy Mary, according to The Portal to Texas History.

The "Crazy Gang" began broadcasting from the lobby of the Crazy Hotel over the Texas Quality Network and then on the NBC network airing from February 1935-December 1940.

"The Crazy Water Crystals were packed in small, green boxes that featured a picture of the Crazy Hotel and instructions to 'put one or two teaspoons in a glass of water and drink the mixture down,' according to Country World.

While Carr Collins had predicted he could "sell a boxcar-load of Crazy Water Crystals per week," the broadcast became so popular that the sponsor was shipping several box-car loads of Crazy Water Crystals per week to a nationwide audience of devoted listeners.

"Sales of the Crazy Water Crystals exceeded $3 million in the early 1930s," wrote Country World.

If customers were drinking the water, the Collins brothers were swimming in money.

Then that spoiler - the Federal Trade Commission - got into their act.



A picture of a youthful Larry Hagman with his mother Mary Martin. When Larry was an infant his teen-aged mother was known as Crazy Mary and sang on the Crazy Water Mineral Radio Show. In exchange, Martin was given space in the hotel for a dance studio. Photo: University of North Texas Libraries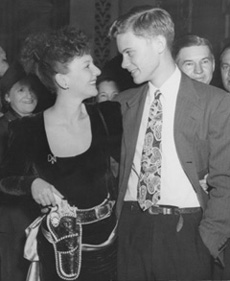 In a press release which the FTC in Washington indicated was for publication "for the Morning Paper of Saturday, December 21, 1940," the Order retrieved from the American Medical Association Historical Health Fraud and Alternative Medicine Collection reads, in part:

"Crazy Water Company, Mineral Wells, Texas, and four of its executives, have been ordered by the Federal Trade Commission to cease and desist from misrepresentations concerning their products, recommended as a treatment for certain ailments and sold under the trade designations "Crazy Mineral Water," "Crazy Water Crystals" and "Crazy Fiz."

"...The Commission finds that in advertisements in newspapers, circulars, radio broadcasts and other media in commerce, the respondents have presented that the mineral waters and derivative thereof, which they sell, will cure or are beneficial in the treatment of many diseases of the alimentary tract, the urinary tract, kidneys and gall duct, and kindred diseases and ailments; that constipation and "faulty elimination" are the causes of and associated with, numerous ailments, afflictions, and conditions enumerated by them..."

"The Commission finds that the products possess no therapeutic value in excess of those of a cathartic or laxative, plus a tendency to temporarily neutralize excess gastric acidity. "The respondents are ordered to cease and desist from representing that their products are a cure or remedy for certain diseases, or symptoms of disease... "

Some Texas historical organizations indicate that the Collins brothers then transferred their business south of the border, out of the range of the FTC, and catered to the Mexican population who had a thirst for feeling better.

The product may have ceased but the Crazy Water legacy remained. During the 1992 opening of the Grand Ole Opry, a large Crazy Water Crystal sign was displayed, and a photo of Hank Snow singing on a Crazy Water Crystals Radio program hangs in the museum's permanent exhibit.

Banking, insurance and promotion weren't the only strong suits of the Collins/Fisher dynasty. Politics has a strong branch on the family tree. Texas Representative James Collins was James Fisher's maternal grandfather and Calvert Collins' paternal grandfather. He died in 1989.

His widow Dorothy "Dee" Collins Torbert announced on December 10, 2001 that more than $6.3 million had been committed by the Collins Family through the James M. Collins Foundation for the new James M. Collins Executive Education Center of the Edwin L. Cox School of Business at Southern Methodist University.

Previous gifts from the James Collins family established the James M. Collins Chair in Finance and the James M. Collins Foundation Student Aid Fund in the Cox School of Business.

When his daughter Ruth Collins Sharp Altshuler assumed the stewardship of the Foundation, the scope of the Foundation's bequests broadened. Among the organizations enriched in some way by the Foundation under her leadership are: The Dallas Museum of Art; The Salvation Army; The Dallas Theological Seminary, Baylor Hospital and SMU's Cox School of Business.

Altshuler is the first person in the United States to receive all three national service honors; the Outstanding Philanthropist of the Year Award from the National Association of Fundraising Executives, the national Alexis de Tocqueville Award of the United Way of America, and the Distinguished Service Award given by the Association of Governing Boards of Universities and Colleges.

Included in the long list of her causes is that of honorary chair of the Dallas Summer Musicals.

In 1993 the Collins family reorganized the Foundation's resources to fund three equal foundations. This reorganization created a distribution of assets into three separate parts, one-third to the James M. Collins Foundation, one-third to the Ruth C. and Charles S. Sharp Foundation, and one-third to the newly renamed Calvert K. Collins Family Foundation which, since 1994, has focused its philanthropic activity on supporting education and historic preservation.

Meanwhile, journalist Calvert Collins is out in the field reporting and cousin Miles Fisher is always on the lookout for a good part. The movie J. Edgar staged a November 3 red carpet gala at Grauman's Chinese Theatre. The event was in conjunction with the Audi/AFI Film Fest in which the film fest gave away 5,000 free tickets in this, its 25th year. The flick officially opened on November 11, which was also the birthday of the film's star Leonardo DiCaprio.



Broadway To Vegas is supported through advertising and donations. Priority consideration is given to interview suggestions, news, press releases, etc from paid supporters. However, no paid supporters control, alter, edit, or in any way manipulate the content of this site. Your donation is appreciated. We accept PAYPAL. Thank you for your interest.



ART AND ABOUT


HARRY POTTER CASTS A SPELL at the Powerhouse Museum which is the first and only Australian destination for Harry Potter: The Exhibition.

Fans will have an opportunity to step inside the famous wizard's magical world, for an up-close and personal look at the artistry and craftsmanship that went into creating the iconic props and costumes that have appeared throughout the Harry Potter film series.

Hundreds of authentic film artifacts will be displayed in settings inspired by locations from Hogwarts School of Witchcraft and Wizardry, including the Gryffindor common room, Hagrid's hut, the Great Hall and many more. New original props and costumes from Harry Potter and the Deathly Hallows – Part 1 and the finale, Harry Potter and the Deathly Hallows – Part 2, will also be on exhibit.

The Powerhouse Museum is the exclusive Australian venue for Harry Potter: The Exhibition, scheduled to run from November 19, 2011 to March 18, 2012. The Museum is the sixth venue to host the exhibition and the first venue outside North America.

"Harry Potter's world has captured the imagination of children and adults around the world. We are excited to bring his enchanted world to the Powerhouse for its first and only stop in Australia," said Dr Dawn Casey, director, Powerhouse Museum. "We invite all Harry Potter fans and anyone with an interest in the stunning creativity and skill which goes into making these stories come alive to come and see this truly magical exhibition."

Harry Potter: The Exhibition is produced and distributed by Las Vegas based GES (Global Experience Specialists) in partnership with Warner Bros. Consumer Products.

THE FIRST LADIES will explore the unofficial but important position of first lady and the ways that different women have shaped the role to make their own contributions to the presidential administrations and the nation.

The exhibition will feature more than two dozen gowns from the Smithsonian's almost 100-year old First Ladies Collection.

The gown include those worn by Frances Cleveland, Lou Hoover, Jacqueline Kennedy, Laura Bush and Michelle Obama.

A section titled Changing Times, Changing First Ladies will highlight the roles played by Dolley Madison, Mary Lincoln, Edith Roosevelt, and Lady Bird Johnson and their contributions to their husband's administrations.

The First Ladies will encourage visitors to consider the changing role played by the first lady and American women over the past 200 years.

Opens November 19 at the National Museum of American History in Washington, DC.


ANOTHER SPIDER-MAN TURN OFF THE DARK STAR INJURED


Matthew James Thomas who is making his Broadway debut, appearing in the title role of Broadway's Spider-Man Turn Off the Dark at the Wednesday and Saturday matinees, was injured backstage at the Foxwoods Theatre during the matinee performance November 9, as first reported by Newsday.com.

Toward the beginning of the musical's second act, as Thomas was transitioning from one scene to another, he sustained a head injury. The performer was taken to the hospital, where he received stitches, and the production was stopped for approximately 10 minutes.

It just so happens that Reeve Carney, who created the title role and plays six performances a week, was in the theatre at the time of the accident. He quickly stepped into the role for the remainder of the show.

Thomas returned to his next scheduled performance which was Saturday, November 12.


SWEET CHARITY


ARENA STAGE in Washington, DC as a way of saying "thank you," will be hosting a complimentary Thanksgiving dinner and an evening of theater for America's veterans and their families on Friday, November 25th, the company announced.

The night out will be open to "wounded warriors, service men and women, and military families with deployed service members," according to the press release.

Arena is making arrangements for the invitations through the Warrior Transition Units of each branch of the military, and anticipates that about two hundred sixty guests will be attending.

"The United States military is a volunteer service, and we are living in a world where we all need to be thankful for those who volunteer to be in the armed forces," Arena Stage Managing Director Edgar Dobie said. "Providing this evening for service men and women and their families is the least we can do for the huge sacrifices they make for us."

In addition to the dinner, the invited guests will have a choice of watching the Shakespeare-related thriller, Equivocation, or the Amy Freed comedy You, Nero, both of which will be playing at the Mead Center on the 25th.

The dinner, which will be prepared by Ridgewells Catering, will be served at the Mead Center and is sponsored in part by Ridgewells Catering and by the United Services Automobile Association.

GOODSPEED will hold its Annual Food Drive to benefit the East Haddam Food Bank on Monday, November 21.

Staff volunteers will be collecting donations pre-show in hopes of another record-breaking year for participation. Goodspeed Musicals is offering a special buy one ticket, get one free to patrons who bring a generous donation of non-perishable foods to the November 21st matinee or evening performance.

The Tin Pan Alley area musical Hello! My Baby runs through November 27 at The Norma Terris Theatre in Chester, CT.

WILLIAMSTOWN THEATRE stages their annual Gala benefit, November 14, at the Edison Ballroom in NYC.

Comedian and playwright Lewis Black will host the gala that will feature cabaret performances by Tony Award nominee Constantine Maroulis, Tony Goldwyn and Kathryn Hahn. All are Williamstown alumni.

Kris Kukul will musical direct.

The gala will include cocktails, a seated dinner, silent auction and the cabaret.

THE STARS COME OUT FOR THEATRICUM Edward Asner, Hector Elizondo, Ed Harris, Piper Laurie, Amy Madigan and Amanda Plummer will be among the stars coming out to support The Will Geer Theatricum Botanicum.

Mr. Asner will perform his acclaimed one-man show, FDR, which explores the life of one of America's best-loved presidents.

Leading the post-performance discussion will be author Rose Eichenbaum whose latest book, The Actor Within: Intimate Conversations with Great Actors, includes interviews with many of the actors who will be present at the event.

Tickets include a dessert reception.

The Sunday afternoon benefit for the theater company, one of Los Angeles' oldest and most respected, is set to take place on November 20 at Topanga's historic Mountain Mermaid.

THE ACTING COMPANY'S MASQUERADE GALA takes place November 14 at Capitale in New York City. Cocktail Reception followed by Awards, Entertainment and Dinner.

Brian Stokes Mitchell and Joseph Benincasa, Chairman and President respectively of The Actors Fund, will accept the Joan Warburg Humanitarian Award honoring the Fund's extraordinary legacy of providing health and human services to the entertainment community since 1882.

Previous recipients include Martin Segal, Harry Belafonte, Gerald Schoenfeld, Phyllis Newman, William Zabel, Abigail Disney and Tom Viola.

James Bundy, Dean of Yale School of Drama and Artistic Director of Yale Repertory Theatre, will receive the John Houseman Award recognizing his profound commitment to the development of classical actors and a national audience for the theater.

Previous Houseman Award recipients include Joe Papp, Harold Prince, Bernard Gersten, Michael Kahn, Kevin Kline, Marian Seldes, Tony Randall, Zelda Fichandler, Julie Harris and Jack O'Brien.

Founded by Oscar winner John Houseman and current Producing Artistic Director Margot Harley in 1972, The Acting Company is America's leading and most honored touring repertory theater having reached 3.5 million people in 48 states and 10 foreign countries with 136 classic and new works. Kevin Kline, Patti LuPone, Rainn Wilson, Jeffrey Wright, Jesse L. Martin, Frances Conroy, Keith David, Hamish Linklater, Harriet Harris and David Ogden Stiers are but a few who began their careers on tour with The Acting Company, which was honored by the Tony Awards for Excellence in Theater.

The Company will present Julius Caesar and The Comedy of Errors on its 39th National Tour beginning at the renowned Guthrie Theater in Minneapolis in January and reaching New York in April for mainstage productions and, again, in May presenting student matinees at the Clark Studio Theater at Lincoln Center.

David Hyde Pierce and Charles S. Dutton will present the awards.

The Godspell cast will entertain and Acting Company Alumnus Hamish Linklater (Seminar) emcees the evening for an industry-filled audience of producers, directors, entertainers and other notables including The Honorable Thomas Kean, legendary record producer Clive Davis, New York Times writer Enid Nemy and The Broadway League's Charlotte St. Martin.

For almost 130 years, The Actors Fund has been the safety net for professionals-performers and those behind the scenes-in film, theatre, television, music, opera, radio and dance in need, crisis or transition. With offices in New York, Los Angeles and Chicago, it provides direct services to 12,000 people each year and hundreds of thousand online.


RACING TO WED ON 11/11/11


Las Vegas is a place where people try to beat the odds.

The divorce rate in America shows a love 'em and leave 'em reality. "50% percent of first marriages, 67% of second and 74% of third marriages end in divorce," according to Jennifer Baker of the Forest Institute of Professional Psychology in Springfield, Missouri, as published in divorcerate.org.

Some lovebirds hoped to beat those odds by conjuring up what they perceived as luck on their side.

Numbers, for instance.

11/11/11 - to be specific.

Las Vegas is a place where you can get hitched while coasting through a drive-through or have Elvis do the honors.

On July 7, 2007, (07-07-07) a record number of marriages took place in Sin City. In the four days leading up to that day, the county issued 4,333 marriage licenses.

Coming close to breaking that record was last Friday - 11/11/11 - when the Clark County Clerk's office reported the issuing of two licenses every minute.

With many chapels reporting conducting an average of 5 ceremonies every 15 minutes, the eager to get united came from around the world, combining jumping the broom with their honeymoon.

The Viva Las Vegas Wedding Chapel conducted the most weddings they've ever done in one 24 hour period - surpassing Valentine's Day and New Year's Eve. They made legal 190 couples. Chapel of Flowers had to turn away people, hitching 78 couples.

Graceland Wedding Chapel performed more than 100 ceremonies.

Since 11/11/11 was Veteran's Day, the Little White Chapel offered all vets free wedding ceremonies with 200 military couples accepting the offer.


THE 12th ANNUAL LATIN GRAMMY AWARDS HELD IN LAS VEGAS
Visitante (Eduardo Cabra Martinez) and Residente (Rene Perez Joglar) of Calle 13 pose with an armload of Grammy Awards after dominating Thursday's Latin Grammys. (Photo by Ethan Miller/Getty Images for the Latin Recording Academy)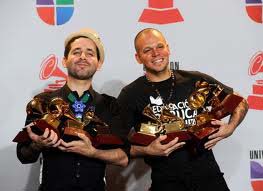 The 12th Annual Latin Grammy Awards were held at Mandalay Bay in Las Vegas last Thursday night and the Puerto Rican urban music duo Calle 13, which mixes socially conscious lyrics with an innovative sound, dominated, winning nine of the record 10 awards they were up for, including Album of the Year for Entren Los Que Quieran, Record of the Year and Song of the Year for Latinoamerica.

Rock band Zoe won for Rock Song, Labios Rotos, and Alternative Music Album, Musica De Fondo: MTV Unplugged. Other winners included Mana, Marco Antonio Solis, Diego El Cigala, Tito El Bambino, Ruben Blades, Chick Corea and the late Mercedes Sosa. Paquito D'Rivera took home two of the prized statues including Best Latin Jazz Album for Panamericana Suite.

Shakira, who was honored as the Latin Grammys Person of the Year, performed three songs, received the prestigious award from Sofia Vergara.

The star studded event was co-hosted by Cristián de la Fuente and Lucero.

Performers included Pepe Aguilar; Pablo Alborán; Alex, Jorge y Lena; Calle 13; Cristian Castro, Franco De Vita with Alejandra Guzmán; Gustavo Dudamel, Paula Fernandes; Intocable; Sean Kingston, Los Tigres Del Norte with Paulina Rubio; Demi Lovato; Maná with Prince Royce; Pitbull with Marc Anthony; Reyli; Romeo Santos with Usher (in their live television debut together); Shakira; Sie7e; Marco Antonio Solís; Taboo (The Black Eyed Peas); Wisin y Yandel; and La Orquesta Sinfónica Simón Bolívar de Venezuela .

Las Vegas shows Le Rêve and Crazy Horse Paris also were featured during the telecast.

Presenters included Héctor Acosta, Banda Los Recoditos, Adrienne Bailon, Angelique Boyer, Chiquinquira Delgado, Eugenio Derbez, Sandra Echeverría, Tito "El Bambino. Erik Estrada, Saúl Hernandez, Myriam Hernández Natalia Jiménez, Kermit the Frog, Juan Manuel Marquez, Silvia Navarro, Sebastián Rulli, Zoe Saldana, Blanca Soto, Sofia Vergara, and David Zepeda.

The Latin Recording Academy is an international, membership-based organization comprised of Spanish-and Portuguese-speaking recording artists, musicians, songwriters, producers and other creative and technical recording professionals. The organization is dedicated to improving the quality of life and cultural condition for Latin music and its makers. In addition to producing the Latin Grammy Awards to honor excellence in the recorded arts and sciences, The Latin Recording Academy provides educational and outreach programs for the Latin music community.


ART GALLERY CREDITED WITH SAVING COMMUNITY
Queen Elizabeth at the Turner Contemporary Art Gallery. Prince Philip is partially hidden on the far right. Photo: Turner Contemporary Art Gallery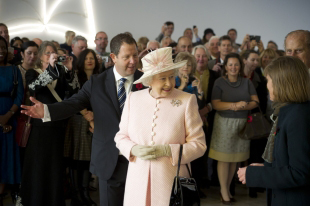 The area of Margate in the Kent section of England was a blight on the country.

Thanks to the Turner Contemporary Art Gallery the place is now so posh and prosperous that Queen Elizabeth came calling.

The new $2.7m art gallery, which was opened in April, is credited with saving the economy of the downtrodden area.

Situated on Margate's seafront, on the same site where Turner stayed when visiting the town, the gallery is the largest exhibition space in the South East, outside of London. It is described as "the forefront of Margate's exciting revival as Kent's new cultural heart."

Artist Tracey Emin said: "Until the Turner came, Margate couldn't have got any lower, it was in a terrible state. "Now the Turner has come, everything is on the up, [even] the beach has been cleaned."

On November 11 Queen Elizabeth and Prince Philip visited the new Turner Contemporary Art Gallery where they heard about the work of Rodin, whose work - The Kiss - is on display in the foyer until September 2012.

The Queen and Prince Phillip met with key members of staff including gallery Director, Victoria Pomery and Chair, John Kampfner. On their tour of the gallery the royal couple spoke with artist Tracey Emin and architect Stirling Prize Winner Sir David Chipperfield. They also heard from local school children and participants from a number of community projects run by the gallery.

The Queen also unveiled a plaque at the gallery to mark the royal visit.

More than 300,000 people have visited Margate's new gallery since it was opened, double the number expected for the whole of the first year.

The ability of the Turner Contemporary to save a community was acknowledged on November 6 when the art venue was presented with two prestigious international tourism award.

The British Guild of Travel Writers presented the gallery with its Globe Award for best worldwide tourism project.

The gallery, designed by David Chipperfield, was also named the best UK tourism project.

The event is the UK's premier occasion for the travel industry to recognize the world's most innovative and newest tourism projects following nominations from members of the Guild, the professional association for journalists, editors, photographers, and radio and film broadcasters working in the travel field from Britain.

Turner Contemporary was nominated for the award by British Guild of Travel Writers member David Prest. Prest told judges the gallery had helped Margate "come alive with cafés, arty boutiques, retro-shops and old fishing shacks on the harbor which have been transformed into studios."

Victoria Pomery, director at Turner Contemporary, said: "We are delighted to have received these two prestigious awards from the British Guild of Travel Writers. It has been a fantastic opening seven months for Turner Contemporary."

In 2012 artist Tracey Emin, who grew up on Margate, will bring a solo exhibition to the gallery.


SPREADING THE WORD


GODSPELL currently recording the original revival cast album. The band did their thing on November 8 and the cast will vocalize their parts on November 14 - info first tweeted on November 8 by major producer Ken Davenport and then immediately given a re-twit by performer Colleen Zenk, who is an investor in the musical revival of the Stephen Schwartz mega hit, which is at the Circle in the Square Theatre.

INSPIRED BY The First Actresses, Peta Taylor gives voices to the portraits with dramatic dialogue and written records, looking for parallels with today's divas and dames to discover what drove the first actresses to risk their reputation with a life on the stage. ( See Broadway To Vegas column of October 23, 2011 )

Thursday, November 17 at The Portrait Gallery in London.

THE COLLEGIATE CHORALE PRESENTS A PRELUDE LECTURE to their performance of Moïse et Pharaon. Rossini scholar Philip Gossett will speak about the creation and performance practices of Rossini's opera, as well as offer historical and musical insight on the work and its fascinating iterations. Immediately following the lecture will be a reception. The lecture takes place Wednesday, November 16, 2011 at the Professional Children's School in New York City.

The Collegiate Chorale presents Rossini's Moïse et Pharaon on Wednesday, November 30, 2011 at Carnegie Hall, NYC. The performance will feature James Morris, Kyle Ketelsen, Angela Meade, Eric Cutler, Marina Rebeka and the American Symphony Orchestra, conducted by James Bagwell.

L.A. THEATRE WORKS records for broadcast Michael Frayn's Tony award-winning drama Copenhagen starring Alfred Molina, David Krumholtz and Jane Kaczmarek, directed by Martin Jarvis.

A world at war, two scientists, and a meeting that may well have determined who would create the most dangerous weapon mankind has ever known. How different would the world have looked had the Nazis been first to build an atomic bomb? All performances will be recorded to air on L.A. Theatre Works' syndicated radio theater series, which broadcasts weekly on public radio stations nationwide and can be streamed on demand.

November 17-20 at the James Bridges Theater UCLA School of Theater, Film and Television, Los Angeles.

HUGH JACKMAN stops by Anderson Cooper's talk show and "fulfills a lifelong dream by taking over Anderson's talk show duties for a segment, hosting "The Hugh Jackman Show." Hugh also brings Anderson some of his very own Laughing Man Coffee, and discusses how he came up with the inspiration to start a coffee line with all proceeds going to charity. Hugh tells Anderson what his children really think of his new Broadway show, and who the real disciplinarian is in the Jackman household," states the promo. The Jackman take over airs Friday, November 18.


OTHER PEOPLE'S MONEY


SPIDER-MAN: TURN OFF THE DARK

Julie Taymor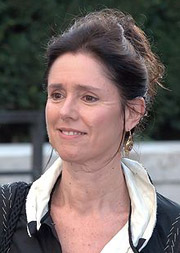 is being sued by Julie Taymor, the original director and co-writer of the accident prone musical. Last week it was officially announced that Taymor will be eligible for a 2012 Tony Award nomination as best director even though she was bounced from the spider web.

Taymor has sued the producers over unpaid royalties, as first reported by Showbiz411.

Taymor is seeking $1 million. She claims her creative rights were violated and that she hasn't been compensated for her work.

Fired last March and compensated with $150,000, she has been in arbitration for the past seven months in an effort to obtain a larger financial settlement from the company.

U2's Bono and The Edge wrote music and lyrics for the $75 million production.

Taymor lawsuit seeks half of all profits from the original Spider-Man show and a permanent ban of the use of her name or likeness in connection with a filmed documentary made about the troubled early days of the musical.

According to Taymor's lawyer, Charles Spada, "producers have failed to compensate Ms Taymor for their continued use of her work to date".

Taymor is also suing Glen Berger, her former co-writer. She said revisions to the book were made "without her approval". Her lawsuit said her contract called for no changes to be made without her consent.

In a statement, producers have denied Taymor claims, saying "the production has indeed compensated Ms Taymor for her contribution as a co-book writer".

They added, "the court system will provide, once and for all, an opportunity to resolve this dispute".

EMI the UK music firm has sold its recorded music unit for $1.91bn to Universal Music.

The other half of EMI's business - the lucrative music publishing unit - had also been sold, being bought by a Sony-led consortium for $2.2bn.

Citigroup seized ownership of EMI in February after previous owner the private equity firm Terra Firma was close to default.

Universal Music is a unit of Vivendi, the French media company. EMI's labels include Blue Note, Capitol, Parlophone and Virgin Records. Labels included under the Universal umbrella are Def Jam, Motown, Decca, Island Records, Interscope Records and Polydor Records.

EMI, with a history dating back to 1897, is home to artists including Coldplay, The Beatles, Katy Perry and Pink Floyd.

"I particularly welcome the fact that EMI will once again be owned by people who really do have music in their blood," said Rolling Stones singer Sir Mick Jagger, according the announcement by Vivendi/Universal Music Group which supplied the press with several quotes from artists and managers:

The manager of Coldplay also welcomed Universal. "They have assembled the most talented group of executives in the industry today and their success speaks for itself," Dave Holmes said.

CANDY SPELLING co-producer of the 50th anniversary Broadway revival of How To Succeed in Business Without Really Trying, currently on stage at the Al Hirschfeld Theatre, has been listed as worth $600 million. She's now worth $90,000 more after winning on a slot machine at the Bellagio Hotel in Las Vegas. As first reported by Perez Hilton, she did it on the first spin.






KRISTIN CHENOWETH who was inducted into the Oklahoma Music Hall of Fame. Other members of the Class of 2011 include Wayman Tisdale, Jesse Ed Davis, Nokie Edwards, Bob Bogle, Ralph Blane, Gene Triplett, and Cheevers Toppah.

The Concert and Induction Ceremony took place November 10 at the Muskogee Civic Center.

CATHERINE TRIESCHMANN a Kansas-based playwright whose work has been produced globally at venues ranging from South Coast Repertory of Orange County, the Bush Theatre of London, and the New Theatre of Sydney, is the winner of the 2012 William Inge Theatre Festival's Otis Guernsey New Voices in the American Theatre Award.

Trieschmann will be presented with the New Voices Award, an honorarium, and a concert reading of one of her new plays at the Inge Festival on Thursday, April 19, 2012.

The Otis Guernsey New Voices in the American Theatre Award recipient is selected by a panel comprised of previous New Voices winners and other theatre professionals. The award recognizes outstanding early and mid-career playwrights, whose talent promises to positively impact the future of the theater.

The award, bestowed for the 20th time, is named for the late Otis L. Guernsey, Jr., acclaimed theater writer and scholar. Guernsey was a longtime attendee of the William Inge Theatre Festival and an advocate of new plays. The Inge Festival is named for the late William Inge, an Independence native who won the Pulitzer Prize for Drama (Picnic) and Oscar for Best Screenplay - Splendor in the Grass.

The 31st Annual Inge Festival takes place April 18-21 in Independence, Kansas.



HUGH JACKMAN BACK ON BROADWAY

Hugh Jackman. Photo by: Paul Cush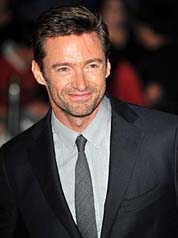 with Robin Campbell, Kearran Giovanni, Anne Otto, Lara Seibert, Hilary Michael Thompson and Emily Tyra is the hottest ticket on Broadway.

Directed and choreographed by Warren Carlyle with music direction by Patrick Vaccariello.

Sets by John Lee Beatty; costumes by William Ivey Long; lighting by Ken Billington; sound by John Shivers; video by Alexander V. Nichols.

The production is reminiscent of Las Vegas star turns during the Golden Days of the Strip.

Back in that bygone era, guys who wanted to impress their lady would spend top dollar for a Rat Packer or the other major headliners of that era such as Robert Goulet, Elvis Presley, Andy Williams and Tom Jones.

Hugh Jackman Back on Broadway is the ticket to get if you're out to score points - or just score - with the girl of your dreams.

Jackman is at the Broadhurst through January 1st.

SEMINAR a new comedy by Pulitzer Prize finalist and Peabody Award winner Theresa Rebeck.

Directed by Obie Award winner Sam Gold in his Broadway debut.

The production stars Tony Award nominee Lily Rabe, Obie Award winner Hamish Linklater, film and television star Jerry O'Connell and Hettienne Park.

In Seminar, four aspiring young novelists ( Rabe, Linklater, O'Connell and Park) sign up for private writing classes with Leonard ( Rickman), an international literary figure. Under his recklessly brilliant and unorthodox instruction, some thrive and others flounder, alliances are made and broken, sex is used as a weapon and hearts are unmoored. The wordplay is not the only thing that turns vicious as innocence collides with experience in this provocative new comedy.

The production features set and costume design by Tony Award nominee David Zinn, lighting design by Ben Stanton and original music and sound design by John Gromada.

Official opening night is Sunday, November 20 at The Golden Theatre, NYC.

OTHER DESERT CITIES by Jon Robin Baitz. Directed by Joe Mantello.

The highly regarded drama about a wealthy Republican family dogged by its past that played a sold-out run Off-Broadway at Lincoln Center's Mitzie E. Newhouse Theater last January, has moved to Broadway.

Off-Broadway cast members reprising their performances include Tony winner Stockard Channing as family matriarch Polly Wyeth, Golden Globe winner Stacy Keach as her husband Lyman and Tony nominee Thomas Sadoski as their son Trip.

New to the Broadway production are Tony Award nominee Judith Light, in the role of acidic alcoholic aunt Silda Grauman, with Rachel Griffiths as daughter Brooke Wyeth.

In Other Desert Cities, Brooke Wyeth (Rachel Griffiths), a once promising novelist, returns home after a six year absence to celebrate Christmas in Palm Springs with her parents (Stockard Channing and Stacy Keach), former members of the Reagan inner-circle, her brother (Thomas Sadoski), and her aunt (Judith Light). When Brooke announces that she is about to publish a memoir focusing on an explosive chapter in the family's history, the holiday reunion is thrown into turmoil and the Wyeths are both bound together and torn apart as they struggle to come to terms with their past.

Sets are by John Lee Beatty, costumes by David Zinn, lighting by Kenneth Posner, sound by Jill BC DuBoff and original music by Justin Ellington.

Performances at the Booth Theatre in NYC.

WILD ANIMALS YOU SHOULD KNOW the world premiere production of by Thomas Higgins, directed by Trip Cullman.

Featuring actors John Behlmann, Patrick Breen, Gideon Glick, Jay Armstrong Johnson, Alice Ripley, and Daniel Stewart Sherman.

Matthew (Johnson) and Jacob (Glick) are an unlikely pair of friends. Matthew is a soccer star, full of brio and teenage swagger. Jacob is, well, not. Beneath the surface, though, the two are locked in an innocently erotic game of cat and mouse. When Matthew's reluctant father, Walter, (Breen) is wrangled by his wife Marsha (Ripley) into chaperoning the boys' trip to a wilderness scout camp, he finds himself drawn into their adolescent game. But Matthew has secretly decided just how far he's willing to go for his final act of scouting and everyone might do well to heed the scouts' motto: Be Prepared.

Scenic Design is by Andromache Chalfant, Costume Design is by Jenny Mannis, Lighting Design is by David Weiner, and Sound Design is by Fitz Patton.

Wild Animals You Should Know is performed at the Lucille Lortel Theatre in New York City and runs through December 11, 2011.

HOUSE by Canadian playwright Daniel MacIvor. Directed by Tara L. Matkosky.

Featuring Tim Spears.

House tells the story of Victor (Spears), a man in crisis who is eager to confess tales of his sordid history with the hope of achieving a more satisfying future. The play blurs the boundaries between actor and audience in an unpredictable ride riddled with black humor and vivid storytelling.

Spears describes his character as an everyman, "Victor has done everything he thought you were supposed to do to have a happy, successful life – his wife, his house, his job, having his boss over for dinner – but everything has fallen apart. And now he is left broken, forced to ask himself, 'okay, well what's wrong with me – what am I doing wrong?' It is not a play about war or epidemic or death – it's about a normal guy trying to find happiness and fulfillment."

Scene Design - Eleanor Kahn, Costume Design - Leonard Choo, Lighting Design - Heather Skye Sparling, Sound Design - Stephen Dee, Stage Manager - Leigh Robinette, Production Manager - Jane Casamajor.

Talk-Back: Sunday, November 13. Performances through November 20 at Boston University Theatre, Boston, MA.

VENUS IN FUR a suspenseful sexy comedy by David Ives. Directed by Tony Award winner Walter Bobbie.

The hit off-Broadway production, which has transferred to Broadway, stars Tony Award nominee Nina Arianda recreating the role she originated - and nailed - Off-Broadway and Emmy Award Nominee Hugh Dancy.

Vanda (Arianda) is a preternaturally talented young actress determined to land the lead in Thomas' (Dancy) new play based on the classic erotic novel, Venus in Fur. Her emotionally charged audition for the gifted but demanding playwright/director becomes an electrifying game of cat and mouse, blurring the lines between fantasy and reality, seduction and power, love and sex.

The creative team includes John Lee Beatty (scenic design), Anita Yavich (costume design), Peter Kaczorowski (lighting design), Acme Sound Partners (sound design), Thomas Schall (fight direction), Winnie Y. Lok (Production Stage Manager), and Carlos Maisonet (Stage Manager).

Presented through December 18 by Manhattan Theatre Club at their Samuel J. Friedman Theatre, NYC.

SONS OF THE PROPHET by Stephen Karam. Directed by Peter DuBois.

Featuring Yusef Bulos (Bill), Jonathan Louis Dent (Vin), Santino Fontana (Joseph), Joanna Gleason (Gloria), Lizbeth Mackay (Mrs. McAndrew), Dee Nelson (Dr. Manor), Chris Perfetti (Charles), Charles Socarides (Timothy).

If to live is to suffer, then Joseph Douaihy (Fontana) is more alive than most. With unexplained chronic pain and the fate of his reeling family on his shoulders, Joseph's health, sanity, and insurance premium are on the line. In an age when modern medicine has a cure for just about everything, Sons of the Prophet is bill ed "a refreshingly honest take on how we cope with wounds that just won't heal, and the funniest play about human suffering you're likely to see."

Karam's play Sons of the Prophet commissioned by the Roundabout Theatre Company, is part of Roundabout's New Play Initiative, a collection of programs, designed to foster and produce new work by emerging and established artists.

Performances through December 23, 2011 at the Harold and Miriam Steinberg Center for Theatre / Laura Pels Theatre in NYC.

BLACK ANGELS OVER TUSKEGEE written by NAACP Award Winner Layon Gray.

Black Angels Over Tuskegee stars members of The Black Gents of Hollywood, an all-male ensemble founded in 2007 and driven to resurrect, redefine and restore positive images of African American men.

Based on true events - Black Angels Over Tuskegee is a story told in narrative of six men embarking upon a journey to become pilots in the United States Army Air Corps. This powerful stage play, explores their collective struggle with Jim Crow, their intelligence, patriotism, dreams of an inclusive fair society, and brotherhood as they become the first African-American fighter pilots in the U.S. Army Air Forces.

It is a perfect vehicle to entertain, inspire and add perspective to a rarely heard chapter in American history. Black Angels Over Tuskegee literally goes beyond the headlines of the popular stories of the Tuskegee Airmen. Black Angels Over Tuskegee is about men who exhibited the courage to excel, in spite of all the overwhelming odds against them.

In addition to being an official selection of the 2009 National Black Theater Festival, the play won a 2009 NAACP Award for Best Ensemble and a 2009 Artistic Director Achievement Award for Best Play. They also staged a special performance for the entire NY Jets team and The Black Gents of Hollywood presented the production at the 2009 National Tuskegee Airmen Convention in Las Vegas for over 200 members of 30 chapters.

Last Thursday The Black Gents performed the play, presented by the Jacksonville Urban League, at the University of North Florida's Lazarra Performance Hall.

Now in its second year at the Actors Temple Theater in New York City.


WHO'S WHERE




CHEYENNE JACKSON'S COCKTAIL HOUR: MUSIC OF THE MAD MEN ERA takes place November 18 at Carnegie Hall, NYC. The New York Pops, under the direction of Steven Reineke, will back Jackson for an evening of swinging tunes including Luck Be a Lady and Sway.

ERIC CLAPTON AND STEVE WINWOOD perform Thursday, November 17, at the Hokkaido Sports Center in Sapporo, Japan. On Saturday they are on stage at the Arena in Yokohama, Japan.

PAULA WEST in concert with the George Mesterhazy Quartet. West has been hailed as one of the hardest-swinging jazz vocalists working today, a singer whose rich, dusky voice has captured the hearts of critics and audiences alike. On Saturday, November 19 she comes to 92nd Street Y in NYC with the George Mesterhazy Quartet for the first concert of the 92Y Jazz 2011-2012 season.

STING performs Wednesday, November 16, at the Verizon Theatre in Grand Prairie, TX. On Thursday he begins a two night gig at the Verizon in Houston.

MELISSA MANCHESTER the Grammy Award winning vocalist performs November 17 at Wolftrap The Barns in Vienna, Virginia.

SHELLEY BERMAN telling funny stories at The Improv Comedy Club at Harrah's in Las Vegas November 15-20.


FINAL OVATION


JOE FRAZIER boxing great died November 7, 2011 of liver cancer. He was 67.

He was the first man to defeat Muhammad Ali during the Fight of the Century which took place on March 8, 1971 at Madison Square Garden, with the heavyweight title of the world on the line. More than 20,000 people attended this fight, among them celebrities like actor Burt Lancaster doing radio commentary and singer Frank Sinatra photographing the fight for Life Magazine.

Frazier later lost two matches to the Ali including the "Thrilla in Manila."

Frazier celebrated the 35th anniversary of Ali-Frazier III Thrilla in Manila by hosting a VIP meet and greet event at the Palms hotel and casino in Las Vegas at the High Limit Lounge on Oct 1st. He took pictures and signed autographs.

Frazier had 37 fights with 32 wins, 27 of those by knockouts. When he wasn't KOing the other guy he was on stage singing and dancing - something that gave him extreme personal joy as well as entertaining the audience.

He created Joe Frazier and the Knockouts, an eleven-piece revue group which specialized in soul and R&B hits. In 1977 the group toured the United States to favorable reviews.

Frazier was signed to a recording contract by Capitol Records and performed Eddie Floyd's song Knock on Wood on the Ed Sullivan Show.

He recorded several soul-funk styled singles, including a remake of the Sinatra hit My Way.

The former boxer looked frail when meeting with reporters at Madison Square Garden in March for the 40th anniversary of his Ali fight, according to the NY Daily News.

"Frazier, who was in frail health, came to life when he talked about reigniting his singing career. He even tossed aside his cane to do a few dance steps."

On his website the Boxing Hall of Famer advertised that "Smokin' Joe Frazier and the Knockouts. World heavyweight boxing champ is hitting the road with his knockouts. Available for Casinos, Fairs, Festivals, Nightclubs and Parks World Wild."

Joe Frazier and The Knockouts last performed in June 2011 at the Las Vegas Hilton.

The well liked pugilist also made cameo appearances in several Hollywood films and two episodes of The Simpsons.








Next Column: November 20, 2011
Copyright: November 13, 2011. All Rights Reserved. Reviews, Interviews, Commentary, Photographs or Graphics from any Broadway To Vegas (TM) columns may not be published, broadcast, rewritten, utilized as leads, or used in any manner without permission, compensation and/or credit.
Link to Main Page
---
Laura Deni



For the snail mail address, please E-mail your request.
CLICK HERE FOR COMMENT SECTION