! >
Broadway To Vegas
 
 SHOW REVIEWS CELEBRITY INTERVIEWS GOSSIP NEWS

| | |
| --- | --- |
| | |
PACIFIC RESIDENT THEATRE - - COSTUMES OF TROY - - FIRED APPRENTICE ON STAGE - - OBIE AWARDS - - ALL SHOOK UP MUSIC OF ELVIS MUSICAL OPENS - - THE NEW YORK POPS ORCHESTRA - - PAUL WILLIAMS HAS NEW CABARET ACT - - TONY AWARD NOMINATIONS - - DONATE . . . Scroll Down


CREATIVELY DIRECTING THE PACIFIC RESIDENT THEATRE
Marilyn Fox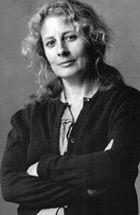 The oft heard actor's expression - "But, what I really want to do is direct" - doesn't apply to Marilyn Fox, artistic director of the award winning Pacific Resident Theatre in Venice, CA,

Fox, who both acts and directs, spoke with Broadway To Vegas about the Pacific Resident Theatre and her role in it's enormous success. She confessed to "not only didn't I aspire to direct - I still don't like directing, particularly."

"I'm the artistic director, but I don't direct a lot," she stated. "I hire directors, pick the plays and mostly shape the season. But, I am still much more interested in expressing myself as an actor than I am as a director."

That doesn't mean she doesn't love her job - quite the contrary.

"I love being artistic director. I feel like the main reason to do theater is to put into the world a something - live and human - usually written by a mind greater than most people's. As a theater we are able to put things into the world that are - hopefully - very beautiful, touching, thought provoking and human."

A troop of name stars refer to the place as "my theater."

"We are an Equity Waver Company," Fox explained. "We have several Tony award winning actors in this company. Really serious people like Max Wright, Jordan Baker, Orson Bean and his wife Alley Mills. Mariette Hartley is a new member of the theater."

"People who are attracted to being in this company tend to have a great love for theater and for what it is that we are doing, rather than just love of themselves." declared Fox.

"They all call it "my theater" because it is this jewel box of creativity on this long block in Venice," continued Fox. "This part of Venice is a real arts community and it has a very lovely cross section of visual artists. LA Theater Works is right next door. SPARC (Social Public and Resource Center) which is an arts organization, is nearby. So, we are right in the groovy, restaurant and hip area."

"Equity is very supportive of us because our theater is bursting at the seams right now," elaborated the Artistic Director. "Several Equity venues have invited us to produce productions, that we have done here, and move them up to Equity status. We are also moving into that arena ourselves. Our theater is very professional in terms of actors and production values. But, at this moment, it is not a fully funded theater."

Every member of the company is required to auditioned to be accepted into the company.

"Orson Bean has been a member since about 1991," related Fox. "He came in when I asked him to be in a production of The Seagull that I directed."



Orson Bean as Michael James and wife Alley Mills as Widow Quinn in The Playboy of the Western World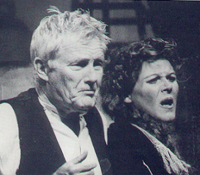 "I brought him in. He lives in Venice. I went to his home and I knocked on his door," she giggled at the happy memory."

"I had contacted him because we had lost an actor who was playing the role that I needed him to play. It was essential that it be really great actor. I didn't have enough strong people in that age category. I did a little research and I found out that Orson might be available."

"I actually called him and he said to drop the script off and he'd read it," she recalled. "So I went to his house and gave it to him. Then he came up to the theater."

"It was raining and really a mess. He came in and said - So, what's your concept? I said - I don't have a concept. I just want to get some really wonderful people, wonderful actors in a room with a great play and work together. He said - Okay, I'll do it.'"

"He was testing me," she explained. "He didn't like "concepts." So, that is how he started working with the company."

"He did do a production of Uncle Vanya here as well. That wasn't our production. That was a guest production. Sometimes we do have guest productions, but it is very rare. We do a season that goes year to year.

"Most of our reputation has been built significantly around the plays of great writers - both classical and contemporary. Often we do plays that you wouldn't normally get to see - like an Orpheus Descending.

"That is not his most popular play," she said of the Tennessee Williams' creation. "A lot of other things that we have done have been like that. We've done a lot of European plays."

"But, we also did the Los Angeles premiere of David Rabb's Question of Mercy. We did the Los Angeles premiere of Big Love by Charles L. Mee and Indiscretions by Jean Cocteau."

Cocteau's unpredictable farce - original title, Les Parents Terribles - was written by Cocteau while on an eight-day opium binge in 1938.

When it first opened in Paris in 1938, the taboo subject of obsessive love between a mother and son caused the Municipal Council of Paris to close down the production.

Jeremy Sams' translation of the play was first produced in 1994 at the Royal National Theatre. In the spring of 1995, Indiscretions was revived on Broadway at Barrymore Theatre with Kathleen Turner and Eileen Atkins in the leading roles.



Shiva Rose McDermott (wife of Dylan McDermott of The Practice) as Alexandra and Marilyn Fox as Princess Beatrice in The Swan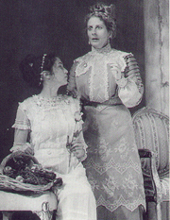 "We've won approximately 35 LA Drama Critics Circle Awards and that includes the Margaret Hartford Award for Continued Excellence and two Polly Warfield awards for the Best Season of the Year. That was in 99 and 2001."

"Our audience comes from everywhere in Los Angeles. We have a strong audience base in Venice, in Santa Monica and the beach communities of South Bay. But, we also have people regularly attend from as far away as San Francisco. We have subscribers who live in New York."

Fox grew up in Los Angeles loving the work of great writers. "I was an avid reader as a teenager. I loved Shakespeare and Chekov. I was lucky enough to study with Benjamin Zemach who actually had been a member of the Stanislavsky Moscow Theater. I was about 16 years old when I studied with him and his wife Elizabeth Lynn."

Her theatrical pursuits led her to both New York and England.

"In 1985 when this theater started, I happened to make friends with some people that were involved and I was invited into it as an actor."



The late William Ball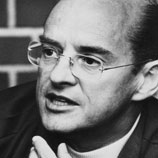 "The Pacific Resident Theatre was founded by those associated with the American Conservatory Theatre, during a period of great creativity, when Bill Ball and Alan Fletcher were running the theater," she explained about the young actors who came from New York to LaLaLand to work in television and film industry.

While their paychecks may have come from the big and small screens, their collective hearts remained on the stage.

"They decided to start a theater because they wanted to keep doing the kind of great work that they had done at the American Conservatory Theatre. They founded our theater in 1985 and it was modeled after ACT, in that we have a mainstage that is a public venue which has a subscriber base and a season of plays. Then we also have a work shop where the members of the company, which number about 100 directors, designers and actors and also writers now, develop their own work and have a free space to create that is non reviewed and is not controlled by the artistic director. It is a totally free space where they can go to create."

"I became artistic director in 1995, so I was in the theater for 10 years as only an actor, although I did direct."

"Thank God, I feel that our theater keeps improving," she emphasized. "We have three spaces now. Our audience space has gone from a very small audience to almost 1800 subscribers. For a small company we have a lot of respect in the community."

"I think every play gives the audience the feeling that everybody involved in the production was passionate about the play. We really do put our hearts and souls into everything. We care about, not only the success, but the actual solving of the work, so that we have the clearest, most fully realized production that we could have done."

"I'm proud of the overall excellence of our work and our commitment to developing new writers, although we also do mainstage productions of established writers."



Mariette Hartley is a new Pacific Resident Theatre member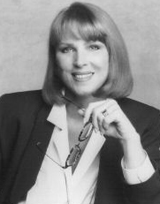 While most theaters sing the song of money woes, Fox insisted that the hardest part of her job is not the funding. "The hardest part is the attention to the really making sure that what we present is not just product but something beautiful. I like an audience to leave the theater with something they feel has given life, rather than taken it from them. I feel often that theater takes from you, unfortunately. As much as I love it, often I feel it is draining to go to the theater. It's asking a lot to want somebody to come to the theater because it takes effort - you have to book in advance, plan that you are going to go - and it is more expensive than going to a movie. I want the person to leave feeling they have been given to - that it is a life giving experience rather than something where they have given blood."

Fox's own convoluted life as an actor an artistic director - which frequently amounts to two full times jobs - is balanced beamed by a 20 year relationship with Gar Campbell.

"I'm very fortunate in that my partner at the theater and in life, Gar Campbell, had been not only my teacher but also a very important part of the artistic quality of our theater. He is an amazing actor, himself, but he prefers directing and teaching. He has partnered with me to try to create this kind of theater. He is there to support, watch over and artistic direct when I am involved in an acting project."

"He is the spine when I am not there. I wouldn't be able to balance this without him."

Recently, Fox spent six months starring as Lady Torrance in the theatre's production of Orpheus Descending.

"I have the joy of having run Orpheus Descending for six months - six months" she reiterated. "It one of the great, great plays and the most beautiful role that I played."

"That this play ran for six months is significant when you realize that there is so much theater in Los Angeles right now, so it really is amazing. There are so many shows opening every week. This is really a wonderful time at the theater and I'm very grateful."

"We've also taken several plays from our theater back east. In fact, Orson Bean directed a production of The Quick Change Room," she said referring to the play penned by award-winning playwright and former artistic director of the Milwaukee Repertory and McCarter Theatres, Nagle Jackson, who authored the piece shortly after being the first American stage director to work in the Soviet Union.



Richard Fancy will star in Rocket to the Moon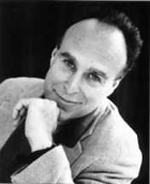 "We also brought a production of Awake & Sing to the Berkshire Theatre Festival in 2001."

Written by Clifford Odets, the Pittsburgh Gazette called it "an extraordinary ensemble in a rare revival." The paper also bestowed upon the production their the Best Revival award, stating; "Awake & Sing at the Berkshire Theatre Festival provided a gloriously subversive reminder of the days when American theater used ordinary settings as political tracts."

Next production for the Pacific Resident Theatre is Rocket to the Moon starring Richard Fancy and Dana Dewes.

The 1938 play by Clifford Odets is a romance rich in language, humor and humanity, about dentist caught in an unhappy marriage. The production opens May 29th.


ART AND ABOUT


COSTUMES FROM TROY part of the London British Museum's celebration of Greek Summer, the ancient Olympics and the story of Troy. Costumes from the swords-and-sandals epic film Troy by Wolfgang Petersen will be displayed in the Great Court beginning May 12.

The story of Troy is one of mankind's greatest epic tales, re-told from antiquity to the present. A new version, the movie Troy directed by Wolfgang Petersen and starring Brad Pitt as Achilles, and Diane Kruger as the legendarily lovely Helen of Troy. will be released by Warner Bros this week.

. Costumes from the film will be displayed in the Great Court from May 12th.. They will be linked to related objects from different cultures and ages, encouraging visitors to explore the Troy theme throughout the Museum. The display is produced by Warner Bros. in association with the British Museum in London.



Broadway To Vegas is supported through advertising and donations. Priority consideration is given to interview suggestions, news, press releases, etc from paid supporters. However, no paid supporters control, alter, edit, or in any way manipulate the content of this site. Your donation is appreciated. We accept PAYPAL. Thank you for your interest.



THE VILLAGE VOICE 49TH ANNUAL OBIE AWARDS will take place Monday, May 17, at Webster Hall in New York City. Hosted by Swoosie Kurtz and Raul Esparza with live entertainment performances by Tonya Pinkins, Michael Gordon Band & Bill Morrison's film Light Is Calling.

Established in 1956, The Village Voice Obie Awards were created to honor Off Broadway and Off-Off Broadway productions worthy of distinction. Structured with informal categories that change annually, Obies recognize persons and productions of excellence. Unlike most theater awards, the Obie Awards do not have nominations. In the conviction that creativity is not competitive, the judges may give several Obies in each category, and may even invent new categories to reward artistic merit.

DAVID SELBY returns to his birth state of West Virginia to receive an honorary doctorate from West Virginia University. The actor will deliver the commencement address during spring graduation ceremonies to be held on May 16 at the WVU Coliseum.

Selby is a member of the Cleveland Playhouse Hall of Fame, and, in 1999, he received the Millennium Recognition Award from The Shakespeare Theatre in Washington, D.C.

TONY AWARD NOMINATIONS The 58th annual Tony Awards will be broadcast on CBS live from Radio City Music Hall on June 6th. Hugh Jackman will host. The nominations will be announced the morning of May 10th. For a list of the nominations click here.


SWEET CHARITY


THE NEW YORK POPS ORCHESTRA 21ST BIRTHDAY GAGA under the baton of Skitch Henderson celebrates the Pops' 21st birthday at a gala May 10 at Carnegie Hall in NYC.

ACTORS FUND PERFORMANCE of Golda's Balcony starring Tovah Feldshuh, takes place May 16th at the Helen Hayes Theatre in NYC.

NATIONAL STUTTERING AWARENESS WEEK - MAY 10-16 kicks off with Our Time Theatre Company ( See Broadway To Vegas column of April 11, 2004 ) Dr. Alan Rabinowitz. The evening will be hosted by Jane Alexander, with performances by Broadway's Adam Pascal and Everett Bradley, pop singer Lucy Woodward, Spin City's Sandy Chaplin, the cast of Stomp, and the talented teens of Our Time Theatre Company. Other guests include Jace Alexander, Maddie Cornman, Donna Hanover, Edwin Sherin who is the director of Primate.

Monday, May 10 at the Lucille Lortel Theatre in NYC.

THE AIDS BENEFIT COMMITTEE OF NEW JERSEY STAGES A BENEFIT John De Marco sings Mel Torme - An evening with Jazz cabaret singer John De Marco singing Mel Torme with Multi Mac winners Richard Skipper and Angela LaGreca as his special guests stars Musical Director: Barry Levitt with the Barry Levitt quintet. Michael Barbieri: lighting designer and stage manager. May 15th at The Chase Room in Newark, N.J.



ALL SHOOK UP A new musical comedy inspired by and featuring the songs of Elvis Presley.

Book by Joe DiPietro. Directed by Christopher Ashley. Choreographed by Jodi Moccia. Orchestrations by Michael Gibson. Musical Direction by August Eriksmoen. Musical Supervision and vocal arrangements by Stephen Oremus.

A new musical comedy set in 1955, All Shook Up is not an autobiographical revue. Somewhere in middle America one girl's wish and a surprise visit from a mysterious leather-jacketed, guitar-playing stranger will lead a small town to discover the magic of romance and the power of rock & roll. This new musical features 24 legendary Elvis classics including Heartbreak Hotel, Love Me Tender, Don't Be Cruel, Can't Help Falling in Love, and, of course, All Shook Up.

Principals: Jennifer Gambatese, Jonathan Hadary, Leah Hocking, Ashton Holmes, Nikki M. James, John Jellison, Alix Korey, Mark Price, Manley Pope and Sharon Wilkins.

Ensemble: Paul Castree, Cara Cooper, Tyce Diorio, Katy Grenfell, Anika Larsen, John Eric Parker, Justin Patterson, Chryssie Whitehead, Virginia Woodruff.

Part of the Goodsprings Musicals. At the Norma Terris Theatre in Chester, CT. May 13- June 6.

CASINO PARADISE - Where everything you want . . .You'll find Book & Lyrics by Arnold Weinstein. Music by William Bolcom. Sashay on down to Casino Paradise for this Brechtian tale of a powerful mogul who brings gambling to a ramshackle seaside resort. He's the Landlord. Meet his daughter, Sis, whose torch song croons, "I must have everything - because I have nothing else." Meet Sonny, who bemoans his fate as a rich man's son in an unforgettable talking blues. And meet his lawyer - once a radical, but who has now taken "The Establishment Route." In one brilliant, sardonic, and tuneful song after another, Pulitzer Prize-winning composer Bill Bolcom and Arnold Weinstein take us inside this darkly comic world. Then, the Nurse arrives – a woman with a past of her own – who becomes a lightening rod for the wild and deep emotions lying beneath the surface. May 12 – 23 at The Prince Theater in Philadelphia.

TONY 'N TINA'S WEDDING welcomes fired The Apprentice Sam Solovey to the "family." Fired in the third episode of the Donald Trump NBC show, Solovey will appear as Tony's cousin for five performances from May 18 through 22 after the interactive theater comedy reopens on May 15 at St. Luke's Church and the Edison Hotel in NYC.

DOWNLOADED - AND IN DENIAL starring Cynthia Adler opens May 10 at The Harold Clurman Laboratory Theater in NYC.

Billed as "the woman of 1,000 voices" Adler - one of the country's top voice-over actresses - takes on the media establishment in her one woman, nine character "stand-up theater" piece. The award-winning Robert Z. Kalfin, founder of New York's Chelsea Theater Center, directs the show.

LOVE IN GREAT NECK an absurdist musical comedy about Great Neck and beyond, written by Tuvia Tenenbom and Maria Lowy. Lyrics and music by Phil Rubin. Directed by Tenenbom.

Every wonder about those rich white ladies riding in chauffeured black limos, or about the black ladies pushing baby carriages with white creatures inside? Told through the eyes of a black nanny, Love in Great Neck takes a look behind the guarded gates protecting the upper class to explore the intimate habits of the rich and their poor servants. Starring Joan Fishman, Mario Golden, Amitai Kendar, Johnnie Mac, Diane Quinn. Sets by Mark Symczak. Costumes by Elgie C. Johnson. Previews begin May 15 at the Jewish Theater of New York.

COOKIN' AT THE COOKERY The Music & Times of Alberta Hunter. Written and Directed by Marion J. Caffey.

Cookin' takes audiences on a musical journey through the life of the late, great blues legend Albert Hunter, from the smoky Chicago night clubs where her career began to the glamorous theaters of New York, London, and Paris, and then finally to Greenwich Village's The Cookery, where she made a triumphant return to show business in the 1970s after having retired from singing to become a nurse.

Cookin' at the Cookery is told "in the key of the blues" by two actresses and four musicians performing soul-shaking renditions of Hunters' classic blues and jazz hits, including St. Louis Blues, When the Saints Go Marching In, and Always. May 18 - June 6 at the Coconut Grove Playhouse in Miami.

THE FOREIGNER April 27 - May 23 A pathologically shy Englishman goes to a southern boarding-house for a rest, and pretends not to understand English to preserve his privacy. The ruse backfires in the course of a zany plot. Currently on stage through May 23 at Murray's Dinner Playhouse in Little Rock, Arkansas which states this is one of their most requested comedies. Father of the Bride follows on May 25 with a run through June 27.


| | | |
| --- | --- | --- |
| | | |
WHO'S WHERE


PAUL WILLIAMS has brought his new cabaret act, Nice to Be Around, to Feinstein's at the Regency in Manhattan. The Oscar and Grammy award winning songwriter performs through May l5.

DAVID BOWIE on stage Monday at the Starlight Theatre in Kansas City, MO. Tuesday finds him at the Fox Theatre in St. Louis, MO. On Thursday he can be enjoyed at Hersheypark Stadium in Hershey, PA. Friday the performance is in the spotlight at the John Labatt Centre in London, ON.

PRESERVATION HALL JAZZ BAND have a full week in Texas. Tonight, Sunday May 8, they make music at the Carver Cultural Center in San Antonio. On Monday they perform at the Bass Performance Hall in Forth Worth. Tuesday the show is at the Wichita Theatre in Wichita Falls. Thursday the guys are on stage in the Chaparral Center in Midland. They close out the week, Saturday, at the Jefferson Theatre in Beaumont.

JULIO IGLESIAS entertains Thursday at the Historic Mountain Winery in Saratoga, CA. On Saturday the singer is in the spotlight at Harrah's Laughlin Resort in Laughlin, NV.

PETER CINCOTTI on stage Tuesday at Columbia University in New York City. Friday finds the singer at The Bushnell in Hartford, CT and he closes out the week, Saturday, at St. Anselm College in Manchester, NH.

FLEETWOOD MAC entertaining tonight at the Assembly Hall in Champaign, IL. On Wednesday they at the Resch Center in Green Bay, Wisconsin. Friday finds them at Starwood Amphitheatre in Antioch, TN. On Saturday they are on stage at Chastain Park Amphitheatre in Atlanta, GA.

PAUL ANKA in the spotlight Thursday and Friday at the Horseshoe Casino in Bossier City, LA.

BOBBY VINTON has a busy week. The Blue Velvet guy performs tonight, May 9, at Dakota Magic in Hankinson, ND. On Thursday he's on stage at the Community Arts Center in Williamsport, PA. He opens a two night stand Friday at Turning Stone Casino in Verona, NY.

HUEY LEWIS AND THE NEWS performs Friday at the Mizner Park Amphitheatre in Boca Raton, FL. On Saturday the show is at the Wild Adventure Theme Park in Valdosta, GA and next Sunday they are on stage at the Van Wezel Performing Arts Hall in Sarasota, FL.

JOHN PRINE stars at the Palace Theatre in Cleveland, Ohio on Friday, May 14. On Saturday the performance is at the Paramount Arts Center in Ashland, KY.

PAULA POUNDSTONE opens a three night engagement on Friday at the Comedy Catch in Chattanooga, TN.

STING opens a six night stand on Friday at Royal Albert Hall in London.

NORAH JONES begins the week in Italy with performances Monday at the Fila Forum in Milan. On Tuesday she is at the Paladozza in Bologna. Wednesday finds her on stage at the Auditorium Santa Cecilia in Rome. Then she travels to Austria for a performance Saturday at the Opera House in Salzburg.

DIANA KRALL has two, two-night stands this week. Wednesday begins a two nighter at the Centennial Auditorium in Saskatoon. On Saturday, she starts a two night gig at the Centre of the Arts in Regina, SK.

RAY STEVENS singing funny songs Saturday, May 15, at the Renfro Valley Entertainment Center in Renfro Valley, KY.

JEFF FOXWORTHY explaining the Redneck Point Of View Saturday, May 15, at Grand Casino Coushatta in Kinder, LA.

KD LANG opens a two nighter Tuesday at Meyerhoff Symphony Hall in Baltimore, MD. On Thursday the singer can be enjoyed at the Eastman Theatre in Rochester, NY. On Thursday the show is at the Eastman Theatre in Rochester, NY. and on Friday at Kleinhaus Music Hall in Buffalo, NY.

JARS OF CLAY center stage Saturday, May 15, at Six Flags Amphitheatre in Aurora, Ohio.


FINAL OVATION


CARL ANDERSON MEMORIAL TRIBUTE

Carl Anderson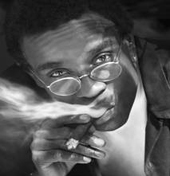 There will be a gathering to celebrate the life of the Broadway, Television, Film and Recording Artist, on Monday, May 10th at the Ford Center in New York City at 7pm.

Family, friends, celebrities and industry professionals will pay tribute to Carl Anderson with musical performances and brief eulogies. Anderson passed away on February 23, after a courageous battle with leukemia. He had been on tour playing the role that he will be eternally synonymous, that of "Judas" in a brand new production of Jesus Christ Superstar. He performed the role on Broadway in Los Angeles and in the film, directed by Norman Jewison. He had been a multiple Golden Globe nominee, received Photoplay Magazine's Gold Medal and the NAACP's Award for Theater. He had performed with Stevie Wonder, Nancy Wilson, Kenny Loggins and produced the mega-hit single, Friends and Lovers with Gloria Loring. Other Broadway credits included Play On and Beggar's Holiday. In 2000 as part of the Vatican's Jubilee Celebration, Carl made his directorial debut and reprised the role of "Judas." The Italian tour garnered an audience with Pope John Paul.

The memorial service will be open to the public, however seating is very limited. Monetary donations will be accepted and proceeds will go to the Carl Anderson Fund.

BETTY MILLER whose Broadway career spanned more than 60 years died Monday, May 3rd in New York City. She was 79.

Her last Broadway appearance was at the 1997 Roundabout Theatre revival of Chekhov's Three Sisters. Her final performance was Off Broadway in July 2002 in Denis Johnson's Shoppers Carried by Escalators Into the Flames.

She is survived by a son, Frank Askin of Manhattan.
















Next Column: May 16, 2004
Copyright: May 9, 2004. All Rights Reserved. Reviews, Interviews, Commentary, Photographs or Graphics from any Broadway To Vegas (TM) columns may not be published, broadcast, rewritten, utilized as leads, or used in any manner without permission, compensation and/or credit.
Link to Main Page
---
Laura Deni


CLICK HERE FOR COMMENT SECTION