! >
Broadway To Vegas
  
 SHOW REVIEWS CELEBRITY INTERVIEWS GOSSIP NEWS

| | |
| --- | --- |
| | |
FRANK SINATRA, JERRY LEWIS AND MOB MONEY - - LEADING MAN WALKS OUT ON BROOKE SHIELDS - - 100 YEARS OF AMERICAN MUSICAL THEATER - - LINDBERGH FLIGHT ANNIVERSARY EVENTS INCLUDE NEW PLAY - - 71ST ANNUAL DRAMA LEAGUE AWARDS - - THE PARIS LETTER - - CLEVELAND PLAYHOUSE BENEFIT STARS CHITA RIVERA - - MAMMA MIA! TO CELEBRATE 1500 PERFORMANCES - - DONATE . . . Scroll Down


Copyright: May 8, 2005
By: Laura Deni

CLICK HERE FOR COMMENT SECTION
FRANK SINATRA, JERRY LEWIS AND MOB MONEY


Do the math.

This past week worldwide headlines erupted about a new book on Frank Sinatra.

In the story first published by The Guardian, Sinatra is hung out to dry as allegations are made that the mercurial Sinatra was not only a trusted friend of mobsters but had volunteered to act as a Mafia courier - and was nearly caught carrying a suitcase stuffed with $3.5m, according to entertainer Jerry Lewis, who lives in Las Vegas.

The Guardian article states:

"In an interview for a new biography of Sinatra, Lewis is quoted as saying of the Rat Pack member: "He volunteered to be a messenger for them. And he almost got caught once ... in New York."

"As he passed through customs, Lewis says, Sinatra was stopped by officials who started to open the suitcase he was carrying. Inside, says Lewis, were notes to the value of "three and a half million in 50s""

"But the customs officers were distracted by the crowds of people trying to catch a glimpse of the singer and aborted their search.

Had they not, claims Lewis, "we would never have heard of him again".

The anecdote is one of several accounts linking the legendary singer to organized crime in the biography Sinatra: The Life, by Anthony Summers and Robbyn Swan.

Somebody may have done interviews, but apparently nobody did the math.

One bill of U.S. currency weighs one (1) gram. 454 bills equal one (1) pound. It takes 70,000 (seventy thousand) fifty (50) dollar bills to equal $3.5 million. 70,000 bills, without rubber bands or paper wraps to secure them in piles, weights 154.18 pounds.

154.18 pounds of currency will not fit into one suitcase. It would take approximately 8 1/2 average size suitcases to hold $3.5 million in $50s.



Frank Sinatra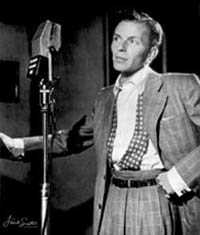 Sinatra who was, at that time, so skinny it was joked he could hide behind a microphone stand, is being accused of carrying more than his weight in a suitcase so large it would be bigger than two steamer trunks.

We're not talking moving a handful of unmounted diamonds. We're talking a tree.

People tend to believe what they see in the movies. A grade B mystery movie where some guy, who talks out of the side of his mouth, dramatically says he got a million dollars and, as the camera heads for a tight shot, opens up a briefcase to display a bunch of bills.

People also love to treat urban myths as facts.

While Sinatra has been called many things - mean drunk and womanizer to name two - nobody ever called Sinatra stupid.

We don't know if Jerry Lewis was misquoted or if his quotes were taken out of context. We don't know whether the entertainer - who is noted for his scientific invention skills that revolutionized the film industry - was in the throws of the excruciating pain which has dominated his adult life and overly medicated when interviewed for the book. We've never been aware that Lewis could be easily duped or deficient in any math skills.

Do the math.


NEW PLAY FLIGHT COINCIDES WITH LINDBERGH ANNIVERSARY


Flight, a new play by Garth Wingfield, follows famed American aviator Charles Lindbergh during fourteen critical years in his life: from his historic flight to Paris, to the kidnapping of his son, to his obsession with science, to his sudden decision to move to Europe and the anti-Semitic remarks he made at the outbreak of World War II. The play is a deconstruction of an American icon and an exploration of the effects the media and fame have on our celebrities.

Nick Corley directs the cast which includes; Kerry O'Malley, Gregg Edelman, Brian D'Arcy James, Adam Heller, Rex Young and Victoria Mack. Edelman will play aviator Charles Lindbergh and O'Malley his writer wife Anne Morrow Lindbergh.

Sets by Michael Deegan & Sarah Conly. Lighting by Jeff Croiter. Costumes by Daryl Stone. Sound by Randy Hansen. Music by Lance Horne.

Performances at the 299 seat Lucille Lortel Theatre May 8-June 19.

Charles Lindbergh was the century's first hero and unwittingly pioneered the age of media celebrity. He first experienced mass attention when on May 21-22, 1927 he became the first person to fly a solo nonstop flight from New York to Paris. The 25-year-old Charles Augustus Lindbergh departed from Roosevelt Field, Long Island, New York in an highly modified version of a Ryan M-2 strut-braced monoplane, Spirit of St. Louis, and landed 33 1/2 hours later at Le Bourget Field, near Paris.



Charles Lindbergh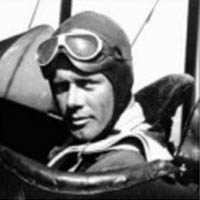 Celebrity turned an ugly corner when Lindberg and his wife Anne once again became the center of the world's attention when in 1932 their baby was kidnapped from their New Jersey home and later found dead. The ensuing trial is now regarding by many as the first media circus of the modern era. More than 70 years later the Lindbergh kidnapping is still a hot topic. Conspiracy theories continue to receive attention around the "crime of the century".

Public opinion of Lindbergh turned nasty during the late '30s when he visited Nazi Germany and made approving remarks about Adolph Hitler. After the war, he withdrew from the spotlight. Lindbergh died in 1974. Anne lived until 2001.

In addition to this play, events commemorating the historical flight taking place include;

On Friday, May 20, the Legends of the Sky hangar party will be held at the Golden Wings Museum on the grounds of the Anoka County Airport in Blaine, Minnesota. This event will feature Burt Rutan, who recently won the $10 million X Prize competition with his aircraft SpaceShipOne.

On Saturday evening, May 21, the Lindbergh Foundation is holding their 28th annual Lindbergh Award event honoring Dr. Bertrand Piccard, the first person to circumnavigate the Earth in a hot-air balloon and developer of the exciting project entitled Solar Impulse; and Yolanda Kakabadse, executive president of the Foundation for the Future of Latin American and past president of the International Union for the Conservation of Nature.

Erik Lindbergh will serve as the Master of Ceremonies at this event being held at the Minnesota History Center in St. Paul.

The evening's highlights include a reception and dinner in the Great Hall, presentations by Yolanda Kakabadse and Bertrand Piccard, who will each receive the honorary Lindbergh Award presented by Kristina Lindbergh, and recognition of 2005 Lindbergh Grant Recipients.


LEADING MAN WALKS OUT ON BROOKE SHIELDS
Brooke Shields in the Broadway production of Cabaret. Photo by Joan Marcus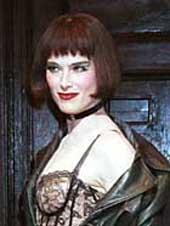 Usually men are lined up three deep to get close to Brooke Shields.

There is always an exception.

Shields, making her West End debut, joined the cast of Chicago on April 26. Hours before the curtain was to go up leading lady Brooke was stood up by her leading man, Michael French who played Billy Flynn.

"Exploitation, adultery, treachery - all those things we hold near and dear to our hearts." So begins the musical Chicago. What was happening backstage was just as interesting.

Reports of a personality clash spread faster than a bad review. Neither side was forthcoming with much of an explanation. Shields smiled while French's representatives indicated he had been in the show for awhile and it was time to move on.

Shields joined the cast at London's Adelphi Theatre for a limited nine week engagement. She had only nine days to learn the part and recently admitted she had never seen the Broadway production of Chicago or the Academy Award winning Hollywood film version.

It's not the first time Shields has slingshot into a part. She had just two weeks to prepare for her role as Ruth Sherwood, a tough-talking journalist from Ohio in the Leonard Bernstein, Betty Comden and Adolph Green musical Wonderful Town. She took over the role from Donna Murphy, who earned a Tony nomination for the part. That was her third time on Broadway - each time being rushed midrun into a musical. She replaced other actresses in both Grease and Cabaret. In all three stints she won rave reviews.

As for her part in Chicago, Shields was never scheduled to perform from May 3-13 since she had previously scheduled promotional engagements in America. She will then return to the part which concludes on June 25.

Understudy Simon Breen assumed the role of Flynn.

French gained fame and a large followed as heart-throb David Wicks on EastEnders.. He joined the Chicago production last December and did not have a long term performance commitment. In fact, last February potential French replacements knew if they would be sent a script. ( See Broadway To Vegas column of February 27, 2005 ) Billy Flynn prospects received the script the first of April - including New Jersey born and bred singer Joe Francis.

Created by John Kander, Fred Ebb and Bob Fosse Chicago is a kiss-and-tell tale of Roxie Hart, a nightclub singer who kills her lover; Velma Kelly the glamorous double-murderess vying to keep her press supremacy; and Billy Flynn, the slick lawyer who has the power to keep them from death row and make them in to stars. The musical, which won the 1998 Olivier Award for Outstanding Musical Production, includes the songs All That Jazz, Razzle-Dazzle, Class and All I Care About.



Broadway To Vegas is supported through advertising and donations. Priority consideration is given to interview suggestions, news, press releases, etc from paid supporters. However, no paid supporters control, alter, edit, or in any way manipulate the content of this site. Your donation is appreciated. We accept PAYPAL. Thank you for your interest.


SWEET CHARITY


CLEVELAND PLAY HOUSE BENEFIT will star Chita Rivera.

While a family emergency led Sandy Duncan to cancel her appearance at this year's annual Cleveland Play House benefit, two time Tony award winner Chita Rivera graciously agreed to step in and perform her cabaret show, And Now I Sing, in the Bolton Theatre at The Play House on Saturday, May 14.

This year's benefit, with the theme Great Dates, honors Marilyn Brentlinger. Event chair: Mebby Brown. Auction chairs: Jane Price and Eileen Driggs.

Suggested attire: Black tie or come as your Great Date - Romeo and Juliet, The Day the Browns win the Superbowl, etc.

Proceeds from the event benefit The Cleveland Play House Annual Fund.


SPREADING THE WORD


AMERICAN THEATRE WING Working In The Theatre Seminar continues with a star-studded Performance seminar on Thursday, May 12.

LINDA ELLERBEE AND MARIA SHRIVER in conversation Tuesday, May 10, at the Skirball Center in Los Angeles.

Writers Bloc and the Skirball present best-selling author and celebrated broadcast journalist Linda Ellerbee, in conversation with guest interviewer Maria Shriver. Ellerbee's new book, Take Big Bites is a memoir of travel, food, and adventure told with terrific humor, observation, and appetite.

Participants includes; Billy Crudup, The Pillowman; Raúl Esparza, Chitty Chitty Bang Bang; Cherry Jones, Doubt; LaChanze, Dessa Rose; Marsha Mason, Steel Magnolias; David Hyde Pierce, Monty Python's Spamalot; and Howard Sherman, Executive Director of The American Theatre Wing will moderate the panel. Elebash Recital Hall, Graduate Center of the City University of New York, NYC.

GOLDIE HAWN discusses her new memoir, A Lotus Grows in the Mud, in which she talks about her life, including her more than 35 years in the entertainment industry. Monday May 9 at Olsson's Books and Records in Washington, D.C.

LIZ SMITH chats about her new book Dishing giving accounts of dining with stars, celebrity news and her favorite recipes. Wednesday at the Corcoran Gallery of Art in Washington, D.C.

ASPHALT JUNGLE:ELLINGTON'S NEW YORK From the Cotton Club to Carnegie Hall, uptown and down, Duke Ellington left his mark on New York City. Part of the Lincoln Center Ellington Festival, this discussion on Ellington's historic New York moments is led by literary scholar and Rutgers professor Brent Edwards with JALC Curator Phil Schaap and other special guests Monday, May 9..



LUCILLE LORTEL AWARDS The League of Off-Broadway Theatres and Producers announced the winners of the 20th Annual Lucille Lortel Awards on May 2 at Dodger Stages.

The League of Off-Broadway Theatres & Producers, Inc. was founded in 1959 for the purpose of promoting and fostering theatre produced Off-Broadway, to assist in the voluntary exchange of information amongst its members, and to serve as the collective voice of its membership in pursuit of these purposes. The League provides service to its members in the field of labor relations and in the management of industry pension and welfare funds.

The Lucille Lortel Awards for Outstanding Achievement Off-Broadway were created in 1985.

CLICK FOR THE LIST OF WINNERS

THE 71st ANNUAL DRAMA LEAGUE AWARDS LUNCHEON hosted by Tony Winner Cherry Jones (Doubt) and will feature over 50 stars from this season's productions. The afternoon includes an exclusive pre-awards cocktail party hosted by John Lithgow (Dirty Rotten Scoundrels), Leslie Uggams (On Golden Pond), Jesse Tyler Ferguson (Spelling Bee), Lea DeLaria (Happy Days), Francis Sternhagen (Steel Magnolias) and Sutton Foster (Little Women) and the exciting luncheon ceremony held May 13 in the Broadway Ballroom of the Marriott Marquis Hotel, NYC.

The Drama League Awards are the oldest theatrical honors in America, beginning in 1935 and predating the Tony Awards by twelve years. These highly-prized awards are also the only major awards given by theatregoers themselves -- they are chosen each year by the thousands of Drama League members nationwide. The Drama League Awards honor distinguished productions and performances on Broadway and Off-Broadway, as well as exemplary career achievements in theatre, musical theatre, and directing.

MAMA MIA! plays its 1,500th performance on Sunday May 15. It will then surpass the original Broadway runs of The Sound of Music, The King and I and Guys and Dolls.


100 YEARS OF AMERICAN MUSICAL THEATER


The Kennedy Center kicks off a three-part lecture-demonstration series on the history of American musicals. Explore 100 years of musical theater series featuring special guests. Mondays, May 9, 16, and 23, at the Kennedy Center in Washington, D.C.

Part 1: The Roots of the American Musical (1905 thru 1943)

Learn about the transition from operetta to the new American art form of the musical, with particular focus on Jerome Kern and Oscar Hammerstein's Showboat.

Part 2: The Golden Age (1943 thru 1969)

From Oklahoma! and Kiss Me, Kate to Guys and Dolls and Hello Dolly!, the American musical theater finds its footing. Featuring Jerry Herman.

Part 3: The Contemporaries (1970 to the present)

Considered the first "new" musical of our modern era, we'll look at Sondheim's Company and many new contemporary works, including Cats and Thoroughly Modern Millie. Featuring Stephen Schwartz.

Part of the Kennedy Center Performance Plus Events Series Co-sponsored by ASCAP.



ANNA CHRISTIE four-act play by Eugene O'Neill, produced in 1921 and published in 1922, during which year it was also awarded the Pulitzer Prize. An earlier version, produced in 1920, was entitled Chris Christopherson.

The tumultuous sea offers the perfect backdrop for Eugene O'Neill's poignant portrait of a Swedish barge captain's reunion with his estranged daughter. The action begins in a waterfront bar in New York City, where bargemaster Chris Christopherson awaits the arrival of his daughter, Anna, who has spent her girlhood with relatives in Minnesota. Now grown, Anna conveys to all but her sentimental father the hardened image of the prostitute she has become. She recounts the saga of her corruption to Chris's companion, Marthy, a prostitute herself, and then accompanies her father on a coal run.

The sea, which has become Chris's nemesis, exerts a purifying effect on Anna. The barge takes on a crew of shipwrecked seamen, and one of them, the Irish lug Mat Burke, becomes smitten with Anna. Only after Mat and Chris come to blows over her future does Anna reveal her past.

Director Molly Smith directs this American classic.

In previews at Arena Stages in Washington, D.C. The production runs through June 19.

ACIS AND GALATEA by Georg Friedrich Händel.

No other work by George Frideric Handel enjoyed such popularity in its time as the masque Acis and Galatea, dating from 1718, Handel's first music drama in English.

Handel took the famous subject, the love story of the nymph Galatea and the shepherd Acis, from Ovid's Metamorphoses and he already set it to music in 1708 during his years in Italy. Marc Minkowski and his Musiciens du Louvre play the serene bucolic score in the original first version, described by Handel himself as a "Pastoral Entertainment".

The cast includes Galatea performed by Gillian Webster. Acis is Richard Croft. Damon is Bernard Richter. Corydon is Andrew Tortise and Polypheme is Alan Ewing.

Friday, May 13 as part of the Salzbert Festival, Austria.

NEW YORK PHILHARMONIC PRODUCTION OF A SOLDIER'S TALE by Stravinsky. Narrated by F. Murray Abraham. Starring Marian Seldes as the Devil and Tim Blake Nelson as The Soldier.

Tel Aviv born Pinchas Zukerman conducts and plays the violin. Xian Zhang (Stravinsky only), Conductor. Robert Langevin, Flute and Lionel Party perform on Harpsichord. Sold out performances May 12 and 14 in New York City.

DESIGNER GENES

Richmond Shepard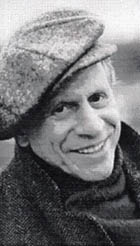 by Richmond Shepard. Directed by Ryan Davis.

A comedy about Art, Creativity and Love. Set in the loft of an old abstract painter who's fame has become a burden and whose time is running out.

The production stars Shepard, Shellee Nichols and Christopher Kromer.

Shepard has an M.A. in Theatre Arts and a Ph.D in Communication, and has taught part time at California State University at Los Angeles and at The University of Southern California. For six years he taught Musical Theatre for The Los Angeles Civic Light Opera. He currently teaches Screenplay Writing at St. John's University.

Acclaimed world-wide as a Mime, Shepard has also played major speaking roles and has been involved with theatre and films for fifty years, as an actor, director, producer, and writer..

He is also the proud father of singer Vonda Shepard.

In New York City at the Pelican Theatre. May 10th through June 5th.

APPLAUSE REPRISE! Broadway's Best closes their 2004-2005 season with Applause, the musical adaptation of the classic movie All About Eve, with music by Charles Strouse, lyrics by Lee Adams and book by Betty Comden and Adolph Green. Applause will feature choreography by Mark Esposito, musical direction by Gerald Sternbach and direction by David Lee.

Sheryl Lee Ralph will star as Margo Channing and Jean Louisa Kelly will star as disingenuous ingénue Eve Harrington. Applause will also star Kevin Earley as Bill Sampson, Kevin Chamberlin as Buzz Richards, Veanne Cox as Karen Richards and John Fleck as Duane Fox

Also featured in the cast are James Avery, Seth Belliston, Kelly Connelly, Brad DeLima, Jeremy Duvall, Nathaniel Flatt, Christa Jackson, Joel Longenecker, Allen Louis, Claci Miller Stefanie Morse, Natalie Nucci, Leslie Odum, Jr., Chris Prinzo, Scarlett, Randy Slovacek, Shaun Thompson and Kristin Beth Williams.

Applause will preview on Tuesday, May 10 and will open on Wednesday, May 11 and continue through Sunday, May 22 at UCLA's Freud Playhouse, Los Angeles.

REPRISE! Broadway's Best, now in its eighth season at UCLA's Freud Playhouse was founded by Producing Artistic Director, Marcia Seligson and has presented twenty-six of America's best and most classic musicals of this century. The late Peter Matz, one of Broadway, television and popular music's most important conductor-arrangers, served as the musical director from the founding of REPRISE! until his death in August, 2002. Gerald Sternbach has succeeded him.

THE PARIS LETTER by Jon Robin Baitz. Directed by Doug Hughes.

Starring three Tony Award winners - John Glover, Michele Pawk and Ron Rifkin. The cast also includes Lee Pace and Daniel Eric Gold.

The Paris Letter is about sex, power and money. Wall Street powerhouse Sandy Sonenberg (Rifkin) finds his personal and professional life threatened by the unraveling secrets of his past. A tragic game of financial and moral betrayal is played out over four decades and between two friends at the cost of family, friendship, love and marriage.

Presented by the Roundabout Theatre Company May 13 - August 7 at the Paula Pels Theatre, NYC.

YOU CAN'T TAKE IT WITH YOU Written by George S. Kaufman and Moss Hart. The play that gave birth to the American funny bone. Moss Hart and George S. Kaufman's Pulitzer Prize winning 1936 play is considered by comedy writers and critics alike to sit at the root of all things funny in American art- stage, film and TV. The TV Sitcom would probably never have been born if it weren't for Kaufman and Hart's first family of zany, hilarious, loveable oddballs. There's rarely been a more joyful celebration of the unconventional than You Can't Take It with You.

Directed by Christopher Hart.

Through May 22 at the Brentwood Theatre of the Geffen Playhouse, Los Angeles, CA.

MAX MAVEN THINKING IN PERSON written and performed by Max Maven - his first full-length show in over fifteen years - directed by Amit Itelman has been extended through Saturday, May 28 at the Steve Allen Theater in Los Angeles.

There will be a special Friday the 13th performance on May 13th. Come dressed head to toe in black and you'll get in for just $13.

SIX OF ONE a new musical will be presented as a fully staged Equity workshop production by CAP 21 on May 16 through May 27 at CAP21's Studio One, in Manhattan.

Directed by Frank Ventura, Six Of One is a contemporary story of longtime friendships tested and transformed by life in NYC. Called A New York Musical Comedy, the musical follows an urban 'family' as they search for love and fulfillment.

The new musical, which was developed in CAP21's Barbara Wolff Monday Night Reading Series, has music by Paul Loesel and book and lyrics by Scott Burkell. They received a Jonathan Larson Performing Arts Foundation Grant for their work on this musical. The cast includes Leslie Becker, Danyelle Bossardet, Scott Burkell, Zac Halley, Guy Lemonnier and Tia Speros under the Musical Direction of Drama Desk Award nominee Lynne Shankel.
The Immigrant (2000), Beach Radio (2002), Killing Louise (2003) and Waiting For My Man (2004).

OH, RATS! the West Coast Premiere of a musical farce based loosely on The Pied Piper of Hamelin.Book and lyrics by LaRue Watts and J. J. Coyle. The music is by Doug Katsaros. Joe Zingo will direct the twenty-nine-member cast with music direction by Jim Roberts. The New York Associate Producer is June Rachelson-Ospa.

Composer Katsaros has been in Eugene for the week prior to the opening which will take place on his birthday, May 7. LaRue Watts and June Rachelson-Ospa also are spending the week in Eugene.

"As part of our New York Connection, we are proud to bring Oh, Rays! to our Eugene audiences," declared director Zingo. " I met Doug Katsaros several years ago and ever since hearing him play the piano and sing all of the parts to this show in his studio in New York, I have wanted to direct this way off-the-wall musical loosely based on the story of the Pied Piper of Hamelin. Loosely based is perhaps an understatement."

"All he wants is to pass through Hamelin to get some water for his bird on his way to see his Swedish sweetie (whose name he has momentarily forgotten). But nooo! That crazy fortune teller insists that he has to overthrow the evil Baron, save the girl (and her virtue) and rid the town of rats before he can continue. Can he do it and still catch the midnight boat to Lapland?"

"The lyrics to the music are very, very funny, with just enough adult innuendo to give new meaning to the words "fractured fairytale." Nothing is what it seems to be in the town of Hamelin. Its people and its Rats all have something in common. They are the zany irreverent, uncontrolled, warped eclectic mixture of characters from the minds of LaRue Watts, J.J. Coyle and Doug Katsaros. Put these three gentlemen in a room and you come up with a fast paced unorthodox musical about love, rats, and marriage? Sit back, have an open mind, and enjoy the fortunes and misfortunes of the People of Hamelin."

Katasaros was the orchestrator for The Rocky Horror Show which recently played on Broadway. He also conducted and arranged Broadway's Footloose for the entire two year run, both in New York and at the Kennedy Center in Washington D.C. He orchestrated Cy Coleman's Welcome to the Club, and did the vocal and dance arrangements for Mr. Coleman's Broadway hit The Life.

Oh, Rats! features; Tyler Holden, Erica Jean, Greg Mathans, Laura Holden, Brian Sutherland, Gaylord Walker, Maida Belove, Rob Olson, Marc Innocenti, Ashley Apelzin, Helene Morse, John Elliott, Eric Martichuski, Colin Gray, Tyler Blaser. The cast also includes; Kathryn Bowman, Donna Courtell, Kella Hanna-Wayne, Nathan Hanson, Camille Johnson, Billy Jones, Tony Joyner, Ben Klute, Wendy Philpott, Sky Sepp-Peterson, Alexandria Shonk, Braden Smith, Mike Stear, Diane Wall.

At Actors Cabaret of Eugene in Eugene, Oregon.


| | | |
| --- | --- | --- |
| | | |
WHO'S WHERE


CHICAGO SYMPHONY ORCHESTRA performs Friday through Sunday at Carnegie Hall in NYC. On Sunday a Pre-concert talk starts at 2 PM in Isaac Stern Auditorium with Ara Guzelimian.

LISA MARIE PRESLEY headlines May 9 at the Birchmere in Alexandria, VA.

GAVIN DeGRAW performs tonight, Sunday, May 8 at Ziggy's in Winston-Salem, N.C. On Saturday he's on stage at the Fox Theatre in Bakersfield, CA.

DARYL HALL AND JOHN OATES perform in the UK this week. On Monday they are on stage at the Carling Apollo in Manchester. Wednesday finds them at the Carling Apollo Hammersmith in London. On Friday the show is at City Hall in Newcastle and on Saturday they can be enjoyed at the Clyde Auditorium in Glasgow.

NEWSBOYS continue their European tour. Wednesday they are on stage at ICF Celebration Hall in Zunich, SWI. Thursday the show is at Cardiff University in Cardiff and on Saturday they are in the spotlight at Alton Towers in Stoke, UK.

BRUCE SPRINGSTEEN on stage at the Xcel Energy Center in Saint Paul, MN on Tuesday. On Wednesday he'll be playing his hits at the Rosemont Theatre in Rosemont, IL and on Saturday he'll have the crowds cheering at the Patriot Center in Fairfax, VA.

U2 has a three night engagement Monday, Tuesday and Thursday at the United Center in Chicago. On Saturday the guys are at the Wachovia Center in Philadelphia. PA.

MICHAEL BUBLE performs Tuesday, May 10 at the Paramount Theatre in Denver. On Thursday he is on stage at the Savvis Center in Saint Louis, Mo. Friday finds him in Chicago at the Cadillac Palace Theatre.

LILY TOMLIN telling funny stories Saturday, May 14, at the O'Donnell Golf Club in Palm Springs, CA.

LOU CHRISTIE performing his hits Saturday, May 14, at the North Fork Theatre at Westbury at Westbury, NY.
















Next Column: May 15, 2005
Copyright: May 8, 2005. All Rights Reserved. Reviews, Interviews, Commentary, Photographs or Graphics from any Broadway To Vegas (TM) columns may not be published, broadcast, rewritten, utilized as leads, or used in any manner without permission, compensation/credit.
Link to Main Page
---
Laura Deni


CLICK HERE FOR COMMENT SECTION