! >
Broadway To Vegas
  
  REVIEWS INTERVIEWS COMMENTARY NEWS

| | |
| --- | --- |
| | |
BROADWAY THIS SEASON OFFERS VARIETY - - BELOVED BABAR THE ELEPHANT - - BETTY WHITE GETS ROASTED - - THE NALEDI THEATRE AWARDS - - TONY AWARD WINNING PRODUCER CALLS IT QUITS - - TONY AWARDS CONTESTS AND SING-ALONGS - - MUSICAL AN OFFICER AND A GENTLEMAN - - A MARVELLOUS YEAR FOR PLUMS - - DONATE . . . Scroll Down


Copyright: May 6, 2012
By: Laura Deni
CLICK HERE FOR COMMENT SECTION

BROADWAY THIS SEASON OFFERS VARIETY


Michael Esper, Dick Latessa, Linda Lavin and Kate Jennings Grant in The Lyons.. Photo by: Carol Rosegg.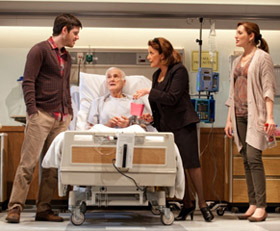 Last season The Book of Mormon converted the masses. Broadway To Vegas has been trolling The Great White Way finding more this season to both worship - and reject. All of the productions reviewed below are, in some category, nominated for at least one theatrical organizational award.

One of the wonderful reasons to come to Broadway is The Lyons by Nicky Silver.

The production at the Cort Theatre stars Tony Award winners Dick Latessa, who appeared in Las Vegas in Hairspray, offering a strong performance as the long suffering Ben Lyons and the brilliant Linda Lavin as his wife Rita, who takes command of the stage and makes the play her own.

As a script, its an insightful blend of bickering charm and gripping edginess - of coping lessons learned with sass and humor.

Brought to life on stage by the perfect pairing of Lanvin and Latessa who breathe memorable life into every nuance of the script, even through he is dying and she can't decide how to redecorate the living room, but did wait until "he was almost dead" to take a younger lover. Along the way are the self-centered children, gay son Curtis, played expertly by Michael Esper, who is in a dubious relationship and a divorced, alcoholic daughter Lisa, played by the talented Kate Jennings Grant, who is struggling to stay sober.

Gregory Wooddell as an actor/real estate agent has a strong scene in Act 2 and Brenda Pressley as the Nurse doesn't over power.

This play is a tragic-comic piece and tart tongue Lavin can chew up the scenery with merely an expression. When one thinks of Lavin, the first image for many who live outside of the tri-state area is that of a pink collar waitress from the 1976-1985 television series Alice.

Because of the size of the screen, film stars become iconic. Because people can watch television in their underwear and the small box stars come into your home, they are treated with more informality and less respect.

Although Lavin was inducted into the American Theatre Hall of Fame for 2010 in January 2011, she doesn't have an image as a great theatrical actress. That's too bad, because she is. She's had five Tony Award nominations and took home the Tony for her 1987 starring role in Broadway Bound.

If you want to see how somebody who really does knows how to act brings her craft to the stage, check out this show.

The family is 100% dysfunction, but the show isn't a downer. The acid tongue Lanvin etches her own brand of humor into a family hiding behind the veils of denial and desperation.

In the best example of chemistry between two stars, Lanvin and Latessa are a joy. It would be wonderful to see them paired in other projects.

Directed by Mark Brokaw; sets by Allen Moyer; costumes by Michael Krass; lighting by David Lander; music and sound by David van Tieghem.



Cristin Milioti and Steve Kazee in Once. Photo by Joan Marcus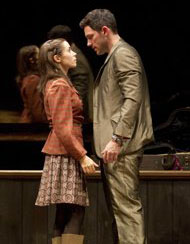 Once is an incredible musical that demonstrates the impact Broadway can wield on important work.

A low budget effort that started off-Broadway with little ballyhoo and has now traveled uptown. Of all the musicals mounted this year, Once is the one that has a long term tour future in a variety of venue sizes. It's not going to need nine 18-wheelers caravanning across the nation.

It's going to be understood and appreciated by a wide audience base.

This is a smart, deep, tender, important musical with a book by the Irish playwright Enda Walsh with a simple, folk-inspired score by Glen Hansard and Marketa Irglova that has been turned into a CD. ( See Broadway To Vegas column of March 18, 2012 )

Starring Steve Kazee and Cristin Milioti, it's love in its many stages, even though it's centerpiece is one week with one couple who meet on the streets of Dublin. Performed by 14 actor-musicians, set in the middle of an onstage Dublin bar that serves pre-show drinks.

A Broadway transfer that did everything perfect, charming both the critics and the public.

Directed by John Tiffany while the movement artist is Steven Hoggett.

Like a sommelier sampling a rare wine, those aspiring to become script writers will study this play and those who wish to act can learn that many times - less is more. It's intimate, yet deep. Funny, though distressed emotions are not only evident but potent. The senses reach and touch then hold the audience. Once is at the Bernard B. Jacobs Theatre. With any luck at all it will be coming to a stage near you. Don't miss it.



Matthew Broderick in Nice Work. Photo by Joan Marcus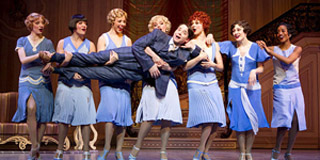 A musical leaving the audience wanting more is Nice Work If You Can Get It, at the Imperial Theater, starring Tony winner Matthew Broderick and Tony nominee Kelly O'Hara.

This isn't Shakespeare and it isn't a dark drama with music. Those who loved My One and Only and Crazy for You will want to see this musical more than once. Those who don't like frothy, silly musicals should go suck on sour candy.

This is a delightfully convoluted showcase for George and Ira Gershwin songs. The show's story was inspired by the Gershwins' tuneful 1926 musical Oh, Kay!, the revival of which Broadway To Vegas saw in 1990. The new plot was created and is directed by Tony Award winner Joe DiPietro, who demonstrates that he could have written for the Marx Brothers. Choreographed by three-time Tony winner Kathleen Marshall.

Take Mom to this one for a special Mother's Day treat.

Likeable two-time Tony winner Matthew Broderick hasn't fit into a Broadway part this well since The Producers and How to Succeed In Business. Kelly O'Hara is the - you can bank on her performer. Tony Award nominee Michael McGrath is a standout as bootlegger Cookie McGee as is the Tony Award winner, chandelier swinging Judy Kaye who portrays prohibitionist Estonia Dulworth.

Tony Award nominee Jennifer Laura Thompson as heiress Eileen Evergreen; Chris Sullivan as rumrunner Duke Mahoney; Robyn Hurder as vamp Jeannie Muldoon; Stanley Wayne Mathis as Police Chief Berry and Terry Beaver as Senator Max Evergreen are outstanding.

Oh, lets don't forget Estelle Parsons as Millicent Winter, the rich, business-owner mother of Jimmy, whose cameo appearances garner screams from the audience.

This is a prohibition-era tune filled farce. On the weekend of his third marriage, a Jazz Age but geeky playboy Jimmy Winter (Broderick) gets involved with bootleggers, rumrunners and gold diggers, He falls in love with a street-smart young gal Billie Bendix (O'Hara), who first sets out to rob him only to fall for his upscale charms.

Getting it mounted at the Imperial Theatre are scenic design by Derek McLane, costume design by Martin Pakledinaz, lighting design by Peter Kaczorowski and sound design by Brian Ronan. David Chase serves as music supervisor and the music director is Tom Murray.

The cast also includes Cameron Adams, Clyde Alves, Kaityn Davidson, Jason DePinto, Kimberly Faure, Robert Hartwell, Stephanie Martignetti, Barrett Martin, Michael X. Martin, Adam Perry, Jeffrey Schecter, Jennifer Smith, Joey Sorge, Samantha Sturm, Kristen Beth Williams and Candice Marie Woods.



Raul Esparza leads his followers in a hallelujah chorus in Leap of Faith. Photo by Joan Marcus.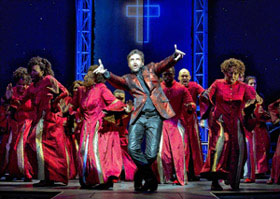 The reason to see Leap of Faith is to enjoy the music and appreciate Raúl Esparza as the Rev. Jonas Nightingale and the rest of the over-the-top singing talent in this new musical.

Four-time Tony Award nominee Esparza is an original member of the Leap of Faith congregation, which has been trying to spread its message since 2007. Esparza survived cast changes, re-writes and three directors, although this show will need a miracle to last much longer.

As a first generation Cuban-American, when Esparza toured in Evita the role of Che was a natural fit. Turning Esparza into a religious con man who promises to cure whatever ails the town folk, initially seemed like a stretch. However, Esparza brings imagination and inventiveness to the part.

Book by Janus Cercone and Warren Leight, based on the motion picture, of the same name.

Some have compared the cast of characters and plot line of Leap of Faith to The Music Man in which there is a con man with the major plot of duping the town and a secondary plot line of falling in love with a woman who is related to a child. Both The Music Man and Leap of Faith are the same length and both have been movies and stage productions. The difference in the hit The Music Man and the failure Leap of Faith is the plot and character development.

If you tried to update The Music Man to 2012 it would lose its charm.

Major problems with Leap of Faith may have been switching the importance of the plotlines and updating the time to the present, including the posting of current gasoline prices. You can't have a selective update. You can't 2012 the fuel but leave the residents in the naivete of previous decades, and then jerk back to the present and back again. I.E. - it is explained that Sheriff Mom has done everything to help her crippled - whoops it is pointed out in a time wasting political correctness speech - that the wheelchair trapped boy is not crippled. And, medical care for that kid in 2012 has amounted to taking him a chiropractor and the local town doc - and she may have done a Google search. You're kidding.

In an unusual effort to either get the audience involved - or film a commercial - a cameraman comes on stage before show time to film the audience while another person coaches the showgoers to yell 'hallelujah', and raise arms up in a glory on high gesture.

The first couple of rows are filled with actors who have fake money which they place in the collection baskets when the money grabbing preacher gets the crowd into a frenzy.

Unfortunately the frenzy is never believable - and neither is the plotline. The music is great. There is an enormous amount of talent on stage. It's the book that belongs to the devil. It's too frayed and convoluted. Even a farce begins with a well grounded idea.

For a revival meeting preacher to get rich, he needs to pray on and with those who are desperate and depressed.

Then a revivalist can feed their need and his own.

A carefully created frenzy which manipulates the suckers who follow the fold.

It isn't so much that the musical needs work. It's more like it's been constructed by a committee which tried too hard.

In this jerky mess one of the most conservative states in the nation - Kansas - is picked as the location where a female sheriff with a boy in a wheelchair does within - apparently the first hours of meeting the preacher man - threaten him with a cease-and-desist order which the Rev. Jonas refers to as her idea of foreplay. Guess he was right, because she gets in bed with him at the 6 Motel faster than anybody has ever been bedded and then she arrests him.

In previous decades Kansas was a hot bed for tent revivals. But to draw the crowd and get their money you needed a major situation - the best being a serious drought. In farmland Kansas the loss of a crop affected every citizen of that state. Any promise of bringing rain - real or fake - received support. Tent revivalists could bank on it. Local government agencies called on local Indian tribes to stage rain ceremonies. Times of fly overs for cloud seedings were announced with citizens asked to pray during the seeding attempts. A Kansas drought is about as bad as it gets in The Sunflower State.

Having actually stuck with the rain issue would have made a more believable plot line for a con - even in 2012. Switching the major storyline to a never-would-have happened instant pants down between a con man and a 2012 female sheriff is ludicrous.

FYI - Mabel Chase of Kansas was the first elected female sheriff in the nation. Two other women around the same time inherited their positions after their sheriff husbands died. Chase served one term from 1926-28 in Kiowa County, Kansas. During her first year in office, she headed a raiding party on bootleggers, confiscating a still and 52 gallons of mash. She had a husband named Frank. By 2000 Kansas had three female sheriffs tying Virginia and West Virginia – none of whom ever slept with a criminal they were pursuing.

Jessica Phillips as Sheriff Marla McGowan is a talented performer and it will be enjoyable to see her in other shows.

There are also too many attempts to bring the audience into the show - but not in an evangelistic, whoop it up type of usage, which might have worked. Rather, the fourth wall is repeatedly broken - "Hello, New York!" And, then there is more talking directly to the audience - more "Hello, New York" - plus a magic section by the adorable Talon Ackerman (Jake McGowan) which almost serves as a specialty act.

Kecia Lewis-Evans as choir boss Ida Mae Sturdevant is a big voice, big mamma delight. Leslie Odom Jr who plays her moral, Bible student son Isaiah Sturdevant and Krystal Joy Brown who appears as her sexy party girl daughter, Ornella Sturdevant, have a long future in the theater.

Talon Ackerman (Jake McGowan) is charming and Kendra Kassebaum (Sam Nightingale) delivers a strong performance.

Usually traveling evangelists wrap themselves in hues of white and gold to send a message that they have the road map to Heaven.

William Ivy Long has a long, respected career as a costume designer. Throwing a 2012 country folk based musical puts him into a design corner. He does display a creative voice in selecting vibrant choir robes, which may speak to the Satan inside the con artists.

Excellent toe-taping songs by Alan Menken and Glenn Slater.

Directed by Christopher Ashley; choreography by Sergio Trujillo; music supervision by Michael Kosarin; interesting sets by Robin Wagner; lighting by Don Holder; well balanced sound by John Shivers; video by Shawn Sagady; hair and wig design by Paul Huntley; makeup by Angelina Avallone; orchestrations by Michael Starobin and Joseph Joubert; vocal and incidental music arrangements by Kosarin; dance music arrangements by Zane Mark; music direction by Brent-Alan Huffman; music coordinator, John Miller; associate director, Beatrice Terry; associate choreographer, Edgar Godineaux.

As a general rule it's easier to adapt a Broadway play for the big screen. Turning a movie classic such as Ghost into a Broadway musical is trickier. When that project came to The Great White Way via the West End hopes were high, because the British started calling Broadway London's East End years ago.



Caissie Levy and Richard Fleeshman in that famous Ghost pottery scene.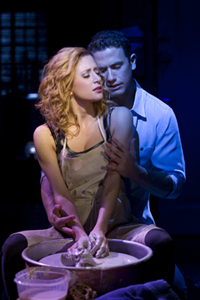 So, it's scary that Ghost: The Musical at the Lunt-Fontanne is being pummeled as not having a ghost of a chance.

Broadway To Vegas begs to differ.

This is the most misunderstood musical on Broadway. It's a major theatrical production mounted on a Broadway stage. If you're of the MTV era, enjoy concert stage productions, or Las Vegas spectaculars, you'll appreciate this imaginative production which is directed by Matthew Warchus.

If you have a vision, psychological or neurological problem affected by certain kinds of movement or light and those conditions tend to increase with age; Or, if you're old school, hard line Broadway who feels the only kind of a set is one where a hammer has banged nails into plywood - then chances are all the creative high-tech boards won't be you're trip of choice into the afterlife.

This show should have been promoted as a high tech wonder, rather than catching an audience off guard. That's what makes the musical misunderstood. Also, market to the younger generation that grew up on video.

This is a mechanically complicated show with astounding lighting by Hugh Vanstone, clever special effects by Paul Kieve and projections and video which deserve star billing by Jon Driscoll.

The talented Caissie Levy and Richard Fleeshman recreate the roles they originated in the London production - the couple portrayed by Patrick Swayze and Demi Moore in the 1990 movie.

Set in modern day New York City, Molly is a sculptor who wants banker husband Sam to be more vocally expressive to her about his love for her. Sam is willing to try but then along comes a brutal twist of fate. Walking back to their apartment one night, Sam and Molly are mugged, leaving Sam murdered on a dark street. Sam is trapped as a ghost between this world and the next and unable to leave Molly, who he learns is in grave danger. With the help of a phony storefront psychic, Oda Mae Brown, Sam tries to communicate with Molly in the hope of saving and protecting her.

Da'Vine Joy Randolph who is making her Broadway debut plays tart-tongued Oda Mae Brown, a phony psychic who discovers a talent for ectoplasmic communication. It's the part that conjured up an Oscar for Whoopi Goldberg. Randolph is an enormous talented delight who knows how to punctuate a song as well as act a part. She has two stand out numbers by David Stewart, Glen Ballard and Bruce Joel Rubin.

With the exception of Randolph, who owns the stage during her segments, this musical is an ensemble piece which must include the special effects, lighting and video. What makes this show worth seeing are the lighting, video, special effects, staging which includes choreography that is spot-on New York as are the costumes. That isn't bad. In fact, it's a smooth blend.

This new musical loses none of the tender sweetness of the movie. Nor is it a requirement to have seen the movie to appreciate the stage musical - which deserves a chance.

The production features 'Bryce Pinkham (Carl Bruner), Michael Balderrama (Willie Lopez) and Lance Roberts (Hospital Ghost).

The unique and interesting choreography is by Ashley Wallen. Excellent balanced sound by Bobby Aitken and costumes which add artistic dimension to the video scenes by Rob Howell.



Gabriel Ebert & Mary Louise Wilson in 4000 Miles (at The Duke). Photographed by Erin Baiano at The Duke on 42nd Street for Lincoln Center.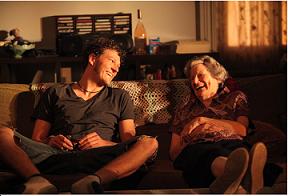 4000 Miles, an awesome new play by Amy Herzog, effectively directed by Daniel Aukin at the Mitzi E. Newhouse Theater, is worth the trip. The brilliant production has been extended through June 17, 2012.

4000 Miles premiered last summer as a production of LCT3, Lincoln Center Theater's programming initiative devoted to producing the work of new artists and developing new audiences. 4000 Miles features its original - perfect - LCT3 cast; Gabriel Ebert, Greta Lee, Mary Louise Wilson and Zoë Winters.

After losing his best friend while they were on a cross-country bike trip, 21 year-old Leo (Ebert) seeks solace with his feisty 91 year-old grandmother (Wilson) in her West Village apartment.

This isn't your typical two different generations find they have a lot in common scenario.

A doorbell with the sound of a siren indicates that a catastrophe has happened. Suddenly a strange figure with a bicycle is in the doorway. So begins 4000 Miles. His Grandmother informs him that he smells terrible and suspects he has lice.

With a crisp set design by Lauren Helpern, the neat apartment has file cabinets used as end tables – with the intent of keeping life in order. Only life has a way of needing defragmentation.

Effectively directed by Daniel Aukin, this is a play with enormous humor and intellect. It's an amazing script in which phrases such as patiently false and completely irrelevant - passive/aggressive - psychological and neurological barriers in a culture - are bandied about in everyday conversation.

It's also a play where Grandma and Grandson share a joint and discuss their sex lives. There are also other disclosures such as the one about a party where Leo celebrated with a joint then kissed his adopted Chinese sister, an event which put her into therapy.

4000 Miles shouldn't be explained. The marvelous creation should be seen and savored.

Herzog has the smart college student down pat - their appearance, the way they speak and the words they use. Their attitudes about the world, society and life.

The plot had to have a center. Herzog selecting a college student on a cross country bike trip with his chums who watches as a terrible accident kills his best friend is as good as any. There is one scene where the boy recounts the accident horror. But, basically this play is about so much more. It's also a play that will stay with you long after you leave the Mitzi E. Newhouse theater.

4000 MILES costumes by Kaye Voyce, lighting by Japhy Weideman and sound by Ryan Rumery.



Nicole Ari Parker makes her Broadway debut as Blanche and Blair Underwood as Stanley in A Streetcar Named Desire. Photo by Ken Howard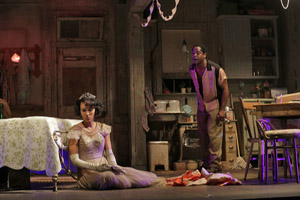 A Streetcar Named Desire began as a 1947 play by Tennessee Williams, adapted into a 1951 film and revived several times on Broadway. It's difficult to plant your own take on a part when there are so many other stars whose footsteps you follow.

The current production stars Blair Underwood as the braggadocio Stanley, Nicole Ari Parker, best known for her roles in Boogie Nights and the Showtime series Soul Food making a stunning Broadway debut as fragile Blanche who is gingerly treading on emotional brokenness, seasoned pro Daphne Rubin-Vegas as her resigned-to her-life sister Stella and Wood Harris as Mitch, a decent sort who is looking for a woman to replace his mother.

Fortunately, they are up to the challenge forming an excellent ensemble cast which brings their own stamp of inner understandings to this iconic play.

The multiracial casting raised some eyebrows in the Broadway community. The play was written 65-years ago. This is the first time that it's been done with a multiracial cast on Broadway, with African Americans in the lead roles. It's been done before off Broadway, but never before on Broadway and thus this production is making history.

Another significant difference is the way Emily Mann has chosen to ably direct her interpretation of Williams' powerful words.

It's not what the actors say, it's the way they say the lines. Just as love and hate are a two edged sword, so are despair and humor.

This mounting at the Broadhurst Theatre is filled with laughs, which only makes the audience more deeply appreciate how life can slap people around.

There are a few tweaks to accommodate a black cast. The last name of Kowalski has been dropped and it's just 'Stanley'. The location has been moved from New York City to New Orleans and the name of the bar was changed, because the bar in Williams' book was segregated.

The dilapidated sets by Mark Burnett reflect the ragged life of the inhabitants - a cupboard with a missing door, a shade with a hole, wood distressed from neglect, shutters whose slats are at odds with each other, as are the residents.

Not getting his name above the title, although he should, is five-time Grammy Award winner Terence Blanchard. Noted for his unique, unmistakable compositional African-fusion style, his original music, used to cover set changes, defines overlapping emotions and cradles Williams' powerful, poetic words.

The under appreciated Blair Underwood can convey more meaning in the way he eats food, kicks a chair, throws a look or stands when eves dropping on a conversation about him, then many actors could delivering an entire soliloguy.

There are several scenes where two sets of actions are taking place simultaneously - in two different rooms. A conversational scene in the bedroom is balanced with men playing cards in the living room. A remarkably believable bit of acting as all participants eat, play cards, "talk" and never make a sound. Mann uses this two scene approach several times and it's very effective.

Daphne Rubin Vega is convincing as the downtrodden wife who loves her husband, but doesn't know how to be anything except a doormat and is too scared to try.

The night I saw the show they got a standing ovation - which they deserved.

More shows garnering theatrical award nominations in next week's column.





Broadway To Vegas is supported through advertising and donations. Priority consideration is given to interview suggestions, news, press releases, etc from paid supporters. However, no paid supporters control, alter, edit, or in any way manipulate the content of this site. Your donation is appreciated. We accept PAYPAL. Thank you for your interest.



ART AND ABOUT


BELOVED BABAR THE ELEPHANT

Cover of the first Babar story, Histoire de Babar (Story of Babar), published 1931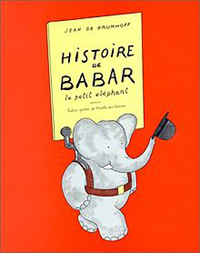 80 years ago a little elephant named Babar was 'born'.

Eight decades later, the iconic children's character remains one of the top icons of the children's literary market. Marking this very special birthday, the toy museum of the Musée des Arts in Paris offers an exhibition which retraces the adventures of the world's most celebrated elephant. The show runs through September 2, 2012.

Get in touch with the big kid in you or bring the kids out to celebrate the 80th year anniversary by taking a behind the scene look at sketches and the process of the creation of the stories.

To create this massive exhibition, many items were borrowed from prestigious museums around France and the world as well as submissions from private collections of toys, figurines and board games.

Babar was born from a tale told by Cecile de Brunhoff - invented for their two children.

The little elephant Babar lives in a jungle but escapes to the city to hunt down the person who killed his mother. He returns to bring the benefits of civilization to his fellow elephants. After the death of his father, he becomes king of the elephant kingdom. He then has children and teaches them valuable lessons.

This story would have gone unnoticed; however, the children repeated it to their father, Jean de Brunhoff, a painter. Seduced by this tale, he created a watercolor album, entitled The Story of Babar, The Little Elephant.

Lucien Vogel, an editor, convinced Jean to publish his album, and thus, in 1931, De Brunhoff's book was published by Editions du Jardin des Modes. It was an instant success, selling a million copies between 1931 and 1939. Jean created six more albums, later published by Hachette.

Upon Jean de Brunhoff's death in 1937, his brother asked Jean's son Laurent, then aged 12 years, to finish painting the two remaining unpublished albums of his father. After WWII, Laurent, then 20-year-old, took the characters created by Jean (Babar, his wife Celeste, his cousin Arthur, an old woman, a monkey called Zephir, the matriarch elephant Cornelius and his three children Pom, Flore and Alexander), then incorporated new characters he created: Professor Grifaton, Wouli Wouli, Baron Bardula.

In 1985, Laurent immigrated to the United States, taking Babar with him. To date he has created 40 albums. A taped interview of Laurent de Brunhoff from June 2011 reveals funny antidotes and secrets of the last album released in November, 2011.

Also employed to tell octogenarian's tale are TV film clips including Babar et Les Aventures de Badou, a 3-D film featuring the elephant's 8 year old grandson, Badou as well as toys dating as far back as 1933 and a very chic wardrobe created by France's top designers on loan from the Musée de la Mode et des Textiles.

The Babar series of books are recommended reading on former First Lady Laura Bush's national reading initiative list. All 78 episodes of the TV series are broadcast in 30 languages in over 150 countries, making Babar one of the largest distributed animation shows in history. Babar has been a perennial favorite for years at the White House Easter Egg Roll.

Since 2001 The Babar franchise has been owned by CorusEntertainment's Nelvana in conjunction with the artist, Clifford Ross.

The history of King Babar and his green suit awaits you to September 2, 2012 at the Toy Gallery – Art Decoratif Musuem, Paris.


SWEET CHARITY


2012 STATE THEATRE BENEFIT GALA Michael Feinstein, the multi-platinum-selling entertainer dubbed The Ambassador of the Great American Songbook, performs with his 5-piece band.

Concert at State Theatre in New Brunswick, NJ with the Reception & Dinner/Dancing at The Heldrich.

Benefit Gala 2012 Chairs are Ann H. Asbaty, COO, Cigna National Segment and Efrem B. Dlugacz, Vice President, Global Benefits and Health Resources Johnson & Johnson.
Saturday, May 19, 2012.


TONY AWARDS FILM SERIES INCLUDES CONTESTS AND SING-ALONGS
The Standbys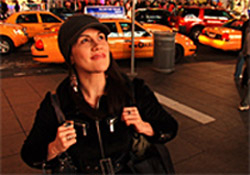 For the second year, the Tony Awards extends an invitation to a special free film series in The Big Apple during the weeks leading up to the June 10 Tony Awards telecast.

If you're in New York City May 12th or May 13th, stop by The Paley Center for Media in midtown Manhattan. You're invited to watch a trio of Broadway-inspired films, plus a panel discussion with past Tony Award-winners, a Carol Channing look-a-like contest, and a sing-a-long with Hugh Jackman performing a classic Rodgers & Hammerstein score.

The Films

Saturday, May 12: The Standbys (world premiere screening) The Standbys screening will be followed by a talk-back panel of Tony Award-winning Broadway stars who got their start as understudies or standbys.

A dramatic, behind-the-scenes look at the lives of performers rarely glimpsed by audiences. These performers, known as "standbys," remain backstage, prepared to go on at a moment's notice. In this evocative behind-the-scenes documentary, the at times heartbreaking and hilarious lives of Broadway's understudies and standbys are finally brought into the spotlight. The Standbys follows three performers for several years through their ups and downs, struggles and triumphs, onstage performances and private lives. When these standbys are finally given the chance of a lifetime, anything can - and does - happen.

The film features never-before-heard stories from industry insiders and celebrities who reveal the unimaginable struggles these under-appreciated performers endure as they wait in the wings for their shot at a dream that may never come true.



Carol Channing: Larger Than Life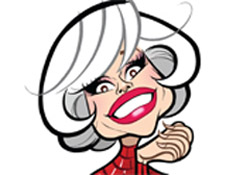 Sunday, May 13: Carol Channing: Larger Than Life and a Carol Channing Look-alike Contest (with prizes)

Come dressed as the Broadway legend Carol Channing!

Carol Channing: Larger Than Life is the story of legendary Tony Award-winning performer Carol Channing, whose life is as colorful as the lipstick on her big, bright smile. Director Dori Berinstein (Show Business, Gotta Dance), with co-writer Adam Zucker, captures the magic and vivacity of this remarkable 90-year-old, both onstage and off…past and present. The film is both an intimate love story and a rarefied journey inside Broadway's most glamorous era. It is, above all, a look at an inspiring, incomparable and always entertaining American legend.

All are "encourage(d) to participate in the Carol Channing Look-A-Like Contest. You might win a prize!"

Sunday, May 13: Oklahoma! starring Hugh Jackman - Sing-Along.

What better way to celebrate Mother's Day than a sing-a-long with Tony Award-winner Hugh Jackman?

Oklahoma!, the classic Broadway musical seen in an Emmy Award-winning film version, features some of Rodgers & Hammerstein's greatest compositions including: Oh What a Beautiful Morning, Surrey With the Fringe on Top, and People Will Say We're in Love.

The film of the London stage revival stars Hugh Jackman, Maureen Lipman, Shuler Hensley in his Olivier-and Tony Award-winning performance, and Josefina Gabrielle.

The Tony Awards Film Series is free to the public, with a suggested donation to The Paley Center for Media. Tickets will be available on a first come, first served basis, with tickets limited to (2) tickets per person.


SPREADING THE WORD


COWARD IN CABARET a 90-minute concert celebrating the cabaret legacy of Sir Noel Coward takes place May 17, 2012 at the New York Public Library for the Performing Arts Bruno Walter Auditorium.

The program is free of charge and open to the general public on a first come, first served basis.

The event is held in conjunction with the Noel Coward Festival New York 2012 events including the Star Quality: The World of Noel Coward exhibition at Lincoln Center's New York Public Library for the Performing Arts through August 18.

THE LEGACY PROJECT: PIONEERING WOMEN PRODUCERS Foremothers of the American Stage. Presented with the League of Professional Theatre Women.

The day after Mother's Day, come to this all-day tribute to the foremothers of the American stage. Consider the legacy of 20th century producers - many also actresses, playwrights and directors - who envisioned and created alternatives to the commercial theatre, laying the foundation for what we know as the Off Broadway, non-profit, and regional theatre.

So where are they in our histories?

Susan Jonas and Ludovica Villar-Hauser of the League of Professional Theatre Women program a day of symposia on titanic figures like Eva Le Gallienne (who called theatre "an instrument for giving, not a machinery for getting!"), Margo Jones, Susan Glaspell, Lucille Lortel, Cheryl Crawford, Margaret Webster, and Hallie Flanagan.

Speakers will include historians Susan Quinn and Wendy Smith, biographers Helen Sheehy and Alexis Greene, and scholars J. Ellen Gainor and Wendy Ann Vierow.

Monday, May 14, 2012 at the at the Martin E. Segal Theatre Center at the Graduate Center, CUNY, New York City.

URBAN STAGES FREE READING OF HONKY by Greg Kalleres takes place Monday, May 14, at Urban Stages in NYC.

When a young African American boy is shot for a pair of basketball shoes, sales triple among white teens.

Meanwhile, a new pill guarantees to cure racism and advertises that if you think you don't need it - you're probably a racist.

Honky follows the lives of five people, white and black as they navigate the murky waters of race and rhetoric. A dark comedy about white guilt, the play takes a satirical look at the relationship between racism and commercialism, while asking the question - is white guilt only for white people?


OTHER PEOPLE'S MONEY


TONY AWARD WINNING CANADIAN PRODUCER AUBREY DAN has cut the purse strings. The Canadian producer announced through an interview in the Toronto Star that he will stop presenting shows after a western Canadian tour of Jersey Boys in the fall.

Dan, 48, said that his company Dancap Productions is "stepping back and re-evaluating our involvement in the theatre business."

In 2007, Dan launched Dancap Productions with an inaugural season that included The Drowsy Chaperone, The 25th Annual Putnam County Spelling Bee, 3 Mo Divas, successful revivals of beloved shows like My Fair Lady as well as summer presentations of Avenue Q and Jersey Boys. After a two year run with Jersey Boys, Dancap Productions returned to presenting a subscriptions series of award-winning Broadway theatre.

Dancap Productions is one of the producers of the troubled Broadway musical Leap of Faith.

A graduate of the University of Western Ontario, Dan is the son of billionaire Leslie Dan, whose fortune came from the generic drug company Novopharm Limited, and the Novopharm subsidiary, Wampole Canada Inc., a herbal supplement and vitamin manufacturer.

The Toronto Star article written by Wendy Gillis quoted Dan Brambilla, CEO of the Sony Centre for the Performing Arts stating "The theatre business is very difficult. And many people trying to enter that have not had prior experience . . . those people eventually realize that it's a very difficult business that requires special skills."

The curtain dropping on Dancap Production means that Mirvish Productions will hold a monopoly over commercial production in Canada.

THE MINT THEATER in New York City received a National Endowment for the Arts (NEA) $30,000 grant to support the first-ever revival of Love Goes To Press by Martha Gellhorn and Virginia Cowles. The Mint production, directed by Jerry Ruiz, will run from May 26 to July 22, 2012.

Love Goes To Press is billed as "a sharp-tongued comedy about women war correspondents that debuted on Broadway in 1947. The play paints a delicious portrait of two smart, funny, brave, ambitious and complex women - working just miles from the front lines (as Cowles and Gellhorn did), surrounded by less competent, less adventurous men."

Martha Gellhorn was a trailblazing journalist, filing dispatches over the course of five decades from some of the most dramatic hot spots across the globe. Her career as a war correspondent began in 1937 when she reported on the Spanish Civil War for Colliers magazine. She was a resident of the famed Hotel Florida in Madrid, along with many other foreign correspondents, including Virginia Cowles - and Ernest Hemingway with whom she was having an affair. They married in 1940-and divorced in 1945. Hemingway's play The Fifth Column, produced at the Mint in 2008, fictionalizes their romance.

Love Goes to Press, is a frothy concoction, a romantic comedy set in a press camp in Italy in 1944. The cast of characters includes a tough American newspaperman, recently divorced from one of the heroines: "You can't tell from the outside that he's got the character of a cobra. From the outside he's a beautiful, funny, fascinating man." The HBO film Hemingway and Gellhorn starring Clive Owen and Nicole Kidman is due to premiere in May 2012.






THE NALEDI THEATRE AWARDS in Johannesburg, South Africa have been in existence for 9 years with a mission to recognize and reward excellence in South African professional Live Theatre and the Performing Arts.

It was all glitz and glamour as the winners were announced recently at the Lyric Theatre at Gold Reef City Casino in Johannesburg.

The rags-to-riches story of up and coming 1960s girl group, Dreamgirls, had garnered 10 nominations. It won three awards, for Best Performance in a Musical (Female) for Lindiwe Bungane, Best Performance by Newcomer / Breakthrough (Bjorn Blignaut), and Best Performance by an Actress in a Supporting Role / Cameo (Candida Mosoma).

There were several productions which notched up three awards each. Mandela Trilogy, which garnered eight nominations, walked off with: Best Production of a Musical, Best Theatre Set Design (Michael Mitchell), and Best Theatre Lighting Design (Faheem Bardien).

The downsized version of Gilbert and Sullivan's comic masterpiece, The Pirates of Penzance, also won three awards, for Best Original Choreography: Play or Musical (Shelley Adriaanzen), Best Ensemble Production / Cutting Edge and Best Comedy Performance: Play or Musical (David Dennis).

Aubrey Sekhabi's uncompromising production of The Rivonia Trial also won three awards: Best Performance by an Actor in a Lead Role (Play) for Sello Maake ka Ncube, Best New South African Script (Musical or Play) and Best Director: Play or Musical for Sekhabi.

Nataniël's Combat: Nataniël bagged two awards, for Best Costume Design (Floris Louw) and Best Performance in a Musical (Male).

Alan Swerdlow's immaculately directed The History Boys won Best Productions of a Play and Best Performance by an Actor in a Supporting Role / Cameo (Clyde Berning).

Robyn Scott walked off for Best Performance by an Actress in a Lead Role (Play) for her acclaimed role as the elderly Jewish grandmother in London Road.

The Executive Directors Award went to Basil Jones and Adrian Kohler of the Handspring Puppet Company for the internationally acclaimed Warhorse.

South African music and theatre legends Judy Page and Thandi Klaasen won lifetime awards. "This year's Naledi Awards was a celebration of South African legends, international groundbreakers and of the remarkable virtuosity and talent of South African artists who continue to push the boundaries of excellence', said Ismail Mahomed, board member of the Naledi Awards and Director of the National Arts Festival.

THE TONY AWARDS announced April 30 that the Isabelle Stevenson Award which recognizes an "individual from the theatre community who has made a substantial contribution of volunteered time and effort on behalf of one or more humanitarian, social service or charitable organizations, regardless of whether such organizations relate to the theatre," will be presented to two-time Tony winner Bernadette Peters.

Special Tony Awards will also be presented to Actors' Equity Association and to Tony winner Hugh Jackman who is bring acknowledged for his "contributions to the Broadway community, both as a performer and humanitarian; his tireless dedication to charitable works of many types; and his personal generosity of spirit."

These awards will be presented during the 66th Annual Tony Awards which will be broadcast in a live three-hour ceremony from the Beacon Theatre on the CBS television network June 10.

BETTY WHITE will be subject of a Friar's Roast on May 16 at the Sheraton Ballroom in NYC.

As good as the jabs get, White has indicated she intends to give it back.

White said: "Those Friars may think I'm an easy mark, but I have 90 years of comebacks waiting for them. This is such an honor to be roasted by the Friars Club. It will be an afternoon filled with dirty words, risque jokes and sex talk."



AN OFFICER AND A GENTLEMAN

Alex Rathgeber, Kate Kendall, producer John Frost, Amanda Harrison and Ben Mingay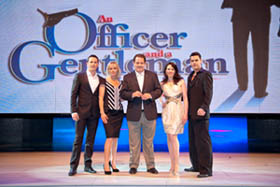 the musical version of the 1982 film by the same name, adapted by original Academy Award-nominated screenwriter Douglas Day Stewart. The musical is co-authored by Sharleen Cooper Cohen and has music and lyrics by Ken Hirsch and Robin Lerner.

Directed by Simon Phillips. Associate Director Dean Bryant.

The talented cast that will bring this timeless story to life includes Ben Mingay as Zack Mayo, the classic angry young man who grew up in a "sewer" and dreams of flying jets and parlaying this skill into a better life; Amanda Harrison as Paula Pokrifki, the young factory worker who dreams of becoming a nurse and finding a better life without selling out for it, like everyone around her; Kate Kendall as Lynette Pomeroy, Paula's best friend who is determined to marry a flier to escape her dead end life, no matter what it takes; and Alex Rathgeber as Sid Worley, the likeable Okie son of a Navy Admiral who is the class "superstar" at the Naval Academy.

The cast: Ben Mingay as Zack Mayo, Amanda Harrison as Paula Pokrifki, Alex Rathgeber, Kate Kendall, Bartholomew John, Bert LaBonte, Josh Piterman, Tara Morice, Zahra Newman, Josef Brown, Bernard Angel, Elise Brennan, Bianca Baykara, Kirby Burgess, Lena Cruz, Sam Devenport, Akina Edmonds, Zoy Frangos, Sheridan Harbridge, Peter Hardy, Brendan Irving, Tanya Mitford, Thern Reynolds, Simon Roborgh, Michael Whalley and Patrick Williams.

The set features a double revolve and a large super-structure of gantries. The complex design also features a staircase which configures in two different ways, sits on the center revolve, and connects to the gantries in various different positions

The production also features choreography by Andrew Hallsworth and musical direction by Dave Skelton. Set and Costume Designer is Dale Ferguson. Lighting Design by Matt Scott.

With two workshops, one in Melbourne and one in New York last June 2010, plus readings and rewrites, the musical has undergone a 12 year gestation period.

The world premiere opens in Sydney, Australia at Sydney's Lyric Theatre May 10 with an official opening May 18.

A MARVELLOUS YEAR FOR PLUMS by Hugh Whitmore. Directed by Philip Franks.

Britain in 1956: the Suez Crisis. Prime Minister Anthony Eden, described by a colleague as 'half mad baronet and half beautiful woman', is faced with the terrible possibility of leading his country into war. His health is collapsing. His friends, colleagues and opponents, among them Hugh Gaitskell and Ian Fleming and his wife Ann, are facing crises of their own, crises of conscience and crises of the heart.

What is the cost of an 'illegal' war?

Starring Anthony Edwards as Anthony Eden and James Simmons as Sir William Eden/General Gazier/ Guy Molllet/Waiter.

Set designs by Simon Highlett: Lighting design by James Whiteside. Music by Matthew Scott. Sound design by Matt McKenzie. Gabrielle Dawes is the casting director.

May 11-June 2 at the Chichester Festival Theatre in England.

NOBODY LOVES YOU a musical comedy with music and lyrics by Gaby Alter and book and lyrics by Itamar Moses.

Directed by Michelle Tattenbaum with music direction by Vadim Feichtner and choreography by Mandy Moore.

Filled with tuneful pop songs, Nobody Loves You "takes audiences on a hilarious behind-the-scenes ride through reality television and into real life. When Jeff, a philosophy grad student, joins a dating show to win back his ex, he breaks all the rules and tries to blow the game wide open . . . until he meets Jenny. In a world where every kiss is staged for the cameras, can two people find a real connection?"

The cast features Jenni Barber (Jenny), Alex Brightman (Chazz, Dominic, Evan), Heath Calvert (Byron), Kate Morgan Chadwick (Samantha, Bonnie), Adam Kantor (Jeff), Kelsey Kurz (Christian, Steve), Nicole Lewis (Tanya, Nina, Zenobia) and Lauren Molina (Megan).

The creative team includes Michael Schweikardt (Scenic Design), Emily Pepper (Costume Design), Tyler Micoleau (Lighting Design), Paul Peterson (Sound Design), Stephanie Klapper, CSA (Casting) and Diana Moser (Stage Manager).

Nobody Loves You is a recipient of an Edgerton Foundation New American Plays Award and is supported in part by the National Fund for New Musicals, a program of National Alliance for Musical Theatre.

Performances May 9 – June 17 in the Sheryl and Harvey White Theatre, part of the Globe's Conrad Prebys Theatre Center. The Tony Award-winning Old Globe in San Siego, CA.

SONGS FOR A NEW WORLD Book, Music and Lyrics by Jason Robert Brown. Directed by Marco Gomez. Musical Direction by Dolf Ramos.

Songs For A New World was originally conceived as a "theatrical cabaret" to showcase the work of then-unknown Jason Robert Brown, and it put him on the map when it opened at Off-Broadway's WPA Theater in 1995.

Brown went on to win a Tony Award for Best Score for Parade in 1999 and Drama Desk Awards for Best Music and Best Lyrics for The Last Five Years in 2001.

His songs, including the cabaret standard Stars and the Moon from Songs For A New World, have been performed and recorded by Audra McDonald, Betty Buckley, Karen Akers, Renée Fleming, Philip Quast and Jon Hendricks.

Soaring melodies and irresistible rhythms mark this collection of story-songs which tell sixteen unique stories peopled by characters of today – "songs for a new world."

Starring Andrea Arvanigian, Malek Hanna, Mookie Johnson and Joanne O'Brien.

Presented by DOMA Theatre Company May 11 - June 3 at The MET Theatre in Los Angeles.


WHO'S WHERE


ELVIS COSTELLO is across the pond with a performance Wednesday, May 9, at the Grand Canal Theatre in Dublin, Ireland. On Friday the show is at the Clyde Auditorium in Glasgow, Scotland. On Saturday he'll be on stage at the 02 Apollo in Manchester, and next Sunday, May 13, he's in the spotlight at the Empire Theatre in Liverpool, England.

BRUCE SPRINGSTEEN AND THE E STREET BAND perform next Sunday, May 13, at the Estadio Olimpico in Seville, Spain.

BRIAN McKNIGHT has a special Mother's Day performance on Sunday, May 13, at the State Theatre in New Brunswick, NJ.

ESPERANZA SPALDING entertains Wednesday, May 9, at the Carolina Theatre in Durham, NC.

VAN HALEN performs Monday, May 7, at the Rogers Arena in Vancouver, BD. On Wednesday the performance is at the Scotiabank Saddledome in Calgary, AB. Friday's show is at Rexall Place in Edmonton, AB. Next Sunday, May 13, the tour stops at the MTS Centre in Winnipeg, MB.

STRAIGHT NO CHASER bring their tour to Florida this week with a show at the Philharmonic Center for the Arts in Naples on Wednesday, May 9. On Thursday they perform at the Ruby Diamond Auditorium in Tallahassee. Friday's gig is at Dreyfoos Hall in West Palm Beach. Saturday they take to the stage at the King Center in Melbourne and next Sunday, May 13, they are in the spotlight at the Phillips Center in Gainesville.

JOSHUA BELL with Jeremy Denk on piano will delight audiences performing everything from the great violin classics to Oscar-winning film scores and world premieres. Wednesday, May 9, at the Barbican in London.

TOM DREESEN Frank Sinatra's favorite comedian in An Evening of Laughter & Storytelling of Sinatra. Dreesen will take you from his childhood of shining shoes in bars in his hometown of Harvey, Illinois, hearing Sinatra on the jukebox to one day touring the nation as his opening act, flying in his private jet all over the country and staying up with Frank till dawn, night after night. He takes you to Frank's last performance and the last song he ever sang, and then to his last days on earth. Dreesen was a pall bearer, as well as speaker, at his friend's funeral. May 13 at Feinstein's at Lowes Regency in New York City.




FINAL OVATION


THOMAS AUSTIN "AMARILLO SLIM" PRESTON, JR the professional poker playing legend died of colon cancer Sunday, April 29, 2012 at a hospice in Amarillo, Texas. He was 83.

Preston won the 1972 World Series of Poker in Las Vegas and was inducted into the Poker Hall of Fame in 1992.

ADAM YAUCH who was in 2009 diagnosed with a cancerous tumor in his left salivary gland, lost that battle and died on May 4, 2012. He was 47.

An American rapper and songwriter best known as a founding member of hip-hop trio the Beastie Boys. He was frequently known by his stage name, MCA and sometimes worked under the name Nathanial Hörnblowér.

Yauch founded Oscilloscope Laboratories. A Buddhist, he was involved in the Tibetan independent movement and organized the Tibetan Freedom Concert.

Neil Portnow President/CEO of the Recording Academy issued the following statement: "As a co-founding member of the three-time Grammy-winning Beastie Boys, Adam Yauch was part of one of the most groundbreaking trios in hip-hop. The group's music crossed genres and color lines, and helped bring rap to a wider audience. A rapper, musician and director, Yauch was an immense talent and creative visionary, and an instrumental force in the group's career for more than three decades. In addition to his music and artistry, he was a philanthropist who devoted much of his energy to his passionate support for freedom of expression. The music world has lost a true trailblazer, and our deepest sympathies are with his family, friends and fans throughout the world.








Next Column: May 13, 2012
Copyright: May 6, 2012. All Rights Reserved. Reviews, Interviews, Commentary, Photographs or Graphics from any Broadway To Vegas (TM) columns may not be published, broadcast, rewritten, utilized as leads, or used in any manner without permission, compensation and/or credit.
Link to Main Page
---
Laura Deni



For the snail mail address, please E-mail your request.
CLICK HERE FOR COMMENT SECTION