! >
Broadway To Vegas
  
  REVIEWS INTERVIEWS COMMENTARY NEWS

| | |
| --- | --- |
| | |
GEORGE CLOONEY ARRESTED - - JEWELRY OF LAS VEGAS FOUNDER'S DAUGHTER TO BE AUCTIONED - - THE FASHION WORLD OF JEAN PAUL GAULTIER - - INGE FESTIVAL TO HONOR TONY AWARD WINNER ELIZABETH WILSON - - BANJO STRUMMING IS NOT INDECENT EXPOSURE - - BROADWAY SUPPORTS MUSICALS IN OUR SCHOOLS WEEK - - NPR FABRICATION ACCUSATIONS AGAINST MIKE DAISEY - - BROADWAY MUSICAL ONCE CD REVIEW - - DONATE . . . Scroll Down


Copyright: March 18, 2012
By: Laura Deni
CLICK HERE FOR COMMENT SECTION

NPR FABRICATION ACCUSATIONS CAUSE FURRY AS MIKE DAISEY'S WORK IS CANCELLED, DEFENDED, AND QUESTIONED


Mike Daisey in The Agony and the Ecstasy of Steve Jobs (2011) Photos by Stan Barouh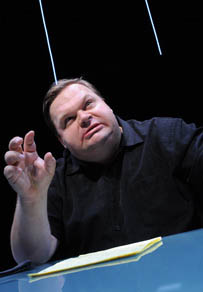 It's been a long time since National Public Radio has caused this much of a firestorm.

NPR's This American Life, a popular radio show which devoted an hour last January to Mike Daisey performing his hit monologue The Agony and the Ecstasy of Steve Jobs, retracted the show amid accusations that sections of Daisey's account of his trip to Apple's factories in China were fabricated. The retraction has caused a firestorm in the theatrical community, provoking a planned Chicago performance of the piece April 7 to be cancelled.

Both The New York Public Theater and Woolly Mammoth Theater in Washington are sticking by Daisey. So is Acting Unlimited, Inc based in Lafayette, LA.

NPR discovered that sections of Daisey's story about his trips to China and the factories were fabricated or re-purposed from other stories. And the show's penultimate story of factory horrors has been discounted by Daisey's Chinese translator.

"We're horrified to have let something like this onto public radio," Ira Glass, the show's executive producer and host said in a blog post. "Our program adheres to the same journalistic standards as the other national shows, and in this case, we did not live up to those standards."

An NPR release and posting stated: "The 39-minute piece aired in January and TAL says after 888,000 downloads, it became its most popular podcast. The story is compelling: It tells of the awful working conditions of Chinese workers making shiny Apple products like iPhones and iPads at factories owned by a company called FoxConn, which also manufactures products for other electronics giants.

This American Life, which is distributed by Public Radio International, did not commission the piece. Instead, it excerpted from The Agony and The Ecstasy of Steve Jobs, a one-man show Daisey had been performing across the country.



Woolly Mammoth Theater in Washington is standing by Mike Daisey.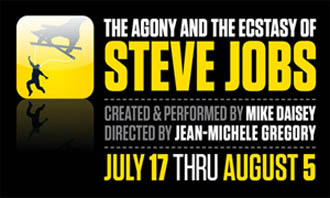 On his post producer Glass characterized The Agony and the Ecstasy to have contained "significant fabrications." He continued: "We're retracting the story because we can't vouch for its truth."

Daisey's account, according to NPR, caught the attention of Marketplace China Correspondent Rob Schmitz, contacted Daisey's Chinese translator to verify Daisey's personal stories of his encounters with laborers. The translator disputed portions of the information Daisey presented, including claims that he visited a factory in Suzhou and a gripping account of a factory laborer who sees a working iPad for the first time.

Was this an overzealous, crossing the boundaries of literary license? Or, a deliberate attempt to deceive?

With either possibility -- awkward.

NPR explained:

"Some of the falsehoods found in Daisey's monologue are small ones: the number of factories Daisey visited in China, for instance, and the number of workers he spoke with. Others are large. In his monologue he claims to have met a group of workers who were poisoned on an iPhone assembly line by a chemical called n-hexane. Apple's audits of its suppliers show that an incident like this occurred in a factory in China, but the factory wasn't located in Shenzhen, where Daisey visited."

"'It happened nearly a thousand miles away, in a city called Suzhou,' Marketplace's [Rob] Schmitz says in his report. 'I've interviewed these workers, so I knew the story. And when I heard Daisey's monologue on the radio, I wondered: How'd they get all the way down to Shenzhen? It seemed crazy, that somehow Daisey could've met a few of them during his trip.'"



Rob Schmitz has a master's degree from Columbia University's Graduate School of Journalism and a Bachelor of Applied Arts degree in Spanish from the University of Minnesota-Duluth. Schmitz has reported from locations throughout China, Mexico, Japan, and in 2009, he covered the United Nations Climate Summit in Copenhagen, Denmark.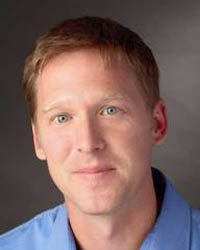 Rob Schmitz is Marketplace's China correspondent in Shanghai. Schmitz joined Marketplace in 2010 and most recently provided Marketplace's sole coverage from Japan in the days following the earthquake and tsunami, reporting from the hardest-hit areas near the failing Fukushima nuclear power plant. He's also done feature reporting on China's education system, Apple's supply chain in China, the economic transformation of the coal-rich region of Inner Mongolia, and an underground economy spurred by the sale of mooncakes.

Prior to his radio career, Schmitz lived and worked in China; first as a teacher in the Peace Corps, then as a freelance print and video journalist. His television documentaries about China have appeared on The Learning Channel and the Canadian Broadcasting Corporation.

"In Schmitz's report, he confronts Daisey and Daisey admits to fabricating these characters.

"'I'm not going to say that I didn't take a few shortcuts in my passion to be heard,' Daisey tells Schmitz and Glass. 'My mistake, the mistake I truly regret, is that I had it on your show as journalism, and it's not journalism. It's theater.'"

Daisey's interpreter also disputes one of the most dramatic moments in the piece. It's a scene where Daisey hands a FoxConn employee an iPad. He'd never seen the final product, but the process of making them had left his hand mangled. The man sees the screen light up and runs his finger over it. Through the interpreter, he says "it's kind of magic." But his interpreter says that never happened.

This American Life says they did fact check many of the claims made about Apple in the piece. But they failed to check out one big one: Glass says Daisey lied to him and his producer about the name of his interpreter and he also said the cell phone number he had for her didn't work anymore and he had no way to get back in touch with her.

"At that point, we should've killed the story," said Glass in a statement. "But other things Daisey told us about Apple's operations in China checked out, and we saw no reason to doubt him. We didn't think that he was lying to us and to audiences about the details of his story. That was a mistake."

This American Life will devote a considerable amount of time on Sunday's show, March 18, to this situation.

Daisey issued the following statement on his blog:

"I stand by my work," he said. "My show is a theatrical piece whose goal is to create a human connection between our gorgeous devices and the brutal circumstances from which they emerge. It uses a combination of fact, memoir, and dramatic license to tell its story, and I believe it does so with integrity. Certainly, the comprehensive investigations undertaken by The New York Times and a number of labor rights groups to document conditions in electronics manufacturing would seem to bear this out.

"What I do is not journalism. The tools of the theatre are not the same as the tools of journalism. For this reason, I regret that I allowed This American Life to air an excerpt from my monologue. This American Life is essentially a journalistic – not a theatrical – enterprise, and as such it operates under a different set of rules and expectations. But this is my only regret. I am proud that my work seems to have sparked a growing storm of attention and concern over the often appalling conditions under which many of the high-tech products we love so much are assembled in China."

The production closes out a return engagement at the Public Theater in New York City on March 18, where it previously enjoyed a critically acclaimed, extended run last fall.

The Public Theater also issued a statement.

"In the theatre, our job is to create fictions that reveal truth - that's what a storyteller does, that's what a dramatist does. The Agony and the Ecstasy of Steve Jobs reveals, as Mike's other monologues have, human truths in story form.

"In this work, Mike uses a story to frame and lead debate about an important issue in a deeply compelling way. He has illuminated how our actions affect people half-a-world away and, in doing so, has spurred action to address a troubling situation. This is a powerful work of art and exactly the kind of storytelling that The Public Theater has supported, and will continue to support in the future.

"Mike is an artist, not a journalist. Nevertheless, we wish he had been more precise with us and our audiences about what was and wasn't his personal experience in the piece."



Playwright/actor Cody Daigle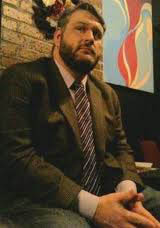 Woolly Mammoth says it looks forward to hosting Daisey in the summer for an encore performance.

Acting Unlimited, Inc (AUI) based in Lafayette, LA has proceeded with its planned two-weekend run of The Agony and the Ecstasy of Steve Jobs, but the performances will include newly created material commenting on the ongoing controversy, written by the show's performer, Cody Daigle.

"Part of what makes Agony/Ecstasy such an incredible show is its passionate defense of revealing the truth," said Daigle. "With our performances starting at the moment this story is breaking, we thought it was only appropriate to include this bit of truth-telling in with Daisey's amazing piece."

The show was "released to the public in February by Daisey, and theatre companies are encouraged to create freely and adapt the show any way they deem appropriate. Over the four performances, the new material will be updated to reflect the changes as the story develops," according to AUI.

"I don't think this discounts the very powerful core of Daisey's work," Daigle said. "But it does create an interesting counterpoint." "We were proud to offer this piece to local audiences because of its relevance and its power," Marie Diaz, president of AUI, said. "So being able to tell this new story makes our production even more exciting. This is breaking news on the stage of Theatre 810. We couldn't be more eager to share this with Acadiana."

The Agony and the Ecstasy of Steve Jobs continues its run at Acadiana's Theatre 810 with performances March 18, 24 and 25.





Broadway To Vegas is supported through advertising and donations. Priority consideration is given to interview suggestions, news, press releases, etc from paid supporters. However, no paid supporters control, alter, edit, or in any way manipulate the content of this site. Your donation is appreciated. We accept PAYPAL. Thank you for your interest.



ART AND ABOUT


THE FASHION WORLD OF JEAN PAUL GAULTIER

Left: Paolo Roversi, Tanel Bedrossiantz, 1992. Barbès collection. Women's prêt-à-porter fall/winter 1984–1985. Digital print © Paolo Roversi. Center: Jean Paul Gaultier. Fishnet tights, Parisiennes collection, haute couture fall/winter 2010-2011© Patrice Stable/Jean Paul Gaultier. Right: Photo by Jerry Pigeon (Studio JPG)

La Grande Fête for Fashion's Enfant Terrible. On Friday, March 23, 2012, party with celebrated designer Jean Paul Gaultier at the opening event for the exhibition The Fashion World of Jean Paul Gaultier.

Blond Ambition. Gritty Glamour. Gender-Bending. La Grande Fête promises to be an outrageous occasion celebrating the wild and wonderful world of Monsieur Gaultier.

The Fashion World of Jean Paul Gaultier: From the Sidewalk to the Catwalk is the first major exhibition dedicated to celebrated French designer Jean Paul Gaultier.

Dubbed fashion's enfant terrible, Jean Paul Gaultier launched his first prêt-à-porter collection in 1976 and founded his own couture house in 1997. Emerging as a designer in the 1980s, he developed his own dress codes that reflected the changing world around him. The openly gay Gaultier uses his designs to tackle gender and transgender issues through androgynous, gender-bending styles, meanwhile delving even further into some of the darker areas of the sexual revolution. Always provocative, he addresses issues of multiculturalism by bringing ethnic diversity to the Paris runway. Despite the gritty and sometimes controversial context of his collections, the clothes remain beautiful, superbly crafted with the finest dressmaking and detailing skills.

This dynamic, multimedia exhibition will include 120 haute couture and prêt-à-porter designs created between the early 1970s and 2010, along with numerous sketches, archival documents, fashion photographs, and video clips that spotlight Gaultier's collaborations with filmmakers, choreographers, and musicians, most notably Madonna. For this presentation, Gaultier partnered with the Montreal-based theater company Ubu Compagnie de Création in the design of 30 animated mannequins who talk and sing in playful and poetic vignettes.

The Exhibition The Fashion World of Jean Paul Gaultier: From the Sidewalk to the Catwalk is organized by the Montreal Museum of Fine Arts in collaboration with the Maison Jean Paul Gaultier. JoliCoeur International is the official supplier of mannequins for the exhibition.

March 24, 2012 - August 19, 2012 at the de Young in San Francisco.


THE MUSIC GOES ROUND AND ROUND


ONCE Academy Award winning music and lyrics by Glen Hansard and Markéta Irglová. Music supervision and orchestrations by Martin Lowe. The new Broadway musical is based on the Academy Award-winning film.

The score includes the Oscar-winning hit Falling Slowly, as well as two new songs - Abandoned in Bandon and Czech folk song Ej Pada Pada Rosicka.

The original cast recording was released by Masterworks Broadway on March 13 to coincide with the official Broadway opening, which is March 18, at the Bernard B. Jacobs Theatre.

Once is intriguing in its concept and simplicity.This is not your typical Broadway musical CD. No full blown overture. No expansive orchestrations. Not only isn't there a full orchestra, there isn't an orchestra. Not even a band.

Rather, all 13 members of the cast act, sing and play all of the instruments.

To fully appreciate the CD it does help to know the storyline.

Once tells the story of an Irish musician called Guy, whose performance and songwriting efforts are encouraged by a Czech immigrant musician-muse named Girl. Drawn together by their shared love of music, over the course of one fateful week, their unexpected friendship and collaboration evolves into a passionate but complicated romance, heightened by the emotion of the songs they create together.

The songs don't overpower a simple story.

The cast stars Steve Kazee as 'Guy' (vocal, guitar) and Cristin Milioti as 'Girl.' (vocal, piano).

Also in the company featured on the cast album, on background vocals, and playing the guitar, mandolin, melodica, banjo, ukulele, harmonica, accordion, bass, drums and many other instruments are: David Abeles (harmonica, guitar, melodica), Will Connolly (bass, ukulele), Elizabeth A. Davis (violin), David Patrick Kelly (mandolin), Anne L. Nathan (accordion), Lucas Papaelias (banjo), Andy Taylor (bass, cello, mandolin), Erikka Walsh (violin), Paul Whitty (percussion), and J. Michael Zygo (guitar).

Much like a pop/folk concert in the coffee shop days of the 60s, the acoustic guitar is prominent. The intricate harmonies and layering of instrumentation cradles, punctuates and gives expressive life to the characters' moods and hopes.

As people become more acquainted with the Broadway production the popularity in this CD will increase.

The energetic The North Stand, followed by the sweet and charming Leave - "Let go of my hand; you said what you came to now; leave - leave" turns into an emotional whale. Falling Slowly is the Academy Award winning tender duet. Sleeping featuring Steve Kazee - "And how am I suppose to live without you? A wrong word said in anger and you were gone."

The Hill featuring Cristin Milioti pleads: "But you can't say I'm not trying/I'm on my knees in front of him/but he doesn't seem to see me/And I'm letting myself down beside this fire in you/And I wish that you could see I have my troubles too."

Perhaps one of the shortest songs on record, Broken-Hearted Hoover Fixer Sucker Guy with just 67 words gets to the point: "I fell in love with an Irish girl. She took my heart. But she went and screwed some guy she knew ..."

On January 12, 2012 between 9 a.m. and midnight - in a marathon 15 hour session, without headphones, baffles and separate rooms the cast satin a circle and played these songs for each other - only the event was recorded - and turned into this CD.

The cast hopes that those listening to the CD - will want to join in. "If you have a guitar or a piano or any instrument near you, why not play along? We'd like that."

Track List:

1. The North Strand
2. Leave
3. Falling Slowly
4. The Moon
5. Ej Pada Pada Rosicka
6. If You Want Me
7. Broken Hearted Hoover Fixer Sucker Guy
8. Say It to Me Now
9. Abandoned in Bandon
10 Gold
11 Sleeping
12 When Your Mind's Made Up
13 The Hill
14 It Cannot Be About That
15 Gold (A Cappella)
16 Falling Slowly (Reprise)


HIDDEN JEWELRY OF LAS VEGAS FOUNDER'S DAUGHTER TO BE AUCTIONED BY CHRISTIE'S
The last photograph taken of Huguette Clark was snapped shortly after she signed divorce papers in Reno, Nevada. She is wearing several of the pieces up for auction, including two diamond bracelets.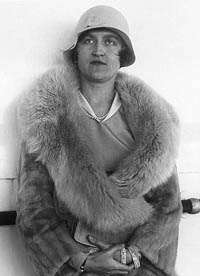 Something else to fight over.

Makes Elizabeth Taylor's jewels seem insignificant.

A rich version of hoarders.

Her copper baron father, known as Montana Midas, was Sen. William A. Clark who built one of America's biggest fortunes of its day mining copper, building railroads and founding Las Vegas.

Las Vegas is located in Clark County - named after William A. Clark.

Clark's last surviving child, recluse Huguette Marcelle Clark who passed away May 24, 2011, at the age of 104, had a secret stash of prized jewelry which will be auctioned off by Christie's in New York City on April 17.

Huguette's half brother William Andrews Clark, Jr., founder of the Los Angeles Philharmonic in 1919, left his library of rare books and manuscripts to the regents of the University of California, Los Angeles. Today, the William Andrews Clark Memorial Library specializes in English literature and history from 1641 to 1800, materials related to Oscar Wilde and his associates.

What will happen to Huguette's estate will be decided by the courts, in a protracted legal battle which will make the lawyer's rich.

Their father was an interesting sort.

William married Catherine Louise "Kate" Stauffer. They had the five children; Mary Joaquina (May) Clark Culver Kling de Brabant who died in 1939, Charles Walker (Charlie) Clark who died in 1933, William Andrews Clark, Jr. who died in 1934, Paul Francis Clark who died at the age of 16 in 1896 and Katherine Louise Clark Morris whose was born on May 11, 1882 in Montana but whose date of death is unknown.

After Kate's death, William began an affair with his teenage ward, Anna Eugenia La Chapelle who died in 1963. They married in 1901 in France. Anna was 23 and William was 62. They had two children; Louise Amelia Andrée Clark who was born in Spain in 1902 and died of meningitis in 1919.

Huguette Marcelle Clark was born June 9, 1906 in Paris.



William Clark with his daughters Huguette (R) and Louise (L).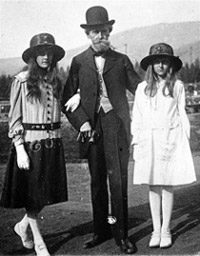 Huguette (pronounced: hyoo-GETT) was reportedly "devastated" by the death of her sister in 1919, but never-the-less in the mid-1920s the vivacious and party going debutant was a fixture in the society pages of the New York City newspapers as one America's most eligible young women.

She made her society debut in 1926, one year after her father died. In 1928 she married William MacDonald Gower, the son of a business associate of her late father. Their marriage lasted less than one year and in 1930 she traveled to Reno, Nevada to obtain a quick, uncontested divorce: a photograph taken of her the day her divorce became final was the last adult image ever made public.

She reclaimed her maiden name, but insisted on being called "Mrs. Clark", not "Miss Clark". She retreated to her magnificent 42-room Manhattan apartment on New York's Fifth Avenue at 72nd Street, overlooking Central Park, and lived in isolation with her mother.



Huguette Clark photographed during her debutant days.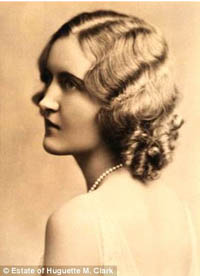 The personable young women who managed to cope with her beloved sister's death - wear her jewels and party on - was so traumatized by whatever it was that took place during her brief marriage and quickie divorce - that she was turned into a recluse. As the years passed, her only comfort was derived from her elaborate doll collection - which couldn't harm her - either physically or emotionally.

Whether it be the ignorance of that time period or a resentment of her inherited wealth, apparently nobody cared enough to try to help her cope with whatever it was in that marriage that permanently altered the 22-year-old's personality and lifestyle.

According to an MSNBC report, Clark spent "more than $3 million dollars on dolls." That included "$2.5 million at Au Nain Bleu, a well-known and historic doll shop in Paris, in 110 separate payments from 1997 to 2006. The largest payment was for $82,513 in February 2004. She also spent $729,000 at doll auction house Theriault's (which holds the world record for most expensive doll ever sold at auction), in 21 payments from 1997 to 2009. The largest payment was $232,680 July 2007.

Considering her wealth, the amounts she spent on a doll collection are not out outrageous.

It is unclear what will happen to her beloved dolls. In one of her contested wills she left the doll collection to her main private nurse, Hadassah Peri.

In 1988, she moved out of her apartment and lived the remainder of her life, voluntarily, in New York City hospitals.

In February 2010, she became the subject of a series of reports on MSNBC after caretakers at all three of her residences had not seen her in decades despite the fact she controlled a net worth estimated at $500 million, including a $24 million estate in Connecticut, and her Fifth Ave. apartment valued at $100 million. It was later determined that she was in the care of a New York City hospital. Building staff reported that she was frail but not ill when she left her Fifth Avenue co-op in an ambulance in the late 1980s. In August 2010, the Manhattan District Attorney's Office initiated a probe into the her affairs managed by her accountant, Irving Kamsler, and her attorney, Wallace Bock.



A cushion-cut fancy vivid purplish pink diamond of 9.00 carats, mounted in a Belle Époque setting by the French jeweler Dreicer & Co. (estimate: $6 – 8 million). Photo: Christie's Auction House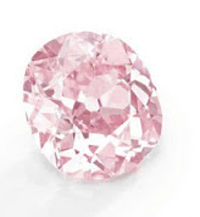 Bock submitted a legal response to a petition filed by three of her relatives seeking to have an independent guardian put in charge of her affairs. In that filing he states that in 1988 Huguette Clark voluntarily decided to live at Mount Sinai Medical Center before being transferred to Beth Israel Medical Center which is where she died.

Huguette was considered to be the last great heiresses of America's Gilded Age.

Her jewelry collection, which is believed to have been stored in a vault since the 40's, includes Tiffany & Co, Cartier, Dreicer & Co., including a 9-carat pink diamond ring. The whole collection of 17 pieces is supposed to fetch from $9 to 12 million dollars on April 17th at Christie's in New York.

"In the world of fine jewelry, this is truly a fairytale collection," Rahul Kadakia, head of jewelry for Christie's Americas, said. "Opening the vault to find this treasure trove of period jewels from the best French houses of the early 1900s has certainly been one of the most extraordinary moments of my 15-year career here at Christie's. It was the best half-hour I spent in a bank vault in a long, long time. But I had no inkling I would go into that bank vault and open it up and look at this pink diamond that would blow me away. Even in that dimly lit bank vault, I knew this was an incredible stone. It was the first box I opened and you think, 'This is going to be one helluva ride.'"

"The iconic Art Deco design and exceptional craftsmanship of these meticulously preserved jewels are emblematic of the great Gilded Age in American history. We are proud to present this collection from one of the nation's most storied families as the major highlight of our flagship jewelry auction this spring."

The star of the collection is a cushion-cut fancy vivid purplish pink diamond of 9.00 carats, mounted in a Belle Époque setting by the French jeweler Dreicer & Co. (estimate: $6 – 8 million). Based on the date of the stone's setting – circa 1910 - the ring is believed to have originally belonged to Ms. Clark's mother, the former Anna Eugenia La Chapelle, and was handed down to Huguette.

Pink diamonds gain their highly desirable color as a result of a rare, naturally-occurring slippage of the crystal lattice in the stone while it is forming deep within the earth's crust. Only a few mines in the world produce pink diamonds, and of the stones that are cut and polished, only one in about 10 million diamonds will possess a color pure enough to be graded as "fancy vivid". In December 2009, Christie's Hong Kong offered for sale the 5-carat Vivid Pink diamond, which achieved a world auction record price of US$2.1 million per carat, amounting to US$10.8 million for the diamond.

Huguette Clark's collection also features an exceptional colorless diamond ring of 19.86 carats, by Cartier (estimate: $2 –3 million). Certified by the Gemological Institute of America (GIA) as D color – the best color grade possible in a white diamond – and with potentially internally flawless clarity, this superb stone was discovered in its original Cartier box from the 1920s.



An exceptional colorless diamond ring of 19.86 carats, by Cartier (estimate: $2 –3 million). Certified by the Gemological Institute of America (GIA) as D color – and with potentially internally flawless clarity, this superb stone was discovered in its original Cartier box from the 1920s. Photo: Christie's Auction House.
As was fitting for a society debutante of the day, Huguette Clark's collection also included a stunning array of signed jewels by the finest makers of the Art Deco era, including an intricately-detailed diamond bracelet by Cartier circa 1925 ( estimate: $300,000-500,000), a diamond and multi-gem charm bracelet by Cartier, also circa 1925 (estimate: $20,000-30,000), and a ruby, sapphire, emerald and gold bracelet possibly designed by Louis Comfort Tiffany, of Tiffany & Co. circa 1915 (estimate: $30,000-50,000). Among the more touching personal items in the collection is an onyx, turquoise and diamond photograph frame by Cartier which is personalized with a stylized "A". The frame bears a hand-drawn portrait of a teen-aged girl believed to be Andrée Clark, Huguette's older sister, who died of meningitis in 1919 ( estimate: $5,000-7,000; image not to be sold with frame).

There are two wills, and contesting those wills make the lawyers rich. Huguette had no children and reportedly left the bulk of her $400 million fortune to her nurse.

Huguette Clark signed what is purported to be her Last Will and Testament on April 19, 2005, shortly after signing a will on March 7, 2005, which left her estate to different beneficiaries with the exception of one. Ms. Clark is estimated to have been worth about $400 million at the time of her death. She was survived by 21 intestate heirs (13 half- grandnieces and half-grandnephews and 8 half-great-grandnieces and half-great-grandnephews), who were the main beneficiaries of the March 2005 will but are completely left out of the April 2005 will.

Important to the art world, the April 2005 will included: "Ms. Clark directs that a private foundation be created called the "Bellosguardo Foundation" (named after her 24 acre estate, Bellosguardo, located in Santa Barbara, CA) "for the primary purpose of fostering and promoting the Arts." The foundation is to receive the 21,000 square foot Bellosguardo mansion and all of its contents; all works of art (including works by Pierre-Auguste Renoir, John Singer Sargent and William Merritt Chase, but excluding a work by Claude Monet as noted below); all musical instruments (including a Stradivarius violin); photography collection; and all of her books (including a first edition of Paradise Lost)."

"Ms. Clark's Claude Monet painting known as Water Lilies is left to the Corcoran Gallery of Art in Washington, D.C. The painting is estimated to be worth $20 million and has not been seen publicly since the 1920's."

The Corcoran Gallery is where much of her father's art is on display.


INGE FESTIVAL TO HONOR TONY AWARD WINNER ELIZABETH WILSON
Tony Award winner and Hall of Famer Elizabeth Wilson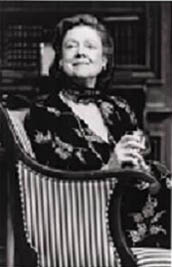 Tony Award winner and Theatre Hall of Famer Elizabeth Wilson will be saluted with the Jerome Lawrence Award, on Friday, April 20, at a dinner performance during the 31st Annual William Inge Theatre Festival in Independence, Kansas, located at Independence Community College, William Inge's alma mater.

The Jerome Lawrence Award is periodically presented to an outstanding individual who has made major contributions to both the William Inge Theatre Festival and the professional theater on a national level.

Elizabeth Wilson's first Broadway play was in William Inge's Picnic. She performed as the mother in the national tour and as a school teacher in the film. Wilson admired Bill Inge, describing him as "a complicated, brilliant and dear man." That is why she has such a connection and love for the Inge Festival, where she has performed as a guest artist for a number of years.

At age 90, Elizabeth Wilson is still an active performer. This last summer she spent two months in London filming Hyde Park on the Hudson, which tells the story of President Franklin D. Roosevelt, played by Bill Murray. Wilson portrays FDR's 83 year-old mother, Sara Delano Roosevelt. Elizabeth was flattered when she had to be "aged-up to" appear old enough for the part.

Elizabeth Wilson arrived in New York from Grand Rapids, Michigan, in 1942, and attended the American Academy of Dramatic Arts, then studied with Sanford Meisner at the Neighborhood Playhouse. Her first job came in 1945 with the U.S.O., where she toured Japan, the Philippines and New Guinea for a year. "What an adventure!" she recalls.

Wilson's career includes numerous Broadway productions: Waiting in the Wings, A Delicate Balance, Bertolt Brecht's The Good Woman of Szechuan, Uncle Vanya, Threepenny Opera, The Importance of Being Earnest, Morning's at Seven, You Can't Take It with You and Ah, Wilderness. She earned a Tony Award for her performance in the New York Shakespeare Festival's production of Sticks and Bones as well as two Obies and numerous other honors. In 2007 she was inducted into the Theatre Hall of Fame.

Her various film and television credits include: The Graduate, 9 to 5, The Addams Family, The Birds, Grace Quigley with Katherine Hepburn; A Child is Waiting with Judy Garland; and over thirty more.

The Jerome Lawrence, Award is named for the co-writer of Inherit the Wind, and Auntie Mame, who was a great friend of William Inge and a founding father of the Inge Festival. Lawrence enjoyed honoring his fellow playwrights and often stated that there are only two places in the world that honor the birthplace of a playwright: Independence, Kansas, and Stratford-upon-Avon, England. The 2012 Inge Festival, April 18-21, honors great American playwright David Henry Hwang.


BANJO STRUMMING IS NOT INDECENT EXPOSURE


A train commuter got hauled into court after a fellow passenger complained that his banjo practicing was indecent.

Rather than fiddling with himself on a morning train, Melvyn Webb, 54, had actually been practicing banjo strumming on an invisible banjo.

The jury bought it.

Webb denied outrageous public decency following the complaint made by an unnamed fellow passenger on an early morning train from Basingstoke to Reading, England. His accuser said "I knew what he was doing" after seeing Webb "breathing heavily and snarling" while the newspaper on his lap moved suspiciously.

In his defense, Webb claimed that his heavy breathing was caused by a respiratory tract infection, and that he had merely been adjusting his underwear. Barrister Jeremy Donne told the jury that this sort of self-adjustment was "commonplace," Donne specializes in both prosecuting and defending complex and serious criminal cases, including terrorism, fraud, money laundering, corruption and multi-defendant murder. He has led for the prosecution in over 40 murders, including Operation Trident cases. Many of the trials have involved particularly complex evidential and legal issues.

This one involved an imaginary banjo.

Donne referred the jury to a 2007 BBC television documentary called Street Doctor, in which four physicians took to the streets to diagnose the public's medical complaints.

'They made that very point and they had a series of films of men walking down the street and fiddling with themselves,' said the judge, himself a train commuter. He added men may be considered rude to reorganize themselves in the presence of women, but told jurors the practice was commonplace and in some cases revealed the early signs of prostate cancer.

Webb, who is a keen banjo fiddler, admitted that he occasionally did "pick out a pattern" on his knees.

He also submitted videos of himself playing a banjo to the prosecution, which they accepted as genuine. When prosecutor Jane Davies asked: 'Is this an activity you do regularly in the morning, this strumming on your banjo?', Mr Webb replied: 'I do it sub-consciously, but yes.' Jurors giggled as Mr Webb was called on to mime his plucking, positioning the newspaper over his hand and tapping his fingers on his knee. The jury - after laughing at the sight of Webb re-enacting his plucking for their benefit - took almost four hours to find him not guilty.


ANOTHER ACTOR WITH AN ARREST RECORD - GEORGE CLOONEY
Sexy actor/activist George Clooney finds his hands handcuffed behind him. Photo: Win McNamee/Getty Images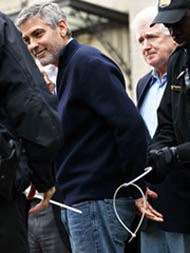 Actor/activist George Clooney finally provoked the police into arresting him.

A first time offender - he did the perp walk in the name of social justice and human rights.

Handsome hunk Clooney found himself wearing government issued, plastic handcuffs as did his father singer/television host and politician Nick Clooney, 78, and several others including Democratic U.S. Rep. Jim Moran of Virginia, NAACP President Ben Jealous, the son of slain U.S. civil rights hero Martin Luther King, Jr, and John Prendergast, the co-founder of the Enough Project, after being warned three times not to cross a police line outside the Embassy of Sudan on Friday, March 16. After their hands were handcuffed behind their backs, they were locked behind a white, iron screen in the back of a U.S. Secret Service van and driven to the pokey.

In all 15 men were arrested and 2 women.

There they had to surrender their personal property, including shoe laces and belts. Clooney shared a jail cell with the other male protestors. The incarceration lasted approximately two hours.

According to WUSA-TV who first broke the story, the protesters were demanding immediate action to stop Sudan's president, Omar al-Bashir, from blocking of food and other humanitarian aid.

Wearing jeans, Clooney was participating in a United to End Genocide, the Enough Campaign and Amnesty International rally.

"This is for the government in Khartoum to stop randomly killing its own innocent men, women and children. Stop raping them and stop starving them. That's all we ask," Clooney said before being taken away for booking. Police warned the group three times to move.

Ringleader Clooney and his gang were arrested for crossing a police line, which is a misdemeanor offense.

The Oscar winner said earlier that he intended to draw more attention to the issue and that if action is not taken in the next three to four months, "we're going to have a real humanitarian disaster."

The actor and human rights activist was on Wednesday a guest at the White House banquet in honor of British Prime Minister David Cameron and met the day before his arrest with President Barack Obama at the White House and testified before Congress, after returning from a visit to the region.

Anticipating being arrested, Clooney and the others had each been provided with $50 bail money by the Enough Project, an activist group which helped to organize the protest as part of a "day of action" to highlight the situation in Sudan's volatile South Kordofan and Blue Nile provinces.

However, the fine was set at $100, which Clooney was able to pay.


BROADWAY SUPPORTS MUSICALS IN OUR SCHOOLS WEEK


Broadway is shining the spotlight on the importance of musical theater programs in schools through the national advocacy Musicals in our Schools Week happening March 19-23, 2012.

The advocacy initiative is sponsored by NBC's hit television show Smash and is administered by the Junior Theater Project, a newly formed joint venture by New York's iTheatrics and Atlanta's Theater of the Stars. It is being endorsed by Freddie Gershon, Chairman and CEO of Music Theatre International - Ted Chapin, President of Rodgers & Hammerstein/R&H Theatricals, and Chairman of the American Theater Wing - Sargent L. Aborn, President of Tams-Witmark Music Library, Inc. - Peter Avery, Director of Theater, New York City Department of Education - Timothy Allen McDonald, founder and CEO of iTheatrics and Co-Founder of the Junior Theater Project and Nick Manos, President of Theater of the Stars and Co-Founder of the Junior Theater Project.

The week long advocacy event will be held annually in the third full week of March in honor of both Stephen Sondheim's and Andrew Lloyd Webber's birthdays - March 22.

The week will begin with a kick-off event - Flash Mob - to be held in Duffy Square Times Square on Monday March 19th at noon. Nationally, over 100 student musical theater troupes have scheduled free public performances in their home towns and thousands are expected to participate in a Facebook Social media campaign during the week.

Musicals in our Schools Week's grassroots efforts will make a national statement about the importance of quality arts programs in schools. Community members and organizations will create unique ways to express the value of arts education, ranging from performing a number from a musical, sponsoring tickets for students to see a show, and buying an ad in a school program to sending a thank you note to a theatre educator who made a difference, organizing a flash mob performance in a public space, writing a letter to a politician or volunteering to help out a local production.


TINA THE THEATRICAL MASCOT IS STAR OF THE SHOW
Tina has star billing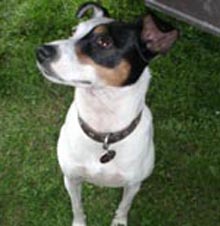 In last week's column ( See Broadway To Vegas column of March 11, 2012 ) in an article about The English Theatre located in Frankfurt, Germany mention was made of their mascot, Tina, who is a dog.

That drew some interest, since no Broadway theater has a canine on the premise. Thus, a little more about Tina, who is the four footer in the power position.

"Actually, little madam is very exotic. She is born in Portugal to a family of Andaluz Ratoneros (Spanish breed) and after not liking her puppy life there she decided to settle down in Germany. She prefers high living standards," quipped Christian Teske who is responsible for press and public relations.

While the female species - especially those in show business - are sensitive about their age, it is whispered about that Tina is five. It's denied that she has ever had Botox.

"Tina lives with her owner, Michaela, our Event/Bar manager," he said referring to Michaela Gilllum who is in charge of the space known as James The Bar, an integral part of the theatre's ambience. Over two levels, with a gallery upstairs and a performance space downstairs, James is noted for its flexibility. James is a relaxing place to enjoy a drink and snack before or after the show, and where patrons are promised "a good chance to meet and have a chat with the actors."

"Due to the flexible furniture, the foyer can easily be adapted to individual requests, and the existing technical equipment not only enables the realization of all kinds of parties and celebrations, but conferences and presentations can also be carried out without problems."



James The Bar is run by Tina's pet parent Michaela Gillum.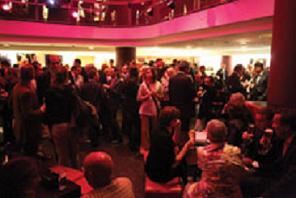 As for Tina, "after her arrival she instantly charmed everybody and became our little star," continued Teske about the pooch who has the run of the place. "Tina is in the theatre almost everyday and she cruises elegantly through all departments."

While some of the humans have special food requests, Tina is low-maintenance.

"Well, after all, she is just a dog. She would sell her soul for anything edible," confessed Teske.

Do the performers coming in to star in your shows enjoy her or has anyone ever announced they are allergic to dogs and to keep her out of the theatre when they are performing?

"During the performance she is spending her time on her favourite sofa on the upper level of the theatre bar," answered Teske. "Actors adore her and ones with allergies keep themselves on the down level of the bar. After all, she was here first."

Currently Tommy is enjoying an extended engagement at The English Theatre Frankfurt which expects over 75,000 people to attend performances this season. Up next is Rain Man a play by Dan Gordon, based on the motion picture, which opens April 14, 2012.


SPREADING THE WORD


MICKEY ROONEY a Hollywood living legend takes the stage of The Edgerton Center for the Performing Arts on the campus of Sacred Heart University in Fairfield, Connecticut as part of its American Legends Series.

Rooney will candidly reminisce about his stage, film and television careers in an 'Actors Studio-style' presentation hosted by Jerry Goehring, Executive Director of The Edgerton Center.

The evening will include selected clips from his film, television and stage productions and he will also participate in a Q&A with members of the audience.

Mickey Rooney is scheduled to appear at the Edgerton Center on Saturday, March 24, 2012.

All in all, Mickey Rooney is a man with over 200 films under his belt. He has earned an Honorary Oscar for Lifetime Achievement, a special Juvenile Oscar he shared with Deana Durbin in 1939, five Oscar nominations, one Emmy Award, five Emmy Nominations and two Golden Globes. In addition to his film career, Rooney has starred on Broadway and in Las Vegas.

SHAKESPEARE AND THE LAW On Thursday, March 22, Shakespeare Theatre Company's Bard Association in Washington, DC will host "If money go before…": Shakespeare, Lobbying and Elizabethan England.

Nick Allard from Patton Boggs LLP, and Melanie Sloan from Citizens for Responsible Ethics in Washington, join a panel of distinguished experts including The Honorable Stephan Herseth Sandlin of Olsson Frank Weeda Terman Matz P.C. and STC Board Member Abbe David Lowell to examine Washington's favorite pastime through a Shakespearean lens.

Thursday, March 22, 2012 with the Panel Discussion followed by a reception at Sidney Harman Hall in Washington, DC.

STRATEGERY: SNL'S REMARKABLE INFLUENCE OVER POLITICS THROUGH SATIRE presented by the Ford Hall Forum at Suffolk University in Boston will bestowed upon James Downey, the 2012 Louis P. And Evelyn Smith First Amendment Award; with moderator Bill Murray on Tuesday, March 27.

Preceded by a First Amendment Award Reception at the Offices of Prince Lobel Tye LLP.

James Downey has been a writer for Saturday Night Live for over three decades, putting his hilarious words in the mouths of countless comedic actors. Year after year, he has provided material for a show that continues to define popular culture, and no political figure has escaped his rapier wit. Notably, Downey's consistent commentary on current events holds a mirror up to America, allowing life to respond to his art as much as vice versa. His work is a tribute not just to American culture itself, but also to the value of freely expressing sentiment that may not always be welcome but is certainly necessary.

As Ford Hall Forum at Suffolk University presents Downey with its coveted First Amendment Award, his friend, actor Bill Murray, moderates the discussion on his career of political satire and the many truths told in jest.

Ford Hall Forum at Suffolk University is the nation's oldest free public lecture series. The Forum promotes freedom of speech and fosters an informed and effective citizenry through public presentation of lectures, debates, and discussions.

FROM RUFUS WAINWRIGHT TO A WILD CHIMP CALL were part of the entertainment for the Commonwealth Day celebration at Westminster Abbey in London. In the audience were Queen Elizabeth, Prince Philip, Prince Charles, Camilla and Sophie who is married to Prince Edward. Also present were 1,000 school children who heard a cover version of Leonard Cohen's Hallelujah by Canadian singer-songwriter Rufus Wainwright, and the greeting call of the wild chimpanzee given by primatologist and environmentalist Dame Jane Goodall.

Other performers at the event included South African jazz musician Hugh Masekela, who urged people present to join in the chorus of a Sesotho song and the Scots Makar or national poet Liz Lochhead who read her poem Connecting Cultures.

Earlier the Abbey heard a pre-recorded Commonwealth Day message from The Queen, who wore a Peter Enrione bright pink dress with bright pink cashmere wool coat and matching hat by Angela Kelly for the occasion.

MY OCCASION OF SIN TALKBACK with Professor Piper Kendrix Williams, Assistant Professor of English and African-American Studies at The College of New Jersey, and co-editor of the book Re-presenting Segregation: Toward an Esthetics of Living Jim Crow (SUNY Press, 2010) will participate in a talkback with the playwright Monica Bauer after the performance. March 24th, Urban Stages in NYC.

1969. Jazz sweeps the segregated city of Omaha, Nebraska. Two unlikely characters, an African American jazz musician and a Polish music store owner join forces to bask in this music revolution. Yet, the racial tension all around them is inescapable, it festers and grows and explodes all in the name of a young girl named Vivian Stone. Based on true events. My Occasion of Sin officially opened at Urban Stages on March 21.


OTHER PEOPLE'S MONEY


ANDY WARHOL'S

Andy Warhol's Double Elvis silkscreen is the first to appear on the market since 1995. Photo: Sotheby's.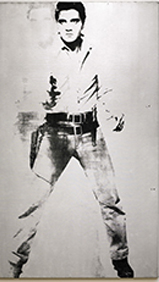 painting of Elvis Presley could bring up to $50m when gaveled down by Sotheby's.

On March 15 Sotheby's announced that Andy Warhol's Duble Elvis (FerusType from 1963 will be featured in their Contemporary Art Evening Auction in New York on May 9, 2012.

The work is a seminal piece from the iconic series devoted to the singer and actor that was first seen at the Ferus Gallery in Los Angeles the same year that it was created.

Sotheby's will exhibit the work, which carries an estimate of $30/50 million, in Los Angeles for the first time this week, followed by exhibitions in Hong Kong and London prior to the New York sale.

Sotheby's said the painting, titled Double Elvis "epitomizes the artist's obsessions with fame, stardom, and the public image".

The life-size painting is one of 22 pieces Warhol dedicated to the singer.

In Double Elvis the singer is dressed as a gun-toting cowboy, while the double of the title refers to a shadowy image of the singer in the same pose.

The auction house said the Elvis series marked a turning point in Warhol's career, "where he made a transition from a viewer of movies to a maker of them". Of the 22 works in the Elvis series, nine are held in museum collections.

From The Andy Warhol Catalogue Raisonne:

"Warhol made two types of compositions based on the same picture of Elvis Presley. The source has not been located but a comparable image has been identified in the Warhol archive - a colour postcard, printed in Germany, that shows Presley as a gunslinger... On the back, the movie is identified as Flaming Star, a Western directed by Don Siegel... The postcard documents Warhol's source and helps to establish a date before July 1963 for the paintings.






AVENUE Q THE MUSICAL celebrated it's 1,000 performance at off-Broadway's New World Stages on March 14.

The Tony Award winning musical had previously enjoyed a run of 2,543 shows on Broadway before transferring to the off-Broadway venue.



EVITA

Michael Cerveris, Elena Roger and Ricky Martin in Evita.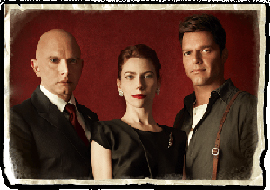 a newly imagined production of Tim Rice and Andrew Lloyd Webber's musical, directed by Tony and Olivier Award winner Michael Grandage and choreographed by Tony Award winner Rob Ashford.

Starring Olivier Award-winning Argentinean actress Elena Roger, making her Broadway debut as Eva - and the first Argentine ever to interpret Eva - Grammy Award-winning pop superstar Ricky Martin as Che and Tony Award winner Michael Cerveris as Perón.

Eva Perón used her beauty and charisma to rise meteorically from the slums of Argentina to the presidential mansion as First Lady. She won international acclaim and adoration from her own people as a champion of the poor, while glamour, power and greed made her one of the world's first major political celebrities.

Evita tells Eva's passionate and tragic story through Tim Rice and Andrew Lloyd Webber's most dazzling and beloved score, including Don't Cry for Me Argentina, Buenos Aires, Another Suitcase in Another Hall and High Flying Adored, together with You Must Love Me, the Oscar-winning hit from the film Evita.

The Evita creative team includes Tony Award-winning Scenic and Costume Designer Christopher Oram, Tony Award-winning Lighting Designer Neil Austin, Olivier Award-winning Sound Designer Mick Potter, Wig and Hair Designer Richard Mawbey, Projection Designer Zachary Borovay, and Music Supervisor/Conductor Kristen Blodgette. Orchestrations are by Andrew Lloyd Webber and David Cullen, and dance arrangements are by David Chase.

The cast of 36 also includes Christina DeCicco as the Eva alternate, Max von Essen as Magaldi and Rachel Potter as the Mistress, Ashley Amber, George Lee Andrews, Wendi Bergamini, Eric L. Christian, Kristine Covillo, Colin Cunliffe, Margot de La Barre, Bradley Dean, Rebecca Eichenberger, Melanie Field, Jennie Ford, Maya Jade Frank, Bahiyah Sayyed Gaines, Constantine Germanacos, Laurel Harris, Nick Kenkel, Brad Little, Erica Mansfield, Emily Mechler, Isabela Moner, Sydney Morton, Jessica Lea Patty, Aleks Pevec, Kristie Dale Sanders, Timothy Shew, Michaeljon Slinger, Johnny Stellard, Alex Michael Stoll, Daniel Torres and Matt Wall.

The musical to beat this season. Currently at the Marquis Theatre in New York City.

THE WHO'S TOMMY Book by Pete Townshend and Des McAnuff. Music and Lyrics by Pete Townshend. Additional Music and Lyrics by John Entwistle, Keith Moon and Sonny Boy Williamson.

Directed by Hallie Baran. Musical Direction by Chris Raymond.

The Tony Award-winning rock opera. Based on The Who's classic 1969 double album, Tommy is the exhilarating story of a deaf, dumb, and blind boy who transcends the cruelty of the world around him to find enlightenment. Pete Townsend's musical masterpiece, filled with iconic hit songs like Pinball Wizard; See Me, Feel Me; Acid Queen and more, is a tribute to hope, healing and the human spirit.

Jess Ford stars in the title role The ensemble features Anna Ty Bergman, Geoffrey Going, Stephanie Hayslip, Timothy Hearl, Chris Kerrigan, Lisa Margaroli, Karl Maschek, Megan McDermott, Samantha Mills, Matt O'Neill, Steven W. Nielsen, Aidan Park, Brittany Rodin, Nik Roybal, Bradley Sattler, and Tiffany A. Williams.

Eight-year-old Donovan Baise and eleven-year-old Max K. Salinger double in the role of young Tommy, while the role of young Cousin Kevin is shared by teens Andy Scott Harris and Adam Simon Krist.

Set and costume design for Tommy is by Brandy A. Jacobs; lighting designer is Cullen Pinney; and video design is by Matthew Leddy.

Presented by DOMA Theatre Company with performances March 23 – April 15 at The MET Theatre in Los Angeles.

MOULIN ROUGE- THE BALLET performed by Canada's Royal Winnipeg Ballet.

Moulin Rouge – The Ballet has been seen by close to 60,000 people across North America and has elicited cheers and ovations wherever it tours. Along with a rousing French soundtrack, the ballet features high-kicking choreography and a passionate story of love, ambition and heartbreak.

Turn of the century Paris … a city of exquisite contradiction. The heady elixir of personal freedom bred lifestyles both reckless and addictive. Come…to the Moulin Rouge! Where painters roam the cobblestone streets and steamy cabarets boom with the saucy Cancan. Where passions burn brightly, and young Nathalie and Matthew yearn for love.

Pre-Show Talk Back with Canada's Royal Winnipeg Ballet. This is the final performance of Appalachian State University's 2011-12 Performing Arts Series.

Thursday, March 22, 2012 at the Farthing Auditorium, Appalachian State University in Boone, NC.

JESUS CHRIST SUPERSTAR by Andrew Lloyd Webber and Tim Rice. Directed by Des McAnuff.

Jesus Christ Superstar, the ground-breaking rock opera which reinvented musical theatre for the modern age, tells the story of the last week of Christ's life. The score includes such chart-topping songs as "I Don't Know How To Love Him," "Everything's Alright" and "Superstar."

The cast features Paul Nolan as Jesus Christ, Josh Young as Judas Iscariot, Chilina Kennedy as Mary Magdalene, Tom Hewitt as Pontius Pilate, Bruce Dow as King Herod, Marcus Nance as Caiaphas and Aaron Walpole as Annas.

Also in the cast: Matt Alfano as Thaddeus, Mary Antonini as Elizabeth, Karen Burthwright as Ruth, Jacqueline Burtney as Mary (Martha's Sister), Mark Cassius as Matthew, Ryan Gifford as Bartholomew, Kaylee Harwood as Sarah, Jeremy Kushnier as James the Lesser/Priest, Mike Nadajewski as Peter, Melissa O'Neil as Martha/Maid by the Fire, Laurin Padolina as Rachel, Katrina Reynolds as Esther, Jaz Sealey as Thomas, Jason Sermonia as John, Julius Sermonia as James, Lee Siegel as Simon Zealotes, Jonathan Winsby as Phillip, Sandy Winsby as Andrew, and Nick Cartell as Jonah/Swing, Krista Leis, Matthew Rossoff and Matt Stokes as swings.

In addition to Mr. McAnuff as Director, the creative team includes Choreographer Lisa Shriver, Musical Director Rick Fox, Set Designer Robert Brill, Costume Designer Paul Tazewell, Lighting Designer Howell Binkley, Sound Designer Steve Canyon Kennedy and Video Designer Sean Nieuwenhuis.

Another eagerily anticipated powerhouse revival which will have Andrew Lloyd Webber and Tim Rice competing against themselves, began previews Thursday, March 1 in preparation for a Thursday, March 22 opening at the Neil Simon Theatre in New York City.


WHO'S WHERE




BIG BAD VOODOO DADDY cruises into town for another swingin' performance. Friday, March 23 Outdoors at Scottsdale Civic Center Amphitheater, Scottsdale, AZ.

LANG LANG for the first time ever in London, the pianist performs his complete Beethoven Piano Concerto cycle at the Royal Albert Hall March 20-23, 2012.

PINK MARTINI in a two night romp March 23-24 at the Civic Center Music Hall in Oklahoma City.

LILY TOMLIN will be delighting audiences Friday, March 23, at the Cascade Theatre in Redding, CA. On Saturday she can be enjoyed at the Wells Fargo Center for the Arts in Santa Rosa, CA.

CELTIC WOMAN performs Tuesday , March 20 at the Landmark Theater in Richmond, VA. Wednesday's show is at the Consol Energy Center in Pittsburgh. On Friday the gals are at the Fox Theatre in Detroit. On Saturday they can be enjoyed at Aronofoff Center for the Arts in Cincinnati. Next Sunday, March 25, the production is at the Elliott Hall of Music in West Lafayette, IN.

DIANA KRALL take the stage at the PAC in Durham, NC on Thursday, March 23. On Saturday she performs at the Ocean Reef Cultural Center in Key Largo, FL.

CHRIS BOTTI puckers up and performs in a two night gig beginning Thursday, March 22 at the Napa Valley Opera House in Napa, CA. On Saturday the show is at the McCallum Theatre in Palm Desert, CA.


FINAL OVATION


DONALD SMITH a producer of cabaret entertainment for the Algonquin Hotel's Oak Room for the decade beginning in 1982, died March 13, 2012 from congestive heart failure. He was 79.

Smith founded the Mabel Mercer Foundation in 1985, and created the annual New York Cabaret Convention, as well as similar conventions in London, Washington D.C., Chicago and San Francisco. He was also the artistic director of the Cabaret Comes to Carnegie series at Weill Recital Hall, the executive producer of the popular Cabaret at The Russian Tea Room series, and the talent booker for London's Pizza On the Park.

Among the cabaret artists he worked with were Mercer, a life-long friend, Andrea Marcovicci, Michael Feinstein, Steve Ross, Julie Wilson, Margaret Whiting, KT Sullivan, Craig Rubano, Jeff Harnar, and Sylvia Syms.

There are no immediate survivors.








Next Column: March 25, 2012
Copyright: March 18, 2012. All Rights Reserved. Reviews, Interviews, Commentary, Photographs or Graphics from any Broadway To Vegas (TM) columns may not be published, broadcast, rewritten, utilized as leads, or used in any manner without permission, compensation and/or credit.
Link to Main Page
---
Laura Deni



For the snail mail address, please E-mail your request.
CLICK HERE FOR COMMENT SECTION