! >
Broadway To Vegas
  SHOW REVIEWS     CELEBRITY INTERVIEWS     GOSSIP     NEWS 
| | |
| --- | --- |
| | |
Copyright: March 8, 1999
By: Laura Deni
CLICK HERE FOR COMMENT SECTION

SHARON STONE SEEKS CONFIDENTIALITY

Actress Sharon Stone is seeking assurance from all parties that her testimony in a lawsuit will be kept confidential. At issue is whether or not sexual allegations made in a book Naked Instinct:The Unauthorized Biography of Sharon Stone are true. See Broadway To Vegas column of Feb.22.
Sharon Stone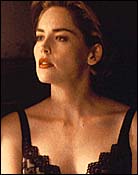 Las Vegas resident Janice Payne filed suit in District Court and is seeking damages from author Frank Sanello, Carol Publishing Group and the woman who is quoted as saying that she witnessed Sharon Stone make unwanted sexual advanced to Payne in a public restroom of the Beverly Hills Hotel. Payne charges in her lawsuit that those named exhibited "a reckless disregard for the truth" in portraying the restroom meeting as a sexual encounter. Payne vehemently denies that any sexual encounter ever took place between herself and the actress. The two had become friends when Payne worked as a nurse on the Casino movie, which was filmed in Las Vegas. Stone won the Oscar for her starring role in that flick.

Stone is on the witness list. Attorney Robert Graham, who represents Payne, indicated that because of Stone's busy schedule her testimony would probably be videotaped and then played to the jury.

In addition to not appearing in person at the trial, Stone is seeking promises from all parties that her testimony will remain confidential.


STAR TREK ACTORS ZAP TEAMSTERS


The Teamsters Union won't be joining the Star Trek Experience. For several months the actors who portray Star Trek officers, Ferengis, Earthings and Kligons, at the Star Trek Experience at the Las Vegas Hilton, considered following the Teamsters Union where they had never gone before - into a union hall.

The Treksters held an earthly election Thursday to determine the fate of Teamsters Union Local 995. The ballot counting returned the Teamsters to their more earth bound representations. The vote was 40-33 against the union, with 14 challenged ballots - six by Star Trek and eight by the union - based on eligibility issues.

The 84 employees had sought representation by the Teamsters after they were rejected by other unions, including the American Guild of Variety Artists and the Screen Actors Guild, who ruled that the actors didn't fall under their auspices. Seeking a leader, the Star Trek Experience sought out the Teamsters.

The Star-Trek actors are employed by Paramount Parks, based in Charlotte, N.C.

The actors who play the crew from the U.S.S. Enterprise and various species of aliens, voted in December to join the Teamsters. That election was invalidated because a National Labor Relations Board agent failed to secure certain challenged ballots.


FROM MOB LAWYER TO MAYOR


Oscar Goodman, the Philadelphia born defense attorney, who has spend 30 years in Las Vegas defending mob bosses - he played himself in the movie Casino is running for mayor of Las Vegas. Goodman, 59, says he's willing to spend $2 million "or whatever it takes" to win. The primary election is May 4, with 10 mayoral candidates on the non-partisan ballot.


MAY I SPRITZ YOU, SIR?
Mandalay Bay Resort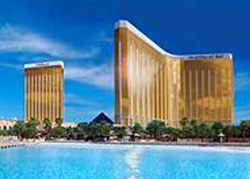 The opening of the $1 billion Mandalay Hotel in Las Vegas last week managed to pull off cutting edge ingenuity while still appealing to understated old money - melding of three distinct properties with different demographics - and brilliantly creating a collage that looks like a cash cow.

"Mandalay Bay is where fun in the sun meets up with class and cool," explained Glenn Schaeffer, president of Circus Circus, the publicly traded corporation that owns the place. The guy is right.

Mandalay Bay is a happin' place.

The 43 story resort has something to entice everyone - 3,700 rooms, with a Las Vegas first -an 11 acre water lagoon surrounded by 1,700 tons of sand with six-foot-artificial waves. Professional surfers are sine qua non.

Swim with the fishes - which had a different meaning in the Bugsy days - now refers to the new Mandalay Bay water attraction--swimming with SHARKS!

For those really brave souls who wish to dive into a different type of water - the hotel also has two wedding chapels.



Tia Carrere- anxious to leave her money in the casino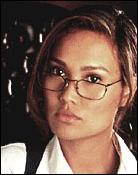 Of course Mandalay Bay has a casino. Seems to never end. On opening night Tia Carrere couldn't wait to try it out. "I'm going to go see House of Blues and then Chicago and then I'm going to spend some money at the tables."

Belly up to the bar, boys - takes on a new dimension in the Aureole of New York restaurant - one of 15 gourmet restaurants inside the resort.

In the middle of the Charlie Palmer eatery is a four story wine tower - the first-of-a-kind in the world. Order any of the 10,000 bottles of wine and wine stewards will strap on harnesses and be hoisted up to the tower to make their selections from this "Celler In The Sky" - all for your libation pleasure.

The 1,800-seat House of Blues is also part of the Mandalay Bay Resort.

A parade of Harleys escorted John Belushi, John Goodman and Dan Aykroyd as they made their entrance.

Aykroyd told the assembled: "Las Vegas is a music town. Some of the best music ever done has been done in Las Vegas.



Dan Aykroyd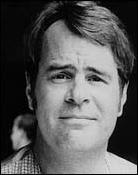 The Blues Brothers kicked off the evening. Among their selections - what else but - Viva Las Vegas. Bob Dylan, whose lyrics some people could almost understand, christened the room with a midnight concert. Bono jumped on stage to sing a duet.

Las Vegas is the seventh House of Blues, joining others in; Chicago, Cambridge, Mass.; New Orleans; Orlando; Myrtle Beach, N.C.; and Los Angeles.

During March The House of Blues will bring to the stage performances by; The Offspring, Zebra Head, Cheryl Crow, Cheap Trick, Love & Rockets, Nazareth, The Young Dubliners, Dr. John and the Radiators, Jaguares, Bad Religion, B.B. King, and Cypress Hill. There is also a Sunday Gospel Brunch in the 500 seat House of Blues restaurant.

The House of Blues also has a private 14,000 sq. ft. Buddah Room, with it's own bar and restaurant. To get your nose through the door you must be a member of their International Foundation.

The non profit organization was established by the House of Blues to further education on African-American culture, art, and the history of blues music. It was developed with Harvard University in 1992. So far over 100 Las Vegans have ponied up the annual membership fee, which runs between $2,000-$4,000.

The Tony Award winning musical Chicago starring Chita Rivera, Ben Vereen, and Ute Lemper is set for a six month run with options.

That is staged in the 1,700 seat Broadway-style theater. Luciano Pavarotti will open the 12,000 seat Sports and Entertainment Events Center on April 10.

Then there is the only five star hotel in Las Vegas - the new Four Seasons Hotel. 424 rooms located on the 35-39th floors. All guests of the Four Seasons may use the Mandalay facilities.

It's not reciprocal.

If you're ensconced in the Mandalay Bay section, you'll have enough to see and do without getting in the hair of the really rich.

Four Seasons guests have private entrances, elevators, spas, restaurants and lounges - tea is served every afternoon in the Lobby Lounge. Guests are fawned over with numerous other amenities - taken for granted with that five star rating. Fresh flowers are flown in daily. The room rates ranging from $500 to $4,000 per night. Cool towels by the pool are provided and an attendant who will "spritz you when needed."



Broadway To Vegas is supported through advertising and donations. Priority consideration is given to interview suggestions, news, press releases, etc from paid supporters. However, no paid supporters control, alter, edit, or in any way manipulate the content of this site. Your donation is appreciated. We accept PAYPAL. Thank you for your interest.


LUCKINBILL ON DARROW, LUCIE & AND LIFE


Last week's column (March 1) began a two part interview with Laurence Luckinbill, author and star of Clarence Darrow Tonight which opened last night at the Ensemble Studio Theatre, New York.



Luckinbill as Darrow
Photo By: Stephen M. Spinder
"Darrow's life span was unbelievable," continued Luckinbill in our interview of two weeks ago.

"It was 1857 to 1938, so he was born before the Civil War. His home was a station on the underground railroad. He didn't find this out until he was a more grown up child. He died as the Nazi troops were assembling at the beginning of World War II. That kind of life span, which basically went through all of the union troubles, went through the whole concept of - how do you get management's attention other than by violence?"

"Part of the first act of my play is about that."

"As a youth Darrow was determined to break free from the small town poverty in which his parents lived. To do so he needed to compromise some of the principles by which he was raised. Nothing illegal," Luckinbill was quick to point out, explaining - "he just wanted to succeed and be like everybody else. He got a big railroad job. At the first flush of success, as a corporate lawyer for the Chicago Northwestern Railway, Eugene Debs took 15,000 men out on strike and asked him to defend the union. And, he was working for the railroad!" Luckinbill incredulously exclaimed.

It was that 1894 labor strike case that established Darrow as the legal champion of the unfortunate and oppressed.



Luckinbill in Clarence Darrow Tonight
Photo By: Stephen M. Spinder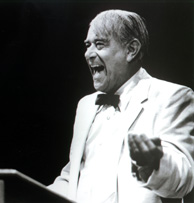 "All of his parent's struggles overwhelmed him and he quit his big job and never went back to it. He went to work to defend the union for nothing - uncompensated," reiterated Luckinbill as if to hit home the pro bono case.

"Even he said - I don't know any lawyers who would go out on strike for an eight hour day for three-and-a-half dollars a day in wages. I don't suppose the sentiment of the general public would support us ... which could be a lawyer joke," laughed Luckinbill.

"Then Darrow goes on to say - But, I don't know any lawyers who would go on strike and risk starvation for themselves and their families for a cause. And, he said - and I myself am not brave enough to strike. At the end of the first act, what has happened to Darrow is that he has defended so many of these horrible situations - child labor - women who are exploited," said Luckinbill, his voice trailing off as he recited a long list.

The echoes of Luckinbill's play, which he briefly toured before opening in New York, are still rolling in.



Bill Haywood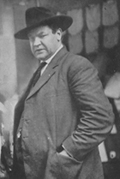 "I'm going up to Idaho to do this play for the Idaho Bar Association. It was in Idaho that Darrow defended Big Bill Haywood. He was a dangerous radical and - yes - the governor was murdered. He was not murdered by Haywood, but probably somebody paid off somebody, who paid off somebody, who paid off somebody that Haywood perhaps knew about. But, he got him off."

Luckinbill was referring to the early statehood days of Idaho. George L. Shoup, Republican, became the state's first governor. During the 1890's, disputes arose between miners and mine owners. The quarrels often flared into bloody violence. Battles also broke out between nonunion miners and members of a labor union called the Western Federation of Miners.

In 1892, the Coeur d'Alene region became the scene of dynamiting and shooting as union miners fought nonunion men and mine owners. State and federal troops restored order.

Violence broke out again in 1899. Governor Frank Steunenberg declared martial law and called in federal troops, who restored order.

Steunenberg, no longer governor, was murdered in 1905. He was killed when he opened his front gate and set off a bomb attached to the gate. Harry Orchard, a member of the Western Federation of Miners, confessed to the crime and said three union officials were also involved. The murder trial, held in 1907, attracted world-wide attention.

It brought national fame to U.S. Senator William E. Borah, a lawyer for the state. Darrow represented the accused union leaders, headed by William D. "Big Bill" Haywood. Haywood and another of the officials were freed. Orchard was sentenced to life in prison.

So, when Luckinbill was asked to take his play to Idaho he had some concerns. He related his conversation to the planning committee. "I said to them (the Idaho Bar Association) - Big Bill Haywood is in the play. She said Oh? I said, do you want me to connect somehow, as directly as I can, from the eras that we are talking about, to the skin head movement that is there? The woman thought about that and said - No."

"I said, there is also some funny stuff that Darrow had to say about Boise. She said - Do that!"

"Even today," continued Luckinbill, " those problems remain like radioactive waste."

"The form of the play is a lecture," he explained. "Darrow finds out in the lobby that the subject is What Is Justice? He's really pissed off about that."



Clarence Darrow early 1900s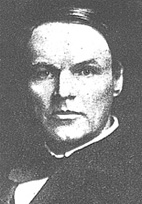 "He comes in and says - That is a very, very big subject. He makes an attempt to explain it, which takes him back through his life. At the end, the only definition of justice that he can come up with - and it's right from his own writings - he says: it doesn't exist. There is no such thing. But, maybe it doesn't matter. Maybe the only thing that matters is if we recognize our common suffering and our common need, it will create in us a desire - not for justice - but simply to help in this world in proportion to our strength. That's a great ending. That's where I end it," explained the author/actor.

"Then I was watching C-SPAN," continued Luckinbill his voice picking up excitement, " and there was a Catholic nun who came bounding into the arena. Giving a speech in Chateaugay to some ladies' group, she was speaking on social justice. She was from an order of nuns that every morning get up at 4:30 or 5 o'clock, have their morning prayer, then they take a seat in a circle and look at each other and say - Okay, what are you going to do for social justice today? And, then they make a plan. Each day they do something."

"Now, that is as good a way to live as I can possibly imagine," said Luckinbill, who added that the nun told the group "they had come to their definition of justice from the Torah, "which caused Luckinbill to "be right on the edge of my seat listening".

"She said, according to the Torah, justice is repairing the world."

I asked Luckinbill if, following this engagement at the Ensemble Studio Theater, he had any tour plans. "I would like to tour it around to first class and smaller houses."



Lucie Arnaz and Larry Luckinbill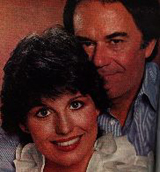 For almost 19 years Luckinbill has been married to Lucie Arnaz, the daughter of the late Desi Arnaz and Lucille Ball.

Marrying into that high profile, headstrong family could have been daunting for most men. Luckinbill has managed to preserve his own identity.

That hasn't been without some public revelations.

His wife guested on Tom Snyder's television show and divulged that she was a terrible step-mother to her husband's two sons from a first marriage.

I asked Luckinbill if the wicked step mother disclosure had resulted in any negative feedback.

"Oh, yeah, we always do from things like that," he quickly answered.

When I inquired if he meant his wife's mouth moving, he laughed when he repeated, "Her mouth moving creates negative feedback."



Lucille Ball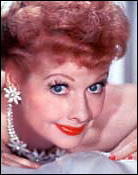 Then he got serious."She is very, very honest. And, I told her the other day that it's one of the things that I admire the most about her. It really is."

Luckinbill's two grown sons from his previous marriage are into music and father stays hip.

"My oldest son, Nick, is in Los Angeles. He is producing music dance parties. You have your Burning Man thing out there is the desert. Well, Nick has produced a series of magical world dance festivals, taken from The Lion, The Witch and the Wardrobe, the C. S. Lewis book. They've done them on Indian reservations. The last one I actually went to and filmed," reported the proud father.

"It was at the Orange County Fairground. It's huge. There were 9,000 kids there. And, these things don't get started until midnight. It went on until seven or eight in the morning. I lasted from nine at night until about four-thirty in the morning. I haven't been up that late since I was pursuing the ladies, some years ago."

With a hint of surprise in his voice, at his mid-life ability to stay up all night, he reported, "I managed okay."

"It was really well done," he continued about the festival. "I got a lot of film and got a master for him. He's good at what he does. He's plugged into this. He's 29 and cares about all of this passionately.

"His younger brother, Ben, performed at 2:30 in the morning. He has a group and they are good. They're funny. They write funny lyrics. It's quite hip hop. Rap ... and it's good."

"Ben is really interested in music and is really a very smart kid. He can be very withering and devastating about what he thinks is bad music. I remember getting in fights with my mother over George Bernard Shaw, if you can imagine that. Of course, she hated him. Of course, to me he was the best thing that ever happened."

"So," he rationalized, "nothing much has changed."

"Lucie is extremely close to her daughter," he said referring to Kate, their youngest child.

"She and her daughter talk like old, old pals. It's great to see Lucie sit across the table from Kate and they talk girl talk. She looks at me every once in awhile like - you'll never understand. I go along with the fiction," laughed the devoted father, "because I understand everything."


MAC AWARDS LIFETIME ACHIEVEMENTS
LIZA MINNELLI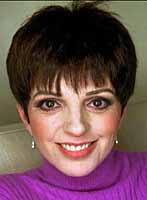 The Manhattan Association of Cabarets and Clubs (MAC) will honor Liza Minnelli, Barbara Cook and pianist Wally Harper, who frequently serves as Cook's accompanist, with lifetime achievement awards.

The presentations will be made at the 13th annual awards show April 5.

Minnelli, who starred in the 1972 film Cabaret will sing for the first time at a MAC awards ceremony. Others set to perform during the festivities include; Betty Buckley, Kathie Lee Gifford, and guitarist-singer John Pizzarelli.

The association honors cabaret entertainers. Winners in 32 categories including jazz, vocal, pop, rhythm and blues, comedy and piano bar entertainers will be announced.




OTHER PEOPLE'S MONEY
LARRY FLYNT the publisher of Hustler magazine has been sued by The Las Vegas Hilton Hotel. In a federal lawsuit filed last Tuesday, the hotel claims he failed to repay $3.2 million in credit he took out at the casino in July and August. Flynt, 56, is represented by attorney Alan Isaacman, who answered that the situation was merely a dispute over how much money was owed and he expected the dispute to be settled in the near future. Flynt is well known in Las Vegas for his love of gambling. Woody Harrelson received an Oscar nomination for his portrayal of Flynt in the 1997 autobiographical movie The People vs. Larry Flynt.

LIVENT, INC. the theater production company, lost about $2.2 million on its Broadway shows between Jan. 4 and Jan. 21, according to bankruptcy papers filed with the court.Bidding for the assets of the live-theater stage company is currently taking place. At least a half dozen have submitted preliminary bids which are reported to be between $80 million and $120 million. The entire company includes theaters in New York, Chicago, Toronto and Vancouver, as well as corporate headquarters and rights to shows. Some possible buyers include; Cablevision, Ogden Corp, SFX Entertainment and Stoll Moss.


SWEET CHARITY


RAIN FOREST FOUNDATION 10th Gala Benefit Concert featuring Sting, Elton John, James Taylor, Charles Aznavour, Tony Bennett and others, slated for Saturday April 17 at Carnegie Hall. Ticket information (212)347-7800.


CURTAIN DOWN


THE BLUE ROOM shuttered a week early due to star Nicole Kidman having a bronchial infection and a severe case of laryngitis. She had no understudy. The closing cost producers about $400,000 - covered by insurance. Not covered under any umbrella policy was the interesting wrath of ticket holders. Although they got their money back, many seemed outraged that Kidman had the audacity to get ill. Customers should try to remember that actors, with DNA linked to the human species, are thus not immune to the same ills that befall your Uncle Herbie.

TITANIC sinks on Broadway. After 804 performers, the cast at the Lunt-Fontanne theater, goes overboard on March 28.The show hasn't recouped the more than $10 million investment. The touring production received a scathing review by the Los Angeles Times during its run at the Ahmanson Theater. The national touring production is currently in Denver. Other production companies are planned for Australia, Germany, Japan and London. While on Broadway the show received five Tony Awards, including best musical of 1997.



ANNETTE BENING stars in Hedda Gabler, in a limited five week engagement. March 24 through April 18. Play by Henrik Ibsen, adapted by Jon Robin Baitz, directed by Daniel Sullivan. At the Geffen Playhouse, Westwood Village, Los Angeles.

SWEENEY TODD starring Kelsey Grammar, Christine Baranski, in this 20th anniversary concert production. The co-starring cast is a strong one; Davis Gaines, Neil Patrick Harris, Ken Howard, Dale Kristin, Melissa Manchester and Roland Rusinek. Only 5 performances!! March 12 through the 14.

JOHN DAVIDSON stars in Bully an adventure with Teddy Roosevelt Thursday, March 11, at the Cerrritos Center for the Performing Arts, Calif.


WHO'S WHERE


BROADWAY David Schweizer's adaptation of Phillip Dunning and George Abbott's fast-paced, 1926 gangland musical set in a roaring 20s speakeasy, about a small-time hoofer, his sweet young protegee and the ruthless suave gangster who wants her for his own. At the Actors' Gang Theater, Los Angeles through April 3.

HOW I LEARNED TO DRIVE starring Rona Benson, Johanna Day, Justin Hagan, Brian Kerwin and Molly Ringwald is at the Mark Taper Forum, Los Angeles through April 4th. Mark Brokaw directs the Paula Vogel play. Vogel's latest effort The Mineola Twins,starring Swoosie Kurtz is on Broadway at the Laura Pels Theater at the Roundabout.

DON'T MISS Eartha Kitt at the Cafe Carlyle through this Saturday and James Naughton: Street Of Dreams at the Promenade Theatre through April 11.

RICHARD CHAMBERLAIN joins The Sound of Music at the Martin Beck Theatre. Chamberlain last appeared on Broadway in My Fair Lady.

KATHLEEN BATTLE in her only New York recital set for Sunday, April 11th, in Carnegie Hall. Included on the program will be two arias from Theodora. Tickets: $18-$70.

TERI HATCHER as Sally Bowles in the Los Angeles production of Cabaret. At the Wilshire Theatre through April 25.


THIS AND THAT


BILLY CRYSTAL working on a Broadway bound project. He hopes to have it on board next year.

DANNY AIELLO also Broadway bound next season in December Song. He'll play a beatnik poet.

STEVE CELL is the understudy for Richard Thompson who plays Bernard in Death of a Salesman. Last week Cell, who was on call in the theater's green room, was suddenly summoned to step in midway through Act II. Strickened by food poisoning, Thompson missed an entrance and was taken to a hospital where he was treated. Cell did exactly what an understudy is suppose to do - be prepared to jump in with no notice. He did just that and discovered that his first scene was opposite star Brian Dennehy. Cell received a special ovation during the curtain call. Thompson was able to return to the show the following day.

JERRY LEWIS appears Wednesday before the Nevada Assembly to speak about a pending bill - Assembly Bill 353 - aimed at curbing stalkers, by increasing the penalty for aggravated stalking to a possible 15 years in prison. Assemblyman Sheila Leslie, D-Reno, authored the bill at Lewis' request. The entertainer was a victim of a stalker. Gary Benson, diagnosed as schizophrenic, pleaded guilty in 1995 to aggravated stalking. He received five years' probation, which was changed to six-years in prison after Benson was found guilty of several parole violations. Lewis opposes his possible release from prison this year.

ARNOLD SCHWARZENEGGER is the center of a Japanese political fracas. Seems the Japanese Justice Minister Shozaburo Nakamura permitted Schwarzenegger to enter the country last October 27 without a passport. The Japanese parliament took Nakamura to task. He denied that he kept as a souvenir a form Schwarzenegger filled out when he arrived stating that his passport had been stolen shortly before he had left the United States. He arrived in Japan on a private jet. Nakamnura said the paper remained in his office because his secretary forgot to file it properly. In explaining his actions in helping The Terminator star, Nakamura said, "If I hadn't said yes, I would have been killed by my wife and daughter, who are his fans."

ANNIE GET YOUR GUN brought out a party hardy group of merrymakers, who whooped it up at the opening night party. Tavern On The Green was decorated in a Wild West Theme. The wonderful revival stars Bernadette Peters and Tom Wopat. Raising the roof were celebrants Lauren Bacall, Gregory Peck, who were joined by Irving Berlin's daughters, Mary Ellen Bannett, Linda Emmett and Elizabeth Peters. Bi-coastal party boy Joel Gray flew back to New York for the shindig. Gray had been in Las Vegas helping Tommy Tune celebrate his 60th birthday.

MICHAEL JORDAN was in Las Vegas last week to attend the MAGIC (Men's Apparel Guild of California ) trade show. At the Bellagio Hotel the basketball superstar previewed his Jordan line of clothes. His brand, part of Nike's apparel collection, includes footwear, sports clothing and accessories for men, women and children.


FINAL OVATION


RICHARD KILEY 76, the Chicago born baritone, died Friday in Warwick, N. Y. He won Tony awards for his role as Don Quixote in Man of La Mancha and for his performance in the Bob Fosse directed Redhead which starred Gwen Verdon. He took home an Emmy award for portraying an Australian sheep farmer in the mini series The Thorn Birds, which starred Richard Chamberlain. Kiley also won Emmy awards for the TV series A Year In The Life and Picket Fences.He originated numerous other roles both on Broadway and in the movies.Twice married, he had six children. Services were private.



Mention BROADWAY TO VEGAS for Special Consideration
Call (800) 942-9027









Next Column: March 15, 1999
Copyright: March 8, 1999 All Rights Reserved. Reviews, Interviews, Commentary, Photographs or Graphics from any Broadway To Vegas (TM) columns may not be published, broadcast, rewritten, utilized as leads, or used in any manner without permission, compensation and/or credit.
Link to Main Page
---
Laura Deni




For the snail mail address, please E-mail your request.
CLICK HERE FOR COMMENT SECTION