! >
Broadway To Vegas
  
  REVIEWS  INTERVIEWS COMMENTARY NEWS

| | |
| --- | --- |
| | |
PERFORMANCE ARTS GROUPS WANT ROYAL PATRON - - THE ORCHID SHOW: ON BROADWAY - - SEXUAL ESCAPADES HAVE DIFFERENT PUNISHMENTS - - BROADWAY RESPONDS TO WORLD WAR II - - 2010 NATIONAL MEDAL OF ARTS AND NATIONAL HUMANITIES MEDAL - - CHARLIE SHEEN FIRED - - PROMETHEUS BOUND AND AMNESTY INTERNATIONAL - - SPIDER-MAN HIT WITH MORE VIOLATIONS, JULIE TAYMOR LEAVES THE PRODUCTION - - DONATE . . . Scroll Down



PERFORMING ARTS GROUPS HOPE FOR A ROYAL PATRONAGE
Performing arts organizations hope for patronage by William or Kate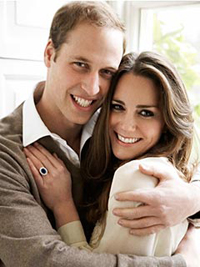 The upcoming wedding of Prince William and his princess-to-be Kate Middleton have souvenir hunters ordering the dignified official china, as well as snapping up the unofficial Crown Jewels Royal Condoms, which come three to a box and tout "Lie back and think of England." However, there is a caveat that confesses: "Crown Jewels Royal Wedding Souvenir Condoms are not supplied to, or approved by, Prince William of Wales, Catherine Middleton or any member of the Royal Family. Crown Jewels Royal Wedding Souvenir Condoms are a novelty condom not suitable for contraception or protection against STDs."

There are also boxes of German tea bags, which presumably are suitable for drinking. Those have William or Kate's face as the tea bag tag while their arms fold over the cup to keep the bag in a dunking position.

Performing arts organization are hoping to collect a different type of souvenir - a patronage.

Being able to say that your venue is the an official State Theatre in America can look good on a press release, but guarantees neither financial solvency, a full house nor the attendance of a governor or even a mayor at any function.

If you're operating a British theatre or arts organization that has a royal as its patron - you're in tall cotton.

About 3,000 organizations list a member of the Royal Family as patron or president.

Every member of the Royal Family receives hundreds of requests each year from organizations asking for their support. Although it's possible that a patronage might be for a specific event, generally the patronages or presidency is for life.

Some patronages mean attending an annual event, while others require attending monthly meetings. Combine all those patronage events and you have more than a full time job.

In many cases it's a real hands on involvement. Or, in one famous example - a hands and knees participation.

During a monthly board meeting of one of Prince Charles' charities the docket contained a discussion about how to handle what appeared to be a plumbing problem. Wearing a customed tailored suit, Prince Charles decided to check it out himself. He went to the troubled sink, got down on his hands and knees, scooted under the sink and - much to the embarrassment of the venue's caretakers - discovered that somebody had manually turned off the faucet's water supply. His Royal Highness explained the righty tighty-lefty loosey maneuver, turned the handle to the left and suddenly the water flowed.

"The Queen's patronage carries the most weight, and Her Majesty receives the most requests for patronages of all the members of the Royal Family," is the official explanation.

Hot on the heels of Queen Elizabeth as the sought after patron is Catherine Elizabeth Middleton, who has stated she won't announce her patronages until after her wedding.

Arts organizations are keeping their collective fingers crossed.

A patronage by either William or Kate would bring in the desired younger demographics not to mention desirable publicity.

While Kate, at the age of 10, appeared as Eliza in My Fair Lady, William hasn't shown the on stage presence and hands on interest in the arts that his father did during his school days.



Camilla and Prince Charles, meet performers backstage at the annual Royal Variety Performance, in aid of The Entertainment Artistes Benevolent Fund, at London Palladium Theatre December 11, 2008 in London, England. (Photo by Kirsty Wigglesworth-Pool/Getty Images)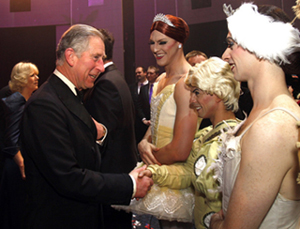 Camille, The Duchess of Cornwall is described as "a great supporter of the arts and regularly attends concerts and theatre shows with The Prince of Wales. These are often fundraising events for charities with which Their Royal Highnesses are affiliated. Her Arts organizations include: Patron of the London Chamber Orchestra, St Johns, Smith Square, the New Queen's Hall Orchestra, and the Theatre Royal Bath."

It was while Charles and Camilla were on their way to attend a Royal Variety Performance in central London last December that the Rolls-Royce they were in was attacked by a mob.

Prince Charles who has an excellent singing voice and is noted for his still life paintings, threw his patronage weight behind arts organization as far back as 1975 when he signed on as patron of The Variety Club of Australia and The Royal Opera. In 1977 The English Chamber Orchestra and Music Society were added to the list. The Loan Fund for Musical Instruments received his Patronage in 1979 as did The British Film Institute.

During the 1980's Prince Charles assumed the Patron responsibility of: The Philharmonia Orchestra (1980), The Chester Summer Music Festival (1982), The South Wales Male Choir (1982), The Welsh Association of Male Choirs (1984), The Philharmonia Chorus (1986), The Turner Society (1986), Music in Country Churches (1989), and The Friends of The Royal Pavilion Art Gallery and Museums (1989).

During the decade of the 1990s Prince Charles took on a substantial number of arts' Patronages.

Those organizations include: Theatrum Gedanense Foundation (1990), The Royal Shakespeare Company (1991), The London String Quartet Foundation (1991), The Royal College of Music (1993), The Australian Music Foundation (1993), The National Gallery Trust (1993), The BBC National Orchestra of Wales (1993), Live Music Now! (1996), The New English Art Club (1996),

The Tyrone Guthrie Centre is an artist retreat & creative residency for professional writers, painters & composers located in Ireland. Photo: Tyrone Guthrie Centre.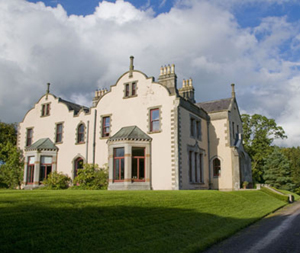 The Royal Television Society (1997), The Llangollen International Musical Eisteddfod (1997), The Welsh National Opera (1997), The Stained Glass Museum (1997), The London International Piano Competition (1998), The National Piping Centre (1999), Dance Base (1999), Paintings in Hospitals (1999), The Global Board of the Mariinsky Theatre (1999), The Associated Board of the Royal Schools of Music President (1999), Tyrone Guthrie Centre (1999) and The Royal Welsh College of Music and Drama (1999).

During the 2000 decade Prince Charles even agreed to become patron of an American based arts organization, the New York Academy of Art in TriBeCa, created under the aegis of Andy Warhol in 1982. Prince Charles became its patron in 2001.

In addition to the New York City connection, during the previous decade Prince Charles agreed to become patron or president of: The Actors' Benevolent Fund Patron (2000), The Scottish Chamber Orchestra (2000), Arts & Business (2000), British Youth Opera (2000), Glasgow School of Art (2001), The Three Choirs Festival Association (2001), The Artists' General Benevolent Institution (2001),The Bach Choir (2002), The Royal Society of Miniature Painters, Sculptors and Gravers (2002), The Brecon Cathedral Choir Endowment Fund (2002), The Birmingham Royal Ballet (2003), The Prince's Foundation for Children and the Arts (2003), The Royal Scottish Academy of Music and Drama (2003), The Royal Scottish Society of Painters in Watercolour (2003), The Gordon Highlanders Museum (2003), The Tetbury Music Festival (2003), The Keats-Shelley Memorial Association (2003), The Royal Ballet (2003), The Royal Ballet School White Lodge Restoration and Development Project (2004), The Prince's Drawing School (2004), The Prince's School for Traditional Arts (2004), Wilton's Music Hall (2006), The Trinity College Choir Association (2007), The Regina Symphony Orchestra (2008), The Royal Cambrian Academy of Art (2008), Sherpa Heritage Museum Project (2008), The Royal Opera House (2009), and The Scottish Ballet (2009).

The 2010 decade has seen The Prince of Wales add The Monteverdi Choir and Orchestra (2010) to his patron's list.

Prince William has only recently begun to accept the role of patron. On February 21, 2010 William became President of The British Academy of Film and Television Arts (BAFTA).

Applications for the patronage of any member of the Royal Family are submitted to the appropriate Private Secretary who will pass on requests which they deem may be of interest to their principal.

If the member of the Royal Family concerned thinks that one of these requests would be rewarding or important to take on, then they will usually ask for more research to be undertaken so that an informed decision can be made.

Reportedly, Kate who is now referred to officially as Catherine, has sent letters requesting more information to several charities.



Broadway To Vegas is supported through advertising and donations. Priority consideration is given to interview suggestions, news, press releases, etc from paid supporters. However, no paid supporters control, alter, edit, or in any way manipulate the content of this site. Your donation is appreciated. We accept PAYPAL. Thank you for your interest.



ART AND ABOUT


PICASSO, MIRO, DALI, ANGRY YOUNG MEN: THE BIRTH OF MODERNITY will bring together over sixty early works of three young artists: Pablo Picasso, Joan Miró, and Salvador Dalí, as well as over one hundred of Picasso's sketches.

All three were raised in Catalonia, but came to fame in France where two of them chose to live and to build up their careers, whereas Salvador Dalí stayed largely in Spain.

On view at the Palazzo Strozzi in Florence, Italy from March 11 to July 17, 2011, the exhibition is structured like a film in a series of 'flashbacks' that take the visitor back in time to the very birth of modernity - investigating the common roots of the styles that later made Picasso, Miró and Dalí household names.

Beginning with Dalí's meeting with Picasso (1926), it traces the birth of modernism to its earliest beginnings through Dalí's responses to Miró, Miró's encounter with Picasso (1917), and ends just before the young Picasso's arrival in Paris in 1900, at the start of the new century.

Patrons experience an unexpected encounter. Above the heads of the visitors swirl images of pages from an artist's sketchbook – that of Picasso. The dream-like images, and the striking encounter between classical and African art foreshadow the exhibition's mysterious secret heart – Picasso's groundbreaking 1907 Cahier 7 - shown in its entirety for the first time outside Spain – we see the birth of the language of modern art.

The product of just two months of intense creativity in 1907, the album's pages show Picasso clearly straddling two centuries and two traditions, with one foot in the 19th century, and the other in the 20th. Here we can see Picasso struggling to give birth to a new visual language – the language of modernity – in the very first sketches of his revolutionary work Les Demoiselles d'Avignon.

The exhibition features around 30 rarely shown works by each artist – pre-cubism Picasso, Miró and Dalí before surrealism – and they shine a light on the trio that pretty much created modern art in Spain.

On view at the Palazzo Strozzi in Florence, Italy from March 11 to July 17, 2011.

VIVIENNE WESTWOOD, 1980-89

Vivienne Westwood by Mattia Passeri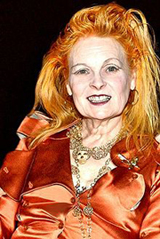 is the first exhibition to focus exclusively on Westwood's fashions of the 1980s.

The exhibition will highlight the significant shift in Westwood's design style during this decade. Her work of the early 1980s was prominently featured in edgy magazines such as i-D, and her following was comprised mainly of street-style insiders.

By 1985, her more structured, feminine, and historically-inspired styles began to attract the attention of the mainstream press and widened Westwood's audience.

Vivienne Westwood, 1980-89 will feature over 50 objects - including clothing, photographs, and video. Highlights will include a unisex ensemble from the Pirate collection (1981), a woman's ensemble from the influential Buffalo collection (1982), and a pair of Westwood's iconic Rocking Horse boots from the Harris Tweed collection (1987).

Editorial photographs from a number of prominent magazines, including The Face and British Vogue, will further illuminate Westwood's impact on 1980s fashion. Runway footage and video interviews with the designer will also be on view.

March 8, 2011 - April 2, 2011 at FIT in New York City.

YOHJI YAMAMOTO

Yohji Yamamoto at the V&A Red and black boiled wool jacket and skirt, Autumn/Winter 2009, Photography Nick Knight Art Direction Peter Saville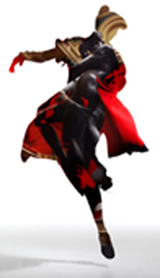 The V&A presents the first UK solo exhibition celebrating the life and work of Yohji Yamamoto, one of the world's most influential and enigmatic fashion designers.

This installation-based retrospective, taking place 30 years after his Paris debut, will feature over 80 garments spanning Yamamoto's career.

The exhibition will explore the work of a designer who has challenged, provoked and inspired the fashion world.

Born in Tokyo, Yamamoto graduated from Keio University with a degree in law in 1966. His further studies in fashion design at Bunka Fashion College led to a degree in 1969.

Yamamoto became an influential fashion designer after making his Paris debut in 1981. His commercially successful main lines, Yohji Yamamoto (women/men) and Y's, are especially popular in Tokyo.

These two lines are also available at his flagship stores in New York, Paris, and Antwerp, and at high-end department stores worldwide.

Yohji Yamamoto Inc. reported in 2007 that the sales of Yamamoto's two main lines average above $100 million annually.

March 12 – July 10, 2011 at the Victoria & Albert Museum in London.


SEXUAL ESCAPADES HAVE DIVERSE RESPONSES


Sexual escapades have resulted in public humiliation and serious punishment for a teen-ager to a confidentiality agreement for the high powered.

The form justice takes can depend upon where and who you are.

Leslie Culler is the former art director of the N9NE Group LLC which manages nightclubs and restaurants at the Palms Hotel and Casino in Las Vegas. She filed a sexual harassment lawsuit against the Las Vegas company, claiming that she was subjected to more than 200 instances of sexual harassment by N9NE Group LLC co-founders Michael Morton and Scott DeGraff, by company executive Bronson Olimpieri, and by N-M Ventures LLC former vice president Michael Fuller during the 8 years she was employed by their company. Her lawsuit was filed by Las Vegas attorney Andre Lagomarsino.

According to Liberty Law, among the numerous complaints, Culler, now 32, alleged Morton bent her over a sofa at a company party and in the presence of others spanked her so hard that she sustained welts. On another occasion, she said, he grabbed her breasts while another man held her wrists.

Culler alleged that DeGraff said she should play tennis with him while wearing a skirt and no panties. He also was accused of saying he wanted to snort cocaine off her breasts.

Another allegation by Culler is that Olimpieri, her immediate supervisor, repeatedly asked her to pull her pants down, bend over and spread her butt cheeks and hold it for 30 seconds. She refused. The men denied the allegations.

The lawsuit was filed December 13, 2010. A confidential settlement was reached February 24, 2011.

Across the Nevada border, in Utah, at the same time the confidential settlement of the above item was announced, a star Brigham Young University basketball player was suspended for the rest of the season for having violated the school's honor code by having premarital sex.

Rather than handling punishment privately, he was named in the state's largest newspaper and sanctimonious opinions of just about anybody who cared to opine were printed.

The 19-year-old apologized to his team mates.

The Church of Jesus Christ of Latter-day Saints (Mormon) owns the school which is located in Provo, about an hour's drive south of Salt Lake City.

BYU spokeswoman Carri Jenkins told The Salt Lake Tribune that the boy's future at the school hasn't been decided.

The issue is not one of enforcement - he signed the extremely strict code and broke it - but one of public humiliation. Removing him from the remaining season games is appropriate according to the code agreement. However, instead of just issuing a terse statement that an honor code violation has resulted in removal for the rest of the season - and then refusing any further elaboration - the person is now the subject of late night talk show jokes and named in an opinion piece in the NY Times, which lauded the school.

The 19-year old had consensual sex outside of marriage with his girlfriend. He promised he wouldn't, but he did. In addition to suffering the consequences agreed to in signing the code, he is now undergoing the equivalent of being publicly flogged.

Mormons have a penchant for tearing down people - especially if they can do it publicly. It's inherent in their belief system. My understanding of the process is that it starts at about the age of five when, during church meetings, individuals are routinely stood before a group and all of their "faults" are pointed out to them. The chastising can be so severe over basically nothing that a small child can be brought to tears. I happen to personally know of one such incident involving a 5-year-old.

This sets the framework which can turn individuals into manipulative, self serving arbitrators. How does publicly tearing down a child or a teen help mold them into a responsible, compassionate adult?

The BYU sophomore is an above average college basketball player. He's not the most amazing guy to ever bounce a ball. This 15 minutes of fame scandal isn't going to springboard him into an iron clad, multi-year, billion dollar contract with a pro team. However, enforcement of The Scarlet Letter philosophy can destroy his life - unless he grovels, providing the Mormons a soap box upon which to act superior and "forgiving."


THE ORCHID SHOW: ON BROADWAY


When Tony award winning set designer Scott Park, who designed the set for the coming Broadway revival of The House of Blue Leaves, which starts previews at the Walter Kerr Theatre in April.and Drew Hodges, chief executive of the Broadway advertising agency SpotCo stopped to smell the flowers the result became The Orchid Show: On Broadway - only the location is the New York Botanical Gardens in the Bronx.

The production opened March 5th to rave reviews from both plant and theater people.

Echoing elements from some of Broadway's most iconic theaters, including the Walter Kerr Theater and the New Amsterdam Theater, The Orchid Show: On Broadway showcases 5,000 dazzling specimens from one of the most distinguished orchid collections in the world.

Under the domes of America's largest glasshouse more than 300 types of orchids are shaped like a proscenium stage, a giant chandelier made from multicolored moth and cane orchids, and other architectural forms characteristic of a Broadway house. Greeting visitors at the entrance to the exhibition is a 16-foot-high arch standing in a reflecting pool and adorned with Dancing Ladies in bright shades of yellow and orange, and dotted with fiery clusters of epidendrums. The proscenium arch, delicately draped with red garden hoses to represent a curtain is loosely modeled after the stage at the Walter Kerr Theater. Visitors are invited to "be charmed by the flowery thespians; on weekends, thrill to the sounds of some of Broadway's best-loved tunes."

Ready for a Broadway-worthy second act? Then head over to the Library Gallery for a special exhibition:Hirschfeld's Broadway Scrapbook. This exclusive show gets you an inside look at rarely seen pieces of Broadway history on loan from the artist's private collection. Hirschfeld's iconoclastic line drawings accompanied decades of theater reviews in The New York Times and adorn the walls of legendary theater haunts Sardi's, The Blue Bar at The Algonquin, and 1789 in Washington, D.C.

In one of the most entertaining and clever press releases the promo asks: "Looking for a souvenir that will last a little longer than a Playbill? Then head over to the Shop in the Garden where gorgeous, rare orchids will be on offer, along with all the knowledge you'll need to keep your flowery diva blooming and re-blooming for years to come. Kids will love exploring the Showstoppers of Spring, a fun, hands-on, fully interactive exploration of nature's theater! Search for spring ingénues (new buds), listen for the show tunes of nature (bird songs), and delight in the "cast" of characters that only a garden can showcase!

"At The Orchid Show: On Broadway, life is a cabaret! A day at The New York Botanical Garden is a day full of showstoppers, star turns, and old favorites."

The theatrical experience can be enjoyed through April 25 at The New York Botanical Garden in the Bronx. Members: Free - Adults: $20 - Seniors/Students: $18 - Children: $8 - Children Under 2: Free.


SWEET CHARITY


AN EVENING WITH EDWARD ALBEE

Edward Albee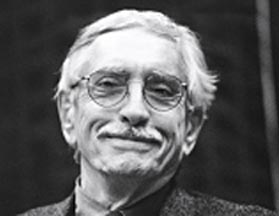 Arena Stage in Washington, DC will honor legendary playwright Edward Albee with the American Artist Award on Monday, March 14.

The Tony Award and three-time Pulitzer Prize winning playwright will accept the award during a special presentation of tributes and performances by Kathleen Turner, Elaine Stritch, Amy Morton and Tracy Letts.

The American Artist Award honors an artist who has made a significant contribution to American theater and who represents all that is passionate, exuberant, deep and dangerous in the American spirit.

Past awardees include James Earl Jones, Robert "Bob" Alexander, August Wilson and Arena Stage co-founder Zelda Fichandler.

Proceeds from the benefit contribute to more than one-third of the funds necessary to run Arena Stage's Community Engagement programs, which educate and enrich the lives of more than 20,000 students across the region.

CELINE DION has invited the staff and volunteers of the Cleveland Clinic Lou Ruvo Center for Brain Health in Las Vegas to attend her rehearsal show on March 12 at Caesars Palace. Celine's show officially opens on March 15.

BAY STREET THEATRE is offering its supporters the opportunity to see the final dress rehearsal for the new musical Catch Me If You Can at the Neil Simon Theatre in NYC.

For $75 patrons can support Bay Street and "experience a new Broadway show before anyone else!"

Friday, March 11 at 2 pm Neil Simon Theatre, NYC.

GUILD HALL LIFETIME ACHIEVEMENT AWARDS will be presented at a benefit gala dinner at Cipriani 42nd Street in New York City on Monday, March 7.

Master of ceremonies Bob Balaban will usher in this year's honorees: Dick Cavett for performing arts, Elizabeth Peyton for visual arts, Marshall Brickman for literary arts and Lewis B. Cullman for the Special Award for leadership and philanthropic endeavors.

"What began as an idea in 1985, to recognize the talent of those with ties to Eastern Long Island, has evolved into a long standing relationship yielding support and acknowledgement of our world-class, local artistic community," stated Ruth Appelhof, executive director of Guild Hall.

Some past recipients include: Steven Spielberg, Billy Joel, Elaine Stritch, Mel Brooks and Guild Hall board member Alec Baldwin for Performing Arts; Julian Schnabel, Willem de Kooning, Roy Lichtenstein, April Gornik and Chuck Close for Visual Arts; Kurt Vonnegut, E. L. Doctorow, Edward Albee, Joseph Heller and Joe Pintauro for Literary Arts; and Special Awards to Eli Wallach, Anne Jackson, and Peter Jennings.

Guild Hall is located in East Hampton, NY.


STAGE DOOR CANTEEN: BROADWAY RESPONDS TO WWII
Marlene Dietrich dancing at the Stage door Canteen. Actress Helen Hayes served sandwiches while actors Alfred Lunt and Sam Jaffe cleared away the plates. Lauren Bacall volunteered on Monday nights. A regular was movie star Marlene Dietrich. Photo: World War II Museum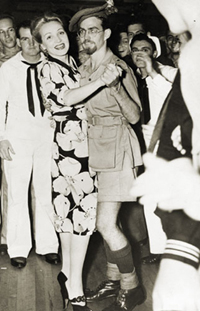 This year marks the 70th anniversary of the U.S. entry into World War II and in 1941 songwriters - like all Americans - did their part for the war effort, with hits from Irving Berlin, Frank Loesser and many more working to keep up morale.

On March 12, 13 and 14, Rodgers & Hammerstein president and American Theater Wing chairman Ted Chapin salutes the greatest songs of the Greatest Generation in his Lyrics & Lyricists debut, as artistic director, writer and host of Stage Door Canteen: Broadway Responds to WWII. Joining Chapin are vocalists Anderson Davis, Jeffry Denman, Brandon Victor Dixon, Debra Monk and Betsy Wolfe.

The Stage Door Canteen, run by the American Theatre Wing - a volunteer organization dating back to WWI - was a theater district club for servicemen with dancing, entertainment, food and drinks, and a chance to hobnob with celebrities like Helen Hayes, Tallulah Bankhead, Walter Pidgeon and Lauren Bacall.

Ted Chapin, whose grandmother began volunteering at the Stage Door Canteen on its very first day, and whose father was a WWII veteran, feels a personal connection to the Broadway/World War II relationship.

"On the one hand, before Pearl Harbor Broadway provided escapist entertainments in which, for example, Winsocki was urged to 'buckle down,' and Cole Porter listed what celebrities might do when they go 'Farming'", Chapin notes. "Then Broadway began to respond to the war with shows like Irving Berlin's extraordinary This Is the Army. In the middle of the war, Oklahoma! opened and really captured the spirit of the country we were fighting for. Lyrics & Lyricists gives me a chance to explore the American Songbook of this era and to see the lasting effect WWII had on Broadway."

March 12-14 at the 92nd Street Y in New York City.


SPREADING THE WORD


CHARLIE SHEEN

Charlie Sheen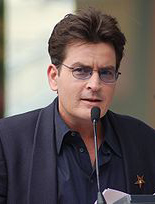 joined the Twitter community and had over 1 million followers within 24 hours, earning him a place in the Guinness Book of World Records. At last peek Sheen had almost 2 million followers.

On Charlie's Twitter site he has announced that he's auditioning to fill a "goddess" vacancy tweeting: "Sober Valley Lodge; Rachel has left the building..., We're sad.... Over it... Applications now being accepted".

Meanwhile the Bakersfield Condors, which is an ice hockey team, have announced details for Charlie Sheen Night, Saturday, March. 12 when they take on the Idaho Steelheads at Rabobank Arena in Bakersfield, CA.

Among the Charlie Sheen themed events are:

Wear a fedora, or dress like any Charlie Sheen movie character and receive admission for $2.50.
Bring a clean drug test and receive free admission.
2-for-1 Tiger Blood Icees and snow cones for the kids.
The first 1,000 males will receive a Charlie Sheen face on a stick mask.

UPDATE - Monday - March 7 Warner Bros. issued the following statement: "After careful consideration, Warner Bros. Television has terminated Charlie Sheen's services on 'Two and a Half Men,' effective immediately."

The 11-page letter cited a contact clause that permits a performer to be fired who commits "a felony offense involving moral turpitude." The letter says, "There is ample evidence supporting Warner Bros. reasonable good faith opinion that Mr. Sheen has committed felony offenses involving moral turpitude (including but not limited to furnishing of cocaine to others as part of the self-destructive lifestyle he has described publicly) that have 'interfere[d] with his ability to fully and completely render all material services required' under the agreement."

No decision was announced as to whether the show will continue in production next season.

MAURICE HINES the legendary tapper in a performance and conversation with dance critic Zita Allen. Presented in conjunction with the exhibition Ain't Nothing Like the Real Thing: How the Apollo Theater Shaped American Entertainment and in collaboration with the Apollo Theater. Co-sponsored by the National Jazz Museum in Harlem. Monday, March 14 at The Museum of the city of New York.






STEPHEN SONDHEIM will be honored with the Olivier Special Award 2011 by the Society of London Theater, the society announced on Friday, March 4.

The society said that Mr. Sondheim would accept the award in person at the Olivier Awards on March 13.

The event is London's equivalent of the Tony Awards ceremony.

The evening will conclude with a tribute to him.

The award will recognize his contributions as composer and lyricist of musicals including Into the Woods, Sunday in the Park with George, and Company, to London theater.

Presenters at the Olivier Awards will include Patrick Stewart, Rupert Everett, and Mad Men actress Elisabeth Moss, who is currently starring in The Children's Hour in London with Keira Knightley.

2010 NATIONAL MEDAL OF ARTS AND NATIONAL HUMANITIES MEDAL winners received their awards from President Obama in the East Room of the White House on Wednesday, March 3, 2011. The President delivered remarks and presented the awards to the following individuals and organizations:

2010 National Medal of Arts

Robert Brustein for his contributions to the American theatre as a critic, producer, playwright, and educator.

Van Cliburn for his contributions to the American theatre as a critic, producer, playwright, and educator.

Mark di Suvero for his achievements as one of the most prominent American artists to emerge from the Abstract Expressionist era.

Donald Hall for his extensive contributions to American poetry

Jacob's Pillow Dance Festival for contributions to the development of dance in the United States as America's longest running international dance festival.

Quincy Jones for his extraordinary contributions to American music as a musician, composer, record producer, and arranger.

Harper Lee for her outstanding contribution to American literature with her Pulitzer Prize-winning novel To Kill a Mockingbird.

Sonny Rollins for his contributions to American jazz music.

Meryl Streep for her unrivaled contributions to American arts and culture as an actress of the stage and screen.

James Taylor for his remarkable contributions to American music.

2010 National Humanities Medal

Daniel Aaron for his contributions to American literature and culture.

Bernard Bailyn for illuminating our Nation's early history and pioneering the field of Atlantic history.

Jacques Barzun for his distinguished career as a scholar, educator, and public intellectual.

Wendell E. Berry for his achievements as a poet, novelist, farmer, and conservationist.

Roberto González Echevarría for his contributions to Spanish and Latin American literary criticism.

Stanley Nider Katz for a career devoted to fostering public support for the humanities.

Joyce Carol Oates for her contributions to American letters.

Arnold Rampersad for his work as a biographer and literary critic.

Philip Roth for his contributions to American letters.

Gordon Wood for scholarship that provides insight into the founding of our Nation and the drafting of the United States Constitution.

Harper Lee, Meryl Streep, Daniel Aaron and Jacques Barzun were not able to attend.


OTHER PEOPLE'S MONEY


SPIDER-MAN: TURN OFF THE DARK was cited on Friday, March 4, by the U.S. Department of Labor's Occupational Safety and Health Administration with three serious safety violations involving four separate incidents. The violations carry $12,600 in possible fines, which amounts to lunch money for the $65 million musical - the most expensive in Broadway history - which is currently in "previews" at the Foxwoods Theater. The production company, 8 Legged Productions L.L.C., has the right to challenge the violations.

At least these violations do carry a monetary penalty. Last month, state officials cited the show for two workplace safety violations that did not carry fines.

UPDATE - Wednesday, March 9, 2011 NY 1 is reporting that Julie Taymor has left the production and that Spider-Man will shut down until June.

TRIUMPH! IT RUNS ON STEAM wasn't and ran out of steam before it ever officially opened at the Hilton Hotel in Las Vegas.

The dance-magic effort, which never should have attempted a Las Vegas mounting, closed at a total loss. ( See Broadway To Vegas column of December 5, 2010 )

THE CLARK COUNTY COMMISSION IN LAS VEGAS unanimously approved the building of a 10-acre amusement park with 7 rides including a 500-foot Ferris wheel. The proposed amusement park, which some speculate will never materialize, would be near Mandalay Bay and the Luxor resorts. Proposed by developed Howard Bulloch, he offered no information as to how he intends to pay for the project.

If this wheel ever rotates the Ferris wheel would be, according to Bulloch, the third-largest in the world and would outstretch the 443-foot-tall London Eye to become the biggest in the Western Hemisphere.

JOE MONTANA the retired NFL Football Hall of Famer signed autographs last Friday at JO Sports at Boca Park Shopping Center in Las Vegas. Charge was $150 per autograph.



GET WELL SOON TO . . . .


JAMES LEVINE the famed maestro has resigned as conductor of the Boston Symphony because of "ill effects from a recent procedure addressing his ongoing back issues, complicated by a viral infection."

The BSO's managing director, Mark Volpe, said in a statement that the orchestra would work with Levine to define "a new role where he can focus solely on the music and defining artistically stimulating projects that would be meaningful to him and the orchestra."

A search committee is being formed to identify his successor. Levine has been music director of the BSO since 2004. his resignation will not affect his association with the Metropolitan Opera.




PROMETHEUS BOUND the world premiere of Steven Sater and Serj Tankian's political rock musical. Sater, the Tony Award-winning librettist and lyricist of Spring Awakening, adapted the Aeschylus play, which has music by System of a Down band member Tankian.

Directed by Tony Award-nominated A.R.T. artistic director Diane Paulus.

Two-time Tony Award nominee Gavin Creel stars in the title role of the political musical about tyranny and human rights. In addition to Creel, the cast includes Lea DeLaria as Force; Michael Cunio as Oceanos; Gabe Ebert as Hephaistos/Hermes; Uzo Aduba as Io; Celina Carvajal and Ashley Flanagan as Daughters of the Ocean; and Jo Lampert as Daughter of the Ocean and Violence.

The on-stage band includes Charlie Chronopolous, Tom Duprey, David Finch, Jeff Muzerolle, Rob Simring and Vincent Padulla.

Prometheus Bound has scenic design by Riccardo Hernandez, costume design by Emily Rebholz, lighting design by Kevin Adams and sound design by Clive Goodwin. Choreography is by Stephen Petronio, with vocal arrangements by AnnMarie Milazzo and music supervision by Debra Barsha and Lance Horne.

According to A.R.T., "An outcry against tyranny, the new rock musical Prometheus Bound illustrates one man's struggle against the brute force of a ruthless dictator… This new musical is inspired by Aeschylus's ancient Greek tragedy about the suffering of Western civilization's first prisoner of conscience."

A.R.T. has partnered with Amnesty International to raise awareness to the plight of political prisoners of conscience. The titan Prometheus was among the first prisoners of conscience in mythology. Each week Prometheus Bound will dedicate its performances to a different individual facing persecution. Following each performance, actors speak directly to the audience about the individuals to whom the performances are dedicated. Cards are also available for the audience to fill out calling for charges against the prisoners to be dropped.

The dedication schedule follows:

March 7-9: Democratic Republic of Congo (Mass rape as a weapon of war)
March 10-16: Dhondup Wangchen (China)
March 17-18: David Cato (Uganda)
March 21-23: Tran Quoc Hien & Doan Van Dien (Vietnam)
March 24-25: Norma Cruz (Guatemala)
March 28-29: Reggie Clemons (USA)
March 30-31: Nasrin Sotoudeh (Iran)

Garbage lead singer Shirley Manson has also recorded a song from the score, The Hunger, with all proceeds from the sales of the song benefiting Amnesty International.

Prometheus Bound will run through April 2 at the American Repertory Theater in Cambridge, MA.

Prometheus Bound, a version translated and directed by Royal National Theatre's James Kerr and starring David Oyelowo, was mounted in 2007 at the Classic Stage Company in New York City.

CRIMES OF THE HEART written by Beth Henley. Directed by Liesl Tommy.

Three eccentric sisters, a husband who's been shot, and a lawyer with a vendetta: the recipe for a 30th birthday gone perfectly wrong. Family cruelty has never been more casually dealt than in Beth Henley's Pulitzer Prize-winning Southern Gothic screwball comedy. Ebullience abounds in the MaGrath home, even as this Mississippi family faces a veritable heap of misfortune. Touching, tragic, and daffy, Crimes of the Heart is a darkly comic family feud of epic proportions.

Crimes of the Heart opened on Broadway in November 1981 to great acclaim and won the 1981 New York Drama Critics' Circle Award for Best American Play and the 1981 Pulitzer Prize for Drama. It was later made into a film starring Diane Keaton, Jessica Lange, and Sissy Spacek, earning Henley an Academy Award nomination for Best Screenplay.

March 8 – 27, 2011 at the McCarter Theatre in Princeton, NJ.

JOLSON AT THE WINTER GARDEN! created and written by Bill Castellino and Mike Burstyn. Starring Mike Burstyn.

At the beginning of the 20th century, Al Jolson was the most famous entertainer in the world – singer, dancer, actor, comedian, impresario, rebel, businessman, and star!

According to the venue: "In this fascinating musical, Jolson at the Winter Garden, starring Mike Burstyn, we learn about his meteoric career that was created, lost, and reborn. Combining his hit tunes such as Swanee, Toot Toot Tootsie and My Mammy, with hilarious stories and touching memories and a compelling story, the show is designed to take its audience on a thrilling and unforgettable journey through the growth and rebirth of Jolson's sizzling career and the real story of the man behind the legend."

The musical gets its title from special concerts performed at the Winter Garden Theatre in New York, where Jolson garnered nine sell-out shows in a row between 1911 and 1928. This was in addition to more than 80 hit records, 16 national and international tours, and the starring role in the first full-length talking movie, The Jazz Singer, in 1927.

All of the musical's events and characters take place in historical context – but the show offers an unexpected plot twist and surprise ending, said the show's star, Mike Burstyn, who previously played Jolson in the national tour of another musical about Jolson called Jolson: The Musical, also directed by Castellino.

On stage through March 13 at the Maltz Jupiter Theatre in Jupiter, FL.

THE 39 STEPS adapted by Patrick Barlow, from the novel by John Buchan, from the movie by Alfred Hitchcock and an original concept by Nobby Dimon and Simon Corble.

Directed by William Roudebush.

Starring David Hess as Richard Hanney, Joan Hess, Paul Riopelle and Don Hodge.

Mix a Hitchcock masterpiece with a juicy spy novel, add a dash of merry mayhem and you have The 39 Steps, a fast-paced mystery for anyone who loves the magic of theatre! This award-winning treat is packed with nonstop laughs, over 150 zany characters played by a ridiculously talented cast, an on-stage plane crash, handcuffs, missing fingers and some good old-fashioned romance! In The 39 Steps, a man with a boring life meets a woman with a thick accent who says she's a spy. When he takes her home, she is murdered. Soon, a mysterious organization called "The 39 Steps" is hot on the man's trail in a nationwide manhunt that climaxes in a death-defying finale!

Scenic Design: Robert Kovach. Lighting Design: Paul Black. Costume Design: Colleen Grady. Sound Design: Christopher Colucci. Stage Managers: Lori Aghazarian and Debi Marcucci.

March 15-May 1, 2011 at the Walnut Street Theatre in Philadelphia.

LA CAGE AUX FOLLES will welcome two time Tony nominee Christopher Sieber to the role of Georges the owner of the transvestite nightclub in the Tony Award-winning revival at the Longacre Theatre. He succeeds six-time Emmy Award nominee Jeffrey Tambor who withdrew from the production on February 24. Chris Hoch, who regularly plays the role of Francis and understudies the role of Georges, has played Georges opposite Tony winner Harvey Fierstein since Tambor left the production.

Sieber had been schedule to appear in Chicago, but instead will accept the part of Georges. Sieber has begun rehearsals yesterday. The date when he will assume the part on stage hasn't yet been announced.


WHO'S WHERE


KATY PERRY continues her world tour Monday, March 7, by opening a two night stand at the Zenith in Paris, France. On Thursday she's in the spotlight at the Forest National in Brussels, Belgium. On Friday she performs at the Palladium in Cologne, Germany.

RIHANNA winds up her Australian tour this week by opening a two night stand at the Rod Laver Arena in Melbourne, Australia on Monday, March 7 On Thursday she's at the Adelaide Entertainment Centre in Hindmarsh. Saturday's show is at the Burswood Dome in Perth, Australia.

CHRIS BOTTI brings his show to the Riverbend Centre in Austin, TX on Thursday, March 10. On Friday he opens a three night stand at the Meyerson Symphony Center in Dallas.

JAMES TAYLOR in the spotlight Tuesday, March 8, at the DeVos Performance Hall in Grand Rapids, MI. On Wednesday he performs at the Wharton Center for Performing Arts in East Lansing, MI. On Friday he can be enjoyed at the Adler Theatre in Davenport, IA. Saturday's show is at Procter& Gamble Hall in Cincinnati.

SIR JAMES GALWAY on stage Saturday, March 12, at Carnegie Hall in New York City.

TIM ALLEN telling funny stories at the Venetian Hotel in Las Vegas March 11-12.

ERIC CLAPTON opens a two nighter Tuesday, March 8, at the Gibson Amphitheatre in Universal City, CA.

KEITH URBAN appears at Reliant Stadium as part of the Houston Livestock Show and Rodeo on Tuesday, March 8, Houston, TX.

SERGIO MENDES - CELEBRATION the international music legend along with his full ten-piece band, will sing and swing in the Gil Cates Theater a special four-night only concert event March 10-13. Geffen Playhouse in Los Angeles.

KURT ELLING the eleven-time DownBeat Male Vocalist of the Year will be joined on stage by world-renowned French accordion virtuoso Richard Galliano in the first set and the Scottish National Jazz Orchestra in the second set. The concert will feature new arrangements from his back catalogue of works, classics from the Great American Songbook and material from his new album The Gate. -Monday March 14, 2011 at the Barbican in London.

LINDA EDER performs March 11 at the Ridgefield Playhouse in Ridgefield, CT. On March 12 her show is at the Kupferberg Center for the Arts in Flushing, NY.

JAMES BLUNT performs Monday, March 7, at La Galazie in Metz, France. On Tuesday the show is at Forest National in Brussels, Belgium. On Wednesday the tour stops at the Heineken Music Hall in Amsterdam. Friday's show is at the Hallenstadion in Zurich, Switzerland.








Next Column: March 13, 2011
Copyright: March 6, 2011. All Rights Reserved. Reviews, Interviews, Commentary, Photographs or Graphics from any Broadway To Vegas (TM) columns may not be published, broadcast, rewritten, utilized as leads, or used in any manner without permission, compensation and/or credit.
Link to Main Page
---
Laura Deni



For the snail mail address, please E-mail your request.
CLICK HERE FOR COMMENT SECTION