! >
Broadway To Vegas
  
  REVIEWS INTERVIEWS COMMENTARY NEWS

| | |
| --- | --- |
| | |
THE ESSENTIAL STEPHEN SONDHEIM CD REVIEW - - FOUNDING MYTHS. FROM HERCULES TO DARTH VADER - - A CELEBRATION OF HAROLD PINTER - - CHUMLEE OF PAWN STARS ARRESTED IN LAS VEGAS - - STEVE MARTIN CURATES MAJOR ART EXHIBIT - - - - THE PASSION - - ABRAHAM LINCOLN SYMPOSIUM - - DONATE . . . Scroll Down






Copyright: March 13, 2016
By: Laura Deni
CLICK HERE FOR COMMENT SECTION


THE ESSENTIAL STEPHEN SONDHEIM CD IS JUST THAT - ESSENTIAL


Groundbreaking Stephen Sondheim is an icon. His music stands the test of time.

Masterworks Broadway has accomplished the remarkable - releasing a two-disc compilation set of Sondheim songs, appropriately titled The Essential Stephen Sondheim.

Sondheim has a rabid fan base that rivals rock stars. They know Sondheim songs by heart and are passionate about their personal favorites. His fans have taken emotional ownership of the compositions. Not many composers fall into that category.

To Sondheim fans the music is personal. Omit their favorite and the reaction is as though you told them you hate their dog.

The Sondheim musical mystique is in a realm of its own.

Sondheim has received an Academy Award; eight Tony Awards which is more than any other composer, including a Special Tony Award for Lifetime Achievement in the Theatre; eight Grammy Awards; a Pulitzer Prize, the Laurence Olivier Award, and a 2015 Presidential Medal of Freedom.

However, for the vast majority of citizens Sondheim is a known name and his music is enjoyed, although some listeners may not realize that Sondheim was the composer. Most people have to worry about paying their bills, getting their kid to soccer practice and where they parked their car. Music is to be enjoyed. Fawning after a composer isn't a high priority for most hard working stiffs who have to think twice before purchasing a CD or coughing up money for a Broadway ticket.

Listen to this CD and you'll better understand why people are passionate about, and worship at the downbeat of Sondheim.

It had to have been difficult for experts to determine what to include in this Sondheim compilation CD. This CD is a suburb representation of the essential Sondheim - numbers from hit shows and productions which closed in days. Songs range in emotional intent to a variety of beats and orchestrations. The singers run the gamut of greatness.

While the selections are from shows presented in chronological order, the first disc has rousing selections, while disc two is somewhat more reflective.

The numbers are taken from the original Broadway productions, movie soundtrack, off-Broadway productions and specialized gigs. The sound is perfection.

For those whose world lives and breathes Sondheim, this CD set provides most of their favorites, enabling a listener to enjoy their personal picks without combing through a stack of CDs. For those who enjoy good music, Broadway, or hits in general, The Essential Stephen Sondheim, is just that - essential. One of those rare efforts which you can play nonstop and not get bored or annoyed.

Gorgeous music, beautiful arrangements, stellar singing, blue ribbon musicians. No matter your mood, there is going to be something in The Essential Stephen Sondheim which either reflects your momentary attitude or perks you up.

An all purpose, legal, over the counter mood drug no home should be without.



Selections from West Side Story open this 2-disc CD.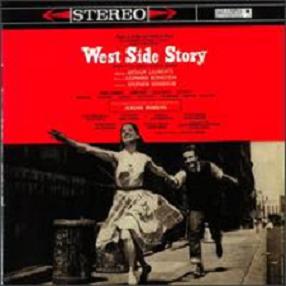 Disc I begins with West Side Story a musical in which Betty Comden and Adolph Green were supposed to write the lyrics, but had to bow out because they were under contract in Hollywood. Sondheim was a replacement. Arthur Laurents told him that he wasn't a big fan of Sondheim music. Eventually, Sondheim was hired to write the lyrics to Leonard Bernstein's music.

The spirited America, with music by Bernstein from the movie soundtrack, kicks off this CD. The number features Rita Moreno with an orchestra conducted by Johnny Green. That is followed by Tonight performed by Carol Lawrence and Larry Kert with Max Goberman helming the orchestra. The final West Side Story selection is Somewhere from the movie with Jim Bryan and Marni Nixon.

Up next are two selections from Gypsy. In 1959 Sondheim was approached by Arthur Laurents and Jerome Robbins who wanted to create a musical version of Gypsy Rose Lee's memoir. Their problem was that both Irving Berlin and Cole Porter turned it down. Sondheim agreed, but wanted to write both the music and lyrics. Ethel Merman who had been cast as Mama Rose, recently had a bad experience with a beginning composer and demanded that Jule Styne write the music. Sondheim didn't want to be pigeonholed as merely a "lyricist," called his mentor Oscar Hammerstein who advised him to take the job, because writing a vehicle for a star would be a good learning experience. Sondheim agreed; Gypsy opened on May 21, 1959, and ran for 702 performances.

As might be assumed Ethel Merman singing Everything's Coming Up Roses knocks it to the cheap seats. That is followed by the laugh inducing You Gotta Have a Gimmick performed by Faith Dane, Chorzi Foley and Maria Karnilova with the orchestra conducted by Milton Rosenstock.



Three selections from Folies opens Disc 2. Broadway Baby, I'm Still Here and Losing My Mind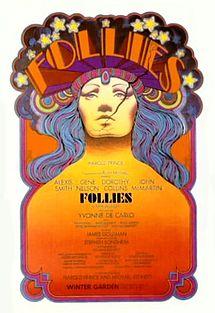 Comedy Tonight is the one selection from A Funny Thing Happened on the Way to the Forum, the first musical for which Sondheim wrote the music and lyrics. The musical opened in 1962 and ran for 964 performances.

Anyone Can Whistle was Sondhein's next project, and was a 9 performance failure. It's represented on this CD with the title song delivered by Lee Remick while Herbert Green conducts the orchestra. A second selection from that 1964 production is Everybody Says Don't with Harry Guardino.

The title song from Do I Hear a Waltz? features Elizabeth Allen with Herbert Greene holding the baton. Sondheim had called this production the one project he regretted. It did cause him to decide to work only when he could write both music and lyrics

Bernadette Peters sings I Remember from Evening Primrose and then duets with Mandy Patinkin on Move On.

Disc I closes with three selections from Company. This was a 1970 concept musical. It opened on April 26, 1970 at the Alvin Theatre, where it ran for 705 performances.

Selections include Another Hundred People from Pamela Myers; the powerful Ladies Who Lunch dynamically performed by Elaine Stritch and Being Alive with Dean Jones.

Three selections from Folies opens Disc 2. The audience roars as Broadway Baby is slammed dunked by Elaine Stritch. Carol Burnett sets things straight with I'm Still Here resulting in thunderous audience applause, followed by the poignant Losing My Mind which tugs at your heart strings as sung by Barbara Cook to a moving arrangement. The audience response is one denoting a well deserved standing ovation. All three selections feature Paul Gemignani conducting the orchestra.

A Little Night Music, with a score primarily in waltz time, is represented by the spirited A Weekend in the Country with the ensemble and Send in the Clowns with Janice Paige. Jonathan Tunick conducts the musicians.



Not a Day Goes By and Old Friends are included from Merrily We Roll Along.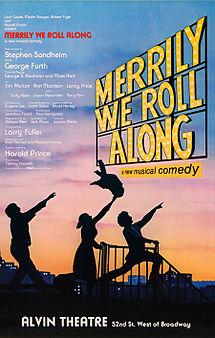 Pretty Lady represents Pacific Overtures. The performance honors are done by Patrick Kinser-Lau, Timm Fujii and Mark Hsu Syers,

Pretty Woman from Len Cariou, Victor Garber, and Edmund Lyndeck is one of two offerings from Sweeney Todd, Sondheim's most operatic score and libretto. A Little Priest features Len Cariou and Angela Lansbury.

Merrily We Roll Along is up next with the emotional Not a Day Goes By sung by Bernadette Peters resulting in a thunderous ovation followed by the perky Old Friends featuring Ann Morrison, Jim Walton and Lonny Price.

Sunday in the Park With George with Sondheim's music evoking Georges Seurat's pointillism, is showcased on this CD with Sunday with the Ensemble and Mady Patinkin, while Move On is a duet with Patinkin and Bernadette Peters.

Agony with Robert Westenberg and Chuck Wagner is followed by the important Children Will Listen from Into The Woods and features Bernadette Peters and the Ensemble.

A Celebration at Carnegie Hall is remembered with Sooner or Later from Dick Tracy featuring Karen Ziemba.

Unworthy of Your Love from Assassins, captured from the original off-Broadway cast recording, has Greg Germann and Annie Golden.

Disc 2 closes with a jazz orchestration of Loving You from Passion as presented in Color and Light - Jazz Sketches on Sondheim performed by Nancy Wilson, and Peabo Bryson with Brad Mehldau on piano; Christian McBride on bass; and Brian Blade, drums.

Stephen Sondheim is a major force whose work not only changed Broadway but created compositions which defy time. This is a exquisite 2-disc CD released by Masterworks Broadway. Buy and enjoy.






Broadway To Vegas is supported through advertising and donations. Priority consideration is given to interview suggestions, news, press releases, etc from paid supporters. However, no paid supporters control, alter, edit, or in any way manipulate the content of this site. Your donation is appreciated. We accept PAYPAL. Thank you for your interest.




ART AND ABOUT


STEVE MARTIN

Arthur Garfield Dove, Square on the Pond, 1942. Wax-based paint on canvas. Gift of William H. and Saundra B. Lane and Henry H. and Zoe Oliver Sherman Fund, M. Theresa B. Hopkins Fund, Seth K. Sweetser Fund, Robert Jordan Fund and Museum purchase. © Estate of Arthur G. Dove.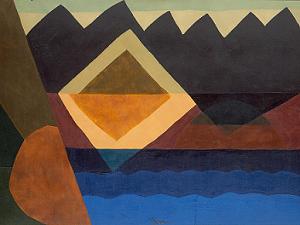 collector, actor, writer, musician and noted art collector serves as the curator for the exhibit Lawren Harris: Modern Connections currently on display through June 12, 2016 at the Museum of Fine Art in Boston.

The MFA's outstanding collection of American modernism offers a special opportunity to create a strong dialogue between major works by Lawren Harris and other modern American paintings, photographs, and works on paper. Steve Martin, a knowledgeable and avid collector of American modernism, selected works that resonate with his understanding of the work of Lawren Harris as an important modern painter of the Americas.

Martin came to the MFA in September to view the American paintings collection in storage, looking at works by artists such as Arthur Dove, Georgia O'Keeffe, Rockwell Kent, and Marsden Hartley, and discussed the various connections between American modernism and Harris's work. The final group of works on view has been shaped by Martin in collaboration with the MFA and Andrew Hunter, curator of Canadian Art at the Art Gallery of Ontario.

The Robert and Jane Burke Gallery, 335, includes works on paper by Lawren Harris relating to two paintings he sent to the International Exhibition of Modern Art, held at the Brooklyn Museum in 1926, as well as works by artists like Alfred Stieglitz, Max Weber, Georgia O'Keeffe, and Joseph Stella, who were also represented in the 1926 exhibition, with different selections. This installation explores how, through an alternate lens of city, industry, and nature, artists of the United States were contemplating similar themes of spirituality and stillness that Harris sought in his paintings of the North.

SOUTH STREET SEAPORT MUSEUM in New York City stages its first Post-Hurricane Sandy Exhibition Street of Ships: The Port and Its People, beginning March 17, 2016.

Street of Ships: The Port and Its People showcases works of art and artifacts from the Museum's permanent collections related to the 19th Century history of the Port of New York. The exhibition examines the decisive role played by the 19th Century Seaport at South Street - long known as the Street of Ships - in securing New York's place as America's largest city and its rise to become the world's busiest port by the start of the 20th Century.

The centerpiece of the exhibition examines the life and current restoration of the Museum's 1885 full-rigged sailing cargo ship, Wavertree; an archetype of the impressive sailing ships that once called at South Street and made New York a hub of global trade. The exhibition lays the groundwork for Wavertree's return to the Seaport in July 2016 after the completion of a 15-month, $13 million city-funded restoration, the largest of its type in more than a generation.

Captain Jonathan Boulware is the Executive Director of the Museum. The exhibition is on view through 2016 at the South Street Seaport Museum.

FOUNDING MYTHS. FROM HERCULES TO DARTH VADER tells how illustrators, sculptors, painters, puppeteers, filmmakers, and musicians around the world have drawn inspiration from myths, given them form, and brought them to life.

What are myths? And how are they portrayed? How are myths passed on to us? How have artists appropriated them? Told, sung, written, and illustrated, myths are a part of all cultures and civilizations, including contemporary popular culture.

The exhibition displays some 70 artworks, grouped into four sections. The first gallery invites you to discover the tales told by different civilizations in an effort to explain the creation of the world. Then find out how the cycles of nature are recounted in Greek, Egyptian, and Islamic civilizations.

Meet mythological heroes such as Gilgamesh, Orpheus, Hercules, and Icarus, and see how they have been portrayed by classical and contemporary artists.

In the final gallery, ponder modern-day interpretations of myths and metamorphoses: from Jean Cocteau to Star Wars, Japanese manga to Fantômas, do the mythologies of popular culture not still draw from the same repertoire of stories and tales?

Organized by: Dominique de Font-Réaulx, Musée National Eugène-Delacroix. Project Manager: Frédérique Leseur, Musée du Louvre.

On display to July 4, 2016 at the Louvre in Paris.

OSCAR DE LA RENTA: A RETROSPECTIVE This world premiere retrospective of Oscar de la Renta's work celebrates the life and career of one of fashion's most influential designers.

The exhibition will include more than 130 pieces produced over five decades, and is presented in collaboration with the house of de la Renta and the designer's family.

Follow the rise of de la Renta's career, first in Spain, where he gained his initial commissions, through his formative years spent in many of the world's iconic fashion houses, to his eventual role as a designer for some of the most influential and celebrated personalities of the 20th and 21st centuries.

Curated by Jill D'Alessandro.

Opened yesterday and is on display through May 30, 2016 at the de Young Fine Arts Museums of San Francisco, CA.




SWEET CHARITY


CHILDREN AND THE ARTS celebrated their 10th anniversary with a black tie gala concert and dinner at St James's Palace in London hosted by Prince Charles.

Actors Hugh Bonneville, Dame Harriet Walter, Joseph Fiennes, Julian Ovenden, Sam Alexander, Edward Bennett and Miranda Raison performed sonnets and extracts from some of William Shakespeare's greatest romances.

Downton Abbey stars Hugh Bonneville (Robert Crawley, Earl of Grantham) and Dame Harriet (Lady Shackleton) performed scenes from Romeo And Juliet and The Winter's Tale.

Accompanying the actors, jazz singer and pianist Joel Stilgoe sang Sigh No More, and English Tenor Ian Bostridge delivered a rendition of O Mistress Mine.

The concert ended with all of the performers singing Farewell, a song composed by musical director Nigel Hess especially for the occasion.

Christopher Luscombe, veteran director of the Royal Shakespeare Company, helmed the concert..

The evening was attended by 100 of the charity's patrons and supporters. The evening's duel purpose was to celebrate the work the charity does with disadvantaged schoolchildren, while also paying tribute to the works of Britain's greatest playwright on the 400th anniversary after his death.

The heir to the throne created the charity after a visit to a school where pupils were studying Romeo And Juliet.

After discovering that most of the students had never attended a theatre, Prince Charles, who is also president of the Royal Shakespeare Company, established the foundation enabling schoolchildren from across Britain to participate and enjoy a range of art forms.

Since it was established, Children and the Arts has enabled more than 400,000 children with disadvantaged social and economic backgrounds to access high-quality art forms, including theatre, opera and dance.

Joseph Fiennes, 45, who is an ambassador for the charity and was Bafta nominated for his portrayal of Shakespeare in the 1998 film Shakespeare In Love, said: "I'm proud to be here celebrating 10 years. It's a great charity and a really important one, by introducing thousands of disadvantaged children to the arts. A huge thank you to your Royal Highness, for your provision and your foresight in setting up the charity."

THE TONY AWARD WINNING DRAMA BOOK SHOP the oldest performing arts bookshop in the country, experienced one of the worst events that can happen to books - a burst water pipe on February 15.

A catastrophe for the New York City business which received a special Tony Award in

Expensive, and rare books were ruined.

Lin-Manuel Miranda was one of the first celebrities to step up encouraging people to support the store by becoming customers.

On March 26 a concert to benefit the shop will take place at Feinstein's/54 Below in New York City.

THE ELTON JOHN AIDS FOUNDATION has announced a second year of grant awards made in partnership with The Elizabeth Taylor AIDS Foundation. With the support of $100,000 in funding from The Elizabeth Taylor AIDS Foundation, EJAF has awarded $330,000 in grants to five organizations addressing the AIDS epidemic in the Southern United States.



PAWN STARS REALITY STAR CHUMLEE HAS SOME REALITY PROBLEMS OF HIS OWN
Chumlee's Las Vegas Metro's Police Department's mug shot.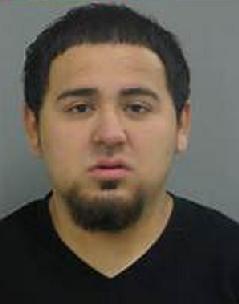 It's a different sort of spotlight for Chumlee, star of the Las Vegas-based reality television show Pawn Stars, which airs on the History Channel. He was arrested in Las Vegas on Wednesday, March 9, 2016.

The booking records show him listed under his full name of Austin Lee Russell. Chumlee is a nickname given to him by his father's friend.

He was booked into the Clark County Detention Center on 19 charges of drug possession and a single charge of possessing a gun by a "prohibited person."

According to NRS 202.360 and NRS 202.3665, a "prohibited person" would have their gun permit denied if at least one of the following is true:

1. You have an outstanding arrest warrant.
2. You have been declared incompetent or insane or have been have been admitted to a mental health facility within the last 5 years.
3. You have been convicted of DUI within the last 5 years or committed to rehab for drugs or alcohol within the last 5 years.
4. You have been convicted of a violent misdemeanor within the last 3 years or are a felon.
5. You have been convicted of a domestic violence crime or have a restraining order against you due to domestic violence.
6. You are on parole or probation or you have a suspended felony against you within the last 5 years.
7. You made a false statement on your application.

Police were serving a search warrant at Chumlee's house as part of a sexual assault investigation and found methamphetamine, marijuana and firearms. Although Metro said the 33-year-old has not been charged with sexual assault, the investigation is ongoing.

Chumlee became a reality TV celebrity in 2009 thanks to the hit show which profiles the daily workings of the Gold & Silver Pawn Shop.

Released on $62,000 bail, Chumlee is due in court on May 23 and is represented by attorney David Chesnoff who plans to fight all charges.






HAMILTON HAS A WHITE HOUSE GIG


The musical Hamilton auditioned for the First Family beginning in April, 2015 when Michelle Obama caught the off-Broadway production. It got a reverse call back in July 2015 when President Barack Obama took his daughters to see a Saturday matinee of the heralded musical.

Apparently the personal reviews were good because Hamilton comes to the White House on March 16, where the show's creator Lin-Manuel Miranda and cast will introduce the production's educational initiatives. The visit will be hosted by first lady Michelle Obama.

On March 9, 2016 the First Lady posted on Twitter:

"Alexander Hamilton! We've been waiting in the East Wing for you. #Bam4Ham https://t.co/AD8S0nwo98 — The First Lady (@FLOTUS) March 9, 2016"

The White House staging will include opening remarks by the first lady, a Q&A with members of the Hamilton cast and an afternoon performance of selections from the show.

The Grammy winning musical has a racially inclusive cast that includes Miranda, Emmy-nominated actress Renee Elise Goldsberry, Leslie Odom Jr., Daveed Diggs and Phillipa Soo.

The first family has been a supporter for the musical for a long time. The official White House release states: "In May of 2009, the President and First Lady hosted an event celebrating poetry, music and the spoken word, where Lin-Manuel Miranda performed The Hamilton Mixtape, which was later renamed Alexander Hamilton and became the opening song of the Broadway edition of Hamilton.

The release also explained: "Hamilton is the story of America's Founding Father Alexander Hamilton, an immigrant from the West Indies who became George Washington's right-hand man during the Revolutionary War and was the new nation's first Treasury Secretary. Hamilton's score blends hip-hop, jazz, blues, rap, R&B, and Broadway. Hamilton is based on Ron Chernow's biography of Alexander Hamilton.

A hip-hop retelling of America's Founding Fathers, Hamilton has been fawned over by educators who are desperate for inventive ways to hold the attention of students who are required to take American History classes.

As an incentive for New York City students to gain access to the Broadway mounting, Hamilton teamed with the Rockefeller Foundation and the Gilder Lehrman Institute on a $1.46 million initiative that will include a series of Wednesday matinees offering $10 tickets to New York City students.




SPREADING THE WORD


JERRY LEWIS who lives in Las Vegas, celebrates his 90th birthday on Wednesday, March 16, 2016. To commemorate the occasion the Museum of Modern Art in Astoria, New York is presenting a major film festival in his honor.

The celebration began unspooling on March 1 and continues through Tuesday. The screenings have included showings of Lewis films some of which are rare and seldom seen on the big screen.

Some of the screenings - nearly all presented in rare 35mm prints - included: The Ladies Man (1961), directed by Lewis; That's My Boy (1951), one of his first with Dean Martin; The Bellboy (1960), Lewis' directorial debut; Rock-a-Bye Baby (1958), one of his solo films; and Martin Scorsese's The King of Comedy (1982), one of Lewis' last films.

Also viewed The Errand Boy, The Patsy, Cracking Up, and The Nutty Professor, produced, directed, co-written (with Bill Richmond) and starring Lewis, which has been turned into a stage musical with a score by the late Marvin Hamlisch.

THE PASSION a two-hour musical event in which the story of Jesus' final hours is reimagined by Peter Barsocchini, set in modern times with contemporary music. The special will air on FOX, live from New Orleans on March 20th, Palm Sunday.

Grammy-winning singer/songwriter Seal has been cast to play Pontius Pilate, Jencarlos Canela as Jesus; Chris Daughtry will play Judas; Prince Royce as the apostle Peter; Trisha Yearwood as Mary and Tyler Perry as host and narrator.

ABRAHAM LINCOLN SYMPOSIUM takes place March 19, 2016 hosted by the Abraham Lincoln Institute and Ford's Theatre in Washington, DC.

The symposium will focus on the life, career and legacy of President Abraham Lincoln.

Hear from noted authors and historians Sidney Blumenthal, Thomas L. Carson, Louis P. Masur, Stacy Pratt McDermott and Edna Greene Medford.

The event is free. Tickets are available to the general public on the day of the event on a first-come basis.

WOLFRAM LOTS Germany's much lauded emerging playwright will be at The Segal Center to talk about his work and the contemporary German theater scene. His play, The Ridiculous Darkness, is inspired by Joseph Conrad's Heart of Darkness, Francis Ford Coppola's Apocalypse Now and current events. Mining the absurdities of our postcolonial world, Lotz sheds light on western society's inability to comprehend the realities of distant warzones and global trade.

In collaboration with The Goethe-Institut (Dr. Wenzel Bilger, Director of Cultural Programs North America), the Segal Center presents a staged reading of The Ridiculous Darkness, directed by Big Dance Theater Co-Artistic Director Paul Lazar, followed by a discussion with the playwright Wolfram Lotz.

The event is free to the public. March 21 at The Martin E. Segal Theatre Center, located at The Graduate Center, City University of New York

THE HAMSTEAD THEATRE FESTIVAL in London takes place March 18-20 with panel discussions, workshops and performances. Guests include David Hare, Matthew Bourne, Darcey Bussell, Meera Syal, Gary Kemp, Howard Brenton, Kate Mosse and many more.

FAMED COUTURIER STEWART PARVIN who has been designing outfits for Queen Elizabeth II for the last fifteen years, was honored by his client when she made him a member of the Royal Victorian Order, which is typically reserved for those who have served her or her family.

At the occasion which took place in Buckingham Palace's ballroom, the Queen wore a patterned purple day dress made by him.

In addition to Her Majesty, Parvin, 48, designed the wedding gown for the Queen's granddaughter Zara Phillips' wedding to Mike Tindall.

BROADWAY AND TELEVISION STAR SANDY DUNCAN will play Miss Daisy in a one-night-only reading of the Pulitzer Prize-winning Driving Miss Daisy by Alfred Uhry at the George Street Playhouse in New Brunswick, New Jersey.

This exclusive reading directed by Eric Woodall also features Kevyn Morrow as Hoke and Bob Hess as Daisy's son, Boolie. Morrow is currently appearing on Broadway in the revival of The Color Purple.

The reading, part of the GSP Celebrity Event Series, will take place on Monday, March 21, 2016.

VIP tickets include a post-play meet and greet with the artists.

WITCHCRAFT: THE JAZZ MAGIC OF CY COLEMAN takes place Saturday March 19 - Monday, March 21, 2016 at 92Y in New York City.

From Sweet Charity to City of Angels, Witchcraft to The Best is Yet to Come, Cy Coleman lived on both Broadway and the pop charts, with firm roots in the jazz world. He wrote standards made famous by such singers as Frank Sinatra, Ella Fitzgerald and Nat King Cole, and partnered with lyricists like Carolyn Leigh, Dorothy Fields and Peggy Lee.

Grammy-winning singer-pianist Billy Stritch, a friend and protégé of Coleman, celebrates the jazz side of this versatile, quintessentially New York composer in Witchcraft: The Jazz Magic of Cy Coleman.

Joining Stritch on vocals is a quartet of singers well-known to cabaret and concert audiences: Debby Boone, La Tanya Hall, Nicolas King, and Gabrielle Stravelli. This particular Lyrics & Lyricists program is co-written by Andy Propst.



REASONS TO BE HAPPY by Neil LaBute.

Directed by Michael Attenborough.

Starring Tom Burke, Warren Brown, Robyn Addison and Lauren O'Neil.

Three years after a difficult breakup, Steph and Greg are wondering if they can start over again. The trouble is, she's now married to someone else and he's started a relationship with Carly – her best friend. Meanwhile, Carly's ex-husband, Kent, wants her back, even more so when he hears about her new romance with Greg – his best friend.

With emotions running high, all four soon find themselves entangled in a web of hidden agendas, half-truths and confusion as they desperately search for that most elusive goal in life: happiness.

The artistic team includes: Designer Soutra Gilmour- Lighting by Oliver Fenwick - Sound by Fergus O'Hare - Casting by Suzanne Crowley and Gilly Poole.

Opens on the Main Stage of the Hamstead Theatre in London on March 17, running through April 16, 2015.

A CELEBRATION OF HAROLD PINTER a solo show starring Julian Sands.

Directed by John Malkovich.

"With personal anecdotes and reflections drawn from their work together, this brilliant collaboration is a rich, humorous, and fascinating solo show directed by John Malkovich. A Celebration of Harold Pinter delivers an evening of Homeric Theatre with an extraordinary actor exploring Pinter's lesser-known poems and prose, devoid of pretension or glittery trappings. It gets to the soul of the man- poet, playwright, husband, political activist, Nobel winner, mortal.

March 15-April 3 at The Irish Rep in New York City.

THE WIZARD OF OZ a new stage adaptation developed from the ever popular MGM screenplay, containing the beloved Harold Arlen and E.Y. Harburg songs from the Oscar-winning movie score, plus new songs by Tim Rice and Andrew Lloyd Webber.

Directed by Jeremy Sams.

Featuring the same award-winning creative team from London and Toronto: Robert Jones (set and costume design), Arlene Phillips (choreography), Hugh Vanstone (lighting design), Mick Potter (sound design), Jon Driscoll & Daniel Brodie (video/projection design), David Cullen (orchestrations) and Graham Hurman (musical supervision). Animals will be provided by William Berloni.

Starring as Dorothy is Sarah Lasko. Mark A. Harmon will star as Professor Marvel/The Wizard. Also starring in the production are Aaron Fried as Lion, Jay McGill as Tin Man, Morgan Reynolds as Scarecrow and Rachel Womble as Glinda.

Click your heels together and join Scarecrow, Tin Man, Lion, Dorothy and her little dog Toto, as they journey through the magical land of Oz to meet the Wizard and obtain their hearts' desires. Watch out for the Wicked Witch of the West and her winged monkeys as you rediscover the real story of Oz in this fantastic musical treat for the whole family.

From March 15-20 at the San Diego Civic Theatre in San Diego, CA.

SEX WITH STRANGERS by Laura Eason.

Directed by George Street Playhouse Artistic Director David Saint.

Starring Kyle Coffman and JoAnna Rhinehart.

"Sex With Strangers is the story of an affair between Ethan (Coffman), a brash, young blogger-turned-best-selling writer who shares his sexual exploits with the world, and Olivia (Rhinehart), a reserved teacher whose would-be writing career stalled after one book. It does not take long for opposites to attract and chemistry to ignite. Sex is imminent. But is their attraction driven by love, passion or opportunity?"

The creative team includes Jason Simms, costume designer Michael McDonald, lighting designer Christopher Bailey, sound designer/original music composer Scott Killian, and stage manager Cameron Berne. Casting by McCorkle Casting, Ltd.

Running March 8 – 27 at the George Street Playhouse in New Brunswick, New Jersey.

DRY POWDER written by Sarah Burgess.

Directed by Thomas Kail.

The cast features Hank Azaria (Rick), Claire Danes (Jenny), Sanjit De Silva (Jeff Schrader), and John Krasinski (Seth).

"The same week his private equity firm forced massive layoffs at a national grocery chain, Rick threw himself an extravagant engagement party, setting off a publicity nightmare. Fortunately, Seth (John Krasinski), one of Rick's partners, has a win-win deal to invest in an American-made luggage company for a song and rescue his boss from a PR disaster. But Jenny (Claire Danes), Seth's counterpart, has an entirely different plan: to squeeze every last penny out of the company, no matter the consequences. The game is on in Sarah Burgess' gripping, razor-sharp new play about the price of success and the real cost of getting the deal done."

Performances through Sunday, May 1, in The Public's Martinson Theater in New York City.


WHO'S WHERE




KRISTIN CHENOWETH is back in her home state with a two nighter beginning March 18, 2016: at the Civic Center Music Hall in Oklahoma City, OK.

RIHANNA entertains Tuesday, March 15 at the American Airlines Arena in Miami. On Friday her tour stops at the Bridgestone Arena in Nashville, TN. Saturday's performance is at the US Bank Arena in Cincinnati, OH. Next Sunday, March 20, she stars at the Time Warner Cable Arena in Charlotte, NC.

VIBRAHARPIST TOMMY VIG with Paul Cohen on drums. Mia Kim vocals and István Gyárfás on guitar, performs at the Budapest Jazz Club in Budapest, Hungary on Saturday, March 19 2016

THE MOODY BLUES singing favorites Tuesday, March 15, 2016 at the North Charleston Performing Arts Center in North Charleston, SC. Wednesday they perform at the Township Auditorium in Columbia, SC. On Friday they can be enjoyed at the Tivoli Theatre in Chattanooga, TN. Saturday's gig is at Harrah's in Cherokee, NC. Next Sunday, March 20, 2016 they star at the Ryman in Nashville, TN.

ELLIE GOULDING continues her UK tour with a show Tuesday, March 15, at the First Direct Arena in Leeds. Wednesday's stop is at the Metro Radio Arena in Newcastle upon Tyne. On Friday she performs at the SSE Hydro in Glasgow. Saturday's gig is at the Arena in Manchester.

PINK MARTINI brings their sound to the Bergen Performing Arts Center in Englewood, NJ on Tuesday, March 15. Wednesday's gig is at The music Hall in Portsmouth, NH.

MARIAH CAREY performs Tuesday, March 15, at the SEE Hydro in Glasgow, Scotland. Thursday's gig is at the First Direct Arena in Leeds, UK Friday finds her at the Arena in Manchester, England and next Sunday, March 20, she's on stage at Barclaycard Arena in Birmingham, England.

JOHN PIZZARELLI performs at the Scottsdale Center for the Performing Arts in Scottsdale, AZ on Saturday, March 19.

CHERISH THE LADIES Irish Homecoming. A St. Patrick's Day concert with the all-women traditional Irish band, blending virtuoso instruments, beautiful vocals, captivating arrangements and stunning step dancing. Thursday, March 17, at the Scottsdale Center for the Performing Arts in Scottsdale, Arizona.

FRANK SINATRA, JR backed by a big band orchestra, brings his one-of-a-kind multi-media experience, "Sinatra Sings Sinatra, to the Peabody Auditorium in Daytona Beach, Florida on Wednesday, March 16. Experience life with Sinatra Jr.'s iconic father through first-hand stories, photos, videos and songs; gain rare insight into the world's greatest entertainer that can only come from his son. Above all, this evening is about the music of Sinatra which will be backed by a wonderful orchestra/big band featuring many members who played with Sinatra Sr. NOTE A few hours before showtime on Wednesday, March 16, he died of massive cardiac arrest at Halifax Medical Center. . Out of espect for his family who hadn't yet released an official statement, at 2:07 pm the venue sent out a press release stating that "Frank Sinatra's Jr's show tonight has been canceled. After arriving in Daytona Beach he fell ill and will not be able to perform this evening."


FINAL OVATION


SIR GEORGE MARTIN a record producer known as the Fifth Beatle, died March 8, 2016. He was 90.

His death was announced by Ringo Starr on his Twitter account.

As a record producer, arranger, composer, conductor, audio engineer and musician, Martin had 30 number-one hit singles in the United Kingdom and 23 number-one hits in the United States.

After meeting with Brian Epstein, manager of The Beatles, Martin agreed to sign the unknown group, which had been rejected by Decca. Although there was a verbal agreement Martin refused to sign the contract until he had heard an audition. The Beatles auditioned for Martin on June 6, 1962, in studio three at the Abbey Road studios. Martin thought their original songs were simply not good enough. Martin asked the individual Beatles if there was anything they personally did not like, to which George Harrison replied, "Well, there's your tie, for a start." Historians reported that was the turning as John Lennon and Paul McCartney joined in with jokes and comic wordplay that made Martin think that he should sign them to a contract for their wit alone.

Martin signed them to EMI saying the recording company had "nothing to lose," as it offered one penny for each record sold, which was split among the four members. Martin suggested to EMI (after the release of From Me to You) that the royalty rate should be doubled without asking for anything in return, which led to Martin being thought of as a "traitor in EMI".

Martin produced recordings for many other artists, including Gerry & The Pacemakers, Billy J. Kramer & the Dakotas, America, guitarists Jeff Beck and John Williams, sixties duo Edwards Hand, Gary Brooker, Neil Sedaka, Ultravox, country singer Kenny Rogers, Cheap Trick, Elton John, and Celine Dion.

In 2006, Martin and his son, Giles Martin, remixed 80 minutes of Beatles music for the Las Vegas stage performance Love, a joint venture between Cirque du Soleil and the Beatles' Apple Corps Ltd. See Broadway To Vegas column of June 18, 2006 A soundtrack album from the show was released that same year. See Broadway To Vegas column of April 13, 2014

Martin's career spanned more than six decades of work in music, film, television and live performance. He also held a number of senior executive roles at media companies and contributed to a wide range of charitable causes, including his work for the Prince's Trust and the Caribbean island of Montserrat.
,br> In recognition of his services to the music industry and popular culture, he was made a Knight Bachelor in 1996.

Neil Portnow President/CEO of The Recording Academy issued the following statement: "We are very saddened to learn about the passing of six-time Grammy Award winner and Trustees Award recipient Sir George Martin. As many fans of the Beatles know, George's work as producer, engineer, arranger, conductor, and musician was instrumental to the massive success of the group, and he was fondly referred to as "the fifth Beatle." Having worked on hundreds of recordings, he was one of the most innovative producers of all time and his impact on music is unparalleled. Our creative community has lost a gifted artist, and our thoughts go out to his family, his friends, and the many musicians with whom he collaborated."

He is survived by his second wife of almost fifty years Judy Lockhart Smith, and his four children.

KEITH EMERSON British born keyboard player, composer, pianist, and founding member of The Nice and Emerson, Lake & Palmer died March 10, 2016 in Santa Monica, CA of a presumed self-inflicted gunshot wound to the head. It was later reported that Emerson had "'recently' been suffering from depression and a degenerative nerve issue that hampered his keyboard playing capabilities." He was 71.

In September 2010, Emerson released a message stating: "During a routine medical examination, a colonoscopy revealed a rather dangerous polyp in my lower colon. It is the conclusion of the doctors here in London that I must undergo surgery immediately. Unfortunately, the timing of this urgent surgery does not allow me to start touring in early October because of the required period of hospitalization and recuperation. I must remain optimistic that all will turn out well".

He is widely regarded as one of the top keyboard players of the progressive rock era.

In 1969, Emerson incorporated the Moog modular synthesizer into his battery of keyboards, becoming the first artist to tour with one. Emerson's use of the Moog was so critical to the development of new models that he was given prototypes, such as the Constellation, which he took on one tour and the Apollo, which had its debut on the opening track Jerusalem on the 1973 album Brain Salad Surgery.

Divorced, Emerson married his Danish girlfriend, Elinor, around Christmas 1969. They had two sons, Aaron Ole Emerson and Damon Keith Emerson who survive him.



















Next Column: March 20, 2016
Copyright: March 13, 2016 All Rights Reserved. Reviews, Interviews, Commentary, Photographs or Graphics from any Broadway To Vegas (TM) columns may not be published, broadcast, rewritten, utilized as leads, or used in any manner without permission, compensation and/or credit.
Link to Main Page
---
Laura Deni



For the snail mail address, please E-mail your request.
CLICK HERE FOR COMMENT SECTION