! >
Broadway To Vegas
  
  REVIEWS INTERVIEWS COMMENTARY NEWS

| | |
| --- | --- |
| | |
A RAISIN IN THE SUN AND AFTER MIDNIGHT ON BROADWAY - -SOUNDTRACK CD TO LOVE BEATLES SHOW AT THE MIRAGE - - PRINCE WILLIAM, KATE AND GEORGE ALL HAVE PLAY DATES - - TONY AWARDS TO HONOR COSTUME DESIGNER JANE GREENWOOD AND PHOTOGRAPHER JOAN MARCUS - - PRESIDENT OBAMA AND MICHELLE SEE A RAISIN IN THR SUN ON BROADWAY - - THE GUTHRIE THEATER'S ARTISTIC DIRECTOR JOE DOWLING TO STEP DOWN - - MASTERWORKS BROADWAY TO RECORD BULLETS OVER BROADWAY - - INTIMATE IMPRESSIONISM - - DONATE . . . Scroll Down




Copyright: April 13, 2014
By: Laura Deni
CLICK HERE FOR COMMENT SECTION


A RAISIN IN THE SUN AND AFTER MIDNIGHT ARE A POWERFUL DUO
Anika Noni Rose, LaTanya Richardson Jackson, Denzel Washington and Sophie Okonedo on opening night of A Raisin In The Sun. Robin Marchant/Getty Image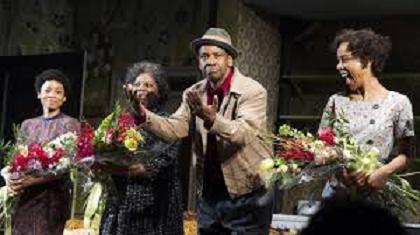 President Obama's date night with his wife last Friday was attending the Broadway show A Raisin in the Sun. Good choice.

A Raisin in the Sun is a play by Lorraine Hansberry that debuted on Broadway in 1959. The title comes from the poem Harlem, also known as A Dream Deferred, by Langston Hughes. Mounted at the Ethel Barrymore Theatre, where it first opened more than 50 years ago, this revival of the iconic play stars Oscar and Tony winner Denzel Washington.

The Kenny Leon-directed play is based upon a black family's experiences in the Washington Park Subdivision of Chicago's Woodlawn neighborhood. The Obama's Chicago home in the upscale Kenwood neighborhood.

Like Death of a Salesman this iconic play speaks to the masses. Those who were adults when the play debuted on Broadway no longer are Broadway regulars. With each regional staging comes a new generation of ticket buyers. Yet, it seems comparisons are always made to Broadway productions of previous decades, seen by different audiences. The previous Broadway revival took place in 2004.

That was a decade ago and everyone was ten years younger.

Some have wondered if Washington is too old for the part of Walter Younger, a limousine driver who is barely making ends meet. The original script pegged him at about 35. This version bumps him up to the 40's. In real life Washington is 59. On stage the actor establishes that age is nothing more than a number.

Walter Younger has been beaten down by life but still has a desperate desire to have money and what he perceives that wealth will buy him.

Washington stars opposite film, television and stage actress La Tanya Richardson Jackson as Lena Younger. The production also stars Academy Award nominee Sophie Okonedo as Ruth Younger, Tony Award winner Anika Noni Rose as Beneatha Younger, Stephen Tyrone Williams as Joseph Asagai, Jason Dirden as George Murchison, Tony Award nominee Stephen McKinley Henderson as Bobo, David Cromer as Karl Lindner and 13-year-old Bryce Clyde Jenkins as Travis Younger.

Walter and Ruth Younger and their son Travis, along with Walter's mother Lena (Mama) and sister Beneatha, live in poverty in a dilapidated two-bedroom apartment on Chicago's south side. Walter is barely making a living as a limousine driver. Though Ruth is content with their lot, Walter wants to own a liquor store. What Lena really wants is to put a down payment on a real house - which happens to be in a white neighborhood.

Ably directed by Kenny Leon the emotions determination, desperation, resignation and pathos, plus tired and hopeful are delivered by the actors with textures ranging from broad to subtle.

Matriarch Lena, called Mama Richardson, is anxious for the life insurance money from her deceased husband to come through, so she can come up with that house down payment. Determined and energetic Beneatha dreams of using the money for medical school. The tensions and prejudice they face form this seminal American drama.

Meanwhile, Karl Lindner, a white representative of the neighborhood they plan to move to, makes a generous offer to buy them out. He wishes to avoid neighborhood tensions over interracial population, which to the three women's horror Walter prepares to accept.

It's a play based on a lawsuit and personal experience.

As the historical description states: "All experiences in this play echo a lawsuit (Hansberry v. Lee, 311 U.S. 32 (1940)), to which the Hansberry family was a party when they fought to have their day in court because a previous class action about racially motivated restrictive covenants (Burke v. Kleiman, 277 Ill. App. 519 (1934)) was similar to the case at hand. This case was held prior to the passage of the Fair Housing Act (Title VIII of the Civil Rights Act of 1968), which prohibits discrimination in housing and created the Office of Fair Housing and Equal Opportunity. The Hansberrys won their right to be heard as a matter of due process of law in relation to the Fourteenth Amendment to the United States Constitution. The Supreme Court held that the Hansberry defendants were not bound by the Burke decision because the class of defendants in the respective cases had conflicting goals, and thus could not be considered to be the same class.

Interestingly, the plaintiff in the first action was Olive Ida Burke, who brought the suit on behalf of the property owner's association to enforce the racial restriction in 1934. Her husband, James Burke, was the person who sold the property to Carl Hansberry (Lorraine's father) when he changed his mind about the validity of the covenant. Mr. Burke's decision may have been motivated by the changing demographics of the neighborhood, but it was also influenced by the Depression. The demand for houses was so low among white buyers that Mr. Hansberry may have been the only prospective purchaser available."

Lorraine reflects upon the litigation in her book To Be Young, Gifted, and Black.

A Raisin in the Sun was the first play written by a black woman to be produced on Broadway, as well as the first Broadway play with a black director - Lloyd Richards.

This limited engagement runs only to June 15.

A show worth the White House residents making a special trip to The Big Apple to see is the high-octane, sexy, smoky After Midnight.

It's an infectious joint jumpin' musical tribute to Duke Ellington and the Harlem jazz pinnacle of the 20s and 30s. The not to be missed musical hits all he right notes at the Brooks Atkinson Theater. Like A Raisin in the Sun, this musical is also a study of history - the history of jazz music. There are also snippets of Langston Hughes poetry.

After Midnight is also the Broadway debut for fashion designer Isabel Toledo's impressive, snazzy costumes which are a kaleidoscope of color and fabric - from natty suits, evening gowns, showgirl costumes to fascinators. Toledo is known for creating Michelle Obama's first inauguration day dress.

While A Raisin in the Sun infuses passion, determination and desperation, After Midnight is a joyous celebration. Together the musical and the play are Broadway's power couple.

It a nut shell After Midnight re-imagines one of the Ellington's Cotton Club shows with a roster of guest stars that make it possible to see the show several times in one year and each time be treated to a different version.

In many ways After Midnight is an ensemble production. Individually the handpicked musicians have a more important role that pit musicians in the usual Broadway musical. If one musician gets ill you can't just call up the Musician's Union and tell them to send over somebody.

Likewise, the star dancers and singers compliment each other.

Nor is it necessary for every single Broadway production to turn an entertainment mounting into a political/sociological statement.

After Midnight ignores the serious racial aspects of the Cotton Club, instead celebrating the music and fun of a night out. Productions shouldn't be criticized for not always addressing, referencing and opining on the injustices of the production era. A Raisin in the Sun does, while After Midnight does not.

After Midnight, directed and choreographed by William Carlyle deserves to let it all hang out on Broadway for a record setting number of performances.

There was a time when dancers - tap dancers - were center stage and stole the show. Bill "Bojangles" Robinson, Donald O'Connor, Anne Miller, The Step Brothers, Hines, Hines and Dad, The Nicholas Brothers and Sammy Davis, Jr. as part of the Will Mastin Trio, to name only a few. This show sparkles with show stopping classic jazz, tap and swing numbers, and some of the most spirited choreography currently on Broadway.

This is a get happy musical if there ever was one.

Due to his inventive use of the orchestra, or big-band, and thanks to his eloquence and charisma, Duke Ellington is generally considered to have elevated the perception of jazz to an art form on a par with other traditional genres of music.

It's a stunning musical which celebrates the Harlem Renaissance of the 1920s and '30s As the Ellington standard declares, It Don't Mean a Thing (If It Ain't Got That Swing), and After Midnight, does.

There are those musicians, hand-picked by Wynton Marsalis, Jazz at Lincoln Center's nine-time Grammy and Pulitzer Prize Award-winning artistic director, the band includes 17 soloists and ensemble players, including Mark Gross, Godwin Louis, Daniel Block, Andrew Farber and Kurt Bacher on woodwinds; Gregory Gisbert, Bruce Harris, Alfonso Horne and James Zollar on trumpets; Wayne Goodman, Arthur Baron and James Burton III on trombones; Adam Birnbaum on piano; James Chirillo on guitar; Jennifer Vincent on bass; and Alvester Garnett on drums knocking out more than 25 songs from the height of the jazz era.

All of the musicians are experts at making their instruments wail, moan, soar, swell and swing.

Emmy Award-nominated actor Dulé Hill serves as The Host of the evening, leading the audience through the heat and glamour of the Harlem Renaissance using the words of Langston Hughes.



Adriane Lexon in After Midnight.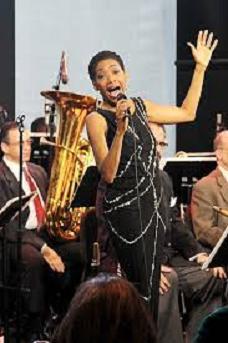 The awesome Tony Award winner Adriane Lenox heads up an eclectic cast that also includes Julius "iGlide" Chisolm who reimagines Harlem's popular 1920's "snakehips" dance; hip hop star Virgil J. Gadson; Tony Award-nominated dancers Karine Plantadit and Desmond Richardson; tap dancers Dormeshia Sumbry-Edwards and Jared Grimes; and vocalists Everett Bradley, Cedric Neal, T. Oliver Reid, Monroe Kent, Carmen Ruby Flord, Rosena M. Hill Jackson and Bryonha Marie Parham.

Dancers include Marija Abney, Phillip Attmore, Christopher Broughton, Taeler Elyse Cyrus, C. K. Edwards, Bahiyah Hibah, Erin Moore, Justin Prescott, Monique Smith, Daniel Watts, Danielle Herbert and David Jennings.

With moveable Art Deco sets and a musicians' turntable by John Lee Beatty, effective lighting by Howell Binkley, balance sound by Peter Hylenski, period hair design by Charles G. LaPointe, there is one astounding high spot after another in the show.

Some of the numerous stand out segments include Lenox hilarious warning Women Be Wise, by Sippie Wallace, in which the show stopping Lenox authoritatively admonishes her fellow females to be wary of men on the prowl. Go Back Where You Stayed Last Night by Sidney Easton and Ethel Waters is a sassy bark back at a no-good cheating man.

Duke Ellington, whose orchestra was the house band at The Cotton Club there from December 4, 1927 to June 30, 1931, is celebrated in After Midnight, using his original arrangements of the timeless tunes.

The Cotton Club operated from 1923 to 1940, most notably during prohibition. The club was a whites-only establishment even though it featured many of the best black entertainers and jazz musicians of the era. During its heyday, the Cotton Club served as a hip meeting spot featuring regular Celebrity Nights on Sundays which showcased celebrity guests - both black and white - such as Jimmy Durante, George Gershwin, Sophie Tucker, Paul Robeson, Al Jolson, Mae West, Richard Rodgers, Irving Berlin, Eddie Cantor, Fanny Brice, Langston Hughes, Judy Garland, Moss Hart, and New York Mayor Jimmy Walker, among others.

After Midnight re-imagines one of those Sunday nights, featuring a roster of guest star including Fantasia Barrino who was followed by by KD Lang, Toni Braxton, Babyface Edmonds, Vanessa Williams who appears through May 11, following by Fantasia.

Virgil Gadson proves he can dance on virtually any part of his body - including his feet. On Hottentro by Fields and McHugh he has a dancing duet Julius iGlide Chisolm, who leaves no doubt how he got his nickname. He bends and floats as if boneless. Jared Grimes makes those taps talk in a definitive foot work spectacle of It Don't Mean a Thing.

Dormeshia Sumbry-Edwards is a hit with the distaff side tapping out The Skrontch and Raising the Rent/Get Yourself a New Broom, while Dulé Hill shows off in I've Got the World on a String, accompanied by charming red balloons.

Conducted by Daryl Waters who also serves as music supervisor and provided additional arrangements, After Midnight features pieces by jazz composers of the period.

Carmen Ruby Floyd, Rosena M. Hill Jackson and Bryonha Marie Parnham, tell it like it is in The Devil and the Deep Blue Sea and The Gal from Joe's. Creole Love Call, is masterfully delivered in a call and answer duet for voice and trumpet by Carmen Ruby Floyd.

Creole Love Call has an interesting history. According to Underneath A Harlem Moon ... the Harlem to Paris Years of Adelaide Hall by Iain Cameron Williams, Creole Love Call is "a jazz standard, most associated with the Duke Ellington band and Adelaide Hall. Ellington first recorded it in 1927 and was issued a copyright for it as composer the following year. However the main melody appears earlier in the Joe "King" Oliver composition Camp Meeting Blues which Oliver recorded with his Creole Jazz Band in 1923. Apparently Ellington reedman Rudy Jackson had presented the melody to Ellington claiming it was his own composition. After Ellington's recording came out, Joe Oliver attempted to sue for payment of royalties and composer credit. The lawsuit failed due to problems with Oliver's original paperwork resulting in Oliver not holding a valid copyright. Ellington fired Jackson over the incident, bringing in Barney Bigard as his replacement."

"In the Swing Era, jazz dominated the music charts for a reason: it's sophisticated yet down-home, and people can get down for a profoundly good time while still being uplifted. Those things have never left our music, and Broadway is the perfect place to showcase to the world the contemporary relevance of swing," Marsalis said in a pre-opening statement. "Come on down, to get down and be lifted up."

Good suggestion.





Broadway To Vegas is supported through advertising and donations. Priority consideration is given to interview suggestions, news, press releases, etc from paid supporters. However, no paid supporters control, alter, edit, or in any way manipulate the content of this site. Your donation is appreciated. We accept PAYPAL. Thank you for your interest.





ART AND ABOUT


INTIMATE IMPRESSIONISM

L: Pierre-Auguste Renoir, Madame Henriot, ca. 1876. Oil on canvas. National Gallery of Art, Washington, gift of the Adele R. Levy Fund, Inc. R: Paul Cézanne, Still Life with Milk Jug and Fruit, ca. 1900. Oil on canvas. National Gallery of Art, Washington, gift of the Averell Harriman Foundation in memory of Marie N. Harriman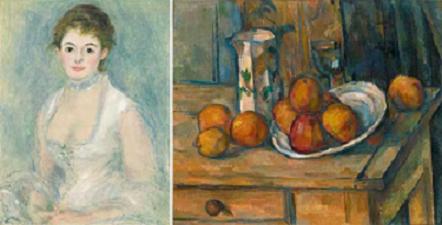 from the National Gallery of Art is on on view at the Legion of Honor in San Francisco through August 3, 2014. The exhibit showcases approximately 70 Impressionist and Post-Impressionist landscapes, seascapes, still lifes, interiors, and portraits, from the collections of the National Gallery of Art in Washington, DC.

The exhibition illuminates the process of painting directly in nature with Impressionist precursors. Eugène Boudin and Johan Barthold Jongkind's plein-air practice inspired artists including Claude Monet, Pierre-Auguste Renoir, Camille Pissarro, and Alfred Sisley.

Complementing these paintings of the natural world are depictions of artists' studios and domestic interiors; several captivating self-portraits by Edgar Degas, Henri Fantin-Latour, Paul Gauguin, and Édouard Vuillard; Renoir's 1872 portrait of Monet; and representations of the artists' families, including Berthe Morisot's The Artist's Sister at a Window, of 1869.

This celebration of fleeting moments and personal places also highlights some of the Impressionists' most iconic subjects, such as ballerinas and racehorses by Degas, still lifes by Paul Cézanne, and beautiful young women by Renoir. The exhibition also includes examples of flattened perspectives and patterned surfaces by the Nabi painters Vuillard and Pierre Bonnard.

This select group of paintings in San Francisco is the exhibition's first venue.


THE MUSIC GOES ROUND AND ROUND


THE BEATLES LOVE soundtrack of the Las Vegas production show playing at the Mirage Hotel in Las Vegas, released on the Capitol/Apple label.

Broadway To Vegas fell in love with the production show ( See Broadway To Vegas column of June 18, 2006 ) and decided to give the show's cast album a listen.

Eerie, surreal, intriguing.

A magnificent CD to own if you've seen the Las Vegas production, are curious about the Las Vegas production, like the Beatles or - if you are from another planet - wonder why they are popular.

There are two version of the CD - a stereo and a surround sound version The stereo CD containing 78 minutes of stunning music, the reinspired arrangements are awesome. The Vegas production is perfectly captured on this CD.

The booklet is so much more than the usual booklets accompanying a CD. This one contains 22 pages of glossy, full color graphics from the Love production.

Love, one of the best production shows ever mounted in Las Vegas, is a 2006 theatrical production by Cirque du Soleil which combines the re-produced and re-imagined music of the Beatles with an interpretive, circus-based artistic and athletic stage performance.

A joint venture between Cirque and the Beatles' Apple Corps Ltd, it is the first production that Apple Corps Ltd. has partnered in. Love is written and directed by Dominic Champagne. Music directors are Sir George Martin, producer of nearly all of the Beatles' records, and his son, record producer Giles Martin.

The artistic story line traces The Beatles' biography in emotional strokes from The Blitz, through the band's inception and rise into superstardom, their psychedelic and spiritual works and their break-up in 1970. The finale is a celebration of The Beatles' "reunion".

Unlike most other Cirque productions, which feature live music, Love uses prerecorded material from The Beatles catalog. Many of the original Abbey Road Studios recording session tapes have been reorchestrated and inspired Love's dance, acrobatics, as well as visual and theatrical effects. Martin took excerpts from 130 songs to create 26 musical pieces for the production show. The songs are mixed so that the lyrics and instrumentation from one song blend into the next just as one show element seamlessly leads into the next. A new version of While My Guitar Gently Weeps, is identical to the first studio demo of the song with a string arrangement written for Love by Sir George Martin.

An emotional captivating and hypnotic CD that will bring back wonderful memories of seeing Love, or inspire you to see the show.

Remix Engineer Paul Hicks. Assisted by Chris Bolster, Mirek Stiles, and Sam OKill. Coordinator at Abbey Road Allan Rouse. Pro Tools Programming and Sequencing - Giles Martin. Additional ProTools Paul Hicks. Technical Assist to Giles Martin Richard Barrie. Original engineer: Norman Smith, Geoff Emerick, Ken Scott, Philip McDonald and Glyn Johns.

Stereo mastered by Steve Rooke at Abbey Road.

Additional music: String arrangements and recording: George Martin and Giles Martin. Recorded at AIR Studios Engineered by - nick Wollage. Assisted by Olga Fitzroy. Fixer - Isobel Griffiths. Copyist- Vic Fraser.

Track Listings
1. Because
2. Get Back
3. Glass Onion
4. Eleanor Rigby/Julia (Transition)
5. I Am The Walrus
6. I Want To Hold Your Hand
7. Drive My Car/The Word/What You're Doing
8. Gnik Nus
9. Something/Blue Jay Way (Transition)
10. Being For The Benefit of Mr. Kite!/I Want You (She's So Heavy)/Helter Skelter
11. Help!
12. Blackbird/Yesterday
13. Strawberry Fields Forever
14. Within You Without You/Tomorrow Never Knows
15. Lucy in the Sky With Diamonds
16. Octopus's Garden
17. Lady Madonna
18. Here Comes The Sun/The Inner Light (Transition)
19. Come Together/Dear Prudence/Cry Baby Cry (Transition)
20. Revolution
21. Back in the U.S.S.R.
22. While My Guitar Gently Weeps
23. A Day in the Life
24. Hey Jude
25. Sgt. Pepper's Lonely Hearts Club Band (Reprise)
26. All You Need Is Love.








ROYALS OF ALL AGES HAVE PLAY DATES
The Duchess of Cambridge with Prince George at Government House in Wellington, New Zealand during a play date for 10 toddlers and their parents. Their Royal Highnesses chatted to parents from local families who use the services of the Royal New Zealand Plunket Society, which provides support services for the development, health and wellbeing of children under five. Parents Jared Mullen and his partner Ryan Tunstall, who attended with their adopted baby daughter Isabella, spoke about meeting the Duke and Duchess and watching Prince George interact with other babies: "The Duke and Duchess were lovely, they were both very relaxed and we chatted about our experiences as first-time parents. He is a lovely little boy, very intrepid. The whole thing has been a huge privilege." Photo: Clarence House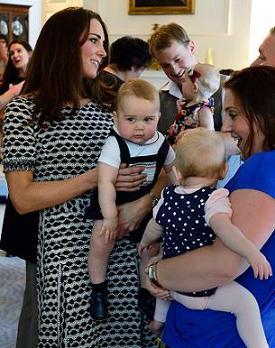 Play dates aren't confined to little ones. Sure, cute Prince George spent an hour romping with ten tots his own age during his first official outing in the visit to New Zealand he undertook with his parents. However, it was Prince William and Kate who spent the next two days at their own play dates. Those royals know how to have fun.

Oscar winner Sir Peter Jackson played tour guide when he took Prince William and Kate on a visit to Omaka Aviation Museum in Marlborough New Zealand. The Omaka Aviation Heritage Centre was established to provide a world-class destination for the appreciation of historic aircraft. The collection is managed by the 14-18 Aviation Heritage Trust, which is chaired by Jackson, and has been brought to life in a series of theatrical dioramas constructed with the artistic talent and technical expertise of some of New Zealand's most talented storytellers.

Sir Peter, whose personal collection of warplanes makes up the Omaka collection, inquired if the second in line to the throne might like to take the biplane for a spin.

"Perfect, fine by me. Start her up!" said the Duke, who flew Sea King helicopters with RAF Search and Rescue..

The aircraft is an airworthy reproduction of one flown by New Zealander Malcolm McGregor during WWI, known as The Great War. The pilot painted his sister's name, Peggy, on the engine cowling for good luck.

Later William and Kate climbed inside a Second World War Avro Anson Mk1multi-role aircraft, the only flying example in the world.



Kate watches as Prince Williams sits inside an airworthy reproduction of a biplane flown by New Zealander Malcolm McGregor during WWI. The pilot painted his sister's name, Peggy, on the engine cowling for good luck. Photo: Clarence House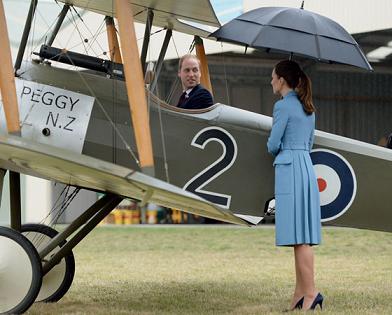 Inside the museum, they were presented with a gift for their son; a child size flying helmet, World War I styled, hand-crafted out of deerskin leather, custom-dyed and lined with possum fur.

"We were very keen to mark the occasion with a gift and this is all about preserving the heritage for future generations, we thought what better than to give then a gift for the young Prince," said Jane Orphan, chief executive of the museum.

New Zealand television reported that "the maker of the quirky gift, Trevor Lamb of Carterton's Leather and Art, thought he was chosen 'because they were trying to think of something that wasn't a buzzy bee.'"

Specializing in vintage-style helmets since 1992, the Greytown-raised entrepreneur was proud but "nonplussed" when he got the commission several months ago. "I just thought, I better get this right."

Trained in craft design at Southland Polytech, the former policeman has worked on leather goods for customers all over the world and in costuming with Weta Workshop on films such as Elysium and the Hobbit movies. Even so, the experience of making a helmet for a prince was "spooky, a bit freaky"," according to the New Zeland television report.

As for the famed Lord of the Rings director, he's has been collecting First World War memorabilia since he was 12 and couldn't disguise his enthusiasm when escorting the royal couple around the inside of the museum, which contains 20 of his planes displayed on dioramas depicting dramatic scenes from the conflict. Sir Peter whipped out his Smartphone and captured the tour in pictures.

Kate was fascinated to see the mannequins of pilots sitting in open cockpits. "They must have been freezing," she said.

The royal couple were introduced to the museum's senior guide, Harcourt 'Bunty' Bunt, 93, a celebrated Second World War Spitfire pilot, who explained one of the most daring escapades depicted in the museum.

The royal couple were also shown a scene depicting the moment in April 1918 when von Richthofen met his death after crashing his triplane into a beet field surrounded by Australian infantrymen who then stripped the plane for souvenirs.

The aircraft enthusiasts who run the heritage center, which opened with financial assistance from the New Zealand government in 2006 and now attracts 30,000 visitors a year, hope the royal visit will encourage visitors.



Duchess Kate waa at the controls taking part in a boat race on Auckland Harbourtches. She beat her husband twice. Photo: Clarence House. Malcolm McGregor during WWI. The pilot painted his sister's name, Peggy, on the engine cowling for good luck. Photo: Clarence House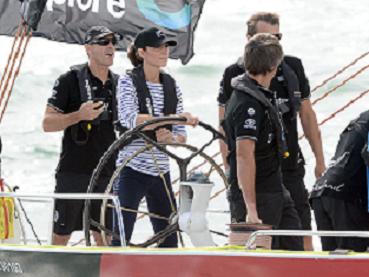 In the afternoon, The Duke and Duchess of Cambridge took part in a sailing competition on Auckland Harbour.

The Duchess, an experienced sailor who crewed on Round the World Challenge boats in the Solent during her gap year, won two races piloting an America's Cup sailing boat, beating her husband who joked, 'we were sabotaged'.

Eric Haagh, the skipper of the Duke's boat, said: "William was a good sailor but Kate pushed us around into a bad position. She did very well. 'William was very competitive right from the start - he didn't want to lose. When Kate won both the races he just said, 'At least she'll be happy.'".

As for parenthood, George's proud father disclosed to bystanders that his son is drooling and teething, putting everything in his mouth, including his mother's hair. William told well wishers that he hoped his son "doesn't chew everything at Government House," which is the official residence of the governor general which is where the royals are staying.

William also stated that he is the one who gives George his evening bottle and puts him to bed.

Prince William told the guests at Wellington's Government House, "I hope that George doesn't keep you up. He has been known to be particularly vocal at 3am and I swear I heard him doing the haka this morning," said William referring to a traditional ancestral war cry, dance or challenge from the Mori people of New Zealand.


SPREADING THE WORD


MASTERWORKS BROADWAY has announced they will record the Broadway cast album of Bullets Over Broadway, which features music from the 1920's adapted by Glen Kelly with orchestrations by Doug Besterman.

Produced by Doug Besterman and engineered by Frank Fillipetti, the album will be recorded on April 14. The cast recording will be available for download via all digital service providers June 3 with the CD available everywhere June 10.

Bullets Over Broadway officially opened April 10 at the St. James Theatre in NYC.

THE GUTHRIE THEATER'S ARTISTIC DIRECTOR JOE DOWLING has announced that he will step down from that position he has held for 20 years following the 2014-15 season. His is the longest tenure of any artistic director in the theater's 50-plus-year history.

Dowling's final season at the Minneapolis theater will be a strong one. Productions will includes first-time Guthrie productions of The Cocktail Hour by A.R. Gurney, Mr. Burns, a post-electric play by Anne Washburn and Stage Kiss by Sarah Ruhl, three productions directed by Dowling, the Guthrie debut of writer and director Mary Zimmerman's The White Snake, as well as The Music Man.

Since he became the Guthrie's artistic director in 1995, Dowling has defined the venue by directing more than 45 productions, saw the Guthrie expand into a three-theatre complex serving approximately 400,000 patrons each year.

SHAKESPEARE WITHOUT WORDS presented by The Shakespeare Society, stages The Tempest/The Dream with American Ballet Theatre on April 28 at The Kaye Playhouse in New York City.

This event will feature selections from Alexei Ratmansky's new ballet The Tempest and Frederick Ashton's The Dream as performed by ABT dancers.

Tony award winning opera and theatre director Mark Lamos will be joined choreographer and American Ballet Theatre's Artist-in-Residence Alexei Ratmansky, ABT's Artistic Director Kevin McKenzie, and dance historian David Vaughan to discuss the challenges, process, and history of adapting Shakespeare for the ballet. Additionally, actors will join the evening to perform scene selections from The Tempest and A Midsummer Night's Dream.

The Shakespeare Society is a non-profit organization dedicated to increasing the enjoyment, understanding, and appreciation of William Shakespeare's works through performance, commentary, and educational activities. A portion of the Society's membership dollars is used to support educational activities in New York City Schools.

THE OLD GLOBE TEAMS WITH COMBAT ARTS AND SO SAY WE ALL TO PRESENT WORKS BY VETERANS As part of its continuing commitment to new ways of better serving the community through its art, The Old Globe in San Diego has partnered with with Combat Arts and So Say We All to host an exhibit of art by returning veterans in Hattox Hall, above the Sheryl and Harvey White Theatre, part of the Globe's Conrad Prebys Theatre Center.

Curated by local artist and Combat Arts founder Elizabeth Washburn, the exhibit opened with a kick-off celebration on April 12 and will remain on display throughout the run of Water by the Spoonful. Exhibit hours will be one hour prior to performance, as well as full days on free Tuesdays, April 15 and April 22.

The 2012 Pulitzer Prize winner Water by the Spoonful by Quiara Alegría Hudes, the playwright behind the Tony Award-winning musical In the Heights. Elliot Ortiz is back in the States after serving in Iraq, reconnecting with family and starting a new life. At the same time, four strangers in an internet chat room seek support to face demons of their own, and soon the real world and the virtual one start to intersect in unexpected ways.

The Old Globe began performances on April 12. Directed by Edward Torres, Water by the Spoonful will run through May 11.

As part of the exhibit, a video installation from So Say We All showcases selected interviews from its Veteran Writers Program. So Say We All received seed money from Cal Humanities and The Center for the Book, in partnership with Oceanside and Downtown Central Libraries, to institute and facilitate a creative writing program and publication that serves veterans throughout the Southern California region. Its 2014 program, Homecoming, focuses on the journey veterans and their families experience during the transition from military to civilian life.

In conjunction with So Say We All Executive Director Justin Hudnall, the Globe will also host an evening of local veterans performing stories they have written about their service on Monday, April 21. Selected participants from So Say We All's Veteran Writers Program take the stage to perform stories from the forthcoming 2014 Homecoming anthology, featuring darkly funny and surprising stories from those who served.


OTHER PEOPLE'S MONEY


COMEDIAN GEORGE WALLACE was awarded $1.3 million by an 8-person Las Vegas jury who sided with Wallace in his lawsuit against the Bellagio Hotel over an Achilles tendon injury he suffered while performing for a private event at the Las Vegas resort on December 8, 2007.

Wallace has been left with a permanent limp.

Jurors awarded Wallace $1.2 million for lost income, plus $100,000 for past pain and suffering and $8,500 for medical expenses.

BALLET HISPANICO 2014 GALA raised more than $1 million in support of the company's artistic and educational work in New York City and around the country at their 2014 Gala on Monday, April 7, 2014. During the evening, Ballet Hispanico honored the Ford Foundation with the Civic Inspiration Award. Proceeds from the evening, which totaled over $1 million, will benefit the creation of new Company works, need-based financial aid and merit scholarships in the Ballet Hispanico School of Dance, and community arts education programs.

Close to 400 guests in attendance also received the exclusive announcement of a $1.5 million grant from long-time supporter the Ford Foundation, with portions allocated to Ballet Hispanico's choreography lab Instituto Coreográfico, to an expansive lobby renovation of Ballet Hispanico's headquarters in the Upper West Side, and to a cash reserve fund.



COSTUME DESIGNER JANE GREENWOOD will receive this year's Tony Award for Lifetime Achievement in the Theatre.

The Tony Awards Administration Committee announced that the award will be presented to Greenwood at the 2014 Tony Awards June 8.

She has received 15 Tony Award nominations, the Irene Sharaff Award, the Lucille Lortel Award, the Helen Hayes Award (Washington) and The Lilly Award. She is also a professor at Yale School of Drama.

"It is our honor to present Jane with the Lifetime Achievement Award for her outstanding work in costume design and for her dedication to the theatre. She has made a significant imprint on the history of Broadway with her artistry. Her work has not only elevated the craft of costume design but has inspired generations of designers to come," said Charlotte St. Martin, executive director of The Broadway League, and Heather Hitchens, executive director of the American Theater Wing, in a joint statement. Greenwood has designed costumes for over 125 productions on Broadway beginning with Ballad of the Sad Café in 1963. Other productions include ' Once Upon a Mattress, The Little Foxes, An American Daughter, Psychopathia Sexualis, Master Class, Passion, She Loves Me, Next Year, California Suite, Medea, Plenty, Heartbreak House, The Iceman Cometh, Ah, Wilderness!, Long Day's Journey Into Night and Our Town. She has also worked extensively at Lincoln Center Theater and in the worlds of opera, dance and film.

The Tony Awards, hosted by Hugh Jackman, will be broadcast in a live three-hour ceremony from Radio City Music Hall on the CBS television network June 8.

THE 2014 TONY HONORS FOR EXCELLENCE IN THE THEATRE have been announced by the Tony Awards Administration Committee. The recipients are Actors Fund president and CEO Joe Benincasa, theatrical photographer Joan Marcus and general manager Charlotte Wilcox.

These honors will be presented at the Tony Honors Cocktail Party, a private cocktail reception that will be held June 2 at the Paramount Hotel's Diamond Horseshoe.

The Honors for Excellence in the Theatre honors were established in 1990 and are awarded annually to "institutions, individuals and/or organizations that have demonstrated extraordinary achievement in theatre, but are not eligible in any of the established Tony Award categories."



SUNNY AFTERNON: RAY DAVIES extraordinary life story told with music and lyrics by Ray Davies, a new book by Joe Penhall. Directed by Edward Hall.

July 30th, 1966, as Bobby Moore lifts the world-cup trophy, a hundred thousand fans in Wembley are singing Sunny Afternoon in unison; the number one hit which rocked the nation that summer. But how did that happen? And how did The Kinks end up not only invading America but also being banned from playing there at the height of their career?

Sunny Afternoon tells Ray Davies' extraordinary life story, exploring the rise to stardom of The Kinks. Set against the back-drop of a Britain caught mid-swing between the conservative 50s and riotous 60s, this production explores the euphoric highs and agonizing lows of one of Britain's most iconic bands and the irresistible music that influenced generations.

Design by Miriam Buether.

April 14-May 24, 2014 at the Hampstead Theatre in London.

THE TROUBLE WITH DOUG book by Will Aronson and Daniel Maté. Music by Will Aronson. Lyrics by Daniel Maté, winner of the The Kleban Prize for Musical Theatre, most promising lyricist.

A contemporary re-imagining of Kafka's Metamorphosis.

The Trouble With Doug is billed as "a hilarious and moving new musical about a healthy young man who transforms inexplicably into a giant talking slug. Thrust together awkwardly under the same roof, Doug, his family, and his fiancée all struggle to understand and respond to this strangest of crises."

April 18-May 11, 2014 at the Arts Garage in Delray Beach, Florida.

BALLET NY presents its 2014 Season, including In the Garden of Souls, the company premieres of Kinderszenen, Dreams, and excerpts from Urban Study, from April 15-17, 2014 at the Ailey Citigroup Theater, New York City.

The program includes: Dreams has Choreography by Margot Parsons and music by Ai Isshiki and Steve Milton. "Dreams, is concerned with the inner propulsion of going forward against the force of time," said choreographer Margot Parsons. Dreams is a ballet for three women. Kinderszenen (Childhood Scenes) will have choreography by Antonia Francheschi and music by Allen Shawn. Excerpts from Urban Study has Ginger Thatcher doing the choreography with music by Annie Gosfield. In the Garden of Souls has choreography by Medhi Bahiri. Music: Azam Ali, vocal, Greg Ellis, percussion, and a blend of Native tradition of North America and Ancient tradition of India and the Far East.

Founded in 1997 by former New York City Ballet Principal Ballerina Judith Fugate and International Guest Artist Medhi Bahiri, Ballet NY is a company of accomplished principal and soloist dancers, whose mission is to offer emerging choreographers the opportunity to create new works on those dancers.

HEDWIG AND THE ANGRY INCH with book by John Cameron Mitchell and music and lyrics by Stephen Trask.

Directed by Michael Mayer.

Starring Neil Patrick Harris.

Featuring Lena Hall.

"Internationally ignored song stylist" Hedwig Robinson (Neil Patrick Harris) brings her fourth-wall-smashing rock and roll saga to New York to set the record straight about her life, her loves, and the botched operation that left her with that "angry inch."

Officially opening Tuesday, April 22, at the Belasco Theatre in New York City.

VIOLET based on the short story The Ugliest Pilgrim by Doris Betts.

Music by Jeanine Tesori, book & lyrics by Brian Crawley.

Directed by Leigh Silverman.

Starring Sutton Foster, Colin Donnell, Alexander Gemignani and Joshua Henry.

The cast also includes Ben Davis, Annie Golden, Emerson Steele, Austin Lesch, Anastasia McCleskey, Charlie Pollock, Jacob Keith Watson, Rema Webb and Virginia Ann Woodruff.

Violet tells the story of a young woman's quest for beauty amidst the image-obsessed landscape of the 1960s. Facially disfigured in a childhood accident, Violet (Foster) dreams of a miraculous transformation through the power of faith. Convinced that a televangelist in Oklahoma can heal her, she hops a Greyhound bus and starts the journey of a lifetime. Along the way, Violet forms unlikely friendships with her fellow riders, who teach her about beauty, love, courage and what it means to be an outsider.

Violet officially opens on Sunday, April 20, 2014 at the American Airlines Theatre in New York City.


WHO'S WHERE


MANDY PATINKIN the Emmy and Tony Award winner brings his Dress Casual show to Sunset Center in Carmel, California on Wednesday, April 23, 2014. Featuring Paul Ford on piano, Patinkin will present passionate and popular songs from Irving Berlin to Stephen Sondheim, from Cole Porter to Harry Chapin.

MILEY CYRUS is in the spotlight at the Sprint Center in Kansas City on Tuesday, April 15. Wednesday's stop is at the Scottrade Center in St. Louis, MO. On Friday her tour takes her to the Bridgestone Arena Plaza in Nashville. She'll be twirking Saturday at the KFC Yum! Center in Louisville, KY. UPDATE On Tuesday, April 15, Cyrus was forced to cancel some tour dates after being admitted to a hospital for a severe allergic reaction to antibiotics.She is currently on ordered bed rest.

BLACK SABBATH star at the MTS Centre in Winnipeg, MB. On Wednesday, April 16. On Friday they perform at the Credit Union Centre in Saskatoon, SK. Next Sunday, April 20, their tour stops at the Scotiabank Saddledome in Calgary, AB.

BRUNO MARS in a two nighter beginning Friday, April 18, at the Neal S. Blaisdell Arena in Honolulu, HI.

ELVIS COSTELLO & The Imposters performs Thursday, April 17, at the Barton Theatre in Adelaide, South Australia. On Saturday they take part in the Deni Blues & Roots Festival in Deniliquin, New South Wales, Australia. ithe tour stops at the

JOHN LEGEND a nine time Grammy Award winner returns after five years with his much-anticipated fourth solo album, Love in the Futurener performing Tuesday, April 22, at the Broward Center in Ft. Lauderdale, FL.

LIONEL RICHIE brings his talents to the Media City Amphitheater in Dubai UAE for a show Thursday, April 17.


FINAL OVATION


MICKEY ROONEY movie legend, television, stage and nightclub star, who began his career as a child star, died April 6, 2014 at his home in North Hollywood, California. He was 93.

Rooney was awarded an Academy Juvenile Award in 1938, and in 1983 the Academy of Motion Picture Arts and Sciences voted him their Academy Honorary Award for his lifetime of achievement.

In 1939, America's theater owners voted Rooney the No. 1 box-office star, over Tyrone Power. He was box-office king again in 1940, over Spencer Tracy, and in 1941, with Clark Gable taking second place.

He won a Golden Globe and an Emmy Award for his role in 1981's Bill, in which his character was a mentally handicapped man attempting to live on his own after leaving an institution.

Rooney's He continued to work on stage and television through the 1980s and 1990s, appearing on Broadway in Sugar Babies with Ann Miller beginning in 1979, for which he received a Tony nomination. Following this, he toured as Pseudelous in Stephen Sondheim's A Funny Thing Happened on the Way to the Forum. In the 1990s, he returned to Broadway for the final months of Will Rogers Follies, playing the ghost of Will's father.

He toured Canada in a dinner theatre productions in the mid-1990s. He also played The Wizard in a stage production of The Wizard of Oz with Eartha Kitt at Madison Square Garden.

Rooney made his British pantomime debut, playing Baron Hardup in Cinderella, at the Sunderland Empire Theatre over the 2007 Christmas period, a role he reprised at Bristol Hippodrome in 2008 and at the Milton Keynes theatre in 2009.

He spent decades performing in Las Vegas, including Sugar Babies. When he needed money most desperately, he could always play Sin City. "I was a smash hit at the Riviera, where I drew $17,500 a week and lost twice that on the crap table," Rooney wrote in his 1991 autobiography, Life Is Too Short.

Rooney appeared in various Strip hotels. In January 1977 he starred in the three-act comedy Alimony at the Tropicana Hotel in Las Vegas. In 2000 he did a star turn at the Sahara. ( See Broadway To Vegas column of May 21, 2000 )

Rooney declared bankruptcy in 1962. He had $500 in cash and almost $500,000 in debts, and he owed $100,000 in delinquent taxes. The I.R.S. gave him an allowance of $200 a month, so he borrowed money to play the horses.

On February 16, 2011 Rooney obtained a restraining order against his stepson Christopher Aber and Aber's wife, Christina, charging them with withholding food and medicine and forcing him to sign over his assets. On March 2, 2011 he repeated his allegations in Washington before the Senate Special Committee on Aging which was considering legislation to curb elder abuse. On March 27, 2011, all of Rooney's finances were permanently handed over to lawyers over the claim of missing money. Rooney's suit against the Abers was settled in 2013, with the Abers agreeing that they owed Rooney $2.8 million.

In May 2013, Rooney sold his house of many years, separated from his wife Jan Rooney and they split the sale proceeds.

Rooney was married eight times. his first wife was Ava Gardner. At the time of his death he was married to Jan Chamberlain, although they were then separated. He had a total of nine children, eight of whom survive him, as well as 19 grandchildren and several great-grandchildren.

JOHN PINETTE comedian, died April 5, 2014 at the Sheraton Station Hotel in Pittsburgh hotel. He had suffered from liver and heart disease and the cause of death was listed as a pulmonary embolism. He was 50.

He got his big break when asked to tour with Frank Sinatra. In addition to being a popular standup comedian who played the role of the guy who got mugged in the Seinfeld finale,

Pinette appeared in a national tour of Hairspray as Edna Turnblad, the mother of the play's heroine. He later went on to the Broadway production in 2005, and continued in the role until May 28, 2006.

PEACHES GELDOF newspaper and television reporter, daughter of musician Bob Geldof and the late Paula Yates, died April 6, 2014 in London. She was 25.

Police discovered her body after they were called to the scene after receiving a "report of concern for the welfare of a woman."

She was photographed a few days before her death at a fashion show in London.

She was married to British band S.C.U.M's lead singer Thomas Cohen. Together they had two sons, Astala 23-months-old and Phaedra, 11-months old. Peaches' mother Paula Yates married Geldof in Las Vegas before divorcing him 10 years later. She died of a drug overdose when Peaches was 11 years old.

Peaches was previously married to musician Max Drummey. They had known each other for a month, and dated for a week when they were wed. The couple separated in 2009 after six months of marriage.

Peaches is survived by her husband, sons, father and sisters Fifi Trixibelle and Pixie and half-sister Tiger Lily Hutchence Geldof.















Next Column: April 20, 2014
Copyright: April 13, 2014. All Rights Reserved. Reviews, Interviews, Commentary, Photographs or Graphics from any Broadway To Vegas (TM) columns may not be published, broadcast, rewritten, utilized as leads, or used in any manner without permission, compensation and/or credit.
Link to Main Page
---
Laura Deni



For the snail mail address, please E-mail your request.
CLICK HERE FOR COMMENT SECTION