! >
Broadway To Vegas
  
  REVIEWS  INTERVIEWS COMMENTARY NEWS



| | |
| --- | --- |
| | |
THE EAGLES TO ENTERTAIN AT THE WEDDING OF PRINCE ALBERT OF MONACO - - PRINCE PHILIP OF ENGLAND CELEBRATES 90th BIRTHDAY - - INDIFFERENCE FORCES DEBBIE REYNOLDS TO SELL HOLLYWOOD COLLECTION - - METROPOLITAN OPERA STARS FEAR RADIATION - - SISTER ACT TO STAGE OBAMA FUNDRAISER - - JUNE JAZZ FESTIVALS - - BROADWAY AND LONDON END-OF-SEASON STATISTICS - - THE DEVIL'S MUSIC: THE LIFE AND BLUES OF BESSIE SMITH - - DONATE . . . Scroll Down



RING THEM WEDDING BELLS - AGAIN
Prince Albert and Charlene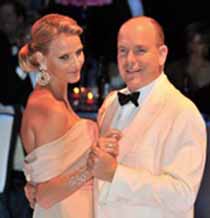 Another royal wedding. Those are becoming just sooo commonplace.

In less than a month, Albert, son of Pennsylvania screen siren-turned-princess, Grace Kelly, will officially end any Las Vegas playboy ways and become a dutiful husband.

Since Albert is the son of a Hollywood legend, it might have been assumed that Americans would pay as much attention to this wedding as they did to the William and Kate ceremony. However, at age 53 Albert is old enough to be the father of 33-year old Rhodesian-born Charlene Wittstock, and Albert has already fathered two out of wedlock children with two different women. The oldest, a 19-year-old girl, was raised in California. The younger, a 7-year-old boy, is being raised in Europe. Both have been extremely well provided for by Albert who has emphasized how much he loves both children. But, that does scrape away a lot of the fairytale associated with his mother's 1956 marriage to his father, Prince Rainier III, which was watched by the entire world.



In a posed photo arranged by the Riviera hotel in Las Vegas, Prince Albert is photographed with showgirls who were part of semi-nude revue at the Riviera Hotel.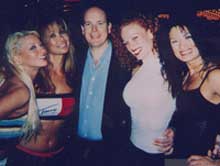 Despite those issues, romance is in the air.

Monaco, known as the 'millionaire's playground', is famous for the Monaco Grand Prix, postage stamps, a casino, yachts, crystal-clear azure waters and beautiful scenery. The principality will uncork all the stops in the June 30-July 2 weekend of majestic celebrations. Concerts, a spectacular light show and open air parties are expected to lure 200,000 well-wishers to Monaco. The first official souvenirs went on sale May 23, with the full range available beginning this week.

On Thursday, June 30, journalists accredited by the Press Centre are invited to attend a special press event on the Hotel Méridien beach. Three hours later the couple will offer a special concert for Monegasque citizens, residents, persons working in the Principality and people from neighboring communities. Super group The Eagles will perform a two-hour concert in the Louis II Stadium, before an audience of 15,000 people.



The Eagles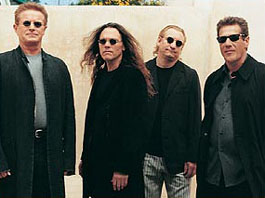 On Friday, July 1, the Monegasque people are invited to Palace Square to watch the civil wedding ceremony to be held in the Throne Room of Monaco Palace, live on giant screens. The royal family's registrar, Mr Philippe Narmino, President of the Council of State will officiate. The Prince and his legal bride will sign the registers with a pen specially designed by Montblanc. Set with precious stones, this unique piece will also display the couple's monogram.

Monsignor Bernard Barsi, Archbishop of Monaco will conduct the religious ceremony and Mass the following day. A palace spokesperson said: "The religious ceremony will be held at 5 p.m. in the courtyard where we have the long staircase. It will be an open-air event."

Opposite of the under lock and key secrecy about Kate's dress, Charlene will walk down the aisle in a Giorgio Armani Privé gown.

Following the religious ceremony the newlyweds will then appear on the balcony of the Salon des Glaces to salute the Monegasques and exchange that kiss.

At 9 p.m. the official outdoor dinner for 450 people on the terraces of the Opera Garnier will be served - using mainly products from the region, in particular those from the Prince's estate located at Rocagel - prepared by the Fairmont Monte-Carlo, with Mediterranean and South African dishes by Chefs from South Africa and Monaco.

Toasts to the bridal couple will be from Perrier-Jouët the official wedding Champagne. "On both days the receptions will be accompanied by the most prestigious vintages from the Champagne House and a personalised vintage will also be served for this historic event," stated the official release. That dinner will be followed by fireworks and the opening of the Ball in the Opéra.



Princess Grace and Lady Diana Spencer. Original caption: Wimbledon: Princess Grace of Monaco and Lady Diana Spencer both clapping as they watched the Men's Singles final between John McEnroe and Bjorn Borg July 4, on the Centre Court here today. © Bettmann/CORBIS. Date photographed. July 4, 1981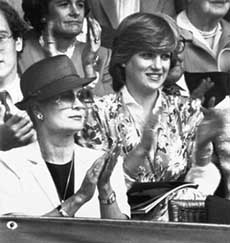 Although Albert and Charlene attended Will and Kate's wedding, Britain's newlyweds won't be present at the Albert and Charlene ceremony. The Duke and Duchess of Cambridge will be flying to Canada where they kick off their official tour July 3 in Quebec City.

In attendance will be Albert's Philadelphia family including a cousin, PNC Bank executive John B. Kelly III, son of Grace's brother, Jack Kelly, a former city councilman. He's bringing daughter Katherine and son Nicholas.

Following the reception Albert and Charlene, who met at a swim meet in 2000, will jet off to her homeland, South Africa, for their honeymoon.

William and Kate used the car Prince Charles had received as a 21st birthday present from his mother. While Monaco is noted for the fuel guzzling Grand Prix, Albert and Charlene have selected their week-end get around and get away car as a Lexus LS 600h L. "Its hybrid system makes this car truly exceptional for its low CO2, NOx and particle emissions for its level of performance and comfort. It is currently undergoing conversion," reads the statement.

If 2011 is the year of royal weddings, expect 2012 to be a banner baby year.

Princess Grace became pregnant on her honeymoon. The same may be in the offering for the future Princess Charlene. This couple is in a rush to have children as Albert is required to produce a legitimate heir, or it will be Princess Caroline's son who inherits the throne. Charlene has indicated she "can't wait" to have children.

Down the road in England, authorities are pushing to vacate that boys first rule on inheriting the crown. Monaco is sticking to the time honored tradition.

After the Monaco nuptials, expect a certain amount of comparison and romantic fascination between Catherine and Charlene who are about the same age, and from time to time will be attending the same European events.



The then Lady Diana Spencer and Princess Grace. This event was the first one attended by Diana after her engagement to Prince Charles had been announced.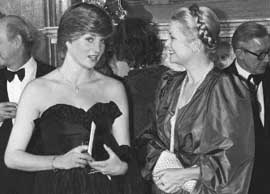 The mothers of their husbands were friends. When the engagement of Prince Charles to Lady Diana Spencer was announced Princess Grace invited them to a poetry reading, which became the first function Charles and Diana attended as an engaged couple. When HRH the Prince of Wales and Diana were married in 1981 at St Paul's Cathedral, HSH Princess Grace of Monaco attended the event as did Prince Albert. On a sad note, the funeral of Princess Grace was the first official royal event for Diana as Princess of Wales.

Perhaps the most significant event that Albert and William share is that both lost their mothers in tragic automobile accidents.

Other commonalities: both married commoners. Both of their families have been affected by stuttering. As The King's Speech brought to world wide attention, King George was troubled by the condition which affects about 5 percent of all children. Prince Albert overcame shyness and a stutter to grow into a sensitive, intelligent, articulate man who has spoken before the United Nations.



Charlene Wittstock at the wedding of Prince William and Kate

As for the women, each of whom married a prince - both are slim, beautiful, personable, gracious, smart and married to men who either rule or will rule.

Both brides lived with their grooms for several years before walking down the aisle. They are both studying French.

Both Kate and Charlene stand in the daunting shadows of their mother's-in-law. As might be expected, both of the women are involved in charity work. Charlene is a former champion swimmer who is a global ambassador for the Special Olympics. Just as Princess Grace transformed Monaco's Red Cross Ball into a world class fund raising event, the princess-in-waiting intends to show the world that Monaco has a major role in charitable causes including mentoring disabled athletes.

As for Kate, it is reported that she will become a patron of Starlight, a charity that aims to brighten the lives of seriously ill children.

Shortly before their weddings both brides were confirmed or converted into the religion required by their future husband's hereditary obligations. They'll have children at about the same time and should one have a girl and the other a boy, expect romantics to fantasize that a couple of decades from now the two infants will fall in love.

If you think the Albert and Charlene wedding ends the royal romances, think again. On July 30, Queen Elizabeth's granddaughter, Zara Phillips, will marry Mike Tindall.



Broadway To Vegas is supported through advertising and donations. Priority consideration is given to interview suggestions, news, press releases, etc from paid supporters. However, no paid supporters control, alter, edit, or in any way manipulate the content of this site. Your donation is appreciated. We accept PAYPAL. Thank you for your interest.



ART AND ABOUT


PRINCE PHILIP: CELEBRATING NINETY YEARS It's not often that a person who still works full time celebrates their 90th birthday. It's even more unusual when that someone is the man behind the throne, His Royal Highness Prince Philip.

His substantial accomplishments have benefited the lives of both men and animals.

Yet, the hard working, three-steps behind the lady of the house, is a man who is frequently under appreciated and taken for granted - including his talents as an artist and jewerly designer.

The 90th birthday of Prince Philip, which is actually on June 10, is marked by a special exhibition which has opened at Windsor Castle, the abode where The Duke of Edinburgh and his wife, The Queen, have called home for nearly 60 years.



Official engagement photograph of then Princess Elizabeth and Prince Philip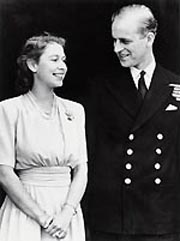 In addition to showcasing his accomplishments as a Naval hero, sportsman, wildlife conservationist and interests in engineering and science, the exhibition highlights the man's seldom seem artistic side.

Prince Philip was born on June 10, 1921 on the Mediterranean island of Corfu. A great-great-grandson of Queen Victoria, and a Prince of Greece and Denmark, he was the youngest of five children and the only son of Prince and Princess Andrew of Greece.

In 1922 a military coup resulted in the abdication of his uncle, King Constantine I. Prince Philip's father was accused of treason, and the family was forced into exile.

When the British cruiser HMS Calypso conveyed them from Corfu to Italy, the Prince was only 18 months old.

He spent his early years in France and then attended Cheam Preparatory school in England from 1930, Salem School in Germany in 1933, moving to Gordonstoun in Scotland in 1934. The exhibition includes a number of family photographs illustrating Prince Philip's early life.



1952 Wedding anniversary bracelet designed by Prince Philip. The Royal Collection © 2011, Her Majesty Queen Elizabeth II RCIN 200151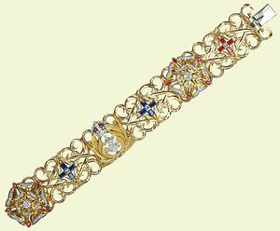 Love will make a man do many things and in February 1947 Prince Philip became a naturalized British subject, renouncing his royal title and taking the name Philip Mountbatten.

Five months later, on July 10, 1947, the engagement was announced of Lieutenant Philip Mountbatten and the 21-year-old Princess Elizabeth, elder daughter of King George VI and Queen Elizabeth.

Although born a royal prince and more than a suitable consort for the woman who would one day become queen, theirs was a marriage based upon love.

It's been published that, as a young teen, Princess Elizabeth had such a crush on the handsome military officer that she kept a picture of him by her bed. Photographs of the two playing tag are world famous.

During their marriage Prince Philip has designed several pieces of jewerly as presents for his wife which are on display. One of the most famous is the bracelet he designed for their fifth wedding anniversary.



The Queen at Breakfast, Windsor Castle magnificent oil by Prince Philip. Collection of HRH The Duke of Edinburgh, © Reserved; Photograph: The Royal Collection RCIN 407391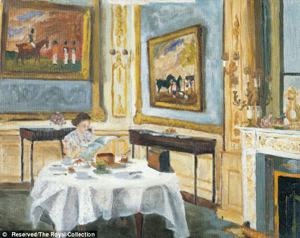 It's a gold and gem studded bracelet which is on loan from the Queen's personal collection. It was made by the jeweler Boucheron and decorated with the letters E and P entwined. It features a crown motif, an anchor set in diamonds representing the Duke's naval badge, York roses and sapphire, diamond, and ruby crosses.

The exhibition also features two sets of previously undisplayed cuff links designed by the Duke, that were given to members of the support teams who accompanied him on royal tours during the 1950s.

One pair feature an anchor, palm trees and a building resembling the Taj Mahal, from the Duke's 1959 world tour of scientific organizations, during which he visited India, Singapore, Hong Kong and Borneo.

Another set are decorated with a crown and images of Australia and Antarctica, designed for his world tour in 1956 and 1957, when he became the first member of the Royal family to cross the Antarctic Circle.

The exhibition includes a linocut certificate made by The Duke and the artist Edward Seago to commemorate that event.



After the fire at Windsor Castle in 1992, Prince Philip created the design for the stained glass windows for the new Private Chapel. Collection of HRH The Duke of Edinburgh, Photograph: The Royal Collection RL K 1659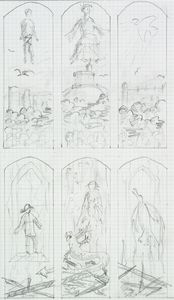 Stained glass window in the Private Chapel at Windsor Castle, completed from a design drawn by Prince Philip. Collection of HRH The Duke of Edinburgh, Photograph: The Royal Collection.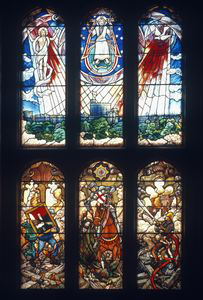 An accomplished oil painter, several of his painting are on display.

In 1965 he painted The Queen at Breakfast, Windsor Castle and it features his wife eating breakfast and reading what is presumed to be the Racing Post, which it is said she reads every morning.

The table is covered with a white tablecloth, the plates, cups and saucers are white china, and there is a whole loaf of fresh bread with a jar of marmalade, the spoon sticking out. At the edge of the table is a radio.

The grandeur of the Windsor Castle dining room is the setting, and on the pale blue walls of the grand room are two paintings by artist George Stubbs.

The Queen at Breakfast, Winsor Castle has been part of Prince Philip's private collection ever he painted it and is now also included in the book The Royal Portrait Image and Impact, published by the Royal Collections.



Atmospheric oil painting of Duart Castle from the Sound of Mull in the Western Isles painted by Prince Philip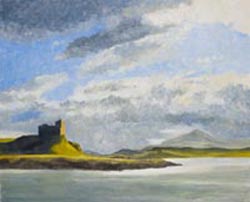 After the fire at Windsor Castle in 1992, Prince Philip was closely involved with the restoration as Chairman of the Restoration Committee, and he took a personal interest in designing the stained glass windows for the Private Chapel.

The display concludes with a striking oil painting of him by George Weymouth.

It shows Prince Philip holding a roll of plans in the shell of St George's Hall at Windsor Castle following the fire of 1992 and represents his close involvement in the award-winning restoration of the castle.

His atmospheric oil painting of Duart Castle from the Sound of Mull in the Western Isles is also included in the exhibition.

Prince Philip: Celebrating Ninety Years at The Drawings Gallery, Windsor Castle on display through January 22, 2012


INDIFFERENCE DESTROYS DEBBIE REYNOLDS' HOLLYWOOD COLLECTION
My Fair Lady (Warner Bros., 1964) Audrey Hepburn "Eliza Doolittle" signature ivory ribbon hand embroidery lace Ascot dress and hat designed by Cecil Beaton; Hepburn's single most recognizable and remarkable outfit from any of her films. Expected price: $200,000-$300,000.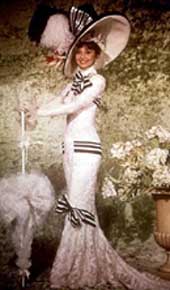 She survived Elizabeth Taylor taking her husband and other husbands taking her money. It was Hollywood's indifference that finally forced Debbie Reynolds to auction off her massive collection of Hollywood memorabilia.

In a community noted for artificially preserving itself, the lack of effort by the Hollywood community to back Reynolds' establishing a Hollywood Museum has always been baffling.

The lady who starred as 'I Ain't Down Yet', Molly Brown in The Unsinkable Molly Brown goes down for the count on June 18 when Profiles in History auction house will gavel down 700 of the treasures at The Paley Center for the Media in Los Angeles.

The rest of her items will be sold in December. Profiles in History will showcase the items on the SyFy program Hollywood Treasures June 15. The June sale alone is expected to gross $7 million. Reynolds needs the money to pay off her debts.

The first auction will feature 700 of Reynolds' choicest costumes, including Charlie Chaplin's bowler hat from The Tramp, Julie Andrews' outfit from The Sound of Music, the tunic Charlton Heston wore in Ben-Hur, and perhaps the most famous of all - the white "Subway" dress that Marilyn Monroe famously wore in The Seven Year Itch. It's estimated to sell for $1-$2m.



Gentlemen Prefer Blondes (20th Century-Fox, 1953) Marilyn Monroe costume worn as Lorelei Lee: signature red sequin dress from "Just Two Little Girls from Little Rock" opening musical number, designed by Travilla.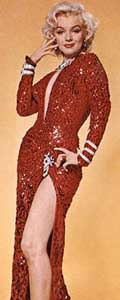 Reynolds began her Hollywood movie collecting in 1970, when MGM went bankrupt and liquidated its assets through an auction. "I heard the news that MGM was going to sell their inventory of costumes and props," says Reynolds on how she started collecting, "I went everyday for weeks and focused on purchasing the costumes and props of Academy Award winning films. It soon turned into an obsession."

Reynolds spent more than $400,000 of her savings for the studio artifacts - everything from the costumes to the props needed to re-create a particular scene. In speaking to her at that time, it was obvious that her goal was neither profit motivated nor selfish. She had a sincere desire to preserve a segment of the iconic movie industry. She expected support from the Hollywood community and was stunned when she was ignored.

"I've concluded that my dream of having a museum cannot be fulfilled, so I have decided to share my fabulous collection with other collectors," she continued.

Her 50 years collection includes costumes and props from Academy Award winning films including Gone With the Wind, Ben Hur, My Fair Lady, The Sound of Music and Casablanca. This colossal collection includes garments designed by Travilla, Travis Banton and Edith Head some of the industry's most renowned costume designers and were worn by film icons Marilyn Monroe, Judy Garland, Charlton Heston, Greta Garbo, Elizabeth Taylor, Bette Davis, Gene Kelly, Richard Burton and more. There are over 3,500 costumes, 20,000 original photographs, several thousand original movie posters, original costume sketches and hundreds of key props from film history.

Reynolds is only keeping two items - a sketch of her from Singin' in the Rain and her son, Todd, is keeping her Unsinkable Molly Brown fabulous-looking red dress.

Profiles in History is calling this auction "the most significant collection of Hollywood costumes and props since the liquidation of the MGM and Fox studios in the 1970's."


SWEET CHARITY


SISTER ACT HOSTS OBAMA FUNDRAISER on June 23rd that performance of the Tony-nominated musical will be a fundraiser for Barack Obama's 2012 Presidential re-election campaign, as first reported by The New York Times.

Sister Act producer Whoopi Goldberg will host the evening, with tickets beginning at $250 for mezzanine seating, $1,000 for an orchestra seat and special pre-show reception with Goldberg, and $10,000 for tickets and a photo with President Obama.


INTERACTIVE EXHIBITION COMPLIMENTS THE GLASS MENAGERIE
The famed Tennessee Williams penned The Glass Menagie presented at Arena Stages in Washington DC is offered as part of the partnership between Arena Stage at the Mead Center for American Theater and Georgetown University. The production, directed by Derek Goldman, and surrounding events are presented as The Glass Menagerie Project, part of the Tennessee Williams Centennial Festival.

This innovative production features Sarah Marshall as Amanda Wingfield. Williams' highly autobiographical masterpiece captures the fragility and stifled yearning of characters clinging to hope against the harsh realities of a rapidly changing world.

The performances June 9 – July 3, 2011 at Arena Stage in Washington, DC are complimented by several performances and interactive projects.

Elegy for Rose, at the Kogod Cradle, is an ensemble-created/devised piece for four actresses, explores Williams' relationship to his sister Rose, the great love of his life, who was institutionalized and lobotomized. From Rose's perspective, the piece examines how Rose influenced a range of characters (Laura, Blanche, etc.), and how she resurfaces in different forms in so much of his work throughout his life. The 25 minutes event is presented on Wednesdays and Sundays.

The Menagerie Variations, an ensemble piece developed from materials freshly retrieved from the Williams archive, features sections of numerous unknown versions of The Glass Menagerie that Williams grappled with (the screenplay of The Gentleman Caller; the play The Pretty Trap, with its happy ending; the short story Portrait of a Girl in Glass, and others).

Audiences have an opportunity to experience material that has never been seen or heard and that introduces characters and locations such as the glass shop where Laura buys her animals, Rubicam's Business College, and Blue Mountain, where a younger Amanda receives her gentleman callers. This often uplifting piece provides poignant and revelatory insight into Williams' life and creative process, and into his autobiographical masterpiece. This event which is 45 minutes takes place on Wednesdays and Sundays.

For Whom the Southern Belle Tolls, Christopher Durang's celebrated parody of Tennessee Williams' classic The Glass Menagerie is one of Durang's most popular one-acts, a crackpot comedy of parent-child tensions that appeals to audiences unfamiliar with the play as well as those who have deep knowledge of it. The 25 minute spoof is staged on Fridays-Sundays.

The Overstuffed Chair, conceived by Courtney Ulrich is an interactive, audio-based installation centered around a sensor-activated chair that in Williams' words "has absorbed in its fabric and stuffing all of the sorrows and anxieties of our family life," adapted from his essay about his parents and grandparents.

Tenn Encounters, conceived by Lucy Obus is an interactive installation exploring the people, places, and personals that inspired Williams' prolific work, Tenn Encounters draws from the intimate snapshots of life from his notebooks and famous visuals of the silver screen, illuminating the relationship between Williams the artist, the family member, and the wayward traveler. Explore his family portraits, follow his extensive travels across the U.S. on a map that features excerpts from his journals, or type a word from his journal and watch what happens.


JUNE IS BUSTIN' OUT ALL OVER WITH JAZZ FESTIVALS
Béla Fleck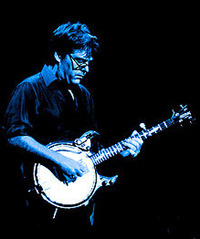 The Burlington Discovery Jazz Festival in Burlington, Vermont began June 3 and continues through June 12.

The lineup includes;

Herbie Hancock, banjo master Béla Fleck and the Original Flecktones, Bitches Brew Revisited celebrating the renowned Miles Davis album and featuring musicians including Graham Haynes, Vernon Reid, Marco Benevento and DJ Logic, with Yousay Placate.

They're be Poncho Sanchez and his Latin Band, with special guest Terence Blanchard, trumpet star Roy Hargrove and his Quintet, vocal-powered Roberta Gambarini Quartet, vocalists Sheila Jordan and Jay Clayton, the saxophone-driven JD Allen Trio, jazz-and-blues vocalist Catherine Russell, pianist/composer Myra Melford and her Be Bread Sextet.

The Ray Vega Latin Jazz Quintet will perform as will Dixieland Cruise with The Onion River Jazz Band, Bearquarium, the Montreal guitar group Les Doigts de L'Homme, British blues guitarist/vocalist Matt Schofield, laid-back Vermont jazz-funk legends viperHouse, Bonerama, Joshua Panda, The Abyssinians, Midnite, Bushman, Toubab Krewe, Snarky Puppy, Red Baraat, James Harvey's Jazzilla, Brian McCarthy Quartet, Giant Panda Guerilla Dub Squad, High and Mighty Band, Kat Wright and the Indomitable Soul Band, Vermont Joy Parade.

The Burlington Discover Jazz Festival fills Burlington's downtown with sounds of jazz, blues, funk, swing and Latin music. For 10 days, the entire city comes alive with a mix of concerts, street parties, cruises on Lake Champlain, meet-the-artist sessions and workshops.

With an estimated 45,000 in attendance, venues for ticketed and free events include the majestic Flynn MainStage, intimate FlynnSpace, bucolic Waterfront Park, the bustling outdoor pedestrian mall, Church Street Marketplace, lively City Hall Park and at bars, clubs and restaurants throughout the city.

Other events include the festival co-sponsoring the play Burning Bridges by Burlington playwright and jazz musician Stephen Goldberg, which is being staged at the Off Center for the Dramatic Arts through June 11.



Bill Cosby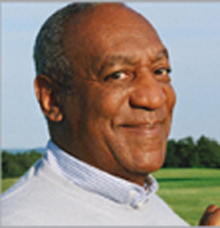 The 33rd Annual Playboy Jazz Festival presented in co-operation with the L. A. Philharmonic Association, with Bill osby as Master of Ceremonies, takes place June 11-12 at the Hollywood Bowl.

This landmark event continues it's rich tradition of featuring the biggest names in jazz, along with future jazz headliners delivering an exciting mix of everything from standards and blues to Latin beats and world fusion.

On Saturday afternoon the lineup includes Dianne Reeves The Roots with special guest Terrence Blanchard. They'll be FourPlay featuring Bob James, Nathan East, Chuck Loeb and Harvey Mason and the Eddie Palmieri Salsa Orchestra.

SFJAZZ Collective Celebrating the Music of Stevie Wonder will feature Stefon Harris, Avishai Cohen, Greg Osby, David Sanchez, Robin Eubanks, Edward Simon, Matt Penman and Eric Hardland.

A Night In Treme: The Musical Majesty of New Orleans spotlights the Rebirth Brass Band with special guest Donald Harrison Jr., Kermit Ruffins, Dr. Michael White, and Big Sam Williams.

Cos of Good Music has Geri Allen, George Bohanon, Dwayne Burno, Ndugu Chancler, Anat Cohen, and Babatunde Lea.

Ambrose Akinmusire will perform and the LAUSD All City High School Big Band under the direction of Tony White and JB Dyas are also on the bill.

On Sunday the lineup includes: Buddy Guy who was in the Broadway production of Finian's Rainbow, Lee Konitz New Quartet, John Scofield and Robben Ford, Naturally 7, Harmony 3 with Ronnie Laws, Stanley Jordan, and Walter Beasley, Geri Allen and her Timeline Band.

Still Black, Still Proud: An African Tribute to James Brown will feature Pee Wee Ellis, Fred Wesley and Vusi Mahlasela. Bill Cunliffe and The Resonance Big Band with Mariam Petrescu perform a Tribute to Oscar Peterson.

Carlos Varela performs as does the Pullum High School Jazz Big Band under the direction of Fernando Pullum.


SPREADING THE WORD


DAMIAN McGINTY the youngest member of Celtic Thunder, has been selected as one of the Top 12 finalists out of 40,000 contestants who competed for a coveted spot on The Glee Project. The winner of the show will be cast in a seven-episode guest role in season three of hit show Glee on Fox. The Glee Project premieres Sunday, June 12th on Oxygen.

Based in Ireland, Celtic Thunder will hit the road again, embarking on a North American Tour, beginning September 8, 2011.

AN AFTERNOON WITH LUCIE ARNAZ Home Movies. Personal Reminiscences. Question and Answer Session with the Audience. The Lucy, Desi and Family that you never knew. The first 100 tickets sold included a reception with Ms. Arnaz immediately following the show at Summer Stock Restaurant on the Cape Playhouse grounds. Sunday, June 12 at the Cape Playhouse in Dennis Village, MA.

The show An Evening With Lucille Ball; Thank You For Asking starring Suzanne LaRusch, opens at the Cape Playhouse on June 13 and is directed by Lucie Arnaz.

SYMPOSIUM ON THE CIRCLE Guest Speaker: Associate Professor (Adj.) of English and Theater at Yale University Murray Biggs Moderator: WCP associate artistic director David Kennedy.

Murray Biggs is most interested in the interplay of text and performance. With degrees in English and Politics from South Africa and Britain, he has taught 20 different courses since joining the Yale faculty in 1986: courses in acting (especially Shakespeare), directing, and dramatic literature (especially English Renaissance, modern and contemporary British, Irish, United States, and Commonwealth drama), and British, Irish, and Shakespeare film. He also directs student productions. Performance is the subject of most of his published work.

Sunday, June 12, at the Westport Country Playhouse in Westport, CT.

METROPOLITAN OPERA STARS FEARING RADIATION pulled out of a Japanese tour less than a week before opening night.

Soprano Anna Netrebko and tenor Joseph Calleja announced at the last minute they would not join the tour, despite assurances they would be safe from radiation fallout stemming from leaks at the Fukushima nuclear plant caused by the March 11 earthquake and tsunami.

In a statement, the Met said it had been forced to "scramble" to find replacement stars for the tour which opened last night, June 4 and runs to June 11.

Soprano Marina Poplavskaya was released from a concert in Paris to join the tour. Tenors Marcelo Alvarez, Rolando Villazon and Alexey Dolgov will replace Calleja and Germany's Jonas Kauffmann, who withdrew from the tour last month.

The Vienna Boys Choir, the Lyon Orchestra and the Stuttgart Chamber Orchestra are among several organizations to have cancelled concerts in Japan in the wake of the disaster.

AN EVENING WITH JANE FONDA in conversation with Paley Center President/CEO Pat Mitchell, Jane will discuss how she is using media, including her website and blog as a platform for learning how to live more profoundly in touch with ourselves, our bodies, minds, and spirits, and with our friends, and our communities. Wednesday, June 15, 2011 at The Paley Center in Los Angeles.

SMOKEY ROBINSON comes to The Rock and Roll Hall of Fame and Museum in Cleveland on Saturday, June 18 for a Hall of Fame Series Interview in the Museum's Foster Theater. Robinson will be interviewed by the Rock Hall's Vice President of Education and Public Programs Dr. Lauren Onkey. Questions will be taken from the audience at the end of the interview. This event is free with a reservation. Seating is limited.

BOTANICUM SEEDLINGS The Will Geer Theatricum Botanicum's development series for playwrights, announces the recipient of the 2nd annual "Izzy" award. The winning play, The Territory of Dreams by Velina Hasu Houston, was presented as part of last year's spring playreadings. The Izzy is named for Theatricum's late dramaturg, Israel Baran, who passed away in 2007.

The selections for the 2011 spring readings showcase three diverse female voices: Fengar Gael's The Gallerist on Sunday, June 5; The Versailles by Erica Jones on Sunday, June 12; and Lucile Lichtblau's The English Bride on Sunday, June 19. All readings begin at 11 am, and admission is free. The Will Geer Theatricum Botanicum is located in Topanga, CA.

MITT ROMNEY AND THE BOOK OF MORMON In the Broadway To Vegas column of May 29, 2011, launched the evening of May 28, 2011, ( See Broadway To Vegas column of May 29, 2011 ) the lead article concerned the musical The Book of Mormon and Mitt Romney, a Mormon, running for President of the United States. On May 31, 2011 Romney went on The Today Show and announced he'll probably go see the The Book of Mormon, which is doing turn-away business on Broadway. We'll guess that the producers will find him a seat.


OTHER PEOPLE'S MONEY


2010 – 2011 BROADWAY THEATRE SEASON END-OF-SEASON STATISTICS released by The Broadway League for the 2010 – 2011 season, which began May 24, 2010 and ended May 29, 2011. For the 2010 – 2011 season, which was a 53-week year, Broadway shows yielded $1,080,562,880 in grosses, and total attendances reached 12,534,595.

To account for variances in the calendar year and in an effort to maintain an end-of-May end to the season, a 53rd week is added every seven years. (The last 53-week year was 2004; next one will be 2018).

Grosses are up 5.9% from last season. Attendance is up 5.4% from the 2009– 2010 season.

THE SOCIETY OF LONDON THEATRE reports that the share of West End attendance for plays last year was 26.2% - up 0.7% from 2009. The ticket sales for musicals was 59.5% - down 1.2% from 2009. That figures refuted "claims that musicals are taking over", the SOLT said.

Plays also achieved a record attendance total of 3,702,031, while the musicals attendance total was down 3% to 8,423,430. In its box office data report, the SOLT stated that "the big driver" in 2010 were major name actors in plays. Those included Keira Knightley and Damian Lewis in The Misanthrope, as well as Sex and the City actress Kim Cattrall and Matthew Macfadyen in Private Lives.

Other screen stars who trod the West End boards included David Suchet and Zoe Wanamaker, in All My Sons, and Sherlock star Martin Freeman in Clybourne Park.

The overall attendances, at 14,152,230 were 0.8% down from 2009's record figure. "Arguably this would have been exceeded if the country had not been 'closed due to snow' for two weeks in December," the SOLT said. The figures cover theatres that are members of the SOLT, which include those in the commercial West End as well as major grant-aided institutions.







DREAM STORY the story which inspired Eyes Wide Shot by Arthur Schnitzler. Re-imagined and directed by Anna Ledwich.

Starring Jon Foster, Leah Muller, Luke Neal and Rebecca Scroggs.

Through a simple sexual admission, a husband and wife are driven apart into rival worlds of erotic revenge. Their mutual confessions signal a surrendering to their most illicit fantasies, feeding an extraordinary and dangerous sexual awakening.

June 9 - July 16, 2011 at The Gate Theatre in London.

MY FAIR LADY based on George Bernard Shaw's Pygmalion and features a book and lyrics by Alan Jay Lerner and music by Frederick Loewe.

Directed by Charles Repole and choreographed by Michael Lichtefeld.

Starring Lisa O'Hare, who reprises the role if Eliza Doolittle, a part she played in Cameron Mackintosh's national tour of My Fair Lady. Charles Shaughnessy stars as Professor Henry Higgins, Peter Cormican (Colonel Pickering), Sarah deLima (Mrs. Higgins), Bill Dietrich (Alfred P. Doolittle), Cheryl McMahon (Mrs. Pearce) and Hayden Tee (Freddy Eynsford-Hill).

The cast of 19 performers is completed by Audrey Cardwell, Sarah Ellis, Thomas Gibbons, Jordan Grubb, Eric Huffman, Robin Lounsbury, John Matthew Myers, Sarah O'Connor, Ellen Peterson, Jp Qualters, Lisa Rohinsky and Joseph Torello.

Howard C. Jones (scenic designer), Gail Baldoni (costume designer), Jack Mehler (lighting designer), James R. McCartney (sound designer), John Godbout (production stage manager), Cassandra Marsh (assistant music director) and Natalie A. Lynch (assistant stage manager).

Performances are scheduled for June 7-19 at the north Shore Music Theatre in Beverly, MA.

THE DEVIL'S MUSIC: THE LIFE AND BLUES OF BESSIE SMITH

Miche Braden stars as Bessie Smith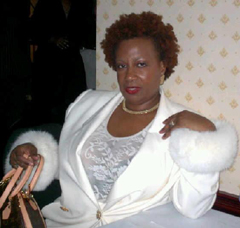 a musical by Angelo Parra, conceived and directed by Joe Brancato.

Miche Braden stars as Bessie Smith, along with Aaron Graves, Jim Hankins, Keith Loftis, and Anthony E. Nelson, Jr.

Sexy and racy, blues singer Bessie Smith was the definition of a Red Hot Mamma and the most successful entertainer of her time. On the eve of her tragic death in 1937, Bessie takes center stage in The Devil's Music: The Life and Blues of Bessie Smith and tells the story of her amazing life and career, her loves and losses. Put your troubles aside and soak up the blues as Bessie Smith comes to life and sings the songs that made her so unforgettable, including St. Louis Blues, Need a Little Sugar in My Bowl, and Nobody Knows You When You're Down and Out.

Set design by Michael Schweikardt, lighting design by Jeff Croiter, costume design by Patricia E. Doherty and sound design by Jack Kennedy. Musical direction and arrangements are by Miche Braden.

Performances begin June 7th Off-Broadway at the St. Luke's Theater, NYC. Opening Night is set for Wednesday June 22nd.

THE CIRCLE written by W. Somerset Maugham. Directed by Nicholas Martin.

Many years ago, Lord Champion-Cheney was abandoned by his wife, a legendary beauty. Now his son, Arnold, a politician and rising star, is having marital problems of his own. Is history destined to repeat itself? This scintillating comedy of manners, considered Maugham's wittiest play, is a seamless blend of romance and repartee.

Starrinh Gretchen Hall as Elizabeth; John Horton as Lord Porteous; Marsha Mason as Lady Catherine Champion-Cheney; James Joseph O'Neil as Butler; Bryce Pinkham as Edward Luton; Christina Rouner as Mrs. Shenstone; Marc Vietor as Arnold Champion-Cheney, MP; Paxton Whitehead as Clive Champion-Chene/.

Alexander Dodge in charge of scenic design. Gabriel Berry is the costume designer. Lighting design by Philip Rosenberg. Sound design by Drew Levy. Louis Colaianni was the dialect coach while Jason Kaiser is the production stage manager and Kevin Robert Fitzpatrick is the assistant stage manager.

June 7 - June 25 at the Westport Country Playhouse in Westport, CT.

FOR THE BIRDS based on Aristophanes.

Set in the mythical CloudCuckooLand and floating halfway between heaven and earth, The Troubies' (your favorite bird-brains) newest work is based on Aristophanes' feathery utopian comedy, The Birds.

Set to music from many of your favorite bird bands...Sheryl Crow, Eagles, Paul McCartney & Wings (you get the idea), The Troubies bring you their newest production, For The Birds.

Thursday–Sunday, June 9–12, 2011 at the Getty Villa in Los Angeles.

MISS ABIGAIL'S GUIDE TO DATING, MATING, AND MARRIAGE has welcomed Three's Company star Joyce DeWitt in the title role. The production is at the Downstairs Cabaret Theatre at Sofia's, next to the Lunt-Fontanne Theatre in Times Square, NYC.

Written by Ken Davenport, Miss Abigail's Guide to Dating, Mating, and Marriage! is based on Abigail Grotke's popular book - the comedy's namesake - that promises "classic advice for contemporary dilemmas."

WHITE HOUSE WIVES: OPERATION LYSISTRATA! Written and Directed by Yvette Heyliger. Composer/Arranger/Sound Design: Larry Farrow. Choralography: Yvonne Farrow

Can A Sex Strike Change the Course of History?

Inspired by the prologue of Aristophanes' Lysistrata, White House Wives: Operation Lysistrata! is set in 2002 in the Lincoln Bedroom of the White House where Laura Bush, Lynne Cheney, Alma Powell, Cherie Blair and friends gather on the eve of the congressional vote for the Authorization for Use of Military Force Against Iraq. Capturing Aristophanes' strong anti-war message and laced with bawdy sexual humor and pointed wit, the ladies debate the pros and cons of First Lady Laura Bush's proposal to withhold sex from their husbands in order to prevent war with Iraq.

Featuring: Pamela Bierly Jusino, Mary Tierney, Yvonne Farrow, Leslie Lynn Meeker, Kate Konigisor, Natasha Yannacañedo, Terria Joseph and Clark Jackson.

Set Design: Patrice Andrew Davidson. Lighting Design: Joyce Liao. Costume Design: Faith Heyliger. Stage Manager: Sir Louis Jones.

Beginning June 7th at the Robert Moss Theatre part of Planet Connections Theatre Festivity June 1st-26th - Gene Frankel Theatre and The Robert Moss Theater, NYC.


WHO'S WHERE


EASY TO LOVE Andrea Marcovicci & Jeff Harnar sing Cole Porter. A uniquely entertaining portrait of the master while offering such hits as I've Got You Under My Skin, I Get A Kick Out Of You, Night And Day, and Let's Do It. Their chemistry is infectious during duets and in sharing their love for Porter's clever, intricate rhyme schemes and unforgettable melodies. The show sketches Porter's life from marriage to globetrotter and from Broadway to Hollywood. A warm, witty and delightful evening, this tribute (on his birthday!) perfectly captures America's most sophisticated composer. Thursday, June 9, 2011 at The Town Hall in New York City.

BARBARA COOK in her all new show You Make Me Feel So Young. The Tony winner, most recently on Broadway in the Roundabout Theatre Company's Sondheim on Sondheim, will return to Feinstein's at Loews Regency June 7-18.

ERIC CLAPTON performs Monday, June 6 at the Hartwell Arena in Helsinki, Finland. Wednesday show is at the Encsson Globe in Stockholm. On Thursday he appears at the Norwegian Wood Festival in Frognerparken on Oslo, Norway. Saturday's show is at the Heming Messe Center in Heming, Denmark.

PHISH perform Tuesday, June 7, at the Comcast Center in Mansfield, MA. On Tuesday the show is at the PAC in Darien Center, NY. Friday's show is at the Susquehanna Bank Center in Camden, NJ. On Saturday they open a two nighter at the Merriweather Post Pavilion in Columbia, MD.

GLEE LIVE IN CONCERT take to the stage Monday, June 6, at the TD Garden in Boston. On Wednesday they perform at the Wells Fargo Center in Philadelphia. On Saturday they open a two night gig at the Air Canada Centre in Toronto, Ontario.




FINAL OVATION


THE TONY AWARDS REMEMBERS Each year the American Theatre Wing's Tony Awards pauses to remember friends and colleagues who have left us during the past year. The names of some of those who worked on Broadway are listed below (May 2010-May 2011). They are always in our hearts.

Theoni V. Aldredge, Michael Allinson, Jonathan Anderson, Herman O. Arbeit, Claudia Asbury, Ray Atherton.

Edmund C. Balin, Leslie Barrett, John Barry, Frank Bayer, Joseph Bird, Jerry Bock, Tom Bosley, Roger Braun, Maruice Brenner, Joseph Brooks, Lewis Brown, Jean Bruno, Richard Buck, Willis Burks.

David Cahn, Charles Canada, Carmen Capalbo, Thomas P. Carr, Jill Clayburgh, John Cosette, Georgia Creighton.

Sylvia Davis, Crandall Diehl, John Dolf, David Doty.

Blake Edwards, Hillard Elkins, Gloria Evans.

John Ferraro, Mary Fogarty

James Gammon, Stephen Gardner, Jay Garner, Henry Garrard, Betty Garrett, Pam Gems, Carl Gordon, Mark Gordon, Michael Gough, Farley Granger.

Mary Cleere Haran, Jill Haworth, Israel Hicks, Peter Hobbs.

Christine Johnson, Judd Jones.

Fred Kareman, George Keathley, Larry Keith.

Michael Langham, Harris Laskawy, Arthur Laurents, Douglas B. Leeds, Marcia Lewis, Don Liberto, Romulus Linney, Sidney Lumet.

Kenneth Mars, Kevin McCarthy, Rue McClanahan, Charles McClennahan, James McLure, Marian Mercer, Sidney Michaels, Susan Miller, Frances Lee Morgan.

Patricia Neal, James Neu, Leslie Nielsen, Darrell Notara, Vince O'Brien.

Evelyn Page, Neva Patterson, Arthur Penn, Wally Peterson, Neil Phillips, Nelson Phillips, Pete Postlethwaite, Addison Powell, James T. Pritchett, Thomas C. Proehl, Eddie Pruett.

Beverley Randolph, Shelly Rann, Peggy Rea, Dan Resin, Don Ross, Robert Rue, Jane Russell.

Draig Sandquist, James Schlader, Sachi Shimizu, Cesare Siepi, Tom Signorelli, Christine Johnson Smith, Patricia Smith, Alexander "Sandy" Speer, Walter Stane, Joseph Stein, Ron L. Steinbeck, Helen Stenborg, Pat Stevens, Margot Stevenson, Ellen Stewart, Haila Stoddard, James Stovall, Ronald B. Stratton, Patricia Stuart, Sharlie Stuart, Allen Swift, Jack Sydow.

Shannon Tavarez, Elizabeth Taylor, Noel Taylor, Lindsay Thomas, Robert E. Thompson, Sada Thompson, Michael Tolan, Ian Trigger.

William Walker, George Weiss, Margaret Whiting, Max Wilk, Stanely Williams, John Willis, Doric Wilson, Dolores Wilson, Lanford Wilson, K.C. Wilson, Norman Wisdom, Edward Woodward, Randall Wreghitt, Bob Wright, and Jerry Wyatt.

GARY HAUPT a Las Vegas native and one of the founders of the new Smith Center for Performing Arts in Las Vegas, passed away May 27, 2011, ten days shy of his 62nd birthday. The cause of death was cancer.

IDA THE POLAR BEAR a beloved Central Park Zoo attraction since 1987 was euthanized June 3, 2011. She was 25 and was diagnosed with cancer-related liver disease.

She is survived by her male companion Gus, who is reported to be despondent over the death of his mate. A PDA couple Ida and Gus had no qualms about nuzzling in public.








Next Column: June 12, 2011
Copyright: June 5, 2011. All Rights Reserved. Reviews, Interviews, Commentary, Photographs or Graphics from any Broadway To Vegas (TM) columns may not be published, broadcast, rewritten, utilized as leads, or used in any manner without permission, compensation and/or credit.
Link to Main Page
---
Laura Deni



For the snail mail address, please E-mail your request.
CLICK HERE FOR COMMENT SECTION