! >
Broadway To Vegas
  SHOW REVIEWS     CELEBRITY INTERVIEWS     GOSSIP     NEWS 
| | |
| --- | --- |
| | |
LARRY GATLIN'S THROAT SURGERY - -WILL BILLY JOEL BE AT OPENING - - LAUREL AND HARDY MUSEUM - - BURT REYNOLDS VEGAS NIGHTCLUB STAR - - DON'T MISS BERNADETTE PETERS - - CELEBRATING RICHARD RODGERS - - SPINNING WITH GALELIO - - KENNY ROGERS HAS PICTURES - - BETTER TIMING FOR DEAR WORLD . . . Scroll Down


Copyright: June 23, 2002
By: Laura Deni
CLICK HERE FOR COMMENT SECTION

TOWN'S LEAP OF FAITH OPENS LAUREL AND HARDY MUSEUM


Laurel and Hardy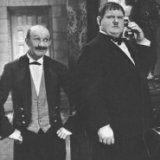 Stan Laurel and Oliver Hardy, who made 106 film shorts and feature films between 1927 and 1950, have been called ''the most successful comedy team in the history of the screen," according to the editor of The Film Encyclopedia.

The only Laurel and Hardy Museum in America will open July 15 in the birthplace of Oliver Hardy - Harlem, Georgia.

You've never heard of Harlem, Georgia? Neither have a lot of people - including residents of Georgia.

We tracked down Councilwoman and Mayor Pro-Tem Robin Root in her Harlem home. The gracious lady spoke with Broadway To Vegas about how the Laurel and Hardy Museum is reinvigorating this sleepy little town.

"We getting ourselves on the map again," she proclaimed while assuring that we were not the only ones who had never heard of Harlem, Georgia. "Most people have never heard of us, including a lot who live in Georgia," she quipped. "We are known more throughout the United States now than probably in Georgia - all because of this Museum. That sounds like of strange, but it is true."

"The population of Harlem is less than 2,000 and everyone is real excited about the opening of the Museum," she continued. "If you were to stand in the middle of Harlem - it's five miles each way. It's a real small little town. When it was started up it was a non-alcohol city and we still are. There are no liquor stores There are no bars here. It is a very quaint little town and very friendly."

"It has been a sleepy town for a long time - it really has. A lot of people in Georgia - the ones that do know about Harlem - kind of look at it as a little Mayberry town. It really is. Our police offices walk the streets."

Streets in a town located between there and somewhere bordering on extinction.

Rott's soft Southern drawl masks steel determination. "What I kind of tell people is that we're sitting on a fence and we're teetering and we're going to fall - on the good side. I know we are because of the publicity that this museum has brought to Harlem."

"Here's another fine mess you've gotten yourself into!" Oliver Hardy would have most likely said about the town banking on a museum to reinvent itself.

The plan isn't so farfetched. It worked for his partner's home town.

Stan Laurel was born in England and a museum there is a major tourist attraction.

Harlem has teamed up with the Ulverston museum in Cumbria, England, where Stan Laurel - the thin one - was born on June 16, 1890.

"They are very helpful. In fact, that is our sister city. That is the only other place where there is a Laurel and Hardy Museum and they have been so supportive. It's wonderful," she said emphasizing that they are working together not opposite each other.

For the past thirteen years, on the first Saturday of October, the City of Harlem has celebrated Ollie's--as he was affectionately called--legacy with a yearly festival, honoring him - so the town has experience handling an annual crowd. What the city would like is a steady stream of tourists. In pursuit of that Harlem made a momentous announcement in 2001 - that they were going to open the first Laurel and Hardy museum in the United States.

Root became the driving force behind the project.

The museum is located in the former post office, a beautiful brick, 35' x 60' stand-alone building, surrounded by grass and parking lot for visitors. Located on the main drag, right in the center of the city, the museum will have displays of L&H memorabilia in the main room and a film room in the rear of the museum for showing L&H films. Just like a big city, the museum will have a permanent curator. It is anticipated that the museum will always be a "work in progress" in order to keep adding features, collectibles, etc., for the benefit of visitors. The museum is owned and maintained by the City of Harlem.

While the Museum has yet to open, Root is already visualizing expansion.

"We have an old theatre building which just became vacant. I would love to see - and work as hard as I can - to see it revamped and turned back into an old theatre," she explained as her voice took on an edge of excitement. "We are starting to revamp the downtown and get storefronts back to the way they used to look. Restore everything that we have down town."

The goal is to turn the town into a year around tourist attraction.

If five bus loads of tourists showed up at noon all wanting to eat in Harlem and tour the museum with a limited amount of time - can you handle this?

"Right now, we can handle it, although it might be a little difficult," she answered. "We do not have any fast food places. Everything here is a mom and pop," she related about what the city feels adds to the atmosphere of the town - something that the city officials see as a marketing tool with mom and pop restaurants who are "bending over backwards to accommodate tourists and provide the small town atmosphere that is reminiscent of the Laurel and Hardy days."

Expect to see things like Laurel and Hardy impersonators, restaurant menus featuring favorite foods of the comedians and their cohorts. Put those pounding-the-beat police officers in turn of the century looking uniforms. The officials of Harlem are in a marketing mode.

"We are very, very anxious to work with tour groups who want to come to Harlem," Root stressed.

"Augusta is the big city nearest us. That is what we are working on right now. They have a lot of tours coming through on their way to Macon. We are trying to get them to come off of the highway and take the back route for a little way - to come see us on their way to Macon. I think that is going to be a real success!"

Root reports that there are volunteers staffing the museum and a women's committee whose dedication would rival a big city sisterhood. "We have a terrific, energetic set of five women that have taken the ball and run with it. They have just been wonderful!"

The Laurel and Hardy Museum is the revitalization catalyst.

"It's going to go. We are going to be on top of the world!" declared Root.

Helping to open the Museum will be The 13th International Convention of The Sons Of The Desert, hosted by the Scram Tent (Oasis 97) of Nashville, Tennessee.

The Sons of the Desert, who take their name from a 1933 L&H movie, will pour into Music City from throughout the United States as well as Canada, England, Germany, France, Belgium, Netherlands, Switzerland and Portugal.

Part of their Nashville convention will include -"Berthmarks" - Oliver Hardy Seminar with Dr. Bob Wilson of Georgia College & State University; "A Chump at Oxford" - Film comedy seminar with guest Dr. Frank Scheide and a Costume Banquet where attendees will come as their favorite character from Way Out West.

That will take place July 11th -14th at the Airport Marriott in Nashville, Tennessee. Following the Convention, on Monday July 15, they will motor coach to Harlem to participate in all of the festivities.

Celebrity guests confirmed to attend not just the Nashville convention, but also travel to Harlem for the Museum dedication include: Dorothy "Echo" deBorba who worked with The Boys in Fra Diavolo and The Stolen 0015, and multiple Our Gang shorts Gordon "Porky' Lee - worked at Hal Roach Studio as major Our Gang Member, Jerry "Tucker" Schatz who worked with The Boys in Babes In Toyland and multiple Our Gang shorts and Jean Darling who was in Our Gang shorts, and was Curly Locks in Babes in Toyland with Laurel and Hardy.



Broadway To Vegas is supported through advertising and donations. Priority consideration is given to interview suggestions, news, press releases, etc from paid supporters. However, no paid supporters control, alter, edit, or in any way manipulate the content of this site. Your donation is appreciated. We accept PAYPAL. Thank you for your interest.


BILLY JOEL; REHAB TO FRONT ROW CENTER
Billy Joel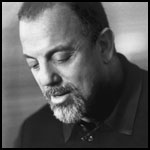 The most anticipated opening has nothing to do with what is on stage, but whether Billy Joel will be out of rehab and in attendance, at the Tuesday premiere of the Billy Joel music based Movin Out at the Goodman Theatre in Chicago.

All of the front page blather about Joel's problems may boost ticket sales, but it's the theatrical creation, not the personal heartaches of the piano man, that will determine the success of this show.

Joel's private life is far more interesting and dramatic than any thinly woven story line constructed to string together Joel hits.

On Monday, 53-year-old Joel checked himself into Silver Hill Hospital, a prestigious psychiatric and substance-abuse facility in New Canaan, Conn.

It was reported that Joel was in good spirits anxious to leave in time to fly to Chicago for the premiere.

In March, the Grammy-winning singer-songwriter had to reschedule his sold-out Face to Face Tour 2002 with Elton John. The reason given: inflamed vocal cords, an acute upper respiratory infection and laryngitis. But his last performance - on March 15 at Madison Square Garden - raised some red flags and resulted in interesting reviews. New York Times reviewer Kelefa Sanneh wrote; "The audience had been warned that he had a cold. But Mr. Joel seemed to have ingested something quite a bit stronger than cough syrup."

Other celebrities who have spent time at the get-your-life-back-on-track-place include Mariah Carey, Michael Jackson, Liza Minnelli, Gregg Allmann and Joan Kennedy. The cost ranges from $210 to $1,000 a day, depending on the type of service received.

Movin' Out conceived, choreographed and directed by Emmy-award winning choreographer Twyla Tharp, is a musical that traces the lives of six friends from 1967-87 who grow up and go on to fight in Vietnam. One is killed in the war and another comes to blame the third for the man's death.

Billy Joel's songs are the basis for this new musical. While the pop music icon doesn't star in - or is even a part of - the show, 26 of his songs and instrumental compositions including Innocent Man, Big Shot, River of Dreams and Movin' Out provide all the words.

In concept, it's not unlike Mamma Mia! - a loosely structured play that strings together a number of tunes from the 1970s disco group ABBA.

A year ago Joel said of Tharp's project, "It worked really, really well, and the narrative is actually being described through the lyrics of the songs, which are done by a live band, with dance, so it's a different kind of performance."

The show also features a set created by Santo Loquasto, the Broadway designer also known for his cinematic collaborations with Woody Allen.

Although the 27-member cast contains no marquee names, it's unsurprisingly heavy on performers with intensive dance backgrounds. The lineup of principal performers includes Keith Roberts (who played The Swan in Matthew Bourne's acclaimed production of Swan Lake), Joffrey Ballet veteran Elizabeth Parkinson, John Selya, Ashley Tuttle, Benjamin G. Bowman and Michael Cavanaugh. All except vocalist Cavanaugh are current members of Twyla Tharp Dance.

The show will also feature Broadway veteran Scott Wise, who was nominated for Tony Awards in 1996 and 1999 for his work in State Fair and Fosse, respectively.

The cast of 27 is completed by Andrew Allagree, Mark Arvin, Aliane Baquerot, Alexander Brady, Holly Cruikshank, Ron De Jesus, Melissa Downey, Scott Fowler, David Gomez, Meg Gurin-Paul, Laurie Kanyok, William Marrie, Rod McCune, Jill Nicklaus, Rika Okamoto, Karine Plantadit-Bageot, Lawrence Rabson, Katya Shelkanova, Dana Stackpole and John Todd.

Designers are Santo Loquasto (sets), Ann Roth (costumes), Donald Holder (lighting) and Brian Ruggles and Peter Fitzgerald (sound).

Stuart Malina is the music director.

June 25-September 1 at the Shubert Theatre in Chicago. The show is slated to open Oct. 24 at the Richard Rodgers Theatre in NYC.


BROADWAY BECKONS LARRY GATLIN
The Gatlin Brothers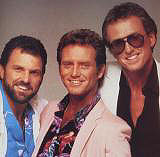 All the gold in California doesn't interest Larry Gatlin. It's the bright lights of Broadway that beckons the performer.

Recently recovered from his third vocal chord surgery which he calls "a complete success," for which he credits his physician. "Dr. Ossoff did a great job." The medic has given the singer some marching orders. "Dr Ossoff has told me to stop talking for one hour after every performance."

Minding is not something Gatlin does well. He invites fans to come to the stage door after a show to get an autograph and say hello, even though he admits that violates doctor's orders. "I sing too much, talk too much, laugh too much. But I'm not going to be a prisoner of my throat."

After 10 years of not touring together Steve Rudy and Larry are doing 35-50 concerts on the road plus an 11 week schedule at the MGA Performing Arts Center in Branson, MO. They kicked off the tour Friday at the Cerritos Center for the Performing Arts in Cerritos, CA. Last night they took over the stage at Boulder Station in Las Vegas and tonight the show is at the Peppermill Hotel in Reno. This coming Saturday they hop on stage at the Fairgrounds in Indianapolis, Indiana.

They haven't had a hit in 15 year but they are selling out. "I don't take it lightly that folks show up. I am so thankful," says Larry.

When not knocking himself out on stage Larry is knocking out a Broadway show.

"I'm in the process of writing stage musicals and I hope to get to Broadway," said Gatlin, who starred on Broadway in The Will Rogers Follies in 1993 and performed in the national tour of Civil War. "It's hard to get (a production) into New York but I'm literally working on it on a daily basis. I think it's going to happen."


SWEET CHARITY


9/11 PENTAGON VICTIM'S FUND has an additional $181,042.01 thanks to the members of the national touring company of South Pacific. For eight months Michael Nouri and cast members collected money from audiences after each performance. Nouri now heads to D.C. On June 25 he'll present a $181,042.01 check to Under Secretary of Defense Dr. Dov Zakheim for the 9/11 Pentagon victims' families. Robert Goulet has now has taken over Nouri's role in the touring show.


CELEBRATING RICHARD RODGERS
Richard Rodgers
His contributions to the American musical theater, with lyricists Lorenz Hart and Oscar Hammerstein II, are unsurpassed. From Carousel to the score of The Sound of Music, his timeless melodies are loved by millions.

On June 27 the Boston Pops pays tribute to Rodgers marking the centennial of his birth. Bruce Hangen, conductor. Kathryn Skemp, soprano. Alok Kumar, baritone June 27 Symphony Hall Boston, MA.

The line-up for the June 28 Richard Rodgers Centenary celebration at Broadway's Gershwin Theatre is awesome.

Titled "Something Good: A Broadway Salute to Richard Rodgers on His 100th Birthday the concert will feature stars from current Broadway musicals singing songs from the Rodgers songbook.

Those scheduled to perform include Laura Benanti, John Bucchino, Barbara Cook, John Cullum, Toni DiBuono, Erin Dilly, Sutton Foster, Hunter Foster, Shuler Hensley, Marin Mazzie, accompanied by Stephen Flaherty, Howard McGillin, Lauren Mitchell, Louise Pitre, Lea Salonga, Billy Stritch, Mary Testa, Patrick Wilson and the chorus of Oklahoma! Presented by ASCAP and The Rodgers & Hammerstein Organization, the concert is free and open to the public.



DEAR WORLD by Jerry Herman stars Maureen McGovern, who is celebrating her 30th year in show business. Praised as one of America's most talented and beloved singers, McGovern has recently been spending a lot of time in Utah. She kicked off the Sundance Theatre Summer Season with a special benefit for the Sundance Theatre Youth Outreach Programs, which are designed to introduce live, professional theatre to Utah's youth.That June 15 double bill benefit included a special one-night only concert and a subsequent performance of the Sundance Theatre's presentation of Dear World.

This is a newly-revised version of the Jerry Herman musical. Dear World is based on the French classic play The Madwoman of Chaillot and explores the need for healing the world and its people in the face of disaster. Evil schemers plan to destroy Paris shortly after World War II so that they can harvest the oil they believe to run beneath the city, and only eccentric and life affirming Countess Aurelia can save the world from their greed.

When the show opened on Broadway in 1969 and won Angela Lansbury her second Tony Award, many believed the play to be ahead of its time. However, with the current state of our world, a completely new book and new orchestrations, Sundance Theatre artistic director Philip Himberg, who stages the Utah production, feels the timing is perfect for Dear World to be reintroducted to the public. Creator Herman has been intimately involved with this revival, and will be present during preview week.



Maureen McGovern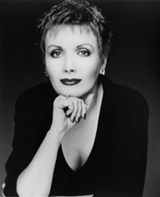 McGovern stars as Countess Aurelia, the touched Parisian who fights the forces of capitalistic injustice in postwar Paris.

With a book by Jerome Lawrence & Robert E. Lee, David "Tommy" Thompson has penned a further revision of his 2000 "new version" of the libretto including a couple of new songs for McGovern one sung as the opener, A Sensible Woman, and another just after she discovers the extent of the evil being plotted, I Don't Want to Know.

The cast also includes Joan Barber, Max Robinson, Alexis Baigue, Britani Bateman, Eric Bjarnson, Jason Celaya, Aaron DeJesus, Diana Dunkley, Michael J. Eger, Ary Kian, Dec Macaluso, Jim Pitts as the Prospector, Rock White, Jennifer Way Zemp and Bijan A. Zaimi. The production runs June 27-August 17 on the outdoor Eccles Stage at the Sundance Village. McGovern has expressed hope that the show will reach Broadway and have a national tour, indicating her commitment toward that end.

SOUTH PACIFIC starring Robert Goulet Jun 25-30 at the Civic in San Diego, California. The Las Vegas resident will stay put in Sin City after he finishes with this tour, which is booked at least through the end of November. Billionaire Phil Ruffin who bought the New Frontier in Las Vegas plans to build a new hotel with Donald Trump. Goulet says he'll be in charge of the new theatre, slated to open in the fall of 2004. "I'm going to be performing there the rest of my life," Goulet announced. At the time of the theatre ribbon cutting the ageless singer will be 71. We hope he lives to be 100.

WHERE'S CHARLEY with a book by George Abbott, music and lyrics by Frank Loesser, directed by Nicholas Martin, presented by the 2002 Tony Award Regional Theatre winner Williamstown Theatre at Williamstown, Mass. through June 30.

SMOKEY JOE'S CAFE which features more than 40 forty hits by legendary songwriters Jerry Leiber and Mike Stoller, including pop music treasures as Jailhouse Rock, Charlie Brown, Stand By Me, On Broadway and Love Potion #9 is having its Vermont premiere as The Weston Playhouse Theatre Co. kicking off its 66th anniversary season last Thursday in Rutland, Vermont.

MASS APPEAL a comedy by Bill C. Davis co-starring Jason Wiles and Malachy McCourt, with Zeljko Ivanek. Through June 29 at Cape Playhouse, which is the oldest summer theater in the United States located in Dennis, Massachusetts.

ALL OVER by Edward Albee under the direction of Emily Mann, Artistic Director of the McCarter Theatre in Princeton, New Jersey. The play stars Rosemary Harris, Michael Learned, Myra Carter, John Carter, and Pamela Nyberg. The cast also includes; Patrick Garner, Bill Moor, Richard Cottrell, Keith Dixon and Chuck McMahon.

All Over revolves around the deathbed vigil of a prominent man's family as they embark on a ritual of truth telling, confronting the slippery reality of love.

The production officially opens June 27. The limited engagement continues to Sept. 1. A Roundabout Theatre Company Production The Laura Pels Theatre Season at the Gramercy Theatre.

COMIC POTENTIAL by Alan Ayckbourn. June 28-July 20, Cape Rep Indoor Theatre, East Brewster, Massachusetts.

ANIMAL FARM Sir Peter Hall's musical adaptation of the George Orwell allegory, where the barnyard's denizens warble about the glories of socialist revolution and the horror of totalitarian regime.

First published in 1946 Animal Farm is a satire on Stalinism and the Russian revolution and full of symbolism. General Orwell associates certain real characters with the characters of the book. As Russia was an allied of England in 1945, Orwell had a hard time publishing it.

In Animal Farm, an idealist pig called Snowball leads an animal revolution against their oppressive farmer, Mr. Jones, and creates a new world where all animals are equal. Unfortunately, two other pigs, Napoleon and Squealer, decide that some animals are more equal than others.

Melora Marshall plays Snowball with Jim LeFave and Aaron Hendry as Napoleon and Squealer. Also in the cast are Thad Geer (Mr. Jones), Tom Allard (Boxer), Justin Doran (Benjamin), Willow Geer-Alsop (Mollie), Steven Matt (Old Major), Earnestine Phillips (Clover) and Gerlad Rivers (Moses).

California's Will Geer Theatricum Bontanicum ( See Broadway To Vegas column of July 8, 2001 ) will revise the Richard Peaslee-Adrian Mitchell musical June 29-Sept. 29, running in repertory with The Merchant of Venice. Ellen Geer directs.

THREE GROOMS AND A BRIDE a comedy by Gary Goldstein has its world premiere at the Coast Playhouse Hollywood, California opening June 28 and continuing through Aug. 4.

The production stars Anne Desalvo, Seth Resnik, Michael Otis, Christopher Lamba and Stephanie Venditto.

Jean Stapleton, Brooke Shields, Elliott Gould, Loni Anderson, Mariette Hartley, Jim J. Bullock, Dan Lauria, Sally Kellerman, Robert Mandan, Paul Mazursky and Renee Taylor, have recorded messages offering congrats, condolences and advice to the three grooms and brides of the title. The comedy looks at both a straight wedding and a gay wedding, mocking love, relationships and the art of marriage planning.

OSCAR AND FELIX: A NEW LOOK AT THE ODD COUPLE by Neil Simon. Directed By Peter Bonerz. This updated version stars John Larroquette in the role of slovenly sportswriter Oscar Madison and Joe Regalbuto as Felix Unger, the vacuum cleaner loving neat freak. The Pigeon sisters from England have been changed to the Spanish Costazuela sisters played Maria Conchita Alonso and Alex Meneses. Others in the cast include Ryan Cutrona, Gregory Jbara, Richard Portnow, and Samuel Lloyd, Jr.

Through July 21 at the Geffen Playhouse, Los Angeles.

GALILEO GALILEI a 90-minute opera created by composer Philip Glass who took his idea to director Mary Zimmerman who jumped at the idea and also is the opera's chief librettist, working with Glass and Arnold Weinstein.

Just because Zimmerman's father was a physicist and chair of the physics department at the University of Nebraska, doesn't mean that she is scientific or math minded. She stresses she is not. But she did soak up a lot of atmosphere from her father's office and in family picnics with his scientific friends - people she recalled as being "eccentric, bearded, counterculture."

Galileo Galilei brings audiences the interesting combination of American composer, Philip Glass, and the Goodman's Manilow Resident Director, Mary Zimmerman, blending their talents to paint the life of the brilliant but flawed genius that was Galileo.



Galileo a portrait by Justus Sustermans painted in 1636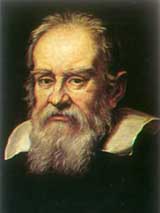 Beginning at the end of his life and moving backwards in time, Galileo Galilei relays the life story of the famed astronomer who turned humanity's conception of the universe inside out. Appearing as the elder Galileo is tenor John Duykers. In the role of young Galileo is baritone Eugene Perry.

The ensemble includes; Alicia Berneche, Mark Crayton, Lawrence Di Stasi, Andrew Funk, Tess Given, Zach Gray, Shelby Hyman, Mandi Michalski, Andrew McQuery, Tim Mullaney, Matt Orlando, Gregory Purnhagen, Liz Reiter, Peter Sciscioli, Sarah Sheperd, and Mary Wilson.

The design team for Galileo Galilei includes Daniel Ostling (Sets); Mara Blumenfeld (Costumes), T.J. Gerckens (Lighting), Michael Bodeen (Sound), John Boesche (Video/Projections), and Beatrice Jona Affron (Musical Direction).

To prepare for the production, Zimmerman, who picked up a Tony Award for directing Metamorphoses, and Ostling, Blumenfeld, Gerckens traveled to Italy for 10 days under a research grant from Northwestern University, stopping in Rome, Florence and Venice to absorb the vestiges of Galileo's world.

Depicted in lush, cosmic panoramas, Galileo Galilei presents the life of the 16th century scientist whose support of Copernicus' radical hypothesis that the earth revolves around the sun led to a lifetime conviction of heresy. He was a pioneering mathematician and astronomer, as well as the man who set the standard for the science of modern mechanics and experimental physics. He did important early work on the nature of gravity. He suggested the use of pendulums for clocks. He proposed the law of uniform acceleration for falling bodies. He discovered sunspots and craters on the moon, the phases of the planet Venus and the satellites of Jupiter. And he showed that the Milky Way consists of stars.

Galileo was the first person to use the telescope to study the skies. He was hounded by the Roman Catholic Church, condemned to spend the last eight years of his life under house arrest.

Glass was drawn to Galileo because, "I've always been intrigued by historical personages who have wrestled with questions of science and religion.

The press preview is tonight and the official press opening is tomorrow. The production runs through Aug. 4 at the Goodman Theatre in Chicago. The production is scheduled as the opening event of Brooklyn Academy of Music's 20th Next Wave Festival October 1 through 5. It will then move to London's Barbican Theatre, appearing in the Barbican International Theatre Events (BITE), November 1 through 9 and at London's Barbican Theatre.


WHO'S WHERE


KENNY ROGERS June 27-29 at the Las Vegas Hilton. Next Sunday he is at Sunny's in Albuquerque, New Mexico.

His new book This is My Country is a collection of photographs he's taken of some of country music's elite. Rogers knows what he's doing behind the camera. He's studied the art of photography with two of the best in the business: John Sexton, once an assistant under Ansel Adams, and Yousef Karsh.

The photos included in Rogers' new book have recently gone on display at the Country Music Hall of Fame and Museum in Nashville. The exhibit includes photos of Little Jimmy Dickens, Willie Nelson, Charley Pride, Trisha Yearwood, Tim McGraw, Johnnie Wright and Kitty Wells, Mel and Pam Tillis, Dwight Yoakam, Dolly Parton, Martina McBride, Alan Jackson, Bill Monroe, Minnie Pearl, Faith Hill, Lee Ann Womack, and Randy Travis. The exhibit of the photographs taken by the old Gambler himself, is on display at the Country Music Hall of Fame and Museum through December 31. There is no charge to view the photo exhibit.

BURT REYNOLDS turns into a Las Vegas nightclub star when he performs at the Orleans Hotel July 11-14.

TONY DANZA wrapped up his gig at the Suncoast in Las Vegas and flew back to New York where he headlines Feinstein's at the Regency June 25 to July 5.

BARBARA COOK in her Mostly Sondheim concert opens tonight at the Vivian Beaumont Theater in New York, NY. Mostly Sondheim features Cook, along with Wally Harper on piano and John Burr on bass, performing an evening on songs by composer/lyricist Stephen Sondheim, as well as songs which he wishes he had written - among them, works by Harold Arlen & E.Y. Harburg, Cy Coleman & Dorothy Fields, Jerry Bock & Sheldon Harnick, and Irving Berlin. Sunday and Monday performances through Aug. 26.

BERNADETTE PETERS and her Rodgers and Hammerstein salute at The Hollywood Bowl on June 28. If you can only see one show a year, Bernadette's performances makes this the one.

WYNTON MARSALIS this nine-time Grammy award winner and jazz icon was named by Time magazine named him one of "America's 25 Most Influential People." Life Magazine recognized his role in jazz by including him in its list of "The 50 Most Influential Boomers." The Artistic Director of Jazz at the world renowned arts organization in New York, Lincoln Center performs in Rutland, Vermont at the Paramount Theatre's Summer Breeze Series. June 28.

DENYCE GRAVES stars in Carmen at the Opera de Paris in Paris, France June 26, 29 July 2, 5, 9 and 12.

PAT BENETAR in a two nighter, Friday and Saturday, June 28-29, in Agoura Hills, California at the Canyon, Club.

ALAN JACKSON performs Friday, June 28 in Manhattan, Kansas at the Country Stampede. On June 29 he's in Cadott, WI at Country Fest and next Sunday the show is in Oshkosh, WI at Country USA / Sunnyview Expo Center.

THE FIFTH DIMENSION June 28-29 at the Riviera Blackhawk Casino in Black Hawk, Colorado.

SHIRLEY JONES sings tonight in Ocean City, New Jersey with the Ocean City Pops Orchestra.

MICHAEL FEINSTEIN in the spotlight June 28-29 at the Riverbend Music Center in Cincinnati, Ohio.

AL JARREAU entertaining June 23 at the Mayor's Music Festival/Red Rocks, Colorado.

CHRIS ISAAK & NATALIE MERCHANT entertain June 25 at Red Rocks, Colorado.

THE PETE ESCOVEDO ORCHESTRA featuring Sheila E perform June 27 at The Long Beach Museum of Art, Long Beach, CA. Each show includes a pre-order box dinner, and $75 VIP tickets include a buffet and two drinks.

ANNE MURRAY Tanglewood June 26 in the Koussevitzky Music Shed Lenox, MA.

PINK performs Monday in Santa Rosa, California at the Luther Burbank Center. On Tuesday she is center stage in San Francisco at the Warfield. Friday begins a two nighter in Los Angeles at the Wiltern Theatre.

MARC ANTHONY in the spotlight Thursday in Uncasville, CT at the Mohegan Sun Casino.

PAUL REVERE AND THE RAIDERS entertain June 27 at the Wild Rose Ridge Amphitheatre in Bottineau, North Dakota. On June 28 they are at the Kros Koup Park in Richland Center, Wisconsin and on June 28 the performance is in Watner Park in Madison, Wisconsin.

CHER AND CYNDI LAUPER opens a two nighter in Madison Square Garden in New York on Wednesday. She closes out the week Saturday in Washington, D.C. at the MCI Center.

KORN has a busy week. Today the show is in Albany, New York at the Pepsi Arena. Tomorrow the performance takes place at Madison Square Garden in New York. On Wednesday the show is in Toronto at the Air Canada Centre. Thursday it's Montreal at the Molson Centre. Then back across the border for a Saturday engagement in Pittsburgh, PA at the Mellon Arena.


PIFFLE AND PROFUNDITIES


PERRY COMO AUCTION UPDATE

Lake Scene oil on canvas by Roselle Como bought by Cindy Jedrzejas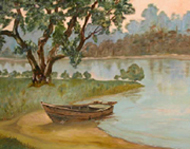 when a performer's possessions go up for auction many people eye the possibility of making a quick buck - trying to walk off with a gaveled down low bid and then turn around and sell for a profit. So, it's always heartwarming when a true fan manages to make a purchase.

Such is the case with Cindy Jedrzejas who is the happy new owner of some Como items. She spoke with Broadway To Vegas about her new acquisitions.

The determined lady placed both the opening and closing 12th bid to bring home a cherished painting of Perry. "I got the best painting of all. It is a 1946 oil painting of Perry. A Mr.Wolf painted it. It is beautiful!!!! The oil painting I got of Mrs. Como's was a painting called Lake Scene. It was more than what I wanted to spend, but as you know, I wanted one of her paintings. I was thrilled when I found out I won three things," she said referring to a photograph of the crooner. "I plan on donating all my Perry Como things - when I no long can use them - to the museum they are suppose to be building in Perry Como's honor in his home town in Pennsylvania."













Next Column: June 30, 2002
Copyright: June 23, 2002. All Rights Reserved. Reviews, Interviews, Commentary, Photographs or Graphics from any Broadway To Vegas (TM) columns may not be published, broadcast, rewritten, utilized as leads, or used in any manner without permission, compensation and/or credit.
Link to Main Page
---
Laura Deni



U.S. Postal Address: Post Office Box 60538, Las Vegas, NV 89160
CLICK HERE FOR COMMENT SECTION