! >
Broadway To Vegas
  SHOW REVIEWS     CELEBRITY INTERVIEWS     GOSSIP     NEWS 
| | |
| --- | --- |
| | |
Copyright: July 8, 2001
By: Laura Deni
CLICK HERE FOR COMMENT SECTION

PSYCHIATRISTS ANALYZE A THOUSAND CLOWNS

That Magnum P.I guy, Tom Selleck, is making both his Broadway and his theatrical stage debut in a remake of the 1962 Herb Gardner romantic comedy, A Thousand Clowns, which is the story of Murray Burns' struggle for custody of his 12-year-old nephew.

Burns, a former kid-show writer and surly society dropout, is being pressured to "drop back in" for the sake of his young nephew who has moved in with him. Nonconformist Burns tries his utmost to retain custody of his precocious nephew, who proves to be far more adept at dealing with the child welfare bureaucracy than is his uncle.

The original 1962 production starred Jason Robards as TV writer Murray Burns. A Thousand Clowns last staged in New York by the Roundabout in 1996 starred Robert Klein.

This production has been on the road working out the kinks and the effort has been taken more seriously than one might expect.

Last May 26 while performing at Duke University a post-performance discussion was held following a matinee show. That's not too unusual. Most of those discussions center on acting and the process involved in putting a production together. This colloquium took on an anomalous, gray matter depth. It was co-sponsored by Duke University's Department of Psychiatry and Behavioral Sciences.

The analysis went as follows: Murray Burns, the lead character in A Thousand Clowns, faces serious choices about his personal life and his career. In fact, most of the characters in this comedy are having some sort of identity crisis! Explore what it all means in a post-performance discussion with four mental health professionals: Harold Kudler, M.D., a psychiatrist at Duke; Paul Brinich, Ph.D., a child psychologist and psychoanalyst at UNC; William Meyer, CCSW, a clinical social worker at Duke; and Lucy Daniels, a psychotherapist, writer, and founder of the Lucy Daniels Foundation.


Nicholas King and Tom Selleck in A Thousand Clowns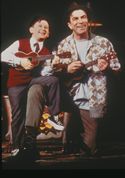 The biggest identity crisis for the theater patrons is discovering that Tom Selleck has shaved off his mustache. He wasn't going through a mid life crisis or psychic trauma - rather he was paid to take it off. Selleck had a very simple explanation:

"No mustache is a concept in the director and playwright's head. People pay me, and I shave it off."

John Rando directs a cast that includes Mark Blum, Bradford Cover, Barbara Garrick, Nicholas King, and Robert Lupone. Set designer Allen Moyer; costume designer Martin Pakledinaz.

The Tom Selleck starer opens Wednesday for an open end run with a 15-week commitment at the 1,080 seat Longacre Theatre, NYC.


TAP YOUR TROUBLES AWAY


They are time stepping and buck and winging it on 42nd Street and we don't mean the Tony Award winning revival.

From stress reduction to burning off calories or honing those feet into star making quality, Tap City 2001 - the New York City Tap Festival - took over the Duke Theater on 42nd Street yesterday in a step ball kick event that lasts through July 15.

Four-time Tony nominee Gregory Hines is just one of the tap dance stars who will perform and teach. Along the way the hoofer will be top honoree.

The Tap City 2001 offerings include panel discussions, children's programs, films starring Ernie Smith, tap jam sessions, master classes with Hines and Buster Brown and lectures.



GREGORY HINES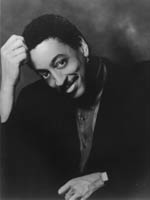 On July 12, Hines will be honored with the Hoofer Award. Marda Kirn and The NY Committee will receive the Tap Preservation Award to celebrate National Tap Dance Day.

Hines will perform at the event as will Brenda Bufalino, Savion Glover's mother and jazz vocalist Yvette Glover, O'D n' Tap, Silver Belles, Jimmy Slyde and the evening's host, Tony Waag.

On Monday a round table discussion will feature Tap Veterans. Hosted by Melba Huber and accompanied by: Buster Brown, Marion Coles, LaVaughn Robinson, Jimmy Slyde and Prince Spencer.

On Wednesday a master class will take place including participation by Prince Spencer, a member of The Four Step Brothers, one of the early innovators of the acrobatic tap style. His work spans several decades. Included are 39 years with The Four Step Brothers, 18 years as manager for Redd Foxx actor, dancer, tap solo artist, emcee and annual speaker in Las Vegas for Black History month about the much improved working conditions for African American Performing Artists.

He'll show videos of the act, reminiscences and humorous stories. Spencer, 83, has been honored for his work as an Outstanding Artist in Tap in Saint Louis and Las Vegas and will soon receive an honorary Doctorate of Dance from Southern Methodist University.

For over 40 years, the legendary Four Step Brothers were the most imitated tap dance act in show business and starred in film greats including Here Come the Girls with Bob Hope, Johnny Comes Marching Home with Donald O'Connor, and The Patsy with Jerry Lewis.



PRINCE SPENCER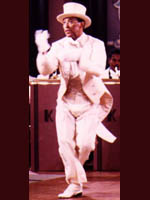 Also known as Eight Feet of Rhythm they appeared at New York's famous Cotton Club with Duke Ellington, and were Las Vegas regulars. Their television appearances included The Ed Sullivan Show, Bob Hope specials, with Steve Allen, Martin and Lewis, and Perry Como.

The Challenge Dance was The Four Step Brothers' specialty, a tap dance with no musical accompaniment, only the rhythm of clapping hands, as each individual tapper tries to outdo the one before him, showing off his best steps. Prince's dancing was brilliant and set a standard for speed. During his years dancing with The Four Step Brothers, Prince always danced last - because no one could top him! No one wanted to follow him. It was said "The Four Step Brothers are to dance what Duke Ellington, Louis Armstrong and Cab Calloway are to music."

The Advisory Committee includes Alina Bloomgarden of the Lincoln Center For the Performing Arts, Margaret Brown representing Association For a Better New York, Brenda Bufalino Artistic Director - American Tap Dance Orchestra, Lynn Dally Artistic Director - Jazz Tap Ensemble, entertainer Tony Danza, tapper Savion Glover and his mother Yvette Glover, Susan Goldbetter the Executive Director & Producer - Circuit Productions, Inc., performer Bill Irwin, Marda Kirn Former Executive Director / Founder - International Tap Association, Sali Ann Kriegsman Former President - Dance Heritage Coalition, Madeleine Nichols Dance Collection - NY Public Library for the Performing Arts, entertainer Donald O'Connor, Avra Petrides Producer - The Bridge Stage Of The Arts and performer Bobby Short.

No tap dance festival can be complete without including tap dancing experts - politicians.

This year's Advisory Committee includes; New York State Senator the Hon. Thomas Duane, Manhattan Borough President the Hon. C. Virginia Fields and New York City council member the Hon. Christine Quinn.


THE PLAY'S THE THING

With budgets that rival Broadway shows, shelves that boast Tony Awards and crowds that an equal rock concerts, Shakespeare Festivals are a take no prisoners serious summer endeavor.

The Shakespeare Theatre in Washington, D.C. enjoys national and international renown as "one of the world's three great Shakespearean theatres" and has been called "the nation's foremost Shakespeare company."



Michael Rudko as George Tesman and Judith Light as Hedda Gabler star in the production through July 29.Costume design by Murell Horton. Set design by Walt Spangler. Light design by Amy Appleyard. Original music by Adam Wernick. Sound design by Martin Desjardins. Photo by Carol Rosegg.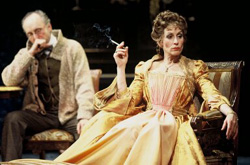 Judith Light is making her Shakespeare Theatre debut starring in Henrik Ibsen's Hedda Gabler opposite Michael Rudko as George Tesman in the Michael Kahn directed production.

Under Artistic Director Michael Kahn's leadership since 1986, the theater has dedicated itself to becoming the nation's premier classical theatre. Each season, The Shakespeare Theatre presents five plays by Shakespeare and other classical playwrights in its 451-seat performance space in the heart of Washington, D.C.'s Pennsylvania Quarter arts district.

They must be doing something right. The theater has won 41 Helen Hayes Awards over the last 15 years.

By focusing on works with profound themes, complex characters and heightened language written by Shakespeare, his contemporaries, and those playwrights he influenced, The Shakespeare Theatre's artistic mission is unique among regional theatres: to bring to vibrant life groundbreaking, thought-provoking, and eminently accessible classical theatre in a uniquely American style. The Shakespeare Theatre continues to expand, producing five main stage shows at its year-round home in downtown Washington, and two weeks of free Shakespeare at The Shakespeare Theatre Free For All each summer in Rock Creek Park.

Despite record-breaking attendance, ticket revenue and other earned income account for just half of the theatre's $10 million operating budget. More than 300 corporations, foundations, and public agencies along with more than 6500 individuals provide the additional financial support required for the theatre to keep the bills paid.

The Alabama Shakespeare Festival, located in Montgomery Alabama's state capital is the fifth largest Shakespeare festival in the world and attracts more than 300,000 annual visitors from all 50 states and over 60 countries.

The Alabama Shakespeare Festival (ASF), originally located in Anniston in a non air-conditioned high school auditorium, was a summer theatre festival. When the Festival faced bankruptcy in the early 1980s, Board Member Carolyn Blount approached her husband with this problem: The State of Alabama was about to lose a great cultural asset if something was not done.



Carolyn Blount Theatre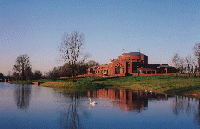 Wynton Blount agreed to build a new home for ASF, set in a 250-acre park, if only the theatre would move to Montgomery. Mr. Blount christened the performing arts complex The Carolyn Blount Theatre in December 1985. After moving to Montgomery, ASF began year-round operations with more than 400 performances scheduled each year. Mr. Blount's gift of the theatre complex was the largest single donation in the history of American theatre. ASF has remained financially sound ever since one of the few American theatres to do so.

The $21.5 million Carolyn Blount Theatre, designed by Thomas Blount and Perry Pittman, is based on the theories of Andrea Palladio and houses two theatres (the 750-seat Festival Stage and the 225-seat Octagon), production shops, rehearsal halls, and administrative work spaces. More than one million bricks were used in building the complex, which contains more than 100,000 square feet of space. The late Russell Page, famed landscape architect, planned the English-style grounds and lake.

ASF operates year-round, producing 14 world-class productions annually, including three works of William Shakespeare. The remainder are classics of the stage works by playwrights such as Moliere, George Bernard Shaw, Anton Chekhov, Tennessee Williams, Thornton Wilder, and Eugene O'Neill along with musicals and new works commissioned by the Festival.



FRED C. ADAMS Photo: Utah Shakespeare Festival.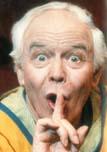 The Tony Award winning Utah Shakespeare Festival has opened its 40th season with an ambitious slate that including curtain up on six plays within six days. - something no other repertory theater can match. With a budget of $5 million and over 150,000 expected to attend, the Utah Shakespeare Festival is one of the largest in America in both size and budget,

There is also a free greenshow which takes place prior to each evening's performance, transporting patrons back to Shakespeare's day with songs, stories, skits, dances and foods including pastries, meat and cheese pies.

There is also a Royal Feaste, staged four times a week, where diners break bread with King Henry V and his boon companion Falstaff. There are sword and dagger duels and a five-course meal eaten without benefit of fork or spoon.

A production of Gilbert and Sullivan's The Pirates of Penzance and two classics Ah, Wilderness and Arsenic and Old Lace that combine a subtle blend of comedy with drama are showcased this summer in the Randall L. Jones Theatre.

The Pirates of Penzance is directed by Russell Treyz and choreographed by Darryl Yeager. Written 124 years ago, this production is garnering an unusual share of publicity because festival-founder Fred C. Adams is making a rare appearance on stage as Major-General Stanley who steamrolls his way through his tongue-twisting signature piece, I Am the Very Model of a Modern Major-General."

Then there's the scene where he actually dances with Stanley's seven beautiful wards Mabel, Edith, Kate, Isabel, Violet, Rebecca and Rose - all elegantly costumed by Bill Black.

The Oregon Shakespeare Festival is the nation's oldest and largest theatre in rotating repertory, presented in three unique theaters from Feb. 15-Oct. 28.

The first production, staged in 1935, was The Merchant of Venice by William Shakespeare directed by Angus L. Bowmer.

The Green Show is a major happening. Music and dance before the outdoor plays have long been a Festival tradition, now given a fascinating new look and sound by Terra Nova Consort and Dance Kaleidoscope. With soul and wit, these performers present entertainment - from Baroque to Broadway, ballet to jazz anything goes - setting the mood for the three plays in the 1200-seat open air Elizabethan Theatre.

Not many people can have a theater in their own back yard but Will Geer, best known as the beloved Grandpa on television's The Waltons, made his dream come true. He loved his home, located in rustic Topanga Canyon of the Santa Monica Mountains. It was there that he could nurture his two passions - horticulture and the theater. Under the giant sycamores where the Shakespeare garden now exists, performers, musicians and artists began a tradition of performing that continues today.



WILL GEER as GRANDPA WALTON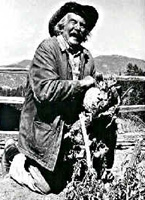 Theatricum Botanicum is an unusual moniker for a respected, professional Equity repertory theater carved out of the side of a mountain where it began as a theatre workshop.

Born a Hoosier from Indiana in 1902 Geer began his acting career at age fourteen in tent shows and on river boats. He was educated at the University of Chicago and Columbia University, receiving his Masters of Science degree in botany.

But it was in front of the footlights, rather than in his garden that Geer earned a living. From Broadway to television and films, he performed with Minnie Maddern Fiske, Ethel Barrymore, Walter Huston, Clark Gable, Katharine Hepburn and Helen Hayes.

Will made his Broadway debut in The Merry Wives of Windsor and went on to other performances in The Cradle Will Rock, Waiting For Lefty, Sing Out The News, and Tobacco Road.

Under the direction of Will Geer's daughter, actress Ellen Geer, in 1973 the Geer Family combined their theatre talents and formed a nonprofit corporation, The Will Geer Theatricum Botanicum. Audiences flocked to free workshop performances of Shakespeare and concerts featuring such well known performers including Pete Seeger, Arlo Guthrie, Della Reese and Burl Ives. At the death of Geer in 1978 at age 76, the family and a small band of players decided to work towards becoming a full-fledged repertory theatre, incorporating educational programs and musical events. The local community was encouraging and proved their support by donating approximately $50,000 worth of labor and materials to help build the necessary restrooms and wooden stage.



WILL GEER tending his beloved nursery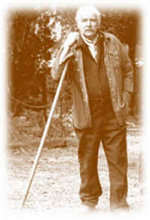 In an effort to maintain Theatricum's self support throughout our off-season, School Days and the Academy of the Classics were created in 1979 and 1980. Each spring the School Days program serves as many as 8,000 students throughout Los Angeles County. Some of the goals of this program include development and application of communication skills and building positive self-esteem. The Academy of the Classics was created to house two self-supporting educational programs: Youth and Adult Classes, Seminars and Workshops.

1983 marked the first year of supporting a professional repertory company with a union contract for the inaugural summer season. From 1987 to the present, five original plays have been incorporated into the repertory of classics. Performers have included Tyne Daily, and Wendie Mallick. Although the company is committed to performing one Shakespeare play each season, we are not a Shakespeare festival, emphasized Ellen Geer who serves as the Artistic Director. Tennessee Williams, Thornton Wilder, Chekhov and other classic writers are as important as Shakespeare.

After four years of fund raising the renovation and redesign of the amphitheatre and seating was completed. The Irvine Foundation, Weingart Foundation, and the Ralph M. Parsons Foundation donated a total of $135,000.00 In addition to these grant monies, the Theatricum has raised $50,000 from community donations. In addition, there was $50,000 worth of volunteer labor and equipment. In the end the renovation was only $35,000 over-budget, which they are working to retire.



Broadway To Vegas is supported through advertising and donations. Priority consideration is given to interview suggestions, news, press releases, etc from paid supporters. However, no paid supporters control, alter, edit, or in any way manipulate the content of this site. Your donation is appreciated. We accept PAYPAL. Thank you for your interest.


SWEET CHARITY

BROADWAY BARKS! Bernadette Peters and Mary Tyler Moore will host the third annual Broadway Barks! Saturday, July 14, in Shubert Alley.

Expected to join Peters and Moore, are Broadway pals Cady Huffman and Gary Beach from The Producers, Mary-Louise Parker from Proof, Christine Ebersole star of 42nd Street, Polly Bergen from Follies, Leslie Uggams currently starring in King Hedley, II actor Joel Grey, and Catherine Hickland from ABC's One Life To Live, among others.

Also planned for Broadway Barks 3! is an auction of celebrity-autographed memorabilia. Proceeds from the auction and other donations received throughout the day will benefit the shelters and organizations attending the event.

The festivities begin at 3:30 p.m. with celebrity presentations of citywide animal shelters to take place from 5:30 to 6:30 p.m.

Peters, who adopted her dogs Stella and Kramer from the ASPCA and CACC, hopes those who attend Broadway Barks 3! will walk away with loving, four-legged companions the way she has. "Every year, 40,000 adoptable animals are euthanized (that means killed) in New York City alone many of which are pure breeds," Peters said. "Isn't this enough of a reason to find your next animal through a shelter?"

Working to raise awareness of the uncertain futures faced by the city's orphaned cats and dogs, this year's Broadway Barks will include a sampling of New York City-area animal shelters and adoptions agencies. They include: A Cause For Paws, Animal Haven, ASPCA, BARC Shelter, Bide-A-Wee, CACC, City Critters, The Humane Society of New York, Kitty Kind, Loving Touch, Manhattan Valley Cat Rescue, Pet-I-Care, PLUTO Rescue, SICAW, and The Tigger Foundation.

Representatives from those organizations will provide cats and dogs for adoption and offer educational information on spaying and neutering. Celebrities will present the animals for adoption.

In the event of rain, Broadway Barks 3! will be rescheduled for Saturday, July 28.


APPLAUSE, APPLAUSE

SISSY SPACEK receives The Maine International Film Festival's Mid-Life Achievement Award today.

The fourth annual festival opened Friday in Waterville, Maine.

Last night Spacek attended a sneak preview of her latest film. This year's festival, which runs for 10 days, will feature more than 50 films including The Weight of Water, a set-in-Maine mystery starring Sean Penn and Elizabeth Hurley



AIDA the first national tour of the Elton John and Tim Rice's Tony Award-winning musical has Patrick Cassidy starring as Radames who falls in love with Aida, a captured Nubian princess. Aida is played by Simone. Kelli Fournier stars as Amneris.



PATRICK CASSIDY as Radames in Aida Photo by: Joan Marcus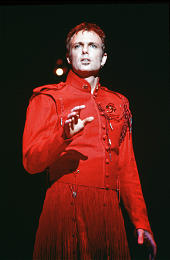 Cassidy is the son of Shirley Jones and the late Jack Cassidy. Simone is the daughter of the great jazz artist, Nina Simone. Both Patrick and Simone began their musical theater careers without any training; each has famous relatives; they're both parents in their 30s; and neither of them has ever paid any attention to opera in general and Verdi in particular - whose opera narrative forms the basis of this pop-rock musical adaptation. However, as teenagers both listened to Elton John.

And neither wanted to be in show business as most folks perceive it. Both wanted to be on a different stage - as lawyers. Simone's dream was to become an international attorney. Cassidy sees little difference in the professional of actor and lawyer. "When you think about it, there is no difference between being an actor and a lawyer. The only difference is they have to go to school a lot longer. But if you're in a courtroom, you're doing a performance."

Cassidy put down thoughts of law books when he picked up a script for Pirates of Penzance and at age 18 auditioned for the role of Frederick, as Robby Benson's replacement. He got the part and found himself starring on Broadway admittedly "not knowing what I was doing."

Since then he's played Frank Butler opposite Cheryl Ladd in Broadway's Annie Get Your Gun, performed with Deborah Gibson in the national tour of Joseph and the Amazing Technicolor Dreamcoat. Cassidy also substituted for big brother David in At the Copa at the Rio Hotel in Las Vegas.

Patrick's other family member is Shaun. Sometimes Patrick gets a little weary of all the comparisons. "I just tell them to look at my resume."

Simone is no stranger to the stage, either. The one named lady played Mimi in the rock opera Rent and was the understudy in Aida for Heather Headley who won a Tony Award for Best Actress in a Musical. As the understudy Simone appeared as Aida for New York audiences 20 times.

Both have been with the national touring since it's beginning last March in Minneapolis and each made a long term commitment to the elaborate project.

As for Cassidy he'd like to walk in his father's Broadway shoes. "I think my father, God rest his soul, would be proud that the avenue I chose to go down was legit theater. I'm really waiting for someone to revive She Loves Me, so I can play my father's role.".

July 11-29 at the Capitol Theater in Salt Lake City, UT. After leaving Utah, the production will head on to San Francisco, Dallas and Los Angeles, among others.

BROADWAY IN BRYANT PARK in which the casts of a number of Broadway and Off-Broadway musicals will give free outdoor concerts in the park, every Thursday at from noon until two began last Thursday. Those fortunate to be in the vicinity can enjoy excerpts from great Broadway shows and songs from Broadway stars on the Bryant Park Stage. Last Thursday lunch time diners enjoyed The Music Man, the hit Broadway musical starring Eric McCormack as the irresistible conman, Harold Hill, who sings and dances his way into the lives of the innocent folks of sleepy River City, Iowa. That was followed by The Donkey Show and Mr. President a new production that blurs the line between showbiz and politics, Forbidden Broadway and its creator Gerard Alessandrini blow the dust off Irving Berlins's 1962 musical, Mr. President..

This coming Thursday noon time nibblers will have a musical feast in two courses. The Aida appetizer is Elton John and Tim Rice's musical love story is bursting with contemporary energy. That will be followed by Beauty and the Beast,based upon the beloved animated film, Belle and the Beast are now in their eighth enchanting year on Broadway. Hosted by Jammin 105 Radio. the Thursday event continues through August 23.

CAROUSEL starring Sean McDermott, a Denver born, New York-based actor whose Broadway credits include the roles of Rusty in Starlight Express and Chris in Miss Saigon. The production also features Jennifer Freeman as Julie Jordan, Craig Ricks as Enoch Snow, Heather Geery as Carrie Pipperidge, Mariann Cook as Nettie, John Steele as the Starkeeper, Scott Guthrie as Jigger and Ellen Webster as Mrs. Mullins. Andrew Glant-Linde directs with Joel Levine as music director. Lyric Theatre in Oklahoma City, July 10-14.

DRACULA stars Jean LeClerc known to millions thanks to his longtime role as Jeremy on All My Children. He's going to be returning to that soap briefly this summer. Meanwhile he's the leading vampire in Dracula. through July 14, Ogunquit Playhouse, Route 1, Ogunquit, Maine.

AND THEN THERE'S BEA STARRING BEA ARTHUR July 10-15 at the Kaplan Theatre in Cincinnati, OH.

BEST LITTLE WHOREHOUSE IN TEXAS opens July 9 in Kansas City, MO at the Starlight Theater for an engagement running through July 14.

FOSSE opens Chicago, IL at the Ford Center/Oriental Theatre. Performances July 10-28

CINDERELLA at the Okoboji Summer Theatre, Spirit Lake. July 10-15.

DAME EDNA had a bang up opening on the 4th at Atlantic City, New Jersey's Tropicana Hotel and Casino. Same Edna continues the outrageous performance through tonight, then takes a breather reopening July 17 for a stand running through July 22.

LES MISERABLES continues at the Gammage Auditorium in Tempe, AZ. through July 21.

BLUE written by Charles Randolph-Wright starring Phylicia Rashad of The Cosby Show, Jewell Robinson, Hill Harper, Randall Shepperd, Howard W. Overshown, Chad Tucker, and Michael McElroy.

Set in a small South Carolina town Blue is about an African-American middle-class family named Clark whose family's funeral biz is booming. With matriarch Tillie (Jewell Robinson) offering unsolicited advice, son Sam Jr. (Randall Shepperd) runs the profitable business, Sam III (Howard W. Overshown) runs with the girls, 12-year-old Reuben (Chad Tucker) runs errands and fashion-conscious mother Peggy (Phylicia Rashad) runs up the credit cards. Smart and stylish and completely out of place in her provincial surroundings, a desperate Peggy is a force to be reckoned with. Now grown son Reuben (Hill Harper) recalls how, enlivened by the music of sexy jazz singer Blue Williams (Michael McElroy), Peggy holds court at family gatherings and lays out her grandiose ambitions for her two sons futures, as well as the present lives of her husband and her mother-in-law.

Author Charles Randolph-Wright was an original cast member of Broadway's Dreamgirls. His acclaimed production of Guys and Dolls, which he recently directed at Arena Stage, will go out on a national tour next year.

Music by Nona Hendryx lyrics by Nona Hendryx and Charles Randolph-Wright directed by Sheldon Epps.

A Roundabout Theater Company production at Gramercy Theater, NYC.


WHO'S WHERE


MICHAEL FEINSTEIN performs in Signal Hill, CA at the Green On The Hill on July 14.

TOM JONES tonight stars in London, UK at Hyde Park.

NATALIE COLE in San Francisco, CA at Davies Symphony Hall on July 13.

DON RICKLES insults the happy crowd on July 9 in Toronto, ON at the Hummingbird Centre. The Merchant of Venom moves to on to Verona, NY for a July 11 engagement at the Turning Stone Casino. On July 13 and 14 he does a two nighter in Dover, DE at the Dover Down Slots.

JIM NABORS cruises on Royal Caribbean's Explorer. July 11-18.

ROY CLARK in Bossier City, LA starring at the Isle Of Capri Casino on July 13.

TONY BENNETT takes center stage July 16 in Ottawa, ON at Confederation Park.

EVA MARIE SAINT opened the 69th season of the Ogunquit Playhouse in Maine with a production of A.R. Gurney's romantic comedy-drama, Love Letters.

JAMIE deROY & FRIENDS a six time MAC award winner, presents Modern Man with David Buskin, Rob Carlson, and George Wurzbach bridging the gap between The Three Tenors and The Three Stooges Thursday July 19 at the West Bank Cafe's Laurie Beechman Theater.

ALANIS MORISSETTE performs July 9 in Hamburg, Germany at Sadtpark. On July 11th she's on stage in Switzerland at the Montreux Jazz Festival. The following night she stars in Brescia, Italy at the Piazzo Duomo and then on July 13 the lady entertains in Palmero, Italy.

BRIAN SETZER 68 COMEBACK SPECIAL July 11 in Westbury, NY at the Westbury Music Fair.

MADONNA continues starring in London UK at Earls Court Arena for an engagement lasting through July 12. Then she packs it up and heads across the pond to continue her tour in America.

SMOKEY ROBINSON in a one nighter July 13 in Baltimore, MD at Artscape.

WHOOPI GOLDBERG has a string of one-nighters that is enough to put anyone into overload, especially since Whoopi doesn't fly. By bus this performer is hoofing it to open July 10 in New York City at the Apollo Theatre. The next night it's Washington, DC for a performance at the Warner Theatre. On Thursday Whoopi will star in Richmond, VA at the Carpenter Center. And, on Friday she's in Charlotte, NC at the Blumenthal Center. The busy lady rounds out the week in Nashville, TN at the James K. Polk Theater.

BROOKE SHIELDS has taken over the role of Sally Bowles in Cabaret. Now the fifth longest-running revival on Broadway Cabaret is a Roundabout Theatre Company production at Studio 54.

JOHN LEGUIZAMO LIVE a four-part, one man play which covers Latino history, childhood and family, relationships, and fatherhood. July 10 - Celebrity Theatre in Phoenix, Arizona July 13 - State Theatre in Minneapolis, MN July 14 - Palace Theatre in Cleveland, Ohio.

BARBARA COOK July 9 at the Ravinia Festival in Highland Park, IL.

JUDY COLLINS July 14 at the Mohegan Sun's Wolf Den.

KAREN MASON soon to star in Mamma Mia! on Broadway opens Tuesday at Arci's Place, NYC for an engagement running through July 21.

ENGELBERT HUMPERDINCK starring at New York New York in Las Vegas July 15-22.

REBA McENTIRE in his first appearance since leaving the Broadway show Annie Get Your Gun opens July 3 at Mandalay Bay, Las Vegas. Sharing the stage is Martina McBride, Sara Evans, Jamie O'Neal, and Carolyn Dawn Johnson.

BEN E. KING famous for his 1961 hit Stand By Me. After leaving the Drifters, King had a Top 10 solo hit with Spanish Harlem in 1961. Since then, he has hit the Top 20 with Supernatural Thing, Amor and Don't Play That Song (You Lied). King will appear with the Utah Symphony in Abravanel Hall, Salt Lake City on Friday, July 13. King and the symphony will also perform at Deer Valley on Saturday, July 14.


PIFFLE AND PROFUNDITIES

MORE CHIPPED PAINT Divine Secrets of the Ya-Ya Sisterhood a 1966 novel by Rebecca Wells has been turned into a movie by Bonnie Bruckheimer and her partner Bette Midler. The screenplay was penned by Mark Andrus with a rewrite by Callie Khouri who served as director.

The film stars Sandra Bullock, Ashley Judd, Ellen Burstyn, Maggie Smith and Jim Garner and just wrapped after 12 weeks of filming in Wilmington, N.C. Much of the filming was done in a 150-year-old Buckner Hill House in Faison. The home, which is listed on the National Register of Historic Places, is kept in immaculate condition - which became a problem. The movie spans a 30 year segment and the Buncker Hill house hasn't aged a day in 150 years. To make the historical home to appear old and weathered chipped paint was applied. Afterwards the crew was required to remove the chipped paint and returned the century-and-a-half year old home back to its pristine condition.

RUDY GUILIANI hizzoner of New York City, may be moving out of the Mayor's Gracie Mansion because he's been nesting with a chickadee, but Cheryl A. Leeman, the mayor of Portland, Maine has had to move out of her office because a pigeon is nesting in her office. Apparently the motherly bird flew in through an open window, built a nest and laid two eggs. The good natured mayor stated that people are always accusing her of trying to hatch something but she is leaving her office to protect her constituents - no matter what they are. If all goes well the eggs will hatch by the end of the month.













Next Column: July 15,2001
Copyright: July 8, 2001. All Rights Reserved. Reviews, Interviews, Commentary, Photographs or Graphics from any Broadway To Vegas (TM) columns may not be published, broadcast, rewritten, utilized as leads, or used in any manner without permission, compensation and/or credit.
Link to Main Page
---
Laura Deni



U.S. Postal Address: Post Office Box 60538, Las Vegas, NV 89160
CLICK HERE FOR COMMENT SECTION