! >
Broadway To Vegas
  SHOW REVIEWS     CELEBRITY INTERVIEWS     GOSSIP     NEWS 
HAPPY FOURTH OF JULY!
A WHITE CHRISTMAS IN JULY

The star of the new musical hasn't seen the script. Yet, she signed a contract to do the show and they open in two weeks.



KAREN MASON signed on without seeing the script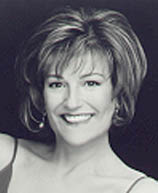 Sounds like a Judy Garland/Mickey Rooney movie. It's not. Instead, it's the real life world premiere of a stage musical based upon the classic movie White Christmas with music by Irving Berlin. Rehearsals begin July 6 and they open on the 17th at The MUNY in St. Louis. Those daunting prospects don't scare veteran performer Karen Mason.

"I bet you'd be surprised how many people sign contracts to do shows who don't read the script," responded Mason who recreates the role of Betty that Rosemary Clooney immortalized in the classic movie.

"You know what," continued the singer who possesses an intriguing, throaty laugh, "in this business a lot of time you're just happy to be working."



HOWARD KEEL portrays the general turned innkeeper in White Christmas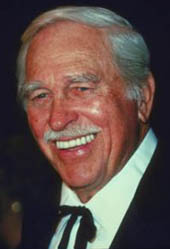 Mason hasn't gone begging for this part. She had to rearrange her hectic cabaret singing schedule to accommodate this production, which has the incredible Howard Keel as the retired general turned innkeeper.

"Stock is about that," continued Mason. "You rehearse one week and you perform one week. So, we actually have a week-and a half to get ready. I fly out Wednesday and see the script for the first time the next day, which is when we begin rehearsals.

"I'm actually pretty good a memorizing. Repetition does that for me. You probably see most actors go home after their rehearsals and sit with their scripts and try to come back the next day with something a little more in grained. And, after a week and a half it's not that hard to remember.

Turning an American tradition into a different form can be risky. The movie White Christmas has become a holiday tradition. Many don't like to see what has become comfortable changed - although the movie White Christmas was actually a remake of the fabulous film Holiday Inn.Before its release White Christmas received blasting criticism for removing many of the musical standards which were in Holiday Inn. After its release White Christmas accomplished something no other remake has ever done - not only surpassing the original, but established itself as a classic.



WHITE CHRISTMAS was actually a remake of Holiday Inn.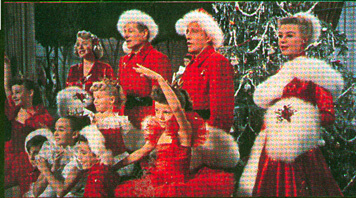 How are you going to compete with that?

"We are going to run up against the myth of it the mythology of it (the movie) I haven't seen the final script, We are going to be singing a lot of the same music and adding some. They were keeping a lot of the music. I know that Blake who is doing the rewriting - adapting it for the stage was changing some things. But, I doing the don't know what.

"We did one reading of it and I don't know how much of it he saw that he needed to go back to (the movie) or change away from. I haven't seen the final script," she reiterated.

"Every body remembers certain things about the movie. Even my agent when he saw the reading said - Paul, you know you're going to have to include such and such because everybody remembers that

"Rosemary Clooney has left a very lasting impression - more than the others who were in it - upon people's minds about her character in the film.

"Everybody's response has been great," emphasized Mason. "It makes people feel warm. We have a great case. Lauren Kennedy is playing Judy which was the Vera Ellen role. She and I were roommates when we were doing Sunset in Los Angeles. So, for use to be playing sisters is Fun. Lara Teeter is playing Bob Wallace - Bing Crosby role - we did the MUNY last year and he is amazing. Lee Roy Reams is Phil Davis - the Danny Kaye role. We've been friends for a long time. Howard Keel is the general turned innkeeper and Karen Morrow is the inn's nosey housekeeper. So, this going to be like family. It's a great, strong cast. It's going to be a lot of fun and I really have great feelings about it.



KAREN MASON has played Norma Desmond over 150 times in the Broadway and Los Angeles productions of Sunset Blvd.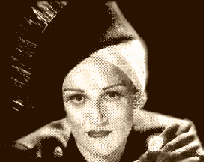 So we a lot of other people. Before the actors have seen the scripts that are offers to have the musical surface as a yearly seasonal - playing October-New Year's the way the Radio City Musical Hall Christmas show has turned into an annual tradition. "As least I know I'd have work four months a year," quipped Mason who starred in Jerome Robbins' Broadway - playing Mazeppa and singing Mr. Monotony. Authority figures are also going to be giving it the once over or Broadway.

For Mason this production was almost a tailor made creation. "Actually, I did not audition for this. The great thing about the MUNY - and a lot of summer stock groups - is that a lot of times they really know who the talent is in New York. All of the directors who are directing at the MUNY are New Yorkers. They are all very aware of the pool of talent in New York and it's an Amazing pool of talent.

Even though Mason was subjected to a cattle call she doesn't mind the audition process. "After all of these years of auditioning I don't mind auditions so much. What I don't like is auditioning and not getting the job. I like auditioning and getting hired," she laughed.

"I had done a show for the MUNY last year called The MUNY Goes British. Paul Blake is their artistic director. We got along. He said he sort of had this idea and would I be interesting and I said absolutely.

"Paul liked what I did last year. I guess last year was kind of my audition. So, it can't be anything but fun because it's got that great music and some great people on stage. So I feel really lucky.

The world premiere of the stage musical based on the classic film White Christmas with songs by Irving Berlin, begins rehearsals July 6th in St. Louis. Directed by Charles Repole with choreography by Thommie ("A Chorus Line") Walsh, the musical will have a revised book by Paul Blake. Opens at the outdoor St. Louis MUNY Opera July 17 through 23, 2000.

NEXT WEEK KAREN MASON CONTINUES THE INTERVIEW AND DISCUSSION SOME HARD SUBJECTS SUCH AS SELF PROMOTION, HOW TO GET HIRED, BAD CHECKS AND HOW TO SURVIVE AND SUCCEED


PHANTOM OF THE OPERA THE NATIONAL TOURING COMPANY

We've seen and enjoyed Andrew Lloyd Webber's Phantom of the Opera several times on Broadway beginning 12 years ago with Michael Crawford in the lead as The Phantom, when the production won seven Tony Awards.

Now on a national tour, five Phantom semi trucks shut off their engines in the parking lot of the Orpheum Theatre in Omaha, Nebraska. It was the first time the Victorian melodrama has been staged there so we decided to check it out and sent Michael Ashleman to attend yesterday's matinee.

"The 2700 seat theatre was filled to at least 95 percent capacity. Those attending were dressed to the nines - their Sunday best. It was a statement of appreciation towards the production they were seeing and nobody was disappointed," explained Ashleman who has also seen the Broadway version.

"The props so closely resemble the Broadway show that it's amazing. They also blended into the Orpheum, which is an elegant theatre with a European look - really as nice a theatre as any you'd find in New York.

"The chandelier crashing was particularly dramatic because they had it hung where one of the Orpheum's chandeliers normally hangs," he continued. "So, it was all the more startling because the audience wasn't expecting it. When it crashed half the audience jumped out of their seats. From that moment on they were totally captivated and entranced by the show.

"This is a flawless production. It's as good as the Broadway production. For the Saturday matinee and the Sunday evening show the part of Christine is played by Megan Starr-Levitt. It's not fair to call her an understudy. She's the person who stars as Christine during those performances. She's performed the part on Broadway with the San Francisco cast and has numerous regional credits. She's got a degree in music from the University of California at Irvine and from the San Francisco Conservatory of Music. She was excellent," he emphasize.

We note that it is soprano Rebecca Pitcher who stars as Christine during the other performances.



TED KEEGAN and the Chandelier at the Paris Opera House, just before Ted joined the Music Box Company of The Phantom of the Opera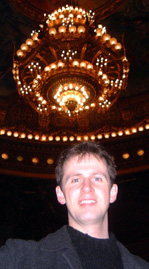 "Ted Keegan, who is a tenor, stars as The Phantom and there isn't anything to criticize about him. He was outstanding. It's a difficult role and he never loses focus. He brings along the audience with every emotional change and nuance. Everybody in the cast is great. They didn't change the music or the orchestrations. It's the same soaring, dramatic, music that is in the Broadway show or on the cast album. Glenn Langdon conducts outstanding the 15-piece orchestra.

"You can't forget the fellow who plays Raoul the character that is the phantom's rival for Christine," Added Ashleman. " He's played by Jim Weitzer who is both handsome and can sing. Also doing stand out jobs were Julie Schmidt, as the temperamental and jealous diva Carlotta, and Rebecca Judd, imperious and commanding as ballet director Madame Giry. David Cryer and Bill Carmichael, as opera impresarios won extended audience applause.

"A credit to how strong the show is was apparent by the audience reaction. At intermission when they flashed the lights, giving the warning that the second half was about to begin, everybody immediately went to their seats so they didn't miss a second of the show. There were standing ovations and at the end when Keegan came on stage there was even whistling, stomping, cheering and the kind of carrying on that you really don't expect outside of a rock concert.

"It amazing how they can transport such a production - the fog, the lights, the boat gliding through the canal, all of the elaborate costumes and wigs. They didn't short change the audience on anything. It's all there and it's all top quality. The sets are awesome. He crew deserved a standing ovation, too.

"Even the people selling the masks, T-shirts, and other memorabilia were classy and entertaining with great theatre voices. It was a class act all the way around and a better production you're not going to see anywhere. The audience was composed of all ages - from children to grandparents and everyone enjoyed it."

The cast includes: Ted Keegan, Rebecca Pitcher, Richard Todd Adams, Julie Schmidt, Ian Jon Bourg, David Cryer, Jennine Jones, Steven Stein-Grainger, Betina Hershey, Thomas Schumacher, Jack Savage, William R. Park, Allen Kendall, Jay Lusteck, Lawrence Asher, Joseph Woelfer, William Patrick Dunn, William Solo, Kirk Vaughn-Robinson, Lydia Rajunas,Gregoney Shepherd, Kathy Voytko, Linda Milani, Laureen Vigil, Mary Lou Reiner, Melissa Allen, Judith Hoenig, Anita Intrieri, Kristi Patricia, Lisl Vaillant, Laurie Volny, Michelle Lucci, Larry Adams, Ray Gabbard, Leslie Giammanco, Barbara Scanlon, and Megan Starr-Levitt.

Performances continued through July 22. Tickets $17.50-$67.50.


SWIMMING WITH THE FISHES

Back in the good old days when a person in Las Vegas heard "swimming with the fishes" or "being in bed with the sharks" there was a certain understanding.

All of a sudden the vocabulary definition has to expand as Mandalay Bay Resort unveiled their Shark Reef in which aquatic animals really are swimming around and the only thing in cement are decorative urns - although we admit we didn't dig around inside to see if any DNA was Identifiable.

The fascinating exhibit features one of North America's largest displays of sharks and other sea predators, including close to 100 different species of sharks, exotic fish, reptiles and turtles in a 90,000 square-foot underwater experience.



SHARK REEF at MANDALAY BAY RESORT Las Vegas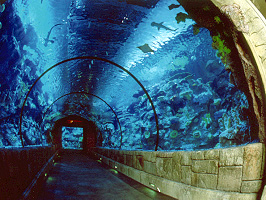 Visitors walk through an unbelievable experience - as if on the ocean floor - exploring the ruins of what was an ancient temple, its ornate stone walls overtaken by jungle vegetation and rising seawater. Each turn brings the visitor another encounter with some of the world's most fascinating and dangerous predators; ferocious saltwater crocodiles, venomous tropical fish, alluring jelly fish, and, finally, more than a hundred sharks of a dozen species swarm around you as you stand on the deck of a sunken pirate ship.

The sharks include blacktip reef sharks, bonnethead, nurse and lemon sharks - some growing more than 12 feet long.
The tropical and fresh water fish include: several species of angelfish, puffer fish and tang fish. Venomous tropical fishes include the radiated lionfish and the coral catfish.

Crocodiles, green sea turtles and ravenous water monitors are among the reptile species. There are also eels, invertebrates and rats each of which have their own exhibits.

The shark diet is your normal fish restaurant menu. The younger creatures are fed daily, while adult sharks are fed three times per week. A 200-pound tiger shark will eat about four pounds of food every week, mostly capelin, squid. Mackerel, prawn and scallops.

Developed in consultation with the Vancouver Aquarium Marine Science Centre of Vancouver, Canada, the one of a kind marine experience. The next time you're in Las Vegas - don't miss it.



Broadway To Vegas is supported through advertising and donations. Priority consideration is given to interview suggestions, news, press releases, etc from paid supporters. However, no paid supporters control, alter, edit, or in any way manipulate the content of this site. Your donation is appreciated. We accept PAYPAL. Thank you for your interest.


SWEET CHARITY

BERNADETTE PETERS, MARY TYLER MOORE and a Galaxy of Other Stars Return for "Broadway Barks! 2" Peters and Moore will host the second annual "Broadway Barks!" in Shubert Alley on Saturday, July 15, from 3:30-6:30 PM, with the celebrity presentation from 5:30-6:30 PM.

The event, a star-studded dog and cat adoption, is expected to draw thousands of theater fans, pet lovers, and others. Stars slated to appear include legendary actress Celeste Holm; Tony Award winners Heather Headley (Aida), Bebe Neuwirth, and Joel Grey; Patrick Stewart (The Ride Down Mt. Morgan); Tom Wopat (Annie Get Your Gun); Andrea McArdle (Beauty and the Beast); Michael Mulheren (Kiss Me, Kate); Ruth Williamson (The Music Man); Adam Pascal and Sheri Rene Scott (Aida); Joely Fisher and Maureen Moore (Cabaret); Bryan Batt (Saturday Night Fever); Howard McGillin and Sarah Pfisterer (Phantom of the Opera); Catherine Hickland (ABC's One Life To Live), among others.

Broadway Barks! 2 is produced by FIDONYC an animal welfare organization founded two years ago by Peters and Moore. July's event will build on the "howling success" of last summer's initial Broadway Barks!, which delighted an audience of about 6,000 people.

"Thousands of dogs and cats in New York's shelters are in desperate need of homes," said Bernadette Peters. "I adopted my dogs, Stella and Kramer, from the ASPCA and CACC. Instead of going to a pet store, I chose to save lives," she continued. "Adoption is a simple, easy act of love that's brought me great joy over the years."

"If, for some reason, you want a purebred dog," offered Mary Tyler Moore, "there are many breed-specific rescue groups. I have a Golden Retriever that I rescued from Yankee Golden Retriever and I have a Miniature Schnauzer that I adopted through Petfinder.com. Mixed or pure - they are all lovable and need your help."

THE PHYLLIS NEWMAN WOMEN'S HEALTH INITIATIVE will benefit from Tony winner Karen Ziemba of Contact fame, joining Bebe Neuwirth, Sandy Duncan, Donna Murphy and Lea DeLaria for a July 17 reading of Clare Booth Luce's famous play, The Women.

This high-camp event happens at New York City's Lortel Theater.



THE MAN IN THE FLYING LAWN CHAIR

TOBY WHERRY portraying Larry Walters in Man in the flying Lawn Chair.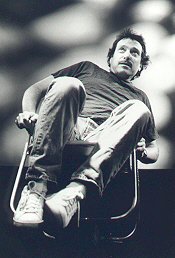 investigates the strange but true life of Larry Walters, who, with the help of fifty surplus weather balloons, launched himself to 16,000 feet in an aluminum lawn chair where he was spotted by passing aircraft.

Mr. Walters dropped out of sight after enjoying a brief 15 minutes of fame - including an appearance on David Letterman Late Show, but not before securing his place as a cult hero for outcasts and daredevil weirdoes everywhere.

Conceived and directed by 78th Street Theatre Lab's Artistic Director Eric Nightengale, Man in the Flying Lawn Chair begins performances July 6th at the 78th Street Theatre in New York City.

The show stars Toby Wherry as Larry Walters.

In addition the cast includes; Carey Cromelin, Monica Read, Kimberly Reiss, and Troy W. Taber.


WHO'S WHERE

KT SULLIVAN Coinciding with the release of her new album on the DRG label, KT Sullivan will perform "The Sweetest Sounds of Richard Rodgers" at The FireBird Cafe' on West 46th Street. The tribute to the legendary composer of Oklahoma!, The Sound of Music, The King and I and South Pacific will include such classics as I Have Dreamed, Something Wonderful, The Sweetest Sounds, Love, Look Away and many others. Sullivan's run begins on Wednesday, July 5 and concludes Friday, July 21.

'N SYNC sold-out the Kiel Center in St. Louis - all 15,135 tickets swooped up in 37 minutes.

RAY CHARLES July 4 Washington, D.C. at the US Capitol.

CLINT BLACK playing blackjack at the Las Vegas Hilton last Thursday.


FINAL OVATION

WALTER MATTHAU born Waler Matuchauskayasky on October 1, 1920 in New York City passed away yesterday of a heart attack at St. John's Hospital in Santa Monica, Calif. He was 79. He won an Oscar in 1966 for The Fortune Cookie and became loved by millions for his portrayal of sloppy Oscar Madison in The Odd Couple, a role he originated on Broadway. His adored son, Charlie, is a film maker who in 1995 directed his father in The Grass Harp.



Mention BROADWAY TO VEGAS for Special Consideration
Call (800) 942-9027









Next Column: July 9, 2000
Copyright: July 2, 2000. All Rights Reserved. Reviews, Interviews, Commentary, Photographs or Graphics from any Broadway To Vegas (TM) columns may not be published, broadcast, rewritten, utilized as leads, or used in any manner without permission, compensation and/or credit.
Link to Main Page
---
Laura Deni


CLICK HERE FOR COMMENT SECTION