! >
Broadway To Vegas
  
 SHOW REVIEWS CELEBRITY INTERVIEWS GOSSIP NEWS

| | |
| --- | --- |
| | |
ELECTRICIAN VS. CIRQUE DU SOLEIL - - RE-WORKING LENNON - - VEGAS SPAMALOT NEEDS HIGH POWERED STARS - - MOBY DICK! THE MUSICAL - - BRITISH ARTS LOSE OUT ON LOTTERY MONEY - - BLANCHE & BEYOND - - PICKIN' THAT BANJO - - FIRST ANNUAL KANSAS CITY FRINGE FESTIVAL - - DONATE . . . Scroll Down


Copyright: July 31, 2005
By: Laura Deni

CLICK HERE FOR COMMENT SECTION
LAS VEGAS VERSION OF THE QUEST FOR THE HOLY GRAIL
Davie Hyde Pierce, Hank Azaria, Christopher Sieber, Steve Rosen, and Tim Curry. Photo by Joan Marcus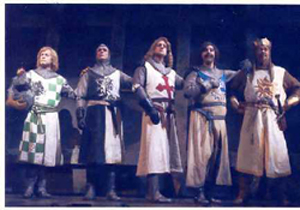 Decapitated knights and flying cows set to music. A chorus line of dancing divas and knights, flatulent Frenchmen, killer rabbits and one legless knight. Has Vegas written all over it.

Steve Wynn's announcement that he was bringing the Tony award winning Spamalot to the Wynn Las Vegas Hotel surprised nobody.

Vegas is goofy and zany. Spamalot fits the Vegas mindset more than The Phantom of the Opera, which is set to open next year at The Venetian Hotel.

Problematic is the boastful 10-year contract. Actually, it's ten years if options are picked up.

To make it work in Sin City the Vegas 90-minute truncated version will require a rotating cast of high powered performers.

The musical started out 30 years ago as a silly, small-budget British film called Monty Python and the Holy Grail. a wacky take on the legend of King Arthur by the irreverent British comedy troupe Monty Python - a British comedy troupe that achieved cult status in the '70s with its TV show, Monty Python's Flying Circus.

We were in Vietnam and in desperate need of smart silliness. Monty Python fit the bill.

Thirty years later we've had 9/11 and more. This was the first show to open on Broadway since 9/11. It delivers a desperately need message - singing songs about how they're not dead yet. That we are not totally responsible for everything.

The 1975 film was lovingly embraced by adolescent boys of every age for its zany satire, its goofy meditations on death and migration, its use of halved coconuts to clap out the sounds of fancy hoofwork, its French cows sent a-flying and its vicious white rabbit.



Thomas Cannizzaro, Christian Borle, Hank Azaria, and Greg Reuter as the French Guards. Photo by Joan Marcus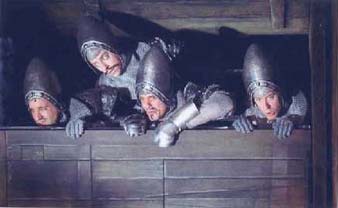 Many who are buying the tickets at more than $100 a pop would usually never think of seeing a Broadway show. That also makes it a perfect fit for Vegas.

Creator Eric Idle has described the show as "intelligent men being stupid." That also makes it a perfect for Vegas.

While folks may muse over concept, need for emotional release and the like - don't discount the enormous importance of the cast. That is a facet that is being brushed aside in the hoopla for headlines.

The Broadway version is a wacky hybrid. They admit to lifting from Vegas and Super Bowl half time shows. Much is a parody. Sophomoric sight gags abound.

Tim Curry plays King Arthur. David Hyde Pierce is Sir Robin, the Not-Quite-So Brave. Hank Azaria does multiple duty as the gay Sir Lancelot to the loathsome French Taunter to the Knight of Ni and Tim. Sara Ramirez, who plays The Lady Of The Lake, is the lady with a curvaceous body and an impressive voice that slides from opera to jazz with stunning ease. It's a diva dream role and she makes the most of it - taking home a Tony.

The Broadway ensemble is also stellar. There isn't a weak person in the cast. That is crucial to pulling off a live production where the direction can't yell "cut" and do it over.

The Broadway cast makes loopily quirky look easy.

Comedy is hard.

What will keep the show in Vegas is a rotating cast of star power names. And, those names better be able to deliver odd-ball. In the hands of the wrong cast this show is nothing more than a dinner theater production minus the eats. Or, a college fraternity show.

The has never been a Broadway show that has played Las Vegas that has been so dependent upon a comedic cast keeping the production elevated to a professional level.

Offering a 90 minute truncated production at a hundred dollars a pop is asking audiences to cough up a lot. Granted, the Broadway show could use a hair cut. About midway through the second act, it veers off course and heads into tired gay clichés.

Granted, Wynn Las Vegas will construct the 1,600 seat Spamalot Experience and Grail Theater, paying for the venue and staging of the show at a cost of more than $50 million.

Nobody should question that the theatre will be in tune with the production - patrons walking into a castle, much as they do in New York. Idle, along with the show's original designer, Tim Hatley, will create the Spamalot Experience and Grail Theatre. Naturally, there will be a gift shop. Merchandizing is an important element of this production.

The gloss goes only so far.

It will be the cast that makes or breaks the production.

Before opening in Las Vegas in 2007 the show will have played on Broadway for years, and toured nationally with the exception of California, Arizona and Utah, according to the terms of the Wynn contract. Banking on a Vegas production surviving for a decade thanks to theatre goers that are residents of a tri-state area is a bigger quest than the one for the Holy Grail.


PICKIN' THE BANJO STAGES A COMEBACK


Banjos - the newest musical growth industry.

So says the affable Greg Derring as he strolls the aisles of the Association of Woodworking and Furnishing Suppliers (AWFA) convention in Las Vegas.

Many thought the banjo was going the way of the zither.

Derring looks shocked. Then, like a kind uncle he assures - "Everybody" is playing the banjo."

Young, old, school children, professionals?

"Yes, yes, yes, and yes," he smiled.

"Western North Carolina is the focus for Banjos. That's where Earl Scruggs, Doc Watson hail from," he said rattling off a long list of banjo pickers.

"They teach banjo in the schools."

Started in 1975 out of their San Diego family home, Janet and Greg Deering have created a business that now fills their Spring Valley based 18,000 square foot factory to capacity with over 40 employees actively engaged in making their 4 lines of banjos.

With a pledge to each other to "never give up" and a shared passion for independent business and building banjos, the couple has carved a name for their company worldwide.

Back in the early years, Greg Deering was part of a company known as The American Dream which was made up of other dedicated young craftsmen who today also own well-known company's of their own like the Deerings' - Bob Taylor and Kurt Lustig of the Taylor Guitar Company.

Deering Banjo Company is noted for the broad diversity of its banjos, producing four distinct lines to meet the many needs of their customers. The rock maple Goodtime banjos are the most popular selling American-made banjos with professional playability at an affordable price.

Deering Banjos continues the 100-year old tradition of Vega old time styles with it's Vega line of banjos for not only the popular frailing style but for banjoists interested in a premium quality light-weight openback or resonator banjo with or without the traditional tubaphone tonering.



Rod Stewart plays a Deering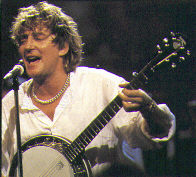 The Deering Banjos range from 4-string through 12-string, with the 6-string banjo being ever popular among both professional and guitar enthusiast alike. In 1986, Deering banjos patented their Crossfire electric banjo that today is played by such prominent musicians as Bela Fleck, the Dixie Chicks, Diamond Rio, the Garth Brooks Band, Roy Clark, the Indigo Girls, and many others.

The new Tenbrooks line of banjos introduced in 2004 has four models, which includes the 30th Anniversary model. Bela Fleck, Tony Trischka, Jens Kruger, Bill Evans, and Joe Bonsall of the Oak Ridge Boys are among the top professionals who are now playing a Tenbrooks model.

The 30th Anniversary model - limited to a production of only 30 banjos - has an ebony fingerboard and peghead inlaid with beautifully ornate and highly engraved mother of pearl; a design created by Greg Deering himself. It is crafted from premium quality curly rock maple and stained in a dark tobacco color.


FIRST ANNUAL KANSAS CITY FRINGE FESTIVAL


The first annual Kansas City Fringe Festival, which opened July 29, is a three-day event packed with live theatre, dance, performance art, visual art, spoken word, puppetry, storytelling, film and fashion. Local, regional and national artists are presenting events for three days at venues throughout the Crossroads District and Downtown Kansas City.

Fringe roots trace to the Edinburgh Fringe Festival in Edinburgh, Scotland, which spontaneously erupted in Edinburgh, Scotland in 1947. Eight groups, not invited to perform in the larger Edinburgh Festival of the Arts, created makeshift theatres on the outskirts - or "fringe" - of the established festival. Soon the Fringe Festival gained a large and loyal following, outstripping the mainstream festival.

Fringes around the world have adapted a simple formula that was created in Edinburgh. The main principles were to provide all artists (both emerging and established) with the opportunity to produce their play no matter the content, form or style, and to make the event as affordable and accessible as possible for the members of the community, empowering audiences with the ability to decide for themselves the truly great productions from the good, the bad, and the gloriously disastrous.

Today, the Fringes' guiding principles involve uncensored artistic expression, accessibility, and community development. The Fringe encourages artists and audiences to explore boundaries and make bold choices in the creation of art. The Fringe community is well established, existing worldwide. The KC Fringe Festival's goal is to provide artists an opportunity to create and perform new material right here in their our back yard.



Broadway To Vegas is supported through advertising and donations. Priority consideration is given to interview suggestions, news, press releases, etc from paid supporters. However, no paid supporters control, alter, edit, or in any way manipulate the content of this site. Your donation is appreciated. We accept PAYPAL. Thank you for your interest.


OTHER PEOPLE'S MONEY


A REAL LIFE 11TH HOUR SETTLEMENT which rivaled any of the last minute Perry Mason dramatic endings, took place Friday in a Las Vegas courtroom.

An injured electrician, Mark Brown, 51, took on Cirque du Soleil - and won.

Literally minutes before District Judge Michelle Leavitt was to read the jury verdict - $41.6 million - the largest personal injury verdict in Southern Nevada history - attorneys announced they had reached a settlement.

The settlement stops any appeal which would have dragged through the court system for years. The settlement will be immediately forthcoming and thus permits the victim to get on with his life - as best he can.

Brown was paralyzed from the waist down and lost about 25 percent of his skull as a result of the January 30th, 2002, accident. Brown was installing circuitry and wiring for the O show at the Bellagio Hotel when the prop fell 50 feet onto him.

During the five week trial, the electrician's lawyer, James Crockett, argued that the Canadian acrobatic troupe negligently designed a rigging used to suspend a one-thousand-pound prop in its O show.

Crockett told jurors the faulty design of the prop, which resembled an alligator head, left a tiny screw "about the size of a baby's tooth" carrying its load.

Crockett explained that the prop was designed by a Cirque employee who had just graduated from engineering school and had no prior experience.

Crockett emphasized that Cirque rushed the prop into production, without any adequate safety inspections, because it was anxious to meet the opening deadline for the O production show.

Attorneys for Cirque du Soleil blamed the Bellagio for the incident. Attorney D. Lee Roberts told jurors the prop was hung from the ceiling using the wrong type of cable, causing the rigging to unscrew, and that employees of the Bellagio never inspected the rigging over 194 weeks of use during the O show.

The Bellagio was not been named in the lawsuit.

Protected by Workmen's Comp, the Bellagio has paid $1.9 million medical bills for Brown. That is a drop in the bucket of the medical expenses and lifetime care he will require.

Brown has undergone multiple surgeries and continued rehabilitation. He is plagued with uncontrollable spasms and pain. In the future he will have to undergo a series of reconstructive surgeries that will attempt to make him look normal again, although each side of his face will no longer be aligned.

GLENGARRY GLEN ROSS the Tony award winning revival by David Mamet at the Bernard B. Jacobs Theater has recouped its $2 million investment. The show is scheduled to run through Aug. 28. Producers have announced plans for a limited engagement in London next year and a national touring production in 2006-7.

ARTS LOSE Camelot, the lottery organization of Great Britain announced that arts and heritage projects, which have in recent years benefited hugely from people playing the lottery, will lose out on tens of millions which will be diverted to help fund London' hosting the 2012 Olympics.

At present about 45 per cent is earmarked for sports. The remainder goes to the Big Lottery Fund, and major arts and heritage projects. Now an Olympic scratchcard would raise half of Lotto's contribution to the Olympic fund. The remainder would come from lottery profits that would otherwise have gone to funding museums and exhibitions.

The arts community is not going quietly into the night. Mark Wood, chairman of the Museums, Galleries and Archives Council said the issue would now "dominate the agenda" in his talks with Government departments.

"This is a serious amount of money but I suspect you have not heard the end of the story," he said. "Museums and galleries are among the most popular tourist attractions in the UK and they are a part of the bigger role of the 2012 Games. With that in mind we will want to make sure that we don't lose out on the Olympic dividend."

He said that in exchange for co-operation on Olympic lottery plans, his members would be hoping for direct government funding, especially in the regions.



Pliosaur - anatomy shows short necks, large heads, and four powerful paddles. They probably "flew" through the water much as penguins and seals do today. Flying even faster are funds away from museums.

Sir Nicholas Serota, the director of the Tate Museum, warned that it is important that the Games don't "cannibalize" all the money required for culture between now and 2012: "The Olympics has to be additional and a catalyst and not instead of what we are doing at present."

Currently on loan to the Tate Museum from the University of Wyoming, is a five foot long flipper - from a marine reptile known as a pliosaur.

This original specimen was found in Wyoming during the 1900's and named Megalneusaurus rex by W.C. Knight.

The Tate staff have already molded and cast the specimen to form an additional exhibit.

Pliosaurs lived during the Late Jurassic, 155 million years ago, and were possibly the fiercest and largest sea reptiles of the time.


SPREADING THE WORD


ARTISTIC LEADERS,CRITICS, AND BUSINESS OWNERS to Discuss Theatre in Williamstown.

The Williamstown Theatre Festival is hosting a panel discussion on Monday, August 1 on the Nikos Stage entitled, Theatre in Williamstown: The Next 50 Years. The event is free and open to the public. Topics include; previous and present productions, the role of an artistic director and critic in relation to the community and the impact on the local economy. Questions from the audience will follow the panel discussion.

Distinguished panelists include Roger Rees, WTF Artistic Director; Robert Baker-White, Chair and Professor of Theatre at Williams College; Jeffrey Borak, Arts Editor and theatre critic at The Berkshire Eagle; Michael Eck, Albany Times Union theatre critic; Ralph Hammann, theatre critic for the Advocate Weekly; Paul Lovegreen, owner of Tunnel City Coffee and President of the Williamstown Chamber of Commerce; and Sayed Saleh, owner of The Orchards Hotel.


GO FLY A KITE


Held annually since 1985 the Berkeley Kite Festival and West Coast Kite Championships is the largest festival of it's kind in the western United States.

Taking place yesterday and today, July 31st, the sky above Berkeley is a playground for a flock of colossal nylon critters. You can watch experts wave their colorful creations high in the air, or learn to fly - and even make - your own. Some of the highlights include the Rokkaku Kite Battle for the Skies, a kite-powered buggy demonstration, a kite ballet and a world-record attempt for the longest dual-line train of 260 kites.

It's also a chance to see the latest in kite technology through demonstrations given by top kite makers. Plus special guest and multiple kite world champion, Ray Bethell from Canada.

From the Octopi Kites that are as big as a house to the free Kite Making and Candy Drop for kids, the festival also offers food and music. Cesar E. Chavez Park at the Berkeley Marina in Berkeley, CA.



BLANCHE AND BEYOND

Richard Thomas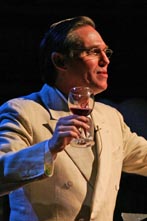 Adapted and Directed by Steve Lawson.

Richard Thomas returns to Williamstown Theatre Festival in this performance based on the letters of Tennessee Williams.

Blanche and Beyond, the sequel of Steve Lawson's A Distant Country Called Youth, brings to life the private correspondence of Tennessee Williams between the years 1945 to 1957. This sequel spans the peak of Williams' career - from the Broadway triumphs of The Glass Menagerie and A Streetcar Named Desire through Summer and Smoke, Camino Real, and Cat on a Hot Tin Roof. In letters both hilarious and poignant to the likes of Elia Kazan, Jessica Tandy, and Gore Vidal as well as his critics, lovers, and family, a no longer obscure Williams faces the seismic shock of international fame.

Main Stage August 8 Williamstown, MA.

THREE DAYS OF RAIN a revival of Richard Greenberg's generational drama will star Julia Roberts who will be making her Broadway debut.

Directed by Joe Mantello, the three person play will also star two men, whose identities have not yet been announced. The production, expected to be a limited run of just 12 weeks, will start performances in March at a Shubert theater.

The play was first staged in New York in 1997 at the Manhattan Theater Club. Played in two acts set 35 years apart, "Three Days of Rain" tells the story of a brother, a sister and a family friend delving into a secret at the heart of their parents' relationship. The actors play the children in the first act and the parents in the second.

BUDDIES a world premiere play, based on the novels by Ethan Mordden, adapted and directed by Scott Smith and starring New York Outer Critics Circle Award winner Felix Pire. Buddies is the first theatrical adaptation of Ethan Mordden's groundbreaking series of novels that brought thousands of people into the world of a small group of friends – gay men – living in Manhattan from 1969 through the 1990's. With their lives and loves as the canvas, an extraordinary time and place in gay history was revealed. It is a compelling and emotional look at gay culture defining itself post-Stonewall. Beyond telling the stories of coming out and the battlefield of AIDS, Buddies captures something all but lost in Queer history – mainly, the hearts and souls of the men who lived through it.

The first four books in the series were wildly popular and the fifth novel in the Buddies cycle, How's Your Romance will be released by St. Martin's Press in September. The cast of Buddies will include: Ronnie Alvarez, Mark Davis, TL Kolman, Felix Pire, David Clark Smith and Jon Woodward. The set design is by Curt Boetcher. Limited Engagement opens August 4 at Celebration Theatre in Hollywood.

JERSEY BOYS based on the singing group The Four Seasons will star John Lloyd Young, as Frankie Valli. Young has been a guest artist for the past two years at the William Inge Theatre Festival in Independence, Kansas, and a member of the festival's national advisory board.. At the Inge Festival in April 2005, Young starred as a handicapped young man in Magician's Choice, by Lynne Kaufman, played Bailey in The Night Thoreau Spent in Jail and appeared in the Tribute to honoree playwright Tina Howe. He also participated in public theater workshops and panels and performed at the 2004 Inge Festival honoring Arthur Laurents.

Jersey Boys will mark Young's Broadway debut. He has appeared regionally in The Drawer Boy opposite John Mahoney, The Chosen opposite Theodore Bikel at the Paper Mill Playhouse, as well at the Kennedy Center, Coconut Grove Playhouse and TV's Law and Order.

Jersey Boys, previews Oct. 3 and opens Nov. 6 at the Virginia Theatre in New York.

LENNON the biographical musical about John Lennon, has delayed its Broadway opening at the Broadhurst Theater by 10 days to work out kinks in the show. The $7 million production, is now scheduled to open Aug. 14. British director David Leveaux is now on board working as a "friend of production," offering advice on the show's structure and characters including the addition of a new song.

THE SUGAR SYNDROME The second production of the 2005 Nikos Stage Williamstown Theatre Festival season opened July 27. The American Premiere of Lucy Prebble's The Sugar Syndrome is directed by Maria Mileaf.

The production features Betsy Aidem, Patch Darragh, Gaby Hoffmann, and Tim Hopper.

Seventeen-year-old Dani surfs internet chat rooms searching for someone who is honest and direct. What she finds is a man twice her age who thinks she is an eleven year-old boy.

Lights by Nicole Pearce. Sets by Takeshi Kata. Sound by Nick Borisjuk. Costumes by Katherine Roth. Stage Manager David H. Lurie.

Nikos Stage through August 7 Williamstown, MA.

HAROLD & MAUDE An Intimate Musical: Book and lyrics by Tom Jones. Music by Joseph Thalken. Directed by Robert Kelley. (Through Aug. 14. TheatreWorks, Lucie Stern Theatre, Palo Alto, CA.

MOBY DICK! THE MUSICAL by Robert Longden and Hereward Kaye - inspired somewhat by the 1954 British movie, The Belles of St. Trinians.

A story within a story, it's about how a group of students put on a play. as a fundraiser for the school - an honest adaptation of the Herman Mellville classic Moby Dick.

With a bass-baritone headmistress affectionately nicknamed 'Head' to lead them, a rambunctious class of girls from St. Goodleys Academy stage their own interpretation of Melville's classic tale of a whale to raise the dough to keep their beloved school afloat. The score spoofs the music from Boy Bands, '80s pop, and '50s Do-Wop to Gilbert and Sullivan.

The show starts on a commencement day in the star filled grounds of a gothic school. The opening Chorale is the calm before the storm. Soon the stuffy traditions are set aside and gowns and mortar boards thrown off to make way for a fast, high energy, pop musical with the drama tutor playing Capt. Ahab and the kids playing everything else - including a school of fish.

The cast includes Kevin Duda (Gardiner), Tory Ross (Esta) and Katie Pees (Ishmael). Also in the cast are Osborn Focht (Ahab/Head), Alexandra Ellis (Queequeg), TJ Moss (Pip), Amanda Bonner (Tashtigo), Mark Catlett (Janitor/Elijah), Rebecca Johnson (Starbuck), Cedric Leiba, Jr. (Daggoo), Laura Oldham (Stubb), Frank Viveros (Father Mapple), John West (Coffin) and Sara Barnes and Chris Gleim in the ensemble.

The creative team includes music director Kevin Wallace, choreographer Kate Gelabert, costume designer Brian O'Keefe, scenic designer Ken Goldstein and lighting designer Andrew J. White.

First presented at London's West End in 1993 the first major American production is presented by the Seaside Music Theater in Daytona Beach, Florida. Opened July 28 with performances through Aug. 7.


| | | |
| --- | --- | --- |
| | | |
WHO'S WHERE


HANK WILLIAMS, JR on stage August 6 at the Aladdin Hotel in Las Vegas.

MERCY ME perform on Tuesday, August 2, at Darien Lake Six Flags Performing Arts Center in Darien Center, NY. On Thursday the show is at People's Church in Nashville. Friday finds the group at Kings Dominion in Doswell, VA. On Saturday they are on stage at Rock The Desert Ministries in Midland, Texas.

STEVIE NICKS performs at The Colosseum at Caesars Palace in Las Vegas on August 6.

PAUL ANKA one of few artists to have a record on Billboard's Top 50 charts for five consecutive decades. Beyond the recording studio, Anka has achieved unprecedented success on stage, screen and television and was recently named one of the top 25 Billboard Artists of All Time. Paul performs Aug 5-6 at Lenape Regional Performing Arts Center in Marlton, New Jersey

MICHAEL BUBLE on stage Saturday, August 6 at the Greek Theatre in Los Angeles.

BIG BAD VOODOO DADDY entertains Wednesday, August 3 at the Minnesota Zoo Amphitheater in Apple Valley, MN. On Thursday they'll be swinging at Big Top Chautauqua in Bayfield, WI. Saturday finds them at the MeadowBrook Music Festival in Rochester Hills, MI.

BLIND BOYS OF ALABAMA continue their European tour. On Monday, August 1 they perform at Bridgewater Hall in Manchester, UK. Wednesday they are on stage at Salle Polyvalente in Megeve, France and on Thursday the show is at Jazz in Marciac in Marciac, France.

WAYNE SHORTER open a two nighter stand this evening as the Osaka Festival Hall in Osaka, Japan. On Tuesday he's in the spotlight at Koseinenkin Hall in Hiroshima, Japan.

MICHAEL FEINSTEIN performs Thursday at Cape Cod Melody Tent in Hyannis, MA. Friday finds him at the South Shore Music Circus in Cohasset, MA. On Saturday he's on stage at the North Fork Theatre in Westbury, NY.

U2 perform tonight at the Parker Stadium in Copenhagen, Denmark. On Wednesday, August 3 they are at the Olympic Stadium in Munich, Germany. Friday finds them at the Stade Charles Ehrmann in Nice, France.

THE NEW ZEALAND SYMPHONY ORCHESTRA conducted by music director James Judd will make a historic tour the month of August to the world-famous 2005 BBC Proms and one of Europe's most sought-after concert halls - the Concertgebouw in Amsterdam. This will be followed by a tour to the World Expo in Aichi, Japan representing New Zealand. This is the largest tour outside New Zealand that the NZSO has ever undertaken, the first ever appearance by a New Zealand orchestra at the prestigious BBC Proms and will feature two of New Zealand's most prominent music ambassadors, Dame Kiri te Kanawa and Jonathan Lemalu.

CHRIS SCRUGGS grandson of bluegrass legend Earl Scruggs performs Tuesday, August 2, at Jammin' Java in Vienna, Virginia.

GODSTOCK Christian music festival featuring Michael W. Smith, Rebecca St. James and Mercy Me. Aug. 5 through 7 at 2nd Wind Ranch, Comstock, Neb. ( See Broadway To Vegas column of January 26, 2003 )
PIFFLE AND PROFUNDITIES


NOT ALL WINDOWS, DOORS AND FLOORS

This car began life as a 1937 Ford. Photo by Laura Deni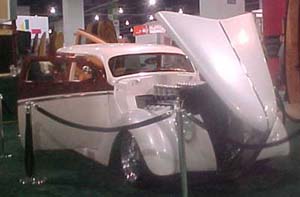 Photo by Laura Deni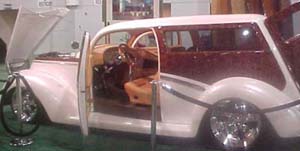 at the Association of Woodworking and Furnishing Supplies (AWFS) convention.

Much attention was given to surf boards, musical instruments and cars.

Anything that was wood or could be made to resemble wood - got their just due in the spotlight.



Photo by Laura Deni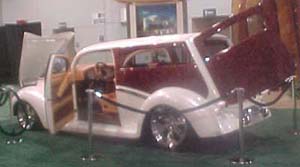 Photo by Laura Deni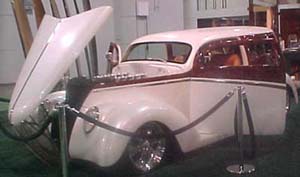 Over 35,000 wood lovers attended the four day trade show that ended on Saturday.

Headquartered in Southern California AWFS is a trade association with an international, corporate membership that includes manufacturers and distributors of machinery, hardware, lumber, upholstery materials, bedding components, wood products and other supplies to furnishings and wood products manufacturers.

AWFS is the owner and direct producer of the biennial AWFSFair, the largest industry show in the United States in odd numbered years, which celebrated its inaugural show in Las Vegas, July 27-30.
















Next Column: August 7, 2005
Copyright: July 31, 2005. All Rights Reserved. Reviews, Interviews, Commentary, Photographs or Graphics from any Broadway To Vegas (TM) columns may not be published, broadcast, rewritten, utilized as leads, or used in any manner without permission, compensation and/or credit.
Link to Main Page
---
Laura Deni


CLICK HERE FOR COMMENT SECTION