! >
Broadway To Vegas
  SHOW REVIEWS CELEBRITY INTERVIEWS GOSSIP NEWS

| | |
| --- | --- |
| | |
COUNTRY, ROCK MUSIC & WINDMILLS - -> JEAN STAPELTON REPLACED - - ENGELBERT HAS THROAT PROBLEMS - - PAUL NEWMAN'S BIRTHDAY PARTY - - SIEGFRIED ANd ROY NEED HELP - - CRITIC BUYS TICKET SO GEORGE STREET CANCELS SHOW - - VINCE GILL FEEDS AUDIENCE DONUTS - - RAISIN TO HONOR NELL CARTER - - DONATE . . . Scroll Down


WINDMILL TILTING ROCKS ON


What do lovers of rock music, country music and Christian music have in common?

An appreciation for windmills. To be precise, the world's largest standing collection of water pumping windmills in the world.

Luring people to the windmills, located at The 2nd Wind Ranch, four miles north of the small Nebraska town of Comstock, are some of the top performers in three unique music divisions.

"We're setting up the world's largest standing windmill collection. To get people to know about it we're holding a Country Music Festival and then a Rock Music Festival," said Roland Shafer, a welding helmet manufacturer, and co-partner in the venture. He spoke with Broadway to Vegas about a leap of faith - if you build it they will come - that not only worked but infused a dying town.

Rock acts already confirmed for to the 2003 Comstock Rock Music Festival, set for July 18-20, include Foreigner, Blue Oyster Cult, Foghat, Grand Funk Railroad, Little River Band, Creedence Clearwater Revisited, Molly Hatchet, John Kay and Steppenwolf. There are also hot air balloon rides, 20 acres of camping, a flea market and a 100th Anniversary Harley Davidson will be given away to some lucky attendee.

The annual Comstock Country Musical Festival, which will run June 12-15, includes performances by Sara Evans, Neal McCoy, the Oak Ridge Boys, Phil Vassar, Chris Cagle, Martina McBride, Sawyer Brown and Gary Allan plus 16 regional bands. There are also horse drawn wagon rides, powered parachutes, clowns and comedians, beer tents with live music, a bull riding show, fireworks display and trail rides. The first 5,000 four day passes purchased are eligible to win either a 2003 red Dodge van pickup, a white Chrysler Concorde or a blue Jeep Grand Cherokee.

"We are talking two very diverse markets," he admitted. "Naturally, rock and country people are night and day."

"The only difference in the festivals? Just the bands," he answered. "We have the same vendors and the same venue."

Is trouble just a downbeat away?

"No, surprisingly not," he replied. "But, we are classic rock. We're not rap rock. So, we are appealing to the 30-65 year old crowd with the rock bands. We've got bands like Journey, Blue Oyster Cult, Foghat, Steppenwolf, - the 60s-70s bands. We're mixing it up with some of the younger bands, too. But, our main clientele for the rock are the older, more responsible type people."

"The windmills came first," Shafer stressed. "That was the idea - to set up the largest standing windmill collection in the world. Our intent there was to have every model that was made from the early 1900s on. They are all United States Prairie Windmills."

The windmills vary in size from six feet in diameter to the mighty 20-foot-diameter wheel with an eight-foot-tail that could pull water from 1,500 feet below. There are Air King, Star, Aermotor and Dempsters. From the latest models to a 1896 Aermoter - windmills that vary in shape from the solid wheel to the basket type. All laid out on a forty-acre pasture.



The Star windmill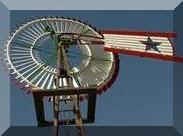 "We have windmill scouts," he elaborated. "Where ever they go they are looking up at windmills to see if that is a rare model that we don't have. People call you when they know what you are doing and say they have one in the back, somewhere in a junk pile. You bring them in and restore them, cut the wood for them. We do all that - make the heads, paint em all up," he said referring to the restoration that takes place in a converted hog barn.

The windmill, itself, is one of the most significant inventions in American history. It is said that it had more to do with settling the West than the gun.

Windmills meant life. They meant life for the pioneers, the livestock and the crops that nourished them. Prior to the advent of electricity, harnessing the wind was the only way to pull water from the ground. Every farm had a windmill. It was used to pump water, drive electrical generators for lighting and charge storage batteries on farms.

At one time there were over 300 windmill manufacturers.

Today the value of the old models can be priceless and their nostalgia is timeless. The windmill is also the most still photographed invention of all time. There is a certain romanticism will go on for eternity.

Windmills started out as a boyhood hobby for Schafer's partner, Henry Nuxoll, a Comstock native and farm equipment salesman.

Almost twenty years ago Nuxoll lost the 160-acre family ranch during the agricultural crisis. With pluck and perseverance he was able to buy it back a few years ago - thus the name 2nd Wind Ranch.

Christmas light stringing has turned into a 100,000 bulb event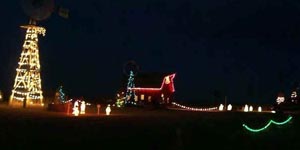 For Nuxoll, windmills went from hobby to investment, then an addiction and now a business that is the attraction in Custer County - playing a major role in revitalizing an economy and preserving a part of American history.

He developed the idea for the windmill ranch while hanging Christmas lights, in the shape of a star, on top of a basket-style windmill with no wheel. He decided to fix the tower and figured he might as well put a windmill up there instead of a star.

What lit up was inspiration.

"This is probably our fourth year of music festivals and our sixth year collecting windmills," continued Shafer.



Brad Paisley plays Boulder Station in Las Vegas March 7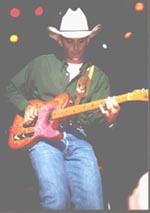 "We were at a trade show one day and Henry says - You know, we ought to have a band come out and play. Henry said - There is this guy coming up named Brad Paisley and he's getting pretty popular. So, we booked him that first year, which was just a one day event. I think we had an opening act for him. We had a pretty good response," he said referring the crowd of 3,000 that showed up.

"Everybody thought it was a great place. It just continued from there." The following year 4,000 customers found their way to the pasture.

"We've turned it into a four day event. We did three last year- the Comstock Windmill Country Festival, The Comstock Rock Music Festival and then we did the Comstock Harvest Festival in September. We're thinking about doing a Christian concert in the fall," Shafer elaborated.

Shafer is aware of the competition. That would be football.

"Nebraska has a pretty good football following and there was an opening in that Nebraska football schedule in September. So, that's when we scheduled our Harvest Festival. This next year it's not confirmed whether there will be any open weekends. We didn't want to compete with football, so we aren't going to do the Harvest Festival this year. But, we're thinking about a Christian Concert just to try it and see how it goes."

The success of the 2nd Wind Ranch has made it possible for businesses to suddenly develop and thrive.



The Dempster house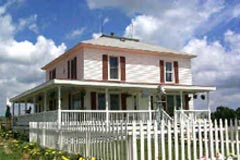 The Dempster House is a restored 104-year old house that functions as a Bed and "Fix Your Own" Breakfast. Within the Dempster House is the Homestead Restaurant. On the East side of the 2nd Wind Ranch sits a craft barn called the Crosswind Mercantile. It features the work of over 65 artisans and craftsman. Or, you can rent a teepee that follows a stream and live just as the Native Americans did including fishing for Bass and other fish. Then there is a wooded section where participants engage in the game of paintball.

From tilting at windmills as a hobby to displaying the imagination and fortitude that forms the bricks to build a dream. From losing the ranch to being able to buy the bank.



Broadway To Vegas is supported through advertising and donations. Priority consideration is given to interview suggestions, news, press releases, etc from paid supporters. However, no paid supporters control, alter, edit, or in any way manipulate the content of this site. Your donation is appreciated. We accept PAYPAL. Thank you for your interest.




THE MUSIC GOES ROUND AND ROUND


LES MISERABLES-HIGHLIGHTS When you start to fiddle with excellence there is a high risk of embarrassing failure. The original cast recording of Les Miserables was perfect. And, we mean any of them be it the Broadway or London cast versions, which receive the most ink, or any of the other numerous original cast renditions.

When Decca decided to release Les Miserables-Highlights the first thought is why tinker with what was perfect in the first place? We listened to the CD.

The person or people who get the low bows for this CD are the ones who decided what to edit and then flawlessly executed that close shave process. If you want to fine tooth comb this marvelous effort then the most noticeable cuts would be the edit out of all but about nine bars of the Overture before heading into The Work Song. Also gone is the stirring Black/Red which precedes the rousing One Day More. That's the song that brings the theater crowd to its feet and closes act one right before intermission.

Decca Broadway is releasing this new CD as a way to celebrate Broadway's current longest running musical.

This effort features original cast members; Colm Wilkinson, who created the role of Jean Valjean both in London's West End and on Broadway; Judy Kuhn who was Broadway's first Cosette, Terrence Mann as Javert, Frances Ruffelle who won a Tony Award for her role as Eponine and Randy Graff as Fantine. Other cast members include Jennifer Butt, Jesse Corti, Anthony Crivello, Ann Crumb, Braden Danner, John Dewar, Paul Harman, Joseph Kolinski, Norman Large, Michael Maguire, Chrissie McDonald, John Norman, and Donna Vivino.

The orchestra conducted by Robert Billig features;

Keyboards - Ross Allen and Jeffrey Silverman; Drums - Michael Hinton; Percussion - Howard Joines; Guitar - Brian Koonan; Bass Guitar - Lindsey Horner; Flute/Piccolo - Jacqueline Giat; Oboe/English Horn - Harriet Orenstein; Clarinet/Alto Saxophone - Mitchell Weiss; Trumpets - David Gale, Robert Zottola and Peter Hyde; Bass Trombone - John Rojack; French Horns - Brooks Tilloltson and Jerry Peel; Violins - Louann Montesi, Frederick Buldrini, Suzanne Ornstein, Katherine Cash, Marion Pinheiro, Mineko Yajima, Mitsue Takayama, Marti Sweet, Eugene Orloff, Ariana Bronne and Myra Segal; Violas - Julian Barber, Harry Zaratzian and Jesse Levine; Cellos - Clau Ruede, Batia Lieberman, Jonathan Abramowitz and Alla Goldberg.

The recording was produced by Alain Boublil and Claude-Michel Schonberg. Recorded by Power Station in New York City under the supervision of John Cameron. David Hunt recording engineer.

Recorded between March 16-20. 1987. Mixed at CTS Studios in Wembley between March 25-April 12, 1987.

The Broadway opening took place at The Broadway Theatre in New York City open March 12, 1987.

Terrence Mann returns to his Tony Award-nominated role of Inspector Javert for the show's final weeks February 4-March 15. Mann appeared as Javert in the Broadway production of Les Miz from the December 1986 pre-Broadway engagement in Washington, DC, through November 29, 1987.

The production's current Javert, David Masenheimer, plays his final performance Feb. 2.

John Barrowman who is starring in Anything Goes at the National Olivier Theatre in London, a production which doesn't ring down the curtain until March 22 - telling the British press that he wants to return to American and play Marius in Les Miserables before it closes out the Broadway run, which ends March 15 at the Imperial Theatre. The show's 16th anniversary on Broadway is March 12.

Produced by Cameron Mackintosh, Les Miz is by Alain Boublil & Claude-Michel Schonberg, based on the novel by Victor Hugo. Music is by Claude-Michel Schonberg, lyrics by Herbert Kretzmer, with original French text by Alain Boublil & Jean-Marc Natel and additional material by James Fenton. Trevor Nunn & John Caird directs.

Decca Broadway currently holds the largest cast album library available in North America. Les Miserables - Highlights is available in stores on January 28.




BIRTHDAY CELEBRATIONS


PAUL NEWMAN celebrates his 78th birthday today, Sunday, January 26, on stage in the wonderful revival of Our Town, directed by James Naughton, at The Booth Theater in New York City. The matinee performance will be a benefit with a top ticket price of $2,500.

GEORGE BURNS who would have celebrated his 107 birthday last Wednesday was remembered. As part of the curtain call of the Broadway hit comedy Say Goodnight Gracie actor Frank Gorshin blew out 107 candles on a huge cake. Gorshin has won major accolades bringing the late Burns back to life in this play. Didi Conn - the voice of Gracie - was also there to join the festivities.

BOB HOPE will be celebrated in a year-long, 100th birthday party which kicks off today, at Super Bowl XXXVII, with a tribute airing during ABC's pre-game show. Other events include nationwide film festivals and exhibits at U.S. presidential libraries - the first opens February 17 at the Ronald Reagan Presidential Library in Simi Valley, California. Hope turns 100 on May 29.


SPREADING THE WORD


CHRISTOPHER REEVE traveling in a specially adapted plane, arrived in Sydney, Australia to speak this week at a conference on spinal injuries and appear at a fund-raising dinner. Reeve was invited by New South Wales state premier Bob Carr after commenting last year on a heated debate in Australia about the federal government's decision to allow limited research on embryonic stem cells. The 50-year-old actor is a strong supporter of such research - as are many including Mary Tyler Moore. Experts believe such research will make it possible to reverse the debilitating effects of numerous injuries and diseases.

A CONVERSATION WITH AUGUST WILSON takes place Saturday, February 1, at the Studio Museum in Harlem, New York City.

The two-time Pulitzer Prize winner will discuss his body of work with special emphasis on the Broadway revival of Ma Rainey's Black Bottom. The program is sponsored by the Museum's Department of Education and Public Programs.

DAN RATHER AND ANDREW HEYWARD host a reception to celebrate the publication of Bob Schieffer's memoir This Just In; What I Couldn't Tell You On TV Wednesday, January 29 at Blue Smoke, New York City.


SWEET CHARITY


KEVIN SPACEY AND ELTON JOHN team up for a series of duets February 5 at a London fund-raiser to secure the future of the historical Old Vic theater. Tickets range from $400 to $1,600. Other artists appearing include Ms Dynamite, Texas singer Sharleen Spiteri, Sinead O'Connor, Lulu and Elvis Costello. Sir Elton is chairman of the Old Vic Theatre Trust and Spacey is a board member.


OTHER PEOPLE'S MONEY


DURHAM, NORTH CAROLINA has plans to build the state's largest legitimate theatre, a $48 million, 4,000-seat venue that could be configured into smaller spaces suitable for the American Dance Festival. A city-hired consultant, New York based Duncan Webb, informed the City Council subcommittee last Tuesday that the city should also consider building an $18 million, 700-seat theater for local performing arts groups and help pay for $2 million to $3.5 million in improvements to the Hayti Heritage Center and the Carolina Theatre.

But Mayor Bill Bell said the city would focus on the 4,000-seat theater proposal, saying he was optimistic that Durham could carve out a niche for itself. The issue was to have been presented to the full council on Thursday, but snow closed the city down. This theatre concept is expected to easily win approval this week. They would then solicit development and management proposals from the private sector.

The new theater would post an annual operating profit of nearly $1 million, serving as host of 186 performances attended by 270,600 people, according to Webb's estimates. It also would contribute $4.7 million annually to the local economy, creating 292 immediate construction jobs and five additional jobs every year after that. The theater could open in early 2006, according to Webb's schedule.

Webb recommended that the city own the theater and privatize management operations. The city is already in discussions with Sports Entertainment & Services, which manages the 5,500-seat Dodge Theatre in Phoenix.

Webb, who charged the city $87,000 to gauge whether the theater was feasible, advocated creating a vibrant theater district in Durham, which would consist of a 700-seat theater that could be managed by the Carolina Theatre and 36,000 square feet of office and rehearsal space for the American Dance Festival.



THE TRIP TO BOUNTIFUL was to have starred Jean Stapleton who has been replaced at her request. The Horton Foote piece to be mounted at Hartford Stage in Connecticut, February 20 to March 23, has Dee Maaske stepping into the role. Maaske, who spent 11 years as a resident actress with the Oregon Shakespeare Festival, replaces Stapleton, who turned 80 last week. Stapleton, who was promoted as the star of the show, withdrew from the production for undisclosed reasons. Hartford Stage, honoring the actress' wishes, declined to elaborate, adding that the theater hopes to work with Stapleton in the future.

Michael Wilson directs the show, which will also play an engagement at the Alley in Houston, Texas. following the Connecticut run. Featured in the Hartford cast are Hallie Foote, Devon Abner, Alan Rust, Nafe Katter and Frank Girardeau.

THE GEORGE STREET PLAYHOUSE canceled the first preview of its new production Double Play because New York Times critic Neil Genzlinger bought a ticket for the show according to the Home News Tribune of East Brunswick, New Jersey.

In an unusual twist to a critic being able to close a show, David Saint, the theater's artistic director felt an unspoken agreement between the theater and the media to not attend previews was violated when the critic purchased a ticket. Saint's decision to cancel the performance cost the theater more than $1,000 in just labor fees. The George Street Playhouse had scheduled three discount preview shows after which the audience engages in a question-and-answer session with the artists. The theater invites media to its official opening night.

Double Play consists of The 75th by Israel Horovitz and The Vibrator by Arthur Laurents. Directed by David Saint. The production stars Tom Aldredge and Elizabeth Wilson in performances through February 9. The theater bills the production as "Two of the finest actors of the American stage. Two award-winning playwrights of world-renown. Two charming comedies about love later in life. Join us for Double Play a rarely performed gem by Israel Horovitz (My Old Lady, Park Your Car in Harvard Yard, Author! Author!) paired with a new play written specifically for Ms. Wilson and Mr. Aldredge by Arthur Laurents (Gypsy, West Side Story, Claudia Lazlo) to premiere at GSP."

As a tie-in to the subject matter last night, January 25, George Street Playhouse staged a Senior Prom - a special pre show event for senior singles and sweethearts. Tickets included dinner, dancing and ticket to see Double Play.

MISALLIANCE by George Bernard Shaw, directed by Eric Simonson. Starring Martha Plimpton, Eric Stoltz, Roger Rees, and Morgan Sheppard Taking place on a single day in May 1909, a self-made millionaire and his family invite their future nobleman in-law for a pleasant visit to their estate in England. In this clever play, issues of gender, class, politics, and family are all targets for Shaw's keen wit. January 29, 30, 31 & February 2 presented by Theatre Works at the Skirball Center, Los Angeles.

THE BIBLE: THE WORD OF GOD (abridged) No, it's not a Cecil B. DeMille epic, But, then again, Ol' Cecil never got em laughing like this. It's a relentless, enjoyable romp from Genesis to Revelations. Where fig leaves are pulled down to reveal the answers to some of religion's most puzzling questions. Such as, "Was Jesus a Good Carpenter?" - "Did Adam and Eve have navels?" and "Did Moses really look like Charlton Heston?" The Seacoast Rep suggests that patrons bring along their Minister, Rabbi, or Priest and let em in on the fun promising - Without a doubt, the Good Book just got better. The Seacoast Repertory Theatre, Portsmouth, New Hampshire January 24 - February 23.

MUMMENSCHANZ Common objects morph into fantastical images. It's the enchanting, mysterious morph-ology of Mummenschanz, the outrageously inventive Swiss mask and mime troupe, marking its 30th anniversary with this all-new show which is ideal entertainment for the entire family.

There is not one spoken word; nevertheless, a thousand stories are told. Mummenschanz was founded in 1972 by Bernie Schuerch, Floriana Frassetto and the late Andreas Bosshard.

Their first significant break-through was at the theatre festival in Avignon which brought them engagements in Berlin, USA, Canada, and South America. In 1979 Mummenschanz opened on Broadway resulting in a three year engagement, setting a record for performing silent theatre, without lyrics or music.

Performances Tuesday January 28 and Wednesday January 29 at the Mc Carter Theatre in Princeton, New Jersey.

The 1994 recipient of the Tony Award for Outstanding Regional Theatre, under the artistic direction of Emily Mann, the McCarter is recognized as one of the country's leading regional theaters.

UNCLE VANYA AND TWELFTH NIGHT the former by Checkhov and the later by Shakespeare, have given New Yorkers a reason to venture out into the cold. Sam Mendes chose to complete his decade-long tenure as artistic director of England's Donmar Warehouse theater with these sections and has transferred them across the pond. Don't miss these productions being performed in repertory at the Brooklyn Academy of Music's Harvey Theater through March 9.

In lesser hands the productions could be flat. But with Oscar winner Mendes, who is about to begin rehearsals for a Broadway revival of Gypsy, with Bernadette Peters, the results are multi layer emotional performances.

Emily Watson alternates as Sonya, the doomed for spinsterhood put-upon daughter of a professor in Vanya, and Viola, the determined, vibrant lady pretending to be a boy, inspiring love from both a duke and a countess in Night.

Helen McCrory is Olivia, the countess who too easily believes Viola's disguise as the male servant Cesario, and Yelena, the tormented seductress who becomes Sonya's young stepmother and, eventually, her romantic rival.

Mark Strong is the duke who desires Olivia but is strangely drawn to Cesario and the frustrated country doctor who is the object of Sonya's unrequited love.

Simon Russell Beale is as heartbreaking as the defeated Vanya as he is delightful as the pompous Malvolio. David Bradley is the questionable academic who stymies Vanya and Sonya and the ill-fated, Sir Andrew Aguecheek, a suitor to Olivia. Anthony O'Donnell is Vanya's kind-hearted loser, Ilya Telegin, and the court jester, Feste, in Night.

Music by George Stiles, Anthony Ward's set design

Donmar Warehouse productions, directed by Sam Mendes at the Brooklyn Academy of Music's Harvey Theater through March 9.

THOROUGHLY MODERN MILLIE welcomes Christopher Sieber to the cast as mogul Trevor Graydon replacing Marc Kudisch takes a leave of absence to play Carl Magnus in New York City Opera's A Little Night Music Kudisch leads Millie after today's performance. Sieber joins the Tony Award winning production January 28 continuing to April 27. At The Marquis Theatre, NYC.

GREASE starring Chubby Checker at the Aladdin Hotel in Las Vegas January 28-February 2


WHO'S WHERE


ENGELBERT HUMPERDINCK slated to be appearing at the Las Vegas Hilton through February 2 has canceled because of throat problems.

VINCE GILL who performs January 30-February 1 at Boulder Station in Las Vegas, won't have to worry about his fans getting hungry for do-nuts, since the hotel has a do-nut shop. While Gill was performing at the Exit/In in Nashville he kept his fans happy during the four-hour long shows by feeding them do-nuts. The performer paid a staffer to go the nearby Krispy Kreme donut shop and bring back glazed donuts for the entire audience.

GRAMMY FEST is a month of pre-Grammy awards festivities beginning January 30 with Songs of the City: A Celebration of New York in Song. This free concert will feature an array of artists including folk singer Shawn Colvin, rock band Living Colour, classical violinist Midori and Tom Wopat, who will sing Broadway standards.

The 45th Annual Grammy Awards will be held at Madison Square Garden on February. 23.

The concert is presented by the New York Chapter of the Recording Academy in association with the NYC Grammy Host Committee. At the World Financial Center, January 30.

CHRISTINE EBERSOLE who picked up a Tony for her role in the hit revival of 42nd Street, brings her talents to the Orange County Performing Arts Center January 28 through February 1. This short run marks Ebersole's debut at the California theatre.

BARBARA COOK will be delighting the audience January 31 at the Tilles Center at Long Island University & C.W. Post Campus

PAUL ANKA who doesn't know how to put on a bad show, will be giving 110 percent January 27-February 5 at the MGM-Grand in Las Vegas.

ANNE MURRAY WITH MEMBERS OF THE BAKERSFIELD SYMPHONY ORCHESTRA singing at the Fox Theater, Bakersfield, California on February 1.

ARLO GUTHRIE entertains Wednesday in San Luis Obispo, California at the Performing Arts Center. On Friday he is on stage at the Carpenter Performing Arts Center in Long Beach, California and he closes out the week, Saturday, in Escondido, California at the California Center.

MAUREEN McGOVERN center stage January 30 through February 2 at Orchestra Hall with the Detroit Symphony Orchestra in Detroit, Michigan

LINDA EDER January 30 at the Thousand Oaks Civic Arts Plaza in Thousand Oaks, California and February 1 at the Vilar Center for the Arts in Beaver Creek, Colorado.

THREE MO TENORS on stage tonight at the McCarter Theatre in Princeton, New Jersey. Tomorrow they perform in Philadelphia, PA at the Academy of Music. On Thursday the show is in Wilkes-Barre, PA at the F.M. Kirby Center. Saturday the guys are in the spotlight at the Juss Auditorium in Springfield, Ohio.

MAYNARD FERGUSON AND THE BIG BOP NOUVEAU BAND has a busy week. Tonight the show is at the Temescal Canyon High School in Lake Elsinore, Ca. On Monday they'll be at the high school in Yucapia, California. Tuesday finds them at the high school in Reedey, California. On Thursday the show is at Southwest High School in San Antonio, Texas. Friday they will be appearing at One World Theatre in Austin, Texas.

SIEGFRIED AND ROY based at the Mirage Hotel in Las Vegas, are looking for animal handlers. Anyone applying must have 3-4 years experience in working and dealing with exotic cats. Send resumes to them through their website.

THE FOUR FRESHMAN with terrific harmony arrangements of jazz and pop standards, the Four Freshmen have one of the most recognizable sounds in music. Curtis Calderon (vocals, trumpet), Vince Johnson ( vocals, trombone), Bob Ferreira (vocals, drums), Brian Eichenberger (vocals, guitar). February 1 - February 2 The Jazz Standard, New York City.


FINAL OVATION


NELL CARTER

Nell Carter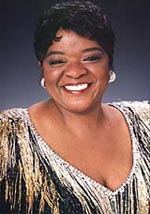 the Emmy and Tony Award winning actress that we had the pleasure of interviewing several times over a 30-year period, collapsed and died in her home on Thursday, January 23. She was 54. Carter suffered from diabetes and underwent brain surgery in 1992 to remove an aneurysm. At the time of her death Carter was in rehearsals to star in Raisin, a musical version of Raisin in the Sun commemorating its 30th Anniversary. The production is set to open February 7 at the International City Theatre in Long Beach, California

"The whole thing is just so awful," press representative for the theater told Broadway To Vegas the morning of her death. "We area all in shock. Obviously, everyone at the theatre is devastated."

"Absolutely, Raisin will open in tribute to her - without a doubt! There will probably be a curtain speech about her at every performance."

"Nell Carter was one of the finest people that we ever worked with. She was delightful, inspirational," stated artistic directed Shashin Desai. "Raisin will continue and it will open, but I don't know the details yet of who will replace her." The following day the talented Carol Dennis was selected to take over the role of Mama.

Carter, who appeared in Las Vegas several times, was best known for her role on TV's Gimme a Break. She began her career in cabaret and on Broadway, winning a Tony Award for Ain't Misbehavin'. She most recently appeared on Broadway in 2000, when she appeared in The Vagina Monologues and toured in Annie, in which she played Miss Hannigan.

She is survived by her two sons and a daughter.

AL HIRSCHFELD

Hirschfeld by Hirschfeld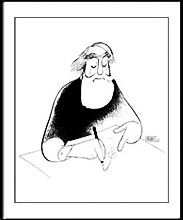 show-biz caricaturist - irreplaceable, talented, unique and delightful, working until the day he passed away, too soon, at 99. He did private commissions beginning at $6,500 and shortly before his death finished one for $150,000. Prior to his death original Hirschfield sold for $2,700 to $20,00 for drawings of The Phantom of the Opera and Les Miserables. He was a man who never missed a deadline and never had a piece of work rejected.

In 1991, Al Hirschfeld became the first artist in history to have his name on a U.S. Postage Stamp Booklet when the United States Postal Service released the five stamps they commissioned Hirschfeld to design. The stamps portray Laurel & Hardy, Jack Benny, Edgar Bergen & Charlie McCarthy, Abbott & Costello, and Fanny Brice.

On January 15, Christine Baranski had read a selection from Al Hirschfeld's Show Business is No Business at Peter Norton Symphony Space in New York.

Pulitzer Prize-winning artist Art Spiegelman conducted one of the last Hirschfeld interviews. Theater Talk has been replaying this interview all week, with the last airing at 2:45 p.m. today, Sunday. New York City on Channel 13/WNET. The show was produced by Susan Haskins, with Michael Riedel co-hosting.

Margo Feiden Galleries, Hirschfeld's exclusive Gallery and agent since 1969 has licensed only three galleries for permanent exhibitions of their Hirschfeld prints. All three of these Galleries are owned by Jack and Carolyn Solomon of the S2 Art Group. Two of those galleries are located in Las Vegas at Mandalay Bay Resort and at the Venetian Hotel. The third gallery is located in New Orleans.

On Friday January 17, Al Hirschfeld signed his final edition of lithographs. It is Charlie Chaplin, shown walking away - inspired by the close of many Chaplin silent films in which Chaplin strode away from the viewer. Its title is "The End."

On June 23, two days after what would have been his 100th birthday, he will receive a rare accolade. The Martin Beck Theatre on West 45th Street will be renamed for Hirschfeld. The event will be a celebration of his life and will feature Broadway performers under the direction of Jerry Zaks.

Survived by his wife and daughter, Nina, whose name he incorporated in all of his works. Services were Friday in New York City.













Next Column: February 2, 2003
Copyright: January 26, 2003. All Rights Reserved. Reviews, Interviews, Commentary, Original Photographs or graphics from any Broadway To Vegas (TM) columns may not be published, broadcast, rewritten, utilized as leads, or used in any manner without permission, compensation and/or credit.
Link to Main Page
---
Laura Deni


CLICK HERE FOR COMMENT SECTION