! >
Broadway To Vegas
  
 SHOW REVIEWS CELEBRITY INTERVIEWS GOSSIP NEWS

| | |
| --- | --- |
| | |
BEATLES LOVE SHOW REASON ENOUGH TO VISIT LAS VEGAS - - TITANIC EXHIBITION BRINGS PASSENGERS TO LIFE - - SPAMALOT HAS STINKY SPAM CAN FOR LONDON - - HARRY POTTER FANS BRING BROOM STICKS TO LAS VEGAS - - SATCHMO SUMMER FEST - - GOLF THE MUSICAL - - GLOBE GUILDER FASHION SHOW - - LINCOLNESQUE - - DONATE . . . Scroll Down


BEATLES LOVE SHOW SUFFICIENT REASON TO VISIT LAS VEGAS


First seen and raved about in previews - ( See Broadway To Vegas column of June 18, 2006 ) - Broadway To Vegas revisited the production show this week. If we thought it was almost perfect during the first viewing, we still slosh about the superlatives - as the production has been tightened and polished.

Gone is the dreadful, slow paced opening we carped about at the end of the review.

As with any hit show, the performers become more comfortable after a few curtain calls and these tremendous artists have turned the stage into their second home. This production, which never had a pot hole, has smoothed out any small bumps. Still going strong are the sold out performances, audience enthrallment, sing along with Hey Jude and standing ovations.

Las Vegas is the only place you can see this production. No bus and truck tour will ever hit the road. Seeing this show is a reason in itself visit Las Vegas.


TITANIC THE EXHIBIT
The Titanic left Southampton, England on her maiden voyage shortly after midday on April 10, 1912.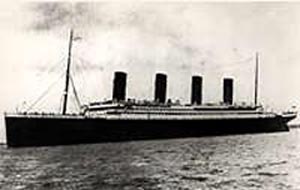 We've all studied it in school. There was a blockbuster movie which produced a hit song for Celine Dion. That was followed by the Broadway musical. The History Channel and PBS have aired some excellent documentaries. Even one of the passengers, Molly Brown, was turned into a movie, The Unsinkable Molly Brown.

Titanic.

Called practically unsinkable by the men who built it and the White Star Line that owned it, the floating palace, struck an iceberg on April, 1912 and slowly sank into the North Atlantic.

Since everyone already knows the story, why bother to spend money to see an exhibit of the artifacts? Because it's both interesting and entertaining.

Apparently, a lot of artifacts have been retrieved because there are currently five exhibitions; Las Vegas, Long Beach, Miami, San Francisco, Miami and Des Moines, Iowa. Surely one of those is within the distance of a nice journey, because this is a perfect experience for all ages.

The Titanic gift shop has recreated just about everything - from dinner plates to jewelry containing pieces of the real ship.

In Las Vegas, the 25,000-square-foot exhibit is at the Tropicana Hotel. It's not the first time the Titanic has docked in Vegas. ( See Broadway To Vegas column of April 9, 2000. )

A clever promotional gimmick is to turn the customer into a passenger. Upon entering you are given a White Star Line Boarding Pass. On the opposite side is the passengers name, age, where from, accompanied by, class, cabin number, where traveling to and the reason; plus passenger facts.

Upon leaving the exhibit you then check the roster to see if you lived or died.

I was presented with the Boarding Pass of Lady Duff-Gordon (Lucy Christiana Sutherland, 49, from London, Paris, France. Accompanied by Sir Cosmo Edmund Duff-Gordon (husband) and Laurel Mabel Francatelli (maid). They were traveling lst class to New York. Lady Duff-Gordon, also known as Madame Lucile, had fashion houses in Paris, London, New York and Chicago. She was rushing to New York to attend to urgent business.

The passenger fact indicates that Lady Duff-Gordon was a pioneer in fashion at the beginning of the 1900s. She was the first to introduce slits in skirts of ease of movement and also coined the word "chic."

The person I was with received the Boarding Pass for Father Thomas Roussell Byles, 42, from Ognar, Exxex, England. Traveling alone as a 2nd class passenger. Father Byles was traveling to New York to preside over the marriage of his younger brother, William. The wedding was scheduled for the Sunday after his arrival in New York. The passenger fact indicates that "although raised Protestant and the son of a Protestant minister, Father Byles converted to Catholicism and became a Catholic priest in 1901."

After assuming your new identity, you progress through different rooms to experience Titanic as no movie, musical or documentary can convey.

You see the clothing, luggage, jewelry, china that helps give the passengers personality. Parts of the actually ship convey the structure. A full scale re-creation of The Grand Staircase and overhead stained glass dome are magnificent. Considered the Titanic's "crown jewel." The reproduction includes the first of four stories, the glass dome and crystal chandelier. The golden oak staircase is complemented by a tiled floor, the pattern designed specifically for the Titanic.

That staircase is a missed marketing opportunity. When the Titanic display was at the Rio Hotel six years ago, for a fee, visitors could have their picture taken by the staircase. Get into the spirit of the staircase and provide easy on/off period costumes. For decades Disneyland has been hearing the cash register ring with their photo op at a pretend old time railroad car.

Also on deck are authentically recreated first and third-class rooms, with furnishings by original manufactures.

The outer Promenade Deck, complete with a re-creation of the frigid temperatures felt on that fateful night of April 14 is eerie.

A covers a wall iceberg begs to be touch. Yes, it's really ice.

The Titanic provided entertainment in the form of eight musicians - Roger Bricoux, Fred Clarke, P.C. Taylor, G. Krins, Bandmaster Wallace H. Hartley, Theodore Brailey, Jock Hume and J.W. Woodward.

Along the way you learn that the only time the Titanic musicians played together was while the vessel was sinking.

Bandmaster Wallace H. Hartley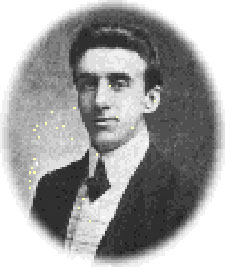 During the voyage different musicians had been assigned to various salons.

Unlike the passengers or crew, the musicians had no category. They weren't part of the ship's crew, although they obeyed ship's orders. While they enjoyed the accommodations of second class passengers they had no rights or protections when the ship experienced trouble. They were never offered lifeboats. However, since they were listed as second-class passengers they could have attempted to board lifeboats. Instead, of their own volition, they stayed with the ship until the very end, steadfastly playing light, airy music to help keep passengers calm while the available lifeboats were loaded.

All of the musicians perished. Reportedly, the last song played, Nearer My God to Thee, was selected because the bandmaster had always said he wanted that song - frequently played at the funerals of members of the Musician's Union - played at his funeral.

The body of bandmaster Hartley was recovered and on May 18, 1912, he was laid to rest in what has been described as "pageantry beyond belief." Over 30,000 mourners packed the streets of Colne, Hartley's birthplace in the hills of Lancashire. Seven bands played as his rosewood casket was carried throughout the streets. Musicians, Aldermen, police, clergy, miners and the curious were all there to pay their respects to this Titanic hero - and symbolically - all of the musicians who stayed on deck and played.

Of the 2,228 passengers on board; more than 1,500 of them died. The exhibit concludes with a memorial wall honoring all those who lost their lives that fateful night.

As to our Boarding Pass identities. Father Byles perished.

Father Byles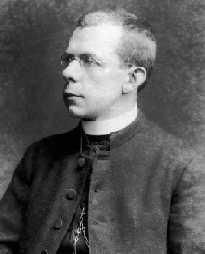 Father Thomas Roussel Davids Byles, the third priest on board, spent Sunday morning, April 14th, saying Mass first for the Second-Class passengers in the Second Class Lounge and then for the Third-Class passengers in the Third-Class Lounge.

After the Titanic hit the iceberg Father Byles helped the Third-Class passengers loading the lifeboats. At the after end of the Boat Deck he heard over one hundred confessions of third-class passengers who had been unable to obtain a seat in one of the lifeboats. Several times Father Byles was offered a seat in a lifeboat, but refused and consequently went down with the Titanic. His body was never recovered.

A door in memory of Father Byles was installed at St. Helen's Catholic Church in Chipping Ongar, Essex by his brothers.

Lady Duff-Gordon and her husband survived.



Lady Duff-Gordon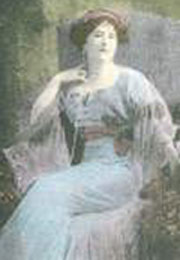 In her autobiography Discretions and Indiscretions Lady Duff-Gordon recalled the voyage.

"The first days of the crossing were uneventful. Like everyone else I was entranced by the beauty of the liner. I had never dreamed of sailing in such luxury ... my pretty little cabin, with its electric heater and pink curtains, delighted me, so that it was a pleasure to go to bed. Everything about this lovely ship reassured me."

"I remember that last meal on Titanic very well. We had a big vase of beautiful daffodils on the table, which were as fresh as if they had just been picked. Everyone was very gay, and at a neighbouring table people were making bets on the probable time of this record breaking run. Various opinions were put forward, but none dreamed that Titanic would make her harbour that night ... "

"I had been in bed for about an hour and the lights were all out, when I was awakened by a funny, rumbling noise. It was like nothing I had ever heard before. It seemed as if some giant hand had been playing bowls, rolling the great balls along. Then the boat stopped."

Lady Duff-Gordon and her husband were rescued in lifeboat 1 which carried only 12 people despite having a capacity of 40. Those in that boat were; George Symonds, Laura Francatelli, Lucy Duff Gordon, Cosmo Duff Gordon, Abraham Salomon, Charles Hendrickson, Henry Stengel. Robert Pusey, Edward Horswell, Samuel Collins, James Taylor and Frederick Sheath.

Lady Duff-Gordon and Cosmo testified at the British Inquiry into the sinking; they were the only passengers who were called to testify.


SATCHMO SUMMER FEST - YOU'LL THINK TO YOURSELF: WHAT A WONDERFUL FEST


More than just another music festival, the four-day Satchmo Summer Fest is filled with opportunities to learn about, celebrate and take part in both the historic and enduring traditions that fuel jazz music and New Orleans culture. The festival takes place Aug. 3 through Aug. 6, and almost all of its programs are free and open to the public.

Music, of course, takes center stage. Visitors will have a chance to hear a musical slate featuring some of New Orleans' best-loved traditional jazz performers, including young trumpeters who still proudly carry the torch that Armstrong lit for the world many generations ago. There's even a popular "kids' stage" with music and participatory dance and drumming events to help youngsters join the excitement themselves. After all, Armstrong was only a young boy when that first trumpet was put into his hands.

One highlight of the festival is the Satchmo Club Strut, which takes full advantage of the many music venues in close proximity along Frenchmen and Decatur streets. On the night of Friday, Aug. 4, guests purchase armbands for admission to all the participating clubs, and walk - or, that is, strut - from one to the next while marching brass bands and the city's permissive open-container policy keep the upbeat party atmosphere going outside.

Due to the damaging effects of Hurricane Katrina the U.S. Mint is unable to host Satchmo SummerFest. In light of that, the French Market donated space for Satchmo SummerFest. So head to the French Market during the day and look for free seminars and other exhibits on jazz, Armstrong and the social history that shaped both the man and the city's broader musical traditions.

The Keynote Address: Louis Armstrong - Native Son will be given by musician and former Director of the Jazz Studies Program at the University of New Orleans, Ellis Marsalis. He'll give personal insights into the genius and sensibilities of local hero Louis "Satchmo" Armstrong.

Just a sampling of the free seminars include;

Louis Armstrong: The Offstage Story of Satchmo delivered by Michael Cogswell, Director of the Louis Armstrong House and Archives of Queens College, New York. He'll brings Satchmo to life with snippets of taped conversations recorded by Armstrong at home and on the road.

An Odd Couple: Louis Armstrong and Paul Whitman: Two Kings of Jazz Dr. Joshua Berrett, professor of music at Mercy College, New York, compares and contrasts the careers of these giants of American popular music in the 1920s and '30s.

Ravel and Mahler? Don't Forget Fats Waller: Louis Armstrong and the Movies, 1931-1969. Professor of Music History and Musicology at Texas Christian University at Fort Worth, Dr. Michael Meckna will discuss and show rare footage from Armstrong's four decades in American film.

Growin' Up Satchmo, 1901-1922. Keith Weldon Medley, author of We as Freemen: Plessy v. Ferguson, give insight into the social, racial and economic makeup of New Orleans and how it affected Armstrong's early life.

On Sunday, Aug. 6, there is a rousing "jazz mass" at St. Augustine church. Immediately following the music-inspired service, visitors are invited to join a traditional New Orleans second line street parade departing from the church to wind its way through the neighborhood and back to the French Quarter. Based on the jazz funeral tradition, these parades invite anyone to join in - thus forming the "second line" behind the colorfully clad parade leaders and high-powered brass bands - and dance in the streets. Various social and neighborhood organizations host these second line parades throughout the year, but this one is a special event just for Satchmo Summer Fest.



Broadway To Vegas is supported through advertising and donations. Priority consideration is given to interview suggestions, news, press releases, etc from paid supporters. However, no paid supporters control, alter, edit, or in any way manipulate the content of this site. Your donation is appreciated. We accept PAYPAL. Thank you for your interest.


GETTING CREDIT FOR HARRY POTTER
Chaos in the Classroom by Kelly McClellan was the lst place winner in the Art of Magic Contest.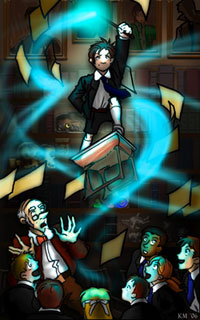 Just as Harry Potter fans were descending into Vegas to discuss all things Potter, it was announced that actor Daniel Radcliffe will assume his first leading role in the West End next year in a revival of Peter Shaffer's Equus. Directed by Thea Sharrock, the production will also star Tony-winner Richard Griffiths, who also appeared with Radcliffe in one of the Harry Potter movies.

As for goings on in Las Vegas, over 1,200 would be wizards and muggles are converging at the J.W. Marriott in Sin City to cast their spells as part of the Lumos 2006 Harry Potter Symposium. What makes this a tad bit unusual is that Continuing Education Units are awarded for attendance at selected presentations, panels, and workshops. According to the official organization, Lumos; "Thanks to a partnership with the Community College of Southern Nevada, teachers, librarians, and other working professionals may complete up to 18 professional development hours, or 1.8 CEUs, during Lumos."

Grab your broom, set your Portkey, or Apparate! Through today Sin City is the place to be for Harry Potter fans. In keeping with the theme of Back to School, a variety of daytime academic presentations and panels are taking place including special workshops for educators and librarians. In the evenings, it's fun time with Water Quidditch, Hogwarts Night Classes, and Live Chess.

The hotel is even decorated Hogwarts-style, with a Great Hall, a Common Room for all houses, and a library for those wishing to emulate our favorite bushy-haired witch. Participants are also enjoying British food and butterbeer throughout the symposium.

Who said learning isn't fun.


SWEET CHARITY


GLOBE GUILDER FASHION SHOW an annual event to benefit the Old Globe Theatre's Education programs. This year's fashion extravaganza - Celebrating Couture - takes place August 8 at the Sheraton San Diego Hotel and Marina.

Event fashion designers include Kitty Chen, Pamela Dennis, Tadaski, Fedor, Marissa Baratelli, Sauvage, Vintage Couture of Francisco, Saks Fifth Avenue and Zandra Rhodes.

A champagne reception and silent auction begins the day followed by a luncheon and fashion show. An after-show meet the designers reception will be held for event underwriters.



LINCOLNESQUE

T. Ryder Smith and Leo Marks; photo by J.T. MacMillan
a world premiere by John Strand, Directed by Joe Calarco.

Starring T. Ryder Smith and Leo Marks.

a new play that shows audiences the intriguing world of Washington election campaigns through the eyes of two brothers: Leo - a speech writer for a struggling congressional candidate; and Francis, an intelligent and passionate individual, who just happens to believe he's Abraham Lincoln.

When Leo begins to use some of Francis' historical words for inspiration, the level of politics is raised to new heights...but the truth behind Francis' famous alter ego could be exposed in this touching and funny new play about brotherhood, loyalty and the corruption of politics in America.

August 5 - September 10 at Cassius Carter Centre Stage. Old Globe Theatre in San Diego, CA.

GOLF: THE MUSICAL is a hilarious look at the world of golf and the men and women who inhabit it. Tiger Woods, Big Bertha, Bob Hope - no one is safe!

It's a cavalcade of skits, puns and songs that poke tuneful, affectionate fun. The musical vignettes cover everything: golf's 'extreme' golf attire and technique, rousing numbers celebrating golf greats Tiger Woods and Annika Sorenstam, a musical ode to 'Big Bertha,' and the great comedy duo (and celebrity golfers) Bing Crosby & Bob Hope.

There's even an on-stage putting competition featuring the show's cast and audience members!

One night only, Sunday, August 6 at the Cape Cod Playhouse in Dennis, MA.

BROADWAY RHAPSODY Songs filled with the pulsing, driving rhythms of the Great White Way. Soaring melodies from the past and present that could only come from the Boulevard of Dreams and such composers as Sondheim, Gilbert and Sullivan, Gershwin, Wildhorn, and Harnick and Bock.

Songs from Gypsy, Porgy and Bess, Big River, Miss Saigon, Pirates of Penzance, Fiddler on the Roof, Shenandoah, and The Civil War, (to name a few) make this a wonderful way to round out the summer!

August 3 – 13, Part of the Summer Musical Series at Bristol Riverside Theatre in Bristol, PA.

ROMEO AND JULIET starring Emmy Rossum and Austin Lysy and directed by Will Frears. Performances are August 2-13.

The story of star-crossed lovers whose struggle for love and happiness, in spite of familial opposition, ends in senseless death, has been called the greatest work of romantic literature ever written.

Director Frears describes his vision for this new take on the classic story, "a modern-day punk-rock Latin-American fantasy of young love."

Also in the cast are; Remy Auberjonois, Bill Camp, Enid Graham, Kristine Nielsen, Nyambi Nyambi, Paul O'Brien, Daniel Oreskes, Joe Plummer, Sandra Shipley, Ian Unterman, Benjamin Walker, Completing the cast are members of the Festival's Non-Equity Company and Apprentice Company, who also appear in the on-stage band Los Mercedes.

Choreography is by Tracy Bersley. Fight Choreography is by Rick Sordelet. The composer is Michael Friedman. Set design is by Takeshi Kata. Costume design is by Jenny Mannis. Lighting design is by Matthew Richards. Sound design is by David Thomas. The Stage Manager is Adam Grosswirth. The Assistant Stage Manager is Greg Livoti.

Performances are August 2-13 as part of the Williamstown Theatre Festival. in Williamstown, Massachusetts.

FAME Originally Conceived & Developed by David De Silva. Book by José Fernandez. Lyrics by Jaques Levy. Music by Steve Margoshes. Directed by Kate Katcher. Musical Director Bill D'Andrea. Choreographer Nikole LaChioma. Latin Choreography by Blanca Ayala.

August 3-5 at the Playhouse on the Green in Bridgeport, CT. Playhouse on the Green, formerly the Polka Dot Playhouse, is a 228-seat, professional Equity theatre located in downtown Bridgeport. Often compared to an "intimate" Broadway setting, the theatre has marble walls, gold-leaf trim, and brass light fixtures.

THE FANTASTICKS a revival of the world's longest-running musical by Harvey Schmidt and Tom Jones began previews last night at the Snapple Theater Center in New York City. Co-creator Jones - billed as Thomas Bruce - portrays Henry, the role he originated in the original production. Jones also directs. The cast includes Leo Burmester as Hucklebee, Santino Fontana as Matt, Sara Jean Ford as Luisa, James Moye as El Gallo, Douglas Ullman, Jr. as The Mute and Martin Vidnovic as Bellomy. Officially opens on Aug. 16.

The Fantasticks originally opened in New York on May 3, 1960, and played 17,162 performances before closing Jan. 13, 2002.


| | | |
| --- | --- | --- |
| | | |
WHO'S WHERE


TOM WAITS is hitting the road. In a statement about this trip he wrote "We need to go to Tennessee to pick up some fireworks, and someone owes me money in Kentucky." Along the way he'll perform August. 1 in Atlanta. The eight date tour also includes a performance in Asheville, N.C. on August 2, a Memphis gig on August 4, a one night stand in Nashville on August 5, a Louisville, Ky. one nighrer on August 7, a Chicago date on August 9, a Detroit stop on August 11 and an Akron, Ohio show on August 13.

BILL COSBY returns to the North Shore Music Theatre for the first time since 2004. The actor, writer, and comedy icon will light up the stage for a matinee and evening performance on August 6. North Shore Music Theatre in Beverly, MA.

GORDON LIGHTFOOT performs Thursday, August 3, at the State Theatre in New Brunswick, N.J.

ERIC CLAPTON performs Monday, July 31, at the Hartwell Arena in Helsinki, Finland.

CROSBY, STILLS, NASH AND YOUNG on stage Monday, July 31, at The Hollywood Bowl in Los Angeles.

TONY BENNETT AND STEVE MARSH TORME on stage Saturday, August 5, at the Biltmore Estates in Asheville, NC. Bennett is the superstar and Marsh Tormé is the son of the late Mel Tormé and the nephew of Las Vegas County Commissioner Myrna Williams.

LYLE LOVETT this evening, July 30, opens a two night gig at the Potawatomi Casino in Milwaukee, WI.


PIFFLE AND PROFUNDITIES


SPAM WITH STINKY FRENCH GARLIC has been created especially for the London production of Spamalot. Hormel, purveyors of chopped pork with ham to the universe- has unveiled another addition to their range of products dedicated to Monty Python's Spamalot.

With specially designed packaging overseen by Eric Idle, Hormel expects this to become their biggest selling Spam product in the South of England by the time the show opens at the Palace Theatre in London on September 30.

But, of course, this being Python, nothing is quite as straightforward as it might at first seem. As well as French taunters, knights with clothes pegs on their noses and some handy hints on what to do with the Spam once it's out of the can, the folks at Hormel are also keen to point out on the tin that actually their Stinky French Garlic flavored Spam is made in Denmark with Chinese Garlic! Now even Eric could have come with that!

Currently enjoying its Broadway stay, Spamalot is also in the middle of a nine week run at Toronto's Canon Theatre. Following Toronto Spamalot will begin performances at the Benedum Center in Pittsburgh starting September 12.
















Next Column: August 6, 2006
Copyright: July 30, 2006. All Rights Reserved. Reviews, Interviews, Commentary, Photographs or Graphics from any Broadway To Vegas (TM) columns may not be published, broadcast, rewritten, utilized as leads, or used in any manner without permission, compensation/credit.
Link to Main Page
---
Laura Deni


CLICK HERE FOR COMMENT SECTION