! >
Broadway To Vegas
  SHOW REVIEWS     CELEBRITY INTERVIEWS     GOSSIP     NEWS 
LAVERNE AND SHIRLEY STARS SAY: GREASE IS THE WORD


Eddie Mekka, who was nominated for a Tony Award for his role in the musical Shenandoah and rose to name fame as Carmine the Big Ragu on Laverne and Shirley will be reunited with his Laverne and Shirley pal Cindy Williams, when they co-star in Grease at the MGM Grand in Las Vegas.



EDDIE MEEKA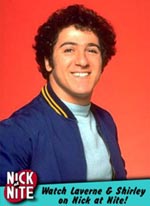 Meeka was trained as an opera singer and was a theatrical performer before scoring on Laverne and Shirley which was his first part as a television regular

The first reunion of the Laverne and Shirley cast Penny Marshall, Cindy Williams, David I. Lander, Michael McKean and Mekka is taking place today, Sunday April 9 at the MS Walk 2000 at the Warner Bros. Lot. Lander, who played Squiggy has multiple sclerosis and is hosting today's fund raiser, which is expected to draw more than 10,000 walkers.

It is also anticipated that most of the cast will be in Vegas applauding Williams and Mekka when they open in Grease.

Mekka won't have too far to travel. He lives in Las Vegas.

Written by Jim Jacobs and Warner Casey, Grease is ranked as the fifth longest running musical in Broadway history. It opened in 1972 and clocked 3,388 performances until its close on April 13, 1980. It's revival opened on Broadway in 1994 and has featured virtually everyone from Rosie O'Donnell to Brooke Shields. Nominated for seven Tony Awards the first time around and for three more during its revival, the popularity of Grease has achieve cult status.

Grease is the word April 27-May 3 MGM Grand Hotel, Las Vegas.


TITANIC REMEMBERED

The sinking of the Titanic at 2:27 a.m. off Newfoundland on April 15, 1912, remains the quintessential disaster of the 20th century. A total of 1,517 souls - men, women and children - lost their lives with only 711 surviving.



TITANIC the 1997 movie rekindled America's interest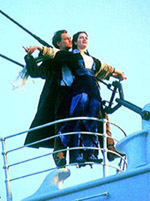 That tragedy has long been a favorite of Hollywood spinning off several movies including the first Titanic in 1953, A Night To Remember in 1958, SOS Titanic in 1979, Raise the Titanic in 1980 and the 1997 $200 million dollar epic Titanic

The blockbuster movie spawned a hit song, fake jewelry and a brisk sale in corsets ever since the constricting undies appeared in Titanic - and it's reported that 35 percent of new corset customers are business men trying to hide their bulging beer bellies.

A laced up middle is not without its drawbacks. Many corset wearers are now complaining of "corset constipation" from all the squeezing, which forces them to eat smaller meals.

Interest has not been limited to celluloid. There was also a Broadway musical - now on a national tour - and a fascinating exhibit which can be seen in Chicago and at the Rio Hotel in Las Vegas.

Nearly 5,000 artifacts have been recovered from the wreck of Titanic.

The Titanic catastrophe has social ramifications that went far beyond that night's events. For the first time since the beginning of the industrial revolution early in the 19th Century, bigger faster and stronger did not prove automatically to be better. Nor was this the only question arising from the disaster.

The accommodations of the ship, divided into lst, 2nd and 3rd Classes, mirrored almost exactly the class structure - upper, middle and lower - of the English-speaking world.The cost of a first class ticket was $4,350 which would be about $50,000 today. A third class ticket was $30 or $345 today.

All but two of the women in lst Class were saved, while 155 women and children from 2nd and 3rd - mostly 3rd - drowned - there was a new, long-overdue scrutiny of the prevailing social system and its values.

She was the most luxurious moving object ever built. No other story in history has captured our hearts and imagination like hers. In the Titanic Exhibition history is brought to life as you view over 200 authentic artifacts recovered from Titanic's wreck site, amazing recreations of her famous rooms, and personal stories of her passengers and crew.



This bronze cherub is similar to the one that stood at the foot of the Grand Staircase at the entrance to First class
A microcosm of the Edwardian era, the Titanic carried all types of people from all over the world.The Chicago exhibit in the Museum of Science and Industry, spotlights the only black on board the Titanic.

French researcher Olivier Mendez and the Massachusetts-based Titanic Historical Society are credited with first uncovering the information that a black was aboard the Titanic.

Joseph Laroche, a Haitian-born French-educated engineer boarded the Titanic at Cherbourg , outside Paris, with his wife and two daughters. They weren't featured in the popular 1997 film. Two of the museum's "program interpreters" are portraying the couple. Other passengers being portrayed include socialite Margaret "Molly" Brown and Capt. Edward Smith.

The Laroches - played by Gregory Armstrong and Meredith Browder -provide a history lesson about their lives and the fateful journey that would separate them forever.



RECOVERED DISHES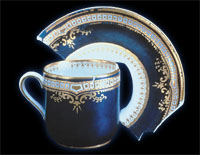 They had not planned to leave France on the Titanic, but Mrs. Laroche was pregnant and her condition required that they leave while it was still safe for her to travel. The family dined together at a 9 p.m. seating on April 14. Joseph retired to the smoking parlor with other men in second class. Juliette and their daughters, 3- year-old Simone and 1- year-old Louise, returned to their suite.

After the collision, Joseph ran back to the suite awakening his wife and daughters. Juliette and her daughters were placed in a lifeboat. Joseph draped his coat, stuffed with money and family valuables, across his wife's shoulders. "You will need it," he said to his wife. "I will see you in New York. I must take another raft. God be with you.



This particular artifact, a magazine found among the passenger's luggage, has been remarkably restored despite having been two and a half miles below the surface for 81 years.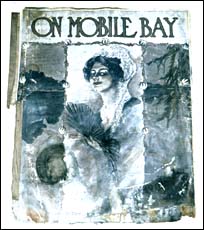 Those were the last words he spoke to his wife. The coat was stolen, but Juliette Laroche and the girls survived. Joseph Laroche, 26, the only black man aboard the ship, was one of 166 second-class passengers who died.

Transported on the rescue ship Carpathia, Juliette Laroche, whose feet were frozen, and her daughters arrived in New York, where they were treated at St. Vincent's Hospital. She later returned to France where Joseph Lemercier Laroche was born on Dec. 17, 1912.

Juliette Laroche never remarried, nor spoke of the disaster except in letters in the Titanic Historical Society.

She died in 1980. Her daughters never married. The younger Joseph Laroche, who married and had three children died in 1987.

The Broadway musical opened at the Lunt-Fontaine Theatre on April 23, 1997. Titanic is now on a nationwide tour. With a story and book by Peter Stone and music and lyrics by Maury Yeston, the action takes place between April 10 and 15, 1912. All characters and events are based on fact.



TITANIC THE MUSICAL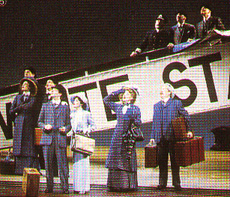 The original cast recording on RCA Victor, produced by Tommy Krasker and Maury Yeston, was recorded and mixed by Joel Moss. It was recorded April 27, 1997 at the Hit Factory's Studio I, New York City and is a must have for Titanic historians and Broadway enthusiasts.

Look for the production when it comes to your area of the country. From April 11-16 the boat docks at the Ovens Auditorium in Charlotte, NC. Pulls up anchor and sails to the Juanita K. Hammons Hall in Springfield, MO April 25-30.



Broadway To Vegas is supported through advertising and donations. Priority consideration is given to interview suggestions, news, press releases, etc from paid supporters. However, no paid supporters control, alter, edit, or in any way manipulate the content of this site. Your donation is appreciated. We accept PAYPAL. Thank you for your interest. Laura Deni P.O. Box 60538 Las Vegas, NV 89160


APPLAUSE, APPLAUSE

ENSEMBLE STUDIO THEATRE/SLOAN PROJECT is a half million dollar, three year program fostering new theatrical explorations of the worlds of science and technology. This season, the Project is awarding $57,000 in commissions to playwrights, choreographers and scientists, including: Peter Basch, Bob Clyman, Arthur Giron, Brian Greene, Sandra Kaufmann, Quincy Long, Cassandra Medley, Rita Nachtman, Dan O'Brien, Jeff Reich, Jacquelyn Reingold, Jamie Richards, Elyse Singer, Matthew Wells, and the NYU Graduate Acting Program.

The Ensemble Studio Theatre is the nation's foremost developmental theatre, with over five thousand plays produced over its twenty seven year history. It has a core membership of over four hundred professional theatre artists.

Moving Bodies by Arthur Giron is about Nobel Prize winning scientist Richard Feynman. Directed by Chris Smith, Moving Bodies is the centerpiece production of this festival, which runs through April 29. Moving Bodies is the story of the young physicist Feynman as he explores nature science, sex, anti-Semitism, and the world around him. This epic, comic journey portrays Feynman as an iconoclastic young man, a physicist with the Manhattan Project, and confronting the mystery of the Challenger disaster.

Founded in 1934, the New York based Alfred P. Sloan Foundation is a philanthropic, nonprofit institution that makes grants in science and technology and economic competitiveness. Sloan's program in public understanding of science and technology aims to enhance people's lives through a keener appreciation of our increasingly scientific and technological world. The program also strives to convey some of the challenges and rewards of the scientific and technological enterprise, and of the lives of the men and women who undertake it.

FRANK SINATRA will be christened with a bottle of Jack Daniels cracked across the bow. Named in honor of the late crooner, the New York Waterway trans-Hudson fleet will name a boat after him with Frank's granddaughter, Angela Jennifer (AJ) Lambert, doing the christening honors on April 12.


THE MUSIC GOES ROUND AND ROUND


CONFIDENTIALLY COLE the original cast CD has been released. Sean Hayden created a riveting theatrical production that used the music and lyrics of Cole Porter, with additional music by Steve Ross and Ann Hampton Callaway, to produce a new look at the music and life of one of the 20th century's great musical theatre composers. Music director and co-arranger is Rick Jensen.

During his time, Cole Porter's conflicting passion produced a collection of over 800 songs, many with recurring themes of forbidden love, longing and obsession. Although married for 34 years. Cole had several intimate relationships during these years. Thus his double life was infused throughout his music with coded references to his lifestyle as well as a fatalistic view of love.



COPENHAGEN written by Michael Frayn, directed by Michael Blakemore stars Philip Bosco, Michael Cumpsty and Blair Brown.



BLAIR BROWN grew up in a CIA family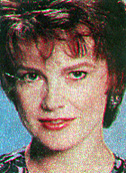 Brown, best known as the title character in the quirky cult hit TV series The Days and Nights of Molly Dodd, is the only child of a schoolteacher mother and a father who was an operative and then an analyst with the CIA. Early in life she learned how to act. While she was little she was instructed to tell friends that her father was with the State Department. When she went to drama school in Canada she was ordered to say he sold greenhouses. Given her background this play seems a natural for Blair.

Copenhagen is inspired by actual events that have intrigued and baffled historian for more than 50 years - a 1941 meeting between two brilliant physicists, longtime friends whose work together had opened the way to the atom, but who were now on opposite sides of World War II. German physicist Werner Heisenberg (Michael Cumpsty) made a covert trip at great risk to see his Dutch counterpart Niels Bohr (Philip Bosco) and his wife Margrethe (Blair Brown) in Copenhagen, but the meeting ended in disaster. Why did Heisenberg go to Denmark, and what did the two men say to each other? What happened at this pivotal meeting that was a defining moment of the modern nuclear age? Set design by Peter J. Davison, Mark Henderson and Michael Lincoln are the lighting designers and Tony Meola is the sound designer. Opens April 11th at the Royale Theatre, NYC

THE REAL THING written by Tom Stoppard, directed by David Leveaux stars Stephen Dillane, Jennifer Ehle, Nigel Lindsay, Sarah Woodward, Joshua Henderson, Charlotte Parry and Oscar Pearce. The Real Thing is about marriage and writing, emotional fidelity and intellectual integrity, the truth and acting, both onstage and in real life. The play centers around Henry, a successful writer attempting to balance his professional and personal life and finding the two blurs together more often than not. In shifting perspectives, couples in The Real Thing flounder and reform. Presented by Anita Waxman, Elizabeth Williams, Ron Kastner and Miramax Films with sets and costumes by Vicki Mortimer, Mark Henderson and David Weiner on lights and sound by John A. Leonard. Opens April 17 at the Barrymore Theatre, NYC.

ENTER THE GUARDSMEN has its New York premiere May 9 at the Vineyard Theater. The production is a musical based on the Ferenc Molner play The Guardsman.

THE MUSIC MAN getting standing ovations in New York City. Seventy Six Trombones gets em every time. The revival proves to be a hit.

FOSSE the Tony award winning musical plays the Orpheum Theatre, Minneapolis on April 12-13. The show highlights the work of legendary choreographer/director Bob Fosse and includes rarely seen dance and musical numbers from his earliest works. In 1973, fosse became the first director in history to win the Oscar, Tony and Emmy awards in a single year for the film version of Cabaret, the Broadway musical Pippin and the television special Liza With a Z.

SUNDAY IN THE PARK WITH GEORGE Stephen Sondheim's acclaimed musical had an especially real feel of the Broadway show when it was staged in Modesto, California. That's because producer/director Erik Buck Townsend bought the original set.

ROCK:THE BRITISH SYMPHONY AND CHOIR Direct from London, this two and a half hour celebration of the British Rock Invasion with 54 hit songs from the Beatles, The Rolling Stones, Led Zepplin, Pink Floyd, and The Who - all performed by a powerful cast of 60 including Zak Starsky - Ringo Starr's son - on drums. Billy Preston on keyboards and Dave Edmunds on guitar. April 15 at the Robert Ferst Center for the Arts, Atlanta, GA.

FLAT ROCK PLAYHOUSE is accepting shots and resumes from experienced union and non-union performers for consideration for the 2000 season. Send to Paige Posey, Flat Rock Playhouse, Boc 310 Flat Rock, NC 28731. Do not phone.


WHO'S WHERE

WYNTON MARSALIS conducts The Lincoln Center Jazz Orchestra For Dancers Only at the Art Ham Concert Hall in Las Vegas on April 16. This is part of a 23 city tour with Las Vegas among the first of their stops.

The band will feature timeless dance classics from jazz legends such as Duke Ellington, Count Basie and Benny Goodman, as well as newly commissioned works by LCJO members Wycliffe Gordon, Ron Westray, and Ted Nash. Jazz at Lincoln Center (J@LC) is the world's largest not-for-profit arts organization committed to promoting the appreciation and understanding of jazz through performance. Education and preservation. Famed jazz musician Wynton Marsalis has a multi-faceted career as an instrumentalist, composer, bandleader, recording artist and educator has earned him several awards including the prestigious Pulitzer Prize in music. Tickets for the Lincoln Center Jazz Orchestra with Wynton Marsalis are $35-$55.

COMDEN AND GREEN At the 92nd St Y, NYC. April 15,16,17 Tickets are $40.

MARY TYLER MOORE April 17 discusses her life and experiences at the Au-Rene Theater, Fort Lauderdale Florida. There is also a post lecture VIP reception.

TONY VINCENT has replaced Jason Pebworth as Judas in the revival of Jesus Christ Superstar. The decision was made by the American producers, privately being called "the Judas kiss off."

UTE LEMPER performs at Davies Hall San Francisco on April 13, then at the Chicago Theatre in Chicago on April 15. The next night its on stage at the Lisner Auditorium in Washington, D.C.

JACK JONES & PHYLLIS DILLER

Serving those special clothing needs nationwide



two of America's best loved cabaret stars will blend their considerable and diverse talents when they pair up at the Stardust Hotel, Las Vegas April 11-15. Jones, the son of motion picture and concert legend Alan Jones, has recorded more than 50 top-selling albums. His Top 20 singles include Lollipops And Roses, Wives and Lovers, Call Me Irresponsible and Dear Heart. Diller's distinctive cackle, uncontrollable hair and self-deprecating humor have made her one of the world's most recognizable comediennes. A trained concert pianist, Diller has been in 22 motion pictures and starred in Hello Dolly. She's also written four successful books and recorded five hit comedy albums.

ROGER WHITTAKER Pantages Playhouse, Winnipeg, Canada on April 12.

B.B.KING Palace Theater, Myrtle Beach, S.C. April 10.

MICHAEL FEINSTEIN April 11-13 at his own Feinstein's At The Regency in NYC. On April 14 it's off to the Westbury Music Fair with Rosemary Clooney and Big Kahuna and the Copa Cat Pack. Like a yo-yo Michael returns to his Feinstein's club on April 15 and then reappears at Westbury on April 16 again with Clooney and the Big Kahuna and the Copa Cat Pack.

THE RIGHTEOUS BROTHERS were feted by Las Vegas Mayor Oscar Goodman and The Orleans Hotel on their hit You've Lost That Lovin' Feeling being the most played song in the last century.

PAUL RODRIQUEZ

Paul Rodriquez's mother has never seen him perform his comedy act.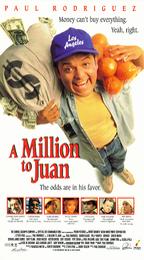 on a national tour recently appeared in Stockton, California which is in the middle of the area from Bakersfield to Bremerton, Washington where Paul and his family worked picking crops.

"Anything that grows in Modesto has been picked by somebody named Rodriquez. I remember being on my knees a lot - whether it was from picking almonds or pistachios I don't recall."

Up off his knees and into the spotlight Rodriquez blends his upbringing into his comedy routines.

Paul's mother has never seen her son perform.

"She has never been to one of my shows. She understands acting and singing, but she doesn't understand being paid to stand up and talk."

As for Paul's five brothers and sisters, the comedian says his sibs think he's overpaid and that they are funnier. Paul returns to Las Vegas where he'll appear at the Monte Carlo Hotel April 29-May 4.


THIS AND THAT

NINA REPETA who plays Bessie Potter on Dawson's Creek has been named the Festival Queen of the North Carolina Azalea Festival. The busy young lady is also filming the movie Angel Doll directed by Tony Leung.

THE ATLANTA TENNIS CHALLENGE

Low Cost Printing Nationwide



formerly known as the AT&T Challenge, is the largest clay-court tennis tournament in North America. April 9-April 16 at the Atlanta Athletic Club. Among the players are last year's winner, Australian player Stefan Koubek, as well as Las Vegas resident, four-time Atlanta champ Andre Agassi. General admission tickets $8-$38.




Mention BROADWAY TO VEGAS for Special Consideration
Call (800) 942-9027









Next Column: April 16, 2000
Copyright: April 9, 2000. All Rights Reserved. Reviews, Interviews, Commentary, Photographs from any Broadway To Vegas (TM) columns may not be published, broadcast, rewritten, utilized as leads, or used in any manner without permission, compensation and/or credit.
Link to Main Page
---
Laura Deni


CLICK HERE FOR COMMENT SECTION