! >
Broadway To Vegas
  
  REVIEWS  INTERVIEWS COMMENTARY NEWS

| | |
| --- | --- |
| | |
BATMAN LIVE OPENS ON TIME AND WITHIN BUDGET - - NATIONAL MUSEUM SCOTLAND REOPENS - - BROADWAY COMMUNITY CELEBRATES NEW YORK'S NEW SAME SEX MARRIAGE LAW - - QUEEN ELIZABETH COMMENTS THAT KATE'S WEDDING DRESS DISPLAY LOOKS 'HORRID, CREEPY' - - THE MAD SHOW - - 1 HEART RADIO MUSIC FESTIVAL - - CROWN PRINCE PAVLOS AND PRINCESS MARIE-CHANTAL OF GREECE RENEW THEIR MARRIAGE VOWS IN VEGAS WITH AN ELVIS IMPERSONATOR - - ENGAGING SHAW - - DONATE . . . Scroll Down



HOLY BATMOBILE! - BATMAN CONQUERS THE STAGE
Batman and Robin. Batman Live publicity photo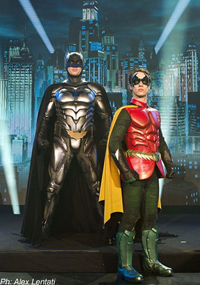 Riddle me this - Why was Batman Live able to open a humongous, technical and acrobatic marvel on time and within budget while Spider-Man Turn Off The Dark failed?

Spider-Man which became the reigning champ of delays and disasters is being shown how it can be done by Batman Live, which officially opened on schedule last Tuesday at the MEN Arena in Manchester, England with nary a glitch. Stars walked the black carpet to attend the kapow wow premiere

However Batman officials don't want their show compared to that comic book character on Broadway. Batman producers have accelerated their position that there is no comparison between Batman, which isn't a musical, and the beleaguered Spider-Man, which many say isn't much of a musical.

Manchester's Evening News Arena was transformed into Gotham City as the $20 million production began a four year world tour.

This is a major spectacular that was designed to travel by a design team that not only knows how to use those creative juices, but also how to affectively work well together.

Based on an original story created exclusively for the show, with 12-ft skyscrapers, Wayne Manor, the Batcave and Arkham Asylum where the Scarecrow holds court and the strait-jacketed inmates hang, on chains, from the ceiling, Gotham City has been brought to life on stage in a visually exciting and entertaining way. Batman and Robin battle their nemesis The Joker and other super-villains such as The Riddler, Catwoman, The Penguin, Two-Face and Harley Quinn, set on destroying Gotham City.



The Joker and cast members of Batman Live. Publicity photo: Batman Live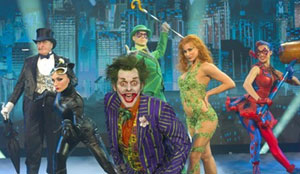 The show features a cast of 43 actors and circus-trained acrobats and tells a simple, easily understood story of how Batman and Robin came to team up.

Stars of the show are the 100ft-wide, bat-shaped, made in America LED video wall that moves the action from scene to scene - and the Batmobile.

That impressive speedster was the brainchild of former McLaren Formula One designer Gordon Murray. It's billed as a "neat, sleek, flame-spitting wonder of carbon-fibre engineering." The Batmobile is a hybrid of Formula One and Murray's childhood fantasies.

In trying to explain the creation to Dispatch publication he made reference to "advanced Wayne Industries technology, lasers, sonar, a "breathable carbon-fibre" body and "virtual wheels" - gravity-opposing force field generators that suspend the car 40mm above the ground. "I just thought rotating wheels are so passé and wouldn't be spectacular," he is quoted as saying.

It's a stage prop and the audience needs to be impressed. That meant that the car needed a wheel disk to bring out the design. To accomplish that Murray told the publication that he "put in LED lights like incomplete spokes; you can make them rotate backwards, forwards, pulse, change color or whatever."



Batmobile. Publicity Photo: Batman Live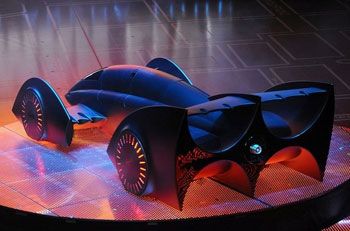 For those who fear the Batmobile will catch the arena on fire - think smoke and mirrors, or in this case red lights and a smoke generation. But when you see the performance you'd swear that it's fire.

However, it is hot. To keep Batman from fainting, there are holes underneath at the front and a fan which brings air into the cockpit.

The bat shaped elements are there for a reason and so is the use of both matt and gloss black paint. Both the scenery and the costumes have attention down to the most minute details.

The Batmobile's windshield is even split into two halves with two sonar sensors above them - described as "like small ears about eyes, so it has a slight mammal face."

Batman Live costume designers, headed by Jack Galloway, selected a metallic gunmetal finish for the Batman costume.

When it comes to detail nothing was overlooked.

Even Robin's "R" emblem is designed to look like a bow and arrow. The arrowhead is also featured on Robin's utility belt and on his gloves.



The Joker attacks. Photo: Batman Live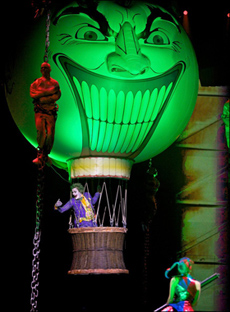 The Joker's vest has a card motif, although you need to be really up close to recognize the design.

The live-action drama is crammed with dazzling special effects, visuals and improbable feats of high wire daring.

The fight scenes are attention getting, including a breath-taking one where Batman and Robin are assailed by a 30-strong battery of kung fu henchmen with fluorescent orange attack weapons.

The Joker's various contraptions include flying jet-packs, hot-air balloons and a giant Joker head advances on the stage and reveals some ingenious components.

As befits the creatives who brought us Walking With Dinosaurs and U2's 360 tour, Batman Live knows its target audience and brilliantly delivers to them.

Gotham City has been created on stage by set designer Es Devlin, a mother of two small children, who is now working on the 2012 Olympic Games closing ceremony.

Her inspiration for the stage designs came from the classic Batman comic books.

According to press materials, the show is "based on the story of young Dick Grayson (Robin), a circus performer who loses his parents to organized crime.

"Faithfully adapted from the DC Comics characters and stories, Batman Live focuses on Robin's quest for justice, which leads him to follow in the footsteps of his hero, the mysterious vigilante known as Batman - much to the dismay of his protective guardian, millionaire Bruce Wayne - who secretly happens to be Batman.



Gotham City has been created by set designer Es Devlin. Photo: Batman Live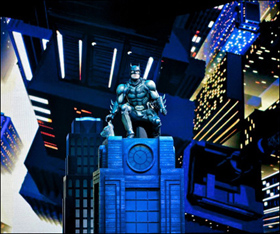 Batman to the rescue of Gotham City. Photo: Batman Live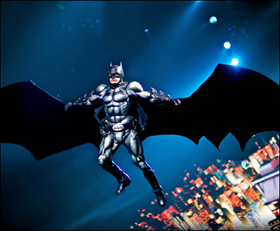 "This triangle resolves itself in a journey across Gotham City that transforms Bruce Wayne and Dick Grayson into the legendary crime-fighters Batman and Robin and takes the audience from the Big Top of Haly's Circus to the lower depths of Arkham Asylum, from the glittering peaks of the Penguin's Iceberg Lounge to the subterranean wonders that await inside the Batcave."

The UK open audition was held on January 25, 2011 and over 2000 people auditioned for a part.

Nick Court won the role of Batman with the Joker being played by Garry Lake. Catwoman is Emma Court, and Robin is played by Michael Pickering.

During the press launch Anthony Van Laast explained why they expected success. "What it is really is rock and roll. Almost all of us come from a rock and roll background, we know we can fill an arena, we can do the whizz bangs and the special effects - all we needed was a really good yarn as the backbone of the show, and we've got that. It's not a musical."

Van Laast choreographed Mamma Mia! for stage and screen, and worked on films including Harry Potter and the Deathly Hallows.



Half of the actors are circus acrobats. Photo: Batman Live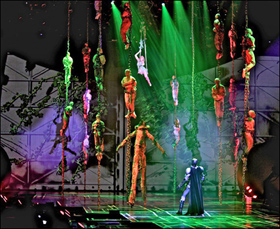 Referring to opening night Van Laast told Sky News: "It was a fantastic evening last night. "I mean I've been working on this project for two and a half years, and it came into culmination last night."

Both critics and the consumer see a success.

That doesn't mean the entire process hasn't been without a hiccup.

In one of the final dress rehearsals the Batmobile crashed into the Bank of Gotham, which is part of the Gotham City set.

A spare Batmobile, which has been put on display for publicity, came to the rescue.

"But we hope that won't ever happen again," designer Devlin told BBC News. "Luckily we had two [cars]. "It literally came out, swizzled around and crashed into the Bank of Gotham. The Bank of Gotham took a bit of a hit but we patched it up and I don't think anyone would notice."

One of the stage centerpieces is a giant animatronic man who stands up and moves.

During rehearsals and previews there were only two occasions when it failed to stand up and there were instances when the hand movements weren't quite what were programmed, but reportedly off so slightly that no audience member would have noticed.



Villan scene in Batman Live. Photo: Production photo Batman Live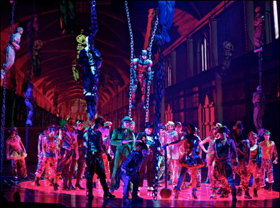 Two and a half years in the making, after its six-day run in Manchester it will now tour the UK before taking on Europe and eventually - the world.

Although this show was designed to tour, that doesn't mean you can shove it in one suitcase.

According to production notes, "Batman Live is designed to play in 4,000 - 10,000 seat arenas. The show will tour around the world with 86 people on the road, comprising actors, acrobats, stunt performers and crew. It takes over 17 trucks to move the show from arena to arena."

Producer Nick Grace came up with Batman Live while seeking an arena project to follow his last venture, the animatronic monsters of Walking With Dinosaurs, seen by more than 1.8 million people in their first year of touring.

The show will be staged 87 times in the UK and Ireland between now and October, including 19 performances at the O2 in London. It will then visit Europe before reaching North America next August. Producers hope it will tour until 2016.

Just because it's not a musical doesn't mean there isn't music. There is - composed by James Brett.



The recording of the title tune involved 85 musicians. Batman Live Production photo.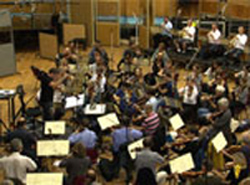 The first ever recording of the music took place at Abbey Road Studios on September 23, 2010 with 85 musicians.

Batman Live is written by Allan Heinberg, with the original story by Stan Berkowitz and Alan Burnett, and Allan Heinberg. Anthony Van Laast, is creative director, with James Powell as co-director.

Sound by Simon Baker and lighting by Patrick Woodroffe.

The Circus Space are billed as creative partners and circus consultants, with Jack Berry as technical manager and Sam Pattinson as video producer.

It is produced by Warner Bros. Consumer Products (WBCP), DC Entertainment and Nick Grace of Water Lane Productions Ltd (WLP).

In a press statement, Heinberg commented, "I am delighted to be joining a team as committed to delivering an unparalleled visual spectacle, as they are to telling a compelling, emotional story. Batman Live is lovingly faithful to the characters and their distinguished history and it provides a unique opportunity for new and lifelong fans to experience Batman and his world as they never have before."

Holy Success, Batman!



Broadway To Vegas is supported through advertising and donations. Priority consideration is given to interview suggestions, news, press releases, etc from paid supporters. However, no paid supporters control, alter, edit, or in any way manipulate the content of this site. Your donation is appreciated. We accept PAYPAL. Thank you for your interest.



ART AND ABOUT


NATIONAL MUSEUM SCOTLAND after a three year renovation reopens to the public on Friday, July 29.

The show will get off to a roaring start with an animatronic Tyrannosaurus Rex making its way up the street. Sea creatures will be dancing on stilts and the Mugenkyo Taiko Drummers will perform on the steps of the museum. Master of Ceremonies, broadcaster Grant Stott in Victorian garb, will set the scene before the museum opens. Then the Evening News child competition winner will knock on the doors of the Museum to cue a unique fanfare on the Carnyx, a 2,000 year old Scottish war horn, accompanied by two brass instruments. The fanfare is composed by John Kenny and performed by his son Patrick.

A crescendo of Chinese Firecrackers will then signal the doors of the Museum being opened by the competition winner. At that point the public will be allowed to enter the museum.

Meet an array of characters from an ale wife to a steam engine driver. Have a chat with them and find out what they did and what life was like for them.

For the past six months the staff has been undertaking the mammoth task of installing into 16 new galleries nearly 8,000 objects 80% of them never seen before - including a girder from the Tay Bridge, a rock from Vesuvius and a gyrocopter.

The original interior of the building has been comprehensively restored, revealing the wonderful architecture of one of the finest Victorian public buildings in the UK. Designed by the visionary engineer Captain Francis Fowke and a local architect named Robert Matheson, the museum opened in 1854, with the foundation stone being laid by Prince Albert in 1861, his last public act. As the years passed gas lighting allowed those who worked during the day to visit in the evening, then electricity in the 1900s supplying the first interactive displays.

The $75.5 million redevelopment will permit displaying 20,000 objects across 36 galleries.

Dr Gordon Rintoul, Director of National Museums Scotland said: "From a giant T Rex skeleton to specimens collected by Charles Darwin, Alexander Fleming's Nobel Prize Gold medal for penicillin, three thousand year-old mummies and hundreds of interactive exhibits - we have something for everyone."


NEW YORK BECOMES 6th STATE TO LEGALIZE SAME SEX MARRIAGE - BROADWAY COMMUNITY TAKES NOTICE
Tony nominee Coleman Domingo will officiate at the marriage ceremonies taking place on stage immediately following the Hair performance at the St. James Theater.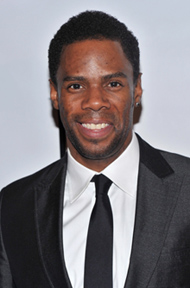 The Broadway St. James Theater where Hair is receiving a short revival will have an opening night party tomorrow unlike any every seen on Broadway.

Immediately after the curtain drops, a curtain will rise on a historical event - the legal marriage in New York of same sex couples.

The couples will take to the stage on July 25, the day after gay marriage became legal in New York.

The theatrical uniting was announced by Rory O'Malley, a star of the Tony Award winning The Book of Mormon and a co-founder of the gay-rights group Broadway Impact, who stated that several gay couples from the Broadway community would be united in marriage on stage right after that evening's performance of Hair.

"It's not just a summer of love," he had said at a press conference in front of the St. James Theater. "It's a summer of equality."

Other theater celebrities on hand for the announcement included Joel Grey from Anything Goes, the cast of Hair and Will Swenson from Priscilla Queen of the Desert, the Musical.

Wedding officiant and Tony Award-nominee Colman Domingo will unite the couples in marriage.

Couples exchanging vows include actress and singer Terri White (Finian's Rainbow, Follies) and her partner, jewelry designer Donna Barnett, actor Ryan Dietz (Chess) and his partner, playwright Josh Levine (Theatre Communications Group) and Broadway stage doorman John Raymond Barker and his partner, theater usher Jared Pike.

Witnesses will include the cast of Hair and Jordan Roth, president of Jujamcyn Theatres, which owns and operates the St. James Theatre.

Roth said he was proud to be able to host some of the first same-sex weddings in New York state. He said there was a natural connection between the theater and weddings.



Tony Award winner Audra McDonald will sing at the first gay marriage officiated by Mayor Bloomberg.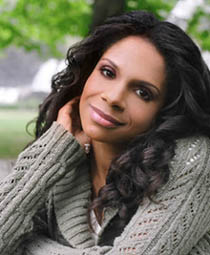 Four time Tony Award winner Audra McDonald agrees.

She announced on her Twitter account that she will sing at the first gay marriage in New York. "Gonna sing at the celebration of the first gay marriage officiated by Mayor Bloomberg this weekend. So honored and excited!"

City Hall aides John Feinblatt and Jonathan Mintz will have Mayor Bloomberg officiate their wedding Sunday night.

The puppets in Avenue Q are also making it legal.

To celebrate the first day same-sex couples can legally marry in New York, the show's puppet characters Rod and Ricky will tie the knot at City Hall before the show's matinee.

"To have this finally happen for us-especially so soon after Will and Kate-is unbelievable to me," Rod said in a statement released by the production.

"I realize there are a lot of broken hearts out there now that Ricky and I are off the market-step back, all you chorus boys!-but I've known since Day One that Ricky is the husband for me. He's the furry fellow I want to spend my life with both on and off the stage."

The custom made couple would have one day off from the show for a honeymoon - the location is being kept top secret - as is where they have registered for wedding gifts.


LAS VEGAS ELVIS IMPERSONATOR OFFICIATES AT WEDDING VOW RENEWAL OF CROWN PRINCE PAVLOS AND PRINCESS MARIE-CHANTAL OF GREECE
Crown Prince Pavlos of Greece and Princess Marie-Chantal cut their wedding cake in 1995. Years later it would be Vegas and an Elvis impersonator. Photo: Getty Images.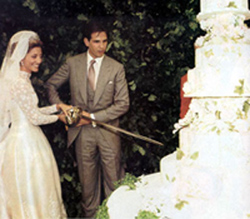 Donald Trump's son, Donald, Jr. whose marriage to his wife Vanessa, now expecting their third child and second son, was a lavish affair. Referring to all of the fuss and tension the younger Trump has said that if he had it all to do over again, he'd come to Vegas and get married by an Elvis impersonator.

Apparently, a popular choice.

In the current, August issue of Town and Country magazine there is a lovely two page photo spread by Michael Callaghan, in which he writes about Crown Prince Pavlos of Greece, his wife Princess Marie-Chantal, her sister Pia Getty and their combined 9 children (Pavlos and Maria-Chantal have 5, Pia has 4) hopping into two rented Winnebagos - along with two drivers and one male helper - to explore the American West.

According to the interesting article: "The highlight of the trip came in Las Vegas, of all places, when Marie-Chantal and Pavlos decided to renew their vows at the Elvis Wedding Chapel, with Getty as the maid of honor, and all the kids dressed as miniature Elvi. Marie-Chantal walked down the aisle as an Elvis impersonator crooned I Can't Help Falling in Love With You. 'That, the bride says, is what one would call a Kodak moment.'"

The vow renewal party kept their royal identity under wraps - a far cry from the first time.

The original wedding of HRH Pavlos, Crown Prince of Greece, Prince of Denmark and Miss Marie-Chantal Miller took place on July 1, 1995 at St. Sophia's Cathedral in London. The wedding was attended by 1,400 and the wedding ceremony and reception reportedly cost her father, billionaire Robert Warren Miller, $8 million. The week before the wedding, Queen Elizabeth II hosted a tea party reception for them.

More crowned heads were in attendance at their wedding than attended the wedding of Prince Charles and Lady Diana Spencer.

William and Kate take note - for your anniversary consider renewing your vows in Las Vegas. Marie-Chantal can give you the number of the Elvis impersonator.

HSH Prince Albert and Princess Charlene of Monaco held a press conference to inform the scribes that their marriage is not in trouble. Albert faulted the reporters for printing rumors started by what Albert called his enemies in Monaco who wanted to "sabotage" the union. As to the couple spending their honeymoon in separate hotels 10 miles apart, the son of actress Grace Kelly explained, "That was for obvious practical reasons."

Las Vegas has a lot of hotels with honeymoon suites. They could renew their vows in Las Vegas with that fake Elvis doing the honors. Albert and Charlene can contact Princess Marie-Chantal for details about how they, too, can have an Elvis wedding.

The Elvis Wedding Chapel advertises weddings - first time or renewal of vows - from $260 to $1100. Thank you, thank you very much.


LET THEM SEE CAKE - AND KATE'S WEDDING GOWN
Catherine's wedding gown has gone on display at Buckingham Palace. Photo:Getty images.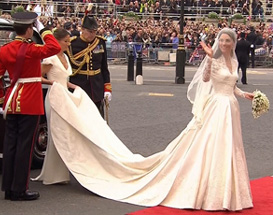 If the closest you got to the wedding of Catherine Middleton to Prince William was the television set, you can experience a more up close and personal look in a display at Buckingham Palace. Curated by Caroline de Guitaut, the exhibit opened to the public yesterday. Before the first paid guest entered, 150,000 tickets had been sold at $29. When the exhibition ends, over a half million are expected to have feasted their eyes on the mementos.

Before the pedestrians tiptoed on the red carpet, The Duchess of Cambridge and Queen Elizabeth took a peek. Nobody expected the reaction. Queen Elizabeth has been quoted as calling it "horrid" and "creepy".

At question appears to be the use of a headless mannequin and dim lighting which delivers an extremely dramatic, eerie effect, almost denoting Halloween and death - or a display at Disneyland's Haunted Mansion.

When Queen Elizabeth's gown was put on exhibition, a lighter, more romantic display was created which also included Prince Philip's wedding suit. Kate's display would have been more appealing if it had also contained William's uniform, Pippa's Maid of Honor gown, a bridesmaid's dress and a page boy outfit.



Queen Elizabeth II and Catherine, the Duchess of Cambridge received a sneak peek at the display. Reportedly, the Queen was not amused, calling it "horrid" and "creepy". Photo:John Stillwell/Getty Images.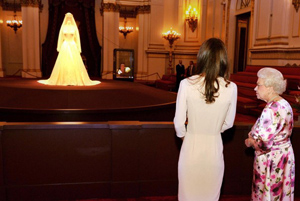 On view are Kate's dress, veil, the Cartier Halo tiara which was lent to The Duchess by The Queen. The tiara is formed as a band of 16 graduated scrolls set with 739 brilliants and 149 baton diamonds, each scroll being divided by a graduated brilliant with a large brilliant at the center. The tiara was made in 1936 and purchased by The Duke of York (later King George VI) for The Duchess of York (later Queen Elizabeth The Queen Mother) three weeks before he succeeded his brother as King.

The tiara was presented to Princess Elizabeth (now The Queen) by her mother on the occasion of her 18th birthday.

Included in the exhibit are the Duchess of Cambridge's custom satin and lace shoes hand-made by the team at Alexander McQueen, of ivory duchesse satin and lace embroidered by the Royal School of Needlework.

Also on view are the diamond earrings worn by the bride on her wedding day.

Commissioned by the Middleton family as a personal gift to their daughter from her parents, they were created by the London-based jewelers Robinson Pelham. The design, of stylized oak leaves with a pear-shaped diamond-set drop and a pave-set diamond acorn suspended in the center, was inspired by the Middleton family's new coat of arms.

Three large-scale reproductions of the official wedding photographs showing The Duke and Duchess of Cambridge, the pages and young bridesmaids, and the royal wedding party, are also on display in the Throne Room where they were taken by photographer Hugo Burnand.

The iconic gown - which was designed - and is owned - by Sarah Burton of Alexander McQueen is the star attraction. ( See Broadway To Vegas column of May 1, 2011 )

Then there is the wedding cake.



Fiona Cairns, stands next to the wedding cake that she and her team made for William and Kate's reception. Photo:Getty images.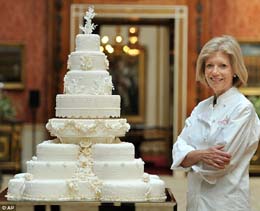 The cake artisans assemble the cake in the Picture Gallery of Buckingham Palace Photo: Getty
The wedding cake???

Didn't people eat that?

Not exactly.

"Other cakes were made to serve to guests, but the one that was cut by the royal couple is the one that will be on display. There is a cut into it where the Duke and Duchess cut into it with a sword," said an official referring to Will and Kate by their new titles as the Duke and Duchess of Cambridge.

The eight-tiered confection is covered in cream and white icing and decorated with 900 sugar-paste flowers each with a symbolic meaning is a confectionery masterpiece, created by cake-maker Fiona Cairns.

Don't laugh, but Will and Kate are fans of fruit cakes, which aren't to be confused with the hard, dry, doorstop texture versions Americans have hated for generations. British fruitcakes are moist and delicious.

As with many wedding cakes, every detail has a meaning.

Along the cake's base are ivy leaves which symbolize marriage.

The bottom three tiers are decorated with piped lace work and daisies, meaning innocence, sweet William - grant me one smile - and lavender which denotes ardent attachment, devotion, success, and luck.



Lily of the valley - representing sweetness and humility - covers the sixth tier, which also features an artistic interpretation of the couple's cipher - their initials intertwined below a coronet Photo: Getty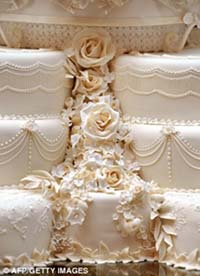 The cascading features are of orange and apple blossom, honeysuckle, acorns with oak leaves - meaning strength and endurance - and bridal rose, which symbolizes happiness, and myrtle which denotes love. Photo: Getty
The cascading features are of orange and apple blossom, honeysuckle, acorns with oak leaves - meaning strength and endurance - and bridal rose, which symbolizes happiness, and myrtle which denotes love.

The fourth tier featured the intricate garlands, reflecting the architectural details in the room.

Above that tier is another cake covered with lattice work and piped leaf detail.

Lily of the valley - representing sweetness and humility - covers the sixth tier, which also features an artistic interpretation of the couple's cipher - their initials intertwined below a coronet.

The four flowers of the United Kingdom home nations - English rose, Scottish thistle, Welsh daffodil and Irish shamrock - are featured on the penultimate tier and the top cake, around six inches in diameter, is covered with lace details with a garland of lily of the valley and heather on top.

Ingredients included dried fruits such as raisins and sultanas to walnuts, cherries, grated oranges, lemon and French brandy.

A spokesman for William and Catherine added: "The Duke and Duchess of Cambridge are delighted to give members of the public the opportunity to see, close-up, the skilled British craftsmanship that went into various elements of the wedding."

The wedding display is an addition to the Buckingham Palace's annual open house, which allows visitors the chance to view state rooms and art collections within the royal residence.

Visitors can ogle the wedding memorabilia until October 3, 2011.


SPREADING THE WORD


EMMA WATSON intends to return to Brown University. After much hoo-hah that the brilliant, beautiful and talent Harry Potter star had been bullied at the venerable institution.

Watson dropped out. Gossip vibrated that Watson would transfer to a New York institution of higher learning. While in London for the premiere of the final Harry Potter film she mentioned she'll be studying at Oxford University this coming term.

Now Watson has elaborated to The Virginia Pilot explaining that she is still technically enrolled at Brown and intends to return to the Rhode Island based school in 2012 to complete her degree.

THE ROYAL SHAKESPEARE COMPANY currently performing The Winter's Tale, As you Like It, King Lear and Romeo and Juliet in repertory at New York's Park Avenue Armory, until August 14 as part of the Lincoln Center Festival, spent their night off (Tuesday, July 19) attending - what was for some a first - a baseball game.

The venerable British acting troupe were guests of the Mets and watched them beat the Cardinals in a 4-2 win at Citi Field.

EDITH penned by Kelly Masterson, will have a staged reading July 27, as part of the Berkshire Playwrights Lab.

Jayne Atkinson will head the cast which also includes Michel Gill, Jack Gilpin and Bob Jaffe. Joe Cacaci will direct.

On October 2, 1919, when her husband, President Woodrow Wilson, suffered a massive stroke, Edith Wilson became the first female president of the United States. With the collusion of only the family doctor, she kept the truth of her husband's debilitation from the unknowing public and an increasingly suspicious opposition, fighting to complete his term and achieve his goals. Edith tells her story.

At the Mahaiwe Performing Arts Center, Great Barrington, MA.

DOCTOR WHO star Karen Gillan will make her professional theatre debut in a West End revival of John Osborne's 1964 play Inadmissible Evidence.

Gillan, will appear with Douglas Hodge in the show, which opens at the Donmar Warehouse in October. Hodge plays a self-destructive lawyer, while Gillan will play his secretary.

THEATRE WHERE YOU LEAST EXPECT IT a panel discussion with Teddy Bergman, Stephen Brackett, Adam Rapp, Daniel Talbott, and Maureen Towey taking place Monday, July 25 at NYC's Gershwin Hotel. Andy Horowitz will moderate the conversation.

The panelists will be discussing the challenges, joys, and importance of site-specific theater, the role of the audience and the types of spaces that work best. The event is being held in conjunction with The Amoralists' HotelMotel, a site-specific double feature at the hotel, which consists of Derek Ahonen's Pink Knees on Pale Skin and Rapp's Animals and Plants.

Following the panel discussion will be The Amoral Formal, a fundraiser for the company and its productions. The event will include live performances by Less The Band, with Adam Rapp on vocals and guitar, Baba Brinkman, and The Ridiculous Frauds, featuring Nick Lawson.

TALK OUT WEDNESDAY ESHEL speaks out - Religious gay and lesbian Jews with Rabbi Steven Greenberg. A Strange and Separate People by Jon Marans will be followed by this special Talk Out on Wednesday, July 27. Led by Rabbi Steven Greenberg the talk will center on religious gay and lesbian Jews who discuss their conflicts of embracing their sexuality while continuing to remain active members of the Orthodox community.

A Strange and Separate People is billed a "an emotionally rich play about a young Upper West Side Orthodox couple, Jay and Phyllis. They manage to find a precarious equilibrium in their complicated personal and religious lives. That delicate balance is tested when Dr. Stuart Weinstein (a gay doctor who is newly Orthodox) invades their lives. These are intelligent, opinionated people who have a deep love of their religion and an enormous love of learning and questioning even authority points of view. At times these separate loves ferociously clash in a contemporary story of betrayal and new beginnings."

Wednesday, July 27 at Off Broadway at Theatre Row (Studio Theatre), NYC.


OTHER PEOPLE'S MONEY


PRINCE WILLIAM AND KATE have been received $300 worth of duty-free goods vouchers from British Airways because the in-flight entertainment wasn't working.

The royal couple, who enjoy movies, had to spend 10 hours in flight from Los Angeles to London without being able to see The Fighter, Elton John's Gnomeo and Juliet and the Angelina Jolie-Johnny Depp effort The Tourist."


TURN THE RADIO ON - ONLINE
Jennifer Lopez is set to perform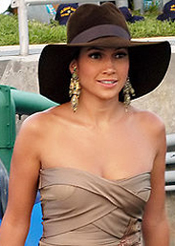 Ryan Seacrest will host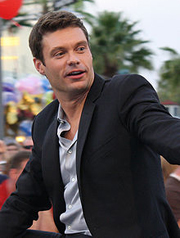 Tickets to the iHeart Radio Music Festival set for September 23-24 at the MGM Grand in Las Vegas sold out within 10 minutes of going on sale Saturday, July 16, giving the impression that radio isn't dead.

To get the word out that you can listen to 750+ free online radio stations from 150 cities. the iHeartRadio Music Festival is being billed as the biggest live music event in radio history.

Hosted by Ryan Seacrest, the talent lineup includes Lady Gaga, Coldplay, Steven Tyler, Black Eyed Peas, Kenny Chesney, Jennifer Lopez, Alicia Keys, Carrie Underwood, Jane's Addiction, Nicki Minaj, John Mayer, David Guetta, Rascal Flatts, Bruno Mars, Kelly Clarkson, Sublime With Rome, with special guest performances by Usher and Sting.

"Music is the heart of our business and we think there is no better way to celebrate the launch of the new iHeartRadio than with a groundbreaking, multi-day festival featuring the world's biggest, most exciting artists - and reaching the largest combined U.S. radio and online audience ever," said Clear Channel Chairman/Media and Entertainment Platforms Bob Pittman.

"The New iHeartRadio will offer users a much broader, more integrated and customized digital listening experience than any other service available - and it's all in one product," he added.

You can listen on your computer 24/7 with one player. Promising "amazing HD quality sound, plus check out the latest movie trailers, watch music videos, listen to full albums and so much more... all from the same player! Works with: all browsers, all computers, all users."


WEDDING BELLS


MAMIE GUMMER AND BEN WALKER exchanged wedding vows on Saturday, July 16, 2011, at her parent's estate in Connecticut.

The bride, 27, is the eldest daughter of two time Academy Award winner Meryl Streep and Yale trained artist Don Gummer. She wore her grandmother's wedding gown for the lake side ceremony and then changed into another dress for the dinner reception.

The groom 29, The 150 guests included the bride's siblings Henry Wolfe, Louisa, and Grace and celebrities Tracey Ullman, Laura Linney and Claire Danes.

Gummer met Walker while performing in Broadway's Dangerous Liaisons in April 2008. Gummer's other stage credits include Mr. Marmalade, Hunting and Gathering, Uncle Vanya, and most recently, School for Lies. She recently starred on the ABC series Off the Map.

Walker who graduated from the Juilliard Actor Training Program in 2004, starred in Bloody Bloody Andrew Jackson on Broadway last season and also appeared in the Broadway revival of Inherit the Wind with Brian Dennehy and Christopher Plummer. In addition, he will play the title role in the forthcoming film Abraham Lincoln: Vampire Hunter.


STORK DROP OFF . . . .


IVANKA TRUMP AND HUSBAND JARED KUSHNER welcomed their first child, a baby girl born in New York City on July 17, 2011. They've named the darling Arabella-Rose.



DRAMATURG ANNE CATTANEO has been named the 2011 recipient of the Margo Jones Award which is awarded annually to a "citizen-of-the-theatre who has demonstrated a significant impact, understanding and affirmation of the craft of playwriting, with a lifetime commitment to the encouragement of the living theatre everywhere". The award was presented to her by Ohio State University Arts and Humanities Dean Mark Shanda, LCT Artistic Director Andre Bishop, playwright John Guare and actress Meryl Streep in a ceremony on Monday, July 11 at Lincoln Center's Vivian Beaumont Theater.

Cattaneo is the dramaturg of Lincoln Center Theater and the creator and head of the Lincoln Center Theater Directors' Lab. She is the first dramaturg to be honored with the award, which was founded 50 years ago in 1961 by the playwrights Jerome Lawrence and Robert E. Lee.

A three term past president of Literary Mangers and Dramaturgs of the Americas, Cattaneo is also the recipient of LMDA's first Lessing Award for lifetime achievement of dramaturgy.

KATHLEEN CHALFANT will be the distinguished Artist-in-Residence for the 2011-2012 academic year at The New School for Drama.

As Artist-in-Residence, Chalfant will teach master classes in the fall and spring semesters. In addition, she will speak about her experience on stage and her approach to theatre before the student body in a town-hall meeting moderated by New School for Drama Director Pippin Parker. Chalfant earned a Tony nomination for her role in the New York premiere of Angels in America, and won Drama Desk, OBIE, Lucille Lortel and Outer Critics Circle awards for starring in the original Off-Broadway production of Wit.

The current Artist-In-Residence is Joe Mantello.

JUBILEE the last remaining Las Vegas production show spectacular, will celebrate it's 30th anniversary on July 30th.







ENGAGING SHAW

Rod Brogan stars as George Bernard Shaw and Angela Pierce as Charlotte Payne-Townshend. Photo by Sandy Huffaker
by John Morogiello. Directed by Henry Wishcamper.

This new comedy follows the battle of wits and the real-life romance between socialite Charlotte Payne-Townshend and playwright George Bernard Shaw.

When wealthy heiress Charlotte Payne-Townshend sets her sights on the famed author of Pygmalion, Mrs. Warren's Profession and Major Barbara, the challenge of romancing this confirmed bachelor, philanderer and unromantic man is more complicated than in any of his stories.

Starring Rod Brogan (George Bernard Shaw), Natalie Gold (Beatrice Webb), Angela Pierce (Charlotte Payne-Townshend) and Michael Warner (Sidney Webb).

The creative team includes: Wilson Chin (Scenic Design), Alejo Vietti (Costume Design), Matthew Richards (Lighting Design), Paul Peterson (Sound Design) and Lavinia Henley (Stage Manager).

Engaging Shaw, a West Coast premiere, will run July 29 – September 4 in the Sheryl and Harvey White Theatre, part of The Old Globe's Conrad Prebys Theatre Center in San Diego, CA.

DEATH TAKES A HOLIDAY a romantic musical by Tony Award winners Maury Yeston and Thomas Meehan, with a book by Tony Award winner Peter Stone,. Directed by Tony Award winner Doug Hughes.

Based on Alberto Casella's beloved dramatic play, Death Takes a Holiday, rewritten for the American stage by Walter Ferris is is billed as "an enchanting new musical in which the loneliest of souls arrives at an Italian villa disguises himself as a handsome young prince he experiences the joys and heartbreaks of life for the first time. But when he unexpectedly falls in love with a newly engaged young woman, the mysterious stranger discovers that love may in fact be stronger than death."

The production has received mixed reviews.

British star Julian Ovenden stars as the mysterious title character. That is, unless he has laryngitis, as it did the week running up to the opening and on opening night. Understudy Kevin Earley, who had been covering the role since the preceding night, will perform the role in Ovenden's absence. Overden is expected back on stage this week.

The cast features Linda Balgord (Contessa Danielli), Matt Cavenaugh (Eric Fenton), Mara Davi (Alice), Joy Hermalyn (Cora), Jay Jaski (Lorenzo), Simon Jones (Dr. Dario Albione), Rebecca Luker (as matriarch Duchess Lamberti), Patricia Noonan (Sophia), Jill Paice (Grazia), Michael Siberry (as patriarch Duke Lamberti), Alexandra Socha (Daisy Fenton), Don Stephenson (as butler Fidele), Max Von Essen (Corrado Montelli). The creative team includes Kevin Stites (musical direction and supervision), Peter Pucci (choreography), Derek McLane (sets), Catherine Zuber (costumes), Kenneth Posner (lights), Jon Weston (sound) and Tom Watson (hair & wigs). Casella's play, rewritten for the American stage by Walter Ferris, was originally produced on Broadway by the Shubert brothers during the Great Depression. The Roundabout Theatre Company production at the Laura Pels Theatre officially opened July 21 in a limited engagement running only through September 4.

ROSE COTTAGES by Bill Bozzone. Directed by Heidi Helen Davis.

A delightfully quirky comedy about our enduring need to belong, wherever we are and whatever the circumstances.

A defacto family is formed when Rose, the beleaguered owner of a rundown tourist motel, grudgingly befriends two unwelcome guests: a penniless teen skateboarder, and a sassy widow who's been dumped by her feckless son and his new bride.

Starring Ellen Geer, Aaron Hendry, Graco Hernandez, Brynn Ann Kerin, Earnestine Phillips, Maurice Shaw.

The West Coast premiere has performances beginning July 30 at The Will Geer Theatricum Botanicum in Topanga, California.

CLASSICS FEST 2011 The Antaeus Company, L.A.'s classical theater ensemble, presents its 7th "summer splash" of actor-initiated workshops, readings, and special events.

Audiences can choose from a veritable smorgasbord of the classics. This week: Long Day's Journey Into Night by Eugene O'Neill, A Delicate Balance by Edward Albee, Othello by William Shakespeare and Double Falsehood by Lewis Theobald based on the Bard's quixotic "lost play."

July 27-31 at The Antaeus Company @ Deaf West Theatre in North Hollywood CA.

THE MAD SHOW Based on Mad Magazine. Book by Larry Siegel and Stan Hart. Lyrics by Marshall Barer, Larry Siegel and Steven Vinaver. Music by Mary Rodgers.

The Mad Show will be directed by Carl Andress.

The Mad Show premiered in 1966. A comic revue filled with songs, sketches and the irreverent humor in the style of the ever-popular Mad magazine, the original production featured Linda Lavin and Jo Anne Worley. While spoofing everything from television commercials to the generation gap, The Mad Show includes the timeless and hilarious sketch, How to Be President.

Part of the Musicals in Mufti series presented by the York Theatre. July 29-31, 2011 at the York Theatre Company at Saint Peter's in New York City.

SEX IN MOMMYVILLE a new comedy-drama written by Anna Fishbeyn.

The cast of seven includes Anna Fishbeyn, Felicia Masias, Frank Trezza, Kelly Calabrese, Peter Quinones, Stephanie Lovell and Elise Bernlohr.

Billed as "a guilt-ridden, health-conscious, sex-starved Manhattan mom battles her blackberry-hijacked Wall-Street-lawyer husband, Zeus. Add to this backdrop failed sex attempts, ingenious children, over-eager Russian parents who refuse to leave, encounters with moms baring their lives on talk shows and a flock of MILFs. The result is a fearless portrayal of modern motherhood and devastating commentary on the state of feminism today."

"I realized very quickly after I gave birth to my second child that I was not alone in my struggles to juggle a career and two children," stated playwright Anna Fishbeyn. " Mothers everywhere I met struggled to achieve respect within their marriages and at work, while fashioning new identities for themselves. I felt inspired to use humor to give voice to these extraordinary women, and speak out on their behalf."

Presented as part of the Manhattan Repertory Theatre Summerfest 2011. Performances July 27-21, NYC.

ON GOLDEN POND Written by Ernest Thompson. Directed by Cameron Watson.

Starring Hal Linden and Christina Pickles. With Jerry Kernion as Charlie, Monette Magrath as Chelsea, Nicholas Podany as Billy and Jonathan Stewart as Bill.

Lovable curmudgeon Norman Thayer is as tart-tongued as ever. His spirited wife, Ethel, delights in all the small things that have enriched their lives. Together, they are returning to their summer home on the lake for the forty-eighth year and are soon visited by their adult daughter, her uptight fiancé, and his rebellious teenage son.

On Golden Pond is a heartwarming story about revisiting the past and forging new bonds across generations. This modern classic remains an inspiring celebration of the universal challenges we all face, and the ultimate triumphs of life, love, and family.

The Scenic Design is by Emmy Award winner John Iacovelli. The Lighting Design is by Jared A. Sayeg. The Costume Design is by Terri A. Lewis. The Sound Design is by Rebecca Kessin. Props design and set dressing is by Colony Theatre resident designers MacAndMe.

On Golden Pond will open on Saturday, July 30, and continue through Sunday, August 28 at The Colony Theatre, Burbank, CA.

THIS by Melissa James Gibson. Directed by Daniel Aukin.

There is your first adult life full of hope and promise, and then there is your second adult life when an unexpected twist or turn drastically diverts your course. In This, five friends navigate unforeseen circumstances without a road map.

This captures forty-something life at its most vulnerable.

In December 2009 This opened off-Broadway at Playwrights Horizons. The New York Times called it "the best new play to open Off Broadway this fall." Aukin also directed that production.

July 30 - Aug 28, 2011 at the Kirk Douglas Theatre, Los Angeles.

WIT the 1999 Pulitzer Prize winning play by Margaret Edson is headed to Broadway. The previous award winning mount was off-Broadway.

The Broadway edition will star Tony Award winner Kim Cattrall as a poetry professor stricken with cancer.

The Manhattan Theater Club staging is set to officially open January 26, 2012.

THE WORLD OF DOROTHY PARKER

Dorothy Parker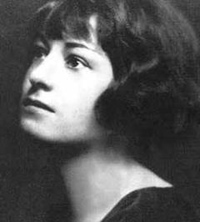 a world premiere based on the works of this famous Algonquin Round Table personality. Adapted and directed by Gayle Stahlhuth with permission of the NAACP, the organization that holds the copyrights for the famous Algonquin Round Table wit.

Dorothy Parker was a sharp wit, whether the medium was short stories, poetry, screenplays, plays, or play or book reviews. In one of her classic Broadway reviews - about Katharine Hepburn - Parker wrote, "She runs the gamut of emotions from A to B." The first edition of The Portable Dorothy Parker was selected by Alexander Woollcott in 1944 as the fourth in a series of volumes intended for soldiers overseas. It has never been out of print.

Starring Tiffany-Leigh Moskow, Drew Seltzer, Suzanne Dawson, and John Cameron Weber.

During the performance, the following stories are brought to life: A Telephone Call (1930), Here We Are (1931), The Lovely Leave (1943), and other tales and poems by the woman who quipped about "women who wear glasses."

A Telephone Call involves a woman who waits anxiously for a man to call. She counts to five hundred by fives, seeks God's help, and wishes the man were dead, only to change her mind. "After all," she says, "it's silly to go wishing people were dead just because they don't call you up the minute they said they would. Maybe the clock's fast."

In Here We Are, newlyweds are on a train headed on their honeymoon. Awkwardness prevails, and the young man only makes it worse when he says to his new bride, "When I was standing up there in that old church waiting for you to come up, and I saw those two bridesmaids, I thought to myself, 'Well, I never knew Louise could look like that!' Why, she'd have knocked anybody's eye out."

It's World War II in The Lovely Leave, and a couple believes they have twenty-four hours only to find out that in an hour, he's being shipping out. She made such great plans for those twenty-four hours – how to reduce them to one! She says to him, "you have a whole new life - I have half an old one. Your life is so far away from mine. I don't see how they're ever going to come back together." But for one hour their lives do come back together, and the leave is indeed "lovely."

The award-winning East Lynne Theater Company in Cape May New Jersey stages the production from July 27- September 3 at The First Presbyterian Church, where the company is in residence. Since its founding in 1980, ELTC's focus has been to produce American plays that were first on Broadway before 1930, but what many may not realize is that ELTC has produced 30 world premiers and 8 New Jersey premieres in its 31-year history.


WHO'S WHERE


SMITHSONIAN JAZZ MASTERWORKS ORCHESTRA SMALL GROUP collaboration in Jazz, featuring the music of Gerry Mulligan. Through such tunes as Walkin' Shoes, Line for Lyons and Apple Core, this program celebrates historic horn duos - pairs that expanded the role of the "front line" in the small jazz group. In this setting, one horn might take an accompanying role, providing a melodic line or rhythmic figure as accompaniment to the other's solo. The two horns might participate in a musical conversation, passing ideas back and forth. Or, in a process that is as old as jazz itself, they might solo simultaneously, improvising in counterpoint. Saturday, July 30; Baird Auditorium, National Museum of Natural History, Washington, DC.

JON BON JOVI performs Wednesday, July 27, at the Olympic Stadium in Barcelona, Spain. On Friday the tour stops at the Estadio de Anoeta in San Sebastian, Spain. Next Sunday, July 31, the performance is at Bela Vista Park in Lisbon, Portugal.

KEITH URBAN in the spotlight Tuesday, July 26, at Hampton Coliseum in Hampton, VA. On Thursday he's on stage at the Verizon Center in Washington, DC. Friday the show is at The Huntington Center in Toledo. On Saturday he takes part in the PGA Greenbrier Classic at White Sulphur Springs, WV. Next Sunday, July 31, his tour stops at the Allen County War Memorial Coliseum in Fort Wayne, IN.

IRON MAIDEN continues their UK tour with a show Wednesday, July 27, at the Nottingham Trent Arena. On Thursday they perform at the Manchester MEN Arena Next Sunday they are on stage at the Birmingham NIA.

PINK MARTINI entertain at the Barbican in London on Friday, July 30.

PATRICE O'NEAL will keep the audience laughing, Monday, July 25, at the Comedy Club of the Bay Street Theatre in Sag Harbor, NY.

DOLLY PARTON performs Wednesday, July 27, at the Mystic Lake Casino in Prior Lake, MN. On Thursday she's on stage at the Rosemont Theatre in Rosemont, IL. On Saturday she's in the spotlight at the Oakdale Theatre in Wallingford, CT. Next Sunday her tour stops at Wolf Trap in Vienna, VA.

JOSH GROBAN brings his tour to the TD Garden in Boston on Tuesday, July 26. Wednesday's performance is at the Verizon Center in Washington, DC. On Friday he stars at the Wells Fargo Center in Philadelphia. On Saturday he can be enjoyed at the Mohegan Sun Arena in Uncasville, CT.




FINAL OVATION


DONALD PETER GRODY an actor who served as executive director of Actors' Equity Association from 1973 to 1980, died at his home in Manhattan on July 13. He was 83.

As Equity's executive director, he helmed the actors union's collective bargaining negotiations for Broadway as well as regional theatres throughout the country. He also spearheaded the effort to fund and create permanent rent-subsidized housing for actors at Manhattan Plaza on West 43rd Street.

In 1949 Grody trained in London at the Royal Academy of Dramatic Arts. Upon his return to the United States, he appeared on Broadway in Wonderful Town, Bells Are Ringing, Happy Hunting, Kismet, and Gentlemen Prefer Blondes.

While pursing his acting career, he returned to school, going to New York Law School. He graduated in 1955 and subsequently passed the New York State bar exam. He then took leave from the theatre to work for the U.S. Department of Labor in Washington, DC, followed by a stint working for the NYC garment workers (District 65). A few years later, he returned to Washington with the National Labor Relations Board, followed by a return to New York in 1973 to lead Actors' Equity.

At the age of 64 he returned to the theatre in an Off-Broadway production of Shakespeare's Measure for Measure. This was followed by appearances in the national tour of Guys and Dolls, Parade, Broadway's Jekyll and Hyde (originating the role of Poole), and as a standby for Broadway's Caroline or Change and Grey Gardens. He also made many appearances at regional and Off-Broadway productions.

He is survived by his wife, Judith Anderson; sons Dion, Gordon, James, Jeremy and Patrick and granddaughters Jess, Jo and Cecily.

TOM ALDREDGE the Tony-nominated actor died July 22, 2011 at a hospice in Tampa, FL. He lost his battle with lymphoma. He was 83.

of Aldredge recently was predeceased by his wife of more than 50 years, costume designer Theoni V. Aldredge.

Over the last 40 years the Dayton, OH, native appeared in over 28 Broadway productions and received three Tony Award nominations.

His best known role however was that of the Narrator/Mysterious Man in Stephen Sondheim and James Lapin's Into The Woods, a role he later repeated in the PBS Great Performances production. He also created the role of the doctor in another Sondhiem/Lapine collaboration, Passion. Aldredge was part of the 1997 all-star revival of Inherit the Wind produced by Tony Randall, playing Rev. Brown in an ensemble that also included George C. Scott, Charles Durning and Anthony Heald.

He is survived by his nephew Tom Huddleston and his wife, Sylvia, who were with him when he died.

AMY WINEHOUSE the talented but troubled singer was found dead in her London apartment on Saturday, July 23, 2011. She was 27.

Winehouse had a history of substance abuse. Last month she pulled out of her tour after she was jeered at her comeback gig in Serbia for appearing too drunk to perform. Her official website announced that she would be canceling all scheduled appearances.

Pending tests results the death is officially being treated by London Metropolitan Police as "Unexplained."








Next Column: July 31, 2011
Copyright: July 24, 2011. All Rights Reserved. Reviews, Interviews, Commentary, Photographs or Graphics from any Broadway To Vegas (TM) columns may not be published, broadcast, rewritten, utilized as leads, or used in any manner without permission, compensation and/or credit.
Link to Main Page
---
Laura Deni



For the snail mail address, please E-mail your request.
CLICK HERE FOR COMMENT SECTION