! >
Broadway To Vegas
  
 SHOW REVIEWS CELEBRITY INTERVIEWS GOSSIP NEWS

| | |
| --- | --- |
| | |
DAVID HYDE PIERCE AND DEBRA MONK STAR IN CURTAINS - - THE GREAT GATSBY OPENS NEW GUTHRIE - - (title of show) HAS RE-OPENING AND CD - - JUDGE WILL BE FORCED TO WATCH JERRY SPRINGER - - BRYN TERFEL HONORED - -OPERA AUSTRALIA'S GOLDEN GALA - - DIRTY ROTTEN SCOUNDRELS CHANGES CAST - - THE JAMEEL GALLERY OF ISLAMIC ART - - DONATE . . . Scroll Down


COOL SOUNDS FOR HOT NIGHTS


Too darn hot, was the lament from Kiss Me Kate. If you're too fried to move, then listen up.

DELIRIUM Inspired by some of Cirque du Soleil's most memorable musical moments, The Varekai, Dralion, O, Saltimbanco and Le'Reveur, producer/arranger Francis Collard has revisited the works of composers René Dupéré, Benoit Jutras and Violaine Corradi, infusing new life into Cirque classics.

Lyrics by Robbie Dillon have been added to the instrumental tracks, bringing a fresh, poetic dimension to the music. That is the element that makes this effort stand out from other Cirque recordings and warrents a good listen. The result is a unique mix of percussive-driven pop, melodious ballads and worldbeat-inspired rhythms. Prepare to be transported into the magical, mystical universe of Delirium.

Eerie, dramatic, powerful.

Feel the beat.

When the idea of a show centered upon Cirque du Soleil music came to Guy Laliberté, he visualized 'urban tribal beat'.

Urban reflects the society in which we live: modern, chaotic and everevolving. Tribal constitutes the idea of coming together, the hope of escaping one's solitary cocoon and living a powerful collective experience. Beat is sound and movement, the incessant rhythm that unites space, individual and society. As musical director, producer and arranger of Delirium, Francis Collard's principle challenge was to bring a fresh perspective to these 21 Cirque du Soleil hits.

He has.

The result is a mix of percussive driven pop and electronic music meet melodious ballad and world rhythm sounds.

It is precisely this diverse stream of influences that distinguishes the music of Delirium from the double album Solarium/Delirium.

Solarium is an ambient remix of relaxing sounds in contrast to Delirium, which is a more percussive and dance oriented CD. While the first cut on this latest CD from a Cirque production is Cold Flame there is nothing cold about this rockin' hot CD. All of the 15 sections are vocals. Vocalists; Elie Haroun, Ginelte Reno, Juliana Sheffiela, O'Neill Langlois, Jacynethe, Dessy Di Lauro and Kodiak.

Musicians:
Guitar; Joseph Marchand. Drums; Tony Albino. Bass: Maurice Soso Williams and Francis Collard. Percussion, piano and keyboards; Francis Collard. Trumpet and keyboards; Benoit Glazer. Keyboard; Vincent LaBelle. Strings; Philippe Dunngan, Christian Prevpst, Brian Bacon and Carla Anfoun. Classical guitar; Jean Marie Benoit. Accordion; Francis Cowan and Vincent Labelle. Percussion; Raffaele Artugune. Keyboards and percussion; Sasha Barry Jamieson and Simon Wright.

1. cold flame (inspired by oscillum)
2. slipping away (inspired by ombra)
3. someone (inspired by patzivota)
4. too high (inspired by spiritual spiral)
5. walk on water (inspired by a tale)
6. alone (inspired by querer)
7. climb (inspired by le rêveur)
8. la nova alegría (inspired by alegría)
9. lifeline (inspired by el péndulo)
10. bridge of sorrow (inspired by nostalgie)
11. one love (inspired by pokinoï)
12. let me fall
13. time to go (inspired by mountain of clothes)
14. time flies (inspired by mer noire)
15. sans toi (inspired by querer)

(title of show) or putting on a show about putting on a show. Jeff Bowen and Hunter Bell are both the authors and the stars. The production also stars Susan Blackwell and Heidi Blickenstaff, with musical arrangements by Larry Pressgrove. Directed and choreographed by Michael Berresse.

The original cast CD of the off-Broadway hit is to be released July 25 by Ghostlight Records.

This release coincides with the show's return to the New York stage. (title of show) is currently in an eight-week run at the Virginia Theatre. The show premiered at the New York Musical Theater Festival in 2005 and went on to enjoy a wildly successful run at the Vineyard Theatre in early 2006.

This CD is produced by Grammy Award winner and Academy Award nominee Joel Moss.

With a deadline rapidly approaching two struggling writers race to write and submit a show to a theatre festival.



Larry Pressgrove, Michael Berresse, Susan Blackwell, Jeff Bowen, Hunter Bell and Heidi Blickenstaff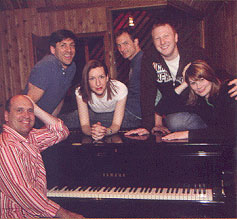 "Do movies make good musicals?"
"Well, they make musicals."

That's the one of the questions posed and then answered in this clever effort about "putting on a show about putting on a show."

On the surface this is the type of CD that has a niche market of those who collection original cast records and those who purchase souvenirs after seeing a show they enjoyed. What can stretch this to possibly be of interest to people who don't care how a show develops and have never seen this lively and delightful show is the 25-page booklet which accompanies the CD. Not only does the booklet contain song lyrics but an important Synopsis. If you haven't seen (title of showread the synopsis before listening to the CD. Otherwise, you won't have a clue.

(title of show) is so well crafted that everything seems off the cuff. Thus, you need to understand the premise if you're going to enjoy the CD. A lot of it is inside humor, so it helps if you 're familiar with Broadway gossip and Great White Way trivia. The clever, dry wit is sparkling. The blending voices are splendid.

The backstage Broadway musical is a niche market. But when insiders discover something clever, talented, witty and enjoyable - word spreads and soon those outside the loop are anxious to be one of the crowd. Thus, the success of the production and no doubt, this CD.


ART AND ABOUT


THE JAMEEL GALLERY OF ISLAMIC ART is the stunning new gallery at the V&A Museum in London, houses one of the most extensive and renowned collections of Islamic art in the world.

The Gallery opened last Thursday and is free to the public.

Some 400 objects of exquisite beauty are on display, including ceramics, textiles, carpets, metalwork, glass and woodwork. The centerpiece is the famous Ardabil carpet from 16th-century Iran, one of the largest, most beautiful and earliest dated carpets in the world. This gallery explores the design principles that lay behind both the art of Islam as a religion and the sophisticated court art of the Islamic empires. It also shows how Islamic art was formed through the interaction with other cultures from Italy to China.

Events include Tulips, Tiles and Coffee Culture - a Turkish weekend on August 5-6.

There will be a specially constructed Turkish coffee house; events including traditional Turkish storytelling, music, art workshops, special talks and tours and an opportunity to dress up in Turkish fashions and have your photograph taken. Plus Turkish food in the Café.

A day long study course - Islamic Art in the Middle East, 750-1900 - takes place Saturday, July 29.


TRAVERSE CITY FILM FESTIVAL HONORS JEFF DANIELS AND FEATURES DISCUSSION PANELS


Jeff Daniels will receive the first Michigan Filmmaker Award at Michael Moore's Traverse City Film Festival.

Michigan Governor Jennifer Granholm will cut the ribbon and kick off the week-long, second annual Traverse City Film Festival on July 31st in front of the festival's headquarters at the historic State Theatre in downtown Traverse City, Michigan.

Attending the ceremonies will be the festival's founder and artistic director, the Oscar-winning director Michael Moore, along with state legislative officials from both parties including State Representative Kevin Elsenheimer (R-Bellaire) and local community leaders.

"When it comes to the movies, partisan politics play no part. We have Republicans and Democrats working side by side to make this festival what it is. I truly believe that our success is the result of this spirit of unity, all in the interests of doing what is best for the community and for the cinema."

The highlight at the event will be the presentation of the first Michigan Filmmaker Award to actor and director Jeff Daniels. The Award has been established by the Traverse City Film Festival to recognize the significant contributions to the art of cinema made by people from Michigan.

"We couldn't think of a better person to give our first award to," said Moore. "Jeff is not only one of the best American actors working today, he is also an exceptional independent filmmaker who has chosen to reside here in Michigan. We are honored to have him attend our festival and accept this award."

Daniels will also attend the opening night film and party and participate in a panel of filmmakers on Tuesday morning at the City Opera House.

Daniels, 51, established the Purple Rose Theatre Company in his hometown of Chelsea, Mich.

He received critical acclaim last year for his role as the pretentious Bernard in The Squid and the Whale and also appeared in George Clooney's Good Night, and Good Luck as former CBS news head Sig Mickelson. His other films include Dumb & Dumber, Terms of Endearment and The Purple Rose of Cairo.

He also directed and starred in Escanaba in da Moonlight, an offbeat comedy about deer hunting filmed on location in its namesake Michigan town.

The free film industry panel schedule will feature over 20 directors, writers, actors, and other members of the film industry. These panels will cover a range of topics, from the resurgence of comedies to the true face of the industry as seen from the inside.

On Tuesday, August 1, What's Up Hollywood will feature panelists Malcolm McDowell (A Clockwork Orange), Jeff Daniels (The Squid and the Whale), Terry George (Hotel Rwanda), and Hollywood agent Ari Emanuel. Following Michael Moore's keynote address to ring in the festival panels, these Hollywood insiders will share an inside look at the movie industry.

Wednesday, August 2 brings a discussion of Dangerous Docs to Traverse City with panelists Malik Bader (Street Thief), Jan Harlan (O Lucky Malcolm), Josh Gilbert (a/k/a Tommy Chong), Sabina Guzzanti (Viva Zapatero!), and Michael Moore. These documentary filmmakers will discuss the growing popularity of the genre, and the risks being taken by ambitious directors.

Shooting War: You Say I-Raq, I Say I-Ran is the topic of the Thursday, August 3 panel with Mani Haghighi (Men at Work), David O. Russell (Three Kings), Deborah Scranton and Zack Bazzi (The War Tapes). Directors and a veteran with firsthand war experience talk about the interest filmmakers have taken in making movies about the conflicts in the Middle East, and how those movies are impacting public perceptions.

On Friday, August 4, panelists Lawrence Bender (An Inconvenient Truth), Mark Dornford May (Son of Man), Mani Haghighi (Men at Work) and Malcolm McDowell will host the discussion, Is It Art? Is It Politics? Is There a Difference? about the public's response to some of the most successful political documentaries in recent years.

Who needs a Good Laugh? is the Saturday, August 5 panel, when top comedy directors and producers will talk about the resurgence of the genre, and surely get the audience laughing. Panelists include Larry Charles (Borat), Jeff Garlin (I Want Someone to Eat Cheese With), Jake Kasdan (The TV Set), and Sabina Guzzanti.

The festival panels will wrap up on Sunday, August 6 with The Genius of Stanley Kubrick, featuring panelists Malcolm McDowell, Matthew Modine (Full Metal Jacket), and Jan Harlan (Kubrick's Executive Producer). As part of the festival tribute to the work of Stanley Kubrick, these panelists will offer an inside glimpse at the methods of one of the greatest directors in history.

Others industry notables attending the festival include Yellow Thunder Woman, Dan Crane (Bjorn Turoque), Robin Davey, David Jung (a.k.a. C. Diddy), Alexandra Lipsitz, John Lyons, and Gail Maurice.

The Traverse City Film Festival is a charitable, educational, non-profit organization committed to showing "Just Great Movies" and helping to save one of America's few indigenous art forms - the cinema.



Broadway To Vegas is supported through advertising and donations. Priority consideration is given to interview suggestions, news, press releases, etc from paid supporters. However, no paid supporters control, alter, edit, or in any way manipulate the content of this site. Your donation is appreciated. We accept PAYPAL. Thank you for your interest.


SWEET CHARITY


OPERA AUSTRALIA'S GOLDEN GALA Saturday, July 29 in the Savoy Ballroom of Grand Hyatt Melbourne. Opera Australia's biggest fund raising night in Victoria celebrating Opera Australia's turning 50. Hosted by award winning actor John Wood. Epitomizing glamour and sophistication - after all the dress code is black tie and golden glamour.

No birthday would be complete without presents. Patrons will have the chance to win beautiful jewels from the Canturi Jewels Champagne Bar (featuring Champagne Bollinger). Anita Archer of Deutscher~Menzies will take the role of auctioneer for a selection of outstanding lots. Qantas have donated a business class return trip for two to San Francisco accompanied by 4 nights 5 star hotel accommodation from Renaissance Tours. Also in the Live Auction is a walk-on part in this Spring's The Marriage of Figaro - starring Teddy Tahu Rhodes - a portrait to be painted by Archibald prize winner Lewis Miller, and a private recital of Stuart Maunder's hilarious one-man show, A Song to Sing O.

Stars of Opera Australia perform throughout the evening. An exquisite meal has been created by Executive Chef Peter Dixon of Grand Hyatt Melbourne and your meal will be accompanied with specially selected wines from the Hunter Valley Wine Association. Then dance the night away to The RAAF Central Band.

WESTON PLAYHOUSE IN WESTON,VERMONT stages a screening fundraiser on Monday, July 31. Enjoy Mike Leigh's award-winning film Topsy Turvy about the making of Gilbert and Sullivan's masterpiece, followed by a discussion with Director Tim Fort and cast members from the Weston Playhouse production of The Mikado. Proceeds from this special event benefit the not-for-profit Weston Playhouse Theatre Company.


OTHER PEOPLE'S MONEY


WICKED is staging a day-of-performance for a limited number of $25 main floor seats. Three hours prior to every performance of Wicked, which will be performing from Wednesday July 26 through Sunday, August 6, at San Diego Civic Theatre, people who present themselves at the ticket office will enter their names. One hour later, names will be drawn for a limited number of main floor seats at $25 each, cash only.



CHARLOTTE ST. MARTIN has been named the new Executive Director of The League of American Theatres and Producers, Inc. Founded in 1930, The League of American Theatres and Producers, Inc. is the national trade association for the Broadway community.

St. Martin, most recently Executive Vice President of Marketing and Sales for Loews Hotels, succeeds Jed Bernstein, who recently left the position after nearly 11 years to produce and market entertainment projects.

BRYN TERFEL

Bryn Terfel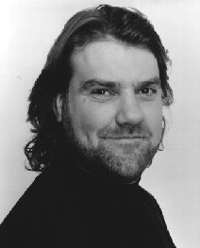 the Welsh opera star, has become the second holder of the Queen's Medal for Music in a ceremony at the Royal Albert Hall in London. The bass baritone was presented with the medal by the Queen Elizabeth II on stage at a special BBC Promenade Concert marking her 80th birthday.

The award ceremony was attended by an audience of 6,000, including the Duke of Edinburgh.

The festivities also included a performance of A Little Birthday Music, a new work by Sir Peter Maxwell Davies, the master of the queen's music, and Andrew Motion, the poet laureate.

Sir Peter Maxwell Davies described Terfel as "an inspiring figure for Welsh music and Welsh musicians throughout the world".

Terfel said it was an "honor and a privilege" to be recognized.

Conductor Sir Charles Mackerras was the first recipient of the medal given to individuals or groups that have a major influence on the nation's musical life.


CURTAIN DOWN


HOT FEET conceived, directed, and choreographed by Tony Nominated Maurice Hines, with music and lyrics by Seven-time Grammy winner and Earth, Wind & Fire founder Maurice White and book by MTV Books scribe Heru Ptah, unscrews the taps Sunday, July 23. Hot Feet began performances on Broadway on Thursday, April 20, 2006 (12 previews) and opened on Sunday, April 30, 2006 (97 performances) at the Times Square's Hilton Theatre.



CURTAINS a brand new musical comedy from Broadway's Tony Award-Winning Kander and Ebb. Starring David Hyde Pierce and Debra Monk.

Directed by Scott Ellis.

With a book by Rupert Holmes, Curtains is a backstage murder mystery and musical comedy set in the 1950's Boston. After the leading lady's mystifying curtain call demise, Frank Cioffi (David Hyde Pierce), homicide detective and musical theatre aficionado, is on the case! He's got a tough job as the bodies pile up, the ensemble dwindles, and everyone is a suspect. And that second act needs work! Can Cioffi solve the murders and save the show before it reaches Broadway?

Featuring Jason Danieley, Noah Racey, Debra Monk, Karen Ziemba and Edward Hib. Jill Paice, John Bolton, Michael X. Martin, Michael McCormick, Megan Sikora and Robert Walden are also featured in the cast. The ensemble includes Nili Bassman, Ward Billeisen, Jennifer Dunne, David Eggers, J. Austin Eyer, Matt Farnsworth, Patty Goble, Mary Ann Lamb, Brittany Marcin, Jim Newman, Jessica Lea Patty, Joe Aaron Reid, Darcie Roberts and Christopher Spaulding.

Sets by Anna Louizos. William Ivey Long costumes. Lighting by Peter Kaczorowski. Brian Ronan in charge of sound. Orchestrations are by William David Brohn and music director is David Loud. Rob Ashford serves as the choreographer.

Curtains is both a classic whodunit and classic Kander and Ebb. Ahmanson audiences will be the first to see this brand new musical wonder before it heads off to New York for a Broadway run.

July 25 to September 10 at the Ahmanson Theatre at the Music Center in Los Angeles.

DIRTY ROTTEN SCOUNDRELS welcomes Keith Carradine and Brian d'Arcy James to the cast in the roles of con men Lawrence Jameson and Freddy Benson. This marks Carradine's return to the Broadway stage after an absence of 15 years.

Jack O'Brien directs the musical by Jeffrey Lane (book) and David Yazbek (music and lyrics). Norbert Leo Butz who won the 2005 Best Actor in a Musical Tony Award for playing Freddy Benson will launch the national tour in Seattle in August with Tom Hewitt cast as his partner in crime. Dirty Rotten Scoundrels also features Sherie Rene Scott, Sara Gettelfinger, Lucie Arnaz and Gregory Jbara who delivers his final performance this afternoon. He'll be replaced by Richard Kind in early August.

The original cast CD of this production is a must have delight. ( See Broadway To Vegas column of May 15, 2005. )

A CHORUS LINE Book by James Kirkwood and Nicholas Dante. Music by Marvin Hamlisch. Lyrics by Edward Kleban. Directed by Bob Avian.

Thirty years ago, A Chorus Line stunned San Francisco. This summer it returns to the city for its one and only pre-Broadway engagement. the epochal 1975 Michael Bennett musical, about the lives, labor and fever dreams of Broadway dancers This production will be the show's first Broadway revival since Chorus Line closed on April 28, 1990, after 6,137 performances. The budget for the 2006 production is $7.5 million to $8 million. That's about seven times what it cost to put up the then-expensive Chorus Line 30 years ago. Performances July 23-September 2 at The Curren in San Francisco.

THE GREAT GATSBY St. Paul native F. Scott Fitzgerald's Jazz Age masterpiece is the fitting production for the Guthrie's artistic director Joe Dowling to selection as the season opener for their new $125 million complex.

Adapted for the stage by Simon Levy. Directed by David Esbjornson.

In this vibrant story of money, desire and longing, a mysterious self-made millionaire's romantic quest to recover past love is betrayed by the illusions of the American dream.

Starring Heidi Armbruster (Daisy Buchanan), Matthew Amendt (Nick Carraway), Christina Baldwin (Myrtle Wilson), Raye Birk (Meyer Wolfshiem), Cheyenne Casebier (Jordan Baker), Bob Davis (Chester McKee/Policeman), Kate Eifrig (Lucille McKee/Mrs. Michaelis), Erik Heger (Tom Buchanan), Lorenzo Pisoni (Jay Gatsby), Mark Rhein (George Wilson).

Officially opened Friday, July 21 with performances through September 10. On the Wurtele Thrust Stage at The Guthrie in St. Paul, MN.

ONE MAN STAR WARS written & performed by Charles Ross. Directed by TJ Dawe.

The show has been doing great business at the Spreckels Theatre in San Diego. Following the performance of July 23, Ross beams himself to Washington, D.C.

Watched all of the Star Wars films hundreds of times? Have a Yoda or Princess Leia figurine on your desk at work? Then hop on your land speeder to catch this nonstop blast through the original Star Wars trilogy. Writer/performer Charles Ross spent too much of his childhood in a galaxy far, far away - and adulthood has been no different. In this high-energy 75-minute solo piece, Ross plays all the characters, recreates the effects, sings the music, flies the ships and fights both sides of the battles.

One-Man Star Wars Trilogy performs with permission of Lucasfilm Ltd. All Star Wars elements property of Lucasfilm Ltd. All rights reserved.

One Man Star Wars, part of the Capital Fringe Festival, has performances July 26-30 at Woolly Mammoth Theatre in Washington, D.C.


| | | |
| --- | --- | --- |
| | | |
WHO'S WHERE


TWELVE HANDS, TWO PIANOS, ONE NIGHT Barry Harris, piano. Cedar Walton, piano. Richard Wyands, piano. Bill Charlap, piano. Renee Rosnes, piano. Geoffrey Keezer, piano. Peter Washington, bass. Kenny Washington, drums.

Six top jazz piano stylists perform alone, together and in combination with bass and drums. Wednesday, July 26, at the Kaufmann Concert Hall in NYC.

MELISSA ETHERIDGE has back to back two night stands. On Tuesday and Wednesday she is at Madison Square Garden in NYC. On Friday and Saturday the show is at the Lowell Memorial Auditorium in Lowell, MA.

PETER, PAUL AND MARY taking a jet plane to New York for their July 28 show at the Chautauqua Amphitheater in Chautauqua, N.Y.

CHICK COREA on stage Monday, July 24 at the Antique Theatre in Lyon, France.

PETER FRAMPTON entertains Tuesday, July 25, at the Delaware State Fair in Harrington, DE.

PAULA POUNDSTONE making people laugh Thursday, July 27, at Quapaw Casino in Miami, OK.

LYLE LOVETT on stage Tuesday, July 25 at the Uptown Theatre in Kansas City. On Thursday he's in the spotlight at the Overture Center for the Arts in Madison, WI. On Friday the show is at Live on the Levee in Saint Louis, Mo. Saturday finds him at the Leach Amphitheatre in Oshkosh, WI.

ERIC CLAPTON performs Tuesday at the Color Line Arena in Hamburg, Germany. On Wednesday he stars at the Augustenborg Slotspark in Soderborg, Denmark. Friday finds him at the Oslo Spektrum in Oslo, Norway. He finishes a busy week, Saturday, on stage at the Stockholm Globe Arena in Stockholm, Sweden.

CROSBY, STILLS, NASH & YOUNG on stage Tuesday, July 25 at the Sleep Train Pavilion in Concord, CA. On Thursday they can be enjoyed at the White River Amphitheatre in Auburn, WA. On Friday the show is at the Amphitheater in Ridgefield, WA and next Sunday, July 30 they are on stage at the Verizon Wireless Amphitheatre in Irvine, CA.

PAUL ANKA putting on a great show Friday, July 28, at the Wolf Trap Center in Vienna, VA.

MICHAEL FEINSTEIN playing Gershwin with delightful patter, Tuesday, July 25 at the Mann Center in Philadelphia. On Thursday he's in the spotlight at the Cape Cod Melody Tent in Hyannis, MA. Friday the show is at the South Shore Music Circus in Cohasset, MA and on Saturday he's on stage at the Great Auditorium in Ocean Gove, NJ.

BIG BAD VOODOO DADDY appear at the Deer Valley Music Festival in Park City, Utah on Saturday, July 29.

FAITH HILL AND TIM McGRAW perform Thursday, July 27, at The Ford Center in Oklahoma City. On Saturday the duo is center stage at The Gaylord Entertainment Center in Nashville.


PIFFLE AND PROFUNDITIES


HIGH COURT JUDGE FORCED TO WATCH JERRY SPRINGER

A fate worse than ... Jerry Springer displaying a look that no doubt will cross the face of the lucky judge who gets to watch 400 episodes.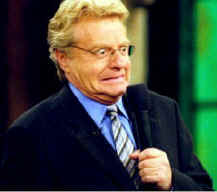 According to reports out of London, High Court judges across the pond are trying to fill up their courtroom dockets so that they can't possibly handle another case. That because it was announced that one of them will be forced to watch highlights of over 400 hours of Jerry Springer.

A Court of Appeal judge ruled this last week that the case between Flextech television (who own the rights to broadcast the show in the UK) and Universal Studios will have to go to a full trial. And since the bone of contention lies in whether the show has recently become so controversial that it is unsuitable for broadcasting, one lucky judge will find himself having to make a detailed comparison between Jerry Springer 1997 and Jerry Springer 2001.

There are over 400 hours of footage of the show, including such human interest stories such as the man who married his horse and several very fat people beating each other over the head with chairs.

The trial judge will have to decide whether the content has changed sufficiently to constitute a breach of the contract.
















Next Column: July 30, 2006
Copyright: July 23, 2006. All Rights Reserved. Reviews, Interviews, Commentary, Photographs or Graphics from any Broadway To Vegas (TM) columns may not be published, broadcast, rewritten, utilized as leads, or used in any manner without permission, compensation/credit.
Link to Main Page
---
Laura Deni


CLICK HERE FOR COMMENT SECTION