! >
Broadway To Vegas
  
  REVIEWS  INTERVIEWS  COMMENTARY   NEWS

| | |
| --- | --- |
| | |
CES IN LAS VEGAS ATTRACTS LADY GAGA - - CHILEAN MINER EDISON PENA COMES TO VEGAS TO EXPERIENCE ELVIS PRESLEY - - SIXTH ANNUAL GOODSPEED FESTIVAL OF NEW ARTISTS - - COMMEMORATIVE POSTAGE STAMPS HONOR THEATRICAL GREATS - - ADULT ENTERTAINMENT CONVENTION BENEFITS FROM CES - - SPIDER-MAN ACCUSED OF VIOLATING CONSUMER PROTECTION LAWS - - ALFRED MOLINA IN PERFORMANCE MARATHON - - DETROIT SYMPHONY STRIKE ENTERS 3rd MONTH - - DONATE . . . Scroll Down



CES AND THE ADULT ENTERTAINMENT INDUSTRY OFFER SAME OLD/NEW THING AT VEGAS CONVENTIONS


The Consumer Electronics Show, the annual tech gadget show-off party, which opened last Thursday at the Las Vegas Convention Center and hits the off button today, is in many ways a re-play of last year's bait to buy event, although the high tech Geek Chorus is better than the one in Spider-Man: Turn Off The Dark.

CES dropped their gadgets at the Las Vegas Convention Center, the Las Vegas Hilton and the Venetian. The industry's largest trade show brought in an estimated 126,000 visitors and 2,700 exhibitors - minus Apple. They took their core products, hoping to appeal to buyers in another market place.

Over 20,000 products were showcased at CES, but most of them will never advance past the proto-type stage.

Dove-tailed within the same time frame is the annual AVN Adult Entertainment Expo, headquartered at the Sands Expo Center, which sets the stage for the AVN Awards Show, held last night at the Palms Resort. The annual AVN Awards Show recognizes titles, individuals, and companies for contributions to and excellence in the industry.

At both conventions distributors and buyers have eyes on the bottom line. It all comes down to turning a profit.

Tablets, 3-D glasses, toys and fitness were the big items appealing to both conventions.



Toshibs 3D TV. Photo: Toshiba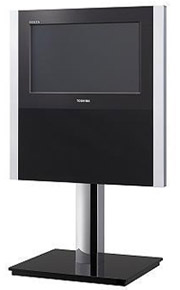 Toshiba's 3-D TV which doesn't require glasses is expected to be the hot 'gotta have' next Christmas. A 3-D laptop will be available this summer.

The adult entertainment industry was agog over that one - "better to enhance the experience of watching adult movies and sports," as one official put it.

Tablets dominated the scene with more than 100 being introduced. A tablet computer by Motion Computing, which is geared towards the business world, uses Corning's Gorilla Glass, has special seals for outdoor use and can accept extensions such as barcode scanners or card-swipe devices.

In 2010, tablet sales totaled 17 million units. That number is expected hit 30 million this year.

Internet-ready TVs with the 3-D capabilities, rather than the reverse, are also a hot item.

It is projected that about 9 percent of all TVs sold in 2011 will be Internet-enabled, up from 4 percent in 2010. By 2014, the estimate is that about half of all TVs sold will have that capability.

Consumer-electronics giant LG Electronics carried out the first public demonstration of 3D TV transmitted by mobile DTV.

Samsung emphasized that it was moving TV from the living room to both tablets and phones. Boo-Keun Yoon, president of Samsung's Visual Display business, announced partnerships with Comcast, Time Warner, and Hulu.

RCA said it will launch a line of portable TVs that are able to pick up both standard over-the-air and mobile digital signals. RCA's portable viewers include a line of three TVs, along with a mobile DTV receiver to be used in automobiles.

Popular was the Fitness TechZone, an area which showcased the latest for sports enthusiasts who feel obligated to blab to the world every step they take. Or, perhaps they need social networking as a support system.

The IDEAL LIFE Step Manager, a wireless pedometer with remote interactive communications, allows you to send your stats, personalized messages, and even graphics to friends or social networking sites in real time. The Nike+ SportWatch GPS, powered by TomTom, tracks pace, distance, calories burned, and heart rate, and won two CES Innovation Awards. That goes on sale April 1.

The fun loving Steve Martin has enjoyed tweeting about the show pretending to be present, which by all accounts, he wasn't.

One of his outrageous tweets wasn't all that far off the mark.

Opined Martin: "At Vegas Electronics Show: Pet 'cat' that you feed and will 'die' if you don't. Also needs air, kitty litter. Gives birth and has feelings."

The electronic toy section brings in the big bucks, developing what the kids can't live without next Christmas. That gotta-have-it-or-gonna-throw-a-temper-tantrum section was doing brisk business.



Lady Gaga was knowledgable about her product line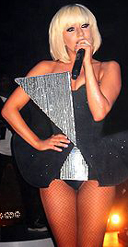 Stealing the convention spotlight was Lady Gaga who a year ago was named Chief Creative Officer for a Polaroid line of imaging products.

The talented and outrageous performer, who has worn meat as couture, was at the Polaroid booth where she introduced the company's new Grey Label by Haus of Gaga. She has creative control over the new line which includes the GL10 Instant Mobile Printer and GL30 Instant Digital Camera, and the GL20 Camera Glasses.

Those camera sunglasses are capable of both shooting photos and recording videos, which can be stored in the memory in one of the removable earpieces. The glasses also feature a screen in front of each eye that can play back the recorded images.

Gaga explained that "this is the first ever pair of sunglasses that can be worn out and protect your eyes from the sun, and can also take pictures." She added that a wearer can "send your pictures with Bluetooth capability to your printer. This is the camera of the future."



Polaroid's GL20 Camera Glasses are part of the Lady Gaga Grey Label. Photo: Polaroid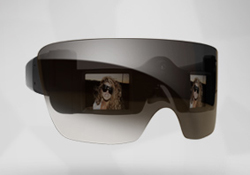 Gaga is product knowledgeable and gave the distinct impression that she just didn't sell her name, but has taken part in at least a discussion or two. When she came to the printer she explained that the mobile device is "compatible with all Bluetooth cell phones, but is not compatible with the (Apple) iPhone." Going for a dig at Apple not being at CES she stressed, "its not because of us, it's because iPhone just doesn't do that."

Finally, Gaga showed the new Polaroid camera under her line. It can print out photos just like the regular Polaroid cameras, but it can also record them digitally.

At the end of her presentation Gaga said, "I want to thank Polaroid personally for treating me not as a spokesperson and not as a face for the brand, but they honored me as a woman, as a creative director and they really let me put my hands in there and design this myself."

Gaga is a force to be taken seriously.

Her influence on modern culture and society so intrigued the University of South Carolina that the venerable institution offers a full-time course titled Lady Gaga and the Sociology of Fame in the objective of unraveling "the sociologically relevant dimensions of the fame of Lady Gaga with respect to her music, videos, fashion, and other artistic endeavors."



Jessica Drake hosted the official AVN Adult Entertainment Expo kick off party last Thursday at Tao in the Venetian Hotel.

Down the road at the Adult Entertainment Expo, the industry is coming up with vibrators which don't look like body parts and are packaged to be more acceptable to mainstream stores.

A puzzlement is why the adult market is suddenly noticing that the Chinese are manufacturing sex toys.

China is the land which in 1999 opened a Sex Museum, one of the world's few museums dedicated solely to all matters sexual. The Sex Museum even offers meeting and small conference facilities and has done a thriving business. The museum is divided into sections, including: Sex in Primitive Society, Marriage and Women, Sex in Daily Life and Unusual Sexual Behavior. There was even an explicit sex theme park being built called Love Land, but officials decided that taking the kids for a carnival ride on a sex shaped toy could have "evil influences" and demolished Love Land before it opened.

A seminar tilted The China Syndrome stated: "Like it or not, the Chinese are entering the American sex toy market, which has some manufacturers in a panic, and some retailers looking forward to greater profit margins and a larger selection of products. After years of doom-and-gloom predictions and coordinated efforts to keep Asian competitors at bay, has the Free Market finally prevailed over the fear market? A roundtable discussion between retailers, distributors, and manufacturers will hash out the pros and cons of foreign competition, and reveal strategies to remain profitable in the inevitability of a globally competitive market. As the Chinese say, 'May you live in interesting times'."

Made In China is stamped on everything else. Why would the adult entertainment industry think they are an exception?

Serious seminars included not only the one on Chinese inroads but an Arthur Schwartz Legal Seminar with some high-profile attorney participants. Moderated by Jeffrey Douglas, other legal eagle panelists were Paul J. Cambria, Michael Murray, Gill Sperlein, Karen Tynan and J. Michael Murray in a session which explored recent developments in obscenity, zoning, labor law and bookkeeping requirements that impact the adult business. In addition to these legal updates, the seminar was followed by an interactive audience Q&A discussion.

No adult convention is complete without the hotties who have made the industry succeed. Adult industry super-stars appearing at the convention included: Teagan Presley, Alexis Ford, Tori Black, Ashley Fires, Missy Gold, Bobbi Starr, Sophie Dee, Kelly Divine, Jynx Maze, Angel Vain, Brooklyn Bailey, Diamond Kitty, Jenna Haze, Joanna Angel, Kagney Linn Karter, Kimberly Kane, Kirsten Price, Misty Stone, Raven Alexis, Sara Sloane, Savanna Samson, Sinnamon Love, Sunny Leone, Monique Alexander and Taylor Vixen.



Broadway To Vegas is supported through advertising and donations. Priority consideration is given to interview suggestions, news, press releases, etc from paid supporters. However, no paid supporters control, alter, edit, or in any way manipulate the content of this site. Your donation is appreciated. We accept PAYPAL. Thank you for your interest.



ART AND ABOUT


BEATRIX POTTER: AN AWKWARD EDUCATION

Still life drawing of grapes and peaches, by Beatrix Potter October 1883 © F. Warne & Co, 2010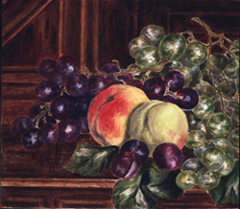 the English author, illustrator, mycologist and conservationist who best known for children's books featuring anthropomorphic characters such as in The Tale of Peter Rabbit, was born into a privileged household. Potter was educated by governesses and grew up isolated from other children.

Girls of Beatrix's social class had to be proficient at the genteel arts, including painting and drawing.

Between November 1878 and May 1883 Beatrix's parents arranged drawing lessons and enrolled her at the new National Art Training School in South Kensington to sit her Second Grade Art Student certificate.

The generic student pieces in this display, including still life studies and exercises in design and perspective, will be competent enough but will convey a dark and listless formality that in retrospect seems to be at odds with the light humor and exuberance of her book illustrations.

January 11 – June 12, 2011 at the Victoria & Albert Museum in London.


DOES SPIDER-MAN: TURN OFF THE DARK VIOLATE CONSUMER PROTECTION LAWS?


Just when Spider-Man started to feel confident that the cast could swing without an accident, the troubled-plagued production is now tangled in a new controversy - truth in advertising.( See Broadway To Vegas column of December 3, 2010 )

As first reported by Newsday, Bill de Blasio, public advocate for the City of New York, has sent a letter to the New York City Department of Consumer Affairs, urging action against the $65 million musical which has been in previews since November 28 at the Foxwoods - and twice postponed its opening date. De Blasio was specific about misleading advertising and promotional hype while acknowledging that the problem can be widespread. However, he pointing a finger directly at Spider-Man which he wrote "may be in violation of consumer-protection laws."

De Blasio referred to 1991 preview-labeling rules that were established by then-Consumer Affairs commissioner Mark Green. Those rules established fines up to $500 per advertisement as well as restitution to consumers.

"I believe the Department of Consumer Affairs is both within its rights - and obligated - to undertake similar measures today," de Blasio said in his letter, adding, "[the commission should] consider revising the rules to require producers to disclose a show's preview status to potential consumers."

Neither Spider-Man advertising, interviews, nor ticket purchases inform the buyer that the show is a work in progress with major changes taking place including re-writing, re-staging, and musical re-composition.

Spider-Man is slated to officially open on February 7.


SIXTH ANNUAL GOODSPEED FESTIVAL OF NEW ARTISTS


Every musical got its start somewhere.

The Sixth Annual Goodspeed Festival of New Artists, January 14-16, is a series of staged readings of brand new works, cabarets, breakout sessions, a symposium, and more in a creative gathering of authors, actors, artists, and musical theatre lovers.

On Friday, January 14, it's Room 16 with a book by Andrea Lepcio, music by Stephen Sislen and lyrics by Stephen Sislen and Ben H. Winters. Originally Developed by Sislen and Winters.

Room 16 tells the story of the unlikely friendship between G. Gordon Liddy and E. Howard Hunt, and the events leading to the Watergate break-in of June, 1972.



Room 16 is a new take on G. Gordon Liddy and E. Howard Hunt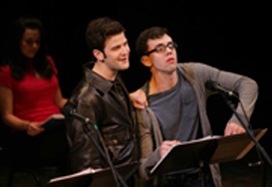 With a score spanning America popular musical styles from swing and big band to folk and early '70s rock, Room 16 is a fast-paced and darkly comedic look inside American political history.

Hello! My Baby, is featured on Saturday, January 15. Book and New Lyrics by Cheri Steinkellner New Music and Arrangements by Georgia Stitt.

From debutante balls to Delancey Street, Hello! My Baby puts a new-fashioned spin on the great American songbook musical, weaving the updated hits of Berlin, Gershwin, Kern, and a score of others into a timely and hilarious tale of first love, class-struggles, street-gangs, gender-swapping, and a whole lot of ukuleles.

The festival ends with Nobody Loves You on Sunday, January 16. Music & Lyrics by Gaby Alter. Book & Lyrics by Itamar Moses.

Nobody Loves You is a romantic comedy about the search for meaningful relationships in a culture dominated by the quest for popularity. When Jeff, a philosophy grad student, goes on a reality TV dating show to win back his ex, he instead finds a girl who might be the love of his life. But will she fall for him once he is seduced by the adulation of his fans?

Seminars include:

How Do You? Invest In a New Musical Broadway. General Manager/Producer Alan Williams gives the inside story about what to look for when investing in a new musical.

Famous Flops II A continuation of last year's most popular session – with Musical Historian John Pike.



Composer Henry Krieger and director Bill Condon on the set of DreamWorks Pictures' and Paramount Pictures' Dreamgirls - 2006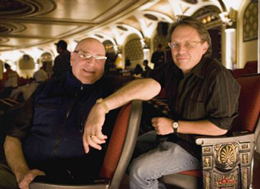 Dreamgirls: From the Stage to the Screen and Back Again Composer Henry Krieger shares behind the scenes stories of this popular musical.

How Do You? Create a New Character Broadway vets John Bolton and Kate Wetherhead discuss the challenges of originating roles in new musicals.

Back on Broadway: Why Annie? Why Now? Broadway General Manager/Producer Wendy Orshan discusses the upcoming revival from the producer's perspective.

How Do You? Create the Look Accomplished Broadway set designer Gregg Barnes discusses creating the physical world of a new musical.

An Exhibit: Leapin' Lizards! Annie's 35! at the Scherer Library will feature rare items from the Goodspeed Archives documenting the 1976 development of the now-famous musical, including a first draft script.

There will also be a Musical Theatre Symposium, sponsored by The Noel Coward Foundation at the Goodspeed Opera House. The event will feature representatives from several regional theatres discussing their approaches to new works development. Panelists include Rob Hunt of the Village Theatre in Issaquah, Washington and Kent Nicholson of Playwrights Horizon in New York City.

All events take place on the Goodspeed campus in East Hadaam, CT.


SWEET CHARITY


THE 16th ANNUAL HOLLYWOOD PERFORMANCE MARATHON featuring guest performances by Alfred Molina, Kirsten Vangsness, Bill Brochtrup, Tom Lenk, Taylor Negron, John Fleck and Amy Stiller.

Over 50 performers will donate their time and talent to benefit Theatre of NOTE. Celebrating its 16th year, the local tradition is an all-day-all-night extravaganza of eclectic performances, including comedy, pancake juggling, poetry, chin puppets, fire-eating, hula dancing, music, magic, monologues and much more.

The benefit for Theatre of NOTE takes place on Saturday, January 15 beginning at 3pm and continuing until dawn, at Theatre of NOTE, in Hollywood.

RICHARD SKIPPER AS "CAROL CHANNING" IN CONCERT officially opens Off-Broadway at St. Luke's Theatre, NYC Wednesday January 12th. The production is directed by Mark Robert Gordon. A portion of the proceeds from this Off-Broadway premiere benefit The Dr. Carol Channing & Harry Kullijian Foundation for The Arts, which was established in 2005 with the goal of bringing the importance of arts education to the general public, provide music instruments for underfunded public schools and scholarships for California State University students.

Honarary Foundation Associates include: Carole Cook, Arlene Dahl, Tyne Daly, Rhonda Fleming, Betty Garrett, Tippi Hedren, Florence Henderson, Jerry Herman, Jayne Meadows-Allen, Carl Reiner, Lily Tomlin, Barbara Walters, Esther Williams and JoAnne Worley.


A TUNELESS MOTOR CITY AS DETROIT SYMPHONY STRIKE ENTERS 3rd MONTH
Musicians of the Detroit Symphony Orchestra receive a standing ovation after their November 2010 performance at Beth El Temple. Photo: Hart Hollman.
On October 4, 2010 the Detroit Symphony Orchestra put down their instruments and walked out. That meant that Christmas really was a 'silent night' with no music. Longing for a downbeat both U.S. Sen. Carl Levin and Michigan Gov. Jennifer Granholm have stepped into the strike. The two elected officials proposed that both parties should agree to a three-year contract with total compensation of $36 million. That is a decrease from the previous contract's $48 million but more than the $33 million to $34 million that management had proposed.

Stanley Frankel, Chairman of the DSO Board of Directors, released the following statement in response to Senator Levin and Governor Granholm's letter:

"We appreciate Senator Levin and Governor Granholm's commitment to the DSO and their personal time and effort to assist in finding a resolution to the ongoing dispute between the DSO and its musicians. We take their recommendations very seriously.

A $36 million compensation package is beyond what every consultant and our Board have said is feasible. In order to fund our current proposal, we have already cut our staff and operations severely and pushed our revenue expectations beyond every advisor's recommendations. Even with these dramatic cuts and ambitious goals, the DSO will continue to operate in a deficit position.

We all want and need this strike to end with a mutually acceptable package and we stand ready to return to the bargaining table to pursue an agreement. We appreciate the constructive offer of a framework within which this agreement might be reached and look forward to the continued engagement and support of community leadership as we pursue our goals."

On January 6 the following update was released. In part it reads:

"Dear Friends and Colleagues,

"We want to wish all of those who have followed the story of the Detroit Symphony Orchestra over the past few months a very happy New Year. Our greatest hope for 2011 is of course to see the DSO back on the stage of Orchestra Hall, giving all of you the chance to read more positive news about music in Detroit soon.

"Unfortunately, the closing weeks of 2010 have not brought us much closer to that day. Since the DSO Board and Management rejected the compromise put forward by Governor Granholm and Senator Levin on December 16, they have heard increasing calls from community leaders and music lovers to match the musicians' willingness to seek a settlement. We remain ready to undertake the difficult task of trying to shape a vibrant artistic future for the DSO under the Granholm/Levin proposal of a $36 million three-year contract. We want to see our $12 million sacrifice met with a $3 million commitment from the DSO Board.

"We hope along with those many outside leaders and music lovers that the DSO management will come back to the table. As month after month of concerts have been cancelled, the damage to our beloved institution becomes worse and worse. It is time to reharness the good will and support offered by those who love the DSO. It is time to stop depleting the DSO's endowment to line the pockets of managers with nothing to manage and a Music Director with no concerts to conduct. It is time to bring the music back - The Musicians of the Detroit Symphony Orchestra."

Some members will perform An Evening of Rodgers & Hammerstein Classics on Saturday, January 15, 2011 at St. Patrick Catholic Church in Detroit. The concert will be conducted by G. Kevin Dewey and feature: Vanguard Voices - Karin White, Soprano; Lisa Agazzi, Mezzo-Soprano; Karl Schmidt, Tenor; Neil Michaels, Baritone. They will perform selections from Carousel, State Fair, The King and I, South Pacific, The Sound of Music and Oklahoma.


SPREADING THE WORD


TO THE MOUNTAINTOP - THE WORDS OF DR. MARTIN LUTHER KING, JR Visitors can experience a stirring and inspirational tribute to Dr. Martin Luther King Jr., as the museum's Freedom Singers present songs of the Civil Rights Movement, followed by a dramatic presentation of Dr. King's own words.

Actor Xavier Carnegie presents selections from some of Dr. King's most powerful and compelling speeches and sermons.

Saturday, January 15 – Monday, January 17 at The Smithsonian's National Museum of American History in Washington, DC.

ROSA'S RIDE Celebrate Martin Luther King, Jr. Day with a play about a woman who stood up for civil rights when she sat down with dignity at the front of a segregated bus. Grab a seat on the imaginary bus and come along for Rosa's Ride, a musical story based on the life of Rosa Parks.

The performance is free to the public and takes place Monday, January 17, at the John F. Kennedy Library and Museum in Boston.

FREEDOM RIDERS ROUNDTABLE DISCUSSION Christopher Wilson, director of the National Museum of American History's Program in African American Culture, will moderate a roundtable discussion with veterans of the Freedom Rides, a protest of racial segregation in the south where activists rode interstate buses into segregated areas.

The program also includes film clips from the Stanley Nelson documentary, Freedom Riders, to be presented on PBS' American Experience series in May 2011 on the 50th anniversary of the Freedom Rides.

Saturday, January 15, 2011. Carmichael Auditorium, Smithsonian National Museum of American History in Washington, D.C.

JANE FONDA celebrated her birthday on December 21, which we forgot to mention - possibly because the lady, who looks about 40 and has the energy of a 30-year old, claims to be 73. We think she's deliberately tacked on some years just to annoy Anne Meara and Bette White. Fonda will bring her Tony-nominated performance in 33 Variations to L.A.'s Ahmanson Theatre for an engagement beginning January 30.

GAVIN CREEL the multi-talented and two-time Tony-nominated actor shares his experience of 14 years on stage during two, three-hour, master classes. Ideal for performing arts students. Monday, January 17, Broward Center for the Arts in Fort Lauderdale, FL.

SHAKESPEARE AND THE LAW Shakespeare on Happy (and Unhappy) Marriages moderated by Abbe David Lowell, Esq., McDermott Will & Emery with Sanford K. Ain, Esq., Ain & Bank P.C.; Judge Judith Bartnoff, DC Superior Court; Connie Chung, Award-winning journalist and Deborah E. Reiser, Esq., Lerch, Early & Brewer, Chtd.

Presented by The Shakespeare Theatre Company and the Bard Association. Monday, January 10, 2011. The panel discuccsion will be followed by a reception. Sidney Harman Hall in Washington, DC.

SIR PAUL McCARTNEY who has frequently entertained at royal events, will perform at the Buckingham Palace wedding reception for Prince William and Kate Middleton, according to the British newspaper Daily Star.

EDISON PENA the Chilean miner who used Elvis Presley as inspiration to keep morale high, while he and 32 fellow miners were trapped 22,000 feet below ground, ( See Broadway To Vegas column of January 2, 2011 ) arrives in Las Vegas on Monday to see everything related to Presley, including the Viva ELVIS production at Aria Resort & Casino.


OTHER PEOPLE'S MONEY


THE PHANTOM OF THE OPERA AND WICKED are bragging. Both Broadway musicals are raking in the dough and proud of it. Phantom, the longest-running show in Broadway history, shattered the house record at The Majestic Theatre to have its best weekly gross in the production's nearly 23 year history. For the week ending January 2, 2011, the production grossed $1,390,530.53 for 8 performances. This surpasses the show's previous record of $1,374,874.96 for the week ending the same time a year ago, January 3, 2010. Set to celebrate an unprecedented 23 years on Wednesday, January 26, the Cameron Mackintosh/Really Useful Group, Inc. production continues to play at The Majestic with no end in sight.

Wicked took in a record $2,228,235 million at eight sold-out performances in the 1,800-seat Gershwin Theatre for the week ending January 2. Now in its eighth year on Broadway, that makes the third time in six weeks Wicked has grossed more than $2 million over eight shows.

If ever there was a week to break sales records the one ending January 2 was it. The Broadway League reported "robust holiday grosses and a strong start to 2011 with the last two weeks grossing $60 million. The most recent week ending 1/2/11 on its own was probably the highest grossing week in recorded history."

For week ending 1/2/11, 27 shows averaged more than 80% of their seats occupied; over 32 shows averaged 70% of occupied seats and 21 shows averaged 90% of capacity! Season-to-date yielded a 3.8% increase in attendance and 3.6% in grosses year over year."

EVA LONGORIA'S Beso restaurant and its nightclub Eve, located in CityCenter in Las Vegas, have filed for Chapter 11 bankruptcy in order to restructure debt.

The Desperate Housewives star owns one-third of the establishment which reported $2.5 million in assets, $5.7 million in debt, with projected loses of $76,000 per month.

Longoria is also listed as an unsecured creditor with statements that she provided a cash loan of just over $1 million and paid $375,000 in legal fees.

THE MERCHANT OF VENICE which is a don't miss production, starring Al Pacino as the moneylender Shylock, opposite the sensational Lily Rabe as Portia, has recouped its 3.45 million Broadway investment in only 10 weeks. Mounted at the Broadhurst Theatre the production officially opened November 13, 2010.


COMMEMORATIVE POSTAGE STAMPS HONOR THEATRICAL GREATS
Actress Helen Hayes will be honored on a stamp in April. The stamp features original art by Drew Struzan, who based his design for the stamp on a photograph taken of Hayes circa 1958.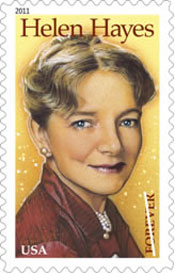 Gregory Peck's stamp will be released on April 29. The stamp portrait is a still photograph from the film To Kill a Mockingbird. Peck's performance as Atticus Finch earned him an Oscar.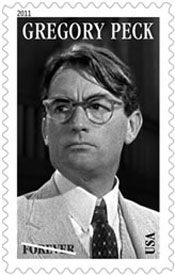 From a former U.S. president to legends of Latin music to the 100th anniversary of the Indianapolis 500-mile auto race to the film and theatrical greats, the 2011 commemorative stamp program is being touted as having "something for everyone."

Among the 2011 honorees are former President Ronald Reagan, legendary author Mark Twain, award-winning actor and actress Gregory Peck and Helen Hayes, and Latin music giants Selena, Carlos Gardel, Carmen Miranda, Tito Puente and Celia Cruz.

In addition, former U.S. Congresswoman from Texas Barbara Jordan is the 2011 Black Heritage stamp honoree.

Stamps will be issued to observe the 150th anniversary of the Civil War and the 50th anniversary of America's first manned spaceflight.

The postal service is also celebrating Disney Pixar movie characters: Lightning McQueen and Mater from Cars; Remy the rat and Linguini from Ratatouille; Buzz Lightyear and two of the green, three-eyed aliens from Toy Story; Carl Fredricksen and Dug from Up; and the robot WALL*E from Wall*E on Send a Hello stamps.

The Lunar New Year: Year of the Rabbit stamp, to be issued Jan. 22, will be a Forever Stamp for use in mailing a 1-ounce letter.


GET WELL SOON TO . . .


BARBARA COOK the Tony Award-winning soprano, who is recovering from recent hernia surgery. Her recovery has required her to postpone her January 12th American Songbook concert at the Allen Room in NYC.

The original concert date was a launch of the 2011 American Songbook series. She will perform the concert on February 15.


CURTAIN DOWN


LA BÊTE the Broadway revival of David Hirson's Olivier Award-winning comedy starring Tony and Olivier Award winner Mark Rylance, Tony and Emmy Award winner David Hyde Pierce, and BAFTA Award winner Joanna Lumley will close Sunday, January 9th, 2011 at the Music Box Theatre. La Bete will have played a total of 23 preview performances and 101 regular performances on Broadway.

IN THE HEIGHTS the Tony-Award winning musical about a Washington Heights neighborhood will close on January 9, 2011 having played 29 preview and 1,185 regular performances, making it the 79th longest running show in Broadway history.

For the final 19 performances the lead role of bodega owner Usnavi was once again played by Lin-Manuel Miranda, who wrote the musical.

A LITTLE NIGHT MUSIC the Trevor Nunn revival of the musical which features music and lyrics by Stephen Sondheim and a book by Hugh Wheeler, inspired by the Ingmar Bergman film Smiles of a Summer Night closes January 9, 2011 on Broadway have staged 20 previews and 425 regular performances.

A FREE MAN OF COLOR by John Guare, directed by George C. Wolfe closes January 9, 2011 at the Vivian Beaumont Theatre where it began previews October 21, 2010, officially opening on November 18, 2010.

ROCK OF AGES which arrived on Broadway via an off-Broadway run, will again change venues. The production transferred to Broadway at the Brooks Atkinson Theatre' with previews beginning March 20, 2009, and officially opening on April 7, 2009. The Broadway production will temporarily close on January 9, 2011 and move to the Helen Hayes Theatre in March 2011.



JANE AUSTEN'S EMMA - A MUSICAL ROMANTIC COMEDY

Will Reynolds as Frank Churchill, Patti Murin as Emma Woodhouse and Adam Monley as Mr. Knightley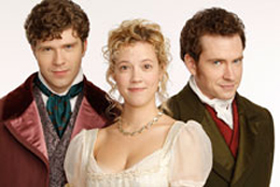 with book, music and lyrics by Tony Award nominee Paul Gordon. Directed by Tony Award nominee Jeff Calhoun.

Starring Patti Murin as Emma Woodhouse with Adam Monley as Mr. Knightley and Will Reynolds as Frank Churchill.

Emma, a beautiful and clever young woman who prides herself on her matchmaking ability, is preoccupied with romance yet is clueless to her own feelings of love. When she takes on a young friend as her latest project, her well-intentioned efforts misfire, leading to a whirlwind of complications - and ultimately, true love.

Jane Austen's Emma will run in San Diego's Old Globe Theatre January 15 – February 27. Jane Austen's Emma premiered at TheatreWorks in Palo Alto in September 2007. Gordon's musical has since had successful regional productions at Cincinnati Playhouse in the Park and The Repertory Theatre of St. Louis.

THE IMPORTANCE OF BEING EARNEST by Oscar Wilde. Directed by and starring Brian Bedford as "Lady Bracknell." The cast also features Dana Ivey, Paxton Whitehead, Santino Fontana, David Furr, Tim MacDonald, Paul O'Brien, Charlotte Parry and Sara Topham.

The Importance of Being Earnest is a glorious comedy of mistaken identity, which ridicules codes of propriety and etiquette. Dashing men-about-town John Worthing and Algernon Moncrieff pursue fair ladies Gwendolen Fairfax and Cecily Cardew. Matters are complicated by the imaginary characters invented by both men to cover their on-the-sly activities - not to mention the disapproval of Gwendolen's mother, the formidable Lady Bracknell.

Officially opens on Broadway Thursday, January 13, 2011 at the American Airlines Theater.

THE TRINITY RIVER PLAYS by Regina Taylor. Directed by Ethan McSweeny.

Taylor's powerful new trilogy (Jar Fly, Rain and Ghoststory) explores the unique passages in one woman's life journey.

In Jar Fly, a teenaged Iris Spears teeters on the brink of maturity when an event shatters her innocence - and changes her life forever. In Rain, a 34-year-old Iris flees a collapsing marriage to return home to Texas and the comfort of her mother's embrace, only to find that the once-solid ground has shifted beneath her feet. And in Ghoststory, a surprise visit from her estranged husband forces Iris to confront the past and the ghosts that have continued to haunt her.

Jar Fly, Rain and Ghoststory, features an ensemble cast: Chicago actress Karen Aldridge as Iris and stage and screen star Penny Johnson Jerald as her protective mother, Rose.

"The Trinity River Plays came to me when I was sorting through things after my mother's death. I was inspired by the storms that we go through in our lives, and how we navigate through those storms," recalls playwright Taylor. "I think of these plays as different chapters in the life of Iris Spears - and they are each able to stand alone or work altogether as a trilogy. Together, the plays draw a portrait of Iris as she overcomes life's seemingly insurmountable obstacles."

The trilogy is a reminder of the rhythm of the cicada - a part of Iris' young life in the south - the insect that emerges every 17 years to take wing.

In the Albert Theater of Chicago's Goodman Theater January 15 - February 20, 2011.

SPIDER-MAN: TURN OFF THE DARK has welcomed to the cast Alice Lee, who was in the ensemble of the Broadway musical Spring Awakening. She joins Spider-Man as Miss Arrow, a role previously performed by T.V. Carpio, who is now performing the female lead of Arachne.

The show also welcomed Christopher Tierney back into the theater - this time as an audience member - for Friday' performance, which was delayed twice for technical reasons. The dancer, who was seriously injured in a fall, is determined to return to the production as a performer. Bono also saw the show for the first time last Tuesday. The super-star musician, who is expected to make some changes to his Spider-Man score, had been on tour in Australia and New Zealand. The production is slated to officially open on February 7.

ALL SHOOK UP the Broadway jukebox musical stars the national touring cast of 20 and a live band. Fueled by 24 Elvis hits which kick start a chain reaction of romances and rebellion through the power of rock 'n roll music.

It's a square little town until a motorcycle ridin', guitar playin', and hip swivelin' hunk rides in and has everyone jumpin' out of their blue suede shoes. Rock out with Jailhouse Rock, Heartbreak Hotel, One Night With You, That's All Right, Don't Be Cruel, A Little Less Conversation, Burning Love, and so many more.

Both matinee and evening performances with the evening show slated as Elvis' 76th Birthday Bash with Elvis impersonators before the show and free cake afterwards. Saturday, January 15 at the State Theatre in New Brunswick, NJ.

CYMBELINE William Shakespeare's most bewitching tale. Directed by Rebecca Bayla Taichman.

The Shakespeare Theatre Company premiere of Cymbeline follows Imogen on her search for reconciled love against the backdrop of a colorful and magical journey. Forbidden love, mistaken identities, banishment and a magic potion - Shakespeare combines multiple styles in this endlessly inventive fairy tale.

An Open Rehearsal takes place on January 9, 2011 at the Lansburgh Theatre in Washington, DC. The production opens January 18 with performances through March 6, 2011.

HILLBILLY WOMEN by Elizabeth Stearns. A play with music about Appalachian women, based on the book Hillbilly Women by Kathy Kahn. Directed by Sondra Lee.

Based on interviews, Hillbilly Women follows the lives of six women who reveal in song and narrative their heartfelt stories of survival against incredible odds among the coalmines, factories and farms of Appalachia. The women's recollections of Appalachian life in the late-70s is underscored with traditional songs and country & western favorites made famous by The Judds, Tim Sullivan, Tammy Wynette, and others.

The ensemble includes Lauren Fox; former first lady of NYC Donna Hanover, Annette Hunt, Evangeline Johns, Alicia Meer, Mickey Sumner, and Mimi Turque.

The production team includes costume designer Joe Aulisi, design consultant Peter Harvey; lighting designer Justin Sturges; musical director Michael Rice, and choreographer Annette Fletcher. Peter Zinn serves as artistic director of The Bleecker Company.

Performances run through January 30: at Arclight Theatre, NYC.

CORKTOWN a World Premiere by Michael Brian Ogden.

Directed by Guy Sanville.

A heartbreaking and hopeful dark comedy about an extraordinary day in the life of a Detroit mobster who finds love under the most violent and dangerous circumstances.

Featuring: Matthew David, Stacie Hadgikosti, Nicholas LaGrassa, Michael Brian Ogden, Jonathan Hunt Sell and Tom Whalen.

Stage Manager: Stephanie Buck - Set Designer: Bartley H. Bauer - Properties Designer: Danna Segrest - Costume Designer: Christianne Myers - Lighting Designer: Daniel C. Walker - Sound Designer: Quintessa Gallinat.

Performances through March 5 at the Purple Rose Theatre in Chelsea, Michigan.

EMILY'S SONG

Carmine Dibenedetto and Lindsey Haun star in Emily's Song. Photo by: Ed Krieger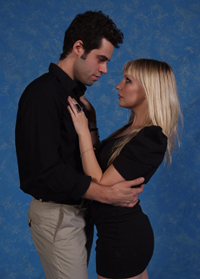 written and directed by Chet Holmes, with musical direction by Amanda Holmes.

Half of the songs in Emily's Song were written by his daughter Amanda Holmes, and the other half were written by Chet Holmes and Tom Shepard.

On New Year's Eve years ago Chet Holmes was dancing with his ten year old daughter Amanda when he felt winded and easily tired. "I knew something was seriously wrong." A test revealed that Chet had colon cancer. After surgery removed a third of his large intestines, Chet started thinking about how much the lives of his children would change if he were suddenly not around anymore.

This became the inspiration for Emily's Song, a story about a ten year-old girl who loses her father.

Starring Lindsey Haun as Emily. The cast also features Tom Schmid as Charlie and John Bigham, Cassidy Brown, Darcy Rose Byrnes, Zack Carter, Carmine Dibenedetto, Brian Duclos, Elena Campbell-Martinez, Matthew Borlenghi and Jenny Weaver.

Emily's Song focuses on Emily, whose mother dies in childbirth leaving her father, Charlie, to raise her on his own. By ten years old, she is a musical prodigy, outplaying her musician father on the piano and helping him earn a living by writing better material. The father's best writing however comes when he decides to write "Emily's Song," a song for his daughter, a song that teaches her to "dream her dreams" and go after what she should have in life. Tragedy strikes again when Charlie goes on a business trip and mysteriously disappears, leaving Emily isolated and alone. As years pass, Emily's emotional grief fuels her talent as a fast rising singer/songwriter, setting the world on fire with her soul-filled style. But just as fame finds her, will true love elude her as her fear of loss keeps her from falling in love with a man who may truly be the one?

The production design (sets/lights/video) is by Joel Daavid. The Sound Design is by Diablo Sound/Drew Dalzell. The Costume Design is by Shon LeBlanc. Casting is by Rick Pagano and Michael Donovan. The stage manager is Brigid O'Brien.

Emily's song was originally a movie sold to Warner Brothers with LeAnn Rimes attached to play the title role. After years of development, Chet Holmes decided to re-create Emily's Song as a musical for the theatre.

Previews begin Friday, January 14 and will open on Friday, January 21 and perform through Sunday, February 27 at the Hudson Backstage Theatre, in Hollywood.


WHO'S WHERE


CHER returns to Caesars Palace in Las Vegas for a series of exceptional bob Mackie costumes changes and an over-the-top, spectacular performance January 11 - February 5, 2011. The engagement is billed as her final one at the Las Vegas resort.

RENEE FLEMING gives a glimpse into the musical culture of fin-de-siècle Vienna with its enfant terrible Schoenberg, its wunderkind Korngold, and Zemlinsky - the man who taught them both. She concludes with songs by a composer whose notoriety outshone them all, preceded by Mehldau's Rilke settings, a Carnegie Hall commission written specifically for Fleming. Tuesday, January 11, Carnegie Hall in New York City.

WHOOPI GOLDBERG one of a very elite group of artists who have won an Oscar, a Tony, a Grammy, a Golden Globe and an Emmy. The comedic genius performs in concert. Friday, January 14, at the Kravis PAC in West Palm Beach, FL.

THE TORONTO SYMPHONY ORCHESTRA Canada's foremost symphonic ensemble along with conductor Peter Oundjian, makes its way to South Florida following sell out shows around the world. Tuesday, January 11 at Au-Rene Theater in Fort Lauderdale, FL.

MICHAEL FEINSTEIN opens a two night gig Friday, January 14, at the Mulroy Civic Center in Syracuse, NY.

B.B. KING entertains Tuesday, January 11, at the Honeywell Center in Wabash, IN. On Thursday the show is at the Soaring Eagle Casino in Mount Pleasant, MI. Friday finds him on stage at Caesars in Windsor, ON and on Saturday he's playing Lucille at the Paramount Theatre in Aurora, IL.

USHER brings his show to the 02 World in Berlin on Wednesday, January 12. On Friday the tour stops at the Ahoy in Rotterdam, Netherlands. On Saturday he performs at the Konig-Pilsener Arena in Oberhausen, Germany.

JEFF DANIELS brings the singer/songwriter side of himself to the Broward Center for the Arts in Fort Lauderdale, Florida for a performance on Friday, January 14.


FINAL OVATION


DAVID GURLAND award winning cabaret singer died January 1, 2011 from a massive brain hemmorrhage he suffered on December 28, 2010.

The award winning cabaret performer won four Back Stage Bistro Awards. Since the fall of 2008, while still pursuing his solo career, he had been a member of the four man vocal group Uptown Express.

PETER POSTLETHWAITE the Oscar nominated film and stage actor succumbed to testicular cancer on January 2, 2011. He was 64.

He trained as a teacher at St. Mary's College, Strawberry Hill and taught drama at Loreto College, Manchester before training as an actor at the Bristol Old Vic Theatre School.

Postlethwaite started his career at the Liverpoll Everyman Theatre where his colleagues included Bill Nighy, Jonathan Pryce, Antony Sher and Julie Walters. Postlethwait and Walters were a couple during the last have of the 1970s. Postlethwaite was also a veteran of the Royal Shakespeare Company.

In 1994, he was nominated for an Oscar for In The Name of the Father. He returned to the Everyman in 2008 to play the lead in King Lear, a role he had always wanted to take on, and said afterwards the theatre had been "where I started really, or where I realized that being an actor wasn't just a flippant job".

Postlethwaite was once described by director Steven Spielberg, whom he worked with in films including The Lost World: Jurassic Park, as "the best actor in the world."

He is survived by his wife Jackie, a former BBC producer, whom he married in 2003 and two children; son William John (born 1989), a drama student at LAMDA, and daughter Lily Kathleen (born 1996).

MARGOT STEVENSON a stage actress for more than six decades, died January 2, 2011 at her home in Manhattan. She was 98.

Early in her career her first name would become a household word when a radio character was named after her. Margot Lane was the girlfriend of Lamont Cranston in the popular radio series The Shadow which starred Orson Welles as Cranston. Stevenson's boyfriend at the time was Clark Andrews, a radio producer working on the show and he named the leading female character after Margot Stevenson.

From the 1930s though the '60s she appeared in more than a dozen Broadway shows. They included a 1935 revival of The Barretts of Wimpole Street, The Rugged Path, The Leading Lady, and Triple Play, an evening of one-acts by Chekhov, Sean O'Casey and Tennessee Williams with a cast that included Hume Cronyn and Jessica Tandy, in 1959.

Divorced twice, in 1953 she married actor Val Avery, who died in 2009. She is survived by their daughter, Margot Avery, who has appeared in Off and Off Off Broadway shows, appeared with her mother in the late 1990s in a Fringe Festival production of The Bacchae in which Stevenson played Teiresias, the sightless seer, in the Euripides play. It was her final stage role.






Next Column: January 16, 2011
Copyright: January 9, 2011. All Rights Reserved. Reviews, Interviews, Commentary, Photographs or Graphics from any Broadway To Vegas (TM) columns may not be published, broadcast, rewritten, utilized as leads, or used in any manner without permission, compensation and/or credit.
Link to Main Page
---
Laura Deni



For the snail mail address, please E-mail your request.
CLICK HERE FOR COMMENT SECTION