! >
Broadway To Vegas
  
 SHOW REVIEWS CELEBRITY INTERVIEWS GOSSIP NEWS

| | |
| --- | --- |
| | |
SCARLETT JOHANSSON CONQUERS BROADWAY - -BRUCE SPRINGSTEEN EXHIBIT EXTENDS AT THE ROCK & ROLL HALL OF FAME - - SENSATIONAL CD LOVE, LINDA - - HELEN HAYES AWARD NOMINATIONS - - PASADENA PLAYHOUSE TO CLOSE DUE TO MONEY WOES - - SILENCE! THE MUSICAL - - THE LOS ANGELES DRAMA CRITICS CIRCLE ANNOUNCES SPECIAL AWARDS - - 2010 DRAMA LEAGUE BENEFIT GALA HAS PORTRAIT BY LITHGOW - - DONATE . . . Scroll Down


FINANCIAL PROBLEMS CAUSES HISTORIC PASADENA PLAYHOUSE TO CLOSE
Pasadena Playhouse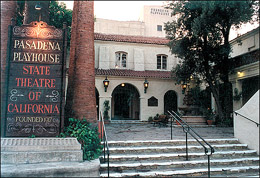 If you lived anywhere west of the Mississippi and wanted to be a star, you went to Hollywood. If you wanted to be an actor you put all your hopes and dreams in being accepted by the Pasadena Playhouse. Going to New York to study was considered a back-up option.

On Thursday the 37 employees of the 90-year-old landmark Playhouse were shocked to learn they were about to join the ranks of the unemployed. The Pasadena Playhouse faces $500,000 in immediate bills, plus payments in excess of $1.5 million in bank loans and other debts. The Playhouse will shutter on February 7 following the final performance of Camelot. No announcement was made as to whether the playhouse's 8,000 subscribers will be reimbursed.

On Friday the press received the official release.

"We firmly believe it would be irresponsible to continue to operate in the same financial patterns of the past," said Stephen Eich, Pasadena Playhouse Executive Director.

"Pasadena Playhouse is vital to our cultural community and for the state of California," said Michele Dedeaux Engemann, Pasadena Playhouse Board Chair. "In an effort to solve the financial realities of the theatre, the Board concurs that the difficult financial circumstances of the Playhouse require an aggressive recovery strategy. We wholeheartedly support this decision."



Inside view of the Pasadena Playhouse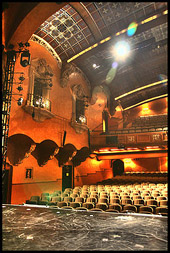 Despite aggressive efforts, including staff and budget cuts, Pasadena Playhouse has been unable to solve its financial predicament. The inability to identify a major donor to name the auditorium, the absence of significant corporate underwriting, and the economy have collectively contributed to this financial situation.

Designed by Elmer Grey whose notable credits include most of the California Institute of Technology campus and Polytechnic School and built by the Winter Construction Co. - also noted for Sid Grauman's Egyptian Theatre and Grauman's Chinese Theatre in Hollywood, the theatre drew the attention of the nation; bringing Southern California world premieres by authors such as Eugene O'Neill, William Saroyan, Noel Coward, F. Scott Fitzgerald and Tennessee Williams, as well as many English language premieres of significant Continental dramas.

The Playhouse was declared the State Theatre of California in 1937 after the remarkable achievement of having performed the entire Shakespeare canon on a single stage for the first time in this country.



Jamie Farr best known for playing the role of cross-dressing Corporal (later Sergeant)Maxwell Klinger in the 1970s and 1980s television show M*A*S*H, was attending the Pasadena Playhouse where an MGM talent scout discovered him, offering him a screen-test for Blackboard Jungle. He won the role of the mentally challenged student, Santini. Farr is currently on stage starring in Tuesdays with Morrie at the Theatre Aquarius in Ontario, Canada a production which runs through February 20, 2010.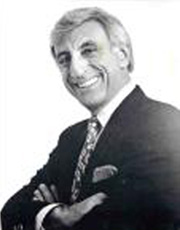 Dustin Hoffman who spent two years studying at the Pasadena Playhouse has won two Academy Awards, six Golden Globes, three BAFTAs, three Drama Desk Awards, and an Emmy Award. He received the AFI Life Achievement Award in 1999.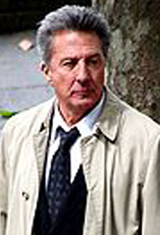 A school of theatre arts was established in the late 1920s that became an accredited college by 1937 -known in Hollywood as the Star Factory - eventually training such notable talents as John Alvin, Morris Ankrum, Dana Andrews, Eve Arden, Angela Bassett, Charles Bronson, Raymond Burr, Ruth Buzzi, Youssef Chahine, Maxine Cooper Gomberg, Frances Dee, Don DeFore, Jamie Farr, Gene Hackman, William Henry, Samuel S. Hinds, Dustin Hoffman, Earl Holliman, Carolyn Jones, Victor Jory, Mako, Kerwin Mathews, Victor Mature, Tyler MacDuff, Rue McClanahan, Joyce Meadows, Douglass Montgomery, Wayne Morris, Lloyd Nolan, Moroni Olsen, Eleanor Parker, Tyrone Power, Robert Preston, George Reeves, Barbara Rush, Onslow Stevens, Sally Struthers, Randolph Scott, Paul Sorensen, Harry Dean Stanton, Gloria Stuart, Robert Taylor, George Tobias, Jo Anne Worley, Gig Young, Robert Young and others.

The Playhouse had as many as five independent stages in operation at any given time, making the Pasadena Playhouse the single most prolific theatrical producing organization in the world.

The varied staging capabilities offered by its five venues led the Playhouse to become of the first companies in history to experiment with new theatrical forms such as theatre-in-the-round.

New frontiers were forged when the Playhouse built and operated one of the first television stations in Southern California. In addition to training the Air Force to use television and radio equipment, the Pasadena Playhouse supplied the majority of Southern California's early TV stations with the first trained technicians in the business.

This isn't the first time the venue has experienced financial problems. The theatre went bankrupt in 1969 and was reopened again in 1985. Reasons cited for that financial crisis were the death of the founding director Gilmor Brown, changes in Actors Equity Association laws, and the opening of drama departments in many schools and universities across the country.



Sheldon Epps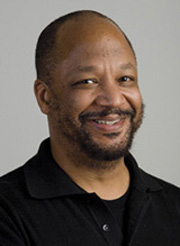 Currently under the artistic leadership of the well-respected Shelton Epps, who was hired from the Old Globe in San Diego where he had been associate artistic director, the Pasadena Playhouse launched productions that have enjoyed successful runs elsewhere. The musical adaptation of the hit film Sister Act, is currently playing in London, and Looped, a one-woman show about Tallulah Bankhead starring Valerie Harper, mounted at the Playhouse in 2008, is to open on Broadway this spring. Harper has just received a Helen Hayes Awards nomination as Outstanding Lead Actress, Resident Play for her performance in Looped at the Arena Stage, Washington, D.C.

The most recent staging expected to have legs is Stormy Weather, a musical biography of jazz great Lena Horne starring Leslie Uggams in the title role.

Currently, the Pasadena Playhouse is the second-largest nonprofit theater in the country to shutter due to the economic climate. North Shore Music Theatre in Beverly, Mass., went down last summer under $10 million in debt. ( See Broadway To Vegas column of January 4, 2009 )

The Pasadena Playhouse is also home to, the 86-seat Carrie Hamilton Theatre. That space is named in memory of the actress daughter of playhouse board member Carol Burnett. Hamilton died of cancer in 2002. The Playhouse is also home to the well-regarded Furious Theatre Company, whose leader, Damaso Rodriguez, is associate artistic director of the playhouse. The Furious uses the Hamilton Theatre rent-free.

At this point it is not certain if the closing will affect Furious Theatre Company's upcoming production Men of Tortuga, by Jason Wells, which is set to open there on February 20.

Officials are still hoping for a miracle - that some deep-pocket donor will pony up millions to save the place. It's not a totally off the wall thought. When the Museum of Contemporary Art in downtown Los Angeles was about to go under, philanthropist Eli Broad stepped in with a $30-million pledge.

Otherwise, on February 7 when the curtain rings down on Camelot and the Pasadena Playhouse - "Let there never be forgot- that once there was a spot. For one brief shining moment. That was known as - "



Broadway To Vegas is supported through advertising and donations. Priority consideration is given to interview suggestions, news, press releases, etc from paid supporters. However, no paid supporters control, alter, edit, or in any way manipulate the content of this site. Your donation is appreciated. We accept PAYPAL. Thank you for your interest.


ART AND ABOUT


FROM ASBURY PARK TO THE PROMISED LAND: THE LIFE AND MUSIC OF BRUCE SPRINGSTEEN

Bruce Springsteen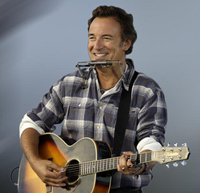 exhibition at the Rock and Roll Hall of Fame and Museum in Cleveland has been extended through December, 2010.

This is the first major artifact-driven exhibit about Springsteen's legendary career. It is a comprehensive look at his music, from such early bands as Child, the Castiles and Steel Mill through his work with the E Street Band and as a solo artist.

The exhibit includes several of Springsteen's guitars, including the Fender Esquire that is on the cover of Born to Run. It also includes the outfit he wore on the cover of Born in the U.S.A, as well as numerous handwritten lyric manuscripts, posters and handbills from all phases of his career, and various awards and honors. In addition, the exhibit features Springsteen's 1960 Chevrolet Corvette, which he purchased after the success of Born to Run, and first car, a 1967 Chevy Bel Air.

Also new to the exhibit is Springsteen's 2009 Kennedy Center Honor. At the ceremony, President Barack Obama said, "I'm the president, but he's the Boss."

Bruce Springsteen was inducted into the Rock and Roll Hall of Fame in 1999.

Jim Henke, the Rock Hall's curator said the Springsteen exhibit may be the most extensive exhibit on a rock star ever done at the hall. Previous exhibits have focused on the lives and careers of John Lennon, Bob Dylan and Ray Charles.

OBJECTS OF WONDER: FOUR CENTURIES OF STILL LIFE

Daniel Seghers, A Garland of Pink Roses, oil on canvas, 17 x 20 1/2 inches, Norton Museum of Art. Gift of Valerie Delacorte in memory of George T. Delacorte, Publisher and Philanthropist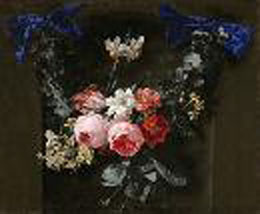 is an exhibition comprised of more than 50 works of art in various media. The exhibition at The Portland Museum of Art will feature artists as well known as they are diverse, including Gustave Courbet, Henri Matisse, William Harnett, Marsden Hartley, Edward Weston, Marc Chagall, Georgia O'Keeffe, Andy Warhol, and Robert Mapplethorpe.

There are exquisite Old Master paintings, Cubist masterpieces, iconic photographs by American modernists, Pop Art classics, and a fascinating array of three-dimensional works, all of which challenge traditional notions of what is meant by the term "still life."

The Portland Museum of Art is the only New England venue for this exhibition.

A still life in its most basic terms is the depiction of an arrangement of inanimate objects, including most often, but not limited to - flowers, fruit, tableware, books, newspapers, and musical instruments.

Still life works celebrate the significance of even the most mundane aspects of our daily existence. The function of a still life may be straightforward representation or the artist may intend to convey a more subtle, moral message. For example, cut flowers, a snuffed-out candle, or signs of decay in fruit and other food represent the transience of life and are meant to remind viewers of their own mortality.

This exhibition demonstrates the extent to which the genre continues to engage and inspire artists - from Old Masters to Maine masters. Grounded in seemingly unadventurous subject matter, the genre has become a vehicle for artists to take risks and to develop new visual strategies.

Pablo Picasso, Georges Braque, Roy Lichtenstein, Charles Sheeler, and Walt Kuhn, among other European and American masters represented in this exhibition, transform the commonplace into objects of wonder and desire. Claes Oldenburg turns a simple screw into a larger-than-life whimsical sculpture in Soft Screw (1976); while Gino Severini pastes playing cards and metal foil onto the surface of the canvas in his Cubist collage Playing Cards and Flask (1912).

This exhibition is organized by the Norton Museum of Art, located in West Palm Beach, Florida, and founded by philanthropist and businessman Ralph Norton and his wife in 1941. Together they collected hundreds of works of art. At his death in 1953, he left a bequest of 253 works of art, many of which are featured in this exhibition. First venue on the exhibition's traveling tour - February 4 through June 6, 2010 is the Portland Museum of Art. After Maine, the exhibition travels to the Montgomery Museum of Fine Arts in Alabama - July 3 through October 10, 2010 - and to the Dixon Gallery and Gardens in Memphis, Tennessee - October 16, 2010 through January 9, 2011.





THE MUSIC GOES ROUND AND ROUND


LOVE, LINDA if there was ever a cabaret act meant to be captured on a CD, Love, Linda is it. This one woman show performed by the critically acclaimed jazz vocalist Stevie Holland, is taken from the perspective of Linda Porter, the wife of Cole Porter. Written and performed by Stevie Holland and her husband, the award winning composer Gary William Friedman, who also handled the arrangements.

Frequently, recorded cabaret shows don't come across as a class act. Many sound like they were done on the cheap. That translates into a niche market appealing only to the devoted fan of the particular artist.

Then there is Love, Linda a fabulous, interesting, entertaining, delightful CD which should appeal to a broad based audience. The conversational segments, which make this CD stand out from your ordinary musical compilation, are well researched, fascinating and artfully written. The music is - Cole Porter.

Everybody has heard of Cole Porter. Most know his background - captured in several books, and two films - the mostly fiction Night and Day starring Cary Grant and Alexis Smith and the 2004 De-Lovely starring Kevin Kline and Ashley Judd, honing in on his homosexuality.

If those two flicks gave polarized views of Cole, neither picture did much more than passing brush stroke of his wife - Linda Cole.

Born in Louisville, Kentucky, Linda Lee was a tall, slender beauty from old money - one of the illustrious Virginia Lees. Linda was a favorite of designers of couture clothing and opulent jewelry. She was keenly intelligent and highly cultured - and a driving force behind Cole Porter's success.

Their life together also had its darker sides; they briefly separated when Cole's indiscreet same-sex relationships in Hollywood became too much for Linda to bear. But after a horseback riding accident left Cole crippled, they reunited. Devoted to each other to the end, their marriage lasted for 35 years, until her death in 1954.

Holland captures Linda Cole.

Instead of interspersing songs with chatter, Holland stays in character as Linda Cole and explains various portion of her life and her marriage to one of the greatest composers of all time.

"Just because love between two people can be difficult to define, doesn't mean it didn't exist,"

begins Holland invoking a slight southern drawl as Linda Cole, leading her into So In Love

Her wealthy parents had instilled in her a great respect for culture, but she was never prepared for love. "I had to learn that on my own, and what a journey it was," is the entree for What Is This Thing Called Love?



Linda Porter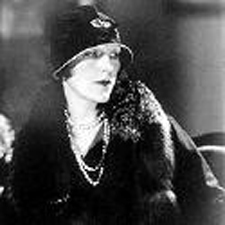 At 17 Linda married Edward R. Thomas, the combative heir to the New York Morning Telegram newspaper fortune and auto enthusiast who had the distinction of being the first American to kill someone in a car accident. He abused her and Linda eventually divorced him, a scandal in early 20th century.

"When I was almost killed by a flying boiler lid, I decided I'd had enough." In exchange for keeping her mouth shut about his cruelty and infidelities, the already wealthy Linda received $1 million.

In 1918, the fascinating Linda Lee Thomas met the not particularly handsome Porter at a wedding reception in Paris. They married the following year. At 36, she was a divorcée eight years his senior. Holland expresses that life segment in Ours and I Love Paris.

They remained wed for 34 years until Linda's death from emphysema in 1954.

Miss Otis Regrets permits Holland to show off her jazz singing skills and is used to explain why you had to be on your toes at a Cole dinner table. Cole and Linda's dinner parties were graced with royalty and the literary and theatrical lights of their generation. Guests knew the Cole always had something up his sleeve. His sense of humor could be cutting. At one dinner party a New Jersey gal, who had married into royalty, was presented with a "musical gift" - the biting, sassy The Scampi.

In The Still Of The Night and a medley of Let's Do It/You've Got That Thing/Let's Misbehave/You Do Something To Me depicts the romantic aspects of their spectacular, glamour-filled marriage - a marriage in which there is speculation that Linda suffered a miscarriage. both Linda and Cole had voracious social appetites and craved attention from the spotlight. Linda also craved attention from Cole Let's Be Buddies subtly suggests Cole's double life.

1935 - 1936 were Ridin' High years for Porter on Broadway - and Hollywood beckoned. In that sun drenched state were suntanned Adonises, expressed in Holland's powerful rendition of Love For Sale.

Linda felt unappreciated, even worse, unimportant to Cole. "I packed up my dignity along with and a few favorite jewels and gowns and headed for the familiar comforts of Paris . . . . But it didn't help my state of mind. I was also getting frailer what with my weak lungs so close to my aching heart. I filed for divorce." Cole followed her, begging her to return. "But I was too proud and sent him on his way. I regretted it immediately and missed him terribly."

My Heart Belongs to Daddy written by Porter, for the 1938 musical Leave It to Me which premiered on Nov 9, 1938, mournfully sung by Holland, implies that no matter the party or headline, Linda was in love with Cole.

While in Paris she received the shocking news that Cole was hospitalized after suffering a horseback riding accident which crushed his legs. The doctors wanted to amputate both of his legs. Linda rushed to his side and refused to consent to the amputations. "Cole was only 46 and I knew that would kill his spirit."

Irving Berlin called to tell them that he had convinced Jack Warner to make a movie about Cole brought to song by Holland in Night And Day/There's A Hollywood That's Good, and Wunderbar.

Linda was scared to death. Linda and Cole insisted on final script approval. Cole was delighted that the gorgeous 42-year-old, 6-foot Cary Grant would portray him - a five-foot-six inch 52-year-old. That should have been their first inkling that what would hit the screen was celluloid fantasy. Holland as Linda states it was "so far from the reality of our lives that it was like - night and day. The CD concludes with the poignant When A Woman's In Love.

Sensational arrangements, played to perfection by Landon Knoblock on piano, Peter Brendler on bass and drummer Jeff Davis.

Co-written and arranged by Gary William Friedman, the composer of the Tony-nominated musical The Me Nobody Knows. His numerous credits include penning over 40 songs as the Music Director and Composer for CTW's Television show The Electric Company.

Recorded and mixed by Danny Lawrence, mastered by Alan Silverman, Love, Linda be released on February 9, 2010 by 150 Music.

The cabaret show returns for an open-ended run at The Triad Theater beginning March 3, 2010.

Track Listings

1. So In Love/What Is This Thing Called Love?
2. Prelude: Linda meets Cole (dialogue)
3. Ours
4. I Love Paris
5. Miss Otis Regrets
6. The Scampi
7. In The Still Of The Night
8. Medley: Let's Do It/You've Got That Thing/Let's Misbehave/You Do Something To Me
9. Let's Be Buddies
10. Ridin' High
11. Love For Sale
12. My Heart Belongs To Daddy
13. Night And Day/There's A Hollywood That's Good
14. Wunderbar
15. When A Woman's In Love




SPREADING THE WORD


ALICE DUFFY

Outside of opening night card made by New York Times bestselling novelist JoAnn Ross.
is the veteran 83-year-old actress currently making her Broadway debut in Present Laughter. She's the sister of the late Peter Boyle best known for his role as Frank Barone on the sitcom Everybody Loves Raymond, and as a comical monster in Mel Brooks' 1974 film spoof Young Frankenstein.

A widow, Duffy almost turned down accompanying Present Laughter to Broadway because of her daughter Kate's passing from cancer a few months ago.

Alice Katherine "Kate" Duffy attended Notre Dame Academy, Trinity College, and George Washington University. She studied at Oxford University and returned to the U.K. to work at Paddington Press. Upon returning to the U.S. where became an editor at Popular Library.

She later worked at Dell, Simon & Schuster, where she was the founding editor of Silhouette Books, moved on to Simon & Schuster's Pocket Books division, Harlequin Enterprises, where she founded the Worldwide Library imprint, and Kensington Publishing, where she established Brava Books.



inside of opening night card made by New York Times bestselling novelist JoAnn Ross.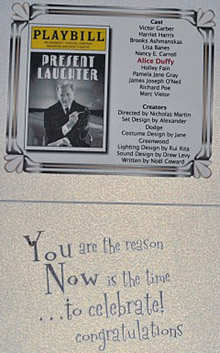 Alice decided that Kate would have been disappointed to think her mother hadn't continued with the role.

one thing that makes Alice's appearance on Broadway especially sweet is the personal effort that JoAnn Ross, a New York Times bestselling novelist and friend of Kate's, took in preparing a Broadway opening night congratulations card for her friend's mother.

Ross is also what is know as a scrapper - people who makes personalized cards out of scraps. Ross detailed how she made the card on her own website and the result is a card that Duffy must cherish.

On her website Ross stated: "Kate was so excited about her mom's debut, this has to be a bittersweet time for Alice. Hopefully this card will make her smile."

Indeed.

Present Laughter written by Noël Coward and directed by Nicholas Martin stars Victor Garber and includes Harriet Harris, Brooks Ashmanskas, Lisa Banes, Nancy E. Carroll, Alice Duffy, Holley Fain, Pamela Jane Gray, James Joseph O'Neil, Richard Poe, Marc Vietor. The revival is at the American Airlines Theater, NYC.

MET MASTERS; RENEE FLEMING as the first participant in this new Opera Guild series, opera star Renee Fleming will be on stage for an informal discussion of her life and work with the Guild's Paul Gruber. There will also be videos of her favorite filmed-performances, which will be screened along with a new video biography and filmed anecdotes by her family, colleagues and friends. There is also a special VIP ticket which includes a dessert art's reception. Wednesday, February 3 at The Town Hall in NYC.





SWEET CHARITY


THE 2010 DRAMA LEAGUE BENEFIT GALA HONORING FIVE-TIME TONY AWARD WINNER ANGELA LANSBURY Catherine Zeta-Jones and Victor Garber host an unforgettable star-studded evening featuring: Bernadette Peters, Christine Ebersole, Chita Rivera, Donna Murphy, Marian Seldes, Audra McDonald, Dee Hoty, Cheyenne Jackson, Len Cariou, T.R. Knight, Will Chase, Beth Fowler, Christopher Sieber, Charles Busch, Will Swenson and Alexander Gemignani.

The event will be co-directed by Tony Award winner Michael Mayer and Beatrice Terry.

The Drama League Benefit Gala raises funds to support the educational initiatives of The Directors Project, the premiere training program for talented young directors.

Angela Lansbury is an ardent supporter of this work. The black-tie evening will begin at The Pierre Hotel in New York City with cocktails and silent auction. Dinner will be served with the musical celebration to follow.

One of the most interesting auction items is the opportunity to have your portrait painted by John Lithgow. Four time Emmy Award winning actor, and recipient of the Drama League's Distinguished Performance Award, John Lithgow will use his budding artistic skills to create a one-of-a-kind watercolor portrait for one lucky winning bidder. The winner will submit 4 candid photographs and Mr. Lithgow will work off of them to paint a truly original piece of art.

The Gala takes place Monday, February 8, 2010.



THE LOS ANGELES DRAMA CRITICS CIRCLE has announced its nominations and special awards for excellence in Los Angeles and Orange County theatre for the year 2009. The 41st Annual Los Angeles Drama Critics Circle Awards ceremony will take place on Monday, March 22 at the Colony Theatre, on Burbank. The show will be hosted by Jason Graae who will be joined by co-host and critic Wenzel Jones.

Awards will be given in twenty categories, honoring excellence in theatre over the past year. Eight special awards will also be given, including a special award to Kirk Douglas for his lifetime contribution to Los Angeles theatre.

The Ted Schmitt Award for the world premiere of an outstanding new play will be awarded to Julie Marie Myatt for The Happy Ones. The award is accompanied by an offer to publish and a $1000 check funded by Samuel French, Inc. The Polly Warfield Award for an excellent season in a small to mid-size theater will be awarded to Celebration Theatre. The award is accompanied by a $500 check, funded by the Nederlander Organization.

The Bob Z award for career achievement in set design will be awarded to Sybil Wickersheimer.

The Angstrom Award for career achievement in lighting design will be awarded to Luke Moyer. The award is accompanied by a $1000 check, funded by Angstrom Lighting.

The Margaret Harford Award for sustained excellence in theater will be awarded to the Rubicon Theatre Company. The award is accompanied by a $500 check, funded by Disney Theatricals.

The Joel Hirschhorn Award for outstanding achievement in musical theatre will be awarded to Jason Robert Brown. The award is accompanied by a $500 check, funded by David Elzer/Demand PR.

The Milton Katselas Award for career or special achievement in direction will be awarded to Richard Israel. The award is accompanied by a $1000 check, funded by Camelot Artists.

THE HELEN HAYES AWARDS One of the country's most prestigious cultural honors, The Helen Hayes Awards recognizes and celebrates excellence in professional theatre throughout the Washington metropolitan area. The 26th Annual Helen Hayes Awards will be presented on Monday evening April 5, 2010, a gala celebration bringing together 2,000 theatre makers and theatre lovers to The Warner Theatre and JW Marriott Hotel in the heart of downtown Washington, D.C.

For a list of the nominees click here



A VIEW FROM THE BRIDGE by Arthur Miller. Directed by Gregory Mosher.
Starring Tony Award-winner Liev Schreiber as Eddie Carbone, the tormented longshoreman whose possessive love for his 17-year-old orphaned niece, Catherine, played by 25-year-old Scarlett Johansson, ends up consuming him. This is Johansson's Broadway debut and she has taken The Great White Way by storm.

For those who don't live within the Tri-State area and dream of experiencing a Broadway show - it's a production like this that makes traveling to The Great White Way worth the effort. Seen in previews, a riveting revival about love, belonging and betrayal.

Liev Schreiber has never given a bad performance in anything. The fact that Johansson is stealing the headlines is because this is her Broadway debut and she's a beautiful blonde who is a film star. That's the medium where you can keep doing it - take 73 - under you get it right. On Broadway, there are no second chances. You're not only required to get it right the first time, but expected to deliver at every performance. Johansson does just that.

Frequently compared to Grace Kelly, who gave a deglamorized, Academy Award-winning performance as Best Actress in The Country Girl, Johansson dons a dark wig and delivers an inspired performance. The strong cast includes Jessica Hecht as Beatrice, Morgan Spector in his Broadway debut as Rodolpho, the Pulitzer Prize and Tony Award-winning Michael Cristofer as Alfieri and Corey Stoll as Marco. With Joe Ricci, Robert Turano, Antoinette LaVecchia, Mark Morettini, Anthony DeSando, Marco Verna, Matthew Montelongo, Alex Cendese, Bonnie Dennison and Jim Iorio.

Lighting design by Peter Kaczorowski. Jane Greenwood costume design. John Lee Beatty scenic design. Scott Lehrer sound design. Hair and wig design by Tom Watson. Stephen Gabis vocal coach. At the Cort Theater through April 4.

COMPULSION by Rinne Groff. Directed by Public Theater artistic director Oskar Eustis.

Hannah Cabell and Stephen Barker Turner co-star with Tony Award winner Mandy Patinkin.

Sid Silver (Mandy Patinkin) wants nothing more than to bring Anne Frank's story to an American audience, and he believes he's the right man to adapt the young girl's diary for the stage. But his passion spirals into a lifelong obsession when a New York publishing house reveals its own plans for what would become one of the most powerful and enduring documents of the 20th century. Inspired by the story of Meyer Levin's battle to have his adaptation of The Diary of Anne Frank produced on stage.

Hannah Cabell appears as both Miss Mermin and Mrs. Silver; with Turner in the multiple roles of Mr. Thomas, Mr. Harris, Mr. Ferris, Mr. Matzliach and Mr. Williams.

Puppeteers for the production include Emily DeCola, Liam Hurley, and Eric Wright. Compulsion has set design by Eugene Lee, costume design by Lisa Loen, lighting design by Marie Yokoyama, sound design by Darron West, puppet design by Matt Acheson, dramaturgy by Amy Boratko, with vocal and dialect coaching by Thom Jones.

A co-production with The Public Theater and Berkeley Repertory Theatre. In previews towards a February 4 opening at Yale Rep in New Haven, CT through February 28. The production will then transfer to Berkeley Rep followed by a mounting at the Public Theater Off-Broadway.

THE DROWSY CHAPERONE winner of 5 Tony Awards with music and lyrics by Lisa Lambert and Greg Morrison; book by Bob Martin and Don McKellar.

Directed by Melbourne Theatre Company artistic director Simon Phillips.

Geoffrey Rush stars as a die-hard musical theatre fan who invites us into his dreary living room. As he drops the needle on his all-time favorite album, an outrageously funny musical from the 1920s, The Drowsy Chaperone, bursts into life complete with a pampered starlet, gangsters, chorus girls and all manner of mayhem.

With a star-studded cast, sequin-drenched costumes and dazzling new production numbers, The Drowsy Chaperone is a jazz-hot trip back to the golden age of musicals when stars had charisma, Broadway had romance and Rodgers had Hart.

in addition to Geoffrey Rush the cast includes: Heidi Arena, Rohan Browne, Rhonda Burchmore, Shane Jacobson, Adam Murphy, Robyn Nevin, Zahra Newman, Richard Piper, Grant Piro, Josh Piterman, Alex Rathgeber, Troy Sussman, Hester van der Vyver, Christie Whelan and Karlis Zaid.

The musicians are; Mathew Frank, Phoebe Briggs, Nathan Post, Greg Sully, Greg Maundrell, Ian Bell, John Barrett and Stuart Byrne.

The Creative Team includes: Associate Director - Dean Bryant; Designer - Dale Ferguson; Lighting Designer - Matt Scott; Musical Director - Mathew Frank; Choreographer - Andrew Hallsworth.

Melbourne Theatre Company. Playhouse Theatre, through February 27. Melbourne, Australia.

MR & MRS FITCH by Douglas Carter Beane. Directed by Scott Ellis. Starring Tony Award winners John Lithgow and Jennifer Ehle.

Meet gossip columnists Mr. and Mrs. Fitch. When the social circuit no longer provides juicy morsels, they find that great celebrity can appear out of thin air. Tony Award nominee Douglas Carter Beane's wicked new comedy is a scathing look at who is in, who is out and who may not even exist at all.

The design team features Allen Moyer (scenic), Jeff Mahshie (costume) and Kenneth Posner (lighting). In previews at the Second Stage Theatre in NYC. The official opening is February 22.

THE FABULOUS PALM SPRINGS FOLLIES welcomes two-time Grammy Award-winner Rita Coolidge to the production as guest star. In 1977, she topped the Billboard Hot 100 singles chart with (Your Love Has Lifted Me) Higher and Higher and has continued charting hits on Billboard's Pop, Country, Adult Contemporary and Jazz charts ever since. She now shares those hits in her debut appearance with The Fabulous Palm Springs Follies from February 9 to March 27, 2010. Palm Springs, CA.

RE-ENTRY Written by Emily Ackerman and KJ Sanchez, directed by KJ Sanchez.

ReEntry is described as: "an unflinching look at the lives of Marines returning from Iraq and Afghanistan. An honest, moving, surprisingly funny play based on interviews with privates and colonels, combat vets and clerks, and one particularly memorable family. ReEntry is not about politics. It is not about the why of this war. It's about stepping off that plane and coming home, re-entering ones life, family and country - again."

The creation of ReEntry began at home: Ackerman has two brothers who have served multiple deployments in Iraq (both Marines) and Sanchez had five brothers in the military during the Vietnam War. Over the course of a year, Ackerman and Sanchez interviewed many Veterans, enlisting several as advisors to the play. These men and women became integral to the development of the play, reading each draft, providing feedback, insight and introducing the authors to other veterans that then in tern also became part of the process.

It was vital to ReEntry's authors that the voices in this play be authentic. It was also essential that the actors who portray these men and women have a deep and profound understanding of what it means to be a Marine, and so former USMC drill instructor Joe Harrell was employed to take the actors through a rigorous training program, akin to basic training. Sanchez went on to cast Harrell in the production as the commanding officer.

Cast includes: Joseph Harrell, Sameerah Luqmaan-Harris, Bobby Moreno, PJ Soska and Sheila Tapia.

The creative team includes: Marion Williams (Scenic and Costume Designer), Thom Weaver (Lighting Designer), Zach Williamson (Sound Designer), Alex Koch (Video Designer).

Begins performances Saturday, February 6 opens Thursday, February 11 through March 7 at Urban Stages in NYC.

TIME STANDS STILL by Pulitzer Prize-winning author Donald Margulies. Directed by Tony Award winner Daniel Sullivan.

Starring Laura Linney and Brian d'Arcy James with Eric Bogosian and Alicia Silverstone. Billed as a drama with humor the play is set in the Williamsburg, Brooklyn loft apartment of James and Sarah, a photographer and a journalist who have been together for nine years and share a passion for documenting the realities of war. But when injuries force them to return home to New York, the adventurous couple confronts the prospect of a more conventional life.

Bogosian - making his Broadway acting debut - plays Richard, the photo editor of photographer Sarah, played by Linney. Silverstone plays Richard's young girlfriend, Mandy.

The creative team includes John Lee Beatty (scenic design), Rita Ryack (costume design), Peter Kaczorowski (lighting design), Darron L. West (sound design), Peter Golub (original music) and Thomas Schall (fight direction). The production stage manager is Robert Bennett. The stage manager is Shanna Spinello.

The play was commission by Geffen Playhouse in Los Angeles.

Officially opened on January 28 with performances through March 21 at the Samuel J. Friedman Theatre in a production by Manhattan Theatre Club in NYC.

THE LIGHT IN THE PIAZZA The Tony Award-winning musical with a book by Craig Lucas and music and lyrics by Adam Guettel.

Directed by Robert McQueen. The musical director is Jonathan Monro.

Starring Patty Jamieson as Margaret, Jacquelyn French as Clara, Juan Chioran as Signor Naccarelli, Jeff Lillico as Fabrizio, Christina Gordon as Signora Naccarelli, Lee MacDougall as Roy, Tracy Michailidis as Franca, Michael Torontow as Giuseppe and Becca Zadorsky.

Set in Italy in 1953, The Light in the Piazza tells the story of Margaret, a middle-aged housewife who takes her wide-eyed 26-year-old daughter to Florence, where she falls in love with a young handsome Italian who barely speaks English and doesn't notice that Clara is not like other women.

Weighing her daughter's newfound happiness against the expectations that she and her husband had set out for Clara's life, Margaret is forced to wrestle with her own cynicism in an attempt to accept a love that transcends language, culture, and circumstance.

Set and lighting design by Phillip Silver; stage manager Stephanie Nakamura; costume designer Alex Amini.

The Canadian premiere is presented by Acting Up Stage Company in Toronto at the Berkeley Street Theatre Downstairs and opened January 30 with performance through February 21, 2010.

SILENCE! THE MUSICAL the unauthorized parody of Silence of the Lambs Christopher Gattelli's original New York production which was the winner of Outstanding Musical FringeNYC 2005. Book by Hunter Bell.

Music & Lyrics by Jon & Al Kaplan based on the screenplay SILENCE! The Musical by Jon & Al Kaplan.

Directed & choreographed by Christopher Gattelli.

Starring Olivier Award winning actor Miles Western as Hannibal Lecter.

Follow F.B.I. trainee Clarice Starling as she uses her relationship with Dr. Hannibal Lecter to hunt serial killer Buffalo Bill. SILENCE! transforms the film's dialogue into a full-scale musical, complete with singing serial killers, songs with unprintable titles, and a chorus of tap-dancing lambs.

Musical Director - Bob Broad. Based on original design by Scott Pask. Costumes designed by David Kaley. Design adapted for ATS by Prav Menon-Johannson. Lighting designer - Richard Lambert.

Booking through February 28, 2010 at Above The Stage Theatre in London.





WHO'S WHERE


GEORGE STRAIT & REBA MCENTIRE FINALLY TOGETHER FOR THE FIRST TIME ON TOUR can be enjoyed February 6 at the Grand Garden Arena of the MGM Hotel in Las Vegas.

JUDY KAYE the Tony Award-winner will sing the songs of Harold Arlen and other giants of the American songbook in a special cabaret performance in the Globe's new Hattox Hall. David Green directs and Dennis Buck serves as musical director. Haddox Hall will be transformed into a cabaret setting with table seating and full beverage service. Monday, February 8, at the Old Globe Theatre in San Diego.

BACH AND BRUCH music of Bach, Bruch, Dvorak featuring celebrated Violinist Elizabeth Pitcairn performing on her famous 'Red Violin.' The Red Violin is one of the world's most legendary instruments, the Red "Mendelssohn" Stradivarius of 1720, said to have inspired the Academy award-winning film The Red Violin. Friday, February 5, the Sinatra Celebrity Showroom at the Cal Neva Resort, Cal Neva, NV.

NEW YORK PHILHARMONIC ORCHESTRA in the UK premiere of Magnus Lindberg New Work plus Prokofiev Piano Concerto No 2 and Sibelius Symphony No 2. New York Philharmonic Orchestra, Alan Gilbert conductor. Yefim Bronfman, piano. Wednesday, February 3. On February 4 the NY Phil performs Haydn Symphony No 49 'La Passione'; John Adams The Wound-Dresser; Schubert Symphony No 8 'Unfinished' and Berg Three Orchestral Pieces. Alan Gilbert, conductor Thomas Hampson baritone. At the Barbican in London.

WEDNESDAY NIGHT AT THE IGUANA with hosts Dana Lorge and Richard Skipper. Barry Levitt on keyboard & Saadi Zain on bass. Wednesday's guests include: Michael Austin, Lucia Mozzola, Jane Scheckter, George Stella and Jane Stuart. February 3, at the Iguana VIP Lounge in NYC.

MONTEREY JAZZ FESTIVAL ON TOUR with Kenny Barron, Regina Carter, Russell Malone, Kurt Elling, Johnathan Blake and Kiyoshi Kitagawa open a two night stand on Friday, February 5, at the Jorgensen Center for the Performing Arts in Storrs Mansfield, CT.

IMANI WINDS the groundbreaking Grammy-nominated wind quintet, is an inventive combination of French horn, bassoon, clarinet, flute, and oboe. They team up with jazz vibraphonist/composer Stefon Harris to create a new concept of American chamber music, celebrating improvisation and blurring the line between classical and jazz. Friday, February 5, 2010 at the Flynn Center, in Burlington, VT.

JON STEWART host of The Daily Show - which may well be the best news show on television - brings his wit and intellect to The Mirage Hotel in Las Vegas for performances February 5-6

PAULA POUNDSTONE telling funny stories at Centre East in Skokie, IL on Friday, February 5. On Saturday the laughs will be coming from the McAninch Arts Center in Glen Ellyn, IL.

GEORGE WINSTON performs Friday, February 5, at the Mesa Arts Center in Mesa, AZ. On Saturday he's in the spotlight at Ardrey Auditorium in Flagstaff, AZ.

THE BLACK EYED PEAS stop at the Philips Arena in Atlanta on Thursday, February 4. On Saturday they perform at the American Airlines Arena in Miami.

TAYLOR SWIFT is on tour in Australia. On Thursday the show is at the Brisbane Entertainment Centre in Boondall. On Saturday she begins a two night romp at the Acer Arena in Sydney.

MARIAH CAREY on stage Monday, February 1, at the Power theatre in Upper Darby, PA. On Thursday she's in the spotlight at the Bell Centre in Montreal. On Saturday she's in Ottawa for a performance at Scotiabank Place.






FINAL OVATION


PERNELL ELVIN ROBERTS known for his roles as Ben Cartwright's eldest son, Adam Cartwright, on Bonanza and as chief surgeon, Dr. John MacIntyre, the title character on Trapper John, M.D. (1979-1986) died of cancer Sunday, January 24, 2010 at his Malibu home, his wife Eleanor Criswell told the Los Angeles Times. He was 81.

Roberts began his acting career in off-Broadway and Broadway theatre.. The young actor won a prestigious Drama Desk award in 1955 for his performance in an off-Broadway rendition of Macbeth. He then worked with the Arena Stage Company in Washington, D.C.

He was preceded in death by his from his first marriage - son Jonathan Roberts who died in a motorcycle accident in 1989 at age 38. Divorced three times,Roberts is survived by his fourth wife Eleanor Criswell.

Next Column: February 7, 2010
Copyright: January 31, 2010. All Rights Reserved. Reviews, Interviews, Commentary, Photographs or Graphics from any Broadway To Vegas (TM) columns may not be published, broadcast, rewritten, utilized as leads, or used in any manner without permission, compensation and/or credit.
Link to Main Page
---
Laura Deni



U.S. Postal Address: Post Office Box 60831, Las Vegas, NV 89160
CLICK HERE FOR COMMENT SECTION