! >
Broadway To Vegas
  
 SHOW REVIEWS CELEBRITY INTERVIEWS GOSSIP NEWS

| | |
| --- | --- |
| | |
STORMY WEATHER: IMAGINING LENA HORNE STARRING LESLIE UGGAMS - - A TIME FOR LOVE BY SHIRE AND MALTBY - - JEROME ROBBINS DISCUSSED - - CHINA EAGER FOR AMERICAN MUSIC - - GET FIT AT THE 5TH AVENUE THEATRE - - THEATRE HALL OF FAME - - JASPER JOHNS: AN ALLEGORY OF PAINTING - - ROCKERS ON BROADWAY JERSEY STYLE - - DONATE . . . Scroll Down


Copyright: January 28, 2007
By: Laura Deni

CLICK HERE FOR COMMENT SECTION
CHINA LEARNING AMERICAN MUSIC HAS VALUE


The 13th Chinese Music Awards took place on Thursday in Shanghai. The largest music awards night in China only emphasizing the importance of music - especially western music - to the Chinese people.

The previous week the Sprite Music Awards were presented in Chengdu.

Add to the musical mix the upcoming Olympic games which will bring not only athletes to Beijing, but also entertainers. Even Cathy Rigby is getting back into harness to fly as Peter Pan in an engagement that coincides with the Olympics. ( See Broadway To Vegas column of January 14, 2007 )

While the United States depends upon China for goods, the population of China - all 1.4 billion of them - look to America for music.

With a tightening of copyright rules, the day will dawn when China becomes profitable for entertainers.

Axe-wielding musicians from overseas are finding gigs in a culture that respects musicians and is desperate for live music.

A major figure on Shanghai's live music scene, Robb Spitzer has been in Shanghai for the last three-and-a-half years working for China West Entertainment, a concert promotions company that brings foreign acts to China. "There are professional musicians who are brought over to play in house bands, there are music scholars who have come to China specifically to engage with traditional Chinese music, there are people who have been in bands before and just play for fun, and then there are others, like (band) Shanghai Laowai, who are really trying to do something original," he told China Daily.

We asked Michael Ashleman, who has previously reported for Broadway to Vegas, to check out the Chinese music scene.



Tom Jones - Sex Bomb a hit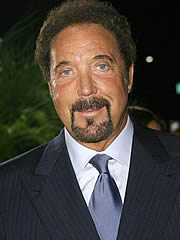 "Everybody here knows who the Westerns artists are. Many of the local stars have their music with both English and Chinese words. All of your major Chinese stars do covers of the music of Western stars. Chinese teenagers can keep up with any American or kid in England on knowing the stars," said Ashleman.

"Learning English is mandatory in China, so anybody twenty or under knows some English," he emphasized.

"They are all interested in dance and music. If you muted the sound and look at rock and roll and country on video, the only difference is the hat and boots. The movements are the same. Therefore, they don't see the difference in the music - it's a question of dress code."

"They can tell that bluegrass music has a sound different from modern rock or country. They know jazz because there is a definitely different sound. But, modern country and modern rock and roll are melded in the middle to the point where the distinction is very difficult. "It's the extremes that they recognize," he analyzed.



The Carpenters are popular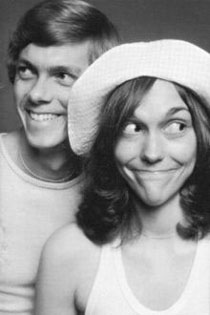 "All of the stores have music playing - only it's not like Muzak in America. The music in stores here have the lyrics. The Carpenters are playing everywhere," he said of the Grammy Award winning brother-sister duo who between 1970 and 1984, had 10 gold singles, nine gold albums, one multi-platinum album and 17 singles in the Billboard Top 20, 12 in the Top 10, three number 1 songs and six songs at number 2.

"A lot of 1970's songs are popular," he continued. "A group in Hong Kong just did a music video of Yellow Submarine and everybody is so amazed, because it is new to them. Yellow Submarine has become popular and Chinese groups do it as a cover"

"Tom Jones is popular. He did a song in Sex Bomb as a comeback hit from his 1999 album Reload." said Ashleman about the single which also became a 2004 US club hit.

"That is played in every dance club, because it is danceable. Songs with a good beat that are good dance tunes will be played over, and over and over."

"Every Chinese artist does a cover of Madonna, Christina Aguilera, Britney Spears or whatever gender appropriate star is popular in the West."

"The soundtrack to The Sound of Music plays in restaurants. - Do-Ri-Mi - Doe, a deer, a female deer, is very popular. I heard that in a restaurant the other day."

"Tom Jones, The Carpenters, are heard all the time. Rarely do you hear Elvis Presley. Karaoke is very popular. The people singing it are Chinese trying to sing English."

The songs that work are the ones which allow for bad English. Hotel California by the Eagles from their When Hell Freezes Over Tour - when they got back together and did a live tour - that video is in every Karaoke place in this country.



Don Henley slurring helps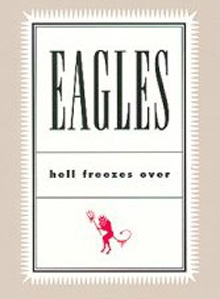 "The reason is that Don Henley slurred his words and wasn't as clear as he was in the original recording. This video is a live recording. It's not the crisp, clean recording that you would get from a studio. It has slurring, some static that is typical from any live concert. Well, that degrading of quality, from the perfect studio to the live, was enough so that the people can try to imitate it. When somebody starts to play the English songs, Hotel California comes up. Everybody here knows Hotel California.

Henley, by the way, will be appearing at the Fantasy Springs Resort Casino Special Events Center in Indio, CA on Feb 3 and will be honored at the 2007 MusiCares Person of the Year dinner and concert. Proceeds from this annual Grammy Week gala - to be held on Friday, February 9, at the Los Angeles Convention Center two days prior to the 49th Annual Grammy Awards - provide essential support for MusiCares' Financial Assistance Program, which ensures that music people have a place to turn in times of financial, medical and personal need.

"The teenagers in China love a wide variety of music," Ashleman stressed. "Mozart, or some classical music, would be on a teen-agers playlist. Of course they love love songs - music with lyrics about love and happiness. The Carpenters' love song are always being played and they are easy songs to sing. There wasn't a lot of complicated musical structure. Any song that is easy to sing along with is popular," related Ashleman.



Christina Aguilera at the Roberto Cavalli Beverly Hills store opening.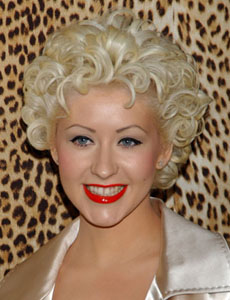 "You might find five kids out of a hundred that do not highly proficient dancers or highly proficient in playing some difficult musical instrument," he asserted. "They all have some type of artistic ability."

"There is no Chinese alphabet as we know it. There are 9,000 characters, 3,000-5,000 in common use and there is prioritization. Their alphabet is a series of pictures. Each pictures has four sounds that go with it. Everybody has some artistic ability because, to sign your name, you have to be an artist. Everybody is a fairly good drawer because otherwise you wouldn't be able to even sign your name," he reiterated.

"I think it would be very difficult to find a Chinese child that didn't have some artistic ability in some form of the arts - sing, dance, play an instrument or draw."

"Many times even construction workers will use part of their breaks to improvise a jam session - tapping their feet and using paint cans as drums."

"This culture is looking for an outlet - they need entertainment."

"Live performances are popular. Once the performance is a sell out, it is aired on television," he stated. "There is town near Taiwan which has a huge beach resort and they do lots of concerts there. The major stars will all hit that. It's like playing New York, Chicago, Las Vegas. They have an amphitheatre and those concerts will be sold out and then the entire concert will be aired on (China Central Television) CCTV 3. Recently a live concert by S.H.E. was broadcast."



Musical group S.H.E.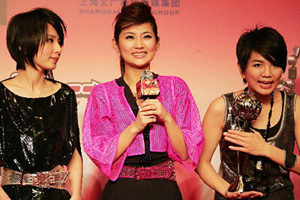 "The television stations are all owned by the Chinese government. I think they have 12 stations. CCTV-5 is sports. CCTV-9 is international. That is always in English. CCTV-3 is entertainment and documentaries. "

"Entertainment could be a goldmine for performers if the value for a performance is appreciated."

"If you come here and play a live concert - within three hours - you can buy copies of the disc on the street. So, American stars have no motivation and it's actually counter productive to their interests to come play here. They aren't going to make a million dollars on the gig and everything they do will have been recorded - both video and audio - and sold or available for free very soon after the concert."

"You still have the mentality of - everybody is entitled to everything and you have a populations that is desperate for entertainment," he explained.

"The national brands of milk have celebrities on their cartons - the local milk brands to not. The product advertising is either very bland or full blown art work. And if it is full blown media, that will feature music or film stars."

"This is a culture that doesn't understand that intellectual property is a valuable item. But, they are working in that direction," he emphasized. "So, when people say - China doesn't care and doesn't try - I would disagree with them."

"China is now cranking out and enforcing copyright laws. This will be an entertainment goldmine once the copyright laws are understood."
billion people. You aren't trying to change the habits of two teenagers. You are trying to change seven thousands years of history times 1.4 billion participants and a profit motive."

"It is not in their financial interests to not steal music. So, they don't understand that you have to pay now. You are faced with most of the population with not a lot of money, no tradition of paying for using music, a desperate want entertainment, no punishment that is viable - and you have 1.4 billion doing it."

"The Chinese government is trying to fight all of that and progress is being made. It is being taught in the schools. The students are taught that it is wrong to be stealing the stuff. They have been working or it for 8-10 years. but it may be eight years away. I am seeing, as a foreigner evidence that they are trying. Last August the local police came into a music store in Xian and found that there were DVD's that were copies, so they shut down all DVD sales for the entire province, which has the same population as the United States. There was a 100 day prohibition against selling any DVD in the province as punishment for copyright violations. So, they are trying. When the authorites shut down all DVD sales, that sent a strong message to the population."

"The Chinese people love to have a party. If you are walking down the street they'll invite you in. The Chinese have a history of people open to Westerners, even though they have the Canton system of economics to maintain their isolations. But, China has always had a reputations of welcoming foreigners and being very nice."

"There are several things going on at once. Historical the Chinese always liked a party and this is a culture that has many holidays and traditions that go back forever. However, they have been repressed for four or five decades, but even then they had parties. Pictures may have only been in black and white because Mao wanted it that way, but now color has come back. You have a country that wants clothes that are bright and shinny. They are making up for lost time."

"At the live concerts, everyone looks good. Many have money, a lot of money. They all have a love and respect for the arts and a real hunger for entertainment. All they need to learn is that entertainment has a value. A lot of improvement is being made in that direction."

Winners of the 13th Chinese Music Awards were:



Popular singer Lee-Hom Wong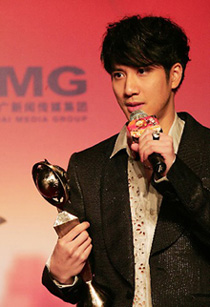 Lee-Hom Wong was the biggest winner taking home three awards - Most Popular Male Signer (Hong Kong and Taiwan), Best Composing Artist (Hong Kong and Taiwan), and Most Popular Song of the Year for his popular Da Cheng, Xiao Ai or Big City, Small Love.

Taiwanese singer, Angela Zhang, earned two awards - Most Popular Female Singer (Hong Kong and Taiwan) and the Song of The Year (Hong Kong and Taiwan).

The Best Male Singer Award (Hong Kong and Taiwan) went to Eason Chan. The Hong Kong star also took away the Song of The Year Award (Hong Kong and Taiwan). The Best Mainland Singer was Zhang Jingxuan.

The Best Female Singer (Hong Kong and Taiwan) was won by Taiwan pop queen A-Mei Chang Huimei. And Jin Hai Hsin won Best Female Singer for China's mainland .

The Best Band Awards went to Taiwan group May Day and the mainland band The Flowers. Mainland signer, Li Huizhen, was won the most popular female singer prize and actor/singer, Chen Kun, was most popular male signer in China's mainland.

Super Girl, Zhou Bichang and Tank got the New Artist Award for China's mainland, Taiwan and Hong Kong. The Best Composing Artist award for a mainland singer was taken by pop duo Shuimunianhua. They also were judged Best Singing Group in China's mainland. The girl band S.H.E took the Best Group award for Taiwan and Hong Kong.


ART AND ABOUT


JASPER JOHNS: AN ALLEGORY OF PAINTING 1955-1965

Target, a 1958 oil and collage on canvas.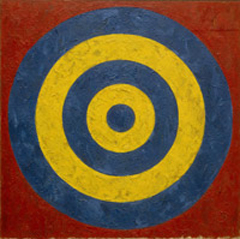 The American painter's influence on the genres of pop, minimalist, process, conceptual and performance art is the focus of this exhibition, which draws from his early work.

The early career of Jasper Johns (b. 1930) had an immense impact on the subsequent development of advanced art—pop, minimal, process, conceptual, and performance genres, among others—in the United States and Europe.

This exhibition of some 80 objects from the first decade includes a number of Johns' most important paintings, drawings, and prints, such as Target with Plaster Casts (1955) and Diver (1962).

The exhibition will trace the unfolding relationship of four specific motifs: the target, the mechanical "device," the naming of colors, and the imprint of the body. Through specific sequences of work, it will present Johns' early period as one devoted to examining and reinventing the premises of painting during an era when painting practice was riddled with conceptual upheaval and doubt. Works for this exhibition will be drawn from private and public collections in the United States and Europe.

Departing from the format of the survey or retrospective, the show will trace the unfolding relationship of four specific motifs in Johns' works - the target, the "device," the stenciled naming of colors, and the imprint of the body - revealing the works' significance to the following generation of artists.

Jan. 28-April 29 at the National Gallery of Art in Washington, D.C.



THEATRE HALL OF FAME inducts the class of 2006 at the Gershwin Theatre on January 29th.

Those honored include; actors Patti LuPone, George Hearn and Elizabeth Wilson, playwright Brian Friel, costume designer Willa Kim and scenic designer Eugene Lee, as will late playwrights August Wilson and Wendy Wasserstein.

Phylicia Rashad will serve as host. Presenters include Angela Lansbury, Marian Seldes, George Grizzard, Peter Weller, Jack Viertel, Oskar Eustis and William Ivey Long.

Constanza Romero Wilson will accept the award for her late playwright husband, and Pamela Wasserstein will receive for her aunt.


SPREADING THE WORD


ANY MAN WHO CAN DO THAT I FORGIVE EVERYTHING; JEROME ROBBINS AND FIDDLER ON THE ROOF a panel discussion featuring Sheldon Harnick who wrote the lyrics for Fiddler, Austin Pendleton who created the role of Motel, book writer Joseph Stein, Lisa Aronson, the wife and collaborator of Boris Aronson, who designed the sets for Fiddler, and who spoke the quote in the title of this event and others. Moderated by Amanda Vaill, author of Somewhere, a biography of Jerome Robbins (Broadway Books, 2006).

That event is preceded by a Thursday, February 1, lecture by Vaill called Ten Degrees North of Terrific: The Creation of Jerome Robbins Fancy Free. Vaill's presentation will include an audio clip created by composer Leonard Bernstein for Robbins to use during the rehearsals. The quote in the title of the lecture is from The New York Times review of the premiere of Fancy Free in 1944.

Both events at the New York Public Library for the Performing Arts in New York City.

TRIPPING THE LIGHT FANTASTIC is the title of a new show business tome. This is the real-life story of Bud and Jim Mercer, who worked as a team in show business for more than 70 years, from the early days of the Great Depression into the 21st century. Tripping The Light Fantastic is filled with anecdotes about The Mercer Brothers as they shared the stage with the famous and not-so-famous. The book is an inspirational story of perseverance, dedication, and the love of show business.

The Mercer Brothers' Bud Mercer, now 93, will sign copies of the book at Peppertree Book Store in Palm Springs, CA on Sunday, February 11.



Broadway To Vegas is supported through advertising and donations. Priority consideration is given to interview suggestions, news, press releases, etc from paid supporters. However, no paid supporters control, alter, edit, or in any way manipulate the content of this site. Your donation is appreciated. We accept PAYPAL. Thank you for your interest.


OTHER PEOPLE'S MONEY


LAS VEGAS TO ADD 300 EXTRA TAXI CABS to the normal fleet of 1660 for the Super-Bowl week-end, which also happens to coincide with major automobile, furniture, and men's apparel conventions in town.

Be forewarned that there is a female Las Vegas cab driver who is a real tip hustler. Never seems to have any change.

For instance, if the cab fare is $13.00 and you hand her a twenty, she'll turn her face towards you, blink her eyes and softly coo - "I don't have any change."

Riffle through your belongings to find smaller bills and watch how that sensual expression changes to a nasty glare.


SWEET CHARITY


ROCKERS ON BROADWAY - JERSEY STYLE benefits Broadway Cares / Equity Fights AIDS, and takes place on January 29th at BB Kings Blues Club and Grill in New York City.

Actress/comedian Caroline Rhea will host. The line up features world famous recording stars performing with a host of Broadway performers.

The show, which is being put together by Jersey Boys cast member Donnie Kehr, will feature that show's four leads, John Lloyd Young, Christian Hoff, Daniel Reichard, and J. Robert Spencer. The line-up will also include Grammy Award winner Larry Gatlin, Mickey Dolenz of the Monkees, Kathy Brier, Will Chase, Jarrod Emick, Michael Lanning, Norm Lewis, Billy Porter, Greg Reuter, Daphne Rubin-Vega, Sara Schmidt, Jeremy Schoenfeld, Sherie Rene Scott, Matt Stocke, Kate Taylor, The Tokens, and Patrick Wilson.

Rockers On Broadway was founded by Donnie Kehr in 1993 during the Broadway run of The Who's Tommy, in which he appeared. Inspired by an idea from Pete Townshend, he wanted to give musical theatre performers the opportunity to experience the feeling of singing with a rock band in a concert style venue, so they could understand and transfer the rawness of that edge to the stage.

All proceeds from the event will go to support Broadway Cares/Equity Fights AIDS and Wingspan Arts, Inc. Broadway Cares/Equity Fights Aids gives assistance nationwide to persons living with HIV/AIDS and Breast Cancer and Wingspan Arts provides In-school, Afterschool, and Conservatory arts education programs to Tri-state area children.



STORMY WEATHER: IMAGINING LENA HORNE

Leslie Uggams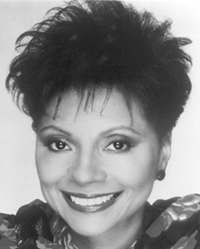 A World Premiere Musical starring Tony Award winner Leslie Uggams.

Conceived and written by Sharleen Cooper Cohen. Music by Gershwin, Porter, Strayhorn, Rodgers & more.

Choreographer:Randy Skinner, Music Director: Bruce Barnes, Orchestrations: Daryl Waters: Director: Michael Bush.

Lena Horne dazzled the world with hit songs like, Just One Of Those Things, The Lady Is A Tramp, Come Rain Or Come Shine, and of course, Stormy Weather.

But she broke the Hollywood rules. She refused to play a maid or a prostitute. And she broke the law. She married for love - a white, Jewish musician.

Style. A glorious voice. Grace. Brains and beauty, talent and presence. All these were still not enough to make Lena Horne one of the world's greatest entertainers. Above all, she needed grit and courage and tenacity. She battled racism and blazed a trail for African American artists over a 40–year career with many firsts: first African American movie star, first black woman on a national magazine cover. Blacklisted and suspended by MGM, Lena Horne faced professional and personal tragedies that nearly ended her career. Discover her amazing story in this Prince world premiere starring Leslie Uggams, Tony Award–winner, heading a spectacular company singing a fabulous score filled with Lena Horne hits like The Lady is a Tramp, You do Something to Me and of course, Stormy Weather – plus 20 more. Featured in the Philadelphia New Play Festival: Where Theatre Begins, a program of the Theatre Alliance of Greater Philadelphia.

February 10-March 4 at the Prince Music Theatre in Philadelphia.

ORDEAL BY INNOCENCE by Agatha Christie. Adapted by Mary Jane Hansen for the New York State Theatre Institute.

In her autobiography, Ms. Christie deemed Ordeal by Innocence one of her more successful novels. It includes neither Hercule Poirot nor Miss Marple but rather the single-story character, Dr. Arthur Calgary, a geophysicist who returns in 1958 from the Hayes Bentley expedition to the Antarctic only to find that he could have provided an alibi for Jack Argyle, his family's acknowledged black sheep, who was convicted of murdering his mother.

He rushes to right this wrong and clear Jacko's name-who has since died in prison-only to find that his revelation sends fissures through the Argyle family who resent the re-opening of a case whose conclusion was satisfactory, even when they learn it was incorrect.

Like a bad penny, Dr. Calgary repeatedly turns up always probing and pushing to right the wrong no one wants corrected.

February 2 - 16 at the Schacht Fine Arts Center Russell Sage College campus in Troy, NY.

DON JUAN IN SOHO by Patrick Marber after Moliere - relocates Molière's farcical, tragic, anarchic 17th century original to modern day Soho, London.

Directed by Michael Grandage. Starring Rhys Ifans in the title role. The cast also includes Jessica Brooks, Chris Corrigan, Seroca Davis, Richard Flood, Laura Pyper, David Ryall, Adbul Salis and Steven Wright.

Don Juan In Soho tells the story of a serial seducer in the 21st Century, enjoying his ability to pick and choose women as he pleases. Set in Soho, Ifans is a superstar DJ who moves between the moneyed world of celebrity and the seedier side of one of London's most famous areas. When it comes to emotional insight into class, sex and morals, Marber is one of the greatest playwrights around at the moment.

Performances through February 10 at the Donmar Warehouse in London.

A TIME FOR LOVE Music by David Shire and Lyrics by Richard Maltby, Jr. Conceived and Directed by Richard Maltby, Jr. and Joel Silberman. Musical Direction by Dean Mora.

Starring Lois Robbins and Brian Sutherland.

This sweetly comic, charmingly romantic and touchingly poignant song-cycle features Lois Robbins and Brian Sutherland as characters who fall in love, come together, marry and grow apart. The story begins at the first instant a spark ignites and continues over a lifetime of working, raising children and living in a complicated modern world. The production features familiar favorites as well as original songs by Broadway's dynamic duo Maltby and Shire.

World premiere Feb. 1-25, by Rubicon Theatre Company in Ventura, CA.

JANE EYRE Perhaps the first literary heroine to defy society's expectations with fierce independence, passion and intelligence, Jane Eyre follows the orphaned Jane from her early childhood with insufferable Aunt Sara to boarding school, service as a governess, and her intense romance with a kindred spirit, the mysterious Mr. Rochester.

The Acting Company—whose illustrious alumni include Kevin Kline and Patti LuPone—bases its adaptation of Charlotte Brontë's novel on an imaginative version by the British company Shared Experience that had a triumphant run at the Brooklyn Academy of Music.

Directed by Davis McCallum. Set design, Neil Patel. Costume design, Christal Weatherly. Lighting design, Michael Chybowski. Composer/Music Director, Michael Friedman. Sound design, Fitz Patton. Movement director, Tracy Bersley.

A free Pre-Performance Lecture with Robyn Warhol, Professor of English and Director of the Humanities Center at the University of Vermont, will introduce Charlotte Brontë's life, survey of the novel's critical history, and discuss a feminist interpretation of the text that inspired the Acting Company's performance.

"Reader, I Married Him: Why Feminists Like Jane Eyre" Friday, February 2 in the Amy E. Tarrant Gallery at the Flynn Center for the Performing Arts in Burlington, Vermont.

On February 3 the production is mounted at the Johnson Theatre at the University in New Hampshire on Durham, NH, followed by performances February 6-7 at the Byham Theatre in Pittsburgh, PA.

THE FOUR OF US by playwright Itamar Moses . Directed by Pam Mackinnon.

"Whenever a friend succeeds, a little something in me dies." — Gore Vidal

The story of two young writers: Benjamin, a novelist, and David, a playwright. When Benjamin's first novel vaults him into literary stardom, the two men face new challenges: Does career success, coincide with personal happiness? And more importantly, who should pay for lunch? The Four of Us looks at jealousy and how success can poison a great friendship. For mature audiences.

Starring Sean Dugan and Gideon Banner.

Cassius Carter Centre Stage of the Old Globe in San Diego, CA. February 3 - March 11.

MACBETH THE PROLOGUE directed by Vladislav Troitsky.

Created in 2004, in the immediate aftermath of the Orange Revolution in the Ukraine, this production explores corruption and the seizing of power by foul means. Live Ukrainian music by the extraordinary DakhaBrakha Ethno-Chaos Band accompanies a mesmerizing performance. The essence of the Macbeth story is presented in ritualized form by actors wearing an eclectic mix of traditional clothing and masks. Sensual and exotic, the production unfolds against a kaleidoscopic backdrop of richly colored carpets. A Post Show Talk takes place Feb. 6 with Peter Culshaw in conversation with director Vladislav Troitsky. Includes showing of a documentary film about the Dakh Centre's response to the Ukrainian Orange Revolution.

The DahkaBrakha Ethno-Chaos Band will be playing a free concert on the Clubstage after the performance on Feb. 9.

The Barbican in London.

JAMES AND THE GIANT PEACH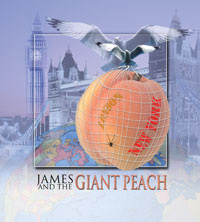 By Roald Dahl; adapted from the book by David Wood.

Directed by Jane Page. Compositions by Gerald V. Castle. Musical director is Randy P. Foster. Evil Aunt Sponge and Aunt Spiker have turned young James' giant peach into a London tourist attraction. That is until James, with the help of new found friends Centipede, Spider and Ladybird, commandeer the fruit, magically take flight and escape over the Atlantic. Led by James, the motley crew takes on sharks, Cloudpeople and other dangers as the Giant Peach heads west for safe haven in, where else, The Big Apple.

Michael Fagin serves as Scenic Designer. Costume Designer is Patrick Holt. Lighting Design by Lonnie Alcarez. Sound design by Kevin Dunayer. Sarah Felder is Voice and Dialect Coach. Denise Gabriel is Movement Consultant. The cast features Gref Foro, Nathan T. Lange, Sarah Walker Thornton, David Dortch, Alison Fredrick, Jerry Ferrraccio, Afton C. Williamson and Nick Lawson.

Performances on the Festival Stage through February 10. Presented by the Alabama Shakespeare Festival in Montgomery, AL.

The Alabama Shakespeare Festival, located in Montgomery - Alabama's state capital - is the sixth largest Shakespeare festival in the world and attracts more than 300,000 annual visitors from all 50 states and over 60 countries.

ASF operates year-round, producing 14 world-class productions annually, including three works of William Shakespeare.


| | | |
| --- | --- | --- |
| | | |
WHO'S WHERE


CHRIS BOTTI entertains Wednesday, January 31 at The Opera House in Boston and on Saturday at the Paramount Theater in Seattle, WA.

STEVE TYRELL on stage Friday, February 2, at the Parker Playhouse in Fort Lauderdale, FL.

THE KINGSTON TRIO perform Saturday, February 3 at the Chandler Center for the Arts in Chandler, AZ.

KEELY SMITH AND PAULA POUNDSTONE on stage next Sunday, February 3, at the McCallum Theatre in Palm Desert, CA. Kelly will be singing her numerous hits while Paula will be telling a wealth of funny stories.

LARRY GATLIN in the spotlight Saturday, February 3, at Harrah's Metropolis Casino in Metropolis, IL.

RED HOT CHILI PEPPERS center stage Tuesday, January 30, at the Orlando Centroplex in Orlando, FL. On Wednesday they take the show to the Bank Atlantic Center in Sunrise, FL.

ERIC CLAPTON on tour down under. He entertains steps on the Sydney Entertainment Centre stage in Sydney, Australia on Tuesday, January 30, and then repeats the gig on Thursday, February 2. On Saturday he opens a two night stand at the Rod Laver Arena in Melbourne.

JOHNNY MATHIS AND RAMSEY LEWIS in a two nighter beginning Friday, February 2 at the McCallum Theatre in Palm Desert, CA.

BONEY JAMES performs Friday, February 2, at the Rhapsody of the Seas in Galveston, Texas.

ARLO GUTHRIE on stage Friday, February 2, at the Newberry Opera House in Newberry, SC. On Sunday, February 4, he can be enjoyed at the Robert Gerst Center for the Arts in Atlanta, GA.




PIFFLE AND PROFUNDITIES


BROADWAY FIT is giving people the chance to work out to your favorite Broadway standards. This aerobics class is designed for musical theater lovers of all levels and backgrounds - including brand-new beginners.

The first half is a vigorous dance workout, combining basic jazz dance steps, yoga, pilates and low/medium impact aerobics with high energy music for all-over body conditioning and preparation. The second half utilizes the basic jazz steps introduced in the warm-up in a Broadway dance routine.

The instructors are all Seattle dancers and performers who have appeared on The 5th Avenue stage who create an encouraging, light-hearted, and fun atmosphere. Saturdays February 3-April 7 in Seattle, WA.

Next Column: February 4, 2007
Copyright: January 28, 2007. All Rights Reserved. Reviews, Interviews, Commentary, Photographs or Graphics from any Broadway To Vegas (TM) columns may not be published, broadcast, rewritten, utilized as leads, or used in any manner without permission, compensation and/or credit.
Link to Main Page
---
Laura Deni


CLICK HERE FOR COMMENT SECTION