! >
Broadway To Vegas
  
 SHOW REVIEWS CELEBRITY INTERVIEWS GOSSIP NEWS

| | |
| --- | --- |
| | |
CAMELOT TOUR HAS TRIPLE STAR POWER - - A HOUSE WITH NO WALLS PROMOTES DEBATE - - ROCKY TO SMITHSONIAN - - RUPERT WACE EXHIBITS AT WINTER ANTIQUES SHOW - - INGE FESTIVAL TO HONOR JERRY BOCK AND SHELDON HARNICK - - SLAVA'S SNOWSHOW SETS RECORD - - CATHY RIGBY TO TOUR PETER PAN IN CHINA - - BOGART AND BACALL CELEBRATEED - - DONATE . . . Scroll Down


Copyright: January 14, 2007
By: Laura Deni

CLICK HERE FOR COMMENT SECTION
EVEN WITHOUT A MICROPHONE STARS SHINE IN CAMELOT
Michael York as King Arthur, Rachel York as Guenevere and James Barbour as Lancelot star in Camelot. Photo by: Craig Schwartz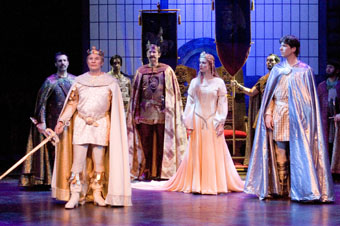 Thanks to Hal David and Burt Bacharach people may know the way to San Jose, but getting to La Mirada, California is no easy trek. No form of public transportation goes directly to La Mirada - at least not from Las Vegas or most other places.

A person really must feel compelled to go to La Mirada.

The best reason is to go the extra mile is to see Michael York, Rachel York and James Barbour star in the latest revival of Camelot.

The production opened Friday at the La Mirada Theatre for the Performing Arts with the press opening being held last night, following by a reception which featured good food, music and stars who mingled.

The venue bills itself as one of the best in Southern California. They could also say - or most anywhere else. Seats have enough leg room for people to pass by without crawling over your lap. The foyer and adjoining "bar" room is perfect for hosting special events - such as the after press opening party.

This mounting of the Lerner and Lowe musical comes with revisions crafted by Emmy Award winning director Glenn Casale and the heirs to the Lerner estate - his son Michael and daughter Liza.

Conceived by Lerner and Lowe and elevated to social significance by Jacqueline Kennedy after the assignation of her husband, this version is darker and more sensual.

"This is not set in medieval times," stated producer Tom McCoy. "King Arthur's time was not medieval. This is set somewhere between 400 to 600 A.D."

McCoy also said he gave them a $2 million budget and told them to make it look like $7 million.

They have.



Michael York is joyful at the post show party. Photo by Laura Deni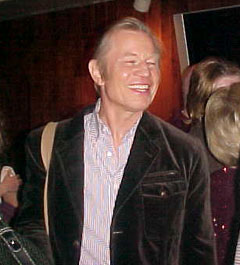 Michael York agreeing to sign on for his first American tour caught some by surprise. Casting him in a musical also saw some jaws drop. His only other experience with a Broadway musical was the ill-fated The Little Prince which lasted all of 16 previews and closed before it ever officially opened.

York has never claimed to be a song and dance man. Neither was Richard Burton who originated the role of King Arthur which York now embodies.

Michael York is an actor - a working actor. It appears that he has achieved the impossible - not only never unemployed but also able to pick and choose his projects. On this one his name is above the title. Audiences have long admired Michael York's versatility. With an impressive body of work over the past 42 years on screen, stage, television and with audio recording, this consummate performer still retains the fire for the actor's life that first blazed when he was a teenager in England. He's anxious to tour his adopted country and he's taken this project seriously. So intent to do justice to the role, York even hired a vocal coach.

For a person who never aspired to be a songbird, he possesses a fine singing voice - better than the afore mentioned Burton or Rex Harrison - two gents who had stellar parts which required them to talk a song. York also adds a different dimension to the role of King Arthur - one in which his brotherly feelings for Lancelot are entwined with his own love for Guenevere. As a line reads - the table is round (for Knights of) but the relationships are triangular.

Broadway To Vegas first was captivated by the enormous talents of Rachel York when she starred as Mallory in the Tony Award winning musical City of Angels.



Rachel York didn't let a dead microphone stop her. Photo by Laura Deni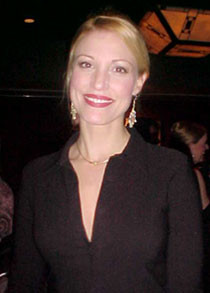 Her entrance as Guenevere was both visually beautiful and quiet. Her microphone failed.

She could have bolted the stage, thus stopping the show - or carry on.

"I decided to belt it," she said of the project-to-the-back-row approach. Lengthy dialogue sandwiched between two important numbers, Simple Joys of Maidenhood and Camelot, enabled Rachel to prove that her voice can conquer.

Musical conductor Greg Barna immediately dropped the orchestra down and Rachel's performance received outstanding applause from the sold out house.

When Rachel returned to the stage her microphone had been fixed.

James Barbour is a singer. He first gained the respect of Broadway To Vegas for his performance on Broadway in Assassins. He's outstanding.

The entire cast is spectacular. Time Winters are Pellinore, Eric Anderson as Merlyn, Shannon Stoeke as Monfrel deserve special recognition.

This is really an ensemble piece with a trio of exceptional headliners.

Choreographed by Dan Mojica, the lush costumes utilizing velvets and satins are created by Marcy Froeheich. The scenic design by John Iacovelli is magnificent. Tom Ruzika's light design is awesome. Add to that the mix the wigs by Mitchell Hale, props by Aaron King, flight choreography by Sean Boyd and Paul Rubin on board as aerial effects designer and you have a touring show that deserves to be a total sell out in every city.

Everyone knows the score. The only disappointment is that the numbers Fie on Goodness, The Seven Deadly Virtues and I Loved You Once in Silence have been cut.

Musical director Craig Barna has a core group of excellent musicians; Dr, Joseph Leo Curley on the French horn; keyboardist John Daniels and drummer Richard Henry Grant. For the La Mirada engagement they are augmented by 12 musicians from the local area. Each city on the tour wll provide the necessary additional musical.

Performances at the La Mirade Theatre for the Performing Arts continue through Sunday, January 26. The revival then moves to San Jose.

Broadway To Vegas would like to give a special thanks to Richard Sneed, owner of Norwalk Records, and his courteous staff for helping navigate the trip.


A HOUSE WITH NO WALLS PROMOTES AWARENESS AND DEBATE


Should African-Americans embrace the legacy of slavery as their primary cultural identity or discard this mantle of victimhood?

The latest play by Thomas Gibbons, A House With No Walls serves as a springboard for a complex and volatile exploration about this subject.

Florida Stage in Manalapan, Florida, The InterAct Theatre Company of Philadelphia and the Curious Theatre Company of Denver have partnered in an exciting initiative and to have their productions of A House With No Walls be the centerpiece of this important conversation.

In January of 2003, plans were unveiled for the construction of the President's House, a memorial to George Washington's Presidential house. Visitors heading to the Liberty Bell would have to walk over the site of Washington's slaves quarters, a fact that was not mentioned at the time of the proposal for construction. The story behind this series of events unmasked a secret that had been kept for more than two hundred years. In A House With No Walls, Gibbons, inspired by this discovery, dramatizes the story and asks the question – How do we decide which elements of our history will be commemorated and which will be erased? And why?



George Washington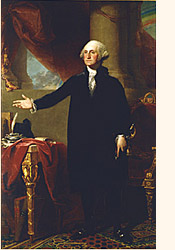 The play - inspired by real-life events in Philadelphia - dramatizes the conflict between a conservative African American academic and an ultra-liberal, Afro-centric political activist. The battleground for these two opposing forces is the proposed site for the new National Constitution Center, which happens to be on the grounds of George Washington's Philadelphia home, including its slave quarters. Flashing between the dramatic story of one of Washington's slaves contemplating escape, to a current day debate over what ''freedom'' truly is.

The play juxtaposes the present-day conflict between Cadence and Salif with the factually true story of two of George Washington's slaves, Ona Judge and her brother, Austin. The action of the play bounces between past and present, sometimes straddling a moment when the two times coexist. As we watch Cadence subtly being wooed by the Republican Party in the present, we see Ona Judge being tempted by a white abolitionist in the past. The lure of a place at the table, a voice on the inside, compels Cadence toward conservatism while the lure of freedom compels Ona toward an act of defiance.

The central conflict is inspired by the controversy that arose in Philadelphia in 2002 over the construction of the new Liberty Bell Center on the site of the former President's house, including the slave quarters used to house the nine slaves owned by George Washington during his presidency. When pressed about the irony of the proposed location, the National Park Service, which oversaw the design and construction of the center, said that it had no intention of exploring the issue, and that no mention would be made of America's legacy of slavery on the site of one of the world's most renowned symbols of freedom and hope. Following an outcry from the African-American and historical communities, as well as Congressional intervention, the Park Service agreed to a center dedicated to the history of the President's House, including a site dedicated to the slaves living at the house and to the history of slavery in America in general. The process is still ongoing, with the memorial not expected to be completed until July 2007, more than five years after ignition of the debate.



This 19th century engraving is an idealized depiction of Washington supervising his slaves at Mount Vernon.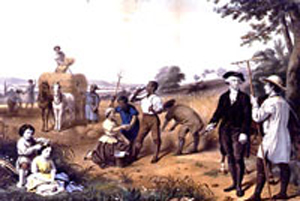 George Washington was born into a world in which slavery was accepted. He became a slave owner when his father died in 1743. At the age of eleven, he inherited ten slaves and 500 acres of land. When he began farming Mount Vernon eleven years later, at the age of 22, he had a work force of about 36 slaves. With his marriage to Martha Custis in 1759, 20 of her slaves came to Mount Vernon. After their marriage, Washington purchased even more slaves. The slave population also increased because the slaves were marrying and raising their own families. By 1799, when George Washington died, there were 316 slaves living on the estate.

Almost three-quarters of the 184 working slaves at Mount Vernon worked in the fields, and of those, about 60% were women.

The workday for slaves was from sun-up to sun-down, six days a week. Sunday was a day of rest.

Although George Washington was born into a world where slavery was accepted, his attitude toward slavery changed as he grew older. During the Revolution, as he and fellow patriots strove for liberty, Washington became increasingly conscious of the contradiction between this struggle and the system of slavery. By the time of his presidency, he seems to have believed that slavery was wrong and against the principles of the new nation.

In his will, he arranged for all of the slaves he owned to be freed after the death of his wife, Martha. He also left instructions for the continued care and education of some of his former slaves, support and training for all of the children until they came of age, and continuing support for the elderly.

While Washington acted to manumit those slaves that he owned in his own right, more than 150 other enslaved workers living at Mount Vernon were the legal property of the heirs to the estate of Daniel Parke Custis, Martha Washington's first husband, and they remained in bondage. Under Virginia law, the Custis (or "dower") slaves could not be freed without payment of compensation to the heirs. At an estimated average value of 40 pounds sterling per slave, this would have amounted to a payment of more than 6,000 pounds. By comparison, the total profit Washington received from all of his plantation operations for the year 1797 was calculated at just less than 900 pounds sterling.

Many of the dower slaves were the spouses and children resulting from the intermarriage of Custis and Washington slaves. George Washington elected to honor the marital status of the Mount Vernon slaves, even though unions among the enslaved had no legal standing in Virginia. He followed through on his conviction by consistently working to keep the families from being dispersed, even when doing so would have been in his own financial best interest. He repeatedly declined to sell unneeded slaves if it meant that family members would be separated. In a 1786 letter, Washington emphasized his unwillingness to carry out any such transactions, stating that "it is...against my inclination...to hurt the feelings of those unhappy people by a separation of man and wife, or of families."

To examine the circuitous route by which Washington arrived at his parallel decisions -- public inaction on the one hand, his personal motivation to resolve the specific issue of the disposition of the Mount Vernon slaves on the other -- is to cast light on difficult questions.

A parallel might be drawn to slaves tending the Washington plantation to white farm hands in the 1800s.

Many white farmers were dependant upon live-in, white farm hands to run the farm. The farm hands lived and ate in their own quarters. Since farmers had daughters, only the foreman was permitted to ever approach the farm house and there had better be a good reason.

None of the farm hands were permitted to leave the farm. Only the foreman had access to a horse and buggy. Fortunate farm hands were permitted to leave the farm twice a year - when they went to sell the crops and when they went to buy seed.

A farm hand who ran away would have no money, no place to stay and with a reputation of a run away - no other farmer would hire him on.

Further complicating the farm hand treatment problem was the practice of "placing out" children - a practice that was established in New York about 1830. This was the forced placement of New York inner city children to farms out West or in the Midwest. Children of poor immigrants were the main focus, their parents seen as incapable of ever providing a decent parental relationship. While a few placements were treated as family by their rural caretakers, most were abused and exploited as farm hands, and practically none ever saw their real families again.



Thomas Gibbons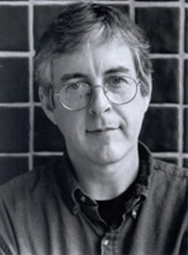 Thomas Gibbons is a playwright-in-residence at InterAct Theatre Company in Philadelphia, which has premiered six of his plays: Pretending to America, 6221, Axis Sally, Black Russian, Bee-luther-hatchee, and Permanent Collection. He is the recipient of six playwriting fellowships from the Pennsylvania Council on the Arts, a Roger L. Stevens Award from The Fund for New American Plays, two Barrymore Awards for Outstanding New Play, a Barrie and Bernice Stavis Playwriting Award, and a Pew Fellowship in the Arts.

The Florida Stage production of A House With No Walls will be directed by Florida Stage founding Producing Director, Louis Tyrell. The cast includes; Kameshia Duncan, Steve Hendrickson Joseph W. Lane Jr. Gordon McConnell Sheaun McKinney and Karen Stephens.

Scenic Design is by Richard Crowell. Lighting Design by Suzanne M. Jones. Costumes by Nelson Fields. Sound for A House With No Walls is designed by Matt Kelly.

During the runs of A House With No Walls, the performance venues are presenting panel discussions exploring the controversy that surrounded the building of the Liberty Bell Center, incorporating perspectives from several of the key players. One panel will be held on Saturday, February 3, on the mainstage at The Adrienne in Philadelphia. Scheduled to sit on the panel are; Michael Coard, Esq., founder of Avenging The Ancestors Coalition, a community based group that honors exploited African-Americans; playwright Thomas Gibbons, Philadelphia historian and archaeologist who has written extensively on the nine slaves kept by George and Martha Washington, as well as the history of the President's House; and Bruce Schimmel, founder, editor emeritus, and current columnist for Philadelphia City Paper, who extensively reported on the controversy. The discussion is free and open to the public.

In addition, InterAct will host several post-performance talk-backs to encourage further discussion on the issues raised in the play. Speaker Sundays, a series featuring invited scholars, community leaders and artists, are scheduled to follow matinee performances on January 28 and February 4 and 11. Scheduled to participate in one of the post-performance talk-backs is John McWhorter, Senior Fellow at the Manhattan Institute and author of New York Times best seller Losing the Race: Self-Sabotage in Black America.

Called Toward A More Perfect Union, Florida Stage, and numerous local sponsors are taking part in an unprecedented county-wide discussion of race and ethic relations - addressing issues that affect their multi-cultural community.

In Study Circles, individuals of diverse backgrounds and experiences will meet in small groups for dialogue and action over a six week period. Primarily supported by Florida Stage, participants will also enjoy a unique opportunity to see the play together at a discount price and consider historical events that continue to influence the community and society.

A Community Kickoff and Press Conference took place Wednesday January 10 at the Palm Beach Community College's Stage West. The Study Circles will begin the week of January 16th and complete the week of February 20th.


CATHY RIGBY TO TOUR PETER PAN IN CHINA
Cathy Rigby will bring Peter Pan to China. Photo by Laura Deni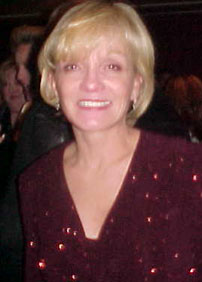 Cathy Rigby intended to spend some time at home - tending to her garden. The perennially youthful Olympic champion, who took the Peter Pan role Mary Martin created and turned it into her own tour de force creation, was entitled to a break. She had thought she had retired the part after touring more than two dozen cities before arriving on Broadway in time for the Christmas 2005 season. That fly around won her a Tony nomination.

Last week her manager/ husband, Tom McCoy, informed his wife that "the Asia tour had come through."

She told him to go join their dog and sleep in the pooch's quarters.

At least that's how the affable McCoy tells the story.

"He's never been in the dog house," laughed Rigby. Actually, both McCoy and Rigby are "thrilled" with mounting Peter Pan in China.

"It's an extended tour of the Orient and begins a year from now," Mc Coy told Broadway To Vegas. "She'll be performing Peter Pan in Beijing at the same time as the Olympics. Isn't that great?"

Yes, it is. Especially since Rigby is a two-time Olympian and the first U.S. gymnast to win a medal in international competition. She captured the silver on balance beam at the 1970 World Championships.

"I'm really looking forward to it," added the 4-foot, 11- inch Rigby. "It's a great reason for me to stay in shape. I get lazy, she claimed - although her youthful appearance and superb figure relates a different message.


ART AND ABOUT


YO, SMITHSONIAN! ROCKY JOINS ICONS ON DISPLAY

National Museum of American History curator Dwight Bowers and museum Director Brent D. Glass pose with Sylvester Stallone at the donation of "Rocky" items to the Museum.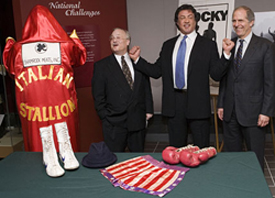 In a special ceremony, Rocky Balboa joined the ranks of Dorothy from The Wizard of Oz, Indiana Jones and R2-D2 and C-3PO when filmmaker Sylvester Stallone donated objects from his Academy Award-winning Rocky films to the Smithsonian's National Museum of American History. The items joining the Museum's entertainment collections include the boxing robe Stallone wore to the climatic fight with Apollo Creed in 1976's Rocky; the signature black hat and a pair of autographed boxing gloves from Rocky II (1979); and a pair of boxing shorts and shoes from Rocky III (1982).

The Rocky items will go on display in the new acquisitions case in the Museum's Treasure of American History exhibition at the National Air and Space Museum. The show features more than 150 objects from the Museum's vast and diverse collections while its building is closed for renovation.

"The story of Rocky Balboa, an underdog from the urban, working class, is a quintessential depiction of the American dream," said Museum Director Brent D. Glass. "This donation reflects the resilient spirit of the nation and is a welcome addition to the Museum's entertainment collections."

Stallone is the creative force behind the Rocky franchise, having written and starred in all of the Rocky films, including the latest - Rocky Balboa. The original Rocky, which Stallone also directed, won three Academy Awards in 1976 for Best Picture, Directing and Film Editing. Metro-Goldwyn-Mayer Studios Inc. released all the films in the franchise.

MGM Home Entertainment has made a financial donation to the Museum for the preservation and display of the materials from the Rocky films.

The National Museum of American History collects and preserves American heritage in the areas of social, political, cultural, scientific and military history. Documenting the American experience from Colonial times to the present, the Museum looks at growth and change in the United States. The Museum is closed for major renovations and will re-open in summer 2008.

RUPERT WACE

Roman bronze face mask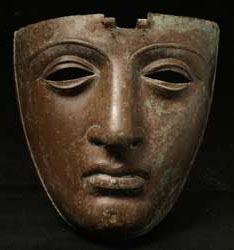 one of London's leading dealers in antiquities, will bring selected works of art from the ancient world of great rarity and beauty to the Winter Antiques Show that takes place at the Seventh Regiment Armory, New York, from Friday 19 to Sunday 28 January.

One of the highlights of Wace's display will be an exceptional Roman bronze face mask from a helmet dating from the 1st century AD. The extraordinary mask was in a private collection in Vienna, Austria, and acquired in 1970. The rounded triangular face has a strong straight nose, full lips turned slightly down at the corners and elegant elongated almond eyes beneath narrow arched eyebrows. Such masked helmets were used in northern Europe under Roman rule in the 1st and 2nd centuries AD, and would probably have been part of a cavalry officer's parade armour rather than used in combat.

Other objects include a bronze elegant head of a cat, representing the goddess Bastet, dating from the Late Dynastic Period, 664-332 BC. There is also a limestone relief of a male head dating from the Late Dynastic Period, late 25th/early 26th Dynasty, c. 660-650 BC. Carved in raised relief, it depicts Mentu-em-hat, the fourth prophet of Amun and Mayor of Thebes. Rare and beautiful pieces from ancient Greece to be exhibited by Rupert Wace include a marble head of a prince or ruler dating from the 4th/3rd century BC. A fine Roman item is a theatre maskl. It's a mosaic fragment dating from the 1st century BC/1st century AD.



Broadway To Vegas is supported through advertising and donations. Priority consideration is given to interview suggestions, news, press releases, etc from paid supporters. However, no paid supporters control, alter, edit, or in any way manipulate the content of this site. Your donation is appreciated. We accept PAYPAL. Thank you for your interest.

JERRY BOCK AND SHELDON HARNICK

Jerry Bock and Sheldon Harnick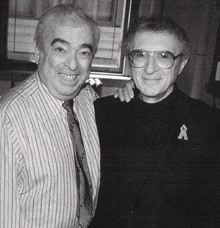 creators of beloved musicals such as Fiddler on the Roof, Fiorello! and She Loves, are the Honorees of the 26th Annual William Inge Theatre Festival in Independence, Kansas.

The festival takes place April 25-28 at the William Inge Theatre at Independence Community College. The festival is named for the late Pulitzer Prize and Oscar-winning writer William Inge, who was a native of that southeast Kansas town.

"We are thrilled to honor the enduring works of Jerry Bock and Sheldon Harnick and showcase not only their most famous musicals but all their amazing contributions to the literature of musical theater," said Inge Center Artistic director Peter Ellenstein.

Bock and Harnick will receive the William Inge Theatre Festival Distinguished Achievement in the American Theatre Award. Great American playwrights such as Arthur Miller, August Wilson, Neil Simon, and Stephen Sondheim are among previous Honorees saluted at the Inge Festival.

This year's Inge Festival is also the debut of the Peter Stone Unsung Heroes award for librettists, named for the late Peter Stone, book writer of 1776, The Woman of the Year, and The Will Rogers Follies, among many.

Also to be presented is the 2nd Jerome Lawrence Award for outstanding service to both the Inge Festival and the national theater - named for Inherit the Wind co-writer and frequent Inge Festival visitor Jerome Lawrence - and the annual Otis Guernsey New Voices in the American theater Award, for an outstanding emerging playwright.

The Festival's four days include performances, dinners with special guests, and public workshops with professional artists. Tickets go on sale online March 1.


SWEET CHARITY


REMEMBERING DOTTIE a musical tribute hosted by Richard Skipper.

Members of the cabaret community will assemble Jan. 16 at Don't Tell Mama in New York City to pay tribute in song to singer-songwriter Dottie Burman, who died Nov. 27, 2006. The event will feature the talents of Susan Baum, Ann Dawson, Ivan Farkas, Gerta Grunen, Bobbie Horowitz, Laurie Krauz, Dana Lorge, Trudi Mann, Sue Matsuki, Sidney Meyer, Vicki Phillips, Patricia Norcia, Carol Shedlin, Diana Templeton, Shannon Wollman and Sara Cedar Miller.

Paul Greenwood will be the musical director for the evening, which will benefit the Central Park Conservancy. Bobby Kneeland is technical director, and there will be a special presentation by Dan Sherman.

Dottie Burman, formerly an English teacher at Stuyvesant High School, was a MAC-nominated songwriter and singer. She was also a motivational speaker and a career coach for other performers. Her one-woman show was titled Five Shows a Day, and she also penned the musical I'm in Love with My Computer. Her CD was titled When the Palm Trees Grow in Central Park. Burman was a member of ASCAP, The New York Sheet Music Society, the Dramatists Guild, the Manhattan Association of Cabarets and Clubs and was an alumna of the ASCAP Musical Theatre Workshop.


BOGART AND BACALL CELEBRATED
Humphrey Bogart and Lauren Bacall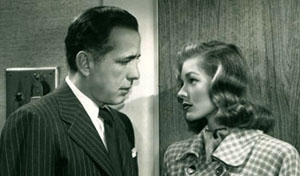 The British Film Institute is staging a Bogart and Bacall love fest - featuring both the individual films of Humphrey Bogart and Lauren Bacall, and the handful of movies they made together.

Hollywood today just cannot recapture the glamour and passion that it had in its post-World War II heyday. Today's celebrities live in a tell-all world and the level of access we have to their private lives removes the mystique that surrounded the earlier stars, such as Bogart and Bacall.

Bogart drifted into theatre and worked on the stage and as a Hollywood contract player for 20 years until he achieved stardom in the early 40s in High Sierra and The Maltese Falcon.

When Lauren Bacall was only 19 she played opposite Bogart in To Have and Have Not in 1944. Their intense rapport was immediate - the film crackles with the chemistry that sparked between them - and soon became lovers and eventually married.

Bacall remained with Bogart despite his legendary womanizing until his premature death in 1957 and they appeared together on screen in Dark Passage and Key Largo.

Some 50 years after Bogart's death at the age of 57, Lauren Bacall is still a working actor, appearing most recently in Lars von Trier's Manderlay. All of the couple's films will be shown in the Bogart/Bacall love-fest but there is also the opportunity to see other classics featuring the two stars such as, Casablanca, The Maltese Falcon, Key Largo, Written in the Win and Bacall's more recent film Dogville.

The British Film Institute in London.


CURTAIN DOWN


SLAVA'S SHOWSHOW after two fantastic years off-Broadway the clowns leave the Big Apple to tour. The unique clown experience with an international reputation for spectacle - including a climactic, blinding snow storm - will play its final New York City performance on January 14 for a total performance count of 1,004.

In 2007 the show will be staged in Canada, Mexico and the United Kingdom. The Los Angeles Premier opens December 12th.



OUR TOWN by Thornton Wilder. This production is reimagined in the Trinity Rep style, directed by Brian McEleney.

Trinity Rep, in partnership with the City of Providence, Rhode Island and the Providence Public Schools has created the Our Town, Your Town Essay Contest which celebrates the theater's upcoming production of Our Town - Thornton Wilder's classic play about community. The essay contest asks middle and high school students to share their visions of their own communities and neighbors. In 500 words the students are asked to address any of the following questions: What do you like best about your town? What is the biggest challenge facing your town? What makes your neighborhood different from others? Who is the "hero" of your town? What does your town need the most, right now? Is your neighborhood a good place to grow up?

One winning essay will be chosen for each grade. Winners will receive a family four pack of tickets to Our Town at Trinity Rep; Dinner with Mayor David N. Cicilline and Trinity Rep's Artistic Director Curt Columbus; The opportunity to have his/her essay on display at City Hall and on the city website and a $250 Collegeboundfund account.

Our Town, perhaps the best-known modern American play, is a portrait of a fictional town in New Hampshire. With the central characters of a teenage boy and girl, playwright Thornton Wilder presents the universal truth that we rarely appreciate life while we live it.

At Trinity Rep in Providence, Rhode Island January 26 – March 4. A 20 minute talk back follows the production.

THE GLASS MENAGERIE By Tennessee Williams. Directed by Joe Dowling.

In a story revealed through memory and haunted by an absent father, Laura retreats from the world's harsh realities to the comfort of caring for her collection of glass animals. Rich in bittersweet nostalgia for what might have been, Williams' most lyrical and autobiographical play balances compassionate insight with compelling theatrical vitality.

Jonas Goslow (Jim O'Connor), Tony Award winner Harriet Harris (Amanda Wingfield), Randy Harrison (Young Tom Wingfield), Tracey Maloney (Laura Wingfield), Bill McCallum (Older Tom Wingfield)

On the McGuire Proscenium Stage of the Guthrie Theatre in Minneapolis January 20 through March 25, 2007.

THE CLEAN HOUSE by Sarah Ruhl. Directed by Bill Rauch

In this poignant comedy, Matilde, a young Brazilian woman, is hired by Lane and her husband Charles—two busy, high-powered physicians—as the housekeeper of their suburban home. Unfortunately, Matilde hates to clean. She prefers trying to dream up the funniest joke in the world. Lane's sister, Virginia, however, loves to clean and, in a secret deal with Matilde, arranges to take care of the cleaning behind Lane's back, an arrangement just too perfect to last. When a crisis strikes without warning, Lane's life spins out of control.

The cast features Vanessa Aspillaga as Matilde, Blair Brown as Lane, Jill Clayburgh as Virginia, John Dossett as Charles, and Concetta Tomei as Ana. Sets are by Christopher Acebo, costumes by Shigeru Yaji, lighting by James F. Ingalls, original music and sound by André Pluess and choreography by Sabrina Peck.

Performances extended at the Mitzi Newhouse Theater in New York City until January 28.

SILENCE, THE TAMING OF THE SHREW AND THE MAMMY PROJECT presented by The Roundtable Ensemble in rotating repertory. Moira Buffini's award-winning play Silence, directed by Suzanne Agins, is the winner of the Susan Smith Blackburn Prize for best English-language play by a woman, is a contemporary comedy set in medieval England that follows the fate of a feisty French princess who is commanded to marry a young Viking Lord with a shocking secret.

Andrew Grosso directs The Taming of the Shrew in which seven actors play all twenty-three roles in a fast and furious ninety minute retelling of the classic play-within-a-play comic bonanza about the most terrifying woman in Italy, the man who wants to marry her, and of finding love in disguise.

Roundtable Ensemble will also present The Mammy Project written and performed by Michelle Matlock. Directed by Amy Gordon. It weaves the untold history of Nancy Green, the first African-American woman hired to play the part of Aunt Jemima at the 1893 World's Fair with African-American activists like Ida B. Wells, who struggled to have black women represented at the very same World's Fair. The Mammy Project uses original music, storytelling and historical speeches to transform an oppressive stereotype into a celebration of the power we gain from knowing and understanding our history. These shows will all be presented in rep at the American Theatre of Actors, NYC. Performances will run from January 16 through February 10.

SWEET CHARITY with a tuneful score by Cy Coleman and Dorothy Fields features such hits as Hey, Big Spender, There's Gotta Be Something Better Than This and If My Friends Could See Me Now. And the show features a hilarious book by none other than Neil Simon.

Directed by Scott Faris, the production stars Molly Ringwald. Choreography by Wayne Cilento.

Opens January 16 at the Orpheum Theatre in Memphis.

THE ROOT BEER BANDITS A Rootin´ Tootin´ Wild West Musicale! Book & lyrics by Lori Marshall & Joseph Leo Bwarie. Music by Rachael Lawrence. Directed by Joseph Leo Bwarie.

This here's the story of a dreamer, Polly Peppercorn, the only girl to ever ride for the Pony Express, way back in 1860! Upon delivering a letter to Sheriff Bailey of Sarsaparilla City, a mess of trouble bubbles over. Ya see, the dastardly duo, Copper Penny and her bumbling sidekick Zeke, tip toe into town to steal the city's root beer! It's up to the sweet Miss Sally Sue, Polly and Sheriff Bailey to protect the city's favorite frosty beverage. Hold onto yer hats, 'cuz laughs are sure to be a-plenty in this high-paced vaudevillian show including a chase, a Ho'Down, a sing-off at high noon, and a surprise ending!

The cast includes Susan Dohan, Tom Hines, Erin Matthews, Fawnda McMahan, Justin Roller, and Robert Torti.

Opens Saturday, January 20 at the Falcon Theatre in Burbank, CA.


| | | |
| --- | --- | --- |
| | | |
WHO'S WHERE


BIG BAD VOODOO DADDY perform Friday, January 19, at the Inter-Media Arts Center in Huntington, NY. On Saturday the show is at B.B. King's Blues Club in New York City.

CHRIS BOTTI on stage Tuesday, January 16 at Chrysler Hall in Norfolk, VA. On Wednesday he can be enjoyed at Ovens Auditorium in Charlotte, NC. Thursday finds him at Heinz Hall in Pittsburgh, PA. On Friday he begins a two night stand at the Carolina Theatre in Durham, NC.

LARRY GATLIN entertains Saturday, January 20 at Silver Springs Park in Silver Springs, FL.

JASON GRAAE will debut his new show called Graae's Anatomy at Birdland, in NYC, on Monday, January 15. He will be joined by Musical director Alex Rybeck and Surprise Guests.

RED HOT CHILI PEPPERS on stage Monday, January 15 at the Scottrade Center in Saint Louis, MO. On Wednesday the show is at the Gaylord Entertainment Center in Nashville. Saturday the performance takes place at U.S. Bank Arena in Cincinnati.

ERIC CLAPTON in the spotlight Tuesday, January 16 at Impact Arena in Bangkok. On Wednesday he can be enjoyed at the AsiaWorld Arena in Hong Kong.

RAMSEY LEWIS TRIO bring the show to the Ruth Eckert Hall in Clearwater, FL on Wednesday, January 17. On Friday, they are in centerstage at the Van Wezel Performing Arts Hall in Sarasota, FL.

RITA MORENO stars at the Cafe Carlyle in Manhattan from January 16 through February 10.

JOAN RIVERS brings her pithy remarks to John Ascuaga's Nugget in Sparks, Nevada January 19-20.



Next Column: January 21, 2007
Copyright: January 14, 2007. All Rights Reserved. Reviews, Interviews, Commentary, Photographs or Graphics from any Broadway To Vegas (TM) columns may not be published, broadcast, rewritten, utilized as leads, or used in any manner without permission, compensation and/or credit.
Link to Main Page
---
Laura Deni


CLICK HERE FOR COMMENT SECTION