! >
Broadway To Vegas
  
 SHOW REVIEWS CELEBRITY INTERVIEWS GOSSIP NEWS

| | |
| --- | --- |
| | |
VENOM IN VEGAS GIVES NEW MEANING TO SNAKE EYES ON THE LV STRIP - - STAR QUALITY: THE WORLD OF NOEL COWARD EXHIBIT - - WASHINGTON'S NEW CHINESE EMBASSY STAGES MUSICAL DEBUT - - TONY AWARD WINNER JUDY KAYE STARS IN LOST IN YONKERS - - OJAI PLAYWRIGHTS CONFERENCE GALA - - ENRON BY LUCY PREBBLE - - REWIND REMIX REPLAY - - JOEL GREY SONG & CONVERSATION - - DONATE . . . Scroll Down


VENOM IN VEGAS - ANIMAL PLANET'S DONALD SCHULTZ GIVES NEW MEANING TO "SNAKE EYES" IN LAS VEGAS


Despite the fact that bargains are to be found on Las Vegas Strip hotel rooms, Animal Planet's Donald Schultz, who hosts the Wild Recon show, prefers to sleep in a glass enclosure on a bunk bed. His roommates are snakes.

While his see through abode did get pelted with rain, nobody threw stones.

Beginning last Sunday what amounts to a was set up outside O'Sheas Casino on the Las Vegas Strip.

At the onset there were 50 snakes. Right before he goes to bed, 5 more snakes are introduced to the box. By the end of the 10 day stay, which ends Tuesday evening, Schultz will be bedding down with 100 of the creepy things.

Although Schultz knew the snakes would be species from the western United States and Africa, he had no prior knowledge of what will be introduced when - rattlesnakes one day, black mambas the next.

The question curious passers-by ask is; Why???

"The purpose is to highlight the plights of snake bites around the world. In excess of 5 million people get bitten every year, and in excess of 120,000 die every year because of snake bites," said Schultz, the snake expert who is terrified of spiders.

Schultz has no one to blame but himself - this was his idea. When he pitched the idea to the network, he envisioned a low-budget, low-brow affair. But the concept, aptly titled Venom in Vegas, generated a lot of excitement. As the buzz grew, the Hollywood production team assembled to bring the event to life grew with it. Yet it quickly became clear that the logistics of such an event required a large team to tend to a long list of tasks divided between Los Angeles and Las Vegas.

The first task was the box.

Animal Planet even posted the disclaimer: "There is a very remote possibility that you will hear foul language as camera and production crews enter the box to prepare for different stages of this 10-day event.



People who live in glass houses should be wary of snakes. Donald Schultz's Photos - Venom in Vegas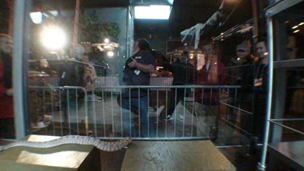 It measures 15 feet by 20 feet (4.6 meters by 6.1 meters) and features a double-door system to allow guests and staff members to enter without inadvertently letting out a snake.

A Los Angeles-based crew built the box from scratch, using standard window panels set inside a metal frame. Next, a truck carried the structure to Vegas, where it was placed at one of the Strip's busiest intersections. The location, near several world-class hotels - Flamingo, Caesars Palace, Bally's - ensures a steady flow of foot traffic - and a round-the-clock audience of people to watch, learn and engage Schultz during planned Q&As. All viewers, whether they're in person or online, can see everything except the bathroom, which remains hidden behind frosted glass. Otherwise, everything is fair game.

His daily activities are varied. He eats, sleeps and works with snakes near him at all times.

Special guests join him throughout his stay to help conduct cutting-edge tests to measure, for example, the potency of venom, the depth of fang penetration, and the strike range of the world's fastest snakes, through the use of high-speed or thermal cameras.



Donald Schultz's cramped but comfortable living quarters. Donald Schultz's Photos - Venom in Vegas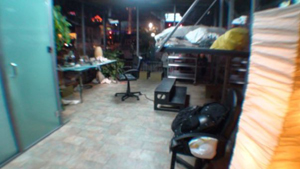 When he's not doing that, he's milking snakes to get venom samples, that will be shipped around the world so research for venom variation and potential pharmaceutical use can continue. He's also doing the things anyone would do at home - sleeping, eating, bathing and surfing the Web.

"I cannot remember a time that I was not fascinated by animals, especially snakes," said Schultz who was born in South Africa. "I caught my first snake with my dad when I was six years old and have been captivated by them since."

Schultz confesses to having favorites.



A little corner of home - where Schultz surfs the Web. Donald Schultz's Photos - Venom in Vegas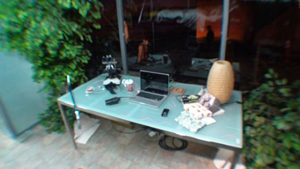 "Overall, it is sea snakes, and I love them all and try and work with them as much as possible."

"I worked in the world-famous Fitzsimons Snake Park in Durban, South Africa as a teenager, becoming the youngest person to ever give venomous snake demonstrations at the age of 13. I also assisted with problem-animal removals, like mambas, cobras, puff adders, crocodile and giant monitors."

"After living in Johannesburg for a few years, I followed my older sister out to San Diego, and that's when my world swung back towards animals. I had been keeping snakes all this time, but when I found myself in California, a career in veterinary medicine slapped me in the face. I worked in a variety of hospitals, including the Veterinary Specialty Hospital in San Diego. I had since enrolled in college, determined to become a veterinarian. As I worked more and experienced more, I realized my calling was in the field. I've been doing these missions for about five years now, collaborating with researchers around the world on many projects."

He doesn't view working with snakes as risk taking. Schultz stresses that snakes don't attack humans. It's when a human goes after a snake that the animal gets defensive.

That doesn't mean Schultz hasn't been injured.

"I would have to say that the most concerned moment was an animal encounter when I had a dry bite by a Gaboon viper in the middle of equatorial Africa. We were hours away from anything, and I certainly would have died, but for some reason, no venom was injected by the snake."

"In my opinion, getting bitten by any animal is the ultimate failure as an animal handler and nothing to be proud of. I only talk about these experiences because I feel like I have learned from them. I had my hand mauled by an anteater in Central America, and til this day, I cannot feel the front part of my right thumb."

Despite his expertise Schultz is putting his life on the line to emphasize that deaths from snake bites are preventable with the right anti-venom.

Schultz says he is 100 percent aware of that dangers involved.

All snakes are double-bagged and double-boxed while they're being transported. Upon release, however, Schultz relies on his own knowledge and wits. He also has spotters to watch the snakes while he's sleeping. In the event he is bitten, Schultz has access to appropriate antivenoms and to medical personnel trained in snakebite treatment. And in case of a life-threatening emergency, a helicopter is standing by to transport Schultz to the hospital.

Notice to his neighbors. Schultz has over 200 creatures living in his West Hollywood home including "a whole menagerie," from snakes to lizards, weird fish and turtles - and even some of those dreaded spiders.

The two hour Venom In Vegas special will air on Tuesday, February 9, on The Animal Planet.



Broadway To Vegas is supported through advertising and donations. Priority consideration is given to interview suggestions, news, press releases, etc from paid supporters. However, no paid supporters control, alter, edit, or in any way manipulate the content of this site. Your donation is appreciated. We accept PAYPAL. Thank you for your interest.


ART AND ABOUT


REWIND REMIX REPLAY: DESIGN, MUSIC & EVERYDAY EXPERIENCE

Photo: Mike Williams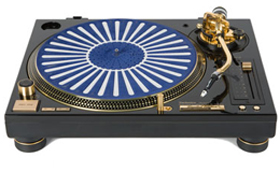 Design and music intersect in this exhibition about the material culture of music. See how the designs of musical instruments and playback devices have shaped our experience of music, and how our use and creative modifications of these objects have in turn inspired designers and manufacturers.

Radical guitars like Fender's Stratocaster, electronic synthesizers like the MiniMoog and DJ-inspired turntables like the Numark TTX have led to entirely new forms of music. The innovative designs of such products as the Sony Walkman, the Discolite boombox and Apple's iPod have created whole new ways of listening to music. Witness the evolution of music culture from the perspective of industrial design, the unique marketing strategies of corporations and the post-market modifications that music-lovers of all genres make to their products.

Organized by the Scottsdale Museum of Contemporary Art. Guest-curated by Prasad Boradkar, Associate Professor, Industrial Design and Co-Director, InnovationSpace & CriticalCorps College of Design, Arizona State University with senior curator Claire Schneider, associate curator Cassandra Coblentz and curatorial coordinator Claire C. Carter.

On Wednesday, February 3, Dr. Richard Mook discusses music history including American and popular music and Phoenix hip hop culture in conjunction with Rewind Remix Replay: Design, Music & Everyday Experience. A free Gallery Talk with Guest Curator Prasad Boradkar takes place Thursday February 11. The exhibit is on display through May 23, 2010 at the Scottsdale Museum of Contemporary Art in Scottsdale, Arizona.

STAR QUALITY: THE WORLD OF NOEL COWARD

Noel Coward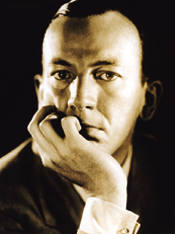 is a touring exhibit which celebrates the career and life of the playwright-composer and gay icon.

"Star Quality: I don't know what it is, but I've got it," said Noël Coward in his inimitable style, cigarette in hand and a twinkle in his eye.

For many, Coward is known primarily as a playwright, creator of such classics as Hay Fever, Private Lives, Cavalcade, Design for Living and Blithe Spirit, many of which were adapted for film, or as the composer of such timeless songs as I'll See You Again; Mad About the Boy and Mad Dogs and Englishmen.

Star Quality is the first exhibition to show the full extent of his prodigious talents as a director of plays and movies, a stage and film actor, cabaret artist, wartime patriot, painter and patron of charitable causes.

"The world of Noel Coward -- that's a marvelous achievement, to have created your own world," wrote the late Nobel Prize laureate Harold Pinter in a tribute posted at the exhibit.

More than 350 artifacts revealing Coward's life and career-from penciled song lyrics to recordings to dressing gowns and even a toupee-went are on display at The Academy of Motion Picture Arts and Sciences in Beverly Hills, CA.



Kim Cattrall and Matthew MacFadyen rehearsing Noel Coward's Private Lives, directed by Richard Eyre, designed by Rob Howell with performances February 10-20, 2010 at Theatre Royal in Bath prior to an immediate transfer to London's West End.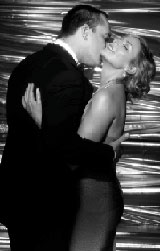 With unparalleled access to the Coward Archives, and drawing on public and private collections in Europe and the U.S. as well as the Academy's own Margaret Herrick Library, the exhibition brings together dozens of rare photographs, drawings, paintings, original manuscripts, letters, sheet music, posters, playbills, set and costume designs, personal memorabilia, audio and video clips, and original costumes including several of the silk dressing gowns that became Coward's trademark.

Coward's warm and enduring friendships with many of the 20th century's leading artists and film personalities are documented throughout the exhibition.

One display includes a gold cigarette case engraved "To Jack from Noel 1926," a gift to his lover at the time, John C. Wilson. Among the personal photographs is a portrait with this caption:

"The handsome American John Wilson was Noel's first serious lover. He met Noel in London in 1924 during the run of The Vortex, and as their friendship deepened also became Noel's personal business manager and co-producer. John's heavy drinking caused the personal relationship to break up in the late '30s, although the business partnership endured, despite increasing rifts, until 1957. Wilson produced the American premiere of Private Lives and directed the Broadway transfer of Blithe Spirit. Noel remained in intermittent contact with him until he died in 1961."

There is another photograph, from the 1950s, of Coward with Cole Leslie, his "partner, personal affairs and business manager."

Star Quality: The World of Noël Coward, is presented in association with the Noël Coward Foundation and the Museum of Performance & Design in San Francisco. The Academy's installation of the exhibition has been guest curated by Brad Rosenstein and Rosy Runciman; the original exhibition was conceived and developed at Ten Chimneys by Erika Kent.

On display through April 18, 2010 at The Academy of Motion Picture Arts and Sciences' winter exhibition, Fourth Floor Gallery, Beverly Hills, CA.





WASHINGTON'S NEW CHINESE EMBASSY STAGES MUSICAL DEBUT
Chinese Embassy in Washington DC. Photo: Chinese Embassy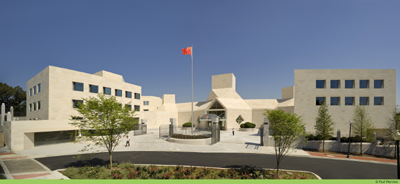 The grand new Chinese Embassy in Washington, DC last week opened its doors to the public for their first musical concert featuring piano prodigy Di Wu, who more than held her own against attention given to the embassy, designed by one of the world's best-known architects, I.M. Pei.

The famed Pei even came out of retirement to work with his two sons in designing the Chinese embassy which is more than 250,000 square feet or two-and-a-half times the size of the 15 other embassies, which are all less than 100,000 square feet.



I. M. Pei designed the Chinese Embassy which has a show-stopping entrance hall. Photo: Chinese Embassy.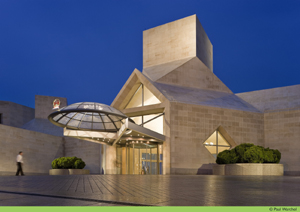 Pei Partnership, which is based in New York, is headed by C.C. Pei, son of I.M. Pei, who is known for his grand and enduring structures, such as the National Gallery of Art in Washington, D.C., the controversial addition to the Louvre art museum in Paris, the Jacob Javits Convention Center in New York and the Bank of China building in Hong Kong.

All the embassy buildings at the International Drive complex are unique in that they attempt to showcase through design their respective country's architecture, history and traditions. The Chinese Embassy is no exception.

China's new embassy is part of a bilateral agreement with the United States, in which both countries would construct new foreign chanceries in the capital cities of Washington and Beijing.



Jerome Barry, Artistic director and Founder, The Embassy Series with Di Wu. Photo: Morris Simon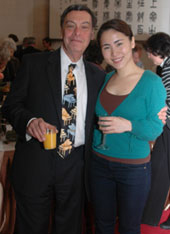 Ian K. Portnoy, Chairman of the Board Embassy Series, Ambassador Zhou Wenzhong. At the concert Ambassador Zhou announced Chinese aid to Haiti including about $4.41 million in rescue supplies. A Chinese team was one of the first foreign rescue teams to arrive in Haiti. Note - A senior Chinese diplomat announced at the UN on Thursday that China has decided to contribute an additional $2.6 million in cash to quake-hit Haiti and send a 40-member medical care and epidemic prevention team to the country Photo: Morris Simon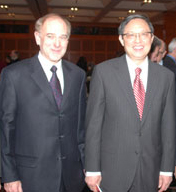 A mix of triangular and square roof lines, the building includes a dramatic entrance hall with a 50-foot-tall ceiling, a 200-seat auditorium and spacious wood-lined conference rooms.

The walls are limestone imported from France, and the floors are granite brought from China. On the grounds are traditional Chinese rock gardens.

For performers, the auditorium has the most important ingredient - perfect acoustics.

For those accustomed to attending theatrical performance reposing in plush seats and enjoying intermission sipping a libation at a padded bar in designated foyer, the Di Wu engagement was a learning experience.

Ticket holders entered through the dramatic foyer, passing under sculptural light fixtures and past fountains. Then the audience descended a red-carpeted staircase to the concert hall.



Di Wu spoke to the audience about how she responds to the music which she chooses to play. Photo: Morris Simon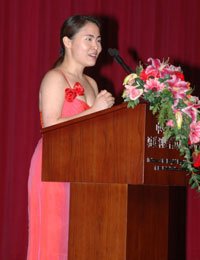 The performance space caught some off guard.

It's wood-paneled with a low ceiling.

Patrons sit on folding chairs. Some likened it to a community theatre or a church basement.

Nobody complained.

During the decades when Vegas showrooms served food and libations - the servers were warned not to make noise for fear of bothering the performers.

Not the case on Embassy Row.

Card tables are set up at the sides of the room for bartenders to serve beverages and they go about their business during the performance.

There were some cocktail tables for the lucky patrons who got to them first.



Dr. Svetlana Orekhova-Tibbits, who is a journalist, enjoyed the evening. She is the widow of William Badger John Tibbits who passed away December 12, 2009 from complications due to a stroke in June 26, 2006. He was a great grandson of the late Congressman George Tibbits and a great nephew of Civil War Brigadier General William Tibbits. Photo:Morris Simon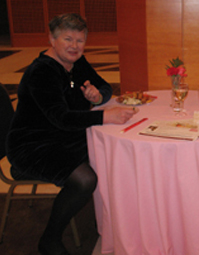 David and Joanna Slan talk to Di Wu at the reception. Joanna is the author of Paper, Scissors, Death, an Agatha-nominee for Best First Novel. Regarding the Mandarin language Joanna confessed: "I wish I knew how to do more than order in that language." Photo: Morris Simon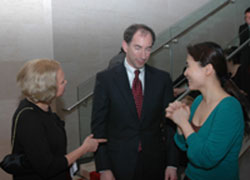 The remainder of the crowd had no problem with standing or plopping down on the steps.

Di Wu the 25-year-old piano prodigy who was born and raised in Xiamen, China debuted professionally with the Beijing Philharmonic at age 14. She studied at Juilliard, and has since toured Asia, Europe, and North America to wide acclaim.

This wasn't her first time making music on Embassy Row. In May 2006 she tickled the ivories at the Germany Embassy.

The great acoustics in the Chinese Embassy's concert hall permitted visitors to appreciate Di Wu's talent and made a statement about the embassy's desire to accommodate quality musical presentations.

In an unusual occurrence in the serious world of classical music, the personable performer spoke to the audience about how she responds to the music which she selected to play.

Di Wu captivated the hearts and her talent impressed the SRO crowd with her varied program from Schumann's Davidsbündlertänze to all five pierces in Ravel's Miroirs to Liszt's Paraphrase on a Waltz from Gounod's Faust.

Di Wu's performance demonstrated that she deserves the numerous accolades which have already been bestowed upon her. The Wall Street Journal called her "a most mature and sensitive pianist."



The buffet included chicken, stir fried vegetables, egg rolls, steamed buns, cabbage, fried rice, noodles and French fries, which is the latest Chinese food addiction. Photo: Morris Simon
Those in the over-flow crowd who missed out on grabbing a cocktail table had no problem in making themselves at home on the red carpeted stairway. Photo: Morris Simon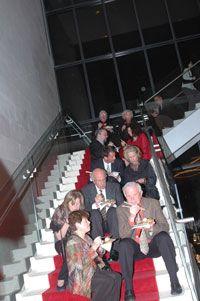 Following each Embassy Series performance the guests participate in an eating experience which is not a white gloved served, sit down gourmet banquet.

Rather a buffet offering a taste of foods eaten by those who live in the host country.

The after performance buffet at the Chinese Embassy had patrons using chopsticks to enjoy a wide variety of foods all prepared in the embassy kitchen.

The delectable goodies included chicken, stir fried vegetables, egg rolls, steamed buns, cabbage, fried rice, noodles and French fries, which is the latest Chinese food addiction.

Since 1995, China's direct imports of French fries from the United States have increased tenfold.

Her Washington recital was presented by the Embassy Series, a monthly music program at diplomatic missions throughout Washington. See Broadway To Vegas column of March 2, 2008.

On Monday, January 25, Di Wu stages a recital at Harding University in Arkansas. On Wednesday, February 10 she is on stage at the Scottsdale Performing Arts Center. Both programs will include selections by composers Claude Debussy, Enrique Granados, Arnold Schoenberg and Sergei Prokofiev.


WITH A BIG


GEORGE CLOONEY whose idea it was to stage Friday night's Hope For Haiti telethon.

Clooney doesn't just pay lip service to his ideas or delegate all the responsibility to others. He slept very little, spending every waking moment calling on his vast array of friends and associates - getting them to participate - both with their talent, time and money. Sandra Bullock, Leonardo DiCaprio each donated $1 million.

Those watching the telephone did their part, too. Pledges received - $57 million and still counting.

BETTE MIDLER deserve an angel pin. The award winning singer and actress, who is performing through January 31 at Caesars Palace in Las Vegas, has been collecting donations during her performances and says she will match the final total.

So far, fans to her shows have contributed over $40,000 to the relief effort.




SPREADING THE WORD


JOEL GREY SONG & CONVERSATION the musical theatre icon comes to San Francisco for a rare and in-depth interview by former San Francisco Chronicle Arts and Culture Critic Steven Winn. He'll discuss his beginnings as a Borscht Belt performer alongside his father Mickey Katz, his travels through our city's Palace Hotel and Fairmont Venetian Room with his wife and daughter Jennifer Grey, his Tony and Academy award-winning performance as the Emcee in Cabaret, and his passion for photography. Expect Mr. Grey to sing one very familiar number...and a few surprises! Presented by City Arts & Lectures in association with Bay Area Cabaret. Thursday, January 28 at the Herbst Theatre, San Francisco.

OJAI PLAYWRIGHTS CONFERENCE GALA Hearts On Fire Gala takes place Saturday, January 30, 2010 at Matilija Auditorium in Ojai, California. Two-time Oscar and three-time Emmy winner Sally Field; Golden Globe winner Sandra Oh, Emmy and Golden Globe winner Ted Danson; and Oscar and Golden Globe Winner Mary Steenburgen will participate in a one-night only performance entitled Hearts on Fire created and directed by Robert Egan with Michael Morris. Also performing at the Benefit are Emmy-winning actress Dana Delany; Emmy nominated and Tony winner John Glover; Emmy and Golden Globe nominee Jane Kaczmarek; Golden Globe winning songwriter Amanda McBroom; Zachary Quinto; Steven Weber and Emmy and Golden Globe nominee Noah Wyle.

Hearts on Fire celebrates the passion and power of the human heart through an eclectic mix of scenes by some of America's greatest playwrights, including four-time Tony Award winner Terrence McNally. McNally will be attending the event, and will be honored with the 2010 OPC Award at the dinner following the show. This original evening of theatre is the inspiration of OPC Artistic Director/Producer Robert Egan.

The Benefit begins with Hearts on Fire at Matilija Auditorium in Ojai. The festivities continue at St. Thomas Aquinas Hall for a gourmet dinner, dancing, the OPC awards and a live auction. The stars will be at the dinner, and many will participate as celebrity auctioneers. The dinner is being organized by award-winning chef Michael Hollingsworth, creator of culinary magic for Bill Clinton, Barbara Streisand, Russell Crowe, and Elizabeth Taylor among others. The Ojai Playwrights Conference, founded in 1997, is now in its thirteenth season. Under the direction of Artistic Director/Producer Robert Egan, theatre professionals are brought to Ojai for a two-week, intensive, in-residence workshop of their previously un-produced new plays for the American Theatre which culminates in public readings.

Writers that have been developed at the Ojai Playwrights Conference include: Luis Alfaro, Jon Robin Baitz, Doris Baizley, Neena Beber, Stephen Belber, Lee Blessing, Keith Bunin, Bill Cain, Julia Cho, Rick Cleveland, Steve Connell, Heather Dundas, Christopher Durang, Jessica Goldberg, Stephen Adly Guirgis, Danai Gurira, Cody Henderson, Danny Hoch, Linda Hunt, David Ives, Elroyce Jones, Julia Jordan, Arthur L. Kopit, Sherry Kramer, Mary Lathrop, Deborah Zoe Laufer, John Rafter Lee, David Lindsay-Abaire, John Quincy Long, Lisa Loomer, Joe Loya, Lynn Manning, Rogelio Martinez, Susan Miller, T.D. Mitchell, Peter Morris, Kira Obolensky, Peter Parnell, Adam Rapp, Ben Rosenthal, Ari Roth, Nikkole Salter, Sekuo (tha Misfit), Bernardo Solano, Kelly Stuart, Lloyd Suh, Annie Weisman, Charlayne Woodard.






ENRON by Lucy Prebble. Inspired by real-life events and using music, dance and video. Directed by Rupert Goold.

Starring Samuel West as Jeffrey Skilling, the former disgraced president of the energy corporation of the title

"Are you kidding me? Did we take advantage? That's what we do, that's how the world works. When you ask, 'Did you take advantage?', I hear 'Do you make a living?', 'Do you breathe in and out?', 'Are you a man?' Yes, we took advantage. And the only difference between me and the people judging me is they weren't smart enough to do what we did.'

There was a warning. And its name was ENRON.

One of the most infamous scandals in financial history becomes a unique theatrical event. Mixing classical tragedy with savage comedy, it reviews the tumultuous 1990s and casts new light on the current financial situation.

Amanda Drew plays Claudia Roe. Tom Goodman-Hill plays Andrew Fastow, Enron's former chief financial officer. Tim Pigott-Smith plays Enron's original founder Ken Lay. The cast also includes Gillian Budd, Peter Caulfield, Howard Charles, Susannah Fellows, Stephen Fewell, Tom Godwin, Orion Lee, Eleanor Matsuura, Ashley Rolfe, Ewan Wardrop and Trevor White.

Enron is designed by Anthony Ward with music and sound by Adam Cork. Lighting is by Mark Henderson, video and projection by Jon Driscoll and movement by Scott Ambler.

The West End run at the Noel Coward Theatre officially opens January 26.

The play originally premiered at Chichester's Minerva Theatre in July 2009, then transferred to London's Royal Court Theatre, where it ran for a six-week sold out engagement from September to November 2009. For that mounting Rupert Goold has won the 2009 Evening Standard Award as Best Director. Enron. was also nominated for Best Play and Best Actor.

Enron will open, with a different cast, at Broadway's Broadhurst Theatre, with performances beginning April 8, prior to an official opening April 27, 2010 Norbert Leo Butz will play Skilling on Broadway.

MEDEA'S BIG HAPPY FAMILY starring Tyler Perry opens a five night engagement Wednesday, January 27, at Madison Square Garden in NYC.

LOST IN YONKERS by Neil Simon. Directed by Scott Schwartz.

Starring Tony Award winner Judy Kaye as Grandma Kurnitz. The cast also features Jeffrey Bender (Louie), Steven Kaplan (Jay), Austyn Myers (Arty), Amanda Naughton (Gert), Jennifer Regan (Bella) and Spencer Rowe (Eddie).

Set in the summer of 1942, two young brothers, Arty and Jay, are left to live with their grandmother by their financially strapped father. The boys must contend with the dominating Grandma Kurnitz who runs the family-owned candy store, their mentally-challenged Aunt Bella and her secret romance, and Uncle Louie, a small-time hood.

The Lost in Yonkers creative team includes Ralph Funicello (scenic design), Alejo Vietti (costume design), Matthew McCarthy (lighting design), Paul Peterson (sound design) and Diana Moser (stage manager).

This show is the inaugural production of The Old Globe's 250-seat arena style Sheryl and Harvey White Theater in San Diego. A free Insite Seminar takes place Monday, January 25, with a panel of artists from the current show. The official opening night is January 28 with performances running to February 28.

MY YEAR OF LIVING ANXIOUSLY a new work and one-woman show by Moira Keefe which looks at the complicated life of a member of the sandwich generation wedged between aging parents, hormonal teenagers and psychiatric bologna.

Drawing on the diaries her father kept for 63 years (documenting, among other things, Keefes own raucous youth) and letters from her mother, and research from doctors, Keefe weaves generational perspectives on real-life events and traumas while she reveals her growing respect for her parents as the diaries and letters expose the storm of parenthood that they weathered.

The piece is directed by Kim Rubenstein who is head of the undergraduate Acting program at UCSD.

The show also has Eva Barnes - a UCSD voice and speech professor - as costar and Lowell Gaspara, a local San Diego actor and Emergency Room Doctor.

January 25-February 2 at The Lyceum Theatre, San Diego Rep in San Diego, CA.

FETCH CLAY, MAKE MAN by Will Power. Directed by Des McAnuff.

Featuring John Earl Jelks (Brother Rashid), Sonequa Martin (Sonji Clay), Richard Masur (William Fox), Evan Parke (Muhammad Ali) and Ben Vereen (Stepin Fetchit).

In the days before one of the most controversial fights on boxing history, 23-year-old heavyweight champ Muhammad Ali formed an improbable bond with disgraced former Hollywood star Stepin Fetchit. Set in the heady times of the mid-1960s, after years of struggle and a series of Civil Rights victories, Fetch Clay, Make Man explores the true story of two wildly different men, each struggling to create and shape his image and legacy.

Will Power's tale is an innovative exploration of one of the missing pages in America's history book

Originally known as Cassius Clay, Ali changed his name after joining the Nation of Islam in 1964, subsequently converting to Sunni Islam in 1975. Aligning himself with the Nation of Islam made him a lightning rod for controversy, turning the outspoken but popular champion into one of that era's most recognizable and controversial figures. Ali's religious beliefs at the time at the time included the notion that the white man was "the devil" and that white people were not "righteous." Ali claimed that white people hated black people.

In 1964, Ali failed the U.S. Armed Forces qualifying test because his writing and spelling skills were sub-par. However, in early 1966, the tests were revised and Ali was reclassified as 1A. This classification meant he was now eligible for the draft and induction into the U.S. Army during a time when the United States was involved in the Vietnam War. In 1967, Ali refused to be inducted into the U.S. military based on his religious beliefs and opposition to the Vietnam War. He was arrested and found guilty on draft evasion charges, stripped of his boxing title, and his boxing license was suspended. He was not imprisoned, but did not fight again for nearly four years while his appeal worked its way up to the U.S. Supreme Court, where it was successful.

Ali and Frazier met in the ring on March 8, 1971, at Madison Square Garden. The fight, known as The Fight of the Century, was one of the most eagerly anticipated bouts of all time and remains one of the most famous. It featured two skilled, undefeated fighters, both of whom had legitimate claims to the heavyweight crown. Frank Sinatra - unable to acquire a ringside seat - took photos of the match for Life magazine. Legendary boxing announcer Don Dunphy and actor and boxing aficionado Burt Lancaster called the action for the broadcast, which reached millions of people. The fight lived up to the hype, and Frazier punctuated his victory by flooring Ali with a hard, leaping left hook in the 15th and final round. Frazier retained the title on a unanimous decision, dealing Ali his first professional loss.

Set Design by Riccardo Hernandez. Costume Design by Paul Tazewell. Lighting Design by Howell Binkley. Projection Design by Oeter Nigrini. Soundscape by Darron L. West. Original Music by Justin Ellington. Movement Director is Lisa Shriver.

Fetch Clay, Make Man is a recipient of an Edgertin Foundation New American Plays Award. Performances through February 15 at the McCarter Theatre in Princeton, NJ.





WHO'S WHERE


VINCE GILL will be performing before a happy crowd January 27 at the Peabody Auditorium in Daytona Beach, FL. Prior to the show there is a free Tennessee Line Beer Tasting. Gill fans can belly up to the bar where Daytona Beverages will offer Anheuser Busch's new Golden Wheat and Select 55 beers for enjoyment.

MONTEREY JAZZ FESTIVAL ON TOUR with Kenny Barron, Regina Carter, Russell Malone, Kurt Elling, Johnathan Blake and Kiyoshi Kitagawa open a two nighter Friday, February 5 at the Center for the Performing arts in Storrs Mansfield, CT.

HARRY CONNICK, JR brings his talent to the Arlington Theatre in Santa Barbara, CA on Tuesday, January 26. On Wednesday he's on stage at the Table Mountain Casino in Friant, CA. Thursday finds him at Copley Symphony Hall in San Diego.

PRESERVATION HALL JAZZ BAND AND THE BLIND BOYS OF ALABAMA in the spotlight Friday, January 29, at the Mayo Center for the Performing Arts in Morristown, NJ.

REBA McENTIRE AND GEORGE STRAIT star at the Thompson-Boling Arena in Knoxville, TN on Friday, January 29. On Saturday their tour stops at the John Paul Jones Arena in Charlottesville, VA.

WEDNESDAY NIGHT AT THE IGUANA with hosts Dana Lorge and Richard Skipper. Barry Levitt on keyboard & Saadi Zain on bass. Wednesday's guests include: Michelle Collier, Enid, Anette Hunt, Joan Jaffee, Diane & Frank Marino and David Vernon. January 27, at the Iguana VIP Lounge in NYC.

MICHAEL FEINSTEIN performs Saturday, January 30, at Centennial Hall in Tucson, AZ.

KATHY GRIFFIN opens a two night stand at the Paramount Theatre in Seattle on Thursday, January 28.

BIG BAD VOODOO DADDY performs Thursday, January 28, at the Town Center in Fayetteville, AR. On Friday they'll get the beat going at Old World Theatre in Austin, TX. Saturday finds the group at the Eisemann Center for Performing Arts in Richardson, TX.

CHRIS BOTTI had a two night gig at the Carolina Theatre in Durham, NC on Monday and Tuesday. Thursday he'll be blowing his own horn at the Kravis Center in West Palm Beach, FL. On Saturday he can be enjoyed at the Baton Rouge River Center in Baton Rouge, LA.

NICKELBACK on tour in Europe performs Tuesday, January 26, at the SAP Arena in Mannheim, Germany. If it's Wednesday they must be in Luxemborg at the Rockhal. Friday finds them back in Germany at the Konig-Pilsener Arena in Oberhausen. On Saturday the show is at the Olympiahalle in Munich.

MARIAH CAREY on stage Monday at the Fox Theatre in Detroit. Wednesday finds her at DAR Constitutional Hall in Washington, DC. On Saturday her tour stops at the Wang Theatre in Boston.






FINAL OVATION


JEAN SIMMONS

Jean Simmons in A Little Night Music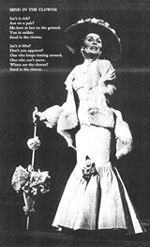 the Emmy winning and Oscar nominated actress died of lung cancer on Friday, January 22, 2010 at her home in Santa Monica, CA. She was 80.

The London-born actress is primarily noted for her work in film, playing Ophelia to Laurence Olivier's Hamlet and singing with Marlon Brando in Guys and Dolls.

She began her career as an actress in London. In 1949, she starred with the man who would become her first husband, Stewart Granger, in Tolstoy's The Power of Darkness in London's West End. It flopped.

In the 70s Simmons turned to television, battled depression and alcoholism and returned to the stage.

She toured the United States in the well-reviewed A Little Night Music, then took the show to London, and thus originated the role of Desirée Armfeldt on the West End. Doing the show for three years, she said she never tired of Stephen Sondheim's music; "No matter how tired or off you felt, the music would just pick you up."

She also performed A.R. Gurney's play Love Letters opposite Charlton Heston in Los Angeles.

In 2003 Simmons received the OBE (Order of the British Empire) for her services to drama.

Simmons was married twice: in 1950 to Stewart Granger. They had a daughter, Tracey and divorced in 1960. In 1960 she wed director Richard Brooks by whom she had a daughter, Kate. They divorced in 1977.

JAMES MITCHELL who played patriarch Palmer Cortlandt on the ABC soap opera All My Children for three decades. died Friday of lung disease complicated by pneumonia, ABC announced. He was 89.

Mitchell had most recently appeared on the series' 40th anniversary special on Jan. 5.

A Sacramento, Calif., native, Mitchell began his career on Broadway as a trained dancer. He starred in musicals such as Billion Dollar Baby, Carousel, Funny Girl and The King and I, in addition to performing with the American Ballet Theater.

Mitchell was the winner of the Donaldson Award for Best Male Dancer of the Year in 1947 for his Harry Beaton in Brigadoon; and was nominated in the same category for Billion Dollar Baby and Paint Your Wagon.

Mitchell's other screen work included films such as The Turning Point, The Band Wagon and as Curly in the dream sequence of Oklahoma! in 1955. Outside of his work on All My Children from 1979 to 2009, Mitchell taught theater students and actors at Yale and Drake Universities.

Mitchell is survived by his longtime partner, Albert Wolsky.

Next Column: January 31, 2010
Copyright: January 24, 2010. All Rights Reserved. Reviews, Interviews, Commentary, Photographs or Graphics from any Broadway To Vegas (TM) columns may not be published, broadcast, rewritten, utilized as leads, or used in any manner without permission, compensation and/or credit.
Link to Main Page
---
Laura Deni



U.S. Postal Address: Post Office Box 60831, Las Vegas, NV 89160
CLICK HERE FOR COMMENT SECTION