! >
Broadway To Vegas
  
 SHOW REVIEWS CELEBRITY INTERVIEWS GOSSIP NEWS

| | |
| --- | --- |
| | |
THE EMBASSY SERIES - - MARTIAN MUSEUM OF TERRESTRIAL ART - - GUINNESS WORLD RECORDS HAS GAMER'S EDITION - - BARBARA COOK AT CAFE CARLYLE - - PATTI LUPONE IN GYPSY - - SWELLEGANCE 2008 - - TIM GUNN IN CONVERSATION - - A PERSONAL APPEARANCE BY MARGE CHAMPION - - DONATE . . . Scroll Down


Copyright: March 2, 2008
By: Laura Deni

CLICK HERE FOR COMMENT SECTION
ENTERTAINING ON EMBASSY ROW


Want to rub elbows with the swellegants? Every dream of attending an intimate, elegant concert at an honest-to-goodness embassy?

All you need is a ticket - thanks to The Embassy Series, a program started by singer/linguist Jerome Barry.

The mission of The Embassy Series is to promote international understanding and global cultural diplomacy through music and the Arts, by extending public access to Washington DC's embassies and ambassadors' residences, highlighting their music and culture and showcasing American and international artists.

This educational and musical experience is accentuated by a reception at the host embassy or residence immediately following the concert, where guests are encouraged to interact with the performers and the diplomatic community.

Barry spoke with Broadway To Vegas about this unique program.

"Basically we started the Embassy Series in 1994," said Barry who began his musical career as a student at the Boston Conservatory and the Boston University School of Fine and Applied Arts. In Europe he attained a diploma from the Goethe Institute in Germany, and later went to Italy to attend the Santa Cecilia Conservatory of Music in Rome, Italy. For the last 30 years he's been organizing and performing concerts on Embassy Row which is an untapped entertainment venue.

"I've always been interested in music from different countries, so we've worked in 45 embassies with hundreds of concerts. It's been a very interesting ride," observed the baritone.

The Embassy Series has grown from an initial season featuring a six-concert series to producing a thirty-one concert series at 20 different embassies and ambassador residences.

Booking an embassy is an interesting venue and a prestige gig. As one might surmise there are a few issues other than where do we put the piano. For instance - security.

"The thing with embassies is that they have to trust you. They know me very well. We furnish them a list of the performers," Barry explained.



Concert at the Indonesian Embassy
"They have to know exactly who is coming. It's worked out very well. I've worked with all of the counties - the middle east - no problem."

Barry's biggest hurdle is getting artists in and out of countries.

"Years ago it wasn't so terribly difficult. But, now it's getting so rough," he said referring to American artists obtaining foreign bookings.

"And, it's hard to bring artists here to Washington, because of all the VISA and security restrictions. People have no idea what we have to go through, And, all Arts' groups have to go through it, to try to get people here from different countries. People want to come here, but it is difficult. It's a real hassle," he reiterated.

As far as cultural traditions or potential problems, Barry hasn't encountered anything that diplomacy can't handle.

"Most embassies are fairly moderate. Most of the artists come from that country, so they know how to observe proper decorum. The embassies want their music. Sometimes they have requests for certain artists and sometimes I find them."

Most performers would love an embassy gig on their resume. Like any job worth having, you have to be able to deliver the goods.



Jerome Barry with Dagoberto Barrera Rodriguez, Chief of the Cuban Interests Section. Cuba does not have an embassy in Washington, DC. They have an Interest Section. Photo taken at a concert held at the Cuban Interests Section
"We have a reputation of using very good artists with a very good program. There is an auditioning committee who listens to everybody first to make sure they are up to snuff. I do a lot of the auditioning myself. I usually listen to a CD or a DVD."

Just as the New York Philharmonic discovered performing in North Korea last week, entertainment is a bridge to otherwise locked doors.

"We did the first concerts for the People's Republic of China. We've done them five years in a row. We opened up all of the Eastern European Embassies. We are the only arts group in the country that does Cuba. We've done nine concerts there," he said referring to the Cuban Interests Section.

"I work with countries all over. We do a lot of the Middle East now. We did Egypt this year. We have had performances at the Moroccan, Tunisian and also Latin American embassies. So, that is very heartwarming."

Barry keeps politics out of the contracts.

"Even if there are certain issues politically with different countries - like maybe Venezuela - I go culture - that's the way I look at it," said Barry about his belief that music is a great equalizer.

Barry speaks German, Frank, Italian, Spanish, some Chinese, Hebrew, English - "enough languages to be able to communicate with four billion people."

"It was one of my motivating factors. They like me because I speak their language. Also, I am interested in their culture. Quid pro quo."

"The bottom line is not about making money - although it has to make money to survive," he conceded. "The bottom line is really to have very good programs that are socially redeeming. We are trying very hard to makes ends meet and that's not easy for an arts group."

Embassy Concerts goes to the same well as every other Arts' organization.

"We have some funding through the National Endowment, some from corporations; we have friends and ticket sales. If you want quality - you need money Our artists are paid very well. I provide them with a hotel and sometimes transportation."



Jerome Barry with Justice Sandra Day O'Connor and Chief Justice John Roberts, when Barry sang at The University Club.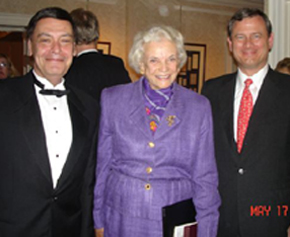 "I hope the idea of diplomatic musical relations will catch on. We will be able to promote much more of an understanding of the United States and other countries. It has made a big difference, especially with many of the smaller countries that people are not acquainted with. That's what I really want," said Berry who has sung for two American presidents - George H.W. Bush and Bill Clinton.

"I did a special dinner - the American Music Theatre Program - at the Smithsonian attended by President H.W. Bush and then I did an event at the Jefferson Memorial that was attended by President Clinton. A video of that was on cable. It was very nice, very memorable."

In addition to providing excellent entertainment, the Embassy Series provides national artists the opportunity to reach an international audience.



The Minetti Quartet from Vienna pictured with cultural attaché Margareta Ploder (center), following their performance at the Austrian Embassy. In 2007 the quartet won the 1st prize at the international string quartet competition Rimbotti in Florenz and the Haydn prize at the Joseph Haydn competition in Vienna.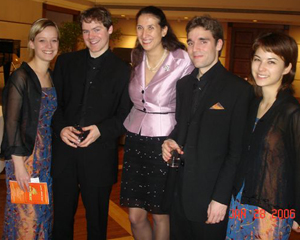 "There are a lot of really great, young artists that need the opportunity to perform and need the publicity to get their performances reviewed. Without that it is really very hard to make a career out of music. They need a lot of buzz. We're trying to do something about giving live music a real chance."

An embassy performance is special for both the performer and the audience.

"There is a different expectation of somebody who is 200 feet away. We are trying to promote a type of intimacy, getting to know the artists and feel the vibes. It's not the same thing you are going to get by watching television or listening to a CD that you get by going to a live concert."

Barry concedes that with the proliferation of home entertainment "it takes more of an effort to go to a live concert. You have to get yourself out of the arm chair and go do it."

The next event takes place at the Embassy of Austria on Saturday, March 16, when pianist Matthias Soucek performs. On Friday, April 4, the Embassy of the Russian Federation features a performance by pianist Ilya Petrov and on April 11 the Embassy of the Republic of Hungary hosts the Mendelssohn Piano Trio.


ART AND ABOUT


MARTIAN MUSEUM OF TERRESTRIAL ART Anthropologists from outer space set out on a mission to understand life on earth. Imagine that they begin their mission by examining the curious phenomenon that human beings call 'contemporary art'. What does Art tell them about human life and culture?

Martian Museum of Terrestrial Art presents contemporary art works under the fictional guise of a museum collection conceived by and designed for extraterrestrials.

Playful and irreverent, the museum's collection features some 150 works by over 100 artists, from modern masters to bright new stars including Joseph Beuys, Cai Guo-Qiang, Maurizio Cattelan, Jimmie Durham, Thomas Hirschhorn, Ryan Gander, Mona Hatoum, Susan Hiller, Damien Hirst, Brian Jungen, Dr. Lakra, Louise Lawler, Sherrie Levine, John McCracken, Bruce Nauman, Mike Nelson, Cornelia Parker, Sigmar Pdka, Ugo Rondinone, Daniel Spoerri, Haim Steinbach, Francis Upritchard, Jeffrey Vallance, Andy Warhol and Rebecca Warren.



Fountain: 5, 1996, by Sherrie Levine. Her homage to Marcel Duchamp. Photograph: Sherrie Levine/Paula Cooper Gallery, New York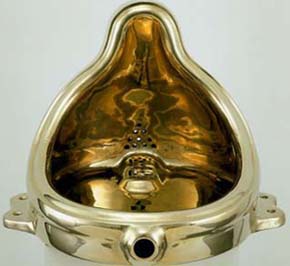 Believing these objects to have a real or functional use, the Museum's curators deploy an eccentric classification system. They treat artworks as artifacts. The Martian perspective opens up contemporary art to fresh interpretations as well as humorous misunderstandings. In presuming to understand an unfamiliar culture, the Martian Museum of Terrestrial Art parodies the way that Western anthropologists historically viewed non-Western cultures through alien eyes.

Among the exhibits will be Bruce Nauman's neon sculpture My Name As Though It Were Written on the Surface of the Moon, in which his name is spelled out bbbbbbrrrrrruuuuuucccccceeeeee. In the opening gallery, conceived as the Great Hall of Ancestors, there will be totems including Sherrie Levine's homage to Marcel Duchamp - a urinal cast in bronze. March 6 - 18 May 18 Barbican Art Gallery in London.

ELEGANCE OF THE QING COURT

Chair (detail) (Kangxi period, 1662–1722), lacquer, Collection of Drs. John K. Fong and Colin Johnstone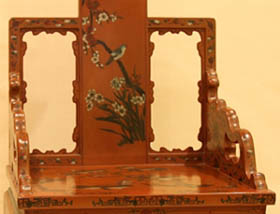 Reflections of a Dynasty through its Art/ The Qing (pronounced ching) Dynasty in China began in 1662 with the Emperor Kangxi and endured for more than 250 years. During this period an empire which, at its height, possessed technology, art, and grandeur beyond imagination, descended into a land of chaos, poverty, and internal revolt. This dramatic rise and fall is reflected in the art of the period. Rather than focus on the production of only one emperor's reign - a restriction that does not allow for an overall picture of the splendor of the work, or for a demonstration of how the finest of 18th century work relates to the decline during the 19th century - this exhibition spans the entire dynasty, presenting over 200 works of porcelain, metal, lacquer, textiles, ivory, and jade produced under the supervision of the Court and in the Imperial workshops.



Imperial nine-peach jardinière (Qianlong period, 1735–1796), cloisonné and champlevé enamel on metal. Collection of Drs. John K. Fong and Colin Johnstone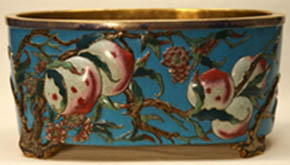 The objects, many created for the Court or its officials, offer visitors the opportunity to experience the magnificence of Qing creativity at its finest contrasted by the decline into production of items for commerce as the dynasty drew to a close. Included are examples of porcelain from the Imperial kilns at Jingdezhen, with their remarkable glazes and enameling; a range of textiles demonstrating Court dress; furniture from the Summer Palace; and smaller objects, such as belt buckles and abstinence plaques. A highlight is the 18th-century, eight-panel, carved red lacquer screen recently acquired by Joslyn Art Museum, which will, for the first time, be placed in the context of Qing Dynasty decorative arts.

March 7-June 8 at the Joslyn Art Museum in Omaha, NE.

PAGEANTS AND PROCESSIONS: IMAGE AND IDIOM AS SPECTACLE hosted by Brigham Young University Museum of Art will explore the role of pageantry and ceremonial processionals in the development of literature, performing arts and visual arts.

The two-day symposium March 7 and 8 will consist of a keynote address, five sessions devoted to the presentation of scholarly papers, a plenary speaker and an opening night dinner and lecture. The 17 papers that will be presented at the symposium were submitted by scholars from BYU, Stanford University, the University of Venice, Italy; the Biblioteca Nazionale Marciana in Venice, Italy; Colorado State University, the University of Northern Colorado, Humboldt State University in Arcata, Calif., and the Indianapolis Museum of Art.

The keynote address, by Dr. T.J. Jackson Lears, is titled. Making a Spectacle of Ourselves: The Changing American Sublime. Dr. Lears is Board of Governors Professor of History, Rutgers University. One of America's leading cultural historians and author of many publications including No Place of Grace: Antimodernism and the Transformation of American Culture, 1880 – 1920, (University of Chicago Press), 1994.

Some of the papers presented include;

Pageants of American Renaissance Queens of the 19th Century will be presented by Rosella Mamoli Zorzi, University of Venice, Venice, Italy. In the 19th century, in the US and Europe, tableaux vivants and pageants were very much in fashion as a form of entertainment. This paper analyzes some of the visual representations of and reports on these events in the Boston papers of the 1880s and 1890s, focusing on those where Isabella Stewart Gardner was the most eminent participant.

Private Tribute, Public Art: The Masque of the Golden Bowl and the Artistic Beginnings of American Pageantry. This paper by Annelise Madsen, Stanford University, Palo Alto, CA examines an early performance of the American pageantry movement by a group of artists in Cornish, NH, situating this 1905 event within the period's growing taste for civic art.

Rebecca Uchill, Indianapolis Museum of Art, Indianapolis, IN previews the upcoming Indianapolis Museum of Art exhibition On Procession. With a coinciding downtown art parade, the show explores parades and street pageants as expanded exhibition spaces and tropes in contemporary artworks.

Performing Power: Maximilian I and Renaissance Spectacle is the topic of the paper to be presented by Heather Madar, Humboldt State University, Arcata, CA. Maximilian I (Holy Roman Emperor 1493-1519) used forms of Renaissance spectacle to cement political claims, stage his ruling persona, and create a unified community of ritual participants.

The Pageants of Power and Society in the Republic of Venice will be presented by Marino Zorzi, Biblioteca Nazionale Marciana, Venice, Italy. Many Venetian works of art represented pageants and processions as an accurate description of the symbolic foundations of the Doge's power, of the organization of the Venetian government and of the structure of Venetian society. This paper analyzes the components of the Venetian world as represented by these works.

This two day symposium is sponsored jointly by the Museum of Art, General Education and Honors, Art History and the department of French and Italian at Brigham Young University and is offered in conjunction with the Museum of Art exhibition Minerva Teichert: Pageants in Paint, which examines how the American mural and pageantry movements influenced Teichert's artistic production through 47 of her large-scale narrative murals - an exhibit on view through May 26, 2008.



Broadway To Vegas is supported through advertising and donations. Priority consideration is given to interview suggestions, news, press releases, etc from paid supporters. However, no paid supporters control, alter, edit, or in any way manipulate the content of this site. Your donation is appreciated. We accept PAYPAL. Thank you for your interest.


SPREADING THE WORD


TIM GUNN

Tim Gunn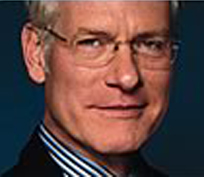 co-host of the Emmy-nominated reality show Project Runway, talks to NY1 correspondent Budd Mishkin about fashion, design and lifestyle.

Gunn has covered the red carpet at the Academy Awards, Emmy Awards and the Golden Globes, and is honorary chair of Fashion Design at Parsons. He is the author of Tim Gunn: A Guide to Quality, Taste, and Style and stars in his own show, Tim Gunn's Guide to Style. He is chief creative officer at Liz Claiborne Inc.

Mishkin is the host of One on 1 with Budd Mishkin, a weekly series profiling prominent New Yorkers.

Tuesday, March 11, Kaufmann Concert Hall in New York City.

JOHN KENRICK'S MUSICAL CONVERSATIONS FEATURING A PERSONAL APPEARANCE BY MARGE CHAMPION the popular conversation series enters its third year at The York Theatre Company in New York City with a special three part tribute to the golden age of screen musicals at Metro-Goldwyn-Mayer Studios – culminating with a special one-on-one interview with MGM star Marge Champion.

All three Conversations will take place at The Theatre at Saint Peter's on Tuesdays. Admission is Free.

On Tuesday, March 4th the event is titled MGM's Freed Unit: The Musical Makers. MGM Studio was the undisputed artistic and commercial leader of Hollywood's so-called Golden Age, and when it came to musicals, no one could beat the unit headed by songwriter Arthur Freed. This will be a revealing look at the studio that boasted "more stars than there are in heaven."

On Tuesday, March 18 The Wizard of Oz: Production #1060. is the conversation. This now-beloved screen classic was not exactly a blockbuster when it premiered in 1939! But Oz eventually found its audience, and it marked the birth of the Freed Unit, which would create many of the best screen musicals of all time.

Tuesday, April 1 is In Person With Marge Champion. Gifted dancer Marge Champion appeared in such screen musicals as Show Boat and Lovely to Look At, but did you know that she was Walt Disney's model for Walt Disney's Snow White — and the hippo in Fantasia? This legendary talent shares her memories of MGM, the Freed Unit and her life with the late Gower Champion.

WILL ENO AND LES WATERS FROM PAGE TO STAGE Will Eno and Les Waters - the playwright and director behind the American Premiere of TRAGEDY: a tragedy, playing on Berkeley Rep's Thrust Stage March 14 - April 13 will take part in a discussion moderated by theatre critic Chad Jones.

Will Eno's hit Thom Pain (based on nothing) played for nearly two years off Broadway and was nominated for the Pulitzer Prize. Will's other honors include major fellowships from the Edward F. Albee Foundation, the Guggenheim Foundation and Princeton University. Les Waters won an Obie Award for Big Love.

Friday, March 7 Berkeley Rep School of Theatre, Berkeley, CA.


SWEET CHARITY


ANNUAL GALA CHICAGO OPERA THEATER takes place Saturday, March 8, at the Chicago Ritz-Carlton.

SWELLEGANCE 2008 Boston Youth Moves's eighth annual swell evening of elegant people, tasty tidbits and glorious entertainment. A star-studded evening as scheduled presenters Bebe Neuwirth, Rob Marshall and Catherine Zeta-Jones join in to pay tribute to honored guest, the legendary Chita Rivera.

Enjoy delightful performances by the BYM dancers, soulful music by Soul City and a Nifty Silent Auction with fabulous items up for bid. March 8 at the Sheraton Boston Hotel.

Co-founded in 1990 by Jim Viera and Jeannette Neill, Boston Youth Moves "provides ongoing dance education to help encourage young people to explore their limitless potential for artistic expression and realize personal success. Boston Youth Moves offers classes in many diverse disciplines of dance including jazz, ballet, modern and tap, as well as classes in various ethnic styles."



GEM OF THE OCEAN

August Wilson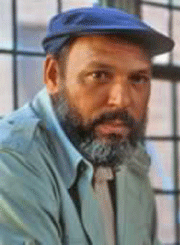 by August Wilson. Directed by Kenny Leon.

Reality and mysticism collide in this haunting tale of a spiritually tormented young man who pays a visit to Aunt Ester, a former slave, on the eve of her 287th birthday. On his way to the mythic City of Bones at the bottom of the sea, he makes startling discoveries about guilt, duty, and redemption.

Starring as Eli: James A. Williams - Citizen Barlow: John Earl Jelks - Aunt Ester: Michele Shay- Rutherford Selig: Raynor Scheine- Solly Two Kings: Anthony Chisholm- Caesar: Ruben Santiago-Hudson.

An American icon, August Wilson depicted the human condition like no other playwright of his time. His legacy lives on through his crowning achievement: a cycle of 10 plays chronicling the African American experience, each set in a different decade of the 20th century. Crafted over nearly 25 years, these works garnered Wilson myriad accolades, including a Tony Award and two Pulitzer Prizes. Bringing them together for the first time ever, the Kennedy Center presents staged readings of all 10 of Wilson's masterpieces, frequently dubbed The Pittsburgh Cycle, as all but one are grounded in the city of his youth.

More than 30 stars of stage and screen join Artistic Director Kenny Leon and six other acclaimed directors for this historic month-long celebration - March 4–April 6, 2008. Complemented with costumes, lighting, and scenery, the plays will be performed in chronological order--collectively revealing Wilson's sweeping vision of the challenge and glory of being black in America.

March 4 - 30 on the Terrace Theater of the Kennedy Center for the Performing Arts in Washington, DC.

GYPSY by Arthur Laurents who also directs.

Based on the production that was part of the summer's New York City Center Encores! series and starred Patti LuPone, Boyd Gaines and Laura Benanti who star in this production.

Gypsy features a book by Laurents, music by Jule Styne and lyrics by Stephen Sondheim. Bonnie Walker will reproduce Jerome Robbins' original 1959 choreography.

The cast features Leigh Ann Larkin as Dainty June, Tony Yazbeck as Tulsa, Marilyn Caskey as Electra, Alison Fraser as Tessie, and Lenora Nemetz as Miss Mazeppa, with Bill Bateman as Mr. Goldstone, Jim Bracchitta as Uncle Jocko, Sami Gayle as Baby June, Bill Raymond as Pop, Brian Reddy as Weber, and Emma Rowley as Baby Louise.

The ensemble includes Beckley Andrews, Nancy Renée Braun, Mindy Dougherty, Kyrian Friedenberg, Sarah Marie Hicks, Steve Konopelski, Matthew Lobenhofer, Nicole Mangi, Katie Micha, Matty Price, Andy Richardson, Jessica Rush, Alicia Sable, John Scacchetti, Geo Seery, Rider Quentin Stanton and Pearce Wegener.

The production will have scenic designs by James Youmans, costumes by Martin Pakledinaz, lighting by Howell Binkley, hair by Paul Huntley, and sound design by Dan Moses Schreier.

Previews begin on March 3 at the St. James Theater on Broadway. The opening is March 27.

KING ARTHUR Music by Henry Purcell Libretto by John Dryden. This New York premiere has Mark Morris helming as Director & Choreographer. Conducted by Jane Glover.

The opera was first performed at the Queen's Theatre, Dorset Garden, London, in late May or early June of 1691. The plot is based on the battles between King Arthur's Britons and the Saxons, rather than the legends of Camelot, although Marlin does make an appearance).

It is a Restoration spectacular, including such supernatural characters as Cupid and Venus references to the Germanic gods of the Saxons, Woden, Thor and Freya. The tale centers on Arthur's endeavors to recover his finance, the blind Cornish Princess Emmeline, who has been abducted by his arch-enemy, the Saxon King Oswald of Kent.

The cast includes sopranos Mhairi Lawson, Sarah Jane McMahon, Heidi Stober; Countertenor Iestyn Davies; Tenor Steven Sanders Baritones Daniel Mobbs and Alexander Tall.

Set Design by Adrianne Lobel. Costume Designer: Isaac Mizrahi. Lighting Designer: James F. Ingalls.

Sung in English with English supertitles. A co-production with ENO/Mark Morris Dance Group in association with Cal Performances, Berkeley. March 5-15, New York City Opera.

CONSCIENTIOUS OBJECTOR a docu-drama by Michael Murphy. Directed by Carl Forsman, artistic director of the Keen Company. The production stars two-time Tony award winner John Cullum portraying President Lyndon B. Johnson.

In early 1967, Dr. Martin Luther King, Jr. informed his advisors that he intended to play a major role in the anti-war movement, advocating immediate withdrawal of all U.S. troops from Vietnam. No major figure of Dr. King's stature had yet been willing to take such a dramatic stand, even those thought to oppose the war, such as Robert Kennedy and George McGovern. King knew he would be turning past allies like President Johnson into powerful enemies and reviving the animus of old enemies as well. King's inner circle feared he would trigger a political backlash that could undo the progress made in civil rights. Drawing from the historical record, including the FBI's relentless and often illegal surveillance, and the White House's infamous secret telephone recordings. The troubling story of dissent in America during a time of war.

Conscientious Objector has performances March 4 through April 19 at the Clurman Theatre in NYC.

MADAME BUTTERFLY Music by Giacomo Puccini. Libretto by Luigi Illica and Giuseppe Giacosa.

Written four decades before World War II, Puccini's Madama Butterfly has only become more relevant as history has unfolded. This poignant story of a disastrous clash of cultures is elegant in its simplicity, making Puccini's luscious score downright transcendental. The intimacy of this production, starring James Valenti and Shu-Ying Li, gives the tragic finale devastating impact.

Broken wings, broken heart.

When an American navy officer abandons his geisha bride after his tour of duty, he takes her love, her honor, and her dreams for the future. But when he returns to claim their son, she takes matters into her own hands.

Sung in Italian with English supertitles.

Conductor (3/16 mat, 3/20): George Manahan. Conductor (3/6-22): Steven Mosteller. Conductor (3/26-4/6): Joseph Mechavich.

Production: Mark Lamos. Set Designer: Michael Yeargan. Costume Designer: Constance Hoffman. Lighting Designer: Robert Wierzel. Supertitles: Cori Ellison.

March 6- April 6, New York City Opera at Lincoln Center, NYC.

JPAN RIVERS A Work in Progress by a Life in Progress. A world premiere four-character comedy written by Joan Rivers and Douglas Bernstein & Denis Markell. Directed by Bart DeLorenzo.

Featuring: Tara Joycem Emily Kosloskim Adam Kulbersh and Joan Rivers has been extended through April 6 at the Geffen Playhouse in Los Angeles, CA.

NO CHILD... written & performed by Nilaja Sun. Directed by Hal Brooks.

No Child... is a distillation of Nilaja Sun's nine years' experience as a teaching artist in the New York public schools.

It follows her as she attempts to mount a production of Timberlake Wertenbaker's play Our Country's Good at a Bronx high school. Nilaja plays not only herself, but all the other characters in the story – her students and fellow teachers, parents and janitors, and even the security guard who mans the metal detector at the school gates and shape the future of America.

March 6 - April 13 at the Kirk Douglas Theatre, Culver City, CA.


| | | |
| --- | --- | --- |
| | | |
WHO'S WHERE


BARBARA COOK presents her new cabaret show Love Is Good for Anything That Ails You, featuring songs by Irving Berlin, Rodgers & Hart, Burton Lane and Stephen Sondheim, among others, at Cafe Carlyle March 4 through April 12, NYC.

THE MOODY BLUES who have sold over 55 million albums will be kicking off their US tour on March 4 at the Orpheum Theatre in San Francisco.

NEW YORK PHILHARMONIC featuring four time Grammy Award winner soprano Dawn Upshaw performing perform Berio's Folk Songs. The concert is part of a program that includes Haydn's Symphony No. 48, Maria Theresia, and Beethoven's Symphony No. 4. March 5-8 Avery Fisher Hall, NYC.

ALANIS MORISSETTE takes to the stage Tuesday, March 4, at Colorado Springs World Arena in Colorado Springs, CO. On Wednesday she stars at the Broomfield Event Center in Broomfield, CO. Thursday the show is at The E Center in West Valley City, UT. On Saturday she is in the spotlight a the Key Arena in Seattle. Next Sunday she stars at General Motors Place in Vancouver, BC.

CELTIC WOMAN in the spotlight at the Leon County Civic Center in Tallahassee, FL on Tuesday, March 4. Wednesday the show moves to the Veterans Memorial Arena in Jacksonville, FL. On Friday they can be enjoyed at the Chrysler Hall Theatre in Norfolk, VA. On Saturday the performance is at the Mariner Arena in Baltimore, MD.

BARRY MANILOW begins an extended run at the Las Vegas Hilton Hotel on Tuesday, March 4.

CELINE DION brings her show to the Athletic Stadium in Doha, QUA on Monday, March 3. On Wednesday she performs at the Exiles Rugby Club in Dubai. On Saturday she opens a two night stand at the Tokyo Dome in Tokyo, Japan.

TOVAH FELDSHUH makes her cabaret at Feinstein's at Loews Regency in NYC from March 4 to 15 with Tovah in a Nutshell! Feldshuh sings songs from Gershwin to Judy Collins and inhabits a gallery of hilarious characters, ages 8 to 80, ranging from Grandma Ada in the Bronx to socialite Muffy Brooke Asthma Alsop on Park Avenue. She will be joined by her Musical Director Mathew Eisenstein on piano.

JACKSON BROWNE takes to the stage Saturday, March 8, Ryman Auditorium in Nashville.

BURT BACHARACH has returned to American after a tour of Australia and Japan and performs March 8 at Hotel Murano in Tacoma, WA.

JOHN PRINE in concert Friday, March 7, at The Orpheum Theater in Memphis, TN.

THE KINGSTON TRIO have a two night gig Sunday, March 9 and Monday, March 10 at the Venice Little Theatre in Venice, FL.

BON JOVI tonight, Sunday, March 2, opens a two night stand at the Wachovia Center in Philadelphia. Friday is the first of a two night gig at the Mohegan Sun in Uncasville, CT.

CHERISH THE LADIES the first all-women Irish music ensemble celebrates their roots with sensational singing and exuberant Celtic music. Heidi Talbot (vocals, bodhrán), Mirella Murray (accordion), Roisin Dillon (fiddle), Mary Coogan (guitar, banjo, mandolin), and Joanie Madden (flute, whistles, harmony vocals). They perform March 4-5 at The Barns, Wolf Trap in Vienna ,VA>

ARLO GUTHRIE performs Wednesday, March 5, at Southern Illinois University in Edwardsville, IL. On Friday he opens a three night gig at The Ark in Ann Arbor, MI.

STEVE TYRELL on Tuesday, March 4, opens a 12 night engagement at the Colony House in Palm Beach, FL.

FOREIGNER in the spotlight Friday, March 7 at the PAL Sailor Circus Arena in Sarasota, FL.

KIOSK Hailed for its political yet humorous Farsi lyrics, blues/rock/jazz band Kiosk takes aim at cultural and economic trends in contemporary Iranian society. Friday, March 7, at the Skirball Center in Los Angeles.

MICHAEL BOLTON performs March 8 at John Ascuaga's Nugget in Sparks, NV.




PIFFLE AND PROFUNDITIES


THE GUINNESS WORLD RECORDS is releasing it's first Gamer's Edition, due out March 11. Billy Mitchell, of Hollywood, Fla., ranks as the top-scoring player of the arcade version of Donkey Kong. Mitchell's score is 0.1 percent ahead of Steve Wiebe of Redmond, Wash., whose quest to unseat Mitchell was the subject of the 2007 documentary The King of Kong: A Fistful of Quarters.

Next Column: March 9, 2008
Copyright: March 2, 2008. All Rights Reserved. Reviews, Interviews, Commentary, Photographs or Graphics from any Broadway To Vegas (TM) columns may not be published, broadcast, rewritten, utilized as leads, or used in any manner without permission, compensation and/or credit.
Link to Main Page
---
Laura Deni


CLICK HERE FOR COMMENT SECTION