! >
Broadway To Vegas
  
  REVIEWS  INTERVIEWS COMMENTARY NEWS

| | |
| --- | --- |
| | |
WHOOPI GOLDBERG TO PRODUCE SIGNIFICANT PRODUCTION WHITE NOISE - -JAMES EARL JONES AND CAROL CHANNING CELEBRATE MILESTONE BIRTHDAYS - - AMERICA'S PLAYWRIGHT AT 100: A SALUTE TO TENNESSEE WILLIAMS - - CHER AND ANDRE AGASSI RECEIVE HONORS - - QUEENSLAND THEATRE COMPANY HIT HARD BY FLOOD - - LAUREL NAKADATE: ONLY THE LONELY - - SPIDER-MAN MAKES CHANGES STILL COMPLAINS ABOUT THE CRITICS - - LARGEST DANCE SPACE OUTSIDE OF LONDON OFFICIALLY OPENED - - DONATE . . . Scroll Down



WHOOPI GOLDBERG INTENDS TO MAKE MEANINGFUL SOCIAL STATEMENT WITH NEXT THEATRICAL PRODUCTION
Whoopi Goldberg, the woman with the dreadlocks which have been known to fall across her eyes, has some clear vision when it comes to changing the way we think.

The winner of a Grammy, seven Emmys, two Golden Globes, a Tony, and an Oscar put her toe into the footlights as a Broadway producer with Ma Rainey's Black Bottom and Thoroughly Modern Mille, both feel good musical romps. Then she put her stamp on the stage adaptation of Sister Act by co-producing the West End production, based upon the hit film. A new Broadway mounting of the show, directed by Tony Award winner Jerry Zaks, will open at the Broadway Theatre on April 20, 2011, with previews beginning March 24, 2011.

Having honed her producer's atatus with the up-beat, Goldberg, as co-producer with her name above the title, is launching White Noise which aims to create both conversation and change.

The controversial musical will be directed and choreographed by Sergio Trujillo.

White Noise is billed as "a mesmerizing and provocative new, original musical - a cautionary tale that re-imagines the adage 'when good men do nothing evil happens.'"

Eva and Eden Siller are beautiful young things who have established a small following as folk singers promoting messages of white power - attacking African-Americans, Jews, gays and Mexicans. They are discovered by a successful New York music producer who convinces them they can penetrate the mainstream and make them (and him) rich. He'll simply code or camouflage their hate lyrics. In the New Orleans mounting a slur became "Monday" and the song then - on the surface - appears as the harmless "Mondays Suck." Indeed, powerful packaging and a passive public are a dangerous combination. ( See Broadway To Vegas column of July 19, 2009 )

Frighteningly entertaining, White Noise is a parable for our times, exposing a hateful and growing reality and challenging our conventional notions about freedom of speech, media and the power of pop culture in society today.

The issues taken on by White Noise and the dialogue it inspires transcend preconceived markets, as they are universal and unavoidable. They demand the attention of parents, children, educators, the media and national intelligentsia, uniquely positioning White Noise to be the centerpiece of a national movement against hate.

When the production played New Orleans, Theodore P. Mahne of the Times-Picayune observed: "The audience has been forced to confront some painful questions, among them: How honestly do we express, to ourselves and others, our feelings about race? How often do we use code words to mask our true feelings about people who are different from ourselves? How well do we really know the people we idolize on stage? Why do we mindlessly sing pop song lyrics that we'd never utter in polite conversation? As long as a song has a good beat and we can dance to it, does it really matter what it's about?"

While the music is catchy the lyrics are provocative, shocking, intriguing and piercingly attention getting - which is the point.



Whoopi Goldberg in 2008 protesting California Proposition 8 outside the New York City Mormon Temple at Lincoln Center. Photo: David Shankbone.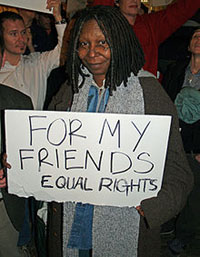 Exposing the growing and inadvertent dangers of extremism and its mainstream penetration, White Noise has already proven to have the power to spark this important and honest dialogue. The producers plan to partner with educators and activist organizations to take this further with productive talk-back sessions and the development of board-certified materials for high schools and universities across the country.

"After hearing from a variety of different folks who had seen the production in New Orleans, I read the script and listened to the music. I knew this was a show I needed to be a part of. White Noise smacks you in a challenging, emotional and entertaining way and explores social issues in a way I don't remember ever seeing before on a stage." - Whoopi Goldberg, Producer

The production will play an 8-week limited engagement with previews beginning on April 1, 2011 and opening April 9, 2011 at The Royal George Theatre in Chicago. With a cast of nineteen, the musical features a book by Matte O'Brien and music and lyrics by Robert Morris, Steven Morris and Joe Shane. White Noise was originally conceived by Ryan J. Davis with a story and characters by Joe Drymala.

Producer Goldberg added, "The producing team looks forward to bring this unflinchingly honest new production to Chicago where audiences are sophisticated, aware and open to a musical that will certainly remind them of today's headlines and might awaken a new awareness of current social issues."

The set is designed by Robert Brill, costumes by Paul Tazewell, lights by Jason Lyons, sound by Garth Helm, and multi-media design by Raj Kapoor.

White Noise had an early developmental production in the 2006 NY Musical Theatre Festival, and then was fully re-developed and went on to a July, 2009 critically-acclaimed and sold-out engagement at New Orleans' Le Petit Theatre du Vieux Carre, the French Quarter playhouse, considered the oldest continuously operating community theater in the country.

The financial relationship of that theater to this production in unknown. On December 21, 2010 Cassie Worley, president of Le Petit board of governors canceled the rest of the 2010-2011 season and laid off two full-time and two part-time employees.

Worley cited a $700,000 mortgage on the 1920's vintage building, plus maintenance costs for the theaters' financial problems.

In March 2009, the board fired artistic director Sonny Borey and his staff. Management was then under the control of Gary Solomon, Jr. of the Solomon Group. White Noise was staged in July. In October the Le Petit board parted ways with the Solomon Group.

Should White Noise become a mega hit and Le Petit be entitled to a percentage of the profits as the originating venue, the income could be substantial.



Broadway To Vegas is supported through advertising and donations. Priority consideration is given to interview suggestions, news, press releases, etc from paid supporters. However, no paid supporters control, alter, edit, or in any way manipulate the content of this site. Your donation is appreciated. We accept PAYPAL. Thank you for your interest.



ART AND ABOUT


LAUREL NAKADATE: ONLY THE LONELY MoMA PS1 presents the first large-scale museum exhibition of works by Laurel Nakadate, an artist known for her works in video, photography, and feature-length film.

In her early videos, Nakadate invited herself into the homes of anonymous men with nothing more than a camera. In the resulting works, she dances, poses, and sometimes plays dead with the strangers who serve both as her collaborators and audience.

More recently, Nakadate has begun directing others to act, continuing to explore the power of the camera to both protect and manipulate its subjects.

Also included will be Good Morning, Sunshine (2009), a more recent work in which Nakadate enters the bedrooms of young women, wakes them, and instructs each to strip down to their underwear for the camera. Nakadate's two features, Stay the Same Never Change (2009) and The Wolf Knife (2010) mine similar terrain-the power and fragility of the adolescent female body.

The exhibition will also be the premiere of Nakadate's latest photographic series, 365 Days: A Catalogue of Tears, currently in progress. These photographs document a year-long performance that began on January 1, 2010, in which the artist documented, and continues to document herself before, during, and after weeping each day.

Laurel Nakadate: Only the Lonely is organized by Klaus Biesenbach, Director of MoMA PS1 and Chief Curator at Large at The Museum of Modern Art, NYC.

Opening Celebration January 23. On view through August 8, 2011. Long Island City, NY.

WILLIAM EGGLESTON: ANOINTING THE OVERLOOKED

Image: William Eggleston. Untitled (Memphis), ca. 1971. Dye-transfer print, 12 1/16 x 17 1/4 in. Memphis Brooks Museum of Art; Eugenia Buxton Whitnel Funds 76.6.2. © Eggleston Artistic Trust. Courtesy Cheim & Read, New York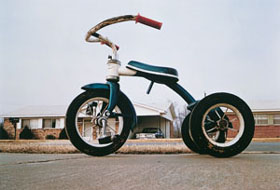 is an exhibition bringing together more than 70 photographs made by the Memphis resident who is one of the most influential artists of his generation. The exhibition includes iconic images from the early 1970s, important series and portfolios held in the Memphis Brooks collection as well as the rarely seen 21st Century Photographs.

William Eggleston was a key figure in charting a new course for color photography. Prior to his first exhibition at the Museum of Modern Art (New York) in 1976, fine art photography was typically black and white, while color photography was used commercially. By not censoring, rarely editing and photographing the seemingly banal, Eggleston reminds us of the inherently democratic uses of and wide-spread access to photography. His images are psychologically complex, yet structurally quotidian, drawing attention to the power and beauty of the overlooked. Eggleston's work has influenced subsequent generations of fine art photographers and contemporary artists.

In conjunction with the exhibition, the Frist Center will also present a film series, The Strangeness of the Ordinary, featuring films by David Lynch, Gus Van Sant and Sofia Coppola, directors who have been influenced by Eggleston's aesthetic innovations. There will also be the continuous screening of the renowned 2007 documentary By the Ways: A Journey with William Eggleston, directed by Vincent Gérard and Cédric Laty.

The exhibition, originated by the Frist Center for the Visual Arts, includes selections from the permanent collection of the Memphis Brooks Museum, Cheim & Read Gallery, New York, with the assistance of the Eggleston Artistic Trust, and the David Lusk Gallery, Memphis.

Eggleston has been a remarkable chronicler of a culture that was being transformed by racial integration, air conditioning, strip malls, shopping carts and fast-food chain restaurants. While rooted in a specific place and time, Eggleston's depictions of these transformations have a universal resonance that continues today, when our realities continue to show themselves to be in a constant state of flux.

The exhibition is organized for the Frist Center for the Visual Arts by Susan H. Edwards, Ph.D., Frist Center executive director and CEO. Opened January 21 and runs through May 1, 2011 at the Frist Center for the Visual Arts, Nashville, Tennessee


THE SHOW MUST GO ON FOR QUEENSLAND THEATRE COMPANY - BUT IT'S NOT BUSINESS AS USUAL
Surveying the damage from inside the Queensland Theatre. Photo: Queensland Theatre.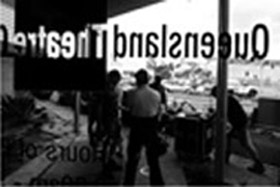 Libby Anstis, the general manager of the Queensland Theatre Company, in Australia has e-mailed a message regarding flood damaged sustained by the venerable theatrical company.

( See Broadway To Vegas column of January 16, 2011 )

"Queensland Theatre Company was inundated to about 1.2 metres (3 ft. 11 in.) at the peak of the flood on Wednesday and Thursday. Our performance studio, seating bank, artist and bar facilities were extensively damaged, and extensive damage to costumes, props and furniture. The damage bill is yet to be fully understood. "

"Over the weekend, a small army of local artists, loyal patrons and new friends volunteered to help us clear our building of mud and debris, and dispose of ruined property. We owe these people an enormous debt of gratitude. We also had tremendous help from our landlords, the Department of Public Works."



Moving what they can. Photo: Queensland Theatre.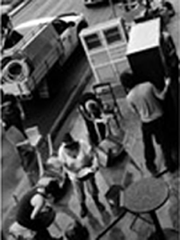 "Five days after the flood event, we are still not yet able to return staff to the building for a number of safety reasons. But as they say, the show must go on. Our administration and ticketing staff have relocated temporarily to Brisbane Festival's office so that season tickets can be mailed this week, and single tickets for our first show of the year can go on sale on 24 January."

"Our set builders are operating under generator power, and the wardrobe department has taken temporary refuge at Queensland Ballet to continue their preparations. Gardens Theatre at QUT has provided rehearsal space so our cast can take to the stage without postponing performances. It's going to be a significant challenge to get our first show for 2011 on stage, so we ask for your patience and understanding as we catch up."

"It would be a tragedy for us if we had to cancel shows, but of course that pales into insignificance against people who have lost homes, livelihoods and loved ones. I strongly believe however that the arts has a role to play during difficult times. We provide the stories, the insights, and sometimes just shared laughter in a darkened theatre, which can help our community heal."

"Accordingly, we've decided to donate an entire performance of our first show - a French farce double bill called Sacré Bleu! – to those local residents worst affected by the floods. We regret to advise that the subscribers' Play Briefing for this show, scheduled for 31 January, has been cancelled"


SPIDER-MAN CHANGES ADVERTISING BUT STILL COMPLAINS ABOUT THE CRITICS


The trouble-plagued Spider-Man: Turn Off the Dark has crafted a new ending and complied with New York City's Department of Consumer Affairs to more clearly inform potential ticket buyers that what they are purchasing are reservations for a preview performance. The $65 million musical has been in previews since November 29, 2010 - earning it the distinction of being the longest musical in previews.

If the preview status caused the Department of Consumer Affairs to offer an opinion, the producers of the Julie Taymor directed production are complaining that critics are reviewing the production when it is in previews, what they are calling the equivalent to an out of town try-out.

If the investors are viewing the current location of Spider-Man, which is the Foxwoods Theatre in the heart of Times Square, as an out-of-town try-out, what's the problem with critics reviewing the show as they would an out-of-town try-out? For decades critics has buoyed the sales or closed the show with reviews which took place during out of town performances.

The Amazing Adele, a Broadway-bound musical starring Tammy Grimes, closed out of town in December 1956. Genius Farm starring Marni Nixon opened and closed in Mineola, NY in August 1965, thus canceling a scheduled Broadway opening. A Moon for the Misbegotten was a 1946 flop, opening out-of-town at The Hartman Theatre in Columbus, Ohio on February 20, 1946, then moved to the Hanna Theatre in Cleveland, OH. According to an original Hanna Theatre playbill dated "for the week of February 24, 1946," the production starred James Dunn. The troubled play closed in St. Louis thus scrubbing its scheduled Broadway opening, although the O'Neill penned classic was later turned into a hit.

Would the Spider-Man producers be carping if the critics were raving about the production?

Shows can be tweaked to go from good to great. They cannot be tweaked to go from a mess to perfection.

Lately the Spider-Man producers have been crying into a pile of bank deposit receipts. Two weeks ago the production even topped Wicked in ticket sales.

Blood sports are always big ticket items and negative publicity can spike ticket sales. People love controversy and the possibility of witnessing disaster. The prospect of watching something as it creatively evolves can also be intriguing. Once the thing officially opens, it's set in stone.

If the Bono and the Edge scored mounting was never meant to be a Broadway type musical as the lead producer has insisted, but rather "a rock 'n' roll circus drama, a piece of action theater," as Patrick Healy quoted him as saying in his NY Times article of January 14, 2011, does that mean that the producers don't want the production considered for a Best Musical Tony nomination - rather, only included in a revived Best Special Theatrical Event, a category which was awarded beginning in 2001 but retired in 2009.


LARGEST DANCE SPACE OUTSIDE OF LONDON OFFICIALLY OPENED


The Northern Ballet and Phoenix Dance Theatre, located in close proximity to the West Yorkshire Playhouse in Leeds, described as the largest purpose-built space for dance outside London, was officially opened on Tuesday, January 18 by Prince Edward who is its patron. He toured the site, viewed a performance and unveiled a plaque.

The state-of-the-art, six-storey building includes seven dance studios, a 230-seater studio theatre along with wardrobe facilities, meeting rooms, a hot tub, sauna and physiotherapist facilities.

The official opening day for the public was yesterday, January 22 where those attending the festivities saw: excerpts from dance productions as well as rehearsals including viewing an excerpt from Northern Ballet's brand new production, Cleopatra, which will premier at Leeds Grand Theatre on February 26.

Guests participated in taster dance classes for ages and abilities, watched dancers and Northern Ballet Academy students be put through their paces in daily class and learned about the team behind-the-scenes including the wardrobe and technical departments.

The Northern Ballet, led by artistic director David Nixon, OBE, welcomed year 2011 in China presenting two of the Company's best-loved productions Madame Butterfly and Romeo & Juliet, which staged performances at the National Centre for the Performing Arts in Beijing from January 1-5, 2011.


SPREADING THE WORD


THE CITY CLUB a reading of this new 'noire' jazz blues musical, on Friday, January 28th, 2011 at Theatre Row's Beckett Theatre in NYC.

Originally produced at Edinburgh International Festival, The City Club is written by Glenn M. Stewart and will be directed by Mitchell Maxwell with musical staging by Lorin Latarro. The jazz blues style score is by Tim Brown, Tony DeMeur and James Compton who also serves as Musical Director.

The City Club, which features a cast of 12, centers around Charles Davenport, a passionate and naïve jazz club owner who tries to create the ultimate club in a dark city full of corruption and prejudice. With a blind passion for music, he headlines sizzling talent from "the wrong side of the tracks," for his wealthy and decadent patrons who are willing to pay anything for what they want - with tragic results.

There will be two presentations on the 28th for invited theatre industry insiders.

OPERA NIGHT AT THE MUSEUM On January 28, Friday Nights at the de Young presents Opera Night at the Museum.

Argentine Opera features singers from the Instituto Superior de Arte del Teatro Colón, featuring Sebastian Angulegui, Gabriela Ceaglio, Emanuel Esteban, Gustavo Feulien, Florencia Machado, Marina Silva and Duilio Smiriglia, with Marcelo Ayub on piano.

Ensemble Parallèle performs Love, Obsession, and Death, excerpts from the Philip Glass opera Orphée. The surreal operatic journey includes narration, music, video projection and sideshow acts. Programs are free. General admission is required for the galleries.

deYoung Museum in San Francisco.

LEON F. EMBRY President and CEO of Samuel French, and Chairman of the Board of Samuel French Ltd., London will conclude his tenure with the Company after a long and distinguished career spanning 40 years.

Embry instituted many innovations, such as establishing Samuel French Trade, and expanding the Samuel French retail bookstores into one of the world's largest bookstores dedicated to the performing arts. He has served as Vice-President of Samuel French, Inc., Baker's Plays and manager of the West Coast offices.

As President and CEO he acquired many new plays such as Sarah Ruhl's In The Next Room Or The Vibrator Play, David Mamet's Race and Patrick Barlow's adaptation of The 39 Steps.

Abbie Van Nostrand, who served under Mr. Embry as Vice President for the past four years and has been with company for 26 years, will serve as the primary point of contact for authors and agents while an executive search is in progress.

BEHIND THE MUSIC-AL: ROCKS! is an exciting behind-the-scenes look at the next generation of musical theater composers.

Learn how songwriting teams collaborate, hear exclusive new songs performed by some of Broadway's hottest young stars and get the back-story on your favorite musical numbers.

Moderator Stephen Flaherty asks emerging songwriters Joe Iconis, Drew Gasparini and Ewalt & Walker about the role rock music plays in their work and how mainstream music is influencing musical theater today.Monday, January 31, at 92Y Tribeca, NYC.


SWEET CHARITY


AMERICA'S PLAYWRIGHT AT 100: A SALUTE TO TENNESSEE WILLIAMS

Tennessee Williams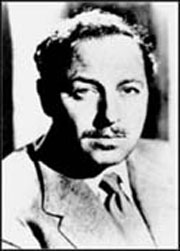 honors the centennial of Williams' birth in America's great historic theatre. A half dozen important American voices will read selections from Williams prose, plays, poetry and letters, including the Academy Award-winning actor Eli Wallach.

The Salute will also feature recordings of the playwright himself. Together with his writing, the event creates a portrait not only of the playwright but also of the America he experienced from the 1930s to the 1980s. Hear of the landscapes, cities, small towns and beckoning roads that inspired him to write the enduring classics The Glass Menagerie, A Streetcar Named Desire, Cat on a Hot Tin Roof and Orpheus Descending.

The Salute is presented by the Provincetown Tennessee Williams Theater Festival, in collaboration with Ford's Theatre which states: "We pay homage to Tennessee Williams as America's own playwright, whose roots reach far beyond his birthplace in the Deep South. Raised in the Midwest, Williams traveled extensively: from the mountains of New Mexico, to the bars of Bourbon Street, to the beaches of South Florida. Chicago discovered him, and Cape Cod is where he discovered himself."

All proceeds from the event will benefit the Provincetown Tennessee Williams Theater Festival, to support its Centennial Campaign.

Monday, January 31 at Ford's Theatre in Washington, DC.

A NIGHT IN VIENNA Maltz Jupiter Theatre's Eighth Annual Gala takes place January 29, at The Breakers in Palm Beach.

A benefit evening inspired by The Sound of Music, which is the current production.

Gourmet dinner, silent and live auction followed by dancing.

Some of the auction items include tickets to ABC's Dancing with the Stars, VIP Skybox to the Miami Dolphins and Miami Heat and the chance to meet two of the Von Trapp family members.

Proceeds benefit the Maltz Jupiter Theatre located in Jupiter, Florida.

THEATREWORKS USA's ANNUAL GALA takes place Monday, January 31 at the Pierre Hotel in NYC.

NBC news anchor DeMarco Morgan will host the event, which will raise funds to support the organization's annual Free Summer Theatre event in New York City, as well as its other programs and productions.

Entertainment will include special performances by Tony Award nominees Kerry Butler, Christiane Noll and Christopher Sieber, Drama Desk Award-winner Andréa Burns, and Drama Desk nominee Alexander Gemignani.

Other performers will include Alex Brightman, Jay Armstrong Johnson, Courtney Reed, Gabrielle Ruiz and Grace Wall.

The program will be comprised of numbers by Theatreworks USA's current and alumni writers such as Sam Davis, Mindi Dickstein, Jaime Lozano, Tommy Newman, Ryan Scott Oliver and Mark Waldrop. In addition, the entertainment will include a preview of Theatreworks' 2011 Free Summer Theatre presentation, The Yellow Brick Road, a Latin American take on The Wizard of Oz.

Chaired by Lindsay McCann, her committee includes: Julie Halpin Anderson, Marsha Askins, Josette Barenholtz, Maria G. Brito-Souza, Sonia Segoda Dressner, Jill Ellis, Michelle Humphrey, Elsie McAdoo, Wendy Nelson, Barbara Pasternack, Lindsay Stavros, Maureen Early Vlak, Vince Weiner and Richard W. Wheeless.

GOODMAN THEATRE'S ONE-NIGHT-ONLY BENEFIT FOR THE OVARIAN CANCER SYMPTOM AWARENESS ORGANIZATION On Friday, January 28, the Ovarian Cancer Symptom Awareness Organization (OCSA) invites patrons to a special event at Goodman Theatre to benefit the organization. On stage, guests will enjoy The Trinity River Plays, a critically-acclaimed trilogy written by Regina Taylor.

Taylor, a stage and screen star, playwright and director, is also the national spokeswoman for the Chicago based OCSA. This off-stage role is a very personal one for Taylor and she accepted it to both honor her mother's memory and life, and to help others learn more about this dreadful disease.

Perhaps best known for her role as Lilly Harper in the series, I'll Fly Away, Taylor was most recently seen starring in the CBS hit drama, The Unit. She met Susan Roman, OCSA co-founder, at a business engagement. When the two women realized they shared a common bond - one of losing their mothers to ovarian cancer - a partnership was developed.

"Goodman Theatre and Regina have been incredible partners as we seek ways to raise funding for activities dedicated to informing women and their families about the silent symptoms of ovarian cancer," said Roman.

Ticket options include a seat at the play, and a private reception at Club Mezz that features signature cocktails, refreshing beverages, and enticing hors d'oeuvres The VIP Reception features a meet-and-greet plus photo opportunities with Taylor.

STANDING ON CEREMONY:THE GAY MARRIAGE PLAYS Conceived and directed by Brian Shnipper, these new provocative plays were created in response to the on-going battle for marriage equality throughout the United States.

The cast for the Monday, January 24th performance includes Caroline Aaron, Julie Hagerty, Jesse Tyler Ferguson, Gale Harold, Richard Kind, Kathy Najimy and Mary Lynn Rajskub.

The evening will feature one acts by some of America's most illustrious playwrights including Jenny Lyn Bader, Jordan Harrison, Jeffrey Hatcher, Moisés Kaufman, Neil LaBute, Wendy MacLeod, Kathy Najimy, José Rivera, Paul Rudnick and Doug Wright.

Standing On Ceremony, which benefits the American Foundation for Equal Rights (AFER) and Equality California, will perform three consecutive Monday nights beginning January 24, 2011 at Largo at the Coronet in West Hollywood.

In celebration of the repeal of "Don't Ask, Don't Tell," Standing On Ceremony has put aside fifty complimentary tickets per performance for the women and men in the United States military. Ticket requests must be submitted by email at standingonceremony.net and a military identification card is required at the box office to verify military service.






CHER whose new single You Haven't Seen the Last of Me from Burlesque reached No. 1 on the Billboard Dance & Club Play Songs chart. That means Cher becomes the only star to have had a No. 1 single on a Billboard chart in each of the past six decades.

As for not seeing the last of her - you need to hurry. Her February 5th show at Caesars Palace in Las Vegas closes out her three-year contract.

ANDRE AGASSI born, raised and a resident of Las Vegas, has been elected into the Tennis Hall of Fame. The official induction ceremony will take place July 9 in Newport, RI. It was ladies first for Andre's wife, Stefanie Graf, who was inducted last year.


OTHER PEOPLE'S MONEY


ZSA ZSA GABOR'S MANSION has been put on the market with an asking price of $28 million. The Bel Air crash pad was built for the late aviator and industrialist Howard Hughes and once lived in by Elvis Presley.

Gabor bought the mansion from Elvis' estate in the 1970s, sometime after his death, for $600,000.

Gabor has been plagued with health problem and is recovering from having her leg amputated because of a gangrene infection after hip replacement surgery in July.

When released from the hospital Gabor and her husband Frederic Prinz von Anhalt plan to move into a condominium.

THE WASHINGTON NATIONAL OPERA on July 1, 2011, will become an affiliate of the Kennedy Center. The agreement "will allow the Center to offer outstanding opera, while assuring long-term financial security for WNO."


JAMES EARL JONES AND CAROL CHANNING CELEBRATE BIRTHDAY MILESTONES


The incredible James Earl Jones celebrated his 80th birthday last Monday, January 17. The celebration took place under the most ideal of locations for an actor - on stage, after a magnificent performance in a hit play, delivered before an appreciative audience.

The actor is currently starring in Driving Miss Daisy. He was presented with cake and the audience sang Happy Birthday. Ask any 40 year old actor what they'd like for their 80th birthday - starring in a hit Broadway show - would be the ideal wish. May James Earl Jones celebrate his 90th birthday the same way.

Speaking of 90th birthdays - Carol Channing celebrates her 90th on January 31.

One day isn't enough to celebrate a 90th birthday so a special Musical Monday Tribute honoring the theatrical icon's 90th will takes place in Los Angeles at the Pantages Theater next month on February 21. The three time Tony Award winner will be saluted by a large contingency of the Broadway community in a benefit for The Dr. Channing/ Kullijian Foundation for the Arts and The Actors Fund's comprehensive programs and services.

Bruce Vilanch, Davis Gaines along with Carole Cook and Joanne Worley - both of whom have appeared as Dolly in productions of Hello Dolly! will pay tribute to the woman who originated the role. The one and only Phyllis Diller will serve as host as celebrities recall memories, humorous storytelling and, of course, several of her signature tunes. An unplugged evening that follows a simple format.

In person will be the birthday girl, Carol Channing.

Cocktail Reception and program will be followed with a dessert and coffee reception with the performers. The Pantages Theater Lobby, in Hollywood.


STORK REPORT - CONGRATULATIONS TO . . . .

NICOLE KIDMAN AND KEITH URBAN who announced last Monday that they are the parents of a daughter, born at The Women's Hospital at Centennial Medical Center in Nashville on December 28, 2010. They named their precious bundle Faith Margaret Kidman Urban, who came into this world via a 'gestational carrier' as the release put it. Kidman and Urban are the biological parents. Welcoming the baby was big sister Sunday Rose, who was born in July 2008.



APPLE COVE a dark comedy by Lynn Rosen. Directed by Las Vegas born and raised Giovanna Sardelli.

When newlyweds Edie and Alan King (no resemblance to the late comedian) move into the gated community of Apple Cove, they trust they have found a safe haven from the chaotic world outside. But when lush and forbidden roses start popping up in their garden, they quickly learn that nothing, not even electric gates, can keep nature out. Especially one's own nature.

Starring Paul Carlin as Gary Hall, Erin Gann as Alan King, Allison Mack as Edie King, Dion Mucciacito as Duke, Kathy Searle as Mary Hall.

Scenic design by Scott Bradley. Costumes by Amy Clark. Lighting design by Japhy Weideman. The sound designer is Bart Fasbender.

In March 2005 Apple Cove received a test run in Manhattan as part of Lark Play Development Center's BareBones initiative, which was also directed by Sardelli.

January 29-March 6, 2011 at the Julia Miles Theater, NYC.

SCIENCE MUSEUM LIVE ON TOUR! Experience dangerous demonstrations and extraordinary experiments as London's world-famous Science Museum takes to the stage for the first time ever with a spectacular live show which promises "to blow your mind and challenge your brain."

Fast, furious and frenetically fun, Science Museum Live on Tour! is brought to the stage by the producers of Brainiac Live! and is suitable for ages 7 and above. With a run time of 1 hour and 45 minutes, there is one intermission.

The tour of England runs January 29-April 20 and kicks off at the West Yorkshire Playhouse in Leeds.

AMERICAN SCRAPBOOK: A CELEBRATION OF VERSE a world premiere Kennedy Center Commission by Jason Williamson. Directed by Kathleen Amshoff.

Like many Americans, the Kennedys shared a love for poetry and read it together as a family. This highly theatrical production combines spoken word, movement, music, and dialogue to move audiences through works selected by Caroline Kennedy in her books The Best-Loved Poems of Jacqueline Kennedy Onassis and A Family of Poems: My Favorite Poetry for Children.

Enjoy the words of Robert Frost, Carl Sandburg, Langston Hughes, Edgar Allan Poe, Gwendolyn Brooks, E. E. Cummings, and others in a special show made for sharing. Age 9 and up.

January 29 - February 6, 2011 as part of The Presidency of John F. Kennedy: A 50th Anniversary Celebration at the Kennedy Center in Washington DC.

SLEUTH the 1970 Tony Award winner by Anthony Shaffer. Directed by Tony Award-winner Martin Charnin.

Starring David Pichette as Andrew Wyke and M.J. Seiber as Milo Tindle. The cast also includes Oliver Joel, Morrison Dayner and Randy Richard Guss.

Wealthy mystery novelist Andrew Wyke invites Milo Tindle to his elegant, isolated country house to settle a bit of unpleasant business. What begins as a bizarre game of cat and mouse spirals into a complex duel of wits and deception. Packed with twists and turns that continually tip the scale in both directions, this Tony Award-winning puzzle will keep you guessing up to the very surprising end!

The production has scenic design by Martin Christoffel, lighting design by Alex Berry, costume design by Melanie Burgess and sound design by Gino Scarpino.

Performances through February 27 at the Village Theatre in Issaquah, WA. The production then transfers to the Everett, WA venue for a run March 4-27.

THE CHILDREN'S HOUR by LiIlian Hellman. Directed by Ian Rickson.

Starring Keira Knightley and Mad Men star Elizabeth Moss who is making her West End debut.

Knightley plays Karen Wright, and Moss plays Martha Dobie, who together run a girls' boarding school in 1930s New England, where they become entangled in a story of deceit, shame and courage when a schoolgirl's whispers spread, triggering a chain of events with extraordinary consequences.

The cast also features Ellen Bustyn (as Mrs. Amelia Tilford) and Carol Kane (as Mrs. Lily Mortar), as well as Lisa Backwell (Evelyn Munn), Isabella Brazier-Jones (Helen Burton), Poppy Carter (Janet), Marama Corlett (Lois Fisher), Nancy Crane (Agatha), Amy Dawson (Rosalie Wells), Isabel Ellison (Catherine), Bryony Hannah (Mary Tilford), Tobias Menzies (Doctor Joseph Cardin), Nathan Nolan (Grocery Boy) and Eve Ponsonby (Peggy Rogers).

Previews began January 22 at the Comedy Theatre in London. The production officially opens on February 9.

DEATH OF A SALESMAN by Arthur Miller. Directed by Pam MacKinnon.

Starring Tony Award nominee Jeffrey DeMunn as Willy Loman. The cast also includes Jordan Baker (The Woman), Ben Diskant (Bernard), Jesse Jensen (Stanley), Robin Moseley (Linda), Tyler Pierce (Happy), John Procaccino (Charley), Deborah Radloff (Jenny, Letta), Lucas Caleb Rooney (Biff), Ryman Sneed (Miss Forsythe), Adrian Sparks (Uncle Ben) and Jonathan Spivey (Howard Wagner, 2nd Waiter).

Winner of both the Pulitzer Prize and the Tony Award for Best Play, Death of a Salesman centers on Willy Loman who - "After a lifetime as a traveling salesman, Willy Loman finds himself at the end of his career and at the end of his rope. As dreams of the past collide with visions of what might have been, Willy's wife and sons wage a desperate struggle to engage him in the present."

The creative team features Marion Williams (scenic design), Mathew LeFebvre (costume design), Rui Rita (lighting design), Jeremy J. Lee (sound design) and Lavinia Henley (stage manager). Previews began January 22 at The Old Globe in San Diego, CA. Officially opens on January 27 with performances through February 27, 2011.


WHO'S WHERE


THE NEW YORK POPS Doc Severinsen returns with a sizzling new Latin music experience, El Ritmo de la Vida, featuring Argentine tango, Spanish flamenco, and gypsy jazz. The New York Pops is conducted by Steven Reineke. The San Miguel 5 feature: Doc Severinsen, Trumpet - Gil Gutierrez, Guitar - Charlie Bisharat, Violin - Jimmy Branley, Percussion - Kevin Thomas, Bass. Friday, January 28, 2011 at Carnegie Hall in New York City.

MAROON 5 performs Friday, January 28 at the Trelawny Multi-Purpose Stadium in Kingston, Jamaica.

USHER on stage Monday, January 24, at the Omnisports de Paris-Bercy in Paris. On Wednesday the show is at the Manchester Evening News Arena in Manchester, England. Thursday the tour stops at the NIA in Birmingham, England and on Saturday the performance is at the S.E.C.C. in Glasgow, Scotland.

OZZY OSBOURNE in the spotlight Monday, January 24, at the AT&T Center in San Antonio, TX. On Wednesday he'll show off at the Comerical Theatre in Phoenix. Friday finds him in Las Vegas at the Mandalay Bay Events Center.

LINDA EDER headlines the Thomasville Cultural Center in Thomasville, GA on Thursday, January 27.

STEVE ROSS performs his Rhythm and Romance show, backed by the bass of Brian Cassier at the Oak Room of the Algonquin Hotel, NYC through February 12.

SWEET SOUL MUSIC with Tony Award-nominee Brandon Victor Dixon, Leslie Odom, Jr., and American Idol star Frenchie Davis, performing the music of Ray Charles, Marvin Gaye and Gladys Knight, and their own selections, under the musical direction of Todd Schroeder, in a one night only concert on Sunday, January 30, 2011 at New Cabaret Lounge at La Mirada Theatre for the Performing Arts in La Mirada, CA.


FINAL OVATION


THEONI V. ALDREDGE three-time Tony Award-winning costume designer, died January 21, 2011 in a Stamford, CT, hospital. She was 78.

The Greek-American stage and screen costume designer received her training at the American School in Athens and at the Goodman Theatre in Chicago. Her first Broadway assignment was designing costumes for Geraldine Page in Tennessee Williams' Sweet Bird of Youth in 1959; her most recent was the 2006 revival of A Chorus Line.

Aldredge won Tony Awards for Best Costume Design for the original Broadway productions of Annie, Barnum and La Cage aux Folles. She was Tony-nominated 15 times, and created memorable costumes for over 100 shows including legendary musicals A Chorus Line, Dreamgirls, 42nd Street, and Gypsy.

Aldredge won an Academy Award for her work on The Great Gatsby in 1974. Her designs for the film were adapted for a clothing line sold exclusively by Bloomingdale's in New York City. In 2002, she won the Theatre Development Fund's Irene Sharaff Lifetime Achievement Award.

She is survived by her husband actor Tom Aldredge. There will be no services and her ashes will be flown to Greece.

The marquees of Broadway theatres in New York will be dimmed in her memory on Tuesday, January 25th, at exactly 7:00pm for one minute.

ROMULUS LINNEY prolific playwright and father of actress Laura Linney, who died January 15, 2011 of lung cancer at age 80. The marquees of Broadway theatres in New York were dimmed in his memory on Wednesday, January 19th, at exactly 8:00pm for one minute.

Charlotte St. Martin, Executive Director of The Broadway League, commented, "Our thoughts go out to Laura Linney and her family for their loss. Romulus Linney's words will continue to inspire audiences each time one of his 30 plays are performed on stage. His Broadway credit, The Love Suicide at Schofield Barracks, ran on Broadway in 1972. Mercedes McCambridge was nominated for 1972 Tony Award for Best Featured Actress in a Play. He is considered by many to be a great teacher of theatre."

Linney was a playwright who refashioned classical works for modern times and adapted contemporary novels for the stage. A prolific playwright, his work ranged from stories set in Appalachia where he grew up to historical settings such as the Nuremberg trials and the Vietnam War. He also drew inspiration from the lives of public figures including the poet Lord Byron and Frederick II, a King of Prussia.

He was the author of over 30 plays that have been produced in the United States and Europe, mostly Off Broadway and regional theater. The Signature Theater Company in New York, which devotes full seasons to presenting the work of a single playwright, chose Mr. Linney to be the first writer it would spotlight. Linney spent many years teaching writing at numerous schools, including Columbia and Princeton Universities.

Romulus Linney is survived by his wife, Laura Callanan, daughters, Susan and Laura Linney who - the day after her father's death - was awarded a 2011 Golden Globe in the category of Best Actress in a Television Comedy or Musical for her role on the Showtime series The Big C.

DON KIRSHNER known as The Man With the Golden Ear, was an American song publisher and rock producer who is best known for putting rock on TV in the 1970's died of heart failure on January 17, 2011, in Boca Raton, Florida. He was 76.

He guided the careers of Kiss, Bruce Springsteen, and Pink Floyd. As a producer-promoter, Kirshner was influential in starting off the career of singers and songwriters, including Bobby Darin, Neil Diamond, Carole King, and Sarah Dash of Labelle, as well as discovering the rock act Kansas.

ELLEN STEWART who died this month at age 91 was honored last Wednesday when the marquees of Broadway theatres in New York were dimmed in her memory at exactly 8:00pm for one minute.

Charlotte St. Martin, Executive Director of The Broadway League, commented, "Much of what we see on stage was developed at La MaMa, creating theatre history. For that, we are grateful to Ellen Stewart's dedication and eye for talent, and her legacy will live on in our theatres."








Next Column: January 30, 2011
Copyright: January 23, 2011. All Rights Reserved. Reviews, Interviews, Commentary, Photographs or Graphics from any Broadway To Vegas (TM) columns may not be published, broadcast, rewritten, utilized as leads, or used in any manner without permission, compensation and/or credit.
Link to Main Page
---
Laura Deni



For the snail mail address, please E-mail your request.
CLICK HERE FOR COMMENT SECTION