! >
Broadway To Vegas
  SHOW REVIEWS     CELEBRITY INTERVIEWS     GOSSIP     NEWS 
| | |
| --- | --- |
| | |
Copyright: January 20, 2002
By: Laura Deni
CLICK HERE FOR COMMENT SECTION

PRICE IS RIGHT RIOT

Bob Barker - more popular than Britney Spears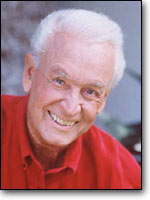 "We didn't know that Bob Baker was going to be more popular than Britney Spears," is the way the Rio hotel responded in attempting to explain the riot that occurred among people turned away from the 30th anniversary taping of the popular CBS television game show.

Ears perked up when Barker announced that, for the very first time, the show would leave the studio and tape, not just on the road but in Las Vegas. When he suggested that viewers come on down - they did.

The Rio asserts they were told to expect only expected two to three thousand people and ended up with five times that amount with only 900 tickets to dole out.

Henri Bollinger, the well respected and veteran press agent, who represents The Price is Right issued a statement that the Rio had been well advised of the huge number of fans they should expect. "I don't think the hotel people fully understood or appreciated that."

The hotel's game plan was to distribute 900 audience tickets at the entrance to the Samba Theatre beginning at 10 a.m. on a first-come, first-served basis. Only one show was being taped.

Die hard fans trekked in from around the country and started lining up in the middle of the night.

Many of those in the que had sob stories to rival anything ever heard on the old Queen for a Day program where the best lament got the prize and crown.



Rod Roddy says people love the cars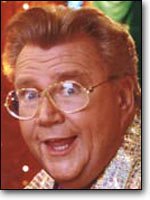 Rod Roddy, wearing a purple shirt and a glitzy jacket, was his usual animated self.

"What an exciting place Las Vegas is! What a great place for the 30th anniversary special! Las Vegas is exciting! People love Las Vegas! They love games and they love The Price is Right!"

"We put that all together and here we are!"

"Besides we have the Price is Right slot machines and it makes sense," he said referring to Harrah's property being the first casino to feature The Price Is Right slot machines. And Harrah's was also the first group to release the new Plinko machines, which are themed after one of the specific pricing games on The Price Is Right.

The Price Is Right fans are a unique breed. Roddy quickly summed them up. "It turns out they like the new car. Everybody wants a new car. All I have to say is - Come on down and a new car - or a trip around the world will do. Everybody likes to win. That's the point. We want them to win. I love giving away other people's money."

The Rio stated that by 6 a.m. between eight to ten thousand fans were crowding the halls.

For safety and crowd control reasons, the hotel began handing out tickets early. What resulted was a stampede. As the crowd began turning ugly, some fans complained that the early give away wasn't fair.

The hue and cry became so intense that the hotel summoned Metro Police. One woman was reportedly treated for head injuries. No arrests were made.

The taping will air Jan. 31.


SEX SELLS
Engelbert Humperdinck to write a tell all book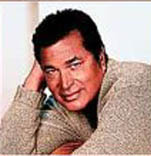 Engelbert Humperdinck makes his first appearance in Las Vegas this year when he opens Thursday at the MGM-Grand Hotel.

This is going to be an fascinating year for Enge who has some interesting plans cooking. He's switched managers and wants his career to branch out to include motion pictures

Engelbert also intends to write a tell all book, which he admits will include a lot of juicy info that may embarrass his family - including his wife. The guy who openly admits that he has been slathering on the black hair dye since he was in his 20s, says in order for a book to sell you have to give people what it is they want to read. That may translate into sex.



Broadway To Vegas is supported through advertising and donations. Priority consideration is given to interview suggestions, news, press releases, etc from paid supporters. However, no paid supporters control, alter, edit, or in any way manipulate the content of this site. Your donation is appreciated. We accept PAYPAL. Thank you for your interest.


THE MUSIC GOES ROUND AND ROUND

BUDDY EBSEN

Buddy Ebsen as The Tin Man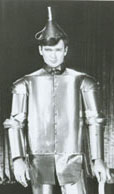 started in show business in 1928 when he jumped from soda jerk to Broadway dancer in Ziegfeld's Whoopee. After several years on Broadway and as half of a dance act with his sister, Vilma, Ebsen headed to Hollywood.

The guy that everyone came to love as the father on The Beverly Hillbillies was cast as the original Tin Man in the MGM movie Wizard of Oz.

His Excitement about the part was short lived when he was forced to drop out after discovering he was allergic to silver paint.

Jack Haley was his replacement.

At the age of 84 he put together a new song and dance act performing in Branson, Mo., and Las Vegas. He also recorded a cassette Wellll Doggies! composed of original songs written and sung by Ebsen, including The Ballad of Jed Clampett. Now Ebsen, 93, is releasing another album, featuring his own compositions as well as some from the original Oz soundtrack

SCOTT COULTER the MAC Award winner has a new album out on the LML Music Label.

The liner notes are by Stephen Schwartz and laud the talents of this young man saying "one of the best things that can happen to a songwriter is to have his or her material interpreted by Scott Coulter."

High praise from the man who was the first composer to have three successful Broadway shows running simultaneously - Godspell, Pippin, and The Magic Show

Schwartz apparently knows whereof he speaks. Coulter is part of Stephen Schwartz & Friends In Concert in which Schwartz and Coulter perform with either Liz Callaway, or Debbie Gravitte.

In this album Coulter and Gravitte team up on In Whatever Time We Have, which also features Schwartz on piano. Listening to that selection makes one want to hear their live performance.

An interesting selection is Cry Me A River, a torch song associated with female singers. Coulter takes the number and turns it into his own.

Stephen Schwartz & Friends In Concert take to the stage on February 1 at the Ohlone College in Fremont, CA.

RONAN TYNAN one-third of the famed Irish Tenors, has his first solo disc My Life Belongs to You released on Sony Classical, as well as his memoir, Halfway Home: My Life Til Now. published this month by Simon & Schuster.

He was born with a congenital condition that required him to wear bulky leg braces into early adulthood. At 20 he chose to have both legs amputated below the knees in favor of prostheses

It was a difficult decision recommended by his physicians and made certain by the pain he was experiencing. The devices he was wearing at the time -- leather boots with thick steel bars and rivets not only cut into the bottoms of his feet but kept breaking. He saw artificial limbs as the tools to a certain freedom. Six weeks after the procedure, Tynan his first fitting for a prostheses. He instantly began to wonder whether women would still find him attractive. So, against medical advice and common sense, he shoved some foam into his pants legs, affixed artificial limbs to still-raw sutures, and went dancing that night.



RONAN TYNAN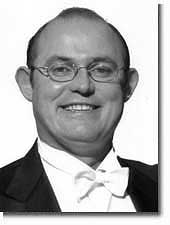 The sutures ruptured overnight, a considerable amount of blood was lost, and Mr. Tynan spent the next eight months in a wheelchair.

Undaunted, within a year, he was competing in the Parlympic Games -- both in track and field and as an equestrian. Between 1981 and 1984, he won 18 gold medals and set 14 world records.

Along the way he also picked up a medical degree. Ronan became the first disabled person ever admitted to the National College of Physical Education, becoming a full-fledged Medical Doctor, specializing in Orthopedic Sports Injuries, with a degree from prestigious Trinity College.

Then at 30 the doctor decided to have a go at singing.

Less than one year after beginning to study music, he won both the John McCormick Cup for Tenor Voice and the BBC talent show Go For It The following year, he won the distinguished International Operatic Singing Competition in Marmande, France.

Tynan's debut album a top five hit in two weeks quickly went platinum. Since debuting with The Irish Tenors, Tynan has become an international sensation.

His latest CD is a 16-song collection of standards, including three made famous by his idol Mario Lanza - Because You're Mine, I'll Walk With God and Beloved. He also sings God Bless America the way Irving Berlin must have intended it to be sung.

HAL HOLBROOK took his college honors project, turned it into a one man show and opened Mark Twain Tonight! Off-Broadway at New York City's 41st Theatre in 1959. It became the gold standard for one-man theatrical performances.

We assume his honor projects professor gave him a passing grade.

After performing Off-Broadway and around the country for several years, Mark Twain Tonight! opened on Broadway in 1966, and Holbrook took home a Tony Award as Best Actor in a Dramatic Role and the Drama Critic's Circle Award. The performance was then taped for a CBS-TV special, and for this performance, Holbrook received an Emmy nomination.

Columbia Records' Goddard Lieberson, commissioned three separate LPs of Holbrook's Mark Twain Tonight! (1959 to 1967), the best of which is on CD for the first time with this new collection.

Now in its 48th year Mark Twain Tonight! Holbrook performs 20-25 shows a year. By his estimation, he's performed the show well over 2,000 times. He was also featured in the Ken Burns' Mark Twain, specials which aired this past week on PBS.

The Best of Hal Holbrook in Mark Twain Tonight! contains the most memorable tracks from three Columbia LPs, released in 1959, 1961 and 1967.

The CD booklet features new liner notes with commentary by Hal Holbrook, and contains the original notes by Goddard Lieberson from the first Mark Twain Tonight! LP plus photos by Chuck Stewart from the original theatrical show.


NYU STAGES READINGS


CAP21 Conservatory, America's largest and most respected acting school specializing in musical theatre performance, will present readings of two new musicals currently in development with CAP21 Literary Manager Eliza Ventura, as part of NYU/Tisch School of the Arts HOTINK Festival.

HOTINK brings undergraduate actors, Tisch graduates and other professional theatre artists together to present 21 readings of new and unproduced plays and musicals in a five-day time span.

CAP21 will present Beach Radio with book and lyrics by Drey Shepperd and music by Gerard Kenny. Musical director will be Michael Hicks.

Monday, January 28th.

Set on a New Jersey beach, a group of college-bound friends explore their sexuality guided by an opinionated radio sex guru.

The musical will be directed by Tony nominee Larry Fuller



Larry Fuller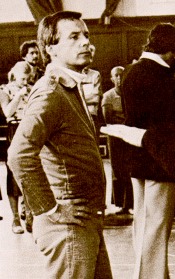 Fuller staged the London production of Funny Girl, starring Barbra Streisand, and repeated that assignment for the American National Touring Company.

Touring productions which Fuller has directed and choreographed include Music Man starring John Raitt, I Do I Do with Jane Powell, The Wizard of Oz with Tom Poston, Kismet with Anna Maria Alberghetti and John Raitt, On a Clear Day You Can See Forever with Shirley Jones and Coco with Ginger Rogers.

Fuller collaborated as choreographer with director Harold Prince in New York On the 20th Century in London, the world premiere of Evita and then repeated the task in New York for which he received a Tony nomination. He also received Tony nominations for his work on Sweeney Todd, and On the Twentieth Century.

As part of HOTINK, CAP21 will present a reading of the musical Gold with book and lyrics by Timothy Mason and music by Mel Marvin on Saturday, January 26th.

Set in Norway in 1940, a group of young Norwegians strive to keep their country's gold out of Nazi hands. The musical by commissioned by the Royal National Theatre in London.



David Mamet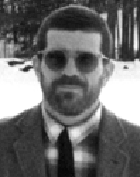 Nick Corley will direct with Vadim Feichtner as Musical Director.

Feichtner is a graduate of NYU's musical theater's writing program.

He was the pianist on Infinite Joy: The Songs of William Finn which was recorded live at Joe's Pub.

Singers on that CD include Liz Callaway, Carolee Carmello, and Mary Testa, with Finn evening tackling a few tunes.

Some of the writers whose work will be read during this event include Keith Bunin, Rinne Groff, Israel Horowitz, Len Jenkins, Arthur Kopit, David Mamet, Mel Marvin and others.

Directors include Larry Fuller, Nick Corley, Joel Bishoff, Elowyn Castle, Bob Kalfin, Todd Weeks and others.

The readings take place at the Tisch School Department of Drama, from Thursday, January 24 through Monday, January 28th.


ANOTHER OPENING, ANOTHER SHOW

LARGO DESOLATO by Vaclav Havel author and current president of the Czech Republic.



Vaclav Havel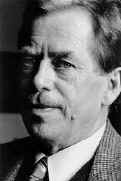 Fear, paranoia and oppression push a man to the breaking point in this Spring Theatreworks' presentation

Translated into English by Tom Stoppard, directed by Steven Gridley Largo Desolato examines the eternal battle between the state and the individual.

A former political dissident, Havel spent nearly five years in prison between 1977 and 1989 - the year he was elected president of what was then Czechoslovakia. He was elected president of the Czech Republic in 1992.

During the late 1970s - early 1980s his works were banned by the Czech government, but were widely circulated and printed throughout Western Europe.

Havel wrote Largo Desolato 1986.

The cast features Doug Simpson, Karen Allen, Chad Afanador, Matthew Drennan, Cody Landis, Erin Treadway, David Wylie and Sarah Cameron

This production runs January 30th - February 3rd at Center Stage New York.

Founded in January 2000, by company Artistic Director Jeffrey Horne, Spring Theatreworks is a not-for-profit organization dedicated to challenging the limits of modern theatre through productions of new work and established modern texts that offer audiences a new theatrical interpretation of the real world we see everyday.

THE WHO'S TOMMY a single performance of the popular 1993 stage musical about a silent young man whose pinball skills turn him into a superstar, on Jan. 29. Tennessee Performing Arts Center, Nashville.

PROOF David Auburn's Prizewinning play, directed by Samantha K. Wyer, starring Traber Burns as Robert and Angela Pierce as Catherine.Marc A. Gray is cast as Hal, and Courtney Peterson portrays Claire.

Scott Weldin is in charge of sets. Costume design is under the direction of Sam Fleming. Tracy Odishaw heads up lighting and Brian Jerome Peterson is responsible for sound. Elizabeth Lohr serves as the stage manager.

Opened last night with a run through Feb. 9 at Tucson's Temple of Music and Art. Then the production moves down the road to Phoenix with performances at the Herberger Theater Center Feb. 14-March 3.

DIRTY BLONDE a comedy about Mae West was written by Claudia Shear who also stars in the James Lapine directed production. January 29 through Feb. 10 in Fort Lauderdale, Florida

SOUTH PACIFIC starring Michael Nouri and Erin Dilly opens January 29 as part of the Broadway in Austin series, Austin Texas. Performances run through Feb. 3.

CINDERELLA starring Eartha Kitt and Paolo Montalban brings the glass slipper to Philadelphia January 22 through 27.


WHO'S WHERE


MAUREEN McGOVERN

Maureen McGovern receives NARAS Award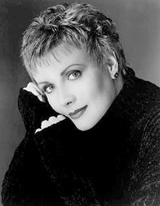 is a great talent and a delightful person.

( See Broadway To Vegas column of July 13, 1998 )

If you have been lucky enough to already purchase tickets you can enjoy her this week performing January 24 at The Barn of Wolftrap in Vienna, Virginia.

During this sold out celebration Maureen will receive the NARAS Songs From The Heart Award.

Then on January 25 she opens a sold out three night engagement with the phenomenal Peter Nero at the Kimmel Center for the Performing Arts in Philadelphia, PA.

ELTON JOHN AND BILLY JOEL Tuesday at the Fleet Center in Boston, Mass.

BARRY MANILOW on Wednesday opens a five night gig at the Rosemont Theatre in Rosemont, Ill.

DON RICKLES will unleash his humorous venom on stage at the Barbara B. Mann Hall in Ft. Myers, Florida. Then he'll beat it out of town so he can perform Friday at Florida Atlantic University in Boca Raton, FL. There he will be joined by Debbie Reynolds, everyone's favorite Tammy who will delight the crowds with her own brand of song and sass.

LUTHER VANDROSS performs tomorrow at the War Memorial Auditorium in Greensboro, N.C. On Thursday he's in the spotlight at the Orpheum Theatre in Minneapolis, Minnesota and Friday finds him singing at the Star Plaza Theatre in Merrillville, Indiana.

DIANE REEVES can be found on stage tomorrow at Ramshead in Annapolis, Maryland. On Thursday she begins a four-night stand at the Manchester Craftsmen's Guild Hall in Pittsburgh, PA.

THE BOYS CHOIR OF HARLEM sings up a storm tomorrow at Foxwoods Casino in Mashantucket, CT.

DAVIS COPPERFIELD will be making things appear and disappear for two nights tomorrow and Tuesday at the Bob Carr Performing Arts Center in Orlando, Florida.

BRIAN McKNIGHT has a busy week. Tonight he is starring at the Tropicana Casino in Atlantic City, N.J. Wednesday he's at the Ryman in Nashville. On Thursday it's the Palace Theatre in Louisville, KY. Friday he'll be in the spotlight at the Riverside Theatre in Milwaukee, Wisconsin and he closes out the week, Saturday, on stage at the State Theatre in Minneapolis, Minn.

LINDA EDER AN EVENING WITH MARGARET WHITING

Margaret Whiting performing in Las Vegas in 1952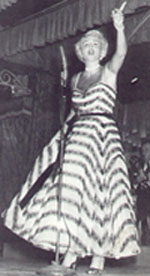 stars in Florida Atlantic University's Sunshine Concert Series.

This takes place at the Boca Raton Campus University Center on Saturday, January 26.

Hosted by Mary Cleere Haran.

The evening is presented by Lincoln Center's American Songbook Series

A recording artist who was on the top of the charts in the 1940's. Whiting appeared infrequently in Las Vegas.

The daughter of noted songwriter Richard Whiting of Tin Pan Alley fame, she was the first female vocalist to venture into music publishing, forming her own company to publish some of her father's unpublished works.

Prior to the Florida engagement she appears Friday, January 25, at Stanley H. Kaplan Penthouse in New York City.


PIFFLE AND PROFUNDITIES


SIEGFRIED AND ROY

SIEGFRIED & ROY with ELIZABETH TAYLOR
who star in their own show at the Mirage hotel in Las Vegas, recently showed off their tigers as well as Roy's new look to their celebrity pals.
With the multimillion dollar Krupp diamond on her finger and her Maltese dog, Sugar, in an Yves St. Laurent carrying case, movie icon Elizabeth Taylor enjoyed their show and then spent some time hanging out backstage with her longtime friends, who introduced her to Atlas, a five-month -old White Siberian Tiger.

Atlas took a whiff of Taylor's wrist and purred approval at her signature perfume.



PENELOPE CRUZ, TOM CRUISE, with SIEGFRIED & ROY
Roy, a long time fan of Taylor's, was sporting what appears to be her matching hair color in a new punk rock style. While his roots show, Elizabeth's do not, nor is she sporting the Kismet facial hair.

Roy shaved, but still had the - maybe he's auditioning for Rent haircut - when Tom Cruise came to visit. With a firm hand on his leg, Penelope Cruz, "helped" Cruise feed Titan, Siegfried & Roy's frisky six-month-old White Siberian Tiger.

Cruise flew 10 friends on a private jet to see the Magicians of the Century for the first time. "None of us had ever seen Siegfried & Roy, so we made the trip especially to see them," he told the illusionists. While they may have temporarily disappeared Cruise promised "we'll be back very soon."













Next Column: January 27, 2002
Copyright: January 20, 2002. All Rights Reserved. Reviews, Interviews, Commentary, Photographs or Graphics from any Broadway To Vegas (TM) columns may not be published, broadcast, rewritten, utilized as leads, or used in any manner without permission, compensation and/or credit.
Link to Main Page
---
Laura Deni



U.S. Postal Address: Post Office Box 60538, Las Vegas, NV 89160
CLICK HERE FOR COMMENT SECTION