! >
Broadway To Vegas
  
  REVIEWS INTERVIEWS COMMENTARY NEWS

MAUREEN'S MORNING AFTER


Maureen McGovern, the talented vocalist with the four octave range, is currently starring in The King and I at the Auditorium Theatre in Chicago.



Maureen McGovern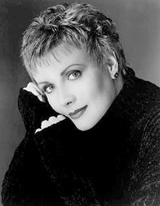 Twice the charming lady had the Number One song world wide; first with There Has To Be a Morning After, and then again with Can You Read My Mind.

While fans thought she was on top of the world as well as on top of the recording charts, she was at rock bottom, working as a secretary using the name Glenda Schwartz. I interviewed the charming performer backstage in her dressing room at the Desert Inn Hotel, Las Vegas.

It's been a long road for Maureen's personal, 'morning after.'

"In 1970 I was working as a full time secretary and a part time folk singer in Ohio. My then husband was a drummer in a jazz trio. I'd play guitar and sing during breaks in his group's shows at Kent State University," explained Maureen, who was born in Youngstown, Ohio. She'll be celebrating her birthday on July 27th.



Maureen McGovern and Gregory Harrison in Of Thee I Song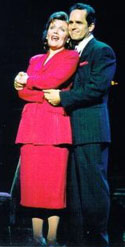 "I was a loner in high school and at 18 I married the drummer. My role models were Judy Garland and later Barbra Streisand. My Dad sang every Tuesday night in a barbershop quartet and I remember crawling around under the table, listening and seeing all these legs.

A locally based manager signed me to a good contract - good for the manager, who was guaranteed as much as 40 percent of my earnings. I was naive about that kind of thing. He explained that the more money I made the more he should make and I went ahead and signed. When you're starting out, you're desperate to get out of a small town.

"Ironically, within six months, I had a recording contract. A producer in Cleveland heard me, signed me and then shopped my tapes to labels.

The Morning After was written for The Poseidon Adventure. I didn't sing it in the film, but my version, released by 20th Century Fox Records, did nothing until the song was nominated for an Oscar. When it won, there was an overwhelming demand for it, and by October, it had gone gold. Then I recorded 'son-of-morning-after'," she quipped, referring to the similar in style We May Never Love Like This Again, for The Towering Inferno. That single was a hit, too.

"Everybody was going around singing this very positive The Morning After and it was the worst time of my like," she lamented. "I was getting divorced from my husband, my mother learned she had cancer and I was in several lawsuits. I was so far in debt I couldn't see the light at the end of the tunnel.

"I came off the road in 76 flat broke. I got a job with the Francis X. Kohler public relations firm in Marina del Ray (Calif). I used the name Glenda Schwartz.

"My records weren't selling particularly well here, but I was doing well internationally. So, I'd be working in the office and get a call to come to perform in Europe, where I would be treated like a queen. Francis' wife would come to the office and fill in for me. Then I'd come back from the two or three days of work and go back to answering the phones.

"There were two more recording deals, which came and went quickly. One of those meant I recorded the movie song Can You Read My Mind from Superman. The other contract was with CBS' Epic subsidiary, where I recorded an album's worth of material that included a tract with jazz pianist Chick Corea. The album was never released.

"That was very depressing," she admitted. "I walked away from recording in 1980 and was perfectly willing not to make another record again. I just knew I'd be a secretary all my life and I was glad I'd taken typing in high school.

"I was also very depressed and not feeling well," confessed the bubbly lady, who seems full of vibrant energy. "My life changed when I discovered that I'm allergic to all dairy products, " she explained. "I also don't eat red meat. Sure, there are times when I really miss some things, but it's terrible what happens if you are allergic to dairy products and eat them. So, stay on my diet and I'm a new person.

"I decided I'd never make another record again or do anything unless I could do it on my terms. I wanted to stretch. I wanted to get into the theatre. I signed to do The Sound of Music in Pittsburgh and flew there with enough clothes in my bag for two weeks.

"But on the way I stopped in New York and auditioned for Joe Papp. What I thought was going to be the beginning of a career in summer stock never came to pass because Mr. Papp signed me to his New York Shakespeare Festival production of The Pirates of Penzance with Linda Rondstadt.

"I played in it for 14 months. I was impressed with Linda. She was strong and did what she wanted to do. She was the boss of what she did. I decided to be that way with my life, too.

"I moved to the hit show Nine and then I originated the role of Mary in an off-Broadway musical Brownstone."

McGovern went on the star in 3 Penny Opera with Sting, Alvin Epstein and Georgia Brown.

Back on top, Maureen was in demand. Devoted to her Yorkshire terriers, who travel with her, the ageless performer is also a talented composer of children's music, and regularly performs at top cabarets, such as the Cinegril in Los Angeles.

Her 12th album released late last year is The Music Never Ends: The Lyrics of Alan and Marilyn Bergman.

She also released Baby I'm Yours, a collection of baby-boomer favorites recorded between 1956 and 70, and contributed to a pair of Grammy Award nominated albums - the gospel Amen and Disney's Winnie The Pooh soundtrack.

Sure beats typing and filing.



Broadway To Vegas is supported through advertising and donations. Priority consideration is given to interview suggestions, news, press releases, etc from paid supporters. However, no paid supporters control, alter, edit, or in any way manipulate the content of this site. Your donation is appreciated. We accept PAYPAL. Thank you for your interest.




SKATING ON THIN ICE


The Stardust Hotel in Las Vegas pulled out all the stops to welcome Olympic skating champion Dorothy Hamill as the new star of their Enter The Night production show. An elaborate press reception including live music, gourmet hot and cold hors d'oeuvrs, a pastry table that featured an ice sculpture of Dorothy Hamill and desserts that wouldn't quit.

Dorothy proved to be as charming as she is talented. The mother of a nine-year-old daughter, Dorothy told me that her daughter really isn't interested in skating. The girls' interests are horses and much to her mother's amazement, baseball.



Dorothy Hamill. Photo By: Laura Deni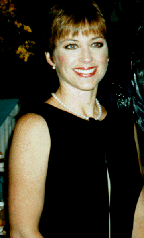 As for Dorothy, 41, she hasn't aged a day since she brought home the gold. Her figure is perfection. There isn't an ounce of fat on her. Her muscle honed body is feminine. Her muscles don't bulge or ripple, just seduce the men and instill the nicest kind of envy in women.

Dorothy has two skating segments. Portable ice rinks used by specialty acts in production shows are thin in surface and small in size. During the first effort she appeared slightly nervous and guarded. "It's difficult to obtain any momentum on such a small rink," she admitted, referring to the 15-by-30 foot rink. "I was trying to figure out how not to skate off the stage."

The second ice skating segment was a 10.0 winner. Male dancers strutted their stuff on the stage behind the rink while Dorothy showed off what she can do on blades. Lazar lights effectively added depth and drama to the segment.

Afterwards Dorothy changed into an always fashionable "little black dress" with pearls and seemed to enjoy her reception as much as the guests.

The hotel immediately increased the ticket price by $10.00. We're not sure if that was to help defray the cost of the opening night party, pay Dorothy's salary or because the hotel realized 'what the traffic will bear' has always been the marketing credo. Still, at $39.85 Enter The Night is still one of the best buys in Vegas.


SINATRA LAWSUIT


Thirty-five years ago some stupid kidnappers put a loaded gun to Frank Sinatra, Jr.'s head and kidnapped him from Room 417 at Harrah's Hotel, Lake Tahoe, Nevada. For thirty-five years the only son of the late crooner has lived with a black cloud of suspicion over his head - that he had staged the event as a publicity stunt.

Now the kidnappers are coming forward admitting the young singer had nothing to do with the kidnapping, and they are sorry for the act. To emphasize how stupid they were and how sorry they are, they have sold the movie rights for over a million dollars.

Whoa, Nelly!

Last Wednesday Frank Sinatra, Jr.'s attorneys, Richard B. Specter of Corbett & Steelman in Irvine, Calif. and James H. Walsworth of Palm Springs, Calif., filed a lawsuit in Los Angeles County Superior Court against Barry Keenan, Joseph Amsler, John Irwin, Peter Gilstrap, Columbia (Sony) Pictures and New Times, Inc.

Thirty five years ago, the Sinatra family was subjected to the extreme distress of the kidnapping of the young Sinatra. While the perpetrators were eventually convicted and served time in prison for that crime, the Sinatra family have lived with the horrific memories of that event ever since.

Now, those convicted criminals are attempting to capitalize on that crime, by the sale of the kidnapping story rights to Columbia Pictures, for a sum reported to be in excess of $1 million. Kidnapper Barry Keenan has been on the interview circuit with, among others; the New Times Los Angeles, CBS' Public Eye With Bryant Gumbel, and People.

I've known Frank Sinatra, Jr. for almost 30 years. When the suit was filed I spoke to one of his lawyers, former judge James Walsworth, who was the person who married Frank and Barbara Sinatra.

"The defense was that Frank was a co-conspirator and that innuendo has followed him forever. I have people who say, 'Oh yeah, I remember, he was considered to be a part of that.' They remember the innuendo, but they don't remember that the guys were convicted and sent to prison.

"The fact remains this creep has lived all these years knowing that the innuendo he spread that Jr. was culpable in this thing has drastically damaged Frank Jr.'s life and career. Yet, he spent all these years in total silence about it," fumed Walsworth about Keenan.

"Then he sees a way to make a profit and, in the meantime, he carefully and very wisely waited until Frank Sr.'s out of the picture before he bravely comes forward. The guy's a coward, a bonafide coward. There isn't any more cowardly thing in the world that kidnapping.



Frank Sinatra, Sr and Jr. from a Life Magazine cover Aug 23,1963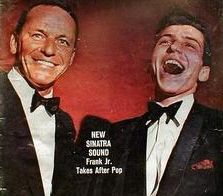 "He is a bonafide coward and he proved that by waiting until Frank, Sr. was out of the picture, even though shortly before his death everybody knew he was out of the picture. He would not have dared to do this then. He's just too much of a coward."

Referring to how the kidnapping affected the victim, Walsworth continued, "According to both his mother and his father, before the kidnapping he was a bubbly type of personality. And, as you know, he is not that any more, and hasn't been since the kidnapping. There could have even been things that happened in the kidnapping that we don't know about ... pestering ... or something else."

The attorney also referred to the terrible suffering his parents and sisters endured. "Lord knows, especially Nancy, Sr," stressed the attorney. "It was the worst time of her life. She aged dramatically during that period. She still cannot talk about this episode without having visible emotional distress."



Barry Keenan in 1964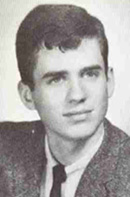 Sinatra, Jr. recalled that he had seen his mother just a few days before the kidnapping and after he was released he saw that his mother aged at least ten years right before his eyes. Sinatra, Jr. became a man who looks behind doors before fully opening them and he doesn't like being alone in hotel rooms.

"He is a bonafide liar," emphasized Walsworth referring to Keenan's statement on television and in print interviews that he had been friends with Nancy and been inside the Sinatra home. "A lot of the things he said in the interview with Bryant Gumbel are patently false."



Barry Keenan today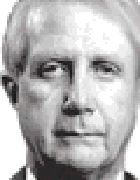 "For example, that he was close to the Sinatra family in high school. I've spoken to Nancy and she said the only thing they ever had in common at all is that both of their pictures are in the high school year book," continued Walsworth. "She doesn't remember who he was. He's never been at the house. She's talked to her high school friends and they never associated with him."

Keenan also stated that he frequently attends the same celebrity parties as Sinatra, Jr. That statement struck me as odd and Walsworth agreed. "This business about he and Frank seeing each other at cocktail parties at Malibu and Beverly Hills. Well, you know Frank well enough, he doesn't go to cocktail parties to begin with. That's a different Frank than you and I know.

"For thirty-five years, Frank, Jr. has never done anything in an offensive manner to vindicate himself from this matter. But after this has come up in this distasteful way," emphasized Walsworth referring to the movie deal and interviews, "I'm very proud of him for taking the initiative and saying enough is enough. You've ruined my family's life. You've ruined my life. Now, you're not going to profit by it anymore."

Keenan is white, handsome and charismatic. One might question whether there would be photo spreads and television interviews if he didn't fall into that descriptive phrase.

Keenan served time in prison. Keenan was not permitted to keep the ransom money. Frank Sinatra went to his grave loathing and despising the men who kidnapped his son. Despite what Keenan propagates, Sinatra never "forgave" them.

Now that Sinatra is dead the kidnapper surfaces. Keenan is attempting to elevate his character by climbing on the back of his victim.

As in so many cases in our society, the victim continues to be victimized, while the guilty are turned into folk heroes.

That's not a crime.

It should be.


FRINGE FESTIVAL


The second annual New York International Fringe Festival (FringeNYC) will present 144 productions and over 20 special events by the word's best emerging theater companies and performing artists, from August 19th through 30th. It's continuous free live street performances, buskers, visual arts programming and outdoor events. FringeU will offer a series of panel discussions, workshops and conferences. FringeJr has children's and family fare.

The two-week long series will be held in 17 of NY's Lower East Side performance spaces. Last year New York became the seventh US city to host a fringe festival, joining Seattle, Chicago Minneapolis/St. Paul, Philadelphia, Orlando and San Francisco. The event is a production of The Present Theatre Company, Inc., under the direction of Elena K. Holy, Aaron Beall, John Clancy and Diane Paulus.

For more information on FringeNYC, becoming a volunteer, or on specific programs, call (212) 307-0229, write to FringeNYC, 445 West 40th Street, New York, N.Y. 10036, or visit their web site at http://www.fringenyc.org.

Street performers who dream of being picked from the concrete and transported into a venue for big bucks should keep their feet cemented in reality. There have been street performers who have caught lightening in a bottle; Harry Anderson and Shields and Yarnell to name only two.

Recently several street performers were plucked from the New York Streets and placed on the stage of Las Vegas mega-resort New York-New York in a production named MADhatten. A year later they found themselves back on the streets after the show abruptly closed after an 11 month run.

Many hurt feelings and a few threatened lawsuits have resulted.

I wasn't surprised the show closed. I was amazed that skilled producers thought people would pay to see what they get thrown in their face for free on the streets. I recently saw Tony "Pots and Pans" Walls performing around the N.Y. theatre district, a New York-New York Hotel jacket hanging from his equipment.

There were many other excellent performers in the Vegas show, such as artist Jean Francois.

For a street performer to successfully make a transition from performing for at-will-donations thrown into a container into a buy-a-ticket operation, the performer has to deliver something beyond what they offered the pedestrians.


ROBESON SHOW PREMIERE
Photograph of Paul Robeson, Junior at Rutgers University. Rutgers Special Collection and University Archives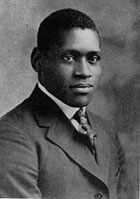 Tonight, Monday, July 13, is opening night for Paul Robeson, All American, a play which commemorates the centennial of Robeson's birth.

Written by Ossie Davis, a friend of Robeson, additional dialogue is by Jonathan Bolt.

The play recently completed a mini-tour at New Jersey theatres. It's New York engagement will permit thousands of children to attend free through Theatrework's Free Summer Theatre program, now in its tenth year.

This play is one of many events being presented this year celebrating the gifted American athlete, scholar, actor and singer who dedicated his life and great bass voice to the cause of human rights.

Paul Robeson, All American features original music by Jason Robert Brown as well as his new arrangements of traditional music.

The show is directed by John Henry Davis, a veteran of numerous Theaterworks shows.

Performances are at the Tribeca Performing Arts Center at the Borough of Manhattan Community College.


WHO'S WHERE


AN EVENING WITH JERRY HERMAN at the Booth Theater has been extended two weeks through Sept. 30 due to overwhelming ticket sales. Lee Roy Reams and Florence Lacey co-star with Herman.

BRYAN HULL has returned to The Fantasticks. The veteran actor had played Old Actor for 7,102 consecutive performances, that's almost 17 years. Taking the acting credo "break a leg" a little too literally, last March 21 he did just that in a street accident. Fortunately, all is well and Hull returned last Tuesday to the show, which is housed at the Sullivan Street Theater, N.Y.

JOHN DAVIDSON who was last seen on Broadway starring in State Fair is back on the boards at the Papermill Playhouse, Millburn, N.J., starring in The Will Rogers Follies. The personable singer plays the title role, while Betty Blake co-stars as Will Roger's wife.

YALE REPERTORY THEATRE has announced their directors for the 1998-99 season. Recruited by artistic director and dean of the Yale School of Drama Stan Wojewodski, Jr., they are; Lee Breuer, Evan Yionoulis, Seret Scott, Mark Rucker, and Joseph Chaikinto.

DEBBIE REYNOLDS HOTEL AND CASINO Las Vegas will go under the auctioneer's hammer August 5. "There's no more time to fool around," said Debbie's son, CEO Todd Fisher who is understandably a bit bitter. He indicated he had stopped drawing a salary and conceded that shareholders are likely to lose everything. Last month the hotel fired 46 employees, leaving 22 to operate the 193 room hotel and 500-seat showroom.

RODNEY DANGERFIELD returns to the MGM-Grand Hotel, Las Vegas, for an August 27-Sept.2 engagement. The comedian opened his Dangerfield's Comedy Club in New York in 1969 where all-comedy shows are presented seven nights a week, featuring top, contemporary comedians. Rodney's HBO specials are all taped at the club. Upcoming are laugh makers; Jim McCue, Lenny Varnedoe, Richie Byrne, Justin McKinney, Jerry Diner, John Rizzo, Joe Mulligan, Andres Fernandez and Nancy Redman.

MOLLY RINGWALD'S sister and cousin are part of the punk band Heat Creeps. They perform at Bollocks Club, Los Angeles on July 25.


THIS AND THAT


THE TALKEETNA MOOSE DROPPING FESTIVAL takes place in Alaska for the 26th straight year.

Next column July 20, 1998
Copyright: July 13, 1998. All Rights Reserved. Reviews, Interviews, Commentary, Photographs or Graphics from any Broadway To Vegas (TM) columns may not be published, broadcast, rewritten, utilized as leads, or used in any manner without permission, compensation and/or credit.
Link to Main Page
---
Laura Deni




For the snail mail address, please E-mail your request.
CLICK HERE FOR COMMENT SECTION