! >
Broadway To Vegas
  
 SHOW REVIEWS CELEBRITY INTERVIEWS GOSSIP NEWS

| | |
| --- | --- |
| | |
POLE DANCE YOUR WAY TO PHYSICAL FITNESS AND ROMANCE - - NORMAN ROCKWELL: BEHIND THE CAMERA - - BRING A BANANA WIN TWO FREE TICKETS - - CAMERON MACKINTOSH ENDOWS THEATRES - - RUSH LIMBAUGH THE MUSICAL - - TEACHING A PANDA CHINESE - - SECOND CITY OFFERS IMPROV CLASSES - - FREE LOVE IN TIMES SQUARE - - DONATE . . . Scroll Down


POLE DANCE YOUR WAY TO PHYSICAL FITNESS AND ROMANCE
Martha Stewart wasn't afraid to try pole dancing on her show
Oprah Winfrey used her show to spotlight pole dancing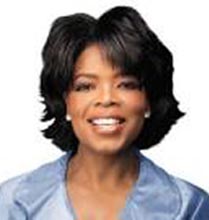 Oprah Winfrey, Martha Stewart, and poll dancing - in the same sentence.

Learning how to pole dance is the latest craze. Taken out of the sleaze category into keeping physically fit, helping to lose or maintain weight - not to mention getting a guy's attention.

Classes in how to use that pole are popping up all over the world in ordinary cities. Respectable women of all ages and sizes are clamoring to sign up.

The Oprah Winfrey Show has featured pole dancing as an aerobic exercise. Actress Lindsay Lohan practices it every day. Kate Hudson says she owes her luscious curves to this new fitness routine. For a special exercise-themed show, Martha Stewart and S Factor founder Sheila Kelley demonstrated a few moves from a sensual and intense pole-dancing workout.

A London physician prescribed pole dancing lessons to a patient suffering from depression.

Favorite events include birthday parties, engagement showers, girls night out and even divorce parties. The week before Valentine's Day seems to be a popular time for women - eager to give their guy a sweetheart surprise - to sign up for a class.

Experts say it is a great cardio-vascular workout, that it increases flexibility and improves posture.

As a serious form of exercise - those who attend regular sessions - will learn which is their dominate arm and discover leg and torso muscles they didn't know they had.

All pole classes stress safety and most require participants to sign releases. Because pole dancing is low impact, high intensity, it can be used by people not in top condition. However, it is not a form of exercise or dance that can easily be picked up without first receiving instruction. Pole dancing can also be damaging if not done properly, including a proper warm up.

Anyone considering a pole dancing class needs to check out the qualifications of the instructors.

Sheila Kelley attended New York University's famed Tisch School of Arts as a Dance major. She is the author of The S Factor: Strip Workouts for Every Woman.

When she starred in and produced the film, Dancing at the Blue Iguana, she needed to prepare for the role of "Stormy" by learning how to striptease and pole dance. As a result, her body became long, lean and fit. She decided to take her knowledge of ballet, exercise and exotic dancing and combine them into the - S Factor.

Studios offering her S Factor pole dancing classes are located in Los Angeles, New York, Chicago, Houston, San Francisco, Encino and Orange County, CA.



Jennifer D'Ovidio. Photo by William D'Ovidio.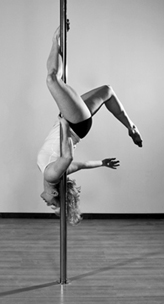 To open a business in a down economy, some might think the person is standing on their head. Jennifer D'Ovidio sometimes is upside down, but only when she is pole dancing. A month ago she opened X-Polsé Pole Dance Fitness studio in Fairport, a suburb 9 miles east of Rochester, NY.

Opening up a exotic dance studio may not be as financially risky as it sounds. There is an over saturation of children's dance studios. Mothers, who as children took tap, ballet or acrobatic classes, relate to a dance class environment. Teaching exotic dancing to middle class wives, mothers and girlfriends has come of age.

D'Ovidio, a certified fitness trainer with 15 years of formal dance training, offers a variety of classes for beginners through advanced, along with non-traditional exotic dance styles such as chair dancing and Broadway burlesque. Group parties and a Girls Night Out on Fridays are popular.

D'Ovidio, who has experience as an exotic dancer, spoke with Broadway To Vegas about the pole dancing phenomena.

"I was an exotic dancer at a little club here in Rochester called Foxy's Tavern in Scottsville, NY. I was very loyal to them. I felt very safe and secure there, which was why I stayed with that particular club. I sincerely believe that had I not been doing what I was doing, I would not have started this business."

D'Ovidio was a Dean's List student at the Rochester Institute of Technology when, in 2008, she drew up a mock business plan for a children's dance studio, which also included a Friday night ladies pole dancing class.

She was told mixing the two wouldn't work.



Jennifer D'Ovidio in her studio. Photo by William D'Ovidio.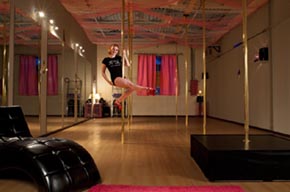 "I came to the conclusion that a children's dance studio isn't going to fly here," said the lady who has a business head atop a sexy body. "The market was too saturated. I was really concerned about how much risk I was taking. I wanted to minimize that risk if I was going to open a business."

"Initially I thought I was going to have a lot of college students and that's not the case. The demographics is a little higher than that in age. I'd say probably it's early 30s."

"In my area they actually just added an Introduction to Pole Dance in one of the Senior Citizen Centers. So, the senior citizens are getting on the band wagon, too."

"The numbers I had set out for myself to accomplish opening up were actually doubled," she exclaimed. "I expected 25 students starting out and ended up with 58. It was definitely a good first month, especially since this was new to this area. I have six parties booked this month. That is definitely a good number. I can't complain. I am very happy with how well things are doing. I love the business side of it as much as I do the creative side. I want to grow this as I go along," stated the lady who tied the knot with photographer William D'Ovidio in October 2008.

"At this point I have people coming from a larger area that what I expected," she related about several students who commute an hour to get to class.

The studio is decorated it with a French theme. The studio's name - X-Polsé Pole Dance - is a take on the French word "exposé."

"This is my philosophy. I'm very fortunate to have a formal dance background, because I pull from that in everything that I teach. For example, I have students do an exercise called feet sweeps. Essentially, it's putting the leg in the same position that you would do an attitude turn. That attitude turn is the same position that you hold your legs for ballerina spins."

"I make a connection between a lot of the formal dance training that I have and put it into my lesson plans, into my teaching. I've had students comment that the way that I break things down for them makes it a lot easier for someone to understand," said D'Ovidio.

If you don't happen to own a stripper pole, you can still get the leg up.

"There are a lot of people who are in situations where they can't have a pole in their home," said D'Ovidio "I have a student right now who wants to get a pole, but she rents an apartment. I recommend that everyone screws their poles in to their ceiling. There are different products on the market. The X-pole is very good but I have witnessed it still come down. So, just in general, the best thing you can do is screw that thing in and then you know it's not going anywhere."

"The pole exercises are a lot different from chair dancing and using other household objects as a workout opportunity," she emphasized. "You can certainly increase your flexibility by putting your foot up on the kitchen table and using it how you would use a ballet bar. I offer a session for my students called Poling Around. It's just an open pole practice time. I have it three times a week, where they can come in a practice. It's not instructive. It's just an opportunity for those people who don't have and can't purchase poles, to come and practice what they learned in class."

What one can learn in class will depend upon a variety of factors.

"The format that I have is that the first lesson is going to concentrate on safety and fundamentals. I do start the students off slow."

Students advance up that pole.

"When you get to the Risqué Routine class the calorie burning is going to be more because there is faster paced music and the students are already familiar with the moves. This is a chance to utilize the skills they already have and we put them into routines. That's a lot of fun."

Virtually every woman has participated in some form of an aerobics workout, either in her own home or at a gym. "In a couple of years, if people know you pole dance they aren't going to ask you what club you dance at, but want to know what studio you attend," she declared.

This Friday and Saturday XPolse is offering an hour long lap dance workshop where attendees will "learn the secrets and techniques to givin' lap that is sure to please! Everything from posing, to seduction and tantalizing moves." The workshop ends with chocolate covered fruit and sparkling grape juice.

Pole Divas which offers franchises in Australia and New Zealand is offering "Sexy Valentines Day Workshops!" which tempt "Learn Tricks that will Wow your partner this Valentines Day."

The also offer both strip tease and lap dance workshops.

Any timid souls are first offered a glass of champagne.

The company emphasizes that "After years of extensive research, Pole Divas have devised a ground breaking movement that combines the techniques of gymnastics, yoga and dance, perfected by the sensual movement of traditional stripping moves, for that extra bit of spice!"

Pole Divas designed their own purpose built 'female only' pole and exotic dancing studios. They are beautifully lit to create a comfortable, sexy and feminine environment. In almost all classes there is one pole per student.

Nyla Farraz of Pussycats Pole Dance is a Pole Cat Power Licensed Instructor and Regional Director/Lead Pussycat. She is also busy, currently performing out of the country for the entire month of February. Her company Pussycats Alternative Dance Fitness for Women has branches in Scottsdale, Tempe, Mesa, Chandler, Gilbert, Glendale and Peoria, Arizona. They have a mission statement:

"It is our mission to remind every woman that the roles she plays as wife, sister, mother, friend, daughter, co-worker, maid, cook, caretaker, victim, or martyr do not define her. You are a woman first! Follow your dreams and desires in order to re-ignite your passions and honor your spirit.

"We provide women of all ages, shapes, sizes and experience levels a unique form of exercise that will strengthen and tone their bodies while unleashing their inner goddess in a safe, fun and encouraging environment. We call this form of exercise "alternative dance fitness™" and will burn fat and calories, help you lose weight, build strong muscle, rhythm, a healthy self-image and boost self-confidence! Sexy has no age or weight restrictions!"

Farraz is also part of a group that is campaigning to have pole dancing recognized as an Olympic sport. She admits there has been some resistance but is emphatic that what is taking place is "basically rhythmic gymnastics, just on a vertical steel pole. The material is no different."

Fun Pole Fitness in San Diego is owned by Marie Davidson. "Seven years ago I decided rather than just take group fitness classes I wanted to teach them. I am certified by ACE (since February, 2004) as a Personal Trainer and Group Fitness Instructor and by Pole Position Fitness (July 2007) as a Pole Dance Instructor. I've taught cardio kick-boxing, body pump, stretch, cardio and Gravity classes. I currently teach Beach Boot Camp, spin and abs classes at Powerhouse Gym in Pacific Beach in San Diego, CA."

"Pole fitness is definitely a walk on the wild side," admits Davidson. "But it's not meant to be exploitative. For the groups of women who try it, pole fitness workouts are partly an affirmation of our bodies, no matter what they look like. There's no shame in that. And that's why it's women only. Men are not allowed to attend the classes, unless the women in the class or group approve. The dress code is simple - a comfortable top (which will stay on) and a pair of shorts (so you don't slide off the pole and hurt yourself in pants or leggings)."



Stripper 101 in Las Vegas also includes instruction in how to give a lap dance. Photo: Stripper 101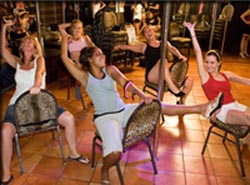 For those more interested in a one time event that is meant to be a giggle fest of a good time, then think Sin City. No better place to get a hoot on that in Las Vegas.

It's Stripper 101, which is billed as "a sexy, sweat-inducing low-impact aerobic workout designed to instill a positive body image and increase self-confidence, while developing a strong sense of sensuality. Over 25 actual strip club moves are taught, as well as choreography with boas, chairs and poles! The average calories burned with Stripper 101 range from 400 to 500 per hour."

"An exotic dancing workout involves lunges, squats, kicks, stretches that will all of the major muscle groups. Techniques for eye contact and channeling focus will also be addressed."

"I've had five generations, from grandma all the way to great-granddaughter working the poles," says Rachel Carter, a Stripper 101 instructor.

Stripper 101 is well connected with travel and tour groups, offering a popular option for those on Vegas trips who want to return home and brag to their friends how they learned to be an exotic dancer. The afternoon classes are held in the Stripper 101 studio above the V Theater in the Desert Passage Mall at Planet Hollywood Hotel and Casino on the Las Vegas Strip.

There is no nudity and graduates earn an official souvenir Las Vegas Stripper License.



Broadway To Vegas is supported through advertising and donations. Priority consideration is given to interview suggestions, news, press releases, etc from paid supporters. However, no paid supporters control, alter, edit, or in any way manipulate the content of this site. Your donation is appreciated. We accept PAYPAL. Thank you for your interest.


ART AND ABOUT


NORMAN ROCKWELL: BEHIND THE CAMERA

Puppy Love/Spooners by Norman Rockwell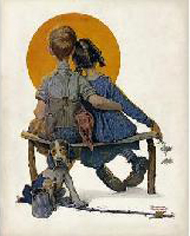 Young Lovers by Norman Rockwell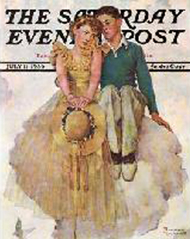 One of American's most beloved cartoonist and illustrators, his 116th birthday was even commemorated last Wednesday by a Google doodle Rockwell's works were featured on 322 Saturday Evening Post covers over 47 years.

Photography has been a benevolent tool for artists from Thomas Eakins and Edgar Degas to David Hockney. And to illustrators, always on the lookout for better ways to meet deadlines, the camera has long been a natural ally. But the thousands of photographs Norman Rockwell created as studies for his iconic images are a case apart. A natural storyteller, Rockwell envisioned his narrative scenarios down to the smallest detail. Yet at the easel he was an absolute literalist who rarely painted directly from his imagination.

Instead, he first brought his ideas to life in studio sessions, staging photographs that are fully realized works of art in their own right. Selecting props and locations, choosing and directing his models, he carefully orchestrated each element of his design for the camera before beginning to paint. Meticulously composed and richly detailed, Norman Rockwell's study photographs mirror his masterworks in a tangible parallel universe. Photography opened a door to the keenly observed authenticity that defines Norman Rockwell's art. And for us today it is a revelation to discover that so many of his most memorable characters were, in fact, real people.

Curator and author Ron Schick has undertaken a frame-by-frame study of the Norman Rockwell Museum's newly digitized photography archive, made possible by a Save America's Treasures project that has preserved a Rockwell archive of almost 20,000 negatives and made accessible the full range of the artist's reference photography.

The exhibition is on display through May 31, 2010 at the Norman Rockwell Museum in Stonebridge, MA.





SPREADING THE WORD


BRING A BANANA WIN TWO FREE TICKETS On Wednesday, February 10, the Beacon Theatre and Upper West Side of NYC will roll out the red carpet to welcome the all-new Cirque du Soleil production, Banana Shpeel - written and directed by David Shiner - which begins preview performances on February 25, 2010.

The activities begin with the unveiling of the new Banana Shpeel marquee on the Beacon Theatre with costumed performers arriving in a vintage Checker Cab accompanied by show musicians performing live. Upper West Siders and Cirque du Soleil fans will be on hand to greet the cast. To add to the fun, the first 100 guests who arrive with a banana will win two complimentary Banana Shpeel tickets. The bananas will be donated to Life Center, a local New York homeless shelter affiliated with The Garden of Dreams Foundation.

Then the Banana Shpeel cast will lead the public into the theatre for the Open House with an exclusive sneak peek at the Banana Shpeel creative process in the newly-restored Beacon Theatre. Guests will see rehearsals on stage, make-up demonstrations, costume displays, and take photos with costumed performers. Local restaurants and businesses will provide complimentary snacks.

THE SECOND CITY HOSTS BEGINNER IMPROV WORKSHOPS Explore the fundamentals of improvisation in this popular workshop for those with little or no improvisation experience.

For over 50 years, The Second City has been providing audiences with laughter, insight, and entertainment and has been the training ground for many of this generation's finest comedic actors, writers, and directors. Join the comedic ranks by jumping into this two hour workshop which focuses on the basic tools of improv (teamwork, focus, being in the moment, spontaneity, strong communication skills) in a fun, safe and supportive atmosphere. The workshop is taught by members of the Barack Stars company and focuses on fundamental improvisation techniques and improv games. It's a great way to explore your creativity, become more comfortable speaking in front of others and think on your feet quicker - all while having fun. These workshops are one-day events that are:

Limited to an enrollment of 20 students Two hours long. February 13 and 20 at Woolly Mammoth Theatre Company in Washington, DC.

AT LEAST AT JUILLIARD THERE WAS MUSIC William Schuman at Lincoln Center. Lecture by Joseph Polisi President, The Juilliard School. This program is part of Lincoln Center 50 Years, a series celebrating the anniversary of the groundbreaking of Lincoln Center and the treasures that the Library brings to the campus.

An American composer and educator, William Schuman (1910-1992) was an instructor at Sarah Lawrence College from 1935-1945, President of The Juilliard School of Music from 1945-1962, Director of Publications for G. Schirmer from 1945-1952, and President of Lincoln Center from 1962-1968. Among his many awards are the first Pulitzer Prize ever awarded for composition, and a 1989 Kennedy Center Honor "for an extraordinary lifetime of contributions to American culture." The William Schuman Papers are housed in the Music Division, The New York Public Library for the Performing Arts.

Joseph W. Polisi became the sixth president of The Juilliard School in September 1984 and is author of American Muse: The Life and Times of William Schuman (Amadeus Press, 2008), the first complete biography of the distinguished composer and arts administrator. The lecture is Monday, February 8, 2010, New York Public Library for the Performing Arts.





SWEET CHARITY


HEARTS FOR ARCS VALENTINE'S CHARITY BALL takes place Saturday, February 13, 2010 at the C.V. Rich Mansion in White Plains, NY. This elegant affair features a cocktail hour with delicious hors d'oeuvre by Caperberry Events, open bar all evening, a silent auction, three-course gourmet dinner, and dance music provided by DanceTime Entertainment.

Richard Skipper will be hosting the evening as Carol Channing with Christine Talbott-Sutin on piano. Guests will also enjoy a special performance by Rhythm Locura, the area's only LGBT salsa troupe, and the presentation of the their annual Hearts for ARCS Awards. This year's honorees are New York State Senator Andrea Stewart-Cousins and Bedford Hills businesswoman Marcy Furman. Both are being honored for their tireless efforts on behalf of Westchester County's HIV/AIDS and LGBT communities.

All proceeds benefit ARCS' programs and services for Hudson Valley residents living with HIV/AIDS. ARCS serves more than 10,000 people each year.


OTHER PEOPLE'S MONEY


SIR CAMERON MACKINTOSH 63, who became extremely wealthy by backing theatrical productions is making sure that the show goes on forever in his theatres. According to news reports, the impresario will endow the group of West End theatres that he owns with sufficient funds to ensure that they are maintained as live theatre venues in perpetuity.

Childless, his partner is listed as Australian-born theatre photographer Michael Le Poer Trench.

Most West End theatres are buildings protected from demolition. However, uncertainty hangs over their use whenever they are sold. The Empire in Leicester Square became a cinema, while the nearby Hippodrome is being converted into a casino and entertainment venue.

Mackintosh's intent marks the first time anyone has attempted to guarantee that the buildings remain a stage for plays and musicals.

The famed producer's properties include the Prince of Wales, where Mamma Mia! is running, the Queen's, where Les Misérables is playing, and the Prince Edward, currently home to Jersey Boys. Other theatres are; Novello Theatre showing Cat on a Hot Tin Roof Gielgud Theatre with Avenue Q Wyndham's Theatre where An Inspector Calls is mounted and the Noël Coward Theatre featuring Enron.

ELTON JOHN AND PARTNER DAVID FURNISH have announced that they have joined the production team as investors in Next Fall, a drama by Geoffrey Nauffts about two gay men whose five-year relationship is complicated by religion. The play enjoyed a successful mounting last year at Playwrights Horizons and is slated to begin previews February 16 at the Helen Hayes Theatre in NYC.

Directed by Sheryl Kaller, the production stars Patrick Breen as Adam; Maddie Corman as Holly; Sean Dugan as Brandon; Patrick Heusinger as Luke; Connie Ray as Arlene and Cotter Smith as Butch.




FREE LOVE IN TIMES SQUARE


Times Square - the crossroads of America. This Valentine's Day it's been touted as the place for "free" love - although marriage is an expensive proposition.

Practicality aside, for those who wish to propose or simply just say "I love you," there's no better place than Times Square.

Official of the internationally known landmark are trying to help.

The Hershey Store is suggesting that you propose, not on bended knee, but by using the famous ticker tape. How does someone propose on the ticker tape? Call or come by the store and tell them what message you would like to post. Within a couple of minutes it will be scrolling across the side of the building.

Looking to make a big splash as you dive into making the ultimate commitment? If a public proposal is your style, it doesn't get more public than the ToshibaVision screen in Times Square.

This Valentine's Day, you can propose in style by visiting the I'm On TV website. Then use your webcam to create an eight second video and add text that will be displayed on the massive screen for your future fiancé (and everyone else) to see. It's a fun and free way to pop the question this Valentine's Day. Submissions are accepted from until February 12th.



Ice Heart. Photograph by Bjorn Wallander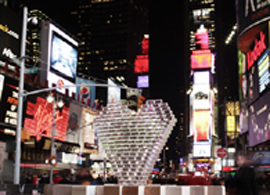 Capture a romantic moment with your loved one in front of Ice Heart, a 10ft sculpture made entirely of ice.

Beginning on the morning of February 11, 2010, designers from Moorehead & Moorehead, leading a team of ice sculptors and engineers, will create a 10-foot tall Ice Heart built of masonry-scaled blocks of ice in Duffy Square at 46th Street and Broadway.

By day, Ice Heart will provide a kaleidoscopic view of the Crossroads of the World, magnifying and distorting its colors and textures. By night, it will be a glowing beacon to celebrate the Valentine's Day holiday.

Moorhead & Moorhead's Ice Heart won the invitational competition, juried by representatives from MoMA, The Queens Museum of Art, Performa, and NYC Parks, among others.

The sculpture will be constructed by Okamoto Studios, a NYC-based artist collective founded by the father-son team of Takeo and Shintaro Okamoto, which has produced one-of-a-kind sculptures in ice that have been installed in venues from the Rockefeller Center to the runways of Fashion Week at Bryant Park.

The structural engineering firm is Robert Silman Associates, which has participated in arts related projects throughout New York City. The lighting, a key element to bringing the sculpture alive in the evening, is by Tillett Lighting Design Inc., an award-winning firm specializing in the illumination of landscape and public space.


JOB OPENING - TEACHING A PANDA CHINESE AND MATCHMAKING


It's always tough when the children get old enough to leave home.



Mei Lan. Photo Atlanta Zoo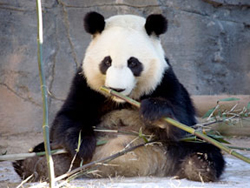 Such is the case at the Atlanta Zoo where parents Lun Lun and Yang Yang, and little brother, Xi Lan reside. Last Thursday they said good-bye to Mei Lan as she was loaded onto a FedEx Express plane flying to her parents' homeland, Chengdu, in the Sichuan province of China.

Known as Atlanta's Beauty, she was born almost 3 1/2 years ago in Atlanta but is a citizen of China, so to speak.

"She will be a valuable addition to the captive population of giant pandas at the Chengdu Research Base of Giant Panda Breeding. However, she will always remain in Atlanta in the hearts and memories of those of us who know and love her." wrote Heather Baker Roberts, whose technical title is Carnivore Keeper II. In actuality, since Mei Lan was no bigger than a stick of butter, Roberts was one Mei Lan's nannies and fell in love with her, as did her other care givers; Joseph T. Svoke, Kate Roca and Kenn Harwood Lead Keeper of Carnivores.

At the good-bye ceremony there was cake, a farewell poster and a limited edition FedEx pin.

"Mei Len will be traveling to China compliments of FedEx Express. She will not, however, be undertaking this journey alone. We have a Zoo Atlanta keeper going with her and she will also be accompanied by Tai Shan, the National Zoo's 4-year-old male. They both get to fly first class on a brand new Boeing 777, which will be decorated with appropriate panda markings. We are all going to miss our Atlanta Beauty, but we are excited that she will be moving on to big things in Chengdu, where she will become part of the giant panda breeding program at the Chengdu Research Base of Giant Panda Breeding," stated Kenn Harwood.



Baby brother Xi Lan. Recently his keeper wrote: "Xi Lan was very busy yesterday morning. First, he shifted all the way across the building for me (he got some banana at the end for being such a good panda!). Once in the dayroom, he played with the ping pearls toy for a while." Photo Atlanta Zoo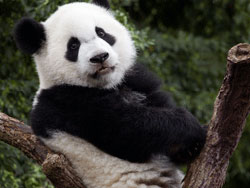 As for her baby brother Harwood reported that, "the vet staff and I were able to get a good look at Xi Lan's teeth. It appears that he is on a roll, and has several baby teeth that are about ready to come out. Aside from that, he appears to be in tip top shape. His weight this morning was 34.6 kg. It's hard to believe that he is over 75 lbs, but I guess they can't stay little forever."

Last Wednesday Jennifer Brink gave an indication of what it's been like caring for her charge.

"Mei Lan, of course, is the sweetheart that continues to brighten up everyone's day. The last two times that I have worked with her she has been as silly as ever, wanting to play and run back and forth in the tunnel while I squealed and baby talked, like all female keepers secretly (and some not so secretly) do. She actually seems to really enjoy the excited sounds of the keepers, and the more we get excited, the more she jumps up and somersaults and, at one point, tried to do a head stand! She is a completely ridiculous little lady and we will all miss her greatly. I wonder if they talk "panda" talk in China ..."

That is the problem.

They do - but not in English.

Since birth Mei Lan has been spoken to only in English. Thus, the Chengdu Research Base of Giant Panda Breeding has a job opening for somebody to teach the adorable miss Mandarin. Mei Lan needs to learn phrases for food, playing, going into her cage and returning to her dormitory.

The panda place has also asked residents to help select a boyfriend for Mei Lan. In that case, the panda bachelor who gets the red rose needs to have an interest in sex. Language skills not necessary.



RUSH LIMBAUGH! THE MUSICAL! with a book by Ed Furman and music and lyrics by T.J. Shanoff. Directed by Jeff Award Winner Matt Hovde.

The famed Second City Theatricals' world premiere takes us back to Rush's humble beginnings and follows his ascent to conservative dominance buoyed by characters like Ann Coulter, Karl Rove, and Donald Rumsfeld despite confrontations with Hillary Clinton and Barney Frank. The score for the show features a pastiche of Broadway musicals such as Spring Awakening; Wicked and Rent. The world famous Second City calls it "Dispirit of the Radio."

Rush Limbaugh! The Musical stars Mark Sutton in the title role. The cast includes: Karla Beard, Bumper Carroll, Cayne Collier, Colleen Murray, and Kevin Sciretta.

The band includes Musical Director T.J. Shanoff (piano), Trey Stone (bass/keyboard), and Tony Mendoza (percussion). The Stage Manager is Joe Ruffner and the Choreographer is Lisa McQueen. The laugh riot is at The Second City in Chicago through March 24, 2010.

REALLY OLD, LIKE FORTY-FIVE a new play by Tamsin Oglesby. Directed by Anna Mackmin.

There are just too many old people.

As a government research body seeks to deal with the problems of a maturing population, a family addresses its own. Lyn's memory starts to go, Alice takes a fall and even Robbie has to face the signs of aging. Relations are put to the test across three generations. As are those who enter the increasingly sinister world of elder care.

Tamsin Oglesby's comedy confronts head-on our embarrassment and fear about old age. It exposes a society in which compassion vies with pragmatism and, by asking unequivocal questions, it comes up with some extraordinary answers.

Starring Lucy May Barker, Paul Bazely, Amelia Bullmore, Tanya Franks, Gawn Grainger, Thomas Jordan, Michela Meazza, Judy Parfitt, Paul Ritter and Marcia Warren.

The creative team includes designs by Lez Brotherston, with lighting by Mark Henderson, video design by Mark Grimmer with Lysander Ashton, choreography by Scarlett Mackmin and sound by Christopher Shutt.

The world premiere is taking place at the National Theatre in London.

GOOD OL' GIRLS a new musical written by two prominent Southern authors, Lee Smith and Jill McCorkle, has songs by Nashville hit-makers Matraca Berg and Marshall Chapman. Directed by Randal Myler and adapted by Paul Ferguson.

Featured in the cast are: Sally Mayes, Teri Ralston, Lauren Kennedy, Liza Vann and Gina Stewart.

A musical about love, loss and laughter. Through the language of five unique southerners, the musical celebrates childhood through old age with big hair and bigger hearts.

Good O' Girls will be accompanied by a four-piece band.

The creative team includes sets by Tim Mackabee, costumes by Michael Bevins, lighting by Brian Nason and sound by Lew Mead for Syntonic Design. Bluegrass picker/songwriter Joe Newberry and actress/musician Julie Oliver adapted and arranged the music. Keith Levenson is the musical supervisor.

In previews with the official opening Off-Broadway, at the Black Box Theatre at The Harold and Miriam Steinberg Center for Theatre Sunday, February 14th.

THE BALLAD OF EMMETT TILL Written by Ifa Bayeza. Directed by Shirley Jo Finney. Featuring Bernard K. Addison, Rico E. Anderson, Lorenz Arnell, Adenrele Ojo, Karen Malina White.

The Fountain Theatre in Los Angeles opens its 20th Anniversary Season with the West Coast premiere of this daring, folk and gospel-infused production in celebration of Black History Month.

Part history, part mystery and part ghost story, Bayeza's jazz/gospel/folk integration of past, present, fact and legend turns the story of the 1955 murder of 14-year old Emmett Till, whose shocking death helped spark the nascent civil rights movement, into a soaring work of music, poetic language and riveting theatricality.

Bayeza has newly conceived The Ballad of Emmett Till for the intimate 78-seat Fountain space, giving the award-winning play, which premiered at Chicago's Goodman Theatre last year, a whole new spin.

Set Design is by Scott Siedman; Lighting Design is by Kathi O'Donohue; Costume Design by Naila Aladdin-Sanders; Sound Design executed by David B. Marling; Dialect Coach is JB Blanc; Production Stage Manager is Elna Kordijan.

Previews begin February 11, 2010 at the Fountain Theatre in Los Angeles.

MEASURE FOR MEASURE by William Shakespeare. Directed by Arin Arbus.

Starring Tony Award winner Jefferson Mays, Elisabeth Waterston, Mary Testa and Rocco Sisto. The cast also includes; Denis Butkus, Samara Bay, Joe Forbrich, Alfredo Narciso, John Christopher Jones, John Keating, Alyssa Bresnahan, Robert Langdon Lloyd, LeRoy McClain, Rose Seccareccia and Graham Winton.

When the Duke of Vienna departs on a mysterious trip, he delegates power to Angelo, a man of spotless reputation. Puritanical Angelo decides to clamp down on the city's rampant vice by enforcing an antiquated law punishing fornication with death. He makes an example of young Claudio for impregnating his beloved fiancé, and listens to no pleas for mercy. But Angelo's moral fiber is strained to the breaking point when Claudio's beautiful sister Isabella, about to take holy vows, arrives to plead for his life and prompts stirrings in Angelo that confuse and rattle him. Corrupt power confronts ruthless justice, the letter of the law obscures the quality of mercy, and the noblest of spirits must reflect on the basest of appetites in this sly, bawdy, provocative and extraordinarily modern play.

The design team includes Peter Ksander (sets), Marcus Doshi (lights), David Zinn (costumes) and Jane Shaw (sound design). Sarah Pickett provides original music and John Caraffa handles movement.

The Theater for a New Audience's Off-Broadway production opened February 6 at The Duke in NYC and officially opens on February 14.

THE DIVINE SISTER by Charles Busch. ( See Broadway To Vegas column of May 6, 2007 ) Directed by Carl Andress.

The comedy is billed as an "homage to nearly every Hollywood film involving nuns. Evoking such films as The Song of Bernadette; The Bells of St. Mary's; The Singing Nun and Agnes of God; The Divine Sister tells the story of St. Veronica's indomitable Mother Superior who is determined to build a new school for her Pittsburgh convent. Along the way, she has to deal with a young postulant who is experiencing 'visions,' sexual hysteria among her nuns, a sensitive schoolboy in need of mentoring, a mysterious nun visiting from the Mother House in Berlin, and a former suitor intent on luring her away from her vows."

The production stars Busch as Mother Superior with Julie Halston as Sister Acacius, Tony nominee Alison Fraser as Sister Walburga/Mrs. MacDuffie, Amy Rutberg as Agnes, Jennifer Van Dyck as Mrs. Levinson/Timothy and Jonathan Walker as Jeremy/Brother Venerius.Busch and Julie Hal.

A design team includes B.T. Whitehill (scenic and graphic design), Fabio Toblini (costume design), Kirk Bookman (lighting design), Jill B.C. Du Boff (sound design) and Lewis Flinn (original music).

Performances began February 6 at the Theater for the New City in NYC.

GIVE AND GO: LEARNING FROM LOSING TO THE HARLEM GLOBETROTTERS a semi-autobiographical, multi-character, solo show by 6'6" writer/performer (and former professional power forward) Brandt Johnson.

The performance is directed by Ron Stetson. Original music by Keith "Wild Child" Middleton.

Give and Go tells the story of an ambitious and eager Billy Tyler, whose love of basketball and dogged discipline earn him positions on high school and college teams - yet fail to get him a spot in the NBA. When he applies the same grit to Wall Street, the rewards are immediate, but the love is gone. Leaving a lucrative career in investment banking, he returns to bank shots and finds himself on a European tour playing against the Harlem Globetrotters, losing every game. But it is there he discovers that true success is not about winning; it's about loving the game you play.

Give and Go is newly re-written and freshly conceived. The show played in an earlier version at the New York International Fringe Festival in 2007.

The production opens Thursday, February 11, and runs through Saturday, February 27 at the Metropolitan Playhouse in NYC.

BARACK STARS: THE WRATH OF RAHM by The Second City, Chicago's legendary comedy theatre. Directed by Marc Warzecha. Jesse Case is Music Director.

Chicago produced a president, a string of corrupt governors, and they're vying for the Olympics in 2016; so who better to make fun of all of it than The Second City - celebrating its 50th anniversary this year.

In Barack Stars, Chicago's favorite son is given his satiric due, with an economy on the ropes and maybe just a touch of swine flu for good measure. Perfecting the art of comedy revue with sketches, songs and a little improvisation, The Second City storms the Capital City to tackle partisanship, the politics of race, a terrifyingly tiny Rahm Emanuel, and a host of other headline-grabbing personalities.

Starring Lilly Allison, Brooke Bagnall, Abby McEnany, Sam Richardson, Tim Sniffen and Seth Weitberg.

February 10 - 21, 2010 at Woolly Mammoth Theatre in Washington, DC.





WHO'S WHERE


RYAN SILVERMAN who currently stars as Raoul in Broadway's The Phantom of the Opera, having joined the Broadway production after playing the role in Las Vegas, makes his Feinstein's debut for a solo evening of American Songbook classics. Monday, February 15, at Feinstein's at Loews Regency, NYC.

ERIC COMSTOCK & BARBARA FASANO winners of the 2010 Nightlife Award as Outstanding Cabaret Duo, the husband-and-wife team, begin their first joint extended engagement at the legendary Oak Room Supper Club in the Algonquin Hotel in NYC on Tuesday, February 9 and continue through March 6, 2010. Just in time for Valentine's Day, they will debut their new show, The This Called Love, which explores the many sides of modern romance -- the joys and complications, the agony and the ecstasy. The evening includes music from the American jazz and pop songbooks past and present. They will be joined by bassist Sean Smith.

MONTEREY JAZZ FESTIVAL ON TOUR with Kenny Barron, Regina Carter, Russell Malone, Kurt Elling, Johnathan Blake and Kiyoshi Kitagawa have a busy week. The show Monday, February 8 is at Mechanics Hall in Worchester, MA. On Wednesday they are at The Music Hall in Portsmouth, NH. Thursday finds them at the Berklee Performance Center in Boston. On Friday they are on stage at the Quick Center for the Arts in Fairfield, CT. On Saturday they'll be jammin' at the Tilles Center for the Performing Arts in Greenvale, NY. Valentine's Day night the sounds will be coming from the Staller Center for the Arts in Stony Book, N.Y.

CELTIC WOMAN open a three night stand, Tuesday, February 9, at the Roanoke Civic Center in Roanoke, VA. On Saturday they're on stage at the Performing Arts Center in Durham, NC. On Valentine's Day they'll be singing sweetly at the Bi-Lo Center in Greenville, SC.

ERIC CLAPTON AND JEFF BECK in a romantic Valentine week-end performance February 13-14 at The 02 in London.

THE FOUR ACES singing Love Is Many Splendored Thing and others from their long list of hits perform Wednesday, February 10, at the Mondavi Center for the Arts in Davis, CA.

CHRIS BOTTI on stage at the Doge Theatre in Phoenix, AZ on Tuesday, February 9, 2010. On Wednesday he's blowing his horn at the flint Center in Cupertino, CA. On Thursday he opens a three night gig at the Segerstrom Concert Hall in Costa Mesa, CA and on Valentine's Day he's be making romantic music at the McCallum Theatre in Palm Desert, CA.

MICHAEL FEINSTEIN in the spotlight Saturday, February 13, at the Philharmonic Center for the Arts in Naples, FL. On Valentine's Day he'll be casting a music warm glow at Dreyfoss Hall in West Palm Beach, FL.

WEDNESDAY NIGHT AT THE IGUANA with hosts Dana Lorge and Richard Skipper. Barry Levitt on keyboard & John Miller on bass. Helping Skipper celebrate his 49th birthday will be Glen Charlow, Jenna Esposito, Jeanne MacDonald, Jim Speake. Wednesday, February 10, at the Iguana VIP Lounge, NYC.

TAYLOR SWIFT continues her tour down under with a show Monday, February 6, at the Entertainment Centre in Newcastle. On Wednesday she opens a two nighter at the Rod Laver Arena in Melbourne. On Friday she performs at the Adelaide Entertainment Centre in Hindmarsh, Australia.

BETTY BUCKLEY in her For The Love Of Broadway cabaret show. Music director / arranger Kenny Werner on piano, Tony Marino on bass and Billy Drewes on reeds. John McDaniel, Emmy and Grammy Award winner serves as musical consultant. Now through February 27, at Lowes Feinstein's at the Regency in NYC.





Next Column: February 14, 2010
Copyright: February 7, 2010. All Rights Reserved. Reviews, Interviews, Commentary, Photographs or Graphics from any Broadway To Vegas (TM) columns may not be published, broadcast, rewritten, utilized as leads, or used in any manner without permission, compensation and/or credit.
Link to Main Page
---
Laura Deni



U.S. Postal Address: Post Office Box 60831, Las Vegas, NV 89160
CLICK HERE FOR COMMENT SECTION