! >
Broadway To Vegas
  SHOW REVIEWS CELEBRITY INTERVIEWS GOSSIP NEWS

| | |
| --- | --- |
| | |
MARTIN SCORSESE IN PERSON - - MARDI GRAS FOR MAN AND BEAST - - NOTHING LIKE A DAME - - REGIS PHILBIN RIDES COCKPIT - - ROSEMARY PRINZ HAS LIFE AFTER SOAP OPERA - - LIFETIME GRAMMY AWARDS - - ROSES IN DECEMBER - - HACKBERRY RAMBLERS TURN 70 - - DONATE . . . Scroll Down


AS ROSEMARY PRINZ'S WORLD TURNS
Rosemary Prinz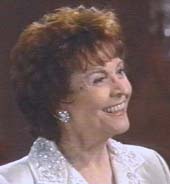 It was as Penny Hughes on TV's As The World Turns, which she played for 12 years, that Rosemary Prinz first gained national prominence. In that part Prinz and Juilliard trained Mark Rydell, as Jeff Baker, became daytime's first major teen romance.

Today Prinz is getting ready to star in the world premiere of Carol Galligan's play Killing Louise at CAP21 in New York City.

Along the way Rosemary Prinz has seen her own world take some interesting spins. She spoke with Broadway To Vegas about her fascinating career.

While soap operas were always noted for their cutting edge sexuality, moralistic guidelines controlled the plotlines.



Rosemary Prinz getting wed on As The World Turns. Marriage was required.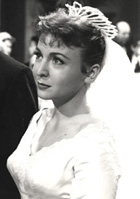 "Oh my God, yes," exclaimed Prinz. "There were many guidelines. This was way before Women's Lib. You could never get divorced. That is why so many leading men died," she divulged. "In order to further the story you had to kill off the guy, because it was a woman's medium. You killed off the guy and then the heroine married somebody else. That ran itself into the ground and then he died. If you were a leading man you never signed a long term lease," laughed Prinz referring to the actor never feeling secure enough to make a long term purchase. "You were going to get bumped off, because you couldn't get divorced."

Recently, Lea Salonga reprised her role on As The World Turns, guest starring to help advance the storyline. Any chance Prinz might do another guest shot as Penny?



Helen Wagner and Rosemary Prinz as Nancy Hughes surprised by her daughter Penny at her 80th birthday party on As The World Turns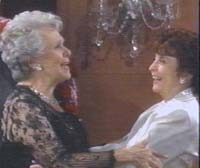 "A guest shot is always possible," she replied. "It happens something like once every five years. I left in 1968 and I think my first show back was about 25 years later. That was for my brother Bob's wedding," she related about the character of Bob Hughes portrayed by Don Hastings. "Then a couple of years later there was my parents 50th anniversary and I went back. I have maybe five or six times - I wouldn't say it's a career," she chuckled. "But, it's nice because, at this point, I'm the highest paid extra in the world. They don't know what to do with me. They pay me and I go in and say - Hi, Mom."

"I do occasionally see Eileen Fulton in her nightclub act, because she plays New York quite often. So, I'll go and see her," related Rosemary about the actress/singer who created the infamous Lisa.

"Helen Wagner, who played my mother, and I exchange Christmas cards. When I go back, of course, it's like old home week. But, our lives run on different paths. They are doing a soap in New York and I am in the theatre and on the road a lot."

Usually TV Guide has their facts straight. But, in 1988 TV Guide ran a short - mistake ladened - article about Rosemary Prinz that stated: "She was one of soapdom's first bona fide stars in 1956 as Penny on CBS's As the World Turns and helped launch ABC's All My Children in 1970. Quite a track record for someone who almost got bounced from NBC's now-defunct First Love in 1954. Her offense? She laughed uncontrollably when an actor accidentally turned "Chris cracked up the plane," into "Chris crapped___." Not that she's immune to slips of the tongue. "I did a play where my line was 'I've never seen anything as beautiful as John Dickey's villa,'" Prinz jokes. "Well, imagine how that came out!"



Rosemary Prinz not only didn't mess up the line, she wasn't even in the play!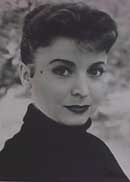 Not true. None of it and Prinz would like to set the record straight.

Referring to almost being fired for laughing Prinz responded; "That is not true at all. It may have happened during a rehearsal but it certainly never happened on the air. And, I was never was almost fired from that show. I would appreciate it if that could get straightened out."

As to having messed up that play line - I've never seen anything as beautiful as John Dickey's villa,' Prinz retorted; "That not only was not me, it wasn't even a play that I was in! It was a play my husband was in with some character actress."

"That was my first husband, Mike Thoma, who had that experience in Pennsylvania, which is where we met," said Prinz referring to the actor that television viewers will remember from the series Fame and Eight is Enough. Thoma passed away in 1982 at the age of 55.

"That did not happened on stage with me. Mike Thoma was on stage with a character actress. She said it backwards and everybody laughed. That part is accurate, but it wasn't me."

Prinz is bright, spunky and fun. She's always been that way. Considering her heritage, that should come as no surprise.

"I think my parents met on a blind date that was set up," she recalled. "Then they eloped to Gretna Green. It was quite something. My grandfather didn't speak to my father for a year until he finally said - Okay, I'll marry her in the Church."



Toscanini was noted for his temper tantrums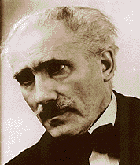 "My father was Toscanini's cellist," she related, referring to the late Mortin Prinz.

From 1928 to 1936 the great conductor Toscanini, who started out as a cellist, was musical director of the New York Philharmonic. NBC establish an orchestra especially for him. On Christmas Eve in 1937 the first broadcast was aired. Once a week for seventeen years Toscanini offered the listeners an insight into his wide repertoire; a total of 117 operas by 53 composers and 480 symphonic works by 175 composers were broadcast. His outbreaks of rage and his passionate strict method of conducting remain well-known.

"Toscanini was the maestro," continued Prinz. "He was a genius. In those days it was de rigueur to be difficult and temperamental - volatile. I spent my childhood in studio 8H, which they built for him at NBC for the NBC Symphony. Every Sunday I'd go to the broadcast and occasionally I was allowed to go to the dress rehearsal. I was just a kid - eight years old or something. I'd go to the dress rehearsals and hear him curse away!"

"My father was also in the New York String Quartet. Music was everywhere. Musicians were everywhere. They were playing chamber music in the house. There was always music."

Prinz surmised that "it was just automatically assumed that I would be in the arts. I always knew that I was going to be an actor. By the time I was 16, I had already skipped four times and graduated high school."

"I went into summer stock with a man who became a very well known Broadway director, named Mort DeCosta," said Rosemary about the man who directed the original production of The Music Man.

"This was in my senior term in school. I was graduating in June and he was hiring. I got something called Actors Cues and looked up who would want a young apprentice. I saw that he was looking for somebody to play Dear Ruth in his cycle of plays, which is a 15-year-old-girl. It is a wonderful part. She plays a drunk scene."



Dodee Wick and Rosemary Prinz in Yes, My Darling Daughter at The Lake Summit Playhouse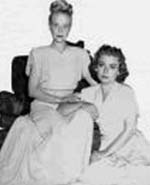 "I read for him and he hired me. In those days you got your Equity card on the third show. My first show was Dream Girls playing an usher saying - This way, please. In the third show I played Dear Ruth and had this wonderful part. Then I did Kiss and Tell and played the lead. Mort DeCosta said - Walter Davis is taking out a company of Kiss and Tell in the fall. I'm going to call and tell him I've got his lead. I'm going to call your parents and tell them I think you should take it and not go to college in the fall. You're smart enough to educate yourself. That is how it started. They said yes and I was off on the road."

Part of her early years were at the Lake Summit Playhouse in Hendersonville, North Carolina. The Lake Summit Playhouse ran for four summers. For two winters the troupe went to St. Petersburg, Florida. In addition to Prinz, the company was the launching pad for Lee Marvin.

"I went there when I was 18 with The Vagabond Players. I played there that season. Then we went to Florida. We did a winter season there. Then I went back a couple of times when I was better known. I did Cat on a Hot Tin Roof there and Driving Miss Daisy many years later."

Currently Prinz is on the big screen in The Bread, My Sweet, co-starring with Scott Baio and Shuler Hensley, a Tony award winner for Oklahoma.



Rosemary Prinz in the movie My Bread, My Sweet Saving dollar by dollar for her daughter's wedding.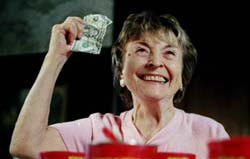 "It has an excellent cast," extolled Rosemary. "It was a love fest. It was shot after Shuler had done Oklahoma in London and won the Olivier Award and before he opened on Broadway. So, it was that period in between."

In Italian, a good man is a "piece of bread" plain, simple and always welcome. In this romantic-comedy Baio, now a handsome 40-year-old, plays Dominic Pyzola, second generation Italian-American, workaholic corporate takeover artist. He has a post-graduate degree, a hot car, and an inkling that he's not a nice guy. Cleaning out "dead-wood" employees is lucrative but not fulfilling for the soul.

For that he turns to his hobby job, running a Pittsburgh biscotti bakery staffed by his brothers, Eddie (Billie Mott) an incorrigible skirt-chaser and Pino (Shuler Hensley) a older mentally handicapped brother.

He is a also surrogate son to Bella, (Prinz) an Italian immigrant who lives above the bakery and who has been saving, dollar by dollar, for her daughter's American wedding since the day she gave birth. The Bread, My Sweet is a love story about what happens when Dominic's worlds collide. He discovers that Bella has six months to live. Then Dominic gets an idea.

"Of course Scott Baio doesn't look his age," commented Prinz. "He looks absolutely divan. And the camera adores him."

"It a very sweet movie," she reported about the flick which has received rave reviews from every critic. The only problem is that it is a difficult movie to locate. "Because it is an indie, it has a small budget for distribution. They can't afford to open everywhere at once. Even for a print it's something like $50,000," explained Prinz. "It opens in two or three cities at a time. It's played in Pittsburgh, Minneapolis, Chicago. It is a sweet, sweet, movie and it fills a need right now. They are saying it is going to open in New York. That would be nice."

"It's a lovely role, based on a true story. The writer/director knew this woman and so this movie was sort of a love letter to this woman and her daughter. I was based on a real character. The rest of it was made up, but there was a kernel of truth and then she elaborated for dramatic purposes."

What draws Prinz to a role is "something that is well written, culturally important, in my view. Of course, I've certainly done crap, but I have not done crap in a long time. Sometimes something doesn't work. That doesn't mean its crap. There are only two reasons to do plays - one is, you just need the money. The other is, you need to satisfy yourself artistically. Mostly, that is what I have been doing. Not that I wouldn't do something for money," she laughed. "But only if it was fun and only for a tiny bit of time."

"It was great to have done this movie because I'd never done a feature film. This was my first feature film. Well, that's not true," she confessed. "I did a feature film for the Navy when I was 18 about VD."

"It was a training film, It Could Happen To Your Kid Sister and I cried my through the scene while I told somebody that I had VD."

"It was right after the Second World War. You didn't fly very much in those days. They put me on a train and I went to Detroit to do it. I auditioned for the part. I probably didn't even have a single agent. I probably was making the rounds and got sent up for it. And, I went off and did this little training film."

Prinz is also returning to the New York stage, starring in Killing Louise, which is set in the home and in the mind of the ailing, 89-year-old Louise - played by Prinz. The play confronts questions of conscience, law and morality when she asks her best friend to help her die.

"This one is a beautiful play about choosing ones destiny, about friendship and love and has a lot to say," stressed Prinz.

As for age Prinz has "never bought into it. My friends always say I was the first liberated woman when I was 16. I never bought into all of that anyway. It never seemed fair to me that we were treated as second class citizens. So, that was automatically reflected in the kind of parts I chose."

"In Killing Louise I am playing somebody who is 89. I've played old from the time I can remember. I've played all ages. I did the national tour of Driving Miss Daisy and certainly had to go up in age. Many years before, I remember doing Twigs. I've done many plays where I had to be a really old lady."

"This is the world premiere. If somebody comes and sees it and likes it they may move it," she added regarding the future for Killing Louise. "One always hopes."



Laurie Metcalf, Christopher Evan Welch, Rosemary Prinz, and Nathan Kiley in Purple Heart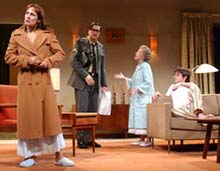 "I did a play at Steppenwolf last summer, Purple Heart, and we have been invited to the Galway Festival in Ireland in July. So, I'm going to be doing that play again. That was another world premiere.

"I've been to London, but this will be my first time in Ireland.While we are there we are going over to Scotland, and try to make it a kind of fun trip. We have to leave the dog, I am afraid, but otherwise the family will be together. I just can't wait. I think it is so terrific to go over and do things in foreign lands."



Roger Robinson, Tony nominee for Seven Guitars plays Hoke, with Rosemary Prinz in Driving Miss Daisy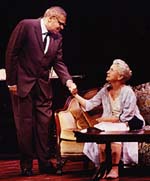 Four-footed beasts are an important part of the Prinz household.

"Every dog I've had traveled with me. It never used to present a problem, but now sometimes it can. But, they have to adjust or they don't get me. What is the point of having a dog if you leave it at home? Recently I played Steppenwolf and Pittsburgh and both were just such dog friendly places. I brought the dogs to the theatre. They stayed in my dressing room during the show.

Another vital part of the household is husband, Joe Patti.

"My husband and I took a little vacation in March and went to Prague and Budapest. It was fabulous. I had never been to that part of Europe. It was just fascinating to see all of these old, wonderful buildings and architecture. It was terrific and, of course, we ate our way through..." she laughed.

"My husband is retired. He was a jazz drummer. Occasionally, we would do musicals together. He would decide to make the ultimate sacrifice - since he does improvisational jazz," she kidded, about him playing a locked in score. "That was fun when we could travel together. He always managed to join me at various parts of the tour or the run."

Prinz also performed Glass Menagerie in Japan. It wasn't your run of the mill performance.

"Japan was an exchange program. I had done Glass Menagerie at the Milwaukee Rep and we did a exchange program with Japan," she explained. "They sent a company over and we went over there and did that for five weeks. I just loved it."

"It was the most foreign place that I had ever been and it was like stepping into another world."

"The Japanese love Tennessee Williams. They have a great affinity for him. They were totally befuddled by Sam Shepard. But, they loved Tennessee Williams, even though they didn't understand a word," she continued.

"And, they didn't wear their earphones! Then I realized - Well, of course they weren't going to wear their earphones. When I went to all of the different theatres, the Kabuki (traditional Japanese entertainment men where play all the parts) and the Bunraku (Japanese traditional puppets theater) I never wore earphones. I wanted to see and experience it as they presented it. And, they didn't miss a thing. Of course, they knew the play, but they couldn't follow the exact dialogue. So, we never got any laughs, which was weird. To do a play that you knew where all the laughs were and - it was total silence."

"We got used to it," Prinz said. "But, it was a very different kind of silence. It wasn't just flat silence. It was like - gasp - as a breathe intake silence. They were just with it every second. Then, we would get just wild applause afterwards. It was a fascinating experience."

"And, we did it in the "sin city'" district. It was just amazing. It was just so safe. You could leave you pocket book on the street corner by accident and come by the next night and pick it up. You passed all these love hotels but it was non threatening. It was a terrific experience."

Prinz has never stopped working and has no intention of slowing down. "No, I never stop working. I was rarely out of work. I've been very fortunate."

Killing Louise by Carol Galligan, directed by Michael Montel, starring Rosemary Prinz. March 4th to 29th at CAP21 Theatre, NYC.



Broadway To Vegas is supported through advertising and donations. Priority consideration is given to interview suggestions, news, press releases, etc from paid supporters. However, no paid supporters control, alter, edit, or in any way manipulate the content of this site. Your donation is appreciated. We accept PAYPAL. Thank you for your interest.


SPREADING THE WORD
Martin Scorsese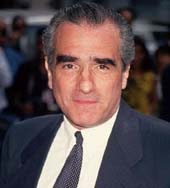 MARTIN SCORSESE IN PERSON at the American Museum of the Moving Image on Wednesday, February 26.

The program, Martin Scorsese's New York will celebrate the director's life-long fascination with New York City and will include a discussion with the Academy Award nominee. Moderated by museum curator David Schwartz, the event will include clips from more than a dozen films including Mean Streets, Taxi Driver, Raging Bull, The King of Comedy, New York New York, Goodfellas, Bringing out the Dead, The Age of Innocence and more. Scorsese will then be joined onstage by Academy Award nominated screenwriter Jay Cocks and by Luc Sante, the noted author of Low Life who served as historical consultant on Gangs of New York, to discuss Scorsese's latest film, which is nominated for 10 Academy Awards.

Martin Scorsese's New York will take place at the Loews Cineplex Lincoln Square, New York City.

Tickets are $25 for public, $17 for Museum members.

DR PHIL as in Dr. Phil McGraw, at the Telus Convention Centre in Calgary, Alberta Canada on February 28.

TOM JOYNER FOUNDATION NIGHT at Ma Rainey's Black Bottom. Tom Joyner, and his co-host Sybil Wilkes, from the Tom Joyner in the Morning Show will moderate a post-show audience talk-back discussion February 25th with the cast including Oscar winner Whoopi Goldberg.

A portion of each ticket purchased for the evening will benefit The Tom Joyner Foundation, a non-profit organization that helps African American students complete their college education. Each month, the organization selects one of the Historical Black Colleges and Universities (HBCUs) to receive the funds raised during that particular month. Scholarships are then awarded through the Financial Aid department of that college or university. Ma Rainey's Black Bottom at the Royale Theatre, New York City.


MARDI GRAS BE IT BACCCHUS OR BARKUS


It's that time of year again. Break out the masks and break open the blouses.

MTV will be taping in New Orleans during Mardi Gras again this year, and they have brought along TRL host Carson Daly, pop-tart Christina Aguilera, rappers Method Man and Redman, Master P & Lil' Romeo, and more.

Singer/songwriter Edwin McCain has been named celebrity Grand Marshal for the Krewe of Pegasus. Film director and actor Spike Lee will serve as celebrity Grand Marshal for Zulu. The music line-up for 2003 Lundi Gras Festival includes; Kermit Ruffins, ReBirth Brass Band, Big Chief Donald Harrison, Marva Wright, and Big Al Carson.

Aerosmith's Steven Tyler and Joe Perry have been named celebrity monarchs for Orpheus. Actor and comic Jon Lovitz will reign as Bacchus XXXV; the Krewe of Bacchus rolls on Sunday, March 2.

Mardi Gras is not restricted to New Orleans.

Each year, more than half a million people gather in the streets of Galveston Island to participate in the largest Mardi Gras celebration in Texas. For 12 days and 11 nights the island is electrified by 17 Krewes and 50 bands offering the sounds of live music, spectacular parades, elaborate masked balls, and flamboyant costumes, plus 15 elaborate masquerade balls to entice the black-tie senses. This year, Mardi Gras! Galveston salutes The Rainforests of the World, which began February 21 and extends through March 4.

In Shreveport today is the Krewe Of Barkus & Meoux Mardi Paw Parade - an opportunity for festive pets to celebrate Mardi Gras. Animal royalty are chosen in the royalty raffle.


OTHER PEOPLE'S MONEY


NASCAR Winston Cup races are big business for Las Vegas. It's not just the huge crowds - 140,000 are expected for the race March 2 - race fans spend money; gaming, eating, enjoying entertainment and other sporting events.

That does not go by unnoticed. Considered an ideal customer, hotels are offering promotions to lure the start-your-engines and they're-off crowd.

Tickets to next week-end's race are being gobbled up by hotel properties to be doled out to VIP customers. Harrah's Entertainment has bought 2,000. Coast Casinos bought 1,500 and Boyd Gaming Corp bought 1,000 tickets.

The Hard Rock Hotel has a Four Play To Race Day promotion running through Thursday. Any person winning certain gaming events receives a card with hidden scratch off letters. Collect letters to spell Daytona and you will win two tickets to next year's - February 14, 2004 race, plus airfare and hotel.

Getting a race driver to show up at your hotel is equal to or better than a rock star roaming the halls. Winston Cup drivers Jeff Green and Las Vegas native Kurt Busch will be at Sam's Town on Thursday, February 27, for a charity auction. Last year's champion Tony Stewart stops by that afternoon.

Bobby Labonte and Ricky Rudd will be at the Stardust Hotel Friday night.

One of Las Vegas' newest hotels, The Cannery, is located the closest to the race track. That is considered a plus. Coca-Cola is sponsoring the Dale Earnhardt Show at the Cannery and Budweiser is setting up a NASCAR simulator.


SWEET CHARITY


THE 8TH ANNUAL THINKING WOMEN'S VAUDEVILLE presented by Broadway Cares/Equity Fights AIDS benefiting the Phyllis Newman Women's Health Initiative of the Actor's Fund of America in Nothing Like A Dame 2003, takes place March 3.

A pre-performance cocktail party will be held in the lobby of the St. James Theatre with hors d'oeuvres provided by Angus McIndoe Restaurant. A post-performance cast party will be hosted by John's Pizzeria Times Square.

A galaxy of entertainment luminaries are scheduled to appear in the performance, which will be directed by Jude Kelly, O.B.E., one of London's top directors. The dazzling Dames line-up includes screen legend Lauren Bacall, Mario Cantone, Patty Duke, Melissa Errico, Harvey Fierstein, Whoopi Goldberg, Amanda Green, Joan Hamburg, Marissa Jaret Winokur, Judy Kaye, Rita Moreno, Bebe Neuwirth, Phyllis Newman, Cynthia Nixon, Rosie Perez, Ann Richards, and Liz Smith. Musical highlights include Hairspray's The Dynamites performing a special version of Welcome to the 60's, featuring special lyrics by composer Marc Shaiman. The popular concert, written by, about, and for women, will also feature highlights from Baz Luhrmann's La Boheme, Hairspray, The Producers, Russell Simmons' Def Poetry Jam on Broadway, and many more.

Highlights Include a special dames tribute to Adolph Green.

Nothing Like A Dame 2003 marks the beginning of The Women of Broadway, the Broadway community's celebration of National Women's History Month.

The Actors' Fund of America is the only national non-profit organization that provides for the social welfare of all entertainment professionals. Since 1996, The Actors' Fund of America has focused on helping women in the entertainment industry who are coping with critical health concerns through The Fund's Phyllis Newman Women's Health Initiative (PNWHI). Initiated by Actors' Fund Trustee Phyllis Newman, a breast cancer survivor, the Women's Health Initiative offers a roster of services to help women access appropriate health care and to coordinate support services so that they need not face significant health concerns alone.

This event is produced by Broadway Cares/Equity Fights AIDS and sponsored by Continental Airlines and The New York Times. Monday, March 3, at the St. James Theatre.

ACTORS BRIDGE ENSEMBLE OF NASHVILLE staged their first fundraiser last night, an evening of entertainment from the Marcus Hummon musicals. Spoon River in Revival, American Duet, Francis of Guernica and Warrior featured members of the original casts, including company member Mike Eldred, straight from Les Miserables on Broadway!

Actors Bridge is a professional, non-profit theatre dedicated to bringing provocative theatre to Nashville.

BILLY CRYSTAL IN LA JOLLA PLAYHOUSE BENEFIT which was a comedy fundraiser February 21 and 22nd. Crystal was joined by David Steinberg in two performances, which were interview format with performance and film pieces interwoven into it. Ticket prices ranged from $100 - $1,000. The $1,000 package included one of the best seats in the house, a pre-show reception and a backstage pass for an exclusive post-show reception with Billy Crystal and La Jolla artistic director Des McAnuff. Proceeds from the event will support the Playhouse's New Play Development Program. That program reflects La Jolla Playhouse's long-standing commitment to new works that create new plays and musicals for the San Diego community and the national theatre scene.

LIFETIME ACHIEVEMENT AWARDS The 45th annual Grammy Awards will present lifetime achievement awards to include Etta James, Johnny Mathis, Glenn Miller, Tito Puente, and Simon & Garfunkel.

The New York Philharmonic, America's oldest orchestra, will perform with guest conductor David Robertson. Award winning composer Michael Kamen will also conduct the orchestra in collaboration with the British rock band Coldplay in an arrangement of the band's song, Politic. The Recording Academy will also be honoring Alan Lomax and the Philharmonic with their Trustees Award for significant contributions in the field of recording.

The Grammy Awards will be televised live on CBS from Madison Square Garden.

The National Academy of Recording Arts and Sciences MusicCares dinner held at the Marriott Marquis honored U2 singer Bono. Former President Bill Clinton presented Bono with the Person of the Year award. Elvis Costello and Diana Krall attended together. Costello, 47, separated in September from Cait O'Riordan, 37, his wife of 16 years. Since then, he and Krall, 38, were first spotted out together in London. Tony Bennett, up for two Grammy awards - who has a second career as an artist - had done a drawing of Costello and presented it to the surprised and grateful performer.

HACKBERRY RAMBLERS CELEBRATE 70th ANNIVERSARY This legendary Cajun/country band ( See Broadway To Vegas column of August 6, 2000 ) was formed back in 1933, and still features the two founding members -- fiddler Luderin Darbone, age 90, and accordionist Edwin Duhon, age 92. Impressed by the Hackberry Ramblers' rich history and rambunctious, youthful vitality, Today Show correspondent Bob Dotson traveled to Louisiana recently and spent three days with the band filming interviews and live performances. Dotson's excellent feature story on The Hackberry Ramblers aired last Friday on Today.

Live footage for the Today story was shot at the weekly Rendez-vous des Cajuns program in Eunice, LA, and at McGee's Landing, in the great Atchafalaya swamp outside of Henderson, LA. Marcia Ball made a special guest appearance with the band at McGee's, as she did on their Grammy-nominated album, Deep Water, released in 1997 by The Hot Biscuits Recording Company.

In addition to two time Grammy nominee Marcia -- an honorary Rambler -- the band's line-up also includes guitarist/emcee Glen Croker, bassist Johnny Faulk, and drummer/producer Ben Sandmel.

The Hackberry Ramblers will perform at The French Quarter Festival in New Orleans on Saturday, April 12 and at The New Orleans Jazz & Heritage Festival on Thursday, April 24. And 2003 will see the debut of Make Em Dance!, a full-length documentary about the Ramblers, directed by independent film-maker John Whitehead, in association with Vetter Communications of Baton Rouge, LA.

The Hackberry Ramblers recently performed for the first time in Holland, France, and at The Newport Folk Festival. They also received a National Heritage Fellowship for Darbone and Duhon, conferred by the National Endowment for the Arts.



ROSES IN DECEMBER a new play by Victor L. Cahn, starring Tony-Award winner James Naughton and his daughter Keira Naughton, together on stage for the very first time. It should be noted that James Naughton has a limited engagement. Victor Slezak will replace him March 11-March 25.

The production will be directed by T. L. Reilly. Original music by Sergei Dreznin. Production Design by Roman J. Tatarowicz. "A young PhD candidate named Carolyn has been assigned the task of recruiting famously reclusive author Joel Gordon to attend Alumni Weekend. Joel repeatedly declines, but Carolyn's tenacity engages them in a series of letters that deepens into a friendship revealing a secret from Gordon's past [and] it may bring to light who Carolyn's real father is."

Producing director T.L. Reilly directs the work, which tells its story "entirely in letters that each character writes to the other."

Performances continue to March 23 at Urban Stages Theater, an award-winning Off-Broadway Theatre championing new ethnically diverse plays and their authors Frances Hill, Artistic Director; T.L. Reilly, Producing Director Sonia Kozlova, Program Director.

BARBARA COOK MOSTLY SONDHEIM with Wally Harper, Musical Director. In Mostly Sondheim, Cook features Sondheim's music, including her show-stopping rendition of Losing My Mind. First performed in New York's Carnegie Hall the fabulous singer delivers seven not to be missed performances only. February 28 to March 9 at the Ahmanson Theatre, Los Angeles.

URBAN COWBOY A new musical based on the 1980 film about a Texas honky-tonk bar, with songs from the movie, and new songs by Jeff Blumenkrantz and Jason Robert Brown. Lonny Price directs a cast that includes; Sally Mayes, Leo Burmester, Matt Cavenaugh and Jenn Colella. Previews begin February 27, officially opening March 27 at the Broadhurst Theatre, New York City.

THE 21st ANNUAL NORTH TEXAS IRISH FESTIVAL one of the largest Celtic events in the nation, will be March 1-2 in Fair Park's Automotive and Centennial buildings.

Several new attractions will be featured this year, including enhancements to the children's entertainment at the Urchin Street Faire, the addition of Scottish Clan Village and equestrian demonstrations in partnership with Equest.

The event will include a mix of rich traditional and modern Celtic bands, dance groups, wandering musicians, a variety of Irish and international food and drink, cultural crafts and ethnic vendors.

TEA AT FIVE stars former Star Trek: Voyager Kate Mulgrew as Katharine Hepburn. Written by Matthew Lombardo and directed by John Tillinger. Set at Hepburn's home in her Fenwick estate in Old Saybrook, Conn. Mulgrew plays Oscar winner Hepburn at opposite ends of her distinguished career. The first act takes place in September 1938, with the second act in February 1983 - as Hepburn reflects on her long career. Previews begin February 25 at the Promenade Theatre. Officially opens on March 9.

AS LONG AS WE BOTH SHALL LAUGH is comic Yakov Smirnoff's new production. Previews begin February 24 officially opening March 31 at the American Airlines Theatre, New York City.

AMBASSADOR SATCH a new musical about the life of Louis Armstrong. Starring Broadway's Andre De Shields of The Full Monty, Ain't Misbehavin', and The Wiz. Written by James P. Mirrione and Andre De Shields, Ambassador Satch tells the story of jazz great Louis Armstong, his triumphs, his heartaches, and how his life intersected the turbulent history of American events, changing the world of Jazz.

Featuring a five piece jazz ensemble. Musical director is Terry Waldo, working with musicians who recreate the "hot five" sound of Armstrong's career. You'll hear many Armstrong signature hits like: Ain't Misbehavin', Black & Blue, Mack the Knife, West End Blues and What a Wonderful World.

Choreography is by Mercedes Ellington, who choreographed Broadway's Play On! The show is produced in association with the Helen Hayes Theater in Nyack, NY, where Ambassador Satch opens following the Philadelphia engagement.

Prince Music Theater in Philadelphia, February 26 - March 9.

ELEGIES: A SONG CYCLE written by Tony Award-winning composer William Finn (Falsettos, A New Brain), is a celebration of life told through the power of song.

The concert features five brilliant performers - Christian Borle (Amour, Footloose), Betty Buckley (Triumph of Love, Sunset Boulevard, Cats ), Carolee Carmello (Parade, Kiss Me, Kate, Falsettos), Keith Byron Kirk (Miss Saigon, A New Brain), and Michael Rupert (Ragtime, Falsettos, Sweet Charity) - and is directed by one of Lincoln Center's favorites, Graciela Daniele (A New Brain, Marie Christine, Chronicle of a Death Foretold).

Only nine scheduled performances Sundays & Mondays March 2 - March 30. A Lincoln Center Theater Special Event in the Mitzi E. Newhouse Theater.


WHO'S WHERE


BELINDA CARLISLE from the Go's Go's, performing Tuesday, February 25 at B.B. King Blues Club in New York City.

BRUCE SPRINGSTEEN next Sunday, March 2, in Austin, Texas at the Frank Erwin Center.

THE MARSALIS FAMILY Wynton, Branford, Delfeayo, Jason and Ellis - recognized as the first family of jazz, begin a rare five-date tour together at the Place des Arts in Montreal on Tuesday February 25. The tour wraps March 3, at Boston's Symphony Hall.

THE CHIEFTANS on stage tomorrow in Chicago at Orchestra Hall@ Symphony Center. On Wednesday the performance is at the Maxwell C. King Center in Melbourne, Florida. On Thursday they are center stage at the Phillips Center for the Performing Arts in Gainesville, Florida and on Friday the show is at the Moran Theatre in Jacksonville, Florida.

BILL COSBY in the spotlight February 28 at the Embassy Theatre in Fort Wayne, Indiana.

CAROL'S CABARET CAVALCADE featuring Richard Skipper as Carol Channing hosting a bevy of New York's best cabaret performers. The line-up for Tuesday, February 25 includes Marnie Baumer, Ellen Bollinger, Stephanie Cook, Linda Fields, Helen Klass, and Bryon Sommers. Musical director is Michael Levine. The Triad Theatre, NYC.

FRANK ZAPPA FAVORITES will be performed by the American Composers Orchestra on Sunday, March 2 at the Issac Stern Auditorium in New York City as part of the Emerging American Composer series. A pre-concert talk starts at 1:45 PM. Steven Sloane, Music Director and Conductor Omar Ebrahim and David Moss vocalists. Isaac Stern Auditorium Sunday, March 2, 2003 3:00 PM

VIENNA BOYS CHOIR performing February 24 in High Point, North Carolina at the Hayworth Center Performing Hall and on February 28 in Manchester, New Hampshire at the Dana Center.

BLIND BOYS OF ALABAMA entertaining Friday, February 28 at the Somerville Theatre in Somerville, Mass. On Saturday, March 1 they will be at the Scottish Rite Auditorium in West Collingswood, NJ.

JANIS IAN performs Thursday in Wilmington, Noeth Carolina at Thalian Hall. On Friday she is center stage at the Sylvia Theater in York, South Carolina and closes out the week, Saturday, with a show at Stevens Center in Winston Salem, North Carolina.


PIFFLE AND PROFUNDITIES


REGIS PHILBIN who performed in Las Vegas at the MGM-Grand last week, and then got stranded in Sin City because of the New York snow, created some raised eyebrows when he told people he had been in the cock-pit watching the beautiful view when the plane landed in Las Vegas. How did Regis rate what is no longer permitted - a passenger no matter how famous - being permitted to enter a locked cock-pit and sit with the pilots? Because he flew to Las Vegas in a private plane.













Next Column: March 2, 2003
Copyright: February 23, 2003. All Rights Reserved. Reviews, Interviews, Commentary, Photographs or Graphics from any Broadway To Vegas (TM) columns may not be published, broadcast, rewritten, utilized as leads, or used in any manner without permission, compensation and/or credit.
Link to Main Page
---
Laura Deni


CLICK HERE FOR COMMENT SECTION