! >
Broadway To Vegas
  SHOW REVIEWS     CELEBRITY INTERVIEWS     GOSSIP     NEWS 
JOHN LITHGOW LEAVES THIRD ROCK FOR BROADWAY

When his contract expires, don't expect John Lithgow to continue with the highly rated Third Rock From The Sun TV series. The actor has committed to star on Broadway.

The dark musical will be Sweet Smell of Success with music by Marvin Hamlisch who will perform as the opener for the University of Nevada, Las Vegas musical series.

Although Hamlisch is the Principal Pops Conductor with both the Pittsburgh Symphony and the Baltimore Symphony orchestras the hyperactive composer has been "in a writing mode for the last three months" for Sweet Smell of Success, which has already been presented in a workshop aimed to attract backers.


MARVIN HAMLISCH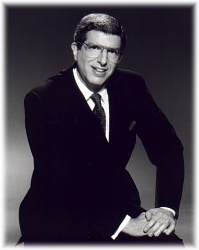 Based on Ernest Lehman's scalding 1957 movie of the same name, the musical centers on a power-mad gossip columnist named Hunsecker and Falco, the sleazy press agent who does his bidding.
It's a compelling study of naked greed and manipulation. The movie excelled in its script, photography and performances. On the so-late-it's-early streets of the city, press agent Sidney Falco, played by Tony Curtis, grabs a copy of the early edition New York Globe. Ripping out the heart of the paper, he scans J.J. Hunsecker's (Burt Lancaster) column and discards the rest. As the most powerful hack in New York, and possibly the country, getting J.J. to mention a client puts bread on Falco's table. Unfortunately just lately he's been frozen out of the loop and Falco knows exactly why; J.J. "suggested" that Falco help him out in the small matter of his sister Susan (Susan Harrison) and Falco failed to deliver. She's still seeing rising jazz guitarist Steve Dallas (Martin Milner) and J.J's mad.

The movie was widely reported to have been about legendary scribe Walter Winchell.

In this new Broadway version, the movie has been adapted for the stage by John Guare (book), Marvin Hamlisch (music) and Craig Carnelia (lyrics).

Nicholas Hytner directed the workshop, which featured John Lithgow as Hunsecker and Brian D'Arcy James as press agent Sidney Falco.

Hamlisch with a high energy personality capped by a berserk edge says he "looks for stuff that pushes the edge." He may have found it with this project. There is nothing frothy or family oriented about the production and its characters with their sleaze ball manipulation do horrible things to each other - yet neither can break away.

Hamlisch's music is in the style somewhat of the Sting of a film noir sound track from the 1950s, forming the bed for Carnelia's smart and witty lyrics.

At age 6, wearing a sailor suit, Hamlisch auditioned for admission to Julliard. Asked if his audition piece was by Mozart or Clementi, the tot snapped back that he listened a lot to the radio and he knew how to play Goodnight Irene. He did and got accepted. "I competed with a pack of driven young kids who wanted to become the next Horowitz. Me, I wanted to become the next Cole Porter."

In 1979 he won four Grammys. A year later, he won a Tony Award and a Pulitzer for A Chorus Line.Barbra Streisand relies upon him. He has three Academy Awards. "I had thought that success would make me happy, but it didn't."

He's still insecure and driven

He says he learned a lot from Michael Bennett, creator of A Chorus Liner who told him: Never settle. Treat every show like a diamond and keep polishing it. A show's never good enough until it's your best."

SFX Theatrical Group is producing the Broadway bound Sweet Smell of Success.



JOHN LITHGOW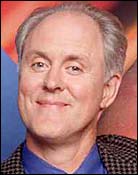 Lithgow earned a Tony award for his debut performance in The Changing Room and Tony nominations for Requiem for the Heavyweight and M. Butterfly in which he played a man seduced by a woman who is really a man. He calls Broadway his first love.

"I'm a theater junkie - I absolutely have to have it, said Lithgow who performed in 15 plays from 1972-1983 including My Fat Friend, Anna Christie with Liv Ullmann, Beyond Therapy and his one man show, Kaufman at Large.

"People have been saying that Broadway is dead," said Lithgow the son of an actress mother Sarah Lithgow and her husband, Arthur, a theater director/producer who specialized in Shakespeare. "But, theater always springs back. It moves like quick silver. But all you have to do is one movie or television film or series and in one night more people see you than have seen all of the plays I've ever done."

That's why Sweet Smell of Success won't open on Broadway until the spring of 2002. It can't come in sooner, because Lithgow has one more year on the contract for his hit TV show, Third Rock From the Sun.


RAMBLING ALONG


They hooked a generator to their car so they could amplify their music. It wasn't too good for the car but the crowds came. For almost 70 years The Hackberry Ramblers - that legendary Cajun band - have been drawing the crowds, just like they did last night at the Spanish Moon in Louisiana.

Formed in 1933, the Hackberry Ramblers features two original members, 90-year-old accordion player Edwin Duhon and 87-year-old fiddler Luderin Darbone. The group's other members are 66-year-old guitarist Glen Croker (a Rambler since 1959), 75-year-old bassist Johnny Faulk (a 20-year man), and junior Rambler Sandmel, the band's 47-year-old drummer, manager and record producer.

The group has enjoys a 67-year career and they are still plunkin' away.

Besides their great appeal to dancers, the Ramblers brought two important innovations to the South Louisiana music scene. They blended the Cajun repertoire with western swing and "hillbilly string band" songs, and introduced electronic amplification to area dance-halls via a sound-system that was powered by the battery of Darbone's idling Model-T Ford.

Their first big break occurred in the mid-1930s when they landed a regular Monday morning radio slot on KFDM in Lake Charles. The show led to work at a dance hall 75 miles away in Basile, La. While the group was a hit, they encountered a problem because people had trouble hearing their string-band sounds in the back of the hall. They overcame that obstacle a year later when they purchased a loudspeaker to amplify the vocals. As a result, the Hackberry Ramblers became an even bigger hit.

People came from everywhere to see us," Darbone said. "They were amazed that they could hear the singing from the other end of the dance hall."

They hit another snag when they began to get booked at venues that didn't have electricity. Again they compensated as Darbone purchased a generator that would hook the loudspeaker to his Ford.

"We'd have to run the car all through the dance," Darbone said, "which was like four hours. But we did it and the people loved us. Of course, it was a little rough on the car."

Last year was climaxed by the Hackberry Ramblers' long-awaited debut on the Grand Ole Opry. Then they visited the Country Music Hall of Fame, in Nashville, where Luderin Darbone donated a fiddle for display in the Hall's new museum.

Since March of 98, independent film-maker John Whitehead of St. Paul, MN, has been documenting the band for a PBS documentary. He's shot footage of the guys in New Orleans, Lake Charles and Nashville.

Since 1988 The Hackberry Ramblers have performed annually at the New Orleans Jazz & Heritage Festival The Ramblers also play weekly in their home base of Lake Charles, La. Next up a gig in Oxford, Miss

"If we play out in the country for an older crowd," Sandmel said, "they might be line-dancing. We play a place in New Orleans where everybody's got dyed hair and body-piercing and tattoos, then we do a lot of rockabilly stuff."

"We'd retire," Darbone said. "But it's already too late for that. So we just keep playing."



Broadway To Vegas is supported through advertising and donations. Priority consideration is given to interview suggestions, news, press releases, etc from paid supporters. However, no paid supporters control, alter, edit, or in any way manipulate the content of this site. Your donation is appreciated. We accept PAYPAL. Thank you for your interest.


COMMUNITY RALLIES BEHIND EFFORT TO ESTABLISH A THEATRE

Oklahoma, that Rodgers and Hammerstein classic that put the state on the map, is the vehicle being used to hopefully put a theater back in a Georgia community.

For more than a decade, the theater-loving denizens of Milledgeville have had to travel to Macon, Warner Robins, and other cities to enjoy a live stage production. That lack of a stage also made it virtually impossible for those with theatre blood surging in their veins to be either in front of the spotlight or behind the light creating the project.

Georgia College & State University employees Mark Pelton and Chris Hendley, who have been active in community theater in other cities, knew that Milledgeville was missing out on an opportunity to let the local talent shine. Pelton is the college's dean of continuing education and public services, and Hendley is director of choral activities and assistant professor of music.

"Milledgeville had a theater 15 or 20 years ago that was fairly active," Pelton said. "But it died out in the late '70s and there's been nothing since. When the music and theater department began offering the major a few years ago and a scholarship, there was really no outlet for the community. And we had been hearing from people who wished there was a local theater."

Pelton convinced GC&SU to sponsor a production in the university's Russell Auditorium Aug. 10-13 in hopes of jump-starting Milledgeville's return to the world of local theater. Hoping to generate a buzz, Pelton chose Oklahoma! as the first production.

"We wanted something that would excite the community - something that everyone knows - and we wanted it to be a big success," he said. "We felt Oklahoma! would lend itself to that success."

So far Pelton's plan seems to be working. The response has been so great that the cast and crew has swelled to 53 people, ranging from locals to GC&SU students, faculty and administrators and a 15-piece orchestra made up mostly of volunteers.

"My plan really was to spearhead the first effort to see what kind of interest we had and see how successful this first musical would be," he said, "and see which people would step forward for community theater and who would be willing to spend time and money to make ongoing theater a reality."


SWEET CHARITY

PETER FRAMPTON Monday night Frampton plays the Ryman Auditorium in a benefit for St. Cecilia Academy, where his daughter attended school during his many years spent in Nashville. It is a special night for Frampton, who now places his family - wife Tina and he have three girls and a boy - ahead of his career. Frampton and brood recently moved to Cincinnati to be closer to his wife's family.


OTHER PEOPLE'S MONEY

THE KRESGE FOUNDATION one of the nation's largest private foundations with assets of over $2 billion, has awarded Carnegie Hall a $1.5 million challenge grant in support of The Third Stage: An Expansion Campaign for Carnegie Hall. The money will facilitate the transformation of the lower level of Carnegie Hall, originally a recital hall and most recently a commercial cinema, into a flexible, intermediate-size venue for music performance and music education.



PROOF the Manhattan Theatre Club's hot, sold-out new play starring Mary-Louise Parker, written by David Auburn and directed by Daniel Sullivan, is moving to Broadway beginning Oct. 10.

BOTTOMS UP the award winning musical comedy revue which has been on one stage or another since 1959 returns to Las Vegas, opening August 14 at the Flamingo Hilton. The longest-running comedy revue in the world, Bottoms up has been awarded an unprecedented 34 "Best Show of the Year" awards in Las Vegas for its slick and fast-paced blend of bawdy one-liners, sexy young women, and provocative dancing. The production stars Breck Wall, Davis Harris, Sue Motsinger and features Billy Smith. Also under the spotlight in Bottoms Up will be Vanessa McCann, Clint O'Ray, Trent Sherrell, Dawn Page, Heidi Farbairn, and Kristi King. The show is choreographed by Michael Darrin, Missy Cockran, and Kyla Quintero. The show is staged and directed by Wall, who also produces along with Patrick Maes.


WHO'S WHERE

JOY BEHAR visited the set of The Crumble Zone which has been extended thru August 27 at The Rattlestick Theatre, NYC.

Pictured from left to right: Steve Mateo, Gerald Downey, Joy Behar, Josh Biton, Mario Cantone and Paul Pecorino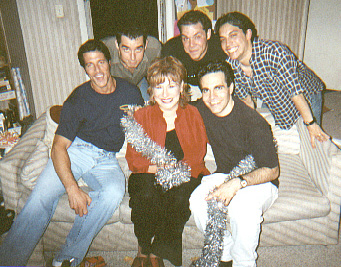 The Crumble Zone, written by Buddy Thomas, directed by Jason Moore who was the Associate Director for Les Miserables.

Presented by Marcus Kettles.

CRUMPLE ZONE (N.) - An area of a car that is designed to compress during an accident to absorb the energy from impact.
The play was the winner of the 1998 New Voices Play Award.

The Crumble Zone is bill as a dark, fast-paced comedy that follows five very different men as they confront questions of love, infidelity, and friendship over one frantic holiday weekend.

The cast of The Crumble Zone also includes Joshua Biton, Gerald Downey, Paul Pecorino, and Steve Mateo.

BRETT BUTLER, TONYA PINKINS & KIMBERLY WILLIAMS enter The Vagina Monologues August 8-20. Westside Theatre, NYC.

LEA THOMPSON has joined the cast of Cabaret Studio 54, NYC.

THE WHO Peter Townshend, John Entwistle and Roger Daltrey on their Greatest hits Tour August 14 at the Hollywood Bowl

EARTH, WIND AND FIRE in the middle of recording their 23rd album, perform in the Delta Center, Salt Lake City, Utah on Tuesday, August 8. Tickets range from $25-$32.50.

THE DOOBIE BROTHERS Kravis Center For The Performing Arts, West Palm Beach, FL August 16.

MICHAEL FEINSTEIN performs August 11-12 at the Guild Hall - John Drew Theatre, Easthampton, N.Y.

KAREN MASON August 18-19 at the DeSisto Cabaret in Stockbridge, Mass.

LINDA LAVIN back in Wilmington, North Carolina, which is where she has lived for the past five years, heading up GirlFriends, the wonderful program Lavin started in 1997, which helps young women build self esteem through writing and performing. The culmination of the summer program is a show written, directed and acted by the group.


THIS AND THAT


PICKIN' AND GRINNIN' The 13th Annual Old Fiddle Contest will be held on August 12 in Branson, Mo.

Not just any old judges but certified and experienced judges, will judge the competition using the "Old Time Fiddle Standards." The Fiddlers will be competing for cash prizes, trophies, and bragging rights in four Divisions, Junior, Senior, Old Time Traditional Style, and Texas Style.

MICHAEL JACKSON brought his children Prince and Paris to Las Vegas to see the Siegfried and Roy Show at the Mirage. Then they went backstage and the kids watched while papa petted the animals.

TOM SELLECK visiting Las Vegas as he does quite often.



Mention BROADWAY TO VEGAS for Special Consideration
Call (800) 942-9027









Next Column: August 13, 2000
Copyright: August 6, 2000. All Rights Reserved. Reviews, Interviews, Commentary, Photographs or Graphics from any Broadway To Vegas (TM) columns may not be published, broadcast, rewritten, utilized as leads, or used in any manner without permission, compensation and/or credit.
Link to Main Page
---
Laura Deni


CLICK HERE FOR COMMENT SECTION