! >
Broadway To Vegas
  SHOW REVIEWS CELEBRITY INTERVIEWS GOSSIP NEWS

| | |
| --- | --- |
| | |
EVERYBODY IS NAMED SCHULMAN - - CAROL BURNETT & JULIE ANDREWS HONORED - - JANIS IAN'S MASTER CLASS - - MA RAINEY'S BLACK BOTTOM - - JOHNNY CARSON'S DEEP POCKETS - - SAT'S & NONE OF THE ABOVE - - A GOAT'S YEAR - - STAR POWERED BOB HOPE CLASSIC - - DONATE . . . Scroll Down


MAINTAINING THE RIGHT IDENTITY
Director Susan H. Schulman; Literary agent Susan F. Schulman and Theatrical press agent Susan L. Schulman at a 1995 women in theatre luncheon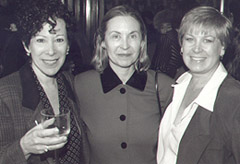 It's an identity crisis. While they are grounded in who they are, it's others who get the press agent, the literary agent and the director confused.

All are named Susan Schulman. They work in the same industry, once lived within three blocks of each other and had the same mailman.

They have received money belonging to the other and men misdirecting date invitations.

Broadway To Vegas tracked down the three Schulmans to see what it is like to be an in-name-only triplet.

We discovered a lot of laughs.



Susan H. Schulman, director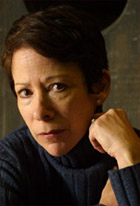 "When we did live close together, I actually lived in an apartment building where the doorman didn't speak English very well," recalled Susan Schulman the director. One day her buzzer rang and not understanding a word the doorman said, replied "Okay, fine."

"Someone came upstairs and I opened the door," she related. "This total stranger was standing there with a script in his hand. I said - Who are you? He went - You're not expecting me? He said I'm a writer. I have an appointment with Susan Schulman. I said, not with me you don't. He had an appointment with the literary agent. His face turned totally white. I said, but you're in luck. She only lives two blocks away," laughed the director.

Schulman the director reported that while she has never received a gift meant for the other, "I did get a check once, which was meant for the literary agent. Unfortunately, I couldn't keep it. It was a nice size check, too!"

Schulman, the director, broke the glass ceiling for women directing on Broadway.

In 1990 she had been hired to do a "chamber" version of Sweeney Todd and ended up with a critical hit and a Tony nomination. That led to The Secret Garden, a breakthrough in many ways with its dreamy, psychologically layered staging and, not coincidentally, a creative team almost entirely composed of women. Her Broadway credits also include the first ever revival of The Sound of Music (1997).

"At the time, I really didn't think about that," she said referring to entering the boy's club of Broadway directing. "I was just thrilled to be able to make my living at something that I love so much. I only really sort of became aware of that when Sweeney Todd opened on Broadway and it got wonderful reviews, but it also got some back handed compliments. I remember one reviewer saying - you know this is so good it is impossible to tell the gender of the director. He actually thought that was a compliment! That sort of thing. Then suddenly I became aware of the fact that this was sort of a big deal, which I wasn't even paying any attention to. Except, I knew how difficult it was for me to get started."

"Referring to her like named friends she related, "In the beginning, when you make a phone call, people either don't want to talk to the director, or don't want to talk to the press agent, or don't want to talk to the literary agent, so I would get this suspicious - which Susan Schulman are you?"

The three also shop at Saks, which has caused the high-end department store to double check - making sure that the Schulman walking out the store with the merchandise is the Schulman who receives the bill.

"When I go to Saks and I give them my credit card something comes up on the computer. They look puzzled and then they double check my identity usually going - Where do you live?"

"What I think is hilarious is that we've all been in the business since about the same time. It is so concurrent."

There was even a time when the three Schulmans almost worked on the same project. "I can't remember what the project was. But, yes, we came very close. And, we've all started using our middle initial. That is the reason I started putting the H in," explained the director Susan H. Schulman.

Next up for Susan H is A Little Princess, "which is Andrew Lippa, who wrote The Wild Party, and Brian Crawley, who wrote Violets, so it is a wonderful collaboration," she said referring to the two men and their creative efforts which she directed. "So, I am very happy about that."

Literary agent Susan F. Schulman founded her agency in 1979, specializing in non-fiction of all types, but particularly in health and psychology-based self-help for men, women and families. Other interests include business, the social sciences, biography, language and international law. Fiction interests include contemporary fiction, including women's, mysteries, historical and thrillers `with a cutting edge'. Her agency also represents plays, screenplays and negotiates/sells film rights and works with agents in appropriate territories for translation rights.

"Susan called me to tell me about a problem we were "sharing" with our AOL," said Schulman the literary agent, referring to Schulman the press agent. "It seems that while I was on vacation my AOL account filled to the brim with messages. Did you know the top is l,000? Once I hit that number apparently the balance spilled over into the next Susan Schulman's account - Susan the press agent. She found herself deluged with messages from writers asking if I would read their novel or screenplay!"

"That's one of series of confusions associated with being a Susan Schulman in the entertainment business in NYC," continued the literary agent whose publishing credit include best sellers like Robin Norwood's Women Who Love Too Much, which has sold about 10 million books in 27 languages and The Artist's Way by Julia Cameron. The Schulman agency also represented Michael Ondaatje's The English Patient, a Miramax film which snapped up 12 Oscars and the forthcoming Holes, by Louis Sachar, which will be released by Disney April l8.

"I've received calls from theater artistic directors, like Lynn Meadow, asking me about a certain script, hard to figure out at first that this call was aimed at Susan the director. I've received a telephone call from an articulate former classmate of one of us - I never did determine which one - and the called started out with, "I've just left my wife, and I remembered you from college....."

"The craziest time was living on the same street, sharing the same mail route with two other Susan Schulmans," continued the literary agent.

"To totally confuse the industry I always hoped that I would license a Tony Award winning play to a Broadway producer who would hire Susan Schulman the director who would also win a Tony and the press agent for the show would be Susan Schulman. Then at the Tony Awards we could appear together and dress alike!"

"The really funny thing, to me, is that when I am introduced to somebody and they are really thrilled, I know they think I am one of the other two," quipped Susan Schulman the press agent. Because nobody is that thrilled to meet a press agent."



Susan L. Schulman, theatrical press agent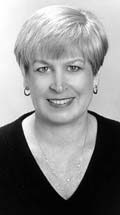 "Either it's an actor who thinks they are going to get cast or it is a writer who thinks they are going to get a literary agent. If I am at a party and somebody goes - Do you know Susan Schulman and I hear a gasp! or they go Hi! I know they think I am one of the other two. Then there is that split second decision as to whether you burst their bubble or whether you just let it go, because it isn't important. Because, you don't want to embarrass anybody who is gushing. On the other hand, you don't want to pretend your somebody your not. But there is that moment of - does it matter or doesn't it matter?"

Susan L. Schulman has been a theatrical press agent for over 30 years handling Broadway and off-Broadway plays and musicals, dance, television, books, special events and individual personalities. A native New Yorker, Susan is a graduate of NYU with a Masters' degree in Theatre from Columbia University.

Her numerous Broadway and off-Broadway productions include Lauren Bacall in Applause; George C. Scott in Sly Fox and Death of a Salesman; Jim Dale in Scapino; John Lithgow and George Segal in Requiem for a Heavyweight; John Davidson in State Fair; Glenn Close, Richard Dreyfus and Gene Hackman in Death and the Maiden; Harry Groener in Crazy for You; Alec Baldwin and Jessica Lange in A Streetcar Named Desire; Bob Fosse's Dancin'; the Johnny Mercer musical Dream starring John Pizzarelli, Margaret Whiting and Leslie Anne Warren; and The Madwoman of Chaillot with Kim Hunter and Anne Jackson.

Schulman represents 24 Evenings of Wit and Wisdom opening March 5 at the Arclight Theatre in NYC. The Colleagues Theatre Company production stars Carmen DeLavallade, Sandy Duncan, Alvin Epstein, Rita Gam, Rosemary Harris, Kitty Carlisle Hart, Rita Moreno and Dina Merrill.

"We get calls and mail for each other all the time," continued literary agent Schulman. "At one time we lived within three blocks of each other and had the same mailman which worked out well," Schulman declared. "We've known each other for years so we don't mind sharing messages."

"Years ago I received a call from a major newspaper critic asking if I had directed a show that was about to open off-Broadway saying if I had directed it, he would review it. I told him I was not the director but that I knew her and that she was good, so asked him to review it anyway. He did and I believe it was one of Susan H.'s first important reviews. I doubt she even knows about this," recalled the press agent.

"I receive scripts all the time for the literary agent and pass them along to her"

There was also that dinner date phone call.

Upon returning home press agent Schulman checked her answering machine and heard an unknown male voice say that his flight was delayed, so he'd be an hour late for dinner. The press agent called the other two Schulmans, leaving messages on their machines --- If you have a dinner date, he's going to be an hour late.



Broadway To Vegas is supported through advertising and donations. Priority consideration is given to interview suggestions, news, press releases, etc from paid supporters. However, no paid supporters control, alter, edit, or in any way manipulate the content of this site. Your donation is appreciated. We accept PAYPAL. Thank you for your interest.


CELEBRITIES SWINGING IN BOB HOPE CLASSIC


Last Wednesday night the delightful Anderson Cooper looked the camera in the eye and straight faced told the CNN audience that he was filling in because Aaron Brown was on assignment.

Yeah, sure. Some assignment. Playing golf in the Bob Hope Classic.

Brown, one of our favorites, is CNN's lead anchor during breaking news and special events, also serving as anchor of News Night - when he's not "on assignment." He covered the State of the Union address, then hopped a midnight flight arriving about 4.a.m. at the tournament where he had an opening round tee off time of 9:24 a.m.

Brown wasn't the only boldface name at the Bob Hope Classic.

Even-tempered Don Cheadle turns to directing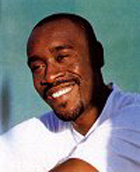 Other high-profilers included;

Yogi Berra, that "it ain't over 'til it's over" guy and great catcher for the New York Yankees and two time Grammy winner Michael Bolton were there. Don Cheadle, best known for roles in Traffic, Swordfish and Oceans Eleven had the other golfers complimenting his good natured disposition. Cheadle is going to be needing that even temper. He's about to take his first stab at directing, the Elmore Leonard story Tishomingo Blues.

Roger Clemens starting pitcher for the NY Yankees and six-time Cy Young Award winner, telling fans about his admiration for Bob Hope, who hasn't been able to attend his own golf tournament since 2000.



Alice Cooper has Bible study on Wednesdays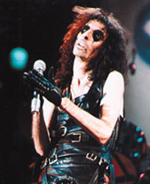 One of the more skilled celebrity golfers, Alice Cooper, famed for his legendary on-stage makeup and his pet snake, is a different animal at home. His wife sings in the church choir. His 17-year-old son, Dash, plays hockey and is active in church and every Wednesday the family, which includes youngest daughter, Sonora, participates in a Bible study program. Cooper is thrilled that his 21-year-old daughter, Calico, is studying acting in New York. Her father says he would like to see her have a career on Broadway.

Actor William Devane, whose acting career spans more than three decades, was hitting the ball and Tom Dreesen, who serves as Master of Ceremonies for the Bob Hope Classic Ball, and for 13 years toured as the opening act for Frank Sinatra, was involved in everything.



Ken Griffey, Jr.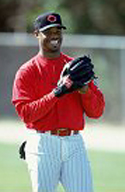 David James Elliott star of the popular TV series JAG; Glenn Frey a rock music legend who co-founded The Eagles; Ken Griffey, Jr. center fielder for the Cincinnati Reds; Dennis Haysbert who is currently starring in the hit series 24 as the embattled President David Palmer; Randy Johnson a member of the 2001 World Series Champion Arizona Diamondbacks; Joe Kernen one of the most familiar faces in TV's coverage of Wall Street - all had a ball.



Dave Mirra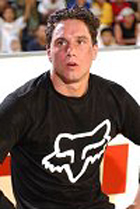 Versatile character actor Richard Kind, perhaps best known for playing Paul Lassiter on the long-running sit-com Spin City, was having a good time. Aaron Lewis, lead singer of the rock group Staind, eagled his first hole of the tournament and birdied the second.

Also swinging that golf club around were Rush Limbaugh, who is heard daily by more than 20 million radio listeners. Wearing a raspberry colored beret, A. J. McLean, bass guitar and piano player for Backstreet Boys, graciously signed autographs for fans. Dave Mirra considered the world's finest BMX bike racer and Trevor Penick a member of O-Town musical group were eager players. Academy Award winner Joe Pesci was telling participants that he hopes Gangs of New York wins Martin Scorsese an Academy Award for best director.

Also in the tournament were veteran television anchor Maury Povich, who was mad at himself for waiting this long to participate in the tourney. Darius Rucker, before launching his successful solo singing career, was lead singer of the Hootie & the Blowfish, had a great time.



Kevin Sorbo was raised on Bob Hope movies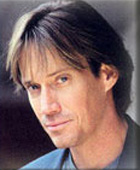 Kevin Sorbo, most famous as the star of the long-running Hercules series, now stars as Captain Dylan Hunt in Andromeda. He told the crowd he was raised on Bob Hope movies and television specials, so playing in the tournament had extra special meaning.

Don Sutton who was elected to the Baseball Hall of Fame in 1998 was in good form and entertainer Andy Williams, who has turned the Bob Hope Classic into a regular stop, made this his 29th classic.

The 44th annual Bob Hope Chrysler Classic continues through February 2 at the Indian Wells Country Club, Bermuda Dunes Country Club, La Quinta Country Clubs and Palmer Private Course at PGA West. The $4.5 million purse pays out $810,000 for first place. Defending champion is Phil Mickelson.

The Bob Hope Golf Classic distributes its net proceeds to the Eisenhower Medical Center and forty deserving charities in the California Coachella Valley once each year, usually in November or December. Over $37 million has been distributed since 1960.




HAPPY YEAR OF THE SHEEP, BLACK OR OTHERWISE


This week-end ushers in the Year of the Goat - which is suppose to bring a year when people stay closer to home.

Flower Drum Song would like people to stay closer to the theater - theirs in particular - and are offering a special New Year celebratory offer to see the production for up to 45% off.

Celebrations continue around the country. In New York City the 2003 Asian Lunar New Year Festival at Columbus Park features Jose Llana, who stars as Ta in Flower Drum Song, singing the Star Spangled Banner and America the Beautiful.

The Chinese Lunar New Year is the longest chronological record in history, dating from 2600BC, when the Emperor Huang Ti introduced the first cycle of the zodiac. Like the Western calendar, The Chinese Lunar Calendar is a yearly one, with the start of the lunar year being based on the cycles of the moon. A complete cycle takes 60 years and is made up of five cycles of 12 years each.

Each of the twelve years after an animal. Legend has it that the Lord Buddha summoned all the animals to come to him before he departed from earth. Only twelve came to bid him farewell and as a reward he named a year after each one in the order they arrived. The Chinese believe the animal ruling the year in which a person is born has a profound influence on personality, saying: "This is the animal that hides in your heart."

Those born in the year of the sheep - 1931, 1943, 1955, 1967, 1979, 1991, and 2003 are thought to be a contented lot, happy with their creature comforts around them, wise and compassionate, especially gifted in the arts and reputedly tasteful. Charming, elegant and artistic, sheep are often envied for their success.

On the other hand, it's also believed that sheep can be great worriers, often getting off on the wrong foot with people and having a generally pessimistic outlook on life. This often leaves sheep feeling puzzled and even timid but despite their tendency towards shyness, sheep often find themselves the center of attention.

Those born under the sign of the sheep frequently throw themselves passionately into what they do and what they believe in. Many sheep, as it happens, are deeply religious and spiritual. This doesn't, however, curb their materialistic tendencies and they cling to their loved possessions tightly.

Financially, sheep are volatile but always manage to get by. Sheep never seem to worry about having the best in life as their abilities and artistic flare bring them the success they need in their chosen career.

Those born under the sign of the sheep do not so much dream as imagine, appreciating the written word, peace and beauty. Sheep are gentle and caring, and are strongly family orientated and the Chinese think of them as the harbingers of peace. They are pacifists by nature unless fighting to end conflict.

Famous people born in the Year Of The Sheep: Gene Hackman, Mikhail Gorbachev, Leonard Nimoy, Prunella Scales, John Major, and George Harrison.


THE MUSIC GOES ROUND AND ROUND


ST. LOUIS WOMAN is the first complete recording of the 1946 Harold Arlen, Johnny Mercer musical. The Decca Broadway CD is based on the acclaimed the 1998 revival production at New York City's City Center with a cast headed by Vanessa Williams and Charles Dutton.

As the original score has been lost for over 40 years, the entire score on this recording was culled from a wide range of sources including the archives at The Library of Congress and the Arlen Archives in Queens.

St. Louis Woman with a book by Arna Bontemps and Countee Cullen was based on Bontemps' novel God Sends Sunday. Lyrics by Johnny Mercer with music by Harold Arlen. the Edward Gross production with choreography by Charles Walters was helmed by Rouben Mamoulian. The original production opened March 30, 1946 at the Martin Beck Theatre and ran for 113 performances.

The original cast included: Harold Nicholas, Fayard Nicholas, Pearl Bailey, Ruby Hill, Rex Ingram, June Hawkins, Juanita Hall and Lorenzo Fuller.

The show was a flop but the songs were hits; Sweeten' Water, Any Place I Hang My Hat Is My Home, I Had Myself A True Love, Cakewalk Your Lady, Come Rain or Come Shine, Ridin' On The Moon, all come from St Louis Woman.

The City Center Encores! production was directed and adapted by Jack O'Brien. In addition to Williams and Dutton the cast included; L. Scott Caldwell, Yvette Cason, Victor Trent Cook, Chuck Cooper, Helen Goldsby, Stanley Wayne Mathis, Wendell Pierce, and Roger Robinson.

With orchestrations by Ralph Burns and dance music orchestrations by Luther Henderson, the production was backed by The Coffee Club Orchestra.

That group came into existence in the fall of 1989, when Garrison Keillor asked his musical director Rob Fisher to put together an ensemble for his new show, American Radio Company. Fisher proposed a small orchestra that would be able to play music from Morton and Ellington to Beethoven and Bernstein to rock-n-roll. The orchestra's sound would be unlike others of its size because in addition to a brass section, rhythm section, and four of the most accomplished woodwind "doublers," it would have a string section. Veteran musical contractor Seymour Red Press then filled the chairs of The Coffee Club Orchestra with some of New York's finest musicians, chosen for their breadth of experience and versatility. Heard on the St Louis Woman CD are; Red Press, Al Regan, Lawrence Feldman, Dennis Anderson, John Campo, Russ Rizner, Roger Wendt, John Frosk, Glenn Drewes, Kamali Adilifu, David Bargeron, Jack Gale, John Redsecker, Thad Wheller, Joe Thalken, Grace Paradise, Jay Berliner, Suzanne Ornstein, Belinda Whitney-Barratt, Barry Finclair, Marilyn Reynolds, Maura Giannini, Martin Agee, Ashley Horne, Aloysia Friedmann, Ron Oakland, Xin Zhaq, Kathryn Livolsi, Jill Jaffe, David Blinn, Mitsue Takayama, Clay Ruede, Fred Zlotkin, Jeanne LeBlanc and John Beal.

CHICAGO murder, greed, corruption, violence, exploitation, adultery and treachery, all those things we all hold near and dear to our hearts. It's no wonder that the movie is a hit and the sound track album topping the charts. They had it comin'.

That doesn't mean you can't still snap your girdle over the Broadway albums.

With music by John Kander, lyrics by Fred Ebb and a book by Ebb and Bob Fosse, the show premiered June 1, 1975 at the 46th Street Theatre hanging around for 947 sharp, dark and dazzling performances.

With an orchestra conducted by Stanley Lebowsky the performers included: Chita Rivera, Jerry Orbach, Gwen Verdon, Mary McCarty, Barney Martin, and M. O'Haughey.

In the fall of 1995, when the enterprising City Centers Encores! series announced they were going to stage Chicago as part of their series, the announcement was met with snickers about the show that sings about the hand that turns the screw, turning murder into an art.

But on May 2, 1996 the show played its first of four Encores! performances. On June 23 the campaign was begun to inform future ticket buyers that Chicago and all that jazz was headed for a double whammy show that was so splendiferous that row after row will grow vociferous. No flim flam flummox.

Opening October 29 at the Richard Rodgers Theater, the revival razzle dazzled 'em. A recording was waxed in 1996. Conductor Rob Fisher gave the downbeat to Joel Grey, Marcia Lewis, Ann Reinking, James Naughton, Bebe Neuwirth, Michael Berresse, John Mineo, Michael Kubala, David Sabella, John Borstelmann, Bruce Anthony Davis, Rob Fisher and David Warren-Gibson.

Chicago The Musical a CD on RCA Victor Records. Don't have this in your collection? Why not?


SWEET CHARITY


WOODY GUTHRIE TRIBUTE takes place February 5 at the Ryan in Nashville. Taking part are Rawlings, Arlo Guthrie, Marty Stuart, Janis Ian, Guy Clark, Gillian Welch & David, Nanci Griffith, and others. Proceeds go to the Woody Guthrie Foundation/Archives in New York, an outfit run by Woody's daughter, Nora Guthrie.

THE TIGER WOODS FOUNDATION will have Bon Jovi as the headliner at the Tiger Jam VI which takes place April 19 at Mandalay Bay Events Center in Las Vegas. Tickets went on sale yesterday for the annual charity event which benefits Las Vegas and Los Angeles charities.

AMFAR honors Vogue's Anna Wintour and Saturday Night Live's Lorne Michaels tomorrow night, February 3, in New York City. The designer crowd expected to attend include; Tommy Hilfiger, Ralph Lauren, Donna Karan, Kenneth Cole, Calvin Klein, Harvey Weinstein, Natasha Richardson and Sharon Stone.


SPREADING THE WORD


FRANKIE & JOHNNY IN THE CLAIR DE LUNE find out what happens behind the "imaginary curtain" as some of Broadway's best actors - Rosie Perez, Joe Pantoliano - directors, playwrights and choreographers discuss their experiences. Sunday, February 9 sponsored by the 92nd Street Y at Buttenwieser Hall.

JANIS IAN: A MASTER CLASS IN ARTISTRY

Janis Ian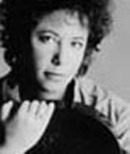 is part of the 15th Annual International Folk Alliance Conference taking place February 6-9 at the Nashville Convention Center and the Renaissance Nashville Hotel. Founded in 1989, Folk Alliance was created to increase public awareness of the vital artistic and cultural importance of folk music and dance.

Ian has given master classes in both conventional and unconventional settings including Berklee College, UCLA, Belmont University, the Chino Correctional Facility and the Lyons Folk Festival to name a few. Her 3-hour presentation includes live performances, musical history, philosophy, and personal anecdotes based on Ian's three decades of experience as a writer, performer and actor.

Topics covered include the fundamentals of performing, tricks of the trade, business do's and don'ts, how to nurture your creativity, and answers to any and all questions that arise in the long question and answer period.

A professional singer/songwriter since the age of 14, Janis Ian has made 17 albums and had her songs recorded by a diverse group of artists including Hugh Masakela, Bette Midler, Chet Atkins, John Mellencamp, Roberta Flack, and Cher. In addition to her stellar career in music (9 Grammy nominations and 3 awards to her credit), Ian also trained for a decade under noted acting and script teacher, Stella Adler. She also studied with Nina Foch, Jose Quintero, and Chao Shao Lin of the Peking Opera company, as well as with Dora Krannig of the Royal Ballet.

Berklee College called Ian's class "An open-ended, free-wheeling graduate level seminar featuring one of the best live performances we've ever seen. Bring your questions and a hearty appetite for knowledge!"

JAZZ AND LITERARY READINGS featuring literary readings by Arturo O'Farrell, Andy Gonzalez, Phoenix Rivera and others at the Bronx Museum of the Arts, Feb. 5.

JULIE ANDREWS AND CAROL BURNETT will be honored at The Museum of Television and Radio's annual black tie gala, which will be held at New York's Waldorf-Astoria Hotel, on Wednesday, February 5.

The Museum will salute Andrews and Burnett for "their outstanding and award-winning careers on television," which include the 1962 Julie and Carol at Carnegie Hall as well as two follow up specials.

A host of Burnett and Andrews' celebrity friends will be on hand to pay tribute to the legendary performers.

Past honorees include Alan Alda, Steven Bochco, David Brinkley, James Burrows, Sid Caesar, Marcy Carsey and Tom Werner, Ted Danson, Kelsey Grammer, David E. Kelley, Mary Tyler Moore, Jack Paar, Dan Rather, Jerry Seinfeld, Garry Shandling, Martin Sheen, Barbara Walters and Dick Wolf.

THE 32nd ANNUAL THEATRE HALL OF FAME CEREMONY was hosted by Tony and Olivier Award winner Patti LuPone on January 27. The ceremony at the Gershwin Theatre was followed by dinner at Sardi's. The 2002 inductees include actors Stockard Channing, Tammy Grimes, Frank Langella and Jean Stapleton; playwrights Larry Gelbart and David Mamet; producer Bernard Gersten; and scenic designer John Lee Beatty.

The Theater Hall of Fame, which honors lifetime achievement in the American Theatre, was originated in 1971, and was the brainchild of Earl Blackwell, James M. Nederlander, Gerard Oestreicher and Arnold Weissberger. To be eligible to be nominated for this award, the person must have a career spanning at least 25 years on Broadway with more than five major credits to their name.

DNA WEEK in New York celebrating the 50th anniversary of the DNA Double Helix, gets the blue blood treatment when Kitty Carlisle Hart hosts a cocktail reception at her residence with remarks by Dr. James D. Watson, KBE. In the fall of 1951, Watson, 23, and Francis Crick, 35, began using molecular biology to build three-dimensional models of possible DNA structures at Cavendish Laboratory at the University of Cambridge in England. Eighteen months later Watson and Crick discovered the double helix configuration. Watson, Crick and Maurice Wilkins shared the Nobel Prize in Physiology or Medicine in 1962 for their roles in the discovery. Since the 123 people in the United States have been freed by post-conviction DNA testing.


OTHER PEOPLE'S MONEY


JOHNNY CARSON has donated $500,000 to the Nebraska Cultural Endowment. The money will be used to support the Nebraska Arts Council and the Nebraska Humanities Council. The councils fund guest speakers, artists and educational exhibits throughout the state. Carson's gift is the single largest cash contribution to the endowment's $5 million fund-raising campaign, which has raised about half its goal.

THE BOULDER, COLORADO PHILHARMONIC has received a concert grant from the Nevada-based Oakmead Foundation, which was created by Silicon Valley entrepreneur Lon Israel and his wife, Mary. The outreach grant will underwrite the orchestra's sale of 750 tickets in prime seating areas at half-price to music students at three Boulder high schools and their families. The tickets will be available for the philharmonic's February 21 and 22 concerts with famed violinist Nadja Salerno-Sonnenberg.



MA RAINEY'S BLACK BOTTOM by August Wilson - despite numerous problems, including the hospitalization of two production members - officially opens a 23-Week Limited Engagement at Broadway's Royale Theatre on February 6. The opening night cast party follows at the Roosevelt Hotel Ballroom.

Whoopi Goldberg and Charles S. Dutton, reprising his 1985 Tony-nominated performance, head the cast, directed by Tony Award nominee Marion McClinton.

The production also stars Louis Zorich (Sturdyvant), with Thomas Jefferson Byrd (Toledo), Tony Cucci (Policeman), Stephen McKinley Henderson (Slow Drag), Anthony Mackie (Sylvester), Heather Alicia Simms (Dussie Mae) and Joseph Siravo (Irvin) and Carl Gordon (Cutler), whose understudy is Helmar Augustus Cooper. Several previews performances were canceled after Gordon was rushed to the emergency room on doctor's orders after experiencing severe leg pain and hospitalized with a blood clot in his leg. Then director McClinton was hospitalized with a stomach virus.

Ma Rainey's Black Bottom, which was Wilson's first major play, takes place over a single day in 1927, in a Chicago recording studio. Singer Ma Rainey (Goldberg) has taken some time off from touring to record several songs for a record company with whom she had previously recorded with financial success.

Levee (Dutton), the band's talented and temperamental trumpet player, wants to move beyond his role as Ma Rainey's backup and aspires to have his own band someday, while facing the obstacles of developing black music in the white recording industry.

The story follows the band's attempts to successfully complete the recording session, despite interpersonal conflicts within the band, Ma Rainey's trouble with the law, and power struggles between Ma and the record company.

The production features scenic design by David Gallo, costume design by Toni-Leslie James, lighting design by Donald Holder, sound design by Rob Milburn and Michael Bodeen and musical direction by Dwight Andrews.

Ma Rainey's Black Bottom originally opened on Broadway at the Cort Theatre on October 11, 1984, where it played 276 performances. It was produced by Robert Cole and Frederick Zollo. The production received three 1985 Tony Award nominations, including a Best Featured Actor nomination for Charles S. Dutton, who originated the role of Levee in his Broadway debut.

HAPPY BIRTHDAY, JAMES JOYCE presented by the Toward International Peace through the Arts (TIPA) project - presents Cherry Jones, Swoosie Kurtz, Marian Seldes, Tammy Grimes, Anne Jackson and Eli Wallach reading from Joyce, Yeats, Beckett and other illustrious Irish writers at the Fifth Avenue Presbyterian Church, New York City on February 7. The event is free.

FIFTH OF JULY by Lanford Wilson. On a hot Independence Day in the late 70s, a widow puts her husband's ashes in the fridge for safekeeping, a handsome botanist rediscovers a long-lost variety of rose, and a young girl dreams of being Betty Grable and Marie Curie. The first play written in Wilson's celebrated Talley trilogy about the Missouri-rooted Talley family, which also includes Talley's Folly and Talley and Son.

Fifth of July chronicles the two-day reunion of a group of 60s radicals in their small hometown of Lebanon, Missouri. These friends and lovers confront the consequences of their past choices and try to reconcile the disappointments of lost dreams with renewed hope for the future.

Obie Award winner Jo Bonney directs an ensemble of eight including Jessalyn Gilsig, Michael Gladis, David Harbour, Robert Sean Leonard, Sarah Lord, Ebon Moss-Bachrach, Pamela Payton-Wright, and Parker Posey.

Designers are Richard Hoover (set); Ann Hould-Ward (costumes); James Vermeulen (lights); John Gromada (original music and sound); J. Steven White (fight direction). Performances of the Signature Theatre Production continue to March 9 at the Peter Norton Space, NYC.

DAME EDNA February 3-8 at the Palace in Louisville, Kentucky.

NONE OF THE ABOVE a comedy by Jenny Lyn Bader receive its world premiere in New York City at New Georges March 15 through April 5.

Julie Kramer will direct.

None of the Above is set in a penthouse on Manhattan's Upper East Side. A highly-priced S.A.T. tutor and his recalcitrant student banter like a couple of 30s movie stars. The buying and selling of knowledge - what would happen if an S.A.T. tutor entered a morally impossible bargain. In a society obsessed with numbers, the relationship between tutor and student raises questions about entitlement, intelligence and pressure to succeed and the nature of risk. Trying to standardize human beings has never been such a good idea; the world of standardized testing offers a glimpse of what society values, what it means to be educated and to what extent learning means conforming.

ROSE & WALSH by Neil Simon is having the world premiere staged at the Geffen Playhouse in Los Angeles.

David Esbjornson directs Jane Alexander, David Aaron Baker, Len Cariou and Marin Hinkle

Set in the 1980's Alexander and Cariou star as the lovers, in this fictional play, inspired by the relationship between writers Lillian Hellman and Dashiell Hammett.

Scenic design by John Arnone. Costumes by Elizabeth Hope Clancy. Stephen Strawbridge lighting design and Jon Gottlieb sound.

Opening night is February 5 continuing to March 9.

MAMMA MIA! features 22 of ABBA's best known songs including, The Winner Takes It All; Dancing Queen; Knowing me, Knowing You; Take a Chance On Me; I Do, I Do, I Do, I Do, I Do; Super Trouper; and Mamma Mia.

Produced by Judy Craymer, who previously worked with ABBA's Benny Andersson, Bjorn Ulvaeus and Tim Rice. Mamma Mia! became and instant hit in London immediately following its opening on April 6, 1999. The show has just announced a London extension

The National Tour performs at the Civic Center of Des Moines, Iowa February 4-16.

RUTHLESS, THE MUSICAL which opines "So many lessons that I should've taught her, like, for example, to not kill her friends." Actors Cabaret of Eugene, Oregon billed as the area's busiest theater company, presents this irreverent comedy running through March 1.

Ruthless! with book and lyrics by Joel Paley, music by Marvin Laird parodies the classic stories of The Bad Seed, All About Eve, Gypsy, The Women and Valley of the Dolls," said director Joe Zingo. "The score echoes the great composers of our time and the story spirals ever outward, ever more outrageous, to a surprise dynamic ending. This is definitely not Annie.

The cast includes; Ashley Apelzin, Amanda Fackrell, Lisa Moes, Helene Morse, Erica Jean Pierson, Sue Schroeder-White, Margot Trieger and Maggie Tryk.

Ruthless! premiered May 6, 1992 at Players Theatre in New York and ran for 302 performances. It won the New York Outer Critics Circle Award for Best Off-Broadway Musical in 1993.

Actors Cabaret of Eugene provides seating for a restaurant and two theaters, the Cabaret and the Annex. The non-profit performing arts organization schedules productions, hosts comedy by The Comedy Workout and offers drama instruction for children at ACE Youth Academy.

The twenty-fourth season at Actors Cabaret of Eugene is supported in part by a grant from the Oregon Arts Commission and the National Endowment for the Arts. It is also made possible in part by a grant from Lane Arts Council with support from City of Eugene Cultural Services.

SIXTEEN WOUNDED by Eliam Kraiem, starring Academy Award winner Martin Landau, has its world premiere at Connecticut's Long Wharf Theatre.

Set in modern Holland, Sixteen Wounded, directed by Matthew August, traces the unlikely friendship between an aging Jewish baker Hans (Landau) and Mahmude the young Palestinian he takes on as his apprentice. Omar Metwally will play Mahmude with Mia Barron as Nora, Gretchen Becker as Gretta and Ed Setrakian as Saleem.

In a time of headlines this play paints a vivid, compassionate and moving portrait of human faces touched by conflict.

February 5-March 16 at the Long Wharf Theatre.


WHO'S WHERE


THE CHARLES McPHERSON QUARTET best known as the featured alto saxophonist in the Clint Eastwood film Bird, Charles McPherson is joined by Ronnie Matthews on piano, bass player Peter Washington and drummer Lewis Nash. February 4 - February 9 The Jazz Standard in New York City.

VINCE GILL performs Tuesday, February 4, at the House of Blues in West Hollywood, California. The following night it's the House of Blues in Anaheim. On Friday he is on stage at the Paramount Theatre in Denver, Colorado.

MAUREEN McGOVERN entertaining February 7-9 at the San Diego Museum of Art in San Diego, California.

CAROL'S CABARET CAVALCADE featuring Richard Skipper as Carol Channing, hosting a bevy of cabaret performers. Musical director is Michael Lavine. On February 4th the lineup includes; Spiritus, Anna Bergman, Trudi Mann, Jerry Scott, Marcus Simeone and Diane Templeton. The Triad Theatre in New York City.

MICHAEL FEINSTEIN entertaining February 6 at the McCallum Theatre in Palm Desert, California.

BLIND BOYS OF ALABAMA with special guest Robert Randolph, perform February 8, at the Fillmore in San Francisco.

BILL COSBY telling stories Saturday at the Van Wezel Performing Arts Hall in Sarasota, Florida.

LYLE LOVETT opens a three nighter Friday at the Fox Theatre in Redwood City, California.

KENNY RANKIN guitar and golden tones to Feinstein's at the Regency February 4-15.

LYRICS & LYRICISTS 2003 The Fabulous 50s. The 1950s encompassed every major development in theater and pop music of the 20th century: Irving Berlin and Cole Porter; My Fair Lady, West Side Story, Damn Yankees, The King and I and Gypsy. There was fluff like How Much Is that Doggy in the Window?, the ring-a-ding sound of Sinatra and the crowning of King Elvis. Doo-wop filled the air. The fifties proved that rock and roll was here to stay.

Concert presentations featuring well-known performers in tributes to lyricists. Songs by Irving Berlin, Cole Porter, Elvis Presley, and others, performed by host Julius LaRosa ( See Broadway To Vegas column of August 10, 1998 ) and BJ Crosby, Louis Cleale, Valerie Wright, Eugene Fleming, Bill Daugherty, and Jill Geddes February 8 sponsored by the 92nd Street Y Tisch Center for the Arts, NYC.

JAY LENO making people laugh February 7 and 8 at the MGM-Grand in Las Vegas.

DANA CARVEY telling funny stories February 7-9 Paris Hotel, Las Vegas.

ROLLING STONES roll into La Vegas for a February 8 performance Grand Garden Arena, MGM-Grand Hotel.

JIM CARUSO'S CAST PARTY his weekly get together at the King Kong Room in Manhattan promises an extra special celebration tomorrow night, since it's his birthday. "Last week, Grammy nominee Dave Koz sat in with Billy Stritch and I. Stephen Schwartz sang a new original tune with John Bucchino. Fellow Aquarian Natalie Douglas shook the roof with an impromptu Summertime with David Ernstoff on flute." Not too sure who will show up tomorrow to watch Caruso age before their eyes, but he's promising a fantastic time. As he says, "Ain't no cover, either." Monday nights at the King Kong Room in The Supper Club, NYC.

TONY DANZA opens a two nighter Friday at the Andiamo Celebrity Theatre in Warren, Michigan.


FINAL OVATION; HAIL, COLUMBIA


The crew of the space ship Columbia February 1, 2003

RICK HUSBAND Commander, 45, a U.S. Air Force colonel and test pilot. A graduate of Texas Tech University, he wanted to be an astronaut since he was four-years-old. He leaves a wife and two children.

WILLIAM "WILLY" McCOOL Pilot, a former Marine Corps infantryman turned U.S. Navy aviator. A native of San Diego, Calif., McCool is married and the father of sons. His parents Barry and Dr. Audrey McCool live in Las Vegas. Both parents are retired military. Dr. McCool, a retired Colonel, is the assistant dean of research of hotel administration at the University of Nevada, Las Vegas.

KALANA CHAWLA Flight engineer, a native of Karnal, India and a University of Texas graduate.

MICHAEL ANDERSON Mission specialist, 43, U.S. Air Force lieutenant colonel, flying as Columbia's payload commander. A native of Plattsburgh, N.Y., he was an avid sci-fi fan. Married with children.

LAUREL CLARK Medical officer and flight surgeon, 41, Navy commander. An Iowa native, she considers Racine, Wis., to be her home town. She leaves a husband and son.

DAVID BROWN Columbia mission specialist, 46, Navy captain who started out as a circus acrobat. Reared in Arlington, Va., Brown graduated from William and Mary, he studied medicine at the Eastern Virginia Medical School and joined the Navy.

ILAN RAMON Israeli astronaut, 48, Israeli Air Force colonel and the son of a Holocaust survivor, was selected by his country to fly aboard Columbia as his nation's first astronaut













Next Column: February 9, 2003
Copyright: February 2, 2003. All Rights Reserved. Reviews, Interviews, Commentary, Photographs or Graphics from any Broadway To Vegas (TM) columns may not be published, broadcast, rewritten, utilized as leads, or used in any manner without permission, compensation and/or credit.
Link to Main Page
---
Laura Deni


CLICK HERE FOR COMMENT SECTION