! >
Broadway To Vegas
  
 SHOW REVIEWS CELEBRITY INTERVIEWS GOSSIP NEWS

| | |
| --- | --- |
| | |
SANDY DUNCAN STARS IN THE GLASS MENAGERIE - - FLORIDA STAGE PUTTIN' ON THE RITZ - - PRINCESS GRACE AWARDS SEEKS APPLICATIONS - - THE DANCE: THE HISTORY OF AMERICAN MINSTRELSY - - TWO-FOR-ONE PRODUCER TICKETS - - BRAIN CANCER CLAIMS LIFE OF TONY NOMINATED DANIEL McDONALD - - FIRE ON THE MOUNTAIN AT SEATTLE REP - - ANDREA MARCOVICCI BACKED BY CHAMBER ORCHESTRA IN TWO ACTS - - DONATE . . . Scroll Down


Copyright: February 18, 2007
By: Laura Deni

CLICK HERE FOR COMMENT SECTION
THE GLASS MENAGERIE SPARKLES IN LAS VEGAS


Broadway musicals are having a tough time succeeding in Las Vegas. Why then would somebody mount a production of the Tennessee Williams' downer The Glass Menagerie, starring perky and cute Sandy Duncan, portraying aggressive mother Amanda Wingfield?

Because the somebody is the Nevada Conservatory Theatre, based at (UNLV) the University of Nevada, Las Vegas. They have a subscription base of intelligent people who enjoy many types of live entertainment.

The venue is The Judy Bailey Theatre where the place was packed with forms of all ages, although the majority were sporting gray hair.

The total production ran 2 hours and 35 minutes, including one intermission. Not one person left during that break. That should prove that with the right venue and audience, serious drama works in Sin City.

Running for eight performances, the final curtain is raised today, February 18.

For the very few who are not familiar with the classic, this play has no happy ending.

It's a four character drama - mother Amanda Wingfield, daughter Laura Wingfield, son Tom and the Gentleman Caller.

Most feel that Williams' based this play after his own family. Amanda Wingfield, shares characteristics with Williams's mother. Laura is similar to Williams's mentally handicapped sister, Rose. For most of his life, Williams felt guilty about leaving his mentally ill sister on her own, to nearly die from a botched lobotomy. In the play, Tom feels as if he is betraying his sister by leaving home, just as his father did.

The scenic design is by Emmy Award winning set designer John Iacovelli, who first graduated from UNLV before picking up his MFA in Scenic Design and Art Direction from New York University. Having designed sets for over 200 production across the country, including Broadway, he also serves as Head of Design for the University of California at Davis.

Music composer for this Vegas romp is Michael Valenti who composed, arranged and conducted the music for the Emmy Award winning television series A Walk Through the 20th Century.



Sandy Duncan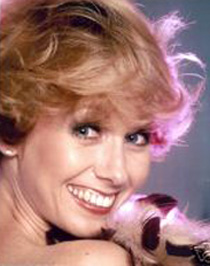 Three time Tony nominee Sandy Duncan is known for her star turn in musicals. In this outing she establishes herself as an actress who can deliver a serious role - and received a well deserved standing ovation. Abandoned by her husband and left to raise two children, Amanda Wingfield is an aggressively desperate woman who fears that handicapped Laura will be a spinster and that her son, Tom, will be a failure. Her own delusions of being a southern belle with many gentleman callers enables her to cope while forced to make ends meet by selling magazine subscriptions and working in a department store.

Joining Duncan on stage are the cream of the UNLV acting department Stephen Crandall, who both narrates and plays Tom Wingfield; Melanie Ash as Laura and Brandon Burk as the Gentleman Caller.

Directed by NCT's artistic director Robert Brewer, Crandall delivers a performance that earned him is own standing ovation. Crandall is a third year MFA candidate in performance who hails from Texas. He has a fine future ahead of him as a working actor - that means getting cast in parts that pay money.

Also providing effective portrayals are third year MFA candidate in performance Brandon Burk, who hails from Delaware, and Melanie Ash who is the only undergraduate in the production. Hopefully, they have already added this production to their resumes.

Wonderful lighting by Vance McKenzie and effective costumes by Zheni Li.

The Glass Menagerie is also being staged in a West End revival at the Apollo Theatre in Shaftesbury Avenue, London. The run will continue until May 19. It is directed by Rupert Gould and starring Jessica Lange as Amanda Wingfield.



Broadway To Vegas is supported through advertising and donations. Priority consideration is given to interview suggestions, news, press releases, etc from paid supporters. However, no paid supporters control, alter, edit, or in any way manipulate the content of this site. Your donation is appreciated. We accept PAYPAL. Thank you for your interest.


SWEET CHARITY


FLORIDA STAGE IS PUTTIN' ON THE RITZ 20TH Anniversary Gala begins with a musical cabaret featuring Florida Stage alumni Blake Hammond, who is currently starring in the Broadway production of Hairspray, Elizabeth Dimon, Lourelene Snedeker and pianist Craig Ames, performing music from Florida Stage productions over the past twenty years. A cocktail reception, silent auction, and sumptuous dinner will follow.

The evening will also feature the presentation of the annual Collester-Katz Leadership Award to Judge Melanie Jacobson and Florida Stage Producing Director, Louis Tyrrell. The Collester-Katz Award is presented each year to individuals who have demonstrated exceptional commitment and dedication to Florida Stage Co.

Chairs for the event are Rand Hoch, Pamela McIver, Lora Schultz and Lee Wolf. This gala event will be held at the Cohen Pavilion at the Kravis Center in West Palm Beach on Monday February 26.


SPREADING THE WORD


THREE CULTURAL CONVERSATIONS leading up to the San Francisco International Arts Festival take place beginning Wednesday, February 21 in the Main Library Koret Auditorium.

Jazz musician Wayne Wallace discusses the history of jazz in the Americas.

Part of the 4th Annual San Francisco International Arts Festival, The Truth in Knowing/Now: A Conversation Across the African Diaspora plays May 17 – 27.

National Advisory Committee includes; Danny Glover, Anna Maria Horsford, Ernie Hudson, Bill T. Jones, Baraka Sele and Geol L. Weirs.


OTHER PEOPLE'S MONEY


TWO FOR ONE PRODUCER TICKETS available for some seats for the Las Vegas version of the Tony Award winning production which opened February 9 at The Paris Hotel in Las Vegas. ( See Broadway To Vegas column of February 11, 2007. ) Also offering 2 for 1 specials are Ka at the MGM Grand, Gordie Brown at the Venetian Hotel and comedian Joe Piscopo who opened February 18 at The Hilton and performs through March 20. Conducting the music for Joe's show is Vincent Falone.

THE PRINCESS GRACE FOUNDATION-USA has announced the availability of applications for the 2007 Princess Grace Awards in Theater and Playwriting with postmark deadlines of March 31, 2007.

Founded in 1982, and celebrating its 25th Anniversary, the Foundation is dedicated "to identifying and assisting emerging artists in theater, dance and film." Over the past 25 years, the Foundation has granted nearly 500 awards, honorariums and special project grants valued at over four and a half-million dollars.

"We are always impressed by the caliber of emerging artists nominated for Princess Grace Awards," says Toby Boshak, Executive Director of the Princess Grace Foundation-USA. "For 2007, we anticipate an even larger pool of applicants as the value of the grants increase."

Princess Grace Theater Awards take the form of scholarships, apprenticeships and fellowships. Candidates must be United States citizens or have permanent resident status at the time of application. Grants are awarded based on the quality of the emerging artists' past work, their potential for future excellence, and the impact the collaboration between the nominating organization and the artist will have on the individual's artistic growth.

To apply for a theater grant, a candidate must be nominated by the Artistic Director of a theater company or the Dean or Department Chair of a professional non-profit theater school Scholarships are commensurate with tuition costs; apprenticeships and fellowships are commensurate with proposed fees for artists' engagement with a company. Previous Princess Grace Award recipients include Tony Kushner, Christopher Ashley, Brian Kulick, and Tina Landau.



THE ENTERTAINER John Osborne was one of the 20th century's most celebrated playwrights and the original 'angry young man'. Following the success of Look Back in Anger, he continued to examine the state of the country in The Entertainer, this time using three generations of a family of entertainers to symbolize the decline of post-war Britain.

To mark the play's 50th anniversary, Robert Lindsay plays struggling comedian Archie Rice, a music-hall performer in an age when music halls had all but disappeared. Driven by dreams of stardom and a desperation to equal his father's success, Archie finds himself a man out of his time - a selfish, deceitful has-been, headlining a tacky revue in a rundown seaside town. Family tensions rise to a boil as he shamelessly cheats on his wife (Pam Ferris) and tricks his dying father into financing one last revue. But throughout it all, Archie jigs and jabbers before his ever-diminishing audience and does whatever it takes to keep the show going.

Sean Holmes directs cast which includes; Jim Creighton, Emma Cunniffe, David Dawson, Pam Ferris, Robert Lindsay, Andrew McDonald and John Normington.

Designer is Anthony Lamble. Lighting by Peter Mumford. Music by John Addison. Arrangements and additional music by Steven Edis. Sound by Fergus O'Hare.

February 23- May 19 at The Old Vic in London.

THEY'RE PLAYING OUR SONG by Neil Simon. Music by Marvin Hamlisch with lyrics by Carole Bayer Sager. Starring Vicki Lewis and Tony Award winning actor Scott Waara star in the romantic comedy at the El Portal Theatre Main Stage in North Hollywood.

Dan Mojica directs Valley Musical Theatre's first production of their second season with musical direction by John Randall.

In addition to Vicki Lewis and Scott Waara, the cast includes: Chris Ciccarelli, Jay Donnell, Seana Harris, Geoffrey Kidwell, Shanon Mari Mills and Anna Perillo.

The romantic comedy, They're Playing Our Song, is based on the real-life relationship of composer Marvin Hamlisch and lyricist Carole Bayer Sager. This charming and hilarious two hander is a story of what happens when opposites attract and are harmoniously brought together to compose life's "simple love song." Songs include I Still Believe in Love, Just for Tonight, If He really Knew Me, Working it Out, Falling, and the upbeat title song, They're Paying Our Song.

Joining the creative team are set designer Brett J. Banakis, costume designer Thomas G. Marquez, lighting designer John E. D. Bass, sound designer Phil Allen and props by Kim O'Bannon.

Performances for They're Playing Our Song play at The El Portal Theatre Main Stage in North Hollywood begins Friday, February 23 through March 11.

THE DANCE: THE HISTORY OF AMERICAN MINSTRELSY In honor of Black History Month, InThaCut Inc. is proud to

Jason Christophe White. Photo by Tatiana Elkhouri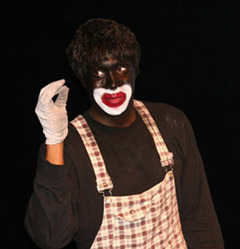 present the NY Premiere of the enlightening satire The Dance: The History Of American Minstrelsy.

The Dance, nominated for 3 NAACP Theater Awards and 3 LA Weekly Awards for Best Playwright, Best Ensemble and Best Director, is a two-man show written by Jason Christophe White, and co-directed and performed by Jason Christophe White and Aaron White.

The Dance educates audiences about the fascinating history of American minstrelsy from the perspective of two African-American performers in blackface makeup who challenge the audience to reflect on the deep entrenchment of racial stereotypes in our culture. Using past and present day images and a text developed from six years of research, as well as an arsenal of props taken from two suitcases, The Dance ultimately helps us realize that no matter what race we are, we all wear masks.

Blackface was an important performance tradition in American theater for over 100 years. White performers used burnt cork and later greasepaint or shoe polish to blacken their skin and exaggerate their lips. Stereotypes embodied in the stock characters of blackface minstrelsy played a significant role in proliferating racist images and attitudes. Currently, blackface minstrelsy is not taught in many schools and colleges because of its controversial nature.

Limited Engagement February 22, 2007 - March 3, at the Richmond Shepard Theatre in New York City.

MARILYN: FOREVER BLONDE The Marilyn Monroe Story in her own words and music starring Sunny Thompson as Marilyn. Directed by Stephanie Shine.

This is an intimate one-woman play that is at times funny, sad, titillating, passionate and sometimes scandalous but always caring in its treatment of Hollywood's most famous movie star. The script is entirely crafted from Marilyn's own words and throughout the course of the play 17 songs are featured that Marilyn performed during her movie career, to help move her fascinating story along.

Marilyn ... Forever Blonde celebrates the glamour that was Marilyn as she discusses her marriages, her miscarriages and her misgivings. She realizes that dreaming about being a movie star was far more fun than actually becoming one. Marilyn telling her own story in her own words creates an a production that goes beyond the image and reveals the real woman behind the legend.

The set design is by Jason Phillips. The lighting design is by Woody Woodburn. The costume design is by Mimi Countryman and Alice Worthy. The Sound Design is by Nick Morrelle.

Previews begin February 20, opening on Thursday, February 22 running for six weeks through Sunday, April 1 at the Stella Adler Theatre in Hollywood.

CARNIVAL! Music and Lyrics by Bob Merrill. Book by Michael Stewart. Directed and choreographed by Robert Longbottom. Based on material by Helen Deutsch. Book revisions for this production by Francine Pascal. Original production directed and choreographed by Gower Champion. Produced for the Broadway stage by David Merrick.

Based on the MGM motion picture Lili, this lovely musical follows a naïve young orphan girl who eagerly joins a traveling French circus. Falling for the troupe's manipulative magician, she also enchants a disillusioned puppeteer, who can only show his love through his whimsical creations.

Colorful characters, delightful puppets, wonderful dance sequences, theatrical magic, and memorable songs like Love Makes the World Go 'Round make Carnival! a mesmerizing musical.

Featuring Ereni Sevasti as Lili, Jim Stanek as Paul, Sebastian La Cause as Marco, Natascia Díaz as Rosalie, Michael Arnold as Jacquot and Jonathan Lee Iverson as Schlegel.

The creative team includes Andrew Jackness (set design), Paul Tazewell (costume design), Ken Billington (lighting design), Kurt Fischer (sound design), Ed Christie (puppets) and Joe Eddie Fairchild (magic).

A limited engagement in the Eisenhower Theater began previews Feb. 17 with the official opening night slated for Feb. 24. Kennedy Center in Washington, D.C.

FIRE ON THE MOUNTAIN by Randal Myler and Dan Wheetman.

Myler directs a cast which includes; Molly Andrews, "Mississippi" Charles Bevel, Margaret Bowman, Tommy Fleming, Tony Marcus, Mike Regan, Ed Snodderly, Dan Wheetman and Trevor Wheetman.

From the acclaimed creators of It Ain't Nothin' But the Blues comes a poignant, passionate musical about the lives of coal miners in the Appalachian Mountains.

Alternately exuberant and mournful, joyous and gripping, Fire on the Mountain tells the stories of the people of this extraordinary culture in the bluegrass rhythms of a uniquely American art form. Beloved from its birth in Appalachia, it gained widespread popularity following the release of O Brother, Where Art Thou? with Mississippi Charles Bevel who was the Jeff Award-winner for Blues and Dan Wheetman, former fiddle player for John Denver. This celebration of culture, lifestyle, hardships and heroics intends to set spirits soaring.

Scenic Designer is Vicki Smith Costume Designer is Marcia Dixcy Jory Lighting Design by Don Darnutzer Sound Design by Eric Stahlhammer Slide Design by Randal Myler.

February 22 – March 24 at the Seattle Repertory Theatre in Seattle, WA.


| | | |
| --- | --- | --- |
| | | |
WHO'S WHERE


ANDREA MARCOVICCI for the first time in ten years, will perform her most requested show I'll Be Seeing You… Love Songs of WWII will be staged with a chamber orchestra in two acts. Marcovicci uses songs and stories to take the audience on a journey through America's most dramatic era highlighting many of America's most prolific songwriters, including Hoagy Carmichael, Johnny Mercer, Jule Styne and the many others responsible for hits like Sentimental Journey, The White Cliffs of Dover and Skylark. Friday, February 23 at The Town Hall in New York City.

OAK RIDGE BOYS open a six night stand at Don Laughlin's Riverside Resort in Laughlin, NV on Tuesday, February 20.

JIM BRICKMAN performs Friday, February 23, at the Union Colony Civic Center in Greely, Co on Friday, February 23.

PRESERVATION HALL JAZZ BAND open a two night stand Tuesday, February 20, at the Ellen Eccles Theatre in Logan, UT. On Friday they are on stage at the Paramount Theater in Seattle, WA. Saturday the show is at the Center for the Arts in Olympia, WA.

CHRIS BOTTI in the spotlight Thursday, February 22, at the Murat Theatre in Indianapolis, IN. On Friday he's on stage at the Riverside Theatre in Milwaukee, WI. ON Saturday he stars at the Morris Performing Arts Center in South Bend, IN.

HARRY CONNICK, JR on stage Friday, February 23 at Mizner Park Amphitheatre in Boca Raton, FL. On Saturday the show is at Ruth Eckerd Hall in Clearwater, FL.

BONEY JAMES performs Friday, February 23 at the King Center for Performing Arts in Melbourne, FL. On Saturday he's on stage at the Florida Theatre in Jacksonville, FL.

KEELY SMITH AND PAULA POUNDSTONE on stage at Boulder Station in Las Vegas, NV. Keely, who spent decades living in Las Vegas, will be singing her hits and Poundstone will be making the crowd laugh.

LARRY GATLIN starring at the Delta Downs Racetrack & Casino in Vinton, LA on Saturday, February 24.

JOSH GROBAN on the Van Andel Arena stage in Grand Rapids, MI on Tuesday, February 20. On Wednesday he can be enjoyed at the Nationwide Arena in Columbus, OH. Friday finds him at the Palace of Auburn Hills in Auburn Hills, MI. On Saturday he performs at the United Center in Chicago.




FINAL OVATION


DANIEL McDONALD

Daniel McDonald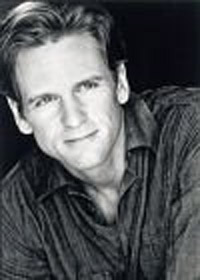 46, the Tony nominated actor and star of the Broadway musicals Steel Pier and High Society, died Feb. 15 from brain cancer.

His Broadway debut came in 1997 in John Kander and Fred Ebb's musical Steel Pier about a dance marathon in Atlantic City. The show, directed by Scott Ellis and choreographed by Susan Stroman, won rave reviews for McDonald and a Tony Award nomination as Best Actor in a Musical. The following year he starred in the stage version of the movie musical High Society, portraying C.K. Dexter Haven, the role Bing Crosby created in the film musical. The show was hampered by numerous plagued by backstage changes, was virtually destroyed by critics before it ever opened, with the possible exception of Broadway To Vegas. ( See Broadway To Vegas column of April 25, 1998. ) The $6 million production opened April 27. Investors took a bath.The production lost nearly the entire bankroll. The show played 28 previews and 144 regular performances at the St. James Theater.

McDonald was in the 2002 national tour of Contact. He returned to Broadway in 2004 for a stint as Sam Carmichael in Mamma Mia!.

He made his first television appearance in 1984 and went on to act in films and television shows. His credits include; Law & Order, Sex and the City, Herman's Head, Madigan Men, CSI Miami, SVU: Special Victims Unit, Murder, She Wrote, The Ice Storm and What's Love Got to Do with It.

His final professional effort was a recording of standards that featured two songs from Steel Pier with piano accompaniment by John Kander. It is due for release in April.

Born July 30, 1960, in Scranton, PA, Daniel McDonald was raised in Romulus, New York, the youngest of seven children. He studied with Paul Curtis of the American Mime Company, The Royal Academy of Dramatic Art in London, and with Sanford Meisner on the island of Bequia, BWI. He was also a member of the Actors Studio. In 1982 he graduated from Ithaca College with a degree in Theatre Arts.

He is survived by his wife Mujah Maraini-Melehi, the Italian actress and filmmaker whom he met during rehearsals for Steel Pier. They had two children - Fosco, age six, and Ondina, age three. Other survivors include his parents, siblings and twenty-five nieces and nephews. Funeral services will be held Feb. 24 at the Cathedral of St. John the Divine in New York City. In lieu of flowers, the family asks that donations be made to the cancer charity Team Continuum.

Next Column: February 25, 2007
Copyright: February 18, 2007. All Rights Reserved. Reviews, Interviews, Commentary, Photographs or Graphics from any Broadway To Vegas (TM) columns may not be published, broadcast, rewritten, utilized as leads, or used in any manner without permission, compensation and/or credit.
Link to Main Page
---
Laura Deni


CLICK HERE FOR COMMENT SECTION