! >
Broadway To Vegas
  
 SHOW REVIEWS CELEBRITY INTERVIEWS GOSSIP NEWS

| | |
| --- | --- |
| | |
OVER-HYPED DAVID HASSELHOFF TRIPS UP THE PRODUCERS - -THE 15TH ANNIVERSARY OF SALON AT THE TAPER - - MARRIAGE PROPOSAL ON STAGE AT PALM SPRINGS FOLLIES - - SONG OF SINGAPORE IN LONG BEACH - - TONY RANDALL THEATRICAL GRANT - - SOUTHBANK CENTRE COMMISSIONS BRIAN WILSON WORK - - 52ND ANNUAL VILLAGE VOICE OBIE AWARDS - - SPAMALOT SOLICITS SPAM FOR FOOD BANKS - - DONATE . . . Scroll Down


Copyright: February 11, 2007
By: Laura Deni
CLICK HERE FOR COMMENT SECTION
OVER-HYPED DAVID HASSELHOFF TRIPS UP THE PRODUCERS
David Hasselhoff starring in The Producers is hype which is both arrogant and not true. Photo by Paul Kolnik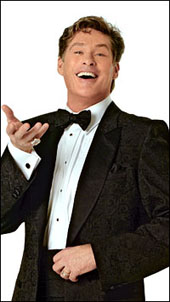 David Hasselhoff has a great agent. Cast in the Las Vegas mounting of The Producers as the cross-dressing director Roger DeBris - which in the Broadway show is a secondary role and in the Vegas clipped 90-minute version is nothing more than a bit part. Yet, the Baywatch hunk is heavily promoted as "starring in."

His name is the only name in any promotion. Never mind that he isn't the star of the show. Although he does have a big following, we doubt that there are many conversations akin to; Glory be, David Hasselhoff! Quick, we've got to get tickets to whatever it is he's in. Don't know who else is in it and what it is - who cares - David Hasselhoff is in it!

Don't think so.

The over kill on the David Hasselhoff promotion - and the virtual elimination of even a side glance to the actual stars of this production - has become annoying. It also makes a statement that if Hasselhoff wants all the glory, he assumes all of the responsibility.

The Producers opened on Broadway April 19, 2001 at the St. James Theater. ( See Broadway To Vegas column of April 22, 2001. ) The production won a history making 12 Tony Awards.

The original role of DeBris was played to a fare-thee-well by the incredible Gary Beach. When he opened the door - dressed as the Chrysler building - the audience immediately knew that costumer William Ivy Long would take home the Tony. When Beach's high heel covered foot sashayed to the second step, descending down a short flight of stairs, he not only owned the part but you also knew he'd own a Tony for Featured Role--Musical.

Beach also reprised his role as Roger De Bris on stage in The Producers while the film version was simultaneously released. He thus became the first person in Broadway history to play the same role on both Broadway and film at the same time.

That leaves Hasselhoff with a tough pair of high heels to fill and they seem to pinch. As he lumbered down the staircase, you're hoping he doesn't trip. Hasselhoff didn't project the dominating yet flamboyant attitude that the part of the world's worst director, who thinks otherwise, demands. He is charming and finally comes into his own when he assumes the role of Hitler. He can sing and he's hilarious. From that point on he seems to be enjoying himself and that sucks in the audience, who then appreciates him. But - he needs to get comfortable with the DeBris segment. Being able to say - the audience warmed up to me and by the time the show ended, I think they liked me - isn't good enough. Watching Hasselhoff conjured up memories of being in the audience when George Hamilton once starred at the Las Vegas Hilton.



Extremely talented Brad Oscar and Larry Raben are the actual stars of the Las Vegas version of The Producers Photo by Paul Kolnik
As for the actual stars of the show and there are two - Brad Oscar and Larry Raben. The audience didn't applaud when either Hasselhoff, Oscar or Raben walked on stage. To the credit of the audience who knows a good performance when they see one - during the final bows Hasselhoff received enthusiastic applause and the entire audience jumped to their feet to award both Oscar and Raben a well deserved, thunderous standing ovation. When the curtain dropped the audience remained in place clapping, hoping for a curtain call, so that Oscar and Raben might realize that if the crowd didn't know Brad Oscar and Larry Raben when they entered the theatre, they did now and were saying nice things.

Both are theatrical veterans. Oscar created the role of Franz Liebkind on Broadway and received a Tony nomination, losing to Gary Beach. In this outing he plays scheming Max Bialystock and Larry Raben is Leo Bloom. Delivering superb supporting role performances are Leigh Zimmerman as Olla - tall, blonde, gorgeous and she does the splits. Rick Affannato as Carmen Ghia and Fred Applegate as Franz Liebkind.

The sets, choreography, costumes and lighting are faithful to Broadway. What isn't is the show. Lines have been clipped and the following numbers from the original Broadway score have been removed.

Act One, Scene 4: We Can Do It Reprise (Max & Leo)
Act One, Scene 6: Der Guten Tag Hop Clop (Franz, Max, Leo)
Act One, Scene 9: Act One Finale (All)
Act Two, Scene 1: That Face (Leo, Ulla, Max)
Act Two, Scene 3: You Never Say 'Good Luck' on Opening Night (Roger, Max, Carmen, Leo, Franz)
Act Two, Scene 5: Where Did We Go Right? (Max, Leo)
Act Two, Scene 6: Betrayed (Max)
Act Two, Scene 7: Max's section of Til Him (Max)

Someday a producer will take that leap of faith and actually stage a mega Broadway show in Las Vegas as a real Broadway production - rather than a Sin City strip.

The Phantom of the Opera at the Venetian Hotel could have withstood an uncut version. ( See Broadway To Vegas column of June 25, 2006. ) The Producers wouldn't have lost one single person in the SRO audience had their been the full mounting with an intermission.

Too many calling the shots are still living in the by-gone era of when Las Vegas showrooms held 250 and half of the audience were men in tuxedos placating the female. Sort of a package deal on getting laid later. Many were in that showroom on a casino comp. The cigar smoking guy was also anxious to get back into the casino. Pit bosses were equally eager to get the show over with, so that the important part of the venue - the casino - could be serviced. If a show ran long a casino boss could walk out on stage and order the curtain dropped.

It's been decades since hotels offered entertainment as a write off to the casino drop. Showrooms are big, the budgets are bigger and the audience dons casual. Most aren't comped, and the customer expects to get their money's worth. They leave the place trying to remember the number of the level where their car is parked, not reciting their favorite numbers for a roulette wheel.

No high roller - the whale - is exclaiming - We've got to fly to Vegas to see The Producers - or for that matter any other show playing on the strip.

Broadway entertainment in Vegas is in limbo land. Ticket prices equal Broadway prices, but the shows do not.

If there hadn't been the Hasselhoff over-hype, this show would have received a rave review.

The worst part of the evening was the boondoggle getting in and out of the showroom. With only one small door open to permit entrance and two exit doors upon leaving, the cramped, pushing mass of public was only slightly above a safety hazard. There did seem to be several exits in case of an emergency with some showgoers even attempting to exit that way. Ushers warned that "there are tunnels and about a two mile walk so you just want to wait." When somebody in the light booth summoned what is normally an elevator reserved for the handicapped, customers stormed the open door, overloading the elevator. When it reached it's destination the overcapacity cargo prevented a female crew member from getting into the lift that had been summoned for her in the first place. As an usher remarked - "This is the worst showroom on the Strip when it comes to getting in and out. Don't come here if you are in a hurry to get some place else after the show."

The Producers officially opened last night, February 9, at he Paris Hotel, and will play seven shows a week: No performances Wednesday. Tickets range $75.50 to $143.50.



Broadway To Vegas is supported through advertising and donations. Priority consideration is given to interview suggestions, news, press releases, etc from paid supporters. However, no paid supporters control, alter, edit, or in any way manipulate the content of this site. Your donation is appreciated. We accept PAYPAL. Thank you for your interest.


SPREADING THE WORD


JOHN GUARE AND PAUL RUDNICK in conversation. John Guare's plays include The House of Blue Leaves and Six Degrees of Separation. He is interviewed by novelist, screenwriter and playwright Paul Rudnick, author of Valhalla and I'll Take It, and the screenplays for In & Out and The Stepford Wives. Thursday, February 15, at the 92nd St. Y in NYC.

DAVID KENNEY'S EVERYTHING OLD IS NEW AGAIN radio program tonight - February 11 - has an in-studio interview with Tierney Sutton prior to her February 13th gig at Joe's Pub in New York.

Everything Old Is New Again can be heard every Sunday 9-11 PM (ET) over WBAI 99.5 FM.

A CONVERSATION WITH PLAYWRIGHT TOM STOPPARD Moderated by Anne Cattaneo Lincoln Center Theater's Dramaturg.

Stoppard is the Tony, Olivier and Oscar-winning playwright. His trilogy, The Voast of Utopia is playing at the Vivan Beaumont Theater. The conversation takes place Wednesday, February 14, at the Kaplan Penthouse in NYC.


SWEET CHARITY


SPAMALOT with performances February 13-18 at the Orpheum Theatre in Memphis, TN asking patrons to; "Please bring a can of SPAM to The Orpheum during the week of performances to donate to the Memphis Food Bank. "

Monty Python and the Holy Grail, the movie on which Spamalot is based, was made in only five weeks in 1975. The film had a modest budget of only $400,000. It was financed by such renowned musical groups as Pink Floyd, Led Zeppelin, Genesis and such artists as George Harrison and Andrew Lloyd Webber.

Spamalot begin preview performances at Wynn Las Vegas on March 8. Headlining will be John O'Hurley, of Dancing With the Stars fame, who plays King Arthur until Sept. 1.


OTHER PEOPLE'S MONEY


THE 2ND ANNUAL $100,000 TONY RANDALL THEATRICAL GRANT had been awarded to The Mint Theatre for their upcoming production of The Power of Darkness by Tolstoy. The award is presented to a nonprofit theater in the New York metropolitan area for the production of a classic play or a play inspired by the classics.

2007 Tony Randall Theatrical Grant Selection Committee included: Jed Bernstein, Steve Buscemi, Charles Busch, Michael Cerveris, Cherry Jones, Jack Klugman, Michael Mastro, Marian Seldes, Gary Springer and Ben Vereen.

Tony Randall Theatrical Fund, Inc proudly gives smaller grants and/or donations to several non-profit organizations that were of personal interest to Mr. Randall. This year those grants will be awarded to Red Bull Theater, the Gorilla Repertory Company and Target Margin Theater.



52ND ANNUAL VILLAGE VOICE OBIE AWARDS will be co-hosted by T.R. Knight, a respected member of the acting company of Minneapolis' Guthrie Theater, and Cynthia Nixon who has graced the stage with her performances since the age of 14. Considered Off-Broadway's Highest Honor the ceremony will take place in Manhattan Monday, May 21, at New York University's Skirball Center.

The Obies are the freewheeling wild child of New York theater's awards world established in 1955 by the Village Voice theater editor Jerry Tallmer. They are picked by a committee of critics (always including at least 2 VV staff critics) and theatre professionals who know the field. There are a few set awards - Lifetime Achievement, Best New American Play - but no set categories. The Awards have an astounding range, and the roster of past recipients is extraordinary, including everything from now-established superstars (Meryl Streep, Dustin Hoffman, Al Pacino, Denzel Washington) to people you've never heard of before and aren't likely to hear of again.


LOVE ON STAGE
Palm Springs Follies Assistant Stage Manager Ryan DeRoos and LCPL Adam Blum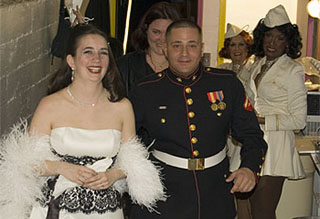 Palm Springs Follies Assistant Stage Manager Ryan DeRoos was told to dress formally in order to present a gift basket to a Follies patron during the performance of the acclaimed show at The Historic Plaza Theatre in Palm Springs, CA.

She complied.

Suddenly on stage in front of 809, Lance Corporal Adam Blum USMC asked DeRoos to be his wife.

She said yes.

LCPL Blum is being deployed to Iraq this month and had contacted the Follies about wanting to propose to his girlfriend. The Follies accommodated his request by bringing him onstage in full-dress blues. The unsuspecting DeRoos was brought on stage by Riff Markowitz "The Follies Man," telling her there was someone who wanted to give her a "midnight kiss."

The couple met a year ago when Blum was on leave in Palm Springs while stationed in Japan. DeRoos, a one-year Follies staffer, is originally from Lake City, Minnesota. Blum was born and raised in San Antonio before joining the Corps two years ago. They are planning to wed between Blum's two upcoming tours of duty in Iraq.

No word on whether it will be an on stage wedding.



SONG OF SINGAPORE which Broadway To Vegas thoroughly enjoyed when it was staged in New York in 1991 has been revived, opening last night, February 9, at International City Theatre in Long Beach, CA.

It's Singapore in 1941, and the Japanese are poised to invade. At Freddy's cafe, where customers can swing along with the Malayan Melody Makers (the best band in the city), a patron has been bumped off and precious gems have gone missing. A daft parody of films like Casablanca and The Maltese Falcon, Song of Singapore is full of cheap intrigues, nonstop funny business, and musical mayhem.

This waterfront dive might not be the classiest joint in town, but expect a colorful welcome from director Jules Aaron, musical director Christopher Lavely, choreographer Tracy Powell, and the motley assortment of seedy and shady characters who hang out at Freddy's: waiters Robert Bastron and Juli Robbins; the mysterious, seductive and amnesiac Rose of Rangoon (Dina Bennett); dragon lady Chah Li (Kathleen Chen); Dutch ne'er-do-well Hans van der Last (David Holladay); corrupt police inspector Marvin Kurland (Andrew Ross Wynn); hard-boiled American expatriate Spike Spauldeen (Joshua Ziel); and Freddy S. Lyme himself (Jeffrey Rockwell).

Song of Singapore premiered in New York on May 23, 1991, ran for 459 performances, and received the Outer Critics' Circle Award for Best Off-Broadway Musical.

Produced by Shashin Desai, Song of Singapore has a book by Allan Katz with Erik Frandsen, Michael Garin, Robert Hipkens and Paula Lockheart.; music and lyrics are by Erik Frandsen, Michael Garin, Robert Hipkens and Paula Lockheart; set design is by Tom Buderwitz; lighting design is by J. Kent Inasy; costume design is by Shon LeBlanc; sound design is by Kevin Rittner; and casting is by Michael Donovan Casting.

International City Theatre is the Resident Professional Theater at the Long Beach Performing Arts Center, and the recipient of the Margaret Harford Award from the Los Angeles Drama Critics' Circle for Sustained Excellence in Theater.

Song of Singapore runs through March 11. International City Theatre is located in the Long Beach Performing Arts Center in Long Beach.

YOUNG CESAR by Lou Harrison.

Ensemble Parallèle, Nicole Paiement, Artistic Director, presents the composer's final version of his opera Young Caesar in this World Premiere. A lavish transethnic work exploring the love affair between Julius Caesar and Nicomedes, King of Bithynea.

Inspired by Chinese opera, Harrison created a new operatic style where the East meets West. Young Caesar grapples with many contemporary issues that were at the heart of Harrison's exploration - the Pacific Rim and its exotic colors, new theater and homosexuality.

Harrison had spent two years in Korea on a Rockefeller grant and in 1971 staged his first version of an opera about the love affair between Julius Caesar and King Nicomedes of Bithynia (a Roman province in Asia Minor); historically, the two rulers met while the Roman emperor was on a military mission in Asia. San Francisco playwright Robert Gordon researched the period extensively to write the libretto.

The composer originally conceived Young Caesar as a 20-puppet opera with five vocalists, five instrumentalists and a narrator. That failed for various reasons including the rod puppets' emotional inexpressiveness. Over the intervening years, Harrison eliminated the puppets, added more arias and worked with collaborators -including librettist Gordon, and Bay Area conductors Robert Hughes and Nicole Paiment and director Brian Staufenbiel - on revisions. Hughes conducted a revised production in Portland in the 1980s. Final revisions were not quite complete when the innovative composer died in 2003, leaving it to his collaborators to finish the project.

This production, considered the definitive version, features Mexican tenor Eleazar Rodriguez as Caesar and Eugene Brancoveanu,who originated the role of Marcello in Baz Luhrmann's Broadway production of La Bohème,as Nicomedes. The 21-piece orchestra is Paiment's Ensemble Parallèle; For this work almost half the instruments are percussion, including a tack piano which can product a pinging sound.

Tenor Staufenbiel, who serves as head of the opera program at U.C. Santa Cruz, where Paiment also conducts, is staging the opera with choreography by Lawrence Pech. The production, in the hands of artists close to Harrison, is billed as a labor of love and a memorial to the visionary, experimental composer who would have been 90 this year.

Pre concert talks followed by performances on February 16-17. Yerba Buena Center for the Arts in San Francisco. April 3 in Santa Cruz. Young Caesar is co-presented by Ensemble Parallèle, BluePrint and the University of California, Santa Cruz.

CRY-BABY Based upon the Universal Pictures film written and directed by John Waters. Book by Mark O'Donnell and Thomas Meehan. Lyrics and Music by David Javerbaum and Adam Schlesinger. Choreographed by Rob Ashford. Directed by Mark Brokaw.

"Well, They Took My Bike, Took My Guitar But When They Took My Girl, They Went Too Far."

Five years ago Hairspray made its world premiere at The 5th Avenue Theatre and went on to win eight Tony Awards on Broadway. Now, another new Broadway-bound musical based on a classic John Waters film will make its world premiere at The 5th Avenue Theatre.

Baltimore, 1954. Everyone likes Ike, nobody likes communism, and Wade "Cry-Baby" Walker is the baddest boy in town. He's a rebel with a cause - truth, justice and the pursuit of rock 'n' roll - and when he falls for a good girl who doesn't want to stay that way, this square little suburb is sure to rock around the clock.

February 13 - March 4 at The 5th Avenue Theatre in Seattle, Washington.

ST. SCARLET comedy by Julia Jordan

With their mother recently deceased and her body unable to be removed from the house because of a Minnesota blizzard, three siblings are at war. When a strange man from New York bursts in and declares that he and the older daughter are in love, she claims she has never laid eyes on him. To add to the conflict, the younger sister falls for the stranger. After he refuses to leave without the older sister, the brother only adds to the conflict, and secrets start emerging.

February 16- March 10 at the Carpenter Square Theatre in Oklahoma City, OK.

RAISIN' CANE STARRING JASMINE GUY

Jasmine Guy in Raisin' Cane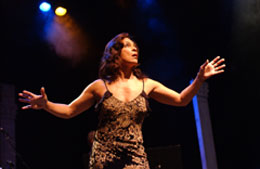 with The Avery Sharpe Jazz Trio. Originally conceived, written and produced by Harry Clark and Chamber Music Plus. Original score by Avery Sharpe. Special projections by Bill Kersey. Directed by Dan Guerrero.

The Harlem Renaissance is evolving from a pent up explosion of brilliant jazz, dance, prose, poetry and politics of African-Americans ready to say their piece. Jazz, Theatre, and Dance are uniquely blended with the words of W.E. Dubois, Zora Neale Hurston, Weldon Johnson, Claude McKay, Gwendolyn Bennett, Langston Hughes, Countee Culler and Jean Toomer's "Cane."

To celebrate Black History Month 2007, Stamford Center for the Arts Raisin' Cane described as a theatrical portrait in prose, poetry and jazz.

In addition to an original score there are special projections showing Harlemites in everyday work situations and in joyful celebratory dance and musical jazz settings designed by Bill Kersey. Directed by Dan Guerrero.

Friday, February 16 on the stage of the Rich Forum in Stamford, CT.

UNCLE by Dean Gray. Directed by Wayne Maugans. Uncle tells the story of Brent, a young, gay, successful composer, raised in the Upper Midwest and currently residing in Manhattan, who gains the courage to confront his conservative family's beliefs when a secret photograph of a deceased uncle is discovered. Inspired by a true story, the uncle's hidden past is uncovered just as a new romance has been embarked on.

The cast for Uncle will be headed by Brian Patacca as Brent. Joining Mr. Patacca will be: Richard Bowden, James Heatherly, Darren Lougée and Nancy McDoniel.

The set design will be by Daniel Ettinger, the costume design by Martin T. Lopez, the lighting design by Paul Bartlett and sound design by David Lawson. The award-winning composer Andrew Rindfleisch's compositions will be used in the sound design. There will also be additional music by Colin Huggins and the production stage manager will be Sarah Ford.

The Blue Heron Theatre will open its 19th season with the world premiere of this play at The ArcLight in NYC on February 10. Performances will run through March 4.

MISS JULIE a world premiere adaptation of August Strindberg's Miss Julie, adapted and directed by Stephen Sachs features Ovation Award-winner Tracy Middendorf, Chuma Gault and Judith Moreland.

A sexually charged social drama, in this re-imagined new adaptation of the Strindberg masterpiece. Miss Julie is white and John the chauffeur is black. Miss Julie is set in Mississippi on the night of July 4th, 1964, where racial and sexual tensions ignite in a riveting struggle for power, freedom and social change during the explosive Freedom Summer of the Civil Rights Era. These two damaged souls struggle for independence and freedom from the personal and social demons that bind them.

The production will open Friday, February 16 and will run for seven weeks through Sunday, April 1 at the Fountain Theatre, in Los Angeles.

LAKME by Léo Delibes. The Opéra de Montréal presents the company premiere of a staged version of in co-production with Opera Australia (Sydney), making its first foray into North America. Salle Wilfrid-Pelletier, Place des Arts with the final performance slated for February 14. Following the season at Opera de Montreal, the production will transfer to Minnesota Opera in Minneapolis from March 31 to April 7 for five performances. Opera Australia is also in discussion with New York City Opera and Tulsa Opera in Oklahoma for performances in 2008.

This is the first time the great Australian opera company collaborates with a North American company. A classic of the French repertoire, this opera featuring the famous Dôme épais duet and the challenging Bell Song stars a cast made up entirely of Canadians. Soprano Aline Kutan, returns to sing one of her signature roles at the OdM – this time in a staged version of the opera. She sings the coloratura title role of Lakmé alongside tenor Frédéric Antoun, as her lover, the British officer Gerald. Bass Randall Jakobsh portrays Nilakantha, Lakmé's father, a brahmin priest fiercely opposed to the British colonizers; baritone James Westman sings Frederic, another officer who is a loyal friend to Gerald. Also featured are other Canadians: mezzo-soprano Mireille Lebel (Mallika), soprano Anne Saint-Denis (Ellen), soprano Allison Angelo (Rose), soprano Leticia Brewer (Mistress Bentson), and tenor Thomas Macleay (Hadji).

Making his company debut, Jean-François Rivest conducts the Orchestre Métropolitain du Grand Montréal and the Choeur de l'Opéra de Montréal.

Australian participation in the production includes stage direction by Adam Cook, luxuriant sets and extravagant costumes by Mark Thompson, and evocative lighting design by Gavan Swift.

This production is recorded for later broadcast on Radio-Canada's Espace musique (100,7 FM in Montreal). The Opéra de Montréal has been offering a pre-Opera talk prior to each performance: musicologist and opera fan Pierre Vachon discusses the opera in the Piano Nobile at Salle Wilfrid-Pelletier (In French) with an English summary.

The plot of Léo Delibes' Lakmé rests on opposition and confrontation between the Oriental and the Occidental worlds, between the exotic and religious – India – and the rationalist – imperialist England. "My heaven is not yours, the god you revere is not one I know" confesses Lakmé to her heart's desire. In this sparklingly colorful tale, Delibes' score radiates a certain Orientalism conveyed by several vocal runs and refined instrumentation (harp, flutes, oboes, bells and percussion) in shades and subtle colors of the Oriental musical landscape. The work, first staged at the Opéra-Comique in Paris in 1883, soon after Wagner's death, was performed there two hundreds times until 1885. Considered daring at the time, the work still provides true emotional power through its coloring, its melodic inventiveness, and its supple vocal writing. An Opera in three acts by Léo Delibes (Saint-Germain du Val, 1836 - Paris, 1891) Libretto by Edmond Gondinet and Philippe Gille, after the novel Le mariage de Loti by Pierre Loti First performed at the Opéra-Comique, Paris, April 14, 1883. In French with English and French supertitles. Last produced at the Opéra de Montréal in January 2000 (concert version).

Opened last week at the Place des Arts in Montreal with the final performance on Valentine's Day.

FAN YANG'S GAZILLION BUBBLE SHOW the first and only, interactive stage production of its kind, complete with fantastic light effects, lasers, and masterpieces of bubble artistry.

Fan Yang's gorgeous and unique creations defy gravity and logic as we know it. He holds - and has broken his own - 12 Guinness World records for the biggest bubble ever blown, the largest bubble wall ever created - a staggering 156 feet!- most bubbles within a bubble, and in May 2006, was able to encapsulate 22 people inside a single soap bubble on live television in Madrid. His performances have been broadcast worldwide, including Cirque du Soleil and The David Letterman Show.

Over the past two decades, Fan Yang has explored the fragile and mysterious world of soap bubbles and emerged with a completely new medium, blending art and science to dazzle audiences around the globe. Children and adults of all ages are sure to be amazed, mystified, and enchanted!

February 15 – September 2 at New World Stages Theatre in New York City.


| | | |
| --- | --- | --- |
| | | |
WHO'S WHERE


BRIAN WILSON having referred to the Royal Festival Hall in London as his spiritual home, the legendary writer, producer, arranger and performer of some of the most unforgettable and inspirational music in rock history, returns in September 2007 for six nights with a new work, which has been commissioned by Southbank Centre as part of its opening season.

He will be presenting a four-movement piece called, That Lucky Old Son (a Narrative). The piece will consist of four 'rounds', with interspersed narrative. In addition Brian will be performing several Beach Boys songs that have never been performed live as well as some other surprises.

September 10-16 at the Southbank Centre in London.

THE 15TH ANNIVERSARY OF SALON AT THE TAPER Celebrating the Songs of Jimmy McHugh - A Lovely Way To Spend An Evening. This one-night only event will be hosted by Michael Feinstein and features an all-star cast including Terence Blanchard, Kevin Earley, Amanda McBroom, Freda Payne, Amy Pietz, Lorenzo Lamas, and many more. Monday, February 12, at the Mark Taper Forum in Los Angeles.

JOE LOVANO NONET, TOOTS THIELEMANS & FRED HERSCH in a performances that builds on the breath of sax man Joe Lovano's work, with the nonet that plays on his latest Blue Note CD, Streams of Expression, making its UK debut. Toots Thielemans is one of the most individual instrumental voices in jazz. Some 85 years old and composer of the 1962 jazz classic Bluesette, he continues to play at the very highest level - his harmonica sound is known the world over, along with his guitar playing – and has worked with Charlie Parker, Benny Goodman, Ella Fitzgerald, Pat Metheny and Paul Simon amongst others. Pianist and composer Fred Hersch is considered to be one of the most prolific and widely praised solo jazz pianists, February 16 at the Barbican Hall in London.

PETER CETERA performs one night only on February 17, in the Rose Ballroom at John Ascuaga's Nugget in Sparks, Nevada.

CHICK COREA performs Monday, February 12, at Jackson St. University in Jackson, MS. On Wednesday the show is at the Lied Center in Lincoln, NE. Friday the performance takes place at Arlene Schnitzer Hall in Portland, OR and on Saturday at Zellerbach Hall in Berkeley, CA.

BONEY JAMES performs Wednesday, February 14, at the Chicago Theatre in Chicago. On Thursday the show is at the Northern Lights Theater in Milwaukee, WI.

CHRIS BOTTI on stage Friday, February 16, at the Paramount Theatre in Oakland, CA. On Saturday he can be enjoyed at the Bob Hope Theatre in Stockton, CA.

THE KINGSTON TRIO opens a three night stand Friday, February 16, at the Music Hall in Tucson, AZ.

KEELY SMITH AND PAULA POUNDSTONE in the spotlight Thursday, February 15, at the Raue Center for the Arts in Crystal Lake, IL. On Friday they'll perform at the McAninch Arts Center in Glen Ellyn, IL.

MINNESOTA ORCHESTRA Osmo Vänskä, Music Director and Conductor performing symphonic masterpieces by Beethoven and Sibelius in two powerful programs. February 13-14 at Carnegie Hall in New York City.




PIFFLE AND PROFUNDITIES


HOW TO SAY I LOVE YOU AROUND THE GLOBE

Wo ai ni (Mandarin)
Ngo oi ney(Cantonese)
Saya cinta padamu (Indonesian)
Sukiyo (Japanese)
Yo te amo/Te quiero (Spanish)
Ich liebe Dich (Germany)
Je t'aime (French)
Sarang Ham-nida (Korean)
Ya tyebya lyublyu (Russian)
Ti amo/Ti voglio bene (Italian)
Eu te amo (Portuguese)
Seni seviyorum (Turkish)
Khao raak thoe (Thai)
T'estimo, t'esteme molt (Catalan)

Next Column: February 18, 2007
Copyright: February 11, 2007. All Rights Reserved. Reviews, Interviews, Commentary, Photographs or Graphics from any Broadway To Vegas (TM) columns may not be published, broadcast, rewritten, utilized as leads, or used in any manner without permission, compensation and/or credit.
Link to Main Page
---
Laura Deni


CLICK HERE FOR COMMENT SECTION