! >
Broadway To Vegas
  
 SHOW REVIEWS CELEBRITY INTERVIEWS GOSSIP NEWS

| | |
| --- | --- |
| | |
HARRY CONNICK'S MARDI GRAS - - SAN DIEGO REP'S KUUMBA FEST - - MARY J.BLIGE IN THEATRICAL DEBUT - - THE VIEW IN LAS VEGAS - - BIG BILL TILDEN - - JOSE FELICIANO ON SEX - - A VEGAS WEEK-END: JOHN KERRY, ELTON JOHN, BETTE MIDLER - - JONATHAN WINTERS HONORED IN VEGAS - - DONATE . . . Scroll Down


Copyright: February 15, 2004
By: Laura Deni

CLICK HERE FOR COMMENT SECTION
TRIPLE THREAT WEEK-END; ENTERTAINMENT, MONEY AND POLITICS
Elton John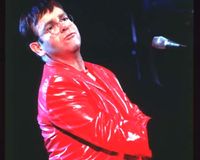 This has been the kind of week-end that contributes to Las Vegas' well deserved reputation of 24-hour delirium.

An odd combination of Friday the 13th followed by Valentine's Day leading into President's Day - a star alignment destined to conjure up something.

Let us not forget that yesterday was also the Nevada Democratic Caucus. Front runner John Kerry's plane touched down in Las Vegas Friday night. Just as the celebrities were walking down the Caesars Palace red carpet to attend Elton's opening night Red Piano performance, Kerry was speaking to a cheering crowd of about 2,000 in the gym of Valley High School.

On Saturday morning Kerry was glad handing the voters at Chaparral High School, while Howard Dean supporters were passing out free donuts.

The donuts were the only thing free in Vegas this week-end.

Tickets for Elton John were $116 to $281. Midler commanded $87-$262.50 while prices for the now canceled Sting were $160 to $510.

Those three stars actually have the ability to deliver shows worthy of their exorbitant ticket prices.



Sting is ill, canceling several shows including Vegas.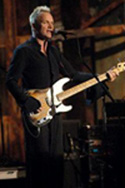 Elton John and Bette Midler took to their respective stages - John on Friday, Midler on Saturday while Sting who was slated for a performance this evening at The Joint at the Hard Rock Hotel - his first Southern Nevada concert in more than two years - canceled due to illness. That show has now been rescheduled for March.

Able to afford tickets to anything she wants is the 49-year old woman won the $10.2 million Megabucks on Friday the 13th at MGM-Grand.

Outrageous performer Elton John, who used to be over the top through costumes and eye glasses, now achieves the same effect through the use of elaborate visuals via high tech screens and blow up props - including a women's breasts and a banana between two cherries. There is also that video with Pamela Anderson gyrating on a stripper pole during The Bitch Is Back number.

What Elton has down to an art form is entertaining - backed by his respected bandmates: guitarist Davey Johnstone, keyboardist Guy Babylon, bassist Bob Birch, percussionist John Mahon and drummer Nigel Olsson. John is also adept at merchandising. The guy is a one man department store. Flying off the shelves are a range of garments - from sexy tops to ordinary caps - each proclaiming The Bitch is Back. Other popular items include stuffed alligators wearing Elton Rocks Las Vegas T-shirts, snow globes and miniature red pianos. Or, cough up $40 and pose for a lobby card in front of a red Yahama grand piano.


BARE BREASTS, MARDI GRAS AND HARRY CONNICK, JR' S DOLLY TROLLEY
The Connicks - Harry Sr and Jr.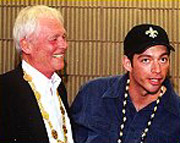 If you think that Janet Jackson was perhaps staging a practice run at the Super Bowl, getting her breasts tuned up be exposed at Mardi Gras, don't expect to see her riding the Harry Connick, Jr. Orpheus krewe float.

This is not your typical Mardi Gras krewe. Last Tuesday Broadway To Vegas spoke with Orpheus vice president, veteran PR man Ardley Hanemann about Connick and why his Orpheus is different than most of the other New Orleans Mardi Gras krewes.

"There is nothing outrageous. In fact, outrageous behavior is not allowed at all," Hanemann reported as his voice took on a serious edge.

"Television is showing you Bourbon Street. That is not Mardi Gras," he emphatically stated. "That is a bunch of college kids. Mardi Gras is on St. Charles Avenue on Canal Street. Mardi Gras is a family thing. It's the families on St. Charles Avenue and Canal Street with their kids and that is who we are."

The image of the woman stripping off her top, bearing her breasts in order to get a string of plastic beads thrown at her?

"If anyone did that on our float they would be thrown out of the krewe," Hanemann flatly replied.

"Our krewe is not allowed to throw panties or anything like that. All throws have to be in good taste."



Sonny Borey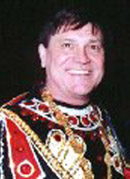 The Krewe of Orpheus is the newest krewe to join the New Orleans revelry in recent years. Founded in 1993 by jazz musician and entertainer Harry Connick Jr., Sonny Borey and Connick's musical father, who has a day job as New Orleans' District Attorney, the Krewe of Orpheus has become renowned for its musical themes, innovative and beautiful floats, and its refreshing openness to revelers from all walks of life.

Most krewes have restrictions on who joins ­ restrictionns frequently based on race, sex and social status. The Connick krewe officials take the high road when words such as segregated or bigoted are used. Orpheus is different.

"I wouldn't use those words," responded Hanemann. "Most of them (other krewes) have different membership requirements. His his open to everybody."

Drawing from the City's tradition, history and love of music, Connick, Jr. and Borey chose "Orpheus" - who in Greek Mythology was the greatest mortal musician. This mythology and tradition has continued to influence the selection of the parade's guest celebrities and themes.

The theme for Orpheus 2004 is Serenade of the Seasons, with spectacular floats based upon the changing seasons. The floats will carry over 1200 masked riders and celebrity monarchs past the nearly one-million parade-goers along the route - all trying to catch plastic beads and coins called doubloons.

"The only face that is on a coin is the Musical Legend, which this year is Earl King," he explained referring to a man who spent more than four decades as a major New Orleans R&B force. King wrote and recorded hundreds of songs, in many styles, ranging from New Orleans rhythm & blues in the 1950s to more progressive soul arrangements.

"His face is on some of the coins - the collectible coin. The other coins are the regular Orpheus Doubloon. One side is the crest of the krewe and on the other side is the theme of the parade, which this year Serenade of the Seasons."

The celebrity legend is selected by the captain and Krewe founding member Sonny Borey.

"I don't think there are any set rules, but it has to be someone who has contributed to music in a significant way. It can be any form of music. We've had Al Hirt. We'd had professor Long Hair. We've had quite a variety. So, it just has to be someone who has contributed to music in some significant way."

Other Musical Legends have been; Sweet Erma Barret, Jelly Roll Morton, Louis Prima, James Booker, Louis Gautcheaux, Al Hirt and in 2001 Ms. Mahalia Jackson.

"We have multiple Monarchs," he elaborated. "Their role is to be there and have fun. Everybody on the float throws out the beads."

This year Dominic Monaghan aka Meriadoc "Merry" Brandybuck, Brad Paisey and designer Nicole Miller are the celebrities who will be float bound.



Brad Paisey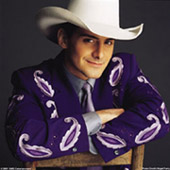 "Performing at the party will be Harry Connick, Jr., Paisey, Anita Eriza, The Night Crawlers, The Top Cats, Tony Hall and the Heros featuring Maghony Blue," Hanemann continued.

Guest celebrities who have been honored in the Krewe of Orpheus include: Glenn Close, Whoopi Goldberg, Hota Kotb, Camryn Manheim, Jay Thomas, Little Richard, Dan Ayckroyd, Vanessa Williams, David Copperfield, Delta Burke, Gerald McRainey, Forest Whitaker, Tommy Tune, Laurence Fishburne, Quincy Jones, Stevie Wonder, Branford Marsalis, Sandra Bullock, Debbie Allen, Ernie "Mother-In-Law" K-Doe, and a host of other local celebrities and major entertainers, such as Cirque du Soleil.

The parade continues to get bigger and better.

"About 6000-7,000 people will be participating," he related. This year we've got the Orpheus Dolly Trolley, which we purchased. It is the original trolley that was in Hello Dolly with Barbra Streisand. So, we purchased that and it's going to be a permanent part of the parade. We purchased it from a gentleman in Missouri. The Captain found it and went after it. He's going to be bringing in draft horses to pull it."

"We've got three Roman chariots that we're putting in this year that will lead the parade. They will also be drawn by draft horses."



The Smoking Mary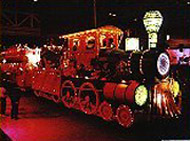 We've added another section to our train, The Smoking Mary. So, that will be seven cars long now. That just keeps getting longer and longer," he said referring to the train which now includes a dining car and a caboose," Hanemann added.

"Our parade is more geared toward bringing back the old Mardi Gras. So, our floats are very elaborate with a lot of flowers and a lot of gilding, a lot of gold leaf. Our costumes match the floats."

After the parade everything is "stored at Mardi Gras World. That is where they are taken apart and re-built every year."



Derek Franklin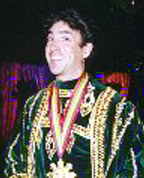 No, we don't have a whole lot of volunteers," he laughed. "But, we do have a lot of paid staff. We keep a staff of quite a few people all year around who do nothing but make the flowers for our parade. Then, of course Blaine Kerns' people do their thing," he said referring to the owner of the world famous Mardi Grad World. "Our creative director is Derek Franklin. He is responsible for the look that our parade has. He personally places every flower and every leaf on those floats. He is over there now. He is there from eight in the morning to ten at night at this time of year."

"The flowers are made out of a cardboard, wire, some paper mache but primarily cardboard, wire, paint, gold leafing, whatever we can find that makes it work."

The parade rolls on "Lundi Gras," the Monday before Mardi Gras which this year is February 23. Be there or be square.


SINGER HOPES HE'S BROUGHT SEX INTO PEOPLE'S LIVES
Jose Feliciano. Photo by Laura Deni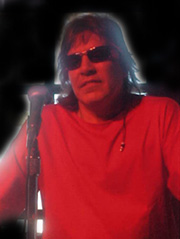 Six time Grammy award winner Jose Feliciano hopes sex has been his biggest musical contribution. Before opening a three night engagement last Thursday at the Stardust Hotel in Sin City, Feliciano discussed his career at a luncheon press conference.

"The one thing I hope I contributed more than anything else is - I hope I made people happy. I hope I made them forget their troubles for awhile. And, I hope I've brought love and - I don't want this to sound wrong - but I hope I've brought sex into people's lives. I think part of the reason there are so many divorces and so much discontent is because people who love each other have lost a part of their love because they don't have enough sex in their lives - together as a couple. Sex has been made into kind of a dirty thing - come on baby let's get down and party - when in reality sex is like a religion. It should be the most holy thing that you have with someone that you love."

"I don't know what contributions I've made," continued the performer whose career is highlighted with more than 40 Gold and Platinum records and 16 Grammy nominations. This is the guy who delivered a soulful rendition of the National Anthem at the 1968 World Series. His recording of The Star Spangled Banner reached the Top 40 charts for the first time.

"I am not religious by nature, although I was raised a Christian, Roman Catholic. But, more than Christianity, I believe in that wonderful force that has created this whole world that has made us what we are.

"I know without God my life would be nothing."

"It's a funny thing you look at someone like Luther Vandross, whom I love dearly and is a good friend," he softly continued. "I look at him and I think - Jose, the same thing could happen to you. You could have a stroke and God can take everything away from you. So, every day that I wake up I thank God for giving me the life I have, for giving me the friends that I have and, most of all, for allowing me to play music, which is something that I started doing at the age of three."

"When I started out in this business it wasn't my thing to become famous. When I started I wanted to be the best musician I could be. Then, all of a sudden, I got caught up in things."

He admits his ego craved top billing.

"I was a very cocky kid. I said a lot of things and made enemies when I was young because you think you know everything. You are riding so high and people are telling you how great you are. You feel invincible."

"What you have to realize is the opposite. The higher you are, the more people try to knock you off of your perch. One of the most important things that I've learned in this business is to treat everybody fairly, because you never know who you are going to meet on the way down."

"I'm a very competitive person. I remember when I opened for Frank Sinatra at Caesars Palace in 1961. It was the thrill of my life to open for Frank Sinatra with the 5th Dimension and Pat Henry. I was a cocky kid then. One time Frank Sinatra got sick and he had Sammy (Davis) fill in. I said - 'You know, Frank, if you would have asked me, I would have filled in.'"

"I worry that as I get older, unlike Sinatra, who had the teleprompter, what is going to happen to me?" kidded the singer who was born blind.

"Later as I got older I got wiser, smarter, and hopefully politer."


THE 12th ANNUAL KUUMBA FEST 2004 AT SAN DIEGO REPERTORY


San Diego's Black History Month's biggest event is back at the San Diego REPertory Theatre with the Twelfth Annual Kuumba Fest. Exposed Roots: Majestic, Proud & Glorified stages performances Friday February 27 through Sunday February 29.

The three-day celebration of African American life stresses positive images, history and heritage. "Kuumba" is a Swahili word for "creativity," and Kuumba Fest offers opportunities to find personal expression and build community through creativity.

This year's highlights include two original gospel musicals: Black In Church by Daj-ahn Blevins, directed by Charles W. Patmon, Jr. and When The Past Speaks by Pastor Darrell Allbritton.

In addition, San Diego's hottest artists rule with a dance competition, Take It (Dance & Step Showcase); and Skool of Hip-Hop, a showcase examining the history and evolution of hip-hop and its impact on society by breaking down the different elements of hip-hop - dance, spoken word, rap.

Saturday night is ablaze with the Apollo-style talent competition Showtime At The REP, Live at the Lyceum. Sunday caps off the festival with a get-up-on-your-feet Gospel Celebration, featuring the hottest acts in gospel, among them Voices of Fulfillment, Out of the Darkness, Chosen Generation and the Signing Choir of San Diego; and excerpts from Abundance of the Heart by Angela Cunningham, directed by Dinnah Smith.

Kuumba Fest 2004 opens Friday night with the African Market Place bustling with vendors and a reception in the Lyceum lobby hosted by the African American Council of San Diego Repertory Theatre and the African American Art Museum. The art exhibit Reflections of our Heritage: Influences of the Diaspora - along with vendors, live music, fashion and ethnic foods - will surround visitors with sights, smells and cultural delights for the whole family. From the first beat of the African drum call, traditional libation and Black National Anthem to the Royal Court Processional featuring beautiful princesses and powerful warriors, Kuumba Fest 2004 honors positive community role models and resources.

Black In Church follows, a funny and spiritually moving play about working for change in the community, featuring local gospel choirs, Os Malandros de Mestre Touro performing Capoeira and the African drumming and dance troupe Teye Sa Thiosanne. Saturday's events concentrate on representing positive challenges, with the Market Place and Educational Workshops followed by Exposed Roots, written by Dajahn Blevins and performed by youths age 5-17, about the history of African Americans in San Diego; an Oratory Competition; the dance competition Take It; the hip-hop showcase Skool of Hip-Hop; and Showtime At The REP, Live at the Lyceum. Sunday represents celebration and praise of history, teachers, cultural style and spirituality; with a Hair and Hat Style Show, When The Past Speaks and the Gospel Celebration.



Broadway To Vegas is supported through advertising and donations. Priority consideration is given to interview suggestions, news, press releases, etc from paid supporters. However, no paid supporters control, alter, edit, or in any way manipulate the content of this site. Your donation is appreciated. We accept PAYPAL. Thank you for your interest.


SPREADING THE WORD


SAY THE WORD Hollywood's top writers and comedians step out from behind the scenes to perform fresh original comedy written for their own voices. Lounge-style with cocktails and snacks. Hosted by Un-Cabaret's Beth Lapides. Guests will include Winnie Holzman (My So-Called Life), actress Teri Garr, Jordan Brady (Dill Scallion), and actor/comedian Taylor Negron. For ages 21 and up. Friday, February 20 at the Skirball Center in Los Angeles.

THE VIEW IN LAS VEGAS the popular ABC daytime conversational hour brings the gab to Sin City from Feb. 16 to Feb. 20.

Show stars Meredith Vieira, Star Jones, Joy Behar, Elisabeth Hasselbeck and Barbara Walters will be broadcasting poolside from Caesars Palace interviewing the likes of Elton John, Meg Ryan, Jerry Lewis and Dave Navarro and Carmen Electra.


SWEET CHARITY


THE BROADWAY BEARS VII AUCTION

Flower Drum Song bear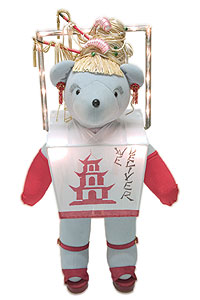 on Sunday, February 15, will join the ranks of their 250+ predecessors as they make their own very important entrances on stage at B.B. King Blues Club & Grill in the heart of New York City's revitalized theatre district.

Everyone is anxiously anticipating the arrival of this newest group of 'celebearties', following the smashing success of the previous six auctions. This event is hosted Broadway's Bryan Batt, with auctioneer Lorna Kelly.

The debut of this newest edition of one-of-a-kind bears coincides with the kick off of New York's Toy Fair, February 15-18.

This year's all star cast of collectible, museum quality cubs, in a new pale grey color, will once again be meticulously dressed in handmade costumes by top Broadway designers and design teams as well as leading doll and teddy bear artists. Bob Mackie, Ray Aghayan, Ann Roth, Cecil Beaton, William Ivey Long, Martin Pakledinaz, Theoni V. Aldredge and Patricia Zipprodt along with numerous others have had their Tony Award® winning designs faithfully replicated down to the most exacting detail. From Marissa Jaret Winokur's bowed Hairspray bouffant to the leather soles of Brian Stokes Mitchell's Kiss Me, Kate boots, the authenticity overall is paramount and the artistry unequaled.

THE VAGINA MONOLOGUES with playwright Eve Ensler and Jane Fonda scheduled to attend, will perform February 21st at the Pacific Design Center's Silver Screen Theatre, in West Hollywood. This one-night-only event will benefit the Los Angeles Commission on Assaults Against Women. The performance will feature a cast of notable transgender women from around the world. This first-of-its-kind event will debut a new monologue written especially for the event by Ensler reflecting the experience of transgender women.

The cast will feature women who have made notable contributions to art, science, literature and entertainment, including Lynn Conway the co-inventor of original microchip technology and Calpernia Addams the author and actress whose life story was recently portrayed in the Showtime movie Soldier's Girl.

A BROADWAY CONCERT BENEFITING THE MATTHEW SHEPARD FOUNDATION hosted by legendary performer/director/writer, Charles Busch, this special one-night-only concert is the first major New York theatrical event to benefit the Matthew Shepard Foundation.

Laura Benanti, Hinton Battle, Anne Runolfsson, Marla Schaffel, Max von Essen, Raul Esparza, Kate Shindle, Michael Arden, Janet Metz, Sriram Ganesan, Andrew Lippa and Randi Driscoll whose benefit single What Matters has raised over $30,000 for the Matthew Shepard Foundation - and several other Broadway performers are currently scheduled to appear. In addition to that, cast members from Fame on 42nd Street, I Love You, Your Perfect, Now Change and Naked Boys Singing will all be making appearances. Embrace! will be musically directed by I Love You… Musical Director Mat Eisenstein, and directed by Jamie McGonnigal.

The Matthew Shepard Foundation, founded in December 1998 by Dennis and Judy Shepard, was established in memory of their 21-year old son, Matthew, who was murdered in an anti-gay hate crime. The Foundation carries out Matthew's legacy by supporting educational projects, activities and documentaries that raise awareness of the issues involving discrimination and diversity. The Foundation's goal is to educate and replace hate with understanding, compassion, and acceptance.

Thursday, February 19 at the Westside Theatre,NYC.


ART AND ABOUT


JONATHAN WINTERS

Jonathan Winters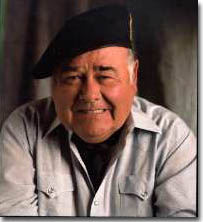 was in Las Vegas this past week to attend the grand opening of an exhibit featuring 30 of his drawings and paintings - on display at the Art de Vignettes Fine Art Gallery at Fashion Show mall.

The display includes 16 acrylic on canvas, 20 pen-and-ink drawings and five limited-edition autographed prints.

Last Tuesday he was toasted at a cocktail party in his honor and presented with a key to the city by Las Vegas Mayor Oscar Goodman. On Wednesday evening and Thursday morning he met with the public at the gallery, signing autographs.

Winters, best known for his improvisational comedy, has been painting for almost 60 years. ( See Broadway To Vegas column of May 3, 1999 )



BIG BILL by A.R. Gurney. Directed by Mark Lamos.

Playwright A. R. Gurney has scripted a moving and incisive portrait of legendary tennis player William Tilden and his turbulent life in a series of scenes that shift back and forth in time. Performed on a set that resembles a tennis arena, the play illuminates the sportsman's distinguished career, extravagant style, personal travails, and, ultimately, his calamitous downfall.

William Tatem Tilden, II (1893- 1953), recognized as one of the greatest tennis players of all time, dominated the sport in the 1920s by winning seven U.S. championships (the equivalent to today's U.S. Open). Nicknamed "Big Bill," Tilden was known for his style, grace, imposing manner on the court, and for his devastating cannonball serve. In 1920, he was the first American tennis player to compete at Wimbledon and the first American to win the singles title there in 1920, 1921, and again in 1930. In the years in which he played tennis as an amateur (1912-30), Tilden won 138 of 192 tournaments; his match record was a remarkable 907-62.



William Tilden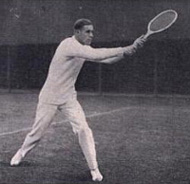 In addition to his accomplishments as an athlete, Tilden was the author of several works of fiction and non-fiction, including three well-regarded instructional books: How to Play Better Tennis, The Art of Lawn Tennis and Match Play and the Spin of the Ball. Tilden also had a great interest in theater; he wrote and produced plays and acted professionally - to mostly unflattering reviews. His fame led to many glamorous acquaintances, particularly movie stars. When Tilden moved to Hollywood he became good friends with Charlie Chaplin, played tennis at his parties, and coached Greta Garbo, Katherine Hepburn, Clark Gable, and Douglas Fairbanks, among others.

While Tilden had an extraordinary career, his personal life was marked by loneliness and tragedy. He was born in Philadelphia, the son of wealthy parents, but by the age of 22 he was the sole survivor of his family. Tilden was a bachelor throughout his life and a closeted homosexual. Attracted to younger men, he had the misfortune of being caught in a liaison with a minor and was arrested, charged with pederasty, and convicted. In 1947, a California judge sentenced Tilden to a year in prison. Two years later, as a result of a sexual misdeed, he was jailed again for parole violation. Tilden's notoriety cost him dearly. He was barred from entering tennis clubs and was not allowed to play on the professional circuit. By the end of his life, "Big Bill" Tilden had lost most of his friends and all of his money, yet in 1949 he was awarded Most Outstanding Athlete of the Year by the National Sports Writers Association, with ten times the number of votes as the nearest runner-up.

Big Bill is a fascinating look at the glory of sport, the power of fame and the anguish of being an outcast. The cast includes David Cromwell, Michael Esper, John Michael Higgins, Alex Knold, Jeremiah Miller, Stephen Rowe, Donal Thoms-Cappello and Margaret Welsh.

Sets by John Lee Beatty. Costumes by Jess Goldstein. Lighting by Rui Rita.

Officially opens February 22 with performances to May 16 at the Mitzi E. Newhouse Theater in NYC.

THOROUGHLY MODERN MILLIE at the Ford Center for the Performing Arts in Chicago Feb 17- Feb 29.

THE FANTASTIKS Boy meets girl, boy loses girl, boy gets girl back. The world's longest running musical, The Fantastiks enjoyed a 17,162 performance run at New York's Sullivan Street Playhouse before taking its last bow in January of 2002. This new production features expanded orchestrations and hits from the American Songbook including Try To Remember, I Can See It and They Were You.Brooklyn Center's Broadway Series on Sunday, February 22 in the Whitman Theatre.

THE EXONERATED welcomes Mary J. Blige who will be making her theatrical debut when she joins the cast on Feb. 24 assuming the role of Sunny Jacobs. The hip-hop soul singer, producer and actress remains with the show through Feb. 29 at the Bleecker Theater in NYC.

ALVIN AILEY AMERICAN DANCE THEATER A bastion of dance throughout the world, the Ailey experience is on of intense beauty and grace. The Ailey style is not the sort of modern dance that leaves you scratching your head in bewilderment. At the very least, the Ailey aesthetic is visually pleasing and accessible. At its best, it grabs your heart and never lets go. Feb. 17 & 18 at the Ruth Eckerd Hall in Clearwater, Florida.

HAL HOLBROOK IN MARK TWAIN TONIGHT Tuesday at the Tampa Bay Performing Arts Center in Tampa, Florida.

JANE EYRE: THE MUSICAL at the Hale Center Theater in Orem, Utah - the first Utah location to obtain rights to produce the Broadway version. Performances through April 12.

CHICAGO the Broadway musical comes for a limited run of eight performances at the Phoenix Dodge Theatre from February 17-22.

JOLSON & COMPANY by Jay Berkow and Stephen Mo Hanon. Before there was Garland, Sinatra and Streisand, there was Jolson.

Born Asa Yoelson to a cantor, "Jolie" refused to be denied and became the most important entertainer of his time. As most everyone acknowledges, Jolson was the kind of talent that comes along once in a hundred years. From Vaudeville to talking pictures, he pioneered the word charisma.

This production details the story of Jolie's life and songs including Swanee, Rock A Bye and Toot Toot Tootsie Good Bye. Follow the life and music of the man who was truly "Sitting on Top of the World." February 17 - March 7 on the mainstage of the Coconut Grove Playhouse, Florida.


| | | |
| --- | --- | --- |
| | | |
WHO'S WHERE


SARAH BRIGHTMAN headlines the Kemper Arena in Kansas City this evening. Monday finds her at The Ford Center in Oklahoma City. Wednesday the beauty with the gorgeous voice is at the Allstate Arena in Rosemont, Illinois. Thursday she's on stage at the Bradley Center in Milwaukee, Wisconsin and on Friday she'll be delighting crowds at the Target Center in Minneapolis, MN.

JOSH GROBAN brings his chart topping voice to the State Theatre in Cleveland, Ohio this evening. On Tuesday he's center stage at the John Labatt Centre in London, Ontario. On Thursday the show shifts to the Air Canada Centre in Toronto and on Friday he's at the Bell Centre in Montreal.

JOHNNY MATHIS in a two nighter, Friday and Saturday, at the McCallum Theatre in Palm Desert, CA.

MICHAEL FEINSTEIN on stage Thursday at the Eissey Campus Auditorium in Palm Beach, Florida. On Saturday he can be enjoyed at Florida Atlantic University in Boca Raton, Florida.

DIANE SCHUUR entertaining at the Performing Arts Center in Tulsa, Oklahoma on Friday, February 20.

MICHAEL BUBLE in the spotlight this evening at the American Music Theatre in Lancaster, PA. On Wednesday he opens a five night engagement at the Mohegan Sun Casino in Uncasville, CT.

RODNEY GILFRY Although his glorious baritone voice and matinee idol looks have made Rodney Gilfry one of the most sought-after opera singers in the world today, his larger-than-life talents are perfectly suited to breathing new life into the great American songbook. He'll forays into Broadway shows, and cabaret songs in this his debut performance at Founders Hall of the Orange County Performing Arts Center in Calif. Feb. 17-21.

STEVE TYRELL on stage Saturday at the E County Performing Arts Center in El Cajon, CA. Next Sunday he is starring at the McCallum Theatre in Palm Desert, CA.

SMOKEY ROBINSON singing Friday at the Pala Casino in Pala, CA. On Saturday he's in the spotlight at the Robinson Rancheria Casino in Nice, CA.

NEIL YOUNG performing Thursday at the Queen Elizabeth Theatre in Vancouver, BC. On Friday he's at the Rose Garden Arena in Portland, Oregon.

LINDA EDER star of the Broadway hit Jekyll & Hyde, is one of the most acclaimed singers of her generation. She has recorded six solo records of her own, and most recently the 2003 release Broadway My Way. With a magnificent three-octave voice, Linda's style has been described as "passionate," "vibrant," "warm" and "glorious." She'll show off those pipes Friday, February 20 at the Barbara B. Mann Performing Arts Center in Fort Myers, Florida.

ITZHAK PERLMAN with Pianist Rohan De Silva. Witness the world's most beloved violinist with his jaw-dropping technique enhanced by the superior acoustics of Ruth Eckerd Hall. As an added bonus, hear Perlman play the world premiere of a piece by Ellen Taaffe Zwilich specially commissioned for Perlman in honor of Ruth Eckerd Hall's 20th Anniversary Season. February 21 at the Ruth Eckerd Hall in Clearwater, Florida.

BETTE MIDLER creating a party on stage Wednesday at the San Diego Sports Arena in San Diego, CA. On Friday she's starring at the Lawlor Events Center in Reno, Nevada and next Sunday she's in the spotlight at the Arrowhead Pond in Anaheim, CA.

ROD STEWART has a busy week doing turn away business. Tonight he's at the Air Canada Centre in Toronto, Ontario. Tuesday finds him at the Wachovia Center in Philadelphia. On Wednesday he'd center stage at the Giant Center in Hershey, PA. Friday the singer is at the Allstate Arena in Rosemont, Illinois and on Saturday he'll be delighting crowds at the Palace of Auburn Hills in Auburn Hills, Michigan.

DEE DEE BRIDGEWATER in the spotlight Wednesday at the Kimmel Center in Philadelphia. On Thursday she begins a four night engagement at the Manchester Craftsmen's Guild in Pittsburgh.

JAMES CULLUM on stage February 19 at the Olympia in Dublin, Ireland. On February 20 he's singing at the Waterfront in Belfast and on February 22 the show is at St. David;s Hall in Cardiff.

JANA ROBBINS brings her cabaret act to the Crest Theatre Delray Beach, Florida on February 16.

STING delighting crowds in a two nighter Tuesday and Wednesday at the Paramount Theatre in Oakland, CA.
















Next Column: February 22, 2004
Copyright: February 15, 2003. All Rights Reserved. Reviews, Interviews, Commentary, Photographs or Graphics from any Broadway To Vegas (TM) columns may not be published, broadcast, rewritten, utilized as leads, or used in any manner without permission, compensation and/or credit.
Link to Main Page
---
Laura Deni


CLICK HERE FOR COMMENT SECTION