! >
Broadway To Vegas
  SHOW REVIEWS     CELEBRITY INTERVIEWS     GOSSIP     NEWS 
| | |
| --- | --- |
| | |
Copyright: May 3, 1999
By: Laura Deni
CLICK HERE FOR COMMENT SECTION

WAYNE NEWTON: RASPY VOICE AND MOUSEPADS
Wayne Newton billed as "Mr. Las Vegas" performed Saturday night with the Omaha Symphony Orchestra. Despite a raspy voice and serious technical problems he maintained a professional image and garnered a standing ovation, according to our Midwest correspondent, Michael Ashleman, who covered the event.
WAYNE NEWTON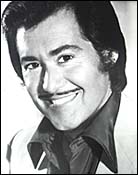 "The Orpheum Theater has been completely restored with gold leaf ceiling, 6 foot high crystal chandeliers, creme colored and gold leaf walls with acoustics that are perfect. It's a proscenium stage with no curtain. The performance opened with the 71 member Omaha Symphony Orchestra, conducted by Ernest Richardson. They were fabulous," exclaimed Ashleman.

"Richardson is extremely animated. He spoke to audience three times and his microphone didn't work. So, he put down the mike and said - Let me speak to you - He wasn't deliberately projecting and the acoustics are so good nobody had a problem hearing him.

"They played off of Vegas, making Vegas a part of the entire evening. The overture was Bernstein's Candide. Richardson then said that Wayne was Mr. Las Vegas, a guy and a real doll, which was the intro for the Symphony to play selections from Guys and Dolls. They did Luck Be a Lady because of Las Vegas and gambling. That was followed with themes from the 007 movies. Richardson played off of Newton's name - Bond ... James Bond became - Newton ... Wayne Newton, in the James Bond voice. It wasn't as hayseed as it sounds. Richardson did a good job talking to the audience and the symphony was excellent.

"After they played The James Bond Theme, For Your Eyes Only, Live and Let Die, and Goldfinger, there was an intermission while the stage was re-set for Newton.

"At least half of the symphony left and Newton's own people came on. He didn't have his usual Vegas entrance - no spaceship, rain curtain or fog. Just a fanfare and his usual entrance music of Theme to 2001: A Space Odyssey, with his billing of "the legend" and "Mr. Excitement." Out Newton walked wearing a black tuxedo. No jumpsuit, a straight laced, black tie tuxedo. No fuchsia ruffled shirt. All of the musicians were in black tuxedos and the women wore black dresses. The only difference is that Wayne had on a black vest, while the other men wore black cummerbunds.

"Wayne had note cards on the piano and he thanked everyone involved with the show; Ameristar for sponsoring the show, KFAB radio station for holding a contest where the winner got to select a song he would sing (Danke Schoen) and to the people who provided all the flowers used in the show. That was before anybody came up from the audience to present him with flowers, so all of those flowers are pre-bought by some sort of a sponsor. A woman came up with a bouquet, another pinned a rose to his lapel. At the end of the show he received some more bouquets from those sitting close to the stage.

"He did all of his usual Vegas kitsch - talking to the front rows, telling jokes, saying he had a 93 year old aunt who lives in Sioux City, Iowa and stories about visiting her," continued Ashleman.

"He mentioned that he had just performed in Vegas at the MGM Grand Hotel. As long as he was talking, he was fine. When he tried to sing, his voice sounded raspy and there were serious sound problems," he continued.

"Richardson and several of the musicians had come into the audience and sat down," explained Ashleman. "The second they heard the sound problems they bolted from their chairs and raced backstage. The sound got a little bit better, but Wayne's voice didn't improve. Apparently the musicians and conductor thought they had the sound fixed, because they returned and sat down. "More sound problems and again they raced backstage. This happened several times. You had the orchestra members playing sound engineer.

"Several times Wayne's mike went dead. Other times there was terrible feed back and the sound kept cutting in and out. When Newton did sing, the sound was so distorted that it was difficult to understand or enjoy it.

"We lost members of the audience throughout the show, and the place was half filled," continued Ashleman referring to 1,376 attending in a hall that seats 2,750. "People were dressed in everything from jeans to gorgeous gold and silver lame' evening gowns. The jeans crowd walked out first. The younger the people were, the sooner they left. We lost 10-15 percent of the audience before the show was over," speculated Ashleman, who felt the desertion was because of the poor sound, since the bolters had sat through the enjoyed the symphony portion.

"Granted there were problems when the conductor's mike went dead at the very beginning. But, this theater has such incredible acoustics that the symphony didn't have a problem playing. You had the feeling that Newton either hadn't done a sound check or hadn't bothered to rehearse with the symphony. Or, that Newton's people were trying to hide his voice problems by jacking up the sound on his mike and the cover up wasn't working. The mike on Newton's piano worked just fine. The sound on his back up singers was perfect. It was only on Newton's mike that there were problems.

"He played it poker face," continued Ashleman. "He didn't get another mike, yell, give instructions, walk off or even mention it. He acted like nothing was the matter. He can still hold a note, impressively so. His voice is raspy. I don't know if he had a bad cold or had lost some of his notes. He sounds like he has a sore throat. All of his notes are raspy. His vocal quality has really deteriorated."

For at least five years Vegas critics have been commenting on the raspy sound of Newton's voice, which has slowly gotten worse.

"He was on stage for a little over an hour and at least 20-25 minutes of that were his back up singers. He sang very little. He said he had done 142 records and had 17 No.1 or Top 10 records. He talked about movies that had used his music. He has a new Wayne Newton Dynasty Collection, which is six CD's or cassettes, containing his favorite music. He plugged that several times, saying they were on sale in the lobby." Newton didn't just hawk his CDs. In the lobby a huge table contained Newton merchandise, ranging from shot glasses to mousepads emblazoned with Newton's face.

"One departure was the segment where he plays a lot of different instruments," continued our reporter. "He excluded blowing any horns. He played the guitar, banjo, piano but he didn't blow the trumpet, which has always been part of the act. That also made me wonder if he wasn't having throat problems," questioned Ashleman.

"He never mentioned Tony Orlando," said Ashleman referring to Orlando filing a lawsuit last Wednesday against Newton for $15 million, accusing his former friend and business partner of wrongly throwing him out of the Branson, Mo. theater they once shared.

"He did mention his wife, saying she was a lawyer - well educated. "With all of the money problems I've had, I decided to get a lawyer," Newton kidded, who confessed he didn't know what she saw in him. He announced they would be celebrating their fifth wedding anniversary and showed off a black, reflective, amplified guitar that she had given him last year on their wedding anniversary Wayne said; "I asked her why she gave me a guitar and she said - for the same reason you gave me a cookbook. I guess she's trying to tell me I don't know how to play," quipped Newton.

Traveling with Newton as band and crew for his Omaha engagement; Marc Atkinson, Jeff Brandt, Steve Dubois, Frank Fabio, Steve Fansler, Michael Forch, Paula Harbin, Kevin Lawson, Greg Macaluso, Jeanne Marie, Marilyn McCrone, Gary Meyer, Allen Morrissey, Bill Power, Steve Richmond, Bob Sundburg and Andrew Yacek.

"It was a very unimpressive show...for Wayne Newton. This wasn't Newton's Vegas show. People need to come to Nevada to see that," Ashleman added. It should be noted that a true Newton fan wouldn't be disappointed if the entertainer never sang a note. He's got showmanship, charisma and an energy that convinces the groupies that he deeply cares about each of them.

Newton's next Nevada engagement is at John Ascuaga's Nugget in Sparks, Nevada. May 14-15. He returns to Las Vegas, starring at the MGM-Grand May 27-June 9.


JONATHAN WINTERS HONORED

Jonathan Winters has been awarded the second annual Mark Twain Prize for humor. The putty faced comedian will receive the award at a star studded tribute at the Kennedy Center For the Performing Arts on Oct. 20, which will be aired on the Comedy Central cable TV network in January. The first Twain prize was awarded last year to Richard Pryor.

JONATHAN WINTERS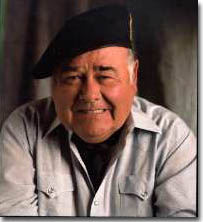 Winters, 73, was born in Dayton, Ohio on Nov. 11, 1925, and became a cartoonist while studying at the Dayton Art Institute, which is where he met Eileen Ann Schauder, his wife of 50 years. Other jobs prior to entering show business included working in a rubber plant, an incubator factory and bottling plant "looking for dead mice and marbles." He also tried his hand at disc jockeying, apricot picking and antiaircraft gunning before gaining his reputation as a comedian at New York's Blue Angel nightclub.

His television debut was a losing effort on Arthur Godfrey's Talent Scouts, but subsequent attempts hosted by Steve Allen, Garry Moore, and Jack Paar brought out his true genius.

The inventive master of his chameleon sui generis, Winters has never been fully appreciated. His first show was a 15-minute 1956-57 Jonathan Winters Show, which preceded the then 15-minute evening news. His sponsor was Tums, which - to thank him - gave him a tiny silver tube with Tums engraved on the top. Another effort, The Jonathan Winters Show aired for two seasons 1968-69 on CBS. Another of his programs was The Wacky World of Jonathan Winters. In 1981-82 Winters appeared on ABC-TV's Mork and Mindy as the son of Robin Williams. To thank him - Williams gave him a rifle. Winters won his first Emmy for playing Randy Quaid's father on Davis Rules. To thank him - the producers Marcy Carsey and Tom Werner - gave him a tote bag for Christmas. His film credits include It's A Mad, Mad, Mad, Mad World (1963), The Loved One (1965), and The Russians Are Coming, The Russians Are Coming (1966).

WINTERS AS MAUDE FRICKERT
Ahead of his time, during the 1950's he was called a "sick comedian" because he did routines about amputees, funerals and old people. He was considered one of the members of the "sick-nik," movement in comedy led by Lenny Bruce.

The man who has delighted millions of fans with his free-association trips in the Land of Weird, created the best-loved and more recurrent of his alter egos, Maudie Frickert. That 84-year-old randy and rambunctious grandma-swinger who, like Winters, had a way of cutting through the nonsense. In explaining why he created the character Winters said; "We shelve our old people. We tell them they've got to sit in chairs in Ft. Lauderdale. People don't automatically stop being hip because they grow older."

The master of wicked, good-natured wit suffered a complete breakdown following a performance at San Francisco's hungry i. After mentally regrouping Winters semi-retired from the club scene to spend more time with his family, after his then 7-year-old son told him it wasn't any fun to go fishing alone. Winters, an only child, who felt isolated from his own divorced parents, put his wife and children at the top of his personal priority list. His professional career turned to writing and painting. The zany comedian has enjoyed several critically acclaimed one-man showings of his colorful acrylics-on-canvas works. In 1987 he penned an epigrammatic Winter's Tales which was published by Random House, and stayed on the New York Times' fiction best seller list for 14 weeks. He followed that in 1988 with Hang-Ups, featuring reproductions of 50 of his visionary paintings, completed over a 25 year period.

He performed in Las Vegas, first at the Hilton and then the Sands, where in 1984 he starred with Rose Marie and Scatman Crothers, in The Wonderful World of Jonathan Winters. Through no fault of his own the Vegas gigs were not successful. The Sands engagement even resulted in a legal mess over a contract dispute.

Currently Winters is working on The Rocky and Bullwinkle Movie, in which he plays three live characters that interact with the cartoon personalities. It won't surprise many to learn that Winters collects cigar boxes, Buddha statues and baseball bats.



Broadway To Vegas is supported through advertising and donations. Priority consideration is given to interview suggestions, news, press releases, etc from paid supporters. However, no paid supporters control, alter, edit, or in any way manipulate the content of this site. Your donation is appreciated. We accept PAYPAL. Thank you for your interest.


THE BATTLEGROUND OF BROADWAY MUSICALS

While good intentions don't make good music, composers of Broadway musicals of late have been caught between a rock and a hard place. Latest to feel the squeeze play is Frank Wildhorn, whose The Civil War opened to lackluster reviews. It's not a bad show. It's not a great show, either. Any time a writer uses a historical event as a plot line certain variables, which don't effect works of fiction, come into play. Tis a pity, but a lot of people simply find history a boring subject. If the historical event is long ago and far away - think Les Mis - people are going to be more receptive. The audience won't have their moral conscious levels disrupted with pangs that the events on stage could possibly pertain to them or still be a problem today. If enough time has passed between an actual event and opening night even cruelty and injustice can morph into something more acceptable.

Two recent works Parade and The Civil War have experienced problems associated with writing about history. Demonstrating a need for blame laying, some critics have confused a musical with musical-comedy, and placed all problems at the feet of the composer.

Jason Robert Brown, making his Broadway debut, wrote the music and lyrics for Parade. Instead of praise, a lot of carping took place with critics saying the only reason Brown got the job was because Stephen Sondheim turned down the project. I thought Parade was one of the best efforts ever presented on Broadway. See Broadway To Vegas column of December 28, 1998. The musical is based on one of the 100 most important legal cases in American history. A Jew was lynched. Yet, critics complained that the songs weren't happy, or lilting and that Brown was trying to be too much like Sondheim. I'm not sure how toe-tapping the music should be when you're doing a play about a guy getting strung up because witnesses lied. I was delighted when David Patrick Stearns, writing in the April 30, 1999 issue of U.S.A. Today stated: "Parade is as splendid a new musical as I ever hope to see, but it didn't sell tickets, perhaps because the story was too serious and the score too sophisticated."

While there was much snipping that Brown was trying to sound like Sondheim, has anyone noticed the numerous similarities between the music and orchestrations of the 1966 movie Oliver to the Broadway musical Les Miserables?

Now comes The Civil War which unlike Parade has no specific plot or central character. Composing the music is Frank Wildhorn, whom many dislike because he is a pop success.

Years ago the goal of Broadway composers was to turn a Broadway song into a pop hit. The mechanics were in place to allow such a process. Tie-ins to shows such as The Ed Sullivan Show guaranteed a wide audience. Radio stations with easy listening and top 40 formats played the records. It was Eydie Gorme that gave a different interpretation to Jerry Herman's If He Walked Into My Life that catapulted the song into a serious royalty provider.

Were those avenues still available today Wildhorn's music, with lyrics by Lesie Bricusse on Jekyll & Hyde would have sent The Is The Moment soaring to the top of the record charts.

Wildhorn, 40, makes no bones about writing to please. He wants his records to sell and they do. He's already committed to take The Civil War on a national tour, where mid American will be more responsive. The truck-and-bus route may be where the money is made. Neither of Wildhorn's other Broadway efforts Jekyll & Hyde nor the numerously revamped Scarlett Pimpernel have recouped their investment. The tour will kick off in Baltimore Jan 11 followed by Cleveland, Wilmington and Hartford, Nashville, Pittsburgh, Louisville, Columbus, Seattle and other cities.

Hopefully the current trend to bash the composer will not be one too many stumbling blocks that discourage creative composers from writing for Broadway.


THE MUSIC GOES ROUND AND ROUND

As Will Rogers chronicled the American people through humor, Woody Guthrie (1912-1967) did so through song. His songs and vocal style greatly influenced a number of other folk singers, including Bob Dylan. Guthrie wrote more than 1,000 songs, including This Land Is Your Land

This season an off-Broadway musical Woody Guthrie's American Song received favorable reviews and theater award nominations.The original cast album is now available. With words and music by Guthrie, the musical was conceived and adapted by Peter Glazer with arrangements and orchestrations by Jeff Waxman.

Originally presented on the state by the Pope Theatre Company in Manalapan, Florida, the production has traveled almost as much as Guthrie himself.

The beautifully blending voices of Mimi Bessette, Neil Frielman, David M. Lutken, Helen Russell and James J. Stein, Jr. can sing it soulful to rowdy. From the hard leaning, pressure drilling life in Hard Traveling to an economics lesson in Do Re Mi, Guthrie laid it out, able to put into song the soul of ordinary people. Despite a life of numerous personal misfortunes, Guthrie's songs always instilled hope and love for the beauty of America.

From the cry of a mournful harmonica to the tearin' it up beat of a banjo, Woody Guthrie's American Song is uplifting and entertaining. Generations have grown up to So Long It's Been Good To Know You, Sinking of the Reuben James, Nine Hundred Miles, and Worried Man Blues. In this musical stage production and subsequent cast album, musicians Janise Carper, Jane Gillman, Doug Henrie, Stan Bronski, L. J. Slavin and Neil Woodward play the songs the way Guthrie wrote and intended them to be performed. Guthrie's works are American classics. For that matter so are the compositions of Gershwin, which have recently been bastardized on stage.

For Guthrie fans, this album is a must. For those who know the lyrics to all the songs, but have forgotten from whence they came, this cast album is a delightful memory jogger.


OCC THEATER GROUP NAMES WINNERS

The Outer Critics Circle, the organization of writers on the New York Theater for out-of-town newspapers, national publications and other media beyond Broadway have announced the 1999 winners of their annual theatrical awards. This year's prizes will be presented at the group's 49th annual award ceremony on Friday, May 28 at Sardi's.

OUTSTANDING BROADWAY PLAY Not About Nightingales
OUTSTANDING OFF-BROADWAY PLAY Wit
OUTSTANDING REVIVAL OF A PLAY The Iceman Cometh
OUTSTANDING ACTOR IN A PLAY Kevin Spacey in The Iceman Cometh
OUTSTANDING ACTRESS IN A PLAY Claire Bloom in Electra
OUTSTANDING DIRECTOR OF A PLAY Howard Davies for The Iceman Cometh
OUTSTANDING BROADWAY MUSICAL Fosse
OUTSTANDING OFF-BROADWAY MUSICAL A New Brain
OUTSTANDING REVIVAL OF A MUSICAL Annie Get Your Gun
OUTSTANDING ACTOR IN A MUSICAL Martin Short in Little Me
OUTSTANDING ACTRESS IN A MUSICAL Bernadette Peters Annie Get Your Gun
OUTSTANDING FEATURED ACTOR IN A MUSICAL Michel Bell in The Civil War
OUTSTANDING FEATURED ACTRESS IN A MUSICAL Kristin Chenoweth in You're A Good Man Charlie Brown
OUTSTANDING DIRECTOR OF A MUSICAL Matthew Bourne for Swan Lake
OUTSTANDING CHOREOGRAPHY Matthew Bourne for Swan Lake
OUTSTANDING SCENIC DESIGN Richard Hoover for Not About Nightingales
OUTSTANDING COSTUME DESIGN Lez Brotherston for Swan Lake
OUTSTANDING LIGHTING DESIGN Paul Gallo for The Civil War
OUTSTANDING SOLO PERFORMANCE David Hare in Via Dolorosa
JOHN GASSNER PLAYWRITING AWARD Margaret Edson for Wit
SPECIAL ACHIEVEMENT AWARD To The Cast of Closer - Natasha Richardson, Rupert Graves, Anna Friel and Ciaran Hinds - for Ensemble Performance.


TONY NOMINATIONS
Brian Dennehy and Swoosie Kurtz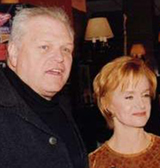 Yesterday the Tony nomination's committee met to selected the nominations for the 1999 Tony Awards. Brian Dennehy and Swoosie Kurtz will announce the Tony nominations this evening at Sardi's.

Dennehy is expected to be nominated for his role of Willie Loman in Death of a Salesman. Kurtz isn't eligible to be nominated because her starring role in The Mineola Twins is an off-Broadway production.

The 1999 Tony Award will be broadcast live from the Gershwin Theatre on Sunday, June 6 airing on CBS-TV.

The awards are presented by the League of American Theatres and Producers and the American Theatre Wing which founded the Tonys in 1947.


SWEET CHARITY

MERYL STREEP receives the Spirit of Achievement Award, presented by the Albert Einstein College of Medicine tonight, May 3 in NYC. Benefiting cancer research, the event also honors Lesley Stahl, Penny Marshall, philanthropist Lilly Tartikoff, Lion King director Julie Taymor and Anne Ford.

PAULA POUNDSTONE headlines the entertainment at the Houston Womens Center annual fund raising gala May 6.


OTHER PEOPLE'S MONEY

PARK PLACE ENTERTAINMENT CORP has agreed to purchase Caesars World, Inc. for $3 billion in cash. That makes the Hilton Hotel gaming sector bragging rights to the most hotel rooms, casino space and cash level in the gaming industry, controlling five properties and 17,000 employees in Las Vegas. Park Place currently owns the new Paris Resort project, Bally's, and Flamingo Hilton.

ALEX YEMENIDJIAN Director and chairman of the Executive Committee of MGM Grand Inc. has been selected to replace retiring MGM chief Frank Mansusco as chairman and CEO. Yemenidjianl will be required to move from Las Vegas to Los Angeles.



DO RE MI starring Nathan Lane, Randy Graff and Stephen DeRosa opens May 6 as the final offering from the Encores series at Lincoln Center. A satire on the music business, the 1960 musical originally starred Phil Silver as Hubert Cram, a bungling striver, the part Lane will play. Lane is also in a reading of Wise Guys, Stephen Sondheim's, new musical with Victor Garber.

A TRIBUTE TO FRANK SINATRA takes place Friday at The Palace Theatre at Myrtle Beach.

MARATHON 99 the 32nd Annual Festival of New One Act Plays, presented by the Ensemble Studio Theatre - Curt Dempster, Artistic Director - takes place May 5-June 13. Marathon 99 will offer three series of new and premiere plays. Each series runs for two weeks. Plays that have premiered in past Marathons have gone on to Broadway, Off-Broadway, and regional theatre productions.

Series A running from May 5-May 16 offers four sections. Romulus Linney's Goodbye Oscar, directed by Peter Malony, is about the final hours of Oscar Wilde as he relives moments in his life. Jack Gilpin will portray Oscar Wilde and Dashiell Eaves portrays different young men in Wilde's life.

In Leslie Ayvazian's Deaf Day, a deaf mother tries to find a balance between teaching her son to live in a hearing world and allowing him to be himself. Spoken in English and Sign Language, this play was written for Jenny Kenny whom Ayvazian will direct.

Cassabdra Medley's Maiden Lane, finds a successful, young African-American couple attempting to buy their dream home in a wealthy white suburb. Irving Vincent directs a cast of four; Johnny Lee Davenport, Judith Roberts, Petey Trigg Seale and Judy Tate.

In All About Al by Cherie Vogelstein, downtrodden Lenny surprises his friend Gil, as Gil waits in a coffee shop to break up with his girlfriend Allison (Al). When Lenny jumps at the chance to ask Allison out Gil suddenly reconsiders. Jamie Richards directs Jennifer Carta, Mark Fenerstein, and Mark Giordano. Ms. Vogelstein is this year's recipient of the newly inaugurated Hammerstein Fellowship for Best Emerging Playwright.

FOREVER YOURS

Rondi Charleston
Photo by: Carol Rosegg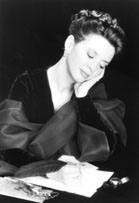 A musical evening based on Michelle Lovric's best selling Lover Letters, An Anthology of Passion begins an eight-week engagement Thursday, May 6 at Eighty Eight's NYC.

Award winning singer Rondi Charleston, who collaborated with Lovric on this show, will be directed by MAC Award-winning director Barry Kleinbort.

Ms. Charleston's Forever Yours, will feature work by songwriters Stephen Sondheim, Harold Arlen, Cole Porter, Rogers and Hammerstein, Burton Lane, Noel Coward, Johnny Mercer, Zina Goldrich and Marcy Heisler, Tom Schmidt and Tom Jones, Jule Style and Sammy Cahn.

Her musical director will be Christopher Marlowe and she will be accompanied by Steve LaSpina on bass.

THE LAST NIGHT OF BALLYHOO May 6-23 presented by the Arizona Theater Co. at the Herberger Theater Center, Phoenix.

RESURRECTION the world premiere of Tod Machover's opera, with a libretto by Laura Harrington, after the story by Tolstoy is presented by the Houston Grand Opera. Directed by Braham Murray, designed by Simon Higlett and conducted by Patrick Summers. Stars Scott Hendricks and Judith Christin. Wortham Theater Center through Friday, May 7.


WHO'S WHERE

CAROL BURNETT Thursday, May 6 at the Cerritos Center for the Performing Arts, Cerritos, Calif.

DAVIS GAINES Broadway's longest running Phantom, appears May 6-8 at the Founders Hall Cabaret, Orange County, CA

AUDRA MCDONALD performs Wednesday at Town Hall NYC. She'll offer a concert of songs from her solo debut album Way Back To Paradiseplus standards by Arlen, Kern, Sondheim.

MANDY PATINKIN with Paul Ford on piano. In concert May 5, Jones Hall, Houston.

BURT BACHARACH with the Houston Symphony-Exxon Pops, takes over the spotlight at the above-mentioned Jones Hall, Houston May 6-9, leading the audience through a tour of his greatest hits.

VIC DAMONE With more than 50 years in the business, Damone's name is woven into the very fabric of the American music vocabulary. Gifted, his shows are always a treat. Saturday, May 8 Lehman Center, The Bronx.


THIS AND THAT

CURTAINS Marlene, the one-woman stage play about actress Marlene Dietrich, closed last night after 15 previews and 25 regular performances. The show was written by Pam Gems and starred British actress Sian Phillips.

DOC SEVERINSEN has abruptly resigned as conductor of the Buffalo N.Y. Philharmonic Orchestra. The former conductor of The Tonight Show became upset when the new executive director, Lawrence Ribits, announced that two outside marketing consultants would be replaced with an in-house marketing director.

BEST OF THE NEW YORK STAGE SERIES comes to the University of Nevada, Las Vegas. That New York institution, Bobby Short, is set to perform in October, followed by the Carnegie Hall Jazz Ensemble, New York voices on November 13. Leslie Nielsen in Darrowtakes the stage on December 5. Betty Buckley's Broadway kicks off Y2K with a February 8 date. Macbeth - The Acting Company, performs April 2. Rounding out the season on April 16 is Wynton Marsalis and the Lincoln Center Jazz Orchestra.

CAESARS MAGICAL EMPIRE a three-hour dining and wizardry experience at Caesars Palace features The Pendragons through June 24. Illusionists Jonathan and Charlotte plan entirely new performances each time they return to the empire's stage. They perform all types of wizardry including close-up, sleight-of-hand, comedy and grand illusion, as the grand finale performance concluding an evening of fine dining, mystery and illusion at Caesars Magical Empire.

CHICAGO'S NAVY PIER Contemporary Art Show, May 7-11 is expected to draw the masses. The 7th annual art exhibition features the work of more than 2,100 artists representing 24 countries. The show includes painting, sculpture, photography, drawing, video, installation and mixed media and featured such 20th century artists as Willem de Kooning, David Hockney, Andy Warhol, Jeff Koons and Louis Bourgeois.

MOVIE BARGAINS In last week's column we mentioned that Las Vegas has a great neighborhood theater where movies are $1.00 every day of the week, with a bargain Tuesday special of fifty cents. We asked you to E-mail Broadway To Vegas is your city had as good a deal. We thank all of you who took the time to respond. We're glad to report that numerous cities offer movies for $1.95 and $2.95. Doesn't beat Vegas, but it's a good deal. Some of the better bargains past onto us are; THE PALM GLEN CENTER, PHOENIX, AZ has admission for $1.50 with concessions priced at only $1.00.That concession price bests Vegas concession prices. In PALM SPRINGS, CA. Cinemark Theaters' Movies 10 Cathedral City, offers $1.00 tickets on shows before 6 p.m. On Tuesdays it's $1.00 per show all day long. ATLANTA, GA. Is another bargain city. Tuesday is also dollar day at the O'Neil Theatres in the Venture Mall. The rest of the time flicks will set you back $1.75. On the down side, tomorrow the Las Vegas theater ends it's fifty cent Tuesday special and hikes the price back up to a buck a ticket.

MATTHEW BOURNE who is raking in the awards for directing and choreographing Swan Lake and choreographed Cinderella at the Ahmanson Theatre in Los Angeles, has a new world to conquer -- the open road. The British lad doesn't know how to drive. His next goal is to get a driver's license.

PRINCE ALBERT OF MONACO in Las Vegas, enjoying the vetted art work at the Bellagio Hotel, then arrived at Cheetah's topless cabaret to view their showing.
Copyright: May 3, 1999



Mention BROADWAY TO VEGAS for Special Consideration
Call (800) 942-9027









Next Column: May 10, 1999,
Copyright: May 3, 1999. All Rights Reserved. Reviews, Interviews, Commentary, Graphics or Photographs from any Broadway To Vegas (TM) columns may not be published, broadcast, rewritten, utilized as leads, or used in any manner without permission, compensation and/or credit.
Link to Main Page
---
Laura Deni


CLICK HERE FOR COMMENT SECTION