! >
Broadway To Vegas
  
  REVIEWS  INTERVIEWS COMMENTARY NEWS

| | |
| --- | --- |
| | |
ANOTHER GLITCH IN SPIDER-MAN ENCOURAGES TICKET SALES - - THE ZULU AND THE ZAYDA CD REVIEW - - GOOD PEOPLE WORLD PREMIERE - - INTERNATIONAL PLAYWRIGHTS SEASON OPENS AT THE ROYAL COURT THEATRE - - IN MOTHER WORDS - - STING, TRUDIE STYLER, JOSHUA BELL AND JOHN LITHGOW - - ROGER DALTREY HEADLINES TEENAGE CANCER TRUST - - PORTLAND MAINE MUSEUM'S WINSLOW HOMER'S STUDIO INSPIRES J. CREW CATALOGUE - - DONATE . . . Scroll Down



SPIDER-MAN TURN OFF THE DARK: MIND-SET BEHIND THE TICKET SALES


Nothing like the smell of possible blood and negative press to bolster ticket sales.

Patrons are spending big bucks to see Spider-Man: Turn Off The Dark in hopes of getting the first Tweet up about a technical problem, or capturing the accident shot on their cell phone that news shows clamor to use.

Last Thursday the problem-plagued production again got tangled up in its own web. A fight scene was halted because the webs of Spidey and The Green Goblin were getting entangled.

Instantly, security was in place. Not for safety, but to order showgoers to put their cameras away.

As first reported by The New York Daily News, in the audience was Brooklyn preacher Jay Bakker, the son of televangelists Jim and Tammy Faye Bakker.

An interesting insight into the thought process of patrons were the Tweets posted by Bakker.

Prior to entering the theater he posted via Echofon:

"Going to see Spider-man on Broadway tonight! Keep me in prayer.. ;-)."

When the web tangle occurred Bakker was one of the first - if not the first - to Tweet on the problem. The minister posted:

"Spider man and Green goblin got stuck in the air fighting at the play tonight. It was a cool show though & kind of fun having that happen".

On February 11 Bakker posted: "Me and Spidey in the news!" referring to press outlets printing that he saw the show and Tweeted about it.

Fascinating.

First, the clergyman requested that people pray for him, rather than suggesting that his readers pray that the accident-prone production sustains no further injuries. Then he posted how he enjoyed the two actors dangling in mid air. And, of course, the last Tweet which starts out "Me" and is about publicity.

On his Twitter page Bakker lists himself as "Bio: Faith Hope love and Grace. Most of the time anyway..."

Anytime a flight scene has a snafu, as it did last Thursday, there is a potential for injury. Fortunately, that didn't happen.

The allure of possible danger is seductive. A different mindset than what is usually associated with driving Broadway reservations. It's that focus which has fast tracked Spider-Man ticket sales.

Spider-Man: Turn Off The Dark is a disaster and train wrecks have always had eye appeal. With the advent of instant communication, the Tweets and U-Tube are attention magnets.

Jay Bakker's long Wikipedia bio in part states: "He ministers to Revolution Church, a church he founded in 1994 in Phoenix . . . Jay preaches at the New York City branch of Revolution Church located at Pete's Candy Store . . . . a nightclub that features live music at night. . . . . Much of Jay's story was retold in a documentary on Sundance Channel called One Punk Under God: The Prodigal Son of Jim and Tammy Faye. . . . Bakker also has several tattoos and piercings which give him more the appearance of a punk rocker than a traditional preacher. Due to his philosophy and appearance, his followers and associates tend to share these qualities of coming from outside of conservative Christianity and call themselves "outlaw preachers".

Not until now has Bakker ever been called typical.

Bakker, who has been in the spotlight since he was a child and his parents had their highly rated evangelistic television program, may well be the "typical" Spider-Man patron. Never met the man, and not for one second do I believe that he was secretly hoping somebody would be injured. It's the aura of potential danger, not to mention the popularity of the comic book figure that pulls people into the theater for this show.

The Spider-Man investors are hoping there are millions of Jay Bakkers out there and pray all of his followers buy tickets to see if Spidey flies or knots up.

Spider-Man: Turn Off The Dark has theater scribes digging up negative words they haven't used in years.

Virtually everyone who has covered Broadway has voiced their horrified opinion - many more than once.

That doesn't mean the show hasn't received more than its share of pre-opening favorable publicity. 60 Minutes, New York Magazine and USA Today have given major coverage, even criticizing members of the press by name who voiced skepticism regarding the musical being successful.



Bono hasn't displayed the possessive passion customarily seen in Broadway composers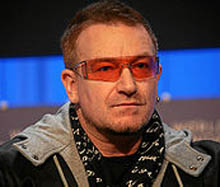 We're sticking with our original opinion - this is a show that should have been mounted in Las Vegas. ( See Broadway To Vegas column of December 5, 2010 ) The city would have benefited from the employment to the point that instead of vilifying Julie Taymor, she would have been given a Key To The City, even though the Strip is located outside city limits.

Vegas also knows how to fly shows safely and - given all the money thrown at this production - it isn't that difficult to construct a harness that doesn't distract.

As it is staged, the bulky things look like heavy mule harnesses. You've all seen them. When news reports show rescue crews using a helicopter to pull a stuck horse, mule or cow out of a river - that animal is attached to a harness which appears to be the prop of choice at Spider-Man.

Vegas is a Cirque town and Spider-Man would have easily flown in, captured an audience who wanted to sit down and be mindlessly entertained before the next round of gambling.

Vegas audience haven't cared about great music delivered by musicians working from expert orchestrations since the days when every hotel had a house orchestra. That downbeat ended decades ago. Nor is a plot line terribly important. As a good rule of thumb, the line most Vegas customers care about has to do with betting.

Stumbling plotline, wasted music- it really wouldn't have mattered. All of the things that are causing Spider-Man to have its web ripped to shreds wouldn't have been a Sin City factor. Spider-Man: Turn Off The Dark would have received reviews by people who looked at the musical as providing the almost too familiar Cirque show with a different approach. Las Vegas and corporate honchos would have muscled support for the $65 million production as a Vitamin-B shot for a Vegas economy on the critical list.

On Broadway this production does not bring The Great White Way to another plateau. Puffed up producers aren't calling meetings to see how they can craft a production like Spider-Man, anxious to mount The Green Lantern, Super-Mouse, Captain America or Wonder-Dog.

Spider-Man: Turn Off The Dark will go down on record as a disaster and get spoofed throughout its long plummet to the pavement.

The campy Deeply Furious number, in which female spiders dance in high-heels, has got to be part of any Broadway parody. In Vegas, that number would have received thunderous applause. There are a couple of Vegas revues that would have looked for ways to do a knock off version for their shows.

The music brings conflicted emotions. Because it's Bono and only because of that name, the music is cut some slack.There is no doubt the score is wasted. The issue becomes - why? Maybe Bono is out of his element and doesn't know how to write for the stage. He's certainly done everything he can to stay away from the powder keg. He's not acting passionate about the production as composers and lyricists are wont to do.

It would be nice to hear the songs performed by Bono and his group - and - with some elaborate orchestrations, performed by an orchestra. Until then, it's music by Bono and The Edge. Whether it's messed up notes or made a mess by the company it keeps, I'm not sure.



Broadway To Vegas is supported through advertising and donations. Priority consideration is given to interview suggestions, news, press releases, etc from paid supporters. However, no paid supporters control, alter, edit, or in any way manipulate the content of this site. Your donation is appreciated. We accept PAYPAL. Thank you for your interest.



ART AND ABOUT


LARRY FINK: HOLLYWOOD, 2000–2009

2006 Oscar. Photo by Larry Fink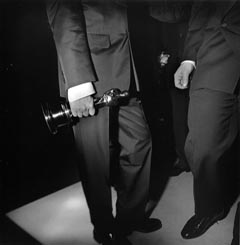 Protest marches, birthday parties, weddings, concerts, and political rallies—from blue collar to black tie, Larry Fink has photographed gatherings of every sort during his 40-year career.

He is keenly attuned to the emotional vibrations that animate social events. Deploying basic capacities of photography - framing, flash, depth of field - he shows us gestures, textures, and fleeting expressions we would otherwise miss.

Fink is, among other things, a society photographer. But this does not mean he flatters the elite.

Under contract with Vanity Fair from 2000 to 2009, Fink documented the magazine's annual Oscar-night party. The Academy Awards have always been equal parts ceremony and celebration; the very presence of Fink - who is neither paparazzo nor photojournalist - is just one indication of how the parties, and Hollywood culture, have evolved into the twenty-first century.

Mainstream media coverage gives everyone a glimpse of glamour, but Fink provides a different kind of access.

The revelation of Fink's society photographs is not that celebrities are superficial, but that their humanity is profound and complex.

All prints are lent by the artist and were made in 2010.

February 13, 2011–April 3, 2011 at the Los Angeles County Museum of Art.

DANIEL McCORMICK: ITERATIONS OF ECOLOGICAL ART AND DESIGN What builds community: science or art? Artist Daniel McCormick from Marin County, California, says it's both in his new show.

McCormick constructs his sculptures from riparian materials and designs them to influence the ecological balance of compromised environments, to give advantage to the natural system, and to allow damaged areas of watersheds to reestablish themselves.

As part of his process, McCormick regularly engages with impacted communities and seeks their involvement as an integral part of the art-making process. McCormick often works with volunteers from various civic organizations and schools and mentoring other artists.

"My work is intended to have remedial qualities, functioning as restorative devices, as well as public art," McCormick states. "It is my intention to give aesthetic weight to the ecological restoration process."

Some of the exhibition-related events include:

Direct from Sweden, Annika Axelsson will speak about her work as a fashion designer for the Dem Collective, as well as the initiatives and practices surrounding the sustainable movement in the Swedish fashion design community. Saturday, February 19.

Daniel McCormick: Iterations of Ecological Art and Design will be on view at the Museum in Sonoma, CA February 19 through May 15. It runs in conjunction with McCormick's work is the exhibit Eco Chic: Towards Sustainable Swedish Fashion.


THE MUSIC GOES ROUND AND ROUND


THE ZULU AND THE ZAYDA a tongue twister of a title. If you've never heard of it, neither have a lot of people - which is a shame. While this CD is a must for any fan of Ossie Davis or Louis Gossett who had starring roles, the musical is a tuneful and listener friendly lost treasure which deserves a listen.

Masterworks Broadway has recently released for the first time digitally and as Disc-On-Demand the 1965 musical previously unavailable in the CD era.

Materworks Broadway admits that the offering is "a genuine curiosity in the Broadway catalog."

Set in Johannesburg, South Africa, this comedy is about a lively Jewish grandfather (zayda is the Yiddish word for grandfather) who moves to Africa from London, whose family (the Grossmans) hires a native named Paulus, who is a member of the Zulu tribe, and brother of a family servant, as a companion, and "grandfather sitter."

The relationship between the zayda (Mensasha Skulnik) and the Zulu (Louis Gossett, Jr), bridges the gulf between black and white, Africa and Europe, and age and youth, as Paulus teaches his new friend local Zulu phrases while he himself learns Yiddish expressions. Eventually, local prejudices interfere, but there is a happy ending.

The Zulu and the Zayda is a play-with-music with a book by Felix Leon and the famed actor Howard DaSilva who was one of 324 actors, writers and directors who fell victim to Hollywood blacklisting. The music and lyrics were penned by Harold Rome which was his last musical score, and directed by Dore Schary. It was based on a story by Dan Jacobson.



Louis Gossett, Jr. (the zulu) and Menasha Skulnik (the zayda) Photo: Irving Haberman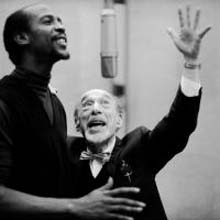 The cast featured Yaphet Kotto in his first Broadway appearance. Kotto's career would take him to a starring role in the NBC television series Homicide: Life on the Street. The man with his name above the title was Menasha Skulnik, the Polish-born star of the Yiddish theatre, sometimes called "the Yiddish Chaplin." The show also starred Ossie Davis, and Louis Gossett.

Ossie Davis and Louis Gossett sing? Yes.

Davis sings four solo numbers and Gossett has three - two are solos and one is a duet with Skulnik.

Gossett actually got his start on Broadway. At age 16, Gossett made Broadway history by appearing as a star in Take a Giant Step (1953), a role the untrained actor earned after beating out 400 hopefuls. He also delivered acclaimed performances opposite Shirley Booth in The Desk Set (1955) and A Raisin in the Sun (1959) - both non-singing parts.

While maintaining a steady presence as a nightclub singer at clubs like The Bitter End, Black Pussy Cat and Gaslight Club, Gossett continued his love affair with the New York stage, acting in such productions as the musical version of Golden Boy (1964) starring Sammy Davis Jr, My Sweet Charlie (1966), and in 1968 playing Willie Nurse on Broadway in Sidney Poitier's directorial debut, Carry Me Back to Morningside Heights.



Ossie Davis photo by Irving Haberman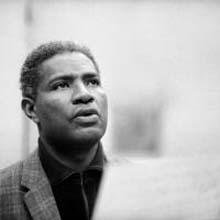 Davis is remembered as a legendary actor, director, poet, playwright, writer, and social activist. In 1946 he made his Broadway debut in Jeb.

Most of their bios don't even mention The Zulu and the Zayda. Listen to the CD and you're in for a delightful surprise in many respects.

An interesting mix of both Yiddish and African music which, by utilizing the same instruments, and uncomplicated arrangements, compliment each other, rather than creating an irritating riff. No matter the nationality, never underestimate the power of a drum beat. There are poignant songs, such as River of Tears, with messages as timely now as when the show was on Broadway.

It's an up-beat, feel-good show about a land which had apartheid and a race which was persecuted.

Harold Rome signature was to deliver a social statement through music. The problem was that The Zulu and the Zayda, which opened November 10, 1965 at the Cort Theater, where it ran for 179 performances, was considered a poor man's Fiddler on the Roof - that production having opened on September 22, 1964 running for 3,000 performances.

Any musical, other than Fiddler, which professed a Jewish theme with a social conscious wasn't relevant.

Although the premise deals with racial and religious intolerance, the music is as The New York Daily News called it in their original review "...something to warm the heart, lighten the spirit."

Indeed.

With Norman Barrs: Sarah Cunningham: Ossie Davis: Peter DeAnda: Louis Gossett: Ed Hall: Robert Hewitt: James Higgins: Max Jacobs: John Randolph Jones: Sandra Kent: Yaphet Kotto: Sholom Ludvinsky: David Mogck: Charles Moore: John Pleshette: Joe Silver: Menasha Skulnik: Christine Spencer: Ella Thompson: Philip Vandervort:

Music orchestrated and supervised by Meyer Kupferman. Conductor: Michael Spivakowsky.

Act I

Prelude -- orchestra
"Tkambuza" -- Ossie Davis
"It's Good to Be Alive" -- Menasha Skulnik, Louis Gossett
"Crocodile Wife" -- Ossie Davis
"Rivers of Tears" -- Menasha Skulnik
"The Water Wears Down the Stone" -- Ossie Davis
"Like the Breeze Blows" -- Peter DeAnda, Christine Spencer, Ensemble
"Oisgetzaychent" (Out of This World) -- Menasha Skulnik, Ensemble

Act II

Entr'acte -- Orchestra
"Some Things" -- Ensemble
"Zulu Love Song" -- Louis Gossett
"May Your Heart Stay Young" -- Menasha Skulnik, Ensemble
"How Cold, Cold, Cold" -- Ossie Davis
"Eagle Soliloquy" -- Louis Gossett
Finale -- Menasha Skulnik, cast


FROM MUSEUM STUDIO TO J. CREW COLLECTION
Winslow Homer (United States, 1836–1910), Weatherbeaten, 1894, oil on canvas, 28 1/2 x 48 3/8 inches, Portland Museum of Art, Bequest of Charles Shipman Payson.)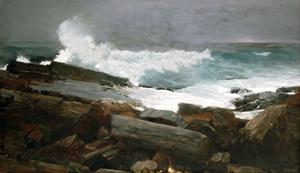 Life imitating art is taking on a new mannequin.

The Portland Maine Museum of Art's Winslow Homer Studio is the inspiration for J.Crew's Spring 2011 Men's Collection.

The Museum's catalogue for the exhibition Winslow Homer and the Poetics of Place, designed by Daniel Pepice and authored by Museum Chief Curator Thomas Denenberg, and the Museum's Homer painting Weatherbeaten are featured in a promotional video on J.Crew's website for the spring collection.

He is widely known for his skill with watercolors and oils as well as his powerful marine scenes of rugged waves and solitary figures. Homer died at his studio on Prouts Neck on September 29, 1910 at the age of 74.

To research the spring men's line, J.Crew Head of Men's design Frank Muytjens took his team to the Winslow Homer Studio, where this 19th-century American artist painted his famous images of the coast of Maine. In the promotional video, Muytjens states that he was influenced by "the beautiful watercolors by Winslow Homer of the Maine coast where you can see all the different hues of the ocean."

"The Portland Museum of Art is thrilled that the fashion world is taking notice of Maine traditions and our Winslow Homer collection has become an international inspiration," said Museum Director Mark Bessire. "The great culture of Maine and Winslow Homer's art are timeless influences that continue to impact American culture. The fact that Homer inspired a creative genius like J.Crew's Frank Muytjens reminds us of Homer's influence and Maine's role in the formation of American identity."

The relationship between Winslow Homer (1836–1910) and the Portland Museum of Art is long-standing and intimate. Homer exhibited at the Museum in 1893, then called the Portland Society of Art, during his lifetime. John Calvin Stevens, who designed elements of Homer's Prouts Neck Studio, also designed the Museum's L. D. M. Sweat Memorial Galleries (1911). In 1983, the Museum opened the Charles Shipman Payson Building, the result of a generous gift of 17 works by Winslow Homer from Mr. Payson, as well as $8 million to construct a building in which they would be housed.

A registered National Historic Landmark, the Winslow Homer Studio will play a major role in enhancing the Museum's association with Homer. When the Studio opens to the public in September 2012, it will become a site to celebrate the artist's life, to encourage scholarship on Homer, and to educate audiences to appreciate the artistic heritage of Winslow Homer and Maine.


SWEET CHARITY


ANY DREAM WILL DO GALA All proceeds benefit Olney Theatre Center's education and outreach programs.

Live performance by Alan Wiggins and Eleasha Gamble feature cast members of Joseph and the Amazing Technicolor Dreamcoat, which opens on the mainstage of the Olney on February 23 with performances through March 20, 2011.

Gala Honorary Chairs are: Mr. Robert Dohmen, Mrs. Maggi Root and Miss Gertrude L. Poe.

Saturday, February 19, 2011 at The Crowne Plaza Hotel, Rockville, MD.

ROGER DALTREY HEADLINES TEENAGE CANCER TRUST which takes place in London's Royal Albert Hall March 21-27. Daltrey will perform The Who's Tommy on Thursday, March 24. Tickets went on sale last Friday.

Daltrey has also tirelessly worked year after year to secure entertainment for the annual event benefiting Teenage Cancer Trust which focuses on the needs of teenagers and young adults with cancer by providing specialist teenage units in NHS hospitals designed to give teenagers and young people the very best chance of a positive outcome. As well as state-of-the-art facilities to keep patients occupied during long stays in hospital, the units provide an environment where teenagers can meet others in a similar situation.

STING, TRUDIE STYLER, JOSHUA BELL AND JOHN LITHGOW for one night only - February 15, will perform on stage at the Mark Taper Forum in Los Angeles.

Twin Spirits will have Sting and Trudie reading the personal letters of composer Robert Schumann and his pianist wife Clara, accompanied by a six-member ensemble of classical musicians, including the Grammy Award winning violinist Joshua Bell. This musical quasi-biography will be narrated by Emmy winner John Lithgow. The production, devised and directed by John Caird, was performed at London's Covent Garden in 2005 as well as at Jazz at Lincoln Center in New York in 2010.

A portion of the evening's proceeds will be used to support the Culture Project, the Royal Opera House and Mustardseed Arts Trust. VIP seating includes a post-concert reception with the artists.

VALENTINES PARTY WITH JEFF DANIELS founder of the Purple Rose Theatre in Chelsea, MI.

Daniels along with hosts, Wendy & Bill Holmes and Mary & Ken Weber are throwing a Valentines party tied up in red ribbon for romantics, dreamers, and rug-cutters alike.

The party begins this afternoon, February 13, with a performance of Corktown, a World Premiere by Michael Brian Ogden at the Purple Rose Theatre. The production is billed as "an outrageous dark comedy about a sensitive Detroit hitman who discovers that love can pull a gun and back you into a corner when you least expect it."

The party continues with cocktails, wine, and sumptuous dinner at Weber's Inn, where you can dance a Fox Trot, Bop, Boogie, or tap your toes to the music of Dave Bennett.

Bennett has performed with over 20 orchestras and was featured at the Arizona, San Diego, Edmonton, and Bern Jazz Festivals. This Valentines Party helps to raise crucial funds for PRTC's critically acclaimed work as "a voice from the heartland".


INTERNATIONAL PLAYWRIGHTS SEASON OPENS AT THE ROYAL COURT THEATRE


London's Royal Court Theatre opened its famed International Playwrights Season on February 11 which includes new plays from Colombia and Latvia and a series of readings and events from Latin America and Eastern Europe.

The season, which marks 15 years of the Royal Court's commitment to finding and developing international work includes full productions of Colombian playwright Pedro Miguel Rozo's new play Our Private Life and Latvian Aleksey Scherbak's play Remembrance Day and is the first time that plays from these countries have been presented at the Royal Court.

A series of rehearsed readings accompanies the season, including work from Mexican playwright Zaría Abreu with Cinema Red and Chilean writer Guillermo Calderón with new plays Villa and Speech. From Eastern Europe, there will be readings of The Harvest by Pavel Pryazhko from Belarus and Pagans by Anna Yablonskaya from Ukraine.

In addition to this, there will be a program of brunch seminars – panel discussions exploring the political situation in both regions and the effects of the Royal Court's international work on the British theatre artists who have taken part.

Since 1996 the Royal Court Theatre has traveled the world, running long-term play development projects and building relationships between playwrights, directors, actors and translators. Working with playwrights and theatre artists in 70 countries and in 30 languages, the work is supported by the Genesis Foundation and the British Council.

The Playwrights Season continues through April 16.


SPREADING THE WORD


AIN'T NOTHING LIKE THE REAL THING How the Apollo Theater Shaped American Entertainment.

Since its founding in 1934, the Apollo has been the marquee venue for African American musicians, comedians, dancers, and entertainers whose cultural influence reverberated across the nation, transcending spatial boundaries and racial borders.

A panel moderated by Kinshasha Holman Conwill of the National Museum of African American History and Culture with Zita Allen, former dance critic for Dance Magazine; Herb Boyd, author of Baldwin's Harlem: A Biography of James Baldwin (Atria, 2008); Greg Tate, editor of Everything But the Burden: What White People Are Taking from Black Culture (Broadway Books, 2003);and Mel Watkins author of Stepin Fetchit: The Life & Times of Lincoln Perry (Vintage, 2006) will examine the cultural history and continuing significance of the Apollo Theater - Harlem landmark and New York City icon.

Keynote address by Professor Robert G. O'Meally, Zora Neale Hurston Professor of English and Comparative Literature at Columbia University. Co-sponsored by the National Museum of African American History and Culture and presented in conjunction with the exhibition Ain't Nothing Like the Real Thing: How the Apollo Theater Shaped American Entertainment and in collaboration with the Apollo Theater. Tuesday, February 15 at the Museum of the City of New York.

THE VILLAGE VOICE ANNOUNCES JUDGES FOR THE 56th ANNUAL OBIE AWARDS the Voice's chief theater critic, Michael Feingold, will again chair the Obie Awards committee. Joining him will be Voice critic Alexis Soloski and four guest judges: Critic Hilton Als of The New Yorker; playwright David Henry Hwang, a three-time Obie Award winner for his plays F.O.B., Golden Child, and Yellow Face; director Evan Yionoulis, an Obie award winner for her production of Richard Greenberg's Three Days of Rain; and critic Andy Propst, who will again serve as secretary to the committee.

The presentation of the 2010-2011 Village Voice Obie Awards will take place on Monday, May 16, 2011 at Webster Hall in NYC.

THE ADVENTURES OF PRISCILLA, QUEEN OF THE DESERT SING-ALONG It's a desert holiday, so pack the drag away and bring it over to 92YTribeca - it's time to sing-along to The Adventures of Priscilla, Queen of the Desert!

"All motivated by very different reasons, transsexual Bernadette (Terence Stamp), Tick/Mitzi del Bra (Hugo Weaving) and Adam/Felicia Jollygoodfellow (a very flamboyant Guy Pearce, boasting spot-on lip-synching skills) journey across the Australian outback to perform in a drag show. With campy tunes including I Don't Care If Sun Don't Shine, I've Never Been to Me, Mamma Mia and many others, feel free to not just lip synch, but belt those words out - you're among friends, after all. You'll laugh so hard, your lashes will curl all by themselves!," promises the 92YTribeca in NYC.

Saturday, February 19.

Part of their Sing-Along series:"This is your chance to take your singing voice out of the shower and into the cinema. Each month features a new host and audience participation with props, trivia, and of course, some beer. Costumes are encouraged and dancing is welcome!"

TOKYO FASHION FESTA NY a special cosplay fashion show, featuring costumes inspired by favorite characters from manga and anime.

The fashion show will be followed by a make-up demonstration showing how to create the latest cosplay and subcultural styles.

After the event, MFIT will host another tea party reception - because the one they staged last fall was so much fun - where you can mingle, model, and learn more about cosplay.

Thursday, February 17 at the Katie Murphy Amphitheatre, Fred P. Pomerantz Art and Design Center, FIT in New York City.

MICHELLE OBAMA looking like a million bucks in a $35 off-the-rack dress she wore on the Today show, is sending the right message.


OTHER PEOPLE'S MONEY


THE INTIMAN THEATRE the Tony Award winning regional theatre located in Seattle has announced they are in serious financial distress, struggling to stay open in the wake of a $1 million financial crisis. The mounting debt is reported to have been caused by financial mismanagement by the organization's previous leadership.

The Intiman has issued a public appeal to raise $500,000 by the end of March, in addition to $250,000 by June and another quarter of a million by September in order to continue operation. The $1 million needed is in addition to the Intiman's 2011 fundraising goal.

The board of trustees, led by Kim Anderson, disclosed that mismanagement included inflated budget projections, unpaid bills and a lack of accounting oversight, unauthorized transfers of restricted funds and income from a co-producing arrangement that had not been finalized, all occurring during Brian Colburn's tenure as managing director. Colburn abruptly resigned on November 1 citing personal reasons.

Former director of development Melaine Bennett has been named as acting managing director and the Intiman has enlisted Barbara Anderson to step in as acting CFO.

Since the financial crisis was unearthed, the board has raised $874,315 in cash, created a 2011 budget that cuts over $1.4 million from the previous year's budget, established a plan to pay back rent and started an extensive audit. The theater will put its staff on a four-day work week but has not canceled any of this year's productions.

The board currently owes $700,000 in overdue bills and has a debt to the Intiman Theatre Foundation, a separate nonprofit that was set up to raise an endowment fund. Since November, the organization has caught up on unpaid taxes.

The Intiman staged the world premieres of The Kentucky Cycle and The Light in the Piazza. It was also the first regional company to stage Tony Kushner's two-part epic Angels in America, after its Broadway debut.



JERSEY BOYS PLEASES AT ANY PRICE
Jersey Boys the Tony Award winning documentary-style musical based on the lives of one of the most successful 1960s rock 'n roll groups, the Four Seasons holds court in Las Vegas at the Palazzo Hotel. Recently the Vegas production offered a special $45 ticket for all seats in the house, which came to $59.90 with taxes and service charges.

Curious as to whether the cast would deliver a second rate performance for the low budget crowd in the orchestra seats, I gave the production another look.

Having been swept away by the performance when it first opened on Broadway, all of the mountings have been outstanding - although the original cast did have a certain edge that gave the production a slice of New Jersey and Las Vegas that remains unequalled.

Because Jersey Boys is about real people with distinctive sounds and looks, this isn't an easy show to cast. The current Vegas stars - Travis Cloer and Rick Angelo Faugno as Frankie Valli; Jeff Leibow as Nick Massi; Deven May as Tommy DeVito and Peter Saide as Bob Gaudio more than do justice to a full priced ticket.

The boys didn't slough off the cheap ticket performance. It's a riveting show; the only production in Las Vegas which has a story line that the audience really needs to follow - and they do. The songs are pure hits and the talent on stage is remarkable.

The only down side is an unusual complaint. Perhaps the showrooms in Las Vegas have become too comfortable. The seats are large, padded, cozy with cup holders, which means patrons are permitted to bring beverages into the showrooms. While the announcer did intone the standard shut off your cell phones and if you have hard candy unwrap it now plea - the lady sitting to my left had a bag of chips in her purse. She brought out the bag, ripped it open, slowly chomped them down and then wadded up the empty bag and put it back in her purse.

In addition to Las Vegas, Jersey Boys currently has productions on Broadway at the August Wilson Theatre as well as in Australia, England and on tour in America, appearing through February 27 in Baltimore, MD with the next stop being Miami.


GET WELL SOON TO . . . .


ELIZABETH TAYLOR 78, who was admitted to Cedars-Sinai Medical Center to be monitored for a heart condition.

The Oscar winning actress has a long history of medical problems.


HAPPY BIRTHDAY TO . . .


JOHN TRAVOLTA, CYBILL SHEPHERD, MOLLY RINGWALD and MATT DILLON who open their presents on February 18

JILL FURMAN the Tony award-winning and two time Tony award-nominated Broadway producer, will be presented The Commercial Theater Institute's Robert Whitehead Award for "outstanding achievement in commercial theatre producing" at a reception at The Glass House Tavern on Tuesday, March 15, 2011. Lin-Manuel Miranda, the Tony award-winning writer, performer, lyricist, and composer, who wrote and starred in In the Heights, will present the award.

Jill Furman was co-lead producer of In the Heights, which won the Tony Award for Best Musical in 2008, and is currently producing the National Tour. On Broadway Jill co-produced the most recent revival of West Side Story and The Drowsy Chaperone, and associate produced Sly Fox and Fortune's Fool.

The Commercial Theater Institution (CTI), now in its 30th year, is a project of Theatre Development Fund (TDF) and The Broadway League. The nation's only formal program, which specifically trains commercial theatre producers, CTI provides resources and guidance to individuals interested in the various paths one can take towards creating commercial productions for the stage.

A joint project of The Broadway League and Theatre Development Fund, CTI was founded in 1981 by the late Frederic B. Vogel. The current program director, Jed Bernstein, took on leadership of the program in 2006. The five decade long career of legendary producer Robert Whitehead, who died in 2002, inspired this award.

"CTI is all about helping to develop producers for the 21st century and Jill Furman is an alumna who will be making her mark on Broadway for decades to come," said Jed Bernstein, CTI's Program Director.

The Commercial Theater Institute presented the first Robert Whitehead Award in 1993 to Benjamin Mordecai and Susan Quint Gallin. Subsequent honorees include: Dennis Grimaldi in 1994; Kevin McCollum in 1995; Randall L. Wreghitt in 1996; Marc Routh in 1997; Liz Oliver in 1998; Eric Krebs in 1999; Anne Strickland Squadron in 2000; David Binder in 2004; Nick Scandalios in 2008; Dori Berinstein in 2009; and Stuart Thompson in 2010.






IN MOTHER WORDS Conceived by Susan Rose & Joan Stein. Written by Leslie Ayvazian, David Cale, Jessica Goldberg, Beth Henley, Lameece Issaq, Claire LaZebnik, Lisa Loomer, Michele Lowe, Marco Pennette, Lisa Ramirez, Theresa Rebeck, Luanne Rice, Annie Weisman & Cheryl L. West.

Directed by Lisa Peterson.

Featuring Saidah Arrika Ekulona, Jane Kaczmarek, James Lecesne and Amy Pietz.

When some of contemporary theater's most talented voices - including Pulitzer Prize winner Beth Henley, Peabody Award winner Theresa Rebeck and two-time Steinberg/ATCA New Play award finalist Michele Lowe - tackle the subject of motherhood, the result is an eye opening, hilarious and irresistible night of theater. More than a dozen of today's best playwrights come together to share their personal stories on one of the most universal themes.

Share in the joy, absurdities and unflinching honesty about mothers as these stories give voice to moms and children of all ages, races and even sexes. Whether you are a parent, have a parent or ever want to become a parent, this production promises to "elate and terrify equally - much like motherhood itself."

Scenic Design by Rachel Hauck. Costume Design by David Woolard. Lighting Design by Christopher Kuhl. Sound Design by Jill DuBoff. Projection Design Jan Hartley. Animation Design Emily Hubley.

February 15 - May 1, 2011 at the Geffen Playhouse in Los Angeles.

IN THE MOOD a Big Band Theatrical Swing Revue, now in its 17th year as a touring production. The music of Glenn Miller, Tommy Dorsey, Artie Shaw, Benny Goodman, Harry James, Erskine Hawkins, The Andrews Sisters, Frank Sinatra, and other greats of the 1940's. Featuring a company of 19 on stage including the In the Mood Singers and Dancers with the String of Pearls Big Band Orchestra, the show's music arrangements, costumes and choreography are authentic.

In The Mood began as a celebration of an unusual era in American music, the 1940's Swing Era, the last time in the nation's history that the entire country shared a common popular music.

Touring since 1994, the show's upcoming national and international performances include a stop Saturday, February 19, at the Balboa Theatre in San Diego, CA.

THE BROTHERS SIZE a music-filled drama by Tarell McCraney, directed by Juliette Carrillo.
Billed as "Two brothers, the Louisiana bayou, and West African mythology swirl together in this unforgettable theatrical event that will leave you breathless."

Starring Warner Miller, Yaegel T. Welch and Eddie R. Brown III.

The Artistic Team includes: Mikiko Suzuki MacAdams Scenic Designer. Constanza Romero Costume Designer. Geoff Korf Lighting Designer. Matt Starritt Sound Designer. Kathryn Bostic Composer. Sonia Dawkins Movement Consultant. Judith Shahn Vocal Consultant.

Performances through February 27 at Seattle Rep.

AN EVENING WITH LUCILLE BALL - THANK YOU FOR ASKING directed by her daughter Lucie Arnaz, is a touching, funny and uplifting one-woman play created and performed by Suzanne LaRusch and written by LaRusch and Arnaz.

Lucy guides us through the lifetime of personal memories inspiring her timeless sketches on I Love Lucy, her 30-year television career and some never-before heard personal recollections about her tempestuous and complicated marriage to Cuban bandleader turned impresario, Desi Arnaz.

Crafted in the spirit of the amusing lectures Lucy enjoyed giving throughout her career, the evening recreates the comic genius and the magic behind the Queen of Comedy.

February 17 - 20 in the Amaturo Theater at the Broward Center for the Performing Arts in Fort Lauderdale, FL

TIMON OF ATHENS a rarely produced Shakespearean tragedy, directed by Shakespeare Initiative director Barry Edelstein.

This inaugural production of Public LAB Shakespeare will star Emmy Award winner Richard Thomas in the title role, Max Casella as Apemantus, Reg E. Cathey as Alcibiades, Mark Nelson as Flavius, as well as Che Ayende (Thief, Servilius), Tom Bloom (Old Athenian, Senator), Cary Donaldson (Thief, Lucilius), Brian Keane (Merchant), David Manis (Lucius, Senator), Anthony Manna (Jeweler, Caphis), Greg McFadden (Poet), Chris McKinney (Lucullus, Senator), Orville Mendoza (Painter), Joe Paulik (Messenger) and Triney Sandoval (Sempronius, Senator).

Timon of Athens is billed as "Shakespeare's play for the post-Bailout Age. Its central concern--money's dark potential to corrupt every human interaction--couldn't be more timely or fascinating. As one of Shakespeare's least-familiar works, it is also one of his most unique: a comedy written with an acid pen, a morality tale told in a fury."

The Public Lab states it will take a minimalist approach with the focus on the actor, text and the story. Set design by Neil Patel, costume design by Katherine Roth, lighting design by Russell Champa and music composition by Curtis Moore.

February. 15-March 6 at The Public Theatre in NYC.

NUNSENSATIONS! - THE NUNSENSE VEGAS REVUE book, music and lyrics by Dan Goggin. Directed by Amy Rowell.

The musical takes place in the Pump Room Lounge of the Mystique Motor Lodge in Las Vegas, Nevada. The Sisters have been told by a Hoboken parishioner that he will donate $10,000 to their school if the Sisters go to Las Vegas and perform in a friend's showroom. Reverend Mother has serious doubts about appearing in "Sin City." However, after convincing her that "what happens in Vegas stays in Vegas," the Sisters plan their program.

The cast features Becky Birdsong, Dorrie Braun, Doreen Calderon, Tracy McBurnett, and Bonnie Snyder.

Officially opened last Friday and continues through March 13 at the Lyric Theatre in Los Angeles.

GOOD PEOPLE a world premiere production written by David Lindsay-Abaire. Directed by Daniel Sullivan.

Starring Becky Ann Baker, Patrick Carroll, Tate Donovan, Renée Elise Goldsberry, Frances McDormand and Estelle Parsons.

Lindsay-Abaire explores the struggles, shifting loyalties and unshakeable hopes that come with having next to nothing in America.

Welcome to Southie, a Boston neighborhood where a night on the town means a few rounds of bingo… where this month's paycheck covers last month's bills… and where Margie Walsh (McDormand) has just been let go from yet another job. Facing eviction and scrambling to catch a break, Margie thinks an old fling (Donovan) who has made it out of Southie might be her ticket to a fresh new start. But is this apparently self-made man secure enough to face his humble beginnings? Margie is about to risk what little she has left to find out.

The design team includes John Lee Beatty (Scenic Design), David Zinn (Costume Design), Pat Collins (Lighting Design) and Jill BC DuBoff (Sound Design).

Previews began February 8 in preparation for a Thursday, March 3 opening at the Manhattan Theatre Club's Samuel J. Friedman Theatre, NYC.


WHO'S WHERE


JON BON JOVI opens a two night gig on Monday, February 14, at the Air Canada Centre in Toronto. On Friday it's the beginning of another two night stand, this one at the Bell Centre in Montreal.

TOM ARNOLD brings his stand up comedy to the Orleans Hotel in Las Vegas February 19-20.

CHRIS BOTTI blowing his own horn on February 14, at the Kennedy Center for the Performing Arts in Washington, DC. On Thursday he performs at the Cultural Center in Thomasville, GA. Friday finds him at the Midland By AMC in Kansas City.

AMY RYAN AND TODD ALMOND she the two-time Tony Award nominee and he the songwriter, will present Wyoming and Parts of Kansas, a musical travelogue to be directed by Lear DeBessonet. February 16 at St, Mark's Church in NYC.

JUDY COLLINS with Russell Walden serving as musical director. Performances at the Cafe Carlyle in New York City, February 15-March 12, 2011.

MAX WEINBERG begins Mightly Max Maritime Mondays, a weekly jam with the Max Weinberg Band - that's a 12-member horn section, bass and piano, performing two sets. The preview February 13 leads up to March 7, 14 and 21 dates at the Hiro Ballroom at Chelsea's Maritime Hotel, NYC.

JOE BONAMASSA and his ace touring band will perform in concert to a SRO house at the historic Balboa Theatre in San Diego on Friday, February 18.




FINAL OVATION


MARY CLEERE HARAN one of the great stylist of the American songbook died on February 5, 2011 at a hospital in Deerfield Beach. FL where she had been living for the past year. She had been hit by a car on February 4 while bicycling. The renown cabaret star had remained unconscious until she died. She was 58.

She garnered rave reviews from audiences and critics alike for her witty, sophisticated performances. The San Francisco native, who has been compared to Ella Fitzgerald, Peggy Lee, Doris Day and Rosemary Clooney, evokes the charm, style and wit of 1930s movie stars like Myrna Loy, Irene Dunne, Jean Arthur and Carole Lombard. She performed at some of the most prominent venues in the country, including Lincoln Center, Rainbow & Stars, the Oak Room, Cafe Carlyle, The Russian Tea Room, The Cinegrill in Los Angeles, The Plush Room in San Francisco and the Bellevue Hotel in Philadelphia. She also possessed an impressive list of theater credits, making her Broadway debut in The 1940s Radio Hour and appearing Off Broadway in Manhattan Music, Swingtime Canteen and Heebie Jeebies. On TV, she had a recurring role on Sidney Lumet's drama 100 Centre Street on A&E.

In addition to her illustrious performing career, Ms. Haran was a respected writer and researcher who has brought her talents to numerous PBS specials, including Remembering Bing, Irving Berlin's America, When We Were Young: The Lives of Child Movie Stars, Satchmo, a documentary about Louis Armstrong and Doris Day: A Sentimental Journey. She was one of a select group asked to write on Frank Sinatra's death in The New York Times. Her CDs have been praised by critics. Her most recent release was Crazy Rhythm: Manhattan in the '20s.

She was born May 13, 1952, the second of eight children in an Irish Catholic family, the daughter of a professor of theater and film at San Francisco City College. She married twice. Her son, Jacob, from her second marriage, to the writer and director Joe Gilford, whom she divorced, survives her.

STEVE DACRI a veteran Las Vegas magician who specialized in close up illusions died Friday, February 11, 2011 from colon cancer. Bob Hope once called Dacri his favorite magician. Dacri was a Member of the prestigious Inner Magic Circle with Gold Star (MIMC). He had been scheduled to perform at the Magic Castle in Los Angeles March 14-20.








Next Column: February 20, 2011
Copyright: February 13, 2011. All Rights Reserved. Reviews, Interviews, Commentary, Photographs or Graphics from any Broadway To Vegas (TM) columns may not be published, broadcast, rewritten, utilized as leads, or used in any manner without permission, compensation and/or credit.
Link to Main Page
---
Laura Deni



For the snail mail address, please E-mail your request.
CLICK HERE FOR COMMENT SECTION