! >
Broadway To Vegas
  
 REVIEWS INTERVIEWS COMMENTARY  NEWS

| | |
| --- | --- |
| | |
LEA SALONGA, GEORGE TAKEI AND TELLY LEUNG TO STAR IN MUSICAL ABOUT AMERICAN INTERNMENT CAMP DETAINEES - - ALEC BALDWIN FELLOWSHIP - - THE REEL AND REAL OF GONE WITH THE WIND - - STEVIE WONDER'S 16th ANNUAL HOUSE FULL OF TOYS BENEFIT CONCERT - - WYNTON MARSALIS NEW CBS CULTURAL CORRESPONDENT - - TWO AND A HALF MEN'S HOLLAND TAYLOR HOPES ANN WINS THE RACE TO BROADWAY - - THE WHITE HOUSE SENDS AND RECEIVES CHRISTMAS CARDS - - VINE SHOW LEAVES STANLEY TUCCI WITH A BAD TASTE IN HIS MOUTH - - DONATE . . . Scroll Down



70th ANNIVERSARY OF INTERNMENT CAMPS SPAWN PRODUCTIONS
Tony award winner Lea Salonga will star in a musical about Japanese American internment.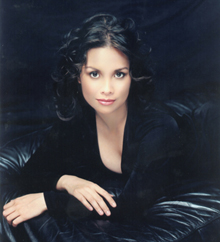 December 7, 2011 marked the 70th anniversary of the attack that brought the United States into World War II. It wasn't long after the Japanese bombed Pearl Harbor that Japanese-Americans and Japanese-Canadians were stripped of their rights and relocated to internment camps for the duration of the Second World War.

During the year 2012 those sent to internment camps are being honored and remembered in a variety of ways - including major theatrical productions.

Tony Award Winner Lea Salonga, television icon George Takei and Godspell's Telly Leung will star in the world premiere of Allegiance - A New Musical created by Jay Kuo and Lorenzo Thione with music and lyrics by Kuo.

Directed by Stafford Arima, the original musical tells the story of a Japanese American family forced into an internment camp during World War II, and features musical direction and arrangements by Lynne Shankel and choreography by Christopher Gattelli.

As explained by the venue: "Allegiance - A New American Musical is an epic story of love, war and heroism set during the Japanese American internment of World War II. Following the attack on Pearl Harbor, the Omura family is relocated from their home in Salinas, California to the Heart Mountain internment camp in the wastelands of Wyoming.

Their story reflects a conflicted nation and people divided. Father Tatsuo, a successful store owner, resists their internment; mother Kimiko fears for their future, resigned to their fate; older son James volunteers in an all-Japanese American army regiment; and younger son Sam yearns for acceptance in America. Coinciding with the 70th anniversary of the authorization and implementation of the internment camps, Allegiance sheds new light upon a dark chapter of American history. With its moving score, Allegiance connects the audience with universal themes of love, family and redemption.



Star Trek icon George Takei stars in Allegiance. Photo by Gage Skidmore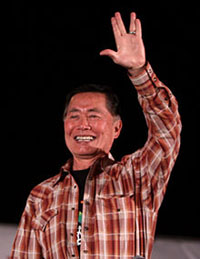 The creative team includes Donyale Werle (Scenic Design), David Zinn (Costume Design), Ben Stanton (Lighting Design) and Peter Hylenski (Sound Design).

The musical will run in the Old Globe Theatre, in San Diego as part of the Globe's Conrad Prebys Theatre Center, September 6 – October 20, 2012.

Following the Japanese attack on Pearl Harbor on December 7, 1941, President Franklin D. Roosevelt issued Executive Order 9066, which permitted the military to circumvent the constitutional safeguards of American citizens in the name of national defense. The order set into motion the exclusion from certain areas, and the evacuation and mass incarceration of 120,000 persons of Japanese ancestry living on the West Coast, 62 percent of whom were U.S. citizens and even more were legal permanent resident aliens.

These Japanese Americans, half of whom were children, were incarcerated for up to 4 years, without due process of law or any factual basis, in bleak, remote camps surrounded by barbed wire and armed guards.

According to a 1943 War Relocation Authority report, internees were housed in "tar paper-covered barracks of simple frame construction without plumbing or cooking facilities of any kind."

The Heart Mountains War Relocation Center in northwestern Wyoming - an important component of the musical Allegiance - was described as "a barbed-wire-surrounded enclave with unpartitioned toilets, cots for beds, and a budget of 45 cents daily per capita for food rations. Because most internees were evacuated from their West Coast homes on short notice and not told of their assigned destinations, many failed to pack appropriate clothing for Wyoming winters which often reached temperatures below zero Fahrenheit.



Telly Leung grew up in a traditional Chinese home in Brooklyn. Glee fans know Leung for playing Wes of the Dalton Warblers. Currently on Broadway in Godspell, Leung has been signed to star in Allegiance. Photo by Chris Macke.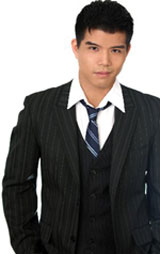 Many families were forced to simply leave their homes with only the 'clothes on their backs.'"

Armed guards were posted at the camps, which were all in remote, desolate areas far from population centers.

In some cases family members were separated and put into different camps. President Roosevelt himself called the 10 American facilities "concentration camps."

Some Japanese Americans died in the camps due to inadequate medical care and the emotional stresses they encountered. Several were killed by military guards posted for allegedly resisting orders.

At the time, Executive Order 9066 was justified as a "military necessity" to protect against domestic espionage and sabotage. However, it was later documented that "our government had in its possession proof that not one Japanese American, citizen or not, had engaged in espionage, not one had committed any act of sabotage." (Michi Weglyn, 1976).

Almost 50 years later, through the efforts of leaders and advocates of the Japanese American community, Congress passed the Civil Liberties Act of 1988. Popularly known as the Japanese American Redress Bill, this act acknowledged that "a grave injustice was done" and mandated Congress to pay each victim of internment $20,000 in reparations.

The reparations were sent with a signed apology from the President of the United States on behalf of the American people. The period for reparations ended in August of 1998.

Conditions weren't any better for the Japanese-Canadians who were led to believe that their property would be held in trust and returned once they had relocated. In fact, the government auctioned off their homes, land, and fishing boats, leaving them with nothing.

Following the war, the Japanese-Canadian internees were given a choice: deportation to Japan or transfer to other parts of Canada. In April 1949, after a public outcry and several court cases, the legislation was repealed and Japanese-Canadians were allowed to live anywhere in Canada.

Official acknowledgement of the injustice finally came in 1988, 43 years after the war, when Prime Minister Brian Mulroney apologized to Japanese Canadians and announced a redress settlement of $21,000 for every surviving internee.

Many historians believe the real reason internment camps came about on both sides of the border was because of racist attitudes toward people of Japanese descent who had made Canada and the U.S. their home. According to the Commission on Wartime Relocation and Internment of Civilians, the causes for this unprecedented action in American-Canadian history, "were motivated largely by racial prejudice, wartime hysteria, and a failure of political leadership."

Now, the University of British Columbia is awarding special degrees to 76 past students whose studies were cut short by Canada's internment policy, and also recognizing others who were affected.

"The University of British Columbia Senate voted to honor students and Canadians affected by a dark period in Canada's history, and will be awarding them special degrees next spring as part of a three-pronged program to mark the 70th anniversary of the internment policy," stated the UBC release.

"The University has taken seriously the need to find meaningful ways to provide solemn recognition of historical events," says Sally Thorne, a professor of nursing and the chair of the UBC Senate Tributes Committee.

"To acknowledge the 70th anniversary of the provincial internment policy in the spring of 2012, we want to pay tribute to UBC students and others impacted during this time, and also take steps to help future students learn from the past."

As well as honoring the 76 students, the working group voted to develop initiatives to educate future UBC students about the issue, and to have the UBC library preserve and exhibit the part of its collection related to this ugly period.



Broadway To Vegas is supported through advertising and donations. Priority consideration is given to interview suggestions, news, press releases, etc from paid supporters. However, no paid supporters control, alter, edit, or in any way manipulate the content of this site. Your donation is appreciated. We accept PAYPAL. Thank you for your interest.



ART AND ABOUT


REEL TO REAL: GONE WITH THE WIND AND THE CIVIL WAR IN ARKANSAS EXHIBIT

The Old Mill in North Little Rock, Ark., was featured in the opening credits of Gone With the Wind. Photo: Historic Arkansas Museum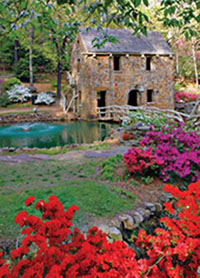 Historic Arkansas Museum is marking the sesquicentennial of the Civil War with tandem exhibits comparing the romanticized vision of the "old south" with the often harsh reality of life as it was for many in Arkansas, 1861 through 1865.

Reel to Real: Gone with the Wind and the Civil War in Arkansas pairs up rarely seen items from the film Gone with the Wind with actual objects and firsthand accounts of the Civil War in Arkansas.

In the Reel exhibit featuring the Shaw-Tumblin Gone with the Wind Collection, visitors will enter into the film world of Scarlett O'Hara and Rhett Butler via costumes, photos and movie outtakes. The exhibit will explore the influence of movies on the perspectives and attitudes of the public.

The first item visitors see after they enter the museum's Horace C. Cabe Gallery is the Academy Award Vivien Leigh won for Best Actress in 1939. Pulitzer Prize-winning author Margaret Mitchell's typewriter is on display, along with the original movie script, costumes, movie outtakes, production photographs and memos, and furniture for Tara, including two French Rococo damask-covered chairs. The memorabilia is on loan from James Tumblin, a longtime Hollywood studio hair and make-up artist, who has amassed the largest private collection of Gone with the Wind memorabilia.

Movie buffs will recognize several costumes worn by Vivien Leigh, Clark Gable, Olivia de Havilland and Leslie Howard.



Clark Gable and Vivien Leigh in Gone With the Wind. Photo: Historic Arkansas Museum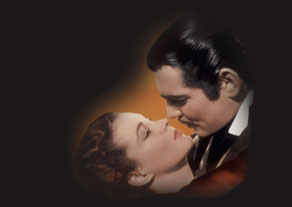 There's the straw bonnet with green ribbon that "Scarlett" wore to the barbecue at Twelve Oaks plantation; the Civil War officer's uniform that Leslie Howard wore when his character, Ashley Wilkes, returned home from the war; and even the gray coat Gable wore at the end of movie when Rhett uttered those famous last words to Scarlett: "Frankly, my dear…"

The collection of more than 120 items offers a glimpse at some rarely-seen items, including tapes by Hollywood actresses who unsuccessfully auditioned for the role of Scarlett, extensive production photographs and a series of first-run movie posters.

The Real portion of the exhibit - 142 items - portrays the true nature of the conflict with Arkansas slave narratives, women's diaries, letters home from soldiers as well as uniforms and weaponry, all from the museum's permanent collection.

The exhibit brings the realities of war to life, with the words, stories and songs of those who endured the ordeal of war in Arkansas.

On display through April 30, 2012 at the Historic Arkansas Museum in Little Rock, Arkansas.


ALEC BALDWIN FELLOWSHIP AT THE SINGERS FORUM ANNOUNCED
Alec Baldwin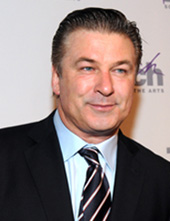 American Airlines may not want Alec Baldwin's 'fellowship,' having thrown him off one of their flights from Los Angeles to New York because he "was rude" and refused to stop playing Words with Friends on his cell phone, but the political activist actor has received a hearty 'welcome aboard' from Singers Forum, a non-profit organization committed to providing the highest quality vocal training in New York City.

The Tony-nominated Baldwin, who has carted home two Emmy Awards, three Golden Globe Awards and six Screen Actors Guild Awards for his work on 30 Rock, is passionate and sincere about his support of the performing arts.

The actor has partnered with the Singers Forum to announced the Alec Baldwin Fellowship at the Singers Forum. This unique program will support playwrights in the development and advancement of original theatrical works.

"In this age of digitized movie making, it is our duty to find a way to nurture the next generation of great theatrical storytellers," says Alec Baldwin. "I'm excited to lend my support and guidance to the Fellowship at the Singers Forum as it seeks to stimulate the community through unique voices and groundbreaking ideas."

"Singers Forum's mission has always been to create opportunities for artists of every level," says Artistic Director Don Rebic. "The Alec Baldwin Fellowship at the Singers Forum will create the opportunity for promising new theatrical projects to get personalized attention, while giving performers the invaluable opportunity to help in the development of an exciting new work. It's the perfect marriage of writer and performer and we're thrilled to have Mr. Baldwin's support!"

At a time when the commercial viability of theater has superseded its Artistic merit, The Alec Baldwin Fellowship at the Singers Forum will be a year program devoted to the development and advancement of groundbreaking and original theatrical works. With the assistance of Baldwin, Singers Forum will provide professional mentorship, fine-pointed dramaturgy, and a rigorous, individualized workshop process for each chosen project. Culminating in the Fellowship Festival, where each piece is presented in a highly staged backer's auditions, with the goal to create four pieces ready for production by the Summer of 2013.

Baldwin is a graduate of New York University (BFA-Tisch, 94) and was presented with an Honorary Doctorate of Fine Arts from NYU in 2010. He made his Broadway debut in 1988, in a revival of Joe Orton's Loot alongside theater veterans Zoe Wanamaker, Zeljko Ivanek, Joseph Maher and Charles Keating. His other Broadway credits include Prelude to a Kiss at Circle Rep in 1990, Caryl Churchill's Serious Money with Kate Nelligan and a highly acclaimed revival of Tennessee Williams' A Streetcar Named Desire. His performance as Stanley Kowalski in the latter garnered him a Tony Award nomination for Best Actor. Baldwin also received an Emmy nomination for the 1995 television version of the production, in which both he and Jessica Lange reprised their roles, alongside John Goodman and Diane Lane.

In 1998 Baldwin played the title role in Macbeth at the Public Theater alongside Angela Bassett and Liev Schreiber in a production directed by George C. Wolfe. In 2004, Baldwin starred in a revival of Twentieth Century with Anne Heche. Baldwin appeared in the production in mountings at The Hartman in Stamford, Williamstown, and Bay Street Theatre.

On June 9, 2005, he appeared in a concert version of the Rodgers and Hammerstein musical South Pacific at Carnegie Hall. He starred as Luther Billis, alongside Reba McEntire as Nellie and Brian Stokes Mitchell as Emile. The production was taped and telecast by PBS on April 26, 2006. Also in 2006, Baldwin made theater news in Roundabout Theatre Company's Off-Broadway revival of Joe Orton's Entertaining Mr. Soane, directed by Scott Ellis. In 2010, Baldwin starred opposite Sam Underwood in a reading of Peter Shaffer's Equus, directed by Tony Walton at Guild Hall in East Hampton, NY.


SWEET CHARITY


STEVIE WONDER'S 16th ANNUAL HOUSE FULL OF TOYS BENEFIT CONCERT featuring Justin Bieber, Drake and Michael McDonald took place last night, Saturday, December 17, at the Nokia Theatre in Los Angeles, CA.

PRINCE ALBERT AND PRINCESS CHARLENE OF MONACO he being the son of the late actress Grace Kelly - wore a Warner's Brothers tie decorated with cartoons of the Tasmanian Devil and Daffy Duck wearing Christmas hats, when he and his wife handed out toys, including games and Hello Kitty toys, to Monaco children. Albert and Charlene looked deliciously happy during the annual event in which children of the principality are invited to the annual Christmas tree ceremony, followed by going inside the palace to receive their presents.


HAPPY ANNIVERSARY TO . . .


MARTIN SHEEN AND HIS WIFE JANET TEMPLETON SHEEN who celebrate their 50th wedding anniversary on December 23, 2011.

Sheen wasn't the best financial catch when he fell in love. He had a $5 a week job as janitor/sometime actor with The Living Theatre, an avant-garde troupe. Then in 1961 he landed the leading role in The Living Theatre's production of The Connection, a play about drug addiction. His performance earned him critical attention. He also won the heart of a young Ohio art student studying in New York, Janet Templeton.

Children soon followed - Emilio Estevez (1962), Ramon Estevez (1963), Carlos Irwin Estevez (Charlie Sheen) (1965), and Renée Pilar Estevez (1967), so it was fortuitous that in 1964 at the age of 24, Sheen got a major break when he was cast as a returning war veteran in Frank Gilroy's The Subject was Roses, a Pulitzer Prize-winning play that brought him a Tony Award nomination.


CHRISTMAS GREETINGS TO AND FROM THE WHITE HOUSE
A card from Princess Grace and Prince Rainier, III, of Monaco featuring their three children playing in the snow.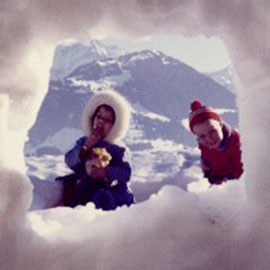 Every December, the White House receives holiday cards from all over the world. During the Kennedy administration, each card was carefully saved by White House social staff, and is now housed at the JFK Library in Boston.

In addition to receiving cards, for more than half a century there have been official greeting cards from the White House going out to a select number of people.

Christmas Greetings from the White House: An Exhibition of Art and History, a collection of more than 30 Christmas cards dating back to the presidency of Franklin D. Roosevelt is on display through January 8, 2012 at The Regina A. Quick Center for the Arts at St. Bonaventure University - Winifred Shortell Kenney Gallery in St. Bonaventure, New York.

The exhibition includes the Christmas card sent by the Roosevelts in 1944 as well as cards chosen by subsequent first families right up through the Obamas.

Included is a series of panels on the traditions surrounding Christmas at the White House, as well as those practiced by the American public from the Civil War through modern times.



"A sincere wish for happiness and peace in this holiday season and throughout the New Year." From Rosemarie and Danny Thomas, Marlo, Theresa and Tony. Danny Thomas was a comedian, actor and founder of the St. Jude's Children's Research Hospital. His daughter, Marlo Thomas, is an actress and social activist currently starring on Broadway in Relatively Speaking.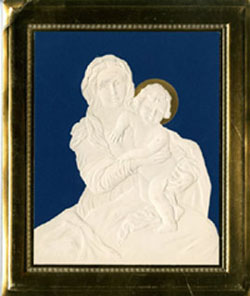 In 1961 President John Kennedy incorporated the dramatic Presidential Seal for the White House Christmas cards. The card used a smooth white stock with a bold green silk border, and used the words, "Season's Greetings 1961," on the front. Inside the card the president and Mrs. Kenney extended wishes for a "Blessed Christmas and a Happy New Year."

Boxes of the 1963 card, featuring a color photo of a nativity scene in the East Room of the White House, had been delivered to President Kennedy and first lady Jacqueline for their signatures before he was killed.

It was the first time a religious image was put on a White House Christmas card.

However, fewer than 30 of the cards actually were signed by the president and Mrs. Kennedy before they left for Dallas.

"They are the most rare pieces of presidential Christmas memorabilia today," according to Mary Seeley's book Season's Greetings From the White House.

Another 1,500 identical Christmas cards also had been ordered but with the Kennedys' printed signatures included. Less than two dozen of the 1963 dual-signed Kennedy cards are known to exist.

One sold at an auction for $45,000. It came from the estate of Kennedy's personal secretary, Evelyn Lincoln, who had reportedly destroyed the rest of the cards, according to Reuters.



Inscription on back: "Statesman, genius, hero- Your spirit lights the world." From Edith Bouvier Beale - "Gray Gardens" - Edith Bouvier Beale was the first cousin of Mrs. Kennedy. Her home Grey Gardens, in East Hampton, NY, has been the subject of numerous documentaries, movies and the Tony Award winning Broadway musical Grey Gardens.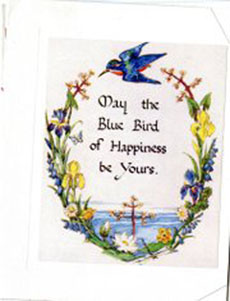 Newly sworn-in president Lyndon Johnson and Mrs. Johnson were strongly encouraged to send Christmas cards during the official mourning period following the November 22 assassination of President John Kennedy.

According to Season's Greetings From the White House, a memo from the United States Department's chief of protocol just five days after JFK's death prompted the Johnsons to continue the tradition despite the circumstances.

However, the list was significantly limited and included a relatively few governmental leaders in the United States and abroad.

A stark white card with the presidential seal on the cover and a thin red strip on the bottom was quickly printed for the new Johnson administration.

Seeley wrote they were mailed to foreign ministers, heads of governments and the top ranking officials who attended Kennedy's funeral.

In 1982 Hallmark donated its extraordinary Presidential Christmas Card collection - a full set of presidential Christmas cards from Dwight Eisenhower through Ronald Reagan, including the Johnson and Kennedy 1963 cards, to the National Museum of American History, a part of the Smithsonian Institution.


GET WELL SOON TO . . . .


BARRY MANILOW 68, who is recovering after surgery to remove fluid and repair torn hip muscles. Seems those hip shaking 1,000 Las Vegas performances took their toll.

Recovery is expected to take 6 weeks.

KRISTIN CHENOWETH who has been suffering with bronchitis for a month is slowly getting better, but is still required to save her voice.


SPREADING THE WORD


THE GOVERNMENT INSPECTOR by Nikolai Gogol. Adapted by Jeffrey Hatcher. Directed by Jesse Berger.

A brilliant satire of Russian provincial bureaucracy offers a riotous portrait of rampaging self-delusion.

Featuring Laurie Birmingham, Jarlath Conroy, Adam Green, David Greenspan, Marsha Mason, Derek Smith, Henry Stram and Stephen Spinella.

Part of the Red Bull Theatre, paid ticket, Reading Series. Monday December 26, Theatre at St. Clement's in NYC.

SONIA FRIEDMAN the 20-time Tony award-winning producer has optioned Bakersfield Mist, the new play by Fountain Theatre co-artistic director Stephen Sachs for productions in London and New York.

Inspired by a true story, Bakersfield Mist imagines a meeting between foul-mouthed, unemployed, trailer park-dwelling Maude Gutman, who believes the painting she bought in a thrift store for $3 is really an undiscovered masterpiece worth millions, and stuffy New York art expert Lionel Percy who arrives to evaluate the work. The comedy/drama is a fiery and often hilarious debate over class, truth, value, and the meaning of art.

The play had its world premiere at the Fountain Theatre in Los Angeles in June, produced by Simon Levy and Deborah Lawlor, where it was supported in part by an award form the National New Play Network. Directed by Sachs and starring husband and wife actors Jenny O'Hara and Nick Ullett, the Fountain production received rave reviews and extended three times. It shutters today, December 18, following a six-month run and 114 sold-out performances.

Negotiations for the option between Sonia Friedman Productions and Sachs' agent, the Susan Gurman Agency, began last June, just after the opening at the Fountain. Sonia Friedman Productions (SFP) was formed in 2002 and is a subsidiary of the Ambassador Theatre Group, the large and highly-regarded network of independent theatres in the UK.

THE BEACH BOYS have announced they will reunite to mark their 50th anniversary, which will include a new album and world tour which begins April 27 in New Orleans. The group will also appear at the Grammy Awards on February 12, 2012.


OTHER PEOPLE'S MONEY


TAYLOR SWIFT purchased her cutaway 6 string acoustic guitar with rhinestones covering the entire front from the Aspen based Two Old Hippies store in Nashville. Two Old Hippies (TOH) is a music, lifestyle clothing store, performance space and - as musicians know - features 2 high end brands of guitars (their namesake Bedell brand and Breedlove Guitars, out of Bend, OR). Reportedly, Swift's guitar was in the $10,000 dollar range.

STANLEY TUCCI has soured over his participation in the PBS wine show Vine Talk, and is mulling legal action against the program's creators, according to the NY Post.

The program, which Broadway To Vegas enjoyed,( See Broadway To Vegas column of October 2, 2005 ) but according to a NY Post report, "staffers including caterers, on-air experts, celebrity guests and Oscar-nominated Tucci himself - who hosted and co-produced through his Olive Productions - have not been paid by Jersey Wooly Productions, sources said, and Tucci and Olive have pulled out of the second season."

ELIZABETH TAYLOR'S jewelry collection was hammered down by Christie's New York for a record setting combined total of $116 million. The net from the 80 items in the four day auction goes into the Taylor estate which is controlled by a trust. Taylor had four children and nine grandchildren, with whom she had good relations.

According to Christies; "A portion of the profits generated by exhibition admissions, events and select publications related to the exhibitions will be donated to The Elizabeth Taylor AIDS Foundation (ETAF)."

Taylor died in Los Angeles in March at the age of 79. Her collection of impressionist and modern art is scheduled to go on sale at Christie's in London in February.

A CHARLOTTE BRONTE manuscript has been sold by Sotheby's to the Musee des Lettress et Manuscrits in Paris for $1.1 million.

The manuscript looks like it was written on that era's equivalent of a small post-it note. The manuscript, penned when Bronte was just 14, contains over 4,000 words on 19 pages, each measuring approximately 1.4in by 2.4in.

Bronte, best known for Jane Eyre, created six hand-written editions of Young Men's Magazine which contain stories set in Glass Town, a fantasy world created by the sisters and their brother, Branwell.

One story in the issue, sold November 15, is a precursor to the famous passage in Jane Eyre in which Mr Rochester's insane wife, who is kept in the attic, seeks revenge by setting fire to his bed curtains.

Dr Philip Errington, Sotheby's director of books and manuscripts, said it had "huge literary significance".

"The record price set today reflects the international interest in Charlotte Bronte's work," he said. "This tiny manuscript represents her first burst of creativity and provides a rare and intimate insight into one of history's great literary minds."

Andrew McCarthy, director of the Bronte Parsonage Museum, said it was "the most significant manuscript to come to light in decades".

The museum owns four of the six magazines. The whereabouts of the sixth and last magazine - if it still exists - is unknown.






WYNTON MARSALIS internationally acclaimed jazz trumpet virtuoso, composer, educator and longtime artistic director of Jazz at Lincoln Center, has been named Cultural Correspondent for CBS News, where he will contribute to the network's new morning program, CBS This Morning, and CBS Sunday Morning beginning in mid-January

The announcement from CBS said the 50-year-old jazz artist from New Orleans would offer "insight into a broad range of cultural and educational developments."

And, if you like the trumpet fanfare that opens the CBS Sunday Morning show - maybe that's because it was recorded by Marsalis.

"I look forward to sharing with viewers the incredible variety and richness of our national culture - from ballet to the blues, from barbecue to the backbeat," Marsalis said in a statement.



PENELOPE

The last legion of suitors vie for the love of beautiful Penelope. Who will survive? Who will win the prize?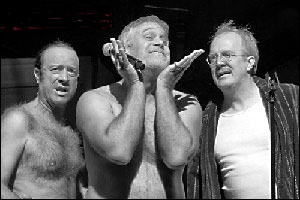 by Enda Walsh.

Directed by Steppenwolf ensemble member Amy Morton.

Featuring ensemble members Ian Barford, Tracy Letts and Yasen Peyankov with Scott Jaeck and Logan Vaughn.

On a sun-scorched island off the coast of Greece, beautiful Penelope awaits the return of her husband, Odysseus, from the Trojan war.

Beneath her window, four Speedo-clad men camp in an empty swimming pool, a cock-eyed internment where both provisions and time are running low.

Locked in a do-or-die competition to win Penelope's love, they preen and posture and connive in a last ditch effort to cheat a grisly fate.

Penelope, the newest play by powerhouse Irish playwright Enda Walsh, is called "an eloquent, wildly funny riff on life, love and the war at home."

In the Downstairs Theatre of Steppenwolf in Chicago through Sunday, February 5, 2012.

ANN - AN AFFECTIONATE PORTRAIT OF ANN RICHARDS by Emmy Award-winning stage and screen actress Holland Taylor, who also stars in the one woman show.

Everything is bigger in Texas. For the late Texas Governor Ann Richards, that maxim held true not only for her huge character and heart, but also her wit and hairdo.

Holland Taylor (Two and a Half Men) brings to the stage a hilarious, inspiring, and no-holds-barred look at the unforgettable Governor of the Lone Star State.

Ann Richards died on September 13, 2006. She served as governor of Texas from 1991 to 1995, only the second woman to do so, and dedicated herself to filling appointed positions with more women and minorities than any of her predecessors. She lost her run for reelection to George W. Bush.

Taylor wrote the play as a way to take the audience on a journey, swirling together the past and present to reunite Ann Richards, whom Taylor met once, with old friends and introduce her to a new generation.

From December 17, 2011 to January 15, 2012 at the Kennedy Center, Eisenhower Theatre, Washington, DC.

STONES IN HIS POCKETS by Marie Jones.

Actors Jamie Beamish and Owen McDonnell star in a new version of this acclaimed two-hander directed by Indhu Rubasingham, who takes over as Artistic Director of the Tricycle Theatre in London next May.

A rural community in County Kerry is turned upside down by the arrival of an American film crew on location to capture 'real' Ireland for their latest Hollywood blockbuster.

From the local lads intent on being stars, to the film's American lead actress, whose Irish accent leaves a lot to be desired; the two actors portray a multitude of characters in this comical yet poignant play.

December 15, 2011 - February 4, 2012 at the Tricycle Theatre in London.

YOU, NERO by Pulitzer Prize finalist playwright Amy Freed who wrote the part of Nero specifically for Danny Scheie, who reprises his role of Nero from the show's original 2009 West Coast production. Directed by Nicholas Martin.

The play is about a playwright, Scribonius, played by Jeff McCarthy, a role he previously played in that aforementioned 2009 Berkeley Repertory Theatre production.

Nero's incestuous mother is played by Nancy Robinette and Susannah Schulman is cast as the second most evil woman in the empire, Nero's wife, Poppaea. Kasey Mahaffy plays Fabiolo, Laurence O'Dwyer as Burrus and John C. Vennema as Seneca.

You, Nero is explained as: "Rome collapses beneath Nero's outrageous narcissism, a forgotten playwright tries to restore order through the art of theatre. Amid the chaos of crime, lust and politics, convincing the world's most famous debaucher to choose virtue over vice proves to be a Herculean task. Amy Freed's wild romp questions whether well-crafted drama and intellect are any match for decadence and good old-fashioned bloodshed."

The bawdy production takes place in the round circular theatre with the Roman coliseum set by James Noone.

Amy Freed is an Arena American Voices New Play Institute resident playwright. Performances to January 1 at Arena Stages in Washington, DC.

THE ROAD TO MECCA by Athol Fugard. Directed by Gordon Edelstein.

Starring Tony Award winner Rosemary Harris as Miss Helen, Carla Gugino as Elsa Barlow and Tony Award winner Jim Dale as Marius Byleveld.

The Road to Mecca is based on the career of Helen Elizabeth Martins, who was born in 1897 in the Karoo village of Nieu Bethesda in the Eastern Cape. She created The Owl House, now a national monument, starting the obsessive project in the 1940s. Martins used cement, glass and wire to decorate the interior of her home and later built sculptures in her garden. Almost all the walls of the interior of the house were covered in decorative and colorful crushed glass. Martins took her own life in 1976.

"Set in the region of South Africa known as the Karoo, The Road to Mecca tells the story of an elderly woman who has spent the years since her husband's death transforming her home into an intricate and dazzling work of art. The reclusive Miss Helen (Tony Award winner Rosemary Harris) has become depressed and appears increasingly unable to care for herself. Pastor Marius Byleveld (Tony Award winner Jim Dale), who embodies the village's conservative values, is determined to get Miss Helen into an old-age home. Her friend Elsa (Carla Gugino), a young teacher from Cape Town who is deeply suspicious of the patriarchal traditions Byleveld represents, is just as determined that Miss Helen remain free."

The design team includes Michael Yeargan (sets), frequent Fugard collaborator Susan Hilferty (costumes) and John Gromada (original music and sound design).

Roundabout's production of The Road to Mecca is by special arrangement with Off-Broadway's Signature Theatre Company, which is devoting its 2012 season to the works of Fugard, the major playwright of South Africa, who turns 80 in 2012 . As announced last June, Residency One is Signature's core one year playwright-in-residence program that produces a series of plays from the body of work of one accomplished writer. Throughout the season, Signature will explore the works of Fugard, who was honored with a special Tony Award for Lifetime Achievement at the Tony Awards last June 12.

Fugard directed the world-premiere production of The Road to Mecca at the National Theatre in London, and later at the Promenade Theatre Off-Broadway. He played the role of Marius Byleveld in both productions. The play won the 1988 Drama Critics' Circle Award for Best Foreign Play.

Roundabout Theatre Company's Broadway premiere production of The Road to Mecca is in previews at the American Airlines Theatre in New York City and opens officially on Tuesday, January 17, 2012.


WHO'S WHERE




LYLE LOVETT AND HIS ACOUSTIC BAND perform Wednesday, December 21, at the Verizon Wireless Theater in Houston.

JOHNNY MATHIS performs Friday, December 23, at the Flint Center for the Performing Arts in Cupertino, CA.

SKAGGS FAMILY CHRISTMAS with Ricky Skaggs and The Whites stage their show Thursday, December 22, at the Schermerhorn Symphony Center in Nashville.

GEORGE WINSTON entertains in Colorado this week. On Tuesday, December 20 he's at the Boulder Theater in Boulder. Thursday finds him at the Vilar Performing Arts Center in Beaver Creek, and on Friday he can be enjoyed at the Strings Music Pavilion in Steamboat Springs.

THE WORLD FAMOUS HARLEM GOSPEL CHOIR CHRISTMAS BRUNCH For the past 10 years, the Harlem Gospel Choir has brought its experience of Harlem and the Black Church to New York's Times Square in a foot-stomping, hand-clapping, joyous gospel show. The world-famous Harlem Gospel Choir is the most famous gospel choir in America. Friday, December 23, at B.B. King's Blues Club & Grill in NYC.


FINAL OVATION


PUPI CAMPO 91, of Las Vegas, passed away December 12, 2011. He was born Jacinto Campillo May 1, 1920, in Havana, Cuba, and was a 41-year resident of Nevada. Campo was a pioneering Cuban bandleader, becoming the first Latino in American TV history featured as a regular artist when he debuted on Jack Paar's The Morning Show on CBS in 1954.

Campo came to New York from Havana in 1940 and later formed the Pupi Campo Orchestra. The band played nightclubs in Harlem and around New York City and gave Latin music legend Tito Puente his start as musical director. Campo's bass player was Israel "Cachao" Lopez, widely known in music circles as the "Mambo King."

Campo, called the Ray Bolger of Cuba, was an important figure in the history of Latin jazz in the U.S. In 1970, he opened Cleopatra's Barge at Caesars Palace in Las Vegas, where he performed for nearly a decade.

During the early 1940s Campo married pioneering Broadway/film actress/singer and Puerto Rican bombshell Diosa Costello. They performed together but divorced after 11 years of marriage. This past September, Costello, 94, a Las Vegas resident, donated 11 important theatrical costumes to the Smithsonian's American History Museum's entertainment collection, which is curated by Dwight Blocker Bowers.

Campo's second wife was the late Betty Clooney, sister of singer Rosemary Clooney. They wed on September 5, 1955 at St. Patrick's Cathedral in New York City. That union lasted until her death and produced four children. In 1976, Betty Clooney suffered a massive stroke while entertaining the parents of the young man one of their daughters was planning to marry. She died the next morning while undergoing surgery in Las Vegas. She was 45.

Campo was also preceded in death by his sister, Georgina Millan; and brothers, Mandy and Alejandro Campo. He is survived by his wife, Joette; daughters, Rosemary Cari Campo Leary a teacher with the Clark County School District in Las Vegas; Cristina Maria Campo Stretz; singer Cathi Campo of Las Vegas who also works (as Cathi Muckle) as the Counseling Secretary at Southwest Career and Technical Academy (SWCTA). She had occasionally sung with her aunt Rosemary Clooney; son, Dr. Carlos Campo (wife Karen) who became president of Regent University on August 1, 2010.

Dr.Campo moved to Las Vegas when he was a teenager. It was there he later began his career as an English professor at the University of Nevada at Las Vegas, and, after that, at the College of Southern Nevada.

He holds a Ph.D. in English from the University of Nevada Las Vegas.

Dr. Campo left Nevada to become vice president for academic affairs at Regent. In October 2009, trustees voted unanimously to make him the first Hispanic president of a private Christian college in Virginia, succeeding the Rev. Pat Robertson, the school's founder and chancellor.

Pupi Campo is also survived by 11 grandchildren; and five great-grandchildren.

LARRY RICKLES an Emmy Award-winning producer and the only son of comedian Don Rickles, died December 3, 2011 in Los Angeles of respiratory failure due to pneumonia. He was 41.

The younger Rickles earned an Emmy in 2008 as a producer on HBO's Mr. Warmth: The Don Rickles Project, which was named the outstanding variety, music or comedy special of the year. The documentary also earned his father an Emmy for outstanding individual performance in a variety or music program.

In 1996 Larry Rickles was accepted into the writers workshop program at Warner Bros., and the following year he became a writer on the CBS hit sitcom Murphy Brown.

Don Rickles is active on the casino/nightclub circuit, scheduled to perform New Year's Eve at Harrah's Resort in Atlantic City, NJ.

In addition to his father, Larry Rickles is survived by his mother, Barbara, and his sister, Mindy.








Next Column: December 25, 2011
Copyright: December 18, 2011. All Rights Reserved. Reviews, Interviews, Commentary, Photographs or Graphics from any Broadway To Vegas (TM) columns may not be published, broadcast, rewritten, utilized as leads, or used in any manner without permission, compensation and/or credit.
Link to Main Page
---
Laura Deni



For the snail mail address, please E-mail your request.
CLICK HERE FOR COMMENT SECTION