! >
Broadway To Vegas
  
 SHOW REVIEWS CELEBRITY INTERVIEWS GOSSIP NEWS

| | |
| --- | --- |
| | |
SWEET NOTHING IN MY EAR ON HALLMARK HALL OF FAME - - SEBASTIAN KRUGER EXHIBITION - - PHANTOM OF THE OPERA CELEBRATES ANOTHER MILESTONE - - HALLS OF THE WHITE HOUSE ARE FILLED WITH MUSIC - - HOLIDAY WONDERS - - CELINE DION CLOSES HER LAS VEGAS SHOW - - BRITISH LIBRARY ACQUIRES HAROLD PINTER'S PAPERS - - DON'T MISS AUGUST: OSAGE COUNTY - - DONATE . . . Scroll Down


AUTHOR FEELS LIKE CHEF WHO CAN'T EAT THE FOOD
Stephen Sachs - barred from his own set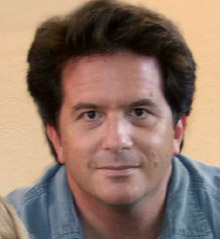 A dream come true. A playwright sells a script to television. Not just any run of the mill show, but the venerable Hallmark Hall of Fame.

Playwright Stephen Sachs has adapted his original play, Sweet Nothing In My Ear, for a Hallmark Hall of Fame television movie set to air on CBS in April. Sweet Nothing in My Ear had its world premiere in 1997 at The Fountain Theatre, where Sachs is co-artistic director. The television version of Sweet Nothing, now shooting, is directed by Emmy Award-winning Joseph Sargent and stars Academy Award winner Marlee Matlin and Drama Desk and Obie winner Jeff Daniels, who is the founder of the Purple Rose Theater in Chelsea, Michigan.

"It's very exciting," Sachs told Broadway To Vegas. "But it is also frustrating because of the writer's strike. I am not allowed to visit the set. I can't participate - watch the filming of it or participate in the making of it in any way. It is so frustrating!"

"It is a dream come true and then not be able to share in the experience of it."



Jeff Daniels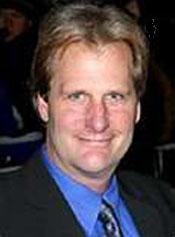 Marlee Matlin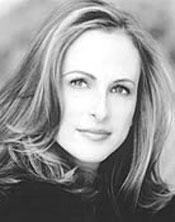 "They are shooting right now. I was able to finish the final re-write just before the writer's strike deadline, and they went into production immediately. It's been shooting now for three weeks. They are shooting away and I don't know what is going on," said Sachs whose words were soaked in frustration."

"We all knew that the writer's strike was coming and there was a deadline of the night of October 3l or midnight November 1. I had to finish this final rewrite and crank it out. I was busy writing up until midnight that night," he explained.

"They were calling me with last minutes changes and suggestions and I was E-mailing them back and forth, scrambling to get the final draft done by midnight. It was insane," he exclaimed.

"I turned the script in to the Hallmark Hall of fame producers. No, they aren't suppose to change any of the words now. They aren't suppose to deviate - but, we'll see."

"They are shooting on location throughout Southern California. I get the occasional report from the director or the executive producers. From what I'm hearing it is all going very well. Everyone is getting along wonderfully. Jeff and Marlee Matlin have wonderful chemistry together. Everything is going extremely well. So, all that is good."

Underneath the joy Sachs feels cheated.

"I feel like a chef who has prepared this wonderful dinner and has taken a long time to cook and prepare it and now I have to leave the room while everyone else enjoys it."

"But, I also feel extraordinary lucky and blessed in even having this made," he acknowledged.

In Sweet Nothing in My Ear, Laura, who is deaf, and Dan, who is hearing, are an attractive young couple happily married for nine years. Their son Adam was born hearing, but by age six has also become deaf. When Dan decides to pursue the possibility of a cochlear implant for his boy - a tiny computer chip inserted in the brain that would allow him to regain his hearing - a divisive wedge is driven between husband and wife that threatens to shatter their marriage.

"I first leaned what a 'hot topic' cochlear implants are in the Deaf community when I read an article about it in the Los Angeles Times," said Sachs. "Are implants a miracle of modern technology or a threat to Deaf culture?"



Terrylene and Gio Maganelli from the 1997 performance at The Fountain Theater. Photo by Ed Kreiger.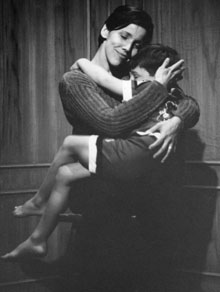 Terrylene and Bob Kirsh from the 1997 performance at The Fountain Theater. Photo by Ed Kreiger.
"The play debuted at The Fountain theater in 1997 and was a big hit in Los Angeles. There was immediate interest it in as a play. There was interest in perhaps producing it off-Broadway in New York," he recalled.

"Shortly thereafter it was optioned by Barbra Streisand's company - Barwood Production. I wrote a draft of the screenplay for them." He was paid and Barwood Productions then controlled the rights for one year.

"By then the play was starting to get produced in regional theaters around the country - some I directed and some I did not. Then it got published and now schools are doing it. So, it has its own life as a play. Meanwhile, I was writing the movie version for Barbra Streisand's company."

"They loved the draft and began to shop it around. That was just a couple of years ago. At that time they were not able to get it made. So, the option lapsed. The movie rights reverted back to me."



Joe Sargent receiving a Directors Guild of America award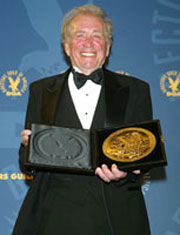 "I know Joe Sargent, the director, because both of us are on the advisory board of Deaf West Theater which began at my theater, The Fountain Theater in Los Angeles."

"We got the script to Joe Sargent and he got it to Hallmark. They read it and loved it. It airs in April."

Barred from the set, the author looks forward to watching it on television.

Sachs' involvement with Deaf West which is where he met Sargent, is long standing.

"I had been working with deaf actors in Los Angeles for many years, even prior to starting the Fountain Theater. I've always been interested in working with deaf actors. I have no idea why. There is no deafness in my family. I just found sign language to be incredibly theatrical on stage."

"When I started the Fountain Theatre in 1990 one of the things I immediately wanted to do was to start a deaf theater company in Los Angeles. At that time there was none. As I began to search around I kept meeting people who said - you should meet with Ed Waterstreet because he's looking to start a deaf company in Los Angeles."

"Ed and I and both had the same vision. I invited him into the Fountain Theatre," related Sachs who offered the office space. "So, the Fountain Theatre sponsored the birth of Deaf West. They were in the Fountain Theatre for a couple of years. and I directed a couple of their first productions. Then they got a grant which allowed them to acquire their own space and have their own facility, which was always our goal; that Deaf West would be it's own entity and run by deaf artists."

Waterstreet has a co-starring role in the Hallmark Hall of Fame film, along with Phyllis Frelich who garnered a Tony Award for her work in Children of a Lesser God - in the same role for which Matlin was given the Oscar in the subsequent film version. Sweet Nothing in My Ear marks the first time the two actresses have worked together; they star as mother and daughter.

As for Sachs, The Fountain Theatre is his full time job. "We started it in 1990 and we're in our 17th year. We present year round season of theater and dance. There is a large network of intimate theaters in Los Angeles."

While many small theaters have dropped their curtains, The Fountain Theatre has flourished staging 30 world premieres and 27 West Coast, Southern California or Los Angeles premieres.

"I think we strive to present work of high quality and we do have an excellent reputation," he theorized. "We're small but we're ambition. We only have 78 seats. Our top ticket price is $25. We prefer production with less than ten actors. More than ten tends to get a little crowded. We run the shows six to eight weeks and some have run for seven months, which is also part of our success. We are of the philosophy that if the show is a hit, then we'll run a show for seven or eight months, which is unique for a small theater in Los Angeles."



Athol Fugard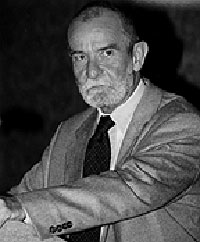 "We are also the artistic home of Athol Fugard, the South African playwright. He gave me his new play, Exits and Entrances which was premiered at The Fountain Theater in 2004. We produced it around the country and opened it in New York at Primary Stages and it went on to the Edinburgh Festival in Scotland."

Exits and Entrances was the winner of five Los Angeles Drama Critics Circle Awards: Best Production (Simon Levy), Writing (Athol Fugard), Director (Stephen Sachs), Lead Actor (Morlan Higgins) and Featured Actor (William Dennis Hurley). The production also garnered three L.A. Ovation Awards.

"Now, he's just given me his new play, Victory, which I went into rehearsals with on Monday," continued Sach's about Fugard's latest effort which stars Morlan Higgins, Lovensky Jean-Baptiste and Tinashe Kajese. Victory opens January 25.

Success does not come without challenges.

"Two things come to find," he answered. "One thing is the number of small, intimate theaters has grown and grown and grown, much more so in Los Angeles than I ever imagined it would. That creates a challenge. And, also the immergence of the Internet. The dominance of the Internet and computer entertainment and how that impacts the theater. People preferring to stay home. Getting them out of the house is getting to be more and more of a challenge for those of us who produce live art. Those are the two biggest challenges that I never anticipated back in 1990."


ART AND ABOUT


SEBASTIAN KRUGER

Clint Eastwood. Acrylic on canvas by Sebastian Krüger; December 2006.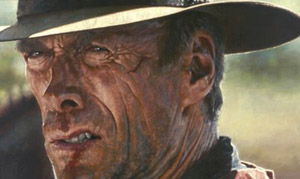 is known as the warts-and-all faceman who highlights the feature flaws that the bold face beautiful people try to hide - and thus is sought after by them to be immortalized.

They proudly refer it the results as having been "Krügerise".

Some say grotesque while others say he stares into the souls of those he captured.

His twists on Bogart, Schwarzenegger, John Wayne are classics of their kind. From a balding Jack Nicholson to Louis Armstrong with bulging eyes. Clint Eastwood, Jimi Hendrix and Janis Joplin. He has captured Bono, super-slick in wrap-around shades, portraits of Fidel Castro, Charlie Watts and Sylvester Stallone as well as an open-mouthed Mick Jagger with distended features and an over-sized microphone and Keith Richards.



Bruce Springsteen by Sebastian Krüger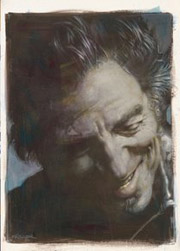 The Rolling Stones first became impressed with his work back in the 1980s - so impressed that Kruger and Keith Richards became buddies. That friendship led to Kruger cranking out 70 portraits of the guitar legend. One even shows the wrinkled one as a rock pirate with a parrot on his shoulder.

Krüger, 44, is multi-dimensional. His works range from pencil drawings, to near abstract paintings and then to the near photo realistic. Born in Hameln, Germany, in 1963 he was a child prodigy who eventually studied at the University of Fine Art in Braunschweig.

Krüger's art can be seen frequently in Playboy magazine and has also been featured in the likes of Stern, L'Espresso, Penthouse, and Der Spiegel and USA Today. His works have been exhibited throughout the world in many museums and galleries and are included in many important collections.

For the first time, a collection of some of Krüger's best work is being exhibited in London. Sixty paintings, spanning three decades, are on display, but only through December 22, at Gallery 27 in London.



Broadway To Vegas is supported through advertising and donations. Priority consideration is given to interview suggestions, news, press releases, etc from paid supporters. However, no paid supporters control, alter, edit, or in any way manipulate the content of this site. Your donation is appreciated. We accept PAYPAL. Thank you for your interest.



THE PHANTOM OF THE OPERA the National Touring Company of the Cameron Mackintosh/Really Useful Theatre Company, Inc. production of Andrew Lloyd Webber's The Phantom of the Opera, directed by Harold Prince, celebrated its 15th anniversary on December 13, 2007 when it reached performance number 6,139 during its 5th Chicago engagement at the Cadillac Palace Theatre. A gala celebration, hosted by the producers for the entire touring company, will take place in Chicago on Sunday evening, December 16, to commemorate this milestone event.

This National Tour opened at the 5th Avenue Theatre in Seattle on December 13, 1992 and has been on tour continuously ever since. Jason Mills currently heads the 36-member touring company as The Phantom, with Sara Jean Ford as the young soprano, Christine, and Greg Mills as Raoul, Vicomte de Chagny. Also featured is Kim Stengel as Carlotta Giudicelli, Bruce Winant as Monsieur Firmin, D.C. Anderson as Monsieur André, Rebecca Judd as Madame Giry, John Whitney as Ubaldo Piangi and Polly Baird as Meg. At certain performances, Sarah Lawrence plays the role of Christine.

On January 9, 2006, The Phantom of the Opera became the longest-running show in Broadway history surpassing Cats' record-holding run of 7,485 performances.

Worldwide, The Phantom of the Opera has had over 65,000 performances and has been seen by over 80 million people in 25 countries and 124 cities. There are currently seven productions around the world: London, New York, Budapest (Hungary), Osaka (Japan), Las Vegas, Melbourne (Australia), and this National Tour.

The national tour is currently at the Cadillac Palace Theatre in Chicago through January 5, 2008. Following the Chicago engagement, The Phantom of the Opera National tour will visit:

Louisville: Kentucky Center · January 9-27
Omaha: Orpheum Theater · January 30-February 24
San Antonio: Majestic Theatre · February 27-March 23
Costa Mesa: Orange County PAC · March 26-April 19
Saskatoon: TCU Place · April 23-May 17
Sacramento: Community Center Theatre · May 21-June 14
San Diego: Civic Theatre July 16 – August 10.


OTHER PEOPLE'S MONEY


HAROLD PINTER'S archive of papers, comprising more than 150 boxes of manuscripts, scrapbooks, letters, photographs, programs, emails, and a screenplay of King Lear that has yet to be produced, has been acquired by the British Library for $2.25 million. The collection includes Pinter's correspondence with Philip Larkin, Samuel Beckett, David Mamet and Noel Coward.


CURTAIN DOWN


CELINE DION the Grammy Award winning singer, staged her final Caesars Palace Las Vegas performance of A New Day on December 15, after almost a five year run of 717 shows. Celebrities attending her final performance included Tom Cruise and Katie Holmes.

Producers say nearly 2.5 million people have seen Dion's show since it opened in the Colosseum, a $95 million theater built and designed for the production.

Dion begins a world tour with a first concert date set for Valentine's Day in Johannesburg, South Africa.



HOLIDAY WONDERS a live performance is an extravaganza of traditional Chinese arts combined with the American holiday spirit. Blending the divine charm of the East with the holiday spirit of the West, Holiday Wonders presents two hours of performances that range from classic European ballet to theatrical Chinese dances, all of which are introduced in both English and Chinese. This celebration of shared values truly brings the spirit of the season to life.

Among the highlights of the production are mini-theatrical acts based on ancient Chinese legends, folk dances from some of China's 56 ethnic minorities, authentic costumes and dance routines from the Tang Dynasty (6-9th century) and Qing Dynasty (16-19th century). In addition, the show also brings in a genuine holiday feel by once again featuring world-class ballet and exciting American brass band performances. Grand performances by 100+ artists features a live orchestra with original scores.

Vital to the performance - the dazzling costumes which are as much a part of each dance as the dance movements themselves. They are, in many ways, the palette on which the dance is performed. Clothes, hair, colors—this is what transports us to the Divine Land of ancient China.

"Our hope is to further build the bridge between Chinese and American culture. Through productions such as Holiday Wonders, we are able to introduce Chinese culture to a vast number of people across the United States," said New Tang Dynasty Televisio President Zhong Lee which is the sponsor.

At the Beacon Theater in NYC December 18-26 with performances also in Baltimore, Charlotte, Greensboro, Miami, Tampa, and Atlantic City.

THE DROWSY CHAPERONE has welcomed Cindy Williams to the Broadway cast. This marks the Broadway debut for the actress who came to fame playing Shirley Feeney on the long-running ABC-TV sitcom Laverne & Shirley. The five-time Tony Award winning show is at The Marquis Theatre on Manhattan.

INDIAN BLOOD by A.R. (Pete) Gurney.

Indian Blood takes you back to Christmas Day in a much simpler time, a time when bad manners were a catastrophe and foul language was unheard of coming from a young boy's mouth.

This is a witty, warm and delightful comedy, written by Buffalo's own A.R. Gurney. It explores the family relationships and social status of a well-to-do 1940s Buffalo family. Eddie, a student at the private Nichols School, uses his historical Indian bloodline as an excuse for his lewd drawing in class. This heartwarming, coming-of-age production deals with the repercussions that occur as a result.

Starring Jane Altman, David Q. Combs, Justin Fiordaliso, Hollis McCarthy, Darlene Pickering Hummert, Matt Steiner, Matt Bradford Sullivan and Ronald Wendschuh.

Performances through December 23 at Studio Arena Theatre in Buffalo, NY.

DIE MOMMIE DIE! by Charles Busch ( See Broadway To Vegas column of May 6, 2007 ). A riotous comedy-thriller steeped in the glamour of 1960s Hollywood, Stars playwright Charles Busch as Angela Arden, a fallen pop diva trapped in a hateful marriage to film producer Sol Sussman. Desperate to find happiness with her younger lover, an out-of-work TV actor named Tony Parker, Angela gruesomely murders her husband with the aid of a poisoned suppository.

In a plot that reflects Greek tragedy as well as Hollywood kitsch, Angela's manipulative daughter, Edith, convinces her "emotionally disturbed" brother, Lance, that together they must avenge their father's death … by killing their mother!

Directed by longtime Busch collaborator Carl Andress, Die Mommie Die! stars Bob Ari as Sol Sussman, Chris Hoch as Tony Parker, newcomer Ashley Morris as Edith, Kristine Nielsen as the Sussman's live-in domestic, Bootsie Carp, and Emmy Award nominee Van Hansis as Lance.

Performances through January 13 at New World Stages in NYC.

RAY CHARLES LIVE! – A NEW MUSICAL Music by Ray Charles. Book by Suzan-Lori Parks. Directed by Sheldon Epps. Choreography by Kenneth L. Roberson. Music Supervision and direction, vocal and music arrangements by Rahn Coleman. Continued at the Pasadena Playhouse through December 23 in Pasadena, CA.

AUGUST: OSAGE COUNTY the not to be missed play by Tracy Letts under the direction of Anna D. Shapiro.

This Broadway premiere, which is going to pick up a boat load of awards, stars Ian Barford, Deanna Dunagan, Kimberly Guerrero, Francis Guinan, Brian Kerwin, Dennis Letts, Madeleine Martin, Mariann Mayberry, Amy Morton, Sally Murphy, Jeff Perry, Rondi Reed and Troy West.

The creative team includes Todd Rosenthal (set), Ana Kuzmanic (costumes), Ann G. Wrightson (lighting), Richard Woodbury (sound), and David Singer (original music).

At the Imperial Theatre in NYC.


| | | |
| --- | --- | --- |
| | | |
WHO'S WHERE


CHICAGOLAND POPS ORCHESTRA David Miller, renowned tenor from Il Divo, the sensational international pop group, will perform his first solo concert in the Chicagoland area with the Chicagoland Pops Orchestra, conducted by Grammy award winning artist Arnie Roth. The concert will also feature a special performance by the American Girl Ambassadors, a group selected from the cast of young performers working at the Theater at American Girl Place Chicago. Friday, December 21 at The Rosemont Theatre, Chicago.

THE KINGSTON TRIO bringing back memories Wednesday, December 19, at the Lyric Theatre in Stuart, FL.

TRANS-SYBERIAN ORCHEATRA can be enjoyed in a variety of places this week. On Monday there is a performance at the Conseco Fieldhouse in Indianapolis. Wednesday a show takes place at the Greensboro Coliseum in Greensboro, NC. On Thursday both companies are on stage. One is on stage at the Fed Ex Forum in Memphis while the other company is at the RBC Center in Raleigh, NC. On Friday the shows are at the Century Tel Center in Bossier City, LA and the Cricket Arena in Charlotte, NC. Saturday finds the groups at the Ford Center in Oklahoma City and at the Richmond Coliseum in Richmond, VA. On Sunday, December 23, the performances can be enjoyed at the AT&T Center in San Antonio, TX and the Colonial Center in Columbia, SC.

OZZY OSBOURNE on stage Tuesday, December 18, at the Joe Louis Arena in Detroit. On Thursday he's in the spotlight at the Mellon Arena in Pittsburgh. Saturday finds him at Madison Square Garden in New York City.

VAN HALEN opens a two night engagement on Tuesday, December 18 at the Honda Center with the second night taking place on Thursday. Saturday the show is at the Oracle Arena in Oakland, CA.

MAROON 5 in Europe performing Monday, December 17 at the Hallenstadion Zurich. Tuesday the group is at the Pala Sharp in Milan. On Thursday the show is at the Porsche Arena in Stuttgart, Germany. On Friday the show continues in Germany with an engagement at the Jahrhunderthalle Hoechst in Frankfurt. On Saturday they take to the stage at Philipshalle in Dusseldorf.

BRIAN SETZER'S ORCHESTRA brings in the holiday spirit Tuesday with the first night of a two night stand at the Wells Fargo Center for the Arts in Santa Rosa, CA. On Friday open another two night gig at the Gibson Amphitheater at the Universal City Walk in Universal City, CA. Next Sunday, December 23, finds them in Las Vegas at The Joint.

BRUCE SPRINGSTEEN performs Monday, December 17, at the Palais Omnisports de Paris-Bercy in Paris. On Wednesday they are on stage at the 02 Arena in London.

LINDER EDER opens up a four night engagement at the Mohegan Sun in Uncasville, CT on Thursday, December 20.

PAULA POUNDSTONE telling funny stories Saturday, December 22, at the Blender Theatre at Gramercy in New York City.

HANNAH MONTANA/MILEY CIRUS BEST OF BOTH WORLD TOUR brings the show to The Wachovia Center in Philadelphia on Monday, December 17. On Wednesday the crowds will be screaming at the Hartford Civic Center in Hartford, CT. Thursday finds the show at the Dunkin' Donuts Center in Providence, RI. On Friday the production opens a two night gig at the DCU Center in Worcester, MA.

JOYCE MOODY will make her NYC solo cabaret debut in Vampin' Lady The Music of Milton Ager at December 19, 21, 22 at Don't Tell Mama.




PIFFLE AND PROFUNDITIES


THE HALLS OF THE WHITE HOUSE ARE FILLED WITH MUSIC this week as holiday festivities take on a musical note. On December 19 the musical groups featured at White House holiday events include; Anne Marie Gunther from Arlington, Virginia; The Providence Concert Choir from Jacksonville, Florida; David Osborne from Henderson, Nevada; The University of North Carolina at Asheville Chamber Singers from Asheville, North Carolina; The Sherando High School Concert Choir from Stephens City, Virginia; Jeff Perks from Denver, North Carolina and Glenn Draper from Signal Mountain, Tennessee.

On December 20 the sounds of joy will be delivered by; The Bensing Family Strings from Ephrata, Pennsylvania; The Vocal Tapestry from Fairmont, West Virginia; David Leahy from Fairfax, Virginia; Members of Hyde Park Baptist from Austin, Texas; Jeff Perks from Denver, North Carolina; The Westminster Conservatory Cantus Choir from Princeton, New Jersey; The Maryland Classic Youth Orchestras from North Bethesda, Maryland; The Columbia Flute Choir from Falls Church, Virginia; The West Springfield High School Madrigal Singers from Springfield, Virginia and The Vienna Falls Chorus from Fairfax Station, Virginia.

On December 21 the music is provided by; Members of Hyde Park Baptist from Austin, Texas; 4 For One from Lincolnton, North Carolina; Centerstage from Mobile, Alabama; The West Springfield High School Madrigal Singers from Springfield, Virginia; The Bishop Ireton Clarinet Ensemble from Alexandria, Virginia; The Bensing Family Strings from Ephrata, Pennsylvania; Voices of Mobile/Ram Tonz from Mobile, Alabama; Top of the Seventh from Washington, District of Columbia and the Members of the Denbigh High School Troubadors from Newport News, Virginia.

Next Column: December 23, 2007
Copyright: December 16, 2007. All Rights Reserved. Reviews, Interviews, Commentary, Photographs or Graphics from any Broadway To Vegas (TM) columns may not be published, broadcast, rewritten, utilized as leads, or used in any manner without permission, compensation and/or credit.
Link to Main Page
---
Laura Deni


CLICK HERE FOR COMMENT SECTION