! >
Broadway To Vegas
  
 SHOW REVIEWS CELEBRITY INTERVIEWS GOSSIP NEWS

| | |
| --- | --- |
| | |
LOS ANGELES FEMALE PLAYWRIGHTS INITIATIVE - - SHANGHAI CELEBRATION - - MAJOR PRODUCTION OF MUSICAL CHESS - - RIGHT, WRONG OR DEBATABLE SEMINAR - - PRINCE ALBERT TAKES FUTURE WIFE TO GRACELAND - - NEIL PATRICK HARRIS DIRECTS RENT - - LARGEST STAR TREK CONVENTION IN THE WORLD IN LAS VEGAS - - ANNIE GET YOUR GUN CELEBRATES THE 150th BIRTHDAY OF ANNIE OAKLEY - - DONATE . . . Scroll Down


LOS ANGELES FEMALE PLAYWRIGHTS INITIATIVE – IMPORTANT STUDY OR FLAWED FROM THE START?


Are your changes of getting your play produced diminished if you are a woman? Or, is that a conclusion of faulty research?

The Los Angeles Female Playwrights Initiative (LA FPI), co-founded by playwright Jennie Webb, calls itself "a grass roots movement composed of men and women who recognize that female playwrights are critically underrepresented on stages across the country, and want to take positive action in Los Angeles - working to ensure fair representation of women playwrights on LA-area stages."

Webb is currently the playwright-in-residence at The Will Geer Theatricum Botanicum, where she created and runs Botanicum Seedings: A Development Series for Playwrights. Since 2002, Seedlings has presented over 80 readings and workshops of plays at various stages of development – over 50% written by women.

The LA FPI, which is being called an "initiative" was, in part, motivated by a groundswell of activities in New York and elsewhere following a 2009 study on gender disparity in the American theater. Among the findings in the Sands Study were numbers that confirmed those in earlier studies: plays by women represent less than 20% of the works on and off-Broadway and in regional theaters. The study turned artists into activists, prompting women including Pulitzer prize-winning playwright Marsha Norman and stage and TV writer Teresa Rebeck to speak out about the issue.

Broadway To Vegas peppered playwright Jennie Webb with questions and concerns.

Such as …

If "female" is the only consideration, then there are too many variables in your proposed study - race, religion, sexual orientation, ethnicity, age, etc.

If I were the person at a theatre whose job it was to pick the season, the last thing I'd notice would be the author's sex. The first thing I'd look at would be - the budget. How much is this play going to cost to mount? Will it sell tickets? Be enjoyed by the audiences who patronize my venue? Fit in with what is slated for the rest of the season? What are the parts? Will I have the actors to fit the roles? What will the scenery and costumes cost? Those are legitimate concerns when considering mounting a play. A theatrical venue is a business. Even non-profits are under strict guidelines.



Nell Leyshon will be the first female playwright to be produced at what is now Shakespeare's Globe Theatre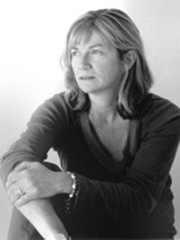 If you were contacting every theatrical company in the greater Los Angeles area which offers - in any way - a mentoring program for playwrights - be that as interns, playwright in residence, commission, fellowship, grant, use of the stage - anything that would provide a playwright assistance in being able to write a play, then charting to see - in the last 10 years - how much of that help went to female versus male playwrights, you're study would have some serious merit.

If up and coming playwrights are hindered from creating and finishing a play, because they are female, and you can prove that, then that is a significant discovery.

To study over a 10-year period, just whether or not the author of a mounted play is female or male, sounds silly. Why shouldn't the results be considered a novel statistic with no serious purpose?

Is your study accusing the major Center Theatre Group (Ahmanson Theatre, Mark Taper Forum and Kirk Douglas Theater) of having shown bias?

Once you get past a few major venues - Center Theatre Group, Geffen - you're dropping down in a hurry to the 100-seat theaters. The Los Angeles theatrical market is more off-Broadway than comparable to The Great White Way.

Again, if you can establish that - on ground level - theaters who offer fellowships or mentoring of any kind to playwrights have discriminated against female playwrights, then you've got something newsworthy.



Aphra Behn (1640–1689) is considered the first professional Western woman writer - the first woman to have earned a living by authorship. Portrait of Aphra Behn, aged approximately 30, by Mary Beale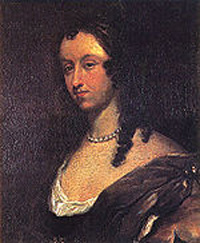 To just capture figures that show how many blue eyed versus brown eyed authors got their plays mounted in the greater LA area this past decade might make interesting cocktail banter - but how do the results help playwrights? And, given so many other variables, what does it prove?

To band together to produce female playwrights begs the question - Does quality of the play count? And, who foots the bill to produce a bad play just because the name on the title is female?

Webb kept her cool and responded:

"We're not trying to accuse anyone of anything," she stated. "We're simply trying to find out how many women's voices have been heard on LA stages during a 10-year period. To put it in context, we'll see how that compares to plays written by men."

"As I'm sure you're aware, the Sands Study last year prompted many movements, particularly New York's 50/50 in 2020 to address the issues surrounding gender disparity on stages; the bottom line is LA was not a part of that Study."

The aforementioned Sands Study was a 173-page senior thesis on the status of women in the theater by Emily Glassberg Sands, who was then a Princeton senior in economics and who is now with Harvard.

In that thesis, Opening the Curtain on Playwright Gender: An Integrated Economic Analysis of Discrimination in American Theater, Sands concluded that women write fewer than 1 in 8 shows on Broadway, that it is harder to get plays produced if they have female protagonists, but that Broadway plays written by women are the most profitable.

Her thesis was praised for demonsrtating her ability to do statistical research.

Some theatrical professionals criticized Sands, who has no theatrical background, for not understanding how plays are produced.

"But at any rate, the LA FPI Study is only a part of our Initiative," continued Webb. "Our official goals are as follows:

1. To create an awareness of the facts: women playwrights are critically underrepresented on the American stage.

2. To advocate for female playwrights based Los Angeles – specifically by creating an active nexus between theaters, companies, organizations and theater artists who want to produce, promote and employ women playwrights.

3. To investigate and report the accurate history of producing organizations and plays by women in the Los Angeles area in the 21st century.

4. To recognize and support LA-area theaters who produce, promote and employ female theater artists through sharing our logo and advocating for – and attending – their productions.

5. To open channels and create opportunities for women playwrights, and by extension all women theater artists, in Los Angeles and beyond.

We hope that what we're doing, and how we're doing it, catches on!"

"Playwrights, theaters and producing companies are encouraged to participate in the LA FPI Study to ensure that individual achievements aren't overlooked as data is collected from various sources."

NOTE: The deadline for participation is August 15, 2010. The results are expected to be published by Study Director Ella Martin in November, 2010.



Broadway To Vegas is supported through advertising and donations. Priority consideration is given to interview suggestions, news, press releases, etc from paid supporters. However, no paid supporters control, alter, edit, or in any way manipulate the content of this site. Your donation is appreciated. We accept PAYPAL. Thank you for your interest.


ART AND ABOUT


SHANGHAI CELEBRATION explores, through the mirror of its art, the tumultuous history that has resulted in one of the world's most dynamic and cosmopolitan cities.

For more than a century Shanghai artists have not only been documenting the city's many changes but also leading its way into the future. This exhibition features more than 130 oil paintings, Shanghai Deco furniture and rugs, revolutionary posters, works of fashion, movie clips, and contemporary installations. They are significant visual documents of the city's rich and ever-changing culture.

In San Francisco the Asian Art Museum's Shanghai exhibition is the cornerstone of the Shanghai Celebration - a year-long Bay Area-wide collaboration honoring SF's sister city and coinciding with the 2010 World Expo hosted by none other than Shanghai.

Shanghai explores, through the mirror of its art, the tumultuous history that has resulted in one of Asia's most dynamic and cosmopolitan cities of today. An American poet once wrote that "The artist is the antenna of the race." For more than a century and half Shanghai artists have not only been documenting the city's many changes but also leading its way into the future. It is impossible to understand one of the world's most intriguing cities without an awareness of its artists, or to understand its art without an awareness of the city's history.

The exhibition features more than 130 oil paintings, Shanghai Deco furniture and rugs, revolutionary posters, works of fashion, movie clips, and contemporary installations. These artworks, drawn mainly from the collections of the Shanghai Museum, the Shanghai Art Museum, the Shanghai City History Museum, and the Lu Xun Museum, include the most significant visual documents of the city's rich and ever-changing culture.

I HAVE NOT BEEN IDLE - ROBERT BURNS; FAREWELL EXHIBIT

Robert Burns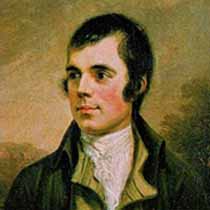 featuring a letter written in 1796 by the boss of Robert Burns describes that although the Scottish poet was "reduced and shattered," by his failing health, his sense of humor remained in tact.

burns had worked at Excise and had travel to Dumfries to collect his salary exactly a week before his death at the age of 37 on July 21, 1796.

On the day he picked up his salary, it is known that he also took a sea-bathing cure, for what is believed to have been rheumatic heart disease, at Brow on Solway, 10 miles from Dumfries. Until the discovery of the letter, it was not known whether Burns was visited at Brow by his superior officer or if he received his salary on his return to Dumfries on July 18. The letter reveals for the first time that Burns did actually make the journey to Dumfries, despite being urged not to because of his weak state.

The letter, which was written to the Commissioner of Excise, was found by David Brown, the head of collections development at the National Archives of Scotland. The letter, dated July 14, described him as "reduced and shattered ... in the extreme".

Burns is also quoted as saying to Mitchell: "I'm only 36, 10 of which only I have been in the world and, in that time, all I shall say, My good sir, I have not been idle." Burns was referring to the 10 years since his Poems were first published in Kilmarnock.

Culture Secretary Fiona Hyslop, who visited the archives to see the letter, said it was a tremendous discovery. "This is a once in a lifetime find, uncovering details about the final days of one of Scotland's most famous sons and our national bard, Robert Burns," Ms. Hyslop told the press.

"Undertaking this journey in what must have been a fragile state tells us something of the spirit of the man. "I am sure there will be great interest in this find, from Burns enthusiasts and from those whose interest has been sparked by last year's celebration of the 250th anniversary of the great man's birth."

The document is the centerpiece of the public exhibition I have not been idle - Robert Burns' farewell, at West Register House, Charlotte Square, Edinburgh, from August 9 until September 3.

West Register House was one of the last buildings designed by famous architect Robert Adam, just a year before he died. Charlotte Square was faithfully built to his designs but this building, originally the St George Church, was simplified on the grounds of expense. It has recently been refurbished as West Register House and holds the Scottish Records Office documents, for which there is a search room. It features changing documentary exhibitions, and boasts the Declaration of Arbroath of 1320 on permanent display. Admission is free.



A PRINCELY VACATION VISITS ELVIS PRESLEY'S GRACELAND
Prince Albert and fiancé Charlene Wittstock at Graceland. Photo courtesy Graceland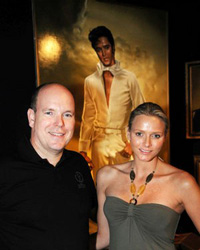 If you were going to treat you bride-to-be to a vacation where would you go?

For Prince Albert of Monaco, son of the late actress Grace Kelly, and fiancé Charlene Wittstock that meant visiting Graceland. The couple played it smart and beat the stamped to Graceland by vacationing in the United States before Elvis Week, a series of events to mark the anniversary of Presley's death on Aug. 16.

Last Friday the engaged couple paid a visit to the home of American royalty when they toured Elvis Presley's Graceland mansion in Memphis, home to the undisputed King of Rock 'n' Roll. Graceland sits on 13 acres with 38 rooms with 20-thousand plus square feet. Annually, Graceland draws 600,000 visitors from all over the world who tour the music icon's Memphis mansion

The couple visited Presley's historic home which is a pop culture time capsule, decorated in traditional American styling's from the 50s, 60s and 70s. During their tour, they also paid their respects to Presley at his grave located in Graceland's Meditation Garden. Prior to the tour of Graceland, the couple was treated to a traditional Southern meal which included Bar-B-Q, as Memphis is known as the Bar-B-Q capital of the world.

When asked about why Memphis and Graceland were selected as part of the itinerary for a week's vacation in America, Prince Albert commented, "If you're on a summer holiday, you've got to come at this time of year. I've always wanted to come to Graceland. Charlene and my friends wanted to be here today for this visit, Elvis touched our lives as well and the lives of so many people. We wanted to pay our respects and see what this place was all about."

Following the tour of Graceland, Prince Albert praised Elvis for his contributions to the entertainment industry and charitable causes. "He was an extraordinary figure of his time and our time. His legacy was tremendous in terms of the music he created, his films, and in terms of him as an entertainment personality. The generosity that he showed toward others is simply remarkable and I think it's these aspects of his character, his persona, that make him such a special person."



Prince Albert at The National Civil Rights Museum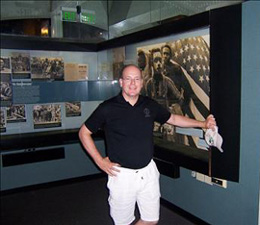 The day before Prince Albert toured the National Civil Rights Museum in Memphis. standing on the balcony where Dr. Martin Luther King Jr. was assassinated. He spoke with other museum visitors, telling them he was "awed and impressed" by the experience. He added that it was "an honor to be there."

Prior to Memphis, on Monday, August 2, Prince Albert visited the Mark Twain Boyhood Home & Museum in Hannibal, MO. Charlene had already traveled on to St. Louis, where Prince Albert said the couple hoped to do some sightseeing. His Serene Highness was in Hannibal to visit his friend, Dr. Robert Munsch, a surgeon at Hannibal Regional Medical Group. After observing a cataract operation performed by Dr. Munsch, the Hannibal Regional Medical Group held a press conference where Hannibal Mayor Roy Hark presented Prince Albert with the key to the city. Following the presentation, Prince Albert signed the Mark Twain Museum's "10 by 10" fence.

This year marks the 100th anniversary of Twain's death and the 175th anniversary of his birth.

Prince Albert toured the Boyhood Home and other properties including the Mark Twain Museum Gallery. According to a press release from the Museum, "he asked many questions and enjoyed viewing the various artifacts, such as Mark Twain's Oxford gown and the 15 original Norman Rockwell paintings." Before leaving, the Museum staff presented the prince with a set of the Norman Rockwell illustrated editions of The Adventures of Tom Sawyer and Adventures of Huckleberry Finn.

"Providing a tour for Prince Albert was exciting," said curator Henry Sweets. "The knowledge he shared and the questions he asked indicated he had great interest in Twain.

The Prince's marriage to Wittstock will be the first of a sitting prince since Albert's father, Rainier III, married actress Grace Kelly in 1956. The prince and his princess-to-be, an Olympic swimmer from South Africa, will wed a few days earlier than originally announced. They were set to marry in a civil ceremony on July 8 and a religious ceremony on July 9 of next year, but the nuptials have been pushed up to July 2 and 3, according to a statement from the palace, so that the couple can attend the International Olympic Committee meeting in Durban, South Africa, from July 5 until 9.


STAR TREK FANS MATERIALIZE INTO LAS VEGAS
All things Star Trek beamed into Las Vegas this week-end for the world's largest Star Trek convention, which opened last Thursday at the Las Vegas Hilton and vaporizes today.

Highlights included an appearance by William Shatner and Leonard Nimoy yesterday and an appearance by Sir Patrick Stewart and Brent Spiner today.

Today Trekkers line up in an attempt to break the Guinness Book of World Records mark for the largest assemblage of costumed Star Trek fans, ever. The magic number needed to be surpassed is 507.

Props, costumes, production artwork, concept drawings, model spaceships and set décor have been on display for the entire event, culminating in an auction Sunday, August 8. Most notable among the lots is a pair of Spoke's ears, the only surviving translight panel from the Original Series bridge, the Captain Kirk spacesuit filming miniature from Star Trek: The Motion Picture and a Sulu tunic from the Original Series.

Exclusive to this auction are props and costumes used at Star Trek: The Experience, the interactive ride that ended its 11-year Vegas Hilton run two years ago. Included are complete set of Next Generation Enterprise D bridge furniture, an original Borg Queen costume and original Quark's Bar signs.

Celebrities participating in autograph sessions included: Anthony Montgomery, Armin Shimerman, Andrew Robinson , Aron Eisenberg, Avery Brooks, Bruce Greenwood, Bruce Hyde, Barbara Babcock, Barbara Baldavin, Barbara March, Brent Spiner, Brian Tochi, Casey Biggs, Craig Huxley, Cody Wetherill, Connor Trinneer, Dominic Keating, Ethan Phillips, Eric Menyuk, Garrett Wang, George Takei, Grace Lee Whitney, Gwynyth Walsh, Harry Groener, Hagan Beggs, James Darren, Jeffrey Combs, Jerry Hardin, Jennifer Lien, Jeri Ryan.

Also John Billingsley, John de Lancie, John Winston, Jonathan Del Arco, Jonathan Frakes, Julie Newmar, Kurt Wetherill, Leonard Nimoy, Marc Alaimo, Mark Robert Brown, Martha Hackett, Matt Winston, Michael Dorn, Nana Visitor, Naomi Pollack, Pamelyn Ferdin, Patty Yasatuke, Paul Comi, Randy Oglesby, Rene Auberjonois, Rick Worthy, Robert Picardo, Sir Patrick Stewart, Stewart Moss, Sally Kellerman, Salome Jens, Scarlett Pomers, Scott MacDonald, Stephanie Beacham, Steven Culp, Tim Russ, Todd Bryant, Tucker Smallwood, Walter Koenig, William Sadler and William Shatner.


MAE WEST BIRTHDAY CELEBRATED - NO STAMP, NO STATUE, NO FAN CLUB


It tough to keep a dead celebrity alive.



Mae West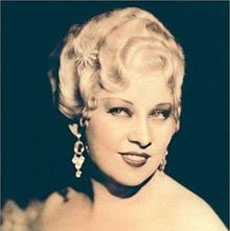 As a general rule of thumb dead celebrities get two parties each year - one to celebrate when they were born and the other to celebrate when that ceased.

Whether they are remembered on other days of the year has more to do with the profit margin for others, rather than the significance of their every lasting contributions.

Mae West's natal day will be celebrated August 17. She will also be feted in another send up on November 11 when it will be 30 years since the Brooklyn bombshell took her pithy one-liners to another plateau.

Fearless and ahead of the curve, her impact on pop culture ranks in the top five of lasting importance - along with the bromides of Confucius Says to Thomas Jefferson's quotes. Mae West's vocabulary contributions surpass those of Dorothy Parker.

While Ernest Hemingway has a week-end each year devoted to him and Shaw has a festival, Mae West reposes more under the radar. A natural for an annual look-alike contest, no event exists. Nor is her face on a postage stamp, or her image in any Madame Tusseaud's.

Ticked off about that lack of respect is LindaAnn Loschiavo who has spent years as the unofficial keeper of West's New York flame. Loschiavo has a Mae West blog and stages an annual birthday event. ( See Broadway To Vegas column of July 25, 2010 )



Mae West on stage in Las Vegas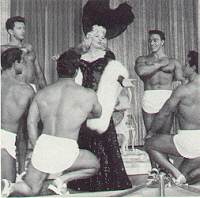 In 2004 Loschiavo and a group of New Yorkers complained to no avail in hopes of getting West's face on a U.S. Postage stamp. "It seems that everybody is still quoting her though no one in the Post Office is taking note of her," said Loschiavo, whose full-length play Courting Mae West is based on true events in the life of Miss West when she had been arrested and jailed as a Broadway star during the 1920s.

The U.S. Postal Department has befittingly honored screen legends Marilyn Monroe, James Dean, Audrey Hepburn, Cary Grant, Lucille Ball, James Cagney, Alfred Hitchcock, and Humphrey Bogart by issuing commemorative stamps depicting these adults.

Loschiavo emphasized that "none of the individuals honored in the Hollywood Legends postal series had written plays that they had performed in. However, Mae West penned Diamond Lil and many other plays that were staged on Broadway. Mae West also wrote her own movie dialogue for most of the nine films she appeared in."

"Most importantly, very few actors or actresses can come up to Mae's level for witty one-liners. Her clever sayings are still often quoted in books and newspaper articles to this day."

A sampling:

A hard man is good to find.

A woman in love can't be reasonable - or she probably wouldn't be in love.

An ounce of performance is worth pounds of promises.

Any time you've got nothing to do and lots of time to do it come on up.

Anything worth doing is worth doing slowly.

Between two evils, I always pick the one I never tried before.

Cultivate your curves - they may be dangerous but they won't be avoided.

Don't keep a man guessing too long - he's sure to find the answer somewhere else.

Don't marry a man to reform him - that's what reform schools are for.

He who hesitates is a damned fool.

I always say, keep a diary and someday it'll keep you.

I never loved another person the way I loved myself.

I never worry about diets. The only carrots that interest me are the number you get in a diamond.

I only like two kinds of men, domestic and imported.

I used to be Snow White, but I drifted.

I'll try anything once, twice if I like it, three times to make sure.

I'm no model lady. A model's just an imitation of the real thing.

I've been in more laps than a napkin.

It is better to be looked over than overlooked.

It's not the men in my life that count, it's the life in my men.

Look your best - who said love is blind?

Love conquers all things except poverty and toothache.

Love thy neighbor - and if he happens to be tall, debonair and devastating, it will be that much easier.

Marriage is a great institution, but I'm not ready for an institution.

When I'm good I'm very, very good, but when I'm bad, I'm better.

You only live once, but if you do it right, once is enough.



Auction description of statue: "Mae West looks sultry wearing a black floor length gown, black heels, and black feather boa as if she's about to say "Come up sometime and see me". This figure, designed by Leah DeLio, is one of the original figures of the Museum and revamped by Hollywood Wax Museum curator Ken Horn. The wax head was sculpted and portrait painted in oil and the figure stands 5 ft. 5 in. tall.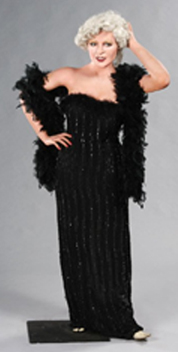 "Where isn't her wax figure in Madame Tussaud's?" questioned Loschiavo.

A wax image of her was once on display at The Hollywood Wax Museum but that 5 ft. 5 in. tall figure, designed by Leah DeLio, and revamped by Hollywood Wax Museum curator Ken Horn. was auctioned off in 2009.

Mae West played a role in the history of the United States. She changed law, made Cary Grant a star, life jackets were named after her, her double entendre bon mots are a vocabulary stables. She had a Vegas nightclub act and even wanted her own Vegas hotel. As she got older she attempted to stay current, but as a dead celebrity she is in the poor house.

The Roger Richman Agency was set up decades ago by Hollywood lawyer Roger Richman, a pioneer of celebrity rights legislation in the US. His agency held the rights to more than 50 deceased celebrities - from Mae West, the Marx Brothers, Steve McQueen, Vivien Leigh to Albert Einstein, Sigmund Freud, the Wright brothers and Isaac Asimov.

Corbis, the digital image company set up by Bill Gates in 1989, bought the Beverly Hills based Richman Agency. Reportedly their fee is a 20% cut of the profits from any endorsements, double the usual rate for a living celebrity endorsement.

A recent study by Forbes magazine found that the leading dead celebrity earner was Elvis Presley, who brought in $40m each year, followed by the Peanuts creator Charles Schulz, JRR Tolkien, and John Lennon.

The major reason dead stars such as Presley earn more dead than while they were alive is because there are people who inherit and executors who keep one eye on a balance sheet. West died childless. Her only close blood relative, a sister, followed her in death a year later. She left the bulk of her estate to her longtime companion, muscle man Charles Krauser, known professionally as Paul Novak. He died in 1999.

Locating an official Mae West fan club is a scavenger hunt.

"A corporate site run by the paid employees of Corbis (who controls Mae's estate now) claims to have an "official" fan club for Mae West, however, no such information appears on any page, Therefore, it is not necessary to list the URL," Loschiavo complained to Broadway To Vegas.



The iconic Mae West Divano, created by Dali. Based on the famous Mae West lips, Dali paid homage to her with an inspired and original artwork.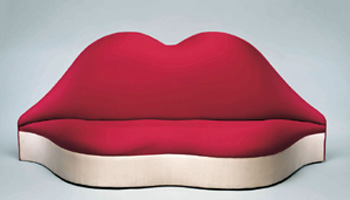 Recently West has been remembered in the current Dreamlands exhibition in Paris. The Espace Dali in Paris, France's only museum dedicated to Dali, loaned the iconic Mae West Divano, created by the Catalan genius during the 1940's, to the Dreamlands exhibition. Organized by the Pompidou Centre, and on display at the Grande Galerie of the Pompidou Centre, the exhibition opened in May and closes tomorrow, August 9.

Based on the famous American actresses' sensual lips, Dali paid homage to Mae West with an inspired and original artwork.

The Dreamlands exhibition is billed as seeking "to show how cities such as Las Vegas and Dubai, where the concept of reality has become completely blurred, have changed our aesthetic perception of urban spaces. World Fairs, amusement parks contemporaries, the Las Vegas of the 1950s and 1960s, Dubai's twenty-first century: these projects have contributed to profound changes in the world and our relationship to geography, time and history, notions of original and copy, art and non-art."

"From the Pavilion of Venus by Salvador Dali designed for the International Trade Fair New York 1939, Learning From Las Vegas (Teaching Vegas) architects Robert Venturi and Denise Scott Brown, and Delirious New York Rem Koolhaas (which emphasizes the kinship between Manhattan and the Dreamland amusement park), the sixteen sections of the exhibition retrace the steps of a complex and problematic concept.

It appears that keeping Mae West alive after death has also become a problematic concept."


SWEET CHARITY


WICKED special Actors Fund performance takes place Sunday, August 15, at The Gershwin Theatre, NYC.

PUT ON A HAPPY FACE and get ready to have a Supercalifragilisticexpialidocious night at the theater with Dick Van Dyke and the Vantastix! Proceeds benefit the Geffen Playhouse and Determined to Succeed. Special Benefit Concert, Saturday August 14. Champagne and dessert reception to follow In the Gil Cates Theater at the Geffen Playhouse, Los Angeles.

PRESIDENT BARACK OBAMA AND FIRST LADY MICHELLE OBAMA have been announced as the honorary chairs for the Tony Award-winning Arena Stage's black-tie Gala re-opening at the Mead Center, in Washington, DC. The Opening Gala Celebration is slated for October 25.

Adrian Fenty, Mayor of the District of Columbia, and his wife, Michelle Fenty, will be honorary co-chairs.

The evening will feature cocktails, dinner and an exclusive one-night-only performance headlined by Tony Award-winning Broadway actor Brian Stokes Mitchell.






SPREADING THE WORD


NEIL PATRICK HARRIS

Neil Patrick Harris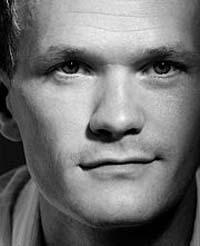 has been making his directorial debut this week-end, helming Jonathan Larson's Tony and Pulitzer Prize-winning Rent at the Hollywood Bowl.

The final performance takes place tonight.

The cast features actress Vanessa Hudgens as Mimi, Emmy winner and Grammy nominee Wayne Brady as Tom Collins, Aaron Tveit as Roger, Skylar Astin as Mark, Nicole Scherzinger as Maureen, Collins Pennie as Benjamin ("Benny") Coffin III, Tracy Thoms as Joanne, Telly Leung as Angel with original Broadway Rent performer Gwen Stewart.

The ensemble includes Yassmin Alers, Eric B. Anthony, King Aswad, Susan Beaubian, David Burtka, Kathy Deitch, Sam Given, Rachael Harris, Tricia Kelly, Ethan Le Phong, Kristolyn Lloyd, Zarah Mahler, Laura Mixon, Jason Paige, MiRi Park, and Brandon Wardell.

The show had a two-week rehearsal period. Harris, 37, has been quoted as explaining that he deliberately paired cast members matching "someone who hasn't done the show and someone who had."

The massive Hollywood Bowl required the addition of 10 people to the cast and 7 or 8 more to the band, resulting in new orchestrations.

RIGHT, WRONG OR DEBATABLE? This four-day theater seminar explores the complex world of ethical and moral conundrums presented in plays by George Bernard Shaw, his contemporaries, and one of England's most influential contemporary playwrights, Caryl Churchill.

Five plays, in-depth presentations, panels, discussions, play-readings, and lectures with theatre company members and world-renowned experts on Shaw.

Plays presented and discussed include: Serious Money, The Cherry Orchard, An Ideal Husband, Half an Hour, and The Doctor's Dilemma. Thursday to Sunday, August 12-16 as part of the Shaw Festival in Ontario, Canada.

HAO TIAN is a 22-year-old musician from Chengdu, China who is basking in headlines and applause after thrilling audiences playing Clarinet Concerto No.2 in Eb, Op.57 - a masterpiece by Louis Spohr. The last time that melody played in China was 28 years ago, when US clarinetist John Denman held his solo concert in Beijing. Clarinet Concerto No.2 in Eb, Op.57 requires skilled breath control and is generally known as the most difficult musical work for clarinet playing.

Hao's solo concert took place at the Pride Music Hall in Chengdu. Among the audience were China's "most esteemed musicians and scholars," including Jin Zhaojun, editor-in-chief of People's Music, Prof. Tao Chunxiao from the Central Conservatory of Music, and Prof. Huang Yuanfu, director of China Clarinetists Association.

The host conductor of the solo concert Russell Vinick also gave a thumb up for Hao Tian. "He is a highly gifted young performer," he told the press, "and has shown maturity beyond his age. I am impressed by his exquisite skills playing the Louis Spohr."

The concert called Dreams on the Clarinet, was sponsored by China Clarinet Academic Association, American-Chinese Cultural Exchange Center and Sichuan Music Society. The program included Hao performing classic works by Johannes Brahms, Jean Francaix, Louis Spohr and Franz Vinzenz Krommer. Hao is now touring in the United States.

TOM JONES the book writer and lyricist for I Do! I Do! and Fantasticks will join Westport Country Playhouse associate artistic director David Kennedy for a chat about his lengthy career. August 15 at the Westport Country Playhouse in Westport, Connecticut. That venue will stage I Do! I Do!, starring Tony Award nominee Kate Baldwin and Drama Desk Award nominee Lewis Cleale beginning August 10.

KISSING!!!

Getting lip locked in Times Square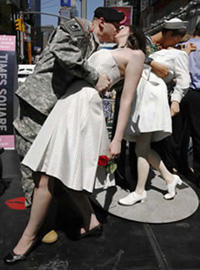 Couples from all generations and all corners of the world are invited to find their place in history and step into the shoes of the WWII generation by joining in on a reenactment of the 65th anniversary of the legendary lip-lock in Times Square, NYC

Hundreds of people will recreate the famous victory kiss between a U.S. sailor and nurse, captured forever on the cover of Life Magazine, at the very spot that symbolic kiss of peace took place in 1945.

Maybelline will have a booth where New York makeup artists will be on hand to provide lip touch-ups and help you get camera ready. Professional photographers will capture post-makeover shots for your chance to be featured on the JVC digital billboard in the heart of Times Square. Plus, meet and get your photo taken with Dancing with the Stars' Maksim Chmerkoskiy.

Plus, national grassroots campaign, Keep the Spirit of '45 Alive! will feature live music from the WWII era, guest speakers reflecting on the significance of this historical day, and a remembrance of the fallen represented by children of servicemen who lost their lives in the war.

Saturday, August 14, Times Square, NYC.

Plus, national grassroots campaign, Keep the Spirit of '45 Alive! will feature live music from the WWII era, guest speakers reflecting on the significance of this historical day, and a remembrance of the fallen represented by children of servicemen who lost their lives in the war.






OTHER PEOPLE'S MONEY


ARENA STAGE the Tony-Award winning theater in Washington, DC is adding five playwrights to its employment roster, providing the scribes with salary, benefits, and even office supplies thanks to a grant from the Mellon Foundation.

The plan will be administer through Arena's American Voices New Play Initiative.

Each of the selected playwrights will be given what Arena terms a "living" wage - estimated elsewhere to be in the mid-five-figure range - health insurance, other benefits and a $15,000 annual budget for development. This constitutes a radical departure from the current model for new play development, under which theaters either commission a play or pay a royalty for a playwright's completed work.

The five playwrights who Arena is employing under the grant are Amy Freed, Katori Hall, Charles Randolph-Wright, and Karen Zacarias.

The primary purpose of the residency according to Arena "is to write plays and to advance professional outcomes for the participating writers, as well as to help Arena Stage test and develop best practices for such residencies in theaters around the country. The playwrights will determine their individual involvement in the life of the theater company. Ultimately, Arena Stage hopes the Institute will make the case for the power, practicality and impact of resident playwrights in regional theaters nationwide."


GET WELL SOON TO ...


ARETHA FRANKLIN recovering after breaking two ribs in a fall at her home. The 68-year-old also suffered abdominal pain and has been advised by doctors to undergo further medical tests. Franklin said in a statement that she hoped to be able to reschedule the performances within weeks.



KEITH LOCKHART 50, has been appointed the seventh principal conductor of the BBC Concert Orchestra. Lockhart has been a conductor with the Boston Pops Orchestra since 1995 and will continue that post after he joins the London orchestra. Austria's Johannes Wildner, meanwhile, has been signed as principal guest conductor with the orchestra.

GREGG BARNES AND PATRICIA CONOLLY he - the Tony Award-winning costume designer, and she - the actress, have been named Associate Artists of The Old Globe, in San Diego. The prestigious honor recognizes their unique contributions to the theatrical institution.

Other actors, directors and designers who have received the honor of being named Associate Artists of The Old Globe include Kandis Chappell, Richard Easton, Tovah Feldshuh, Robert Foxworth, Ralph Funicello, Lillian Garett-Groag, Harry Groener, A.R. Gurney, Mark Harelik, Dakin Matthews, Jonathan McMurtry, Marion Ross, Ken Ruta, Seret Scott, David Ogden Stiers and Robert Wojewodski.

PLAYWRIGHT THERESA REBECK has been named an associate artist of roundabout Theatre Company as part of an "expansion of initiatives" to support dramatists and new works.

The appointment of Rebeck marks the first time a playwright joins a group of associate artists that includes Scott Elliott, Bill Irwin, Joe Mantello, Mark Brokaw and Kathleen Marshall.

In addition to bringing Pulitzer Prize-finalist Rebeck into the company, Roundabout will produce a new play by David West Read, The Dream of the Burning Boy, in spring 2011 for its Roundabout Underground program.


CURTAIN DOWN


LEND ME A TENOR will play its final performance on Sunday, August 15. The production will have played 153 performances and 24 previews at the Music Box Theatre.



CHESS book by Richard Nelson. Music by Björn Ulvaeus and Benny Andersson. Lyrics by Tim Rice. Based on an Idea by Tim Rice. Directed by Eric Schaeffer.

1988. The two greatest chess masters – one American, one Russian – competing to be the best in the world. And yet their greatest contest is for the love of the same woman.

Amidst political intrigue and international conspiracies, American Freddie Trumper and Russian Anatoly Sergievsk fight to take the queen in a romantic triangle that mirrors the heightened passions of the Cold War.

Featuring the hit single One Night in Bangkok, and unforgettable songs like Anthem, I Know Him So Well, Nobody's Side, and Pity the Child.

The show stars Jill Paice, Euan Morton and Jeremy Kushnier.

This is the first major American production of Chess in almost 20 years. Originally produced on Broadway in 1988, this Tony-nominated cult rock musical explores the classic themes of love, loss and betrayal.

At the Arlington, VA's Signature Theatre, August 10 – September 26, 2010.

INTOLERANCE a new half-hour operatic monologue with a libretto by Mark Ravenhill and music by Conor Mitchell, will premiere at London's Riverside Studios. The piece will be performed by Rebecca Caine, who created the role of the adult Cosette in the world premiere of Trevor Nunn and John Caird's production of Les Miserables in 1986.

Breakfast. Quiet. A middle-class kitchen, a middle-class life, a middle-class woman and a pro-biotic yoghurt. Adapted from the play of the same name it tells Helen's story. Her perfect routine, her caffeine intolerance - her perfect husband and her other, darker intolerance.

Intolerance is the first of three from the operatic triptych The Headless Soldier.

Come dressed as a sailor or a mermaid and get in for free - "but only if the Box Office staff think you look really really good."

Running for two performances only August 12 and 13 as part of the venue's Tête à Tête festival of new opera.

ANNIE GET YOUR GUN Music and Lyrics by Irving Berlin Book by Herbert & Dorothy Fields. Staged concerts directed by Lonny Price take place at the Ravinia Festival August 13-15.

Celebrating the 150th birthday of Annie Oakley, the concerts will boast the Chicago Symphony Orchestra conducted by Paul Gemignani. The production stars Olivier and two-time Tony winner Patti LuPone as the sharp-shootin' Annie Oakley, Patrick Cassidy as Frank Butler and Tony winner George Hearn as Buffalo Bill Cody.

They will be joined by Joseph Foronda as Chief Sitting Bull, Michael Weber as Charlie Davenport, Suzanne Sole as Dolly Tate and Michael Accardo as Wilson/Pawnee Bill. Also part of the cast will be Kamilah Lay as Jessie, Annie's sister; Elianna Kate Schnittman as Nellie, Annie's sister; Major Curda as Little Jake, Annie's brother; Josh Johnston as Mac; and Justin Stein as Hank.

The female ensemble will comprise Chelsea Barker, Amy Brophy, Cindy Chang, Kelly Anne Clark, Elana Ernst, Laura Freeman, Jacqui Graziano, Hallie Metcalf, Johanna McKenzie Miller, Rose O'Hara and Genevieve VenJohnson.

The male ensemble will include Alexander Aguilar, John Michael Coppola, Adam Estes, Dan Ferretti, Wayne Hu, Josh Johnston, James Earl Jones, Justin Stein, Lee Alan Wilkins, George Wolff and Zach Zube. The trio will feature Wayne Hu, James Earl Jones and George Wolff.

DINNER WITH FRIENDS Winner of the 2000 Pulitzer Prize written by Donald Marguiles. Directed by René J. F. Piazza.

Gabe and Karen, a happily married middle-aged couple, have been friends with Tom and Beth, another married couple, for many years. While having dinner at Gabe and Karen's home one night, Beth tearfully reveals that she is getting a divorce from Tom, who has been unfaithful. Over the course of the play, we see both couples at different ages and stages of their lives, and we witness the effects of Tom and Beth's breakup on Gabe and Karen, who first feel compelled to choose sides, and then begin to question the strength of their own seemingly tranquil marriage.

August 12 - 28, 2010 Actors Theatre of New Orleans, LA.

SISTER ACT THE MUSICAL the London production, welcomes Award-winning actress Whoopi Goldberg to the cast as Mother Superior. Goldberg originated the role of Deloris Van Cartier in the 1992 film of the same name. Whoopi will succeed Sheila Hancock in the role of Mother Superior August 10 and play a limited run through August 31.

Goldberg is also a producer of the stage production.

JUST IN TIME: THE JUDY HOLLIDAY STORY written and directed by Bob Sloan. The production is billed as "a look at the beloved comic actress and singer of stage and screen." Marina Squerciati will star as Holliday opposite a cast including Mary Gutzi, Adam Harrington and Catherine LeFrere.

Performances at The Soho Theatre August 15-28 as part of the 2010 New York International Fringe Festival.

ROMANCE by David Mamet. Directed by Lisa Peterson.

Mamet madness! This courtroom farce is a roller coaster ride in which Chiropractors, Catholics, Episcopalians, Jews, Gays, Lawyers, Blacks, Shakespeare and even World Peace are all skewered as only Mamet can. An outrageously zestful comedy - joyfully vicious. Inspired Mamet at his most adept. Leave your 'politically' correct' hat at home!

Starring Richard Kind and Reg Rogersin, as well as Chris Bauer, Darrell Hammond. Matt McGrath and Joey Slotnik.

Performances begin August 10 running through September 5 at the Bay Street Theatre in Sag Harbor, NY.

I DO I DO Book and lyrics by Tom Jones. Music by Harvey Schmidt. Directed by Susan H. Schulman.

This joyful musical, a Broadway hit by the authors of the popular The Fantasticks, spans fifty years in the marriage of Agnes and Michael. One man, one woman and a slew of captivating songs encompass all the richness and variety of experience inherent in taking the plunge into a life spent with someone you love.

August 10-28 at the Westport Country Playhouse in Westport, CT.

TRUST a new play by Oscar-nominated Paul Weitz. Directed by Peter DuBois

Starring Zach Braff, Bobby Cannavale, Sutton Foster and Ari Graynor.

Harry is rich. Harry is married. But when Harry doesn't trust any of it is enough, he looks to find something real in the most unlikely of places. Trust explores the corrosive effect of power on relationships.

Scenic design by Alexander Dodge, costume design by Project Runway runner-up Emilio Sosa, lighting design by David Weiner, and sound design by M.L. Dogg.

Officially opens August 12 at 2 Second Stage Theater in NYC with performance extended through September 12.

WINTER'S DISCONTENT by William Zappa, considered one of Australia's finest actors and playwrights.

Directed by Maeliosa Stafford.

Starring William Zappa and Jeanette Cronin.

In a dressing room backstage of a run down theatre sits Robert Winter. He is on an interminable tour of the one man show, Eleven Episodes from the Torture, Trial and Execution of Monsieur Thenardier, based on the villain from Victor Hugo' s Les Miserables.

With only his stage manager, Mo, for company, the line between reality and playacting becomes blurred as Winter struggles to believe in his life and to live up to his theatrical creed, 'the show must go on'.

Previews begin August 10 with a run through August 22 at Darlinghurst Theatre in NSW, Australia.





WHO'S WHERE


JUSTIN BIEBER will have his fans screaming at the Gwinnett Center in Duluth, GA on Monday, August 9. On Wednesday the hour stops at the Bridgestone Arena in Nashville. Thursday finds him at the Conseco Fieldhouse in Indianapolis. On Saturday the show is at the Schottenstein Center in Columbus, OH. Next Sunday, August 15, he entertains at The Palace of Auburn Hills in Auburn Hills, MI.

HARRY CONNICK, JR begins a two night stand Friday, August 13, at the Hollywood Bowl in Los Angeles.

CLAY AIKEN has a busy week. The incredible performer is in the spotlight Tuesday, August 10, at the Hampton Beach Casino Ballroom in Hampton Beach, NH. On Wednesday he'll be delighting the happy crowd at the Hammerstein Ballroom in New York City. Thursday finds his tour stopping at Turning Point Resort in Verona, NY. On Friday the show is at the Horseshoe Casino in Hammond, IN. He closes out the week Saturday with a show at Beau Rivage in Biloxi, MS.

FOREIGNER appearing with Styx at the Borgata Hotel in Atlantic City on Friday, August 13.

LYLE LOVETT entertains Monday, August 9, at the Kresge Auditorium in Interlochen, MI. On Tuesday the show is at Massey Hall in Toronto, ON. Wednesday's gig is at the Lifestyle Communities Pavilion in Columbus, OH. On Friday he appears at Lowell Summer Music Series in Lowell, MA. Saturday the tour stops at the Performing Arts Center in Westhampton Beach, NY.

FILM NIGHT AT TANGLEWOOD Boston Pops Concert. One of the season's most popular traditions, the annual Film Night concert is a celebration of music from the movies. In his 30th summer at Tanglewood, John Williams presents a memorable evening that recreates some of the great musical moments in Hollywood history Saturday, August 14, The Shed at Tanglewood in Lenox, MA.

WEDNESDAY NIGHT AT THE IGUANA with hosts MAC Award winners Dana Lorge and Richard Skipper. Wednesday's guests include: Bobbie Horowitz, Leslie Orofino, David Sloan and Frank Torren August 11 at the Iguana VIP Lounge, NYC.

RIHANNA on stage Wednesday, August 11 at the Mohegan Sun Arena in Uncasville, CT. On Thursday she's in the spotlight at Madison Square Garden Arena in NYC. Saturday finds her at the Borgata Hotel Event Center in Atlantic City.

MAROON 5 performs Wednesday, August 11 at Jones Beach Theater in Wantagh, NY. On Friday their show is at Jiffy Lube Live in Bristow, VA. On Saturday their tour stops at the Susquehanna Bank Center in Camden, NJ.

BACKSTREET BOYS are in Canada this week performing Monday, August 9, at Rexall Place in Edmonton, Alberta. On Wednesday they're on stage at the MTS Centre in Winnipeg. Saturday the show is at the Molson Canadian Amphitheatre in Toronto.

KISS performs their hits Monday, August 9, at the Indiana State Fairgrounds in Indianapolis, IN. On Tuesday they'll bring their made-up faces to the Essar Centre in Sault Ste. Marie on Ontario. On Friday the energetic group will be in high gear at the Darien Lake Performing Arts Center in Darien Center, NY. Saturday finds them at Jones Beach Theater in Wantagh, NY.

NATALIE MERCHANT performs Monday, August 9, at The Mountain Winery in Saratoga, CA. On Tuesday she's on stage at the Wells Fargo Center for the Arts in Santa Rosa, CA. On Friday the tour stops at the Orpheum Theatre in Los Angeles. Saturday's show is at the Spreckels Theatre in San Diego.

WILLIE NELSON on stage Wednesday, August 11, at the Merrill Auditorium in Portland, MD. On Thursday he performs at Cape Cod Melody Tent in Hyannis, MA. Friday's show is at House of Blues at Foxwoods in Boston. Saturday Willie's tour stops at the Meadows Casino in Washington, PA.

JAMIE CULLUM appearing at Jazz In Marciac on August 12 in Marciac, France. On Saturday he performs at Kingdom Kenwood House in London.

B.B. KING AND BUDDY GUY on stage Wednesday, August 11 at the Hollywood Bowl in Los Angeles. On Thursday the show is at the San Manuel Indian Casino in Highland, CA. Friday finds them at the Chumash Casino in Santa Ynez, CA. They close out the week on Saturday with a show at Harrah's in Valley Center, CA.

BRET MICHAELS on stage Monday, August 9, at the Fifth Third Ballpark in Comstock Park, MI. On Friday he appears at Rockin The Rivers in Three Forks, MT. On Saturday's he performs at the Wisconsin State Fair in West Allis, WI.

LADY GAGA opens a two nighter Wednesday, August 11, at the Staples Center in Los Angeles. On Friday the show is in Las Vegas at the MGMG Grand Garden Arena.




FINAL OVATION


MITCH MILLER

Mitch Miller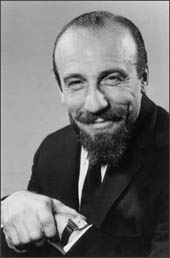 record producer, conductor, recording artist and television star died Saturday, July 31, 2010, at Lenox Hill Hospital in Manhattan. He was 99.

He is considered one of the most influential figures in American popular music during the 1950s and early 1960s. He defined the Columbia Records' style through the early 1960s - both as the head of A&R at Columbia Records and as a best-selling recording artist. He is sometimes thought of as the creator of what would become karaoke with his NBC-TV series, Sing Along with Mitch.

Born in Rochester, NY on July 4, 1911, Miller graduated from the Eastman School of Music of the University of Rochester. In the early 1930s, Miller began his music career as an accomplished player of the oboe and English horn. But he is best remembered as a conductor, choral director, television performer and recording executive.

Miller received the Grammy Lifetime Achievement Award in 2000.

He is survived by his daughter Margaret Miller Reuther.

TOM MANKIEWICZ a screen writer and script doctor who penned the book to the Broadway musical Georgy died July 31, 2010 at his home after battling cancer. He underwent the Whipple operation, which is used to treat pancreatic cancer, three months ago. He was 68.

He is best known for his work on the James Bond films and his contributions to Superman: The Movie and the television series, Hart to Hart.

Mankiewicz was born in Los Angeles on June 1, 1942 to Austrian-born actress Rose Stradner and the celebrated screenwriter/director Joseph L. Mankiewicz who won four Oscars in two years for the screenplays and direction of A Letter to Three Wives and All About Eve. The young Mankiewicz was a graduate of Yale where he majored in drama, completing the first two years of the Yale Drama School while still an undergraduate.

Writing the book for the musical version of Georgy Girl, launched his career as a re-write man. Georgy Girl opened on Broadway in 1970. During its three-day run, producer Albert R. "Cubby" Broccoli had been in the audience, looking for a rewrite man. Mankiewicz got the job.

Mankiewicz had a home in Kenya, East Africa, for eight years. He served on the Board of Directors of the William Holden Wildlife Foundation, based there. For the past decade he had been closely involved with the Los Angeles Zoo, and is was Chairman of the Board of Trustees of the Greater Los Angeles Zoo Association.

He was an owner of thoroughbred race horses, having first partnered with actor Robert Wagner, then with A&M Records co-founder Jerry Moss, and later racing under his own silks. He was a past member of the Board of Directors of the Thoroughbred Owners of California.

Mankiewicz remained active in the Writer's and Director's Guilds and was a former member of the Board of Governors of the Motion Picture Academy of Arts and Sciences.

Mankiewicz is survived by his brother Christopher, a producer and actor; his sister Alexandra; and his stepmother, Rosemary Mankiewicz.




Next Column: August 15, 2010
Copyright: August 8, 2010. All Rights Reserved. Reviews, Interviews, Commentary, Photographs or Graphics from any Broadway To Vegas (TM) columns may not be published, broadcast, rewritten, utilized as leads, or used in any manner without permission, compensation and/or credit.
Link to Main Page
---
Laura Deni



For the snail mail address, please E-mail your request.
CLICK HERE FOR COMMENT SECTION