! >
Broadway To Vegas
  
 SHOW REVIEWS CELEBRITY INTERVIEWS GOSSIP NEWS

| | |
| --- | --- |
| | |
ANDREW LLOYD WEBBER AND TIM RICE RE-DO THE WIZARD OF OZ - - HARRY POTTER THE EXHIBIT - - HEART AND SOUL CELEBRATING THE UNFORGETTABLE SONGS OF FRANK LOESSER CD - - GEORGE CLOONEY HONORED - - MUSIC AND SOUND INVENTIONS - - FOR THE PLEASURE OF SEEING HER AGAIN - - SALLY STRUTHERS AS THE FAIRY GODMOTHER - - HOT AUGUST DAYS FILLED WITH COOL ENTERTAINMENT - - DONATE . . . Scroll Down


DOWN THE YELLOW BRICK ROAD - ANDREW LLOYD WEBBER RE-DOES WIZARD OF OZ
When Andrew Lloyd Webber announced that he intended to re-make The Wizard of Oz a segment of the populations expected him to be struck by lightening. Considered one of the 100 greatest films ever made, hisses of sacrilege mellowed to curiosity when the production company announced that the beloved songs and characters will remain intact.

The Wizard of Oz is having it's yellow brick road not so much re-paved as pot-hole filled.

"Developed from the ever popular MGM screenplay this new production contains all the much-loved songs from the Oscar winning movie score, all the favorite characters and iconic moments," proffered the production company. Critics were placated.

Webber's new mounting is touted as "an enchanting adaptation of the all time classic, totally reconceived for the stage by the award-winning creative team that delighted audiences of all ages with their recent London Palladium revival of The Sound of Music.

Webber isn't doing this all by himself. Rather - after 34 years - this project has reunited him with Tim Rice in what Britain's Daily Mail described as "The most eagerly awaited reunion in the history of musical theatre."

What is being emphasized is that their compositions will be in addition to - plug ins to the classic songs contained in the movie.

The Wizard Of Oz has never really worked in the theatre, Webber told the newspaper. "The film has one or two holes where you need a song. For example, there's nothing for the two witches to sing."

Not until now.



Danielle Hope beat out 9,000 girls to win the part of Dorothy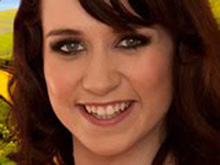 "Tim and I are doing quite a specific thing, because we know what's missing."

In March 2010 Webber began the search for a Dorothy to star in this new West End production via his new BBC 1 show Over The Rainbow. Danielle Hope is the one selected to wear the red slippers. On July 22 Webber announced that runner up Sophie Evans, will play Dorothy during selected performances beginning March 8, 2011 when Danielle is away.

Webber is also helping Sophie to continue her career, funding her on a year-long musical theatre training course starting in September at the Arts Educational School.

The new stage version of The Wizard of Oz is currently booking to begin performances February 7, 2011 at the London Palladium, which is owned by Lloyd Webber. The official opening is set for March 1, 2011.



Broadway To Vegas is supported through advertising and donations. Priority consideration is given to interview suggestions, news, press releases, etc from paid supporters. However, no paid supporters control, alter, edit, or in any way manipulate the content of this site. Your donation is appreciated. We accept PAYPAL. Thank you for your interest.


ART AND ABOUT


HARRY POTTER THE EXHIBIT in this exhibition, guests will get an up close and personal look at the artistry and craftsmanship that went into creating the iconic props and costumes that appeared throughout the Harry Potter films.

In a 1,541 square yards exhibit space, Harry Potter: The Exhibition features authentic film artifacts displayed in immersive settings inspired by the film sets - including the Great Hall, Hagrid's Hut and the Gryffindor common room. Visitors will also be able to try their hand at some of the activities experienced by students at Hogwarts such as pulling a screaming mandrake from its pot or tossing a Quaffle through a Quidditch goalpost.

Some of the key artifacts on display include Professor Snape's robes; Professor Trelawney's crystal ball and exotic wardrobe; costumes and props from Professors Lupin, Lockhart and Umbridge; props and artifacts from the Yule Ball, including costumes from notable characters such as Harry Potter, Ron Weasley, Hermione Granger and Professor Dumbledore; and life-size centaurs, a caged dragon, Buckbeak the Hippogriff and a giant Acromantula spider.

Harry Potter: The Exhibition was created by Las Vegas based GES in partnership with Warner Bros. Consumer Products. Currently the exhibition is on display at the Ontario Science Centre Toronto, Canada through August 22, 2010.

After its run at the Ontario Science Centre, the exhibition will be displayed in other major cultural and entertainment venues, museums and institutions worldwide.



THE MUSIC GOES ROUND AND ROUND


HEART AND SOUL - CELEBRATING THE UNFORGETTABLE SONGS OF FRANK LOESSER The legendary composer and lyricist Frank Loesser wrote over 700 songs and five Broadway musicals, contributed to music and lyrics to dozens of Hollywood films, and was awarded an Oscar, a Grammy, two Tony awards, and a Pulitzer Prize along the way. He was also a tireless contributor to the war effort in World War II.

All of that is reflected in this CD which was released by Masterworks Broadway in honor of the 100th anniversary of the composer's birth. The all-new collection brings together classic pop recordings of many of Loesser's most enduring hits - a lovely overview of Loesser's accomplishments, which also offers a glimpse into arrangements and tempos of various musical eras.

Featuring songs composed by Loesser working with Jule Styne, Hoagy Carmichael and James Francis McHugh.

The artists include Helen Forrest, Bea Wain, Della Reese, Tony Scott, Benny Green, Budd Johnson, Jimmy Jones, Freddie Green, Sarah Vaughan, J. C. Heard, Billy Pickles Taylor Jr., Miles Davis, Johnny Mathis, Dinah Shore, Pearl Bailey, Hot Lips Page, Doris Day, Barry Manilow, Vic Damone and Michele Lee.

The famed conductors include Harry James, Larry Clinton, Glenn Osser, Kay Kyser, Vaughn Monroe, Sonny Burke, Ray Ellis, David Rose, Frank De Vol, Don Costa and Arthur Fiedler.

Orchestra/Ensemble: Harry James Orchestra, Larry Clinton Orchestra, Kay Kyser Orchestra, Vaughn Monroe Orchestra, Four Lads, Ray Ellis Orchestra, David Rose Orchestra, Frank De Vol Orchestra and the Boston Pops

Born June 29, 1910, in New York City, Frank Loesser died way too soon in 1969, a victim of cancer. He's been called the most versatile of all Broadway composers. His five Broadway musicals, each a unique contribution to the art of the American musical theatre, were as different from each other as they were from the theatre of their day: Where's Charley?, Guys And Dolls, The Most Happy Fella, Greenwillow and How To Succeed In Business Without Really Trying.

Loesser left his beloved New York City for Tinsel Town when he contracted Universal Pictures in 1936. Then he worked for Paramount Pictures He wrote the lyrics for numerous songs during this period, including the first three tracks which are led off by I Don't Want to Walk Without You, with Helen O'Connell backed by Harry James and His Orchestra.

Della Reese puts an emotional spin on Two Sleepy People, reminding listeners that long before she starred in Touched By An Angel she was a major singing star.

During World War II, Loesser served in the Army Air Force as a song writer, penning several popular songs including Praise the Lord and Pass the Ammunition which is heard on this CD. Praise the Lord had personal significant for Loesser, since it was the first song in which he composed both melody and lyrics.

Following Loesser's discharge struggling young producers Cy Feuer and Ernest Martin convinced him to create a score for their projected Broadway musical of Charley's Aunt, called Where's Charley? It opened October 11, 1948, and became Frank's first smash hit, giving star Ray Bolger his greatest stage success. With a score that included Once in Love with Amy; My Darling, My Darling and Make a Miracle, which proved that Frank was more than just another pop tune writer from Hollywood. A spirited medley is presented on this CD by The Four Lads.

A smoky, romantic delivery is delivered by Johnny Mathis on What Are You Doing New Year's Eve?

I Wish I Didn't Love You So showcased the beauty of Dinah Shore's voice and should remind listeners of what a delight it was to hear her sing.

Loesser's Guys and Dolls was one of the great masterworks of American theatre. It opened November 24, 1950, and quickly became a theatrical landmark, winning the Tony Award for Best Musical. Luck Be a Lady, performed by Barry Manilow is the number selected to represent that musical.

Frank then took four years to write not only the score, but also the book for his next show, which he called an "extended musical comedy," The Most Happy Fella, which opened May 3, 1956, and ran two years. It was the first show recorded in its entirety by Columbia Records. Hit songs included Standing on the Corner which is captured on this recording by The Four Lads, whose original recording of the song became one of their signature songs.

Reluctant to ever repeat himself, he decided on a simple, country musical fable, Greenwillow, for his next project. In spite of seven Tony nominations, it faltered and ran only 95 performances in 1960. Years later, Barbra Streisand made a hit song out Never Will I Marry presented on this CD by the powerful and pure voice of Vic Damone.

On October 14, 1961, Frank bounced back with How To Succeed In Business Without Really Trying, which won the Pulitzer Prize and seven Tony Awards, including Best Musical. It ran four years on Broadway. That score is represented on this CD through I Believe in You sung by Michelle Lee who dazzled the audiences as Rosemary in the original Broadway production.

In the midst of all this stage work, Frank returned to Hollywood and created one of his best loved scores for the 1952 film Hans Christian Andersen, which featured such songs as Wonderful Copenhagen, Anywhere I Wander, The Inch Worm and Thumbelina, which was nominated for an Academy Award.

A magnificent Hans Christian Anderson medley performed to perfection by the Boston Pops Orchestra, conducted by Arthur Fiedler, closes out this memorable CD.

Track List:

1. I Don't Want To Walk Without You - From the Film Sweater Girl - Helen Forrest, Harry James and His Orchestra.
2 Heart and Soul - From the Film A Song Is Born - Larry Clinton and His Orchestra
3 Two Sleepy People - From the Film Thanks for the Memory - Della Reese
4 Praise the Lord and Pass the Ammunition - Kay Kyser
5 Can't Get Out of This Mood - From the Film Seven Days Leave - Sarah Vaughan
6 Let's Get Lost - From the Film Happy-Go-Lucky - Vaughn Monroe and His Orchestra
7 What Are You Doing New Year's Eve? Johnny Mathis
8 Spring Will Be a Little Late This Year - From the Film Christmas Holiday - Sarah Vaughan
9 I Wish I Didn't Love You So - From the Film The Perils of Pauline - Dinah Shore
10 Baby, It's Cold Outside - From the film Neptune's Daughter - Hot Lips Page & Pearl Bailey
11 Where's Charley? (Medley) - From the Musical Where's Charley - Ray Ellis And His Orchestra & The Four Lads
12 I've Never Been In Love Before - From the Musical Guys and Dolls" - Doris Day
13 Luck Be a Lady - From the Musical Guys and Dolls) - Barry Manilow
14 Standing On the Corner - From the Musical The Most Happy Fella - Ray Ellis And His Orchestra & The Four Lads
15 Somebody Somewhere - From the Musical The Most Happy Fella - Doris Day
16 Joey, Joey, Joey - From the Musical The Most Happy Fella - Johnny Mathis
17 Never Will I Marry - From the Musical Green Willow - Vic Damone
18 I Believe In You - From the Musical How to Succeed In Business Without Even Trying - Michele Lee
19 Medley from the film Hans Christian Andersen Boston Pops Orchestra & Arthur Fiedler

Released by Masterworks Broadway - available as a digital download, or as a disc-on-demand from Arkivmusic.com.


HOT AUGUST DAYS FILLED WITH COOL CLEVER ENTERTAINMENT PROMOTIONS


If you're a virgin over the age of 21 (yeah, sure), prefer to worship the American automobile or have a thing for scarecrows - August is your month.

In honor of Mae West's upcoming birthday, both the pure and the (ahem) "experienced" are welcome to enjoy the music once performed by Mae West, Empress of Sex, and Sophie Tucker, the Last of The Red Hot Mamas.

The general public will pay $15 each to enjoy the Annual Mae West Birthday Tribute - but virgins (who are over 21 years of age) will be admitted free to the birthday bash on Saturday, August 14th at the Actors Temple in New York City, where Sophie Tucker was one of their first vaudeville members in 1923.

Mind reader Garside the Great - a purity detective imported from Coney Island - will be stationed at the door to determine who is naughty and who is snow white.

Mae West once said, "I was snow white but I drifted."

Continuing her custom of commemorating the birthday of Mae West, playwright LindaAnn Loschiavo promises a most exciting late-night treat in store this year - shimmy lessons, raffle prizes, goodies, and a chance to win deluxe European scarves featuring Mae West's quotes and a rare caricature.

The Gaudy Girls - Anne Marie Finnie as Mae West and Maggie Worsdale as Sophie Tucker perform the best-loved songs made famous by Sophie Tucker and Mae West. As part of their repertoire, the ladies will offer a tribute to New York-based composers and lyricists who created the hits Frankie & Johnny, My Old Flame, Red Hot Mama, My Yiddishe Momme, and Everybody Shimmies Now.

If cruising for chicks is what turns you on, and the 50's and 60's are eras you'd like to experience, then the place to be is Reno, Nevada for the Hot August Nights celebration. From August 1-8 cars are "cherry" and cruisin' is "too cool." More than 800,000 people flock to thus annual event where cars are the stars and rock 'n roll rules through dozens of concerts, controlled cruises, show-n-shines, a sock hop and much more.

Free entertainment includes; Danny and the Juniors, a tribute to Franki Valli and the Four Seasons, Gerry and the Pacemakers, Jay and the Americans, The Buckinghams, Papa Doo Run Run, Sonny Turner former lead singer of The Platters, 4 Troops, Herman's Hermits starring Peter Noone, Danny and the Juniors, and a tribute to the Beach Boys.

The village of Flamstead, Hertfordshire, England stages the type of sweet community event that might have been a scene out of Gilmore Girls - an annual Scarecrow Festival - which this year takes place August 20-22.

Started in 2002 as a means of raising money for the upkeep of the Village Church and the Herts Multiple Sclerosis Therapy Centre, the festival has grown to an event featuring over 90 outrageous scarecrows.

Tour buses bring in over 5000 people who gawk at the scarecrows, visit an art show, watch a cricket match, participate in a Real Ale Beer Festival at The Spotted Dog, or head to City Hall to purchase teas and cakes.

All the money raised goes towards the Village Church and the Herts Multiple Sclerosis Therapy Centre.

Lorelai and Rory Gilmore would have fit right in.


SWEET CHARITY


THE 2010 OLD GLOBE GALA Celebrating the 75th Anniversary of The Old Globe. The Tony Award-winning Old Globe in San Diego, CA will host its annual Gala on Saturday, July 31, in celebration of its 75th Anniversary and the world premiere of Robin and the 7 Hoods – A New Musical. The event is co-chaired by Karen Cohn, Valerie Cooper, Deni Jacobs, Sandra Redman and Debra Turner and is the Globe's largest annual fundraiser.

The black tie event begins with a reception and silent auction in Balboa Park's Alcazar Garden. The curtain will then rise on a special performance of the Broadway-bound Robin and the 7 Hoods in the Old Globe Theatre on the Donald and Darlene Shiley Stage. Following the performance, dinner and dancing will commence on the Globe's Copley Plaza featuring music by Haute Chile.

THE LION KING special Actors Fund performance takes place Sunday, August 1, at The Minskoff Theatre, NYC.

GLIMMERGLASS BENEFIT CONCERT starring internationally acclaimed countertenor David Daniels. Friday, July 30, at the 914 seat Alice Busch Opera Theater in Cooperstown, NY.

Daniels made his Glimmerglass debut in 1994 at the start of his career as Nero in L'Incoronazione di Poppea, returning for leading roles in Tamerlano (1995) and Partenope (1998). He comes to Cooperstown this summer as a special gift to benefit Glimmerglass Opera. Mr. Daniels will perform music by Reynaldo Hahn, Charles Gounod, George Frideric Handel, Hector Berlioz and Steven Kohn. All selections were chosen by Mr. Daniels specifically for this benefit event.

This concert is entirely underwritten, including Mr. Daniels's generous donation of his performance.

BROADWAY STANDS UP FOR FREEDOM presented by the New York Civil Liberties Union. Host and musical director is Seth Rudetsky. Directed by Jen Bender.

Honorary Chair is Tony Kushner.

This year's concert includes performances by Nellie McKay Kate Baldwin, Laura Benanti, Erich Bergen, Todd Buonopane, Kevin Chamberlin, Clinton Curtis, Jesse Tyler Ferguson, Celia Keenan-Bolger, Norm Lewis, Rebecca Luker, Nellie McKay, Steven Pasquale, J. Robert Spencer, Liana Stampur, Dana Steingold, Daphne Rubin-Vega, Anthony Rapp, Bryce Ryness, De'Adre Aziza, Kate Shindle, Johanna Day, Katie Thompson and Liana Stampur.

Hair and Bloody Bloody Andrew Jackson and Liberty: The Musical.

July 26 at the Skirball Center for the Performing Arts in New York City.

ALAN CUMMING the Tony Award winner who plays Eli Gold on the CBS drama The Good Wife, will perform in concert July 30 in the Fire Island Pines.

The sold out show is presented by the non-profit Fire Island Pines Arts Project whose mission is "to be integral to the creative life of our community and to aspire, through the production of accessible quality performing and fine arts events and activities, to reflect and encourage our community's cultural vitality." Whyte Hall's Brandon Fradd Theatre. Fire Island, NY.

NYC LOVES NASHVILLE a benefit concert for The Community Foundation of Middle Tennessee, in support of relief efforts in Nashville, Tennessee after unrelenting rainstorms in early May caused severe flood damage will star Michael Cerveris. Participants will also include Laura Cantrell, Stuedabakerbrown, Caleb Hawley, Jennings and Milton. The artists have also generously donated tracks - some unreleased - that can be downloaded for free for a limited time with the purchase of a ticket online.

Event takes place at Le Poisson Rouge on July 27.






SPREADING THE WORD


ON A CLEAR DAY YOU CAN SEE FOREVER lyrics by Alan Jay Lerner. Music by Burton Lane. New book by Peter Parnell, based on the original book by Alan Jay Lerner. Musical direction and arrangements by Lawrence Yurman. Choreography by JoAnn Hunter. Re-conceived and directed by Tony Award winner Michael Mayer.

Familiar tunes, including Come Back to Me and What Did I Have That I Don't Have, along with a surprising new twist which promises to delight Powerhouse audiences in the re-imagined On A Clear Day You Can See Forever.

The cast includes Tony nominee Brian d'Arcy James, Tony winner Anika Noni Rose, David Turner, Kerry O'Malley, Colin Hanlon, and Sarah Stiles. Presented as a concert reading, there will be four performances only July 29 – August 1, 2010 In the Vogelstein Center for Drama and Film, Vassar College, Powerhouse Theater, Poughkeepsie, NY.

KEEPING TIME written by Joe Cacaci with music by Bernie Wallace. A free, staged reading starring Larry Bryggman, Tituss Burgess, and Ylfa Edelstein.

Described as: "Set in New York City in 1965. Willie, a black pianist/composer/singer and Paul, a white singer, are the closest of friends. Their long-running act is finally on the brink of getting its big break, when the two men get caught up in and off guard by the civil rights movement, threatening both their friendship and their dream." The play includes both original music as well as standards.

Wednesday, July 28 at Monument Mountain Regional High School in Great Barrington, Massachusetts as part of the Berkshire Playwrights Lab, an artistic collaboration of founders Joe Cacaci, Jim Frangione, Bob Jaffe, and Matthew Penn.

MUSIC AND SOUND INVENTIONS is being celebrated at the National Museum of American History in Washington, DC in August, which is National Inventors' Month.

The museum's Lemelson Center for the Study of Invention and Innovation is celebrating with a 2-day family festival devoted to music and sound innovations. Music and Sound in Spark!Lab takes place August 7-8. Spark!Lab, the Lemelson Center's hands-on invention and science space, hosts music-related activities and experiments in honor of National Inventors' Month. Activities include inventing instruments out of recyclable materials, music mixing on digital music-making systems and sound wave experiments.

Music of The World of Tomorrow by Bluebrain is staged August 7-8. This 30-minute screening features silent films from the 1939 World's Fair, the theme of which was The World of Tomorrow. The films are accompanied by an original electronic score composed by D.C. music collective Bluebrain.

Museum curator emeritus Gary Sturm discusses guitars from the museum's musical instruments collection on August 7. This 30-minute presentation allows visitors to get up-close to artifacts such as a Gibson ES-150 and Prince's Yellow Cloud.

Museum curators Carlene Stephens and Hal Wallace discuss objects from the museum's sound recording collections. This 30-minute presentation also allows visitors face time with the artifacts such as machines made by Thomas Edison and Alexander Graham Bell and a Sony CBS 16-track mixing board built by CBS engineers.

FunDrum Rhythm Circles founder Jonathon Murray invites visitors to join him in a drum circle and help fill the museum's Flag Hall with lively beats. Visitors will be encouraged to join in and express themselves through the use of tuned drums and other percussion instruments. Sunday, August 8.

The National Museum of American History collects, preserves and displays American heritage in the areas of social, political, cultural, scientific and military history. Documenting the American experience from Colonial times to the present, the museum looks at growth and change in the United States.

MAN WHO THREATENED SOUTH PARK creators Matt Stone and Trey Parker ( See Broadway To Vegas column of April 25, 2010 ) was arrested on July 21, according to The Smoking Gun. Zachary Chesser, 20, the Virginia man who threatened the creators of South Park over an episode featuring the Prophet Muhammad dressed in a bear suit, was arrested federal charges after speaking openly to the FBI about his connection to a terror organization and his plans to travel overseas to fight with the group. He was charged with providing material support to Al-Shabaab, a terror group affiliated with al-Qaeda.






OTHER PEOPLE'S MONEY


FRISKY a cat who made more than 1,000 appearances on the popular British soap Coronation Street died 10 years ago. Last week the cat's ashes went up for auction, expected to fetch no more than $229. Surprising even the auctioneers, the cremated remains were gaveled down at $1,289.

The ashes of the cat, who died of stomach cancer at the age of 14, were in a wooden casket. The auction lot also included a cremation certificate, and postcards of Frisky with Coronation Street stars.

The buyer asked to remain anonymous.






GEORGE CLOONEY

George Clooney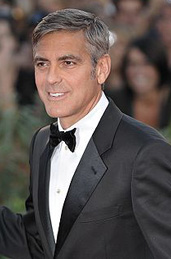 will become the 4th person to receive the prestigious Bob Hope Humanitarian Award during the 62nd Emmy Awards which take place August 29 in Los Angeles. Clooney will receive the special Emmy award for his humanitarian efforts, it has been announced by the Academy of Television Arts and Sciences. The 49-year-old actor is being honored for the Hope for Haiti TV special - which has also been nominated for an Emmy. The star hosted the telethon, which took place in January. Clooney has also been heavily involved in raising funds for the victims of Hurricane Katrina and helping to increase awareness about genocide in Darfur.

Past winners of the Bob Hope Humanitarian Award include Oprah Winfrey (2002) and Bill Cosby (2003) and Danny Thomas (posthumous award 2004).

The Bob Hope Humanitarian Award was established in 2002 by the Board of Governors of the Academy of Television Arts and Sciences in recognition of Bob Hope's trailblazing career. The award, one of the highest honors presented by the Board, recognizes the contributions made by Hope, for more than half a century, to the growth and development of radio and television as a family medium and as a platform for political and social commentary.

ANNETTE BENING has been selected by the Washington D.C.-based Shakespeare Theatre Company to receive the 2010 William Shakespeare Award for Classical Theatre, also known as the Will Award. She will be honored at the Harman Center for the Arts Annual Gala hosted by STC at Sidney Harman Hall on Sunday, October 3.

JOE DOWLING who has already set a record as the longest running artistic director of the Guthrie Theatre in Minneapolis, isn't going anywhere. His contract with the Guthrie Theatre has been extended through 2015.



FOR THE PLEASURE OF SEEING HER AGAIN by Michel Tremblay. Translated by Linda Gaboriau. Directed by Chris Abraham.

Starring Lucy Peacock as Nana and Tom Rooney as the Narrator.

In what is billed as "this hilarious and heartrending tribute to his mother, Canada's Michel Tremblay has created one of the great female characters of our time. A born storyteller with a love of exaggeration and invention, Nana often exasperates the son she so fiercely loves - yet proves an inspiration for his art."

"A stunning theatrical exploration of that most primal and complex of human bonds: the often turbulent relationship between mother and child."

Julie Fox is the Set Designer. Leigh Ann Vardy Lighting Designer. Antoine Bédard Sound Designer. Todd Campbell Stunt Coordinator. Previews began July 27 in the Tom Patterson Theatre. Officially opens on August 11 with performances to September 26.

Stratford Shakespeare Festival im Ontario, Canada.

CINDERELLA the Rodgers and Hammerstein classic starring Sally Struthers as The Fairy Godmother.

The cast of 45 is directed by Lewis Wilkenfeld with musical director Steven Smith conducting the live orchestra.

A pumpkin swooshes across the stage, turning into a carriage... mice scurry along on their way to becoming horses... and an innocent young woman named Cinderella turns into a beautiful fairy princess.

Melissa Mitchell is Cinderella and Derek Klena the Prince. Also in Cinderella are Norman Large as The King and Christina Saffran Ashford as The Queen.

The memorable score includes In My Own Little Corner; It's Possible; Ten Minutes Ago, and Do I Love You Because You're Wonderful.

Performances through August 1 at the Cabrillo Theatre in Thousand Oaks,CA.

ANNIE book by Thomas Meehan, music by Charles Strouse and lyrics by Martin Charnin. Directed by Cassey Hushion.

Starring Andrea McArdle, who earned a Tony nomination for creating the title role in the hit Broadway musical Annie, as the evil Miss Hannigan.

Celebrate Broadway's favorite orphan. Join along in Annie's hard knock life as she and her lovable mutt, Sandy, search for her long-lost parents in one adventure after another - just to find that love and family were always hers. Tony Award-winner for Best Musical and Best Score.

The cast also includes Robert Newman as Oliver "Daddy" Warbucks and English Bernhardt in the title role with Christy Morton (Grace Farrell), Eric Michael Gillett (Franklin Delano Roosevelt), Joey Calveri (Rooster), Dana Zilman Harshaw (Lily St. Regis), Tim Caudle (Lt. Ward/Morgenthau), Andrew Chappelle (Dog Catcher), Allison Cochrane (Orphan), Grace DeLoache (Orphan), Mikey the Dog (Sandy), Mary Kate Englehardt (Molly), Jennifer Frankel (Ronnie Boylan), Katherine Fritsch (July), Terri Gervais (Mrs. Pugh), Laurel Harris (Connie Boylan/Star to Be), Kelsey Healey (Tessie), Avery Hoerdeman (Orphan), Brian Michael Hoffman (Bundles/Ickes/SFX Man), Hannah Hoskins (Orphan), Mary Callan Kelso (Orphan), Heather King Patterson (Sophie/Perkins), Hayley Lundberg (Orphan), eric Mann (Fred McCracken), Brian Norris (Bert Healy), Payton Price (Duffy), Alexa Robertson (Kate), Jennifer Swiderski (Bonnie Boylan), Tom Treadwell (Drake), Alexis von Venrooy (Orphan), Cady von Venrooy (Orphan), Kelsey Walston (Pepper) and Matthew-Jason Willis (Howe).

The ensemble comprises Katherine Anderson, Kate Blaine, Tim Caudle, Andrew Chappelle, Molly Deans, Jennifer Frankel, Terri Gervcais, Elgin Giles, Laurel Harris, Brian Michael Hoffman, Heather Patterson King, Eric Mann, Jeremy Mills, Brian Norris, Adrienne C. Perry, Jennifer Swiderski, Tom Treadwell and Matthew-Jason Willis.

Presented by the North Carolina Theatre through August 1 in the Raleigh Memorial Auditorium at the Progress Energy Center for the Performing Arts in n Raleigh, NC.

THE LAST ROMANCE By Tony Award winner Joe DiPietro. Directed by Richard Seer.

Marion Ross returns to the Globe to star with her longtime real life partner, Paul Michael in this new romantic comedy which was written for them by DiPietro.

A crush can make anyone feel young again – even a widower named Ralph. On an ordinary day in a routine life, Ralph decides to take a different path on his daily walk...one that leads him to an unexpected second chance at love. Relying on a renewed boyish charm, Ralph attempts to woo the elegant, but distant, Carol. Defying Carol's reticence – and his lonely sister's jealousy – Ralph embarks on the trip of a lifetime, and regains a happiness that seemed all but lost.

The Last Romance is billed as "a heart-warming comedy about the transformational power of love."

In addition to Ross and Michael, the cast of includes Patricia Conolly (Rose Tagliatelle) and Joshua Jeremiah (The Young Man).

The creative team includes Alexander Dodge (Scenic Design), Charlotte Devaux (Costume Design), Chris Rynne (Lighting Design), Paul Peterson (Sound Design) and Lavinia Henley (Stage Manager).

Previews July 30-August 4, opens August 5, closes September 5 at The Old Globe in San Diego, CA.

YOUNG FRANKENSTEIN the Mel Brooks/Thomas Meehan musical comedy, directed by Susan Stroman.

Tony Award winners Roger Bart and Shuler Hensley reprise the roles of Dr. Frederick Frankenstein and The Monster. They will be joined by Cory English (Igor), Tony Award nominee Brad Oscar (Inspector Kemp /Blind Herm it), Beth Curry (Elizabeth), Joanna Glushak (Frau Blucher) and Anne Horak (Inga).

Rounding out the cast are Lawrence Alexander, Preston Truman Boyd, Stephen Carrasco, Jennifer Lee Crowl, James Gray, Stacey Todd Holt, Shauna Hoskin, Matthew Brandon Hutchens, Kristin Marie Johnson, Sara Lin Johnson, Melina Kalomas, Amanda Kloots-Larsen, Kevin Ligon, Brittany Marcin, Christopher Ryan, Lara Seibert, Geo Seery, Jennifer Smith, Matthew Vargo and Erick R. Walck.

Los Angeles premiere at the Pantages Theatre opened July 27 with performances through August 8.

THE LAST GOODBYE conceived and adapted from Romeo and Juliet by Michael Kimmel who also directs. Music and lyrics by Jeff Buckley. Orchestrations, music direction and arrangements by Kris Kukul. Choreography by Sonya Tayeh.

The ensemble company features Kelli Barrett, Nick Blaemire, Celina Carvajal, Merle Dandridge, Damon Daunno, Tom Hennes, Max Jenkins, Jo Lampert, Jesse Lenat, Deb Lyons, Grace McLean, Michael Park, Ashley Robinson, and Chloe Webb.

The design team includes scenic design by Michael Brown, costume design by Anne Kennedy, lighting design by Ben Stanton and sound design by Ken Travis. The production stage manager is David H. Lurie.

August 5-20 on the Nikos Stage at the Williamstown Theatre Festival in Williamstown, PA.





WHO'S WHERE


DONNA McKECHNIE who has returned from performing My Musical Comedy Life in Australia, brings her solo show to the Laurie Beechman Theatre in NYC on July 28. The evening features direction by Richard Jay-Alexander with musical direction by Ian Herman.

HARRY CONNICK, JR and his sold out show In Concert on Broadway, at the Neil Simon Theatre, has added two performances on Friday, July 30 and Saturday, July 31, which will be filmed live for future release - although it is not yet been announced whether the film is being created for a television broadcast or DVD release.

JUSTIN BIEBER takes to the stage on the Spring Center in Kansas City on Wednesday, July 28. On Thursday he'll be pleasing his fans at the Verizon Arena in North Little Rock, AR. On Saturday he'll be at the Fed Ex Forum in Memphis and next Sunday, August 1, the show is at the Cajundome in Lafayette, LA.

ROBERT PLANT entertains Monday, July 26, at he Waller Creek Amphitheatre in Austin, TX. On Wednesday the show is at the Saenger Theatre in Mobile, AL. Friday's performance is at the Ruth Eckerd Hall in Clearwater, FL. On Saturday he can be enjoyed at the Bayfront Park Amphitheater in Miami, FL.

JEFF BECK is on stage Tuesday, July 27, at the Glav Club in St. Petersburg, Russian. On Thursday the show is at the Milk in Moscow. Saturday finds him at the Zenith in Nantes, France.

LADY GAGA performs Monday, July 26, at the Toyota Center in Houston. On Wednesday the show is at the Pepsi Center in Denver. Saturday finds her at the US Airways Center in Phoenix.

WEDNESDAY NIGHT AT THE IGUANA hosted by MAC Winners Dana Lorge and Richard Skipper. Wednesday's guests include: Paulette Dozier, Rita Ellis Hammer, Barbara Kirk, Sarah Rice and Gloria Waldman. Wednesday, July 28, at the Iguana VIP Lounge in NYC.

FOREIGNER on Thursday, July 29, performs at the Solar World Summer Stage in Bonn, Germany. On Friday the show is at the Germany Open Air in Schwabisch Gmund, Germany. On Saturday, July 31, they appear at the Rock of Ages Open Air at Festplatz in Seebronn, Germany.

LYLE LOVETT brings his show to the Grove in Anaheim, CA on Tuesday, July 27. On Wednesday he performs at the Celebrity Theatre in Phoenix, AZ. Thursday finds him at the Paolo Soleri Amphitheatre in Santa Fe, NM. Friday's performance is at the Red Rocks Amphitheatre in Morrison, CO.

TANGLEWOOD ON PARADE Boston Symphony Orchestra, Boston Pops Orchestra and the Tanglewood Music Center Orchestra. James Levine, Keith Lockhart, and John Williams, conductors. Always a highlight of the season, Tanglewood on Parade this year salutes John Williams on the occasion of his 30th Tanglewood summer. The program will include some of Mr. Williams' most popular concert and film scores, as well as the traditional TOP finale, Tchaikovsky's 1812 Overture. Fireworks to follow the concert. Tuesday, August 3, at The Shed at Tanglewood in Lenox, MA.

CAROL CHANNING IN CONCERT STARRING RICHARD SKIPPER a performance being filmed for an upcoming documentary on the life and career of Carol Channing. With John Fischer on piano, Steve Bartosik on Percussion and Jeff Carney on Bass. Celebrated Songstress, MarTina Vidmar will be opening for Richard and joining "Carol" on one number. This is Richard's only NYC appearance with this show this year. July 17 at St. Luke Theatre in NYC.

BRET MICHAELS on stage at the Civic Auditorium in Idaho Falls, ID on Tuesday, July 27. On Thursday he performs at Cowboys in Colorado Springs, CO. Friday's show is at the Peppermill Concert Hall in West Wendover, NV. Saturday finds him at the Starlight Theatre in Pala, CA.

NANCY MERCHANT on stage Monday, July 27, at the Frederik Meijer Gardens in Grand Rapids, MI. On Tuesday she performs at the Michigan Theater in Ann Arbor, MI. On Saturday she's across the pond appearing at the Cambridge Folk Festival in Cambridge, UK.

ARETHA FRANKLIN performs July 29 in the Filene Center at Wolf Trap in Vienna, Virginia.

ADAM LAMBERT opens a two night stand Tuesday, July 27 at the Pacific Amphitheatre in Costa Mesa, CA. On Friday the show is at the Copley Symphony Hall in San Diego. He closes out July with a stop at Mandalay Bay Beach in Las Vegas on Saturday, July 31..




FINAL OVATION


LARRY KEITH Broadway and television actor died July 18 from cancer. He was 79.

Keith made his Broadway debut in the original My Fair Lady. Keith also appeared in High Spirits in 1964 and I Had a Ball in 1965, as well as The Best Laid Plans in 1966. In 1973 Keith was the standby for Alfred Drake in Gigi as Honore Lachilles. After a break from the stage in the late 1970s and 1980s Keith returned to perform in Titanic as Isidor Straus. In 2001 he was cast as a replacement in Cabaret playing Herr Schultz. Keith's last Broadway role was as Mr Stopnick in Caroline or Change.

Keith is most well known as Nick Davis on All My Children, joining the show in 1970 when it premiered. Keith left the show in 1978 but continued to appear as a guest star for 30 years. He was nominated for two Daytime Emmy Awards for Outstanding Actor in a Daytime Drama Series in 1977 and 1978.

JIM NEU playwriter/director, died Monday, July 19, 2010 at his home in Brooklyn. He was 66 and suffered from lung cancer.

He was noted for his work in experimental theater, specializing in the effect of pop culture on the individual.

Neu worked with Robert Wilson, performing as an actor and eventually contributing text for the director's pieces. Neu's plays include The Floatones, Mondo Beyondo, Undercurrent Incorporated, Target Audience, the Code of the Western and most recently, Gang of Seven. In addition to his work as a playwright, Neu penned scripts for the feature films, Doomed Love and The Big Blue.

He is survived by his wife His wife,Carol Mullins, a lighting designer, whom he married in 1998 but who was his partner for more than 40 years.

CARL GORDON who didn't begin acting until his late thirties, died on Thursday, July 23 in Virginia of non-Hodgkins lymphoma. He was 78.

Gordon appeared on Broadway in the 1971 musical Ain't Supposed to Die a Natural Death, the original 1990 production of August Wilson's The Piano Lesson, and the 2003 revival of Wilson's Ma Rainey's Black Bottom with Whoopi Goldberg.

He spent two season on the television show Roc portraying Andrew Emerson, whose son was played by Charles S. Dutton.

He is survived by his third wife, Jacqueline Alston-Gordon, a son, and five daughters.




Next Column: August 1, 2010
Copyright: July 25, 2010. All Rights Reserved. Reviews, Interviews, Commentary, Photographs or Graphics from any Broadway To Vegas (TM) columns may not be published, broadcast, rewritten, utilized as leads, or used in any manner without permission, compensation and/or credit.
Link to Main Page
---
Laura Deni



For the snail mail address, please E-mail your request.
CLICK HERE FOR COMMENT SECTION