! >
Broadway To Vegas
  
 SHOW REVIEWS CELEBRITY INTERVIEWS GOSSIP NEWS

| | |
| --- | --- |
| | |
BILL MAHER IN THE HOLLYWOOD FATHER/DAUGHTER PURITY BALL - - MICHAEL PALIN ON MONTY PYTHON - - THE THREE MUSKETEERS AT NORTH SHORE - - JERRY LEWIS MDA TELETHON FROM LAS VEGAS - - TRUTH IN MUSIC BILL - - PAULA PRENTISS & DAUGHTER PRENTISS BENJAMIN STAR IN MRS. WARREN'S PROFESSION - - MUSICIANS TO HOLD ELTON JOHN AIDS FUNDRAISING GIG - - QUEEN ROCKER BRIAN MAY EARNS DOCTORATE - - DONATE . . . Scroll Down


HE ROCKS ! CALL HIM DR. BRIAN MAY
Brian May, PhD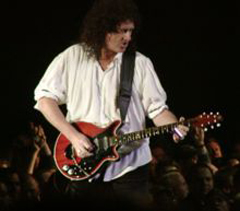 Queen star Brian May is a study in determination. 38 years ago the brainy musician abandoned his astrophysics student at Imperial College to join Freddie Mercury and Roger Taylor to form Queen in 1970. After gaining idolhood as a guitarist he has now gained his doctorate in Astronomy.

The 60-year-old, whose 48,000-word tome, which seeks to prove planets and dust clouds in our solar system orbit in the same direction, said: "You can call me Dr May!" The musician will be officially handed his PhD from London's Imperial College at the Royal Albert Hall next May.

May said he is "very keen" to carry out some further research and added that "some pretty spectacular stuff" could be achieved.

To complete the thesis entitled Radial Velocities in the Zodiacal Dust Clouds, May carried out observational work in Tenerife, where he studied the formation of "zodiacal dust clouds".

May based himself at the Observatory of the Roque de Los Muchachos on the island of La Palma.

A statement issued on behalf of the facility said he had chosen this location because of the "quality of the sky" and the opportunity to use a 3.6-metre optical telescope, "which allows astronomers to study extremely faint objects".

May also prepared a concert to mark the inauguration of another telescope at the observatory.

"I have no doubt that Brian May would have had a brilliant career in science had he completed his PhD in 1971," said astrophysicist Dr Garik Israelian, who worked with May in La Palma.

"Nevertheless, as a fan of Queen, I am glad that he left science temporarily," he added.

May made his first astronomical observations for his thesis at the Observatorio del Teide in Tenerife in 1971, before his rock career took off.

His completed thesis was then presented to the Imperial College's head of astrophysics Professor Paul Nandra. At that time May commented; "It's been the longest gap year ever," he said referring to the 38 year span. "It was a tough decision back then to leave my studies for music."

With press interest as astronomical heights May conceded that; "If I fail I will fail big time. It will be a very public failure with all this press."

The paper presentation was followed a few weeks later by the always dreaded oral examination, where a number of academics questioned him about his work, before announcing their decision on awarding a doctorate.

May referred to the grilling as "nerve-racking as any stadium gig."

May said that his August 23 three-hour oral examination - or viva - was "very, very tough", but wanted his thesis to be scrutinized by academics. "It's a bit like an album - you've got to live with it for the rest of your life, so you want it to be perfect," said the rock star.

"I'm feeling rather joyful. I cannot tell you how much of a weight off the mind it is," May said late Thursday after leaning that he was now a newly minted PhD.

"I feel comfortable about using the title because I worked for this, and I'm going to be proud to call myself Doctor from now on," May told the BBC News.

The 60-year-old recently published Bang! The Complete History of the Universe, a book he co-authored with Sir. Patrick Moore and Chris Lintott, presenters of the British Broadcasting Corp. astronomy program The Sky at Night.

The book recounts the formation of the universe from its origins more than 13 billion years ago and looks forward to its end, several billion years from now.

For that study, the guitarist, who famously played the national anthem on the top of Buckingham Palace at a party for Queen Elizabeth II's golden jubilee, received an honorary doctorate at Exeter University in south-west England.

May wrote many of Queen's most famous songs and biggest hits, including We Will Rock you, Fat Bottomed Girls, Tie Your Mother Down, Who Wants to Live Forever and I Want It All. In addition, his guitar playing drives We Will Rock You, Bohemian Rhapsody and other Queen hits. May sees similarities between his two great loves, music and astronomy.

"I think there's a sort of purity about both of them,'' he said according to The Guardian newspaper. "Because you can immerse yourself in thoughts of the universe, or in music, and you're really abstracted. You're a million miles away from all your worries and personal problems and the dust and smoke of where you are."

Dr Brian May celebrated his new title by having a private meal with friends and family.


TRUTH IN MUSIC BILL ADVANCES
Jon Bauman as Bowser. Bauman started attending The Juilliard School at age 12, and is a graduate magna cum laude of Columbia University.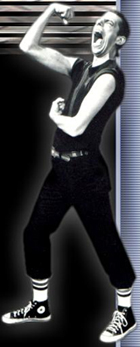 If you're part of a singing group that pretends to be a well known group - Bowser, the former lead singer of Sha Na Na, has a message for you.

"Get a job," quoting the 1950s Silhouettes hit.

Jon Bauman - or Bowser from Sha Na Na has - at his own expense - has undertaken a road show - appearing regularly before packed state legislative bodies where he sings out for the passage of The Truth In Music Bill. Officially Bauman is the Chairman, Truth in Music Committee Vocal Group Hall of Fame.

The Truth in Music Bill was created to protect the artists from Identity theft and to protect the Consumer from being mis-lead to believe they are seeing the legendary artists that made the hits songs famous - when in fact they are not.

The measure was inspired by recording artists like the Platters, the Coasters and the Drifters, whose acts and routines have been copied without permission.

Mary Wilson, an original member of the Supremes, has testified that at least five groups are performing as the Supremes. Wilson then breaks into song and sends a message to those groups; "Stop! In the name of love, before you break my heart."

Rather than breaking hearts, the passage of the Truth in Music Bill intends to break some pocketbooks.

The Bill prohibits impostors from saying or implying they are a well-known group. Violators could be penalized from $5-thousand to $15-thousand.

Bauman says the law has already had a deterrent effect in Pennsylvania. A venue had to offer customers their money back, if they wanted it, and the show had to be sold as a 'tribute show.'

Bauman warns venues about booking shows that appear too good to be true.



Mary Wilson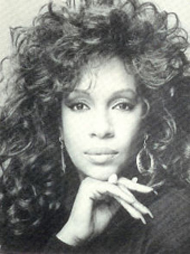 "Simply put in the vernacular, Truth in Music says you need to have at least one member of the group that made the hit records in the group that's on stage that night, unless you have a darn good reason why you don't. There are really only two of those darn good reasons— 1) that somehow the group has a valid federally registered trademark for the group name, or 2) that the show is clearly advertised as a tribute or a salute in a manner that is not so confusingly similar to the actual group name that it would tend to deceive the public," Bauman said in a statement.

"The questions to ask the agent who books your event are: Is there an authentic member who was on the hit records in the group you're providing me? And, if not, does this group have a valid federally registered trademark for the precise name we are advertising? If the answer to both questions is "no", this had better be clearly and unconfusingly billed as a "tribute show", or the AG's office is likely to cause all kinds of unwanted problems and embarrassment."

"The Attorney General's offices understand that the venue itself is often a victim as well as the consumer, having been misled by unscrupulous agents or promoters. But their leniency toward the venues on the road to fining the actual perpetrators and holding them accountable will only go so far. Your event can be enjoined, leaving you with a big hole in your schedule. And consumer anger and bad press will create a public relations nightmare. Clearly, the better course of valor is to steer clear of problem shows to begin with."

In Nevada the bill passed after being modified to specify that venues booking such acts, including hotel-casinos, are not responsible for any bogus act.

"One rule of thumb," cautioned Bauman, "if the package or pricing is too good to be true, beware!!! Packages offering three Hall of Fame names with 75 hit records between them for a price that's hard to fathom (even after the agent has probably marked it up substantially for himself) are probably asking for trouble in this new legal universe. Any iconic names going out for a pittance are a huge red flag. It's the old timers who are hardest hit, as they have less visual identification to rely on, making it easier for impostors to flourish."

Bauman stressed that his office encourages fair and exhibition buyers to contact the non-profit Vocal Group Hall of Fame in Pennsylvania regarding any question about a group's validity.

New York is the latest state to sign the Truth in Music law. That was done last Tuesday - joining; Pennsylvania, Connecticut, Illinois, Michigan, Massachusetts, Maine, South Carolina, North Dakota, Virginia, New Jersey, Florida, Wisconsin, Tennessee, Missouri, Texas and Nevada. Truth In Music Bill has passed The California Assembly 68-0.

Bauman projects that they will have the bill passed by half of the states by the end of 2007.

"We're very cognizant … you know, we're not fixing health care here; we're not, you know, ending the war in Iraq, but we are solving a nasty little issue that affects a lot of people."


LABOR DAY FEATURES DIVERSE CELEBRATIONS


Do you fantasize about that famous I Love Lucy grape stomp with Lucy and Ethel Mertz? Do you envy people with purple feet?

You're in luck.

Come help celebrate the first vintage of the season at White Fences Winery with an old-fashioned grape stomp. There'll be live bluegrass music, an old-style Virginia pig roast, golden beverages and lots of vineyard tours and tips on wine-making. And the main attraction: a stomp-off between local town officials and residents for the coveted title of King and Queen of the Stomp is small town America at its best.

This year the festival also features a concert by Robbin Thompson, the Virginia-based songwriter/singer who has just released his new CD, Just a Blur in the Rearview. Robbin was formerly lead singer for Bruce Springsteen's band Steel Mill, won the American Song Festival twice and has recorded 12 albums. He co-authored Sweet Virginia Breeze, the unofficial song of Virginia. It all takes place Saturday, September 1 in Irvington, VA.

The National Buffalo Wing Festival - and all that eating, competing and entertainment - will return to Dunn Tire Park for its sixth year in a two-day event on Labor Day weekend September 1-2. More than 30 local and national restaurants will participate in this year's event, including Ker's Wing House, a Texas chain owned by former Dallas Cowboy Crawford Ker, and Native New Yorker, owned by a former Grand Island family with 17 restaurants in Arizona.



Terry Sylvester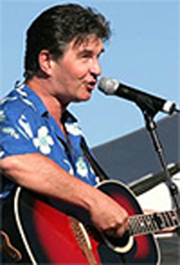 Festival Founder Drew Cerza will kick off this year's event in Niagara Square, where Carving for a Cause will begin a life-size sculpture of Terresa Bellissimo, the creator the first chicken wings at the Anchor Bar in 1964. The carving, utilizing a tree from last October's storm, will be completed during the festival.

Charities to benefit from this year's festival include the Food Bank of Western New York, Meals on Wheels and the Variety Club.

Among those covering the 2007 festival will be a television crew from the Food Network's Emeril Live Show. PBS also will record a segment for its Roadside Adventure series.

The event also will feature a concert by Terry Sylvester. Replacing Graham Nash as lead vocalist, Terry became the most recognized voice of The Hollies. Performing the hits Long Cool Woman In A Black Dress, Gasoline Ally Bred, and the classic love song, The Air That I Breathe, Terry will take the main stage on Saturday night for a trip down memory.

One of the most popular events is the annual chicken wing eating championship, to be on September 1.

The wing festival has drawn more than 250,000 people, served 1.5 million wings and raised $95,000 for local charities in the past five events.

Best in the West Nugget Rib Cook-Off - is the biggest and most prestigious rib cook-off in the United States The event takes place in downtown Sparks between Aug. 30 & Sept 4 and brings together brings together 24 cookers - vying for the top prize of $7,500, 125 craft booths and free entertainment including nightly headline acts on the main stage

Thursday, August 30 features Don Felder of the Eagles – Felder was a member of the Eagles from 1974- 1980 and from 1994-2001. Among his many contributions to the iconic, legendary Eagles, Felder was the primary guitar soloist and co-writer of the hit song Hotel California.

The National Symphony Orchestra performs a free Labor Day Concert on the West Lawn of the U. S. Capitol each year, the Sunday before Labor Day. The annual concert is led by NSO Associate Conductor Emil de Cou and the event is part of the Kennedy Center's Prelude Festival, which includes free performances to kickoff the performing arts season in Washington, DC.

Sunday, September 2. In case of inclement weather, the concert will be moved to the Kennedy Center Concert Hall.

The Jazz Aspen Snowmass Labor Day Festival takes place at the Snowmass Town Park in Snowmass Village, Colorado. In addition to world-class music on the main stage daily, diverse live music can be seen on two festival side stages and at JAS After Dark performances each night. The JAS Village completes the festival feel with an international bazaar of exotic food, drink and crafts. The Festival kicks off Friday, August 31 with Ben Harper & The Innocent Criminals and Nickel Creek.

The City of Los Angeles is celebrating their 226th Birthday and you're invited to trot along. On Sunday, September 2 - 6 a.m. - the early morning Los Pobladores - Walk to Los Angeles steps off. The annual Walk represents a key chapter in California's history, with the re-enactment of the nine-mile journey of the original Spanish settlers of Los Angeles, known as Los Pobladores, from San Gabriel Mission to the Los Angeles River where, in 1781, they founded El Pueblo de la Reina de Los Angeles.

Hosted By: LA County, City of Los Angeles, City of San Gabriel, El Pueblo de Los Angeles, Los Pobladores 200. Birthday cake will be served.


BURNING MAN TURNS GREEN
Every year, tens of thousands of participants gather to create Black Rock City in the Black Rock Desert of Nevada, dedicated to self-expression, self-reliance, and art as the center of community. Events starts today, August 26, and runs through Labor Day. This year the festivities have turned green including the theme - The Green Man.

The participants intends to hide their tracks. Burning Man is a Leave No Trace Event - Leave No Trace is even is emblazoned on the event tickets. This year efforts in that direction extend to eliminating as many carbon footprints as possible.

Taking place on land controlled by federal Bureau of Land Management, which oversees the playa. The BLM is very particular about how the Burning Man group leaves the playa and so are the Burning Man attendees.

There is a new fleet of 1,000 free community bikes. There has been a changeover of all city generators from diesel to biodiesel; efforts to recycle wood used in building the city. Last year six tractor-trailers full of recycled lumber went to Reno's Habitat for Humanity, Albertsons grocery is even providing seven 24-hour recycling centers for Burners leaving the playa.

The theme The Green Man is explained as concerning "humanity's relationship to nature. Do we, as conscious beings, exist outside of nature's sway, or does its force impel us and inform the central root of who and what we are?

This year's pavilion is a $1.5 million, 270-kilowatt solar energy contraption donated by a venture capital firm that specializes in alternative energy. The get-up will be removed before the Man is burned on the night of Sept. 1, divided into two sections and installed in the local high school in Gerlach, the tiny mining town eight miles from Black Rock City, and a hospital in Lovelock, two hours away.

"Pretending that environmental problems don't exist, or just running away from them, won't solve them, but we think turning potential solutions into mind-blowing art has a chance to make an impact," intones the official statement. "This doesn't mean we won't be burning our Man (it's "Burning Man", after all, not "Composting Dude") but we are going to pay much closer attention to the materials used on the sculpture, and we will examine our organization and the entirety of Black Rock City to analyze every opportunity to improve our approach and lessen our impact."

"This theme also provides us the opportunity to bring these issues into the limelight, making them a part of our community's ongoing dialog, and fostering environmental awareness in our day-to-day thinking, decisions and actions. And, very simply, artistic expression is a powerful way to communicate, to share, and to inspire - and it would be irresponsible to waste an opportunity to bring focus to one of the most critical issues we face."

The Burning Man project has grown from a small group of people gathering spontaneously to a community of over 25,000 people. The Black Rock Arts Foundation promotes interactive art by supporting public art that exists outside the event, and has a special interest in supporting art at regional events. Additionally, Burning Man has over two thousand volunteers who work before, during and after the event - many who work year-round - to make the event a reality.



Broadway To Vegas is supported through advertising and donations. Priority consideration is given to interview suggestions, news, press releases, etc from paid supporters. However, no paid supporters control, alter, edit, or in any way manipulate the content of this site. Your donation is appreciated. We accept PAYPAL. Thank you for your interest.


SPREADING THE WORD


MICHAEL PALIN ON MONTY PYTHON WITH LORNE MICHAELS one of the creators of the legendary Monty Python troupe, reveals how Python emerged and triumphed amid battles over censorship. He describes the pressures of the Python world tours and its celebrated series of films, including Monty Python and the Holy Grail.

Palin also recounts the individual careers of the Pythons, particularly his own as a scriptwriter, comedian, novelist and actor. He is the author of Michael Palin: Diaries 1969-1979.

Lorne Michaels is the creator and executive producer of Saturday Night Live, the longest-running and highest-rated weekly late night television program in history. Michaels has won ten Emmys as a writer and producer in television.

Wednesday, September 5, 92nd Street Y Kaufmann Concert Hall in NYC.

PARK NIGHTS: A NEW REGION OF THE WORLD Édouard Glissant, one of the greatest contemporary writers in France, performs with foremost dub poet Linton Kwesi Johnson in a poetic exchange. Nobel Prize nominee Glissant will speak on his latest work A New Region of the World and Johnson will pay tribute to the writings of Michael Smith (1954–83), considered to be one of the most original poets of the English-speaking Caribbean.

Friday, August 31 at the Serpentine Gallery in London.


SWEET CHARITY


JERRY LEWIS LABOR DAY MDA TELETHON live from Las Vegas this September 2-3 headquartered at South Point Resort. The MDA Telethon has originated from Las Vegas for 24 of the 41 years it has aired. The telethon raises funds and educates about neuromuscular disorders. In 2006, the final tally was $61,013,855.

The Muscular Dystrophy Association is hosting it's first-ever MDA Telethon Online Auction in the Dallas Fort Worth area. The auction is being staged in conjunction with the MDA Jerry Lewis Labor Day Telethon and opened for bidding on August 20 with bids accepted through September 6, 2007. Items donated include vacation get-a-ways, a 2007 Jeep Wrangler, a $10,000 catered dinner on the Cowboys field at Texas Stadium, season tickets to the 2007 Dallas Cowboys home games, and a "Vespa" Scooter.

MUSICIANS TO HOLD ELTON JOHN AIDS FUNDRAISING GIG This day long English pup setting Elton music fest takes place today, Sunday, August 26 in the historic town of Dover, Kent, England, during the August Bank Holiday weekend.

The Archer Pub is a medium-sized musicians' pub with a dedicated stage for groups and singers, and it is a mainstay of the East Kent gigging/live music circuit. The AIDS Fundraising event will primarily feature performances of Elton John songs. Performers will each sing about three Elton songs in the evening, while a number of local bands performing their own sets in the afternoon and must perform at least two Elton songs they have prepared. No song will be repeated during the day so there will be thirty or more Elton songs performed in the afternoon and evening shows. There will be no backing tapes - all performances will be live.



THE HOLLYWOOD FATHER/DAUGHTER PURITY BALL Featuring the Purist of the Pure - Key note speaker: The Reverend Bill Maher.

From the creative minds that brought you the critically-acclaimed Hollywood Hell House, comes a very different experience – the first Hollywood Father/Daughter Purity Ball, written by Maggie Rowe and Emmy Award-winner Jim Vallely. Based on the actual Purity Balls.

Purity Balls, now in 49 states and funded by your tax dollars, are evangelical proms attended by young girls (starting at 4 years old) and their dates: their Dads. The girls pledge their most precious gift, their virginity, to their fathers. In turn, the fathers pledge to guard this most precious gift until their daughter marries and her sexuality transfers to her! Isn't that fun!

So come and experience the evangelical phenomenon sweeping the country: Father/Daughter Purity Balls.

With very special Key Note Speakers – the Reverend Bill Maher. Purity comes to where it's needed most, the belly of the beast, the heart of immorality, the epicenter of addiction, depravity, licentious behavior, breast implants and Myspace hook-ups: Hollywood, California! Finally – Hollywood is Purifying! And isn't it about time.

Come for a night of dining, dancing, and decisions. And don't worry if you have already lost your virginity – use this opportunity to come and reclaim it– yes, this means you! Come join us for a very special one-of-a-kind evening and you too can become a virgin once again.

There is an exchange of rings, a delicious meal (provided with the cost of your ticket), Purity ballerinas, musical entertainment, and a Biblical exploration of virginity. Then the father/daughter couples dance the night away. An unforgettable night of Hollywood glamour coupled with that always precious father/daughter intimacy. The award-winning design team includes production design by Emmy-nominated John Sabato. The lighting design is by Steve Pope.



Bill Maher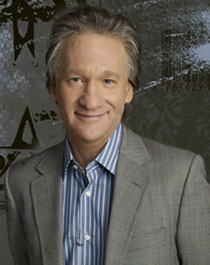 The cast of Hollywood Father/Daughter Purity Ball will features the Reverend Bill Maher with special guest key note speakers. Other performers include Christian Improv group Fishes and Loaves, The Regal Purity Ballet Troupe, DJ Savey Save and the Cousin Lovers – who'll prove once and for all that Christians can rock harder than anyone! Practice the Purity Pledges before you come.

For Fathers
I (Daughter's Name)'s Father, choose before to God to war for my daughter's purity. I acknowledge myself as the authority and protector of my daughter's virginity, and pledge to be a man of integrity as I lead, guide, and pray over my daughter and her virginity – as the High Priest of my home.

For Virgins
I (Name) pledge my purity to my father, my future/husband and my Creator. I recognize that virginity is my most precious gift to offer to my future husband. I will not engage in sexual activity of any kind before marriage but will keep my thought and my body pure as a very special present for the one I marry.

Two nights only - Saturday, September 8 and Saturday, September 15 at The Bulgarian Cultural Center in Hollywood. Please dress accordingly. Come in "prom wear" and receive a special Purity T-shirt which says "once you pop, you can't stop."

MRS. WARREN'S PROFESSION by George Bernard Shaw. James Glossman, the associate director of Playwrights Theatre of New Jersey, directs.

In a unique pairing, a real life mother and daughter will fill the same on-stage roles. Paula Prentiss stars as Miss Kitty Warren opposite Prentiss Benjamin as daughter Vivie Warren. Benjamin's father is actor Richard Benjamin.

Glossman, Prentiss and Benjamin all are graduates of the esteemed theater program at Evanston, Illinois' Northwestern University.

This is the first time Ms. Prentiss and Ms. Benjamin have ever worked together onstage.

The cast will also include Chicago talent Gary Huston as Crofts, Lansing favorite Ken Beachler as Praed, Jack Moran as Frank and Paul Murphy as Rev. Samuel Gardner.

Shaw's play, Mrs. Warren's Profession, centers on Mrs. Kitty Warren, who raised herself up by her bootstraps through the poverty of nineteenth century London, by running a very lucrative brothel. What's a woman to do as Kitty strives to gain the respect and love of her daughter, Vivie? The young girl was sent off with the best nannies to the finest schools. Now Vivie has grown and she discovers the truth about her mother. The play is wise and witty, taking an engaging look at women's liberation and poking fun at the corruption and hypocrisy of the "genteel" class.

Previews begin September 5 with the opening set for September 7. Performances continue to September. 30 at BoarsHead Theater Center for the Arts in Lansing, Michigan.

THE THREE MUSKETEERS

Aaron Tveit as D'Artagnan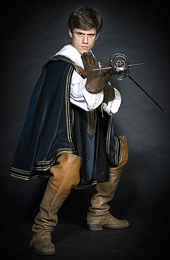 in its East Coast Premiere. One of the greatest adventure stories of all time, The Three Musketeers is a classic tale and now a swashbuckling new musical, with music by George Stiles, award-winning composer of Honk! and Broadway's Mary Poppins.

Lyrics by Paul Leigh. Book by Peter Raby. Original concept by William Hobbs.

North Shore Music Theatre is proud to partner with the prestigious Chicago Shakespeare Theater to present the timeless coming-of-age story of young D'Artagnan as he joins forces with Athos, Aramis and Porthos to battle the malicious cardinal and save France. En garde!

The story focuses on the handsome young D'Artagnan, a country boy determined to be a hero, and his adventures in Paris with Athos, Porthos and Aramis, the hardiest, wittiest and most reckless of the King's Musketeers. Quickly embroiled in romantic affairs, intrigue, devilish plots and ferocious duels, he learns that being a hero is more complicated than he thought. This dazzling story of love, friendship, and gallantry finds breathtaking expression in an exhilarating and passionate score.

"This is North Shore Music Theatre's fourth musical with composer George Stiles," said NSMT Artistic Director and Executive Producer Jon Kimbell. "Since Chicago's production of The Three Musketeers in December we've worked closely with George and the creative team to revise and refocus the script and score to further clarify D'Artagnan's journey. With the majority of the new creative team from across the pond, including George, lyricist Paul Leigh, writer Paul Raby, director Francis Matthews, Tony nominated lighting director Hugh Vanstone and Tony Award-winning set and costume designer Lez Brotherston, our production will have a decidedly British bent. It is a thrill to partner with such a vastly talented team of creative artists and actors on this exciting journey."



John Schiappa as Athos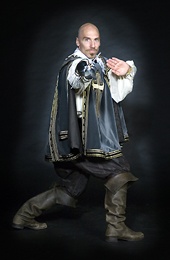 According to director Francis Matthews, whose extensive credits include directing for the Royal National Theatre, the Greenwich Theatre in England, London's West End and Opera Northern Ireland, NSMT's production of The Three Musketeers will be as nimble and quick on its feet as the actors themselves. "The fencing scenes will be fast and furious under the direction of fight director Bryce Bermingham," said Matthews. "And Lez Brotherston's set depicts a strong, rough-hewn place, a perfect background for his stylish, expressive costumes. Lez designs costumes that reveal and release character to a 21st century audience rather than hiding it in layers of suffocating fancy dress. These details, among many others, will take the musical to places it has never gone before."

The cast features Broadway veterans Kevyn Morrow as Aramis, John Schiappa as Athos, Jimmy Smagula as Porthos, Aaron Tveit as D'Artagnan, and Kate Baldwin as Milady.

The cast also includes Chad Ackerman, Mark Aldrich, Adam Alexander, Becky Barta, Bryce Bermingham, Allison Blackwell, Mick Bleyer, Steven Booth, Heather Koren, Nick Dalton, Holly Davis, Jeff Edgerton, Jenny Fellner, Constantine Germanacos, Emily Harvey, Kingsley Leggs, Jonathan Sanford, Matt Stokes, and Anne Tolpegin.

Meet the Theatre: post show audience discussion with the artists on August 28-29 after the evening performance and Sept 8 after the matinee. Spotlight on History, a free pre-show discussion focusing on historical issues related to the performance on September 2; Out at the North Shore, an evening for the Gay and Lesbian Community with a post show reception on September 6.

Operating since 1955, NSMT has evolved into the largest non-profit producing theater in New England, with approximately 300,000 patrons annually. The Three Musketeers opened August 21 and runs through September 9. Beverly, MA.

WE THE PEOPLE by Eric Schlosser. Directed by Charlotte Westenra. Assistant Director Henry Bell. Designer Paul Wills is the designer. Composer Adrian Lee.

1787. A long, humid Philadelphia summer. The government of the United States of America is on the verge of collapse.

We The People forges a vivid drama from the events surrounding one of the most significant moments in world history. The leading citizens of a recently independent United States of America, menaced by the powers of old Europe and reeling from internal rebellion, gather together to save the Union. Founding fathers Benjamin Franklin, James Madison and George Washington are forced to argue out the fundamental principles of their new nation and establish the foundations of the constitution, which the United States still lives within today.

Best known for his controversial best sellers Fast Food Nation (now a major film) and Reefer Madness, Eric Schlosser is one of America's most exciting contemporary historians. We The People is directed by Charlotte Westenra who recently received critical acclaim for her production of Kiss of the Spiderwoman at the Donmar Warehouse.

Cast:
Randolph-Benjamin Askew; Franklin-John Bett; Madison-Robert Bowman; Matlack/Gerry-Joe Caffrey; Marcus-Juldeh Camara; Patterson-Ramon Camin; Mary King-Seroca Davis; Mason-Christopher Godwin; Morris-Trystan Gravelle; Jackson/Jones-Kobna Holdbrook-Smith; Sally Bauche-Cush Jumbo; Hamilton-William Mannering; Pinckney/Bedford-David Oakes; Sarah-Rhiannon Oliver; Shays/Wilson-Paul Rider; Washington-John Stahl; Eliza Trist-Michelle Terry; Sheppard/Sherman-Andrew Vincent; Rutledge-Thomas Wheatley.

The Globe would like to thank Benjamin Franklin House for their help with this production. ( See Broadway To Vegas column of July 15, 2007 ) Opens September 2 at Shakespeare's Globe Theatre in London.

THE UNMENTIONABLES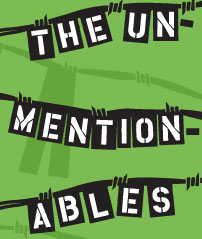 by Bruce Norris. Directed by Pam MacKinnon.

Bruce Norris's explosive satire launches the Woolly season after startling audiences during its world premiere last fall at Chicago's Steppenwolf Theatre.

Thanks to their missionary zeal, a motley collection of do-gooder Americans stirs up tension and trouble in an isolated African village. A wealthy entrepreneur, a pair of Christian charity workers and a flamboyant government official get caught in a web of good intentions and bad judgments in this scathingly funny and provocative new work.

Featuring company member Naomi Jacobson with Tim Getman, Marni Penning and Dawn Ursula.

August 27-September 23 at Woolly Mammoth Theatre in Washington, D.C.


| | | |
| --- | --- | --- |
| | | |
WHO'S WHERE


OPENING NIGHT OF THE CHICAGO JAZZ FESTIVAL features the Herbie Hancock Quartet with Herbie Hancock on piano.

Chicago native Herbie Hancock is a true icon of modern music. Throughout his explorations, he transcends limitations and genres while still maintaining his unique, unmistakable voice. With an illustrious career spanning five decades, he continues to amaze audiences and never ceases to expand the public's vision of what music, particularly jazz, is all about today. Presented in collaboration with the Mayor's Office of Special Events and the Jazz Institute of Chicago as part of the 2007 Chicago Jazz Festival Thursday, August 30 at Symphony Center in Chicago.

VICTOR WILLIS the original policeman in the disco group the Village People, performs for the first time in about 25 years when he appears August 31 at the House of Blues in Las Vegas. This is a water testing for the Victor Willis Disco Dance Tour which is slated to boogie on down the road beginning in March with stops all across the United States and to Australia, Britain, Japan, Norway, Germany and Canada. On stage he'll come out on his motorcycle and perform Village People hits and other numbers. Willis was one of the writers of Y-M-C-A and In the Navy.

MICHAEL FEINSTEIN opens a four night stand Monday, August 27, at the Blue Note in Tokyo, Japan.

COUNTING CROWS on stage Monday, August 27 at the New York State Fair in Syracuse, NY. On Tuesday they perform at the Great Allentown Fair in Allentown, PA. Thursday finds them at Memorial Stadium in Fort Wayne, Indiana. On Saturday they are in the spotlight at Midway Stadium in Saint Paul, MN.

TONY BENNETT headlines Bass Performance Hall in Fort Worth, Texas on Monday, August 27. On Tuesday he can be enjoyed at Jones Hall in Houston, Texas. Wednesday finds him at the Majestic Theatre in San Antonio, Texas and next Sunday, September 2 the show is at the Cape Cod Melody Tent in Hyannis, MA.

DAVE MATTHEWS entertains Tuesday, August 28 at the Verizon Wireless Amphitheater in Bonner Springs, KS. Friday is the start of a three night gig at the Gorge Amphitheatre in Quincy, WA.

BEACH BOYS in a two night stand Wednesday and Thursday at Casino Rama in Rama, ON.

GOOD CHARLOTTE AND JUSTIN TIMBERLAKE star at Mandalay Bay Events Center in Las Vegas on Saturday, September 1.

JIMMY BUFFETT performing his hits Thursday, August 30, at the Mohegan Sun in Uncasville, CT. On Sunday, September 2, they'll be throwing the beach ball around at the Gillette Stadium in Foxboro, MA.

JOSH GROBAN stars at Energy Solutions Arena in Salt Lake City on Tuesday, August 28. Wednesday finds him at the Pepsi Center in Denver. On Friday he is on stage at the Qwest Center in Omaha, NE.

CREEDENCE CLEARWATER REVISITED at the Cerritos Center in Cerritos, CA on Friday and Saturday.




FOOD FOR THOUGHT


FRIED COKE is the newest must have food on the fair circuit. People are queued up to get a taste at the California State Fair in Sacramento which runs through September 3.

The concoction seems to have originated in 2006 with vendor Abel Gonzales Jr. who deep-fries Coca-Cola-flavored batter. He then drizzles Coke fountain syrup on it. The fried Coke is topped with whipped cream, cinnamon sugar and a cherry.

Gonzales' diet-buster won the creativity honor at the second-annual Big Tex Choice Awards Contest.

Gonzales achieved notoriety in 2005 with the fried peanut butter, banana, and jelly sandwich - selling an estimated 25,000 of the Elvis Presley fave, at the Texas fair. Of course, Elvis had the belt-busting fried peanut butter and banana sandwich concoction locked up as far back at his 1972 performing days at the International Hotel (now the Hilton) in Las Vegas. Swivel hips also liked to add bacon to his recipe.

The State Fair of Texas takes place September 28-October 21 at the Fair Park in Dallas. Billy Ray Cyrus performs there in concert, Saturday, Oct. 13.

Organizers of the California State Fair predict a crowd of at least 1 million attending over the course of the 16-day fair. The yearly event generates $150 million for the regional economy. K.C. and the Sunshine band perform Wednesday, August 29 and Chicago in on Stage September 2.

Next Column: September 2, 2007
Copyright: August 26, 2007. All Rights Reserved. Reviews, Interviews, Commentary, Photographs or Graphics from any Broadway To Vegas (TM) columns may not be published, broadcast, rewritten, utilized as leads, or used in any manner without permission, compensation and/or credit.
Link to Main Page
---
Laura Deni


CLICK HERE FOR COMMENT SECTION