! >
Broadway To Vegas
  
 SHOW REVIEWS CELEBRITY INTERVIEWS GOSSIP NEWS

| | |
| --- | --- |
| | |
THEATRICAL STAGING FOR BENJAMIN FRANKLIN HOUSE - - LEGALLY BLONDE BROADWAY CAST CD - - PATTI LUPONE AS MAMMA ROSE IN GYPSY - - FAIR AND TENDER LADIES - - CHARLIE CHAPLIN CAMERA TO BE AUCTIONED - - XANADU POLARIZES - - ROMANTIC POETRY: A MUSICAL PLAY BY JOHN PATRICK SHANLEY - - GIVE MY REGARDS TO BROADWAY BENEFITS REPRISE! BROADWAY'S BEST - - DONATE . . . Scroll Down


Copyright: July 15, 2007
By: Laura Deni

CLICK HERE FOR COMMENT SECTION
A THEATRICAL TOUR OF BEN FRANKLIN'S HOUSE


In the heart of London, just steps from famed Trafalgar Square, is Benjamin Franklin House, the world's only remaining Franklin home. For nearly sixteen years between 1757 and 1775, Dr Benjamin Franklin - scientist, diplomat, philosopher, inventor, Founding Father of the United States and more - lived behind its doors.

Built circa 1730, the home is now open to the public as a dynamic museum and educational facility complete with a theatrical tour.

A Historical Experience - presenting the excitement and uncertainty of Franklin's nearly 16 years in London uses his historic rooms as staging for a drama which seamless integrates live performance, and cutting-edge lighting and projection technology.

The Historical Experience at Benjamin Franklin House stands alone among London attractions in its 'museum as theatre' approach, setting a new standard for historical interpretation.

The main character in the Historical Experience is Polly Hewson, daughter of Franklin's landlady who became a 'second daughter' to Franklin. Accompanied by Polly, who will assume visitors are there to see Franklin on his last night in London when he had to leave or risk arrest, the visitor will experience a sense of the complexity of the man and the times in which he lived: food, health, botany, and daily living in the basement kitchen; social and personal relationships, musical inventions and political tension on the ground floor; scientific work, political triumphs and woes, and a hurried return to America in the face of the looming War of Independence on the first floor.



Peter Coyote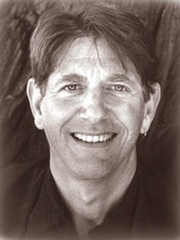 Imelda Staunton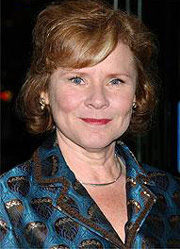 "Currently the actresses we have portraying Polly are Kathryn Sharratt and Meg Faragher," Alice Kershaw, House Administrator for Benjamin Franklin House told Broadway To Vegas.

"Meg has been with the House since it opened but Kathryn only recently started. Both are excellent and have been very positively reviewed. Polly is the only character portrayed by an actress but we have - as the voice of Franklin's landlady, Margaret Stevenson - the voice of Imelda Staunton - currently in Harry Potter," said Streeter referring to the Academy Award nominated actress who is a three-time recipient of Britain's highest theatre honor, the Olivier Award. Staunton portrays power-hungry Dolores Umbridge in Harry Potter and the Order of the Phoenix. "Peter Coyote is Benjamin Franklin," Kershaw added about the actor, singer, author and political activist.

The Historical Experience is a dramatic tapestry, with the words of Franklin woven throughout, removes the traditional distance between museum and visitor, bringing a sense of the urgency and innovation that characterized Franklin's life in Britain. The Age of Enlightenment is brought to life, revealing Franklin's belief in the interconnection of experimentation with personal and social responsibility.

The Historical Experience was developed in partnership with Event Communications, leaders in museum and heritage interpretation. They have worked on high profile projects with the Imperial War Museum North, the Victoria and Albert Museum and Canterbury Cathedral, among many others.

Writer Pat Lower crafted the script for the Historical Experience.

The following is an excerpt from the action in the 'Card Room' which focuses on Franklin's private interactions:

SOUND OF LIGHTNING STRIKE

Polly: When in 1765 the Stamp Act was introduced Dr. Franklin did not foresee the explosion of riots that would occur in America and his wife Deborah wrote to tell him that his home in Philadelphia was in danger of being burned.

SOUNDS OF RIOTING BRICKS THROUGH WINDOWS ETC. LIGHTS FLICKER.

Deborah: Ben, I have been under pressure to leave my house, but I have stayed. I ordered some sort of defense upstairs, such as I could manage myself. If any come to disturb me I would show a proper resentment and I should be very much affronted. God bless you and keep you, is the prayer of yours forever. Deborah Franklin.

Franklin: Debbie, My dear child I am much behind hand in answering my letters. I am well; 'tis all I can say at present except that I am just now made very happy by a vote of the Commons repealing the Stamp Act. I honor much the spirit and courage you showed and the prudent preparations you made in that time of danger.

While lodging at 36 Craven Street, Franklin's main occupation was mediating unrest between Britain and America, but he also served as Deputy Postmaster for the Colonies; pursued his love of science such as measuring the effects of the Gulf Stream, exploring Daylight Saving Time and inventing bi-focal lenses and the energy-saving Franklin stove. One of his inventions, the glass armonica, is an instrument for which Mozart, Bach, and Beethoven composed. He explored health such as innoculation, air baths and cures for the common cold. He composed letters, articles, epitaphs, and his witty Craven Street Gazette, all while forging a hearty social life and close friendships with leading figures of the day.

The complete house also permitted the establishment of the Scholarship Centre. Franklin helped shape the Age of Enlightenment celebrating reason, respect for humanity, and the ideals of political and economic liberalism, freedom, and democracy.

Located on the top floor, the Scholarship Centre is a focal point in Europe for Franklin and Franklin-related study, featuring a full set of the Papers of Benjamin Franklin, as catalogued by Yale University, and an active symposia program.

On August 7 the 2007 Benjamin Franklin House Symposium with the Eccles Centre for American Studies at the British Library will feature Sir Harry Kroto, one of the great minds in science today. His lecture will explore key aspects of 21st century science: what science is, how people, the media, politicians and others perceive science and scientists, and some of the problems non-scientists have in understanding science, engineering and technology.



Back view of the Ben Franklin House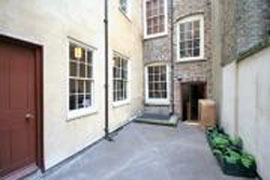 Ben Franklin House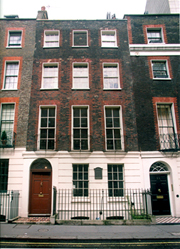 The House, built circa 1730, is architecturally significant. It holds a Grade I listing and retains a majority of original features - central staircase; lathing; 18th century paneling; stoves; windows; fittings; beams; brick, etc - 'unimproved' over time.

The House's historical significance includes;
Franklin lived and worked there for sixteen years on the eve of the American Revolution
First de facto US Embassy - holds a special place in Anglo-American history
Fascinating history of medicine dimension - Franklin's landlady's son-in-law ran an anatomy school from Craven Street home

The House has gained official recognition:
First site outside the US to gain Save America's Treasures designation
Recognized by Tercentenary Committee (celebrating 300th anniversary of Franklin's birth in 2006) established by President George Bush
Institute of Electrical Electronics Engineers (IEEE) 'Milestone' location

The House also served as the anatomy school of the pioneering doctor William Hewson, who married Polly, the daughter of Franklin's landlady Margaret Stevenson in 1770. Basement excavations in 1998 revealed over 1200 cut and trepanned bones, apparently discarded following student dissections. The bones are now being catalogued by scientists at the University of London's Institute of Archaeology and provide fascinating information about the history of surgery.

While Benjamin Franklin was the most famous resident of 36 Craven Street, the Franklin connection has attracted many famous visitors to the House over the years including Winston Churchill, Margaret Thatcher, Senator George Mitchell, Dame Judi Dench, and Mayor of London, Ken Livingstone.

Though built as a lodging house, in the 20th century the building was used as a hotel and as a base for several non-profit groups. By the end of the century, when the Friends of Benjamin Franklin House were granted the freehold to 36 Craven Street from the British Government, the property was in dire condition. The management team and numerous organizations and volunteers have worked tirelessly to realize a dynamic museum and educational facility that will highlight the timeless relevance of Benjamin Franklin and the tumultuous times in which he lived.

The Georgian House is remarkable for its simplicity and original features, including a single staircase that links all floors of the House - which Franklin says he traversed for exercise! - featuring balustrades, three to a tread, with cut strings and curved brackets. The public is exposed to a 'work-a-day' building of early 18th century construction with fielded panels, molded cornices, integral shutters, and the like.

The Science Centre features hands-on experimentation with Franklin's London scientific discoveries, juxtaposing past and present knowledge.

Through the model of Franklin, who translated scientific inquisitiveness into useful devices like the lightning rod, they discover it is possible to make positive and lasting contributions in science - and not just for personal gain; as visitors learn - Franklin never patented any of his inventions.

Outreach programs reinforce in-House offerings including the Benjamin Franklin Science Fair bringing together young people from disadvantaged London schools with their American counterparts allowing them to interact through hands-on exploration in Franklin science and the scientific method - the process of finding out how things work.

The house is also available for movie/television production sites as well as print shoots. The agent lists it as: Superb Georgian town house with many original features. Central London.

This week the Benjamin Franklin House is participating in National Archaeology Week (NAW). The fit is perfect given the House's architectural significance and archaeological importance. For nine days in July, children from across the UK will take part in excavations, guided tours, exhibitions, lectures, craft workshops and more.

Recently, Michael De Guzman, former Benjamin Franklin House's Development Manager who had served as a resident artist, installed a temporary sculpture comprised of over 20,000 rubber bands in Franklin's Parlor!

The complex web alluded to Franklin's entanglement in 18th century diplomatic relations.

It is the first in a series of temporary artistic installations to be featured at the House.


THE MUSIC GOES ROUND AND ROUND


LEGALLY BLONDE original Broadway cast CD. Broadway-pop score by Laurence O'Keefe and Nell Benjamin. Starring talented Laura Bell Bundy as Elle, Christian Borle as Emmett, the dynamic Orfeh as hairdresser Paulette, Richard H. Blake, Kate Shindle and Leslie Kritzer as Delta Nu's Serena.

To be released July 17 on Ghostlight Records.

For the same reason prepubescent girls flock to boy bands, teen girls love Legally Blonde and will ante up parent's money to add this to their collection.

Based on the hit Reese Witherspoon movie, the zippy, frothy show tells the story of a California, pink-loving sorority girl Elle Woods, who enrolls at Harvard Law and goes on to prove that appearances can be deceiving.

The music is in your face, hyper-ventilate energy. The opening number, Omigod You Guys, is bubble-gum. Blood in the Water could be the mantra for any law school with its sophisticated, intelligent, clever - on the money lyrics. Whipped Into Shape has the possibility - with a little cut and splice - of becoming a popular exercise song for fitness centers. The title tune, Legally Blonde, is the most emotionally revealing in a show, which has never set itself forth as being on a deep thinkers' short list of must-see productions. Penned by talented composers who appear to favor accelerated tempos, the lyrics tend to be stronger than the notes which, is some instances, become an unusual hybrid of infectious and almost mind numbing repetitive.

Musicians:

Conductor/keyboard James Sampliner. Associate conductor/keyboard Jason DeBord. Keyboard Matt Gallagher. Guitars - John Putnam, Kenny Brescia. Bass- Mark Vanderpool. Drums- Greg Joseph. Percussion - Pablo Rieppi. Concertmaster - Antoine Silverman. Violins - Mineko Yajima, Martin Agee, Sean Carney. Violas - Jonathan Dinklage. Liuh-Wen Ting. Cellos - Peter Sachon, Jeanne Le Blanc, Deborah Assael. Reeds - Vincent DellaRocca, Dan Willis, Chad Smith. Trumpets - Dave Trigg, Bud Burridge. Trombone - Keith O'Quinn. French horn - Roger Wendt.

Tracks:

1 Omigod You Guys
2 Serious
3 What You Want
4 The Harvard Variations
5 Blood in the Water
6 Positive
7 Ireland
8 Chip on my Shoulder
9 So Much Better
10 Whipped into Shape
11 Take it Like a Man
12 Legally Blonde
13 Legally Blonde (remix)
14 Find My Way



Broadway To Vegas is supported through advertising and donations. Priority consideration is given to interview suggestions, news, press releases, etc from paid supporters. However, no paid supporters control, alter, edit, or in any way manipulate the content of this site. Your donation is appreciated. We accept PAYPAL. Thank you for your interest.


SPREADING THE WORD


THE WESTON PLAYHOUSE THEATRE presents Connections & Contexts, a series of free lectures and discussions in conjunction with WPTC's summer season of plays. On Saturday, July 21, Bennington College Historian Eileen Scully will illuminate the colonial world of The King and I, which has performances at The Weston Playhouse through July 28. All lectures are free and open to the public and are held at the Weston Playhouse in Weston, Vermont.


OTHER PEOPLE'S MONEY


THE CAMERA USED BY CHARLIE CHAPLIN

Charlie Chaplin with his camera
to film movies, including The Kid (1921) and The Gold Rush (1925), will be offered at auction by Christie's in London on July 25.

Chaplin bought the camera in 1918 for his newly established Chaplin Studios, in Hollywood, and it was first used on Shoulder Arms.

Covered in marks and nicks - all of which have added to the value - is expected to fetch $140,000 to $180,000.

The Bell & Howell 2709 was considered a classic camera of its age before the advent of sound around 1930. The camera was used up until the 1950s for animation and the creation of titles, which did not require sound recording.

Chaplin was awarded an honorary Oscar for his contribution to film in 1975. The camera will be auctioned as part of Christie's motion picture camera sale and will be on view at the auction house's South Kensington branch in London beginning July 21.


SWEET CHARITY


GIVE MY REGARDS TO BROADWAY an unforgettable one-night-only gala benefit evening, benefiting Reprise! Broadway's Best.

Television Legends in an Evening of Song starring Jason Alexander, Pam Dawber, Florence Henderson, Ken Howard, Shirley Jones, Michele Lee, Hal Linden, Peter Marshall, John Schneider, Jean Smart and Dick Van Dyke.

Saturday, July 21 at the Brentwood Theatre, in West Los Angeles. Jason Alexander, Artistic Director of Reprise! Broadway's Best comments, "The stars that are headlining this amazing evening have contributed so much to the fabric of our lives. Individually, they have brought us endless joy. Together, they promise an evening that will redefine the word 'memorable.' We are honored that these legendary performers have agreed to join us in support of Reprise! I hope everyone will come and celebrate my first event as Artistic Director as Reprise! shows Los Angeles and the entire theater world exactly what we do best."

There will be a pre-show reception.



GYPSY

Patti LuPone as Mamma Rose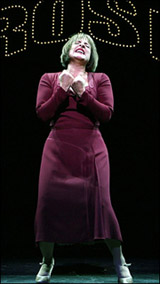 by Stephen Sondheim, Jule Styne and Arthur Laurents who also directs.

Starring Tony winners Patti LuPone as Mama Rose and Boyd Gaines as Herbie. Laura Benanti as Louise, Leigh Ann Larkin as Dainty June, Tony Yazbeck as Tulsa, Alison Fraser as Tessie Tura, Nancy Opel as Mazeppa/Miss Cratchitt, Marilyn Caskey as Electra, Sami Gayle as Baby June, Emma Rowley as Baby Louise, Jim Bracchita as Uncle Jocko/Pastey, Bill Bateman as George/Mr. Goldstone/Bougeron-Cochon, Bill Raymond as Pop/Cigar and Brian Reddy as Weber/Phil.

Patti LuPone as Mamma Rose - a part she was destined to play - started spinning positive word-of-mouth a year ago when she played a weekend of performances in a semi-staged concert version at the Ravinia Festival in Illinois.

This limited run experience is one of the few reasons to tackle a hot summer in New York City.

The creative team includes Patrick Vaccariello (music direction), Bonnie Walker (reproducing Jerome Robbins' original choreography), James Youmans (set design), Martin Pakledinaz (costume design), Howell Binkley (lighting design) and Dan Moses Schreier (sound design).

Too short a run. Previews began July 9, the officially opening was July 14 with the limited run ending July 29 as part of the new Encores! Summer Stars series at City Center, NYC.

DEMOCRACY By Michael Frayn. Directed by Jim Petosa.

Three political parties, fifteen warring cabinet ministers, and sixty million battered egos. Based on fact and set against the backdrop of Germany in the mid-1960s, Democracy re-imagines the interactions between Willy Brandt, the first left-of-centre West German Chancellor, and his devoted personal assistant Günter Guillaume, who is no less devoted to his other role as a spy. Democracy is a brilliant story of intrigue and politics. July 18 - August 12 at the Olney Theatre in Olney, MD.

ROMANTIC POETRY: A MUSICAL PLAY Book and lyrics by John Patrick Shanley. Music by Henry Krieger. Directed by John Patrick Shanley. Featuring William Evans, Ivan Hernandez, Mark Linn-Baker, Chris McGarry and Patina Miller.

A mad musical New York champagne evening of six inter-related plays in two acts, the subject of which is the lyrical expression of amour.

July 19 – July 29 in the 325-seat Martel Theater of Vogelstein Center for Drama and Film Vassar College in Poughkeepsie, NY.

LOVE'S LABOUR'S LOST by William Shakespeare. A festive parade of excruciating misunderstandings and impersonations, and a joyful celebration of language, laughter and young love. This send-up of all those who try to turn their backs on life enjoys its first outing at the Globe this season.

Love's Labour's Lost is directed by the Globe's Artistic Director Dominic Dromgoole. Composer Claire van Kampen. Cast: Gemma Arterton, John Bett, Joe Caffrey, Oona Chaplin, Seroca Davis, Christopher Godwin, Trystan Gravelle, Kobna Holdbrook-Smith, Cush Jumbo, William Mannering, David Oakes, Rhiannon Oliver, Paul Rider, Michelle Terry,l Andrew Vincent and Timothy Walker.

Runs until October. 7 Shakespeare's Globe Theatre in London.

FAIR & TENDER LADIES adapted from the novel by Lee Smith. Script by Eric Schmeidl with Music and Lyrics by Tommy Goldsmith, Tom House and Karren Pell.

Meet Ivy Rowe (Greta Lambert), a strong-willed and passionate Appalachian woman in love with words, life, and her home on Blue Star Mountain. The story and music of this ASF favorite celebrates the traditions of the Virginia mountains and Ivy's vibrant spirit.Rediscover one of the most loved Southern Writers' Project world premieres.

Director/Dramaturg is Susan Willis. Scenic Designer - Michael C. Smith. Costume Designer - Kristine Kearney Lighting Designer - Phil Monat Sound Designer - Richelle Thompson.

H. Drew Perkins serves as Musical Director.

Opened Friday July 13 with performances to Sunday, August 5. Alabama Shakespeare Festival in Montgomery, Alabama.

XANADU book by Douglas Carter Beane; music and lyrics by Jeff Lynne and John Farrar; based on the Universal Pictures film screenplay by Richard Danus and Marc Rube. Directed by Christopher Ashley.

Unexpected. A dreadful movie turned into a campy Broadway musical which could draw some of the Mamma Mia! crowd.

Almost dismissed as an after-thought, Xanadu with a July opening - sent out a message that it shouldn't be taken seriously. Just some summer fluff for the tourist crowd. It's about a rollerskating Greek muse named Kira who helps struggling artist Sonny Malone achieve his dream of opening a roller disco.

It may be polarizing - a production that either is or isn't you're cup of tea. If you're a fan of roller skating - don't miss it. If you can view this as a spoof, which is what we think it is, then you'll have a good time. Enjoy music by John Farrar and Electric Light Orchestra's Jeff Lynne? Those tunes - I'm Alive, Magic - are essential for this production to be running. If you stay up nights fretting over what happened to disco balls - Xanadu is for you.

Some may call Xanadu 90-minutes of fun but it shouldn't be called a Broadway show.

A strong cast throughout starring an excellent Kerry Butler as Clio/Kira, talented Cheyenne Jackson as Sonny, veteran Tony Roberts as Danny Maguire/Zeus. With Jackie Hoffman (Calliope/Aphrodite), Mary Testa (Melpomene/Medusa), Curtis Holbrook (Thalia/Siren/Young Danny/'80s Singer/Cyclops), Anika Larsen (Euterpe/Siren/'40s Singer/Thetis), Patti Murin (Erato/Siren/'40s Singer/Eros/Hera), David Tankersley (Featured Skater) and André Ward (Terpsicore/Siren/'80s Singer/Hermes/Centaur).

Choreography by Dan Knechtges; music direction and arrangements by Eric Stern; sets by David Gallo; lighting by Howell Binkley; costumes by David Zinn; sound by T. Richard Fitzgerald and Carl Casella; projection design by Zachary Borovay; technical supervision by Juniper Street.

At the Helen Hayes Theatre in NYC.


| | | |
| --- | --- | --- |
| | | |
WHO'S WHERE


JAMIE CULLUM is the special guest performer with the Los Angeles Philharmonic conducted by Bramwell Tovey. Two night gig July 20-21 Los Angeles.

SAVION GLOVER: ON TAP backed by the Hollywood Bowl Orchestra with Bramwell Tovey conducting. Sunday, July 22, Los Angeles.

GREGG ALLMAN the Rock 'n Roll Hall of Famer is both a founding member of one of the biggest and most important American bands of all time, the still-active and thriving Allman Brothers Band, and a critically acclaimed solo talent. He performs Thursday, July 19, at the Carling Academy Brixton, England.

LYLE LOVETT AN KD LANG perform Wednesday, July 18, at Britt Pavillion in Jacksonville, OR. Thursday finds the pair at McMenamins Edgefield Amphitheater in Troutdale, OR. On Friday they open a two night stand at Chateau Ste. Michelle Winery in Woodinville, WA.

JOSH GROBAN back from his European tour. He performs Tuesday, July 17 at the Bi Lo Center in Greenville, SC. On Wednesday he's on stage at the Charlotte Bobcats Arena in Charlotte, NC. Friday finds him at the Norfolk Scope Arena in Norfolk, VA. ON Saturday he stars at at Atlantic City Boardwalk Hall.

ZOHAR has earned a name for itself as an underground pioneer of the Middle Eastern-inspired, jazz-influenced dance scene from the United Kingdom. Led by Erran Baron Cohen - composer of the Borat soundtrack - this four-piece ensemble's blend of Jewish and Arabic music, ballads, electronica and deep ambient dance grooves creates a trance-like fusion of cultures. Thursday, July 19, Skirball Cultural Center in Los Angeles.

JOHN MAYER on stage Tuesday, July 17, at the TD Banknorth Garden in Boston. Wednesday the show is at the Verizon Wireless Arena in Manchester, NH. On Friday he is on stage at the Tweeter Center in Camden, NJ. The performance Saturday is at Hersheypark Stadium in Hershey, PA. Next Sunday, July 22, he can be enjoyed at the Borgata Hotel in Atlantic City.

NORA JONES in the spotlight Monday, July 16, at the Olympiahalle in Munich, Germany. On Tuesday she takes to the stage of the Stravinski Auditorium in Monterey, Switzerland as part of the Montreau Jazz Festival. On Wednesday the show is at Jazz A Juan in Antibes, France. Friday finds her at the Palau De La Musica in Barcelona, Spain. On Saturday she performs at the Jazz Festival in Vitoria, Spain and next Sunday she can be enjoyed at the Jazz Festival in Lisbon, Portugal.

DIANA KRALL performs Monday, July 16 at the Filene Center at Wolf Trap in Vienna, VA. Wednesday she entertains at Chastain Park Amphitheatre in Atlanta, GA. On Thursday the show is at Schermerhorn Symphony Center in Nashville, TN. Saturday the performance is at the Fox Theatre in Detroit, MI.

BON JOVI returns from performing Mexico on Friday to participate in the Cheyenne Frontier Days in Cheyenne, Wyoming. On Saturday he as part of Country Jam USA in Eau Claire, WI.

CARLOS MENCIA turning dialects into laughs Saturday, July 21, at the Tweeter Center in Mansfield, MA.




PIFFLE AND PROFUNDITIES


BABY DOLPHIN Siegfried & Roy's Secret Garden and Dolphin Habitat at the Mirage Hotel in Las Vegas has welcomed the arrival of a happy and healthy 25-pound baby boy dolphin named Sgt. Pepper!

The little wonder was born at the Dolphin Habitat on Friday, June 8, 2007.

Both mother, Duchess - a 30-year-old Atlantic bottlenose beauty, and baby are doing fine.

Duchness found herself a 22-year old toy-boy named Lightning. The father is swimming around proudly.

Visiting hours are Memorial day to Labor day 10:00 a.m. – 7:00 p.m.

Next Column: July 22, 2007
Copyright: July 15, 2007. All Rights Reserved. Reviews, Interviews, Commentary, Photographs or Graphics from any Broadway To Vegas (TM) columns may not be published, broadcast, rewritten, utilized as leads, or used in any manner without permission, compensation/credit.
Link to Main Page
---
Laura Deni


CLICK HERE FOR COMMENT SECTION