! >
Broadway To Vegas
  
 SHOW REVIEWS CELEBRITY INTERVIEWS GOSSIP NEWS

| | |
| --- | --- |
| | |
CHICAGO CELEBRATES 12TH ANNIVERSARY AND 5,000 SHOW - -IMAGINING BABYLON - - VARIETY CLUB CHILDREN'S CHARITY - - GALA CELEBRATING THE ARTS OF NEW YORK STATE - - OREGON SHAKESPEARE FESTIVAL MORE PATRONS MORE DEBT - -JAZZ DIVERSITY PROJECT - - WHITE CHRISTMAS BEGINS PREVIEWS - - PERDITA - - DONATE . . . Scroll Down


OREGON SHAKESPEARE FESTIVAL: MORE PATRONS - MORE DEBT AND A NEW LOOK FOR THE MUSIC MAN
Bill Rauch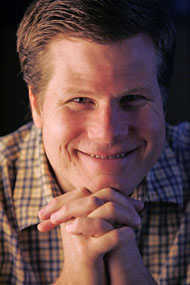 The Oregon Shakespeare Festival is suffering from convoluted feelings. They've never had better attendance or revenue - or more debt.

Festival director Bill Rauch closed his first season as Artistic Director with a smile on his face. Attendance reached 400,851 or 89% of capacity, the second highest in the Festival's 73-year history and record revenues of $15,799,771.

Founded in 1935, the Tony Award-winning Oregon Shakespeare Festival (OSF) is among the oldest and largest professional non-profit theatres in the nation. Each year OSF presents an eight-and-a-half-month season of eleven plays in three theatres plus numerous ancillary activities, and undertakes an extensive theatre education program. Operating on a budget exceeding $26 million, OSF presents more than 780 performances annually with attendance of approximately 400,000.

OSF has 325 fulltime employees, 175 are part timers. There are also 600 volunteers.

While the 2008 season finished strong, the changes in the nation's economy and investment market have resulted in a projected deficit of $700,000 for OSF, the result of lower investment returns and below budgeted average ticket revenues. Reserves will be able to cover the loss this season, but Executive Director Paul Nicholson currently projects a shortfall in 2009 of $1 million because of decreased donations across all categories, continued lower investment returns and a decline in the payout from the endowment fund in the year ahead. Nicholson told a company gathering last week that the 2009 operating budget has been cut accordingly.

OSF remains hopeful but cautious. Member presale began November 6 and runs through November 23. More than half of all ticket sales occur during OSF's presale. Thus, they feel that at that time they will have a better perspective on 2009 sales.

Rauch, who co-founded Cornerstone Theater in Los Angeles and served as their Artistic Director for 20 years, began his tenure at OSF in June 2007.

During his first year he directed the visually stunning epic Indian classic, The Clay Cart, which closed at 86% of capacity, and a new play by Jeff Whitty, the irreverent and hilarious The Further Adventures of Hedda Gabler (82%). Another new play, Luis Alfaro's Breakfast, Lunch and Dinner, closed at 84%. The first-ever 20th-century play to be produced on OSF's outdoor Elizabethan Stage, Thornton Wilder's Our Town, closed at 80%, and the world premiere production of Julie Marie Myatt's Welcome Home, Jenny Sutter had a successful run at OSF (89%) and at Washington D.C.'s Kennedy Center in July.

As expected, Shakespeare's plays did very well with audiences. A Midsummer Night's Dream closed at 97% of capacity, Coriolanus at 91%, Othello at 89% and The Comedy of Errors at 98%. August Wilson's Fences, which closed on July 6, ran at 83% of capacity.

Rauch oversaw the launch of a totally new Green Show, featuring an eclectic mix of music and performance. Produced by Artistic Associate Claudia Alick, the change was wildly popular with both locals and visitors. In addition, Festival Latino, a celebration of Hispanic and Latino culture, took place July 23-27 and featured free outdoor performances on the Green Show stage and open-captioned performances of OSF's work in Spanish. The program was reported to have been "extremely well-attended."

Rauch and U.S. History Cycle Director Alison Carey have also commenced work on the ambitious history project, American Revolutions: The United States History Cycle. The 37-play, 10-year History Cycle is the largest commissioning and production project in the Festival's 73-year history. The first seven commissions were announced in June. The artists are Culture Clash (Richard Montoya, Ric Salinas and Herbert Siguenza), David Henry Hwang, Lynn Nottage, Suzan-Lori Parks, Robert Schenkkan, Naomi Wallace, and the collaborative team of Jonathan Moscone and Tony Taccone.



Alison Carey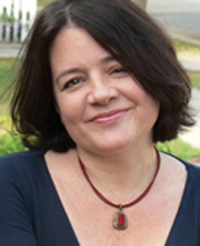 Each inspired by a moment of transformation, inspiration or conflict in the nation's history, up to 15 plays are expected to get full productions, with some likely to get readings or workshop productions.

The cycle is directed by Alison Carey, co-founder with Rauch of Cornerstone Theater Company, which works with diverse American communities. As Cornerstone's resident playwright, Carey penned more than 25 of the company's productions for stages across the country.

The United States History Cycle will involve more than 100 artists, historians and institutions from around the country.

The selections are funded by $700,000 in three-year grants from the Paul G. Allen Foundation and the Collins Foundation. The Collins Foundation gave $400,000 and the Allen foundation $300,000.

The Collins Foundation grant is awarded over three years, from 2008 through 2010, and is the largest grant OSF has received from that foundation.

"This unique project highlights the power of theater to inspire us," said Cynthia Addams, executive vice president of The Collins Foundation. "It is one of those wonderfully creative initiatives that captures the mind and the spirit. The Collins Foundation is delighted to assist in launching the United States History Cycle."

"We hope to produce one or two a year here at the Oregon Shakespeare Festival," Carey said. The first production is expected by 2010. "It is not meant to be a survey of U.S. history," Carey has told the press. "That's why we have books."



Pulitzer Prize winning historian David Kennedy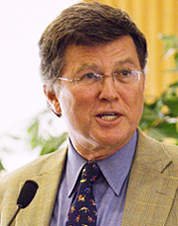 Patty Limerick received a MacArthur Fellowship - known as a Genius Grant - in 1995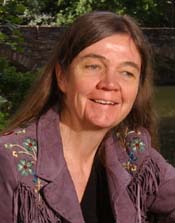 Although Rauch said some overlooked subjects or eras might be suggested to playwrights at some point, Carey said the playwrights will be free to select their own subjects or eras, focusing on some kind of revolution in American life. Carey told the media that the theme of the cycle is the brainchild of Rauch, who has made sweeping changes at the festival since taking over as artistic director last year.

Hundreds of people have been involved in shaping the project, and she pointed to several historians, among them David Kennedy, Howard Zinn and Patty Limerick.

"Part of their mission is to move history out of academia," Carey said. "I think the first rule we decided on early on was there would be no rules."

"This first season has been a wonderful ride," said Rauch. "I have tried to build on the legacy of my brilliant predecessors and to take the Festival in new directions as well, and am deeply proud of all that we have achieved together. I came to Ashland in large part because of the intelligence, passion and loyalty of our audience, and they have been my close partners in this adventure all year long. I can't wait for 2009."

The 2009 season will be anchored by four plays by William Shakespeare, and Shakespeare aficionados will be delighted that they can see some long-awaited plays to complete their Shakespearean canon.

Macbeth will run the length of the season in the Angus Bowmer Theatre, directed by one of the world's leading stage directors and interpreters of Renaissance drama in performance, Gale Edwards. Amanda Dehnert, freelance director and assistant professor at Northwestern University will bring her directorial vision to the New Theatre production of All's Well That End's Well (last produced at OSF in 1992). On the Elizabethan Stage, OSF veteran John Sipes will direct Henry VIII (last produced at OSF in 1984) and Kate Buckley, will direct the ever popular Much Ado About Nothing.

Staying true to his mission of bringing world classics to OSF stages, Rauch announced that Death and the King's Horseman, by Nobel Prize-winning Nigerian playwright Wole Soyinka, will run in the Bowmer Theatre from February through July. The drama, considered by many to be Soyinka's greatest play, is based on a real incident in Nigeria during British colonial rule. It will be directed by Goodman Theatre resident director Chuck Smith.

The family-friendly 300-year-old Italian comedy The Servant of Two Masters, by Carlo Goldoni, will open in the New Theatre. Staged by Tracy Young, who is directing this season's production of Breakfast, Lunch And Dinner, the play will run from March through November.

Debuting on the outdoor Elizabethan Stage will be the Spanish classic about the knight errant and his squire Sancho Panza, Don Quixote, by Miguel de Cervantes Saavedra, with a world premiere adaptation by playwright Octavio Solis. This enduring classic will be directed by OSF veteran Laird Williamson.

Rauch is extremely excited to offer the classic American musical The Music Man, opening in the Angus Bowmer Theatre in February and running throughout the season. While remaining true to Meredith Willson's original version of the 1957 Broadway hit, Rauch will give a new look and feel to the play, having first workshopped his vision of the musical while teaching at UC Irvine in 2007.

Another great American classic will open in July in the Angus Bowmer Theatre - Clifford Odets' powerful drama Paradise Lost, about one family's struggle through the Great Depression. OSF Artistic Director Emeritus Libby Appel will direct.

In addition to The Music Man, Rauch will also direct the world premiere production of Bill Cain's Equivocation, playing in the Bowmer Theatre from April through November. This smart, complex, engaging play involves Shakespeare and his company of players during rehearsals for Macbeth. Shakespeare is commissioned by Robert Cecil, 1st Earl of Salisbury and minister to King James I, to write a play about the Gunpowder Plot of 1605. The play explores what it means to tell the truth, to equivocate--and to lie--in politics, art and life.

Last but not least, opening in February and playing in the New Theatre is Sarah Ruhl's Dead Man's Cell Phone, directed by freelance director Christopher Liam Moore. The play blends real and fantastical elements in telling the story of what happens when a woman answers a ringing cell phone - that belongs to a dead man.


ART AND ABOUT


YVES SAINT LAURENT

Marina Schiano in Evening Gown. Fall-Winter 1970. © The Estate of Jeanloup Sieff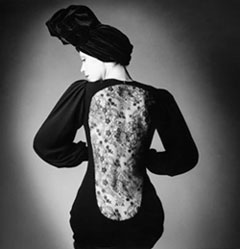 In the 1960s Yves Saint Laurent made an indelible mark on fashion with clothing emblematic of the new modernity. Virtuoso. Visionary. Genius. These are just some of the words used to describe the late Yves Saint Laurent, master couturier and fashion pioneer. The de Young is proud to present the exclusive United States presentation of the special exhibition, which celebrates the life of Yves Saint Laurent and showcases forty years of creativity by the Maison Haute Couture, whose unique style blends references to the world of art with allusions to pop culture and social revolutions.

Yves Saint Laurent was known for revolutionizing the haute couture tradition and laying the foundations of modern women's wear. The wardrobe basics he designed — pantsuit, pea coat, safari jacket, culotte skirt and tuxedo — became true timeless classics in every woman's wardrobe. His couture designs were equally groundbreaking reflecting wide-ranging sources of inspiration. In Saint Laurent's vocabulary, music, art, performance, literature and international cultures were just as significant as the new shapes he introduced.

Structured around four themes, the exhibition develops the revolutionary nature of his body of work that presents a new definition of femininity and a signature that transcends fashion. The exhibition includes over 120 accessorized outfits belonging to the Foundation Pierre Bergé – Yves Saint Laurent as well as Saint Laurent's drawings, photographs and videos. This exhibition marks the first major retrospective of Saint Laurent's work in over 25 years.

Through April 5, 2009 at the de Young Museum in San Francisco.

IMAGINING BABYLON For two thousand years the myth of Babylon has haunted the imagination. The Tower of Babel and the Hanging Gardens, Belshazzar's Feast and the Fall of Babylon have inspired artists, writers, poets, philosophers and film makers.

The ancient city of Babylon - in modern-day Iraq - has engendered a rich legacy in art and thought, from great paintings to contemporary film and music.

Beginning November 13 the British Museum brings together such works of imagination with archaeological treasures - to try to reveal the reality behind the legends.

The exhibition will look at famous myths and stories - including the Tower of Babel, the Hanging Gardens, and King Nebuchadnezzar's madness. Over the past two hundred years, archaeologists have slowly pieced together the 'real' Babylon – an imperial capital, a great centre of science, art and commerce. Since 2003, our attention has been drawn to new threats to the archaeology of Mesopotamia, modern day Iraq.

Drawing on the combined holdings of the British Museum London, the musée du Louvre and the Réunion des musées nationaux, Paris, and the Vorderasiatisches Museum Berlin, the exhibition explores the continuing dialogue between the Babylon of our imagination and the historic evidence for one of the great cities of antiquity at the moment of its climax and eclipse.

November 13, 2008-March 15, 2009 at The British Museum in London.




GET WELL SOON TO ...


MANNHEIM STEAMROLLER'S CHIP DAVIS Earlier this year he underwent major surgery to correct damage to his neck and nerves. Although he's recuperating every day, he won't be able to join the annual Mannheim Steamroller tour.

Being side lined has given the drummer/percussionist a new perspective. Last week for the first time ever he watched a Mannheim Steamroller show from the audience. He thought it was a "really great show!" Minus the founding member, The East Coast leg of the tour kicks off in Gainesville, FL on November 13th, while the Midwest swing will begin on November 21 South Bend, IN.

Mannheim Steamroller began as an alias for record producer/composer Davis. The name Mannheim Steamroller comes from an 18th-century German musical technique. Mannheim Steamroller is known for their modern recordings of Christmas music. The group has sold 28 million albums in the U.S.

The current lineup of the band is: Bobby Jenkins (Oboe), Jackson Berkey (keyboards), Almeda Berkey (keyboards), Roxanne Layton (percussion and woodwinds), Ron Cooley (guitar and bass), Arnie Roth (strings), and Chuck Pennington (orchestra conductor).



Broadway To Vegas is supported through advertising and donations. Priority consideration is given to interview suggestions, news, press releases etc from paid supporters. However, no paid supporters control, alter, edit, or in any way manipulate the content of this site. Your donation is appreciated. We accept PAYPAL. Thank you for your interest.


40TH ANNIVERSARY OF MOVIE BEN HUR INSPIRES STAGE SHOW
Ben Hur chariot race

A stage production of the epic Charlton Heston film Ben-Hur is to open next year in London's O2 Arena, marking the movie's 50th anniversary, it was announced on Thursday.

The highlight of the multimillion-dollar show, about the life and destiny of the Jewish prince, will include the famous chariot scene. with five chariots pulled by thoroughbred horses circling the floor of the arena.

The production will require 400 performers and 100 animals including horses, donkeys, chickens and eagles. The thoroughbred horses will undergo 12 months of intensive training with a team of trainers and charioteers.

Creator Franz Abraham said in a pres release that: "I have aimed to create something completely new, with a high level of artistry, that would excite the audience." Added the German producer: "The show will have the speed of a musical, the depth of great theatre, the power of a rock concert and the visual opulence of a Hollywood blockbuster."

Mark Fisher, chief stage designer at the Beijing Olympics opening and closing ceremonies will be in charge of creating a combination of light, sound, water, wind and pyrotechnic effects. Hollywood producer Klaus Badelt, who has worked on Miami Vice and Premonition, has created a symphonic soundtrack.

However, it is not the first time that the Hollywood epic has been recreated live. Two years ago, a French production played to 300,000 people at Paris's Stade de France. The staging was the subject of a huge publicity campaign rivaling the hype around another big theatre piece of that autumn, Sam Mendes's Tony-winning production of Cabaret in a French language version at the Folies Bergère.

In 2006 Jean-Christophe Giletta, of Stade de France Productions, which put on the show, told The Guardian; "Ben-Hur is universal, it's international, everyone knows what it is. But no one had dared to put it on up to now."

Training the horses for a 14 minute chariot race in which Ben-Hur's enemy, the Roman Messala - played by Alain Delon's son, Anthony - was required to fall from his chariot and be dragged along in the dirt, took nine months of rehearsal at a special equestrian centre outside Paris. "It's not like in the cinema, where if you miss a shot you can do it again. Here, it's going to be a live chariot race every evening," Mr Giletta continued in his interview with The Guardian. "Horses... you can train them all you want, they're still horses."

Prior to the French staging scenes from the book, written by American civil war general Lew Wallace, were often performed in theatrical spectacles in the early 20th Century.

Tickets for the new production will go on sale on November 14, with the world premiere taking place at the O2 Sept.15, 2009, with two other performances scheduled there Sept. 18 and 19. After that the show will tour Europe.



CHICAGO celebrates its 13th anniversary and 5,000th performance on Broadway on Friday, November 14.

AUGUST: OSAGE COUNTY winner of the 2008 Pulitzer Prize, Tony, Drama Desk, New York Drama Critics' Circle, and Outer Critics Circle Awards for Best Play – played its 400th performance on Saturday, November 8, 2008.

Broadway soon won't be the only place to catch August: Osage County. The show will begin performances at the National Theatre in London later this month, with the original Broadway cast, including Tony Award winners Deanna Dunagan and Rondi Reed, reprising their roles. The show will also be embarking on a national tour this summer, with its first stop being the Curran Theatre in San Francisco.

August: Osage County on Broadway currently stars Estelle Parsons as Violet Weston, Robert Foxworth, Kimberly Guerrero, Scott Jaeck, Brian Kerwin, Madeleine Martin, Mariann Mayberry, Michael McGuire, Michael Milligan, Dee Pelletier, Madeleine Martin and Frank Wood.


JAZZ IT UP


THE SIOUX FALLS SOUTH DAKOTA JAZZ BAND has a mission of increasing the awareness of jazz and blues music through music events and education.

The Society's newest educational program, the Jazz Diversity Project, is a traveling assembly program that brings live jazz music into middle schools across South Dakota.

The Jazz Diversity Project is an hour-long presentation combining jazz music education with American History the Humanities and Social Science curriculum. A live jazz combo and multi-media presentation bring the music to life.

The presentation begins as students discover the role that jazz music played in the early 1900's leading up through the Civil Rights Movement and into the present day.

The Jazz Diversity Project is performed by South Dakota musicians the Dakota Jazz Collective: Jeremy Hegg (piano), Jim Speirs (trumpet), Andrew Reinartz (bass), Bobby Gripp (drums), and guest Omaha, NE musician Matt Wallace (saxophone).

Since September 2006, the Jazz Diversity Project has toured 46 communities throughout South Dakota, impacting nearly 14,000 students.

THE LONDON JAZZ FESTIVAL featuring some of the most respected names in world jazz today. The Festival also has an ever-growing commitment to engaging with communities across the capital. Their extensive learning and participation programs create opportunities for young people in particular to get actively involved in music-making through a range of workshop initiatives and to broaden their listening experiences through the highly successful New Audiences program. Other opportunities offered everyone are through public master classes and pre-concert talk series, Hear Me Talkin' To Ya.

A few of the performers are: Cleo Laine and John Dankworth; Chick Corea and John McLaughlin; Five Peace (sic) Band; London Jazz Orchestra; Keith Tippett, Herbie Hancock Sextet; Bill Frisell; Gareth Lockrane Big Band; John Turville Trio; Frøy Aagre Quartet featuring Kenny Wheeler; David McAlmont, David Sanchez Quartet with Jean Toussaint, Sarah Gillespie and Gary Crosby's Nu Trooop. Assorted London venues November 14-23.


SWEET CHARITY


VARIETY CLUB CHILDREN'S CHARITY is again taking on the role on Santa Claus. With a worldwide down economy, thousands of children - who don't understand the stock market - will understand that they awoke on Christmas morning to find neither a Christmas stocking nor a present.

Every Christmas the Variety Club Children's Charity in the UK gives over 3,000 toys to children who would otherwise have no present of any kind. Other branches have similar accomplishments.

Variety, the Children's Charity was founded in Pittsburgh, Pennsylvania on October 10, 1927 when a group of eleven men involved in show business set up a social club which they named the "Variety Club". On Christmas Eve 1928, a small baby was left on the steps of a movie theatre, with a note reading:

Please take care of my baby. Her name is Catherine. I can no longer take care of her. I have eight others. My husband is out of work. She was born on Thanksgiving Day. I have always heard of the goodness of showbusiness people and pray to God that you will look after her. Signed, a heartbroken mother.

Since efforts to trace the mother failed, the members of the Variety Club undertook to fund the child's living expenses and education. Later the club decided to raise funds for other disadvantaged children.

To date the organization has grown to include chapters (or "tents" as they are termed by the organization) in 13 countries worldwide.

this year all of the tents need extra support to provide Christmas cheer for the young ones.

GALA CELEBRATING THE ARTS OF NEW YORK STATE will honor Tony Award winner Barbara Cook, Elysabeth Kleinhans of 59E59 Theaters, Phoebe Jacobs, the executive vice president of the Louis Armstrong Educational Foundation; and Kristin Swain, executive director of The Rockwell Museum of Western Art.

The non-profit New York service association for community-based arts and cultural organizations will present Cook, Kleinhans, Jacobs and Swain with awards that recognize their "outstanding commitment and dedication to arts education and advocacy."

Stephanie Simon, the arts reporter for NY1 News, will host the evening, which will be held at the Manhattan Penthouse on Fifth Avenue and 14th Street on November 17. Kelli O'Hara, Rebecca Luker and Michael Dansicker will be on hand to salute Cook, while jazz musicians Arturo O'Farrill and Jon Faddis will pay tribute to Jacobs. The evening will also feature a silent auction.

The event committee is chaired by Stephanie Simon. Her committee includes;
Veronica Claypool, Frank DiLella, Linda Earle, Maya Israel, Tangie Murray, Gary Schiro, Douglas Smith and Judith Kaufman Weiner.

The Alliance has a 33 year history as New York's primary service and advocacy organization, providing professional training for arts leaders, technical assistance for arts organizations and advocacy leadership to increase public funding and advance public policy in the arts.

SPOTLIGHT ON HUNGER FOOD DRIVE staged by the Ferguson Center for the Arts in Newport News,VA is requesting that patrons bring a non-perishable food item to shows they see from November 9 - December 20, 2008.

Those performances include;

the Warsaw Philharmonic Orchestra on November 8; Burt Bacharach on November 13; Nunsense starring Sally Struthers on November 14-15; Rain - A Tribute to the Beatles on November 20; Doobie Brothers on November 23; The Boston Pops Esplanade Orchestra performing on December 3; Dave Koz & Friends Smooth Jazz Christmas on December 8; Broadway's Spirit of Christmas on December 9; Broadway's Spirit of Christmas December 12-13 and The Glenn Miller Orchestra on December 20.

Collection areas will be in the Concert Hall lobby and at the Ferguson Center Ticket Office The Ferguson Center is also accepting financial donations on behalf of the Foodbank of the Virginia Peninsula.


OTHER PEOPLE'S MONEY


PLAYWRIGHTS HORIZONS has announced that the theater company has been awarded a $2 million grant from The Andrew W. Mellon Foundation.

The $2 million grant for Playwrights Horizons is the largest program grant in the theater company's history, according to Tim Sanford, Artistic Director and Leslie Marcus, Managing Director. The grant will help create a fund that will allow the New York City institution to develop new works of musical theater, each in partnership with a Regional theater - wholly within the non-profit system from start to finish.

Spread over seven years, the program aims to commission at least four new works of musical theater and develop and produce three or four full-scale productions. Each of the three musicals will be produced at both one specific Regional partner and at Playwrights Horizons.


CURTAIN DOWN


A TALE OF TWO CITIES Hours after announcing that a mega party would be held to celebrate the 100th performance of A Tale of Two Cities with the great-great-great granddaughter of author Charles Dickens in attendance, another missive arrived to disclose that the musical version of Dickens' historical novel, set against the backdrop of the French Revolution, would close Nov. 16 after having played 33 reviews and 68 regular performances at Broadway's Al Hirschfeld Theatre. Then on Friday producers told cast members that the musical will shut down on November 9, meaning the production will have played 60 regular performances and 33 previews. Cancel the 100th performance party.

According to the closing notice or notices: "Due to the recent recession and stock market decline which have resulted in weaker ticket buying traffic patterns and steep discounting in the industry, A Tale of Two Cities will close on Broadway and prepare for a future National Tour."

The show's book, music and lyrics are by Jill Santoriello and opened to mostly negative reviews playing to steadily declining business. Warren Carlyle directed and choreographed the musical which stars James Barbour, Craig Bennett, Brandi Burkhardt, Kevin Earley, Gregg Edelman, Michael Hayward-Jones, Miles Kath, Aaron Lazar, Katherine McGrath, Les Minski, Catherine Missal, Natalie Toro and Nick Wyman. The designers are Tony Walton (scenery), David Zinn (costumes), Richard Pilbrow (lights), Carl Casella and Domonic Sack (sound), Tom Watson (Hair), Jon Carter (Makeup) and Gregory Meeh (Special Effects Design).



PERDITA

Perdita Huston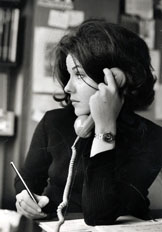 by Pierre-Marc Diennet. Directed by Linsay Firman. Set design by Nick Francone, costume design by Blythe Quinlan, lighting design by Les Dickert and the sound designer is Shane Rettig.

What is it like to be the son of a feminist hero? What is it like to be his mother? Perdita is the story of two generations, two genders, two experiences of the same pioneering life told by one performer.

Perdita, traveling through the Balkans, calls her son, Jacques, to tell him she is ill and needs him to come to her side. Jacques is shocked by his own angry, confused reaction. Together they revisit the life she made for them, lived in as many countries as years. Why did they make the choices they made? What did they give up for her work? How did they end up here like this?

Perdita Huston (1936-2001) was an extraordinary woman, a Feminist human rights activist. She grew up in Maine. Perdita went to school in France earning degrees in International Relations and Journalism, and would become a globetrotting do-gooder, most notably for the Peace Corps, and in other positions. She was a woman who felt passionately, acted decisively and spoke adamantly about equality between sexes; environmental protection, reproductive health and human rights.

Huston worked for Time Inc. and Life in Paris and became Director of Public Affairs for Time Inc. in French-speaking countries. Following her return to the US in 1971, she directed national programs for the US Bicentennial Administration and became Regional Director of the US Peace Corps for North Africa, the Near East, Asia and the Pacific (1978-81). She directed programs at the World Conservation Union (IUCN) in Switzerland and at the International Planned Parenthood Federation (IPPF) in London and was a consultant with UNDP, UNIFEM, UNFPA, UNICEF and the Secretariat for the 4th World Conference for Women. As the request of UNDP Administrator Bradford Morse, Ms Huston was Public Affairs Advisor to the InterAction Council of Former Heads of Government in the mid 1980s.

Within hours of her death, the United Nations Association of the National Capital Area decided to establish the Perdita Huston Human Rights Award to celebrate Perdita Huston and to recognize the life and work of others who are outstanding advocates for women's rights in the Third World.

Huston held two honorary doctorates and was a recipient of the Margaret Mead Award for Contributions to International Understanding. Spanning several continents and decades from Bulgaria, Algeria, Paris, Geneva, Bangladesh, London, back to the United States and New York City and Washington, DC to The United Nations, she mothered from a distance. These are the challenges of a driven mother who expanded the definition of family life.

Performances at The Lion Theatre, NYC with previews beginning November 15, officially opening on Tuesday, November 18 with performances through December 7.

IRVING BERLIN'S WHITE CHRISTMAS music and lyrics by Irving Berlin. Book by David Ives and Paul Blake. A new stage adaptation of the beloved classic film, directed by Tony Award winner Walter Bobbie, and choreography by Tony Award nominee Randy Skinner arrives at the Marquis Theatre on Broadway guaranteeing that New York will have a white Christmas!

The show is brimming with such Berlin hits as Blue Skies; Sisters; How Deep is the Ocean?; Count Your Blessing Instead of Sheep; I Love a Piano and of course, the unforgettable title song. Full of dancing, laughter, and some of the greatest songs ever written, Irving Berlin's White Christmas takes a well deserved place as a new holiday tradition.

The cast of 33 will feature Stephen Bogardus, Kerry O'Malley, Jeffry Denman, Meredith Patterson, Charles Dean, Susan Mansur, Melody Hollis, Peter Reardon, Cliff Bemis, Sheffield Chastian, Phillip Attmore, Jacob ben Widmar, Sara Brians, Stephen Carrasco, Margot de la Barre, Mary Giattino, Anne Horak, Drew Humphrey, Wendy James, Amy Justman, Matthew Kirk, Sae La Chin, Richie Mastascusa, Jarran Muse, Alessa Neeck, Shannon O'Bryan, Con O'Shea-Creal, Athena Ripka, Kiira Schmidt, Chad Seib, Kelly Sheehan, Katherine Tokarz and Kevin Worley. The creative team features set design by Tony Award nominee Anna Louizos, costumes by Tony Award nominee Carrie Robbins, lighting design by Tony Award winner Ken Billington, sound design by Tony Award nominee Acme Sound Partners, orchestrations by Tony Award nominee Larry Blank, and vocal and dance arrangements by Bruce Pomahac.

Previews will begin Friday, November 14th, 2008 for a limited engagement through Sunday, January 4th, 2009. In addition to being on Broadway, the charming holiday classic will return to Saint Paul, Minnesota at Ordway Center for the Performing Arts from December 2, 2008 through January 3, 2009 and Detroit, Michigan at the Fox Theatre from November 19, 2008 through December 28, 2008.

NUNSENSE starring Sally Struthers. the Emmy Award winning actress best known for her role as Gloria in the groundbreaking television sitcom, All in the Family.

Nunsense begins when the Little Sisters of Hoboken discover that their cook, Sister Julia, Child of God, has accidentally poisoned 52 of the sisters, and they are in dire need of funds for the burials. The sisters decide the best way to raise the money is to put on a variety show, so they take over the school auditorium, which is currently set up for the eighth grade production of Grease. Featuring star turns, tap and ballet dancing nuns, audience participation and comic surprises, Nunsense is an international phenomenon which has been translated in 21 languages.

Three performances November 14-15 at the Ferguson Center for the Arts in Newport News,VA.

THE ADDING MACHINE by Elmer Rice. This serio-comic masterpiece follows the exploits of Mr. Zero, a hard working, pseudo-Everyman as he toils through his rather inconsequential existence only to discover that after years of soul-rending dedication to his job, he'll soon be replaced by a machine. Mr. Zero does not take this news lightly and his choices will soon send him on a path discovering the true nature of his existence.

John Langs directs the cast which includes; Paul Morgan Stetler, Amy Thone, Jennifer Lee Taylor and Darragh Kennan.

Jennifer Zeyl, Scenic Designer; Geoff Korf, Lighting Designer; Rob Witmer, Sound Designer/Composer; Lori Amondson, Stage Manager; Pete Rush, Costume Designer

Post-play Discussions will take place after each Sunday matinee. November 13 - December 13, 2008 The Falls Theatre in Seattle, WA.

GOLDA'S BALCONY by William Gibson. Starring Four-time Tony nominee Tovah Feldshuh as Prime Ministe Golda Meir.

The rise of Golda Meir from Russian schoolgirl to Prime Minister is one of the most thrilling and amazing stories of the 20th century. In Golda's Balcony, Meir's life has been transformed into a theatrical event of overwhelming power and inspirational triumph, which became the longest running one-woman show in Broadway history.

Saturday, November 15 at the State Theatre in New Brunswick, NJ.

THE REAL THING a Tony Award winning play by Tom Stoppard. Directed by Rosalind Ayres.

In this two-time Tony Award winning play Henry, the wittiest playwright of his generation, is hopelessly naïve in the realms of love and infidelity. After leaving his wife for another woman, Henry is confronted with the painful difference between writing about betrayal and living with it.

A collaboration between the Skirball and L.A. Theatre Works, these performances are recorded live without sets or costumes and aired later on the radio. Wednesday, November 12–Sunday, November 16 at The Skirball Center in Los Angeles.

CARMEN by George Bizet. The finale in this season's production for the Anchorage Opera opened last night to a sold out crowd.

The artistic team for this production includes young San Francisco conductor, Sara Jobin. Renowned New York City Opera director, Cynthia Edwards, and a world-class cast featuring Kathryn Allyn as Carmen, Christopher Jackson as Don Jose and Anton Belov as Escamillo. Well known Alaskan artists round out the cast with Mari Hahn as Michaela, Marlene Bateman as Mercedes, and Stacia Jameson as Frasquita.

Anchorage Opera bills itself as "the finest opera in America north of the 48th parallel."

Pre-performance lectures take place approximately one hour before curtain. Every opera has an English translation projected above the stage. In addition, those operatically challenged are reassured that the performance program has a summary of the opera's plot and other background information. Anchorage Opera also boasts as "a product truly Made in Alaska. The company produces the finest in professional opera while providing opportunities for the best Alaskan singers, musicians, artists and craftspeople. Productions are rehearsed and mounted, and sets and costumes are built in Anchorage."

Carmen runs through November 16, 2008.




WHO'S WHERE


BRIAN STOKES MITCHELL the Tony Award winner presents his cabaret show Songs…I Wanna Sing at Feinstein's At The Regency in New York City November 11 – November 15.

CHRISTINE ANDREAS the two-time Tony nominee, kicks off Bay Area Cabaret's fifth season celebrating Broadway and All That Jazz. Andreas will be saluting the great women of musical theatre in her cabaret show Here's to The Ladies at the historic Empire Ballroom of the Sir Francis Drake Hotel. Christine Andreas with special Guest Star David Burnham. The sold out show takes place November 16, San Francisco.

DEBBIE REYNOLDS performs November 14-15 at John Ascuaga's Nugget in Sparks, NV.

5TH ANNUAL FALL FESTIVITIES presented by The Drama League. Tony Award winner Laura Benanti will serve as host for the concert which will be held on Monday, November 17, at the Metropolitan in Manhattan.

Fall Festivities is an intimate cabaret evening spotlighting new and upcoming musicals both on and Off-Broadway. This year's concert will feature numbers from 13, The Musical; A Tale of Two Cities; Irving Berlin's White Christmas; Sessions; Angels and more, with performances by James Barbour, Maya Days, John Hickock and Kerry O'Malley, among others.

WARSAW PHILHARMONIC ORCHESTRA Antoni Wit, conductor. Valentina Lisitsa, piano. Since 1901, the Warsaw Philharmonic Orchestra, the National Orchestra of Poland, has showcased scores by such famous conductors as Chopin, Stravinsky, and Grieg. Today, the orchestra continues to be one of Europe's leading musical ensembles. Currently under the leadership of Musical Director Antoni Wit, the orchestra boasts 110 instrumentalists and 95 choir members. Friday, November 14, 2008 State Theatre in New Brunswick, NJ.

LANG LANG will be featured in chamber works with musicians from the Chicago Symphony Orchestra on November 14-15. He'll perform solo piano works from the Western tradition, as well as selections from his album, Dragon Songs.

SARAH BRIGHTMAN on stage this week in Texas and Florida. Wednesday, November 12, finds her at the American Airlines Center in Dallas. On Friday she can be enjoyed at the University of Central Florida in Orlando. On Saturday the show is at Bank Atlantic Center in Sunrise, Florida and next Sunday, November 16, she is on stage at St. Pete Times Forum in Tampa.

MADONNA opens a two night stand Tuesday, November 11, at the Pepsi Center in Denver. Next Sunday, she brings her tour to the Minute Maid Park in Houston.

JOAN BAEZ the legendary folk singer/songwriter returns to Chicago's Symphony Center on Tuesday, November 11, in her first appearance since 2003. She'll present cherished favorites and songs from Day After Tomorrow, her latest CD.

COLDPLAY on stage Tuesday, November 11, at the Philips Arena in Atlanta, GA. On Thursday the show is at the Spring Center in Kansas City. Friday finds them at the Xcel energy Center in Saint Paul and next Sunday they are in the spotlight at the Ford Center in Oklahoma City, OK.

CHRIS BOTTI blowing on his own Thursday, November 13 at the Regional Events Center in Wenatchee, WA. On Saturday, November 15, he can be enjoyed at the Alaska Center for the Performing Arts in Anchorage, AK.

KD LANG performs Tuesday, November 11, at the Mesa Arts Center in Mesa, AZ. On Wednesday she's on stage at Centennial Hall in Tucson. Thursday finds in at the Copley Symphony Hall in San Diego.

BJ THOMAS on stage Tuesday, November 11 at the Alaska Center for the Performing Arts in Anchorage, AK.


WE NEED YOUR HELP....


BROADWAY TO VEGAS, which has been in existence over 10 years, is not affiliated with any blog. A copyright clause is at the bottom of every Broadway To Vegas column. Recently, it has been brought to our attention that there is a Las Vegas based blog with an extraordinarily similar title. If you have provided that (or any) blog with: information, invitations, purchased anything through any link on that blog or transferred money, goods or services to anyone connected with that blog THINKING YOU WERE DOING BUSINESS WITH BROADWAY TO VEGAS - we want to hear from you. The more detail the better. Thank you. Next Column: November 16, 2008
Copyright: November 9, 2008. All Rights Reserved. Reviews, Interviews, Commentary, Photographs or Graphics from any Broadway To Vegas (TM) columns may not be published, broadcast, rewritten, utilized as leads, or used in any manner without permission, compensation and/or credit.
Link to Main Page
---
Laura Deni



U.S. Postal Address: Post Office Box 60538, Las Vegas, NV 89160
CLICK HERE FOR COMMENT SECTION